*This site uses affiliate links; if you make a purchase through these, I may receive a small commission at no cost to you.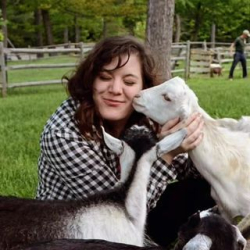 Latest posts by Amy Hartle
(see all)

Are you planning the ultimate New England road trip? Let me help! After exploring New England for more than 20 years, I have put together this comprehensive guide to exploring this charming region. The best way to see New England is by car, and this 2-3 week itinerary offers a grand tour of New England, covering the best places to visit, especially for first-time visitors.
Spanning Connecticut, Massachusetts, Maine, Vermont, New Hampshire, and Rhode Island, this itinerary shows you the best of New England, from quaint coastal towns to lush mountain landscapes. The itinerary is also well-paced to allow you to spend time seeing the sites, enjoy local activities, and cross items off your New England bucket list. And, the itinerary is flexible and can be adapted to your needs, interests, and desired trip length.
Whether you're in for the full journey or seeking shorter road trip variations (I've included those, too!), this guide caters to your wanderlust, ensuring a memorable and personalized exploration of New England's beauty. Let's go!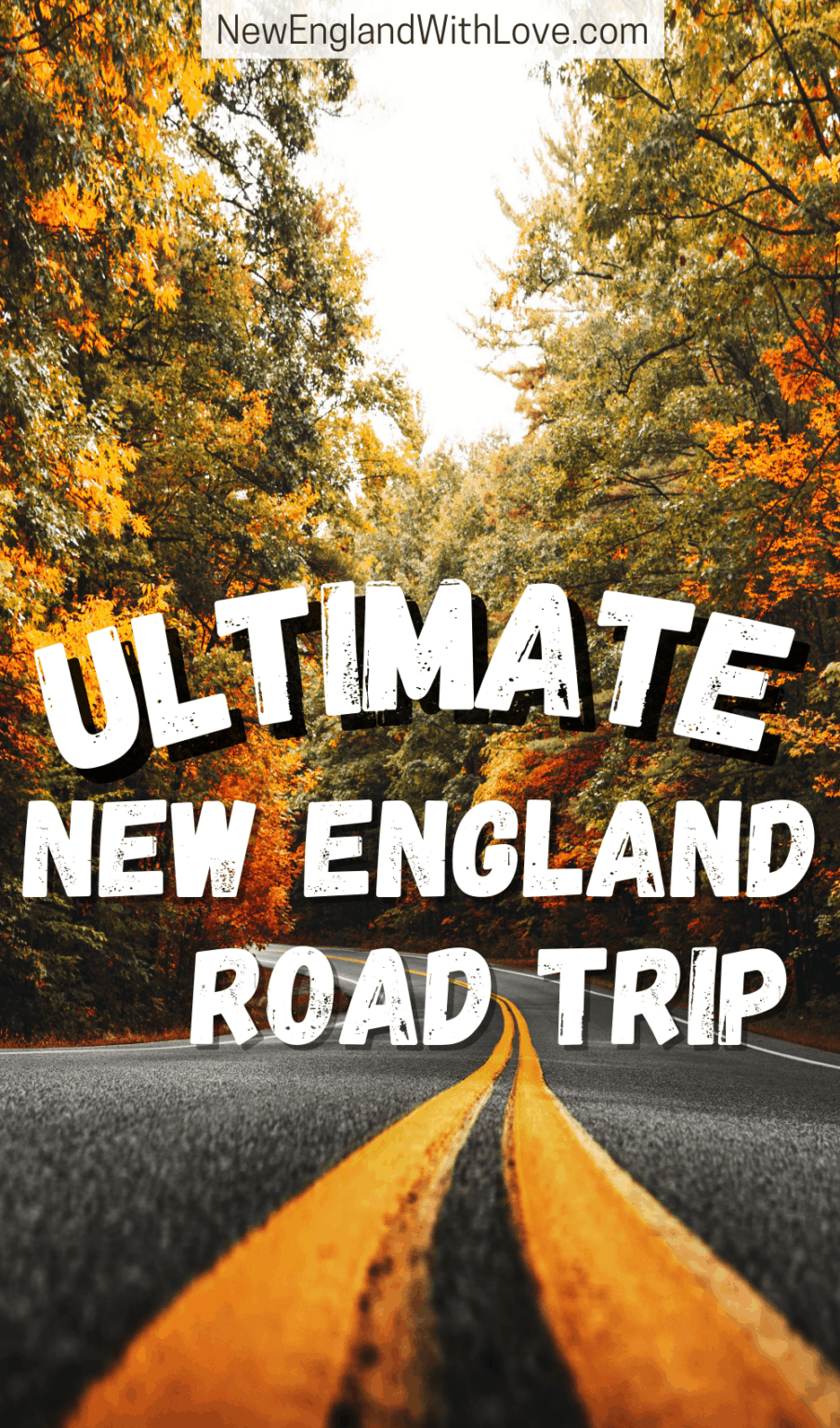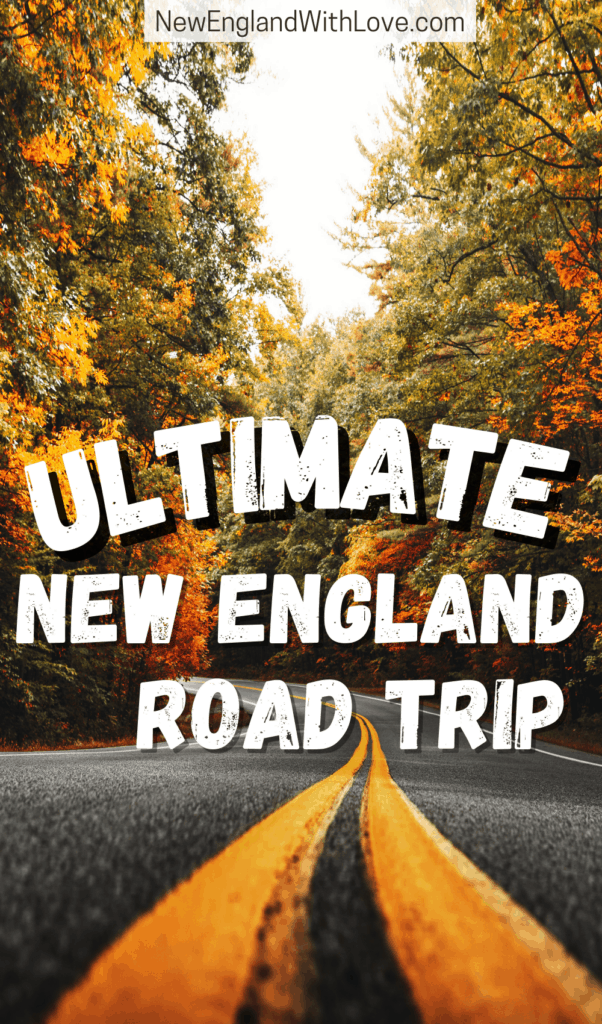 New England Road Trip FAQ
When's the best time of year to road trip New England?
New England is gorgeous in all seasons, but for the easiest driving (and best New England road tripping experiences), summer and fall are ideal.
If you want the fall foliage experience, late September and early October are the key weeks to plan for. Of course, these times of years are also peak tourist season, so expect more traffic and higher hotel prices.
(PS: If you want to do a shorter road trip or a route that's perfect for fall, check out my 7 day New England Fall Road Trip itinerary!
One of my favorite times of the year in New England is mid to late May. The weather is beautiful, and the region's roads and attractions are generally less busy. The budding greenery is especially gorgeous and fresh, too.
Early September can also be lovely, just after kids have returned to school and summer has ended. Expect crisp temperatures and leaves just beginning to change colors.
A winter road trip may be doable, but remember, New England can be quite snowy, so you'll want to have a reliable vehicle outfitted with snow tires, and you'll need to stay aware of changing weather conditions and road closures.
How many days do you need for a road trip to New England?
You need 2-3 weeks for a comprehensive road trip around New England. This is the ideal amount of time needed to cover the major highlights of all six New England states.
If you don't have that much time, you can still pack a lot into a shorter trip. A minimum of 7 to 10 days is ideal for a thorough yet relaxed New England road trip. For a 7-10 day trip, consider my Southern or Northern New England itineraries, or do shorter segments of the full 2-3 week itinerary.
Where should I start my road trip through New England?
I've started this New England travel itinerary in Boston, as it's the biggest city in New England and home to a major airport, Boston Logan International. This airport is easy to fly into and rent a vehicle. Boston is also a great destination on its own, so my itinerary includes a couple days exploring the city.
Ps: Ready to rent a car for your New England drive? Click here to find the best rates on rental cars!
---
The Perfect New England Road Trip Itinerary

Days 1 & 2: Boston, Massachusetts
You'll start your New England excursion from Boston, Massachusetts: an absolutely fantastic city.
Boston is a well-known place that's filled to the brim with history. From famous historical events like the Boston Tea Party to its reputation as a modern-day sports town, you'll never be bored here.
Some great things to do in Boston:
Hotel Suggestion in Boston: Fairmont Copley Plaza
Need more guidance for Boston? Check out my post on The Top Things to Do in Boston for first timers, and I've also got some recommendations on where to grab coffee, breakfast, a beer, or a bite to eat in Boston, too!
PS: Looking for a shorter road trip from Boston? Check out my New England trip itinerary focusing on the journey from Boston to Acadia National Park.
Days 3 & 4: Newport, Rhode Island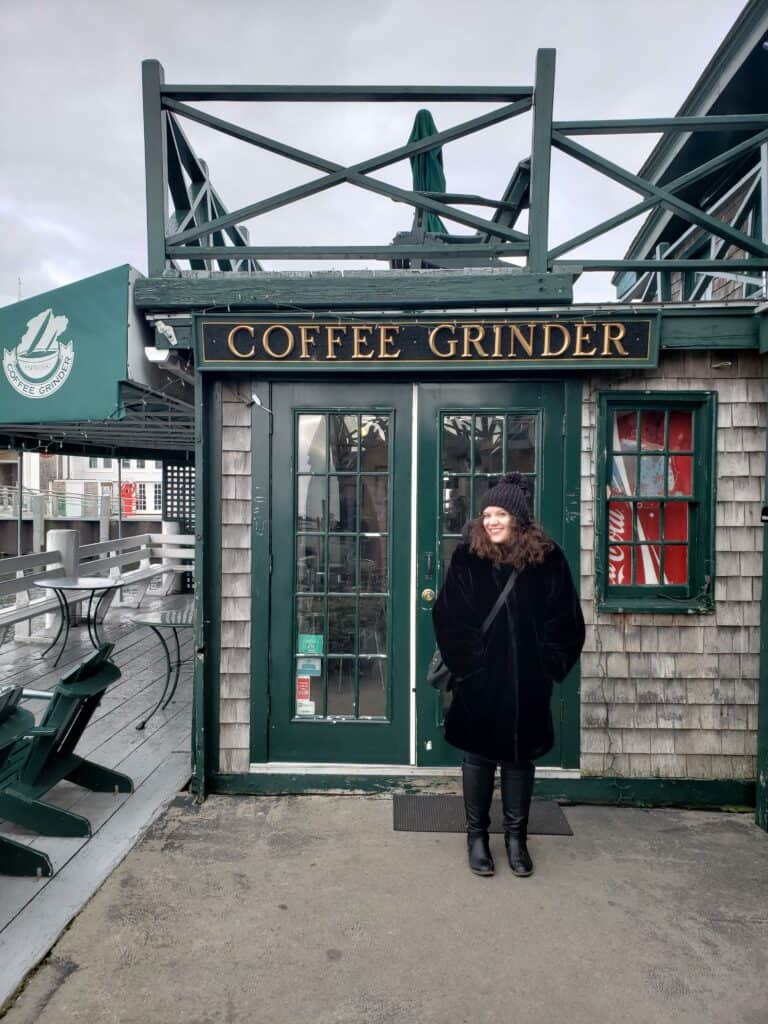 On Day 3, drive from Boston to Newport. This is a straightforward route, with about 2 hours of drive time.

Glitz and glamour. That's what you'll find in Newport, Rhode Island. This town is perhaps best known for its iconic Gilded Age mansions . These opulent buildings were once the summer cottages of America's rich and famous families.
Today, many of them have been converted into museums that you can wander through and admire some of New England's opulence past.
Some of my favorite things to do in Newport:
Hotel Suggestion in Newport: Hotel Viking
For further Newport ideas: Click here to read more about the top things to do in Newport, including beaches, restaurants, hotels, and vacation rentals too!
READ NEXT 15 Festive Things to Do for Christmas in Newport RI
Day 5: Mystic, Connecticut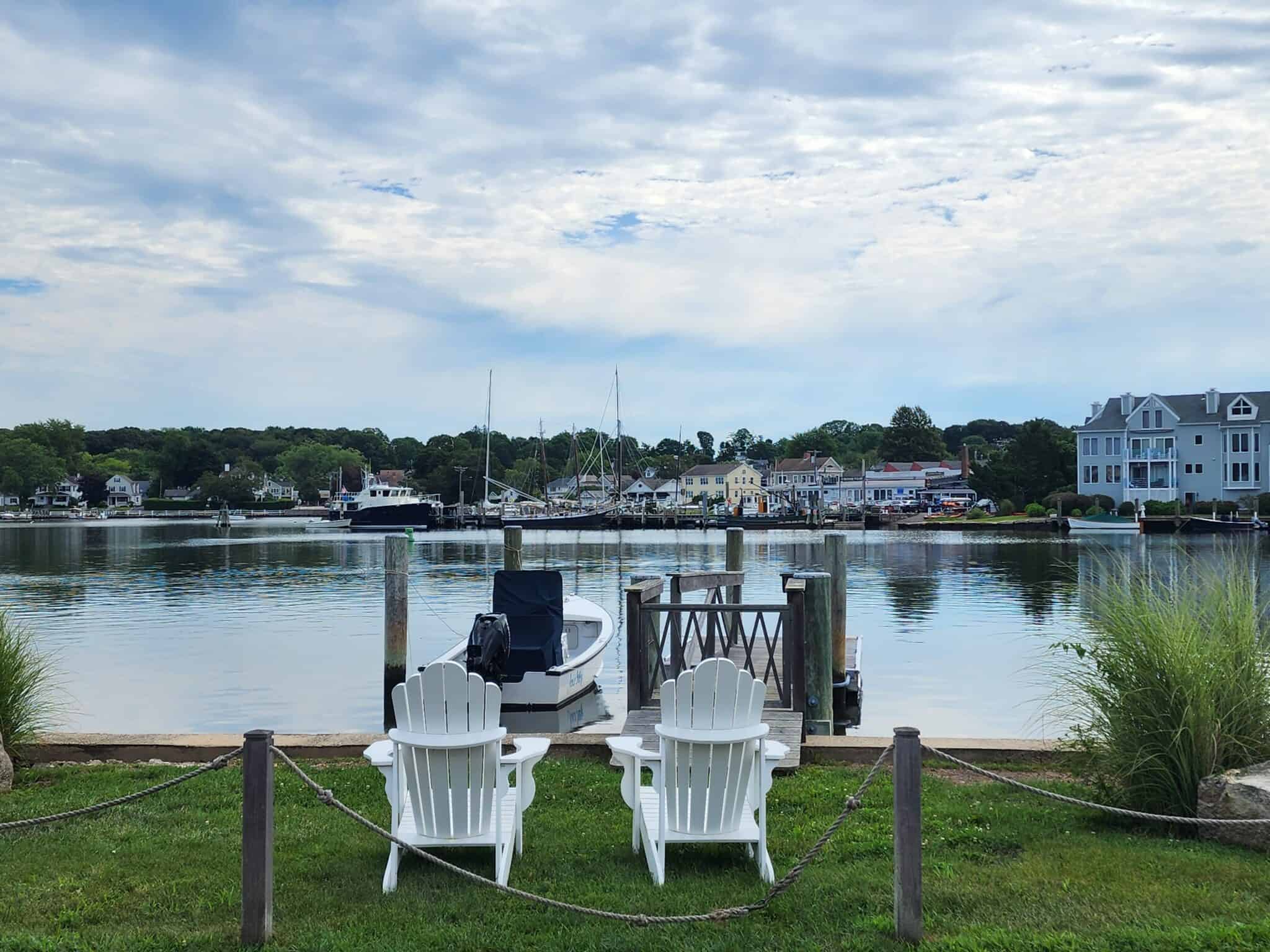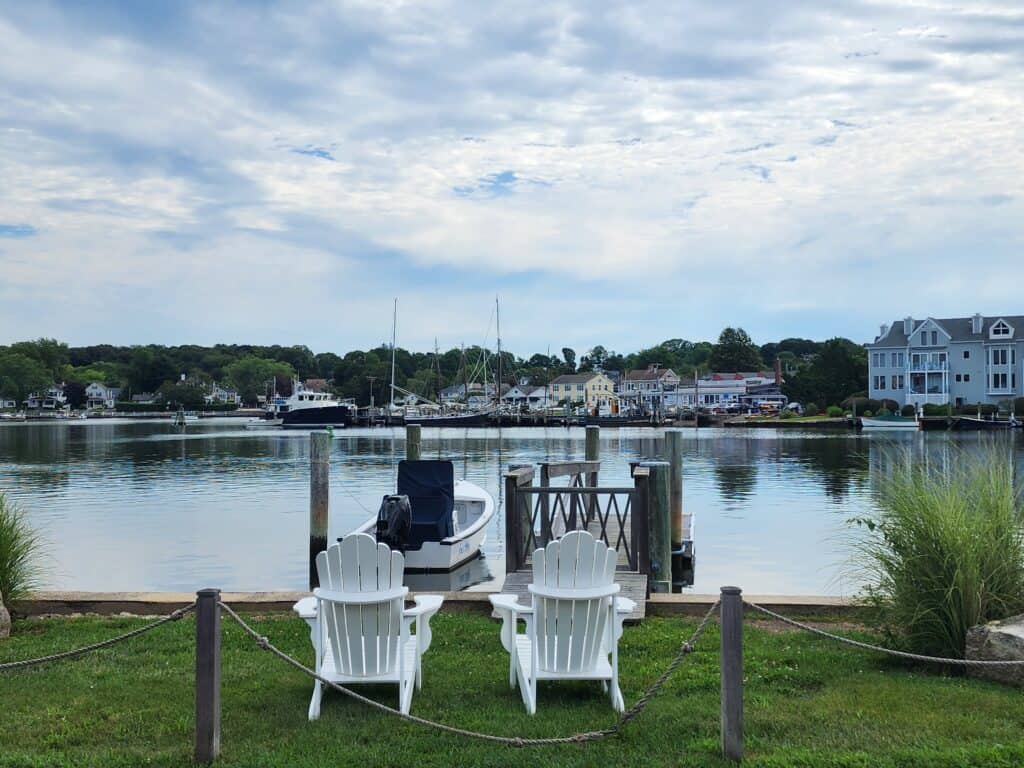 Mystic, Connecticut is a wonderful little seaside town that feels like a must-do on a New England adventure. It is one of my favorite places in New England, and there is plenty to do here: history, culture, art, sailing. And, for seafood lovers, Mystic's coastal location offers a variety of delicious seafood dining options
Like pretty much every other scenic New England town, there's a cute little downtown area with great shopping, dining, and activities.
A few terrific things to do in Mystic:
Hotel recommendation for Mystic: The Whaler's Inn
Further reading on Mystic: Check out my tips for all the fun things to do, best restaurants to eat at, and the best places to stay in Mystic!
READ NEXT 25 Best Beach Towns in New England for Coastal Fun
Day 6: Litchfield Hills, Connecticut
As you roadtrip New England, your next destination is the enchanting Litchfield Hills. This is another easy drive day, as the distance from Mystic to the Litchfield region is a short 2 hours. And if you're traveling in the fall, the Connecticut fall foliage along this route creates a magical backdrop.

To me, this area in the northwest corner of the state is a hidden gem.
Here you'll find all the classic New England pastimes you know and love. In particular, there is an abundance of outdoor activities (hiking, paddling, fishing) as well as exceptional antique shops.
The Litchfield Hills make up a large portion of this region, and include towns such as Torrington, Woodbury, Kent, Cornwall, and Washington (very English sounding names, aren't they?)
A few excellent things to do in the Litchfield Hills:
Recommended hotel in the Litchfield Hills: The Mayflower Inn & Spa: legend has it that it was the inspiration for Lorelei Gilmore's inn, the Dragonfly.
READ NEXT 18 Wonderful Weekend Getaways from Boston
Day 7: Lenox, Massachusetts
Continue on your New England road trip into the Berkshires of Massachusetts. Here you will encounter art, nature, and culture combined. This region has been very popular among vacationers for many years. And the town of Lenox is the center of it all.
Best things to do in Lenox:
Where to stay in Lenox:
More resources for your trip to Lenox and the Berkshires:

🍁Best Restaurants in Lenox
🍁10 Charming Cabins in the Berkshires
🍁Best Hikes in the Berkshires
Day 8: Manchester, Vermont
Finally, you've made it into the spectacular state of Vermont (my personal favorite, if you couldn't tell). It's a fairly easy drive from the Berkshires in Massachusetts up to Manchester in the southwestern corner of Vermont, only a couple of hours. And this is another route that is especially glorious if you opt to do a New England fall road trip.
Manchester is one of the most beautiful places in Vermont, marrying quaint village charm with touches of modern luxury. It's no surprise that it's very popular among travelers.
Some of my favorite things to do in Manchester:
Hotel Recommendation for Manchester: Kimpton Taconic Hotel
More resources on Manchester: Read my entire Manchester VT travel guide for more of the top Manchester activities, as well as these articles on the best restaurants, breakfast spots, and hotels in Manchester.
READ NEXT 25 Best Hikes in New England: New England Hiking Options for Everyone
PS: If you're very interested in exploring Vermont, a trip through Manchester, Burlington, and Stowe make the ideal Vermont road trip itinerary.
Day 9: Burlington, Vermont
Just around 2 hours north of Manchester (taking the beautiful and scenic Route 7) you'll find yourself in Burlington: Vermont's biggest city. It's also often mislabeled as Vermont's capital, but that honor goes to Montpelier. Still, you're likely to run into Bernie Sanders in either town!
Burlington is where my husband and I lived for several years. It's a fantastic town that is hip, artsy, and full of good, local food. Seriously, in Vermont, you need to eat. There's so much delicious cheese, coffee, beer, maple syrup, and much, much more.
To get you started on your culinary adventures, check out this post on my favorite Burlington breweries and bars , and this one on my beloved coffee shops. Oh, and don't forget to enjoy brunch in BTV. We do breakfast here right.
The gem of Burlington is Lake Champlain, the sprawling, sparkling lake that the city overlooks. Here is the chance to go sailing, stand-up paddleboarding, or take a ferry across to New York state.
If you'd prefer to stay on dry land, visit one of the many beautiful parks and natural areas. Burlington is amazing for outdoor activities. If you want to get moving, the Burlington Bike Path stretches for miles, hugging the lake's edge. This is ideal for running or cycling. You can even rent bikes right on the bike path.
More epic things to do in Burlington VT:
Hotel recommendation in Burlington: Hotel Vermont
Even more resources for your Burlington trip:
🍁21 Hikes Near Burlington VT to Add to Your Bucket List
🍁10 Can't-Miss Free Things to do in Burlington VT
🍁9 Incredible Day Trips from Burlington VT
🍁Where to Stay in Burlington VT in 2023: Best Burlington Hotels
PS: Considering visiting Burlington in 2024? It's one of the cities that the total solar eclipse will pass fully over on April 8, 2024, so start planning ASAP!
Days 10 & 11: Stowe, Vermont
From Burlington, head south on I89 to Exit 10. From there, you'll take the scenic Route 100 past Waterbury and out to Stowe. When people think of the classic Vermont places, they're likely thinking of Stowe.
It's absolutely gorgeous: a charming town surrounded by mountains. The short Main Street and its side streets boast a white-steepled church, an old-timey general store, and a ski museum.
Simply put, Stowe is adorable. I have been to Stowe countless times and I highly recommend it as one of the premier New England road trip destinations!
Wonderful things to do in Stowe:
Where to stay in Stowe: Field Guide Lodge, Topnotch Resort, or the Trapp Family Lodge
More on Stowe: I have an entire post dedicated to Things to Do in Stowe, Vermont, the best restaurants, the best breakfast, the best hikes, the best hotels, everything!
READ NEXT 15 Gorgeous VRBO & Airbnb Stowe VT Vacation Rentals (2023)
READ NEXT Stowe Vermont in Summer: 11 Fun Things to do for All Ages
Days 12 & 13: The White Mountains, New Hampshire
No adventure in New England could be complete without some mountain time. And this is especially true if you're planning a New England fall road trip .
New Hampshire's White Mountains are impressive and exciting. They're the tallest in New England (with Mount Washington tallest of all) and offer spectacular hiking and more. There are several places you could base yourself during this portion of the road trip, but I recommend North Conway, Lincoln, or North Woodstock, as they each offer lots of amenities and accommodations, and are a reasonable distance from the most popular attractions in the region.
Unmissable things to do in the White Mountains:
Where to Stay in the White Mountains: Lumen Nature Retreat
More White Mountains travel guides:

🍁 Best Things to Do in North Conway, NH
🍁 Best Things to Do in Lincoln, NH
🍁 Best Things to Do in Franconia, NH
🍁 15 Amazing Cabins in the White Mountains, NH
READ NEXT Your Guide to Mt Washington NH: The Highest Peak in the Northeast!
Days 14 & 15: Portland, Maine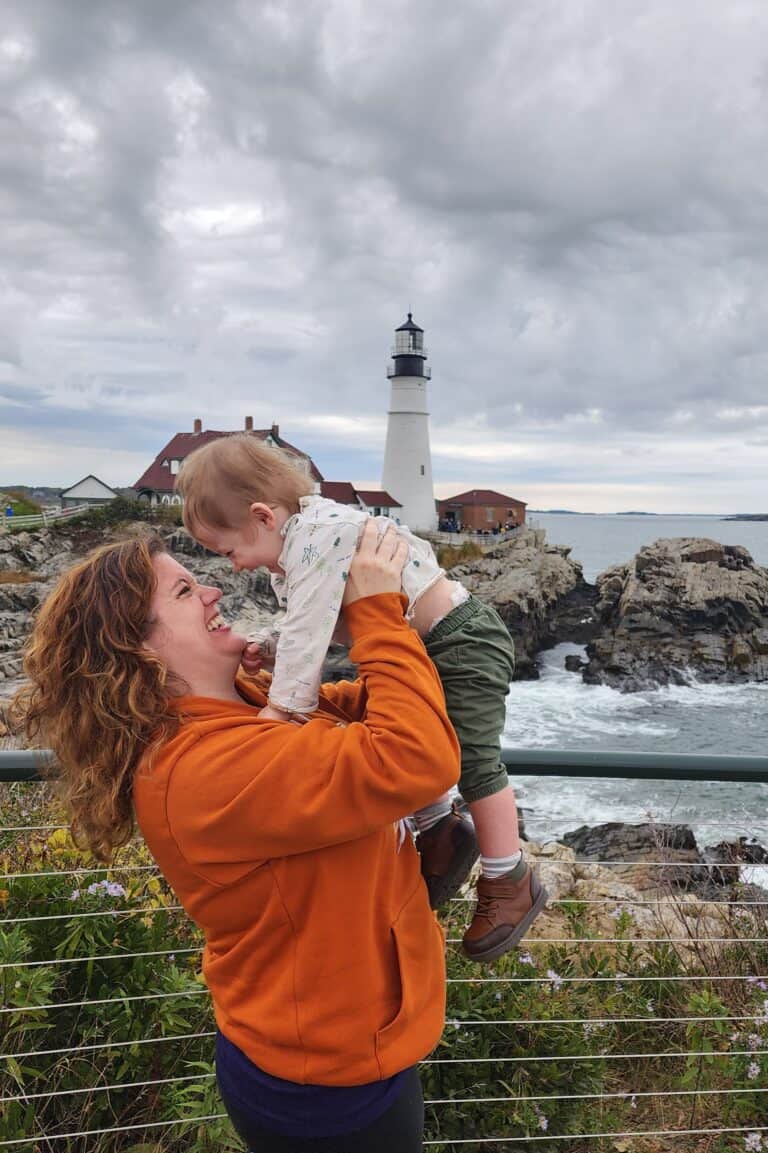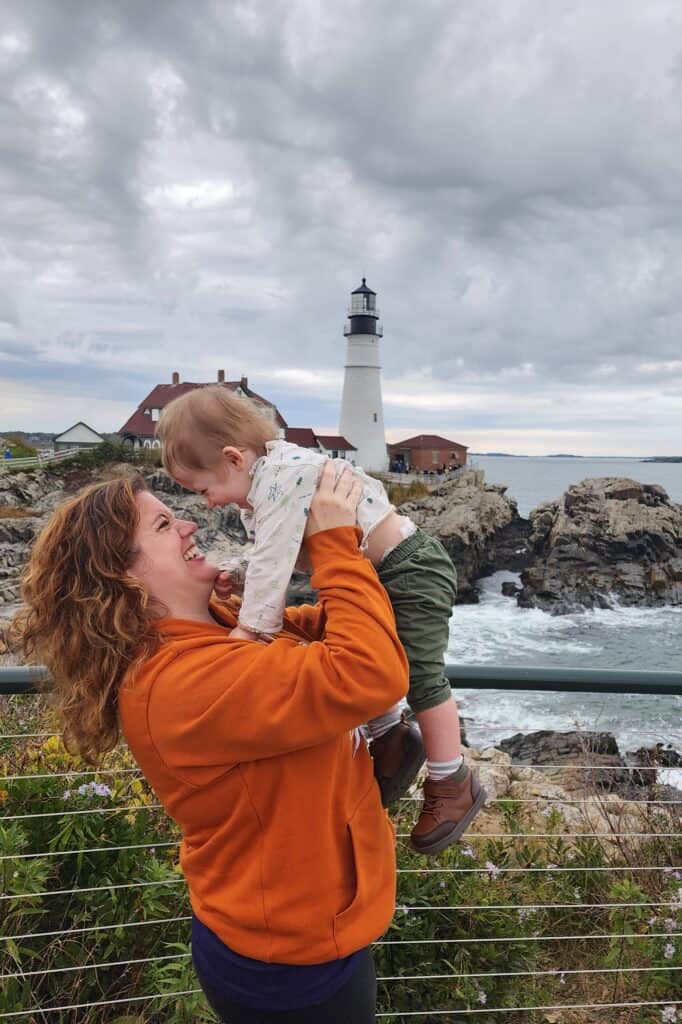 Finally, the last state on the great New England road trip. This is Maine, "the way life should be."
Maine is massive so there's no way to do the state justice in this itinerary; I'm essentially covering a few of the must-see areas. You could spend weeks on a road trip of Maine alone. (See also these 8 autumn scenic drives in Maine delivering up insane fall colors).
If you do wish to explore the rest of Maine (and you absolutely should) I recommend taking a look at my epic list of 50+ Fun Things to Do in Maine, as well as this guide to the top places to visit in Maine.

But let's continue with our amazing road trip!
Stop for a bit in Portland, a modern portside town that may surprise you. There's a hip city right on the water in Portland, Maine, and this is a hot spot for restaurants, coffee shops, breweries, bakeries, and entertainment.
Fun things to do in Portland:
Portland hotel recommendation: Hotel Francis in the West End
Further resources for discovering Portland:

🍁The Best Things to Do in Portland, Maine
🍁Weekend in Portland Itinerary
🍁7 Spots for the Best Breakfast in Portland Maine
🍁14 Exceptional Airbnb Portland Maine Rentals
🍁12 Best Hotels in Portland Maine
Days 16 & 17: Acadia National Park and Bar Harbor, Maine
Now we travel north to Bar Harbor. Admittedly, it looks like a far drive on the map. In reality, from Portland to Bar Harbor is just over a 3-hour drive. And trust me, visiting Mt. Desert Island is SO worth it.
Bar Harbor is the seaside town that will be your base for exploring Acadia National Park. You will be in awe over this beautiful part of Maine. Here is where rocky cliffs tumble into the sea, with iconic lighthouses at the top.
There's abundant wildlife on land and in the sea, and countless opportunities for terrific hiking.
But the region is not just about the outdoors. Bar Harbor has lovely shops, restaurants, and extremely cozy inns. Truly, the region is ideal for travelers of all kinds. You'll also find great camping, cabins, and vacation rentals in and near Acadia, too.
My top recommendations in Acadia National Park and Bar Harbor:
Bar Harbor hotel recommendation: The Bar Harbor Inn

More on Acadia: Check out my 3 Day Bar Harbor and Acadia National Park Itinerary for an awesome trip!
Read Next : 10 Coastal Towns in Maine That are Hidden Gems
Day 18: Portsmouth, New Hampshire
Your New England driving tour itinerary is nearing its end, but you've got a few more stops to make—-stops you won't want to miss.
Portsmouth is first. We're back in New Hampshire now! Between Maine and Massachusetts, New Hampshire is home to a very small strip of coastline. The hub of the Seacoast is Portsmouth, a small yet lively city with a great deal of history. You can see colonial architecture all over this beautiful city.
Taking a New England winter road trip? Portsmouth should definitely be on your list, as they do a month of celebrations and events with Vintage Christmas, one of the most magical New England Christmas celebrations !
Best things to do in Portsmouth:
Hotel suggestion in Portsmouth: The Hotel Portsmouth
Further Portsmouth NH travel resources for your trip:
🍁The Best Things to Do in Portsmouth, NH
🍁Top 10 Bars in Portsmouth NH
🍁7 Must-Visit Breweries in Portsmouth NH
READ NEXT 18 Magical New England Christmas Towns that are Straight Out of a Hallmark Movie (Updated 2023)
Day 19: Salem, Massachusetts
Your final stop is the historically infamous Salem, Massachusetts. And though you'll definitely want to spend time exploring its history with the Salem Witch Trials, there's plenty to do in the area that isn't witchy, too.
You can hit the highlights of Salem in one day, or extend for another 2-3.
If possible, you don't necessarily want to plan your trip to Salem to coincide with Halloween. Although the town has a distinct, fun vibe this time of year, October is also its busiest and most crowded month.
No matter when you go, however, there are definitely some things not to be missed:
Hotel recommendation for Salem: The Hawthorne Hotel or Hotel Salem (they have a great rooftop bar)
More on Salem: Check out its great restaurants, scope out some of its haunted history, and maybe even stay overnight in one of Salem's classic New England inns or Airbnbs!

Nearby towns of Rockport, Gloucester , and Marblehead are worth visiting too if you'd like to explore more of this area of coastal New England.
READ NEXT 12 Fun and FREE Things to Do in Salem MA
Day 20 / End: – Boston, Massachusetts
You did it! You've completed an epic New England road trip! Congratulations! You've seen some of the prettiest places in the country, and you did it all by car!
Days 21+: Optional Add-Ons: Cape Cod/Nantucket/Martha's Vineyard
You may be wondering why I didn't include some of New England's coastal gems on this New England road trip itinerary? I did this because destinations such as Cape Cod, Nantucket, and Martha's Vineyard are harder to get to and don't fit in well with the traditional road trip format. After all, Nantucket and Martha's Vineyard are islands, so they are not an easy destination to access without in-depth planning.
Not only are they more complicated to travel to, these Massachusetts coastal destinations are terrific and truly worthy of their own vacations. I highly recommend devoting a trip specifically to exploring New England's amazing coast.
If you wish to add to your road trip, by all means, hop in the car and continue the drive to Cape Cod. From there you can easily take a day trip to Martha's Vineyard or Nantucket. And I hope these resources will help you as you plan:
More travel ideas here:
The Ultimate New England Road Trip Map (2-3 weeks)
The map below includes all of the destinations I've outlined above.
---
In need of some extra New England road trip ideas? If you're limited on time, check out my Northern and Southern New England road trip itineraries. These are ideal for 5 day, 7 day, or 10 day New England road trips. Your own personal planning maps are below!
Northern New England Road Trip 7-10 Day Itinerary
Here's a great New England road trip route if you just don't have time to go everywhere, but you want to see the highlights of northern New England. In any trip you'll have to make some choices about what to see and what to miss, sadly, but with this road trip itinerary, you'll definitely have a broad experience of Northern New England.
This itinerary contains many of the same stops you'll find on the ultimate New England itinerary (that covers all six states). But this one also has the addition of Woodstock, Vermont, which is a classic New England spot, really a 'Currier and Ives town.'
Southern New England Road Trip 7-10 Day Itinerary
The Southern New England road trip route is ideal for those who really seek a coastal trip, or who aren't quite as interested in exploring the mountains. This trip adds a whole bunch of extra stops so you can really dive into coastal New England.
It gives you a feel for the more outdoorsy areas of these southern New England states, too, as the itinerary brings you through the Berkshires, and through charming parts of Connecticut. Definitely an option for a lovely New England summer road trip itinerary.
Wrapping Up this Northeast Road Trip
I hope this New England travel guide has given you all the information you need to help you plan a trip to the region's most exciting and gorgeous places. With multi-day options to choose from and choices that are great for every season, I have aimed to cover all of the top places to road trip throughout these six amazing states.
Even more resources for your New England adventures:

🍁25 Fantastic New England Day Trips
🍁Hidden Gems in New England: 15 Secret Places to Visit
🍁Best Fall Foliage New England Tours Worth Your Money
Pin this post to save for later!