Often referred to as the 'Sailing Capital of the World' or the 'City by the Sea', Newport, Rhode Island holds a special place in my heart…and the heart of every other visitor for that matter!

As a seaside city, there are many incredible things to do in Newport RI in this New England gem that is abundant in rich history, glorious cuisine, and endless opportunities to get lost in its unique culture. I'm fortunate enough to live less than an hour's drive away and every visit leaves me wanting to come back for more – I just can't get enough!
If you're looking for what to do in Newport RI, it can be difficult to narrow it down to the highlights, but I'll do my very best in sharing my favorite Newport RI things to do!
Admire the Newport Bridge
The gateway to Newport! The Newport Bridge is one of the top Newport Rhode Island tourist attractions. Cliché I know, but the magic begins before you even set foot on Newport soil. When you're visiting from the South and driving over the stunning Newport bridge, you really can't stop yourself dramatically gazing out the car window like you're destined for that role in your favorite music video (Dramatic Window Staring Disorder (DWSD) – it really is a thing, google it!).
The bridge is beautiful, both the structure and the superb views below of Narragansett Bay. When you see the bridge approaching in the horizon, you really do get that warm and excited feeling knowing the best is yet to come! If you can time your drive over the Newport bridge during a New England sunset, you are in for a treat, the colors are magical!
Visit the Newport Art Museum
Housing a permanent collection of over 3000 works of art, you'll find a great range of exhibits at the Newport Art Museum including sculptures, paintings, photography, and so much more. The Newport Art Museum also hosts regular community events throughout the year, so be sure to check in with the events calendar to see what is happening there during your visit. Keep this in mind if you're looking for fun indoor things to do in Newport RI!
Take a stroll on the Cliff Walk
Are you ready for one of the most charming walks you've ever been on? One of the top things to do in Newport RI, The Newport Cliff Walk is only 3.5 miles long; it's crazy how much a relatively moderate coastal walk can captivate each and every one of your senses. From hearing the oceans waves colliding into the coastline and smelling the subtle scent of seashells on one side to seeing the magnitude of wealth and architectural wonder of the Gilded Age mansions on the other!
The taste of the salty sea spray from the Atlantic only encourages you to carry on walking more and how can I even get started on the touch of all those cute furry friends you'll bump into with their owners along the way – my favorite New England Golden Retrievers!
Newport's Cliff Walk is open from sunrise to sunset every single day of the year and is completely free for all to enjoy! The official starting point for this scenic stroll along Newport's eastern shoreline is First Beach, Memorial Boulevard where you will find public parking available (for a fee).
An alternative, which I personally prefer, is on Narragansett Avenue by the Forty Steps entrance which is where I would normally begin my walk south. Whilst this entry point is paid parking on the street, there are also portable restrooms here which is always a bonus for me with the amount of coffee I drink!
A stroll along the Cliff Walk would make an excellent addition to your list of romantic Newport RI date ideas!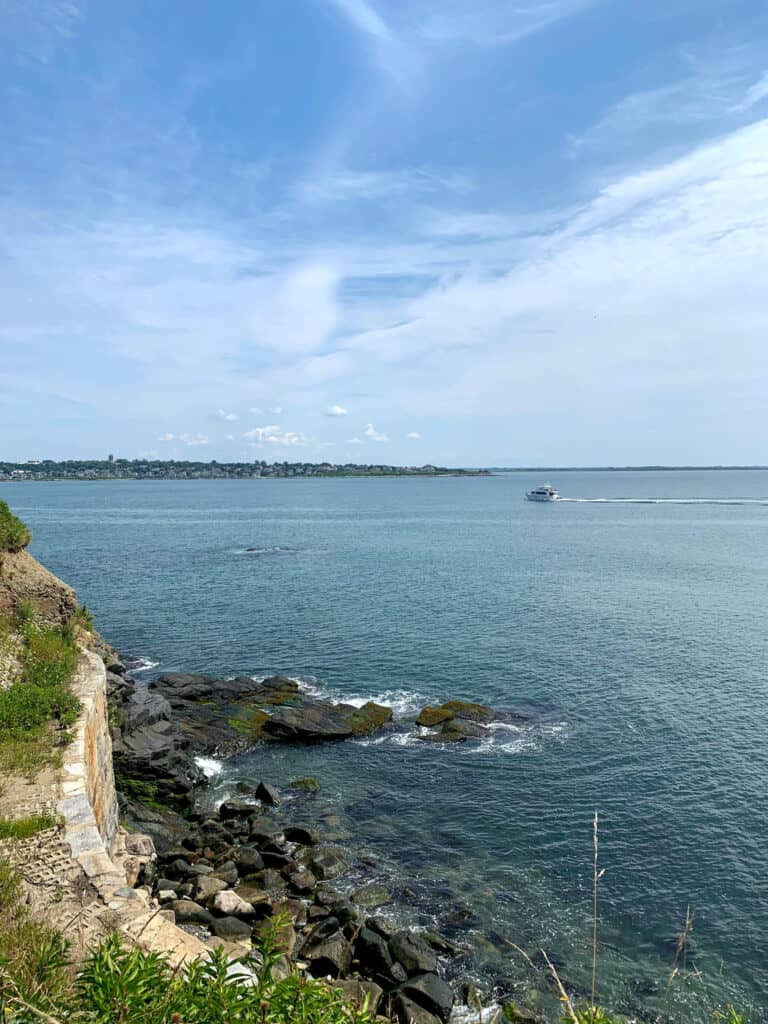 There are a couple of other options along the way for entering and exiting the Cliff Walk – just pick the one that is right for you! I absolutely love starting at Forty Steps because the stony staircase leads to a spectacular view of the ocean – perfect photo opportunity or romantic spot for a proposal at sunset! Being able to wander directly in the shadow of these incredible mansions is truly wonderful, and helps transport your imagination back in time to the glitz and glamour this era oozed in.
The majority of the Cliff Walk is paved so it's ideal for all ages and abilities and there are a number of benches along the way for you to sit and take in a breath of the fresh coastal air whilst you admire the views and tranquility around you. As you head further south on the walk, you will begin to notice it gradually becoming quite rugged and rocky near the last section of the walk from Ledge Road to Bellevue Avenue. This can make the last mile of the walk a bit more challenging, especially if it's wet. Therefore, it's super important to be aware of your surroundings and feel comfortable and safe as some of the cliff drops can reach 70ft!
TIP! Don't make the same (now funny) mistake I made on my first trip there and think the route is 3.5 miles there and back! If you want to do the full route which includes the walk back again, remember the total mileage will be double! It's definitely worth remembering if you've come to the Cliff Walk in your car and will need to walk back again. A great alternative though is to hop on one of the local buses to return back to your starting point!
The Cliff Walk is a definite must do in Newport RI!
Be impressed by the Newport Mansions
Now you've seen the exterior of these magnificent mansions, why not delve further within these Renaissance walls to really experience a taste for what life was like in the Gilded Age!? Be transported back in time to explore 250 years' worth of history, elegance and wealth. There are ten estates among the Newport Mansions you can tour; I found The Breakers and The Elms the most spectacular, but you can check out this guide to the Newport Mansions here!

You can currently purchase a 'duo ticket' online for entrance into two of the three options mentioned above for just $32! When I visited last summer, I chose from one of their six (yes six!) self-audio tours which allowed me to wander around at my own pace and listen to the unique tales of the people who both lived and worked in these mansions.
The artwork and attention to detail in these glorious mansions is admirable and a part of what makes the Newport Mansions some of the must visit cool places in Newport RI. The staff are extremely knowledgeable, they go above and beyond to answer any questions you may have and have done a sublime job in preserving these mansions in their immaculate condition. It's not just about the interior though, don't forget to head outside for some fresh air to explore the many acres of land and well-kept gardens associated with these incredible mansions!
Explore Downtown Harbor – Bowens Wharf
Certainly some of the most fun things to do in Newport RI involve shopping and dining! Dubbed the 'Anchor of Newport', a trip downtown isn't complete without setting aside a few hours to explore Bowens Wharf.
Lined with endearing cafes, quaint boutique shops and an abundance of culinary options, you can't go wrong! My favorite go-to cafe is Empire Tea & Coffee on Broadway who serve up the most delicious hot chocolate – perfect for a typical, crisp New England, winter's day!
Also, if you can squeeze it in, I would recommend one of the 'Sightsailing' tours which takes you into Newport Harbour and Narragansett Bay. If you can bag a sunset cruise, you're in for one of the top romantic Newport RI activities.

You can download this Newport Downtown Historic Self Guided Audio Tour to get even more great info about Newport's colonial history, its role in the American Revolution, and how it came to be the charming seaside city we know and love today!
The WalknTours app can be downloaded on your smart phone here; use code NEWL for a discount on this tour.
Cruise Ocean Drive
Have you heard of the 10 mile drive Newport has? Hop in your car and drive along the ten-mile Ocean Drive Road for an incredible scenic trip along the southern coastline of Newport. Take in the stunning views of the Atlantic from your car or bike whilst admiring the beauty of Castle Hill Hotel & Lighthouse, Brenton Point State Park, Gooseberry, Bailey and Belmont Beach and Fort Adams State Park along the way (also the location of the Newport Folk Festival).
Visit the Roof Deck at The Vanderbilt Hotel
Tired after a long day exploring Newport? Get yourself to the Roof Deck at the prestigious Vanderbilt Hotel (walk-ins welcome!). You honestly will not find a better place in Newport to sit back, relax and watch the colors of that New England sunset dissolve over the horizon behind the Newport Harbor.
I was taken here by my partner as a birthday treat in early October and it exceeded all my expectations. Our cocktails were delicious, the food was exquisite, the jazz tunes were heavenly, the views were breath-taking, and the atmosphere was unparalleled. I have a slight obsession with pretty outdoor string lights too so when I caught a glimpse of these hanging above, I knew this was going to be a memorable place for me!
Afterwards, we headed inside and had a bit of a nosy downstairs where we were greeted by an aesthetically pleasing interior of old school glamour entwined with a contemporary, fresh twist. This enchanting mansion was built in 1909 and boasts a number of suites and guestrooms, a snooker room, outdoor swimming pool and a fire pit in the garden where you can indulge in a tasty s'more (or seven!). Head over to their website to check for availability and rates. I can't wait to revisit and treat myself to an overnight stay, it's one of the most beautiful luxury hotels in Newport!
Click Here to Check Prices & Book!
Learn the Art of Glassblowing
Thames Glass is where to go in Newport Rhode Island to learn more about the art of glassblowing. Walk in or make an appointment to take a glassblowing lesson and make your very own Newport RI souvenir!
Check out Gurney's Newport Resort & Marina
Gurney's Newport Resort & Marina is not just "the most beautiful hotel in Rhode Island," but it could also be considered one of the essential places to visit in Newport: Click Here to Check Prices & Book!

Whilst I have technically been here, I probably can't claim it, so I guess that's another excuse to go back! Last winter, I had a sudden urge to show off my dismal ice-skating skills, so a group of us headed here to try out the resort's relatively new ice-skating rink. Long story short, we got there and the particular day we had chosen was considerably warm for a winter's day and the ice was melting so skating was sadly off the cards! As much as I wanted to show off my expertly conducted pirouettes and axel jump, we hung up our ice-skating boots and ogled over the beautiful surroundings of this winter wonderland!
No wonder people choose to come here – the rink is located on the North lawn of the resort and as you glide seamlessly around, singing along to your favorite Christmas carols, you are treated to unobstructed views of the glorious Newport Bridge, the Harbour and Goat Island Lighthouse which is draped elegantly in festive Christmas lights and has its very own traditional Christmas reef!
No need to leave after ice skating though, next, head over to the resort's pop up heated igloos on their lounge and fire pit deck for some Christmas cocktails and festive treats – you'll thank me later!
Chill out at the Newport Folk Festiva
l
Here's one of the top things to do in Newport Rhode Island in the summer without a doubt: the Newport Folk Festival.
This is an annual event held every July in Newport that brings together all the folk lovin' people! Even if you're not a massive fan of folk music though, I've heard the atmosphere is incredible and is a festival not to be missed, so if you're looking for Newport RI things to do in July, add this to the list!

Experience Newport Christmas Charm
If you're looking for coastal New England Christmas charm, Newport RI might have just what you're looking for! Not only does Newport have cool events like the Newport Harbor Illuminated Boat Parade, but there are also neat happenings at the historic Newport Mansions like The Nutcracker at Rosecliff, a towering Poinsettia Tree, and gorgeous decorations everywhere you turn.
I've not yet visited during the Christmas Holidays, but I've heard the Newport Mansions are transformed into a winter wonderland, each one decorated distinctively differently to suit the unique historic interior – sign me up!
Dine at the White Horse Tavern
A friend of mine recently suggested a visit here after she had been and thoroughly enjoyed it. I mean who wouldn't want to dine in the oldest operating restaurant in the USA!? This National Historic Landmark is also recognized as the 10th oldest restaurant in the world – quite an achievement!
The White Horse Tavern has had its welcoming doors open for over 350 years, serving both locals and visitors. They offer lunch, dinner and Sunday brunch options and after having a quick peek at the menu I already can't wait to make a reservation (probably for all three!). PS: the tavern used to be owned by a pirate in 1702; this definitely makes it on the list of cool things to do in Newport RI! Check out their website for the detailed history of the tavern owners through the years.
Check out Hocus Pocus 2 Filming Locations
Did you know that several Hocus Pocus 2 scenes were filmed in Newport? It's true, check it out here!
Sail in the Sailing Capital of the World
If you're looking for the best things to do Newport RI style, sailing has got to be on that list somewhere! Check out the offerings at Classic Cruises of Newport for day and night cruises like their Champagne Sunset Sails and the Lighthouses and Mimosas Tour. What better way to explore beautiful Newport than to see it all by sea?
Before I moved to America, I was a keen tennis player in England growing up, but like many, I definitely don't know enough about the history of the sport and how it's shaped many players into the inspirational role models they are today. Fancy rubbing shoulders with some of the Tennis Hall of Famers? On a visit to Newport RI's International Tennis Hall of Fame, you can explore an interactive museum which has thousands of artifacts, photographs and videos, helping you to piece together the history of the sport over the years; if you're a tennis fan, this might be one of the top tourist attractions in Rhode Island for you!

You can test your knowledge of the sport, learn about the tennis legends of the world and are there any Roger Federer fans out there?! If so, one of the main attractions here is the holographic theatre which makes you feel like you are standing in the very same room as one of the greatest tennis players of all time! If you find yourself really in the tennis spirit, you can even make a reservation for the tennis courts to play a game yourself! Have a look on their website for more information and opening hours – I'll be joining you too!
Scope out Fort Adams State Park
Whether you're a fan of military history or not, you're going to be a fan of Fort Adams State Park! Yes, the military history of this park is cool and they do have reenactments and tours available, but they also host other cool events like Music at the Fort, a free music event with food and drink vendors that happens in the warm summer months. If you're looking for interesting historical attractions in Newport Rhode Island, here ya go!
There are so many fun things to do in Newport, Rhode Island all year long, but if you're looking for info on what to do in the Ocean State in each season, check out these guides to Rhode Island in the summer, fall, and winter.
PS If you're looking for things to do in Newport RI today or things to do in Newport RI this weekend, check out this local events calendar for real time info on the top things to do in Newport!
---
You might also like:
---
Hello! I'm Hannah and I currently live in the smallest state in the US – Rhode Island! I moved here in June 2019 with work from the North West of England near the Lake District and I've absolutely loved exploring this beautiful country so far, especially New England! I hope you enjoy my articles and they help inspire you to #travelmoore! Please check out my travel blog, Travel Moore, and Instagram to follow my adventures!