*This site uses affiliate links; if you make a purchase through these, I may receive a small commission at no cost to you.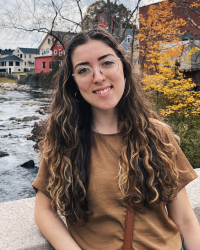 Latest posts by Jessica Vaillancourt
(see all)
New Hampshire is one of America's best-kept secrets, so if you didn't realize there are so many fun things to do in New Hampshire, you're probably not alone. Since it doesn't have a sprawling city of millions, it's not like everyone has a must do in New Hampshire list… but you should! New Hampshire has it all: the charm, quaintness, sites and activities, history, and gorgeous granite landscapes.
I was born and raised in NH, and just can't seem to leave this beautiful corner of the country. What sets it apart for me is its amazing variety of sights, towns, and activities, that are all insanely accessible no matter what region you're in. Since NH isn't a large state, everything is at your fingertips. You can be in a city, on a mountain, then on the beach, all in the same day. Talk about bang for your buck.
If you're not convinced yet, I'm going to share 50+ of the best things to do in New Hampshire. Many of these are my personal favorites, and all are worth being added to your New Hampshire bucket list.
Let's explore this great state!
Lounge by the ocean at Hampton Beach State Park
The beach is a major favorite among New Hampshire locals. It's such an integral part of our summers that I was surprised to learn we actually have the smallest ocean coastline (about 18 miles) of any state. But we definitely know how to make good use of our humble blessings!
Hampton Beach State Park is a wicked popular vacation spot between June and August. Read a book in the sand, grab a slice of pizza on Ocean Boulevard, or catch the sand sculpture competition in September; there are a ton of fun things to do in Hampton Beach, and cool hotels to stay at, too!
Explore the oldest European settlement in the state
Located in my favorite coastal city of Portsmouth, Strawbery Banke Museum is a 10-acre outdoor history museum imbued with over 300 years of U.S. history and one of the best things to do in Portsmouth New Hampshire!

Dating back to the 1600s, this is the oldest neighborhood in NH to be settled by Europeans. Composed of 32 restored historic buildings, heritage gardens, and costumed role-players, the museum will immerse you in its rich history.
You can participate in hands-on traditional crafts, storytelling, and artifact viewing. If you're a history buff, Strawbery Banke is a must.
Take a dip in Diana's Baths
It's not hard to find cool things to do in the White Mountains because they are absolutely riddled with breathtaking natural formations, and Diana's Baths is definitely one of them. Made up of a series of small waterfalls and pools, this 1-mile out and back trail in Bartlett is a short, easy walk, but packed with serene nooks to explore.
Appreciate the beautiful waterfall views along your hike, wade in the clean mountain-water pools, or picnic on a summer day!

Take a scenic train ride in the mountains
The Conway Scenic Railroad in North Conway Village offers family-friendly train rides through the Mount Washington Valley. This is definitely one of the top New Hampshire attractions for visitors to the state.
Departing from a charming, sunny train station in North Conway, you can choose between two adventures: a heritage rail excursion to Conway and Bartlett, or a scenic roundtrip to Crawford Notch with plenty of vistas and rocky outcrops that'll leave you in awe;; this is one of those very memorable things to do with family in New Hampshire, especially if you live somewhere that doesn't have mountains!

Drive, hike, or ride to the top of Mount Washington
Introducing Mount Washington: the tallest peak in the Northeast (6288'), home to the fastest wind gust ever recorded on earth (231 mph), and the muse for every single 'This Car Climbed Mt. Washington' bumper sticker.
But really, this mountain is a glorious point of pride for New Hampshire and undoubtedly one of the coolest things to do in New Hampshire, and there are several ways to experience its majesty. Experienced hikers can climb. Those who want to sit back and savor the scenery can ride the Mount Washington Cog Railway, the world's first mountain-climbing cog, to the top.
Last but not least, you can drive the legendary Mount Washington Auto Road to the summit yourself, then proudly display your new 'This Car Climbed Mt. Washington' bumper sticker. You've earned it!
Bring your little ones to Story Land
If you're looking for things to do in NH with kids, check this out: Nestled in the town of Glen, Story Land is a children's amusement park that will spark your child's imagination and have them buzzing from excitement.
With over 30 attractions, "the land where fantasy lives" was created to make kids smile, but adults might be equally amused by this living fairytale!
Walk across an epic boardwalk in a gorge
I highly recommend Flume Gorge in Franconia Notch State Park, which was created by the flow of Flume Brook and sits at the base of Mount Liberty. This is one of the most beautiful places to visit in NH, and a visit here is certainly one of those must do things in New Hampshire that everyone should experience for themselves.

The 1.5 mile Flume Gorge loop takes you along stairs and a boardwalk within the gorge, where you can observe the lush flora and fauna up close and take in its 90-foot granite walls. It's an unforgettable experience.
I first visited Flume Gorge as a child, and it blew me away – I might as well have been in Terabithia. To this day, I'm still convinced it's one of the most magical places in NH. This is one of those special things to do with kids in NH that they will remember all their lives!

Enjoy the holidays year-round at Santa's Village
Santa's Village in Jefferson is a magical place for kids, plain and simple and is an obvious addition to any things to do in New Hampshire with kids list. And it's exactly what it sounds like – a theme park that transports you to the North Pole.
There's food and shopping, a tiny train, holiday themed rides, elves, and meet-and-greets with Santa Claus himself! A visit to Santa's Village should also be on the list for fun things to do in NH with toddlers, too! You're never too young (or too old!) to enjoy a visit with Santa!

Learn about ocean science at the Seacoast Science Center
Located at Odiorne State Park, the Seacoast Science Center is a delightful, educational way to appreciate marine life and the ocean. If you're looking for things to do in Rye NH, add this to the list!

The exhibits will teach you about marine mammals like whales and seals, beaches, and reefs. The best part is the touch tank, where you can pet a chain catshark or hold a sea star; this is one of the most fun things to do with kids in NH, and certainly one of the coolest Seacoast NH things to do, too.

Have a serene stay at a luxurious mountain hotel
Why not experience NH in style? Located in Bretton Woods, a hotspot for skiers and adventurers, the Omni Mount Washington Resort is a breathtaking hotel; not only is this NH luxury resort with a spa one of the most fun things to do for adults in New Hampshire, but kids will have a blast too, making this a fun NH family activity!

In the 20th century, The Mount Washington was one the most luxurious hotels of its time. And the present popularity of this historical hotel lies in its massive size, and the nature that surrounds it – a stay here comes with 360-degree views of the White Mountains. Book a stay here if you want a one-of-a-kind NH experience!

Click Here to Check Prices & Book!
Watch a movie the old-fashioned way at a drive-in
Who doesn't love a nostalgic drive-in theater experience? The Milford Drive-In Theater is one of the best things to do in Southern NH and is an old-fashioned two screen theater, one of the only drive-ins left in the state. Snag a spot early (first come, first served parking), buy your theater snacks at the concession stand and get cozy for the show; this could also be a romantic New Hampshire activity if you're in the market for one of those.
Get up close to nature at Squam Lakes Natural Science Center
Looking for things to do in Holderness NH? Well, off the beaten path a bit, Squam Lakes Natural Science Center is a great place to visit if you're interested in natural science or seeing a variety of cool animals up close. There are so many programs and camps for kids in NH, live animal exhibits, walking trails, and education programs. The center even offers cruises on Squam Lake.
Overcome your claustrophobia inside the Polar Caves
On the list of unique things to do in New Hampshire, the Polar Caves were formed during the last Ice Age and created when a glacier moved across the landscape and deposited massive granite boulders. I think gorgeous granite formations like the Polar Caves are what make NH's landscape so amazing.
You can visit Polar Caves Park and meander along the stairs and boardwalks that will weave you in and out of the caves. Some portions consist of really narrow crevices though, so be prepared if you're not a fan of small spaces!
Sit on a frozen throne at the Ice Castles.
The Ice Castles, a frozen attraction in North Woodstock, is an incredible feat of human engineering and art, and definitely on the list of New Hampshire things to see in the winter. Built using hundreds of thousands of icicles by various artists, these castles have tunnels, ice thrones, sculptures, fountains, and more.
It's a magical, frozen kingdom that I really want to compare to a certain Disney movie… But maybe I should let it go. This is NH fun at it's finest!

Jam out to live music in an oceanside park
There are some amazing memories to be made in downtown Portsmouth's Prescott Park. A whole calendar of events happen here year-round. Not to mention, the location is fantastic! Right on the ocean, there are piers and beautiful gardens, and you'll also be in spitting distance of Portsmouth's best shops and restaurants.
One of the best ways to take advantage of Prescott Park is catching a live concert during their summer Concert Series. Lay out a blanket in the grass with loved ones and listen to your favorite band, with an ocean sunset and docking boats as the backdrop. This is where memories are made, especially if you're looking for fun things to do for adults in NH; major date vibes, right?

Play PAC-MAN at the largest arcade in the world

Bet you didn't know that Funspot arcade in Laconia is the largest arcade in the world – Guinness-certified! This place has over 600 games, 300 classic arcade games, a bowling alley, cash bingo, mini-golf, and even its own tavern, so if you're looking for things to do in Laconia NH, check it out. If you can walk in and out of here in under an hour, you deserve a Guinness World Record yourself.

Stay in a unique cabin in the White Mountains
If you haven't noticed yet, the White Mountains region is the home of so many classic NH things to do.
An awesome way to get up close and personal with these amazing mountain ranges is to find a unique cabin stay. I'd recommend looking for one in towns like North Conway, Bretton Woods, Jackson, or Franconia.
If you need some inspiration, check out our hand-picked list of 14 amazing cabins in the White Mountains; when you're looking for cool things to do in NH, can it get much cooler than staying in a quintessentially cozy New England cabin?

Peruse the galleries of an art museum
Yes, NH actually has a good arts scene! While there are plenty of great museums to check out in NH, two institutions really stand out: the Currier Museum of Art, and the Hood Museum of Art. Both of them are beautiful museums with world-class collections and great NH things to do.

The Currier (which made our list of best things to do in Manchester) has a strong European and American collection.
The Hood Museum in Hanover is a Dartmouth College institution, and as such has really strong ties to Dartmouth's history and community. But with a collection of over 65,000 pieces ranging from European, Indigenous Australian, Asian, and African art, the Hood Museum offers a powerful diversity of perspectives.
Having previously worked for this museum myself, I can proudly say it's an impressive institution.
Tour the historic home of a famous American sculptor
In the late 19th century, the great American sculpture Augustus Saint-Gaudens lived seasonally at a gorgeous estate in Cornish, NH.
The grounds have since been turned into the Saint-Gaudens National Historic Park, where you can tour the home, walk the gardens, and view over 100 of Saint-Gaudens' sculptures throughout the property.

Visit a British colonial village dating back to the 1700s

The Fort at No. 4 Open-Air Museum is a historical site in Charlestown, established by European pioneers in the mid-1700s.
You'll get to explore the old, restored buildings, watch live reenactments, and view artifacts displays. The Fort will give you a better understanding of the fascinating, messy history of European colonization in New England, and is one of the more intellectually interesting things to do in New Hampshire.
Have some fun in the sun at an amusement park
Looking for what to do in NH in the summer? Calling all roller coaster junkies: Canobie Lake Park in Salem is NH's biggest amusement park and definitely one of the most fun things to do in New Hampshire!

Recently named in Time's Money Magazine as one of America's 10 best amusement parks, Canobie has over 85 games and rides and draws visitors from all over New England.
Canobie really is a blast, and a great way to spend a summer day. Take a spin on the Xtreme Frisbee, if you dare!
Walk through New England's largest outdoor sculpture park
Introducing the Andres Institute of Art, a lesser-known NH art institute but well worth the visit. One of the top things to do in New Hampshire for art lovers, the Institute is located along wooded trails in Brookline, and from dawn to dusk you are free to walk the paths and view over 60 sculptures created by various contemporary artists.
Take a scenic drive on the Kancamagus Highway
The Kancamagus Highway, a 34-mile scenic drive in Northern NH, is an amazing USA road trip experience.
Officially designated an American Scenic Byway, this winding road cuts straight through the White Mountain National Forest and takes you over 2800-feet in elevation. Not only is it well worth the 2–3-hour drive, but you'll have immediate access to the endless natural treasures of the White Mountains.
Go in the fall if you can – many people consider this highway the best location for fall foliage leaf-peeping in the country, and certainly the best fall fun in NH!
Go on a moose tour
Have you ever seen a moose? These majestic, often elusive creatures are all over New Hampshire, but you might have to get lucky to spot one on your own. Instead, join up with a guided moose tour, like Pemi Valley Moose Tours located in Lincoln NH. This group in particular has a 97% success rate when it comes to spotting moose during their 3 ½ hour, ride-along moose tours!
Shred the gnar at a mountain ski resort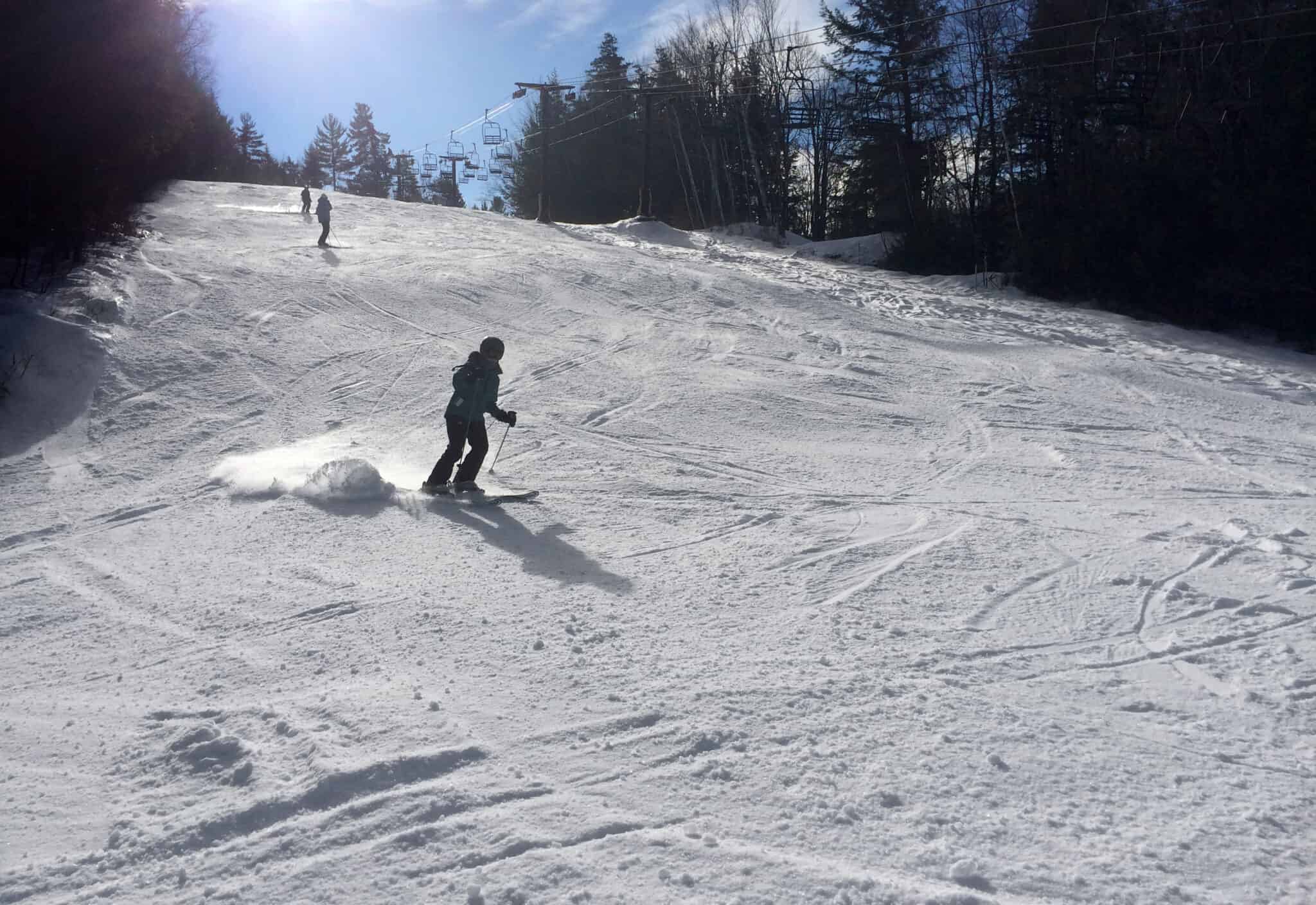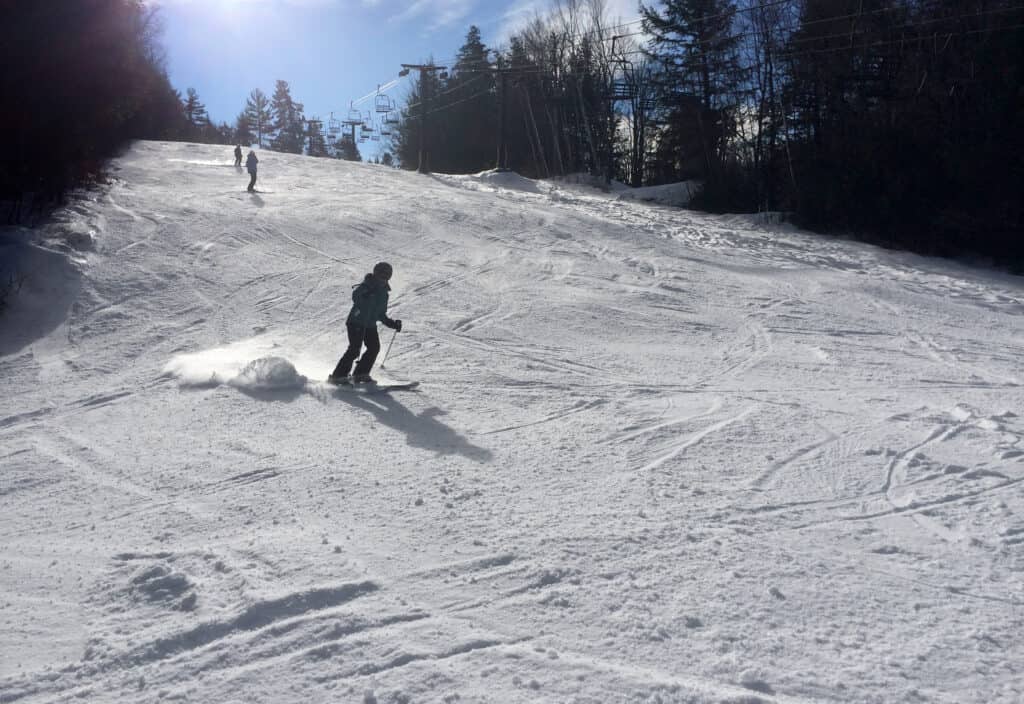 Vermont isn't the only ski-lover's haven in New England! NH has got some amazing peaks to shred too. And Loon Mountain Resort might just be one of the best places for it! Located in Lincoln, this resort covers three peaks and offers skiing and snowboarding lessons, rentals, and views for days. If you're looking for New Hampshire things to do in the winter, get out and play in the snow!

Become a wine connoisseur at a local vineyard
I love a nice wine tasting and was surprised to discover how many NH wineries and vineyards there are, some even offering stuff like a New Hampshire wine and dine full day tour!

LaBelle Winery in Amherst has great food, fruity wines, and a beautiful vineyard. Averill House Vineyard in Brookline is rustic and family-owned, located in a restored barn from the 1830s. There's also Haunting Whisper Vineyard, Flag Hill, Fulchino Vineyard, and more. And most of these offer wine tastings, tours, and dining on site. Take your pick! This is definitely a fun New Hampshire activity for adults.
See a show at a historic theatre
The Palace Theatre in Manchester is a great place to catch a live show, and is definitely one of those cool places in New Hampshire everyone should check out once. It offers a wide variety of productions, from plays to concerts to other performing arts events. We think it's one of the top things to do in Manchester and definitely a fun pick if you're looking for indoor activities in NH!
But it's not just about the world-class performances they host. The Palace, which opened in 1915, is steeped in history, charm, and some even say hauntings (it was featured on an episode of Ghost Hunters!). So come for the show, stay for the ghosts if you're looking for some spooky New Hampshire fun.
Peruse a farmers market on the seacoast
The Portsmouth Farmers Market is an open-air marketplace, where over 100 local vendors set up shop and sell their unique goods. It's an awesome way to shop fresh, and support the region's farmers, artisans, and craftspeople, definitely quaint fun Seacoast NH style . This farmers market runs from May-November.
Explore the inside of a Navy submarine

Have you ever wondered what the inside of a real submarine looks like? Well, satisfy your curiosity at the USS Albacore Museum.
The USS Albacore is a preserved U.S. Navy submarine that was designed to conduct top-secret research in the 1950s. It sits in USS Albacore Park in Portsmouth now, where you can take a self-guided tour of its interior; this is definitely on the list of interesting stuff to do in NH for kids and adults!

Visit a mountaintop castle in the clouds.
Lucknow mansion, otherwise known as the Castle in the Clouds, is a massive mountaintop estate in Moultonborough, and a very cool way to explore New Hampshire!

Built by a wealthy businessman in 1913, the property has 5500 acres, a restaurant, and sprawling views of the lake and Ossipee Mountains.
Come take a tour, learn about its fascinating history, appreciate the beauty, and enjoy the food. This historical mansion truly is a castle in the clouds, so if you've been looking for points of interest in New Hampshire, check it out!

Take a walk with a rewarding view at Cathedral Ledge
The Cathedral Ledge summit in Bartlett is a fairly low-commitment hike that offers a pretty big reward. Take this shaded walk along a mile-long auto road, up to Cathedral Ledge's 1159-foot summit. There are plenty of options when it comes to New Hampshire outdoor activities, but at Cathedral Ledge you'll find incredible views of the Saco River Valley and White Mountains from every direction.
Taste penny candy at an old-fashioned general store
If you're nostalgic for those good ol' days of candy counters and charming Yankee watering holes, you have to visit Zeb's General Store in North Conway Village. It's a really fun, whimsical spot for shopping while you're exploring North Conway; it's probably not the best shopping in New Hampshire, but you'll find a wide array of old-fashioned candy, New England-made specialty foods, and unique souvenirs; this is one of those fun things to do in NH for kids that's fun for the adults, too!
PS: Like old things? Check out our list of the best antique stores in New Hampshire.
Enjoy autumn like a local at the Deerfield Fair.
We love Fair Season in NH! It's one of our quintessential fall activities. There's just something about wearing flannel, petting farm animals, watching tractors race each other, riding rickety Ferris wheels, and eating shameful amounts of fried dough we can't get enough of.
The Deerfield Fair, held every September, has been operating for 144 years now. In 2019 this super popular fair attracted over 125,000 people in just four days! Oh, and if you do go, please try the apple cider donuts.

Spend an epic lake day at Lake Winnipesaukee

As the biggest lake in the state, Lake Winnipesaukee comes alive in the spring and summertime, and if you ask a local what to do in New Hampshire in the summer, chances are, they're going to mention the state's most well-known lake.
Located—shockingly—in the Lakes Region, there are so many ways to enjoy this gorgeous spot. Lounge on Weirs Beach, rent a boat from Goodhue Boat Co., take a cruise on the M/S Mount Washington, or shop and dine at Mill Falls Marketplace during your summer in NH!
Visit one of the oldest surviving businesses in the United States.
First opened in 1781, the Old Country Store and Museum in Moultonborough is considered one of the oldest businesses – and possibly the oldest general store – in the U.S.
This sunny-yellow store with its original foundation still intact is brimming with little wonders, knick-knacks, locally made foods, New England souvenirs, and a candy counter where you can try old-fashioned candy. The top floor holds a small museum for the history of the store and Moultonborough and could definitely be one of the things to do with family in New Hampshire!

Explore a historical, eclectic museum
If you're looking for things to do in Dover NH and a museum that exhibits a variety of items covering local history, natural science, and decorative arts sounds fascinating, the Woodman Museum in Dover might be just the place for you. Apart from cool intrigues and oddities displayed across four historical buildings, you'll find the oldest sycamore tree in Strafford County, a lovely garden, and the oldest house in Dover (built in 1675!).
Drink craft beer at NH Brewfest
What's there to do in New Hampshire? Well, we like our beer! In fact, there are almost 100 craft breweries across the state, serving up their unique styles for every kind of beer lover. To make it easy on yourself, why not sample them all in one place at the NH Brewfest in Portsmouth? This festival features over 150 beers from 50 NH brewers! There's a good chance you'll find a new favorite; this is squarely in the fun things to do for adults in NH category!
Attend the largest beer festival in New England
While NH Brewfest is perfect if you're interested solely in NH brewers, the New England Brewfest highlights all of New England's best. New England's official beer festival, New England Brewfest, is held in Woodstock, NH (which we're pretty proud of).
In past years they've hosted Lone Pine Brewing Co., Woodstock Inn, Allagash Brewing, Berkshire Brewing, and so many others; if the question is what are fun things to do in New Hampshire and you're a beer connoisseur, you're in luck with this answer!

Enjoy a downtown festival at the state capitol
One of the summer's most fun festivals takes place right in downtown Concord, the state capitol. Market Days Festival is a three-day event along Main Street in August, with live music, street food, crafts, carnival games, and all kinds of shopping.
So many local businesses set up booths and sell their services and goods at Market Days. This event is so much fun, and really uplifts the whole community. Festivals like this are fun things to do NH style!

Pick fresh produce at a family-owned farm
Apples, pumpkins, oh my. There are so many wonderful farms in NH, it's hard to pick which ones to highlight. But I'll give it a shot.
Lull Farm in Hollis is always bustling no matter what time of year. They have gorgeous flowers for sale, a bakery counter, and fresh seafood and dairy. Moulton Farm in Meredith is a favorite of mine. They have an extensive amount of produce, a corn maze every fall, and delicious homemade pies.
And finally, check out Applecrest Farm Orchards if you're looking for one on the seacoast. It'll satisfy all of you apple fanatics out there.
Have dinner and brews at a popular brewpub
Sometimes you might just be craving some good American grub and a local craft beer. Well, Backyard Brewery & Kitchen has your back.
Recently featured on Phantom Gourmet, this brewpub is a bustling locale. People rave about the handmade beer, wide-open interior and outdoor patio, and the mouthwatering prime rib. Looking for something delicious in New Hampshire? Here ya go!

Immerse yourself in the history of Canterbury Shaker Village
Canterbury Shaker Village is over 200 years old, and as a National Historic Landmark it preserves the heritage of the Canterbury Shakers and educates the public on its historical significance.
On your visit you can explore the Village grounds, take a guided tour, and check out various indoor exhibits. The unique architecture throughout the Village is a definite highlight!
Sample some wicked good chowda at Chowderfest
Chowder is a beloved New England soup. Probably because it's comforting and hardy, and New Englanders definitely need hardiness to get through these killer winters.
In any case, if you're a fan of a good chowder, visit Chowderfest and Brews at Waterville Valley Resort. If you're looking for things to do in New Hampshire in May, this is a good choice; for a small fee you can sample all the chowder your stomach can stand. Live music and local beer samples included!
Sip on a latte at a cozy café

NH's coffee scene doesn't always get the credit it deserves. And while we're no Portland, there are some undeniable gems sprinkled around New Hampshire.
Second to none is Apotheca in Goffstown, a café and flower shop combo that will spark your imagination and your taste buds. They have whimsical, earthy decor, comfy repurposed furniture, local artisan crafts and gifts, gorgeous flower arrangements and incredible coffee. What more do you need?
Honorable mentions include Portsmouth Book & Bar, Local Moose Cafe, the Metropolitan Coffee House, and Union Coffee Co.
Take the family to Chucksters Family Fun Park

This amusement center in Chichester is jam-packed with fun activities, making it one of the top things to do in NH with kids. From a bumper boat pond to ziplining, go-karts, batting cages, a climbing wall, and mini golf, you won't experience a single moment of boredom.
Take a walk in the woods to the ruins of a castle
Located within the Madame Sherri Forest in Chesterfield, you'll find something bewildering: the ruins of Madame Sherri's Castle, where the iconic "staircase to nowhere" spirals up into the sky. This is definitely a unique New Hampshire thing to do!

There's a fascinating history to this abandoned castle. It was built by the eccentric Parisian costume designer, Madame Sherri, to entertain New York City's rich and famous in the Roaring Twenties. It's fun to visit and imagine all the scandalous ragers taking place in those woods.
Drive through a magical tunnel of Christmas lights
If you love peeping amazing Christmas lights displays in December, look no further than the NH Motor Speedway in Loudon. While this speedway is normally used as a race car track, it is converted each holiday season into a magical 2.5-mile tunnel of Christmas lights that you can drive your car through. It's worth waiting in line for as a super fun Christmas in NH thing to do!

Go on a shopping spree at the Merrimack Outlets
The Merrimack Outlets is a large, modern shopping center that has a nice food court, outdoor walking paths and over 100 outlet stores. There are so many upscale brands here that you won't find anywhere else in the state, like Barbour, Coach, Lucky Brand, and Michael Kors, def some of the best shopping in New Hampshire!

Go flower-peeping at the Sugar Hill Lupine Festival

For nature-lovers and photographers who love capturing lightning in a bottle, you'll want to attend the Sugar Hill Lupine Festival in the White Mountains.
The town of Sugar Hill is way off the beaten path, but it possesses a secret treasure: endless fields and gardens of lupines. These beautiful purple, white, and pink flowers bloom for just a few short weeks in June.
Attending the Sugar Hill Lupine Festival is one of the best things to do in NH in June to catch them at their glorious peak; the rolling hills explode with color, but only for a brief moment.
Ride the Alpine Slide at Attitash Mountain Resort
If you're looking for NH things to do in summer that deliver big on fun, check out the alpine slide at Attitash Mountain Resort, the longest mountain coaster in North America! This qualifies as a fun thing to do in New Hampshire with kids and adults alike!
Spend a day on the river
New Hampshire isn't just about the lakes; there's also plenty of river fun to be had here! Adventurers can find a variety of rivers that are great for various outdoor activities. There are slow-moving rivers perfect for a lazy day of river tubing. And at the opposite end of the spectrum, there are some rivers with sections of exciting rapids, where folks can paddle on a white-water rafting excursion.
Don't forget about the other fun river activities you can try, too, like fishing, swimming, or kayaking!
Take a trip to outer space
The McAuliffe-Shepard Discovery Center is the perfect place to make your dream of going to space come true, without actually leaving earth.
This center has an observatory and interactive space exhibits, where you can learn all about astronomy, aviation, space science, and real-life astronauts such as the courageous Christa McAuliffe, so if you're a big space buff, this might just be the best thing to do in New Hampshire for you!

But the best part? The planetarium shows. Recline in their domed theater, and feel like you're literally flying through the stars.
The answer to "what is there to do in New Hampshire" is basically EVERYTHING! Have fun making and then crossing items off of your New Hampshire bucket list!
---
Which of these top things to do in NH is your favorite?
---
More resources to help you plan your New Hampshire travels:
---