One of the most beautiful times of year in New England is the fall. It's the best place in the United States to catch the fall foliage. There's something so magical about seeing the leaves turn to bright oranges and reds and yellows during this time of year.
New Hampshire is no exception! It's filled with lovely fall activities, including picking pumpkins so you can have some fun and carve them. Throughout this post, you'll learn all about the best pumpkin patches in New Hampshire.
Best Pumpkin Patches in New Hampshire
Kimball Fruit Farm
First up is Kimball Fruit Farm in Hollis, New Hampshire. This is arguably one of the most popular places to get pumpkins in all of New Hampshire. You'll want to get there quickly because of their popularity, or you may not be able to get any pumpkins!
In addition to pumpkins, Kimball Fruit Farm also has tons of other seasonal fruits and vegetables that you can get, including Fruit Boxes and Harvest Boxes. They also spring up at many different farmers' markets in the area so you can get to know the people who run the company.
Read Next: 10 Best Corn Mazes in New Hampshire to Visit This Fall
McKenzie's Farm
McKenzie's Farm is located in Milton, one of the best pumpkin patches in New Hampshire. This is a u pick farm, meaning that you can go directly to the farm and pick your own fruits and vegetables, including pumpkins! It's basically the same as a pick-your-own-farm if you have heard of those.
Pumpkins are available for picking starting in early August, so you'll want to race to the farm! They only have a certain amount available each year before they're fully out. This is a great place to go New Hampshire pumpkin picking with kids, as they often hold other events throughout the fall as well.
Read Next: 9 Abandoned Places in NH to Discover
Sunnycrest Farm
Next is a Londonderry, New Hampshire farm called Sunnycrest Farm. This farm runs a similar scheme to the public as McKenzie's farm, as it's a pick-your-own farm that offers everything from apples and strawberries to, of course, pumpkins!
Sunnycrest Farm has its own pumpkin patch that it's pretty well known for. It's a small, locally owned farm run by a family in the area, so it's a great place to support small businesses in Londonderry. During your visit, be sure to eat some of the pumpkin bread from their stand.
And if you miss out on pumpkin season, you can always head back in the winter for Christmas trees!
Read Next: New England Fall Road Trip: 7 Day Itinerary 🍁
Hazelton Orchards
Hazelton Orchards in Chester is another of the best pumpkin patches in New Hampshire. With a huge pumpkin patch, this is one place you won't want to miss. Kids in particular love visiting this New Hampshire pumpkin farm because it's such a fun fall experience.
Also, one of the most popular things to pick at Hazelton Orchards is apples in the fall. They have a few apple trees that have some of the juiciest apples in the area! There are also tons of squash in the squash patch. So, you can visit here and pick quite a few different things!
13 Best Ghost Tours in New England to Spook You 👻
Brookdale Fruit Farm
Another of the great pumpkin patches in New Hampshire in Hollis is Brookdale Fruit Farm. It's one of the biggest pick your own farms in all of New Hampshire, so you genuinely have endless possibilities here for picking in addition to pumpkins. Plus, it's been in business for more than 150 years!
Brookdale Fruit Farm was first opened in 1847 and mainly sold summer fruits and vegetables, but now the pumpkin patch is one of the most popular reasons people visit. The farm also does different events throughout the year,locally-owned, so be sure to pay attention to their calendar too.
Read Next: 13 Most Haunted Places in New Hampshire: Paranormal Activity 👻
Butternut Farm
Butternut Farm in Farmington, New Hampshire, is a popular pumpkin patch that's super family-friendly and fun. It's also a huge farm, and similar to the other farms on this list, they offer to pick your own pumpkins as one of their activities. They also sell pumpkins that are already picked if you prefer that.
After you're done picking pumpkins, be sure to check out their apple picking too. They have some pretty great apples, which are perfect in the fall! Take a visit to their Cider House, too, for some delicious apple cider donuts and hard cider to pair with it. What more could you want?
Read Next: 13 Haunted Places in New England That are Wicked Creepy
Applecrest Farm
Applecrest Farm in Hampton Falls has a great pumpkin patch. It's mainly a year-round apple orchard and is also the biggest and most historic of its kind in all of New Hampshire. It's one of the oldest apple orchards that have been in nonstop operation since opening!
The pumpkin patch is a great place to visit in the fall. During this time, they also offer some different festivals that they like to call Harvest Festivals. These festivals include tons of fun activities, including corn mazes, tractor rides, live music, baked goods, apple cider donuts, and more.
Read Next: 15 Haunted Hotels in New England To Stay in If You Dare
Emery Farm
Emery Farm in Durham is one of the oldest pumpkin patches in New Hampshire, even older than Brookdale Fruit Farm. It opened way back in the 17th century and has been known for its pumpkins ever since it opened. So, you can for sure guarantee that you'll be getting great pumpkins here!
In addition to their pumpkin patch, Emery Farm has various activities they host in the fall, especially around Halloween. They host wagon rides, apple bobbing, and even corn mazes! Check their online website to pay attention to the events that they will be hosting this fall.
Read Next: The Best New England Fall Foliage Tours Worth Your Money
Moulton Farm
Moulton Farm has one of the most breathtaking pumpkin patches in New Hampshire! It's located in Meredith, New Hampshire, and is known for all of the fantastic produce that it has, as well as its excellent pumpkin patch. This is a great farm that offers tons of different events and even has a huge garden where you can cut your own flowers.
As you might expect from a farm in the fall, Moulton Farm also has many different fun activities in the fall. There's a hayride which is one of the most fantastic activities that they offer. Plus, they have a store filled with delicious treats.
Read Next: 15 Best Ghost Tours in Salem MA for Frightful Fun💀
Mack's Apples
Stop by Mack's Apples for some great pumpkins for carving this fall. They have a pick your own season, but they also sell a variety that are already picked at their farm stand too. From small pumpkins to super large ones, Mack's Apples has it all.
Plus, as you may have guessed from the name, Mack's Apples also has a wide variety of delicious apples, which are perfect for the fall time. Oh, and did I mention that Mack's Apples has also won awards twice in People's Choice? Talk about a great farm!
Read Next: 10 Amazing Spots for Apple Picking in NH
Coppal House Farm
Located in Lee, New Hampshire, is Coppal House Farm. They have a huge pumpkin patch that you can visit, and you can choose between white and orange pumpkins in virtually every size imaginable.
In addition to pumpkin picking, they have tons of fun events and things to do for you to partake in after you're done. There's a corn maze where they host trick or treating and a fun wagon ride that will bring you around the farm. At night, they even have a haunted version of the corn maze!
Read Next: 60 Awesome Things to Do in New England with Kids
Rossview Farm
Rossview Farm in Concord has one of the greatest pumpkin patches in New Hampshire! They start selling their pumpkins in October, and they have tons to choose from. The pumpkins usually only last for the month, so you'll want to get there quickly to be able to grab your pumpkins.
They usually have limited hours each day, closing around noon, so you'll want to be aware of their schedule before visiting. Luckily, they are open every day of the week, though!
Read Next: Fall in New England: Best Foliage, Farms, Fun 🍁
Lavoie's Farm
Last but not least is Lavoie's Farm, another of the great pumpkin patches in New Hampshire that happens to be located in Hollis. To visit quite a few different pumpkin patches during one visit, definitely head to Hollis because you can knock out a few!
Lavoie's Farm offers pick your own pumpkins in the fall and squash and a wide variety of apples. Once you're done picking, be sure to try some of their delicious apple cider, which they're pretty well known for.
—
There are so many great pumpkin patches in New Hampshire, and they're located all over the state! Each one is so incredible, so no matter which one you visit, you'll be sure to have a great time.
---
You might also like:
---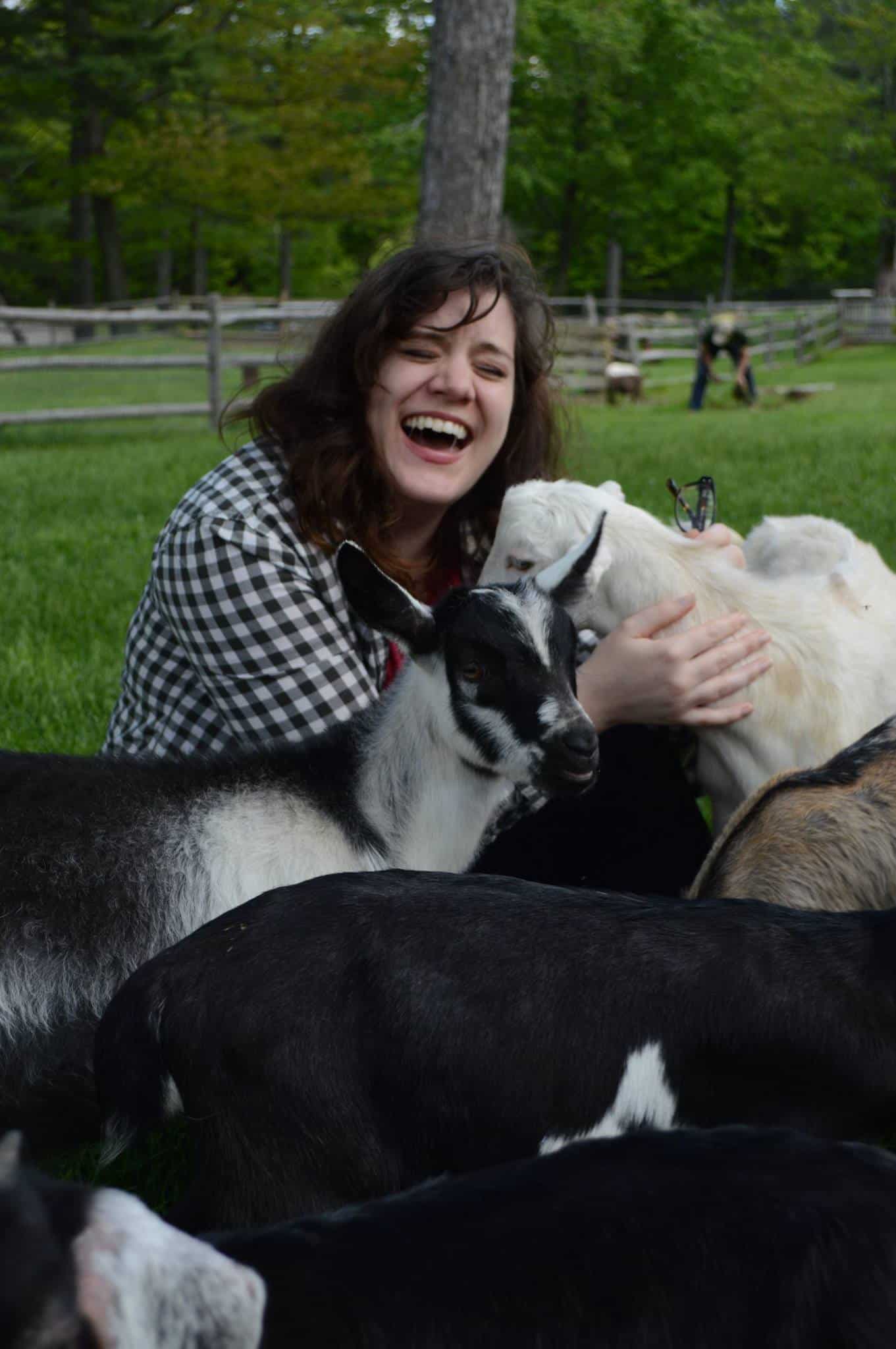 Amy Hartle is the founder and Editor-in-Chief of New England With Love, a comprehensive resource for travel in the New England region. Amy has been exploring New England since 2001. She lived in Vermont for many years and is a graduate of Plymouth State University in New Hampshire. Amy has been writing about travel for over a decade. On this site, Amy aims to share her love of New England and help you to have the best possible adventures!
Amy has been a full time blogger since 2012, and is also the publisher of Two Drifters, where she writes about couples travel and relationships, as well as Let's Adventure Baby, a family travel site. When not traveling the world or creating epic blog content, Amy can be found cuddling with her husband, son, and cats, & drinking a maple latte.