Exploring beautiful beaches in New England is without a doubt one of the best things to do in the region. Especially when it comes to summer in New England, is there anything better than getting a little face time with the glorious Atlantic Ocean?
There are so many incredible beach towns New England has to offer where you'll find that salty sea breeze and lots of fun stuff to do on land, too!
Whether it's the beaches of Maine, New Hampshire, Massachusetts, Rhode Island, or Connecticut that call to you, these are some of the coolest and best beach towns in New England!
PS take a deeper dive into beach towns in New England with the following links for these specific states:
Best Beach Towns in New England to Visit ASAP
Nantucket, MA
There are several incredible beach towns in the Bay State, and Nantucket is one that offers those quintessential New England vibes all across this beautiful island.
Pristinely preserved beaches and stunning scenery abound, like the 'Sconset Bluff Walk that ventures along the gorgeous bluffs, providing fantastic views of the Atlantic and Sankaty Head Lighthouse.
There are plenty of fabulous beaches to choose from on island, depending on what you're looking for, and oh, so many fun things to do outside of the sand and surf, too!
There are wonderful restaurants like The Nautilus, downtown Nantucket's spot for delicious delicacies from the land and sea.
The island of Nantucket has many lodging options, including gorgeous hotels and lots of cool Airbnb and vacation rentals, but if you're looking for a splurge-worthy resort option, check out the Nantucket Hotel and Resort.
Amenities abound like beautiful swimming pools, onsite dining, and so much more. Nantucket is a New England beach town that wouldn't know how to disappoint if it tried!
Click Here to Check Prices & Book!
Old Orchard Beach, ME
Seven miles of sandy beach await you in Old Orchard Beach, locally known as OOB. This cute little beach town is known for its fabulous waterfront, which is so much more than just swimmable sandy beaches.
The Old Orchard Beach Pier is 500 feet of restaurants, bars, vendors, and live entertainment, with views that absolutely slay. You can enjoy your day at OOB in the sun and sand before heading up to the pier for a bite and a beverage.
OOB has more claim to fame than just your standard beachy fun, too, because it is also the home of Palace Playland, New England's only seasonal beachfront amusement park.

There are many fun things to do in Old Orchard Beach, but when your day is done, consider a stay at Alouette Beach Resort.
You'll have a wide range of options between economy and luxury that can accommodate most all needs, including a need for incredible ocean views!
Click Here to Check Prices & Book!
Madison, CT
Madison is known as one of the cutest small towns in Connecticut, so this little New England beach town delivers big on quaint Connecticut charm.
Home of the Hammonasset Beach State Park, one of the neatest state parks in CT and the longest shoreline beach park in the state, there's plenty of space on the sand for your sandcastle construction and sunbathing needs!
If splashing in the Sound doesn't sound like your thing, check out Meigs Point Nature Center. You can enjoy nature walks, touch-tank programs, and workshops about the wildlife and natural history of coastal Connecticut.
In Madison's quietly quaint downtown, you'll find cute shops like R.J. Julia Booksellers, the independent bookstore and café/bistro that hosts literary events year-round. This is a warm and welcoming space to soak up all the small-town New England vibes.
As far as where to stay, Scranton Seahorse Inn is one of the dreamiest B&Bs in the state and is even walking distance to beaches and downtown.
There are lots of fun little small-town things to do in this coastal cutie, and Madison has a lovely little restaurant scene, too.
Click Here to Check Prices & Book!
Little Compton, RI
Do you like your New England beach towns on the quainter side? Check out Little Compton, Rhode Island! Listed in the National Register of Historic Places, this is one of those towns that offers the perfect respite for those looking to escape the crowds.
Many of the beaches in Little Compton are private, but there are some public options! South Shore Beach is a pretty beach that feels a little secluded, but you will find some basic amenities, including lifeguards in season.
For a peaceful place to walk and enjoy coastal Rhode Island sights, head to 75 acre Goosewing Beach Preserve, accessible via South Shore Beach. This protected preserve is stunning, and a walk here is the perfect place to relax and unwind.
Don't leave town before visiting Carolyn's Sakonnet Vineyard to pick up a taste of coastal New England. They also host a summer concert series where you can enjoy some vineyard goodies alongside some standouts of the local music scene.
One of the most exciting aspects of a visit to Little Compton is the possibility of a stay at Stone House Inn, an absolutely gorgeous historic property situated on 2.7 acres. Not only do you get to enjoy the stunning grounds and accommodations, but they also have a private beach and ocean views.
Click Here to Check Prices & Book!
Rye, NH
This sweet little New Hampshire Seacoast town is home to beautiful beaches, seaside views, and some of the best seafood on the New England coast. Does it get much better than that?
Two of Rye's most popular beaches attract visitors from all around for their sandy beaches, beach amenities, and spectacular scenery.
Wallis Sands State Beach has gentle surf and lovely views of the Isle of Shoals, and Jenness State Beach is typically a little more crowded, with Summer Sessions Surf Shop and Sandpiper Café conveniently located right across the street so you can easily meet all your surfing and refueling needs.

Rye is a tiny little town, but with attractions like Odiorne Point State Park (wait until you see the old WWII bunker remnants, so cool!) and the Seacoast Science Center there's plenty of fun to be had beyond the beach.
Another popular Rye activity is getting out on the water for a whale-watching excursion with Granite State Whale Watch or catching a ferry out to Star Island (open June through September) to experience that Isle of Shoals serenity for yourself.
Back on the mainland, swing by Ray's Seafood Restaurant for some of the best seafood on the Seacoast with incredible ocean views before laying down your head for the night at one of the cute places to stay like The Inn at Rye Place. You'll be going to bed happy!
Click Here to Check Prices & Book!
Westport, CT
Home to one of the most beautiful beaches in the region, Westport, Connecticut is one of those must visit New England beach towns for those who love the water.
Situated along Connecticut's Gold Coast, Westport has the most ocean and river waterfront in the state, so if you love those water views, you're going to love this town!
With three gorgeous town beaches and a state park, there's plenty of lovely outdoor space to enjoy. Compo Beach is one of the most popular beaches in New England, with a great boardwalk, concessions and other amenities that make it perfect for a day at the beach.
Sherwood Island State Park is 235+ acres of natural beauty, so if you're looking for the perfect place to spend the day playing, picnicking, swimming, and just lounging around on the sand, this is the place!
If you're looking to book a room with water views, consider The Inn at Longshore. It's grounds are dreamy as can be!
Click Here to Check Prices & Book!
Narragansett, RI
Of course, good ol' Gansett had to make the list of best beach towns in New England with its popular beaches and picturesque views!
Narragansett has several beautiful beaches that are popular for swimming, surfing, and sunbathing, and all offer gorgeous ocean sights.
Narragansett Beach is one of the most popular beaches in the state. It offers fantastic views of The Towers, the historical icon/preserved remains of the 1886 Narragansett Pier Casino, and Point Judith Lighthouse, one of the loveliest lighthouses in Rhode Island.
It is also considered one of the most beautiful places in the Ocean State.
Head to the Narragansett Pier to shop, and look out for events like Summer Concerts at the Gazebo and live music at the Pier.
There are plenty of options for where to stay and where to eat in Narragansett, but for a romantic getaway vibe with a boutique hotel experience, check out The Break Hotel and their on-site restaurant Chair 5. They have rooftop dining with ocean views, just saying!
Click Here to Check Prices & Book!
Rockport, MA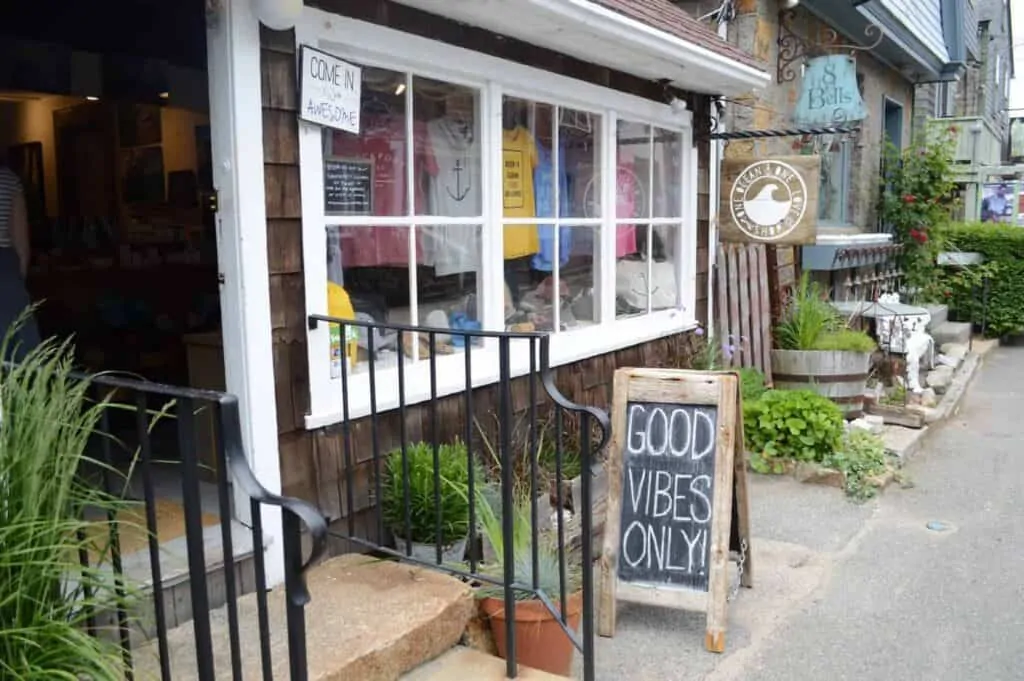 One of my personal favorite beach towns to visit in New England is Rockport, Massachusetts. This seaside community has just about everything I love about coastal New England!
You've got lobster, lighthouses, leisure, what more could a person possibly want?
There's the iconic Motif Number 1, which is a definite must see on Cape Ann. Said to be one of the most painted building in the world, you don't have to be an artist to appreciate the simple beauty of this bright red fishing shack.
This is an artists town, after all, and we love strolling down Bearskin Neck and popping in to all the art galleries and shops. We always find the most interesting things here!
There are swimming beaches on Rockport like Front Beach and Long Beach, but I really enjoy just sitting on the sand and taking in the views.
When in Rome, you gotta do like the Romans, and when in Rockport, you gotta eat lobstah! One of my favorite lobster restaurants in New England is Roy Moore Lobster Co in Bearskin Neck. Try the lobster roll, it's delish!
There are plenty of cool places to stay on Cape Ann, but I adored staying at the Emerson Inn. You can read more about my experience there, but if you're looking for a historic place to stay by the sea, this is it.
Click Here to Check Prices & Book!
Provincetown, MA
One of the most colorful and vibrant communities on the Cape, Provincetown is the New England beach town that seems to never really slow down!
Not only does Provincetown have gorgeous beaches that draw visitors in from near and far, but this beautiful beach town is also known for its progressive and inclusive LGBTQ+ friendly culture and fantastic art scene.
Most everywhere in P-Town proudly displays rainbow flags and stickers, from the cool little shops and art galleries that line Commercial Street to the large collection of Cape-Codder art found in the Provincetown Art Association and Museum, and all around town.
Provincetown is also home to stunning natural scenery, like the Provincetown Dunes, one of the most beautiful places in Massachusetts. Biking is a popular activity in P-Town, with excellent trails like Province Lands Bike Trail that offer views of cranberry bogs, the sand dunes, and a beech forest.
There's whale-watching, museums, community events and so many other terrific things to do in Provincetown, but once you've worked up your appetite, consider stopping by the Lobster Pot, one of the top spots for lobster rolls on Cape Cod.
Provincetown also has some great places to stay, including some excellent Airbnb options, with several offering ocean views! Breakwater Hotel is a popular option, with rooms overlooking Provincetown Harbor and Long Point Lighthouse.

Click Here to Check Prices & Book!
Milford, CT
One of the most darling beach towns in New England, Milford has a tasty claim to fame: they claim to be the first to serve up a buttery warm lobster roll!
If you're familiar with New England foods, you'll know this is kinda a big deal.
Besides being home to some fantastic seafood, Milford is also home to gorgeous Silver Sands State Park. Walk the picturesque boardwalk and take in those spectacular views of Long Island Sound, then take a dip. This is the warmest water at New England beaches you'll find!
Walnut Beach is another popular Milford beach, and it has a lovely pier that's perfect for taking great New England beach pictures!
Stroll the Milford Green and downtown Milford, where you'll find the waterfall at the Milford Duck Pond. This feels like one of those quintessential New England scenes that you see in postcards, and it's a definite must visit while in Milford!
Looking for where to stay in Milford? The Hilton Garden Inn is just a few miles from Silver Sands State Park and has an indoor pool!
Click Here to Check Prices & Book!
York, ME
One of the cutest small towns in Maine, period, York is comprised of York Village, York Harbor, York Beach, and Cape Neddick, referred to collectively as "The Yorks."
Each has its own distinct vibe for whatever you're looking for in your New England beach town getaway! Obviously, there's York Beach, with Long Sands Beach and Short Sands Beach being known for their soft sand beaches and incredible views; really, it's one of the best places to catch the sunrise!
You can also see the Nubble Lighthouse on Cape Neddick from Short Sands Beach if you're looking for those lovely lighthouse views.
York Village is the historical section where gems like the Old Gaol, Maine's first prison built in 1656, can be found. York Harbor is home to the scenic Cliff Walk and the Wiggly Bridge – yup, just how it sounds!
There are several great places to stay, including one of my personal favorites: the York Harbor Inn, which makes for a stay with that perfect balance of comfort and luxury.
You can read more about my stay here a few years back, it is a gorgeous property in the perfect location for a New England beach getaway!
Plus, major bonus, just steps away is 1637 Restaurant, with divinely delicious fresh-caught seafood and other decadent menu options. There are so many fun things to see and do in York, making this beach town one of the best places to visit in coastal Maine.
Click Here to Check Prices & Book!
Old Saybrook, CT
When you're looking for a beach town that is less go-go-go and more "rest and relax a bit," then Old Saybrook might be just what you're looking for!
With Harvey's Beach being one of the most beautiful beaches in Connecticut, there is plenty to find here in the way of wonderful waterfront views. You can even work on your short game with Saybrook Point Mini-Golf, where they invite you to "Putt a Round by the Sound" and enjoy that sweet sea breeze while you play.
This super cute small beach town offers laid-back activities like antique shopping – you never know what kind of cool vintage treasures you might find!
Afterwards, take in a show at the Katharine Hepburn Cultural Arts Center, lovingly referred to as "The Kate," where you can catch all kinds of different performances, from dance to music to even magic.
Spend a little time at Myrcene Ale sampling some of the flavors of shoreline Connecticut before turning in for the day.
If you're looking for a splurge-worthy spot to stay, consider staying at Saybrook Point Resort & Marina.
On-site full-service spa service, private balconies, stellar views of the Sound, and a killer on-site restaurant await you. After a stay like that, how could you possibly not feel rested and revitalized from your seaside vacation?
Click Here to Check Prices & Book!
Charlestown, RI
Looking for a beautiful beach town in Rhode Island? Charlestown could be just what you're looking for!
You've got beautiful beaches and wildlife refuges, like Blue Shutters Town Beach, with great amenities and lovely views of Block Island Sound. This is a popular beach for families because there are restrooms and lifeguards.
East Beach is also popular, but a little less developed. You'll find composting toilets and lifeguards in season, but most of all, a gorgeous stretch of sand! This is a three-mile-long barrier beach that separates Ninigret Pond from the ocean, and it is a lovely place for a New England beach day.
Visit the Ninigret National Wildlife Refuge and walk the nature trails, then follow it up with a visit to Frosty Drew Observatory and Science Center for stargazing!
As for where to stay in Little Compton, consider booking a room at the General Stanton Inn! This lovely historic inn is also home to one of the best local places to eat, the Tavern.
Click Here to Check Prices & Book!
Kennebunkport, ME
A beautiful beach town with that sturdy Maine energy mixed in with a little bit of the posh, Kennebunkport has been the summer home of the Bush family for decades now. After your visit, you'll understand why!
Sandy Maine beaches are a major draw here, and Goose Rocks Beach is one of the most popular for tourists and residents alike, with its white sand beach being protected by an offshore barrier reef, protecting swimmers from being battered from some of the bigger ocean waves. Stand-up paddleboarding, kayaking, and canoeing are always a good time off of Kennebunkport's shores!
There are plenty of other cool things to do in Kennebunkport, too. Check out the local art galleries and shop in Dock Square, explore quaint museums like the Seashore Trolley Museum, or even just drive by the Wedding Cake House, the ornate and whimsical historic home that really does resemble an old wedding cake!
Kennebunkport also has so many great places to eat and stay, but for a fun, kinda off-the-grid experience, consider glamping at Sandy Pines Campground where camping is a little more comfortable and amenity-filled than the average pitch a tent/sleep on the ground camping experience goes!
Or you could opt for the Boathouse, one of the prettiest waterfront boutique hotels in Maine!
Click Here to Check Prices & Book!
Block Island, RI
While technically this beach town is called New Shoreham, the most popular way to refer to this gorgeous place is as Block Island.
Of course, there are the beaches of Block Island, which are hard to beat both in Rhode Island and beyond.
Beyond just beaches, however, Block Island is also home to beautiful attractions like the gorgeous North Light, the granite and iron lighthouse that sits among the grassy dunes on the northern tip of the island.
The Southeast Light sits at the southern end of the island, dramatically perched atop the spectacular Mohegan Bluffs, one of the most impressive natural sights in the state.
There are so many cool things to do and wonderful places to stay on the island, but if you're looking for the ultimate in romantic settings, check out The Atlantic Inn, situated on a hilltop overlooking the town.
Plus, their on-site restaurant, Restaurant 1879 offers fine dining with a fantastic view, which is hard to beat, isn't it?
Click Here to Check Prices & Book!
Wellfleet, MA
Of course, it's hard to go wrong when visiting any beach town on Cape Cod, but Wellfleet is an absolute gem of the cape with its fantastic beaches.
Marconi Beach is a favorite among residents and tourists alike on the beautiful Cape Cod National Seashore, featuring those quintessential New England beach views.
This is also the home to one of Cape Cod's best hikes along the Atlantic White Cedar Swamp Trail, where walking along the boardwalk into this lushly forested space just steps off of the sand dunes is often described as an ethereal experience.
Wellfleet also has kettle ponds that serve as freshwater beaches, but it's kind of a "you have to know someone" type of thing as access is closely guarded by locals, unless you can make friends with a townie willing to share!
Wellfleet has plenty of great things to do, like visiting the Wellfleet Drive-In Theatre or taking a Sunset Sail out at sea.
There are also plenty of wonderful Wellfleet restaurants to check out, but one fun option is the Wellfleet Bookstore & Restaurant where you can enjoy spectacular seafood before hunting through the second-hand bookstore for your new favorite book.
As for where to stay, you might look into Event'tide Resort Motel and Cottages, the winner of "Best Motel on Outer Cape Cod" for 22 years and running! Plus, a stay at an Event'tide cottage can put you right beside your favorite beach.
Click Here to Check Prices & Book!
Ogunquit, ME
When the town motto is "Beautiful Place by the Sea," you can bet it's going to be high on the list of beautiful beach towns in New England!
Known for its soft white sand beaches and cute little Main Street, Ogunquit is a must-visit. Ogunquit Beach has excellent beach amenities including nearby restaurants and gift shops, and Footbridge Beach is a quaint spot with a picturesque wooden bridge that is a perfect backdrop for vacation photos!
Ogunquit is a gorgeous community with a lot of visual appeal, whether you're shopping at Perkins Cove, setting sail on the ocean, or riding the Ogunquit Trolley around town.
There are so many great shops in Ogunquit, like On the Main, a gift shop with local art and both handcrafted and commercially manufactured beach-themed goods that could be the perfect souvenir from your beach town getaway.
Ogunquit has so many neat things to do, including taking in a show at the darling Ogunquit Playhouse.
There are lots of great options for where to stay and what to eat while in Ogunquit, but The Mariner is hard to beat, with great options for accommodations including rooms with water views and within walking distance to the beach!

Click Here to Check Prices & Book!
Hampton, NH
This little Seacoast beach town is home to Hampton Beach, the biggest and most popular beach in the state, and is even considered one of the most beautiful places in all of New Hampshire.

You'll find all the beach amenities you could possibly need and then some, with snack bars, gift shops, restaurants, beachfront hotels, and arcades easily accessible during your day at the beach.
There are also lots of great events in Hampton Beach, like regular fireworks shows, festivals, and even an annual sand sculpture contest that results in some pretty impressive sand art!
More than just the beach, Hampton also has cool things to do like visiting the Oceanarium, where you can explore marine wildlife with hands-on activities like touch tanks, or the air above in a 1930 open-air biplane at Hampton Airfield!
You can even relax and have a little lunch at The Airfield Café after your flight or head to Smuttynose Brewing Company at historic Towle Farm for a few brews and a bite to eat in a gorgeous location, with 17 acres to explore.
You have several choices for where to lay down your head at night, with a few being oceanfront. Ashworth by the Sea is a great choice for those wanting to be within easy walking distance of the beach.
Wherever you stay, Hampton is a beach town vacation that will put you to sleep with a smile on your face.
Click Here to Check Prices & Book!
Hyannis, MA
Another great Cape Cod beach town, Hyannis, Massachusetts is the perfect place for an elevated New England beach town experience. This town is full of arts, culture, and of course, beaches!@
Visit the Hyannis HyArts Artist Shanties, where you can peruse locally made art and handcrafted goods that could be the perfect souvenir, then head over the JFK Museum. This museum remains one of the best ways to learn about the historical and cultural significance that the Kennedy family has had on Cape Cod.
Of course, can't forget about the beaches! Kalmus Beach is popular for surfing and Veterans Beach is very popular for families as it has great amenities and a playground.
Hyannis is full of fantastic places to eat, but we recommend a visit to Anejo, the Beechtree Taqueria. Not only will you love the food at this popular Hyannis restaurant, but the outdoor seating is below a beautiful weeping beechtree planted in 1776!
As for where to stay, you've got great options there, too, but the Anchor In is always a solid choice for those looking for a hotel on the water.
Click Here to Check Prices & Book!
Newport, RI
This seaside city is known for a lot, including its history of Gilded Age grandeur and the spectacular scenery that still exists today.
Easton's Beach, or "First Beach" as it is most commonly known in Newport, is beloved for its soft sand, gentle waves, and fabulous views.
Newport is a beach town that is gifted in the amazing views department, with a Cliff Walk that offers dramatic up close and personal views of both the grand old Newport mansions and the incredible Atlantic Ocean. Newport also has a fabulous restaurant scene!
There are lots of fun things to do in Newport, but the absolute must-do on any Newport itinerary is visiting the glorious Newport mansions!
You can just peek from the outside if you're pressed for time, but touring these behemoth symbols of affluence and grandeur of the Gilded Age is the best way to see the scope of elegance, luxury, and mega-wealth that these giant homes were once a testament to.
Hop on a trolley tour of the Newport Mansions for a very cool way to experience these Gilded Age beauties!
Newport is full of gorgeous luxury hotels like Castle Hill Inn that offer wonderful ocean views and world-class amenities like onsite spa services.
With a stay at a place like Castle Hill Inn, you'll feel like you're getting a little taste of that Gilded Age opulence for yourself!
Click Here to Check Prices & Book!
Bar Harbor, ME and Acadia on Mt Desert Island
There's just no two ways about it, Bar Harbor and Acadia both deliver big when it comes to great beach town sights and things to do! Beautiful beaches abound to enjoy those gorgeous ocean views, and Sand Beach and Echo Lake Beach are both popular summer swimming spots in Acadia National Park.
There is so much to do, like visiting Bar Harbor Cellars, one of the best wineries in New England. There are also incredible restaurants.
You can follow this ready-made 3-day itinerary for Bar Harbor and Acadia National Park or chart your own course, but there is so much to see and do at Acadia! Whether you're into hiking and camping or more interested in finding a cute little cabin to kick back in, you'll find what you're looking for on Mt Desert Island.
Options for where to stay are plentiful, including some neat Airbnb options and cool hotels like Acadia Inn, where there's something onsite for the whole family.

Click Here to Check Prices & Book!
Westerly, RI
When it comes to pristine beaches and spectacular scenic vistas to enjoy, Westerly wins the day!
With beautiful beaches (although some don't allow public parking and require a little more advance planning to get to) for swimming, lounging, and listening to the waves crash, and a lovely downtown with great places to explore, Westerly is the perfect RI summer spot.
Oh, and it also happens to be home to the village of Watch Hill, where Taylor Swift keeps her summer home!
There are lots of things to do in Westerly, including visiting the gorgeous Watch Hill Lighthouse, where you can ooh and ahh over both the pretty lighthouse and the spectacular views of the ocean beyond.
If you're in the mood to splurge, check out Ocean House in Watch Hill, which is one of the best spa getaways in New England. Regardless of where you stay, Westerly offers a beach town experience that won't soon be forgotten.
Click Here to Check Prices & Book!
Oak Bluffs, MA
Oak Bluffs is one of the most visually distinctive beach towns on Martha's Vineyard. You've got the whimsical gingerbread cottages at the Oak Bluffs Campground and the Flying Horses Carousel, built in 1876 and still functional to this day.
You'll even find some somewhat quirky fun at the Island Alpaca Company, a working alpaca farm and shop where you can find all kinds of alpaca-related goodies… including the alpacas!
Oak Bluffs beaches are some of the most popular beaches on Martha's Vineyard, with sandy beaches and spectacular ocean views attracting swimmers, sunbathers, and sandcastle builders alike to come enjoy the sights and sounds of the sea.
Of course, you'll also find some excellent restaurants on this beautiful island, as well as some very cool places to stay.
Summercamp is a boutique hotel with an aesthetic that is lighthearted and breezy, offering
lots of great amenities.
Click Here to Check Prices & Book!
Sandwich, MA
Did you know that Sandwich is the oldest town on Cape Cod, making it one of the most historic beach towns in New England?
It's one of those Cape Cod towns that is extraordinarily scenic, offering a variety of ways to get out and explore this beautiful section of coastal New England. There's Shawme-Crowell State Forest, where you can hike, and the Tidal Flats of Cape Cod Bay where you explore by sea.
If you'd rather just hit the beach and admire the beauty there, that's okay too! Sandy Neck Beach Park is the perfect spot for that.
When it comes to where to stay in Sandwich, consider booking a room at the Belfry Inn & Bistro. The architecture is dreamy as can be, and word on the street is that the onsite dining isn't so bad, either!
Click Here to Check Prices & Book!
New London, CT
New London is the home of Ocean Beach Park, the perfect New England beach town for anyone craving those boardwalk beach town vibes! Splash around in the ocean or wiggle your toes in the soft, white sand of the beach before heading up to walk the wooden boardwalk that spans about a half-mile along the sand.
Ocean Beach Park also has other fun things to see and do like an arcade, a mini-golf course, rides, food stands, shopping, and there's even an Olympic-sized pool if you're not into those salt-water vibes!
New London's historic waterfront district offers a little something for everyone, with shops, restaurants, art galleries, and more.
Check out the Lyman Allyn Art Museum or the Garde Arts Center when you're in need of a little art and culture, and the Custom House Maritime Museum, the Nathaniel Hempsted House, or the Nathan Hale Schoolhouse when you're looking for a little historical appreciation.
There are plenty of great options for where to eat and stay, but just up the road is one of the prettiest properties in CT: Stonecroft Country Inn. It's a beautiful place to stay, especially for a couples trip.
New London is one of the prettiest beach towns in New England!

Click Here to Check Prices & Book!
Whatever New England beach towns you end up visiting, it will be hard to have anything other than a good time exploring some of these great waterfront spots!

Read these next:
---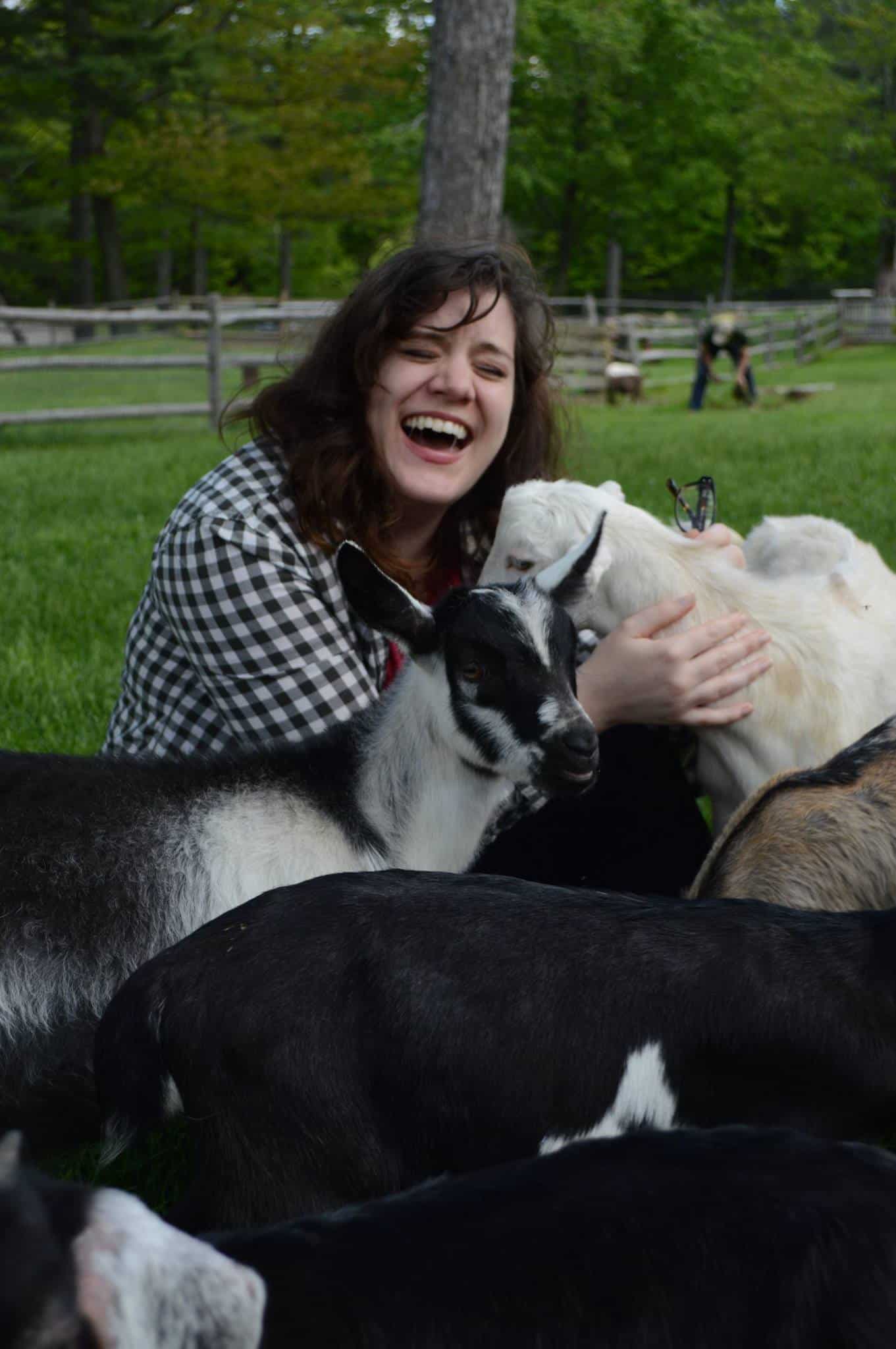 Amy Hartle is the founder and Editor-in-Chief of New England With Love, a comprehensive resource for travel in the New England region. Amy has been exploring New England since 2001. She lived in Vermont for many years and is a graduate of Plymouth State University in New Hampshire. On this site, Amy aims to share her love of New England and help you to have the best possible adventures!
Amy has been writing about travel for over a decade, and is a full time blogger, publishing both Two Drifters and Let's Adventure Baby. When not traveling the world or creating epic blog content, Amy can be found cuddling with her husband, son, and cats, & drinking a maple latte.