Kennebunkport is genuinely one of the best places for a vacation in Maine, and the food is just as excellent as all of the attractions. This list of the best restaurants in Kennebunkport truly has it all, from epic wine bars to tasty seafood restaurants.
No matter what kind of budget you have or what kind of foods you like eating, you'll be able to find an excellent restaurant on this list. Each one has been carefully hand-selected from the many restaurants in Kennebunkport.
Here are all of the best restaurants in Kennebunkport ME!
Old Vines Wine Bar
First up is the Old Vines Wine Bar, one of Kennebunkport's most popular places to eat. As you can tell by the name, this restaurant is known for its wines. It's located inside an old barn-turned bistro, which only adds to the rustic and local ambiance.
In addition to the many wines on the menu, they also have many snacks and other small plate dishes to pair with the wine. Some of their small dishes include fig tartlets, falafel, and even fried corn on the cob (yes, you read that right).
While you may think that a wine bar would be costly, this one isn't. Most of the wines and small plates are well under $20, so you can have a lovely evening out without spending a whole lot.
Alisson's Restaurant
Easily one of the best restaurants in Kennebunkport, Maine is Alisson's Restaurant. Sometimes the places with the most unassuming names are the ones that offer the best local food! It has a very small-town and casual atmosphere, and a lot of the dishes are traditional to the New England region.
Now you may be wondering, what exactly is Alisson's Restaurant most well known for? It's seafood! The restaurant opened in 1973 and has been serving fantastic seafood dishes ever since, ranging from lobster rolls to New England clam chowder.
In addition to seafood, they serve almost anything you could think to find at a typical restaurant. There are salads, soups, sandwiches, pizzas, burgers, and even poutine.
Chez Rosa
Next up is Chez Rosa, a French restaurant in Kennebunkport that serves traditional vintage French cuisines. Unlike other restaurants on this list, Chez Rosa is a dinner-only restaurant, so it's open between 5 and 8:30 p.m. every evening except for Tuesdays when it is closed.
The decor at Chez Rosa is incredible in addition to the food. The entire restaurant was recently updated with fun art from Kennebunkport's own Mast Cove Gallery.
Chez Rosa is a bit more of an expensive restaurant, with most meals costing between $20 and $30, but the price is well worth it. The menu includes terrific dishes like Steak Frites, Ratatouille, and Cod Wellington.
Mekhong Thai Restaurant
Mekhong Thai Restaurant is a local family-owned restaurant that first opened back in 1993. The restaurant is located in Kennebunkport's Lower Village and offers many classic Thai dishes, so if you're craving Thai food, this is the place for you to go.
The menu is pretty long (about six pages!) and includes dishes like spring rolls, soups, fried rice, salads, stir fry, curry, and tons more. Pretty much any sort of Thai food that you can think of you can find on this menu.
Inside the restaurant, there's a very calm and casual atmosphere. This means that it's a great restaurant if you are traveling with families.
The Clam Shack
For amazing seafood in Kennebunkport, head to The Clam Shack. This restaurant is one of those classic small shacks (hence the name) that you can walk right up to the window at and just place your order. What more could you want?
This is honestly probably the most casual restaurant on the whole list. It's great for really quick food while traveling in Kennebunkport.
The Clam Shack opened back in 1968 and quickly became the go-to for locals who wanted fresh seafood. Prices range from about $5 to $30, depending on what you buy. They have different types of meals on their menu too, so if you're traveling with a big group, you can consider getting a whole quart of food!
Earth at Hidden Pond
The Earth at Hidden Pond is the place to go if you're looking for a more luxurious meal while in Kennebunkport. Because it's a bit more luxurious and elegant, the atmosphere is a bit more classy, and the pricing is higher.
This is a classic farm-to-table restaurant. Often, whatever food you order includes ingredients that were just picked from the farm or even caught from the ocean a few hours before. Paired with the classy yet organic decorations, this makes for a fantastic meal.
They have three-course and four-course meals so you can pick whatever one suits you best. The menu is pretty long and includes meals like flank steak, organic king salmon, and more. Plus, there are amazing desserts like financier cakes and panna cotta.
Pedro's Mexican Restaurant
If tequila, margaritas, and delicious Mexican food are what you're craving, then you're going to want to head to Pedro's Mexican Restaurant. It has such a casual atmosphere with tons of fon colors and decor inside. It's great for couples and families.
The menu includes pretty much everything you could think of when it comes to a classic Mexican restaurant. There's burritos, tacos, ensaladas, antojitos, platos grandes, and more. Plus, there's a rather long drink menu for you to pair with any dish.
Visit between 3 and 5 p.m. for happy hour, which includes specials on both tacos and margaritas. This is a great time to get an awesome deal!
The Ramp Bar & Grill
Make your way to The Ramp Bar & Grill inside Pier 77 for classic American dishes and pub food. This is a laid-back restaurant located right on the water, so the views are incredible. Visit at dinner to catch the sunset over the water!
The Ramp Bar & Grill prides itself on being creative with classic dishes so that you can expect only greatness from the menu. They've also won quite a few awards over the years since opening.
Prices are mid-range here, with the seafood costing more than the other dishes on the menu. There are delightful dishes like grilled Mahi soft tacos, loaded Philly cheesesteaks, and even black Angus beef burgers.
Roma Pizza
Sometimes, you're just in the mood to eat pizza. The best place for classic thin crust pizza in Kennebunkport is Roma Pizza. They have a pretty casual and super cozy atmosphere, but the pizza is fantastic.
A local family owns the pizzeria, so eating here is a great way to mingle with locals. This tends to be a place that locals frequent! The pizza is classic Italian-style pizza, so you'll feel just like you're in Italy.
The pizzas cost around $15 to $20, depending on the types of toppings you put on the pizza. There are also subs and salads on the menu in case you'd like something else.
Ryan's Corner House Irish Pub
Pub food is so good, especially when you're looking for a nice hearty meal. Ryan's Corner House Irish Pub is a great place to go when you want traditional pub food. To add to the atmosphere, the pub also usually hosts live music from local artists and has an outdoor patio.
The menu is filled with fun Irish dishes, but most people come to Ryan's Corner House Irish Pub because of the people and the live music. They share the upcoming week's live music lineup each week on Facebook, so be sure to check there if you plan on visiting.
The Pilot House
The Pilot House is a favorite in Kennebunkport for American food at a budget-friendly price. There's lots of outdoor and indoor seating with a rustic and friendly atmosphere. This is the perfect place to go to meet up with friends and have a tasty meal.
Throughout the week, The Pilot House hosts lots of fun events. There's karaoke, special dinners, and even live music. They post about their upcoming events on their website.
The menu at The Pilot House is filled with delicious meals. There are fish tacos, coconut shrimp, lobster rolls, and more. If seafood isn't your thing, don't worry. There are also sandwiches, chicken, and other foods.
The Boathouse Restaurant
Last but certainly not least is The Boathouse Restaurant. This is a nice seafood restaurant located inside a hotel. It's located near the water, so the views are unbeatable while you're indulging on your meal.
The Boathouse Restaurant is open for both lunch and dinner and has what it likes to call a "classic Maine" menu created by Chef John Shaw. There are also some Asian influences in the meals, which makes it so unique.
Prices are what you'd expect to see and are about mid-range. Of course, items on the menu like ribeye steaks or togarashi-blackened salmon cost a bit more than other menu entrees.
—
Are you drooling yet? There are so many fantastic restaurants in Kennebunk and Kennebunkport, so it can be hard trying to find where to eat. Hopefully, this list has helped you with planning out the food parts of your Kennebunkport itinerary!
Where do you most want to eat in Kennebunkport?
---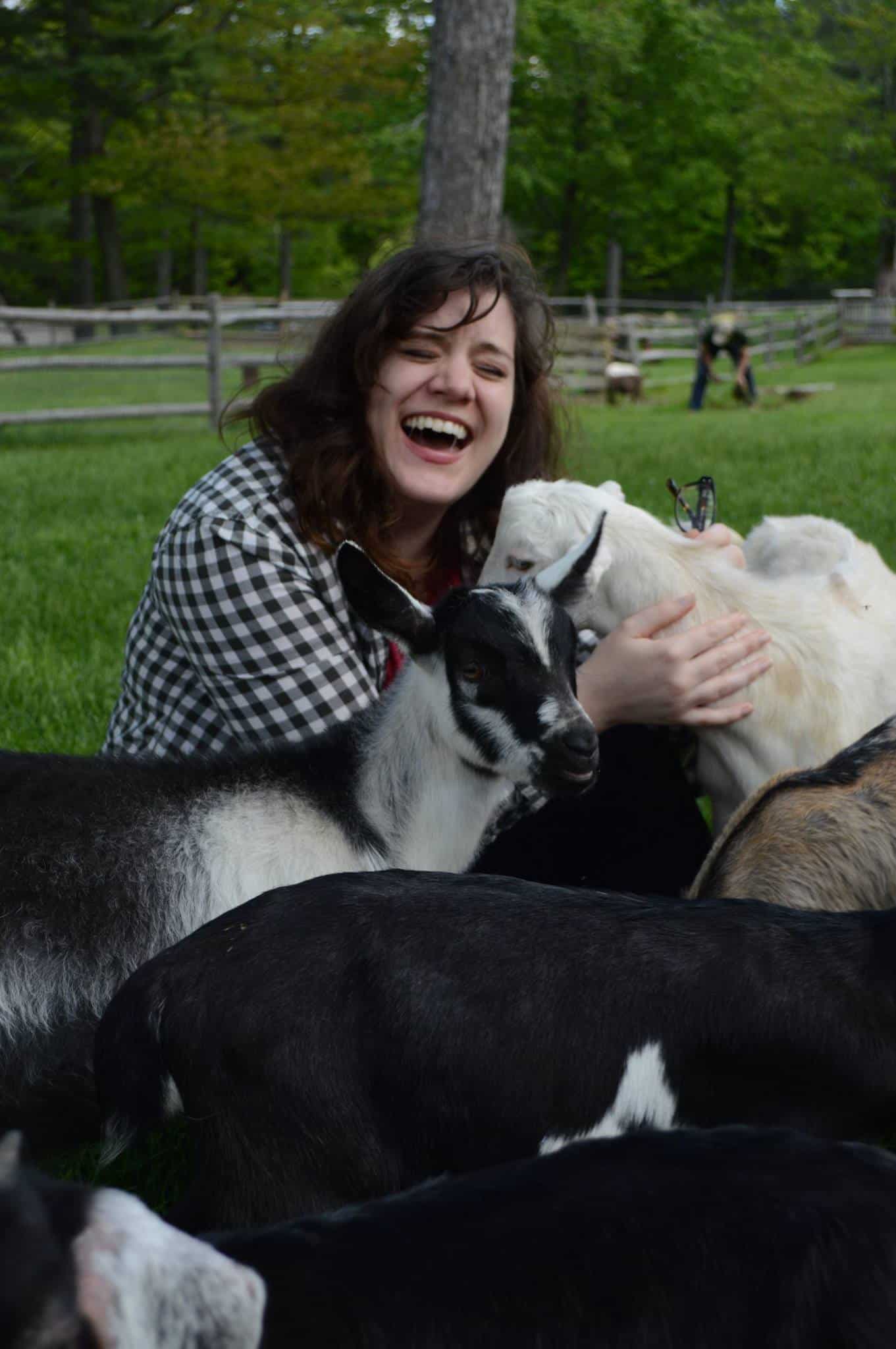 Amy Hartle is the founder and Editor-in-Chief of New England With Love, a comprehensive resource for travel in the New England region. Amy has been exploring New England since 2001. She lived in Vermont for many years and is a graduate of Plymouth State University in New Hampshire. On this site, Amy aims to share her love of New England and help you to have the best possible adventures!
Amy has been writing about travel for over a decade, and is a full time blogger, publishing both Two Drifters and Let's Adventure Baby. When not traveling the world or creating epic blog content, Amy can be found cuddling with her husband, son, and cats, & drinking a maple latte.