*This site uses affiliate links; if you make a purchase through these, I may receive a small commission at no cost to you.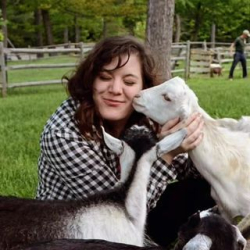 Latest posts by Amy Hartle
(see all)
Nowhere else in America has as many cute little towns as New England. Of all the states, you'll find some of the cutest small towns in the tiny state of Connecticut! In many of these spots, you'll find historic sites and local charm that perfectly represents that New England aesthetic.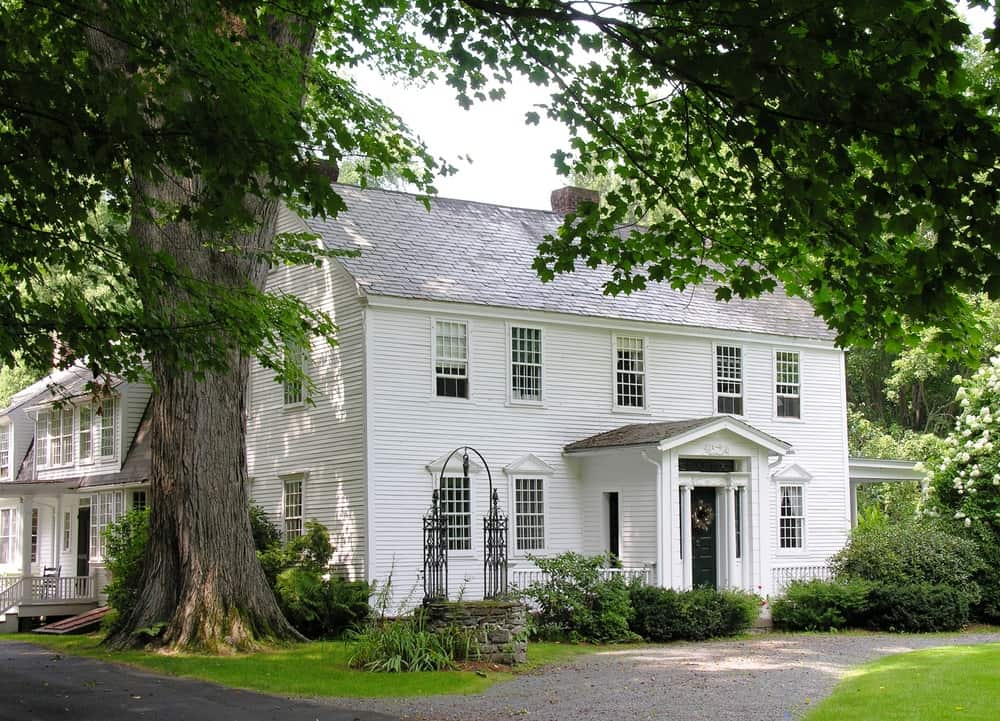 From cute coastal beach towns to quaint historical villages, I'll give you the inside scoop on the cutest small towns in Connecticut that you'll love visiting.
Small Towns in Connecticut
Essex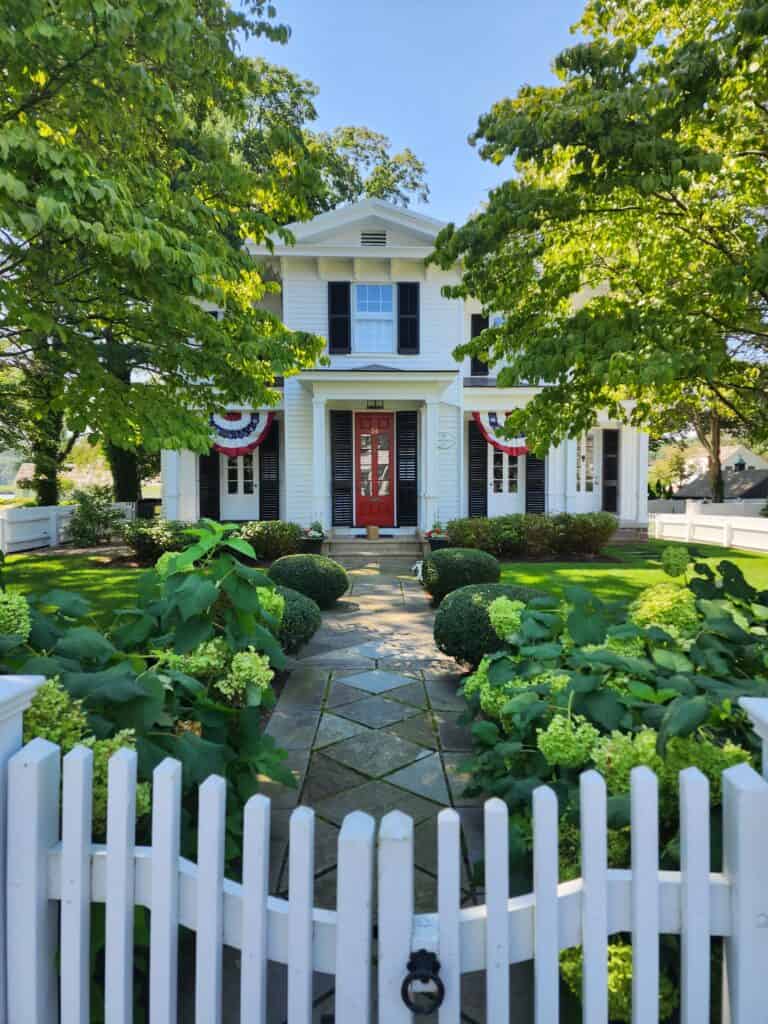 A mention of Essex CT, is the only way to start a list of the cutest small towns in CT. You'll soon realize why it was voted one of the "best small towns in America." The small-town charm captivates all who visit to experience a historic riverside town.
Essex is located in Middlesex County, right on the Connecticut River. The river played a huge role in developing the town. It's famous for shipbuilding that you can learn more about in the Connecticut River Museum. The museum holds maritime exhibitions, shipbuilding artifacts, and, of course, gorgeous views of the river.
One of the best ways to take in the sights of the cute town is by cruise. The Essex Steam Train and Riverboat provides leisure cruises in the Connecticut River on a historic riverboat. What a way to connect with the town's past!
After spending time on the waterfront, head downtown and go for a stroll on Main Street. You'll find lots of cute boutique shops and restaurants established in historic, federal-style buildings. Make sure to visit Truffle Shots, you'll find some of the best chocolate in the entire state.
And if you're looking for a place to stay in Essex, consider a stay at the Griswold Inn! It's one of the oldest continuously operated inns in the country and its absolutely adorable.
Click Here to Check Prices & Book
Niantic
A quite quaint beachtown in Connecticut, Niantic has so much charm!! You've got the lovely downtown area with its variety of boutique shops and restaurants, perfect for taking a stroll and window shopping. Do you like vintage shops where you can find unique and interesting one of a kind items? Anna Pearl's Curiosities is one of the best antique stores in the state, and its got an eclectic selection of vintage clothing, antique jewelry, and memorabilia of all kinds.
Need a little sweet treat pick me up? Head to Sift Bake Shop, where you'll find sweet and savory goodies that are sure to delight, plus coffee, tea, and local spirits, too!
Niantic is home to some of the most beautiful beaches in CT, and the waterfront views should not be missed. Rocky Neck State Park and Hole-in-the-Wall Beach are two of the most popular swimming spots, so if you're planning a summer Connecticut trip, pack your bathing suit! For a scenic beach walk, be sure to check out the Niantic Bay Boardwalk, any time of year.
Looking for a place to stay in this cute CT town? Book a room at The Inn at Harbor Hill, a boutique property with waterfront views.
Click Here to Check Prices & Book!
Norfolk
A winner of Connecticut's "Best Small Town" by Connecticut Magazine multiple years in a row, Norfolk is an easy addition to this list. This picturesque town is a popular spot for fall foliage seekers in the state, and it's no wonder. You've got great gorgeous natural scenery and lots of great opportunity to get out in it!
Campbell Falls State Park is home to some of the best waterfalls in the state, and it's a popular fall hiking spot. Haystack Mountain State Park is ideal if you're looking for those birds eye scenic views. Plus, you can drive up Haystack if you're not up for or able to make the hike, so it's more accessible to all.
Norfolk is home to the Infinity Music Hall & Bistro, one of the top spots in the area for an evening out. The restaurant and live performances in an intimate space means there's not a single bad seat in the house!
Wondering if there are any good places to stay in Norfolk? The Manor House Inn is almost as idyllic as Norfolk is.
Click Here to Check Prices & Book!
Kent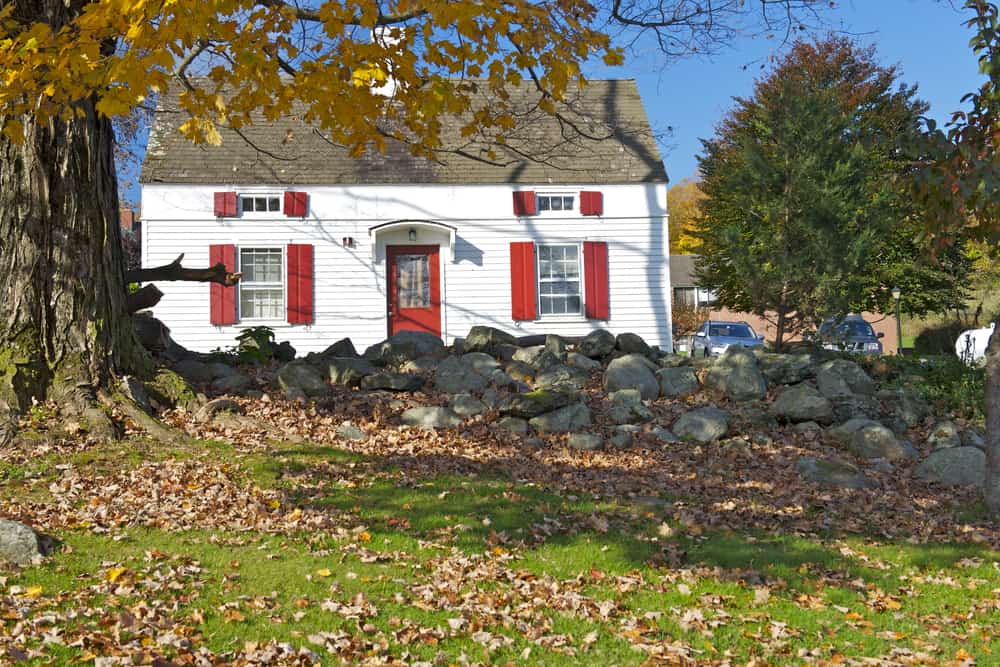 Many people consider Kent to be an escape from the big city. With just a short train ride from New York City, the bustling metropolis views will quickly transform into lavish natural scenery. The cute town of Kent not only has visual appeal but there are plenty of fun things to do around town.
Kent is located right along the Connecticut – New York border. It gives a huge contrast to the big city because it's known for its vast natural landscapes surrounding it. Kent Falls State Park is one of the most popular attractions for people visiting the town. The park is home to 17 waterfalls, including the largest in the state. It's a fun outdoor destination for hiking and sightseeing.
Just like the other Connecticut villages and towns on this list, there are plenty of landmarks in Kent that you don't want to miss. Have your camera ready as you approach Bull's Bridge, one of three remaining covered bridges in Connecticut. If you're a literary fan, you'll have lots of great reading options in the House of Books and Kent Memorial Library.
Immerse yourself into the friendly community by stopping by the Kent Farmers Market to chat with the locals and shop for fresh produce.
Interested in staying the night in Kent? Check out this gorgeous property with a fire pit near Lake Waramaug!

Click Here to Check Prices & Book!
Westport
One of the most darling beach towns in the Constitution State, Westport is a picture perfect CT destination. There are three public town beaches, and Compo Beach is highly regarded as one of the prettiest beaches in the state. The boardwalk is the perfect spot for a coastal walk!
Also in Westport is Sherwood Island State Park, with over 235 acres of scenic beauty to explore. It's also Connecticut's first state park, and it's a popular spot for swimming and picnicking in the summer.
Check out this two-hour Sunset Kayak Tour that would be the perfect cap to the day!
When it comes to where to lay your head at night, consider the lovely Inn at Longshore. You've got an onsite restaurant, pool, and you're within walking distance of the beach – what's there not to love?
Click Here to Check Prices & Book!
New London
One thing you've got to love about Connecticut is it's cute coastal towns, and New London is one of them. New London has something that's not so common in Connecticut, however, and that is a beach with soft, white sugar sand!
That's right, if you're looking for a place you can put toes in the sand, Ocean Beach Park is perfect. In addition to the beach, you'll also find a boardwalk with arcade games, restaurants, gift shops, and even an Olympic sized pool! This is a very popular CT town to visit in the summer.
Would you like to stay in your own cozy rental with a fireplace, ocean views, and your own private beach? Of course, who wouldn't!
Click Here to Check Prices & Book!
Mystic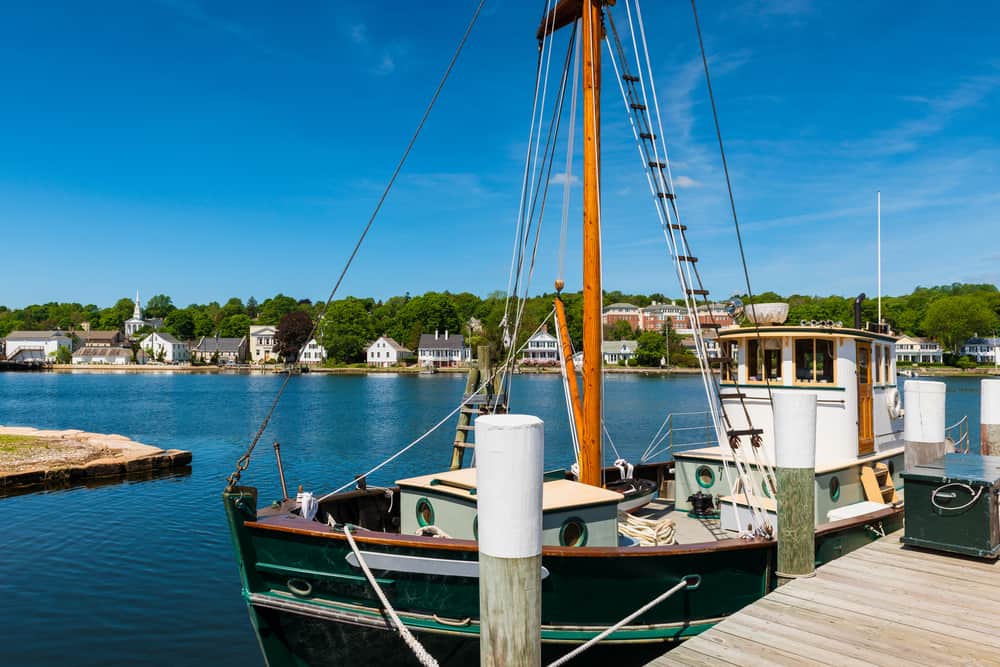 If the name itself doesn't pique your interest, Mystic will invariably encapsulate an ideal picture of a New England small town. In fact, it ranks as one of the best places to live with lots of people moving in from out of town. It's one of those places that you don't want to leave after checking out the great restaurants, cute places to stay, and all-around charm!

Mystic was once one of the most important seaports in Connecticut. Much of the maritime history is preserved in the Mystic Seaport Museum. Exhibitions detail lots of information about its history. And just outside the building are several preserved ship museums, many of which are listed on the National Register of Historic Places.
In a port that built hundreds of ships, you'll still find boats floating around the harbor awaiting new passengers. Go for a cruise on a historic sailboat or steamship and have unbelievable views of the town's waterfront against the lush trees in the backdrop.
You might even recognize a few places like the Mystic Pizza shop, featured in the popular Julia Robert's movie of the same name. And if you like marine life, the Mystic Aquarium is one of the best in New England and home to majestic beluga whales.
Mystic has plenty of options for where to stay, but The Whaler's Inn is the perfect historic inn to match this historic CT seaport town!
Click Here to Check Prices & Book!
Guilford
If you like historic Connecticut towns, you're going to love this one! Guilford was settled in 1639, and it has one of the most precious village greens in the region. You'll see when you arrive, it is about as charming as charming can be.
One of New England's oldest landmarks is located in Guilford, and it's a definite must visit. The Henry Whitfield House was built in 1639 and is a history lover's dream. It is located just down the street from the Guilford Green!
Visit the Village Chocolatier for some tasty treats, then head to the Guilford Art Center to enjoy local art before heading out to Jacob's Beach for views of lovely Long Island Sound. There's such lovely coastal scenery in this area of CT!
Looking for where to stay? Check out the Carriage House at Granite Lodge!
Click Here to Check Prices & Book!
Madison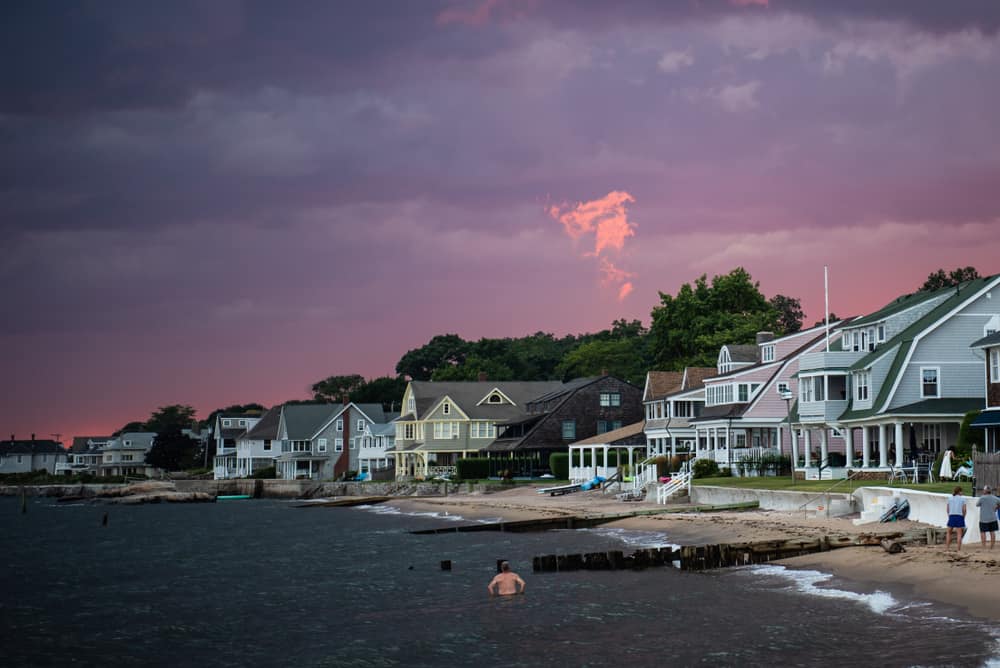 Madison is one of the larger towns on this list, with over 18,000 people living there. But what will really blow your mind is that every year, it receives over one million visitors – a majority arriving during the peak summer season. If you couldn't figure it out by now, Madison is a cute town with picturesque beaches lining the entire shoreline.
Madison is located on the shore of the Long Island Sound. One of the main attractions is Hammonasset Beach State Park. Of all the big and small towns throughout Connecticut, Madison has the biggest beach, extending for two miles. So even with all the tourist traffic, there's still plenty of room to sunbathe on the golden sands and go for a refreshing swim in the pristine blue waters.
There's nothing better than taking a stroll through town to admire all of the cute New England-style buildings. There are several cultural venues highlighting art, music, performance, and more. The shops and galleries are excellent places to see the work of local artisans. And some fantastic shows and events happen at the Madison Arts Barn and Madison Art Cinemas all year long.
You've got options when it comes to where to stay in Madison, but you should know it is home to one of the dreamiest bed and breakfasts in the state, The Scranton Seahorse Inn.
Click Here to Check Prices & Book!
Wethersfield
Founded in 1638, Wethersfield has the distinction of being the oldest historic district in Connecticut, and it's lovely for anyone looking for historical preservation at its finest!
There are several beautifully preserved historic homes in Wethersfield, including the Webb Deane Stevens Museum. The grounds and gardens are absolutely gorgeous at this museum, too.
In fact, there is a historic home in Wethersfield that is also a popular place to stay: The Silas W. Robbins House Bed & Breakfast. This is truly one of the most beautiful places to stay in Connecticut, so if you can swing it, we say go for it!
Click Here to Check Prices & Book!
Old Saybrook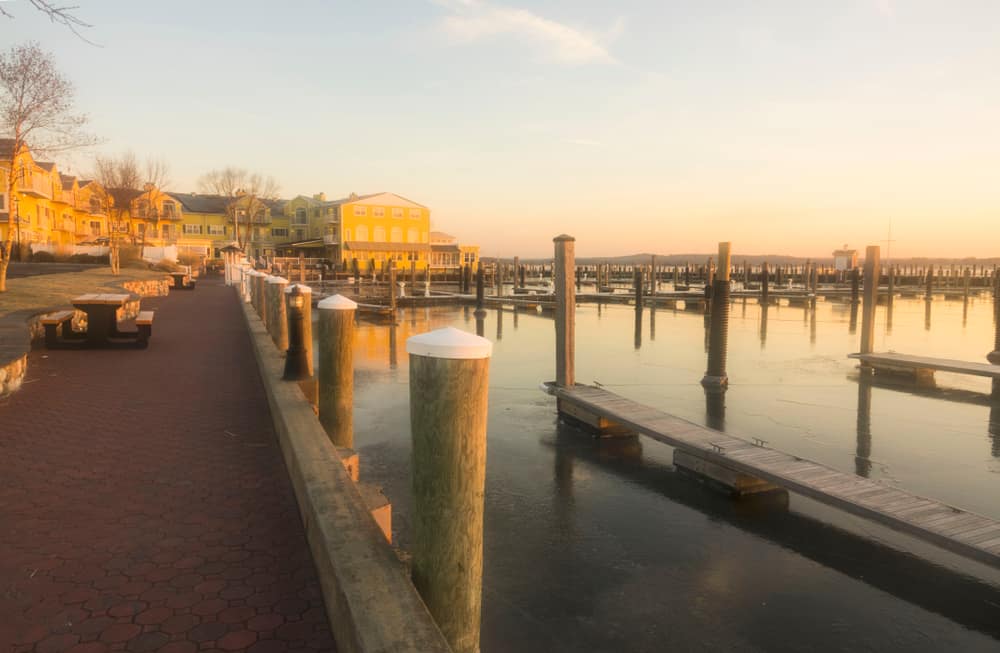 It's hard to say whether Old Saybrook was as stunning in the past as it is today, but there's something about the old town charm and landmarks that make it one of the prettiest places to visit in Connecticut today.
Old Saybrook was settled in 1635, making it one of Connecticut's oldest towns. It's strategically positioned at the mouth of the Connecticut River as it flows into the Long Island Sound. The position was an ideal location for Fort Saybrook, which now operates as a monument park.
Saybrook has one of the cutest lighthouses in the state called the Breakwater Light. I recommend visiting during the evening to see one of the prettiest sunsets you've ever seen. The picturesque scenery could easily become your next postcard.
Old Saybrook has a popular public beach called Harveys Beach, where the views are absolutely phenomenal. A few steps from the coast and you'll be in the heart of town.
Beautiful colonial-era buildings line the small streets as you make your way to popular attractions like the Katherine Hepburn Cultural Arts Center. Dubbed 'The Kate,' the former town hall building now served as a performance venue for concerts and recitals.
If you're able to spring for it, book the Saybrook Point Resort & Spa!
Click Here to Check Prices & Book!
Glastonbury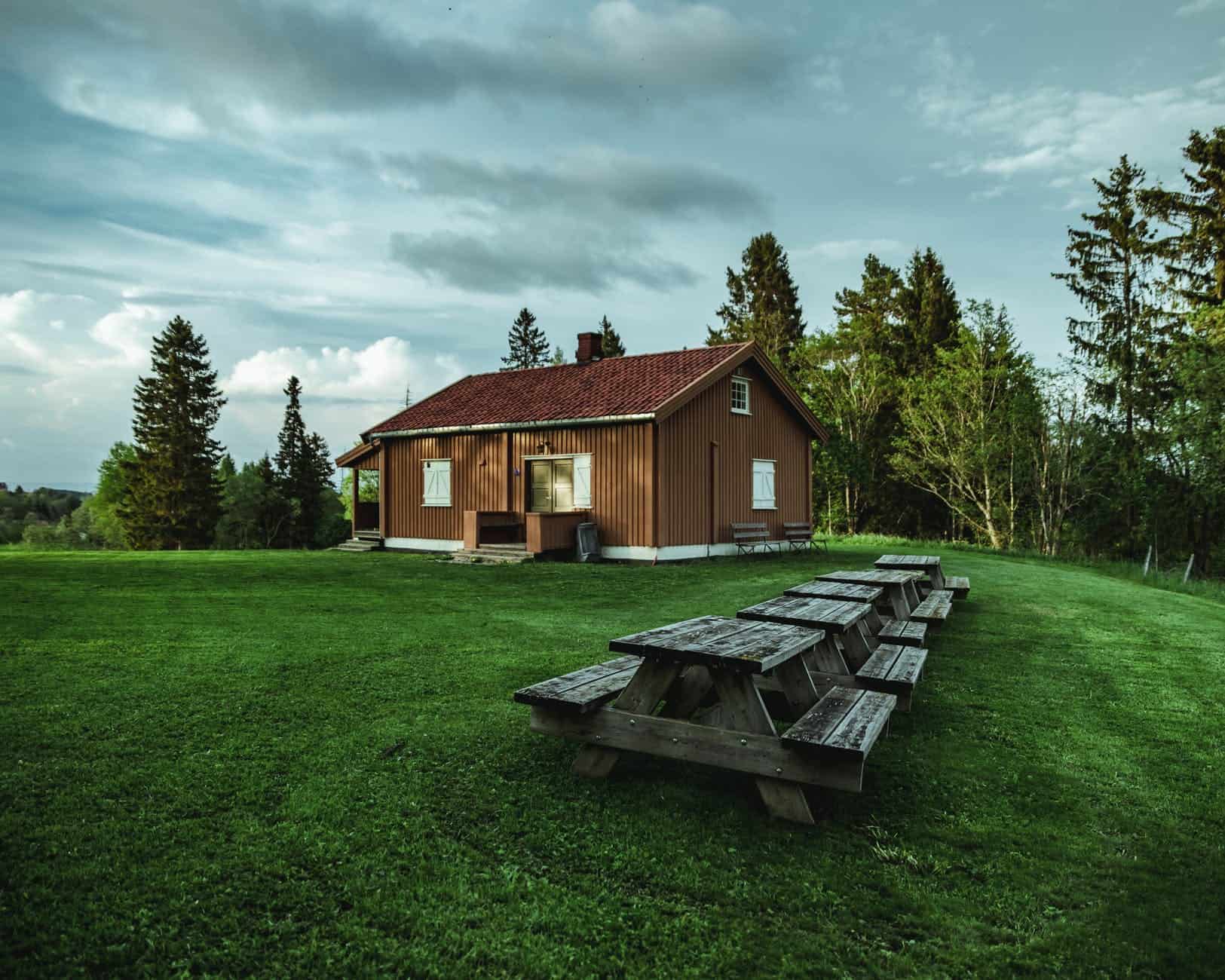 If a cute town is what you're seeking in Connecticut, look no further than Glastonbury. Not only is it a charming town in the present day, but it's one of the oldest settlements in the United States.
A simple stroll around town will reveal why I had to include it on this list. And be sure to have your camera handy because there are tons of gorgeous architectural structures worth stopping to admire.
Of all the small towns of Connecticut, Glastonbury has some of the most striking colonial-style houses. There are over 150 homes, some dating back as far as the 1600s – some of the oldest houses in the country.
You can see other unique structures like the beautiful First Church of Christ. This town is a slice of New England heaven!
Don't rush out of town too soon. Glastonbury is also known for hosting incredible events throughout the year. It's a great way to mingle with the locals and enjoy some of the longstanding traditions. The famous Apple Fest happens in autumn with the apple harvest. Also, the Glastonbury Art Walk exhibits public art installations all around town for a blend of culture and history.
Looking for cozy boutique inn vibes? You'll find them at Connecticut River Valley Inn!
Click Here to Check Prices & Book!
Litchfield
One of the most lovely Connecticut towns, Litchfield is a fantastic addition to any CT trip. You've got all the quaint small town things to do like strolling downtown, scoping out local history at the Historical Society & Museum and the Litchfield Historic District.
Litchfield is also home to the Haight-Brown Winery, Connecticut's first winery! Today, you can enjoy the picturesque vineyard views while wine tasting or having a lovely meal at the cafe onsite. In the winter they even offer warm spiced wine that can be enjoyed by the roaring fire. How darling is that?
There are several phenomenal restaurants in Litchfield, so pace yourself! But for breakfast, you'll want to have booked a room at the gorgeous Litchfield Inn – guests rave about their breakfast!
Click Here to Check Prices & Book!
Putnam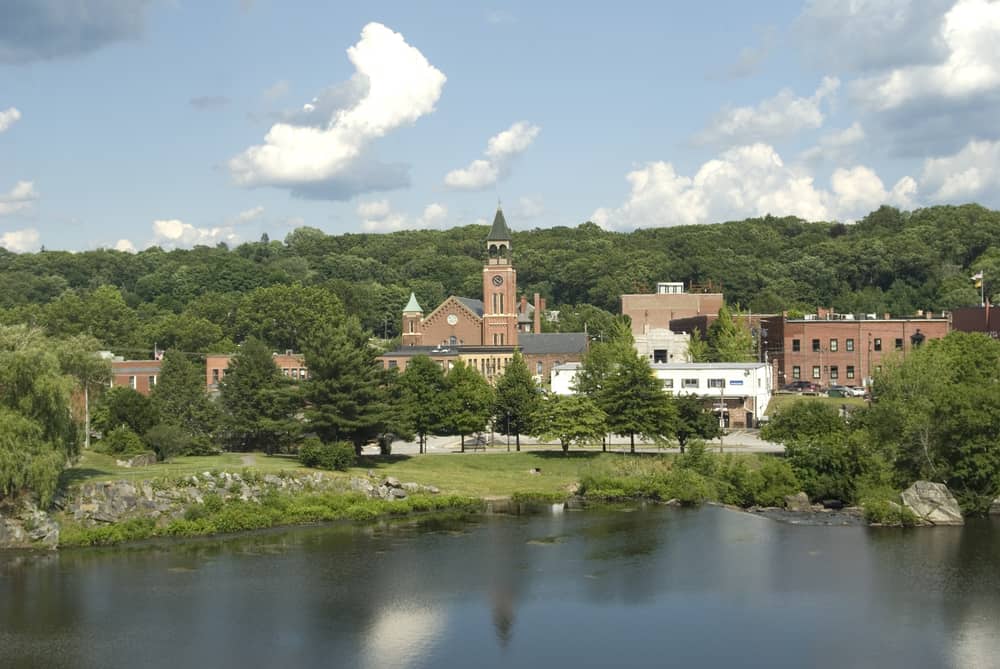 Visit Putnam in any season, and you'll be amazed at how beautiful the town is. It's located in the state's northeastern region, surrounded by scenic nature. From the lush greenery in the summer to the colorful fall foliage in the fall, take a trip upstate to visit one of Connecticut's cutest small towns.
Putnam is located along the Quinebaug River. The river is just one of the many natural landmarks. It's surrounded by extensive forested areas where you can enjoy lots of outdoor recreation—one of the top destinations is the Putnam River Trail. Hiking, biking, and swimming are just a few of the recreational activities you can enjoy.

There are also tons of things to do in town. Putnam is full of art and culture. You can check out popular venues like the Bradley Playhouse and the Complex Performing and Creative Arts Centre for live shows year-round.
Just like many other small towns in Connecticut, Putnam too has exciting festivals that happen annually. Head to Main Street for the car cruise or stick around for the light parade during the holidays.
Looking for places to stay near Putnam? This beautiful lakefront cottage could be perfect!

Click Here to Check Prices & Book!
Washington
No, not that one, the one in Connecticut! Washington is a teeny tiny CT town that goes all in on charm. You've got so many quaint small things to do, like boutique shopping, perusing local art, enjoying the natural scenery of the area, and more.
In fact, this little town is home to a very interesting museum: The Institute for American Indian Studies. With artifacts and exhibits dedicated to preserving and sharing the history of the native people of the area, this is a definite must visit during a Washington trip. They have a replicated 16th-century Algonkian village that's particularly impressive.
Interested in staying in the inn that is said to have provided the inspiration for the Gilmore Girls? Then you should book The Mayflower Inn, ASAP!
Click Here to Check Prices & Book!
Cornwall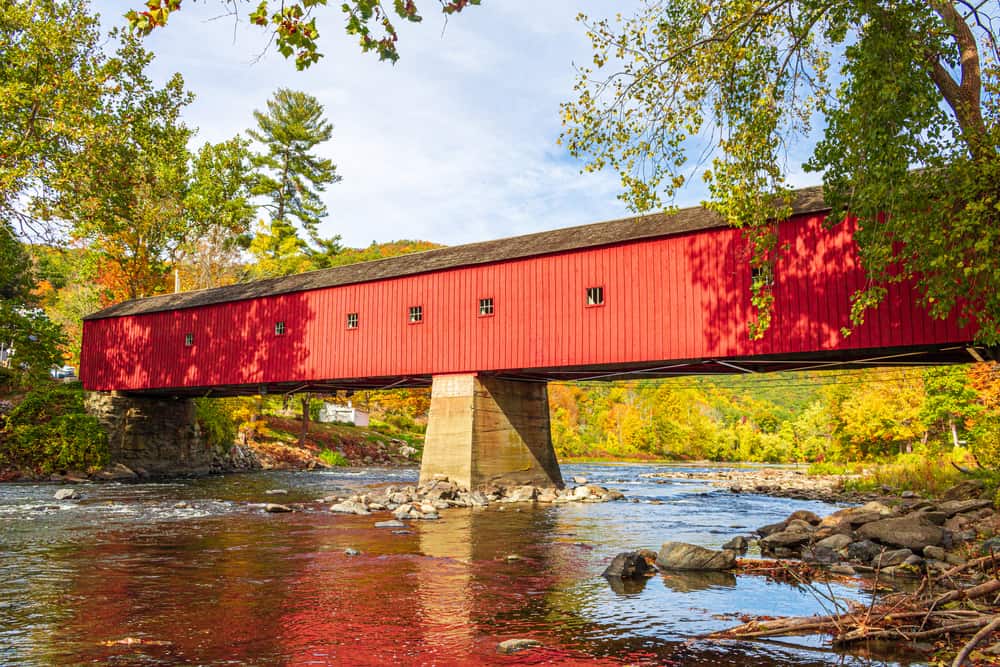 Small towns in Connecticut cannot get smaller than Cornwall; there's just over one thousand people living there. It's a friendly little place with a rural community and the cherished covered bridge landmark. What can be cuter than Connecticut covered bridges?
Cornwall is a former farming town that had a brief moment of manufacturing. Now, it reverted to its roots and remains a quaint little town that's self-sustainable. It has three main districts, each with its own characteristics. The favorite areas are the West Cornwall commercial district and Cornwall Village.
The most popular attraction in town is the Cornwall Bridge. This cute bridge is also one of the last remaining covered bridges in CT. It was built in the mid-1700s and is still used today. However, most people check it out for photos against the landscape backdrop.
During your visit, you'll have fun recreational activities available on the Housatonic River. It's popular for kayaking, canoeing, fishing, and camping. The locals are always hanging out, especially during the warmer seasons.
Stop by West Cornwall to browse the quaint shops full of cute souvenirs or diners serving delicious New England cuisine.
As for where to stay in this area, it's hard to find a more adorable spot than Cornwall Inn!
Click Here to Check Prices & Book!
Bethel
Okay, Bethel isn't one of those small towns in CT with a ton of things to do, but it's got some cool stuff happening!
Step back in time by heading to the Sycamore Drive In Restaurant, Bethel's drive in that seems to have been frozen in time. You can go for breakfast, lunch, or dinner, but you should definitely try the house made root beer; the recipe has been a local favorite for 75+ years!
Bethel is also home to Blue Jay Orchards, the 122 acre working farm and orchard where you can participate in idyllic small town activities like apple picking. How fun is that?
Looking for a place to stay in Bethel? Microtel Inn & Suites has free breakfast!
Click Here to Check Prices & Book!
Woodstock
Located in Connecticut's "Quiet Corner," Woodstock is an absolutely gorgeous place in the Nutmeg State. Visit historic Roseland Cottage then swing by Woodstock Orchards to see what's in season for their You Pick items. This is always a classic small town CT activity!
When it's time to refresh, that's easy. You've got Taylor Brook Winery and Taylor Brook Brewery situated right across the road from one another, so you can sample the flavors of the area easily!
As far as where to stay goes, The Watson Boutique Bed & Breakfast is absolutely lovely, and if you're planning a CT couples trip, it's perfect.
Click Here to Check Prices & Book!
Milford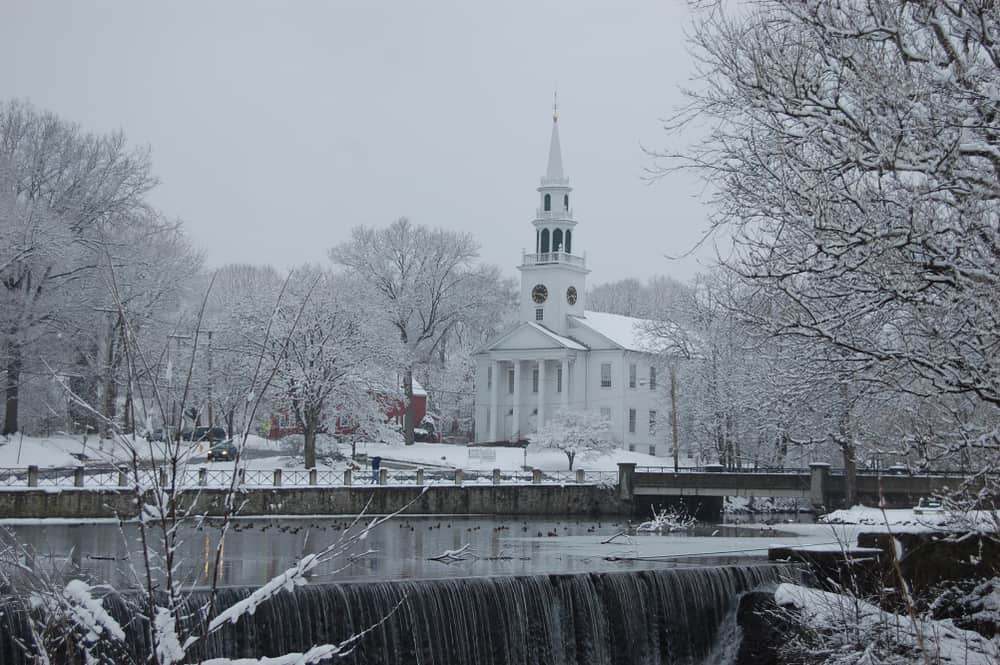 Milford is one of the cutest small coastal towns in Connecticut. If it feels like you're walking around an early English settlement, it's because it's one of the oldest towns in the state, with many buildings preserved since they were built. While there are many cool things to do in Milford, there are indeed things that you don't want to miss.
Milford has a shoreline extending approximately 17-miles. Beaches line the entire coast along the Long Island Sound.
An insider tip: Silver Sands State Park has the best beaches in town that I'm sure you'll love! It also has the longest boardwalk. The beaches are perfect for sunbathing, swimming, and fishing. If you need a break from the water, head downtown and pop into one of the cute ice cream shops. Grab a few scoops and stroll around town to enjoy the charming New England vibes.
A couple of the must-visit attractions are the Audubon Coastal Center to see all the pretty birds from the observation deck or a quirky site like the PEZ museum. Take advantage of the Milford Welcome Center to find out everything happening around town.
Book a room at this gorgeous beachfront cottage if views of Long Island Sound sound like a fantastic accompaniment for your morning coffee!
Click Here to Check Prices & Book!
Chester
Nestled inside the Connecticut River Valley, the town of Chester will quickly become your favorite. Whether driving into town through the lush forest region or cruising in on the Chester/Hadlyme Ferry, you'll be blown away by its charm the moment you lay eyes on it.
Chester is a historic town, first settled in 1692. With many historic buildings remaining, it looks exactly how you'd imagine an old town in New England. The quiet atmosphere and friendly people make it a relaxing place to visit.
Explore town to experience all that it has to offer – from history to culture. You'll find many buildings listed on the National Register of Historic Places, including the Old Town Hall for its significance and private residences showcasing stunning architecture.
In fact, you can even stay at The Millhouse in downtown Chester, a beautifully renovated historic millhouse turned upscale lodging!
Hand around Main Street to find quaint boutique shops to explore or dine at award-winning restaurants. Many of the businesses are in preserved 19th Century buildings. Honeycone Craft Ice Cream is a must visit!
Small towns in Connecticut like Chester are popular for arts. There are plenty of art galleries around town showcasing local art talent. And if you're lucky, you'll get to attend a live performance showing at the Norma Terris Theater, part of Goodspeed Musicals.
Click Here to Check Prices & Book The Millhouse!
Killingworth
Now, Killingworth is a very small town in Connecticut, but it's got something that is the perfect example of small town sweetness: a lavender farm! Until you've walked up and down the rows of fresh blooming lavender at Lavender Pond Farm, you might not understand what makes this such a spectacular draw, but trust us, it is!
You'll find other cute small town things to do in Killingworth, like visit lovely Chatfield Hollow State Park and explore! There's a water wheel, covered bridge, and plenty of great walking trails.
For a unique place to stay, book a room at Chatfield Hollow Inn, a wilderness lodge that provides the perfect spot to enjoy the natural scenery of the area.
Click Here to Check Prices & Book!
There are small towns all around the state, but we've tried to round up the very cutest, most interesting for you here. Hopefully this Connecticut small town guide will help as you plan your next trip!
---
You might also like:
---