Ah, Maine. Definitely an amazing destination, and in the whole of England, it remains my second favorite state. (I'm a proud Vermonter!)
Those planning an adventure in Maine will find that there is no end to the activities, sites, and visual delights of this state. You're in for fun from north to south and east to west, all across the 35,285 square miles of Maine.
As you put together your Maine bucket list, let this guide help to inspire you. I've collected a list of 50 of the best things to do in Maine: the essential things a visitor should not miss.
Go lighthouse hopping
Maine and lighthouses go together like peanut butter and jelly: they are made for one another! When you picture Maine, it is no doubt that its rocky, spectacular coast comes to mind. And with 3,478 miles worth of coastline (more than California, in fact) there's a lot of coast to explore.
In Maine you'll find 65 lighthouses. While some are open to the public, others can only be viewed from the outside, or sometimes only from on the water itself.
Be sure to add a visit to a few of Maine's most beautiful lighthouses to your travel itinerary, including these 5 near Portland.
Sip beer in Portland
New England is a haven for craft beer fans. And it turns out, a great many of these breweries are in Maine, particularly in the Portland area. Don't miss visiting and drinking at the top breweries in Portland, but also don't be afraid to venture further afield to find some incredibly unique breweries., (like Funky Bow Brewery in Lyman).
Join a Red Cloak Tour
Want to learn about Maine through the eyes of locals? Red Cloak Tours are the biggest tour provider in the state, and they have many rave reviews from past guests.
The company specializes in historical tours in Bar Harbor, Bath, Boothbay Harbor, Camden, Damariscotta, Hallowell, Rockland and Wiscasset, Maine.
See Stephen King's Maine
There's another thing Maine is well known for, and that's for being the home of famed horror writer Stephen King. Not only does King reside here, but he has set a huge number of his books in Maine or New England. King fans will LOVE a visit to Maine, particularly to Bangor, where King's home is and which is associated with his fictional town of Derry. Take a Stephen King tour for the real deal experience, or create a DIY tour of Stephen King's Maine.
Shop at the LL Bean
Want to dress like a true Mainah'? You'll need some gear from L.L.Bean. With its cozy flannel, excellent quality boots, and so much more, L.L.Bean is a staple in New England clothing and goods. A Maine bucket list item includes visiting their flagship store located in Freeport (where there are lots of other fun outlet stoes as well) and gazing at the famous giant Bean Boot.
Visiting Maine at Christmas? There's a great celebration here at the L.L.Bean store, among many others!
Attend the Damariscotta Pumpkin Fest
Do you enjoy big gourds? This is the event for you, my friend.
Fall in Maine is incomplete without a visit to the Damariscotta Pumpkin Fest, an annual tradition that hosts many events, the most unique of which is the The Pumpkinboat Regatta. This is a water-based race in which competitors paddle or pilot from inside 400-700 pound, hollowed-out pumpkins in the Damariscotta Harbor.
Drive State Route 27
A Maine road trip is never a bad idea, especially if you build your itinerary around some of Maine's best scenic drives. Route 27 is one such of these, and is also known as Maine High Peaks Scenic Byway. This route starts of in the picturesque town of Kingfield and follows the Carrabassett River, offering impressive views of Mount Abraham and the Bigelow Range. As you head north, Route 27 will also take you through Cathedral Pines, which is the largest stand of old growth forest in the state.
Hop aboard a historic schooner cruise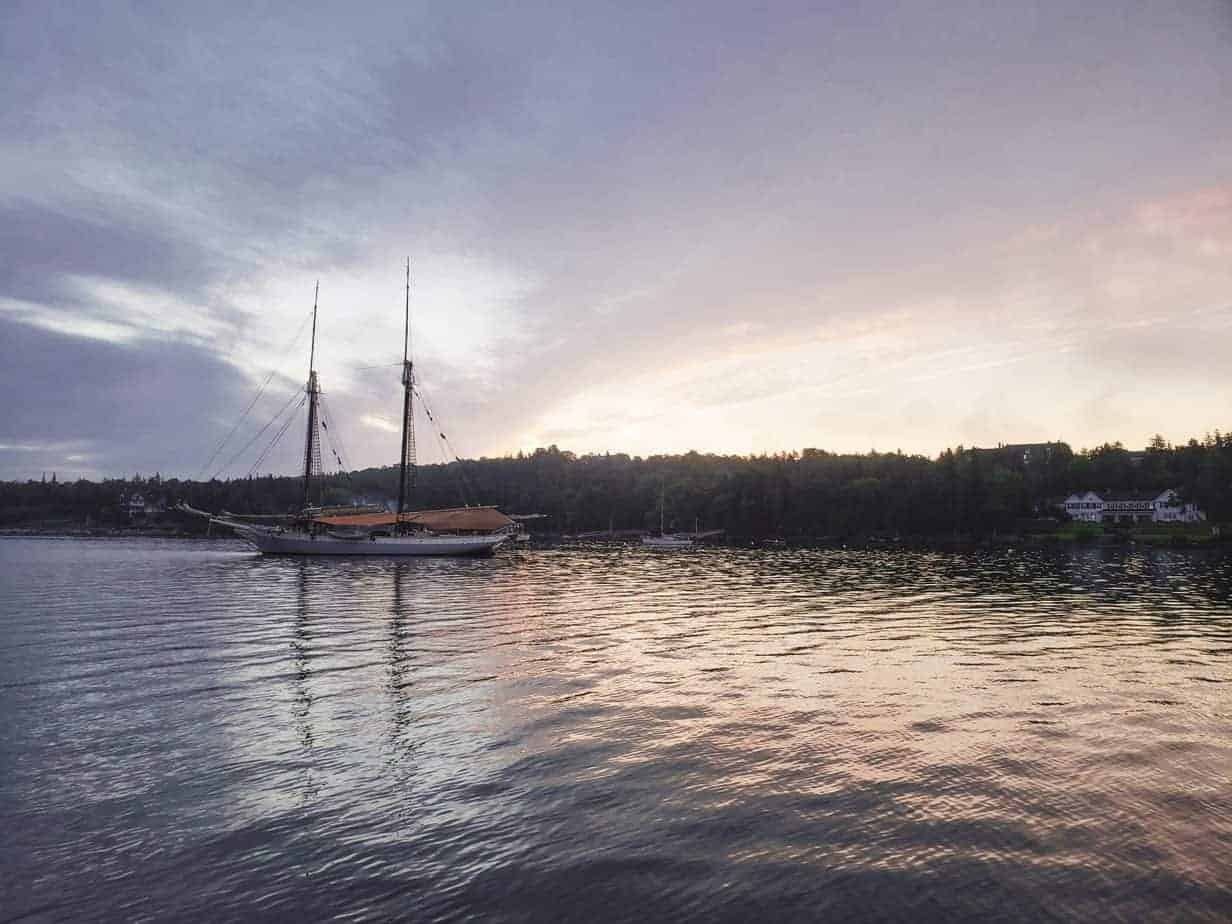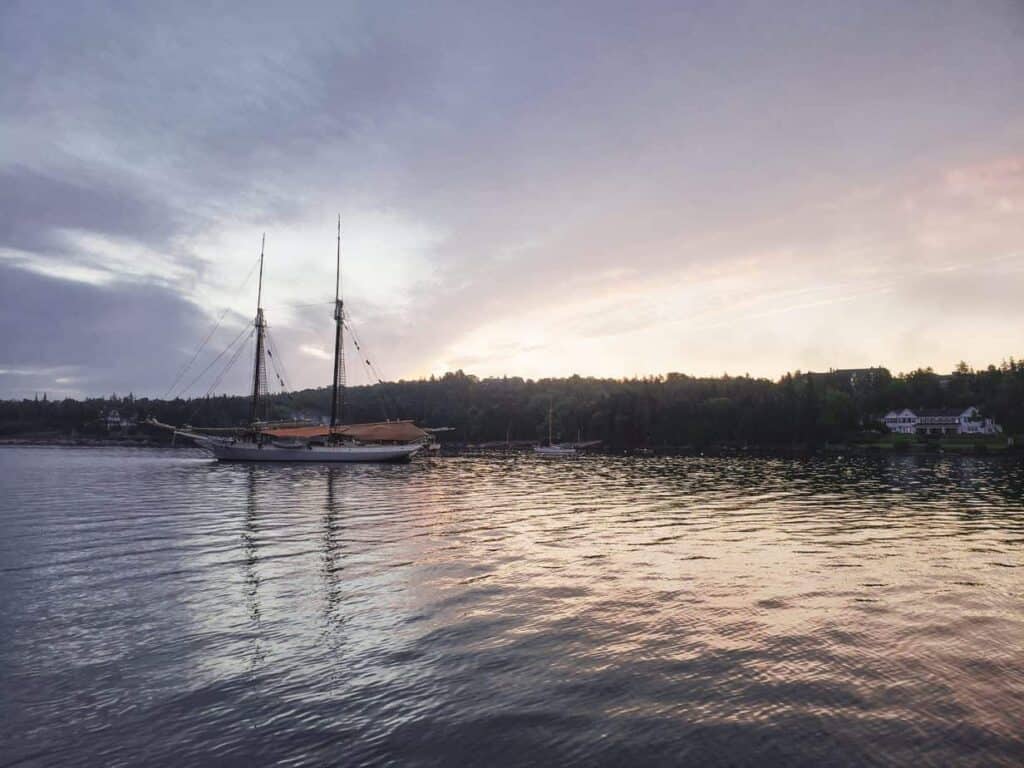 One of the best things I've ever done in Maine is to go sailing on a historic schooner. I've taken a Maine Windjammer cruise twice, sailing on the J&E Riggin for several nights. What an incredible adventure! The experience of riding aboard a classic sailing vessel (and the opportunity to help with the sailing itself) is unforgettable. And the views of the Maine coast: well, it's certainly something special.
Whether you go for a brief cruise or an overnight trip, I highly recommend getting out on the water on your visit to Maine. Here's a day sail option to consider!
Go whale watching
Whale watching is another popular Maine activity. Whale watching season in Maine runs from mid-April through October, as the whales make their way into these waters. Seeing them in the ocean is awe-inspiring, and there may be no better Maine summer activity for those who love wildlife.
Visit Maine's only ghost town
If the creepy and unusual appeals to you, you will want to pay a visit for Maine's ghost town: Perkins Township, or Swan Island.
This town set on an island in the Kennebec River, has been abandoned since the 1940s. A few houses still stand on the island. The island is only open to visitors in the summer, and can only be accessed by boat, but it is a fascinating spot for the curious.
Pick blueberries and enjoy blueberry desserts
Maine is well-known for its blueberries! If you are here during blueberry picking season, make your way to a farm and gather some of your own dark blue delights. Otherwise, prepare to enjoy blueberry in many different desserts and foods. Blueberry pie, blueberry beers, and blueberry jam are just a few of the items you might sample.
Ride the Maine Brew Bus
The Maine Brew Bus is known for its fun and memorable brewery tours in Portland. However, with the current situation re: COVID-19, they are offering other options that are better for social distancing.
Whichever tour you opt for, there's no better means to sip your way around Maine.
Spot puffins
Oh those adorable puffins! I have yet to see these birds in Maine, but it's 100% an item on my Maine bucket list.
So, where can you see puffins in Maine? Check out this helpful guide for where to find puffins in Maine!
Go camping or glamping
In New England, going camping is an essential activity. This is especially true in Maine with its glorious scenery and miles and miles of wilderness. You could opt for "roughing it" type camping in many places around the state. But you could also be a bit more comfortable with a campground or even a glampground!
One fun spot to consider is Sandy Pines Campground near Kennebunkport. This spot offers both traditional camping and glamping options, with a beautiful salt water pool and plenty to do for kids and adults alike.
Is even glamping too rustic for you? Consider booking into one of these cozy cabins in Maine!
Try white-water rafting on the Kennebec River
Tackle some rapids in this outdoor Maine activity: whitewater rafting. According to tour provider North Country Rivers, "the Kennebec River is not a rocky, technical river. Instead, it's a very deep, fast mover with big "fun" wave trains. This is why it's the ideal rafting trip for beginners, youth groups, families, and experienced rafters alike." Sounds awesome!
Take a floatplane ride over Moosehead Lake
Why not see Maine's scenic beauty from above? You can on a floatplane ride. Several companies offer floatplane and seaplane scenic tours over beautiful Moosehead Lake in Greenville, ME. This is one of the most beautiful places in Maine and would definitely be an item to cross off your Maine bucket list.
Get lost in the Maine woods
Maine has a heckuva lot of woods. If wilderness appeals to you, you will absolutely love Maine's abundance of it. And if you're not keen on the woods, no problem. As you can see from this list, there are an endless number of fun things to do in Maine for all visitors.
The Maine woods is a great place to explore: from camping, to hiking, to hunting. The woodsiest woods of Maine can be found here.
Hike Mt. Katahdin
Mt. Katahdin is Maine's highest mountain, so tackling it is a a worthwhile endeavor. No matter which trail you choose, it's estimated to take between 8 and 12 hours to summit this 5269-foot peak. If you're looking for something a little less challenging, take a look at some other options: 12 of the Best Hikes in Maine to Add to Your Bucket List.
Devour a whoopie pie
It wouldn't be a Maine vacation without eating Maine's best culinary delights. And one of these is the whoopie pie.
These cake-like desserts are big, roughly the size of a hamburger, and they sort of resemble one too. Two chocolate buns sandwich fluffy white cream between them. The result is a delicious treat that Maine is famous for. Don't leave without having one!
Attend a lobster bake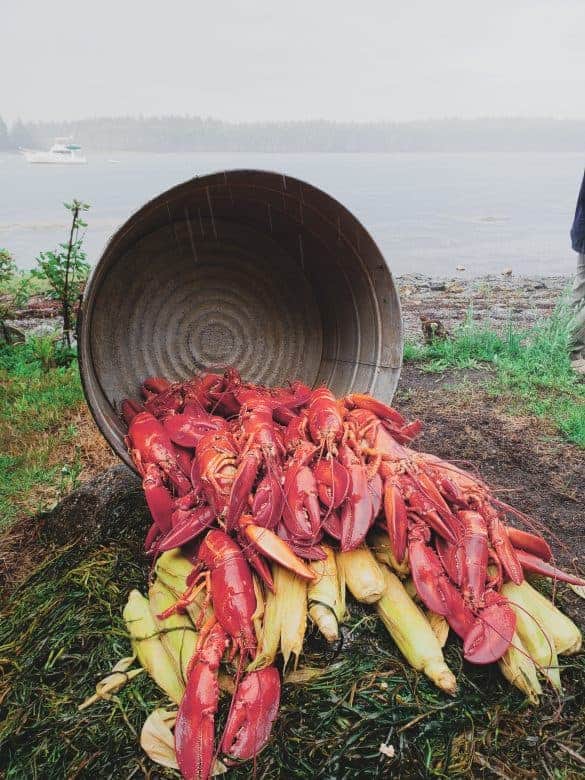 Another must-try good while in Maine is, of course, lobster! Now, you can eat it in a variety of ways: at a restaurant, from a casual fish shack served in a lobster roll, and more, but the ideal way to experience Maine lobster is with an authentic lobster bake.
Go kayaking
With all of its spectacular coastline and its array of lakes, Maine is keen for kayaking. Rent a vessel at any number of coastal spots, or hop on a guided sea kayak tour. You won't be disappointed.
Get in touch with nature in Deboullie Public Lands
Way up north in Maine (300 miles from Portland, in fact) is almost 29,000 acres of remote wilderness known as Deboullie Public Lands. The true adventurer will want to spend some time in this backcountry region, where you can truly get away from it all.
Eat popovers at Jordan Pond House in Acadia National Park.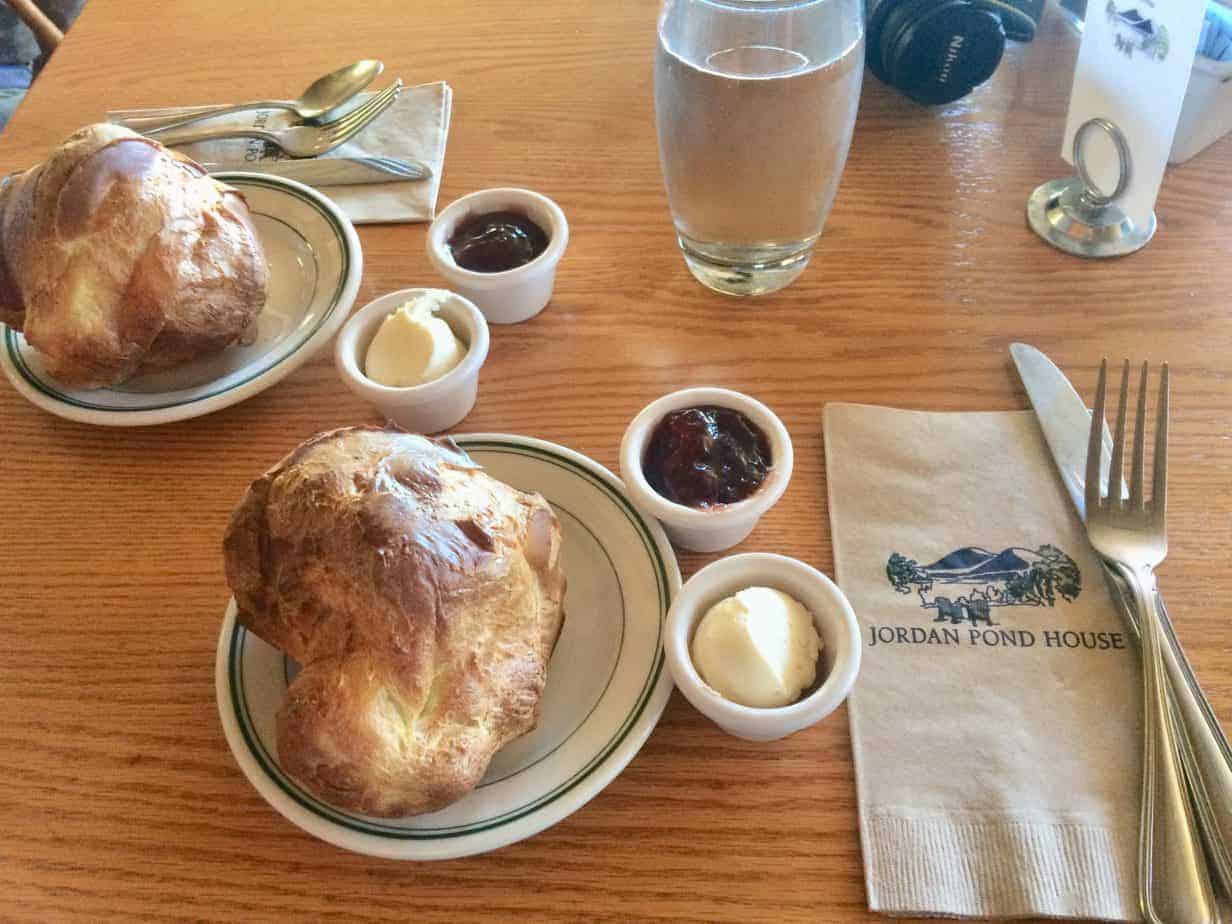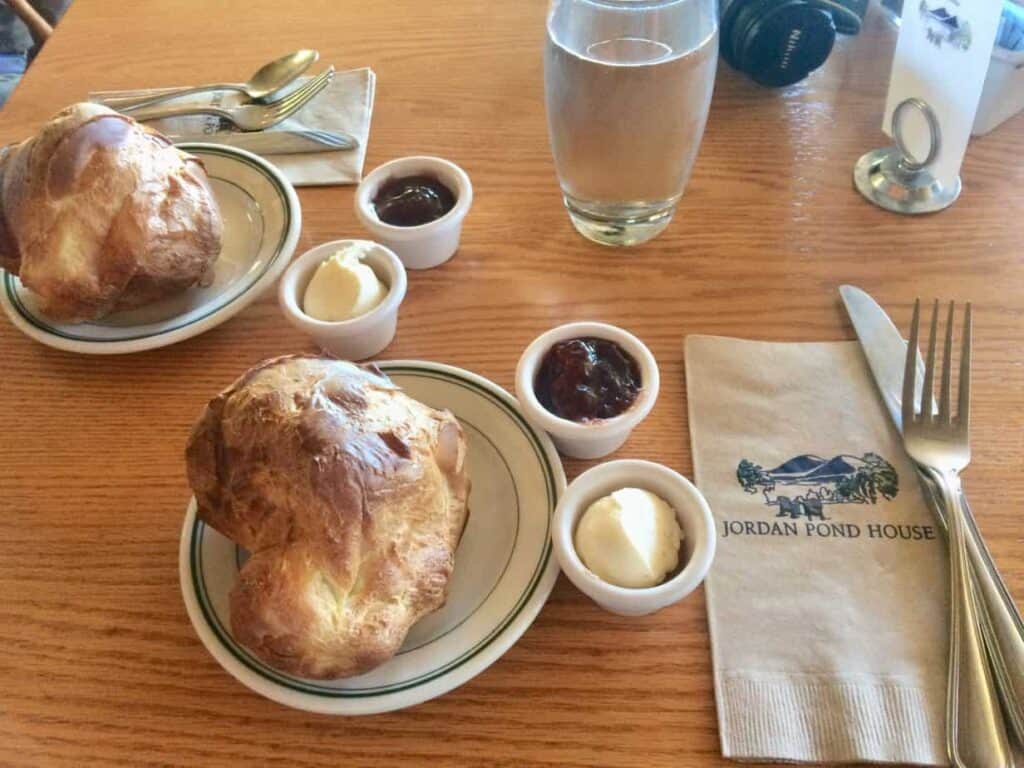 During your visit to Bar Harbor and Acadia National Park (sooo gorgeous and worth several days of adventuring) you simply must stop at Jordan Pond House.
They've been making popovers here since the 1800s. You cannot miss them.
During a recent visit to Acadia, we arrived at Jordan's at 11am to find a massive line already formed. Despite that, we got into the restaurant fairly quickly, and then dined on 4 glorious popovers.
These puffy, light pastries are beyond description. Best with butter and jam, they are similar to British Yorkshire puddings.
Enjoy the beaches
Maine may be known for its rocky coast, but tucked between these swaths of stone, there are many sandy beaches that are great for sunbathing, swimming, and more. Any summer trip to Maine would be incomplete without spending some time on a beach.
Some of Maine's most popular beaches include Old Orchard Beach, Ogunquit Beach, and many more.
See a moose
You'll be seeing plenty of moose crossing signs in Maine, but what about the moose themselves? If you're lucky, you may see some in remote spots in the early morning or dusk hours, but if you want a (possible) guaranteed sighting, read our guide on Where to See Moose in Maine.
Visit the Farnsworth Art Museum
If you find yourself in the town of Rockland, stop by the Farnsworth Art Museum, which highlights and celebrates Maine's role in American art. There are over 15,000 works in the museum's collection, including works by Andrew, N.C., and Jamie Wyeth.
Hike the end of the Appalachian Trail
You likely know that the Appalachian Trail in the United States begins in Georgia and ends in Maine. The AT terminates on the peak of Mt. Katahdin, in fact, so if you're tackling that mountain, you'll be experiencing the end of the Appalachian Trail. Of course, nothing compares to the thrill of hiking the entire Appalachian Trail.
Go apple picking
When fall is in the air, one of the best outdoor activities (especially for families with kids) is to head to an orchard and pick your own apples. September and early October are the prime months for doing this, and Maine is dotted with dozens of orchards offering DIY apple picking. Need some guidance on where to find that appley goodness? Peep our top picks for apple picking in Maine.
Attend the lobster fest
Lobster lobster lobster! Yes, Maine is well-known for its lobster, and so it's totally natural that there would be a festival held to celebrate this glorious crustacean!
The Maine Lobster Festival will celebrate its 74th year next August (2021). Visitors flock from all around for the festival, which includes entertainment, rides, beer, arts and crafts, cooking competitions, parades, and of course, lots and lots of lobster.
Want to learn more? Check out the festival's official website.
In Portland, you will find the house in which Henry Wadsworth Longfellow, American poet and abolitionist, grew up. The house is interesting not just because of its former residents, but because of its architectural and historical value. A well-preserved 1780s home museum, nearly all of the household items and artifacts inside are original to the Wadsworth and Longfellow families.
See the sunrise from Cadillac Mountain
When the sun rises each day in the east, one of the first places you can see it in the entire United States is atop Acadia National Park's Cadillac Mountain. This is a wonderful way to greet the day, and also a transcendent natural experience.
You'll likely be joined by several other early risers at the top of the mountain (you can drive up) so plan to get there early to stake out a prime sunrise watching spot. PS: Bring a blanket. This is Maine, after all.
See the sunset at Bass Harbor Head Light
Not so much of a morning person? You might be more interested in spotting a fantastic Maine sunset, instead. And if you're on Mt. Desert Island (where Acadia is located) you can't do better than watching the sun set behind a famous lighthouse.
Bass Harbor Head Light is an iconic vision, set atop rocky cliffs. With the sunlight fading in the background, this is a photographer's dream spot. Again, plan to come early if you want to have the best possible view.
Catch a show Ogunquit Playhouse
Known for fantastic theatrical productions, the Ogunquit Playhouse is a summer regional theatre with a historic past. According to Wikipedia, the playhouse "is one of the last remaining summer theatres from the Straw Hat Circuit, also referred to as Summer Stock, still producing live musical theatre. The theatre is listed on the National Register of Historic Places."
Read More: 13 Best Things to Do in Ogunquit Maine
Get your learning on at the Maine Maritime Museum
Seafaring is a huge part of Maine's past. What better place to learn about it than here, at the Maine Maritime Museum? The museum, located in Bath, has a "20-acre waterfront campus [that] includes indoor galleries, the country's only surviving historic wooden shipyard, a working boat shop, a newly restored 1906 schooner, and more!"
Tiptoe over the Wiggly Bridge
Take a (quick) walk over the world's tiniest suspension bridge! The Wiggly Bridge is found off of Route 103 in York, Maine, where it separates the Barrell Mill Pond from the York River. The 75-ft long bridge is simply cute. As a bonus, go sip samples of Maine spirits afterward at the nearby Wiggly Bridge Distillery.
Take a selfie with the Paul Bunyan statue
This absolute unit is up in Bangor, Maine standing 31-feet tall. Paul Bunyan was born in Bangor in 1834.
Visit the Arctic Museum
Do you have an interest in arctic exploration? You may wish to explore the Peary-Macmillan Arctic Museum located on the campus of Bowdoin College in Brunswick, Maine.
Sample lobster ice cream
If your tastebuds are up for the challenge….you can indeed enjoy lobster ice cream here in Maine.
Try to grab a reservation at this extremely in-demand Maine restaurant
Think it's tough to get a dinner reservation in the big city? This rural Maine restaurant routinely sells out for months within hours.
It's a hidden spot with a dining experience unlike any other. Will you make it there this year?
Stay overnight in an awesome treehouse
Need we say more? You can find a few cool options on our list of the best Airbnbs in Maine or this list of New England's best treehouses.
Check out a possibly haunted lighthouse
It should come as no shock that New England is rife with haunted spots. So much history! Maine is no stranger to weirdness (in no small part thanks to Stephen King) so if you're in Vacationland and looking to get spooked, consider seeking out a haunted spot. Some options in Maine include Boon Island Lighthouse. There are also a few more to see on this list: 13 Haunted Places in New England That are Wicked Creepy
Stroll downtown Kennebunkport
You can't go wrong exploring Maine's charming towns. Kennebunkport is one such place that just SCREAMS coastal Maine. Go check it out and see for yourself. PS: While you're there don't miss all these other great things to do in Kennebunkport.
These Portland handmade donuts are made with potatoes, which apparently, makes them a bit healthier than your average donut. But no less delicious! Check out all of their mouth-watering flavors!
Ferry to the Casco Islands
When visiting Portland, don't miss the nearby islands. Accessible via ferry, the 8 Casco Islands each offer something distinct, and make for great day trips from Portland. The year-round Casco Bay Lines will get you there.
Stand at the easternmost point in the USA
West Quoddy Head is the easternmost point of the contiguous United States, making Quoddy Head Light the easternmost beacon! It's fun to visit just to say you've been there, but it's also a lovely spot and an iconic lighthouse. In fact, it's one of just two red-and-white-banded lighthouses still standing in the US.
Wander through the Coastal Maine Botanical Gardens
For those who enjoy the beauty of nature, a visit to local botanical gardens is always a treat. The Coastal Maine Botanical Gardens are no exception. Spanning 295 acres in Boothbay, this is the largest botanical garden in all of New England. It's especially popular due to its dramatic landscape.
In the winter, don't miss Gardens Aglow, a holiday event that sees the gardens illuminated with thousands of Christmas lights.
See Maine's movie star beach
Popham Beach is really nothing more than a beautiful Maine stretch of sand, but it's become a bit more famous since it has appeared in films. Most notably, 1999's Message in a Bottle had a lot of its filming here.
Explore Portland's Old Port
There are a great many things to do in Portland, the state's biggest city. But what visitors definitely will want to make time for is the Old Port. This area of town is super charming, with its cobblestone streets, array of unique shops, and collection of delicious restaurants.
Go skiing
A classic New England pastime in the snowy months, skiing is great in Maine. Not so into skiing? There are many other winter activities you can get up to in Maine.
Shop at Stonewall Kitchen
Do you like delicious samples? Adorable and high-quality kitchenware? You will fall head over heels for Stonewall Kitchen, a well-known producer of gourmet food products. (You may have had one of their Blueberry Jams!) In York, Maine, you will find the store itself, with thousands of square feet of delights. Grab a meal at their onsite cafe or just shop for awhile. They have so many New England-inspired goods, you won't be leaving empty-handed.
---
Read these next:
---