If you're a fan of Stephen King and some of his bestselling novels like It, Carrie, and Pet Semetary, then you're in luck; this post is for you! By the end of it, you'll know where to visit in Stephen King's Maine.
From visiting his home (which has a pretty appropriately creepy vibe) to bookstores inspired by him, this list has Steven King's Maine places that have inspired him over his illustrious career.
So, what are you waiting for? Start reading and bookmarking all of the places to visit during your next trip to Maine!
Steven King's Maine
Stephen King's Home
First up is none other than Stephen King's house. This may seem like a "well, duh, why wouldn't I visit it?" type of place, but you won't want to overlook it when visiting Stephen King's Maine.
Located in Bangor, King's home is an old Victorian mansion with a Halloween-vibe gate that locks his pathway from visitors. The home is exactly what you'd picture Stephen King living in.
While visitors aren't welcome to go inside of King's house, anyone is welcome to visit the outside and snap a photo to prove that they've been there. The inside has been turned into an archive for scholars who want to learn more about him, but it's tough to get access to that.
Thomas Hill Standpipe
Next is the Thomas Hill Standpipe, another landmark located in Bangor. Many people say that King was inspired by this standpipe in his hit novel It which was published in the 1980s. There's a creepy water tower from the book (and also the movie if you've seen it), which is pretty similar to the Thomas Hill Standpipe.
This massive standpipe can fit 1.8 gallons of water inside, so it's massive. It was built in the 19th century and is about 50 feet tall. While it doesn't look creepy at all in real life, if you were to read the novel or watch the movie, you'd realize what makes it so eerie!
Mainely Murders Bookstore
The Mainely Murders Bookstore is a fun attraction for Stephen King fans in Kennebunk. It may just seem like a typical bookstore, but with a name like Mainely Murders, how could it be?
The bookstore was opened by fans of Stephen King and is dedicated to all mystery and crime fiction novels. They sell both used and new novels to fit any avid readers' budget when visiting the bookstore.
While this isn't necessarily a landmark that's directly tied to Stephen King in the same way that his home or the Thomas Hill Standpipe is, it's still a fun place to visit so you can meet with other murder mystery fans!
The Pet Semetary Cemetery: Mount Hope Cemetery
Mount Hope Cemetery is another excellent spot to visit in Stephen King's Maine. It's a smaller cemetery but is one of the oldest in the entire country. The cemetery covers approximately 300 acres and was built in the 1830s after it was designed by an architect named Charles G. Bryant.
Located in Bangor, this is one landmark related to Stephen King in Maine that fans of his novels won't want to miss. This landmark is definitely more recognizable by people who have seen the movie Pet Semetary from one of the most iconic parks of the film.
Anyone who has watched the movie would automatically recognize this place! It also has had some reported paranormal activity.

Shawn T. Mansfield Stadium
This is another one of those locations that aren't necessarily directly tied to any of Stephen King's books but is related to him as a person and his upbringing in Maine. The Shawn T. Mansfield Stadium is located in Bangor that hosts the Senior League World Series for baseball every year.
This stadium has roots in Stephen King's past! He actually coached a team back in the 1980s with a few other locals, and the team won Maine's State Championship. After, Stephen King and his wife Tabitha decided to pay for a new facility for the local teams to play at.
The stadium is named after a young boy who passed away when he was 14 named Shawn Trevor Mansfield. The Kings put a plaque at the front of the stadium to commemorate him.
Bangor Waterworks
The Bangor Waterworks is actually a filming location from Stephen King's Night Shift! This movie came out in the 1990s. At one point in the film, there were giant rats that were found in tunnels, and the tunnels that are situated underneath the Bangor Waterworks are where they were.
Unfortunately, this is not a location that fans of Stephen King can go and visit. The Bangor Waterworks building is now a low-income housing facility. However, you can stop by and check it out from the outside. You just can't see the tunnels for yourself!
Paul Bunyan Statue
Located in Bangor, the famous Paul Bunyan Statue is one fun landmark from Stephen King's Maine that you're not going to want to miss. While there are Paul Bunyan statues all across the United States, none is tied to Stephen King quite like the one in Bangor.
This statue may not mean much to you if you aren't a Stephen King fan, but it was featured in It. The statue came to life at one point when it was possessed! Even just taking a look at the statue, you can easily picture it alive… and it's kind of creepy!
Jackson and Union Street Corner
This "landmark" is another place that is connected to the famous story of It from Stephen King. Anyone who has read the book or seen the movie franchise will instantly be able to tell that the corner of the streets is where the sewer drain that was home to Pennywise is there!
What happened at the sewer drain basically sets the tone for the rest of the story, as it's where Pennywise took Georgie away, basically leading the chase to try to figure out what happened to him.
The sewer drain is honestly kind of creepy, so you might just get carried away by the story if you stare at it for too long! It's a great photo spot for any fan of King's series.
The Barrens
The Barrens served as a meeting spot for Stephen King's It characters in the fictional town of Derry. This is where the infamous Losers Club liked to meet in the series. If you've seen the movie, this location is also featured when they're hanging out with Beverly.
If you were to visit the Barrens in real life, you'd realize it's actually just a small area near a river in Bangor! It's next to a popular rock called Lover's Leap. To find it for yourself, be sure to follow Kenduskeag Stream until you find a spot that seems familiar to you from the movies or book franchise.
University of Maine
You may be thinking, why is there a university on this list of Stephen King's Maine? Well, the answer is simple, really! It's because Stephen King actually met his wife at the University of Maine's library, so it's worth stopping by.
In particular, Stephen King attended UMaine Orono. Even if you're just a visitor, the campus is open to the public, so you'll be able to go around and explore it. You could even hop on a free campus tour to see the very place that Stephen King studied at before becoming the famous writer that he is today.
Pet Sematary House
Another great location in Stephen King's Maine is the Pet Semetary House. Located in Hancock, this home was featured directly in the Pet Semetary movie in the 1980s. Anyone who has seen it would probably be able to recognize it and place it instantly!
While this is a place that you can't go right up and visit, it's still a fun roadside attraction that you can check off your bucket list. Keep in mind that it may look a bit different than it did thirty years ago when it was featured in the famous film!
Runaround Pond
Runaround Pond is featured in several of Stephen King's works, including The Dead Zone (the opening scene!), Revival, and the iconic leech scene from The Body – later adapted into the hugely successful film Stand by Me, all took place here!
You can go paddle boarding on this peaceful body of water in Durham, if you'd like… just maybe don't swim if you don't want to recreate the leech scene yourself.
Bangor Public Library
If you're a fan of books and supporting the arts (which you most likely are if you are reading this article), then you should stop by the Bangor Public Library. This is another one of those locations that aren't necessarily featured in Stephen King's novels or movies but is still worth visiting.
An entire wing at the library was added thanks to a considerable donation from Stephen King and his wife, Tabitha. It's worth visiting to check out the wing and even see if you can find some of King's books in the library!
—
As you can see, there are so many great places to visit in Stephen King's Maine. All of this could easily be seen on the same trip or even during a weekend if you use this Stephen King Maine travel guide to help plan.
This is the perfect way to learn more about the Master of Horror if you love Stephen King's novels! The way he took small town influences and turned them into some of the most compelling short stories, novels, and even screenplays over the years is remarkable.
You can also book with popular Bangor tour company, SK Tours, too.

Have you visited any of Stephen King's Maine locations? What's your favorite Stephen King book or movie?
Read these next:
---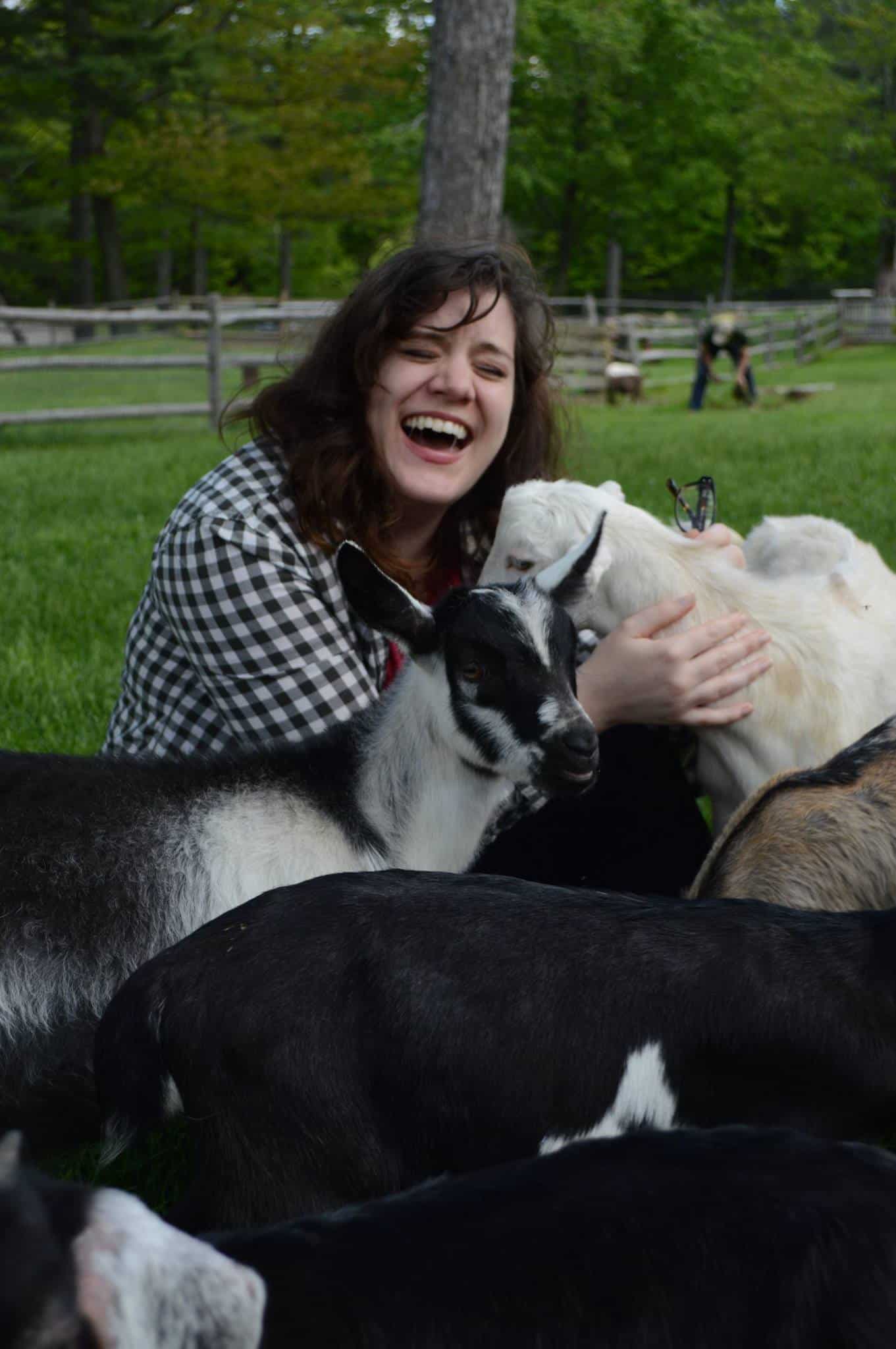 Amy Hartle is the founder and Editor-in-Chief of New England With Love, a comprehensive resource for travel in the New England region. Amy has been exploring New England since 2001. She lived in Vermont for many years and is a graduate of Plymouth State University in New Hampshire. Amy has been writing about travel for over a decade. On this site, Amy aims to share her love of New England and help you to have the best possible adventures!
Amy has been a full time blogger since 2012, and is also the publisher of Two Drifters, where she writes about couples travel and relationships, as well as Let's Adventure Baby, a family travel site. When not traveling the world or creating epic blog content, Amy can be found cuddling with her husband, son, and cats, & drinking a maple latte.