You might be thinking to yourself, what is Massachusetts known for? What is there to do in Massachusetts? Well, the Bay State is well-known for all kinds of very Massachusetts things to do, attracting as many as 31 million visitors each year! From the big city of Boston to the quaint towns of the Berkshires, there is no shortage of fun things to do in MA!
In this post, we hope to provide a Massachusetts bucket list for you: a list of the essential activities, sites, and fun places to visit in Massachusetts. While this is certainly not a comprehensive list of all the best things to do in MA, this Massachusetts travel guide has been designed to cover as much as possible. If you want to dive deeper into a destination or activity, each item has links to lead you to further information.
Ready to get inspired for your next trip to Massachusetts? Let's go!
55+ Fun Things to Do in Massachusetts
Walk Boston's Freedom Trail
Boston is at the top of the list for cool places to go in Massachusetts, for sure. There are tons of things to do in Boston for visitors of all kinds. Whatever your interest, there are plenty of activities in Boston MA that will call to you, but it may be especially intriguing to history buffs.
Boston is home to a tremendous depth of American History. One of the key activities for a visitor to the city is to walk the Freedom Trail.
The Freedom Trail is a 2.5 mile path that takes you around Boston on a route passing 16 important historical sites, including the Paul Revere House, Old State House, and Granary Burying Ground.
Also check out: 18 of the Best Free Things to Do in Boston | Weekend in Boston: A Perfect 2 Day Itinerary
Sip some Sam Adams
Sampling craft beer is a longtime staple of Massachusetts fun. While we recommend making time to tour a variety of breweries, one of the most essential is the Sam Adams brewery. If you can visit this Boston brewery, do so, as it's a good time. If not, just grab a Sam at a local restaurant or pub. Cheers!
Explore the witchy history of Salem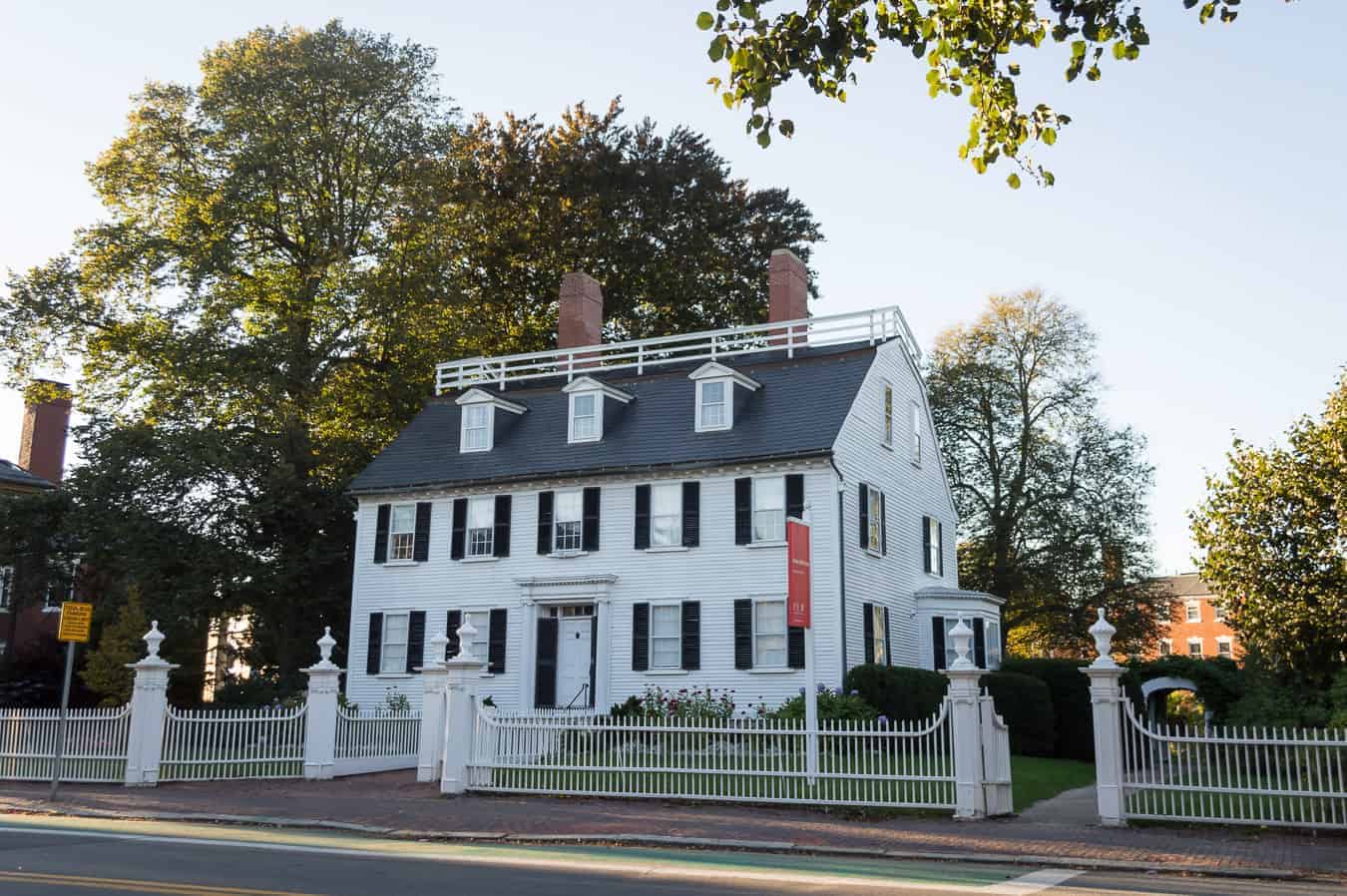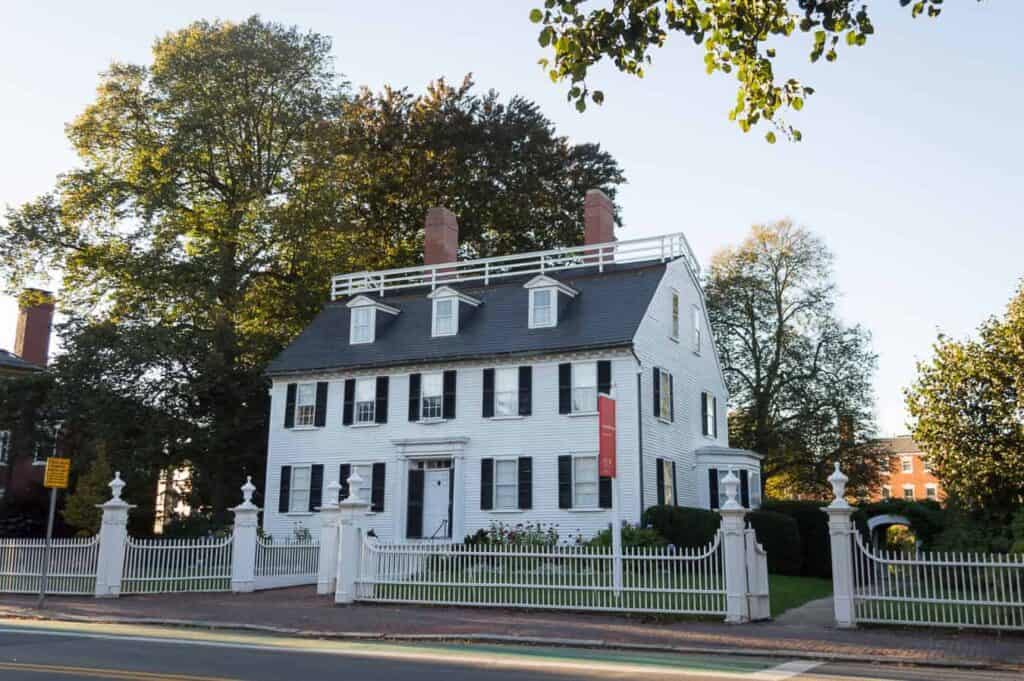 Salem is one of the most fascinating places to visit, and if you're looking for things to do in Massachusetts in October, this should be at the top of your list!
We recommend visiting Salem in October for the iconic fall/Halloween experience, but Salem is a great destination at any time of year (and is likely to be far less crowded in the other months)! Scope out the sites where Hocus Pocus was filmed, sample the goods of the local restaurant scene, and enjoy all the free things to do in Salem that make it one of the most popular Massachusetts tourist attractions!
Salem was home to the infamous Witch Trials of the 1690s. There's lots to discover about that time during your visit, but Salem has plenty more to explore, including literary legends, maritime history, and more.
Brush Up on Your Boston Slang
Visiting Boston MA? Wicked cool, but you'd bettah brush up on your Boston slang first! Don't want to get Southie and South End confused, and if you're a coffee drinker, you're going to want to know what you're in for if you ask for a regular coffee!
Visit the literary legends in Concord
Speaking of literary legends, Massachusetts may have some kind of record for them; so many well-known authors and poets have been born or lived here, so if you're a lover of literature and looking for what to do in Massachusetts, a visit to Concord needs to be at the top of your list!
Concord, MA is one of the best MA destinations for those in search of literary sites. Among the authors who lived here are Louisa May Alcott, Ralph Waldo Emerson, and Henry David Thoreau.
Read Next: Exploring Concord's Literary History | 25 Must-Read Books Set in New England
Cheer on the Red Sox
Taking in a Red Sox game at Fenway is a rite of passage for a New Englander, and an absolute must do in Massachusetts for any self-respecting baseball fan! If you're unable to attend a game, consider taking a guided tour of historic Fenway Park. You can squeeze one in during this guided 24 hour itinerary of a fun day in Boston!
Frolic in the daffodils
You can't pick the flowers at Parsons Reserve Daffodil Field in Dartmouth, but you can most certainly walk amongst the sunny daffodil fields and take in these gorgeous bursts of color as they bloom mid-April to early May. If you're looking for spring things to do in Massachusetts, this is perfect!
See some incredible lighthouses
Home to nearly 50 lighthouses, it's no wonder that basically every Massachusetts vacation guide you'll come across is going to include a visit to a lighthouse! Those traveling from outside of New England are likely to want to see (and photograph) some of these incredible structures. After all, when it comes to things to do in Massachusetts, seeing lighthouses are some of the most essential items on any MA bucket list!
Take a duck tour in Boston
Boston's Duck Tours are a classic Boston activity for any visitor. These amphibious boats bring you on a tour of the city by river and by land; the perfect way to travel!
Click here to book a duck tour.
Stroll down Rockport's Bearskin Neck
Just an hour or so north of Boston is the quaint town of Rockport. This spot has been known as an artist's colony for years, and it's easy to see why. Rockport is one of the most beautiful places in Massachusetts. In fact, the old fishing shack pictured below, Motif #1, has been called the most painted structure in the US, as it is the subject of countless paintings and works of art.
A visit to Rockport is a great addition to any Massachusetts things to do list.
Eat a fresh lobster roll
In Rockport, Boston, or pretty much anywhere along the coast of MA, you will want to try some lobster during your vacation. If you're not a fan of a full boiled or steamed lobster, you may like the variation of a cold lobster roll sandwich; a lobster roll is definitely the best of Massachusetts!
"Summer" on the Cape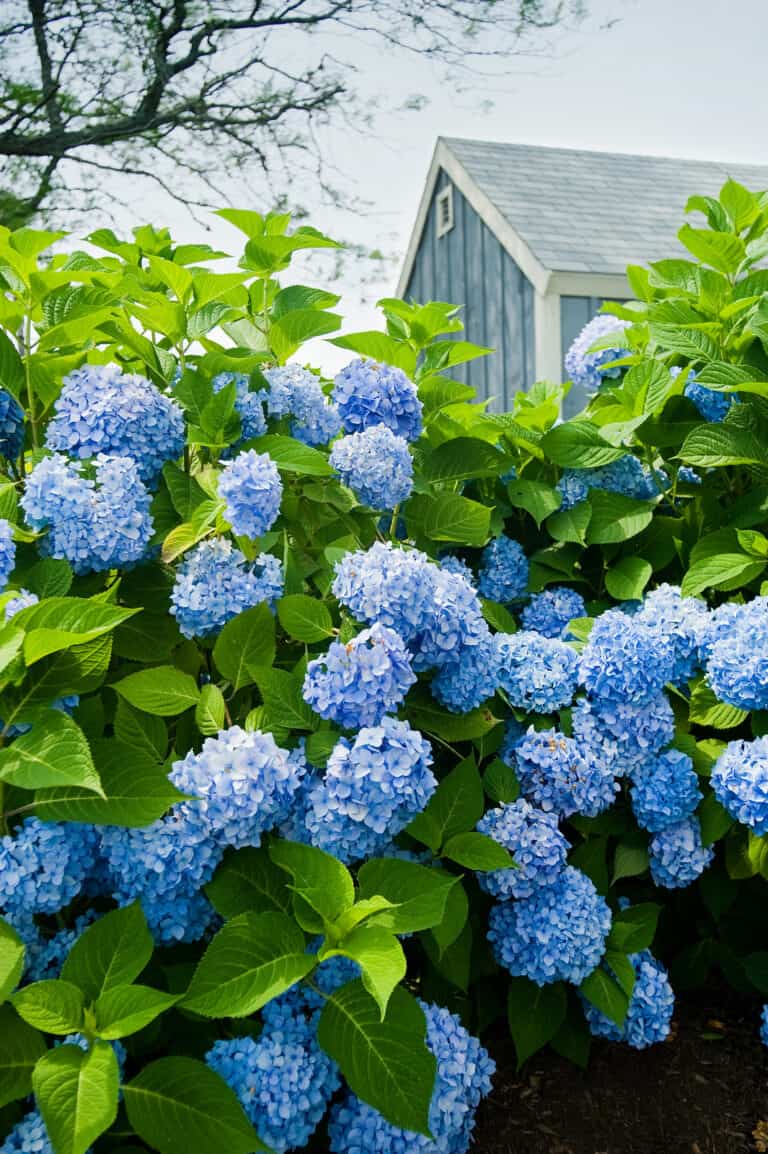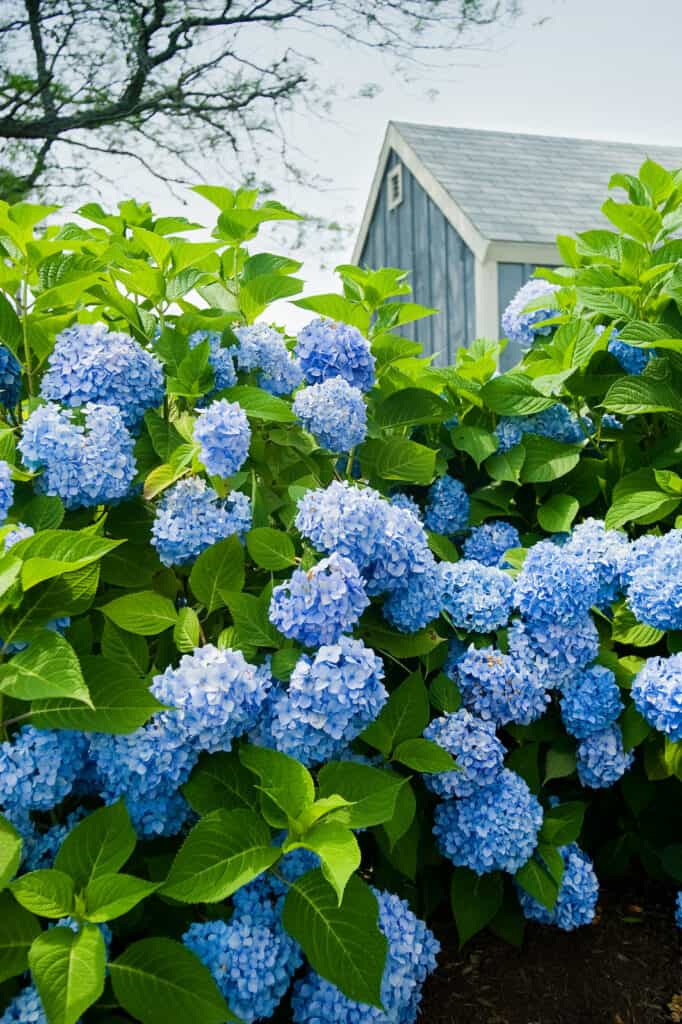 Cape Cod is one of America's summer playgrounds, and you will fall in love with it as have countless before you. Beaches, vineyards, horseback riding, sailing, biking. Don't miss this top MA destination, because when it comes to Massachusetts in summer, it doesn't get much better than Cape Cod!
Attend New England's best renaissance festival
I love a Renaissance festival, and Massachusetts has a fantastic one in Carver: King Richard's Faire. This annual event is one of the best things to do in Massachusetts in the fall, bringing with it live entertainment, performers and guests in costume, themed weekends, amazing food, music, and even a jousting tournament; how's that sound for fun in Massachusetts?
Stand in line for one of the North End's famous cannolis
The question of where to find the best cannoli in Boston has been the subject of heated debate. You'll have to answer the question for yourself. But that sounds like a particularly delicious project, doesn't it? It might even take you to some of the best restaurants in Boston MA!
You could also sample more of Boston's culinary favorites on a food tour.

Go to a concert at Tanglewood
Tanglewood is a summer music venue in Lenox, MA. It is the summer home of the Boston Symphony Orchestra, as well as hosting many contemporary acts in their venues, including open air concerts that can be attended from the lawn. James Taylor is a frequent performer at Tanglewood; this is definitely one of the top summer activities in Massachusetts!
Go whale watching
One of the best things about Massachusetts is that from April through October, it's whale watching season on the MA coast. Hop aboard a whale watching tour to go and catch a glimpse of these majestic creatures.
I have personally sailed twice with 7 Seas Whale Watch out of Gloucester, and I have greatly enjoyed my experience both times! Spotting the whales is an exhilarating experience, and you learn a lot about them on the ride out to the Stellwagen Bank National Marine Sanctuary, where the whales are seen.
This professional theatre company in the Berkshires presents stellar performances in a lovely setting; this is definitely one of those Mass things to do that is very New England!
Party in Provincetown
Provincetown, also known as P-Town, has a rich history and a modern vibe. Today, it's known for its vibrant community that is extremely LGBTQ+ welcoming. The calendar is stocked with constant activities and events, and there are lots of great restaurants and places to stay to choose from, too!
Discover Revolutionary History in Concord, Lexington, and beyond
Looking for history-heavy attractions in Massachusetts? Head to Concord. The first rumblings, protests, and finally the battles of the Revolutionary War were all fought in Massachusetts. You can delve deep into history of MA, and especially in the Concord and Lexington areas. Don't miss Minute Man National Historical Park, where the opening battle of the Revolution is brought to life.
Read More: Top 13 Historic Sites in Massachusetts
Pick apples in September
One of the best things to do in Massachusetts in September, the apple orchards are filled with ripe fruit ready to be picked! Heading with your family to a local farm or orchard is an autumn tradition. Definitely something to add to your MA travel itinerary, especially if you're looking for family fun Massachusetts style!
Read Next: 7 Great Places to Go Apple Picking in Massachusetts
Step back in time at Plimoth Plantation
You'll be diving into early American history at Plimoth Plantation, located in Plymouth, MA. Yes, this is THAT Plymouth, where the pilgrims landed in the Mayflower.
This living history museum doesn't just cover the Colonial history, however, but also focuses on the Wampanoag Tribe, the people native to the region. You will learn a lot during your visit here and will likely feel you've stepped back in time.
Don't miss touring the Mayflower II, a full-scale reproduction of the original 1600s ship that sits in the harbor. Honestly, the whole town is one of the best tourist attractions in Massachusetts!
Daffodil festival in Nantucket
Every April in Nantucket, you can find the Nantucket Daffodil Festival, a joyful celebration of this bright yellow beacon of springtime.
Tour Harvard's hallowed halls
This iconic Ivy League campus deserves a visit when you're traveling in Boston.
Take a hike
It might sound like a basic item to cross off your MA bucket list, but it's an essential one because Massachusetts is home to some great hikes! Though you won't find the high peaks of New Hampshire here, there is plenty of diverse terrain and altitude variation to keep things interesting.
And of course, there is gorgeous scenery all around as you get to play in some of the most beautiful places in Massachusetts!
Visit some haunted spots
Being as old as it is, the region of New England has grown up with some tall tales, legends, and mysteries surrounding it. Massachusetts is one of the most mythical of the states, boasting lots of potentially haunted spots. Places like the Danvers State Hospital and the Lizzie Borden House are among MA's most infamous, so if you're looking for entertainment in Massachusetts that's on the spooky side, this might be it!
Whether it's abandoned spots or ghost towns you're interested in, there are some pretty spooky things to do in Massachusetts!
Eat clam chowder
New England clam chowder is one of the most traditional foods of Massachusetts, and it was created here. Enjoy a hot, steaming bowl of the creamy good stuff while you're here.
Peer at The Bulb River
Do you enjoy flowers? What about flowers that look like a cascading river or waterfall? The Bulb River, a carefully cultivated flow of rich purple hyacinths, can be found each year at Heritage Museums & Gardens in Sandwich, Massachusetts.
You'll have to time your visit well to catch the Bulb River; it generally blooms in early May and lasts for approximately one week, so if you're planning a trip to Massachusetts in May, you might just catch it, but the gardens offer other beautiful displays throughout the year.
Pay a visit to Boston's many museums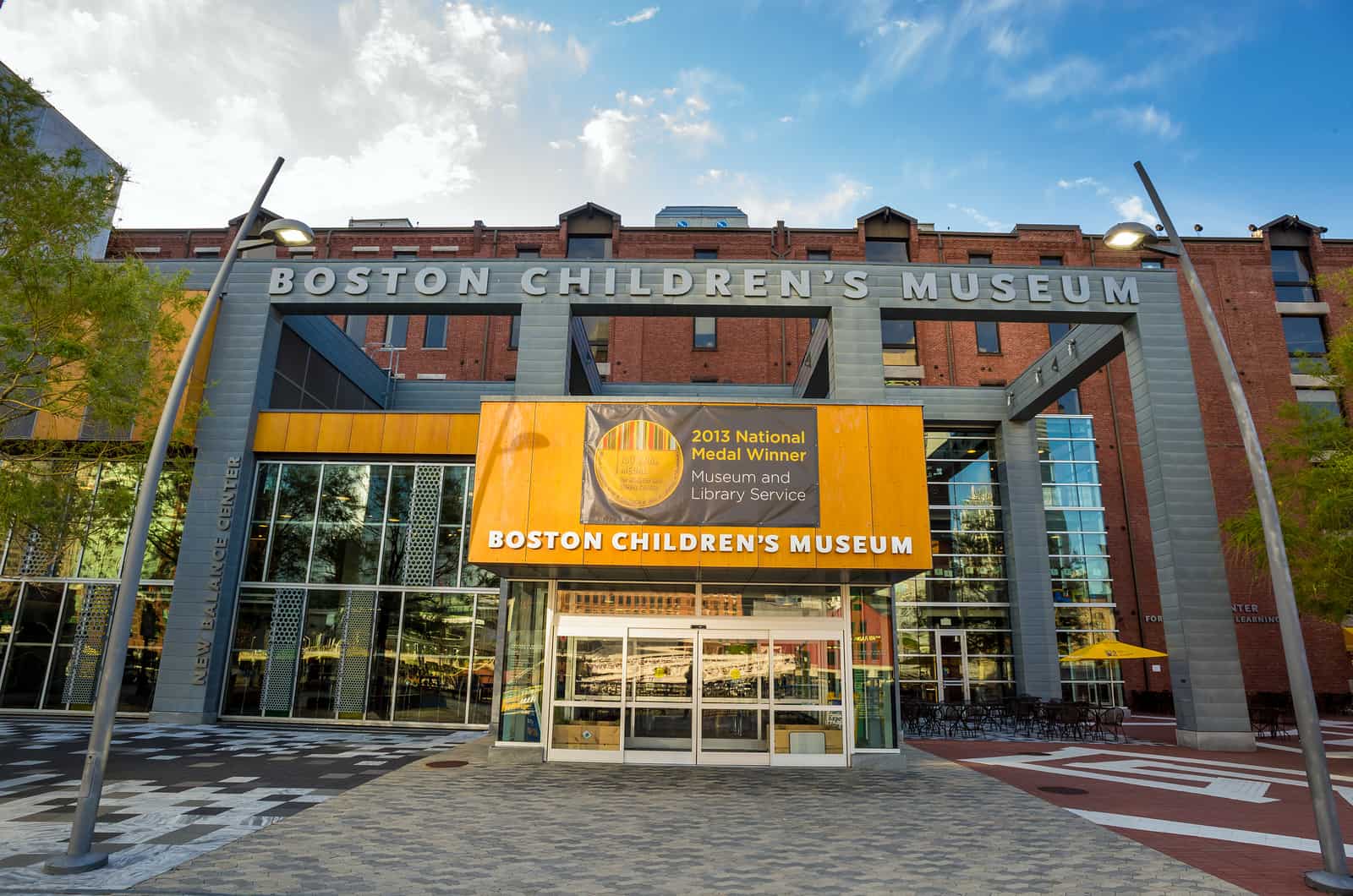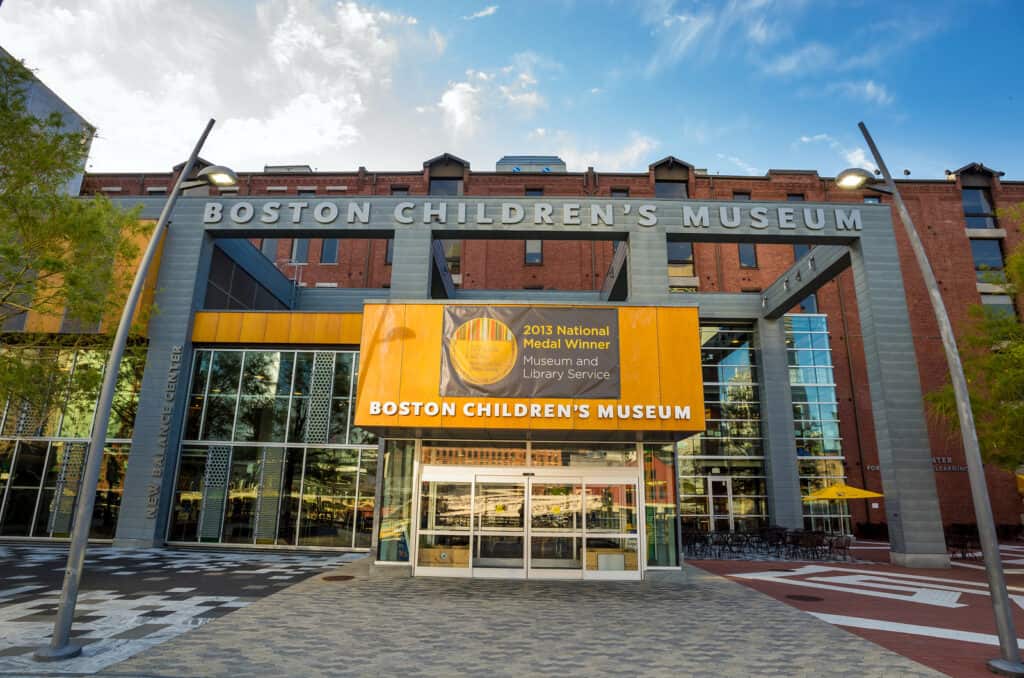 Boston has dozens of awesome museums. Personally, my favorite is the Boston Science Museum, a thrilling place that kids and adults alike can enjoy for hours on end. Other worthwhile choices include Boston Museum of Fine Arts, the Boston Children's Museum, Isabella Stewart Gardner Museum, the Boston Tea Party Ships & Museum, and the Harvard Museum of Natural History. This is definitely one of the top things to do in Massachusetts with kids!
If you're planning to visit a few of Boston's best museums, you will want to consider getting a Boston attractions pass. Read this to help you choose the best one to get: Go Boston Card vs Boston CityPASS: Which is Better?
Wander through old cemeteries
Morbid? Maybe. But cemeteries are a fascinating link between the present day and the past. I think New England's historic graveyards are beautiful and interesting, and I've rarely seen older gravestones anywhere in the US; this is a beautiful way to explore Massachusetts' history!
Marvel at Bash Bish Falls
Looking for things to do in Western MA? This waterfall, the highest single-drop waterfall in the whole state, is very close to the border with New York. You can hike to the base of the falls in around 2/3 of a mile. More info here.
Read Next: 12 Must-See Waterfalls in Massachusetts
Book a fall foliage getaway in a cozy cabin
Check into an idyllic cabin for the perfect weekend getaway from Boston, NYC, or wherever you're coming from. Consider booking a stay in a cozy cabin during fall foliage season or as the snow starts to fall; when it comes to fun things to do in Massachusetts in winter, how fantastic does getting snowed in with your favorite people sound?
Learn about maritime history at the New Bedford Whaling Museum.
One of the must do things in Massachusetts for the history fan or lover of the sea is the New Bedford Whaling Museum. Here you can further appreciate New England's rich maritime past and learn all about the art of whaling, which played a massive role in New England's economic history.
Walk along the Bridge of Flowers
What could be more charming than this 400-foot long bridge that is covered in flowers? You can walk this beautiful garden space found in Shelburne Falls, MA, definitely one of the best things to do in Massachusetts in the summer!
Visit Patriot Place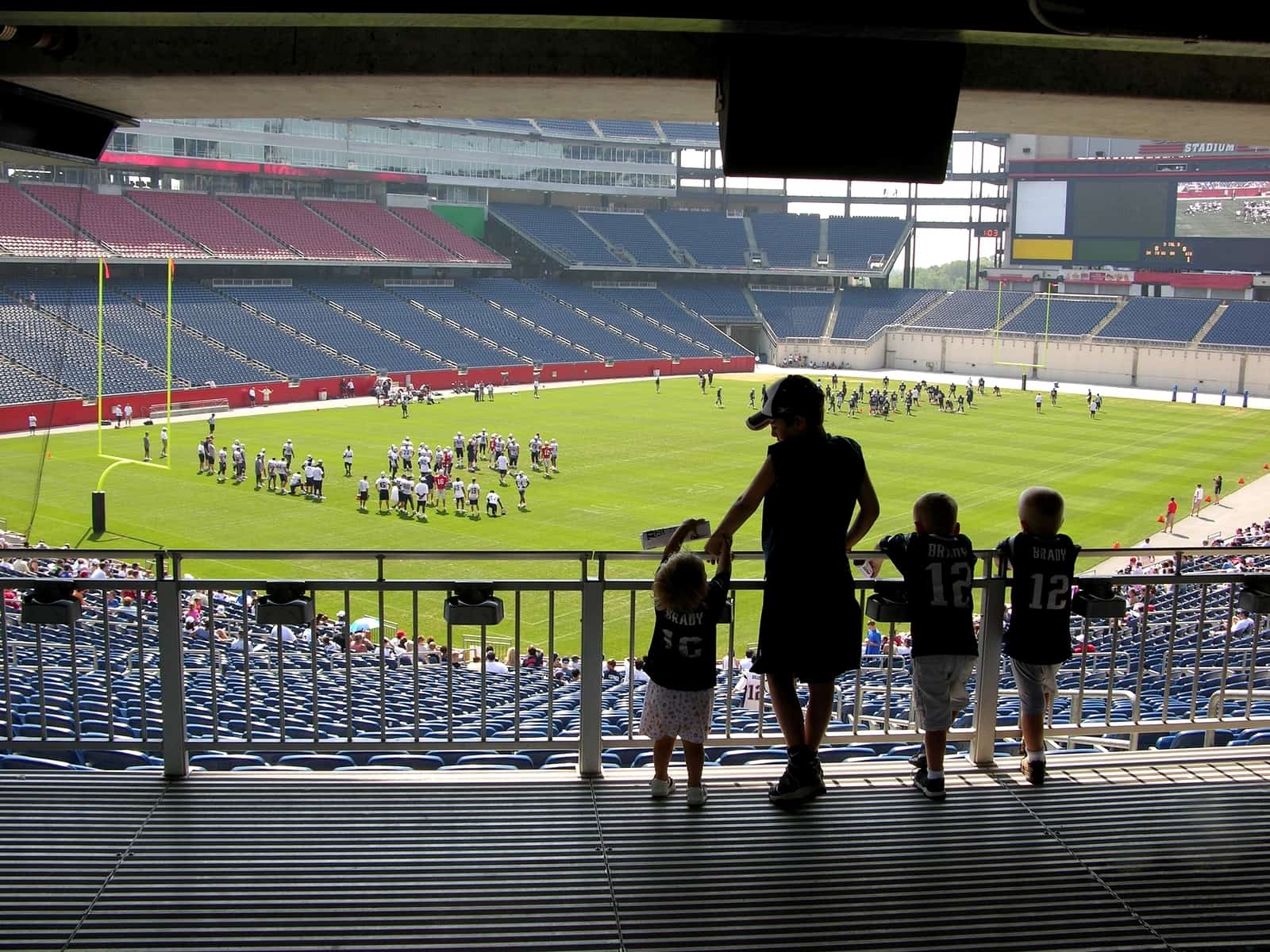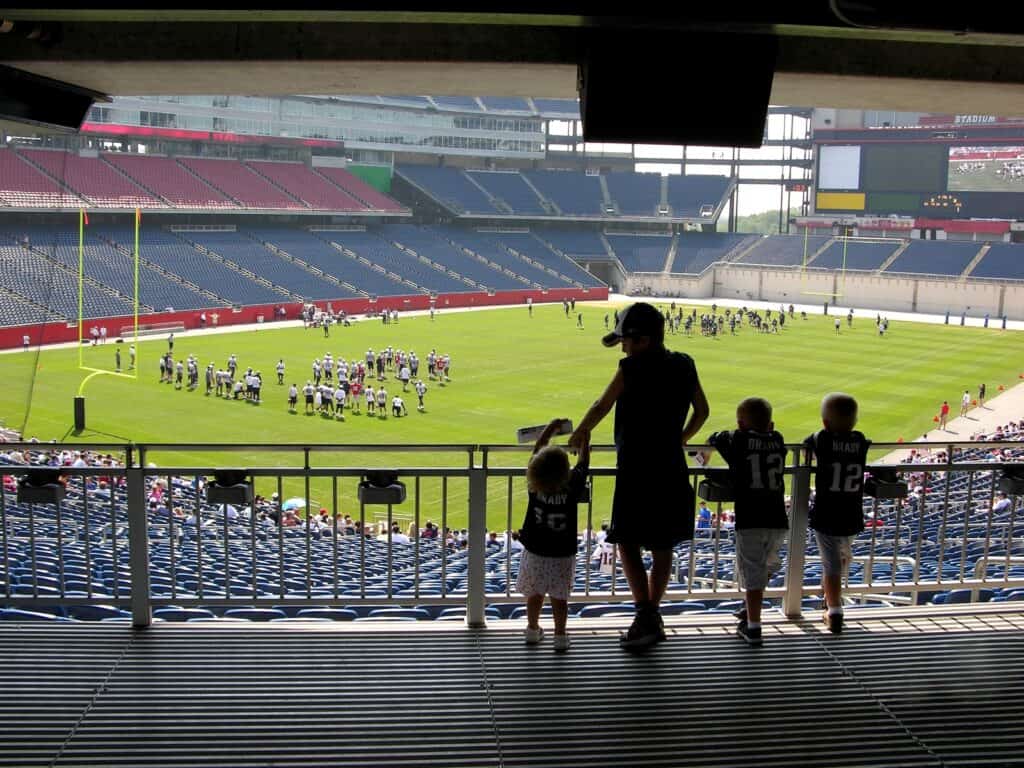 Massachusetts loves its sports. Gillette Stadium in Foxborough is home to the New England Patriots football team. It's also home to Patriot Place, an attraction in its own right. There is so much to do here! Entertainment, food, shopping, a nature trail/cranberry bog, and more.
Take a walk through the House of the Seven Gables
Visiting Salem is already on this list, but I wanted to point you to this literary attraction in the town: the House of the Seven Gables. This is not only an incredible, historic old home, it's also famous for its role in Nathaniel Hawthorne's work of the same name, and certainly one of the must visit cool things to see in Massachusetts!
Tour historic homes
Speaking of historic mansions and houses, New England has them in spades. A few nice places to visit in Massachusetts that we haven't mentioned yet include Naumkeag in Stockbridge, The Mount (Edith Wharton's home) in Lenox, and Gore Place in Waltham.
Seek out magical small towns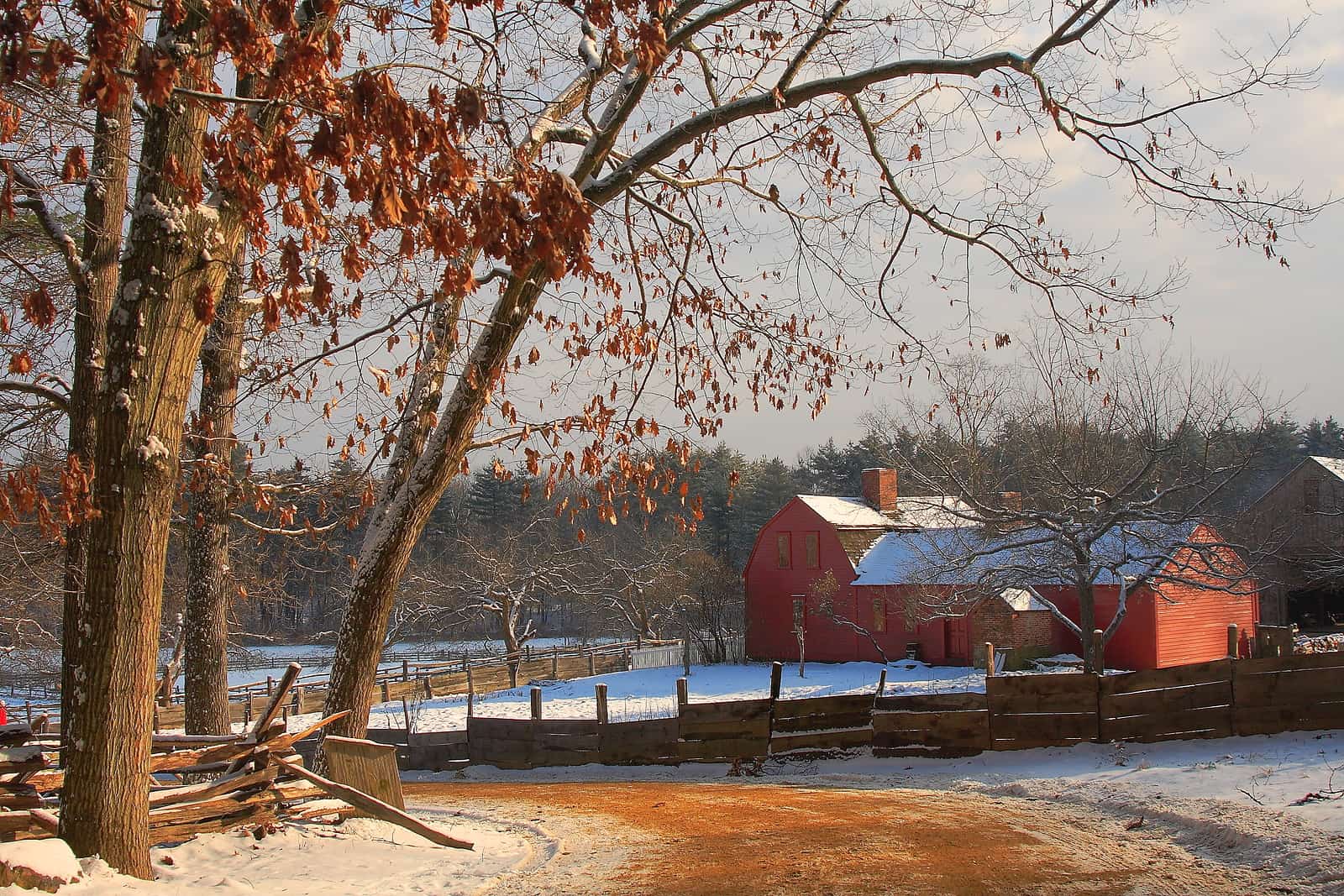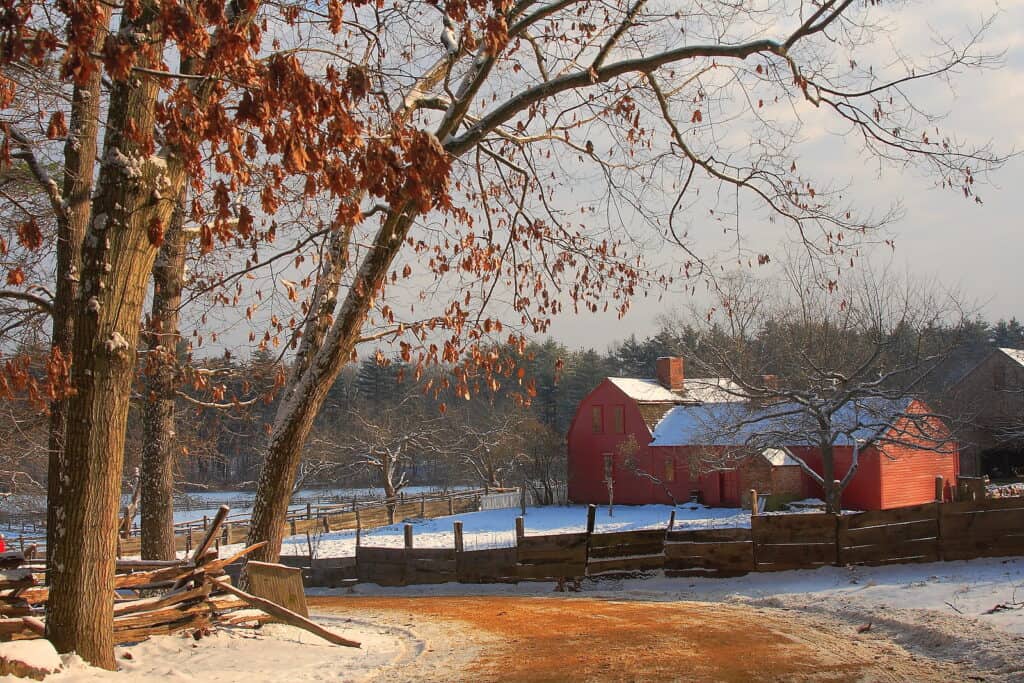 Massachusetts may be known for the big city of Boston, but its essential charm is found in its rural, small towns. Most of these are found in the western and central portions of the state, but really, you can't take many trips to Massachusetts without stumbling across some of these charming spots.
Sip the delights of the Nashoba Winery
There are an abundance of wineries producing exceptional wines in Massachusetts and in New England as a whole. One standout is Nashoba Valley Winery in Massachusetts, where you can enjoy a strawberry rhubarb wine.
Go kayaking at Plum Island
In addition to its coastal position, Massachusetts is home to myriad of lakes and rivers. That makes kayaking an excellent outdoor activity, wherever you're visiting in the state. For some fun coastal kayaking, consider Plum Island, a barrier island just off of Newburyport. Plum Island Kayak offers tours and rentals so you can see some of the most beautiful spots in the area.
The Paul Revere House
Remember that guy who cried out "the British are coming"? That was Paul Revere on his famous midnight ride. In Boston, you can see his house and other historic buildings. (This is a stop along the Freedom Trail, if you are following that through the city). You should definitely make it a point to see this historic landmark, one of the best things to do when visiting MA!
Take the ferry to Martha's Vineyard or Nantucket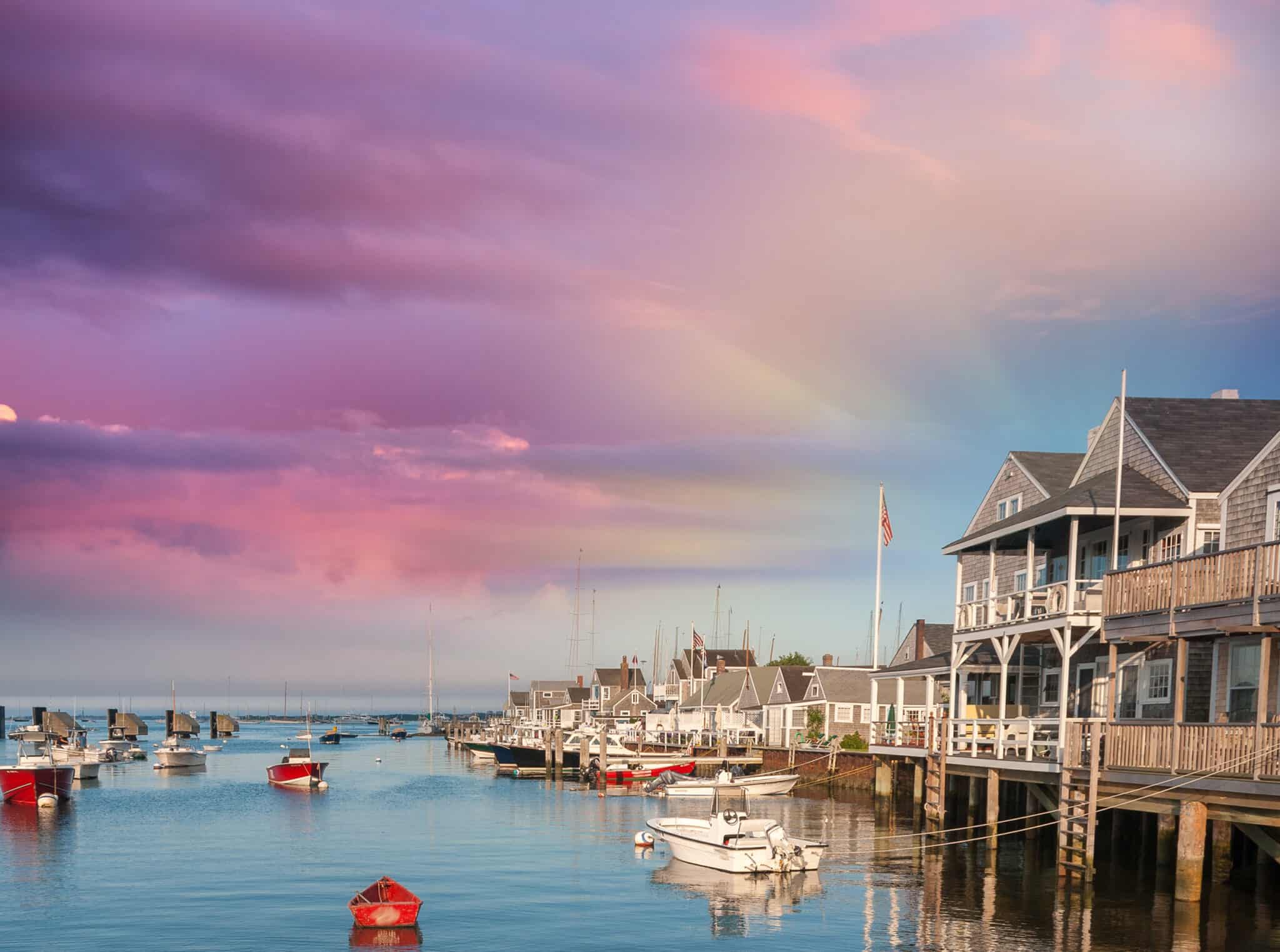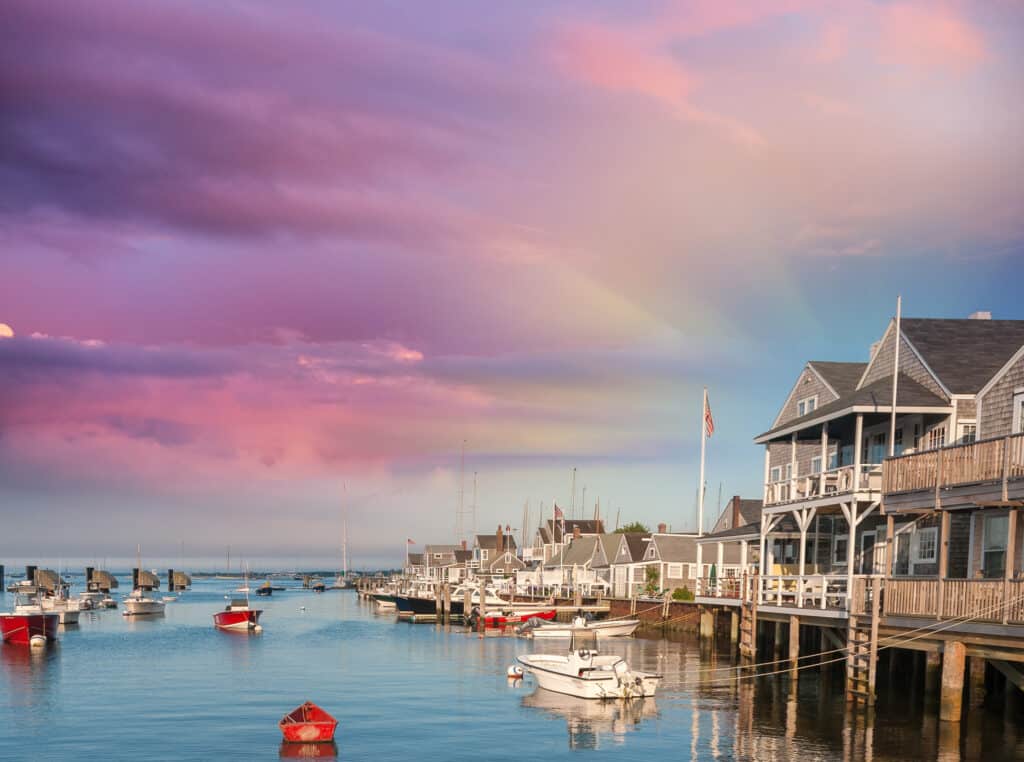 Don't just stay on the mainland when traveling to Massachusetts; make some time for the MA islands as well. Nantucket and Martha's Vineyard have so much to offer and they are both laid back and charming, with their own distinctive vibes; check out these gorgeous places to stay on Nantucket and Martha's Vineyard!
There are multiple ferry options for both: Nantucket Ferry | Martha's Vineyard Ferry
Meet the animals at a working farm
This is an especially nice activity if you're traveling to Massachusetts with kids. A working farm, such as Dalby Farm in Scituate, MA, gives visitors an opportunity to have close encounters with the farm animals.
Stay at the Lizzie Borden Bed & Breakfast
Have a burning desire to stay in a haunted hotel or inn? Well, you've come to the right region. New England is bursting with possibly haunted hotels. One of these rumored to be haunted is a spot with a particularly grisly past: the Lizzie Borden House. Now it's a Massachusetts B&B where you can stay in the infamous rooms where horrible things happened. You in? Go for it.
Help out at a cranberry bog
Did you know you can help out with the cranberry harvest at a local bog? Definitely one of the more unique experiences Massachusetts has to offer! Cranberries are grown in a very interesting way, and when the time comes to harvest them, the bogs are flooded to raise up the ripe berries. Check out the bogs you can visit here.
Go Cross Country Skiing
Looking for Massachusetts things to do in winter? Cross country skiing is a great choice if you're looking to get out in the snow for a bit of a workout in some seriously scenic XC spots in MA.
Walk through Arnold Arboretum
Beautiful Arnold Arboretum in Boston is home to so many spectacular blooms like cherry trees, rhododendrons, and so much more, but if you visit on Lilac Sunday, you'll get to experience a beloved spring event that is one of the coolest experiences in MA for nature lovers!
Spend a day at the beach
Massachusetts has many miles of coastline, so don't neglect enjoying it! There are rocky parts of the coast as well as flat sandy beaches. While the water is a bit chillier than you might find at other beaches farther south, the coast here is so lovely, you will undoubtedly be drawn to it. Many of MA's best beaches are found on Cape Cod.
Read This: 15 Best Beaches in Massachusetts
Luxuriate at Blantyre
You deserve to be pampered! Consider Blantyre, located in the Berkshires. This place is the epitome of luxury. Book a stay that will make you feel like royalty. Especially check out the Manor House, which has total Gilded Age vibes and is one of those magical places in Massachusetts that will have you wondering when you died and went to heaven!
See also: 10 Romantic Getaways in Massachusetts for the Perfect Couples Escape
Get cultured at Mass MoCA in North Adams
Contemporary art aficionados will enjoy Mass MoCA, the Massachusetts Museum of Contemporary Art. With exhibitions, educational programs, and a full calendar of events (including concerts), there's a lot going on in this little northwest corner of the state.
Stay at a charming Cape Cod Inn
When it comes to charm, Cape Cod has plenty of it, and Captain's House Inn is no exception! If you're looking for romantic things to do in Massachusetts, consider whisking your favorite person off to Cape Cod's Captain's House Inn! You can read about our experience here: Staying at the Captains House Inn, Cape Cod: A Review
Click Here to Check Prices & Book!
Witness the running of the lambs at Old Sturbridge Village
Old Sturbridge Village is a worthwhile Massachusetts attraction in Sturbridge. This living history museum recreates daily life in the late 1700s and early 1800s. In spring, the newborn lambs make the village extra special, and at the end of the day you can watch "the running of the lambs" as both lambs and sheep run across the common to be fed at the barn. This is definitely one of those unique places to visit in Massachusetts!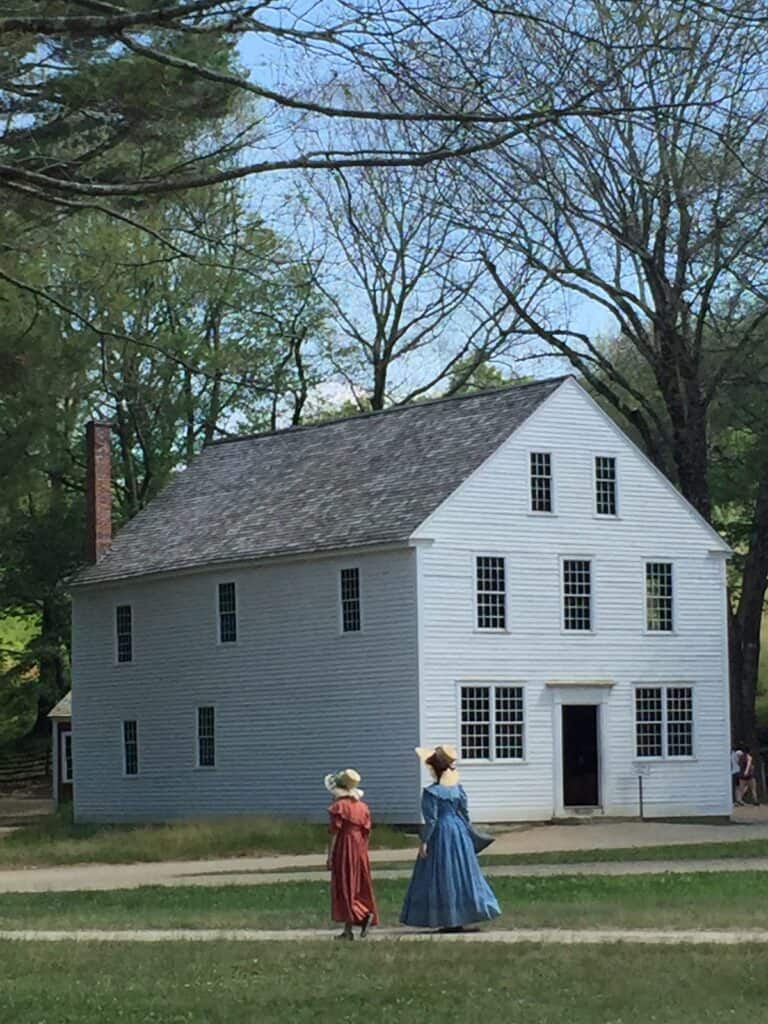 Massachusetts Central Rail Trail
If you love biking, you should grab your wheels and take a ride on the longest rail trail in the Northeast. That is the Massachusetts Central Rail Trail, and it will eventually stretch 104 miles from Boston to Northampton. Additional miles are opening up all the time, although currently there are only 51 miles open. Pass through 25 communities on this bike path that is an important part of MA transportation of the past, present, and future.
For details on currently open sections of the trail, check out this guide.
Yankee Candle Village
If you're like me, you likely have dozens of candles burning around your home at any given time. Many of those incredible scented candles are Yankee Candles, which smell AMAZING. Why not see where they're made? You can even make some candles yourself at the Yankee Candle Village in Deerfield.
It's not just candles either; the village has an abundance of family-friendly activities and events throughout the year. There's lots to see, sample, smell, taste, make, and buy here; it's one of those very wholesome Massachusetts things to do!
Get lost in a corn maze
One of the quintessential MA fall activities is the corn maze. In Massachusetts, you can find some terrific options, including the enormous and complex Mike's Maze. A new, themed maze with activities is created each and every year. Go get lost!
See also: 15 Best Pumpkin Patches in Massachusetts
Experience a classic New England Christmas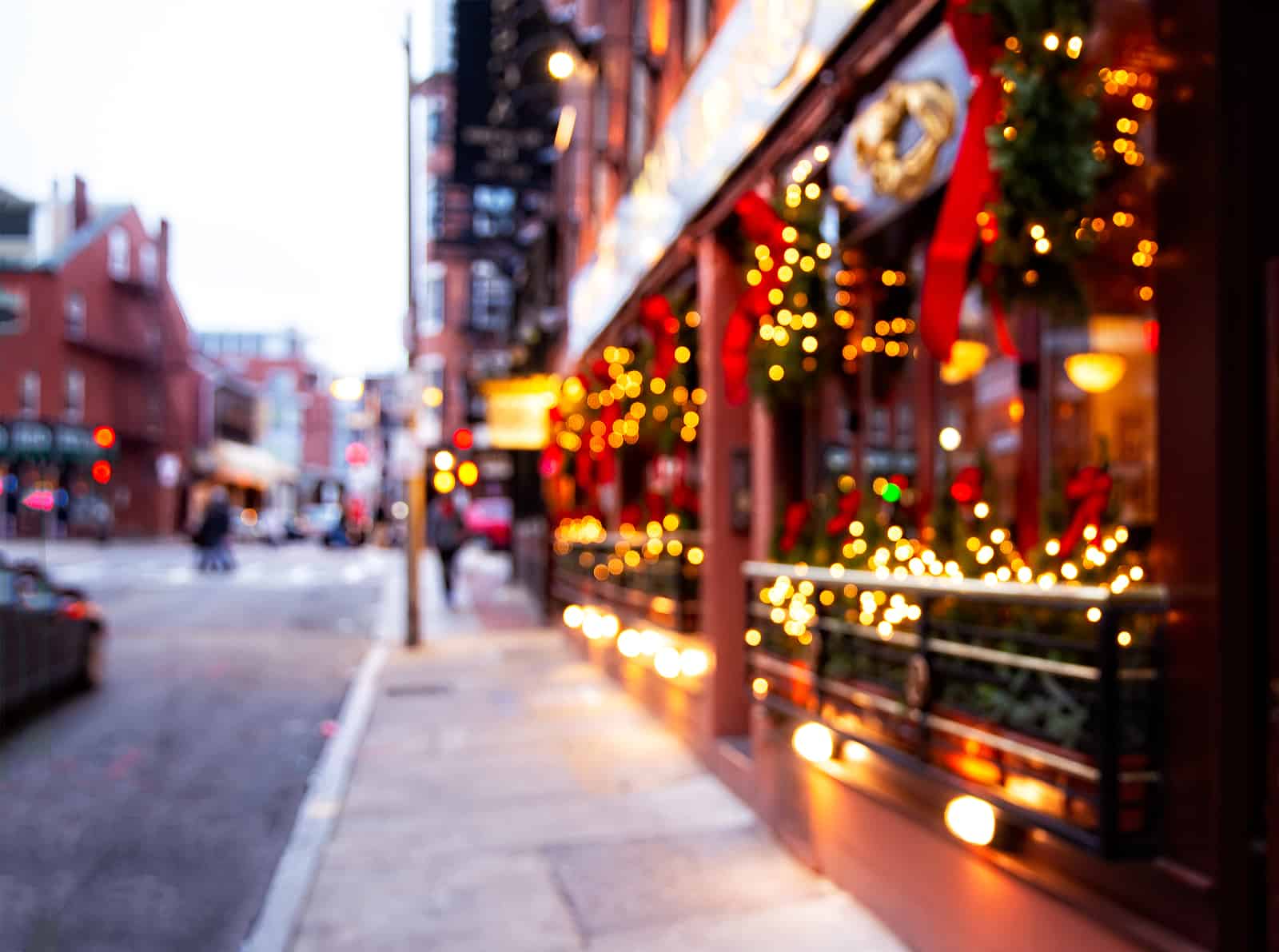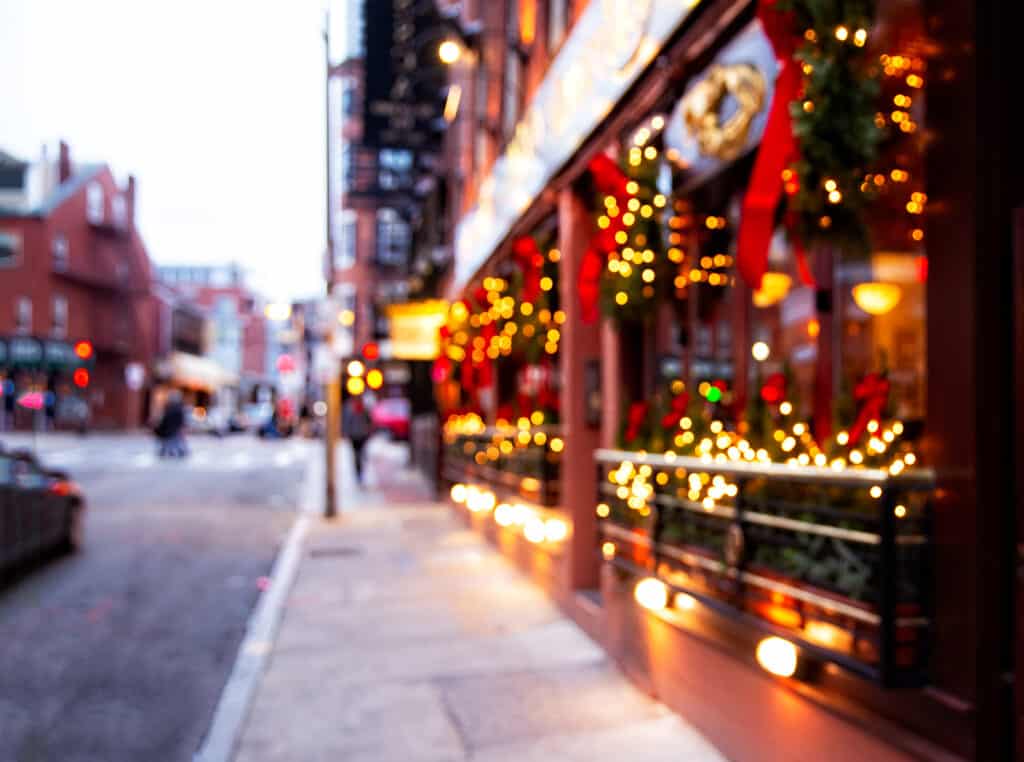 As the year comes to an end, the magic of the holiday season holds Massachusetts in its grasp. There are countless things to do for the Christmas season in Massachusetts, especially if you want to experience a classic Christmas. From cutting down your own Christmas tree to Christmas in Boston, the Normal Rockwell classic Main Street Christmas in Stockbridge, you truly can't pick a better region in which to celebrate the holidays.
---
Need more help planning your Massachusetts trip? Check out these guides:
You might also like:
---
Pin this post to save for future travel plans!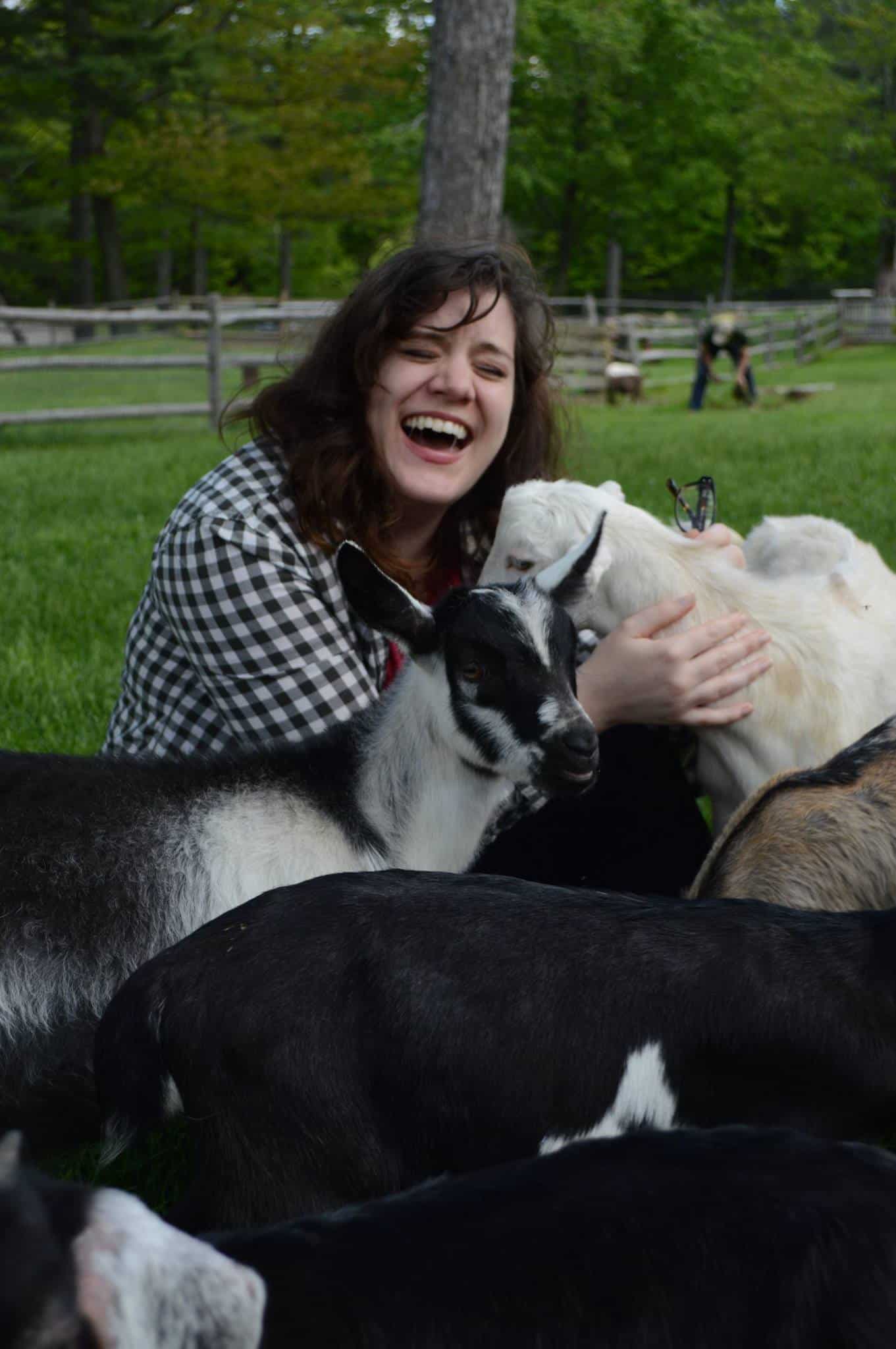 Amy Hartle is the founder and Editor-in-Chief of New England With Love, a comprehensive resource for travel in the New England region. Amy has been exploring New England since 2001. She lived in Vermont for many years and is a graduate of Plymouth State University in New Hampshire. Amy has been writing about travel for over a decade. On this site, Amy aims to share her love of New England and help you to have the best possible adventures!
Amy has been a full time blogger since 2012, and is also the publisher of Two Drifters, where she writes about couples travel and relationships, as well as Let's Adventure Baby, a family travel site. When not traveling the world or creating epic blog content, Amy can be found cuddling with her husband, son, and cats, & drinking a maple latte.