Known for its whimsical cottages, splendid beaches, and storied history, there are so many fun things to do in Martha's Vineyard! With ferries departing from ports in Massachusetts and Rhode Island, plus New York and Northern New Jersey, a vacation in Martha's Vineyard is an easy boat ride away.
An island of villages, Martha's Vineyard is a cute and stylish summer destination with superb beaches, cultural sites, shopping, and sightseeing. Better yet, destinations around the Vineyard are largely accessible via bus or bike, so no car is necessary (depending upon your selected destinations, of course). And of course, there are so many great things to do on Martha's Vineyard!
Once you get a taste of what this island has to offer, you might just want to delay your return to the mainland, and with so many gorgeous inns, hotels, and vacation rentals to choose from, that's understandable.
From the feel of salt air on your skin to the smell of lobsters, and the stunning sunsets to the sand beneath your feet, visiting Martha's Vineyard is the ultimate getaway!
Beaches & Lighthouses
The number one answer to what to do in Martha's Vineyard is probably to just enjoy the sand, sunshine, and sea at some of Martha's Vineyard's beaches. Although the coastline includes numerous private beaches, there are plenty of public beaches in Martha's Vineyard to enjoy, too. Be sure to explore the lighthouses that dot Martha's Vineyard as well, for a glimpse of the maritime history and present that defines communities here.
Katama Beach
Also known as South Beach, Edgartown's Katama Beach is the biggest public beach on Martha's Vineyard. It has stretches of sand along both the Atlantic Ocean and Katama Bay; the former is perfect for catching serious waves, while the latter offers a more serene ambiance, just right for sunbathing. Katama Beach is also an incredible spot for shell fishing and sighting seabirds, so if you're looking for free things to do in Martha's Vineyard, here is a good one.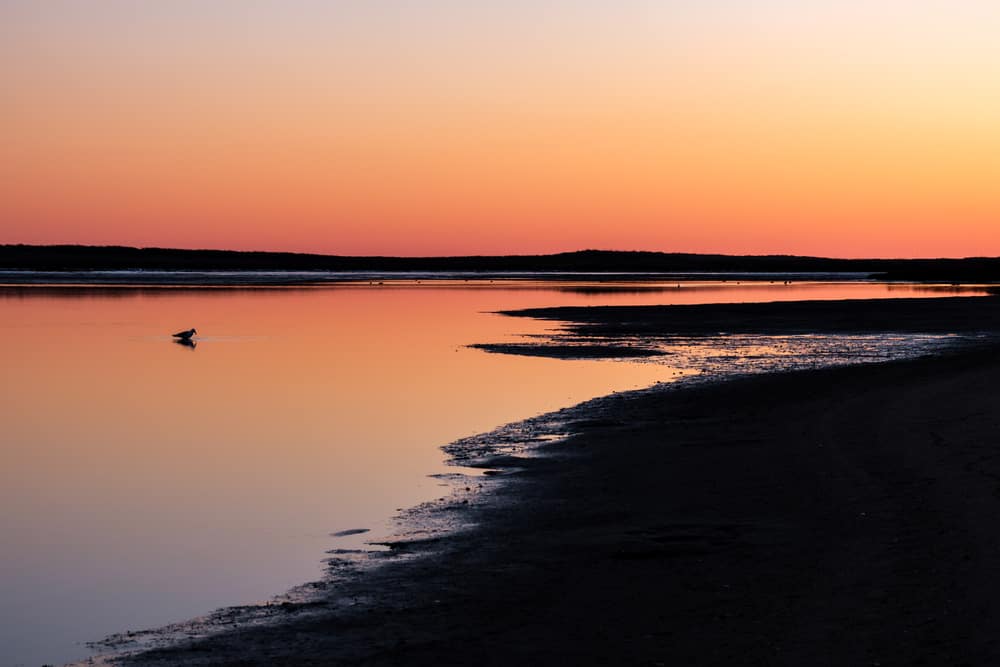 Menemsha Beach
With a gentle surf, the waters of Menemsha Beach in Chilmark are appealing to most swimmers, so get ready to splash, wade, or dive right in! The beach is popular with families, so it's a very lively place during the day. If you'd prefer a calmer scene, head over in the evening for a pink-streaked sunset straight from a postcard. Depending on your timing, you may see fishermen preparing to head out or returning for the day, signs of the prominence of the fishing industry in Chilmark.
Lake Tashmoo Town Beach
If you're looking for the best of both worlds — or waters — try out Lake Tashmoo Town Beach, in Vineyard Haven. Although the beach is on a Lake, it is separated from the ocean by a small channel which offers significant variation within one small area. The warm, gentle, shallow water of the lake makes it appealing for those seeking a tranquil ocean day, families, and snorkelers. On the other side of sand, the ocean water is colder and more active.
Edgartown Lighthouse
Relocated to the Vineyard from Crane Beach in Ipswich, MA, this lighthouse has shined into and beyond Edgartown Harbor since 1939. Visitors who climb to the top can share in the stunning views of Chappaquiddick Island, the Harbor, and the Atlantic Ocean beyond. The lighthouse is open to visitors daily, and a lighthouse keeper is on site during opening hours, ready to share facts and stories, old and new, and is definitely one of the best things to do in Martha's Vineyard.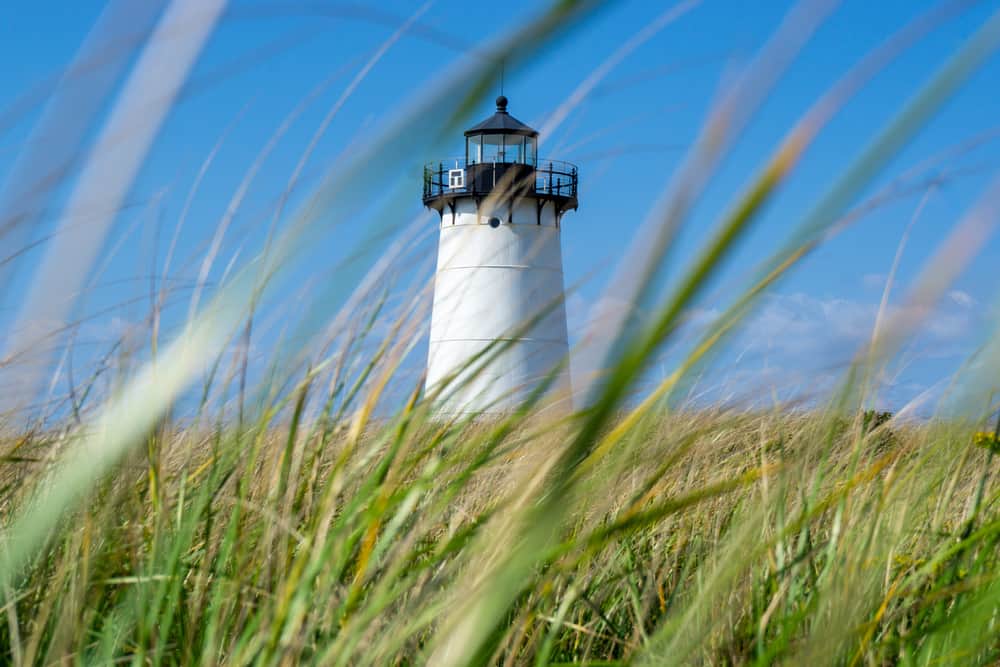 Gay Head Light
Dating to the 18th century, Gay Head Light has played a central role in the maritime history and lore of Martha's Vineyard. This striking brick lighthouse, seated on the island's western edge, was the first beacon for ships built upon the island. The lighthouse interior is closed to visitors, but just as stunning as the sky and sea beyond is this humble brick structure standing tall and shining and is one of the most popular Martha's Vineyard sites. Gay Head Light is a great place for a photo to remember your trip by!
Outdoor Activities
Take time to explore the outdoor activities on Martha's Vineyard and you'll leave with delightful memories and stories. Whether you prefer to sightsee or be physically active, there are Martha's Vineyard activities a-plenty to experience.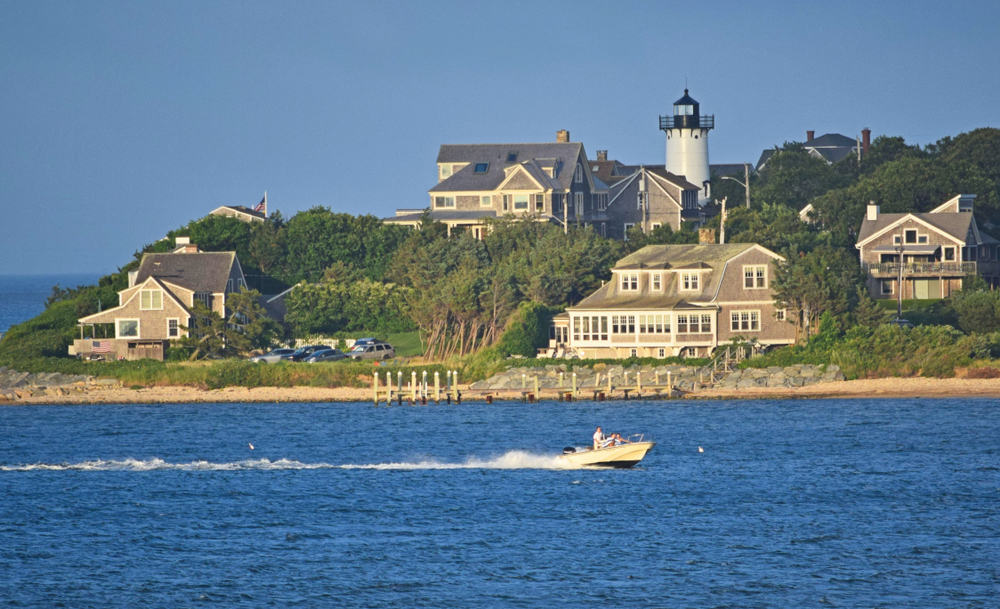 Boat Tours
When you're on an island, the sea is even more enchanting, and a boat tour is always one of the top Martha's Vineyard activities. Whether you want to relax, cruise-style, learn about marine life, or go fishing, there's something for you. Mad Max Sailing Adventures offers 2-hour public or private cruises out of Edgartown Harbor.
Staying near Oak Bluffs? Try a trip with Pirate Adventures, where you can let out your inner pirate on this 90-minute journey, complete with storytelling. Pirate Adventures also offers an experiential oyster tour – no marauding necessary! For a wonderfully personalized option, book a charter with Island Girl Excursions, which offers five different pickup locations and picturesque tours all around Martha's Vineyard.
There's plenty of Martha's Vineyard whale watching, too, so whatever kind of Martha's Vineyard boat rides you are in the mood for, chances are you'll find it!
Read More: Best Whale Watching in Massachusetts: 12 Highly-Rated Tours | The Best Whale Watching in Cape Cod (Plus Seal Tours!)
Flying Horses Carousel
The oldest operating platform merry-go-round in the United States, the Flying Horses Carousel has delighted visitors to Oak Bluffs since 1884. One of the top Oak Bluffs things to do, the carousel's twenty horses are painted dazzlingly vibrant colors. After a ride, anyone's mindset is sure to match the brightness of the horses! This ride has a legendary brass ring; pull it and you will win a free ride! This is one of those Martha's Vineyard must see attractions if there are kids in your party, but adults will enjoy learning about the history of the ride and taking in its magical sight too. Keep the fun going by paying a visit to the small arcade adjacent to the carousel.
Visit the Alpacas at the Island Alpaca Company
The Island Alpaca Company is great if you're looking for quirky fun things to do in Martha's Vineyard! This working alpaca farm offers opportunity to get up close and interactive with these neat, furry creatures, and the onsite shop has all kinds of cool alpaca related souvenirs, too!
Cape Poge Wildlife Refuge
Located on Chappaquiddick Island at the eastern end of Martha's Vineyard, Cape Poge Wildlife Refuge is a haven for marine life, seabirds, and vulnerable shore plants. It's also a barrier beach where stunning views of the Atlantic can be seen by visitors. With over 14 miles of trails for walking, paddling opportunities, and a lighthouse on the island's northernmost point, there's plenty to see, experience, and enjoy in this gorgeous area of Martha's Vineyard Massachusetts.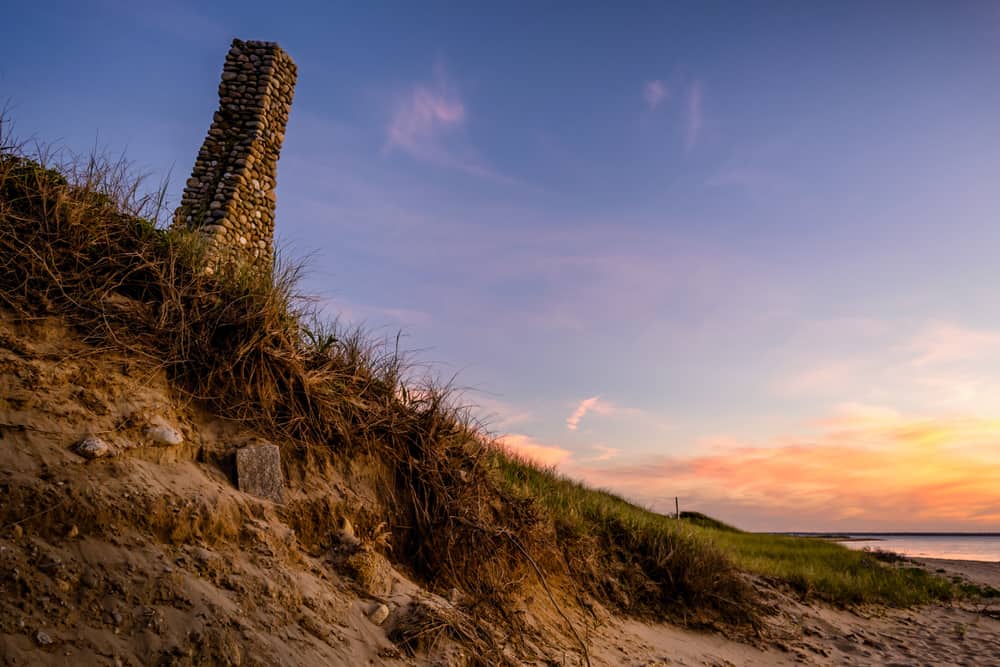 Aquinnah Cliffs Overlook
One of the best views on the island is the Aquinnah Cliffs Overlooks. Facing westward, it's a place to get in touch with your sense of wonder – or to take an iconic sunset photo. With views of the Atlantic Ocean, Gay Head Lighthouse, the colorful cliffs themselves, and vegetation abounding, it's a breathtaking atmosphere to take in and certainly should be on your Martha's Vineyard bucket list!

Ocean Park
Beautiful Ocean Park is a 7-acre greenspace with a classic bandstand that is the perfect spot for a nice stroll on a summer day in Martha's Vineyard. In addition to fun town events like the Kite Festival, the Vineyard Haven Band also performs in this pretty park throughout the summer offering a classic New England band experience.
Bike Rides
With summer traffic, one of the best ways to get around Martha's Vineyard is by bike. There are shops all over the island that rent all kinds of bicycles, so rent one or bring your own and get ready to explore. Over 44 miles of bike paths and bike-friendly roadways traverse Martha's Vineyard. Especially stunning and bike-friendly is the island of Chappaquiddick, which is more rural and has less traffic than the main island towns. For a flat trip with views of Nantucket Sound, take a ride along the Beach Road bike path from Oak Bluffs to Edgartown – you may be tempted to take a beach break partway through the six-mile ride.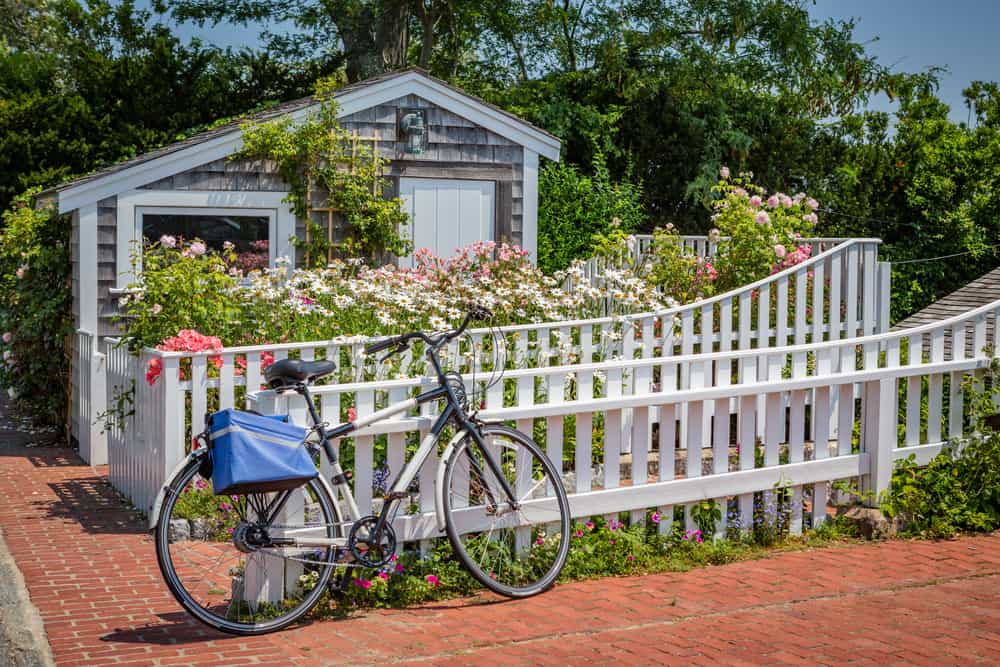 Kayak Trips
Sprinkled around Martha's Vineyard are freshwater and brackish water ponds. Home to numerous fish, sea creatures, otters, and seabirds, and surrounded by marshy plantlife, these bodies of water are the perfect place to go kayaking. Try Edgartown Great Pond, Poucha Pond in Chappaquiddick, or Menemsha Pond in Chilmark. There are plenty of shops that rent kayaks, so sunscreen up, pack a picnic, and get ready to paddle!
Eats & Drinks
If you're looking for the best places in Martha's Vineyard to eat, you'll find something to satisfy your palette on the island. From savory seafood to sweet treats, try out these suggestions for scrumptious and satiating meal ideas for where to eat on Martha's Vineyard.
Morning Glory Farm
Operating since 1975, this family-run farm is a place you won't want to miss. Although islands are often renowned for their seafood, the fresh produce and fresh bakery goods you'll find at Morning Glory Farm will satisfy and nourish with their local ingredients. The farmstand is located in Edgartown and is open from April through the winter holidays. Its menu has daily specials, but you'll always find an array of breads, soup, entrees, and best of all – baked treats! Try one of the fruit pies or muffins for a pick-me-up!
Edgartown Meat and Fish
This spot appears simple but is gourmet in flavor! If you want to grab something quick for a meal on the go, stop by the deli and bakery, where you'll find a full menu of breakfast sandwiches, lunch sandwiches, coffee beverages, and more. If you're inspired to cook a mouthwatering meal, Edgartown Meat and Fish is the perfect spot to pick up some local seafood. Open daily, you'll leave with good food and a great experience, as the knowledgeable employees at this family-run establishment are happy to help.
Seafood Shanty
Situated right on the water, there isn't a bad table at the Seafood Shanty! Full menus are available for both lunch and dinner, plus sushi and drinks. The lobster rolls, clam strips, and scallops are all divine. Request a table on the roof-deck for ultra chic vibes and the best views. If you're seeking a fun night out, Seafood Shanty later in the evening is the place to go for fun, music, and dancing.
Backdoor Donuts (and Front Bakery Cafe)
If you're someone who judges a place based on the quality of its pastries, then look no further than Backdoor Donuts in Oak Bluffs. Your taste buds will be overjoyed in this establishment's down-to-earth and delicious cake donuts. There's a catch though! Backdoor Donuts opens at 7:00 in the evening. But fear not – if you want your coffee and pastries in the morning, Front Bakery Cafe is open beginning at 7:00 in the morning and serves up sweet treats and caffeinated beverages then too.
Cultural & Historic Activities
Want to feel inspired? Seeking an experience to immerse yourself into? Martha's Vineyard has a storied past and a lively present; visiting any of these sites will captivate your senses through both inspiration and immersion.
Gingerbread Cottages
These colorful, cute cottages are a major instigator of many visitors' trips to Martha's Vineyard. Take in their whimsical wonder on an inexpensive walking tour guided by professionals, with the Martha's Vineyard Camp Meeting Association during July and August. Or, wind your own way through the neighborhood and delight in the ornate architectural features and dreamy pastels that make this one of the top things to do in Oak Bluffs.

Aquinnah Wampanoag Indian Museum
Long before settlers inhabited the island, Martha's Vineyard was – and still is – home to members of the Aquinnah Wampanoag Tribe. The Aquinnah Wampanoag Indian Museum shares the historic and modern culture, art, and contributions of the Wampanoag people. Open Wednesday through Friday, the museum offers opportunities to gain a greater perspective of place and to learn something new.
Martha's Vineyard Museum
Spend an afternoon at the Martha's Vineyard Museum in Vineyard Haven for a chance to take in the history and culture of this island's communities. Indoors and out, the museum's interactive exhibits invite visitors to learn about the island's history, lighthouses, maritime culture, and environment. Situated at its current site since 1932, the Martha's Vineyard Museum is a great stop to make for visitors seeking to learn about the diverse people and ecology of this region.
Big Bridge (aka "Jaws Bridge")
It's difficult to talk about Martha's Vineyard without at least mentioning the notable film Jaws, which was filmed on the island in the 1970s. No spoilers here! But let's just say an important scene happens along and underneath this bridge. Most of the movie was filmed at the adjacent Joseph Sylvia State Beach, making a trip to this expanse perfect for movie buffs.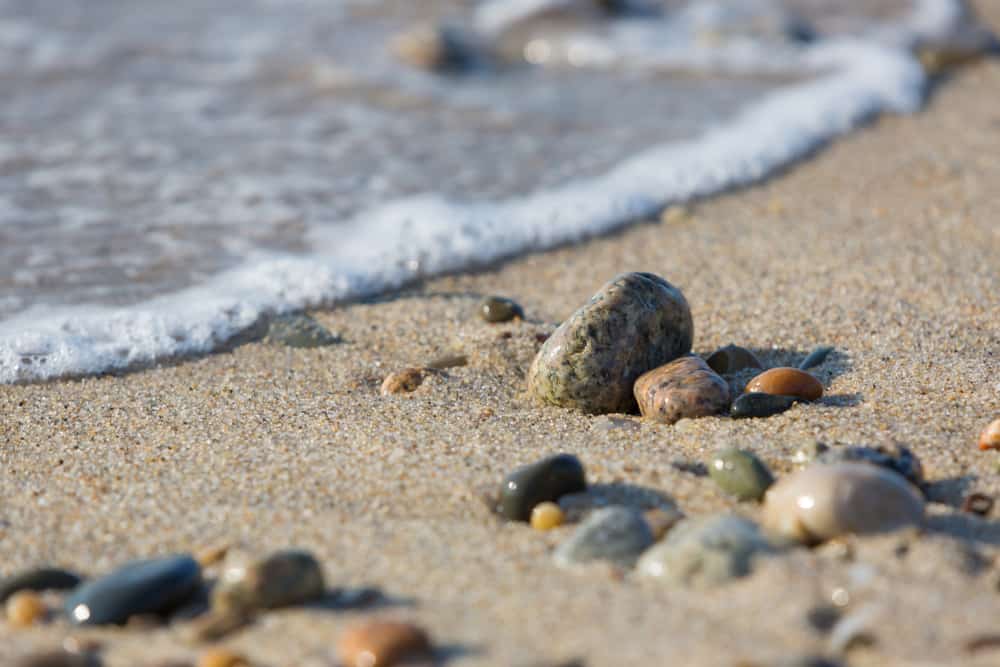 These Japanese-style gardens on Chappaquiddick are a lush expanse of flora and fauna. Featuring both native and non-native plants and situated within a pitch pine forest, visitors will enjoy calmly strolling through the peaceful property. A half-mile long trail runs through an adjacent Salt Marsh, offering a good opportunity to glimpse the animals who call this habitat home, from osprey to turtles. If you're seeking some ambiance away from the frenetic atmosphere of the beach, then Mytoi is the place to go!
Grand Illumination Night
The third Wednesday of August since 1869, Martha's Vineyard's historic gingerbread cottages are decorated with thousands of Japanese lanterns on Grand Illumination Night. The Martha's Vineyard band plays and the colorful cottages are a true sight to behold, so if you're looking for unique things to do in Martha's Vineyard, consider checking out this interesting summer event!
Vineyard Vines Store
For preppy paradise, make your way to the original Vineyard Vines store. Located in Edgartown, the store is brimming with the iconic smiling pink whale logo. Plus, it is dripping with a charming New England beach aesthetic. Whether you're looking for something casual or classy, this is the place to go for a piece of clothing to commemorate your trip.
Martha's Vineyard Food and Wine Festival
Featuring local foods harvested from the ocean and farms alongside renowned chefs from across the nation, the Martha's Vineyard Food and Wine Festival is a highlight of any foodie's year. Held annually in the fall, this four-day event features opportunities to taste, sip, and learn at daytime events and dinners. Tickets are required, so be sure to get yours in advance!
Fourth of July Festivities
If you're looking for fun summer things to do in Martha's Vineyard in July, the Fourth of July festivities are always a hit! There's a 5k road race, parade, concert, yummy foods, and of course, fireworks. This is a great way to celebrate the holiday and have some family fun Martha's Vineyard MA style!
*Bonus thing to do in Martha's Vineyard – Catch an Acapella Show!
-from the Editor, Amy
I wanted to add a quick note to Mallory's article on the top things to do on the Vineyard with something I personally recommend not to miss if you're visiting in the summer: a performance by an amazing acapella group called The Vineyard Sound! Each summer (since 1992) this all-male group has been performing across the Vineyard. It's always made up of amazing singers (a few of my college friends were involved over the years) and incredibly entertaining. Visiting Martha's Vineyard in the summer? Be sure to check out the website for Vineyard Sound's list of upcoming shows.
---
You might also like:
---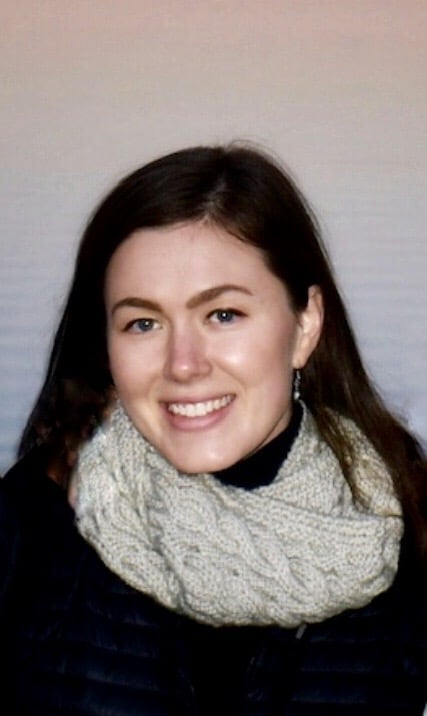 Mallory grew up in Connecticut, and after some time living in Ireland, Montana, and Virginia, she felt called back home to New England. She lives in Boston and writes about the intersection of urban living, outdoor adventure, and enjoying the simple things at SimpliCity Outside. Her favorite New England adventures involve hiking, finding ice cream shops, and exploring small towns.