It's no secret that whales are captivating creatures. Their magnificent size, intelligence, and even the endangered status of many species make them special. The best way to experience their grandeur is to go whale watching in Massachusetts!

When you do a whale watch in Massachusetts, you'll have the chance to learn about whales, other marine life, and maritime history, plus take in the open ocean sights in an immersive experience.
These MA whale watch tour operators employ expert naturalist and marine biologist guides who can tell you the species you're looking at, whether it's an adult or juvenile, the species' unique habits, and endless fun facts. If a particular whale is a known visitor, your guide may even be able to tell you its name!
Tours typically run from April to mid-autumn. Be sure to bring layers of clothing, as it can be 10-15 degrees below land temperature out on the water – and very windy! Other essentials include sunscreen and plenty of water. If you bring a pair of binoculars, you'll have the advantage of scoping out these majestic animals up close.
On your trip, you may see Humpback, Minke, Right, Pilot, and Finback whales, all of which call the waters off Massachusetts home for at least part of the year, plus a whole host of other creatures inhabiting the water and air.
Cape Cod is an especially popular Massachusetts whale watching site!
An adventurous voyage at sea is a highlight of any trip to coastal Massachusetts, so buy your ticket, grab your gear, and hop aboard for the experience of a lifetime!
Whale Watching in Massachusetts
Captain John Boats, Provincetown and Plymouth
Aboard a Captain John Boats whale watch, you'll learn from a marine biologist guide about the fascinating whales and other creatures that roam the waters off Cape Cod. The vessel you'll ride on has two open viewing decks as well as an indoor lounge, so whether you want to feel the wind in your hair or take in the sights from the climate-controlled cabin, you'll enjoy the four-hour tour in comfort.
Whale watch excursions take place several days per week in April, May, and September, as well as daily in the summer months only. Tours depart from MacMillan Wharf in Provincetown or Town Wharf in Plymouth.
Food and drinks (including alcoholic beverages) are available on board, so be sure to bring cash if you wish to dine, as cards are not accepted. With a 99% success rate in seeing whales on tours, the company offers complimentary passes for future trips in case whales are not seen on the tour.
Boston Harbor Cruises, Boston
Departing from Boston Harbor, you'll enjoy incredible views of the Boston Skyline, the Boston Harbor Islands, and more as you set forth toward Stellwagen Bank on one of BHC's signature catamarans. With New England Aquarium naturalists aboard as guides, Boston Harbor Cruise whale watches promise loads of interesting lessons about wildlife and the marine habitat.
Boston Harbor Cruises has whale watches scheduled daily between mid-March and mid-November. Between their long season and the frequency of daily tours during the main season, staff are very well informed of where whales may be found on a given day. If you also visit the New England Aquarium, you can receive a discount on your ticket!
Dolphin Fleet, Provincetown
Departing from Provincetown, Dolphin Fleet is one of the oldest tour operators offering whale watching trips out of Cape Cod. With naturalists guiding your outing, you'll have ample opportunities to learn about the marine life that you see. These tours emphasize the educational experience of whale watches, so you will gain lots of new knowledge on your trip.
Dolphin Fleets also guarantees whale sightings, offering tickets for future use in the unlikely scenario that whales aren't seen on your tour. Dolphin Fleet has four boats in its fleet, each with two levels of viewing decks. Tours run from April through October, with individual trips lasting 3-4 hours.
SeaSalt Charters, Provincetown
SeaSalt Charters is owned by the founders of Dolphin Fleet, but brings visitors a more personalized experience in a smaller vessel. Getting up close to whales is the adventure of a lifetime, and the boat you'll journey in will give you just that experience!
On a private or semi-private charter tour, you'll have the chance to ask all of your questions and have a fun time learning from the whale watching captain. A smaller vessel enables the boat to get nearer to the animals (in a manner safe to humans and animals, of course) so you can observe their magnificence up close. The maximum capacity is 6 guests, and tours last 3.5-4 hours.
Capt. Tim Brady & Sons, Plymouth
Join Capt. Tim Brady & Sons for an incredible chartered whale watching tour out of Plymouth! The trip begins by taking visitors across Cape Cod Bay to Stellwagen Bank for the best views of whales around.
The boat, the Mary Elizabeth, fits 49 people which the company touts as providing both "big boat safety" and "small boat intimacy" with spaces both outdoors and indoors for the comfort of all passengers. Capt. Tim Brady & Sons provides a family-friendly and authentically fun experience.
Hyannis Whale Watcher Cruises, Barnstable
The Whale Watcher, Hyannis Whale Watcher Cruises' boat, has three levels from which guests can view the wonders out on the open water. Expert naturalists provide educational and entertaining tours.
If you're looking for a more exclusive experience, this company also offers charter tours for your group aboard its boat. On your way to the Atlantic Ocean, you'll enjoy a slow and steady ride through the beauty of Cape Cod Bay. You'll also see saltmarshes, a lighthouse, and stunning views on your trip. You may even see right whales, a critically endangered species within Cape Cod Bay.
Tours operate on limited availability in April -mid-May and October-November, and run daily from mid-May through September. Voyages typically fun 3.5-4 hours, but can go up to 5 hours. One tour departs in the morning and another in the afternoon.
Read Next: 25 Top Things to Do in Hyannis MA
Newburyport Whale Watch, Newburyport
Newburyport Whale Watch tours depart from the dock at the charming Newburyport Boardwalk, located along the northernmost coast of Massachusetts. The 4-4.5-hour trip will take visitors northward through and around the Gulf of Maine, where you are most likely to see creatures including Minke whales, Finback whales, and Humpback Whales, in addition an array of fish, turtles, porpoises, dolphins, and seabirds depending on their whereabouts from day to day.
Tickets are sold daily from late June through August, and on a limited basis from May through mid-June and in September and October. Your skilled and enthusiastic naturalist will make sure you learn a lot and enjoy all aspects of your trip!
Freedom Cruise Line, Harwich Port
Freedom Cruise Line has it all! From a 2.5-hour whale watching cruise into Nantucket Sound to a 1.5-hour private seal tour into Chatham Harbor, there are tons of sights and learning to take in.
If you're looking for a more engaging experience, make a reservation for a lobstering or oyster farm tour, during which you'll have a chance to take part in the haul and learn how the local ecology is central to all parts of life on Cape Cod. The interactive element of Freedom Cruise Line's adventures is something you'll never forget!
All offshore tours have a passenger capacity of 6, and must be booked ahead. Pick your trip and get ready to don your sunglasses and soak in the experience!
7 Seas Whale Watch, Gloucester
Another fantastic option for seeing whales off the coast of Gloucester is to take a tour with 7 Seas Whale Watch, which operates from mid-April through the end of October. On your journey to see whales, you'll ride aboard the Privateer IV, a 108-foot sightseeing boat, complete with GPS screens inside the passenger cabin so you can see precisely where you are and where you're heading.
With a hull that's lower than many other sightseeing vessels, the Privateer IV enables visitors to get just about as close as one can to the water and marine life without actually being in the water. Your passionate and knowledgeable guides are marine biologists and naturalists who will instill in you an appreciation for the majestic creatures you see swimming in the ocean.
Whale watches begin with a presentation to orient you to what you'll experience during your four-hour journey. Then, you'll set off through historic Gloucester Harbor en route to Stellwagen Bank or Jeffreys Ledge, where you'll encounter what you learned about in your presentation – whales and the magic of the open ocean!
Blue Claw Boat Tours
Blue Claw Boat Tours offers one of the coolest marine wildlife excursions in Massachusetts, and while it's not a whale watch, their Seal Watch Adventure Cruise is a favorite for locals and tourists alike to get out on the water and see some of the interesting wildlife in the water. Departing from Orleans in Cape Cod, you'll have two hours to see these interesting creatures playing in the water, lounging on the sandbar, and fishing.
Another option through Boat Claw Boat Tours is the Blue Claw's Beachcomber Expedition and Seal Tour, where you get a three hour adventure that consists of a boat tour and a visit to Tern Island, an uninhabited island in Chatham Harbor where you can get out and explore! Either one of these options would be fantastic fun for anyone interested in marine wildlife in Massachusetts.
Nantucket by Water, Nantucket
If you're on Nantucket and looking for fun out on the water, check out Nantucket by Water. Nantucket by Water offers a variety of boat excursions, including a private charter and a whaling history tour.
On board, you'll have the chance to witness Humpback, Finback, and Minke whales, in addition to dolphins, sea turtles, sharks, and seabirds, out in the water. You'll want to bring snacks, water, and plenty of sunscreen. Get ready to sit back, make new friends, and have a blast!
Cape Ann Whale Watch, Gloucester
Located North of Boston, Cape Ann is a coastal area with a storied marine past. Cape Ann Whale Watch is a family-owned legacy tour operator; in operation for over 40 years, the company has provided MA whale watch tours to over half a million people! Its staff has a rich offering of stories to share with passengers of its own. The tour includes interactive teaching tools that help visitors engage with and learn about the environment and the animals, even before encountering whales.
Aboard the Hurricane II, you have the options to post up on a spacious sundeck, in the cozy cabin, or around the main deck as you make your way out to Stellwagen Bank Marine Sanctuary. With its teaching focus and coastal destination port town, Cape Ann Whale Watch is a great option for those looking to make a weekend of the experience! Whale watching tours begin on weekends in April, then run daily from May through October.
Whale watch tours in Massachusetts are not only the best way to see whales in MA, but it's also a unique, immersive experience in what makes this part of coastal New England so magical!
There's nothing quite like getting out on the open sea and seeing incredible marine wildlife for yourself, so if you haven't already had the opportunity to book a Massachusetts whale watch, get one booked! It's an unforgettable experience.
---
Read these next:
---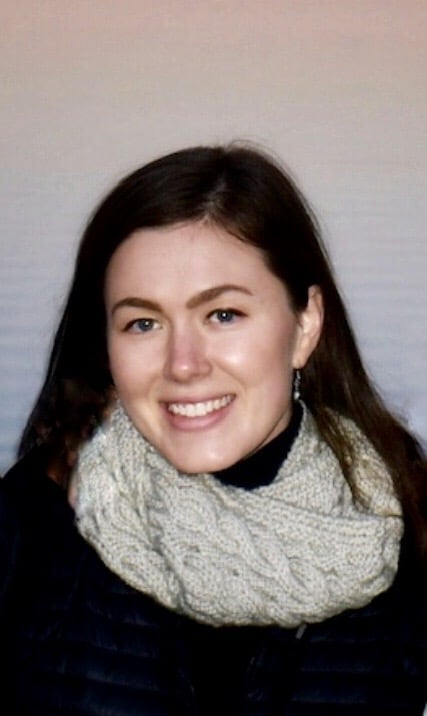 Mallory grew up in Connecticut, and after some time living in Ireland, Montana, and Virginia, she felt called back home to New England. She lives in Boston and writes about the intersection of urban living, outdoor adventure, and enjoying the simple things at SimpliCity Outside. Her favorite New England adventures involve hiking, finding ice cream shops, and exploring small towns.