Boston, Massachusetts – New England's big city – is truly where old meets new. The convergence of historical sites and modern attractions can be seen within every cobblestone street and modern shopping center. It's not every day a city can seamlessly integrate old and new the way Boston does. You can start your day at Paul Revere's House and end your night on a downtown rooftop bar. The possibilities are endless.
If you're planning to spend some time in Boston, there's no shortage of amazing activities, experiences, and food to be had here. From the world-class museums and trolley rides to seaside restaurants and quirky ghost tours, Beantown checks all the boxes. To make sure you do and see all the best this city has to offer, here is our ultimate things to do in Boston bucket list: 50 fabulous things to do in the city!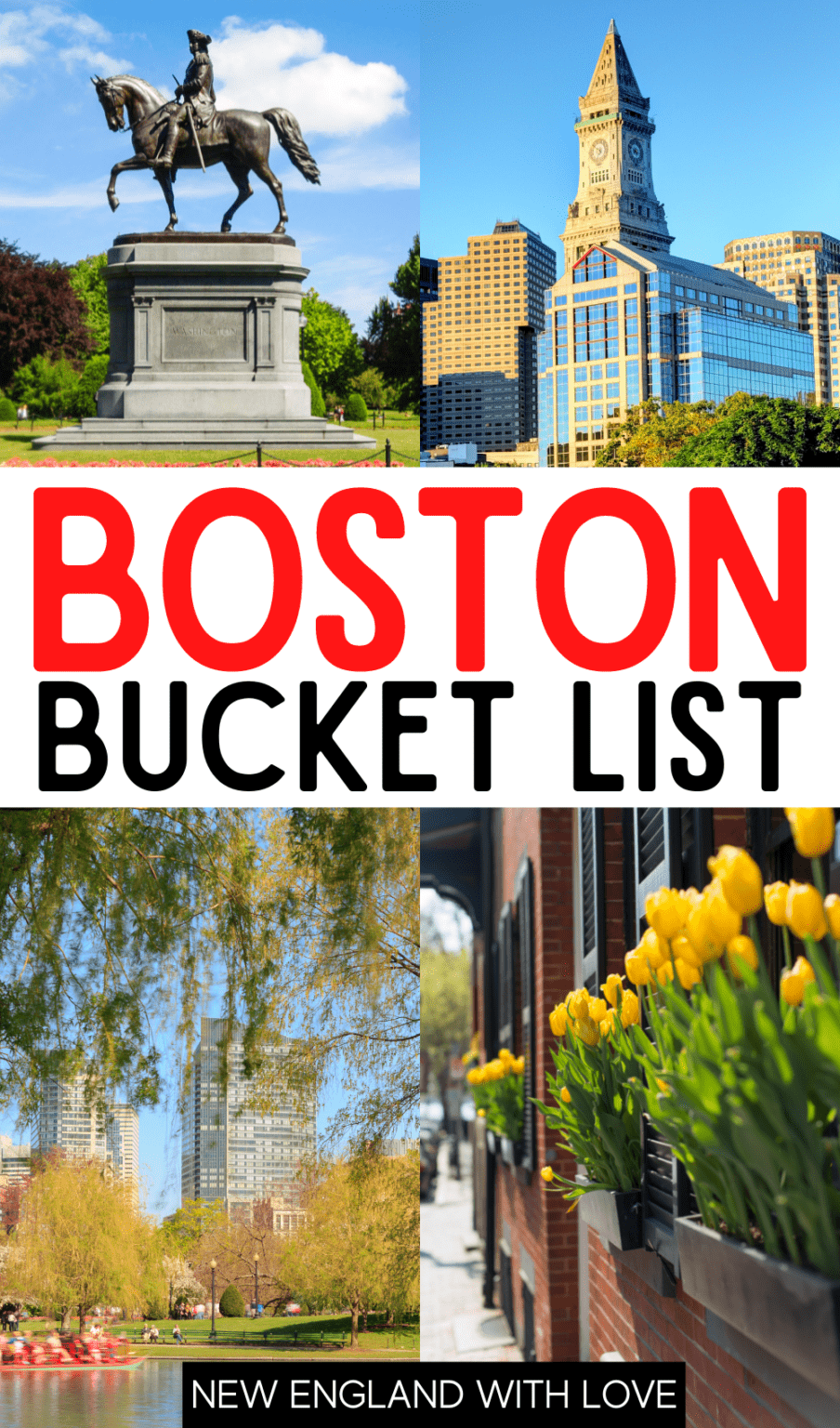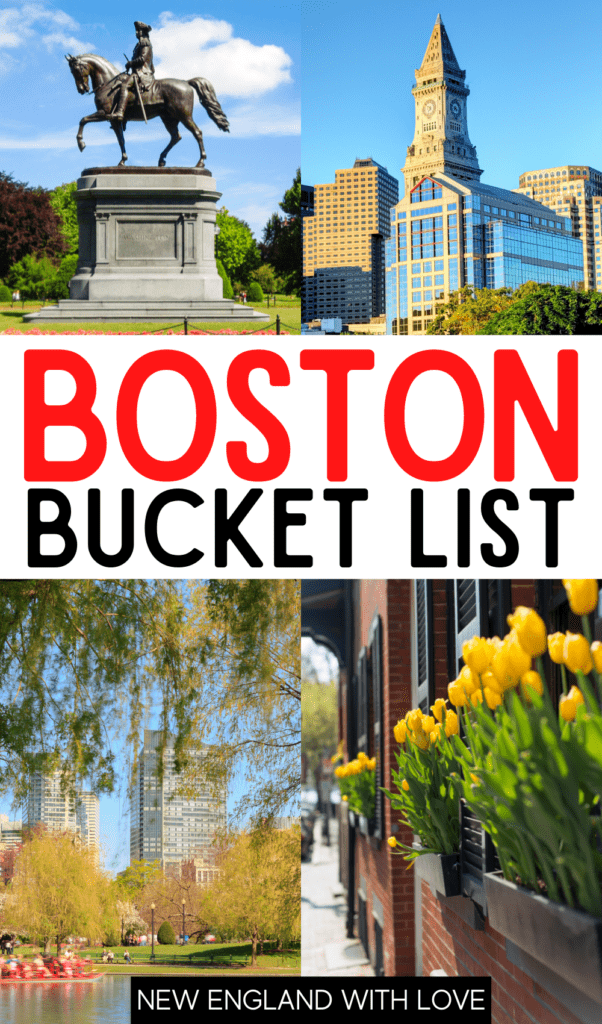 Wander the Museum of Fine Arts.
This behemoth of an art museum, located on Huntington Ave, has over 100 galleries that display only a fraction of its massive 450,000-piece collection. Over 1 million visitors wander the MFA each year to view artifacts from the Americas, Folk and Contemporary, Egyptian mummies, famous impressionist painters, and special traveling exhibitions. Tickets sell out fast, so purchase them in advance to ensure you get in.

Read Next: Go Boston Card vs Boston CityPASS: Which is Better?
Make friends with penguins at the New England Aquarium.
For the aquatically inclined, the New England Aquarium is not to be missed. This massive public aquarium, found right in Boston's lively seaport neighborhood, is home to an incredible collection of over 600 aquatic species. Visit any day of the week to see its giant squid, turtles, or penguins during feeding (one of our favorites!). Challenge yourself – can you catch a glimpse of every single one of the 20,000 types of animals living here?
Relive an art heist at the Isabella Stewart Gardner Museum.
You may know more about the Isabella Stewart Gardner Museum than you think. In 1990, a legendary art heist unfolded during which 13 famous works of art were stolen without a trace. Over 20 years later, there are still no real leads on the theft or missing art. If you visit the museum today, you can see the exact spots the paintings were taken off the wall. But the heist aside, this fine art museum is well worth the visit, and the building is a work of art itself.
Shop and dine at Faneuil Hall Marketplace.
Dubbed by America's Founding Fathers in 1742 as "The Cradle of Liberty," Faneuil Hall Marketplace has cobblestone promenades, impressive sweeping architecture, and over 70 retailers of specialty carts, locally owned shops, and restaurants. As Boston's most popular shopping and dining spot, you can stay entertained here for hours on end.
Read Next: 20 of the Best Free Things to Do in Boston
Catch a Red Sox game at Fenway Park.
Home to the MLB's Boston Red Sox since 1912, Fenway Park is beloved by locals and visiting fans alike. See the Green Monster for yourself (both the green right field wall, and Wally the mascot!), cheer on Boston's team, and indulge in overpriced snacks. What a wholesome all-American pastime!
Stroll the grounds of Boston Common.
Boston Common, a 50-acre park at the center of the city, is often considered the heart and soul of Boston. It's also the oldest public park in America, established in 1634 (before our nation's founding!). Today, people love to jog, lounge, converse, jazzercise, and attend fun events here. Pro tip: Find the 'Make Way for Ducklings' sculpture near the corner of Charles and Beacon Street, it's totally adorable.
Read Next: How to Spend One Day in Boston: 24 Hours of Boston Fun!
Explore the first botanical garden in America.
Connected to Boston Common, Boston Public Garden is the first botanical garden in America. With a gorgeous Victorian design, vibrant floral patterns, fountains, monuments and the Lagoon, the Public Garden is simply delightful. It's a romantic spot, so don't be shocked if you accidentally stumble upon a wedding!
Have fun with your kids at the Boston Children's Museum.
Bringing the whole family to Boston? Your kids will have an amazing time playing at the Boston Children's Museum. Created for educating and bringing joy to children, this museum has various exhibits that teaches kids to be curious, investigate using their senses, build, and use their creativity. Plus, you don't have to be young to enjoy bubbles!

Read Next: 19 Awesome Things to Do in Boston with Kids
Learn about our 35th president at the JFK Library & Museum.
Interested in the life of John F. Kennedy? Well, Boston has the JFK Library & Museum, a building entirely dedicated to his life and legacy. You can explore permanent exhibits about his childhood, inauguration, the space program, First Lady Jacqueline Kennedy, and much more.
Tour the Mount Auburn Cemetery.
Mount Auburn Cemetery in Cambridge is not your average burial ground. This expansive cemetery, where 100,000 people are buried, is also a National Historical Landmark, a botanical garden, and the resting place of many renowned individuals. From artists and poets like Winslow Homer and Henry Longfellow, to activists, inventors, and Supreme Court Justices, there are so many memorable lives to commemorate here.
Jam out at Wally's Cafe Jazz Club.
Curious about delving into the world of jazz, or just a lover of live music? Wally's Cafe Jazz Club is the place to beat. This classy, old-school jazz club hosts local student performers 365 days a year. Get cozy in this historical building and unwind to some top-notch jazz and blues, performed by musicians mastering their craft.
Watch an art-house film at Brattle Theatre.
Brattle Theatre in Cambridge is a rare establishment. This repertory movie theater located in the charming Brattle Hall has only one screen, featuring just one movie at a time. It was established with the purpose of highlighting indie, art-house films, as well as foreign films and first-run films. You'll find some cutting-edge cinema here, so stop by Brattle Theatre and watch something you can't find in normal theaters.

Read Next: Weekend in Boston: A Perfect 2 Day Itinerary
Ride glow-in-the-dark swings at the Lawn on D.
Ever swung on a glow-in-the-dark swing? Well, a nighttime visit to the Lawn on D is your chance. This innovative outdoor event space has a big lawn and concessions, and it frequently hosts live concerts and other lawn game events. But most people know it for its O-shaped hanging swings that glow at night. They make for awesome photo ops (and just a generally fun time!).

Learn about dinosaurs at the Museum of Science.
Located in Science Park, the Museum of Science is nothing short of a house of wonders. This part-science museum, part-indoor zoo has imagination-sparking educational exhibits, interactive installations, and life-sized dinosaur models! You'll leave knowing significantly more about human anatomy, technology, and natural history, and have a great time in the process.
Witness American history at the Boston Tea Party Museum.
History buffs will get totally swept away in the legendary Boston Tea Party story at the Boston Tea Party Ships & Museum. This amazing floating history museum is the definition of living history. Climb abroad replicas of the very ships docked at harbor in the 1700s, watch live reenactments, and stop by the tearoom for a taste.
Visit Bunker Hill Monument.
Bunker Hill Monument in Boston, a 221-foot granite obelisk reminiscent of the Washington Monument in Washington D.C., commemorates the Battle of Bunker Hill. This famous battle was one of the first significant engagements between Patriots and British soldiers in the Revolutionary War. There is a spiral staircase that will take you to the top of the monument as well, making for spectacular 360-degree aerial views.

Find unique architecture at Trinity Church.
If you enjoy spotting unique church architecture when visiting a new city, Trinity Church is a beautiful one. This historical church was founded in the 1700s and was an important site during the American Revolution. Its original building actually burned down in 1776 but was subsequently rebuilt and now serves as an important pillar of the Boston community.

Get your car fix at the Larz Anderson Auto Museum.
Do you love cars? Located in Brookline at the Anderson Carriage House is the oldest collection of motorcars in the United States. Larz Anderson Auto Museum houses a fantastic array of historical motorcars from the 1800s through the 20th century. And even the manicured museum grounds themselves are worth seeing!
Walk in Paul Revere's footsteps at Old North Church.
Ever hear of Paul Revere's famous 'Midnight Ride' through Boston? In 1775, Old North Church was his first stop on the ride, where he instructed two Patriots to climb to the steeple and hang lanterns to warn of British troops approaching. Aside from this fascinating piece of history, Old North is also the oldest church in the city and a National Historic Landmark.
Visit the oldest commissioned ship in the United States Navy.
The USS Constitution is in the Charlestown Naval Yard, located next door to the USS Constitution Museum. This ship has a fascinating story – it was commissioned as a warship in the early years of America's independence to defend it from invaders and pirates. Learn all about it at this commemorative and interactive museum.
Take a sunset cruise around Boston Harbor.
There's nothing quite like seeing Boston from the water. Boston Harbor Cruises offers a 90-minute sunset cruise around the harbor. Embarking from the Wharf at 7pm, you'll learn interesting facts about the Boston cityscape. And there's nothing better than taking in the views at golden hour, it's very romantic!
You can check out the best Boston boat tours here!
Visit the site of the Boston Massacre.
In 1770, five people were shot and killed by British soldiers who opened fire in front of the Old State House. Today, you can visit this stop on the Freedom Trail. Take a guided tour of the Old State House to learn about Revolutionary history, and this building's role in the Declaration of Independence.
Explore the Museum of African American History.
A significant historical and cultural institute showcasing the lives and contributions of African Americans is found right in Boston: the Museum of African American History. With two preserved historic sites, two Black Heritage Trails, and permanent exhibits, you will learn all about black individuals and communities from the Colonial era through the 19th century.
Go shopping on Newbury Street.
Boston has a lot of charming, quaint history, but it also has very fashionable and modern districts. If you love to shop, not many strips are better than Newbury Street in the upscale Back Bay neighborhood. From Anthropologie and Urban Outfitters to Ralph Lauren and Nordstrom, you will be surrounded by the latest apparel and beauty trends.
Hang out with gorillas at the Franklin Park Zoo.
This 72-acre zoo in Boston is home to hundreds of exotic animals from around the planet. Franklin Park Zoo is the place to go if you want to encounter majestic creatures, such as a family of gorillas, ancient tortoises, and crocodiles. You will be supporting an institution that conserves, protects, and promotes better care of the natural world.
Visit the home of Paul Revere.
Interested in the history of the American Revolution? You can visit the home of one of America's most significant Revolutionary figures, Paul Revere. This 1680 house still stands today, preserved and open for tours in Boston's North End. Go learn about the cultural heritage of Paul Revere and his importance to the early days of Boston and America as a nation.
Read Next: Top 20 Historic Sites in Massachusetts
Enjoy recreation and Revolutionary history at Castle Island.
Castle Island is one of Boston's most valuable outdoor gems. This peninsula off the Harbor of Boston is connected to the Harborwalk, and has beautiful parks and paths for walking, biking, and picnicking along the beautiful beach.
This is also the site of Fort Independence, a granite bastion that defended Boston's harbor as early as the American Revolution.
Discover booktopia at the Boston Public Library.
There's something so satisfying about a good city library, and Boston definitely has a killer one. Boston Public Library in Copley Square is the oldest public library in America and has gorgeous Beaux-Arts and Renaissance style architecture. It feels like a Hogwarts-esque dream come true (plus free books!).
Stroll along the Charles River Esplanade.
Located right in downtown Boston is the beloved Charles River Esplanade. This beautiful 3-mile stretch of green space along the Charles River is rich in recreational opportunities. Along this pedestrian pathway made for strolling and biking, you'll see fascinating monuments, great city views, boat launches, and grassy picnic areas.
Crack open a cold one at Samuel Adams Brewery.
Bostonians love their beer, period. Samuel Adams reigns king in the city (Harpoon is a close second), so it's only natural you stop by the Samuel Adams Statue and then try a brew at Samuel Adams Taproom. These light and refreshing beers are served on tap, with offerings of light fare to go with your drink. You will also be right near Faneuil Hall, the Old State House, and other fascinating sites.
Take a stroll along the Harborwalk.
Boston Harborwalk is a public pathway that extends for 43 miles along the shore of Boston. Not only is the Harborwalk amazing for recreational activities, social gatherings, and picnic lunches, but it'll give you amazing views of the city and ocean. Access it from multiple locations in the North End or Downtown to enjoy the wharves, beaches, piers, and benches as you stroll along.
Read Next: 13 Best Walking Tours in Boston to Take
Take a Harvard University campus tour.
Want to explore America's oldest college (established before America was even America)? Harvard University in Cambridge has an incredible campus for you to enjoy. With free public tours offered at the university, you can learn about Harvard's history and wander the sprawling quads, historical buildings, multiple libraries, and museums.
Visit the picturesque Beacon Hill neighborhood.
Dreaming of walking through a quaint, cobblestoned European town? Well, Boston has its very own neighborhood to make your dreams come true. Beacon Hill, one of the oldest neighborhoods in the city, is famous for its narrow cobblestone streets lined with federal style houses and lanterns. It feels like a magical fairytale, especially in autumn.
Don't miss out on Acorn street, one of the best photo spots in Boston.
Take a Boston beer tour.
Have people told you your eyes are bigger than your stomach? Well, you won't be judged like that on a Boston Brew Tour. Embark on this 5-hour adventure to taste up to 16 different local brews at four different breweries. Enjoy entertainment, Boston beer history, transportation, and a deliciously paired meal at the end. Make sure to book your tickets in advance!
Read Next: 10 Best Breweries in Boston You Can't Miss
Hit the nightlife scene at Central Square.
Central Square in East Boston is an unsuspectingly happening neighborhood for nightlife. With everything from basement bars to clubs to fine dining and great music venues, this spot draws a youthful and lively crowd. Grab a pint at The Plough and Stars, then a gelato dessert at Toscanini's, and when you're finished catch a live show at The Middle East.
Go ice skating at Canal District Kendall.
Formerly known as Kendall Square, Canal District Kendall in Cambridge is an innovative community with so much to do. There are green spaces, frequent outdoor live music events, and quality restaurants. But a local favorite is the large public ice rink that's open for skating mid-December through mid-March. Bring your own skates or rent a pair.
Read Next: 25 Ideas for a Wonderful Winter in Boston
Get spooked on a haunted ghost tour.
Because it is one of America's first cities, Boston has some of the oldest cemeteries, buildings, and monuments in the nation. This makes for some captivating ghost stories; legends, haunts, mysteries, and myths are imbued in the very fabric of Beantown. If you love all things ghostly, why not take the Ghosts and Gravestones Trolley Tour? Your costumed guides will share spooky stories as you roll through the creepiest locations.
Chow down on Asian cuisine in Chinatown.
Chinatown is a great neighborhood for foodies. This area of Boston is densely packed with a delectable variety of Asian cuisines. You can't really go wrong no matter where you stop for dinner, but a few great selections include The Q for Chinese, Gourmet Dumpling House for dumplings, Pho Pasteur for Vietnamese, and RUKA for sushi.
Discover a secret store within a store.
I bet you've never been to a store like Bodega! This shoe and streetwear boutique is hidden behind a secret entrance that looks like a convenience store from the front. Upon closer inspection, you'll find a backdoor that leads to the real Bodega, where the latest trends in sneakers, sportswear, and caps are waiting for you.
Browse three floors of used books at Brattle Book Shop.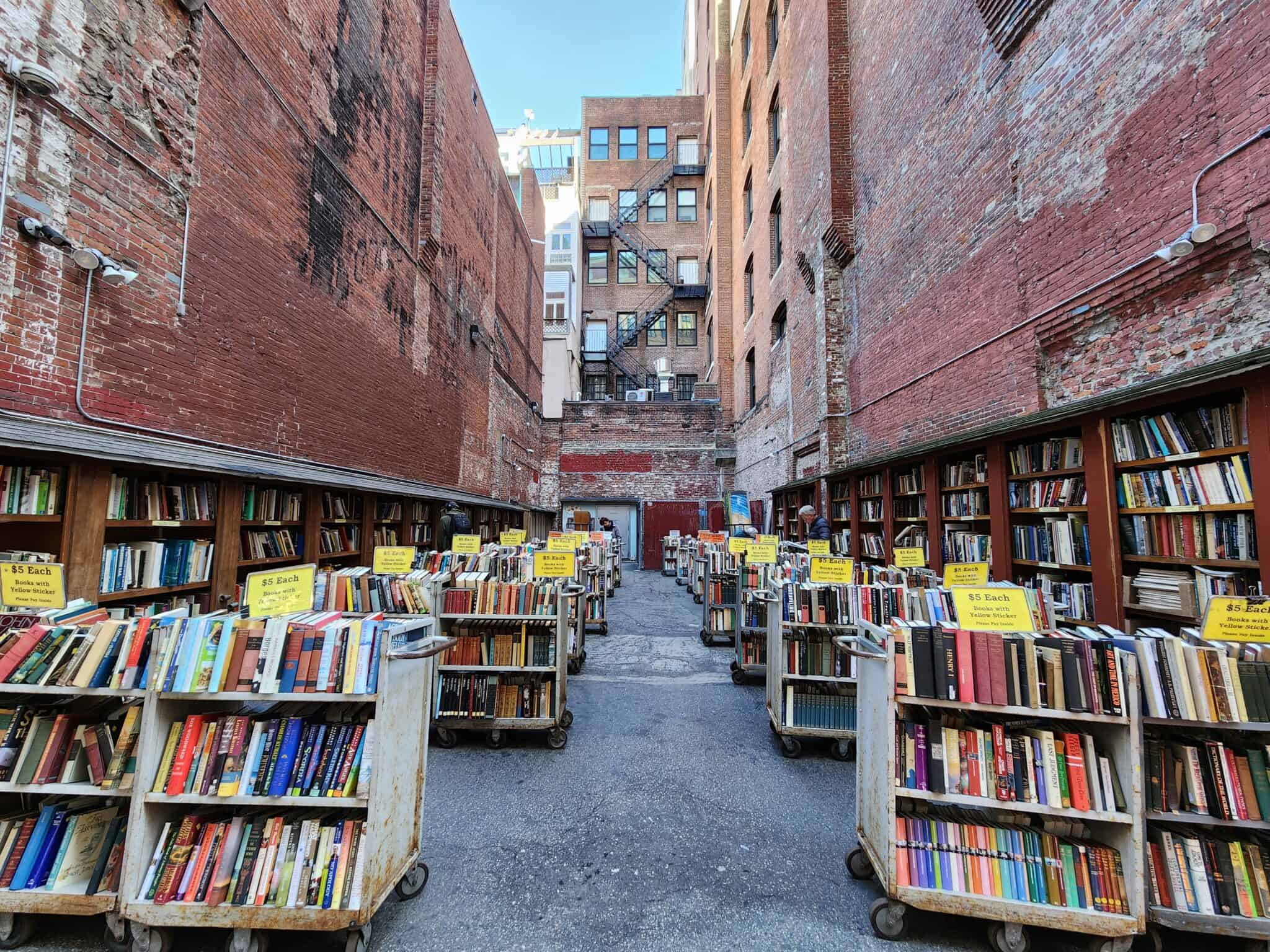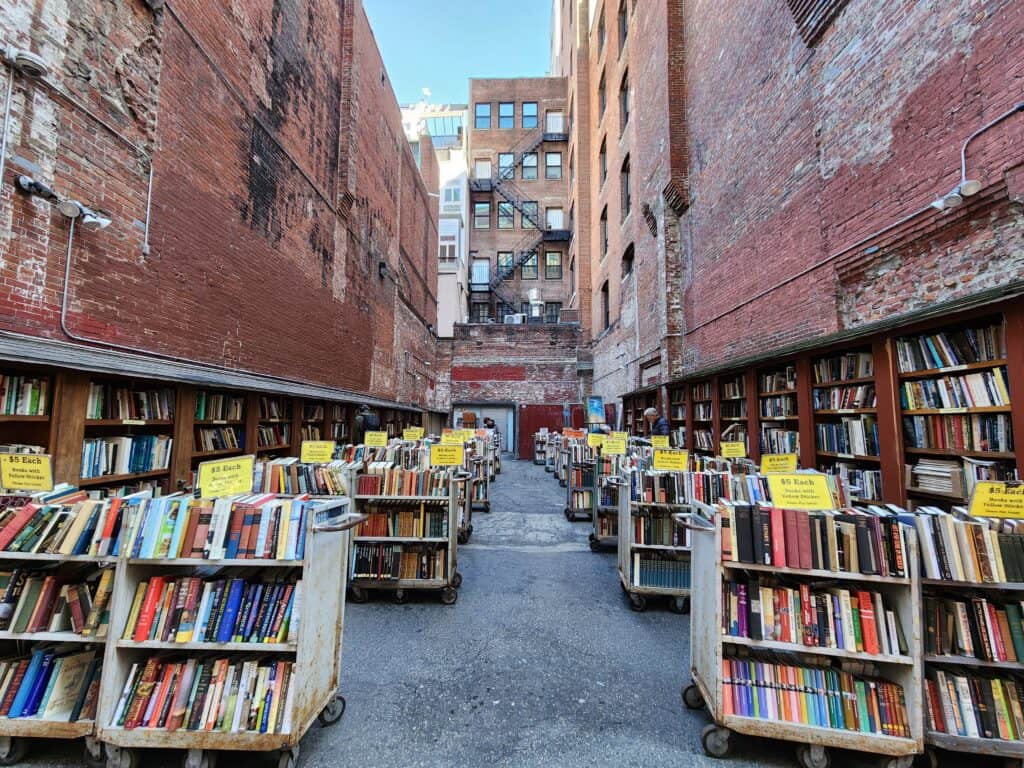 Boston is full of old things, and bookstores are no exception. Brattle Book Shop on West Street is one of the oldest and largest used book shops in the nation. This store has three whole floors of literary wonders. You'll also find an excellent selection of magazines and some rare first editions.
Read Next: 10 Literary Sites in Boston All Book-Lovers Should Visit
Step inside a three-story globe.
Want something totally off the beaten path, and totally cool enough to land a spot in the Atlas Obscura? Located within the Mary Baker Eddy Library, the Mapparium is a three-story globe you can walk through! This map is a beautiful glowing orb that provides a unique experience for visitors, and the library that houses it is also worth a look.
Indulge in Cannoli at Mike's Pastry or Modern Pastry.
Boston's #1 Cannoli war rages on in the North End, the city's "Little Italy." Is it Mike's Pastry, or Modern Pastry? Well, we don't see why we have to choose one or the other, so let's just eat both! Mike's typically has longer lines but heftier portion sizes and a greater flavor variety. Modern Pastry is less mobbed and has a richer cream filling, but a smaller cannoli.
Read Next: Where to Find the Best Cannoli in Boston
Drink a cappuccino at the first Italian cafe in Boston.
Andiamo! Caffe Vittoria in the North End was established in 1929, making it Boston's first Italian cafe. This beloved local coffee shop has four floors filled with vintage Italian decor, a coffee bar, and all the best drinks that you could find in Italy.
Read Next: 13 Best North End Restaurants in Boston
Shop local at Boston Public Market.
Found at Haymarket Station is Boston Public Market, an expansive year-round indoor marketplace. This community space consists of over 30 New England artisans, farmers, and shop owners selling fresh foods, crafts, and locally sourced meals. Shopping here not only allows you to experience the tastes and creations of New Englanders, but it helps uplift small businesses.
Kayak on the Charles River.
Charles River is a local favorite for recreational adventures. This river extends for 80 miles and cuts right through the city. You can rent kayaks, canoes, or paddleboards from Charles River Canoe and Kayak and either take a guided tour along the Charles River or embark on your own solo adventure.
Witness oddities at the Warren Anatomical Museum.
If you like museums but also want to see something out-of-the-box, visit the Warren Anatomical Museum at Harvard. This anatomy and pathology museum was started in the 1800s by a Harvard anatomist to preserve specimens for student education. You will find oddities like an old plastic surgery kit, eagle skeletons, and the actual skull of Phineas Gage.
Read Next: 50 Wicked Awesome Quotes About Boston
Visit a skinny house built out of spite
.
Skinny House, or "Spite House," is a 10-foot-wide, four-story home at 44 Hull Street. Squeezed between two brick facades, this is known as the narrowest in Boston. Legend has it that during the Civil War, it was built out of spite by a soldier to get revenge on his brother. Being left with only a small piece of their land inheritance after his brother built a massive home on it, the skinny house was built to block his brother's views and sunlight.
Read Next: 15 Unique Boutique Hotels in Boston to Book in 2023
Go island hopping at Boston Harbor Islands State Park.
Boston Harbor Islands State Park is a New England coastal gem. Just one mile from the city center, this oceanic park is a collection of 34 islands and peninsulas that can be accessed by a park ferry. But the ocean isn't the only thing you'll see amongst these islands; you can also visit one of the historical forts, mainland parks, or the Boston Lighthouse.
Enjoy coffee and a book at Trident Booksellers & Cafe.
Books are even more wonderful when paired with good coffee and a pastry. Luckily, Trident Booksellers & Cafe offers this match made in heaven. Part-bookstore, part-coffee shop, a visit to Trident will come complete with the latest bestsellers and classics. After browsing, choose from their great selection of freshly baked pastries, egg sandwiches, Momos, crepes, and much more.
Read Next: 7 of the Best Coffee Shops in Boston
Join the community fun at Harvard Square.
Want to see what locals are doing for fun in Cambridge? Harvard Square is where it all comes to life. There are events taking place in and around this large triangular plaza almost every day of the week. Listen to live music, attend author readings at Harvard Bookstore, go on a chocolate tour, or even join in on a beginner's Tai Chi class. This is one hopping corner of Boston.
---
You might also like:
---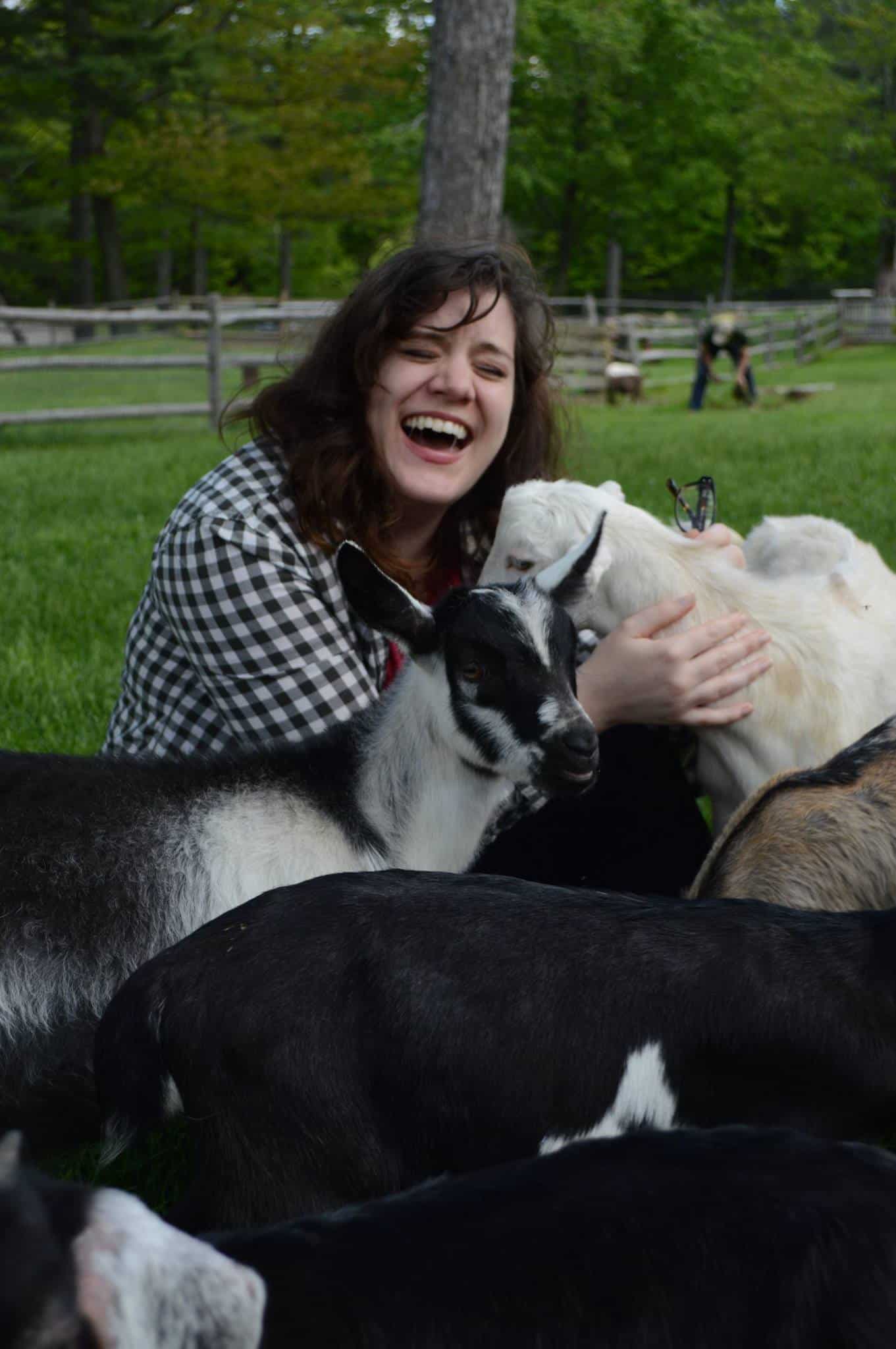 Amy Hartle is the founder and Editor-in-Chief of New England With Love, a comprehensive resource for travel in the New England region. Amy has been exploring New England since 2001. She lived in Vermont for many years and is a graduate of Plymouth State University in New Hampshire. Amy has been writing about travel for over a decade. On this site, Amy aims to share her love of New England and help you to have the best possible adventures!
Amy has been a full time blogger since 2012, and is also the publisher of Two Drifters, where she writes about couples travel and relationships, as well as Let's Adventure Baby, a family travel site. When not traveling the world or creating epic blog content, Amy can be found cuddling with her husband, son, and cats, & drinking a maple latte.