*This site uses affiliate links; if you make a purchase through these, I may receive a small commission at no cost to you.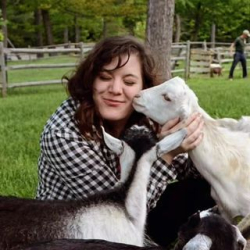 Latest posts by Amy Hartle
(see all)
For fall lovers, there's hardly anything more exciting than those first few days after the sultry summer has faded and the blustery breezes of autumn come blowing in.
Everyone knows what that means… time to engage in some seriously fun fall traditions like apple-picking, pumpkin-picking, leaf-peeping, and corn-mazing!

Whether your idea of a perfect Boston day includes a solo day trip visiting museums or diving in deep for some romance with your favorite date, fall in Boston has a lot to offer visitors and Bostonians alike!
Fall Foliage in Boston: What to Expect
Yes, Boston is a very urban city, but you might be surprised to learn how much spectacular leaf peeping is found throughout!
You've got oaks, maples, chestnuts, beech, and more that absolutely explode with fall color in Boston beginning in late September.
Typically, you can expect to find peak fall foliage in Boston around the second week of October, so if you're planning your fall Boston trip around vibrant autumn colors, aim for that.
Boston fall foliage typically stretches into early November, so there's a pretty wide window for when to see this town awash in autumn hues. Follow a fall foliage tracker like this one to get real time info for what's happening this season!
Fall in Boston: Where to Go and What to Do
Take a Walking Tour
Summer in Boston is hot and humid, winter in Boston is chilly as chilly can be, but autumn?
Autumn is absolutely glorious weather-wise and is the perfect time to go for one of the city's spectacular walking tours.
There are walking tours for architecture, for food, for museums, for history, for culture, and on and on. Walking tours are a great way to get to know the city – and see some spectacular Boston fall colors along the way!

Following the Freedom Trail is always a classic walking tour option, and it puts you in the neighborhood of some of the finest cannoli in the country. Hard to beat that.
Check out this guide for walking tours in Boston to pick which one is best for you!
Enjoy the Views at The Boston Public Garden
The first botanical garden in America, The Public Garden is a lovely outdoor space that is great to visit any time of year, but as the colors change on the trees it becomes especially stunning.
The iconic Swan Boats take their last swim around the lagoon in early September, but this is still a scenic area to visit. There's something about the way the late-afternoon autumn sunlight cascades across the water that just begs to be photographed, isn't there?
The beautiful fall foliage just makes an already lovely spot even better.
Go Whale-Watching
September and October are two of the best months for whale-watching in Massachusetts, and Boston Harbor Cruises just happens to be one of the best whale-watching tours in the Bay State!
Not only does an outing with Boston Harbor Cruises get you out to prime whale-watching locations with great educational info along the way, but the views of Boston's skyline from the water while the leaves are changing are always a sight to see, too.
Spend an Autumn Afternoon Apple-Picking
About as quintessentially New England as an autumn afternoon can be, apple-picking at a local orchard like Honey Pot Hill Orchards is a fantastic way to spend a fall day!
Honey Pot Hill Orchards is about a 45-minute drive out of the city, giving you the perfect amount of time to decompress from the hustle and bustle before pulling in at this gorgeous orchard.
Pick your own apples, visit the farm animals, take a hayride, and basically do all the fun fall farm things in just one autumn afternoon!
Read Next: 13 Great Places to Go Apple Picking in Massachusetts
Watch the Head of the Charles Regatta
The biggest 2-day rowing race/event in the world, the Head of the Charles Regatta happens on the 3rd weekend in October and is an incredible competition to witness!
The race is fun to watch from any of the spots along the 3-mile course and the festivities among the spectators are a big part of the amusement, with expos and displays from boat builders and lots of available concessions.
Just as a little added bonus, the views of the Boston fall foliage along the Charles River are seriously STUNNING!

Get Spooked with a Ghost and Gravestones Tour
The so-called Trolley of the Doomed takes participants on a nightly 1.5-hour tour of some of Boston's best haunts and the history behind them, so come prepared for a scare!
Some notable highlights include visits to two of Boston's most infamously haunted burial grounds, the old stomping grounds of the Boston Strangler, and graves of some of Boston's famous figures in history, like Samuel Adams and Paul Revere.
If you're looking to be spooked, this could be perfect for you!
There are a ton of fantastic ghost tours in Boston to check out. This is always a fun way to get in the Halloween spirit!

Stroll the Esplanade
You don't have to wait for the regatta to head to this beautiful outdoor space!
This popular park becomes absolutely stunning as the fall colors emerge, and the paths along the Charles River offer the perfect place to admire this gorgeous color show.
Take a Fall Foliage Brunch Cruise
Northern Lights departs from Boston Harbor for a 1.5-hour cruise around the Boston Harbor Islands, with views and info about the historic landmarks, wildlife, and lighthouses you'll be cruising by.
A gourmet 3-course brunch is served and a bar is available so you can have your favorite adult beverage as you enjoy the expansive views of the harbor and the fabulous fall foliage that dots and decorates its shores.
Delicious food, drink, and views… what more could you ask for in a fall scenic cruise?
Walk Beacon Hill
One of the most beautiful neighborhoods in Boston, Beacon Hill offers that quintessential fall look as the autumn leaves create dazzling color displays that arch over the roads.
This historic neighborhood is one of Boston's oldest!
Take the Kids to the Fall-o-Ween Children's Festival
Held at the Frog Pond at Boston Common, the Fall-o-Ween Children's Festival is such a cute fall thing to do with kids in Boston!
Dress up in costume and head on down to enjoy music, arts and crafts, and other fun kids activities. The best part about this fall in Boston kids event? It's FREE!
Pick the Perfect Pumpkin at Pakeen Farm
Pakeen Farm is just 35 minutes southwest of the city and well worth the drive to experience their autumn offerings of hot cider, fresh mini cider donuts, and of course, pumpkin picking at their pumpkin patch!
Find your perfect pumpkin for carving and soak in the peaceful farm vibes. There's something about getting out of the city and taking in a bit of that fresh farm air that makes for a perfect fall day.
Read Next: 16 Best Pumpkin Patches in Massachusetts
Take a Trolley Tour
What could be a better way to get around Boston and see some of its most iconic attractions than to take a trolley tour?
There are several great hop on and hop off trolley tours in Boston to choose from!
Keep an Eye Out for Indigenous People's Day Activities
Switching off between the North End and East End neighborhoods, the city of Boston Columbus Day Parade was a major city event for decades.

Today, the second Monday of October has been renamed Indigenous People's Day in honor of the native people who were here long before colonization.

This is still a new holiday and the city of Boston is still working to establish new celebrations commemorating the Wampanoag Tribe who have lived in Massachusetts for over 12,000 years.
Head to Salem for a Spooky Day Trip
With Salem being only 45 minutes up the road and offering so much haunted history and spooky-fun activities around Halloween, you really can't miss it!
Check out the most haunted places in Salem and some of the spots Hocus Pocus filmed before going on a ghost tour or two to get in the Halloween spirit.
There's even plenty of free fun in this little haunted town!
There are also lots of great restaurants and awesome places to stay in Salem (including cute little Airbnb options) if you want to make an overnight out of it, too.
Book a room at one of these haunted hotels, if you dare!

Take a Fall in Boston's Emerald Necklace Guided Bicycle Tour
This Boston bicycle tour is the perfect way to get out and enjoy fall colors.
Boston's Emerald Necklace Guided Bicycle Tour is four hours of touring North End parks and the famed Emerald Necklace, with notable sights like Jamaica Pond and Arnold Arboretum along the way!
Book a Full Day Guided New England Fall Foliage from Boston
This New England Fall Foliage Tour from Boston includes a pick up and drop off at several of the most popular hotels in town, then it's off to some of the region's best leaf peeping spots!
There are stops in quaint and historic Massachusetts towns like Concord and Lexington, and the Monadnock Region of New Hampshire, with fantastic fall foliage photo ops.
A lunch stop is included in this fall foliage tour from Boston itinerary, but it's not included in the price. Snacks are, though!
Click Here to Check Prices & Book!
Bid Adieu to Autumn at the Christopher Columbus Park Annual Trellis Lighting
Every year in late November, Boston kicks off the winter holiday season with a festive event at Christopher Columbus Park that includes entertainment, treats, giveaways, and the lighting of the iconic trellis!
The Annual Trellis Lighting takes place the last week of November, ushering in the winter holiday season with over 50,000 twinkling lights.
Yes, it's still technically fall, but twinkle lights going up all around the city will have you bidding a fond farewell to fall fun as you look forward to warm winter coziness to come!
Boston is always a cool spot to visit with tons of awesome things to do and great places to stay. You can find Boston hotels with jacuzzis, pet friendly hotels, family friendly hotels, and vacation rentals.
You've got cool coffee shops, great kid-friendly activities, and Boston is even one of those places you can find plenty to do for free.
Whenever you visit and wherever you stay in Boston, you won't be bored, that's for sure! But if it's fall foliage you're after, aim for mid October and you should be good!
Boston in the fall is always a great choice.

Read these next:
Weekend in Boston: A Perfect 2 Day Itinerary
---