Massachusetts is easily one of the top destinations in the fall, in large part because it's home to none other than spooky Salem! Picking pumpkins at local farms is one of the best activities in autumn, so this post covers all of the best pumpkin patches in Massachusetts.
This list truly has it all, from Massachusetts pumpkin patches near the Boston area to those out in western Massachusetts. No matter where in Massachusetts you're visiting, you'll be able to find a great MA pumpkin patch close by.
Best Pumpkin Patches in Massachusetts
Cider Hill Farm
First up is Cider Hill Farm in Amesbury! This is one of the great pumpkin patches in Massachusetts. The farm focuses on being sustainable and eco-friendly with everything they do, too.
Because Cider Hill Farm is run by a local family, the farm has a genuine small-town feel. In addition to pumpkin patches, they have tons of fall activities that are perfect for when you're visiting with family. From corn mazes to hayrides, this farm truly has it all.
Read Next: 10 Best Corn Mazes in Massachusetts
Fletcher Family Farm
Fletcher Family Farm in Southampton is another of the best pumpkin patches in Massachusetts. It's the last farm of its kind that is left in Southampton, which is why it's so popularly visited by people in the area.
Covering around 100 acres of land, Fletcher Family Farm is relatively large. In addition, to pick your own pumpkins, the farm has fun hayrides which will bring you around the farm. This is an excellent activity for the fall!
Read Next: 13 Great Places to Go Apple Picking in Massachusetts
Connors Farm
Looking for a pumpkin patch near Salem MA? Connors Farm is just a short distance away in Danvers.
This farm has been offering up local fall fun since 1904. Today they have pumpkins (of course), but also a gigantic corn maze, a kids play area, pedal carts, a hay ride, and even a train! This is an epic place for autumn adventures in Massachusetts.
Belkin Family Lookout Farm
Belkin Family Lookout Farm is a truly massive farm! It's in Natick, which isn't that far from Boston. It covers just shy of 200 acres of land and has a u-pick pumpkin patch so you can buy whatever pumpkin your heart desires.
One of the top attractions at Belkin Family Lookout Farm is The Lookout & The Greenhouse. Each of these dining experiences has some of the best food in Natick. The Lookout is outdoor dining only, while The Greenhouse is indoor dining only, right inside of an epic greenhouse.
Read Next: Fall in Massachusetts: 12 Must-Visit Destinations & Fall Fun Ideas
Clearview Farm
Clearview Farm is another one of the best pumpkin patches in Massachusetts. It's situated in Sterling and has tons of amazing pumpkins just waiting to be picked. Clearview Farm is a classic New England farm, which is what makes it so charming.
Once you're done picking your pumpkin, be sure to check out the fantastic playground. It's a massive hit for families! There's also an epic shop that sells tons of foods that were made using ingredients from the farm.
Read Next: 10 Abandoned Places in Massachusetts
Boston Hill Farm
Boston Hill Farm in North Andover is one of the easiest farms to get to because of its accessible hours. It's open every single day from around 9 a.m. to 5 p.m.! This farm has a pick your own pumpkin patch that usually first opens around September, and it's just about a half hour drive outside Boston, so if you're looking for pumpkin patches near Boston, this is a good one!

In addition to their pumpkin patch, they sell a wide variety of produce, usually varying throughout the year depending on what is in season.
Read Next: Fall in Boston: Where to Go & What to Do
Ioka Valley Farm
Ioka Valley Farm in Hancock is one of the best pumpkin patches in Massachusetts on the western side! It's filled with nonstop amazing fun for families, especially in autumn. As you may have guessed, their main attraction is the vast pumpkin patch which is located across the road from the farm.
If picking your own pumpkin isn't your jam, you can also purchase one of their already-picked pumpkins. In addition to tons of pumpkin picking, kids will love meeting the animals, playing in the indoor maze, and even going down the super long slide.
Read Next: 19 Awesome Things to Do in Boston with Kids
Kimball Fruit Farm
Kimball Fruit Farm is a regional farm that has locations in New Hampshire and Massachusetts. This farm in Pepperell has been owned by none other than the Kimball family. It opened in 1930 and has grown tons since it was first bought. In fact, when the family first bought it, it was an old dairy farm!
Today, Kimball Fruit Farms has a great pumpkin patch and orchards with peaches and apples. Be sure to be on the lookout for their great squashes too.
Read Next: Fall in New England: Best Foliage, Farms, Fun 🍁
Honey Pot Hill Orchard
One of the most popular places for pumpkin picking in Massachusetts is Honey Pot Hill Orchard in Stow! It's a family-owned farm that has been open for just shy of 100 years. This farm, in particular, is very well known for its pumpkins, maybe even more than any other farm on this list.
The farm is around 200 acres big and has tons of places for you to pick pumpkins. In addition, you can also check out their farm store, which is filled with everything from hot apple cider to fun caramel apples.
Read Next: 21 Best Things to Do in Salem MA in October (Halloween)
Parlee Farms
Parlee Farms is located in Tyngsborough and has an amazing pick your own pumpkin patch. It's another one of the farms that's located in the Boston area, so you could easily get a bit of city life and small-town farm life all in one visit to Massachusetts!
While they do have the great pumpkin patch, it's worth noting that Parlee Farms was actually voted by Yankee Magazine in the past as the Best Pick Your Own Fruit Farm in the entire state. So, be sure to check out their fresh fruit too during your visit, or you'd genuinely be missing out!
Taft Farms
Located in Great Barrington, Taft Farms is a perfect place to go if you're looking for great pumpkin patches in Massachusetts. It's right in the Berkshires, which is one of the most famous places to visit in the entire state.
Taft Farms has around 30 acres of pumpkins, so they have tons of different varieties. No matter what type of pumpkin you're looking for, you'll surely be able to find it while at Taft Farms.
Read Next: 11 Fun Things to Do in Great Barrington Massachusetts
Shelburne Farm
Shelburne Farm in Stow has some great pumpkin patches that are great for visiting in the fall. They open the patch to the public usually during the month of September, but it varies depending on the year. You can generally find more information on their website.
Fun activities happen nonstop at Shelburne Farm in the fall, too, specifically over the weekend. You can ride ponies, go in the hay maze, have fun on a hayride, and even check out their great shop.
Read Next: 9 Best Sites for Camping in Massachusetts
Westward Orchards Farm Store
Westward Orchards Farm Store is located in Harvard! Despite being pretty small, this is one of the greatest pumpkin patches in Massachusetts. They usually have a wagon that will bring guests right over to the patch so that they can pick whatever one they want.
When visiting, you absolutely must check out the farm store where they sell other goodies from the farm. You can purchase apple cider donuts, hot apple cider, and even grab a tasty breakfast or lunch during your visit.
Read Next: 19 Awesome Things to Do in Boston with Kids
Tougas Family Farm
Located in Northboro, Tougas Family Farm is one of the great pumpkin patches in Massachusetts. It's another great farm that's run by a family, so you'll be supporting local businesses by visiting. The pumpkin patch is named after Farmer Mo and is filled with great pumpkins for you to take home.
As you might expect, the farm has more than just pumpkins. Fun things to try out from the farm in the fall include hot apple cider, apple cider donuts, and even delicious pumpkin pie. If you're traveling with kids, be sure also to bring them to the fun animal petting area!
Read Next: 13 Haunted Places in New England That are Wicked Creepy
Ward's Berry Farm
Ward's Berry Farm is a perfect place to grab some pumpkins in Massachusetts. It's located in Sharon and usually has at least 100,000 pumpkins available each year. It's near impossible to visit here and not find a fantastic pumpkin to bring home.
One of the best things to do at Ward's Berry Farm is also to stop by and see the barnyard animals! It's run by a local 4H and is a great way to introduce children to farm life animals. There's also a must-visit bakery store that sells tons of delicious treats.
Read Next: 13 Haunted Places in Massachusetts: Paranormal Hot Spots 👻
Randall's Farm
Last but not least is Randall's Farm in Ludlow, Massachusetts. While it's located in a spot that not many people might visit while traveling in the state, it's truly a small-town gem that sells delicious snacks, baked goods, and more.
They have a pumpkin patch that is perfect if you're trying to find the dream pumpkin to carve this fall. In addition, Randall's Farm hosts a wide variety of Halloween events and activities to keep you entertained all through the autumn season.
Oh, and if you happen to be visiting during the summer, trying some of Randall's Farm's ice cream is an absolute must.
—
Massachusetts is filled with many different great pumpkin patches, and each one is just as amazing as the next! The best pumpkin patches in Massachusetts genuinely vary from smaller farms that are basically just stands to ones that are a lot bigger. That's what makes it such an excellent state for pumpkin picking!
---
You might also like:
---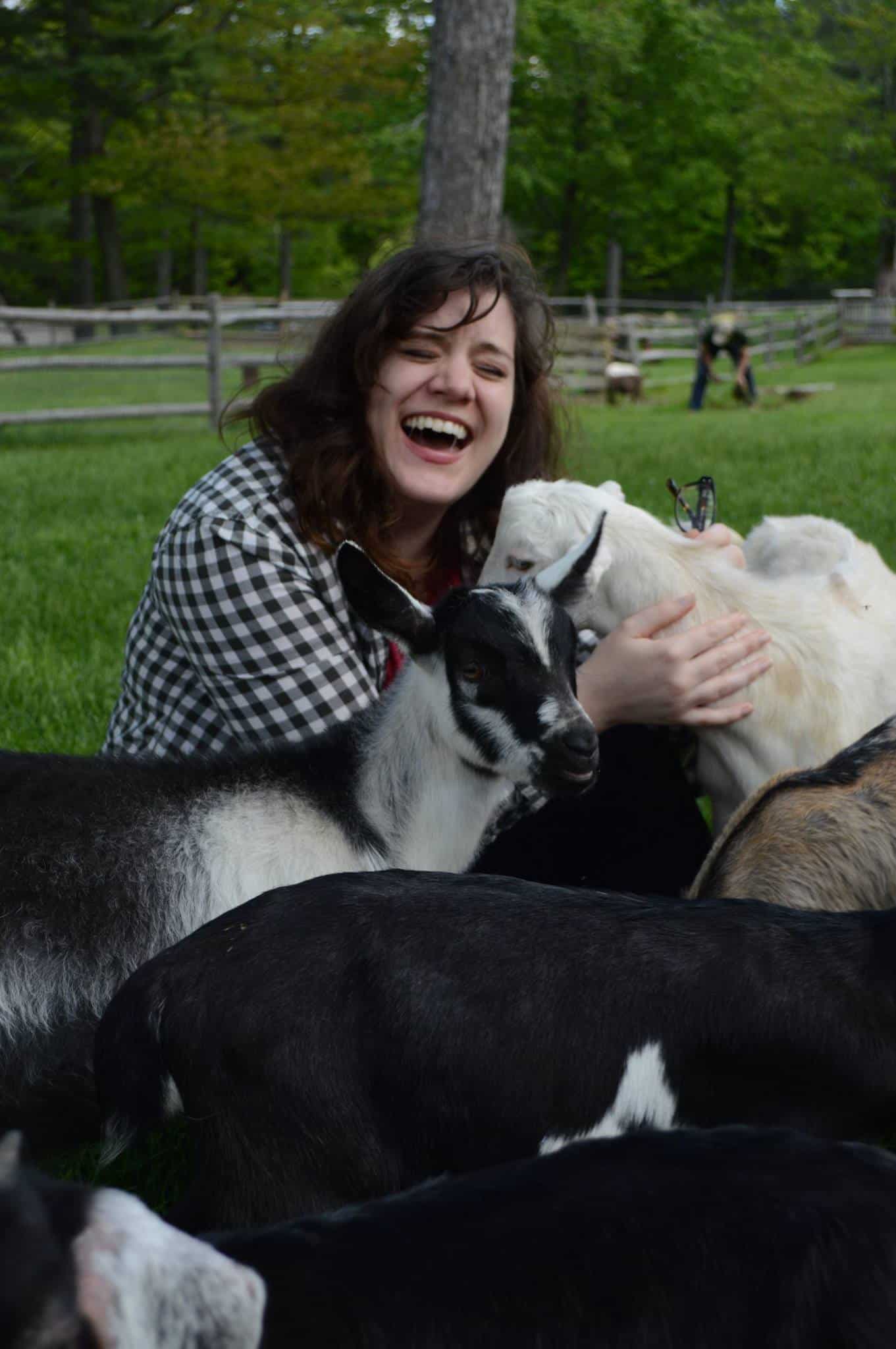 Amy Hartle is the founder and Editor-in-Chief of New England With Love, a comprehensive resource for travel in the New England region. Amy has been exploring New England since 2001. She lived in Vermont for many years and is a graduate of Plymouth State University in New Hampshire. Amy has been writing about travel for over a decade. On this site, Amy aims to share her love of New England and help you to have the best possible adventures!
Amy has been a full time blogger since 2012, and is also the publisher of Two Drifters, where she writes about couples travel and relationships, as well as Let's Adventure Baby, a family travel site. When not traveling the world or creating epic blog content, Amy can be found cuddling with her husband, son, and cats, & drinking a maple latte.