*This site uses affiliate links; if you make a purchase through these, I may receive a small commission at no cost to you.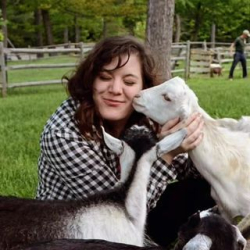 Latest posts by Amy Hartle
(see all)
If you're looking for the best places to visit in New England in the fall, you have come to the right place!
With the best fall foliage in the nation (and perhaps in the world), New England is completely MADE for autumn magic.
Every fun fall activity you could dream of can be found here in abundance: apple picking, pumpkin patches, corn mazes, leaf peeping, harvest festivals, and so much more; there's no doubt about it, New England is one of the best places to visit in fall!
But where in New England can you have the ultimate fall experience? Having spent dozens of falls all over New England, I've selected the most delightfully charming New England towns that are absolutely idyllic in autumn.
With a backdrop of vibrant foliage and signature New England charm, these are my picks for the best New England towns to visit in the fall.
Psst! Consider seeing all of these towns on a fall road trip through New England!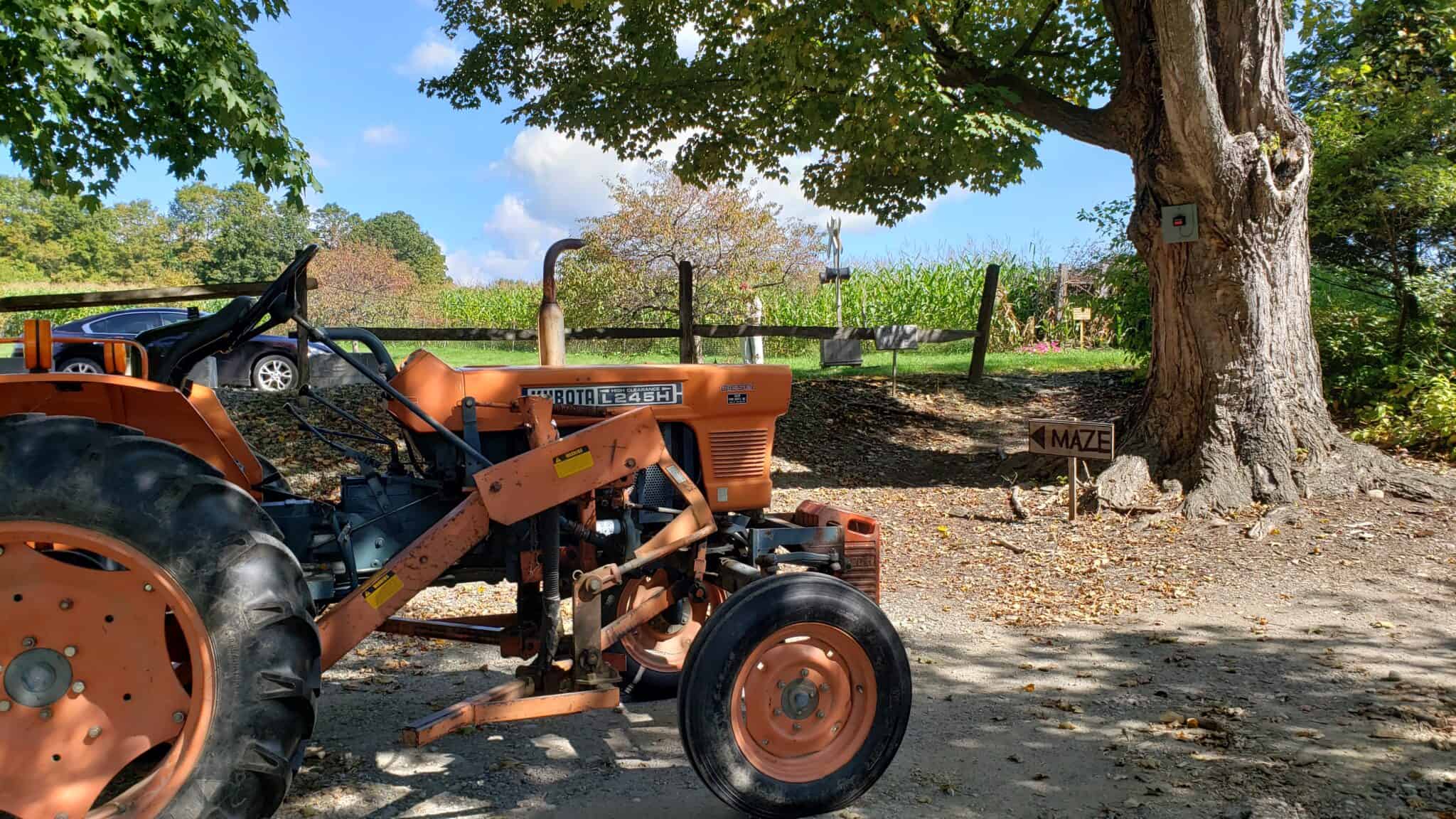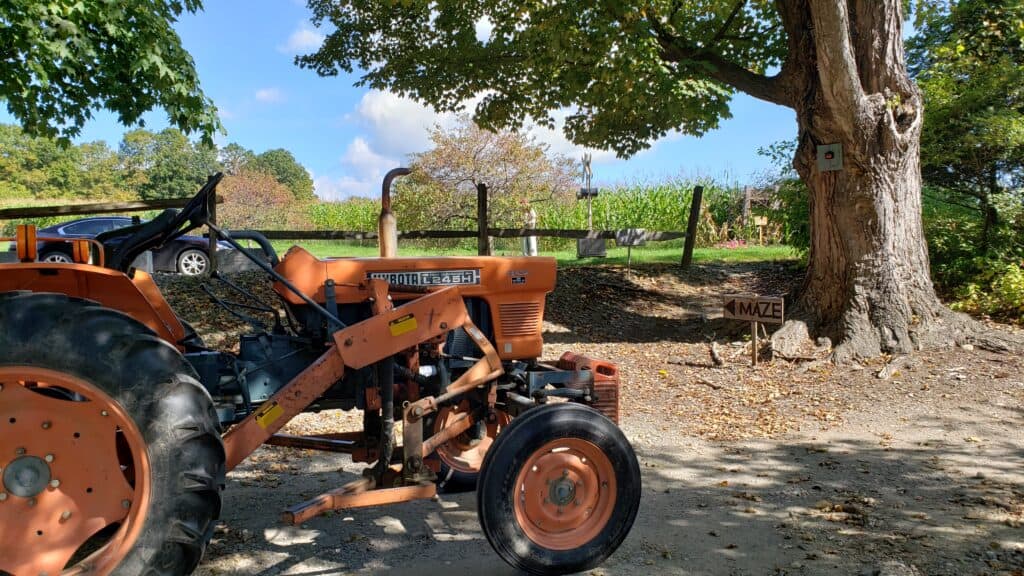 PS if you're wondering when is the best time to visit these New England fall destinations, you can check out a New England fall foliage prediction map and real time New England fall foliage tracker here!
Top New England Towns to Visit in the Fall for Autumn Magic
Manchester, Vermont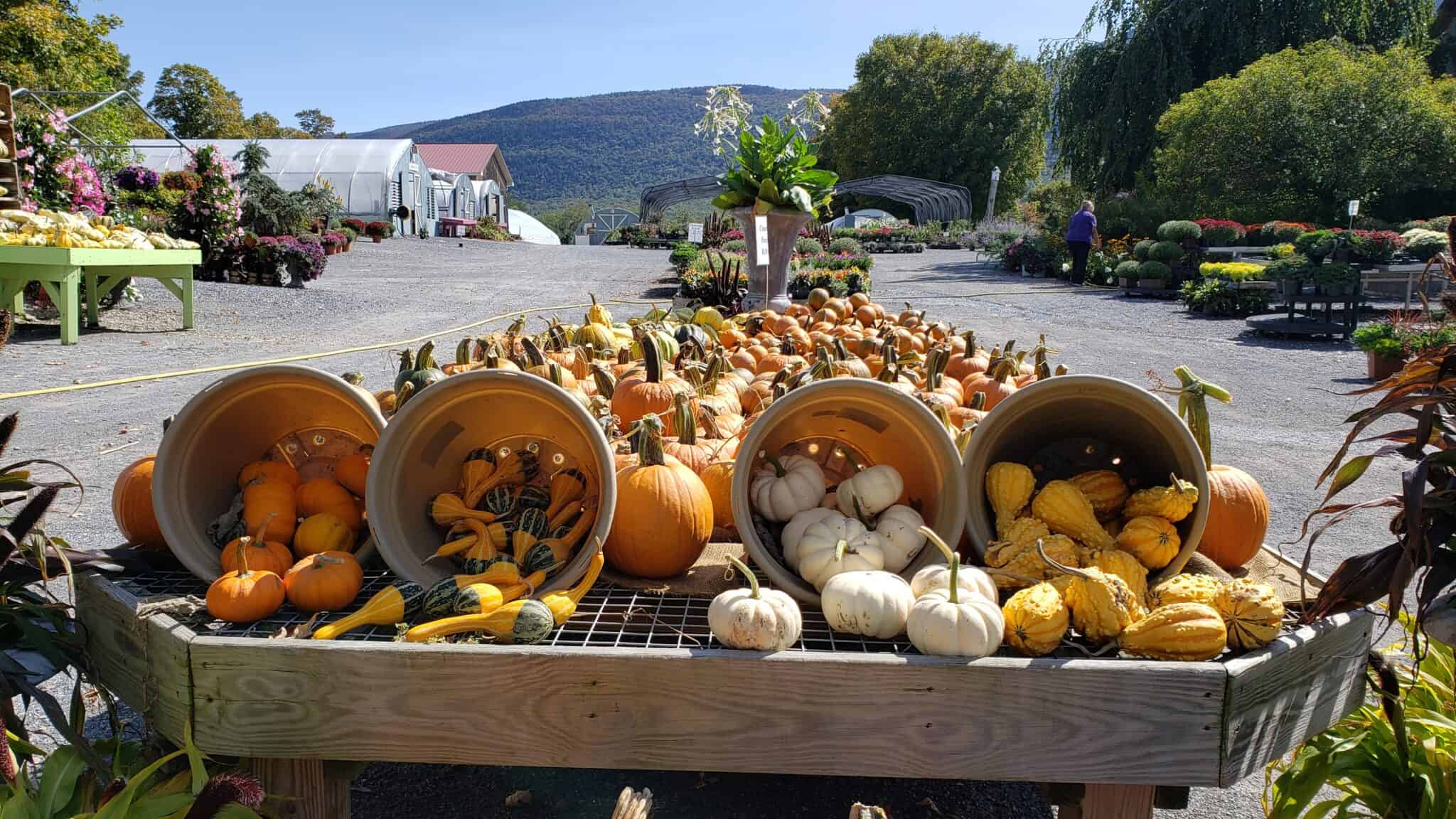 Manchester is one of the best places to experience fall in New England, and is especially convenient if you're traveling up from points south.
Located in the southwest corner of Vermont, Manchester is such a lovely area; perfectly quaint and quiet, yet with plenty of shopping and activity. Interestingly, the foliage here often is really vibrant, sometimes peaking earlier and brighter than points north, making this one of the best towns in Vermont to visit in fall.
Some of the highlights of the Manchester area include driving up or hiking Mount Equinox (beautiful autumn views), visiting Hildene, the Lincoln family mansion, and shopping at Manchester's luxury outlets. There are also great restaurants and breakfast spots in Manchester, too.
In terms of fall activities, you can't go wrong with the Equinox Valley Nursery, home to a pumpkin patch, corn maze, and gift shop, plus the best apple cider donuts for miles around.
Also make time to visit the nearby village of Dorset, which always displays a plethora of pumpkins and fall decor on their village green.
Bristol, Rhode Island
Bristol is one of the cutest small towns in Rhode Island and definitely deserves a spot on the best places to visit in New England during the fall!
One of New England's hidden gems, ie one of those cute New England fall towns that just flies under the radar, Bristol is an excellent fall vacation spot!
Not only will you find fantastic fall foliage at lovely Colt State Park, but beautiful Blithewold Mansion's Gardens and Arboretum is always all done up for the season, too.
There are some pretty tasty little restaurants in Bristol, as well, where you can find hearty New England fall favorites like creamy Clam Chowder and French Onion soups.
Bar Harbor, Maine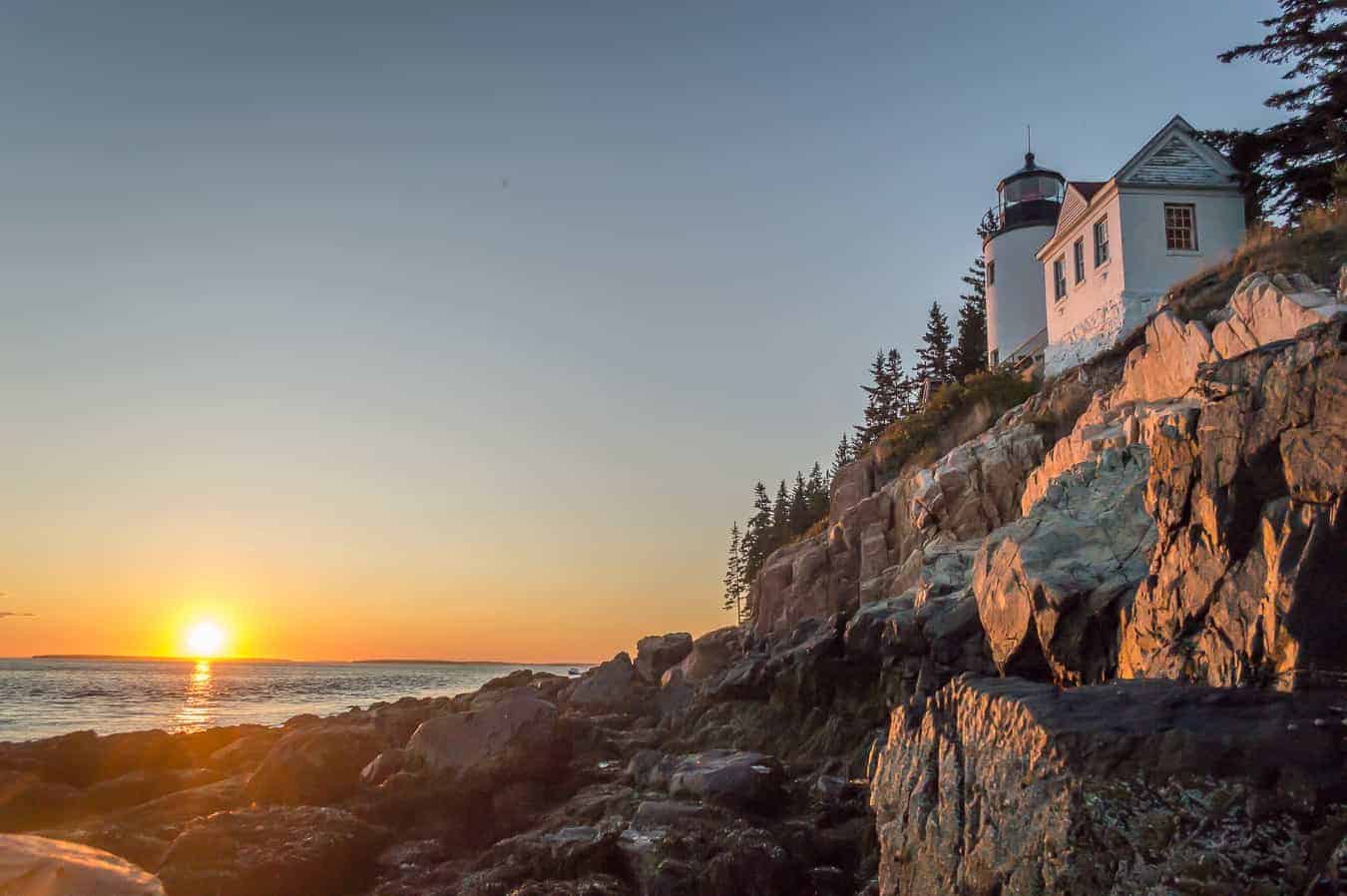 Bar Harbor and Acadia National Park are Maine fall destinations that offer wilderness and adventure.
Acadia is a 47,000-acre national park set on the coast of Maine, nearly in Canada, and is a perfect spot for outdoor lovers to experience a New England autumn.
There are countless options for hiking and camping in Acadia, and many hikes offer incredible views of oceanside cliffs and inlets; how's that sound for exploring New England in fall?
Breathtaking scenery isn't the only great thing about the area. The cozy town of Bar Harbor offers dining, shopping, and culture, so you can enjoy the best of both worlds.
If roughing it in Acadia doesn't sound like your style of fall vacation in new England, consider staying at one of the cute Bar Harbor hotels, inns, cabins, or vacation rentals. Bar Harbor has some great restaurants whose chefs love using local, seasonal flavors. Doesn't a fall-inspired meal on the coast of Maine sound amazing?
You can also head out on the water for a scenic cruise, and of course, don't miss the Bass Harbor Head Light, one of the prettiest lighthouses in Maine. Read all the best things to do in Acadia here.
Acadia National Park and Bar Harbor are some of the best places to visit in New England in September and October, as they quiet down after the busier summer season.
Take advantage! However, it will start to grow quite chilly here by the end of September–a good thing to keep in mind if you hope to go camping.
Mid-October is generally forecast to be peak foliage, but follow local reports for the most accurate info; we actually think fall is the best time to visit Acadia!
Mystic, Connecticut
Lovely Mystic CT is one of the best places to visit in New England in October, not just because of the fantastic fall foliage that you can catch towards the middle and later part of the month, but also for the neat fall-related things to do and see both in and around Mystic, like the Witch Paddle on Mystic River where you get to see what a dozen+ "witches" look like as they fly/paddle down the river, the surrounding trees just starting to burst into fall color around them.
Another popular fall attraction in this charming New England fall town is visiting B.F. Clyde's Cider Mill, the oldest steam-powered cider mill in the United States.
You can watch the cider being made during weekend demos and pick up some apple cider goodies to take home with you; hard cider and apple cider doughnuts? Sounds like a perfect New England fall combo!
There is so much to do in this cute waterfront town (like exploring the Mystic Aquarium!) and plenty of amazing restaurants and places to stay in Mystic, so this is definitely one of the best New England vacation towns in the fall!
Salem, Massachusetts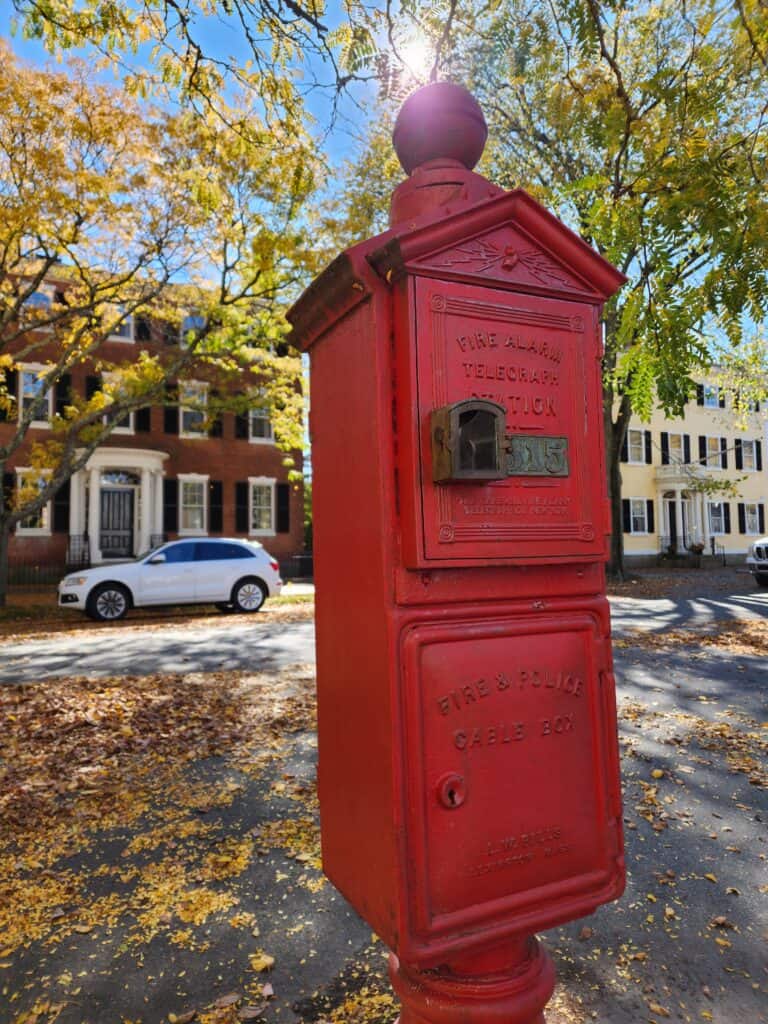 There may be no better fall spot than the classic Halloween destination of Salem, Massachusetts.
As the site of the 1692 witch trials, Salem has a certain degree of infamy with its dark, tragic past, yet residents have embraced its identity and today the witches rule. This spooky, eclectic town attracts hundreds of thousands of visitors each year with Haunted Happenings, the town's annual Halloween celebration.
Filled with history and lore, a visit to Salem will keep you busy. There are museums, exhibits, historic sites, guided tours (ghost tours, too!), and other notable spots.
Consider reading up on the witch trials before visiting, as this will help you better understand the dark events of the town's past, and if you're interested, you can even visit the top haunted spots in Salem, too!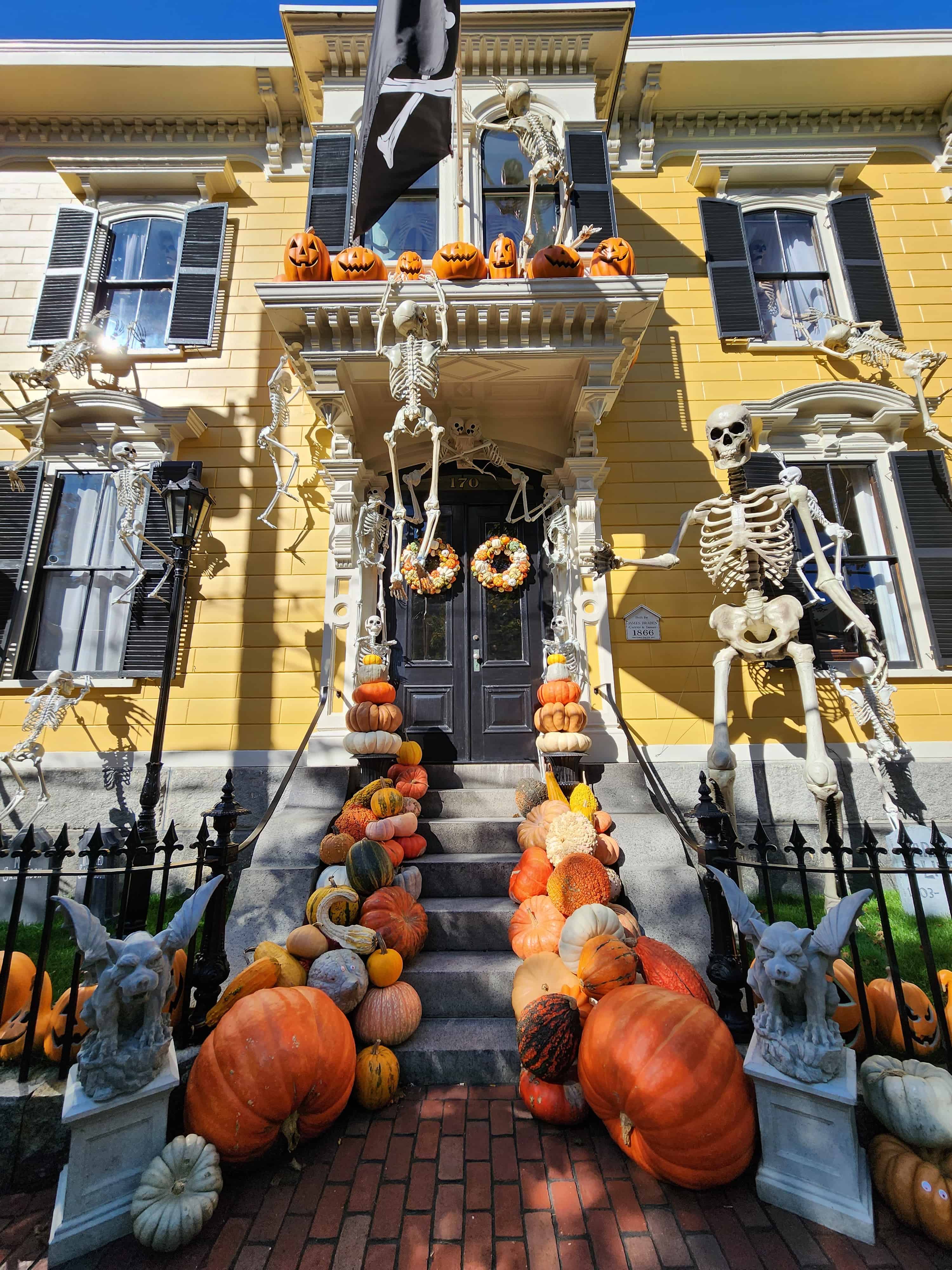 If the spiritual interests you, Salem is home to many modern-day witches and spiritualists. You can sign up for a palm reading, tarot session, or other experiences. Or simply browse the shops and peruse the magical goods. Prefer movie witches? Check out all of the Hocus Pocus filming locations around Salem.
In Salem, fall is definitely in the air. It's a beautiful and picturesque destination that is great for shopping, dining, and walking; definitely one of the most fun towns in New England!
Its proximity to Boston makes it an easy getaway, too, and there are plenty of great options when it comes for hotels, inns, and vacation rentals in Salem.
North Conway, New Hampshire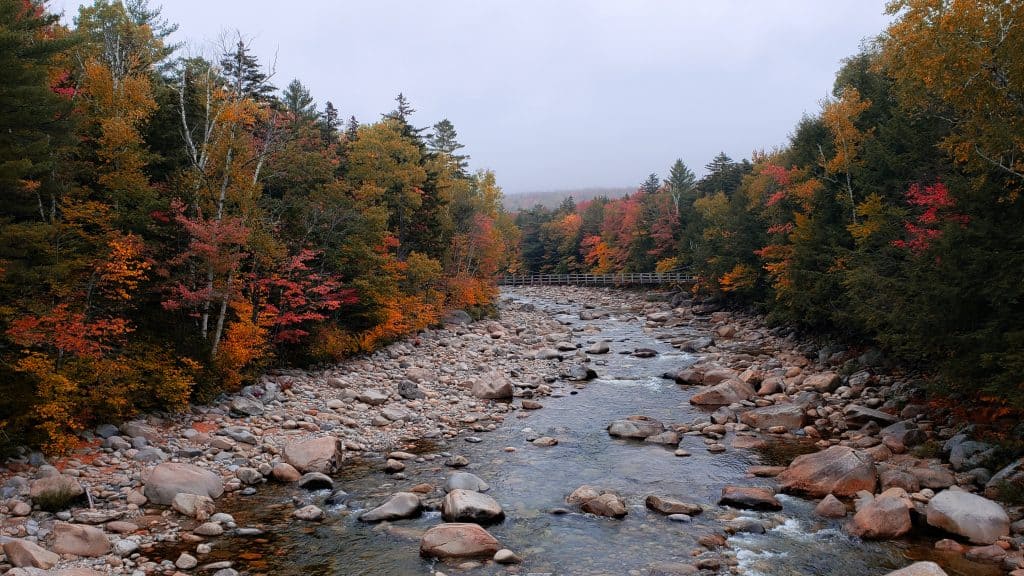 North Conway is definitely one of the top places to visit in New Hampshire in the fall, as the rugged White Mountains will be aflame with color and make for spectacular fall hiking and leaf-peeping.
There is plenty to do in North Conway throughout the year, but the #1 activity has to be road-tripping along the scenic Kancamagus Highway, which winds through the White Mountain National Forest. You'll have incredible views of the fall foliage throughout the journey. North Conway is also home to some great little restaurants and lovely places to stay, too.
Damariscotta, Maine
Looking for one of the best New England coastal towns in fall? Look no further than darling Damariscotta, home of the Damariscotta Pumpkinfest and Regatta, this cute little town's 10 day fall celebration!
The focus is on all things pumpkin, so you'll find all kinds of sweet small town pumpkin related foods, crafts, and events.
One of the more unique events is the 180 feet Pumpkin Drop, where a gigantic pumpkin is lifted almost 200 feet into the air a
nd then dropped over a large inflatable beach ball filled pool! If that doesn't just scream Fun Small Town Fall Shenanigans, I don't know what does. That's not even the main event, either! The Pumpkinboat Regatta sees people racing their giant hollowed out pumpkins, fitted with motors, out in the ocean!
If you're looking for a fun New England fall town, Damariscotta has got to be on the top of that list.
Kent, Connecticut
While Connecticut is the most southern New England state, it still boasts glorious fall foliage and photogenic scenes. As an added bonus, Connecticut claims to have the longest foliage season of all six states, so you've got more flexibility when it comes to planning a fall adventure.
Kent is found in the Litchfield Hills, a highly recommended spot. All the trappings of a quaint New England experience are to be found here, including covered bridges, small villages, and sparkling lakes. Hiking, kayaking, fishing, and antiquing are other popular activities in the hills, and it has also recently become something of a foodie destination, so bring your appetite.
Want a scenic fall drive? Consider embarking on the 100-mile route known as the Litchfield Hills Ramble, which runs from Torrington through Litchfield.
In Kent proper, you'll find waterfalls, hiking trails, and a few really unique museums and shops—all worth a visit; check out this guide to top things to do in Kent!
Stowe, Vermont
One of the most beautiful places in all of New England is the village of Stowe, Vermont. Nestled in a valley surrounded by Vermont's Green Mountains, Stowe is a prime destination for viewing vibrant fall colors (although you do have to plan your visit just right to catch peak foliage!)
The leaves tend to be brightest and boldest in early to mid-October, but depending on the conditions each year, this could vary slightly.
One of the most picturesque New England towns, Stowe presents a picture-perfect Main Street and downtown area. Check out the general store, the 50's style diner, and lots of other hidden gems right along the main street. Everywhere you turn is a photo opportunity!
There is lots to do in Stowe, and many come to Stowe to hike or to enjoy cycling, shopping, and art. It's also a good place for foodies, with delicious restaurants both in Stowe and nearby Waterbury.
It is an especially popular winter destination due to its nearby skiing (at Stowe Mountain Resort and Smugglers Notch) and other winter activities.
Fall foliage hike options in Stowe include: Moss Glen Falls, Stowe Pinnacle Trail (great views!), and Sterling Pond.
There are also lots of great options for where to stay in Stowe, including cool vacation rentals, so be sure to shop around a bit to find the perfect place to stay in this New England tourist town.
Great Barrington, Massachusetts
The Berkshires in MA are a sight to see pretty much every time of year, but during a New England fall, they are absolutely breathtaking!
Cute towns like Great Barrington offer all kinds of great small town fun, but if you're looking for stunning fall views, check out Monument Mountain, whose summit offers Housatonic River Valley views of the spectacular Berkshires fall foliage as far as the eye can see.
There's hiking, cabins, lovely vacation rentals, and just so much more in this gorgeous region of New England.
Meredith, New Hampshire
One of the best New England fall spots near Lake Winnipesaukee, New Hampshire's Meredith is a charming little lake resort town that offers all kinds of fall fun surrounded by the dramatic fall foliage that New England serves up so well!
Visit Moulton Farm's pumpkin patch or get lost-then found-in their fun-for-all corn maze, one of the best corn mazes in New Hampshire! Book a ride on the Winnipesaukee Scenic Railroad's Fall Foliage Train and admire the burnt oranges and dazzling golds from your seat on this scenic train.
There's plenty of fun to be had all around Lake Winnipesaukee, too!
Jamestown, Rhode Island
One of the cutest little New England towns to visit in fall, Jamestown has a plethora of opportunities to get outdoors and see the fantastic fall foliage in lovely scenic settings, like the Conanicut Island Sanctuary, Fort Wetherill State Park, and the can't miss tourist attraction, Beavertail Lighthouse and State Park; the Beavertail Trail is one of the best hikes in Rhode Island, too.
There are lots of cute small town New England things to do in charming Jamestown, but if you're looking for a great New England fall photo op in Jamestown, swing by the historic Jamestown Windmill and snap a few pics of the picturesque scene.
I've highlighted my favorite fall vacation spots in New England for those looking for fantastic fall foliage and good, old-fashioned New England charm, but if your idea of a New England October includes a bit of a scare, check out our lists of the spookiest ghost tours, haunted places, and haunted hotels in New England, if you dare!
---
More New England fall towns content:
---