*This site uses affiliate links; if you make a purchase through these, I may receive a small commission at no cost to you.
Latest posts by Em Hamilton
(see all)
Our little lakeside city of Burlington is known for its bustling nightlife, great beer, and especially amazing local food! With so many fantastic Burlington restaurants within a 5 mile radius you might find it hard to pick a starting point.
From Asian cuisine to American pub food, vegetarian to gourmet pizza, there's a little bit of everything to choose from! We've compiled a list of some of the best restaurants in Burlington VT so you can pick the perfect spot for date night, takeout, or just an evening with friends.
In no particular order, here are our favorite eateries we highly recommend if you live in or are visiting Burlington.
Best Restaurants in Burlington VT
Fresh and local. Juniper Bar's motto says it all! Located inside the gorgeous lakeside Hotel Vermont, Juniper Bar is a go-to for guests and locals alike. Upon entrance, you'll be greeted with a stunning fireplace and chic, modern vibes.
Head to the bar for a selection of craft cocktails before you take a seat! My absolute favorite is the Manhattan sour – the perfect combo of sour and sweet. Also be sure to check out the terrace. It's a great place to warm up while you wait for a table and features a large fireplace and cozy Adirondack chairs for you to relax in. The beer and wine list are top notch here as well!
Once seated, you'll be presented with a menu full of fresh, local, and seasonal cuisine. If you're dining on a Thursday, you may even get live music as a treat!
Location: 41 Cherry St, Burlington
Hours: Brunch: 7am – 11am Monday through Friday, 7am – 1pm on weekends

Dinner: 5pm – 9:30pm 7 days a week
Bar: 12pm – 10pm (open until 11pm on Friday & Saturday!)
You won't want to miss one of the most highly rated restaurants in Burlington! Located in the heart of downtown, Hen has become a beloved spot for fine dining. The cozy ambiance with an open chef kitchen is the perfect combination for a special occasion.
Enjoy watching talented chefs cook locally sourced fare over the open fire as you wait for your delicious meal. Be sure to get a taste of their perfectly curated appetizers in preparation for your 5 star treat. The menu is seasonal, but if you can, we recommend the Parker rolls to start, they are melt-in-your mouth good!
You'll want to be sure to plan ahead with reservations if you want to get a chance to dine-in at Hen of the Woods. It is eagerly booked at least a week in advance with locals and hotel guests vying to get a table.
Location: 55 Cherry Street, Burlington
Hours: 4:30 – 10pm, bar is open until 11; closed Tuesday

3 words. Artisanal. Flatbread. Pizza. American Flatbread is THE place for pizza in Burlington. Envision wood-fired pizza crafted exactly to your liking, served fresh out of the stove and directly to your table!
This hearth warming (literally) eatery is a local classic for friends and families alike. Entering this lively joint will have your stomach grumbling as a waiter whizzes past you with fresh pizzas in tow. Flatbread also features one of the longest draft lists I've ever seen, it's the original brewing location for Vermont's very own Zero Gravity. You'll be in beer AND pizza heaven – now that's a win win!
What started out as a frozen flatbread distributor has made monumental strides to becoming the feel good pizza place every city needs to have. "Food Is Important. What We Eat And How It Is Grown Intimately Affects Our Health And The Well-Being Of The World." Words from George Schenk, the founder himself are only a small indication of the goodness that awaits you at American Flatbread.
Location: 115 St. Paul Street, Burlington
Hours: Sunday – Thursday, 11:30am – 10pm, Friday – Saturday, 11:30am – 11:00pm

Looking to sophisticate your dining experience? Head on down Church Street to Honey Road, Burlington's very own women owned and operated Meditteranean restaurant. Known for being a James Beard nominated restaurant, you're sure to have a true culinary experience here!
Enjoy exquisite mezze (small plates) such as Winter Citrus & Beet Fatoush or Duck and Fig Lamejan among many other options! Honey Road is the perfect option for a group who's willing to share so you can try a bite of everything.
Don't forget to order a craft cocktail or select a signature wine from their extensive wine list! Not in the mood for a drink? Honey Road also offers a lovely selection of desserts just perfect for two.
Location: 156 Church Street, Burlington
Hours: Open 7 days a week: Honey Time Snacks & Drinks, 4pm – 5pm, and Dinner Service 5pm-9pm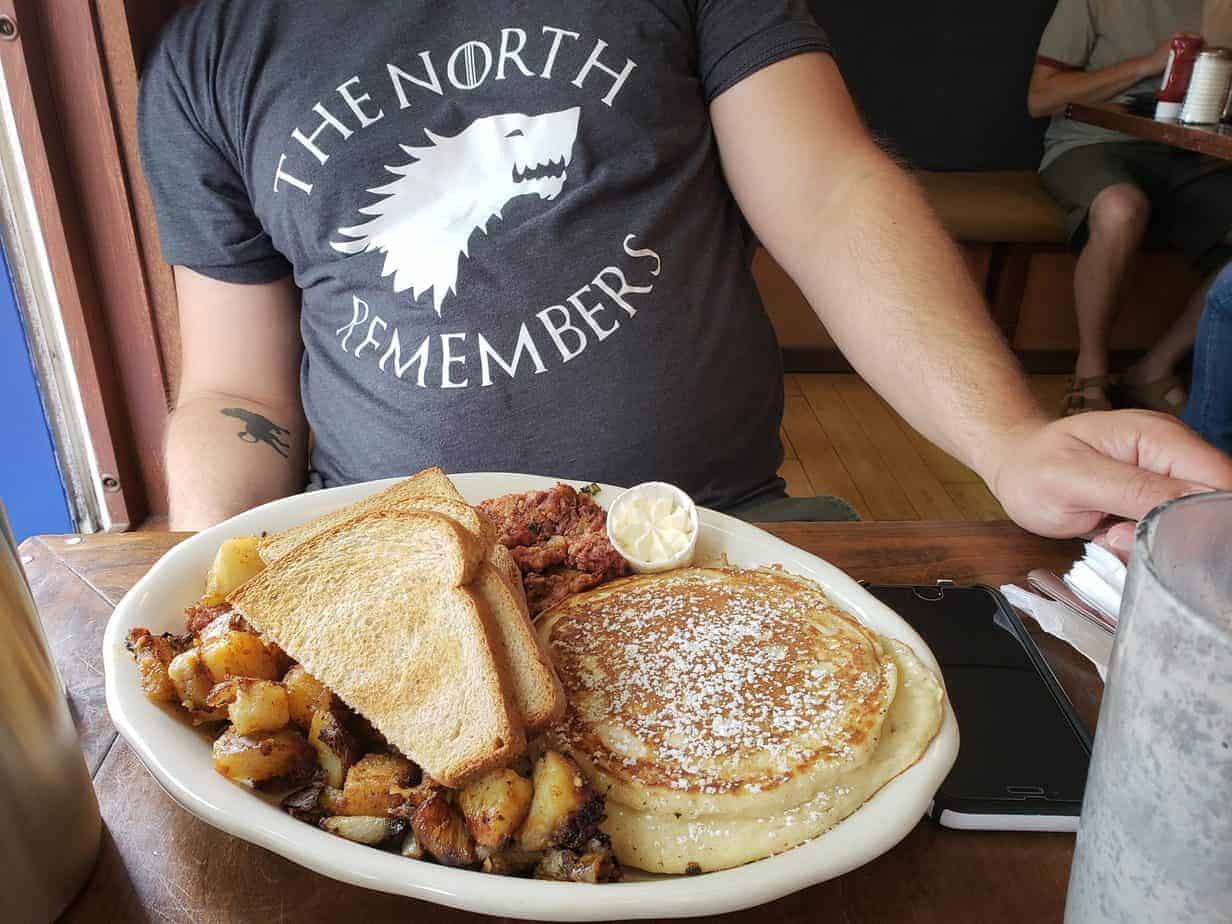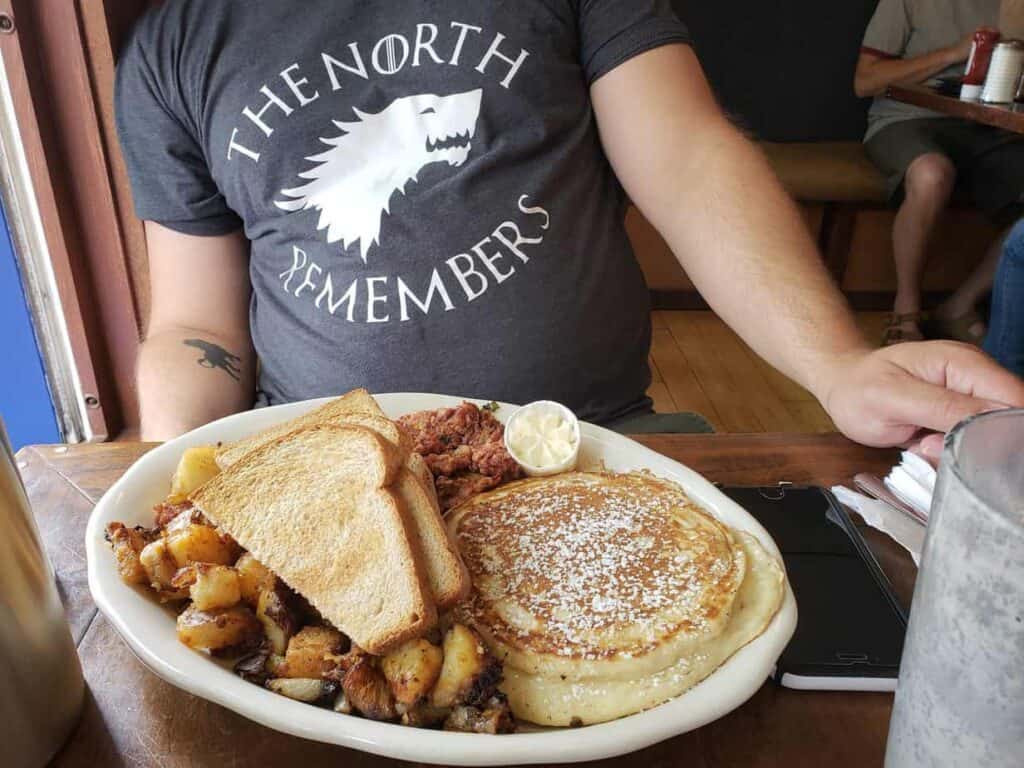 This Winooski gem is just all around classic breakfast foods, spruced up to be somehow even more delicious, like the Kahlua French Toast that is just thick and sweet in all the right ways!
In fact, Sneakers is our editor's pick for best breakfast in Burlington, so there's that! Oh, and they serve breakfast all day. Hard to beat that, right?
Location: 28 Main St, Winooski
Hours: Thursday through Monday, 8am – 2pm
Quite opposite of its name, this cozy chic eatery will leave you happily content after your meal! Just minutes from Burlington, Misery Loves Co is a local favorite in Winooski.
Serving up eclectic takes on classic American fare, you won't be able to pick where to start! Should you get seated at the bar, you can overlook the accomplished chefs creating your dish in the open kitchen. In true Vermont fashion, you will find many dishes with ingredients from local farms and gardens.
One of my absolute favorites from here is the Fried Chicken with Honey Butter. You'll want to take the leap and get the whole bird and extra honey butter, you will not regret it! The honey butter is astronomically delicious.
Location: 46 Main Street, Winooski
Hours: Open 7 days a week, 9am – 6pm

Guy Fieri called it the "Most authentic barbecue in Vermont," so, you know, kinda a big deal! Bluebird Barbecue is classic barbecue and made from scratch sides with a Vermont flair, offering inventive twists on American barbecue staples like BBQ ramen and Maple Baked Beans.
Order the Nitty Gritty Cornbread as a starter, it comes with a whipped maple butter… yes, please!
Location: 317 Riverside Ave., Burlington
Hours: Wednesday through Sunday, 4:30 – 8:30
Prepare yourself for a feast at this family run Turskish-Meditteranean spot! Kebab House is a special gem located right in downtown Burlington. With 3 floors, including a rooftop eating space, you'll be delighted no matter where you are seated.
You will find all of the food here to be absolutely homemade and authentic. Start your meal with a large meze platter so you can sample the delicious fresh made hummus, grape leaves, babaganoush and more.
If you're not already stuffed, place an order for one of their traditional kebabs. You can't go wrong with the chicken shish kebab if you aren't sure where to start! Their perfectly marinated meats will blow you away.
To perfectly round off your meal, order a turkish coffee to sip on before you head home with your belly full and heart happy!
Location: 175 Church Street, Burlington
Hours: Closed Monday, open Tuesday – Sunday, 11am – 8pm

One of the best places to enjoy a nice meal and a craft cocktail, The Gryphon is hip, classy, and very, very tasty! With items like Duck Quesadilla and Prime Rib, this is a place that knows how to do what it does and does it very well.
The Gryphon is a popular Burlington brunch spot too; the Gryphon Bloody features grilled shrimp on the rim and does it get any better than this?
Location: 131 Main Street, Burlington
Hours: Monday through Thursday, 12pm – 9pm, Friday & Saturday, 12pm – 10pm, Sunday 10am – 2pm & 4pm – 9pm

Circling back up into Winooski, Tiny Thai is personally one of my top 3 favorite restaurants in the area (and New England With Love founder Amy says "ME TOO!"). Much like it's name, this cute BYOB eatery is one you need to make a stop at!
The genuine thai food curbs any craving, from sweet peanut pad thai to spicy drunken noodles. Order of the authentic thai menu for an extra spicy palate! At a very affordable price, you can enjoy some of the best thai food in Vermont by ordering here.
The bring your own booze option adds to the homey vibes you feel when seated at Tiny Thai, along with the fantastic service and mouth wateringly tasty cuisine. Don't have time to grab a seat? Order takeout for a prompt pickup time!
Location: 24 Main Street, Winooski
Hours: Closed Sunday & Monday, open Tuesday through Saturday, 4pm – 8:30
Henry's Diner is almost a hundred years old, so it's clearly doing something right! This Burlington diner is a town landmark at this point, and a very popular breakfast spot. In fact, it serves breakfast all day (except on Wednesdays), so there's always time to grab an order of Irish Eggs Benedict!
Location: 155 Bank Street, Burlington
Hours: Daily, 6am – 2pm
One of the most popular brunch spots in Burlington, Pingala Cafe has a very cool vibe all around. The kitchen and counter you order at are set up like a food truck that's found its way inside, and you'll find the fun and funky decor perfectly complements their delicious offerings!
If you're looking for unique breakfast options, Pingala Cafe is a great choice with items on the menu like French Toast Puffs (baked french toast bits served up with ginger butter and a maple berry compote) – YUM!
Locations & Hours:

One Mill Street, Burlington, daily 10am – 4pm
1353 North Ave, Burlington, daily 11am – 7pm
This farm to table gastropub is a crowd pleaser! Serving up gourmet takes on a classic pub food, there's a little something for everyone here. Grab a fire side seat in the cozy downstairs Parlor, or in better weather enjoy the bustling Beer Garden on the patio!
Recently renovated, the Beer Garden is the perfect way to enjoy a craft beer and hand cut fries on a sunny afternoon. A little more hungry? This is the perfect joint to grab a hearty burger made with local VT ingredients. My favorite is the Laplatte River Angus Farm Beef Burger!
Vegan, vegetarian and gluten-free options are made readily available should you need to tweak your order a bit. Staff at this upscale eatery are eager to please and lovely people, we definitely recommend checking out this family owned hot spot!
Location: 160 Bank Street, Burlington
Hours: Sunday, Monday, Wednesday & Thursday, open 11am – 10 pm, Friday & Saturday, open 11am – 11pm, closed on Tuesday
Wondering if there is authentic Italian in Burlington, Vermont? There most certainly is, over at Trattoria Delia! This is one of the top downtown Burlington restaurants for a romantic date night, and it's not hard to seed why: with incredible cuisine served up in an intimate dining room (the interior was once a working sugar house!), it's cozy and quaint in all the right ways.
Don't forget to save room for dessert, the tiramisu is a crowd favorite!
Location: 152 Saint Paul Street, Burlington
Hours: Wednesday through Sunday, 5pm – 9pm
Last, but certainly not least we highly encourage you to check out Hong's Dumplings. Originating as a food cart 21 years ago in the heart of Burlington, Hong's moved into their first brick and mortar location in 2018.
It's safe to say Hong's Dumplings are here to stay. Located in a cute, albeit tiny spot in downtown Burlington, you'll want to grab takeout if you have a larger group!
Choose from several different dumpling options, although I recommend trying one of each. Made from scratch, you won't be disappointed when the smell of those piping hot dumplings hits your nose! Be sure to grab a jar of the homemade hot chili oil on your way out.
Location: 77 Pearl Street, Burlington
Hours: Open Friday & Saturday, 12pm – 7pm, Sunday 12pm – 6pm, Closed Monday through Wednesday

—
If you weren't hungry before reading this article, you probably are now! Head on into town to grab a meal from one of our favorite restaurants in the city. We promise you'll leave full and happy. Have any places that you think should make the list? Leave them in the comments below!
---
You might also like:
---