---
*Links in this article may be affiliate links, from which we may earn commission. See our
Privacy Policy
for full details.
---
Burlington, VT is well known for its location next to the stunning Lake Champlain and is a fun city to visit year round! Although most visitors will plan on coming to see fall foliage, there is much to do during the spring, summer, and winter.
If you need a break from the bustling Church Street and lively nightlife, slip away for a few hours to enjoy a nearby hike. Most think that you have to drive over an hour away to get to the Green Mountains for any hiking – but there are so many sights to see within a 40 minute drive from downtown.
Put on your hiking boots, we are bringing you 14 hikes near Burlington that will be worth your while. From beginners to experts, this list of hikes will have any outdoor enthusiast excited to hit the trails and see what our little corner of Vermont has to offer!
Whether you're looking for a quick trail trot to blow off some steam, or a half day hike to view sweeping vistas, this list offers a mix of hiking opportunities close to Burlington that will satisfy your wanderlust.
Difficulty: Easy
Length: 4.3 mile loop
Distance from Burlington: 16 minutes/ 6.7 miles
Shelburne Farms is a local non-profit and working farm open to the public for outdoor use! Take the full hiking loop for lakeside views and check out the beautiful historic Formal Garden at the Inn. From there, follow the trail down to the Coach Barn and finally make your back back up through Whimsy Meadows for a glorious view from Lone Tree Point! Enjoy a stunning view of the bay and Adirondacks just across the lake.
Difficulty: Easy
Length: 20+ miles of trails
Distance from Burlington: 20 mins/ 8.8 miles
The Catamount family center is located in Williston, VT – a short 20 minute drive from downtown Burlington. You won't have any trouble finding a trail to take, with over 20 miles of trails, the center is a great place for a long hike or even trail running. Depending on the season, the trail will be shared with bikers and nordic skiers!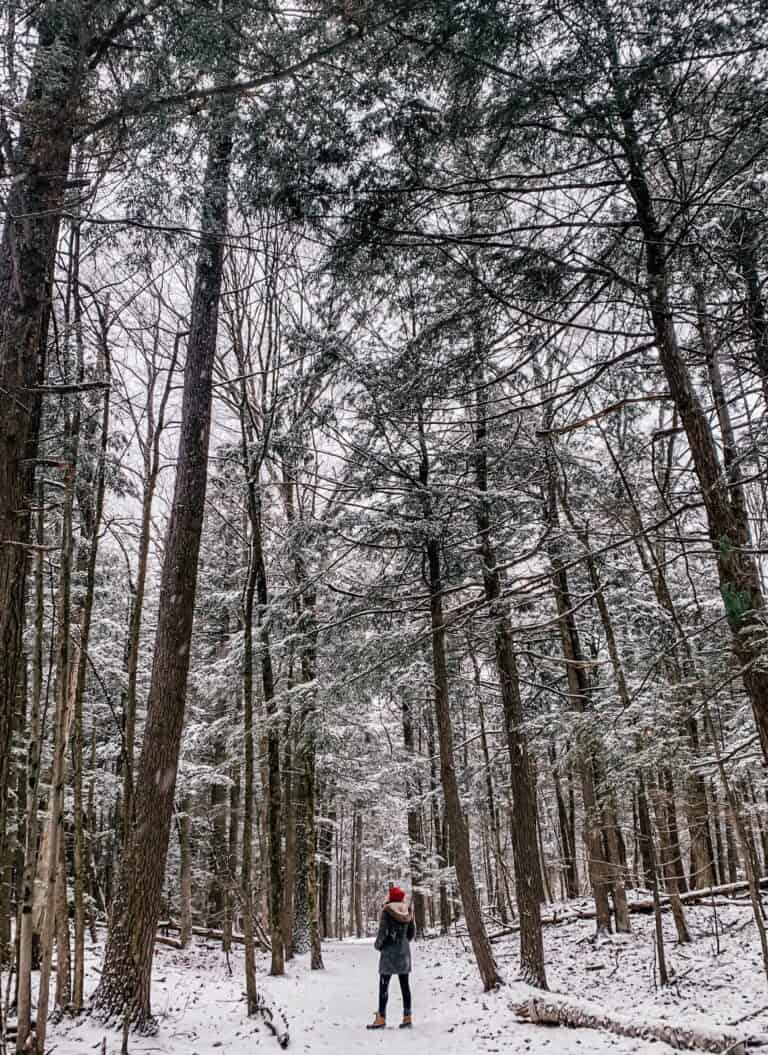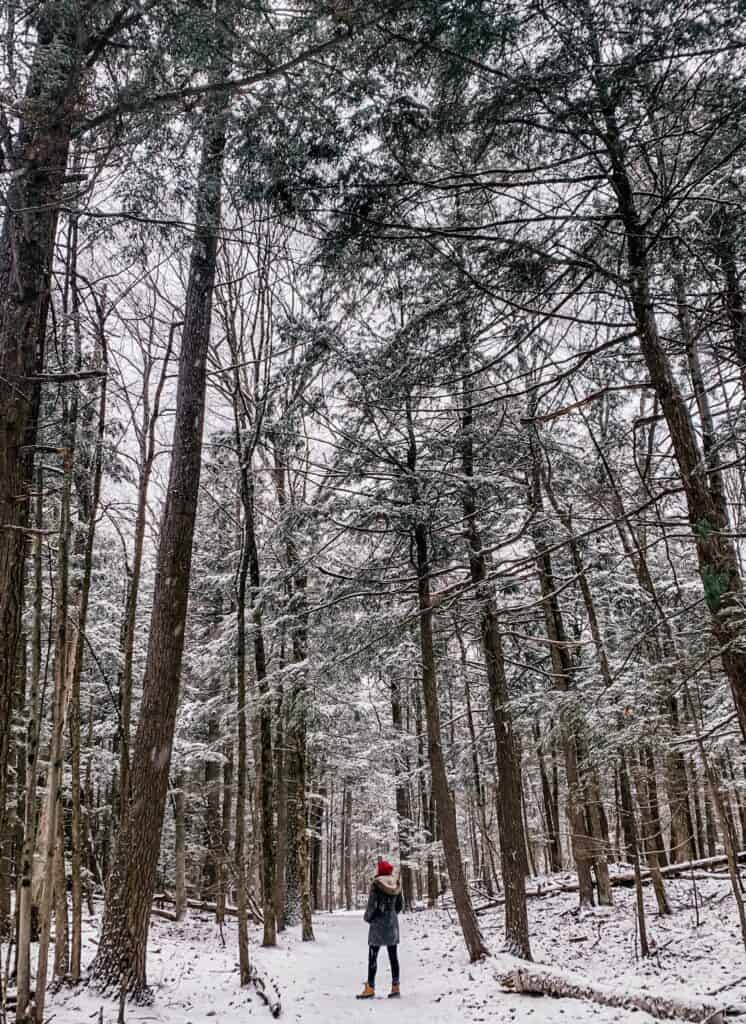 Difficulty: Easy
Length: 2.7 loop
Distance from Burlington: 8 minutes/ 2.7 miles (South Burlington)
Red Rocks park in South Burlington is a local beauty. This park offers well maintained trails in a quiet forest setting with beachfront and lake side views. You will find a mix of flat and hilly terrain as you explore the several paths within the park. This is a great family hike as it is accessible for all skill levels! Even bring your pup along and you will most certainly make friends with other dog walkers on the trail.
Difficulty: Easy/Moderate
Length: 2.7 miles
Distance from Burlington: 30 minutes/ 18 miles
Raven's Ridge is a nature conservatory just south of Burlington with a sloping, winding trail that leads to a satisfying birds eye view of surrounding farms and mountains. Start out on a wooden boardwalk trail among a field of cattails and make your way into the woods. Stop to read fun tips and signage along your hike for an educational experience!
Difficulty: Easy
Length: 2+ mile loop
Distance from Burlington: 8 minutes/ 2 miles
Rock Point features newly upgraded trails and stunning vistas of Lake Champlain and the Adirondacks. Keep an eye out for rock climbers in the summer! Enjoy a cliffside sunset, or follow the trail down to North Beach for a walk in the sand. Rock Point is one of our favorites for a solo hike or if you only have a short window of time to get outside!
Difficulty: Moderate
Length: 3.1 mile loop
Distance from Burlington: 21 minutes/ 10.3 miles
This park welcomes all from hikers, to fishers, birders and swimmers! You will likely see outdoor enthusiasts of all sorts while you follow the rocky trail circumnavigating the pond. Bring your swimsuit and stop for a quick dip at the rope swing located on the northern end of the pond! This is a great hike to satisfy your outside needs any time of the year!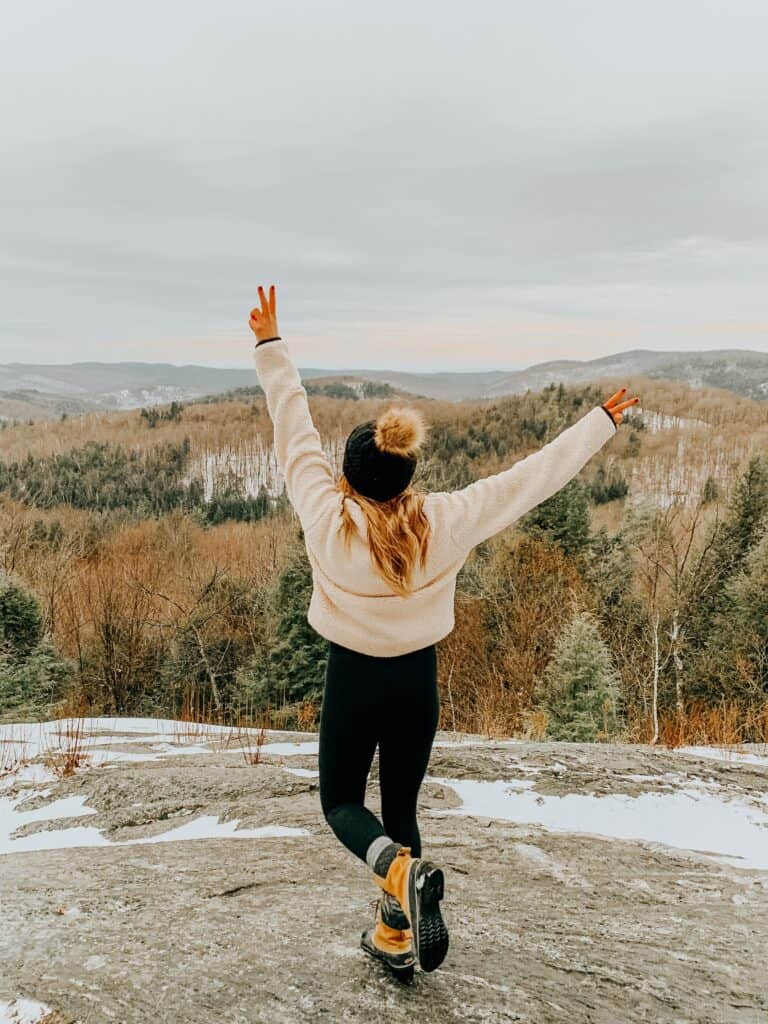 Difficulty: Moderate
Length: 2.4 mile loop (4.2 if you add on the Preston Pond Loop)
Distance from Burlington: Jericho, 30 minutes/ 20 miles
Libby's Look is a heavily trafficked hiking area featuring a beaver pond and mountain views. It's one of the best day trips from Burlington! This hike is the perfect option for a short, sweet and rewarding outing. Perfect for sunrise, sunset or during a weekday. Keep in mind that this trail is very popular on weekends and holidays!
Difficulty: Easy
Length: 3.2 mile loop
Distance from Burlington: 18 minutes/ 12.8 miles
This 584 acre park is the perfect place to spend an afternoon! There are several loops for hiking, but we recommend taking Ledges Trail to Cedar Point Trail to Mulhey Trail to experience the full loop! This trek is great for all skill levels, with trails ranging from wooden boardwalk to rocky inclines. If you bring a 4 legged-pal, they can jump in the water at Calm Cove! You'll also have a fantastic view of Mt. Mansfield from the Muhley Trail vista.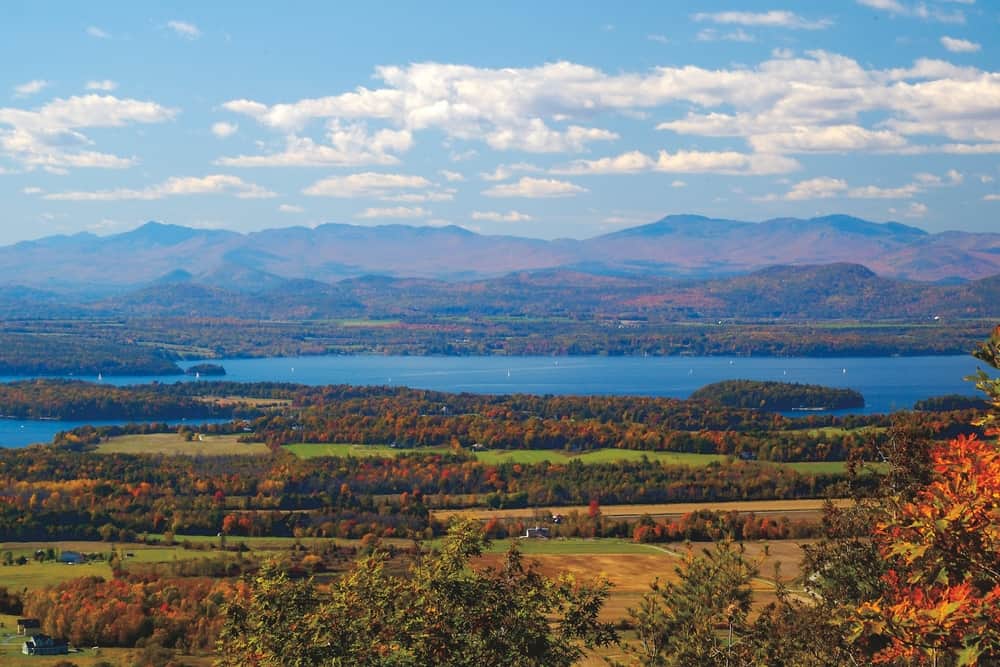 Difficulty: Moderate
Length: 1.9 miles out and back
Distance from Burlington: 35 minutes/ 16.8 miles
Mt. Philo is a tried and truly great hike for all Vermonters and visitors! Be prepared for a small entrance fee if you are visiting in season (May 21 – Nov 1). This hike is popular for a reason – the sweeping panorama from the summit is breathtakingly picturesque! You'll be able to see the Green Mountains, Champlain Valley and Adirondack High Peaks all from the same viewpoint. If you love it so much you want to stay…well, you can! Mt. Philo is also a beloved campground – wave hello to campers on your journey back down.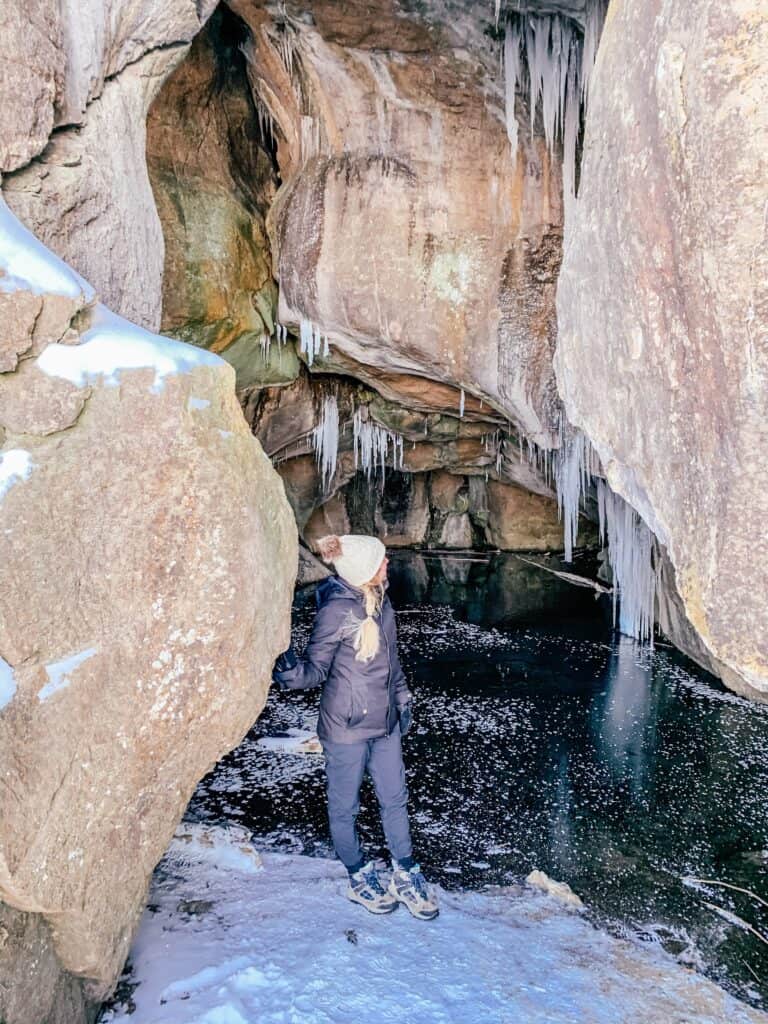 Difficulty: Easy
Length: .6 miles out and back
Distance from Burlington: in town!
Who would have thought historic sea caves could be found in our very own Vermont?! Located just across from Burlington High School, these cool caves are a must see. One major caveat though, you will only be able to see the caves in winter once the lake has completely frozen over! You'll want to come prepared with microspikes or crampons, as you will have to walk on some ice to access the mouth of the cave. If the conditions are perfect, you'll be able to enter the cave and explore its mystical insides.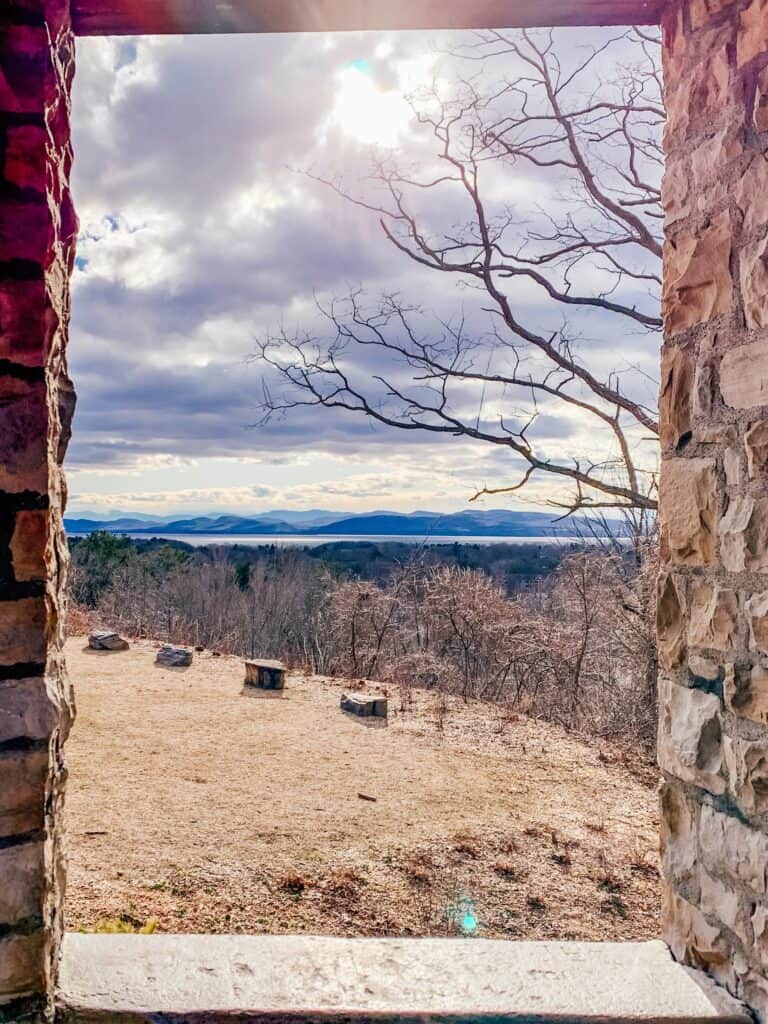 Difficulty: Easy
Length: 4+ miles
Distance from Burlington: 7 minutes/ 2 miles
Boasting the highest point in the city, Ethan Allen Park is a great option for hitting the trails. The park offers over 4 miles of trails, with a favorite that leads to the historic Ethan Allen Tower. This 40 foot tower sits at the highest point of the city, and has a stunning view of Camel's Hump, the city of Burlington, and the lake. Visit during the tower's "open hours" and climb to the top for a true fairy-tale moment!
Difficulty: Moderate
Length: 2.4 miles out and back
Distance from Burlington: 12 minutes/ 8.2 miles
Hike through local wilderness on a slight incline for a little over a mile to break through at the top for a lovely view of the Champlain Valley. Sucker Brook trail is a pet friendly hike so be prepared to run into some furry friends along the way! Pack a snack or bring a picnic to enjoy the lookout area at the top of the trail.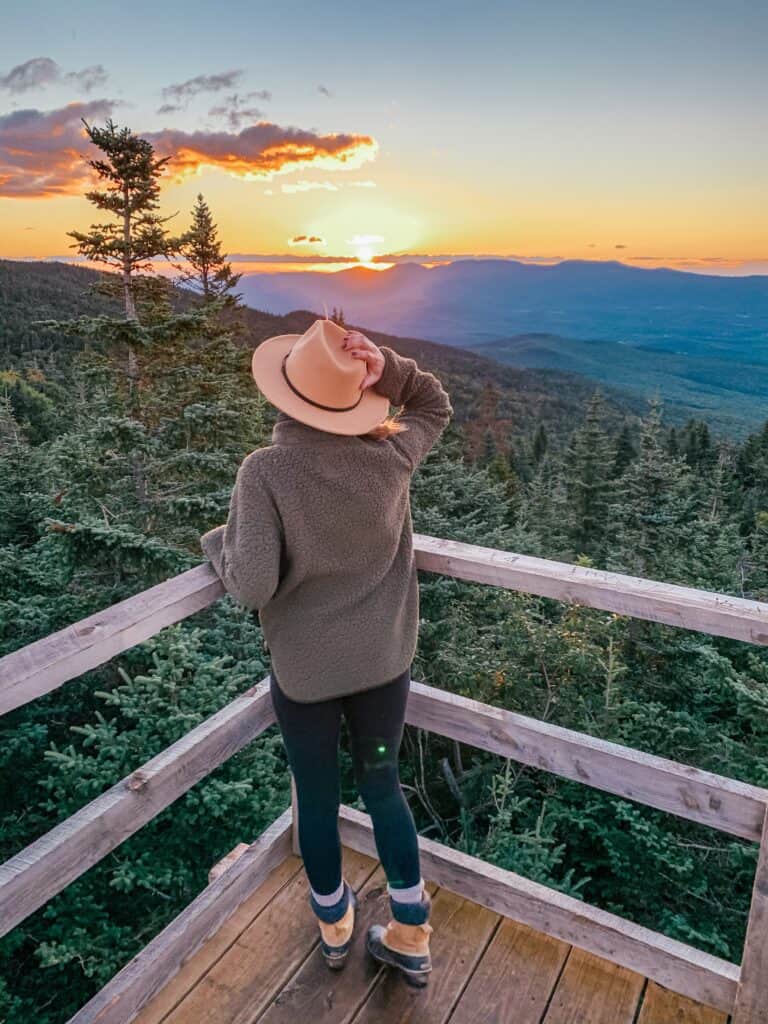 Difficulty: Moderate
Length: 3 miles out and back
Distance from Burlington: 33 minutes / 24 miles
The Bolton Valley lookout tower is such a hidden gem, located only a half-hour's drive from Burlington! You'll want to prepare for this hike once the ski season has ended (or before it begins). Arrive at Bolton Valley Resort to park and hike up the ski run. At the top you'll find a wooden lookout platform with a breathtaking 360° of Waterbury Reservoir, Mt. Mansfield, Camel's Hump, Lake Champlain and more! This moderate hike will be worth the uphill trek – to get the tower to yourself, we recommend a sunrise adventure.
Difficulty: Difficult
Length: 4.8 miles out and back
Distance from Burlington: 41 minutes/ 26 miles
Locals can all agree that Camel's Hump is a fantastic hike worth the efforts. Camel's Hump is Vermont's third tallest peak, scaling in at 4,083 ft elevation at the summit! The peak is named for a it's peculiar summit shape that can be observed from a distance. You'll have gorgeous mountain top views to take in from the peak, so put this hike on your must-do list! For the shortest route take the Burrows Trailhead for an out and back adventure, or make it a loop by taking the Forest City Trail down.
---
Read these next:
---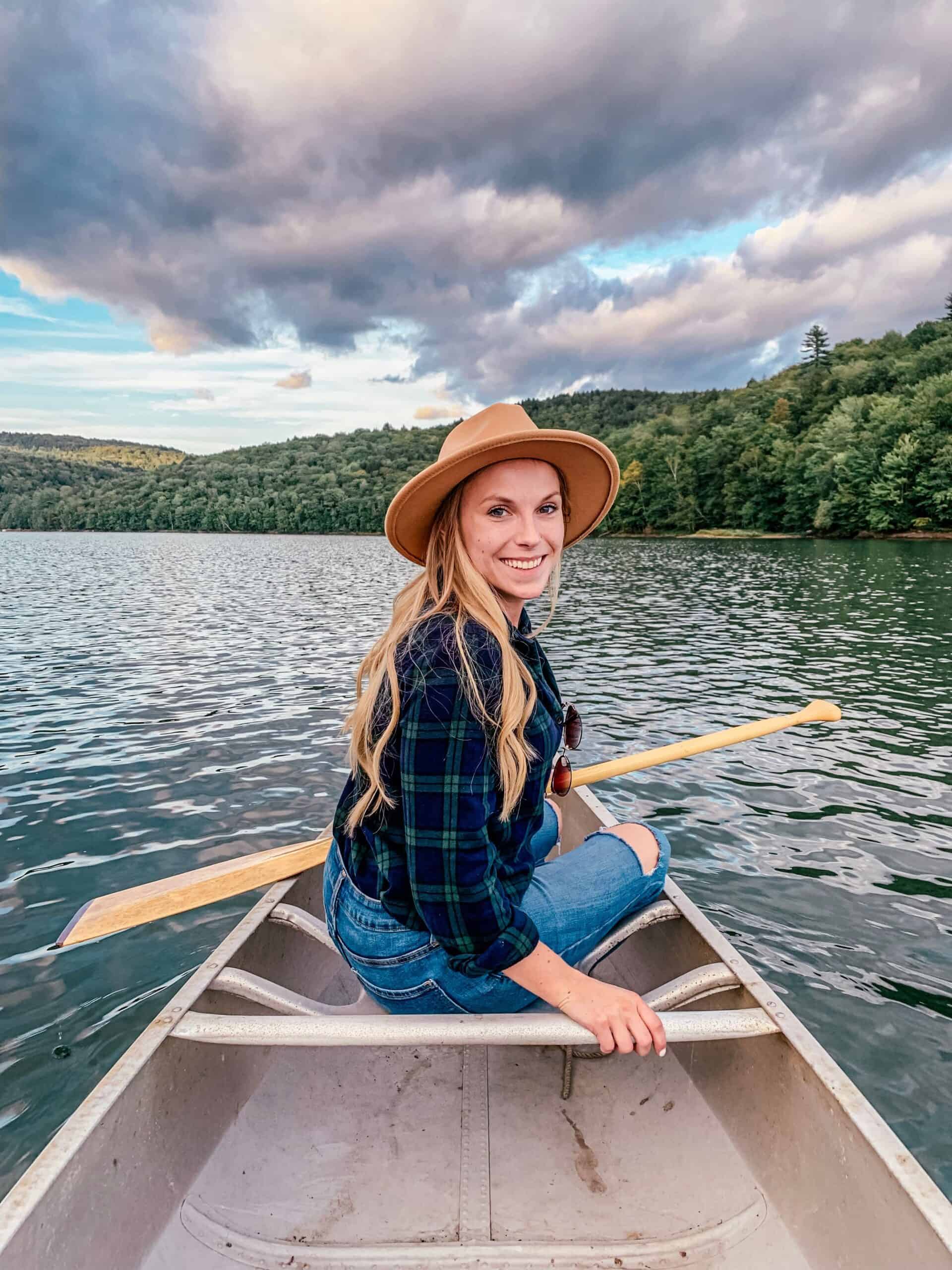 Em Hamilton is not only a writer but a New England adventurer, hiker, and traveler. Local to Vermont, Em and her partner explore using their newly converted van #VanLife. Follow her adventures on Instagram!