Are you wanting to go horseback riding in Vermont? You've got some great options! Horse riding is a beautiful way to get out and enjoy Vermont scenery, and sometimes you'll find that the inns and hotels you're staying at might even offer horseback riding excursions or can at least give you a lead on horseback riding near you.
There are many trails and facilities where you can bring your own horses in Vermont, too, so if you're looking for a place to park your trailer, board your horse, and get out and ride, that's typically no problem in a state that's as horse friendly as Vermont.
If you're looking for places that offer trail riding excursions in Vermont, these ranches, farms, inns and stables offer ways for riders of all skill levels to enjoy VT horse riding!
Horseback Riding in Vermont
Lajoie Stables in Jeffersonville VT
Beautiful Lajoie Stables is the largest year-long riding stable in Vermont. If you're looking for horse riding near Burlington VT or Stowe VT, Lajoie Stables is a great choice any time of year.
With views of Mount Mansfield and Smugglers' Notch, this is a particularly scenic horseback riding experience in Vermont, and the fact that you can ride any time of year means you can enjoy the beauty of each season during your VT horseback riding activity.
PS Lajoie Stables also offers sleigh rides in the winter!
Chipman Stables in Danby VT
If you're looking for where to ride horses near Manchester Vermont, Chipman Stables in Danby is a great choice! Chipman Stables offers trail rides in Southern Vermont that can accommodate riders of all ages and skill levels, so if you're looking for family-friendly horse rides in Vermont, Chipman Stables delivers.
They even have a cabin onsite that you can book for a weekend getaway and tie in a sunset trail ride, barbecue, and fire pit to your weekend in the cabin.
Chipman Stables offers hay rides through the autumn colors and sleigh rides through the snow, so if you're looking for fun horse activities during fall and winter, check them out.
Topnotch Stable in Stowe VT
For scenic Stowe guided horseback trail rides, Topnotch Stable is the way to go. The equestrian center is located on the grounds of the beautiful Topnotch Resort, so it's extra convenient if you're staying at this lovely Stowe resort.
Either way, you'll find horses and ponies for just about every skill level of rider, including corralled pony rides for the littlest ones in the group. Trail rides allow you to explore some of Vermont's prettiest forests, streams, and open fields from horseback, and in wintertime, they offer sleigh rides through the snowscapes. Topnotch Stable offers one of the most popular horse riding excursions in Vermont.
DND Stables Guided Trail Rides in East Burke VT
Located in the Northeast Kingdom of Vermont, DND Stables Guided Trail Rides has been accommodating horse riders of all skill levels year after year that want to enjoy beautiful VT scenery from the back of a horse!
Guided VT trail rides are the perfect way to enjoy the sweet sights of summer and the vivid fall colors on Burke Mountain during autumn, but this horse riding facility closes winter through spring to give their equine friends a great vacation to rest.
Vermont Icelandic Horse Farm in Fayston VT
Located in the gorgeous Mad River Valley, Vermont Icelandic Horse Farm is the perfect place to go to enjoy some scenic trail rides in VT! The beautiful Icelandic Horse has some characteristics that make them an exceptional option for Vermont horse riding, like cheerful dispositions and high stamina. Plus, they are absolutely beautiful.
Day ride options at this Vermont horse farm are appropriate for riders of all aptitudes, including kids over the age of 10, and rides are offered year-round, weather depending. A full day ride package includes a picnic lunch on the farm, so if you're looking to make a day out of your Vermont horse riding activities, the Vermont Icelandic Horse Farm in Fayston is a great choice.
Mountain View Ranch in Danby VT
Mountain View Ranch in Danby is a popular place to go horseback riding near Manchester VT, for several reasons. With a variety of different horse riding packages and options for a variety of skill levels, there's something for everyone at this beautiful Vermont horse ranch.
You can book picnic rides, sunset horse rides, advanced rides, and even donkey and pony rides. Trail rides through Vermont's beautiful countryside are always a scenic affair, but during winter you can book a horse drawn sleigh ride to sit back, relax, and truly revel in the beauty of the Green Mountain State!
Horses for Hire in Peru VT
Another incredible option for trail rides near Manchester VT, Horses for Hire offers guided horseback riding on simple trails through the scenic Vermont landscape.
Offering private guided tours for all skill levels, Horses for Hire even has pony rides on a smaller trail if that's what you're looking for. As an added bonus, you can swing by the farm stand when you're done with your ride and pick up some of their fresh-made jams, jellies, and syrups!
Breakaway Farm in Grand Isle VT
If you are in the beautiful Champlain Islands looking for horse riding trails, head to Breakaway Farm in Grand Isle. This Vermont horse stable offers all kinds of great instruction and riding opportunities, including indoor riding and outdoor trails for all skill levels. They even have aids and protocol for the little horse riders, too.
Among their great trail ride options are some more unique offerings like their Romantic Rides with Bubbly and their Winter Moonlit rides; wouldn't either one of these be perfect for a romantic horse riding in Vermont experience?
Pond Hill Ranch in Castleton VT
Pond Hill Ranch in Castleton is a 2000 acre family owned horse ranch that has a wide variety of horse related activities like horse shows, rodeos, horse riding lessons, and of course, trail rides, so if you'd love to do more than just get out and ride, head to this Vermont horse ranch.
Trail rides begin in May for riders of all different skill levels, and they even have ponies available for the kiddos 7 and under who went to get out and see the beautiful Vermont scenery on horseback.
Kimberly Farms in Shaftsbury VT
Located just over the New York/Vermont state line, Kimberly Farms in Shaftsbury is one of the best places to go horseback riding in Vermont. In addition to their very popular horse riding camps for kids and teens, they also offer trail rides on their 60 acre farm.
Horse riding trails on this Vermont farm are beautifully scenic, with views of the Berkshires, Green Mountains, and Taconic mountain ranges. You can also add on lunch and cookout experiences to your Vermont horse riding experience, and it's conveniently located just up the road from Bennington, where there's even more fun to be had.
Mountain Top Resort in Chittenden VT
On the 700 acre property of Mountain Top Resort is a gorgeous Vermont Equestrian Center that is open Memorial Day through October, so if you're staying either at the resort or anywhere in the area, this is the place to go Vermont horseback riding!
There are over 40 miles of mountain pastures and woods to explore during the guided trail rides offered by the equestrian center, and kids 8 and up are welcome to participate!
Many of the horseback riding places on this list also offer boarding and riding opportunities if you come with your own horse, but be sure to call ahead if that's the case. Horseback riding in Vermont is a timeless outdoor activity that allows people to experience the scenic landscape with a refreshing, new perspective, from the back of a majestic horse.
You might also like: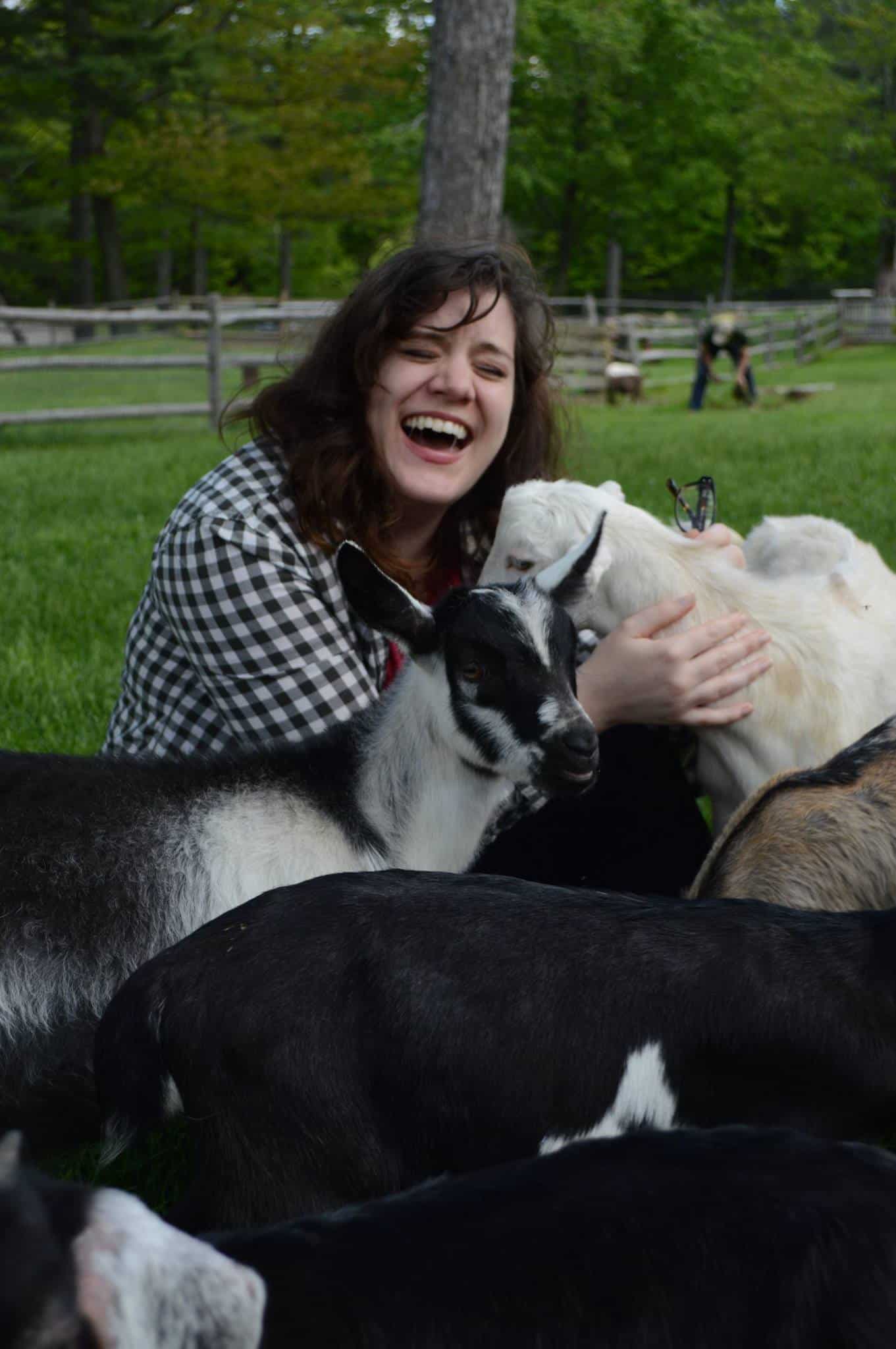 Amy Hartle is the founder and Editor-in-Chief of New England With Love, a comprehensive resource for travel in the New England region. Amy has been exploring New England since 2001. She lived in Vermont for many years and is a graduate of Plymouth State University in New Hampshire. On this site, Amy aims to share her love of New England and help you to have the best possible adventures!
Amy has been writing about travel for over a decade, and is a full time blogger, publishing both Two Drifters and Let's Adventure Baby. When not traveling the world or creating epic blog content, Amy can be found cuddling with her husband, son, and cats, & drinking a maple latte.