*This site uses affiliate links; if you make a purchase through these, I may receive a small commission at no cost to you.
Latest posts by Krystianna Pietrzak
(see all)
Bennington is an entirely underrated small town located in Vermont's southwestern corner. Located on New York and Massachusetts's borders, this beautiful destination is filled with history, local shops, and excellent restaurants. And it is one of the essential places to go in Vermont, though it's sort of a hidden gem!
No matter your interest, you'll find something to do in this cozy Vermont town. Plus, it's genuinely one of the best places to spend winter in Vermont and is also a top spot for leaf peepers visiting the northeast.
After growing up in this part of Vermont my whole life, I can genuinely say that it's one of the most beautiful parts of the state.
Why not take a trip to the beautiful town of Bennington? Here are some of the best things to do in Bennington VT!
PS if you're looking for the best things to do in Bennington VT today or what to do in Bennington Vermont this weekend, check out this local events calendar to see what's happening during your visit!
Things to Do in Bennington VT
Hike up to the White Rocks/Bald Mountain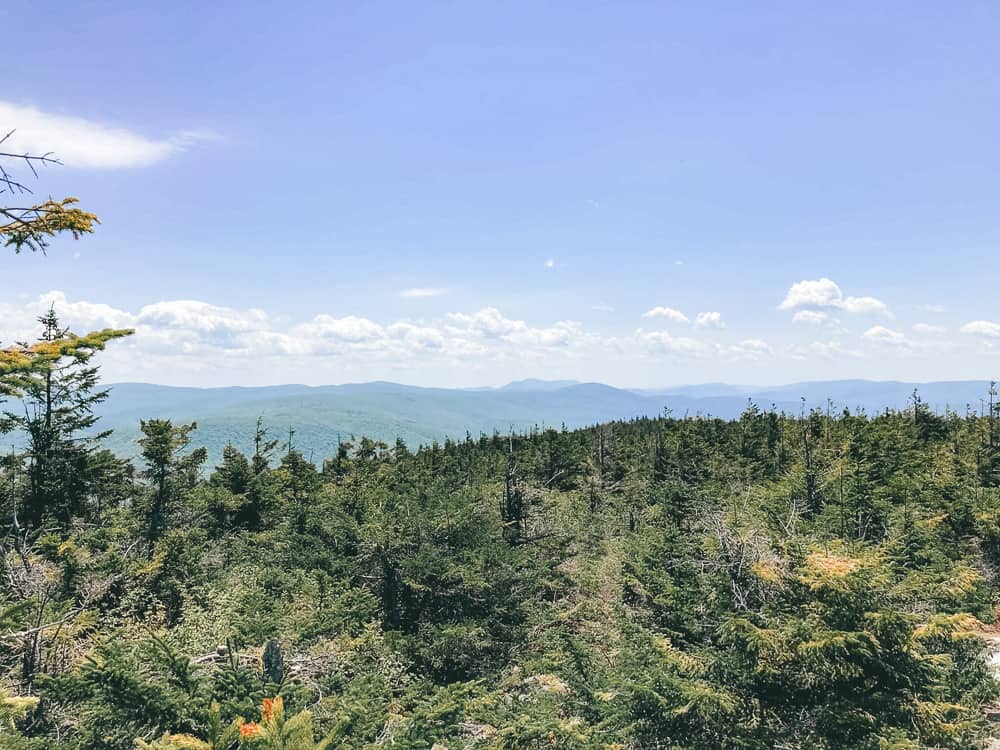 If you love getting outside and going on hikes, there's no better place to do it than in Bennington. The Bald Mountain Trail is a beautiful 11-mile route that brings you up on top of the entire town. Along the way, you'll see wildlife, flowing rivers, and many different terrains. Keep in mind that this is a moderate to advanced hike in Bennington Vermont. The first half of the trail is relatively easy, but the higher up you get, the more difficult it becomes.
Have fun at Willow Park
Willow Park is the go-to park for locals in Bennington. This is the best spot to go for Bennington sledding, outdoor games, and more. There are also a few big pavilions here that have lots of seating for parties, in addition to a few grills. If you're a fan of biking, head over to one of Willow Park's many bike tours for a fun adventure!
Walk the trails around Lake Shaftsbury
While the hike up to Bald Mountain might be best for more advanced hikers, beginner hikers, or those who are scared of hikes can opt to visit Lake Shaftsbury. While located a short 10-minute drive from downtown Bennington, this beautiful lake has a great scenic trail that goes all around the lake. The course will only take an hour at most, depending on how many times you stop along the way.
When you're done with the trail, consider spending the night at one of the fun lodgings available here or try your hand at camping. It's a great way to experience the Vermont wilderness!
Kayak at Lake Paran
Lake Paran is another nearby lake, though this one is located in North Bennington. Kayaks can be rented for a small fee here, and the lake view is very scenic. Be sure to get there early if you plan on kayaking because there are only a limited number of rentals available. Not interested in kayaking in Bennington? Don't worry; you can also rent canoes, rowboats, or paddleboats. Fishing and swimming are also fun activities at Lake Paran!
Catch the views from the Bennington Battle Monument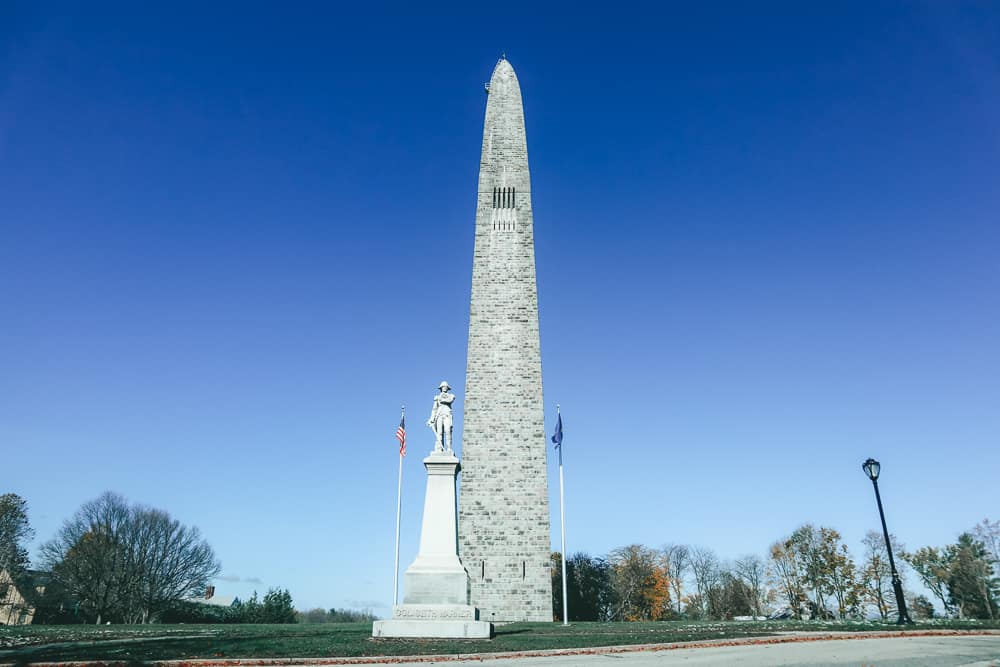 One of the top reasons that people visit Bennington is to see the Bennington Battle Monument. This 306-foot high monument can be seen towering over the town almost no matter where you are. It commemorates the town's win during the Revolutionary War on August 16, 1777, also known as Bennington Battle Day.
During certain times of the week, visitors can visit the monument and either climb the stairs or hop on an elevator to the top to get sweeping views of the town from above. If the memorial is closed, be sure to go over to the car park and get more amazing views.
The park surrounding the Bennington Battle Monument is also the perfect spot for a picnic. Grab yourself a meal from one of the best places to eat in Bennington, and then head up to the monument to enjoy your meal with a view!
Not too far away, The Bennington Museum is also a very worthwhile Bennington, VT activity. With an array of art and history, this is well-known as home to the largest collection of Grandma Moses paintings in the world.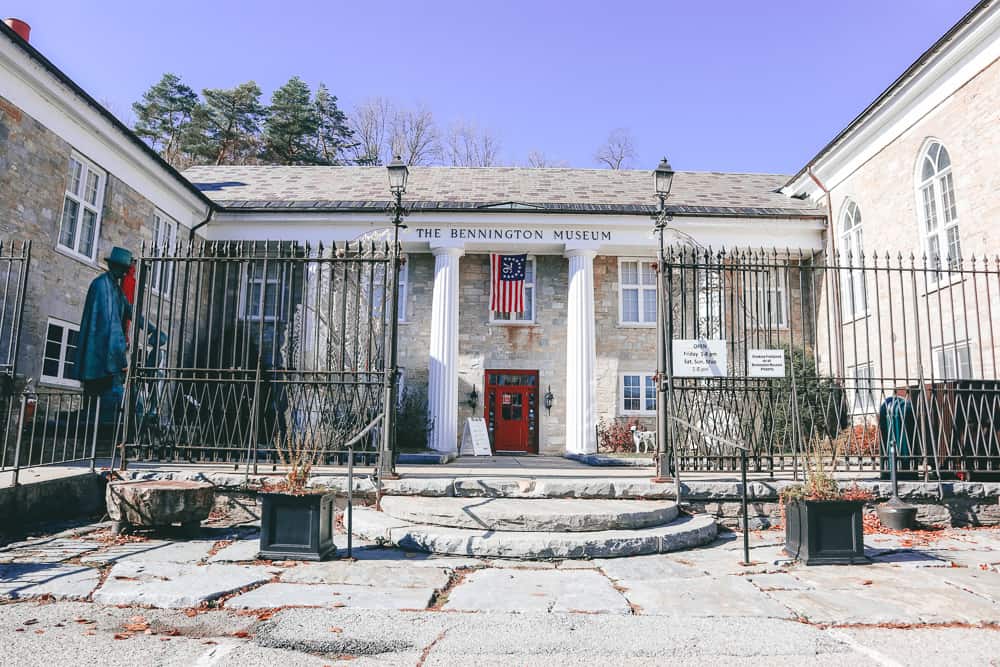 Find the Moose
A few years ago, many local Bennington artists were contracted to decorate giant moose sculptures that were then planted around the town. Some of them can still be seen, but you'll have to keep your eyes peeled! Be sure to start on Main Street.
Hint: There is one at The Apple Barn!
Shopping in Bennington
Like with any cute Vermont small town, Bennington is filled with tons of great places to shop. Downtown Bennington, in particular, is home to many small shops that are owned by locals. These are the perfect stores to stop by if you want to talk with people who live in the area. They might even be able to recommend some more great things to do in Bennington!
The Apple Barn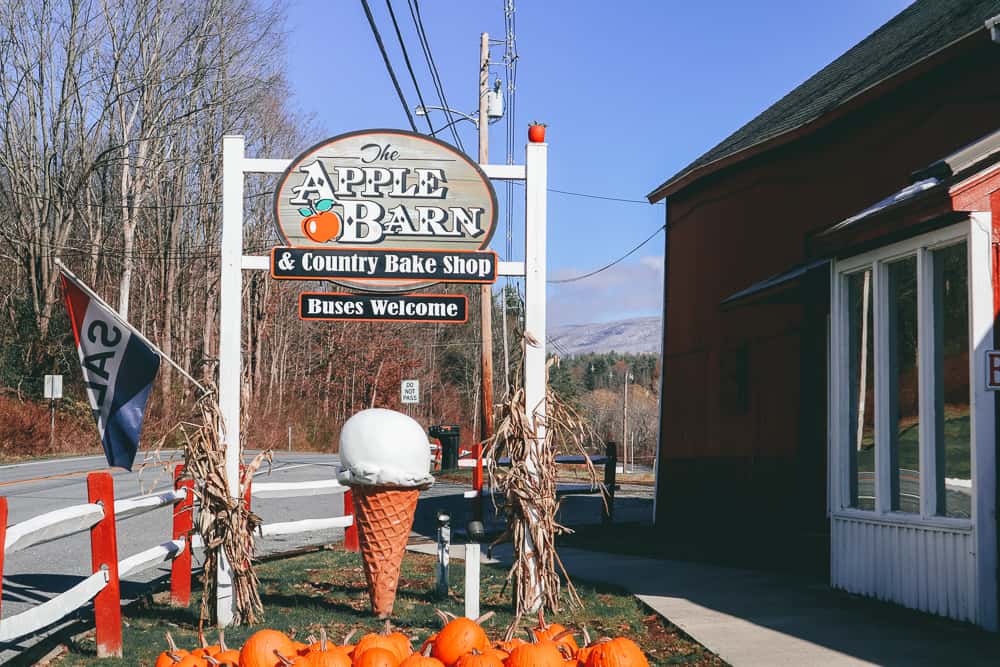 Want to try some authentic Vermont apple cider? There's no better place to try it than at The Apple Barn. The second you step inside, your nose will be filled with great smells of apple cider donuts. In addition to apple cider, they sell tons of fresh baked goods. This is also a great spot to go if you want to try some locally brewed cider. You won't be able to help yourself! The Apple Barn also hosts fun fall events if you're lucky enough to be visiting during autumn.
Hawkins House
Hawkins House is a small store that is adored by locals. It's a one-stop-shop for jewelry and fun accessories. Many of the items sold at Hawkins House are made locally in Bennington, so this is a great way to help support artists in the area. Hawkins House can also be found at some of the town's local events with their own booth.
Bennington Bookshop
Bennington Bookshop is a particular favorite of mine. It's run by a local family and is a quaint little book shop located on Bennington's South Street. Be sure to explore the left side of the register for discounted books and books by some Vermont writers. There are often some free copies of books located here too, so you won't want to miss out!
The Village Chocolate Shoppe
If you're looking for great chocolate in Bennington, look no further than The Village Chocolate Shoppe. This Bennington store is a chocolate-lover's dream. Inside, there are tons of chocolate treats, including peanut butter cups, chocolate-covered Oreos, and fresh fudge. Plus, this is a great spot to stop by and cool off when it's cold because they sell great Vermont ice cream too!
Bennington Potters
Bennington Potters is one of the top places to shop in Bennington if you're looking for homemade pieces for your house. Inside, you can find dishes, pots, vases, and more. There's usually a super long line outside of Bennington Potters during the town's Midnight Madness sale. Seriously, that's how much everyone loves this place! Even if you don't plan on buying anything, this is a great place to visit.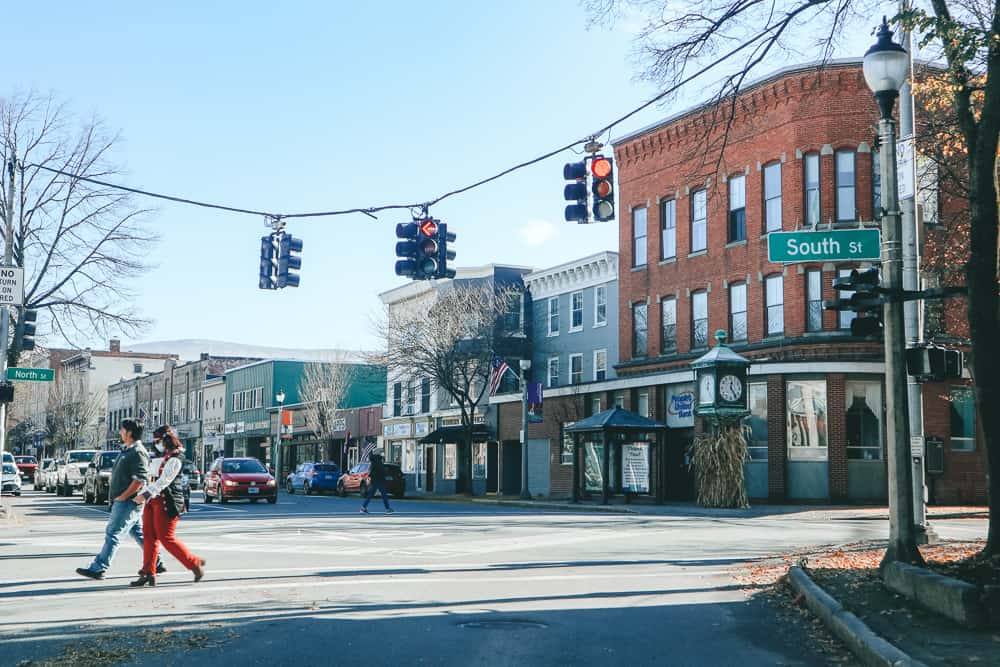 Best Places to Eat in Bennington
There are a multitude of great places to eat in Bennington. While there are chain stores here, be sure to take the time to eat at some of the local Bennington restaurants instead.
Benner's
Benner's is one of the best pizza shops in Bennington. They sell a multitude of calzones too. Be sure to order the macaroni and cheese calzone for a real treat. This is the perfect spot to grab either lunch or dinner when you're in downtown Bennington.
Ramunto's Brick Oven Pizza
Located right across the street from Benner's, Ramunto's Brick Oven Pizza is another pizza place in Bennington that's super popular. They have ample outdoor seating here, and their garlic knots are to die for.
The Avocado Pit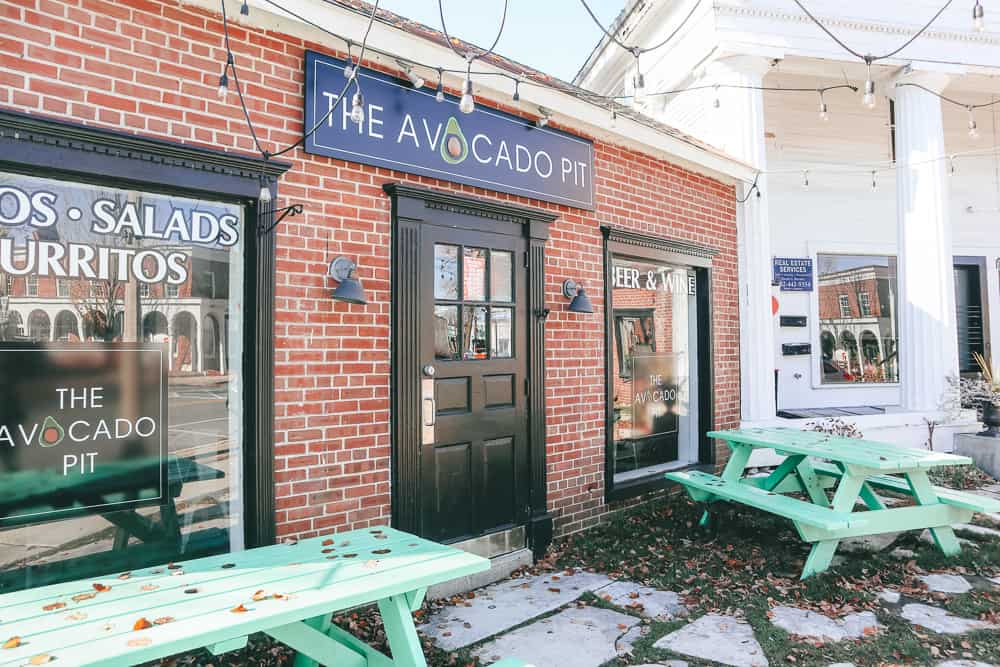 The Avocado Pit is genuinely the town's best spot for burritos. Like Chipotle, you go right up to the register and build your own burrito, taco, or salad. It tastes so amazing. There's a fair amount of seating here too, and there's always free water for customers.
Lil' Britain
Craving some English food while you're in Bennington? Stop by Lil' Britain! This restaurant serves up the best bangers and mash and fish and chips in town. They also have a small convenience shop area in front of the restaurant if you're craving any Aero bars or other treats.
The Tap House
The Tap House is located at Catamount Glass and is truly an up and coming restaurant in Bennington. Their menu consists of a great beverage list and also unique entrees. If you're looking for craft beer and cider, The Tap House is your place. They also have extensive outdoor seating.
The Publyk House
If you're looking for a spot for a fancier sit-down dinner, stop by The Publyk House. The food here is fantastic though it is a bit on the pricier side. Be sure to call ahead of time and make a reservation if you want to guarantee a spot when you go. The parking lot here is also one of the best viewpoints for the town's sunset.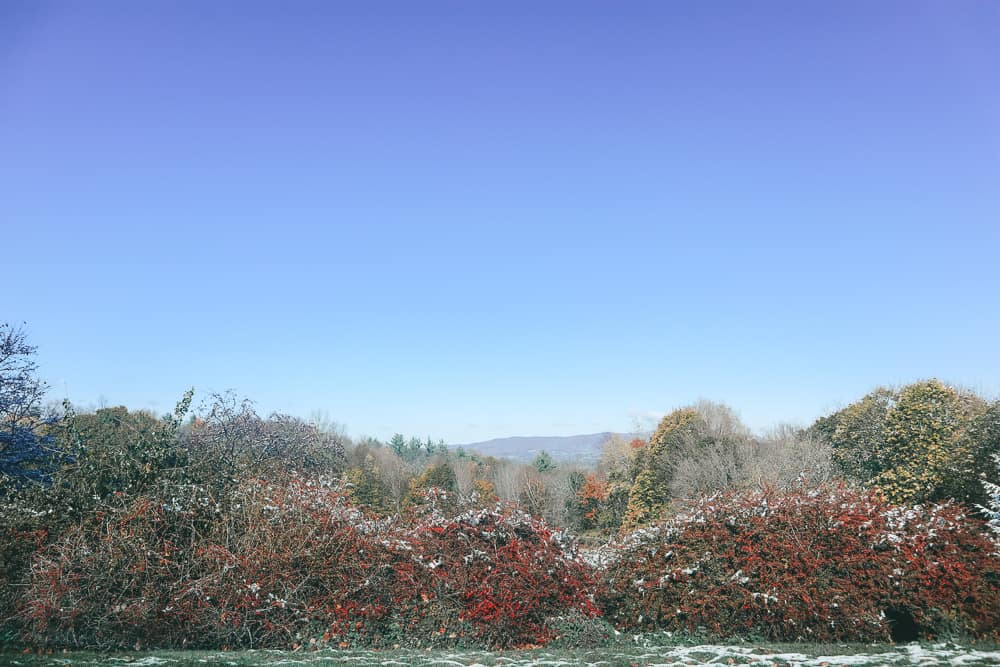 Events in Bennington
Despite being a small town, Bennington is host to many different events throughout the year! Here are a few of the most popular annual events that the town holds.
MayFest
MayFest is arguably the best event in Bennington. It happens in May (hence the name) and features tons of local vendors selling their creations. Vendors sell jewelry, crafts, home decor, and more. There are also many fun food trucks too, in addition to outdoor games and activities like a rock-climbing wall.
This Bennington festival is a fun event focused all around garlic! There are tons of great experimental foods and snacks served here featuring garlic. Also, there are fun outdoor activities for children like bounce houses, clowns, and sometimes even live music. This event happens typically in early fall/late summer.
Midnight Madness
Midnight Madness is Bennington's town-wide sale. Until midnight, every single store offers huge sales, including the bigger name-brand stores in the town. Even if you don't plan on buying anything, this is a fun event to just shop around. You never know what you might find on sale! This event is usually held during the summer.
—
Now you know all of the best things to do in Bennington. While this is in no way a comprehensive list, these are some of the most popular things to do in Bennington Vermont from a local. Just make sure you do your research before visiting because new local shops are always opening here!
---
Read these next:
---