*This site uses affiliate links; if you make a purchase through these, I may receive a small commission at no cost to you.
Latest posts by Krystianna Pietrzak
(see all)
A getaway to Stowe, Vermont, is unlike any other. Surrounded by the beautiful Green Mountains, you'll have no shortage of fun outdoor activities to partake in.
To make your next trip to Stowe easier, use this list of the best Airbnb Stowe VT vacation rentals to save you time! Keep in mind that before writing this article, the Airbnb website was thoroughly searched, and all of these are accommodations that you shouldn't even think twice about booking.
Without further ado, here are the best Airbnbs in Stowe, Vermont!
VRBOs & Airbnbs in Stowe VT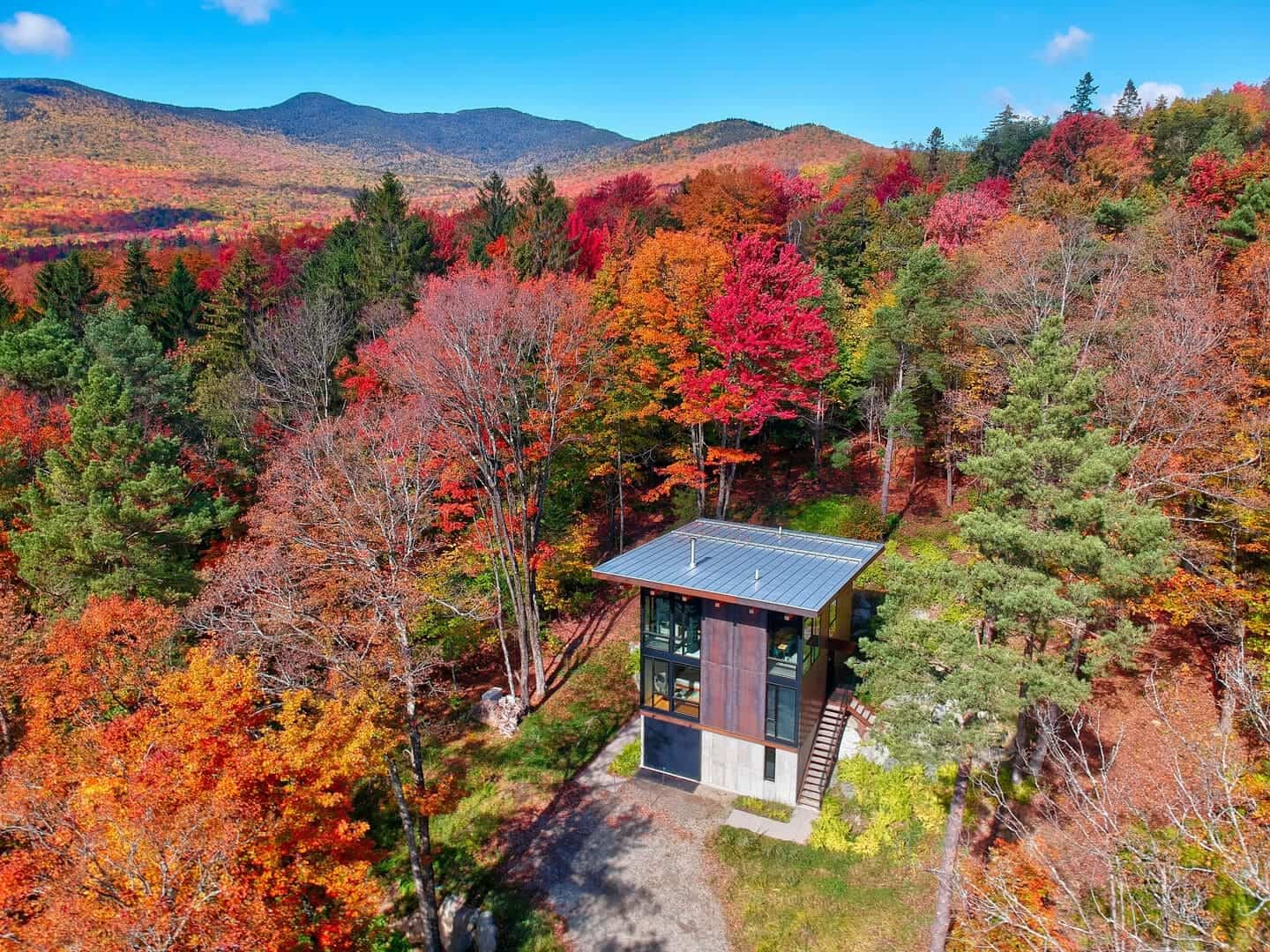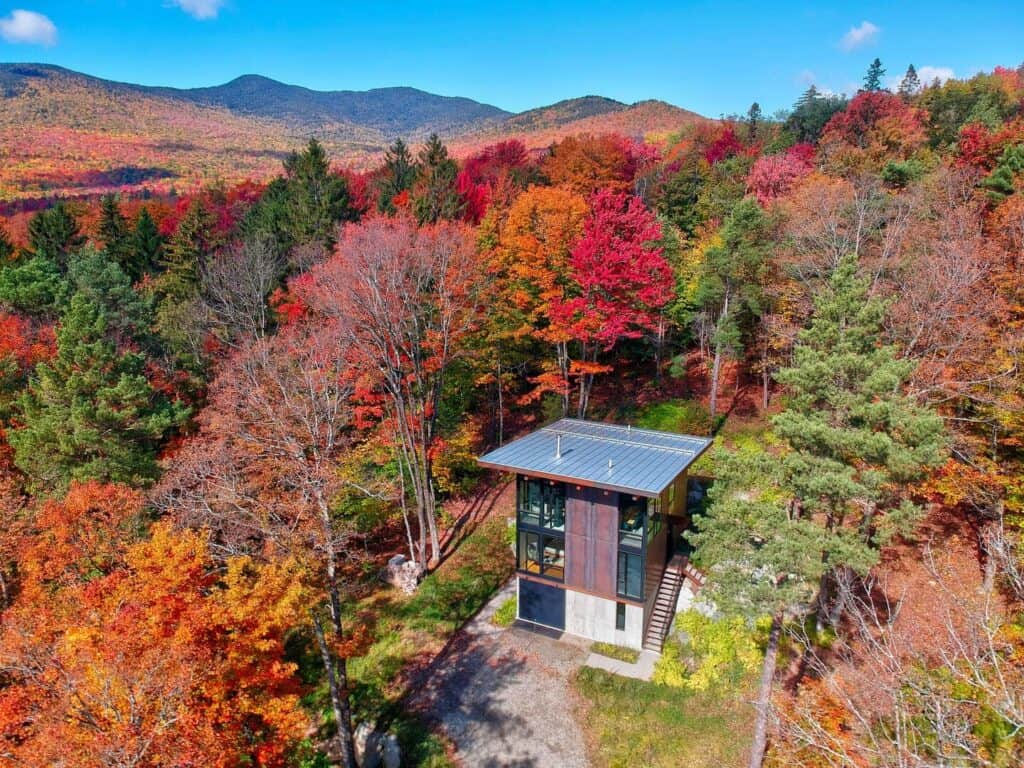 If you want to immerse yourself in nature while visiting Vermont, look no further than Sterling Treehouse! Plus, it's located on 40 acres of land.
This amazing Stowe Airbnb with breathtaking views of Vermont's natural forests is suitable for up to nine guests. It features three bedrooms, ten beds, and one and a half bathrooms.
The cabin was custom built by a couple who wanted a Vermont getaway yet still wanted to share their home with kids from the city. It's filled with tons of amenities, including a 10-person table, a deep bathtub, a Stahl fire pit, and more.
No retreat is complete without access to hiking trails, which are located right at the front door. There are also trails for cross country skiing and biking!
---
---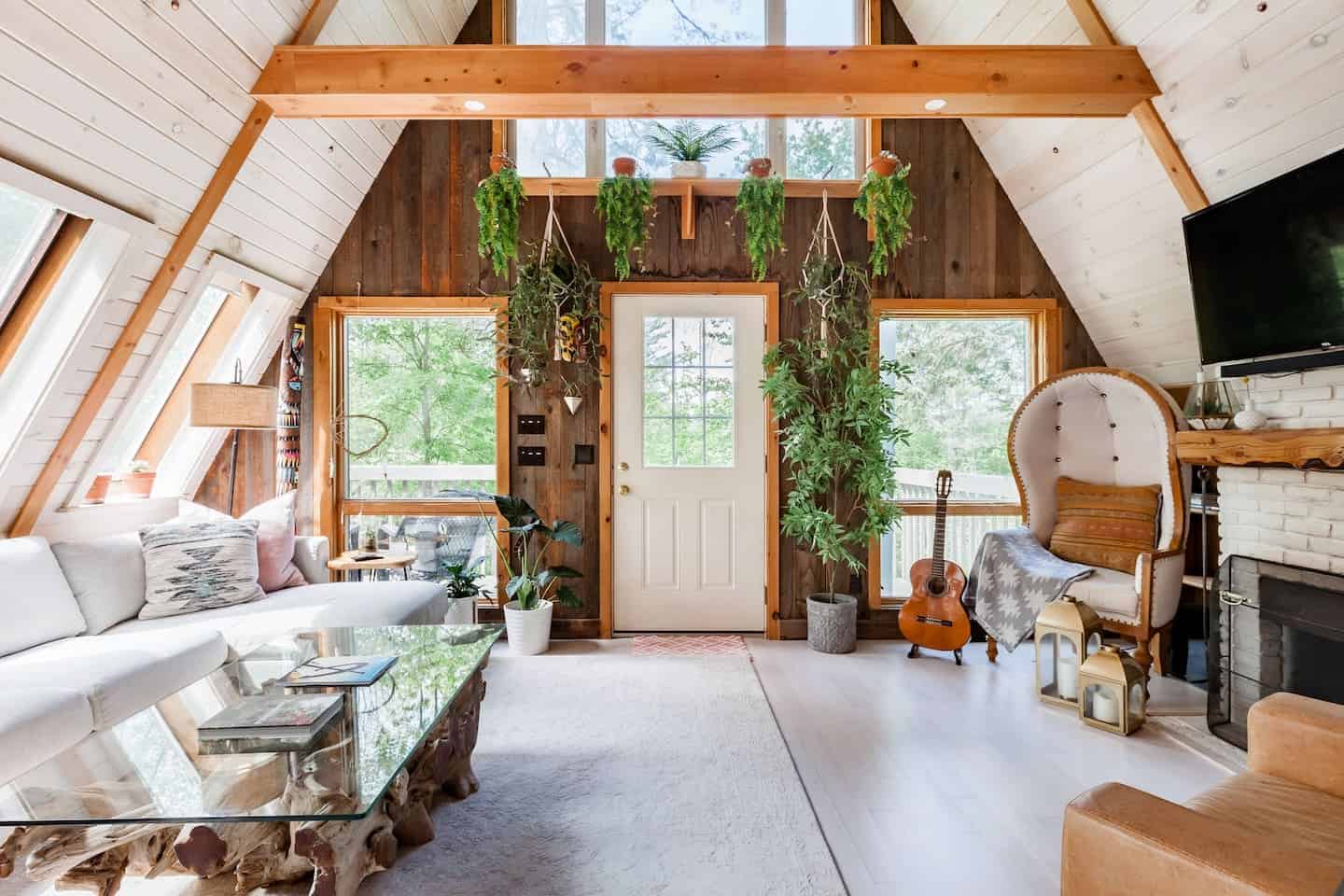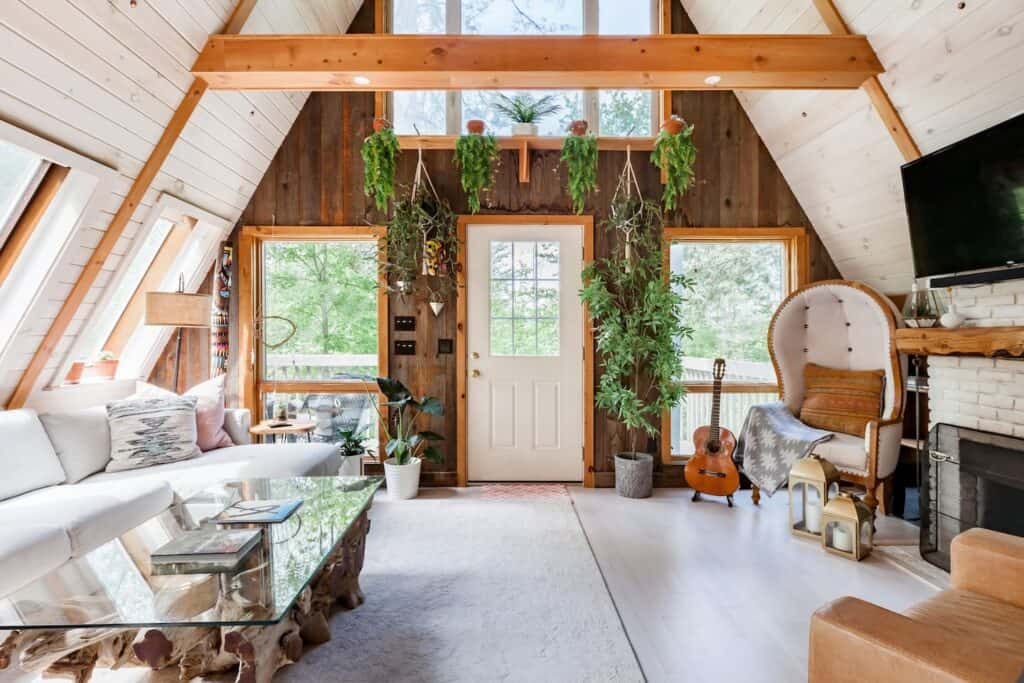 This beautiful A-frame Airbnb is suitable for up to eight guests and even has a six-person hot tub… what more could you possibly want?
With vaulted seasons, rustic yet modern decor and furniture, and lots of wood accents, you'll feel like you're staying in a luxurious yet unique wooden cabin.
The A-Frame Canopy House is a lot bigger than it looks. Inside, you'll find two living rooms, a full kitchen, three bedrooms, a patio, a dining room, and two full bathrooms.
It's located only two miles by car from downtown Stowe and is also right next to the Von Trapp Family Lodge.
---
---
If you're looking for a great Stowe, Vermont VRBO with plenty of space and amenities to make you feel like you've hit the vacation rental jackpot, check this one out! With a 6 person hot tub and gas grill on the spacious deck outside and a fully hooked up game room downstairs with an air hockey table, throwback Ms Pac Man arcade game, and a variety of board games, there's something to do in every kind of weather at this Stowe vacation rental!
Sleeping up to 6, this Stowe VRBO is a great option for family or friend groups visiting the area!
---
---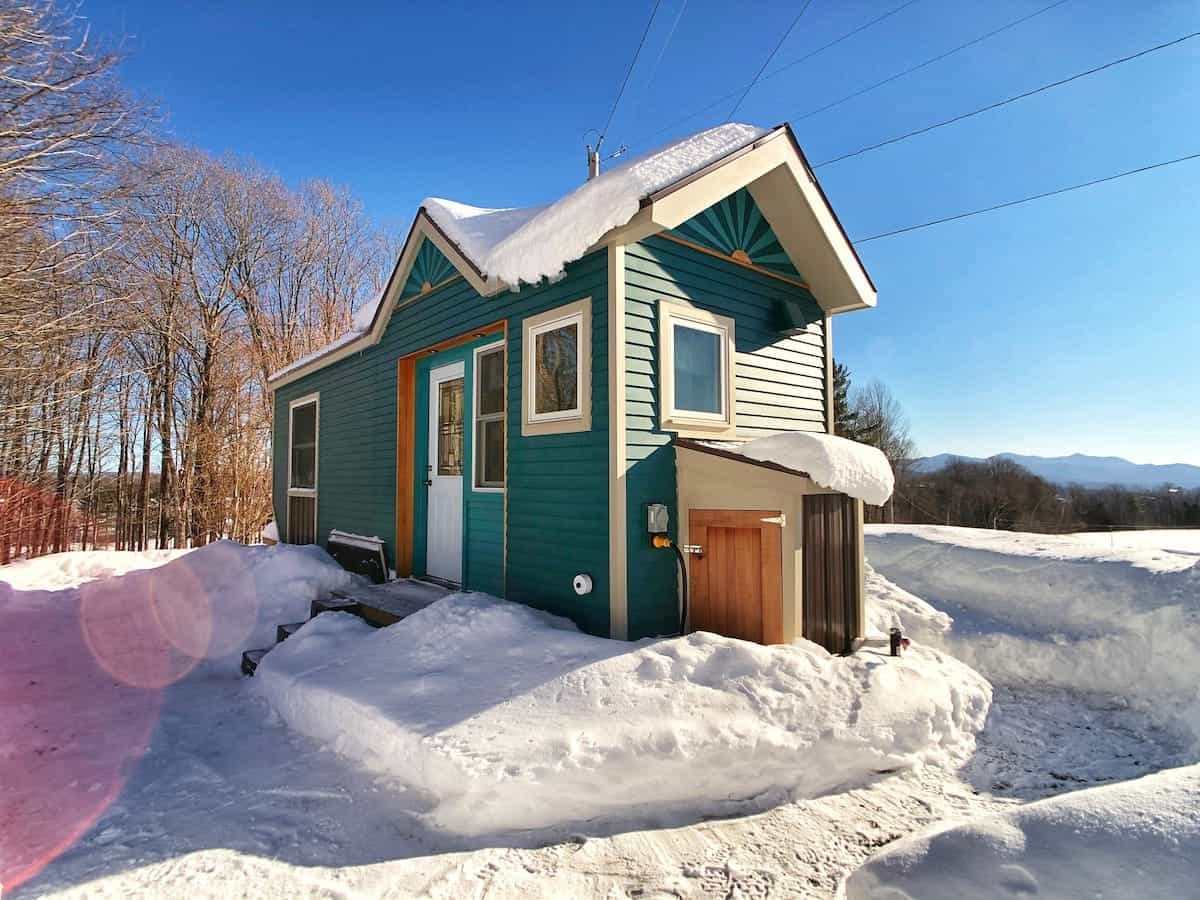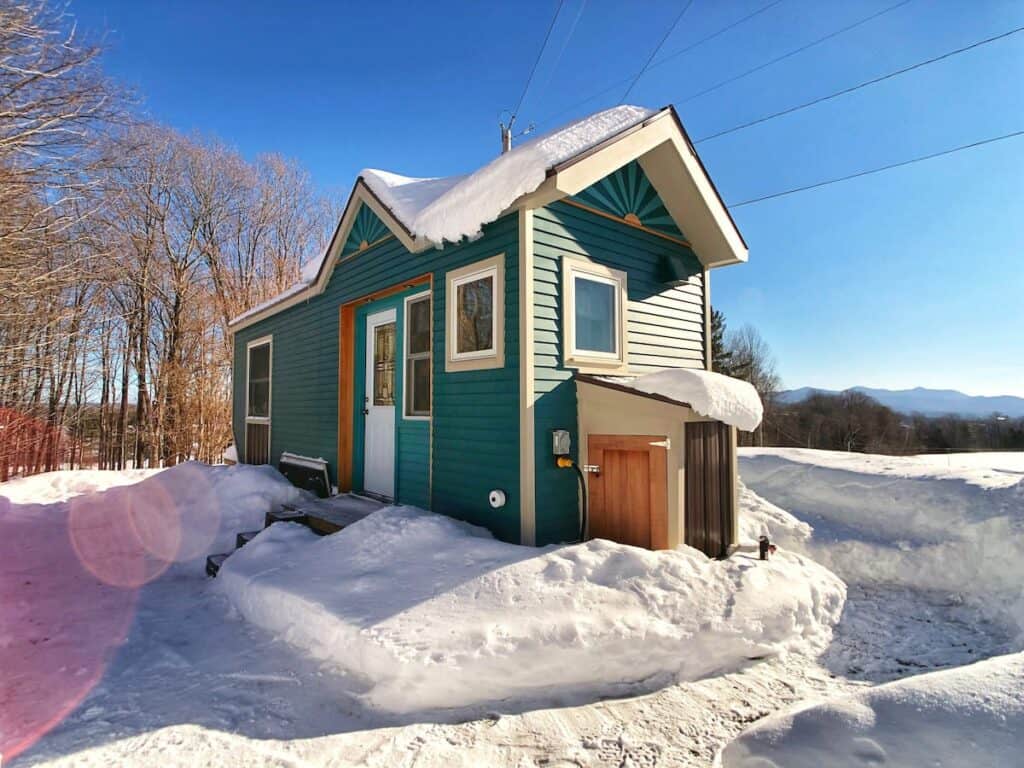 This tiny hillside vacation home in Stowe is charming and quaint. It may be one of the most adorable Airbnbs in all of Vermont and is the perfect place to stay if you're looking for Instagram-worthy accommodation.
It's located right on the hillside so that you can get breathtaking views of Vermont's Green Mountains. It's also a short drive from Stowe and nearby ski resorts like Smuggler's Notch, so if you're a winter sports enthusiast, you're in luck.
The tiny home allows up to two guests at a time, so if you're looking for a couple's retreat, the Sunrise/Sunset Tiny House is your place.
---
---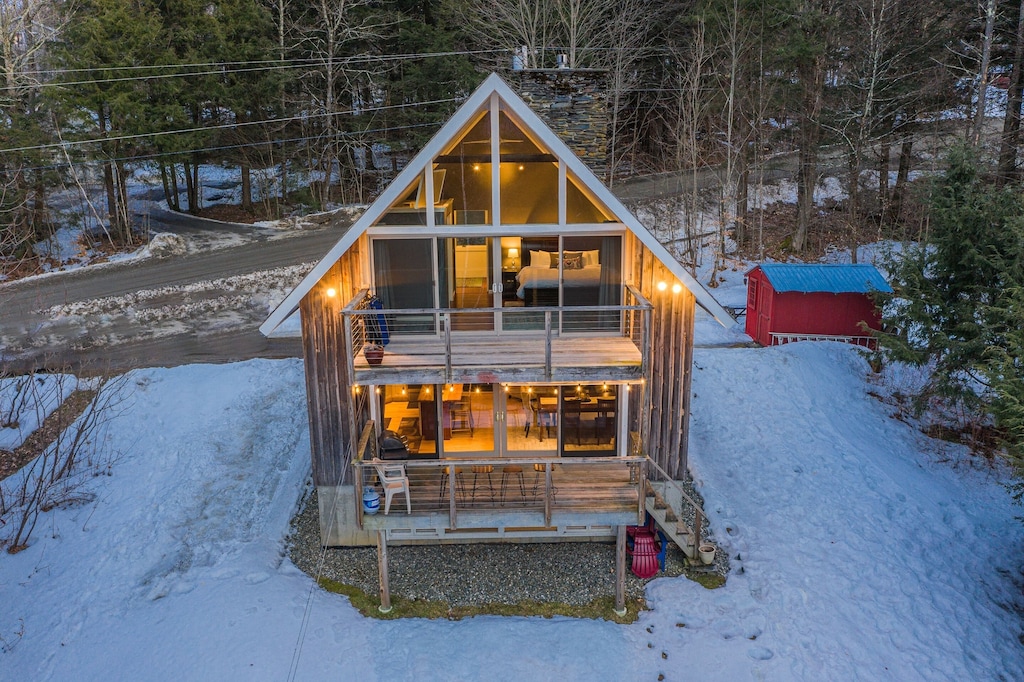 How perfect does this ski chalet look for your next trip to Stowe? The floor to ceiling windows provide amazing views of the surrounding scenery, including lovely Mt Mansfield, and the gas fireplace is the perfect place to warm up after a long day of fun on the slopes!
This great Stowe VRBO can sleep up to 6, so if you're traveling with family and/or friends, this could be the perfect vacation landing pad for you and yours.
---
---
If dog friendly vacation rentals with a hot tub are your jam, you're going to love this Stowe VRBO! Close to all the fun of Stowe while still being in its own little space, this is a great option for those traveling with families who like to have the option to retreat to a quiet space for a little break during their vacation.
Sleeping up to 7, this would be ideal for a family with kids, because four of those sleep spots are bunk beds!
---
---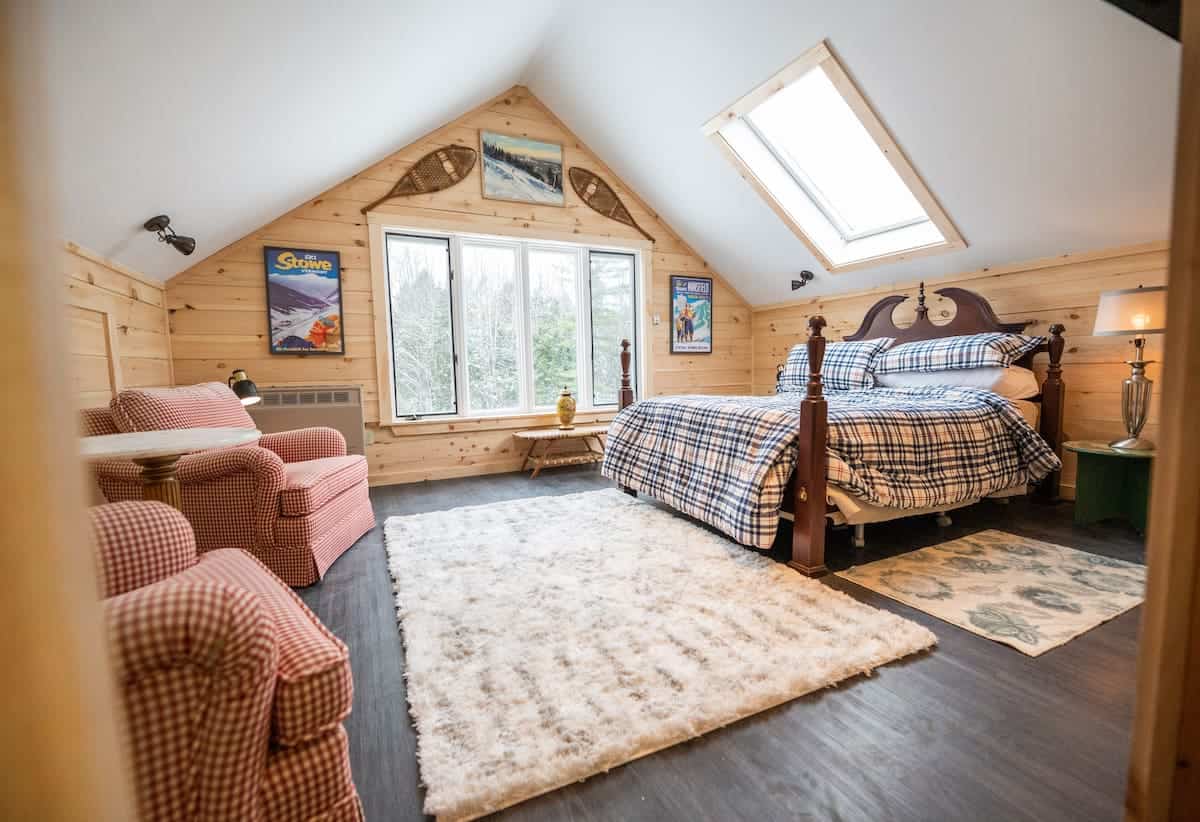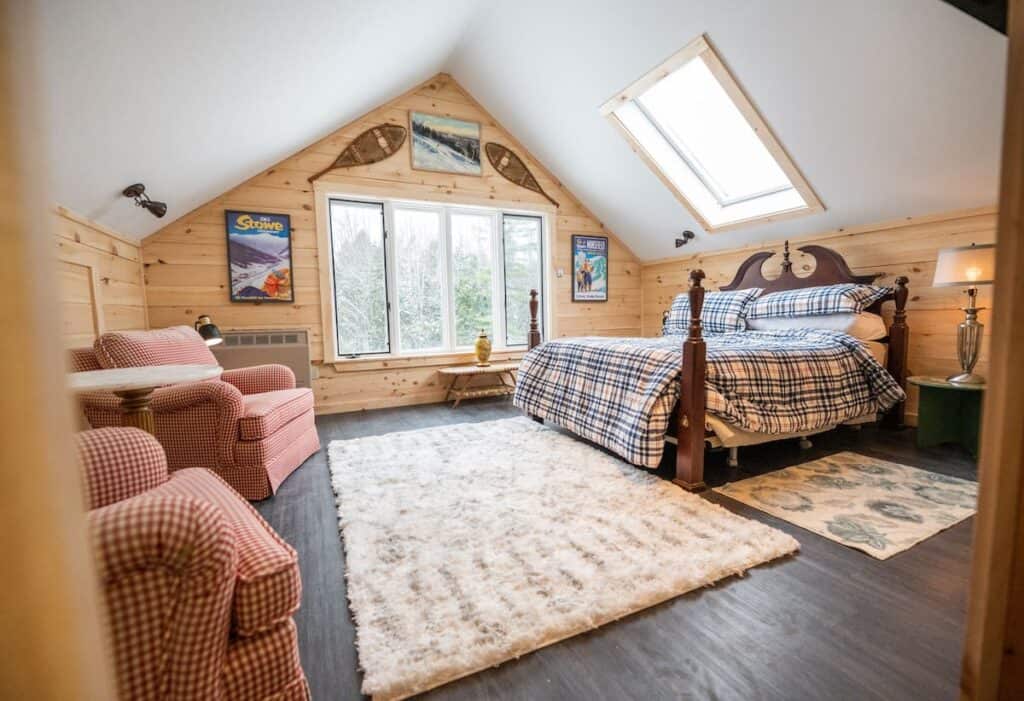 This two-person charming studio for rent is in a prime location by Stowe Mountain Resort. The interior is very rustic yet bright and airy, which makes the accommodation incredibly unique.
Inside, you'll almost feel like you're staying at a ski resort lodge. The walls are adorned with old snowshoes, vintage travel art, and lots of wooden accents.
The entire studio was recently renovated with couples in mind. Everything inside is perfect for two! Plus, there's a full kitchen and a full bathroom, which most studios don't have the luxury of.
---
---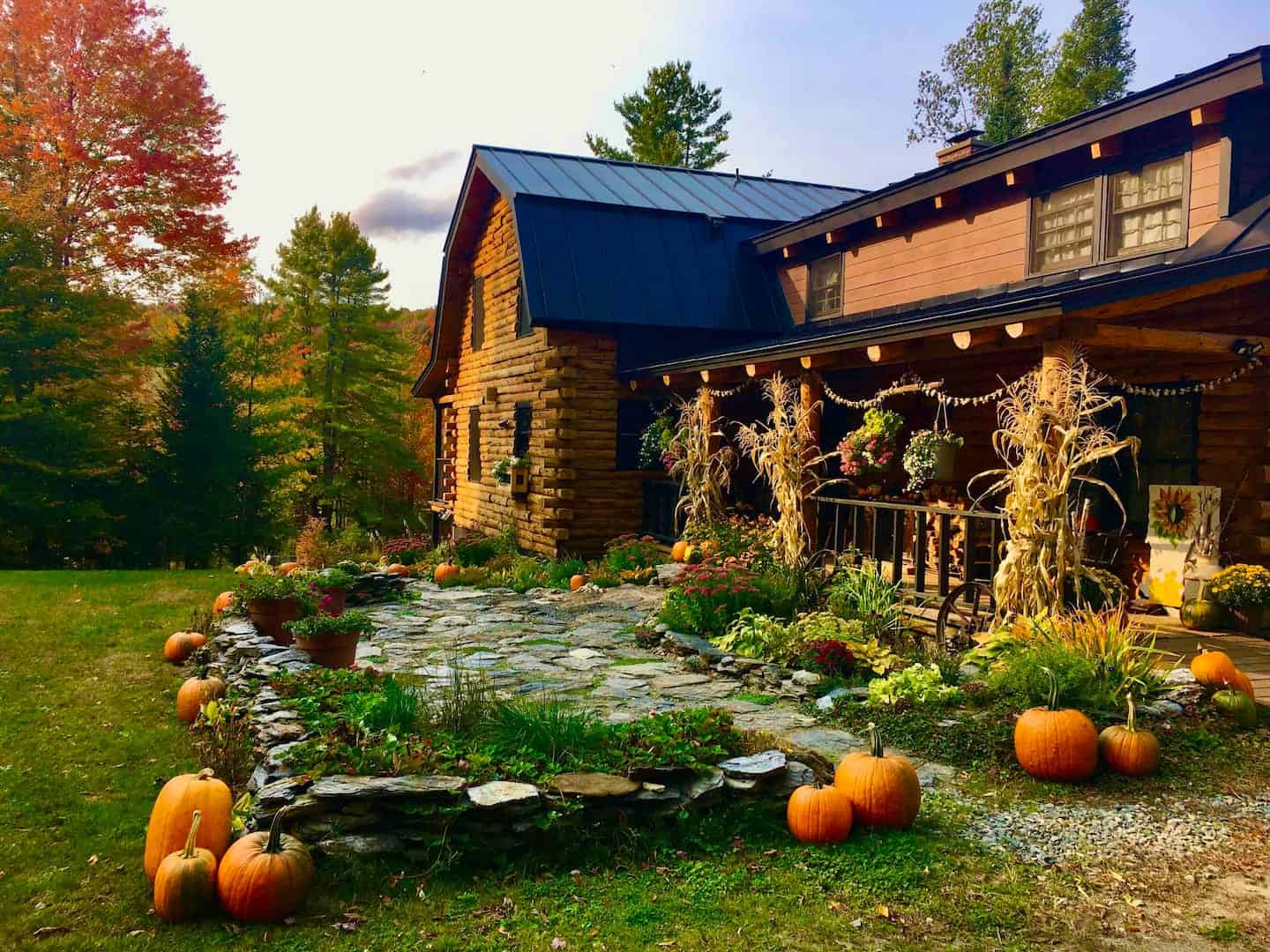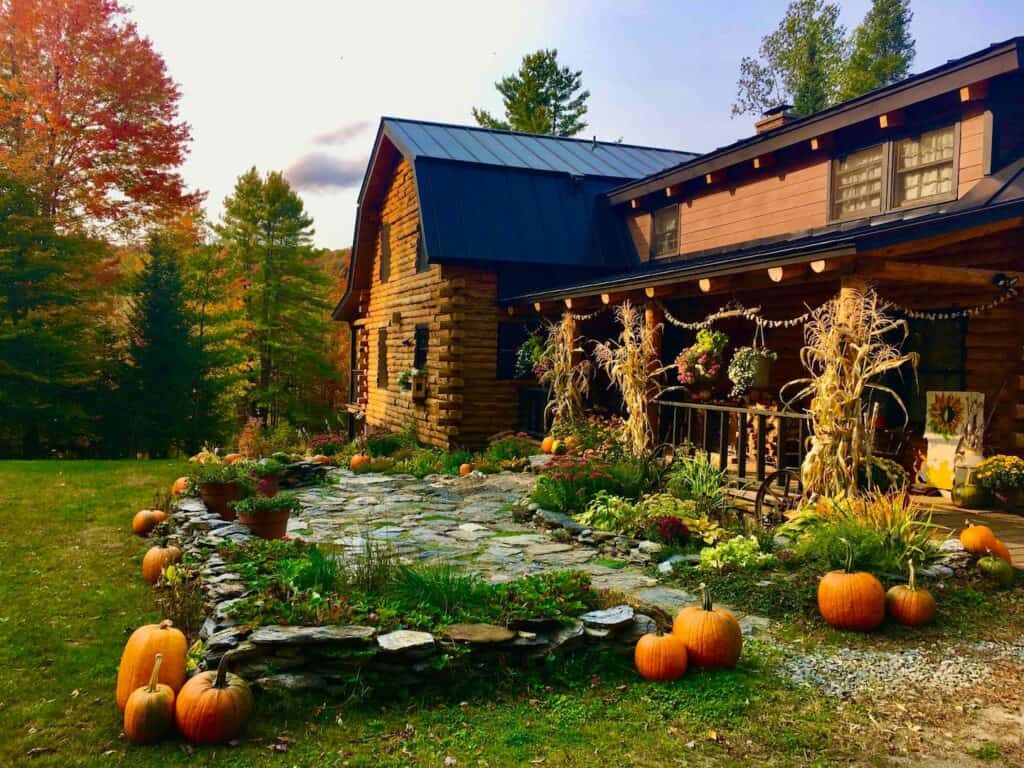 This rustic and charming barn meets log cabin is a fantastic accommodation in Stowe for up to six guests. Inside, there are three bedrooms, four beds, and two and a half bathrooms.
The hosts of this Airbnb always decorate for the season. If you're lucky enough to visit in the fall, you'll find the accommodation decked out in pumpkins so you can live out your autumn dreams in the rolling green hills of Vermont!
There is also a vast living room suited for a family and a massive bookcase filled with books you can read in your downtime.
---
---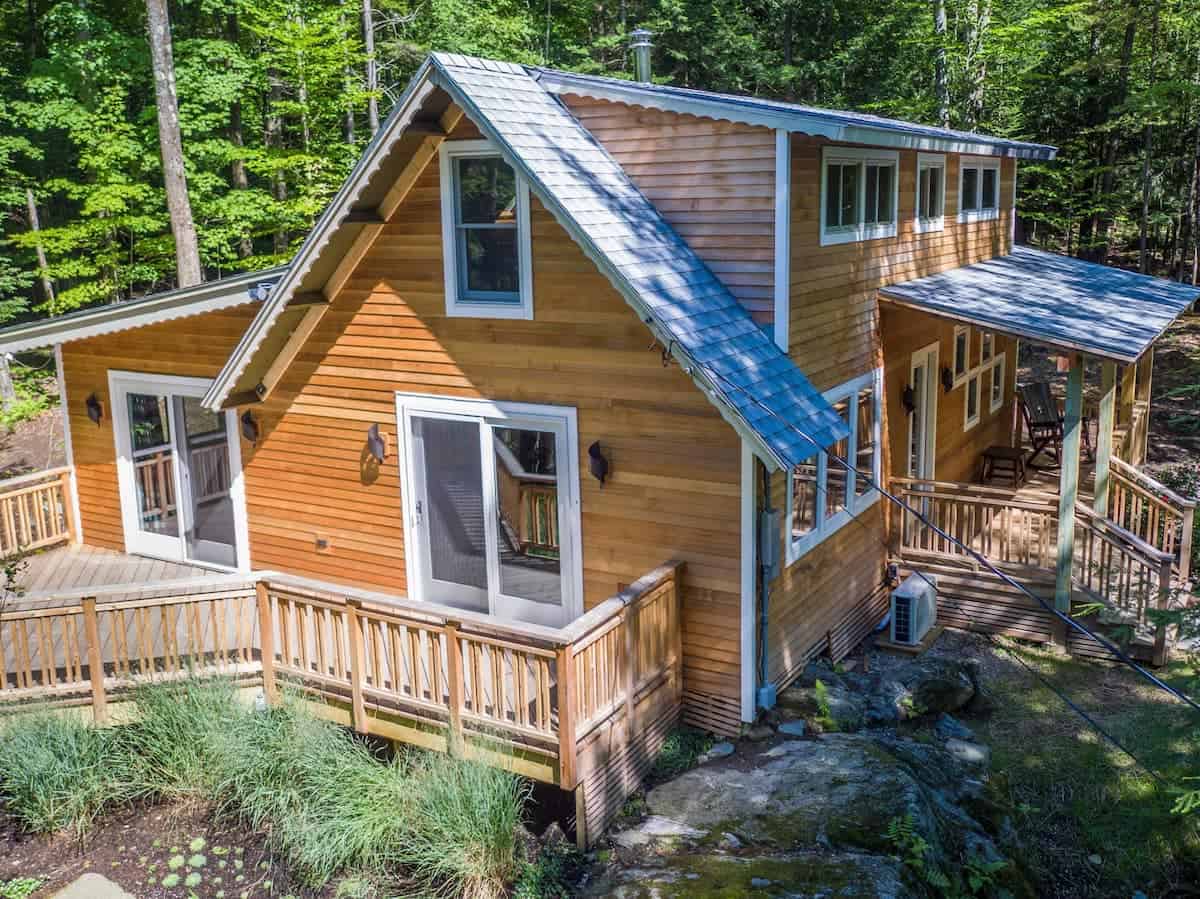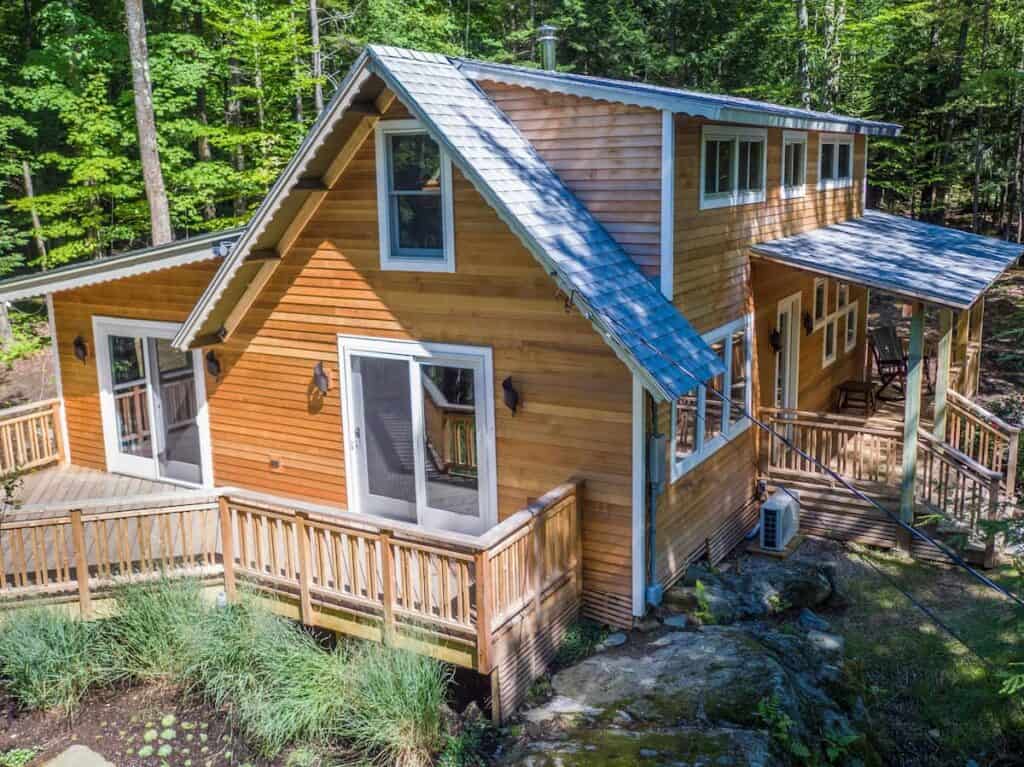 Have you ever wanted to visit Vermont by staying in a lovely cabin retreat? Look no further than this Airbnb! It's perfect for up to three guests and is hosted by a superhost in Elmore, Vermont.
While it's only suitable for three guests (4 can be arranged with request while reserving!), the interior is anything except tiny. There's a huge living space, a massive full kitchen, and a luxurious bathroom. Plus, there's a patio with rustic wooden rocking chairs for you to relax on in the early morning.
This alluring Stowe rental cabin will have you feeling cozy as can be during your getaway. Plus, there are extensive grounds that you can explore on your own to get out in nature!
PS: Check out more of the coziest cabins in Vermont here!
---
---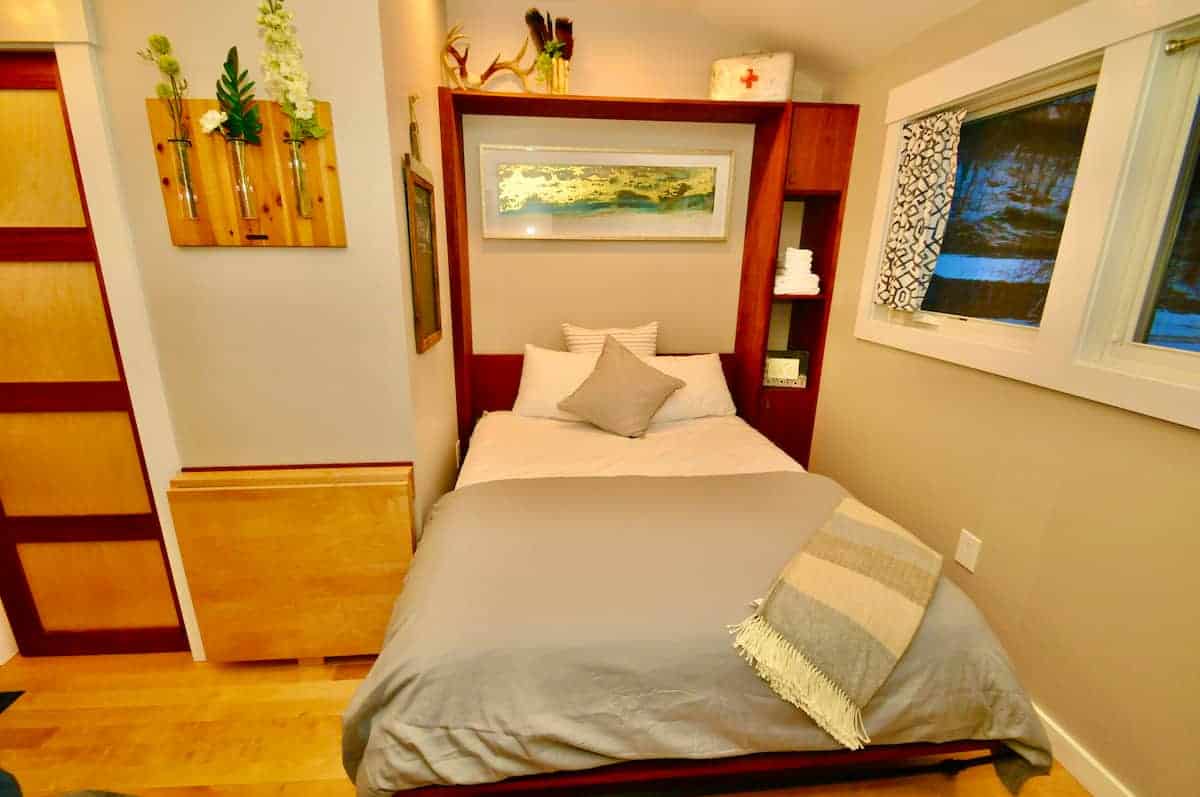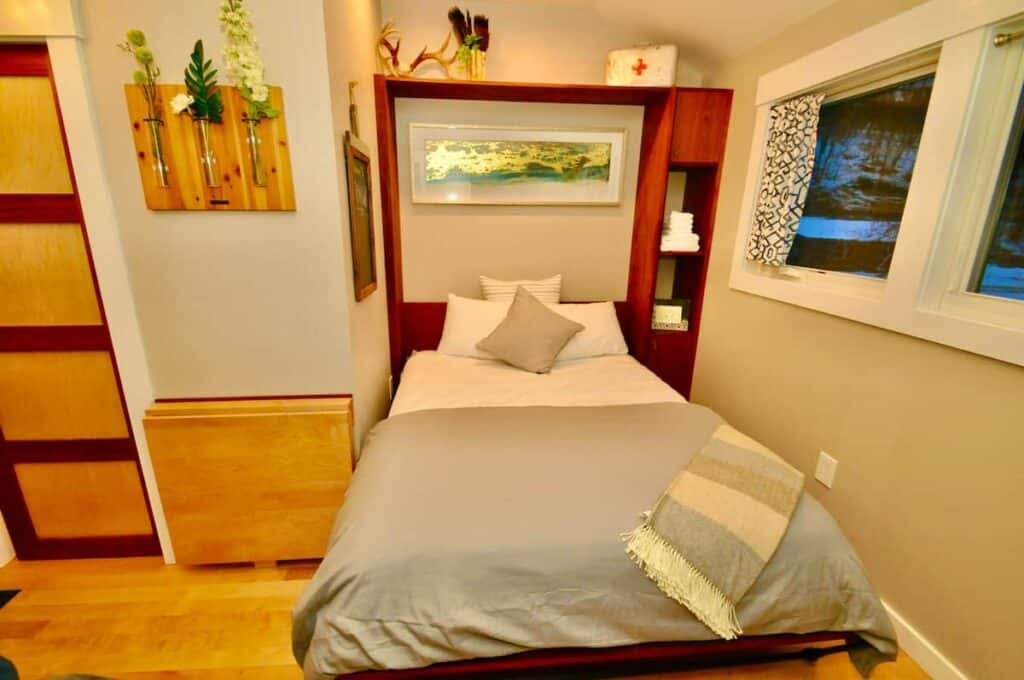 This two-person studio in Stowe is a beautiful tiny home! You'd think that you couldn't fit much into 160 square feet, but Stowe's Lille Hus proves that thought wrong.
Inside the apartment, you'll find beautiful woodwork, a Murphy bed to save space, a porch with forest views, and a flat-screen TV for your entertainment needs.
It's in a perfect location if you want to be near all the best places to visit in Stowe. The owner even says that you may hear some of the downtown noise because of its proximity to bars and restaurants! It's also right next to the Cady Hill trailhead for mountain biking.
---
---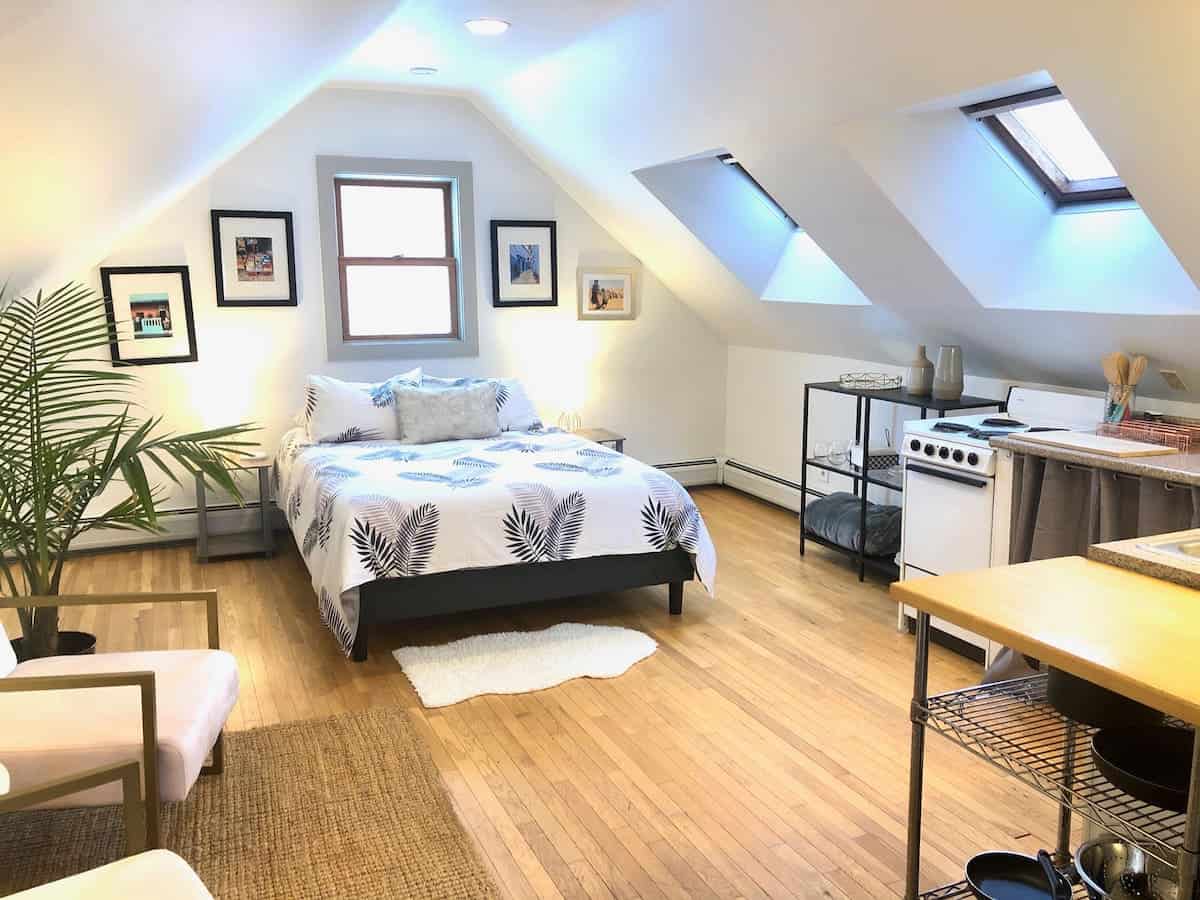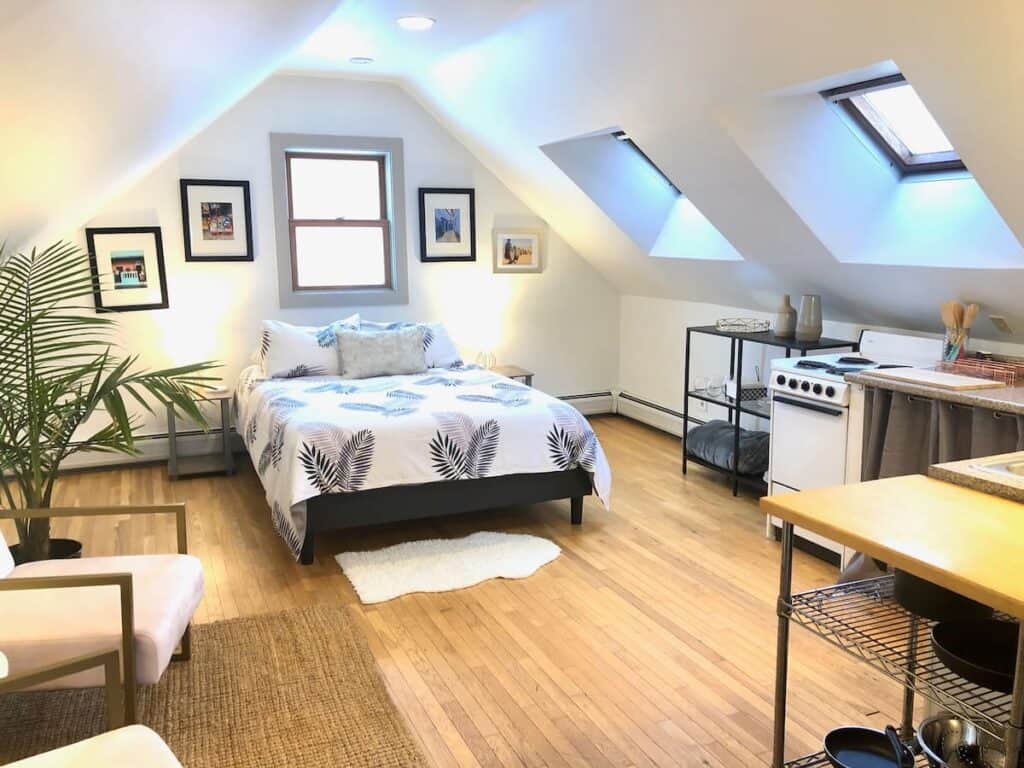 This beautiful studio apartment for two is situated on top of a popular and trendy wine bar and restaurant in downtown Stowe Village! Right at your doorstep are all the best places to visit in downtown Stowe.
The interior is bright, with white walls and windows to help open up the space. There's even a cozy little kitchen so you can cook your own meals to save some money!
The apartment comes with free parking, air conditioning and heating, a coffee maker, a lockbox, and more. What more could you want if you're looking for a downtown location?
---
---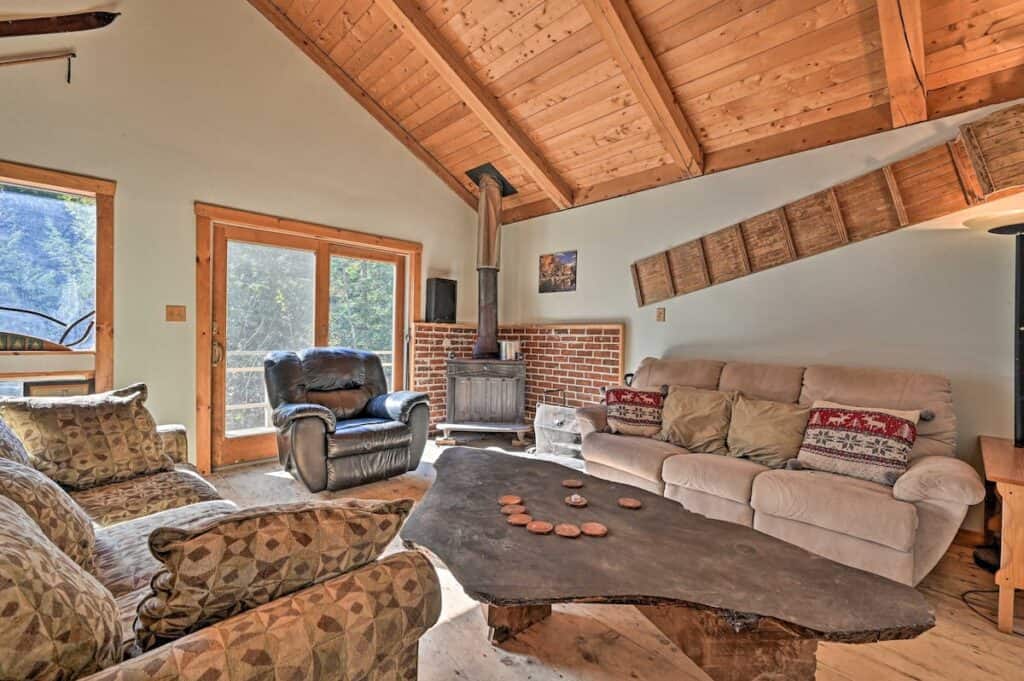 Next up is a breathtaking cozy cabin with a private fire pit! This is the perfect location for a summer Stowe getaway with the family, and it hosts up to four guests at a time.
Within three miles, you can quickly get to Stowe Mountain Resort. There are also some hiking trails in the area so that you can get outdoors and explore.
Inside, you'll find a multitude of amenities. There's a bedroom with a queen bed, a loft, a balcony, an on-site creek, a full kitchen, and a garage with room for one parked car.
---
---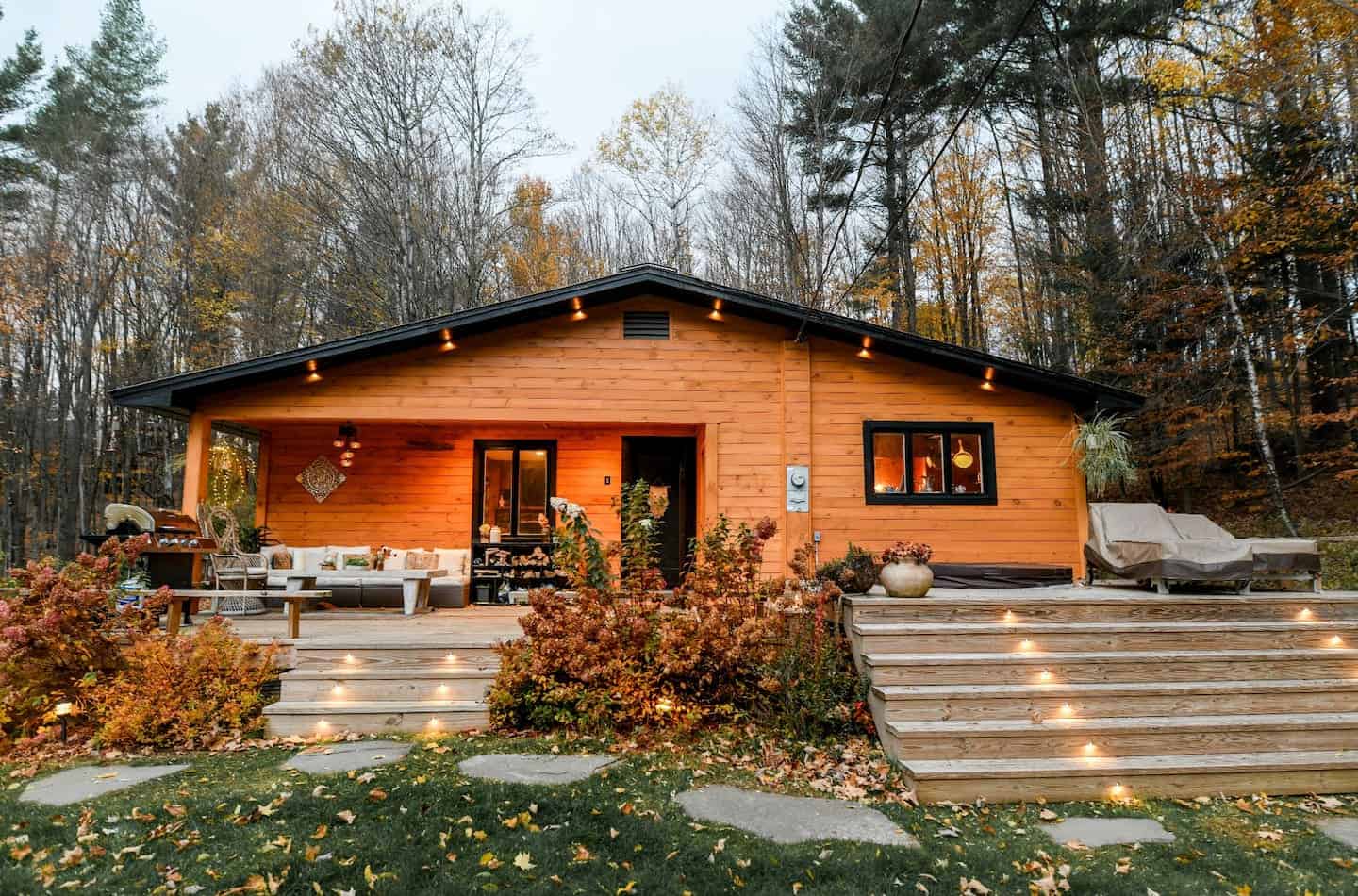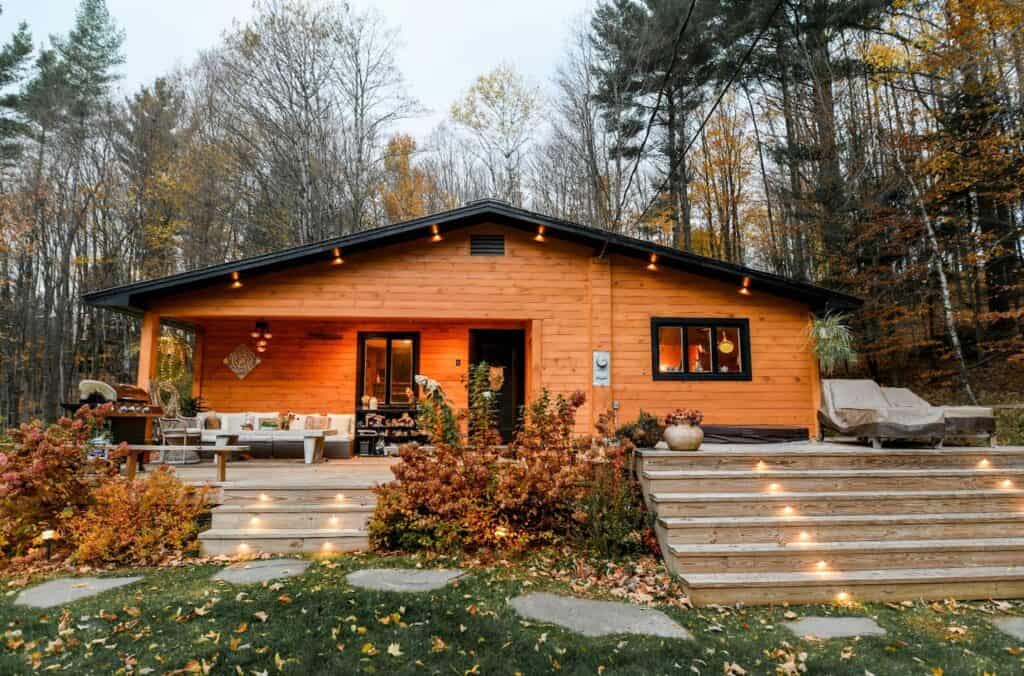 The Rabbit Hole is anything but a hole; it's a massive luxury cabin for up to thirteen guests! There are five bedrooms, seven beds, two living rooms, and two full bathrooms inside.
It's located right in the heart of Stowe and is only a short drive away from the famous Alchemist Brewery and Stowe Mountain Resort. Three are also a few short hiking trails located right on the property.
If you'd rather lounge around the cabin instead of exploring for a day, you could spend time cooking on the grill, relaxing in the hot tub on the deck, or lounging on the patio couch.
---
---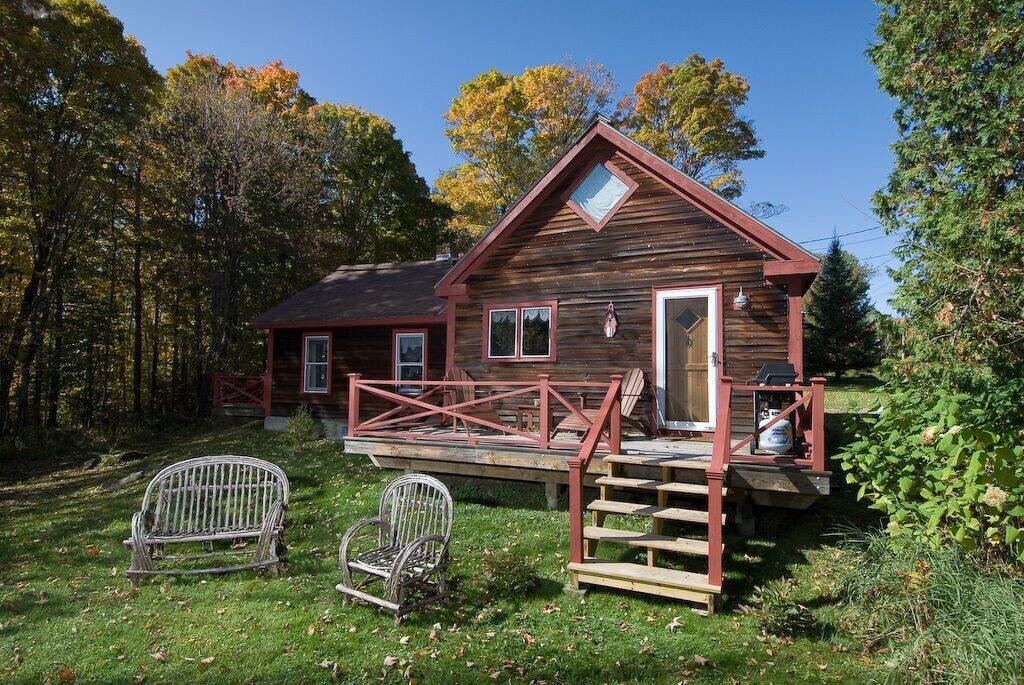 You're not completely tucked away in this Goldilocks cabin, but you will feel like you are when you step through its doors! With a romantic storybook ambiance, this cozy little cabin is perfect for a couple who wants to be able to easily get to all the fun of Stowe, but still feel like they've got their own private little space to come back to each day.
There is a bbq and a firepit outside, and a woodstove indoors for making the space even cozier on those cooler Stowe nights! This VRBO can comfortably accommodate up to 5, but it's especially cute as a romantic getaway spot.
---
---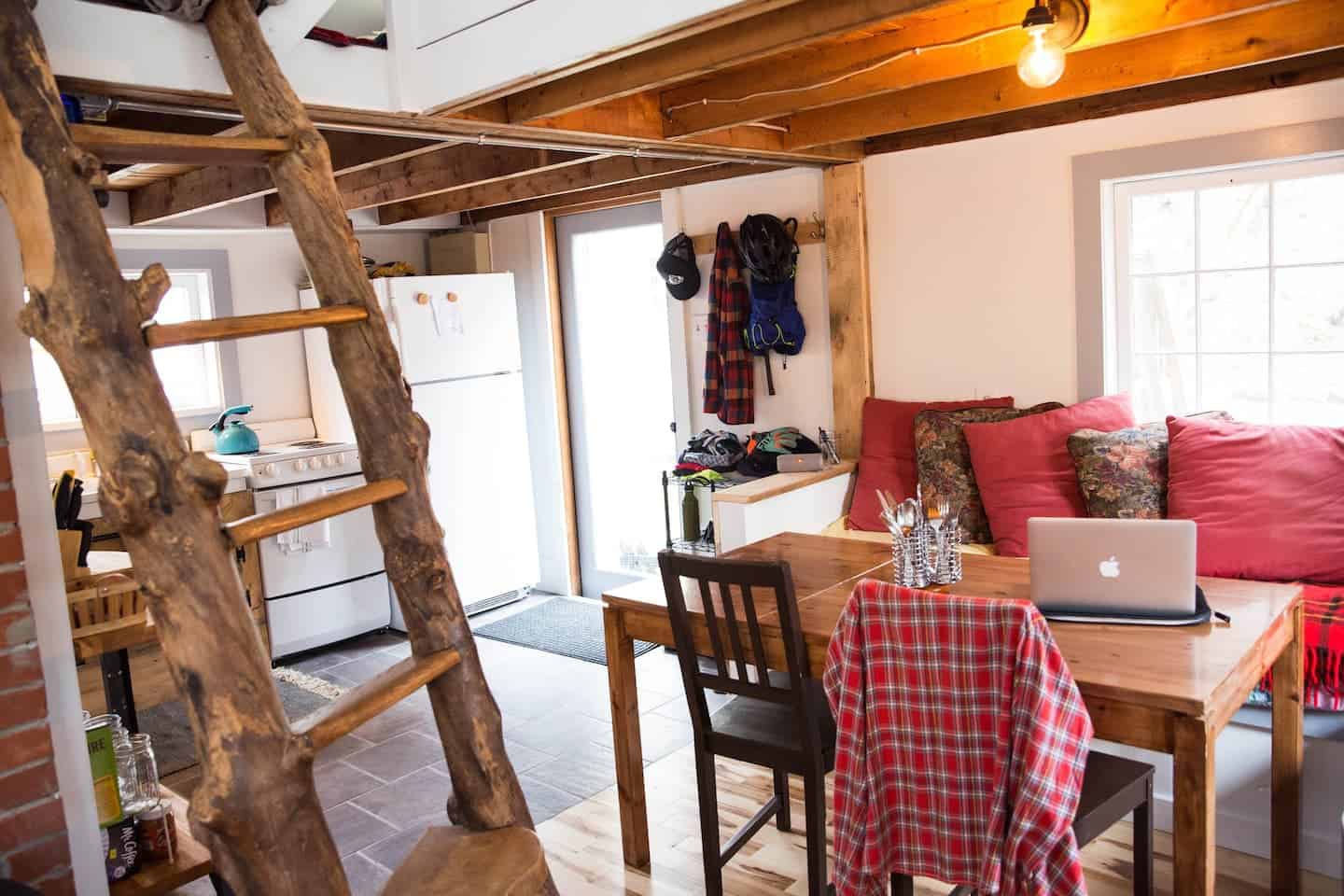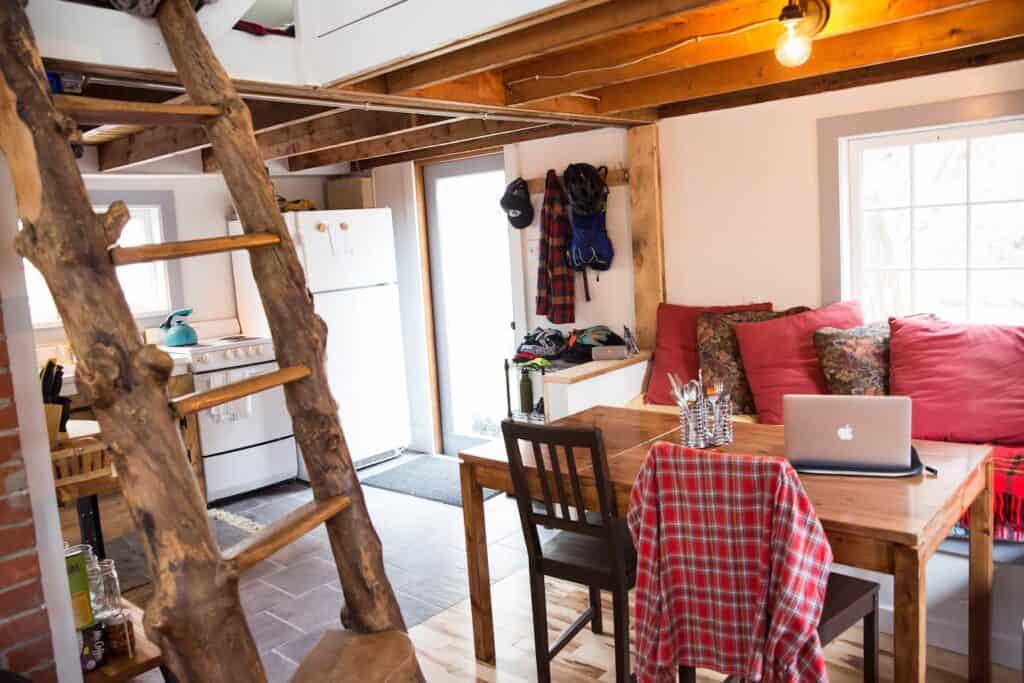 Last up is Foster's Place Cottage. This quirky guesthouse studio welcomes up to four guests at a time and packs a lot in a tiny space.
It's filled with lots of little unique pieces that make it stand out as far as Airbnbs go. For instance, there's a ladder made from a tree that leads from the dining room and kitchen right up to the lofted beds!
Within three minutes, you can get to Stowe Mountain Resort. It's also located near downtown Stowe and has room for one parked car as a bonus.
---
---
Now you know all the best places to stay in Stowe. Get to planning your next vacation to Vermont – you won't regret it!
---
Read these next:
---