*This site uses affiliate links; if you make a purchase through these, I may receive a small commission at no cost to you.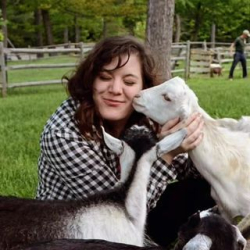 Latest posts by Amy Hartle
(see all)
Call me biased, but I don't think there's any place quite like Vermont. When it comes to amazing places to visit in New England, Vermont is always the first one I recommend.
There are so many great reasons to visit Vermont, and if all you need is the perfect place to stay in Vermont, you'll want to keep reading for the dreamiest Airbnbs in Vermont to book ASAP.
See also: 15 VRBO Vermont Vacation Rentals You'll Want to Book NOW |10 Lovely Lake Champlain Vacation Rentals to Book ASAP
---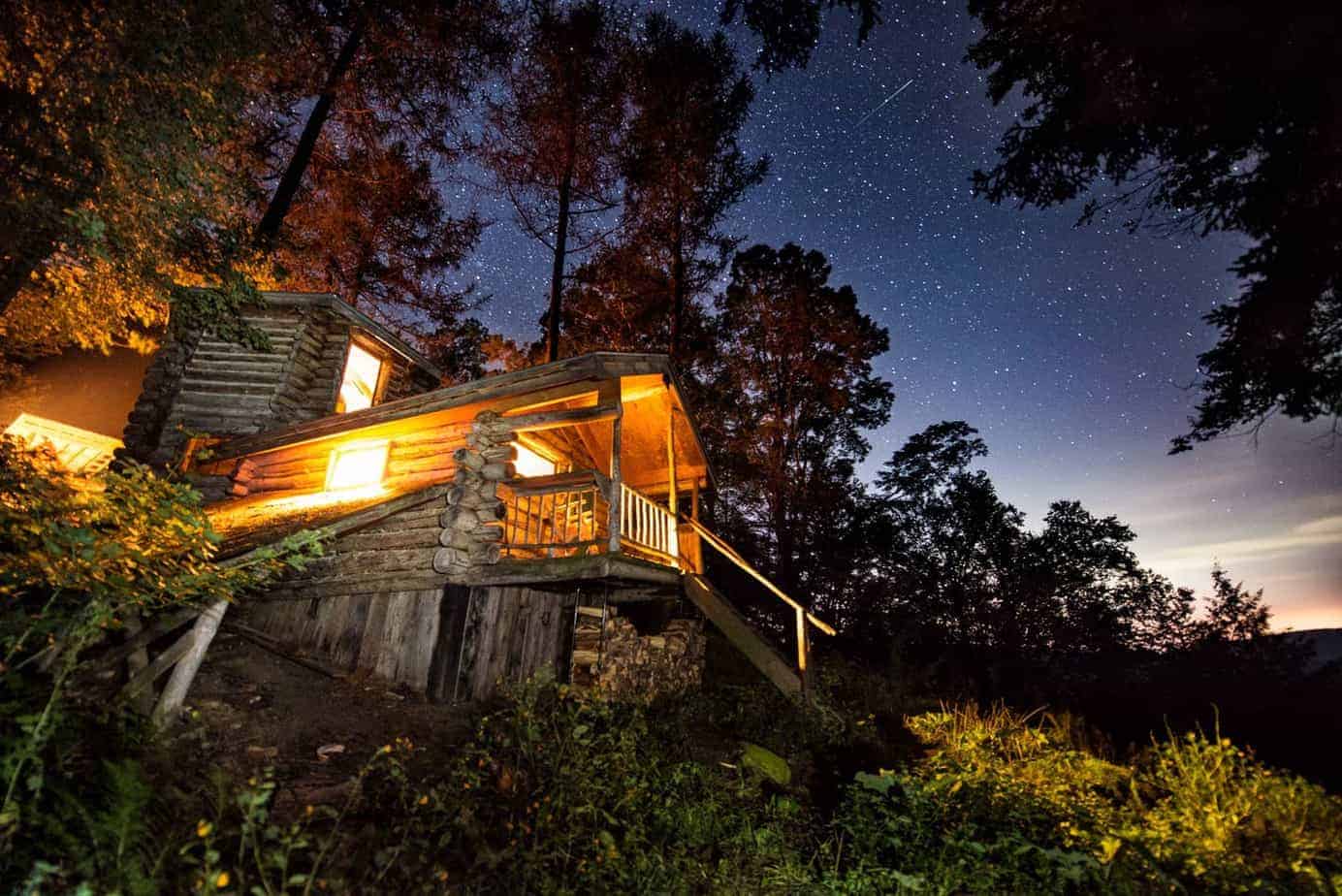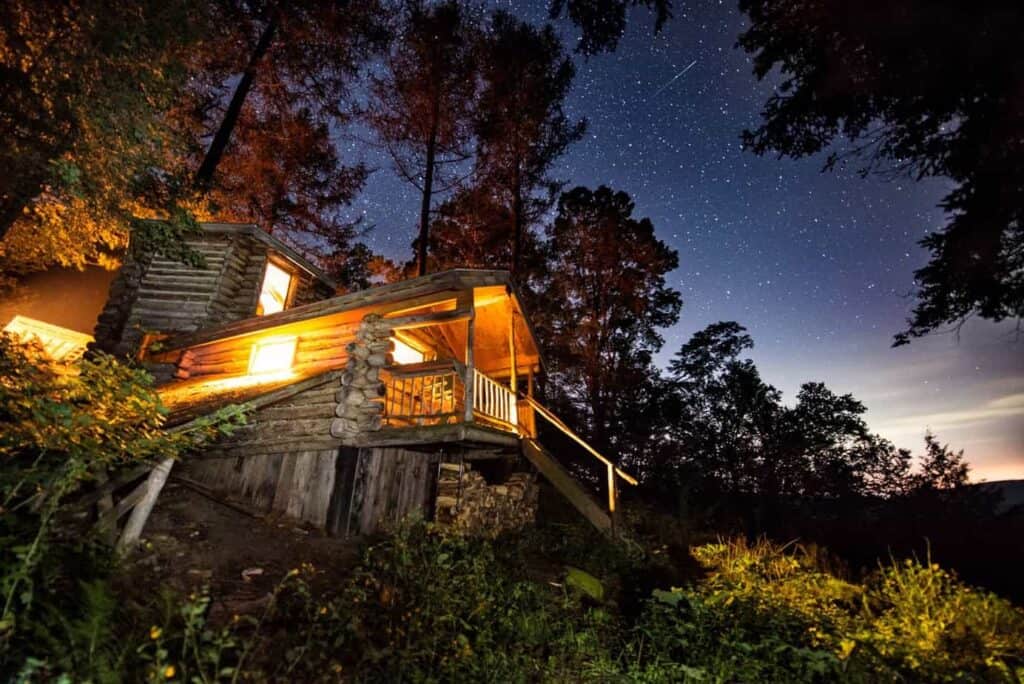 For some, a real getaway involves totally unplugging. This could mean leaving your cell phone and laptop at home, or it could mean heading to an off-the-grid cabin in Vermont's Green Mountains. If that sounds like bliss, this Airbnb cabin in Vermont is precisely what you're looking for.
This Vermont Airbnb is nestled away in the woods on 20 acres. There's plenty to explore in the immediate region and a bit further afield. The cabin is just minutes away from hiking, swimming, skiing, golf, and more, including Vermont's Long Trail.
On Airbnb, cabins are really popular, but not everyone will be interested in the off-grid lifestyle. This place is suited to only the most adventurous and intrepid travelers who really want to have a getaway in nature.
A solar shower, propane cookstove, and a wood stove will take care of your basic needs. Rustic but beautiful, we want to book this Airbnb Vermont cabin ASAP!
---
---
This stunning log treehouse in Vermont is New England glamping at its best. This space is designed as pristine and serene and it looks like an absolutely wonderful Airbnb Vermont treehouse.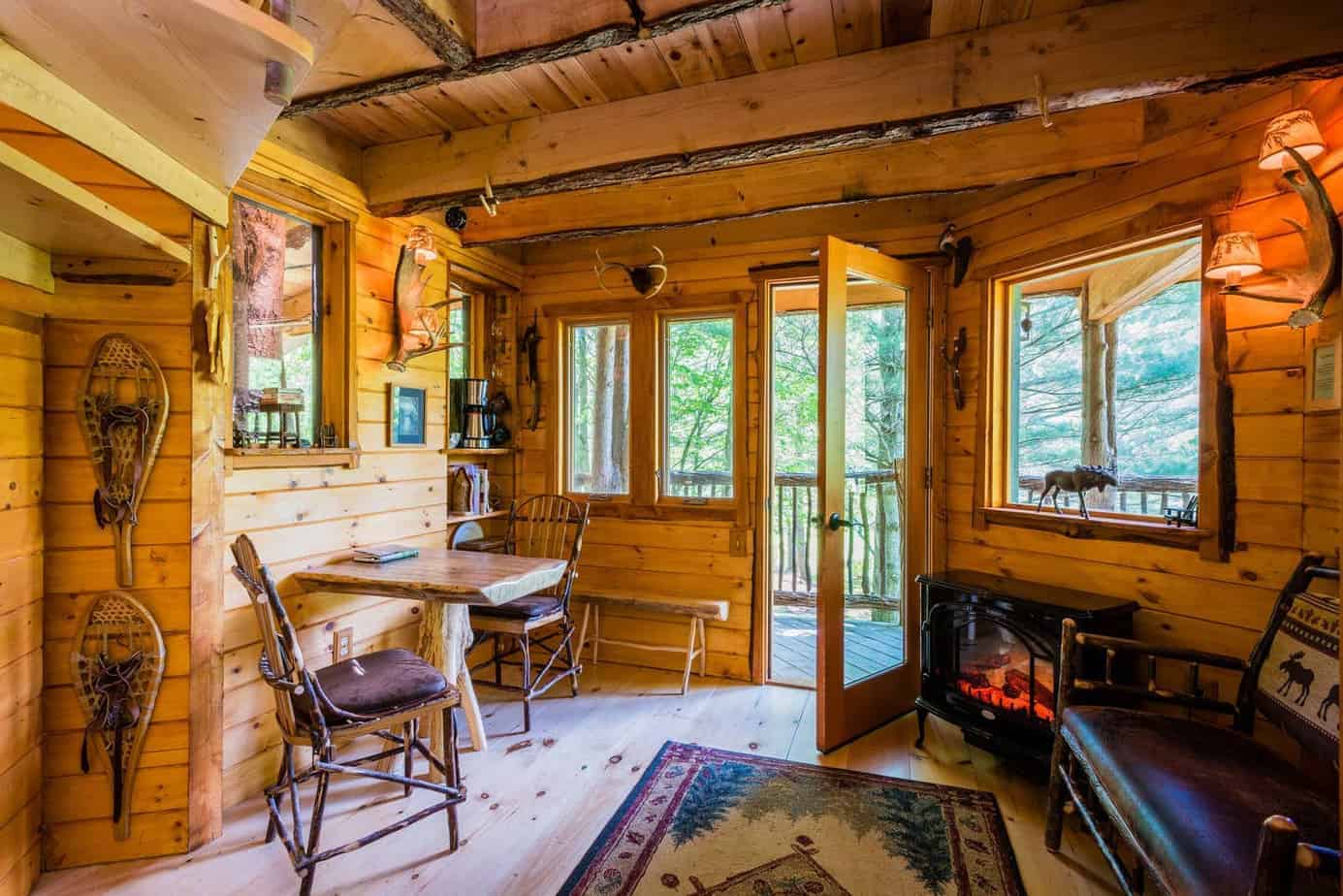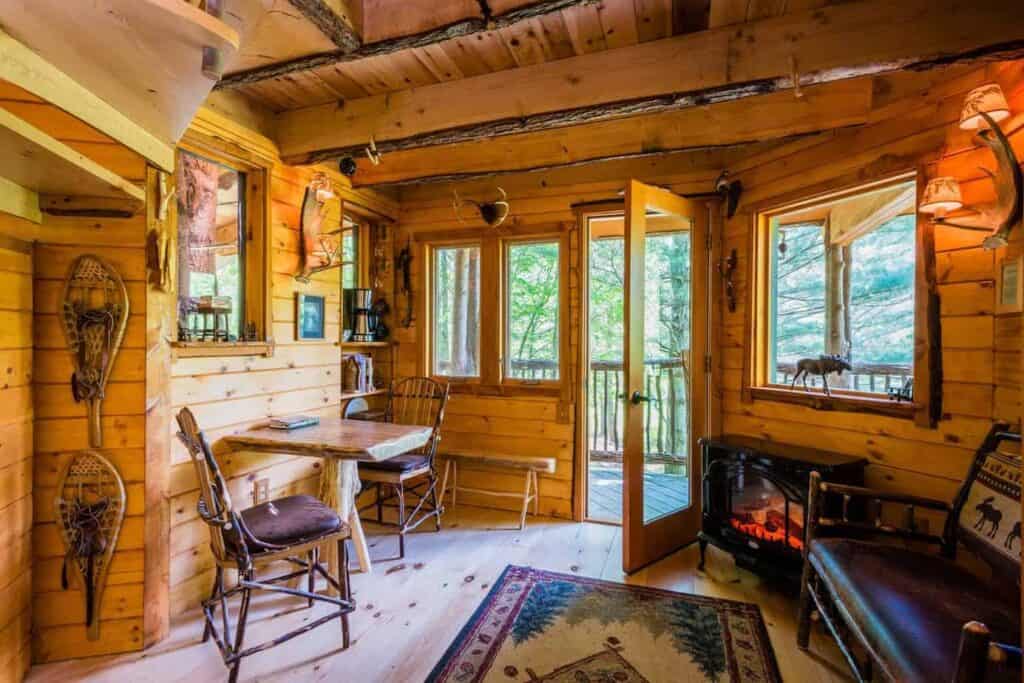 You'll get the opportunity to connect with nature while staying in a one-of-a-kind property. Two guests can cozy up in this treehouse Vermont Airbnb.
---
---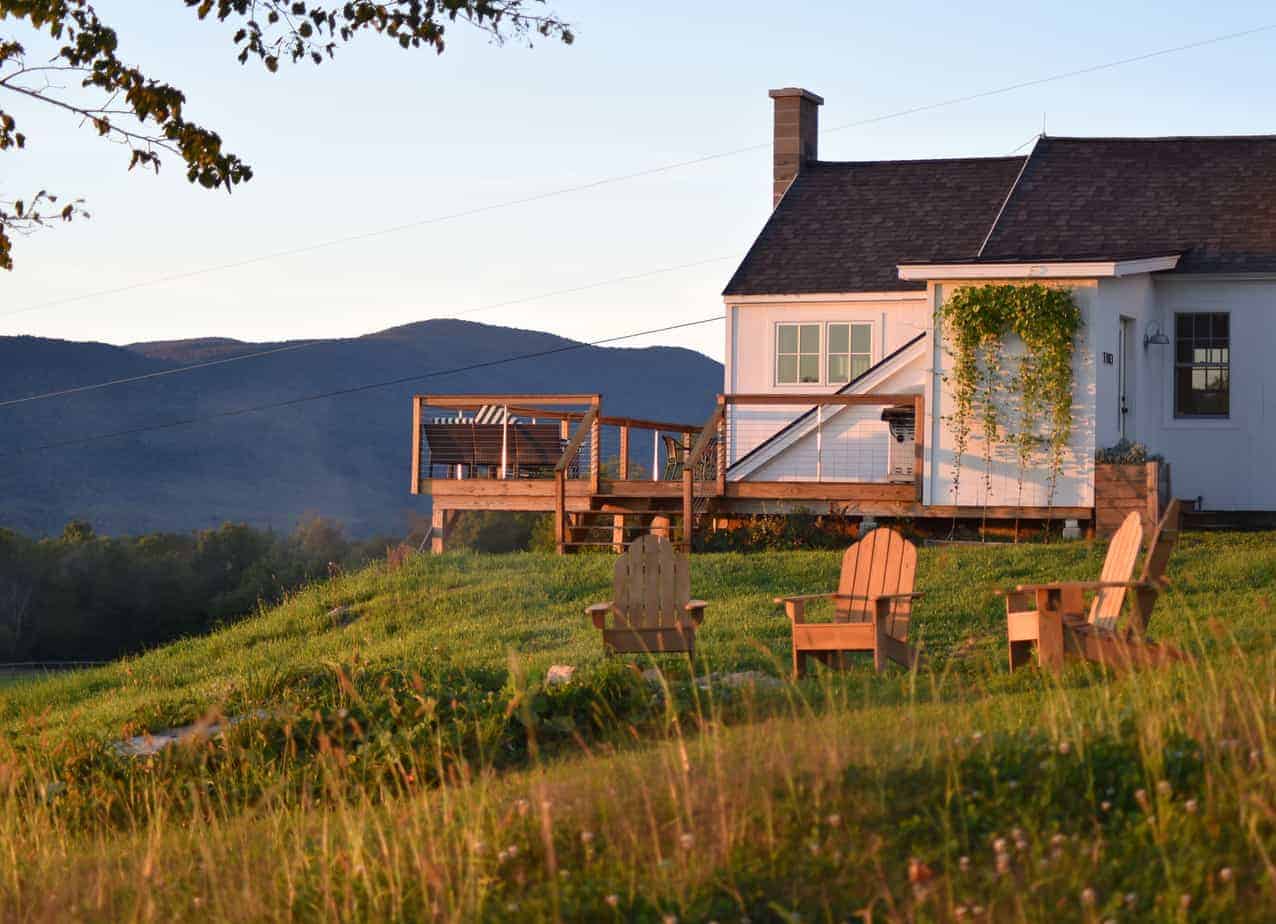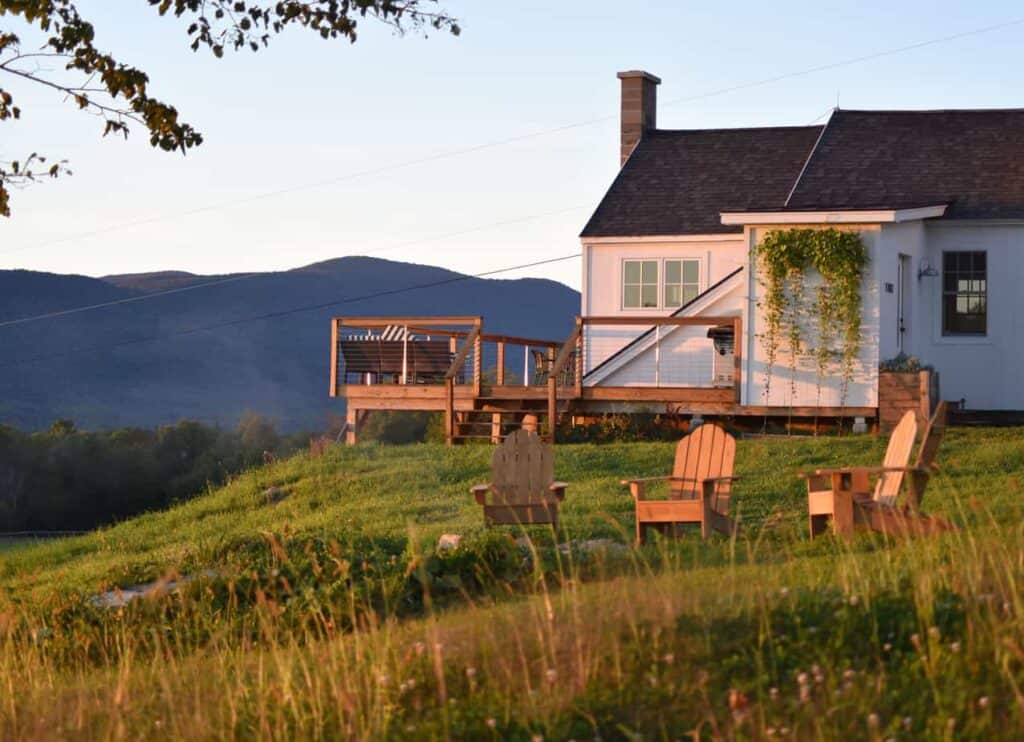 Want to do some glamping? How about a Vermont Airbnb with a sauna? How about a Vermont Airbnb with a hot tub? How about an Airbnb in Vermont with BOTH?
Located in pretty Southern Vermont, you genuinely cannot go wrong with this magazine-worthy Airbnb. A newly-renovated, historic schoolhouse overlooks the host's sprawling organic farm (how quintessentially Vermont is that?) With lovely views, a hot tub, and a panoramic barrel sauna that gives off some serious Hobbit house vibes, this place looks incredible.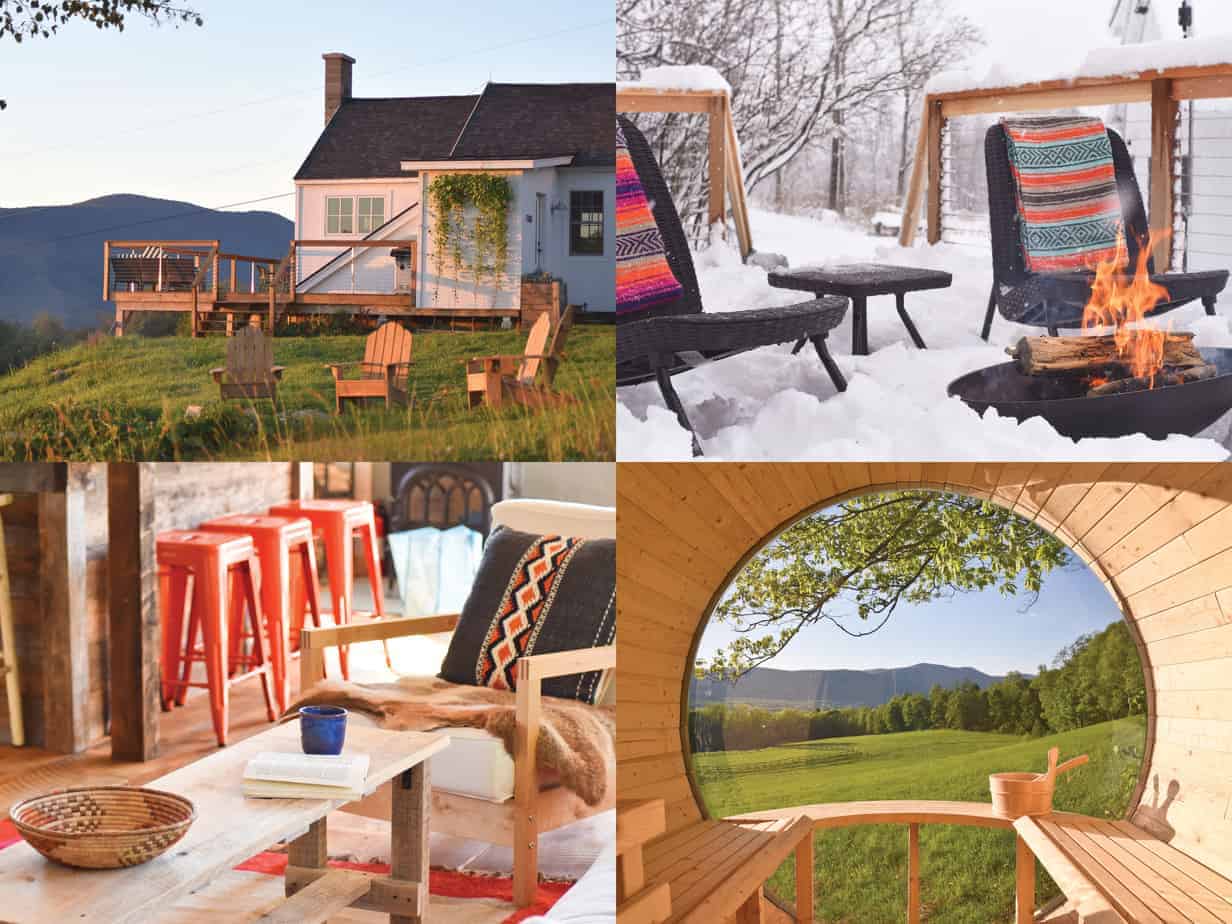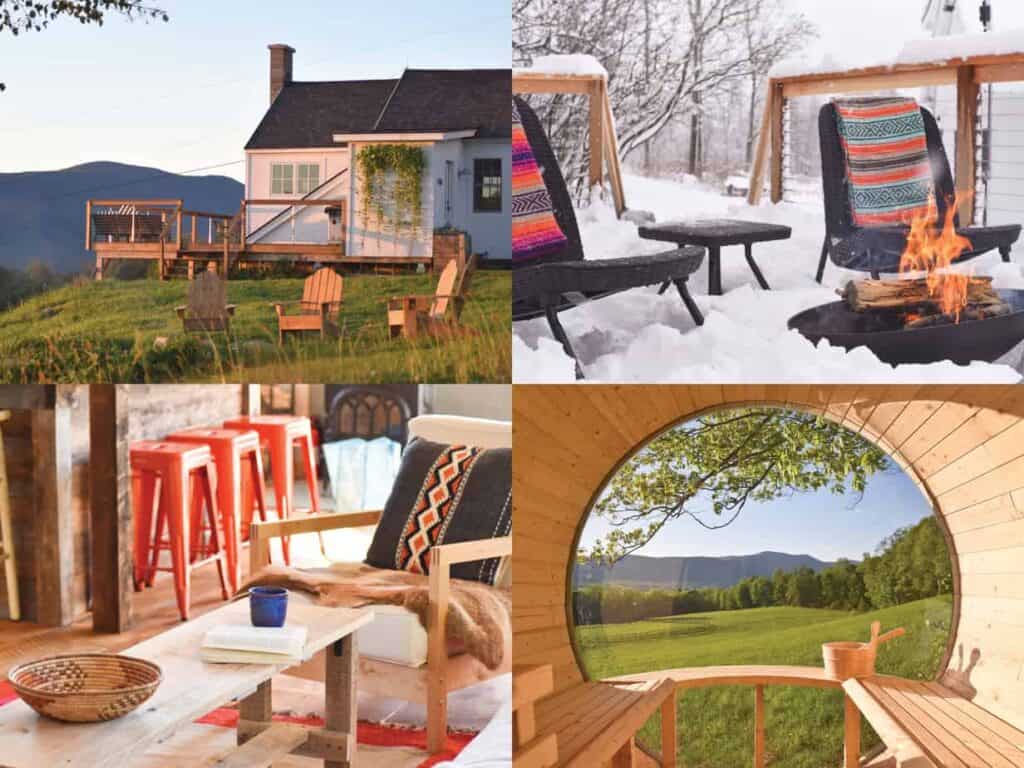 This awesome property is not far from the towns of Manchester and Bennington, both of which offer a lot to do and see in all seasons.
---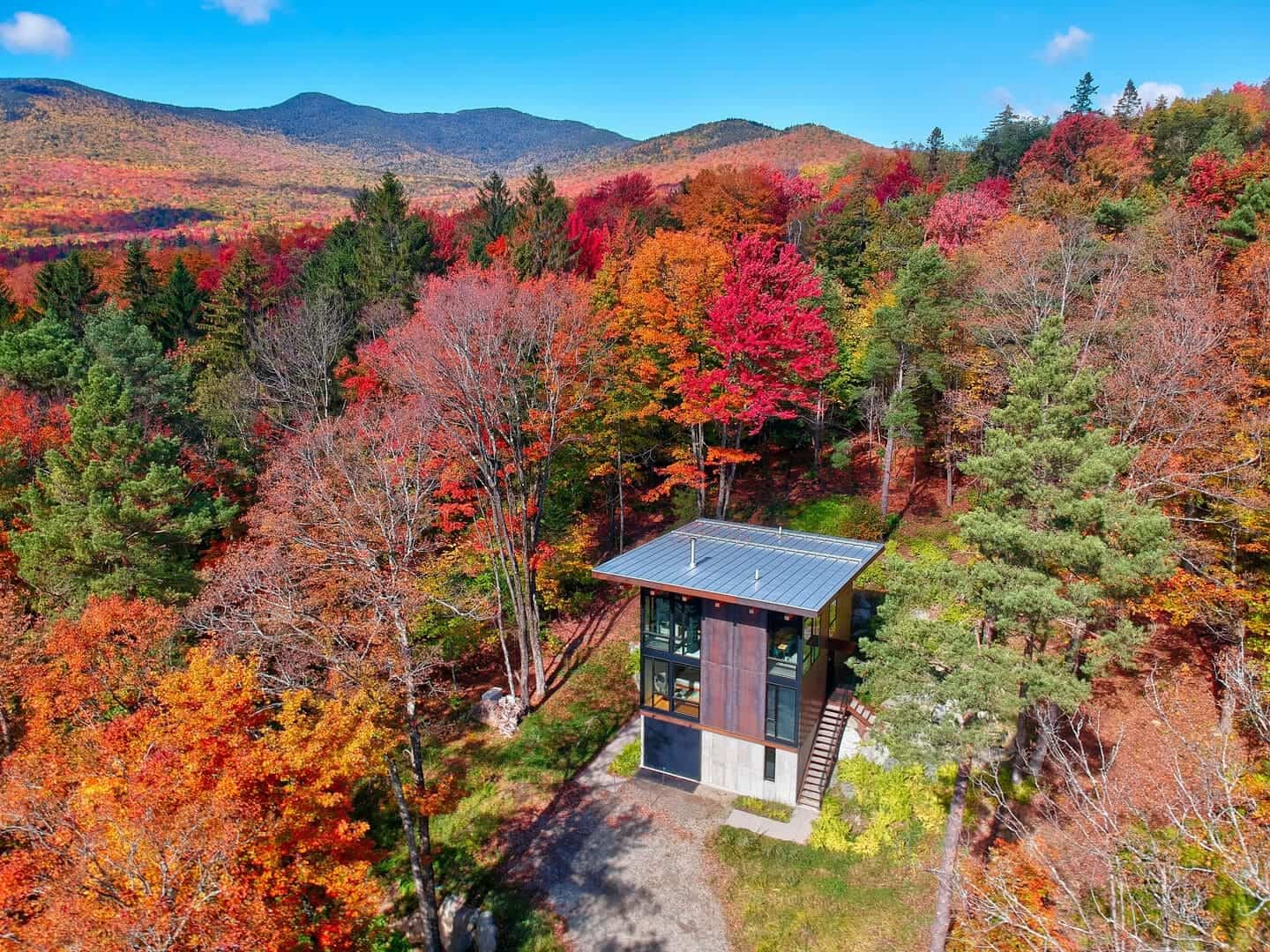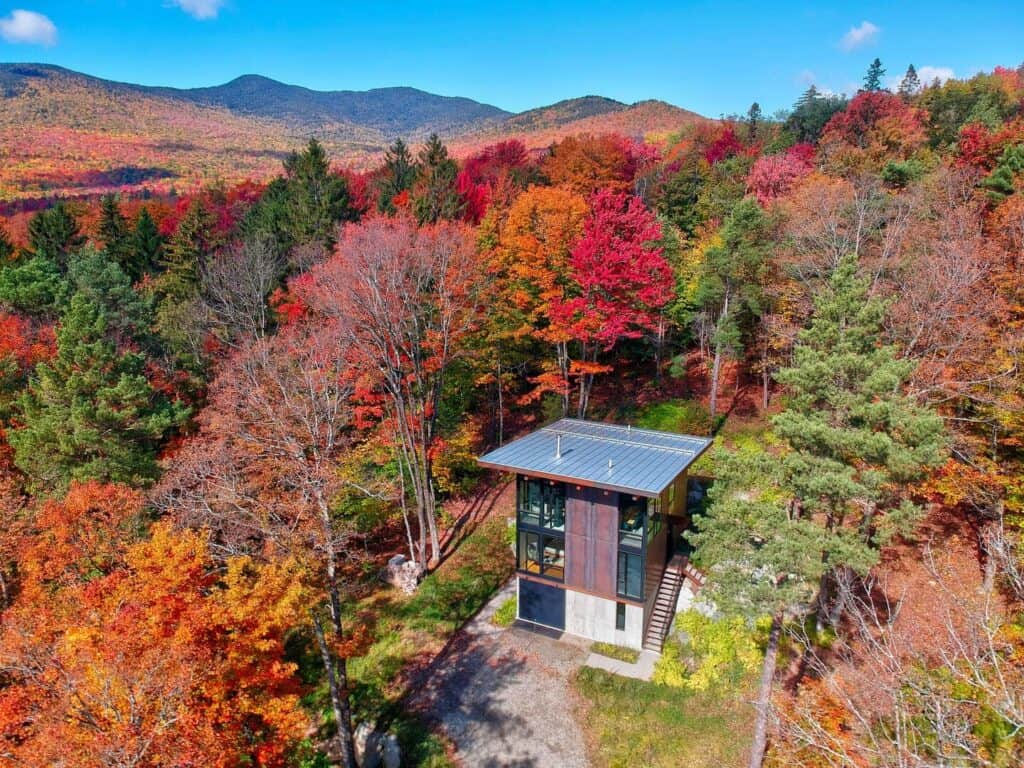 If you want to immerse yourself in nature while visiting Vermont, look no further than Sterling Treehouse, located on 40 acres of land for a true getaway experience.

This amazing Stowe Airbnb with breathtaking views of Vermont's natural forests is suitable for up to nine guests. It features three bedrooms, ten beds, and one and a half bathrooms.
The Stowe Airbnb cabin was custom built by a couple who wanted a Vermont getaway yet still wanted to share their home with kids from the city. It's filled with tons of amenities, including a 10-person table, a deep bathtub, a Stahl fire pit, and more.
No Vermont retreat is complete without access to hiking trails, which are located right at the front door. There are also trails for cross country skiing and biking!
---
---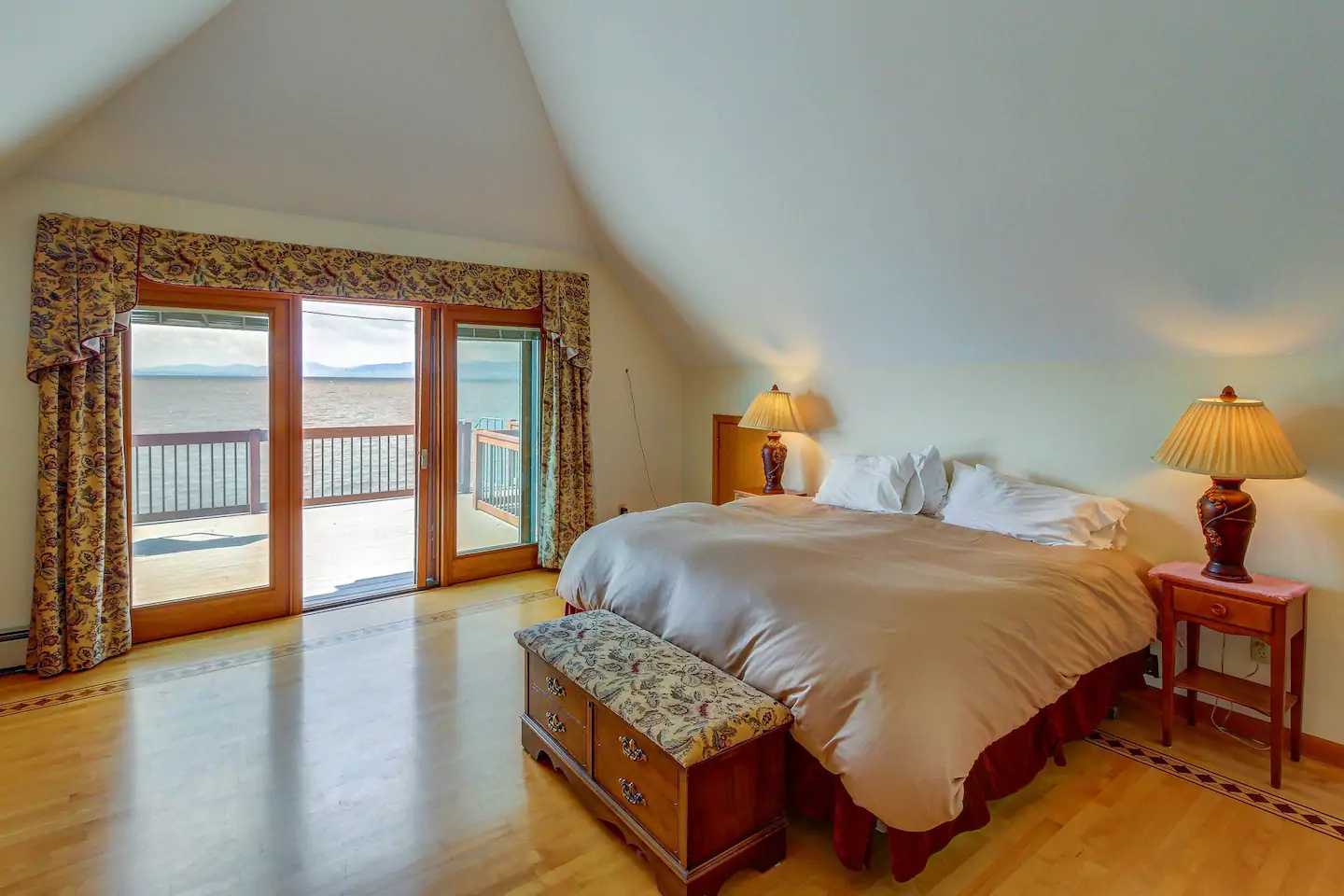 Speaking of lakefront homes, if you're traveling to Burlington, a stay on or near the water is sure to make your experience extra memorable. There are plenty of Burlington VT vacation rentals out there, but staying at Lake Champlain is absolutely gorgeous.
This lakefront Vermont Airbnb can accommodate up to 8 guests and is technically located in Colchester, just north of Burlington. It's right off the waterfront bike path, which is definitely a bonus if you're into cycling, or if you enjoy an evening walk along a beautiful shoreline.
There's so much to love about this property, and I think it would make an amazing family retreat. There is a foosball table for the kids, a private deck/patio with grill where everyone can enjoy the lakeviews, and many other amenities. Check it out for sure if you're looking for Airbnbs in Burlington Vermont.
---
---
Are you looking for an Instagram worthy Vermont cabin rental? Hi, you've found it. This Vermont Airbnb is beyond cool.
Not only is it a stunning Nordic inspired cabin, but there's a nearby sauna for you to use as well. This Airbnb is situated approximately half an hour from Montpelier, Vermont's quaint and quirky capital city. but it is in a secluded woodsy area that will feel like wilderness.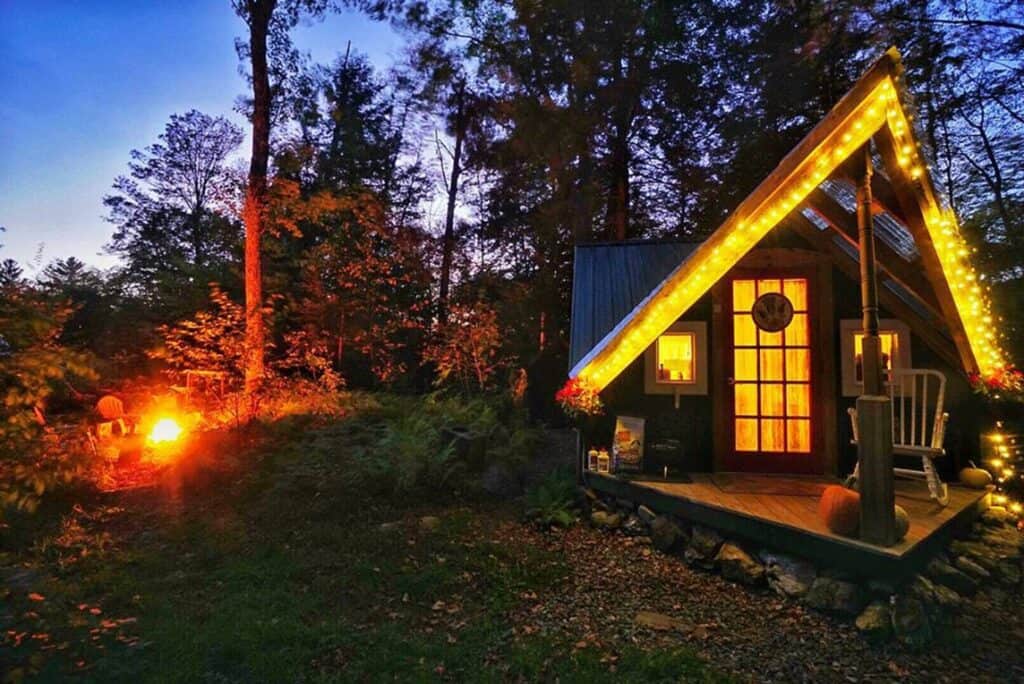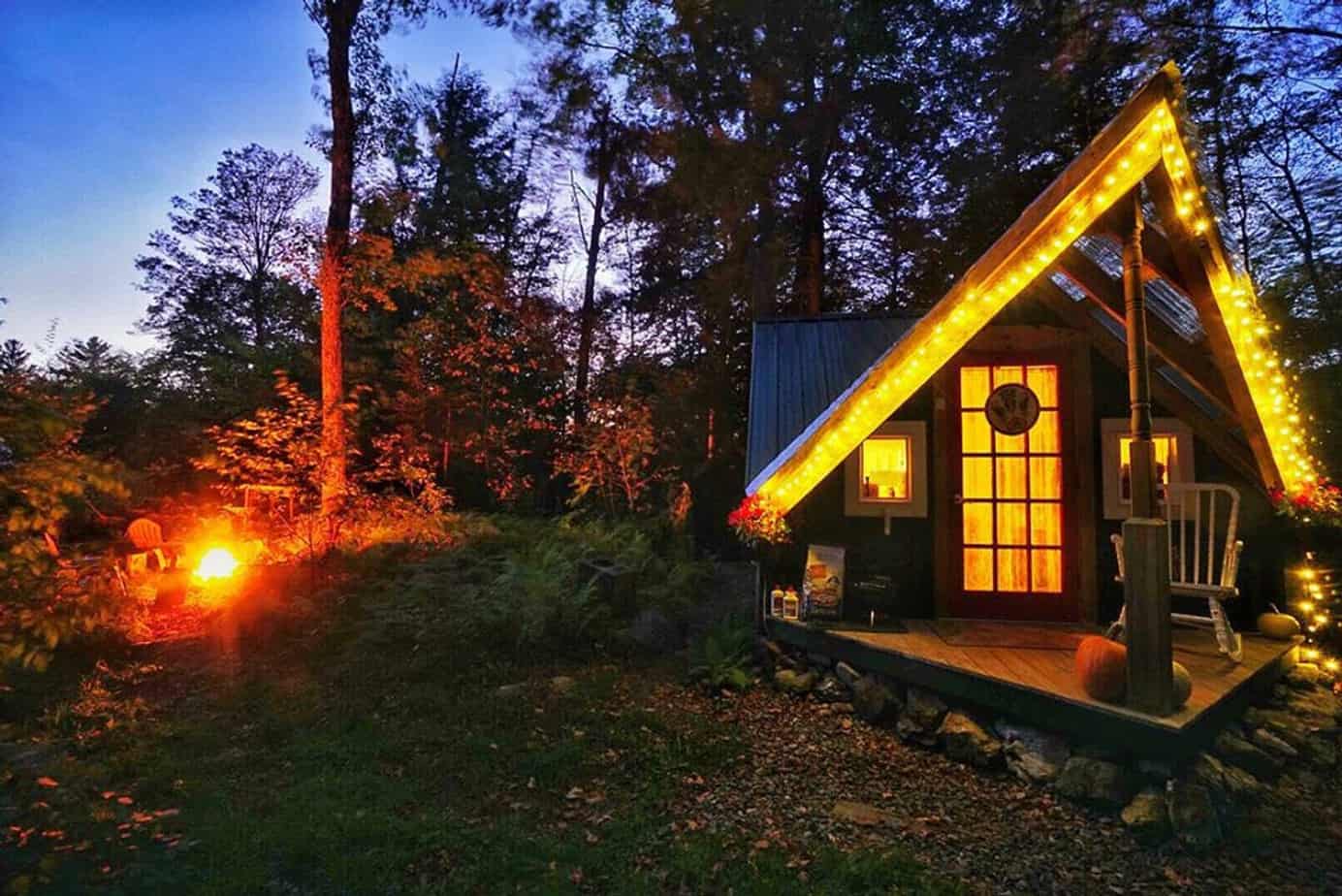 ---
---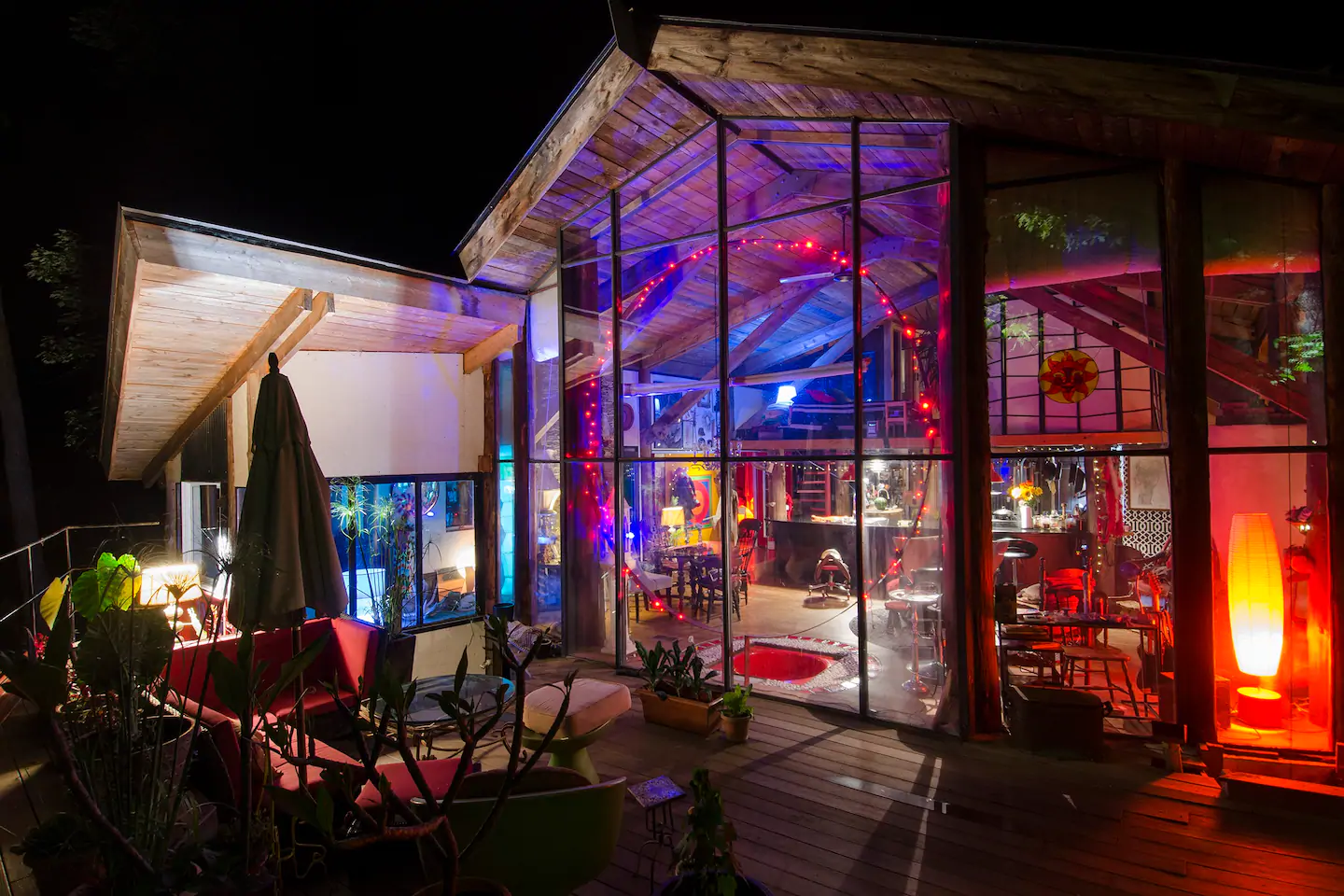 Finally, consider staying in a Vermont Airbnb that's been featured in Boston Magazine! This incredible timber-framed home, partially designed by a famous architect, is definitely one of the most popular vacation rentals in Fairlee and might be one of the coolest places to stay in all of Vermont.
With massive windows, a Finnish steam sauna, and 2 stone fireplaces, that's just the start of all that you'll enjoy at this unique Vermont Airbnb.
Fairlee is just over the border from New Hampshire, so it's a convenient location, although you may not want to leave this hidden gem. Be sure to read the whole listing on Airbnb as there are many important details to know before booking.
---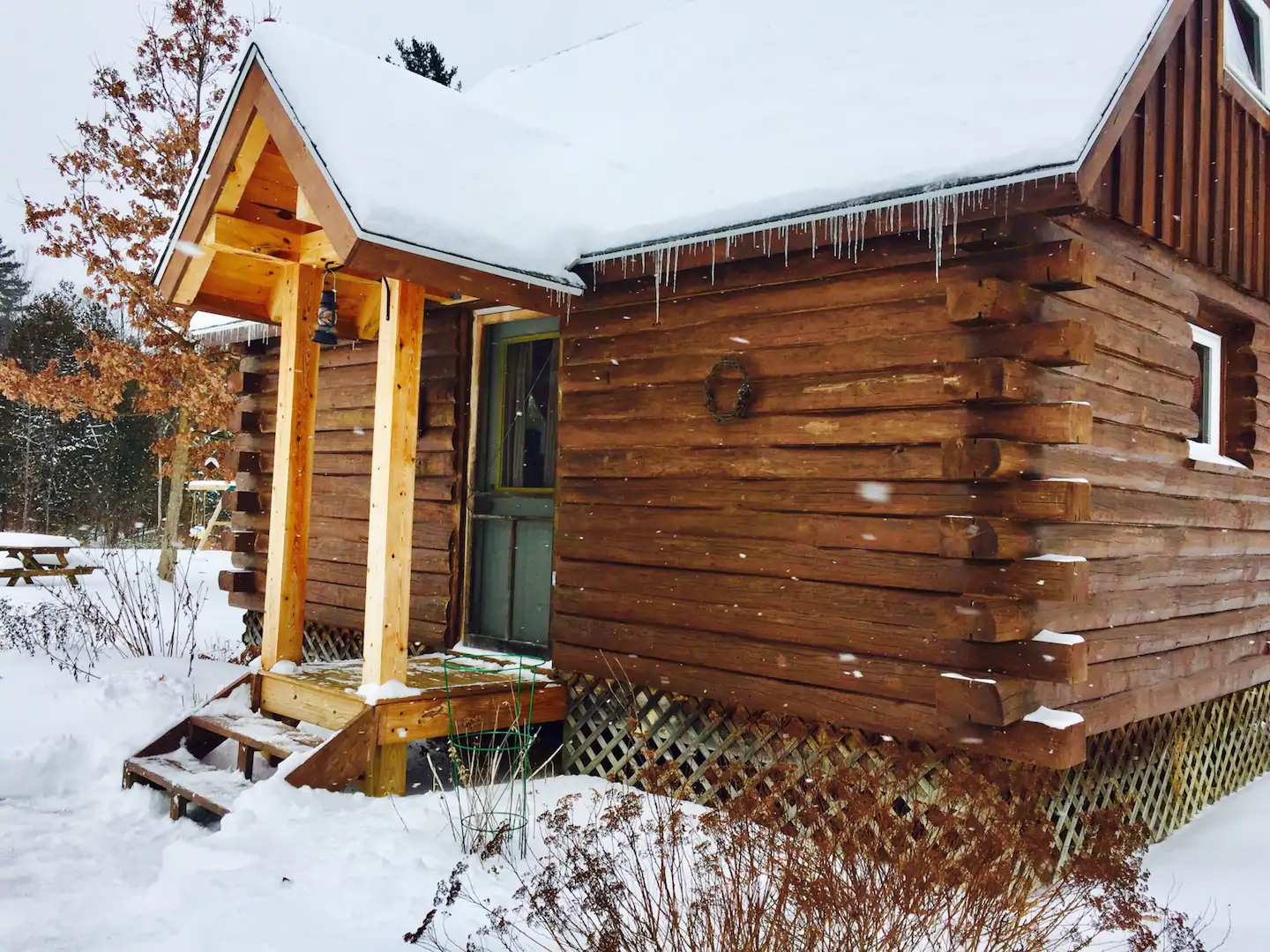 Do you want to be in the ideal location between the Green Mountain National Forest and the Champlain Valley? This classic log cabin Airbnb is exactly what you want. Not only is it in a very convenient spot close to the town of Middlebury, it's also incredibly cute inside.
Located on a farm, you might be surprised with some special gifts from the hosts (such as fresh eggs and maple syrup). In the colder months, cozy up to the gas fireplace with a book and some wine, and in warmer seasons, enjoy the grounds surrounding the cabin.
---
How does staying in a Vermont vacation rental with a vintage charm aesthetic AND a hot tub sound? Then definitely check out the Velvet Antlers Vermont Vintage Cottage, the 1200 sq ft airbnb that is beautifully situated for a perfect Vermont getaway in the forests of the Green Mountains.
3 bedrooms and 1.5 baths provide the perfect accommodations for 6 people, and features like a two-level deck, hammock, two grills, outdoor shower, fire pit, and cottage gardens just put this place right over the top of best airbnbs in Vermont!
---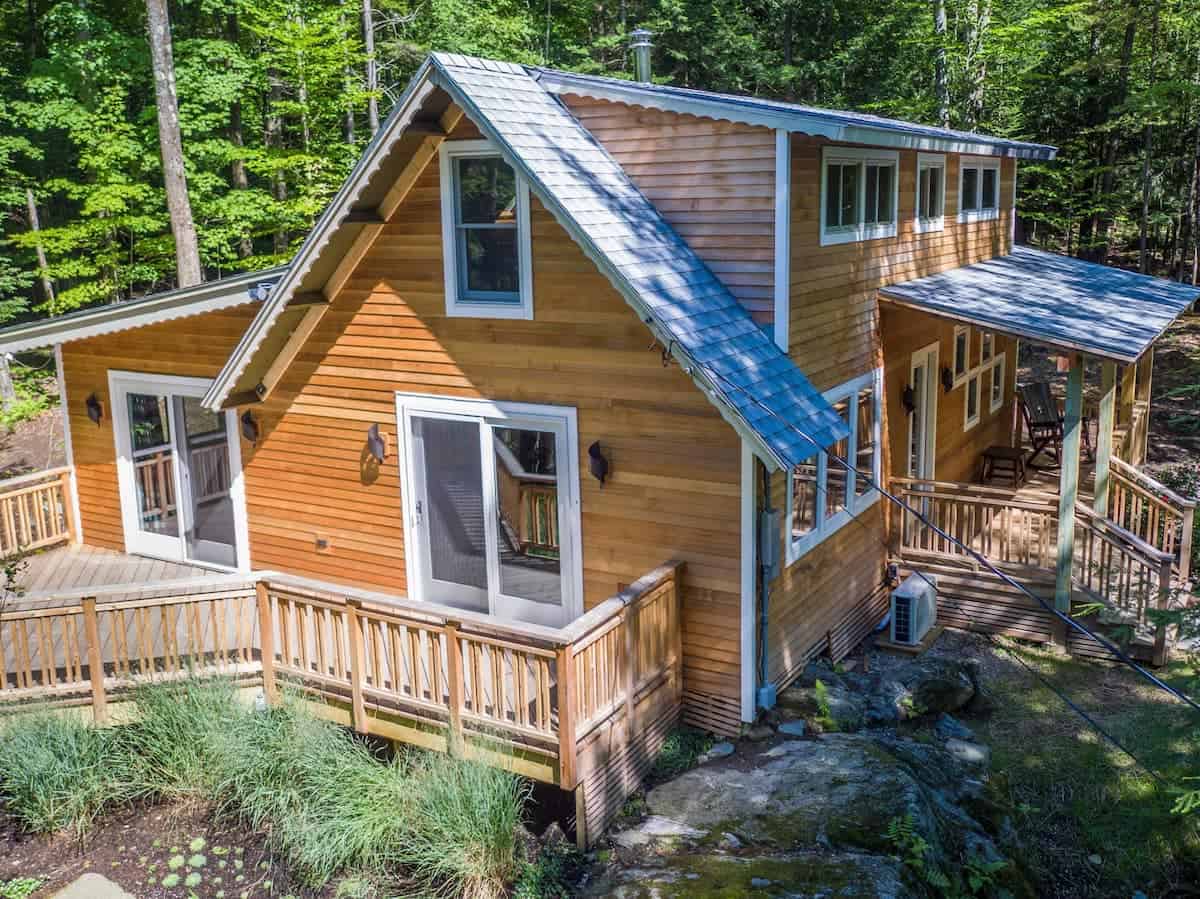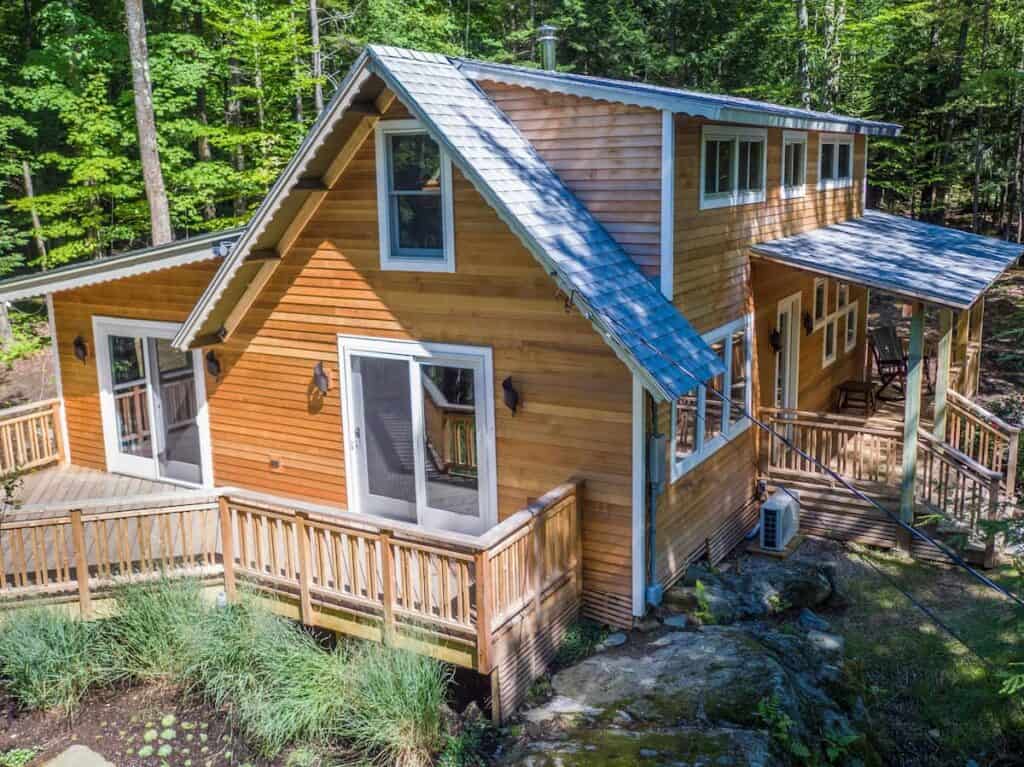 Have you ever wanted to visit Vermont by staying in a lovely cabin retreat? Look no further than this Vermont Airbnb! It's perfect for up to three guests and is hosted by a superhost in Elmore, Vermont.
While it's only suitable for three guests, the interior is anything except tiny. There's a huge living space, a massive full kitchen, and a luxurious bathroom. Plus, there's a patio with rustic wooden rocking chairs for you to relax on in the early morning.
This alluring cabin will have you feeling utterly cozy during your Vermont getaway. Plus, there are extensive grounds that you can explore on your own to get out in nature!
---
Have you heard of the Vermont Hobbit House? The absolutely dreamy Airbnb in Vermont that gives off all the hobbit vibes with its round shire green front door and its earth roof you can walk on to enjoy the surrounding views?
The entire property is hobbit themed, so if you've ever dreamed of staying at the Shire, this is the VT Airbnb to make that dream come true! Sleeping only two guests, bring whoever your favorite person is at the moment to stay in this dream of a Vermont Airbnb with you.
This absolutely adorable tiny house Airbnb is in the perfect location to be a great landing spot for all kinds of fun Vermont adventures, whether it's skiing at Okemo or Stratton, kayaking or tubing the West River, or just hanging in nearby Manchester.
Vermont tiny house living has never been as cute as the Apple Blossom Airbnb in Jamaica makes it out to be, and surprisingly, this tiny home can sleep 5! There's also plenty of outdoor space to stretch out in in the garden.
---
Read these next:
---
---
Pin this post to save for later!