---
Traveling in 2021? Please check with each state/destination for its current COVID-19 guidelines, as these are constantly changing and the most accurate, up-to-date information may not be reflected here.

*Links in this article may be affiliate links, from which we may earn commission. See our Privacy Policy for full details.
---
If you're traveling in New England, the options are pretty darn great. You don't have to sort through the 1000s of stunning New England AirBnb properties to find the best, however. We've compiled a list of the best ones we've found—and a few we've even stayed in. The best AirBnbs in New England. These spots are a MUST-BOOK. Read on to discover the epic accommodation that you could rent for your next New England vacation.
There's a lot to love about AirBnb. Often, it's the reasonable prices and availability. Sometimes, it's the advantage of staying with locals, and getting their perspective on your destination. Other times, AirBnbs are amazing because of the incredibly unique properties they are. From castles to cabins, AirBnb offers a huge array of flat out amazing vacation rentals. And New England's AirBnbs certainly do not disappoint.
Check out this post for tiny homes, beachside cottages, historic homes, farms, treehouses, and architectural wonders throughout New England. And then get planning for your next vacation in one of New England's best AirBnbs!
Please note: As an Airbnb Associate, I earn when you book through these links.
---
The Best Airbnbs in New England – The Essential List
Already narrowed down where you're going? Be sure to check out our lists of top Airbnbs for each state:
Rhode Island: coming soon!
---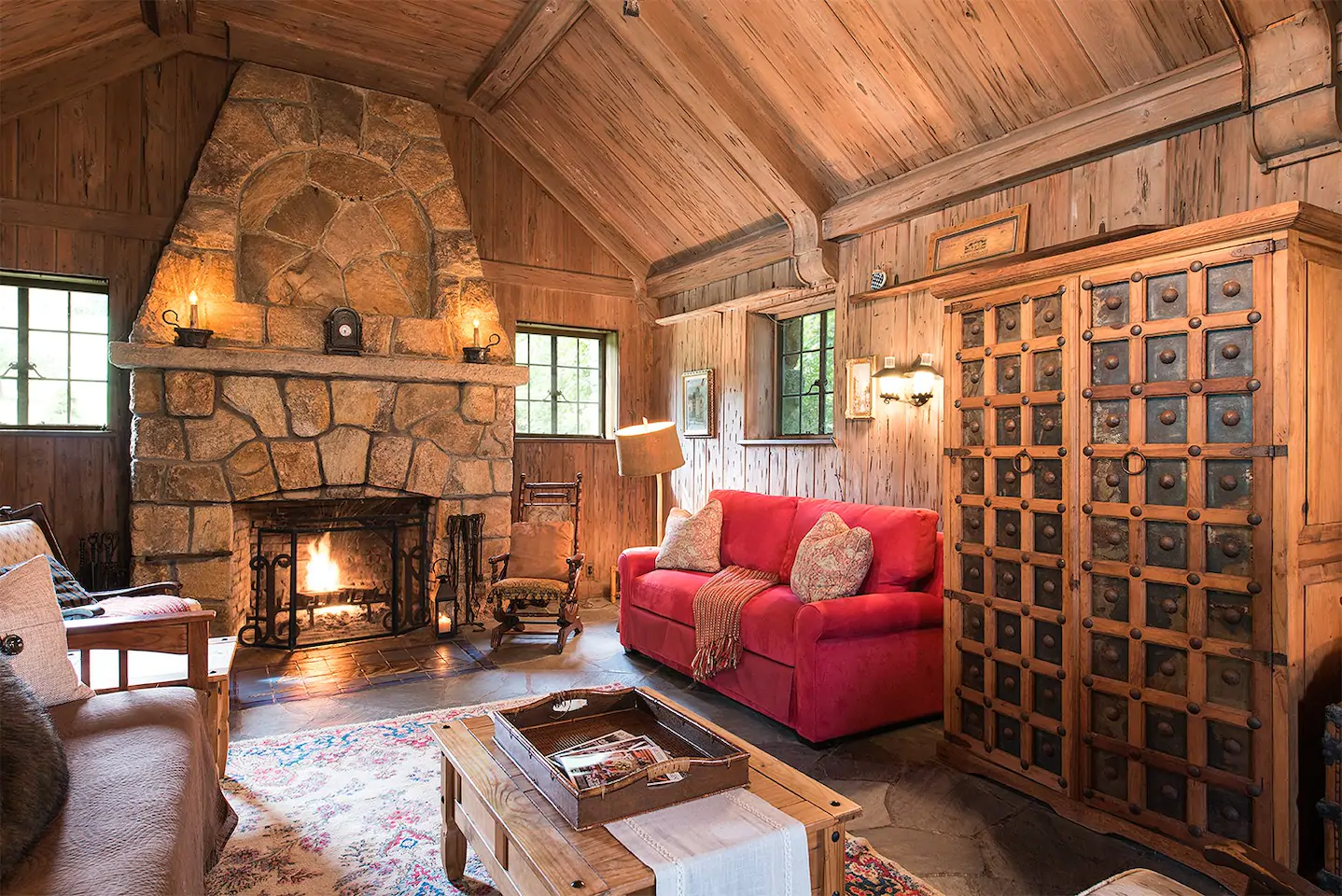 Without a doubt, this has to be one of the coolest Airbnbs in all of New England. What a stunning property.
A secluded stone cabin in Bloomfield (a suburb of Hartford), this CT Airbnb invites up to 6 guests to get cozy.
This is a 2-story cabin that has a kitchen, full bath, and stone fireplace, as well as stone patios and an outdoor fireplace. There is also a beautiful swimming pool just next to it. From the pool area, you'll have a view of the historic, imposing main property just up the hill (a gorgeous stone mansion). This cabin is located within the grounds of a historic landmark on top of Talcott Mountain. You have easy access to lots of nearby attractions, too, so you'll definitely have an excellent vacation.
Click here to check out the listing and book!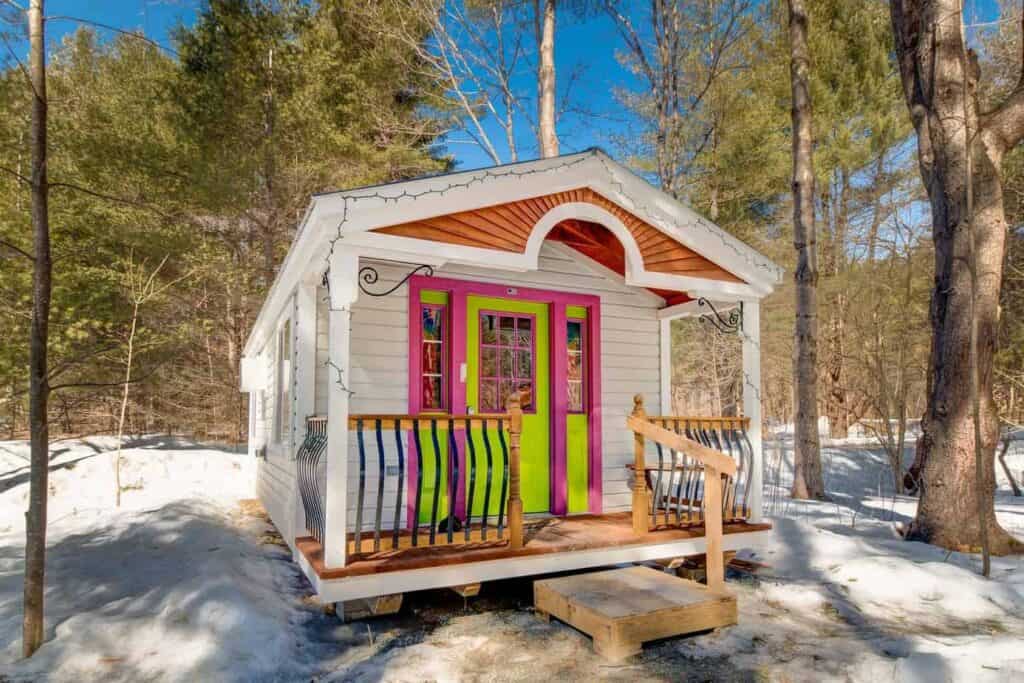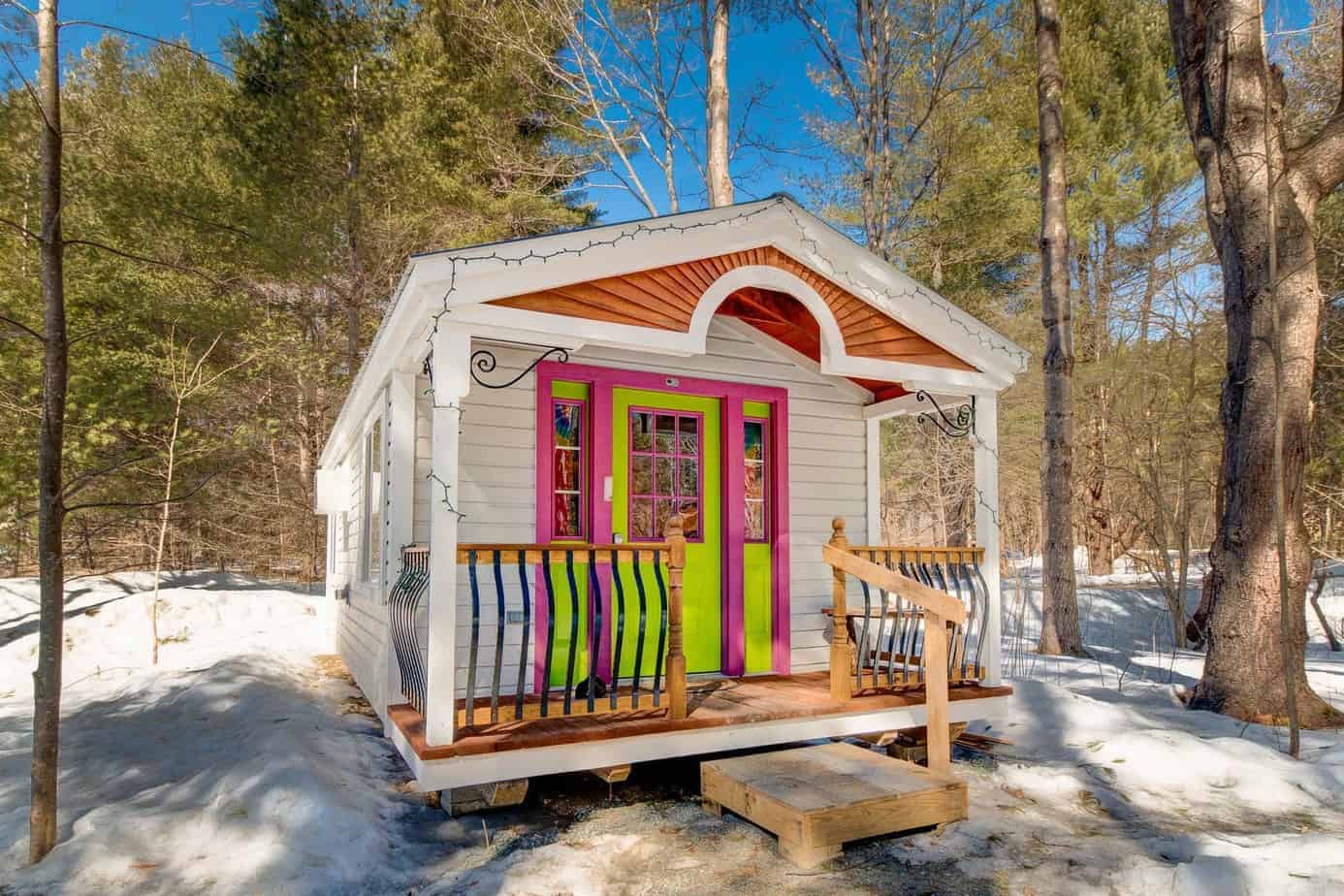 Can you believe this adorable tiny house can sleep five people? It's true! The Apple Blossom Cottage is beyond adorable, and is beautifully outfitted to meet all your needs.
Located in southwestern Vermont, the cabin is tucked away in the woods, with easy access to Stratton Mountain (for ski lovers), shopping in Manchester, VT, and plenty of hikes and outdoor adventures. This sweet spot might be the cutest tiny house AirBnb Vermont has.
Click here to check out the listing + book!
---
Read Next: The Ultimate New England Road Trip Itinerary
---
Octagonal Glass Treehouse in Otis, MA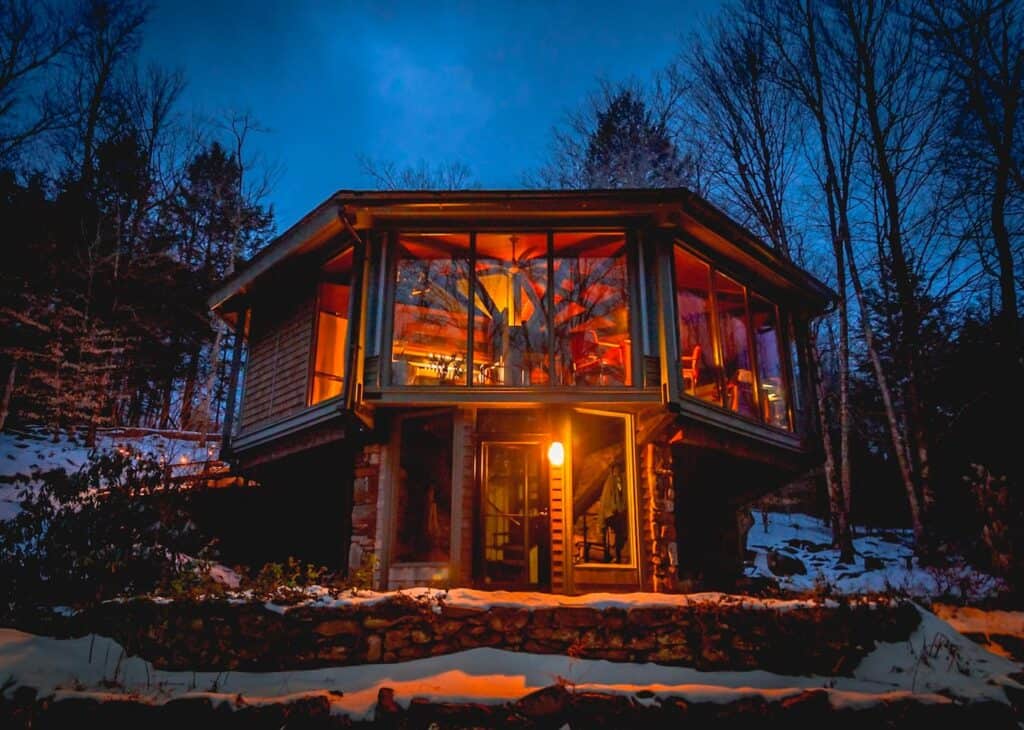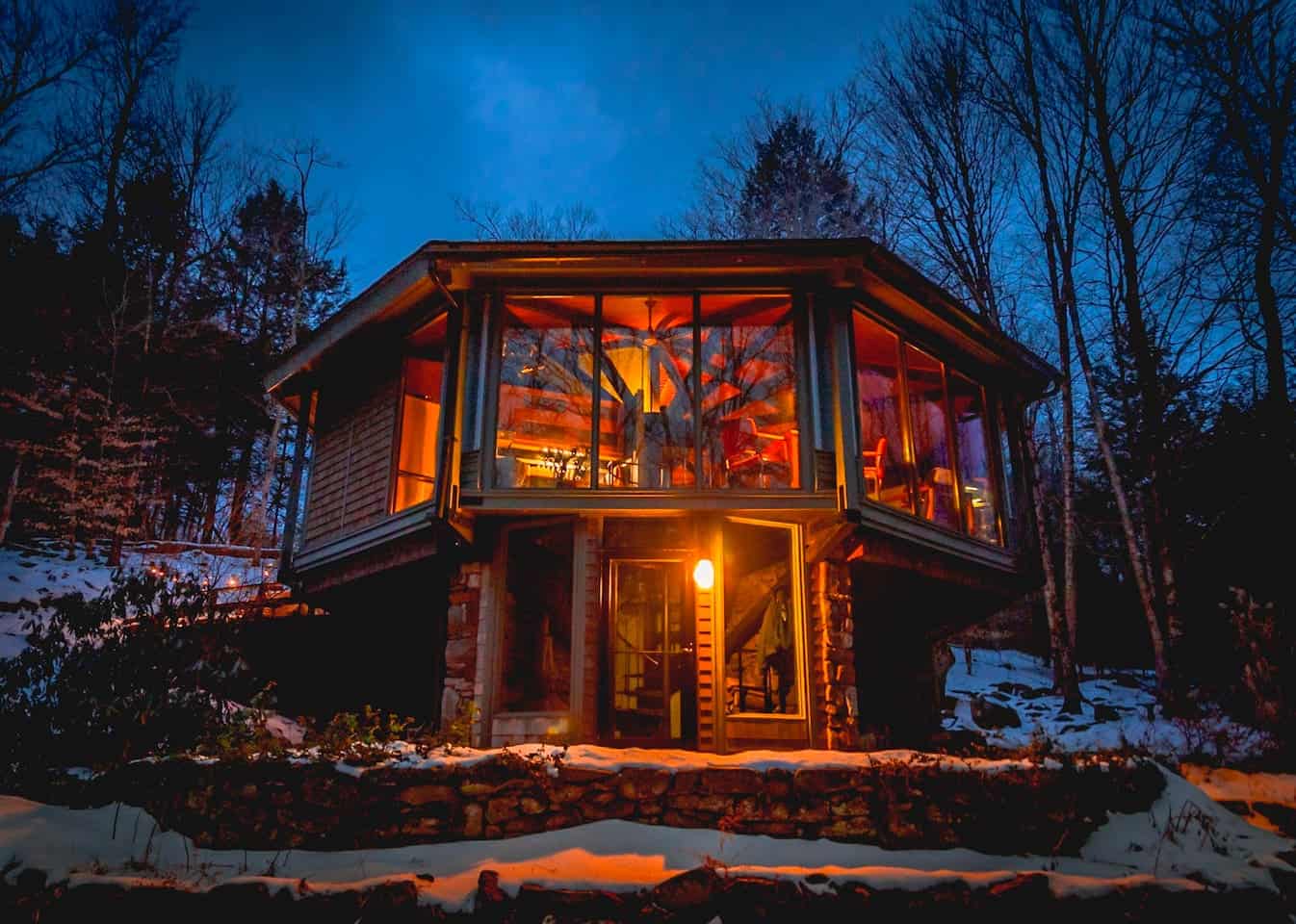 Looking for a one-of-a-kind stay? Look no further than this phenomenal Airbnb in the Berkshires! Floor-to-ceiling windows allow you an unfettered 360-degree view of the 7 acres this octagonal glass tree house rests on. This unique home manages to be both spacious and cozy with a wood-burning fireplace and expansive views that are impossible to grow tired of.
Kitchen and bathroom essentials are provided, and the treehouse is ideally situated in the Berkshires for many activities, including wintertime skiing, summer sight-seeing, and Berkshires must-do activities like Tanglewood and The Norman Rockwell Museum less than a half an hour up the road. Wifi is also available in the treehouse.
If you are looking for unique, interesting, and absolutely breathtaking, this is the Airbnb for you!
---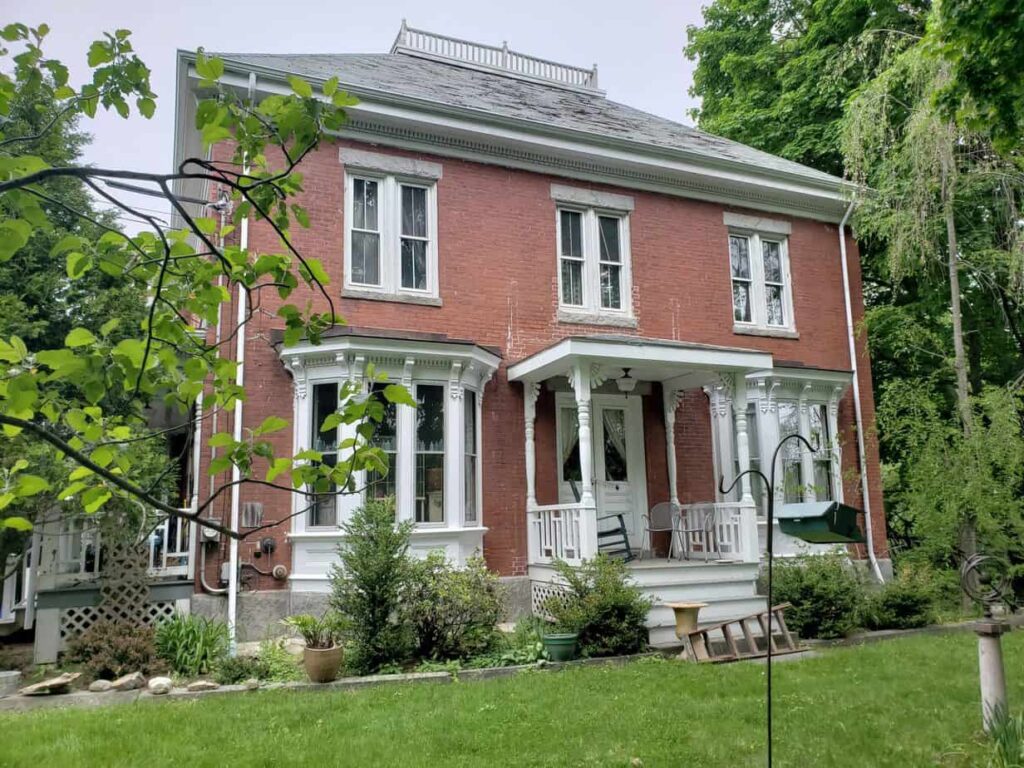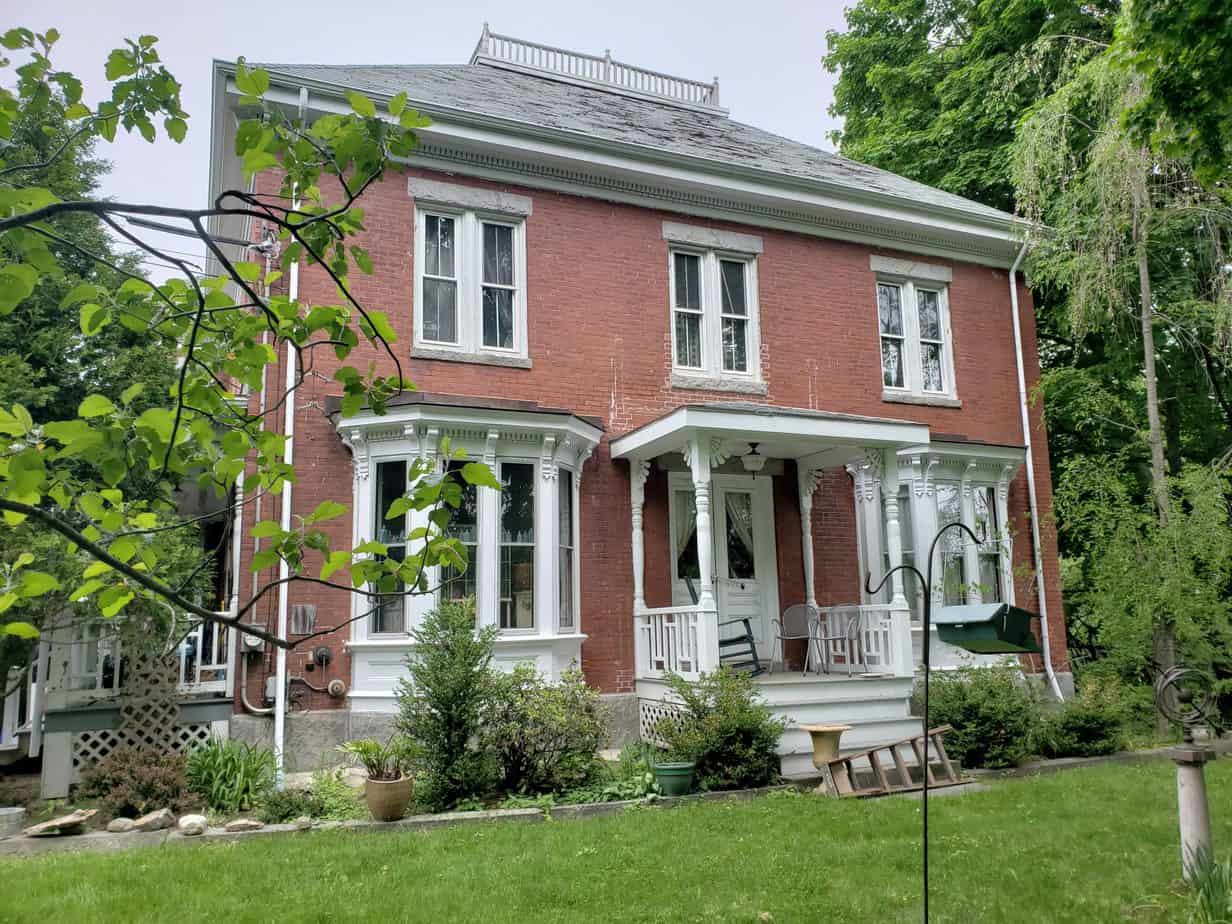 Is this the best Airbnb in Maine? We actually stayed at this New England AirBnb in May of 2018. Located in Westbrook, this beautiful place is just outside of Portland, Maine.
The space is absolutely gorgeous; little vintage touches everywhere, and a lovely combination of antique and modern design.
Host Peter has clearly put a lot of love and work into his property, and it shows. He's also a fantastic host and great to talk to. No joke, best AirBnb host we've ever had.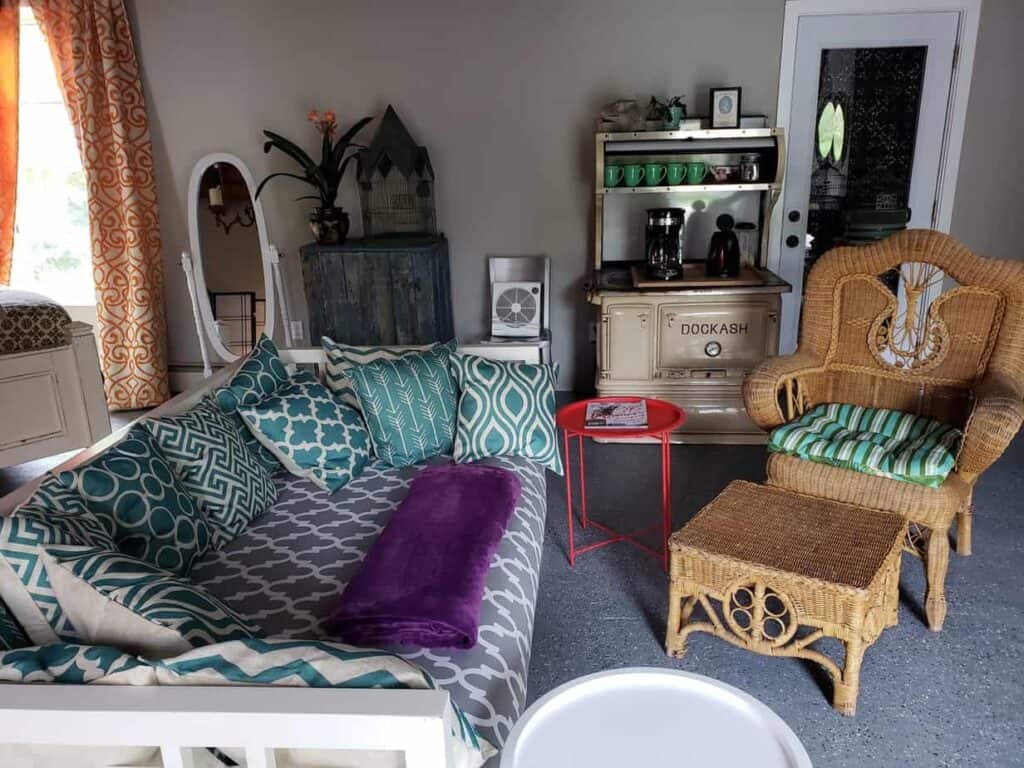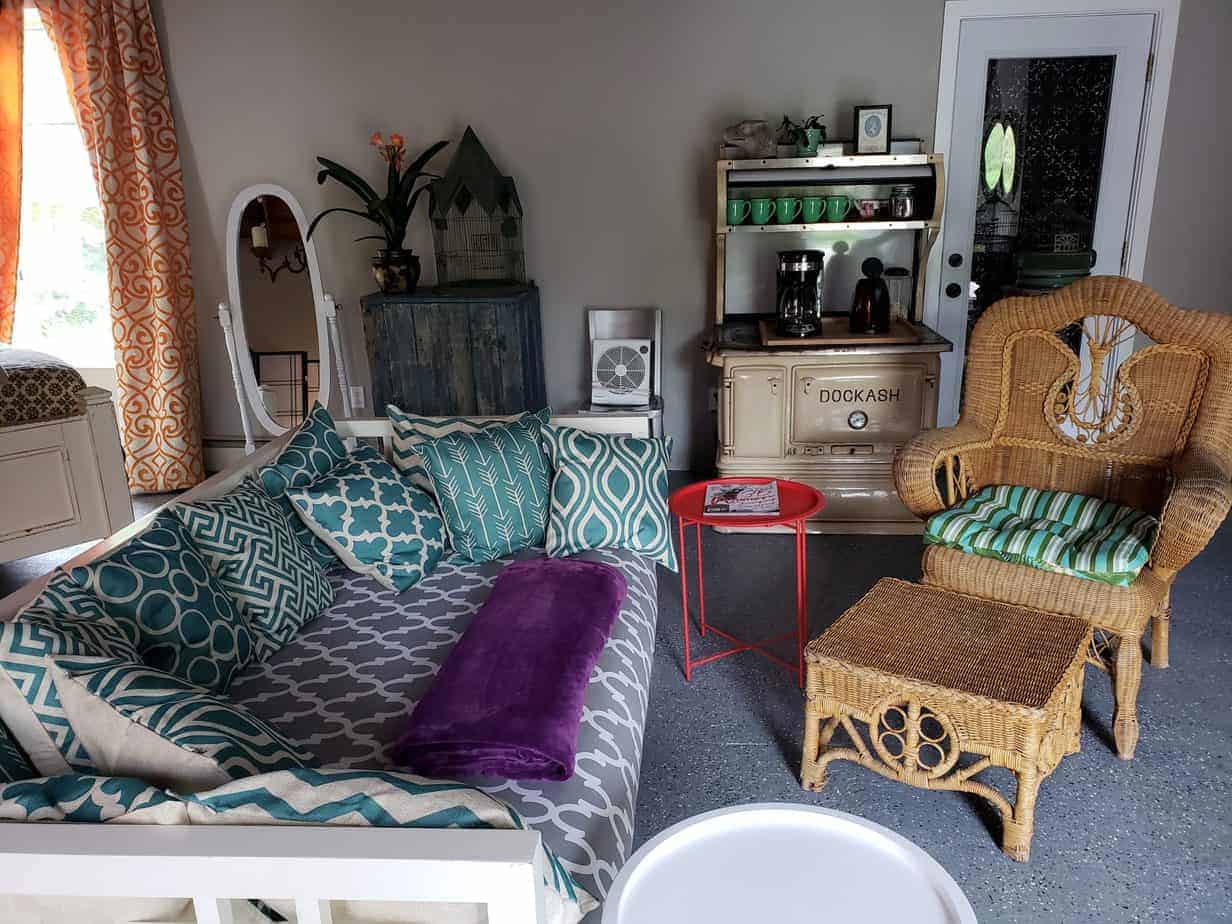 There's plenty of room for two or even three people to stay in this suite, and Peter has another AirBnb space onsite, too. Enjoy the lush backyard, preferably with a beer and a fire.
The location of this rental is ideal, because you can easily take an Uber or Lyft to downtown Portland and not have to worry about parking. Or if you'd prefer to drive, it's about 10-15 minutes to downtown.
Peter's property seems super popular, so good luck getting a booking! If you go, tell him Amy and Nathan sent you!
Click here to check out the listing + book!
---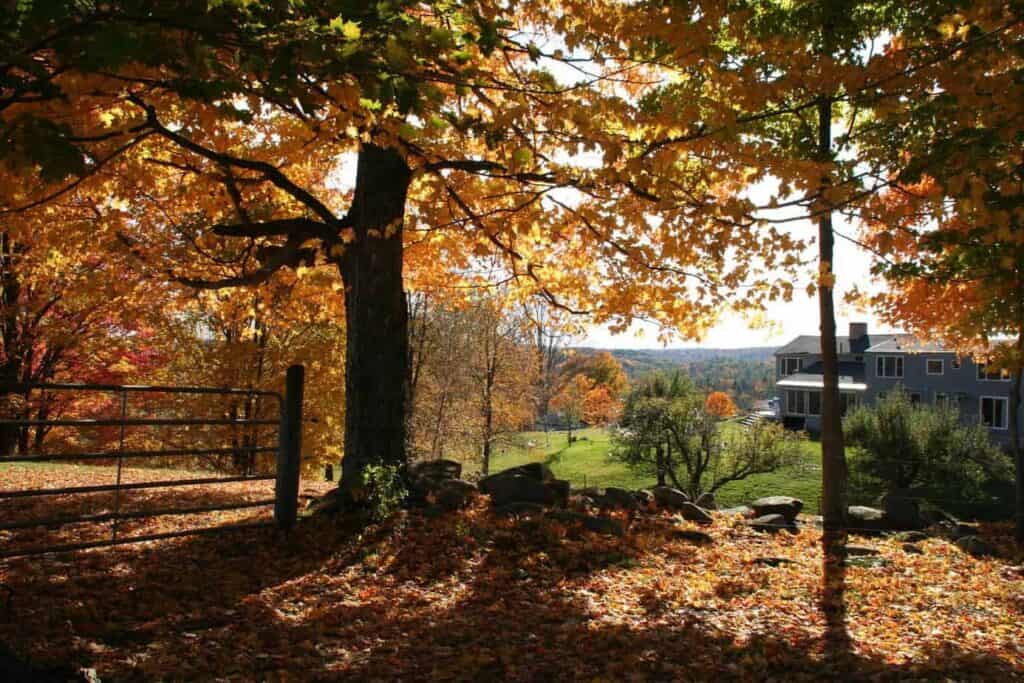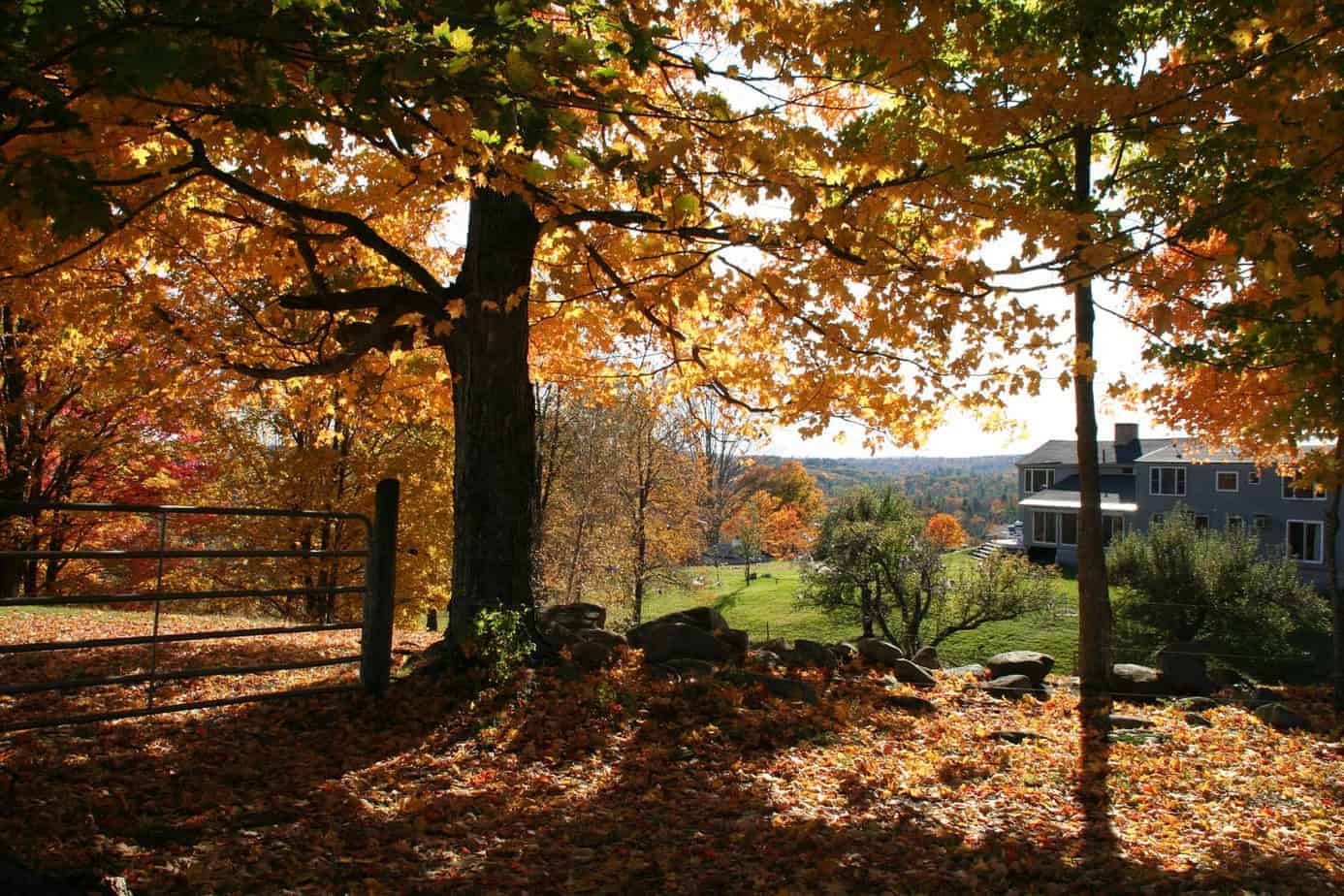 Have you ever wanted to stay at a working cattle farm? Now's your chance! This is one of the cutest New England Airbnbs we've seen.
Located in New Hampshire, the 36 acre Miles Smith Farm was founded in the 1830s and still functioning today.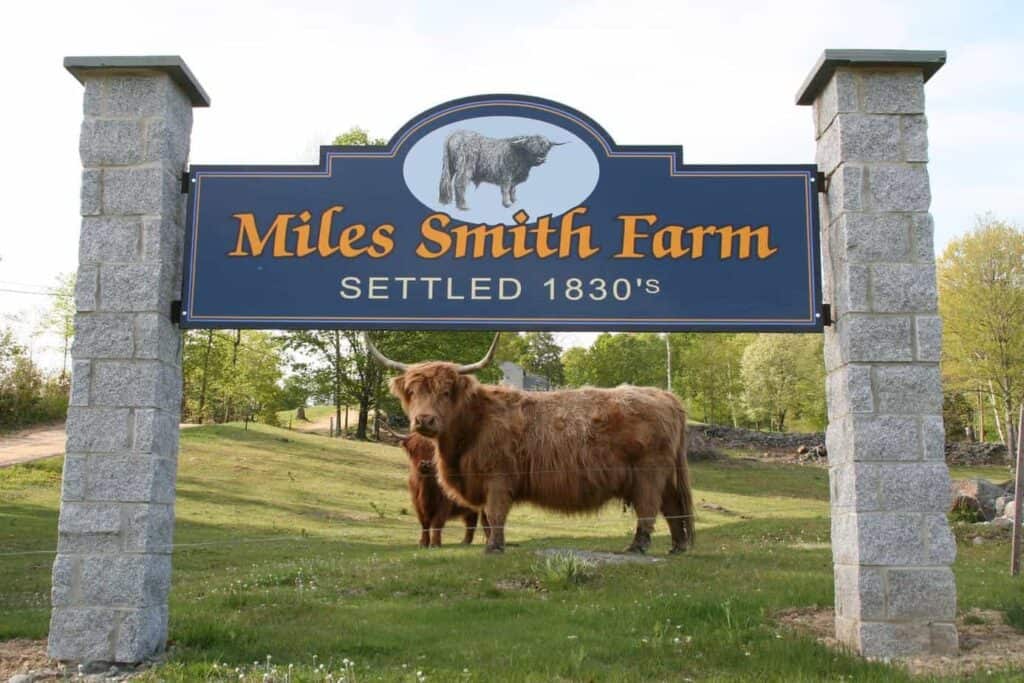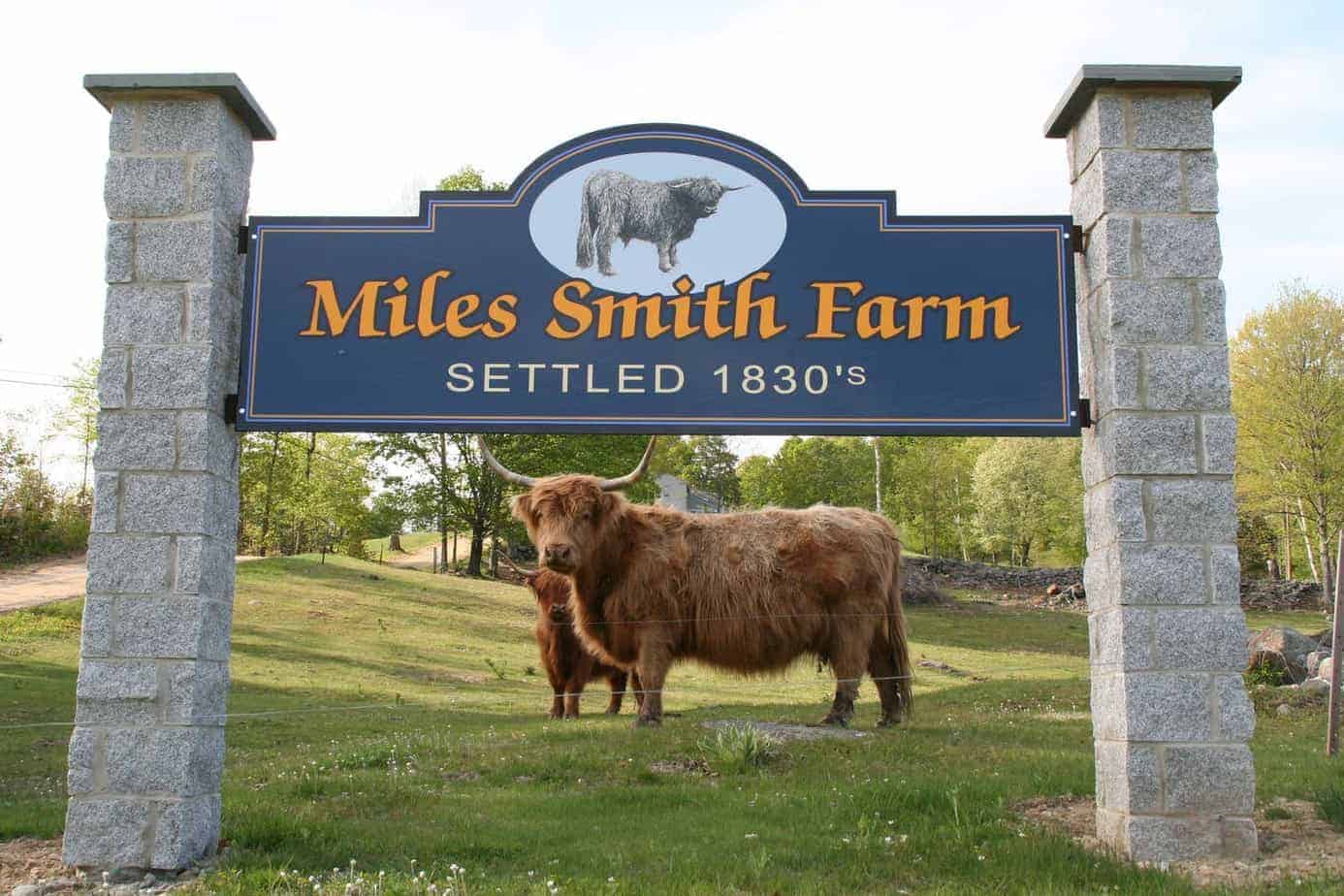 This special property has scenic views and a bevy of Scottish highland cattle. According to the site, "Our Scottish Highlander cattle are so tame we ride them. You can too!" Ok! Sign me up!
Click here to check out the listing + book!
Read these next:
10 Awesome Spots for the Best New Hampshire Airbnb Stay | 13 of the Coziest + Best Cabins in New Hampshire
---
We cannot get over how enchanting this cottage is. Is this the most romantic Airbnb New England has to offer? Probably! It's on thousands of wishlists and for good reason.
Like something out of a fairytale (or a Hobbit village), this place oozes romance and charm. And as an extremely popular property, this is a worthy contender for best Airbnb in New England.
This is a somewhat famous place—it used to be a sculptor's summer studio and is set in the artsy, nature-filled Berkshires of Western Massachusetts.
With a canopied bed and all the amenities you need, this would be ideal for a summer getaway or honeymoon stay. Plus, you can roam the lovely grounds and swim in a refreshing pond a couple of miles away. Ah, what a dream!
Click here to check out the listing + book!
---
Read Next: 6 Charming New England Towns to Visit in the Fall
---
---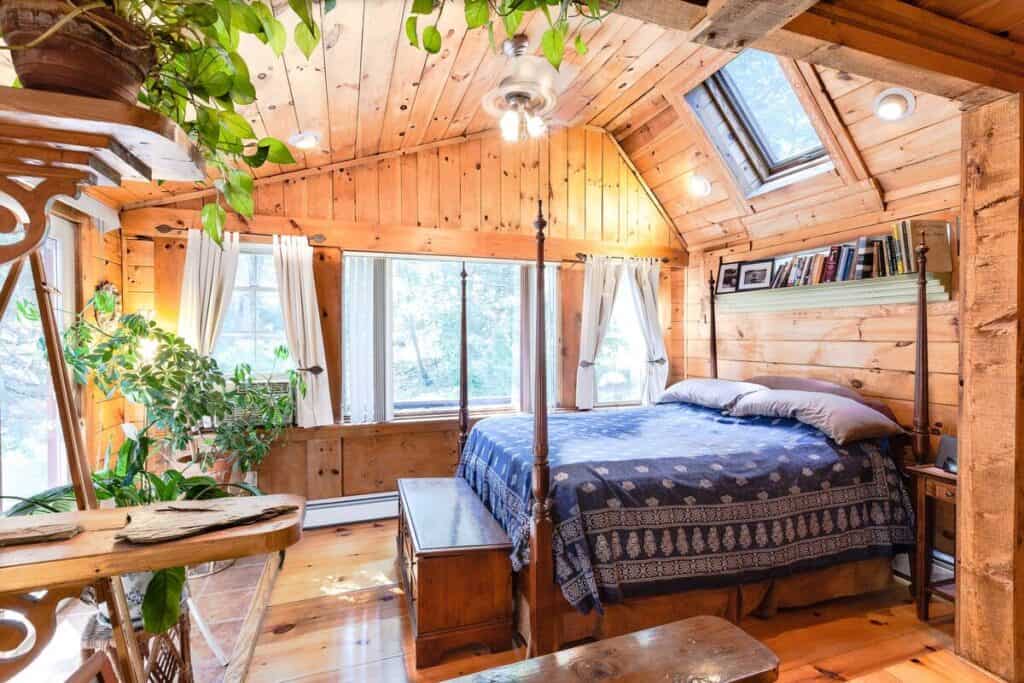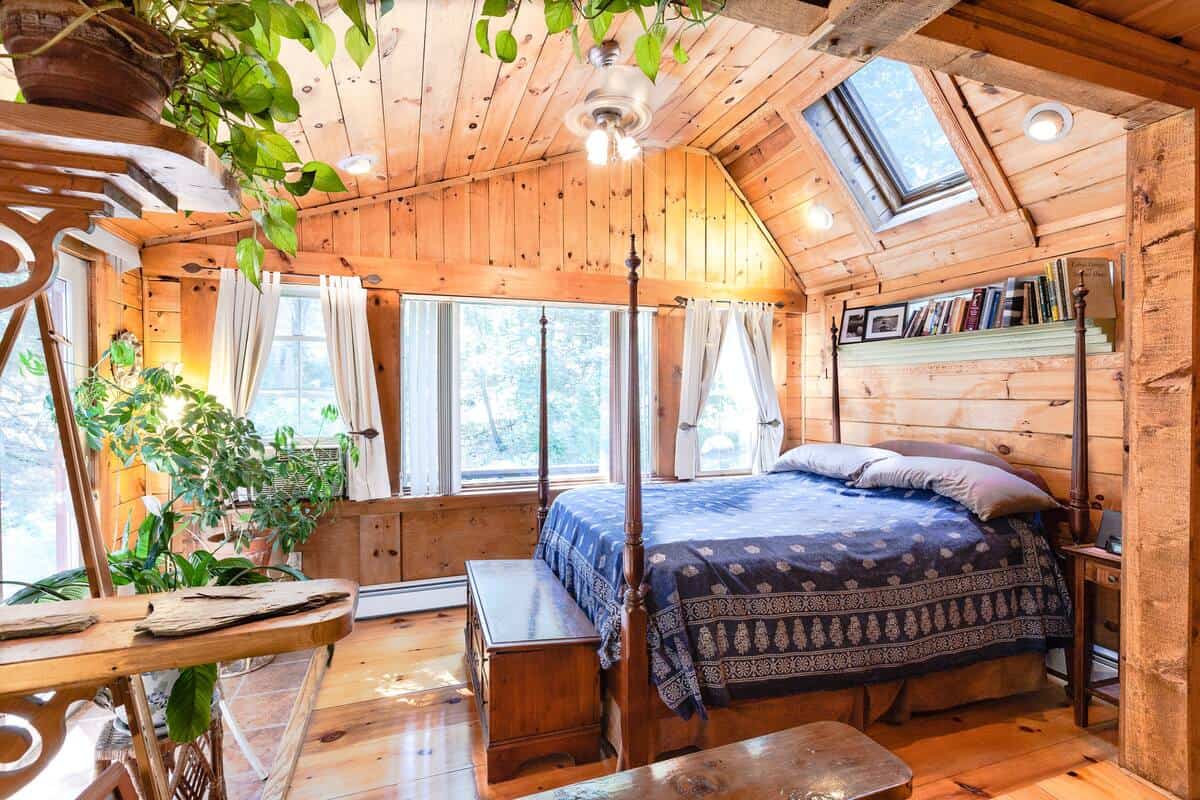 While many of the Airbnbs we've included on this list are good for two people, here's one that's great for a family or a group. This Wrentham cottage houses up to 6 happy guests. With beautiful wood craftsmanship and tons of natural light, this is a gorgeous home.
Lake Pearl is at the end of the road, with a boat launch and nearby beach access, so you can enjoy lakeside fun for sure, but if you want to make day trips to the cities, you're also conveniently located between Boston and Providence.
This would be an ideal property for a family looking for a stay in Massachusetts that isn't right in the middle of urban busy-ness. Planning to see a Patriots game? Gillette Stadium is just 10 minutes away.
Click here to check out the listing + book!
---
About 10 miles off the coast of Portland, Maine, lies Chebeague Island. This is a quiet spot to escape the city's hustle and bustle, and this Maine AirBnb is ideal for family vacations.
This stunning mid-1800s sea captain's home sits on two acres, on an island only accessible by ferry. The property can accommodate 8 guests in 5 rooms. Rooms can be booked separately or you can book all 5 together for a single rate. The hosts live onsite in the home. Airbnb guests have use of the main kitchen, public rooms, and grounds.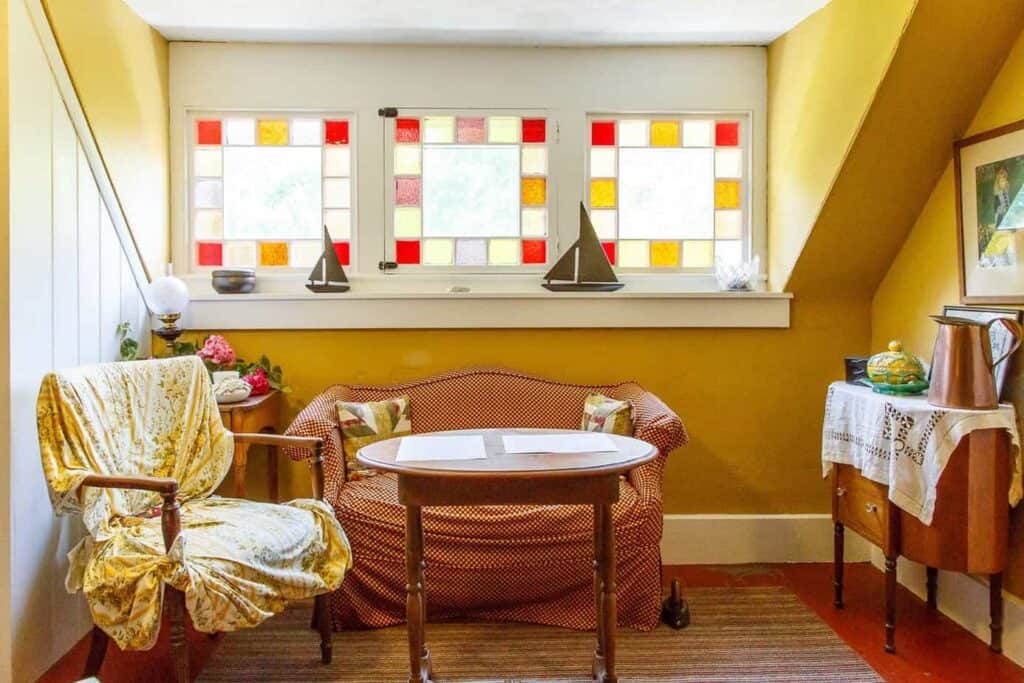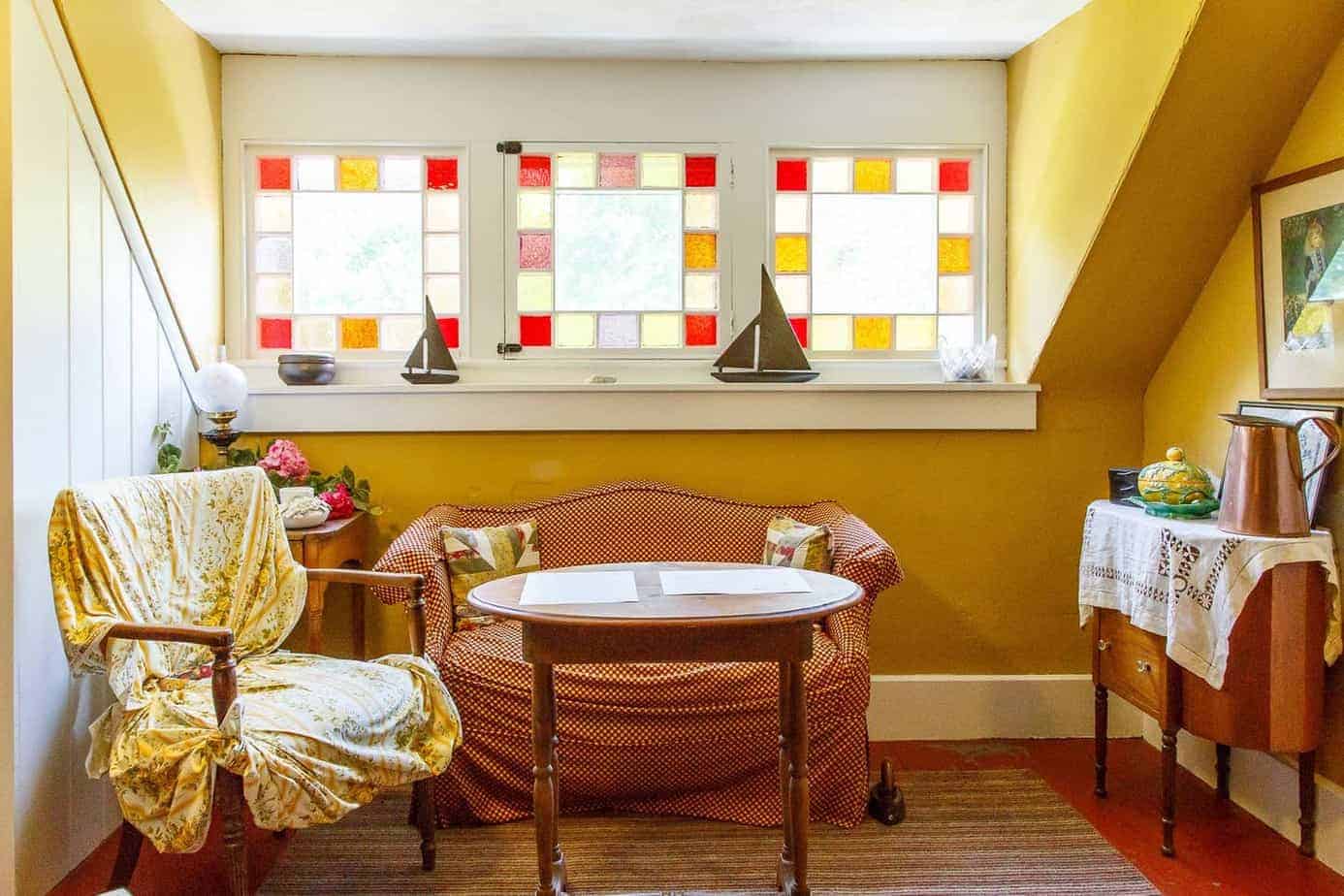 The old home is stunning and classic New England, with abundant nature on the grounds, and an even greater abundance of peace and quiet. This is one AirBnb Maine visitors should definitely book.
Click here to check out the listing + book!
---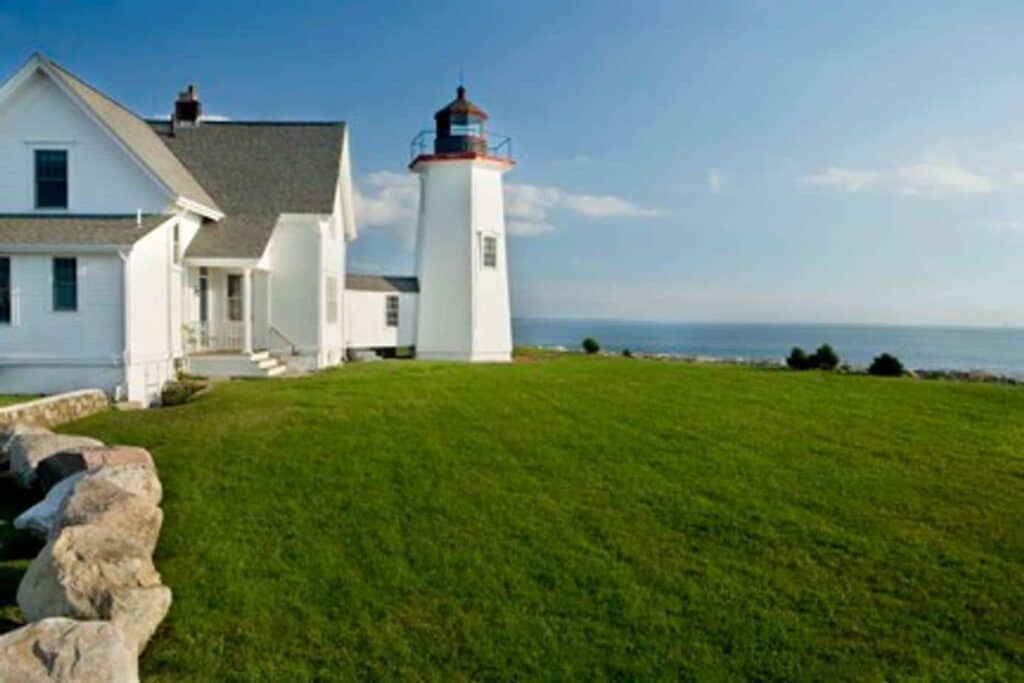 Could there be a more quintessential New England AirBnb than a lighthouse? Staying in a lighthouse AirBnb is true bucket list accommodation.
There are actually several New England lighthouses you could stay in, but this Massachusetts one has incredible views and beautiful decor. We just love it.
The Cape Cod location is great for a summer getaway, and the lighthouse can fit up to 8 guests. With 360 degree views of the ocean, we're pretty sure you'll want to stay more than just a few days. This just might be the best AirBnb Massachusetts has to offer!
Click here to check out the listing + book!
---
There are few places more beautiful in New England than Maine's Acadia National Park. We love visiting this region, and camping here is especially wonderful in the warm New England summertime. (Although who can beat the coziness of a crisp winter).
Instead of traditional campsite camping, however, why not try a rustic tiny home instead?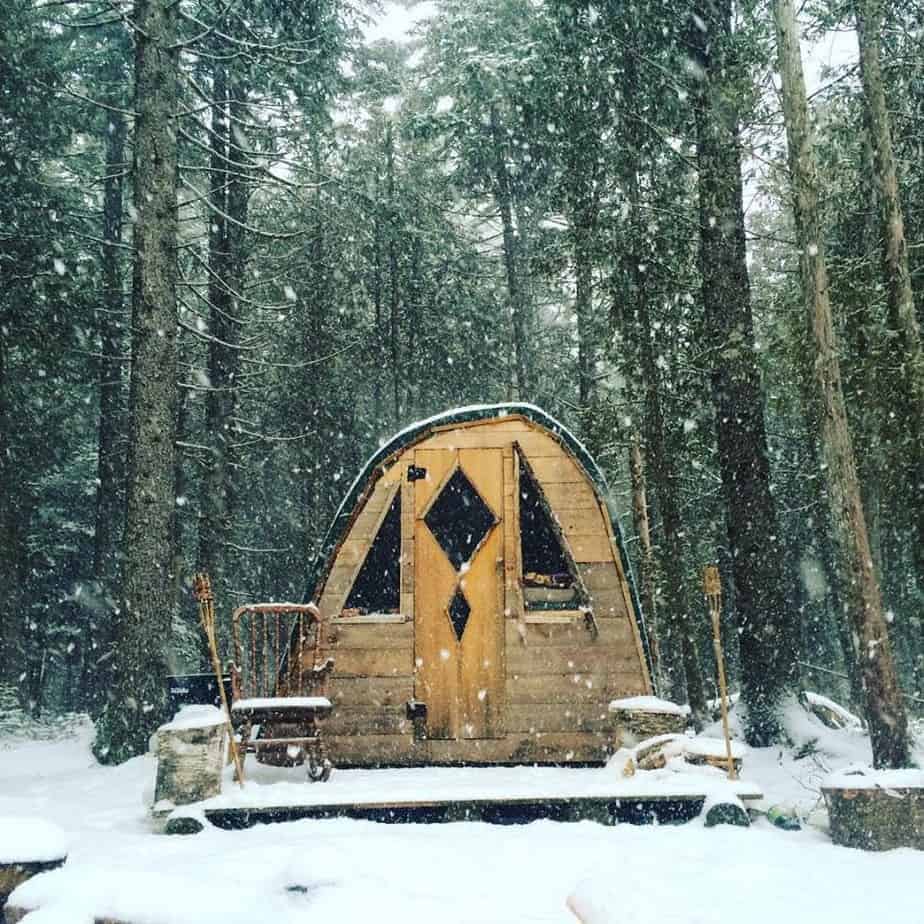 According to the listing, the hut is built "with bent maple poles in the style of an Iroquois Longhouse. There are large windows that let in the morning sun, space for storage, a wood stove perfect for winter stays and a cozy twin-sized bed."
The Coyote's Den can accommodate 2 guests. When you're not hanging out in the hut, you can explore the host's grounds. They've got a seven-acre forest with trails leading past various fairy houses and art installations. If you want to get farmy, you are able to pet the goats, mini horse, and other animals, and pick your own herbs and vegetables from the garden.
Click here to check out the listing + book!
---
I'm obsessed with this adorable camper/RV in North Conway, New Hampshire. This is one of my favorite New England Airbnbs I've come across. Not only is this in a fantastic location, the White Mountains of NH, it's a super cute and unique place to stay.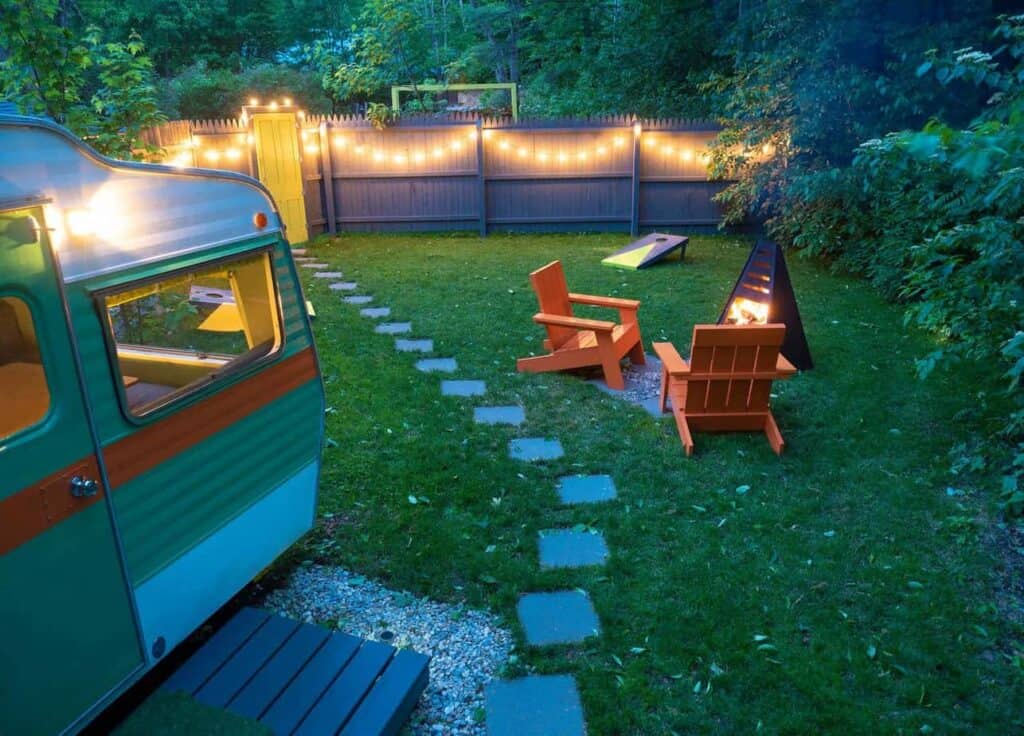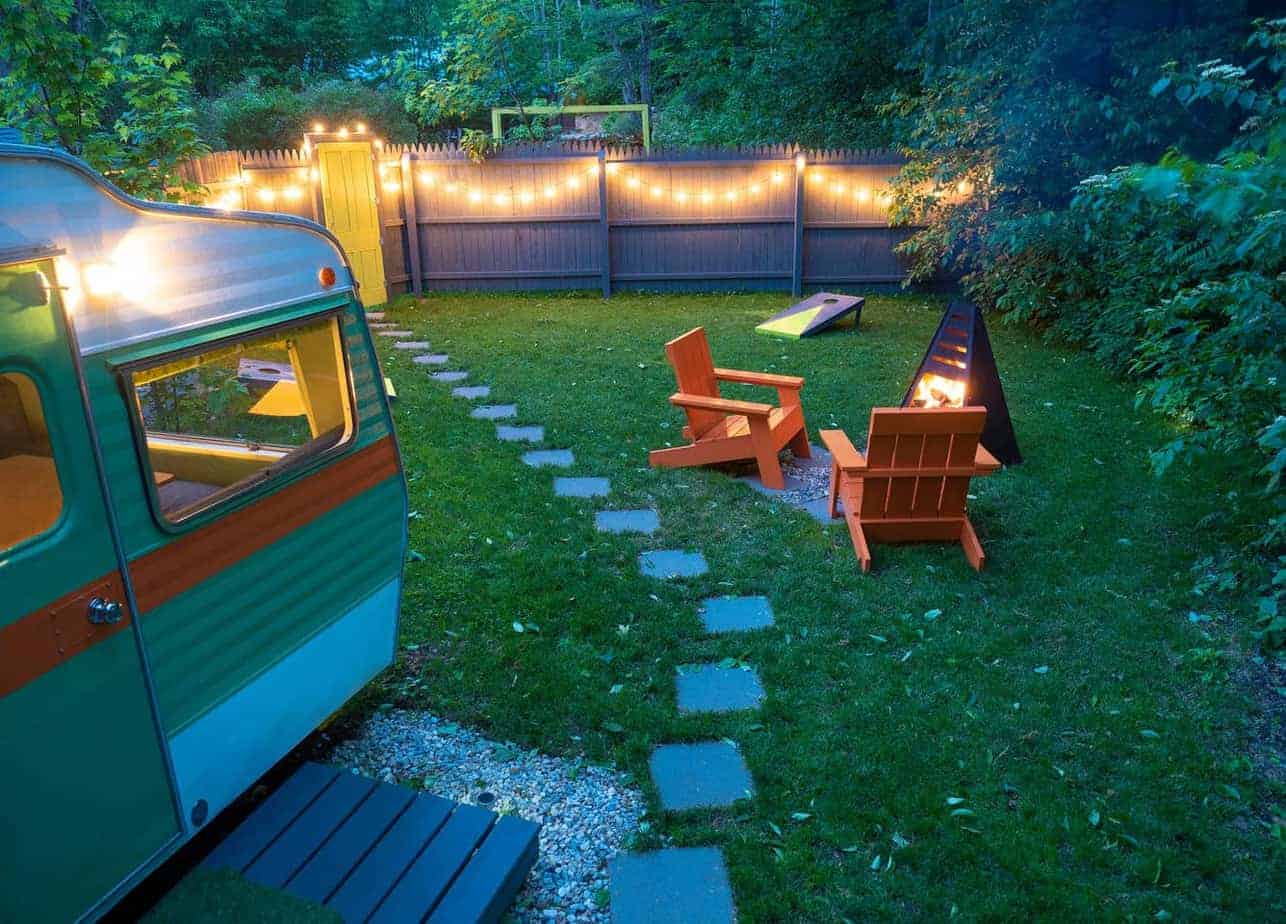 Two guests can cozy up in this 1970's British-style caravan. Inside, the decor is clean and modern—everything you could want in a getaway. Step outside of the caravan, and you're in a dreamy backyard space complete with an alluring firepit and an awesome enclosed outdoor shower. This is truly a great place for a fun stay, especially for couples visiting New Hampshire.
Click here to check out the listing + book!
Read Next: 11 Essential Things to Do in New Hampshire in the Fall
---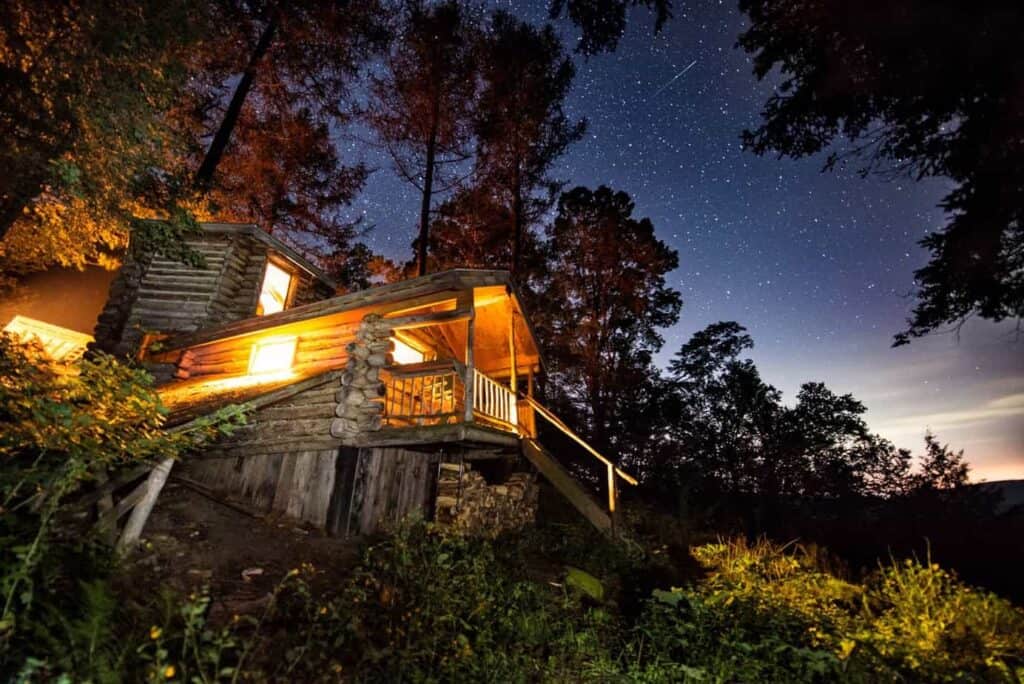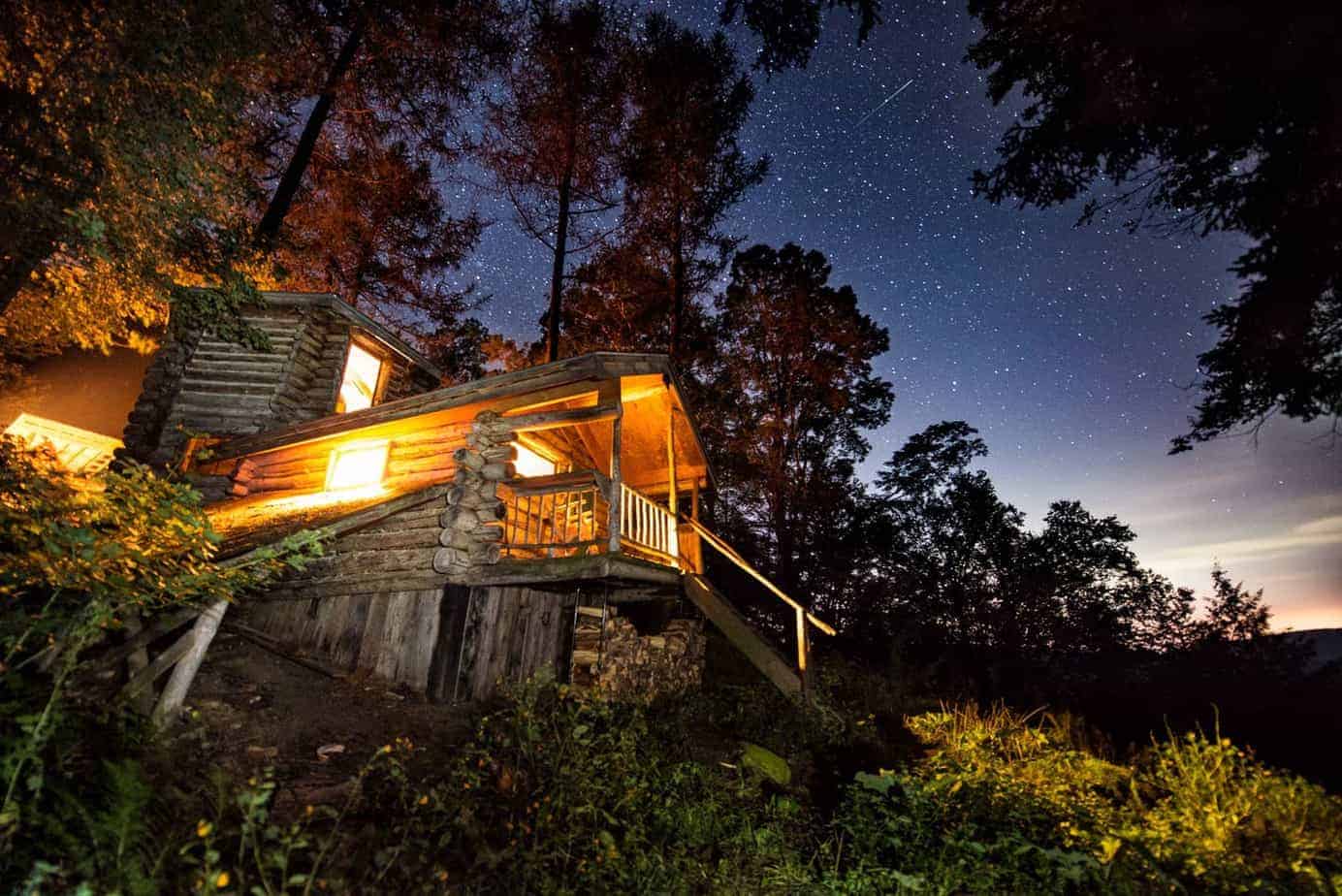 For some, a real getaway involves totally unplugging. This could mean leaving your cell phone and laptop at home, or it could mean heading to an off-the-grid cabin in Vermont's Green Mountains. If that sounds like bliss, this property is precisely what you're looking for.
This Vermont AirBnb is nestled away in the woods on 20 acres. There's plenty to explore in the immediate region and a bit further afield. The cabin is just minutes away from hiking, swimming, skiing, golf, and more, including Vermont's Long Trail.
On AirBnb, cabins are really popular, but not everyone will be interested in the off-grid lifestyle. This place is suited to only the most adventurous and intrepid travelers who really want to have a getaway in nature.
A solar shower, propane cookstove, and a wood stove will take care of your basic needs. The cabin is rustic but beautiful, and honestly, we're pretty sure we want to book this place ASAP! Also check out our whole list of cozy cabins in Vermont.
Click here to check listing + book!
---
Read Next: 10 of the Best Day Trips from Boston
---
Have you ever wanted to spend the night in a historic church? This Brattleboro Airbnb is your chance! This lovely white church building is complete with steeple and stained glass, but has been converted into an oh-so-cozy place to stay.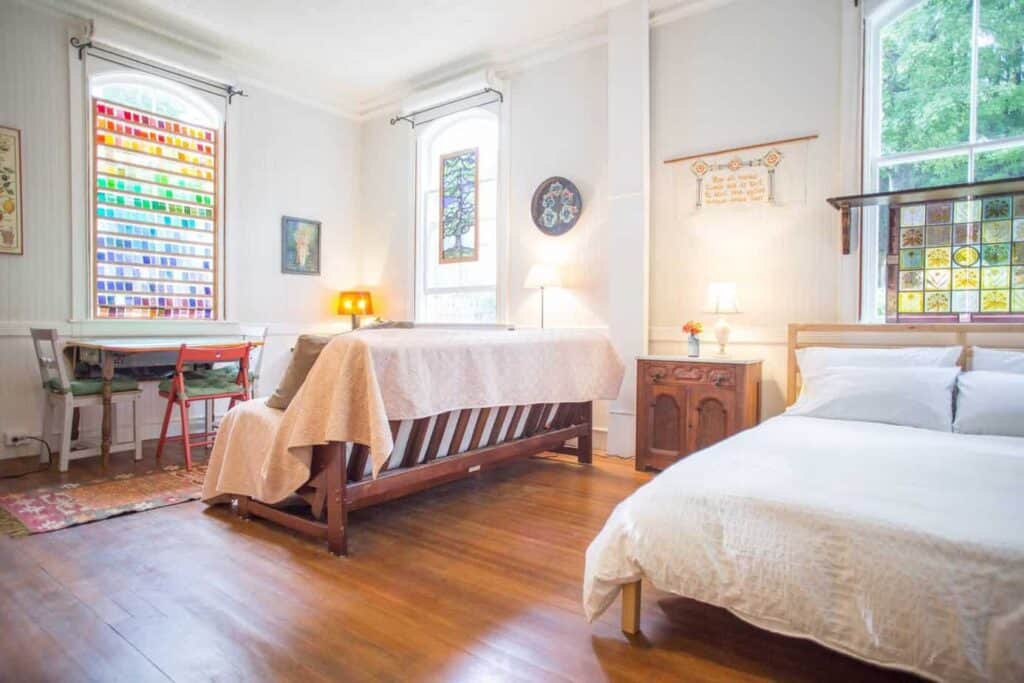 This building was once the Swedish Congregational Church, located in historic Swedeville, a secluded hilly Brattleboro neighborhood built by Swedish immigrants in the 1800's. The apartment can fit up to 4 guests and is just one mile from downtown Brattleboro.
This Airbnb is in a good location in southeast Vermont–close to lots of great options for Vermont weekend getaways and also convenient to nearby NH and MA.
Click here to check listing + book!
---
So maybe a vacation sans electricity is not for you. Perhaps urban escapes are more your thing. If so, Portland, Maine is a fantastic small city that will delight you in every way. The apartment is set in the West End, a safe and convenient spot that will give you access to everything.
With WiFi and all the essential amenities, you'll have a nice stay in this modern, sunny flat. But with tons of great restaurants, shopping, and culture, Portland will have you out and about exploring most of your visit.
If this place were available for a long term rental, we might want to snatch it up.
Portland is an awesome city, and a place we've considered living. For young couples in their 20s and 30s, it's an ideal New England destination and this Portland AirBnb is truly hip.
Click here to check listing + book!
---
Read Next: 7 Fabulous Spa Getaways in New England
---
Of all the places to stay in Vermont, Burlington is one of the most exciting. This little city on a hill overlooks the sparkling Lake Champlain…and you know, it's where we once lived!
With a distinctive bohemian flair, Burlington attracts artsy, open-minded folk who fall in love with the Green Mountain State. Burlington is a lot of fun. If you're looking for a Burlington Vermont AirBnb for your stay, we recommend the Little Place Guest House.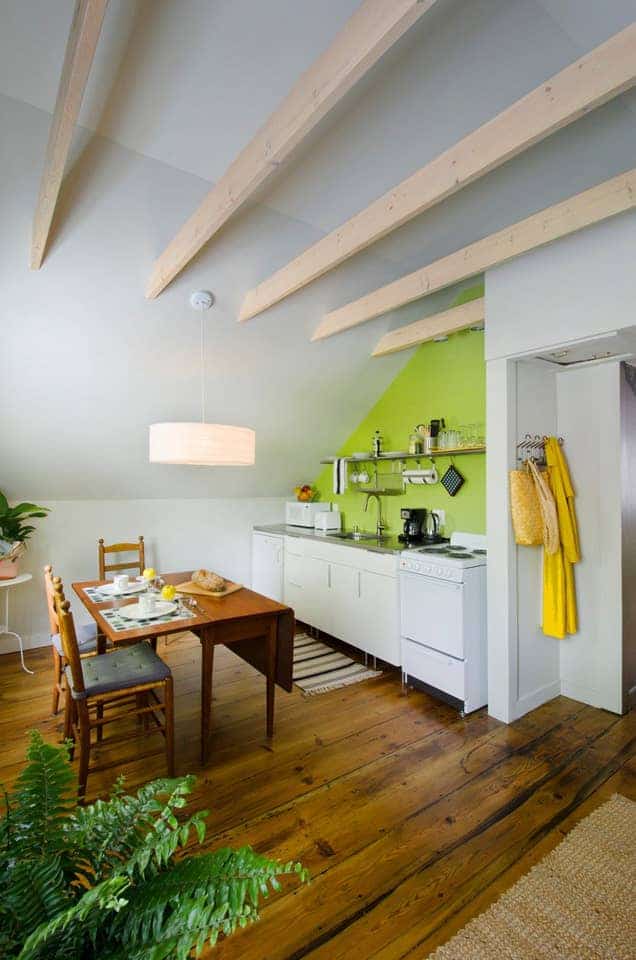 The property is light and open with a soothing feeling of simplicity. It's a perfect retreat for your Vermont getaway. Located in the Old North End, the property is right in the pulse of Burlington.
There's so many things to do in Burlington. You can walk to the busy downtown in just 10 minutes, where you can stroll Church Street and enjoy coffee shops, restaurants, shopping, breweries, and street performers. This sweet place is a great choice for 2 guests, and it's convenient to the waterfront, takeout, and other amenities.
PS: There's another rental next door/aka in the same building. This could be ideal for two couples who want to travel together but are looking for privacy. Check out the Little Place Guest House 2.
Click here to check listing + book!
See more: 12 Fantastic Airbnbs in Burlington, Vermont
---
We couldn't cap off our list of amazing New England AirBnbs without including an AirBnb treehouse! Let out your inner child with a stay in a grown-up-sized home nestled amongst the trees. Here in New Hampshire, you'll find a perfect choice.
The hosts call their Treetop Sanctuary 'luxury in the trees' and it truly appears that way. The cabin, some 30 ft above the ground, is accessible through a network of boardwalks. You don't even have to climb to get in!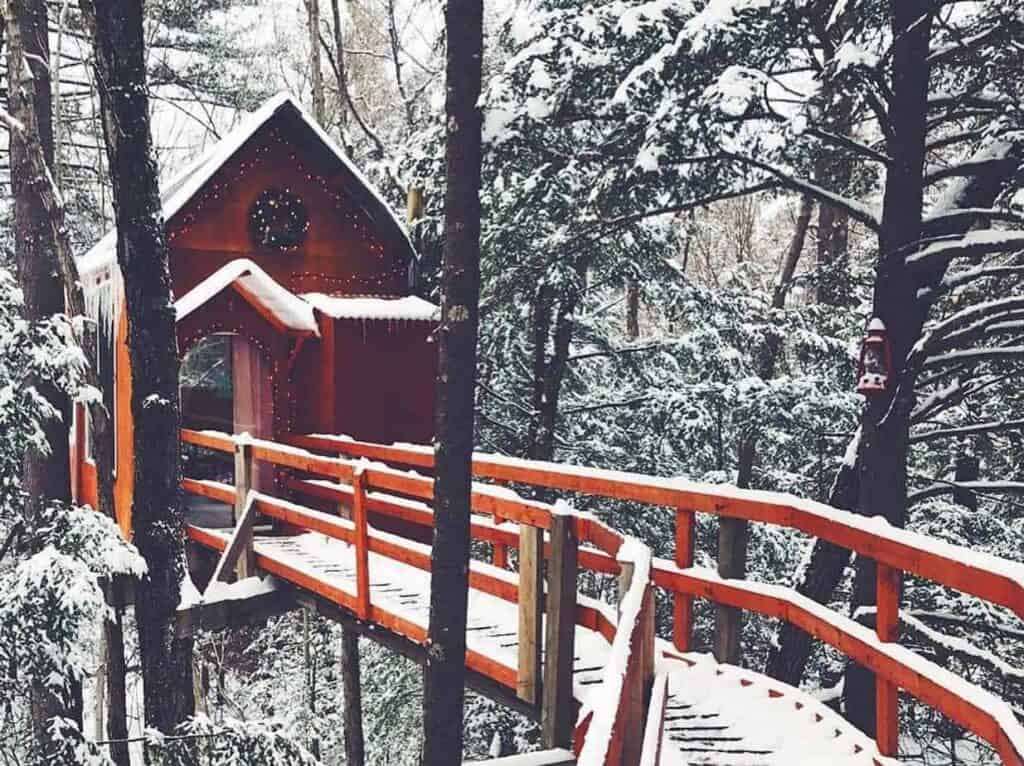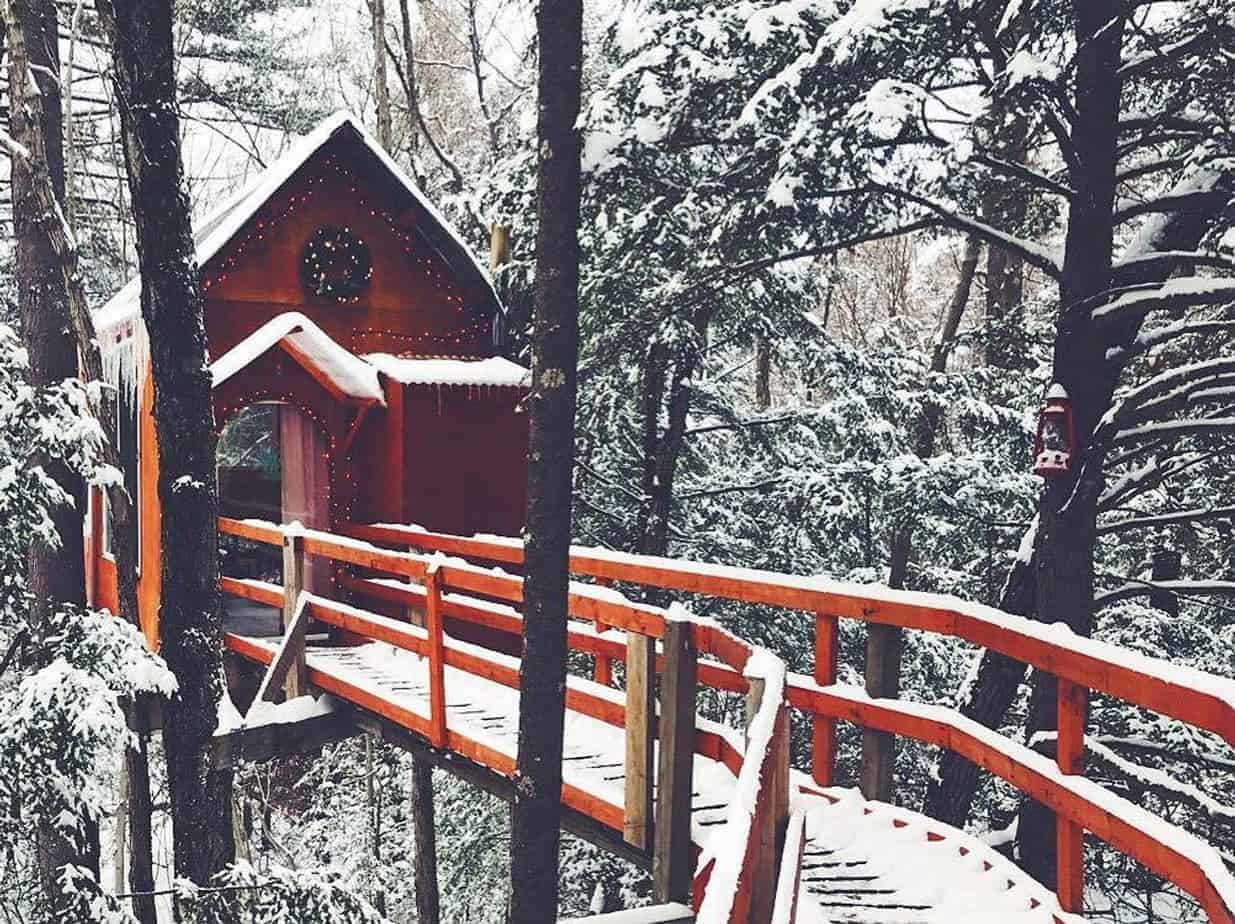 It looks like you'll find a bit of magic up in this house in the treetops. Clean, cozy, and inviting, it's a phenomenal place for two to cuddle up and have a romantic retreat.
And with a location in Southern New Hampshire, it's an easy drive from Boston and other points south. Check out more amazing treehouse hotels here!
Click here to check listing + book!
---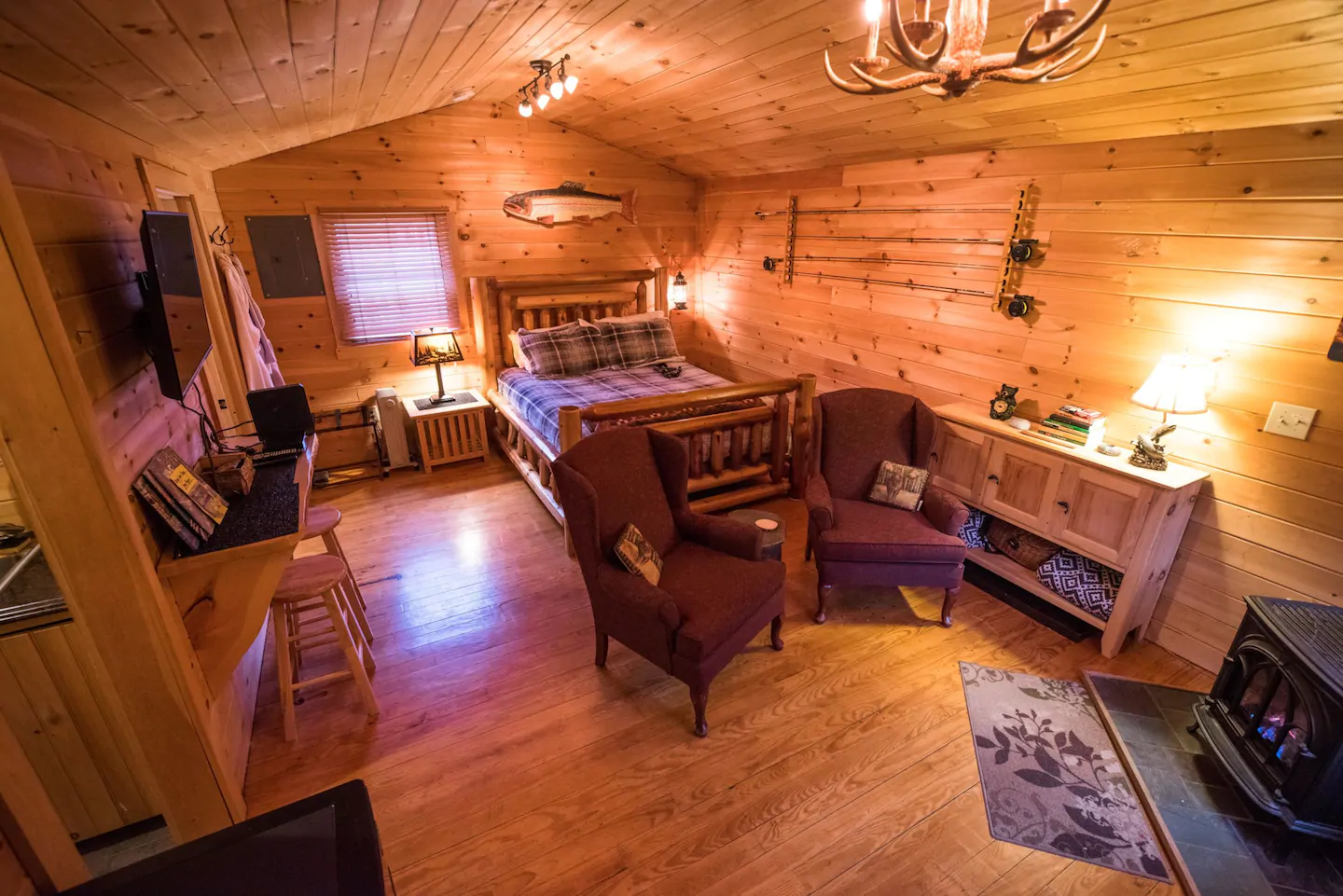 This is a perfect romantic Airbnb in New England for two. Jackson has a great White Mountains location, and this property is super charming. You've got a fireplace to keep you warm while you're tucked inside this cozy cabin, and when the stars come out at night, head out for a private dip in the hot tub.
With a secluded space and all the iconic New England amenities you'll be in good hands in this NH AirBnb.
Click here to check listing + book!
---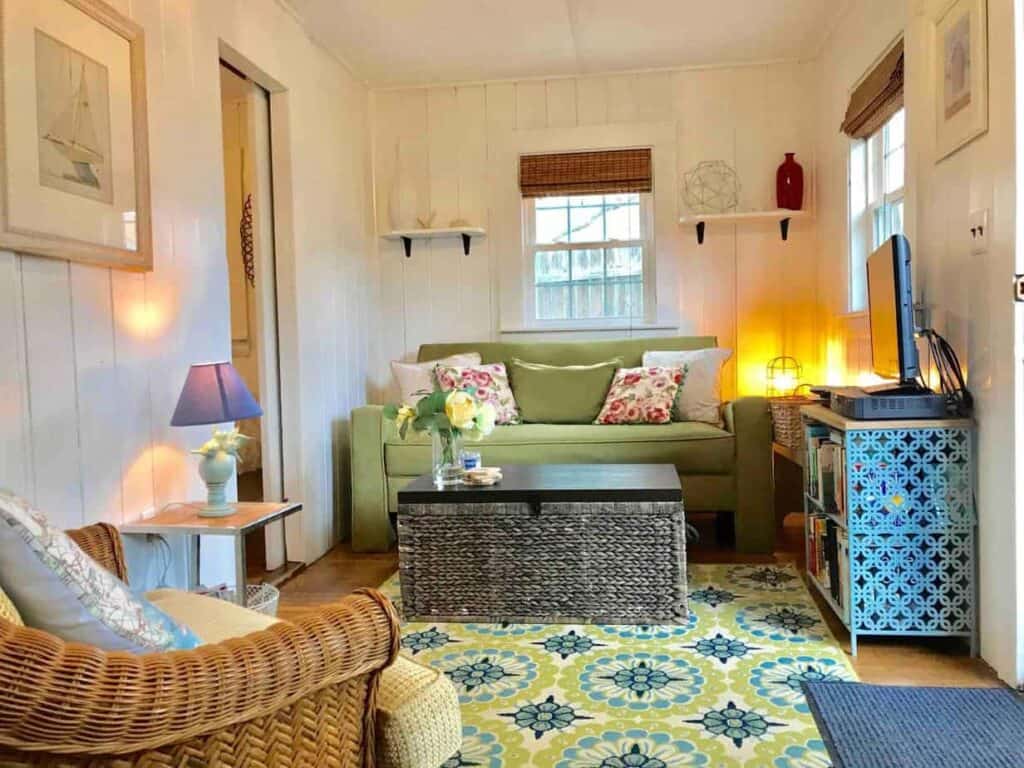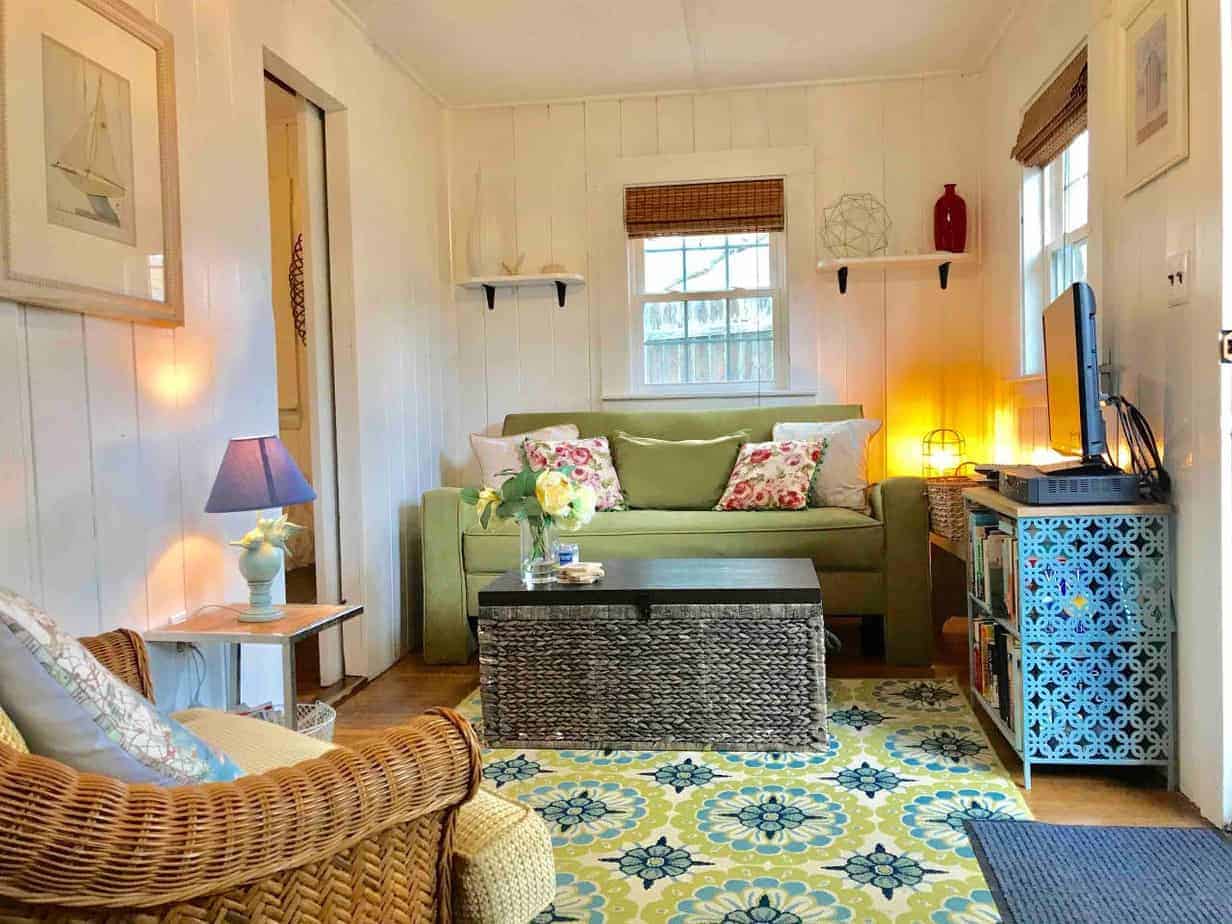 Planning a Cape Cod vacation this summer? This adorable cottage is waiting for you, and is certainly one of the cutest Airbnbs in Massachusetts.
The Sand Pebble Cottage, located within walking distance to the beach, is perfect for two people, and is even pet-friendly, so bring your dog along for the adventure.
This place may be tiny, but it's packed with charm, and its main selling point is its excellent location. You can walk everywhere, which, on a summer beach vacation, is truly what you want.
Walk to ice cream shops, restaurants, the beach, and more from this adorable Cape Cod cottage.
Click here to check listing + book!
---
One of the advantages of AirBnb is its numerous unique properties. If you've ever wanted to experience life on a houseboat, this pond-side structure in Connecticut will give you the opportunity.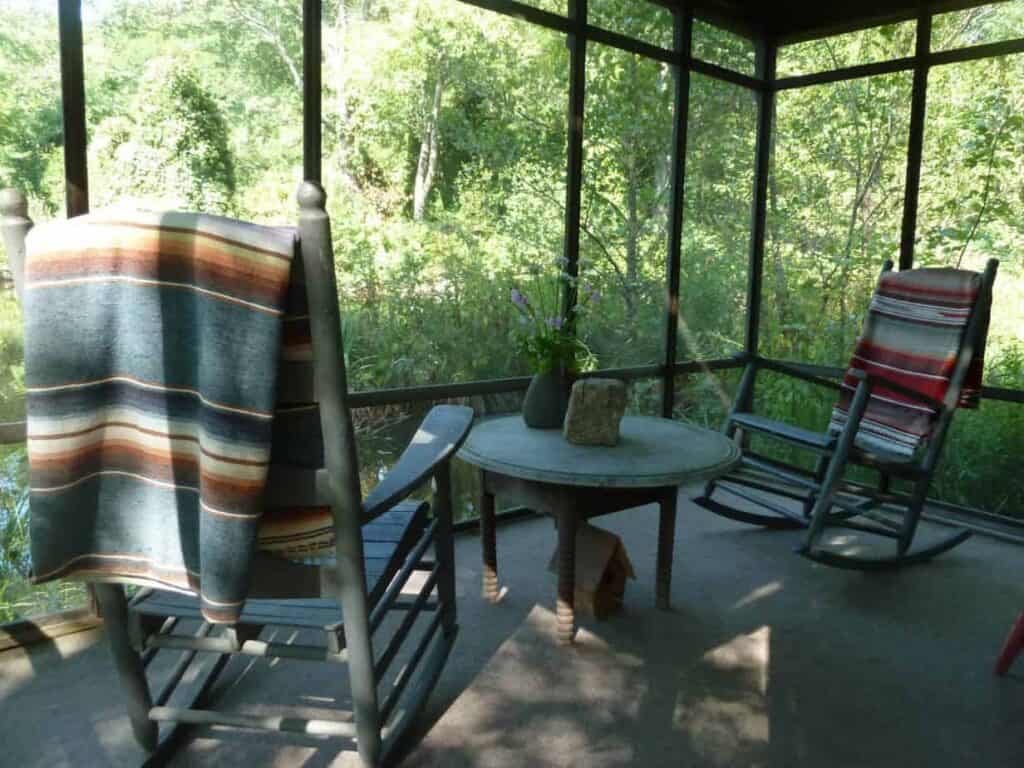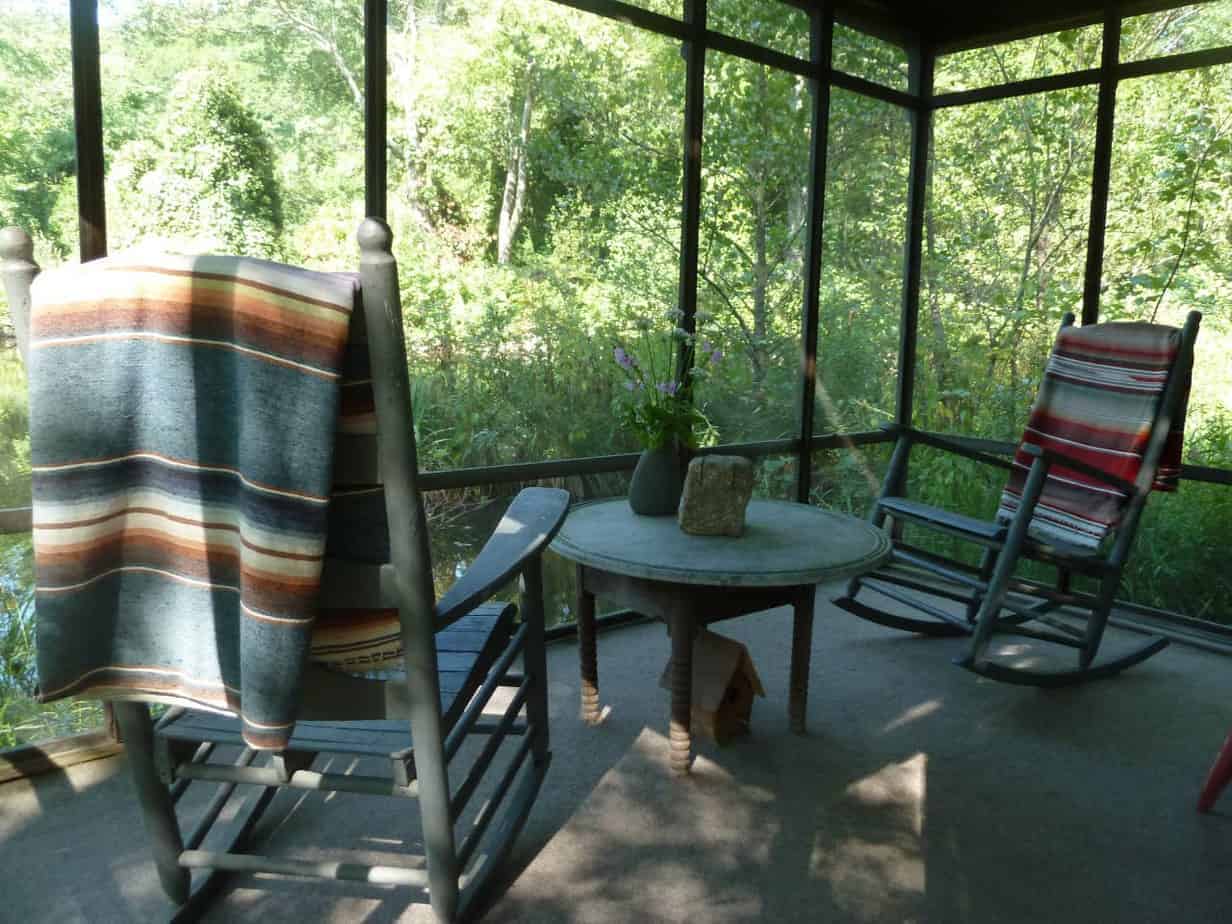 Located on the host's property, this floating abode can house two guests in the midst of nature. This is a rustic space just around an hour from NYC, making it a great weekend getaway spot. There are other cabins on the same property and there are communal spaces such as the kitchen and firepits. Definitely a unique type of "roughing it."
Click here to check listing + book!
Read Next: Best New England Vacation Spots
---
What about Glamping in New England?
In recent years, a new style of travel has hit the scene—and it's really taken off. That travel style is called glamping, and it is a mix between glamour and camping; in other words, a way to be in nature without sacrificing the luxuries of a comfortable hotel stay.
As this trend has grown in popularity, countless places to go glamping in New England have emerged. This is the ideal region for this kind of travel experience. The six New England states are bursting with beautiful outdoor spaces that lend themselves perfectly to camping—and now, to glamping.
Glamping is, essentially, a step up from camping. Glamping can range from a super-luxurious tent experience that is decorated and outfitted to give you a real hotel or resort-type stay. Other glamping spots are more rustic, but they still go above and beyond a simple canvas tent and sleeping bads. Here are a couple of choice spots!
This stunning log treehouse in Vermont is New England glamping at its best. This space is designed as pristine and serene and it looks absolutely wonderful.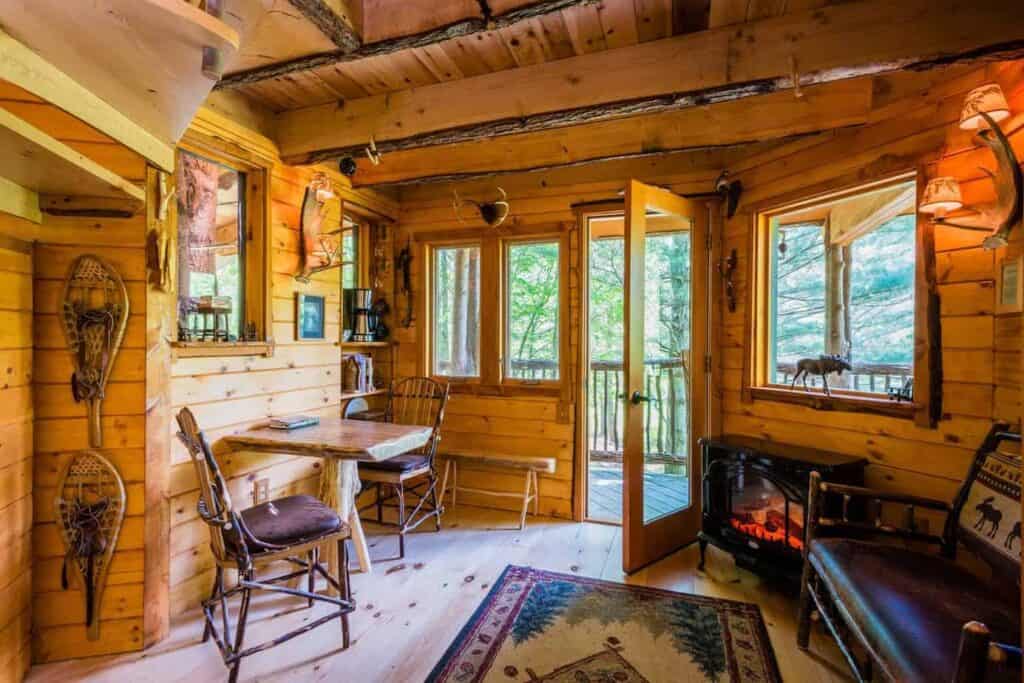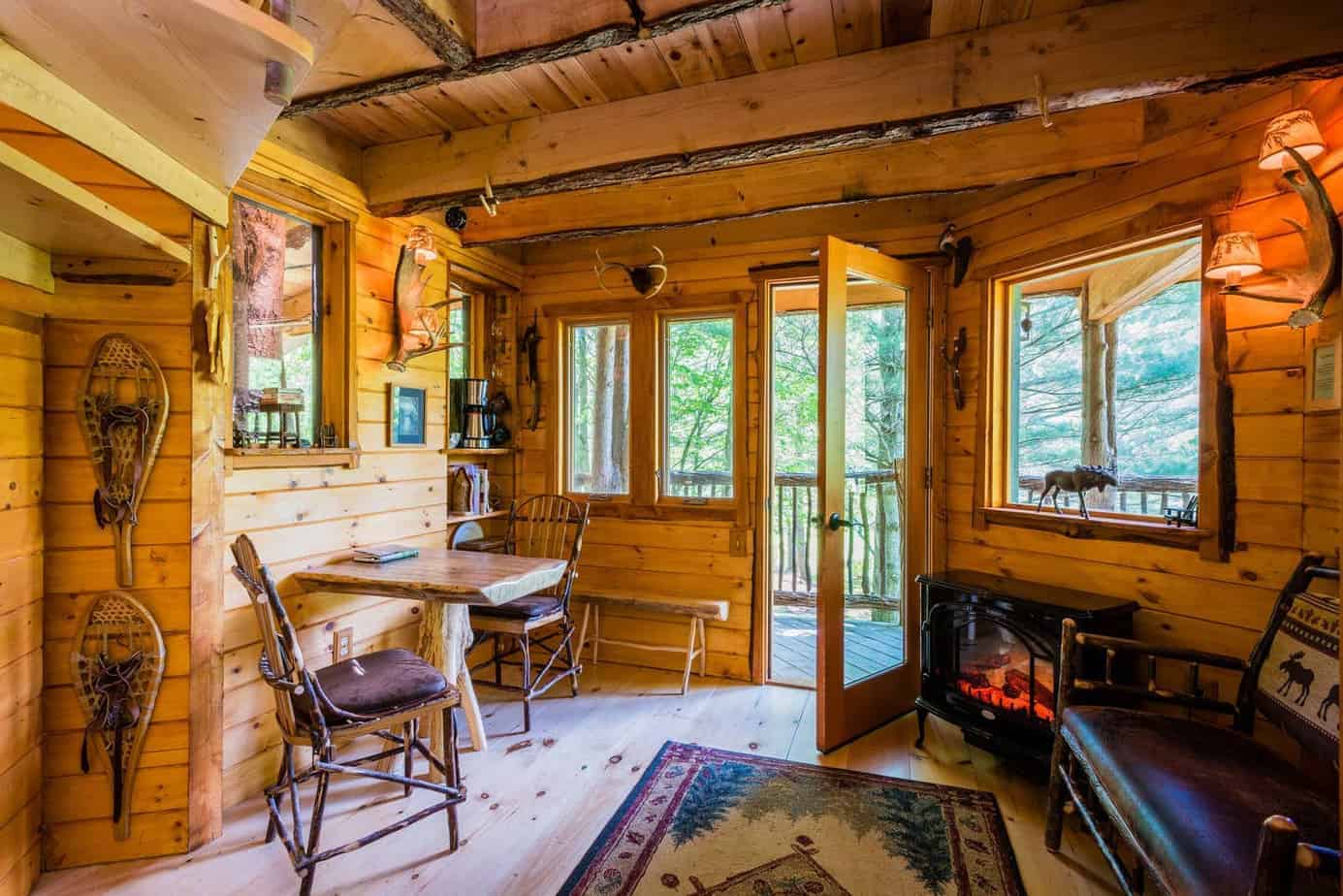 You'll get the opportunity to connect with nature while staying in a one-of-a-kind property. Two guests can cozy up in this New England Airbnb.
Click here to check listing & book!
Read Next: The Best Romantic Getaways in Vermont
---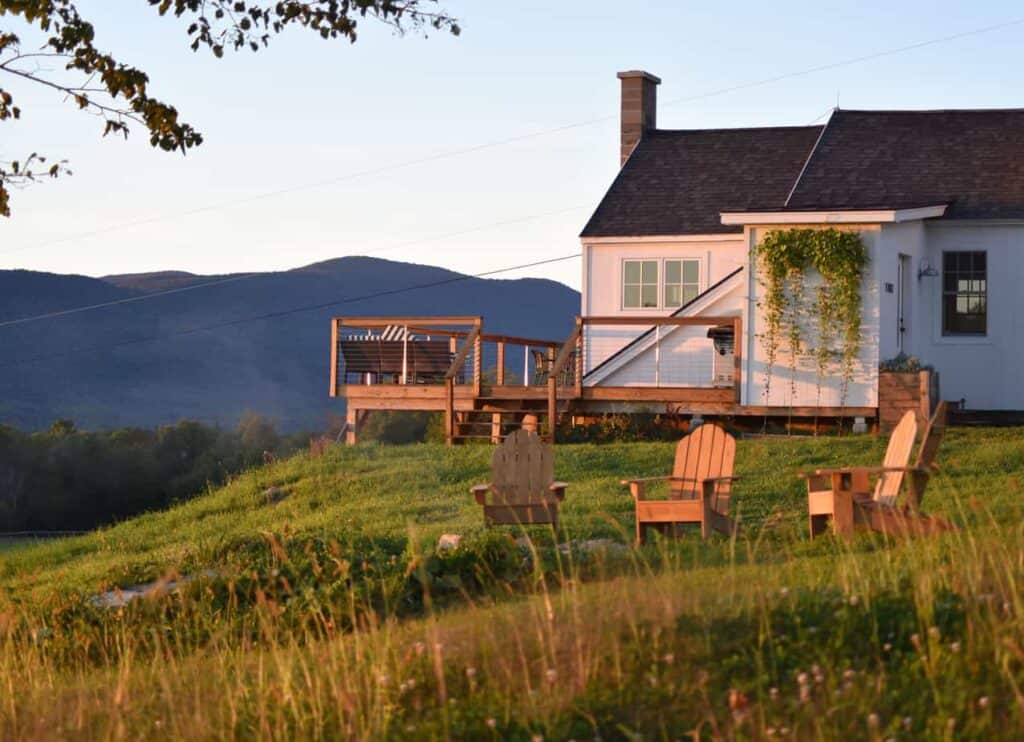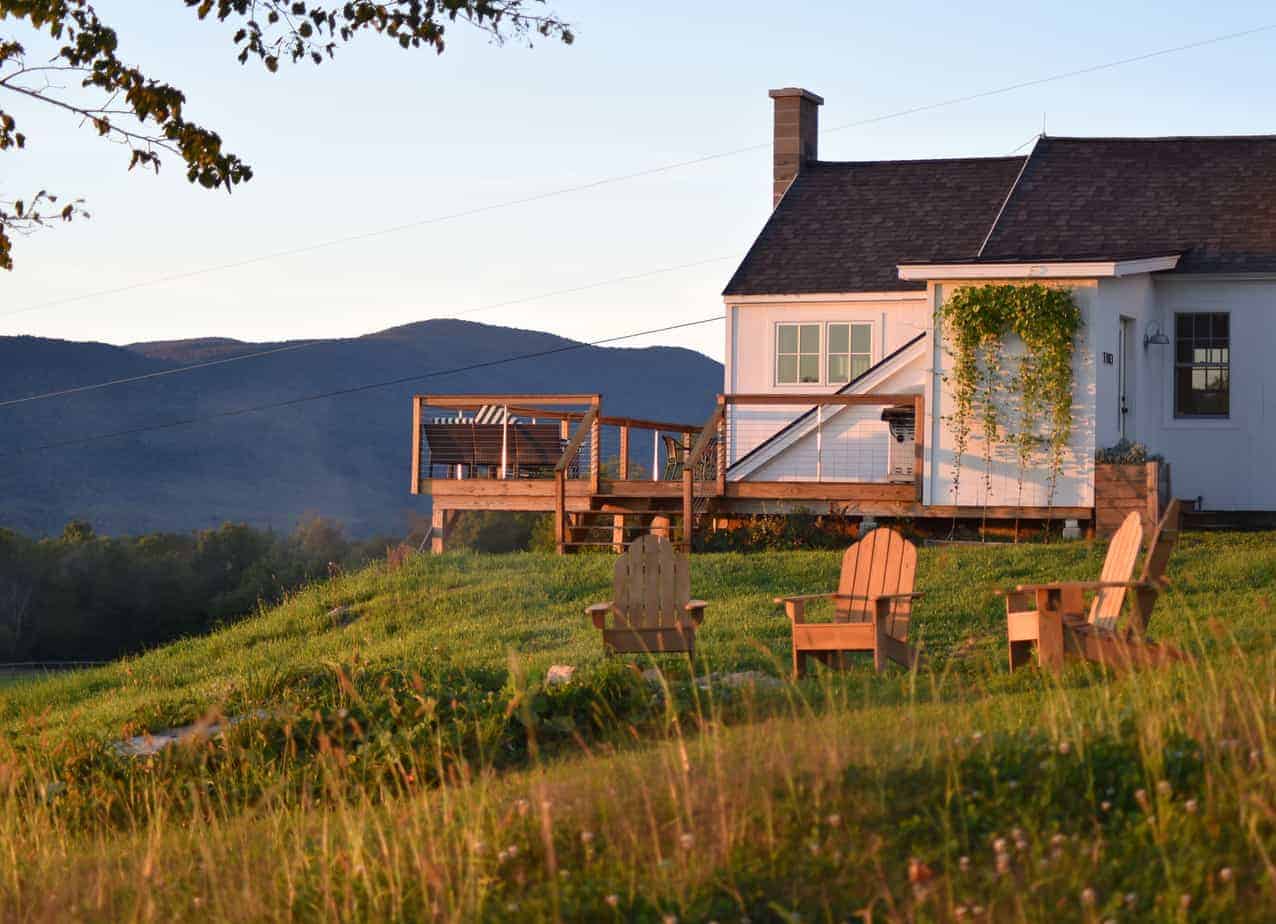 Want to do some glamping in New England?
Located in pretty Southern Vermont, you genuinely cannot go wrong with this magazine-worthy AirBnb. A newly-renovated, historic schoolhouse overlooks the host's sprawling organic farm (how quintessentially Vermont is that?) With lovely views, a hot tub, and a panoramic barrel sauna that gives off some serious Hobbit house vibes, this place looks incredible.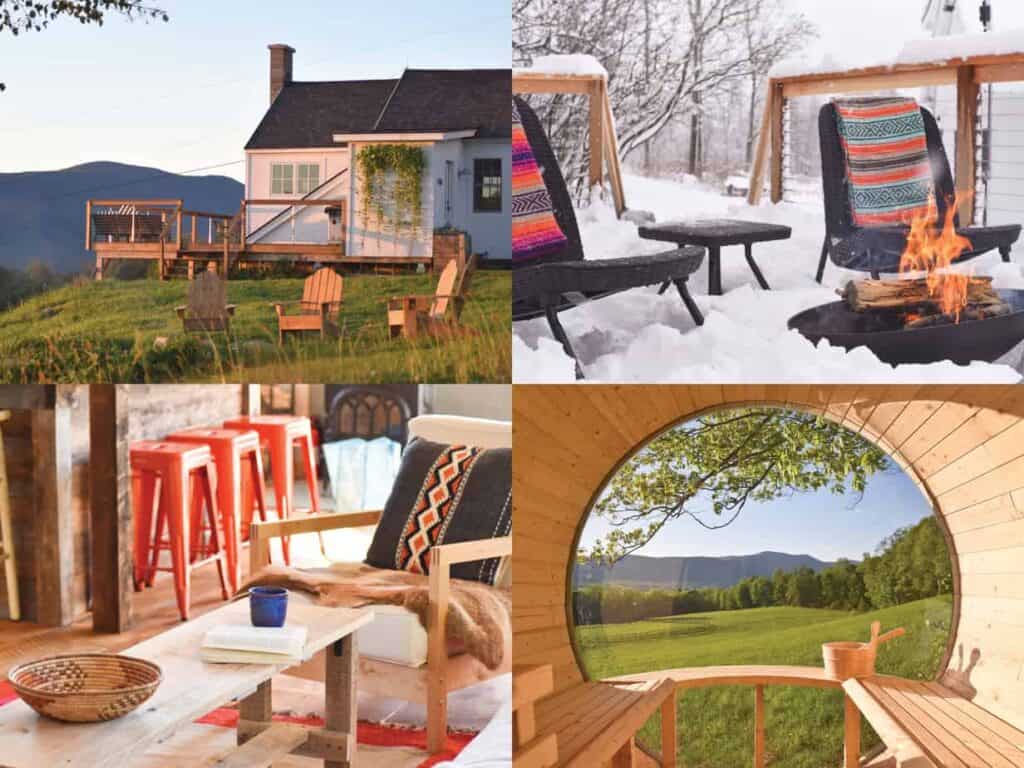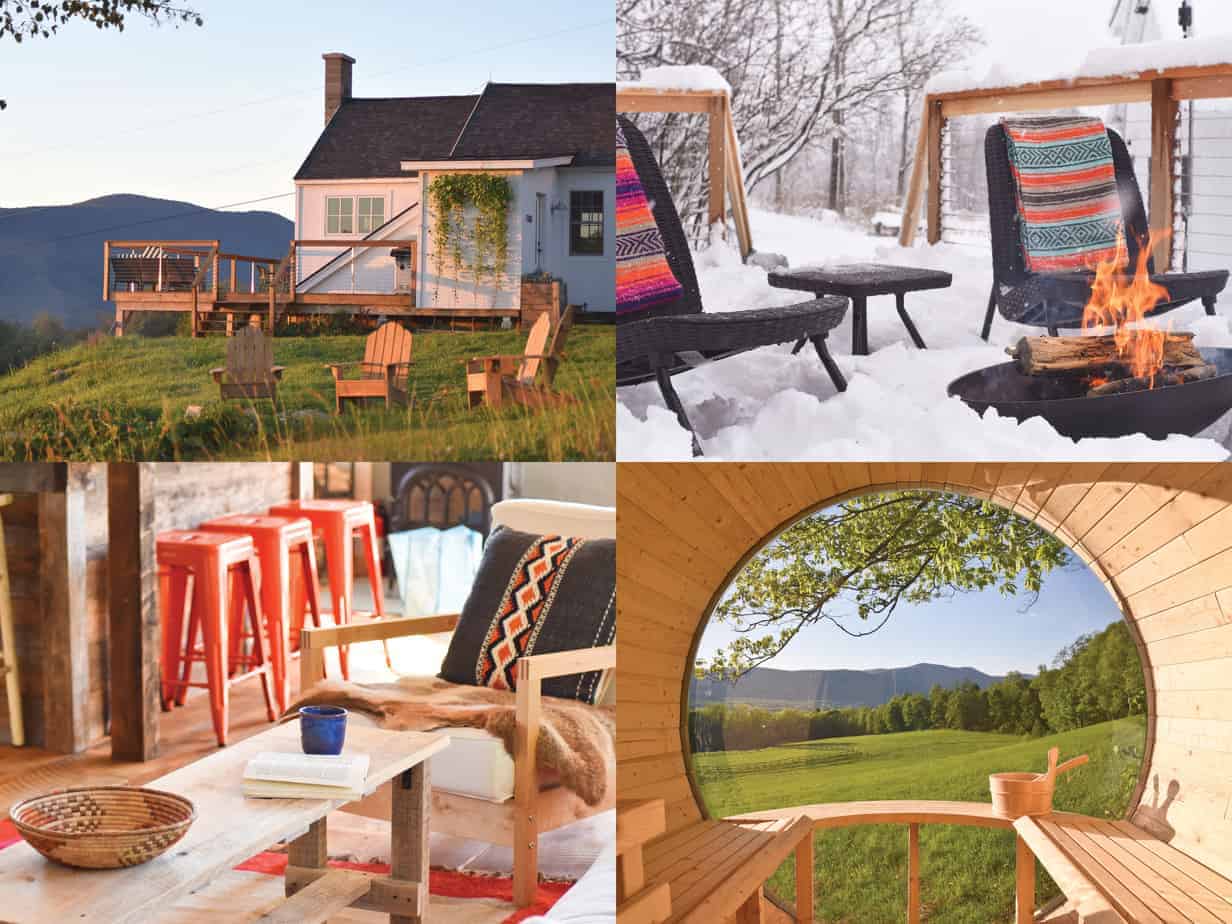 This awesome property is not far from the towns of Manchester and Bennington, both of which offer a lot to do and see in all seasons.
Click here to check listing + book!
---
Have you stayed in an epic New England vacation rental or AirBnb? Let us know! We're always looking for the coolest Airbnbs in New England and the top spots in the region.
---
Don't forget to get $40 off your first stay with AirBnb! !
---
Read Next:
---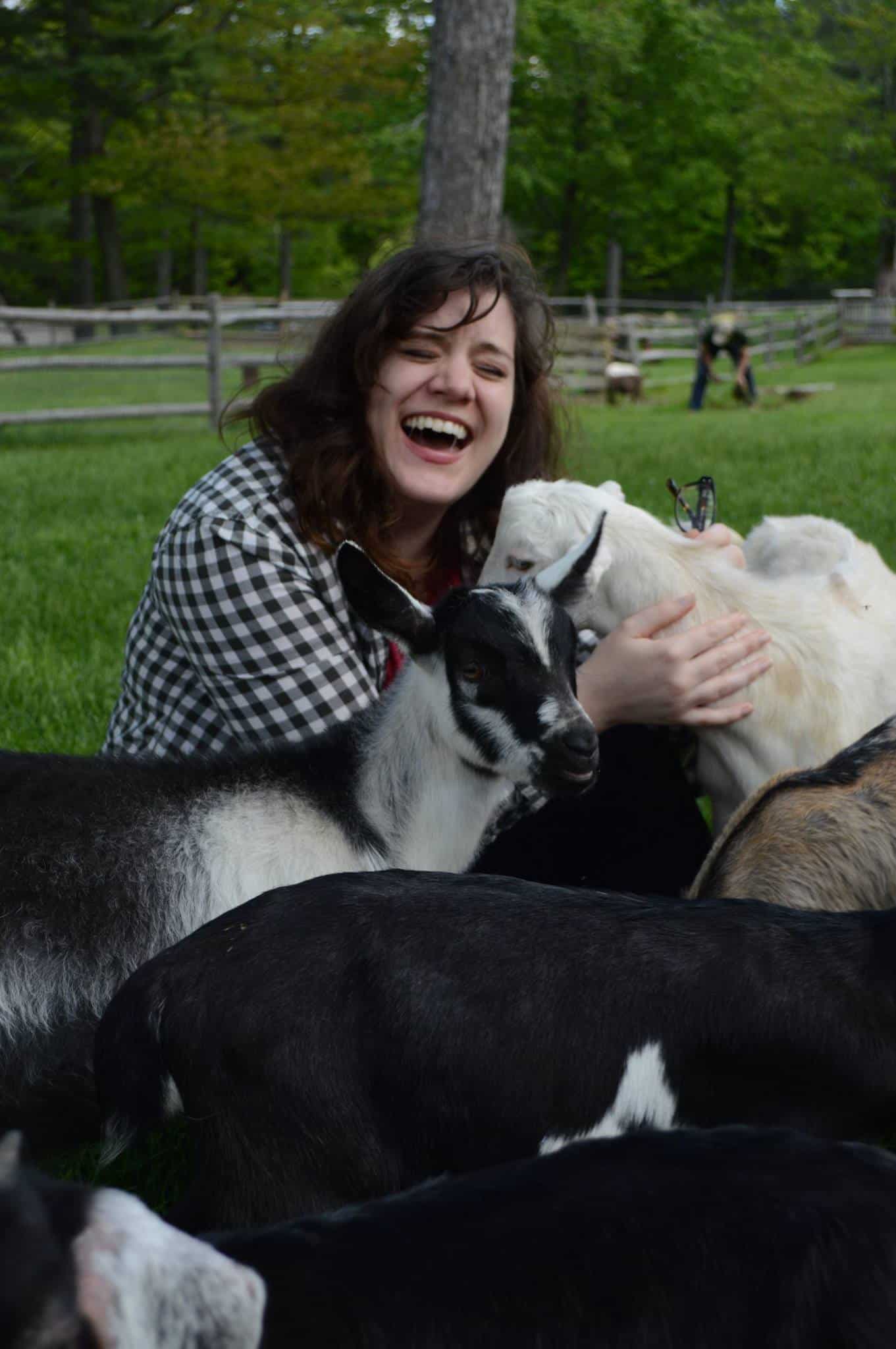 Amy is the founder of New England with love. A proud Vermonter, she hopes to share her love of New England and help you find the best adventures in the region. Amy is also blogger/founder at Two Drifters, where she blogs alongside her husband about romantic and couples travel, relationships, honeymoons, and more. When not working on websites, Amy is probably reading, cuddling with her husband and cat, & drinking a maple latte.