If you're traveling in New England, the options are pretty darn great. You don't have to sort through the 1000s of stunning New England Airbnb and VRBO properties to find the best, however. We've compiled a list of the best Airbnbs in New England (and VRBOs too, of course!), including a few we've even stayed in! These vacation rentals are a MUST-BOOK and some of the most epic VRBOs and Airbnbs in New England.
While you could book one of
New England's top hotels
, there's a lot to love about vacation rentals like VRBO or Airbnb. Often, it's the reasonable prices and availability. Sometimes, it's the advantage of staying with locals, and getting their perspective on your destination.
Other times, Airbnbs are amazing because of the incredibly unique properties they are. From
castles
to cabins, Airbnb offers a huge array of flat out amazing vacation rentals in New England. And New England's Airbnbs certainly do not disappoint.
Check out this post for tiny homes, beachside cottages, historic homes, farms, treehouses, and architectural wonders throughout New England. And then get planning for your next vacation in one of the best VRBOs and best Airbnbs in New England!
---
Best Airbnbs in New England (and VRBOs, too!)
There are few places more beautiful in New England than Maine's Acadia National Park. We love visiting this region, and camping here is especially wonderful in the warm New England summertime.
Instead of traditional campsite camping, however, why not try a rustic tiny home instead? Can you resist the coziness of snuggling up in this unique New England Airbnb in the winter?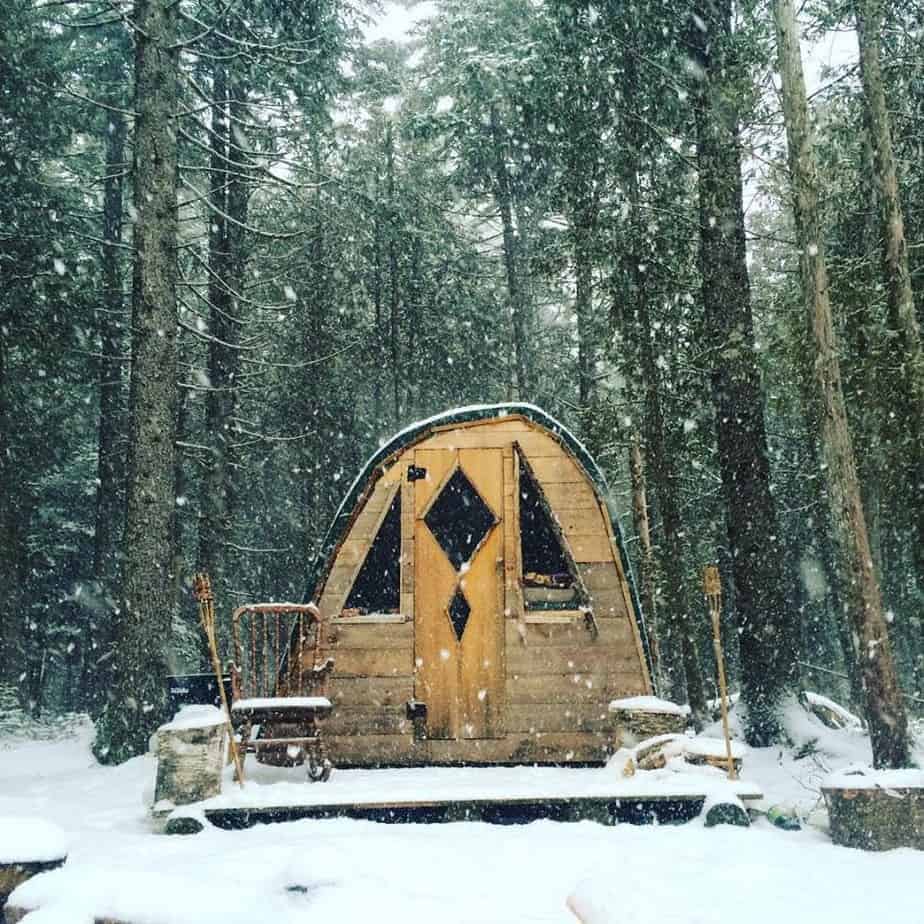 According to the listing, the hut is built "with bent maple poles in the style of an Iroquois Longhouse. There are large windows that let in the morning sun, space for storage, a wood stove perfect for winter stays and a cozy twin-sized bed."
The Coyote's Den can accommodate 2 guests. When you're not hanging out in the hut, you can explore the host's grounds. They've got a seven-acre forest with trails leading past various fairy houses and art installations. If you want to get farmy, you are able to pet the goats, mini horse, and other animals, and pick your own herbs and vegetables from the garden. Heads up, this is an Off the Grid New England vacation rental with no electricity, the tiny home is heated by a stove, and there is an outhouse on the property for guest use.
Click Here to Check Prices & Book!
---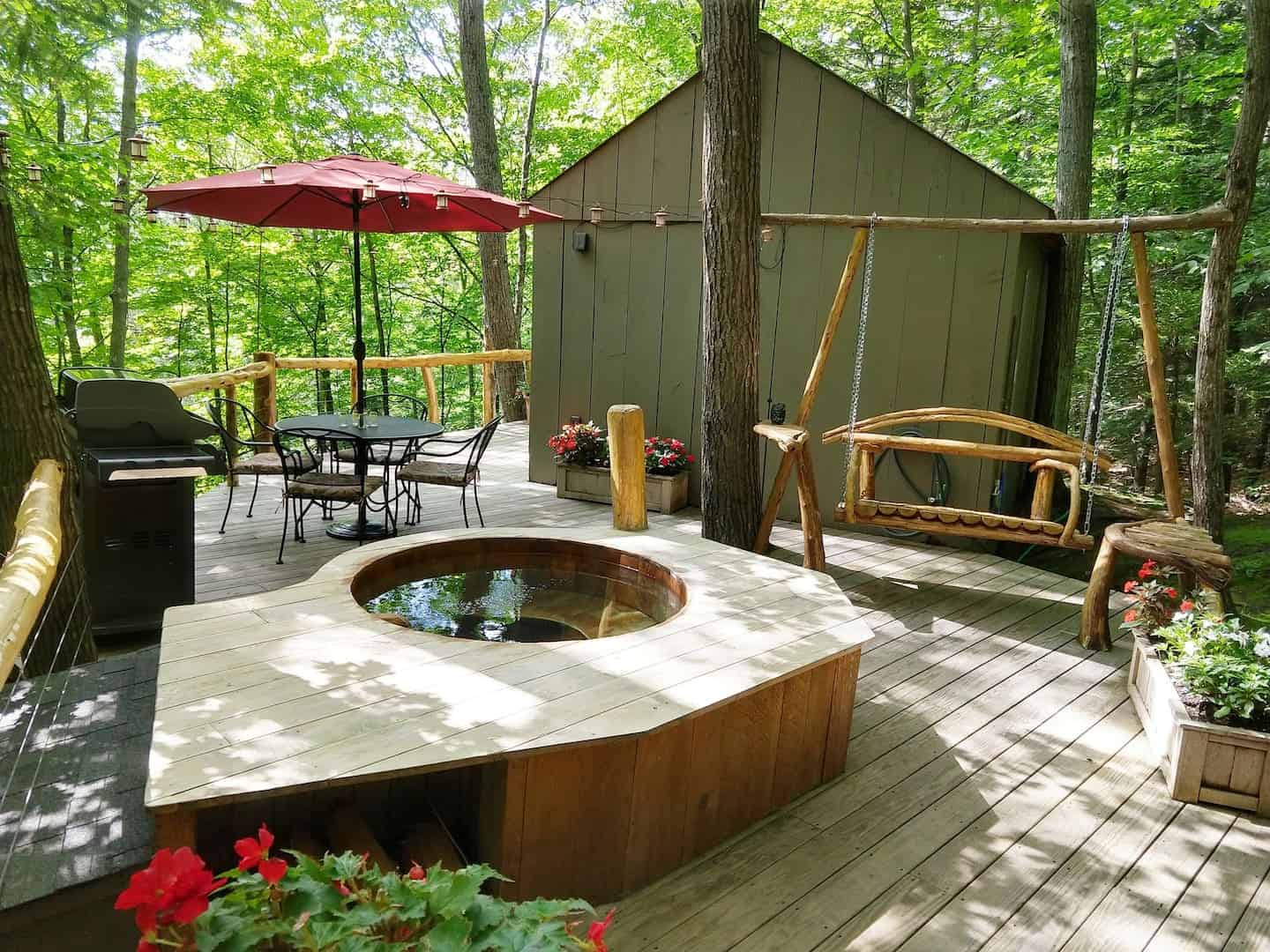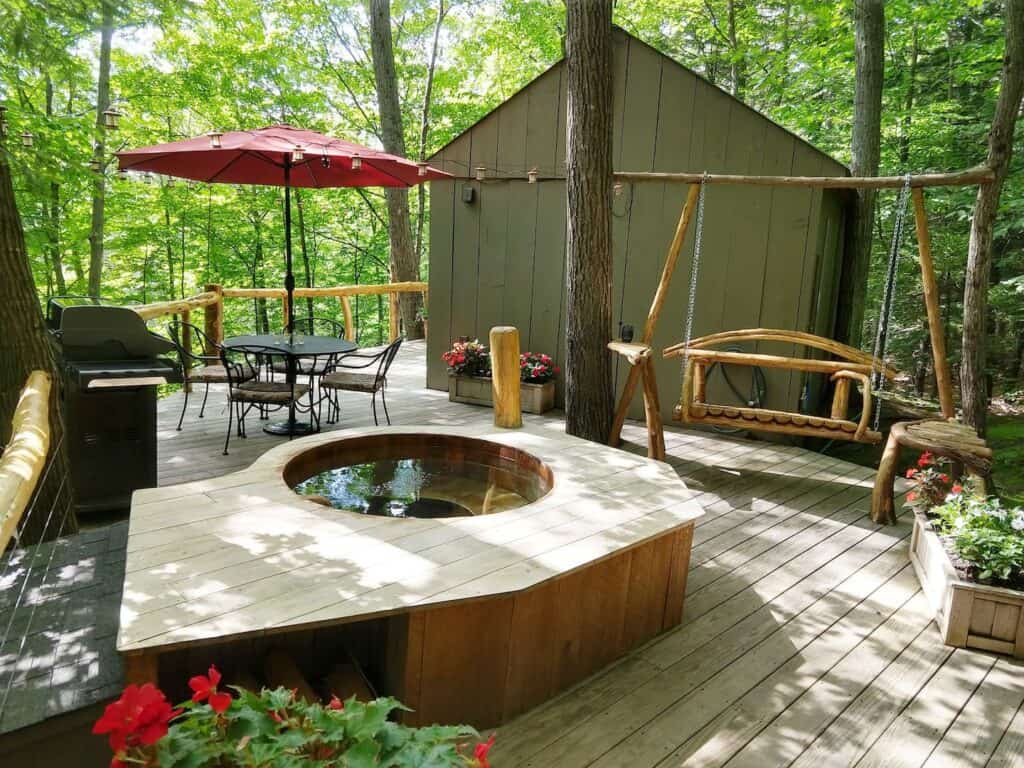 The Vermont tree cabin located in Waterford is the perfect retreat for two guests! It even has its own outdoor jacuzzi on a private patio that's filled with outdoor seating and breathtaking views of the forest.
The treehouse was recently built in 2004 and even served as the host's own home for a while while they made their official house. So, you can imagine how much care was put into it! There's a full kitchen, bedroom, bathroom with hot shower, and trees everywhere you look at this unique New England Airbnb.

It's located only a short drive from both Cannon Mountain and Burke Ski Resort, so if you're a fan of skiing, then you're in luck!
Click Here to Check Prices & Book!
---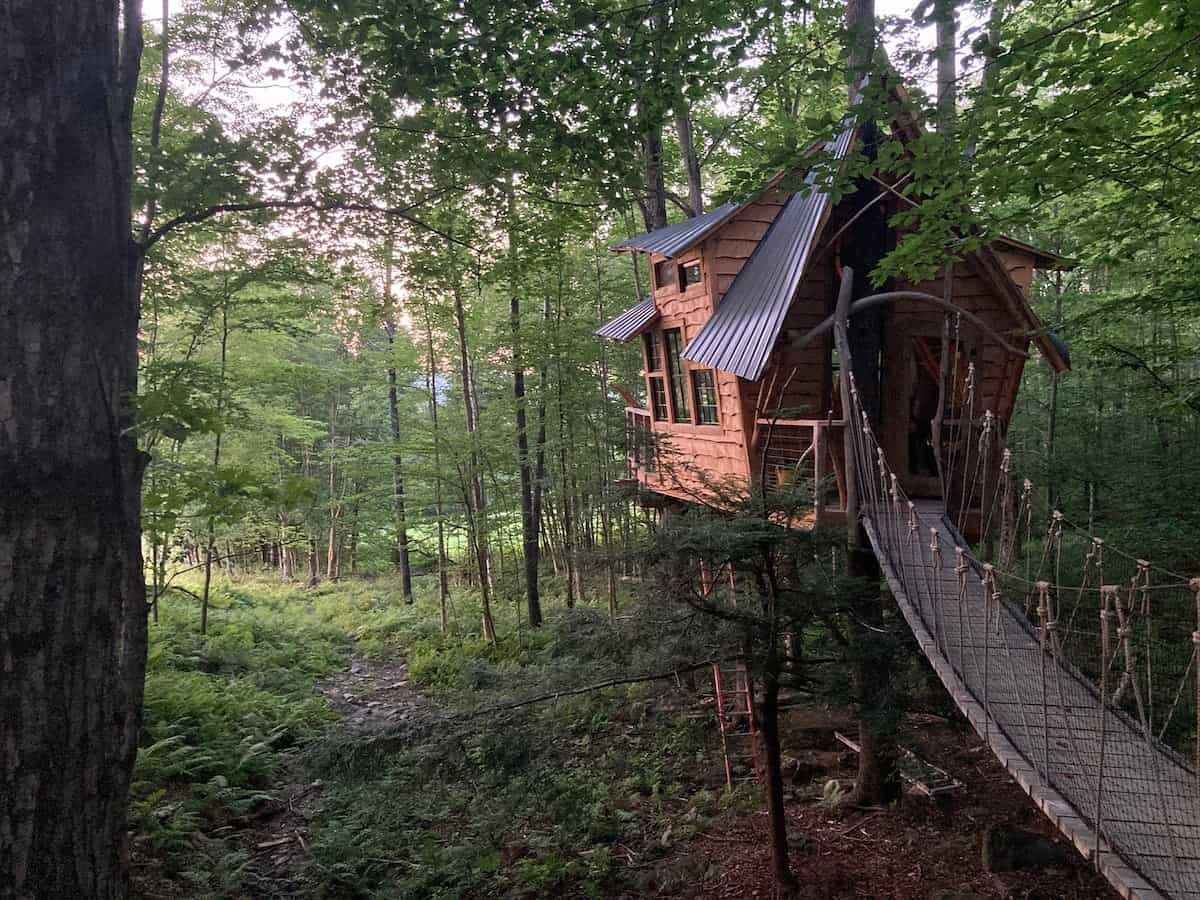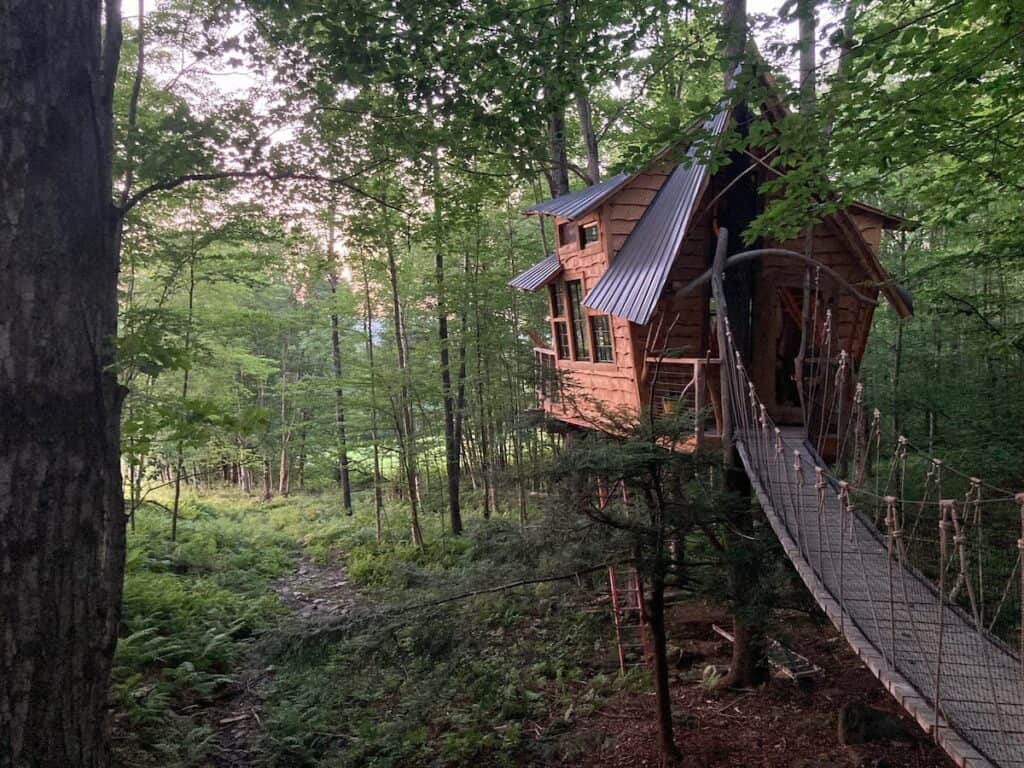 This New England treehouse at Bliss Ridge Farm argues that they have the best view in the whole state! It's inspired by Dr. Seuss and sits on 88 acres of an organic hill farm. The wilderness and hiking trails are everywhere you look.
This Vermont treehouse can host up to seven guests at a time, so it's a lot bigger than it looks on the outside. There's even a grill, hammock, and living room inside. To get to the treehouse, you even get to walk across a fun bridge!
If you're traveling with a large group or you want a cozy getaway, this is the perfect accommodation for you. It may even be one of the most unique places to stay in New England!

Click Here to Check Prices & Book!
---
Have you ever wished you could see what it would be like to go back in time? Are you part traveler and part historian? Perhaps a time travel experience to a sweet old fashioned corner of Vermont would be your perfect experience! You're going to love this property, one of the best VRBOs in New England!

Welcome to this luxurious and historical vacation home in the quintessential town of Grafton, Vermont. This 1840 house is nestled in a village on the National Register of Historic Places in America by USA Today magazine, and also listed in "1,000 Places to See Before You Die!" travel guides.
This New England VRBO feels secluded, but is within walking distance of the village, main street, park, general store and tavern. With 2 bedrooms and 2 and a half baths, this NE vacation rental is in pristine condition, completely updated, and features a steeple high attached barn, luxurious library, fireplace, screened porch and renovated kitchen.
Click Here to Check Prices & Book!
---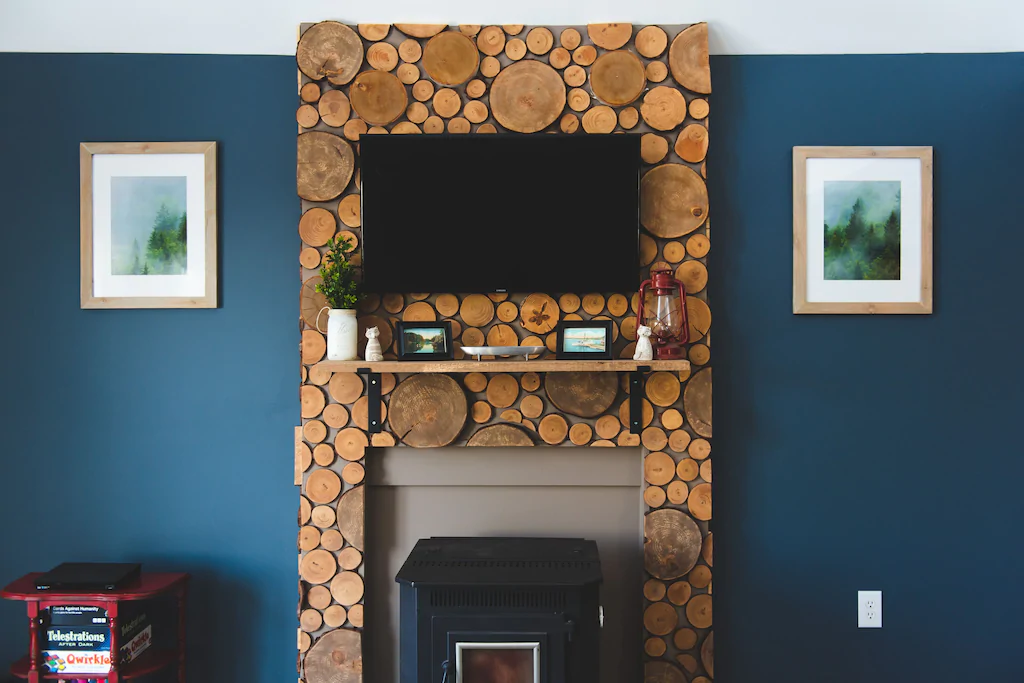 This 3 bedroom mountainside chalet in the Lakes Region is so lovely. Just 12 minutes from downtown Wolfeboro, there's plenty to do nearby but this beautiful New England VRBO is a destination in its own right. Renovated in 2019, the chalet "is fully stocked with all the comfortable linens, kitchen/dining amenities, games, books, and puzzles you could want!" There's also great outdoor space with a firepit, deck, and yard, and six guests can stay comfortably at this New England VRBO. What are you waiting for? And did I mention it's pet-friendly?!
Click Here to Check Prices & Book!
---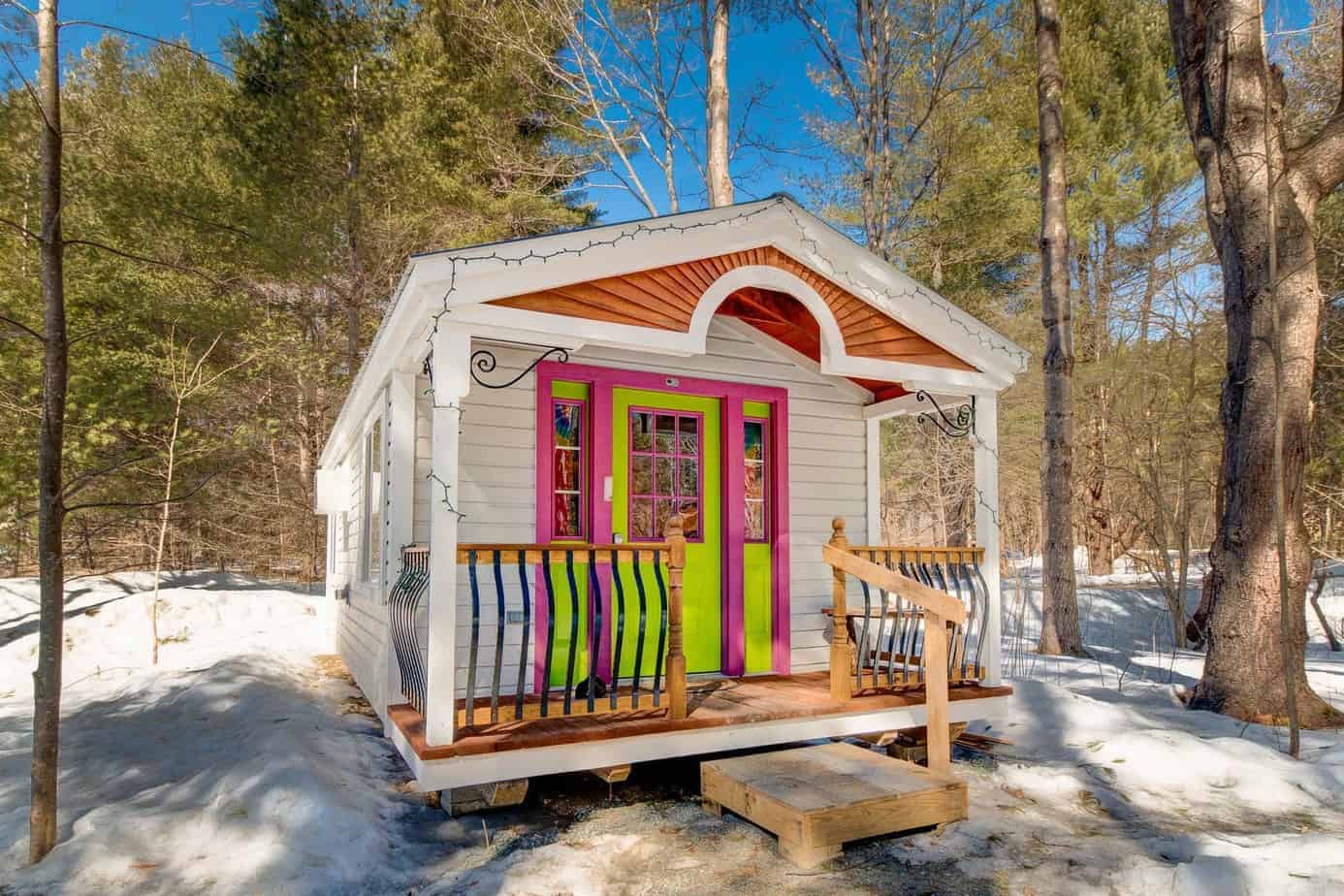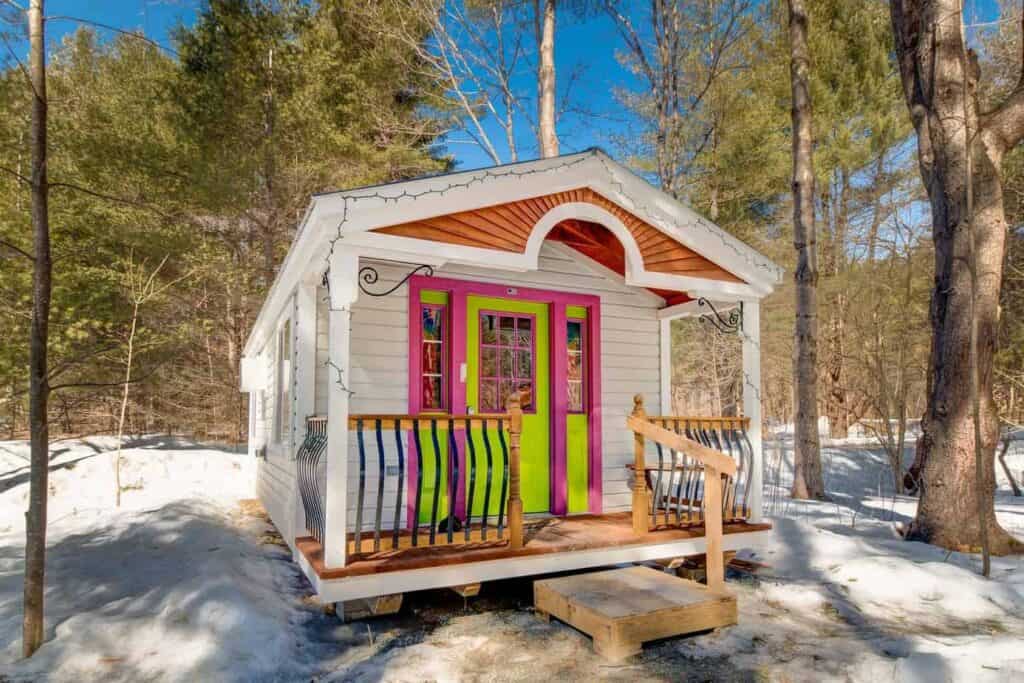 Can you believe this adorable tiny house can sleep five people? It's true! The Apple Blossom Cottage is beyond adorable, and is beautifully outfitted to meet all your needs.
Located in southwestern Vermont, the cabin is tucked away in the woods, with easy access to Stratton Mountain (for ski lovers), shopping in Manchester, VT, and plenty of hikes and outdoor adventures. This sweet spot might be the cutest tiny house AirBnb Vermont has.
Click Here to Check Prices & Book!
---
Read Next: The Ultimate New England Road Trip Itinerary
---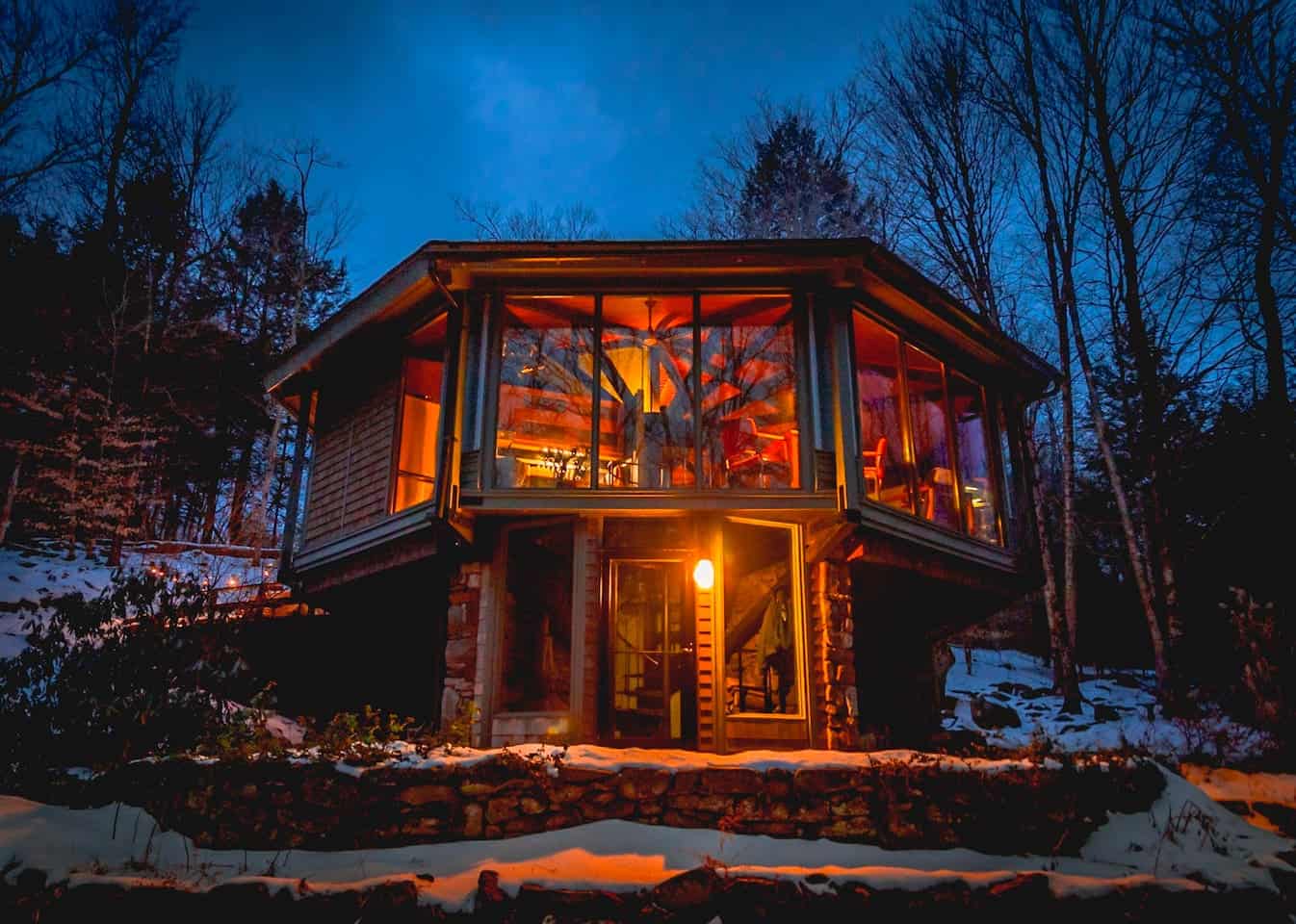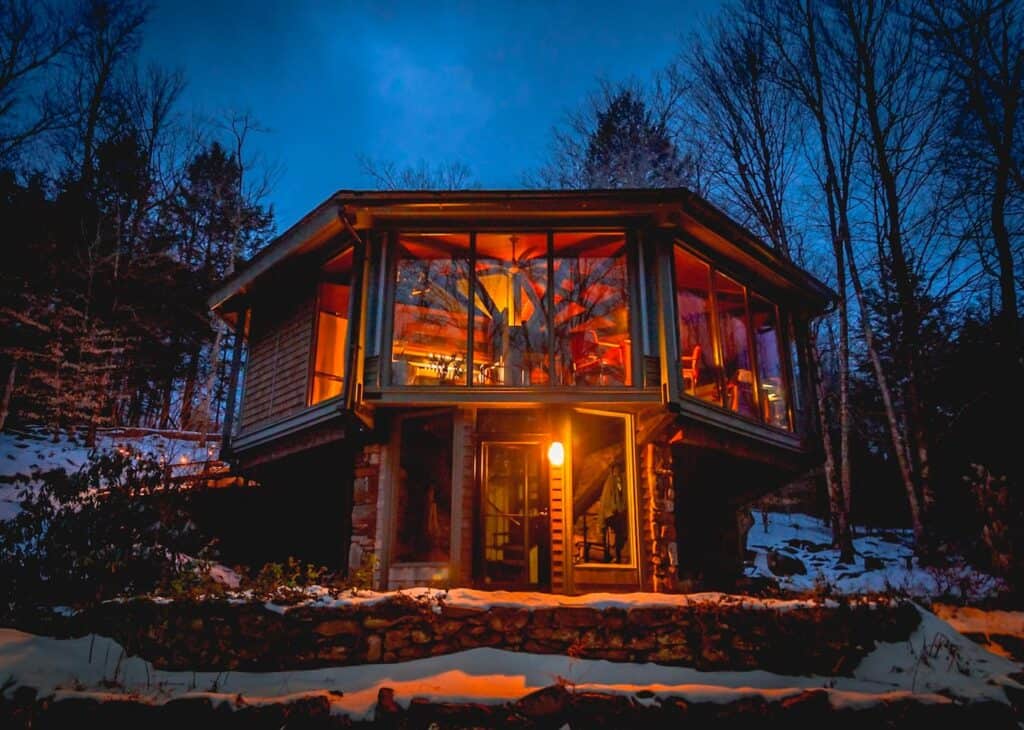 Looking for a one-of-a-kind New England Airbnb? Look no further than this phenomenal Airbnb in the Berkshires! Floor-to-ceiling windows allow you an unfettered 360-degree view of the 7 acres this octagonal glass tree house rests on. This unique home manages to be both spacious and cozy with a wood-burning fireplace and expansive views that are impossible to grow tired of.
Kitchen and bathroom essentials are provided, and the treehouse is ideally situated in the Berkshires for many activities, including wintertime skiing, summer sight-seeing, and Berkshires must-do activities like Tanglewood and The Norman Rockwell Museum less than a half an hour up the road. Wifi is also available in the treehouse.
If you are looking for unique, interesting, and absolutely breathtaking, this is the Airbnb for you!
Click Here to Check Prices & Book!
PS: Treehouse obsessed? Don't miss our list of the best treehouse rentals in New England!
---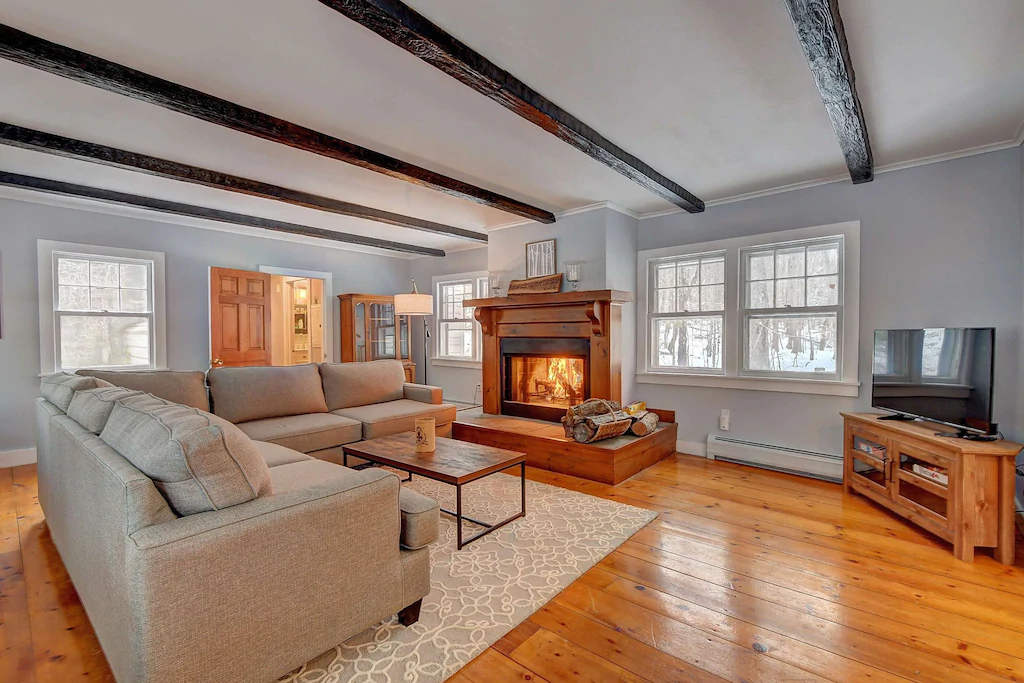 The Berkshires are an incredible vacation destination, especially during the summer. Why not complete the perfect trip with a stay at a lovely cabin like this? Guests will love this modern and spacious 3-bedroom New England cottage; especially the stunning fireplace. Just a 5 minutes' walk takes you to the lake. Sounds like a dream.
8 guests can be accommodated in this gorgeous New England VRBO.
Click Here to Check Prices & Book!
---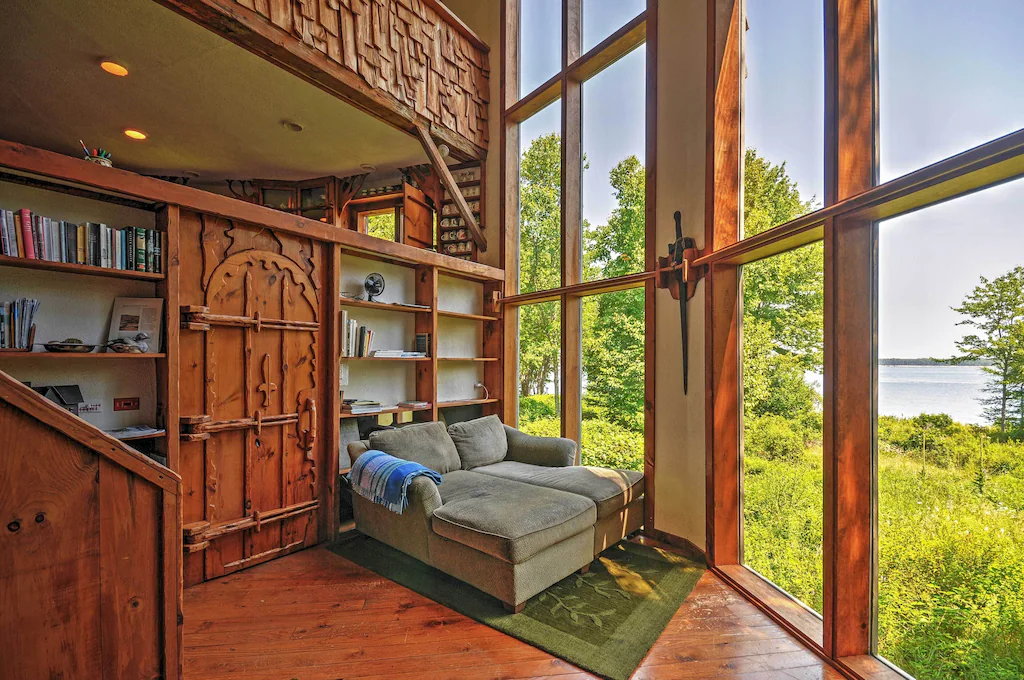 If you've always wanted to stay in a castle, this property should shoot right to the top of your New England bucket list. Maine vacation meets Hobbit adventure in this outstanding New England VRBO. I'm personally quite obsessed and ready to go book a stay ASAP. This may be one of the most beautiful AND unique places to stay in New England!
Your just 100 feet from the ocean in this Maine castle, which houses 7 guests. Head up to the turret for views over the water and views of Prospect Harbor Lighthouse. Located 4 miles from Winter Harbor and roughly 38 miles to Acadia National Park, this is an excellent place to base yourself to experience the best of Maine.
Click Here to Check Prices & Book!
---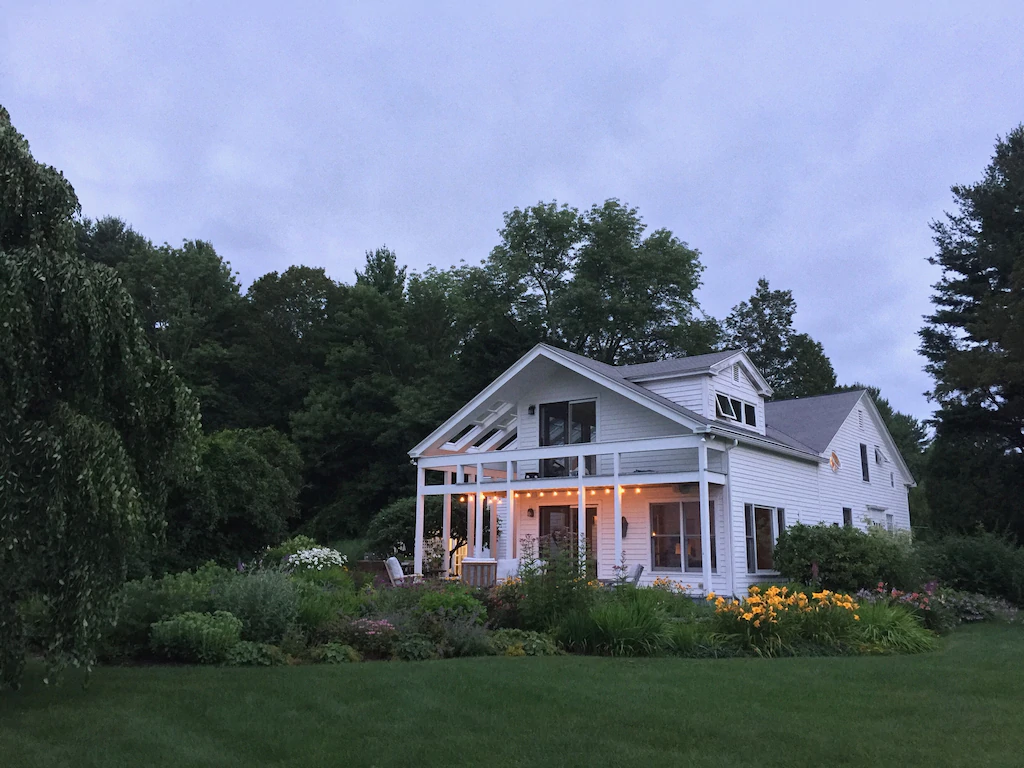 Looking for a quick family escape from NYC? Just 2.5 hours away from the city, this light and bright Massachusetts vacation home will welcome you with open arms (or perhaps, with open doors!) This 3100 square foot house is pretty epic, with its own tennis court, a hammock, two fireplaces, playhouse for the kids, jacuzzi tub, and a whole lot more. And of course, it's beautiful! What more could you want from a New England family friendly VRBO!
Click Here to Check Prices & Book!
---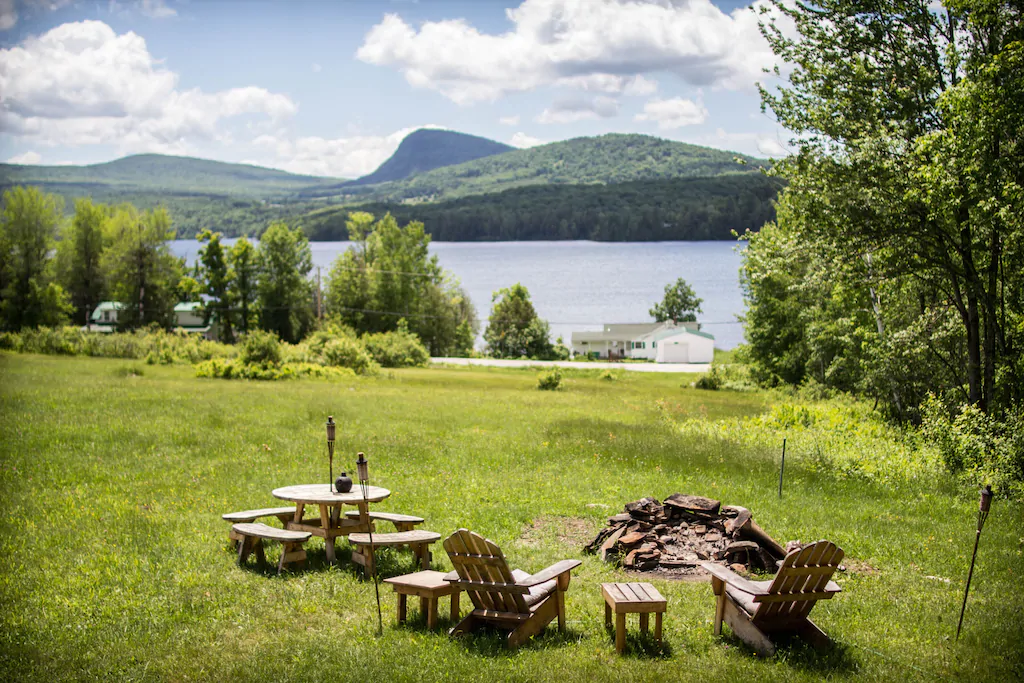 This Vermont VRBO, known as "The Honeymoon Cottage" lies at the end of a quiet dirt road and offers these amazing views of Lake Willoughby. You will fall in love with this quaint and cozy spot, that is best for 4 guests (two adults and two kids fit very comfortably). If you're in search of a sweet summer vacation spot in the Northeast Kingdom of Vermont, you should definitely consider this property.
Click Here to Check Prices & Book!
---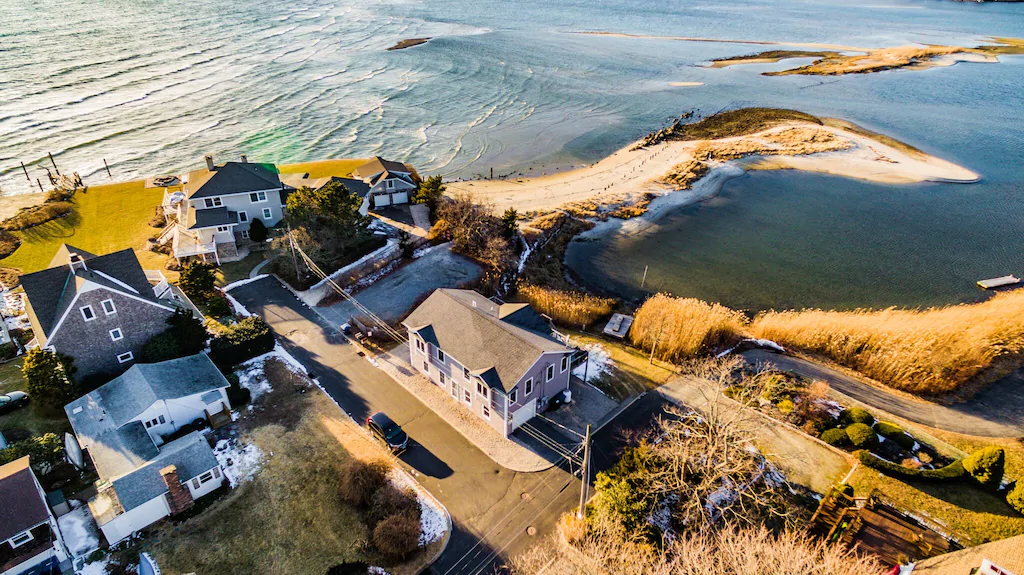 If you're keen to be right on the water, you can't beat the location of this CT VRBO. Located in Pleasure Beach, you'll stay in a 3-bedroom house with direct access to the Long Island Sound. You'll also have your own private dock and three kayaks available for your use. Up to 8 people can enjoy this New England VRBO on the beach and its remarkable sunset views.
Click Here to Check Prices & Book!
---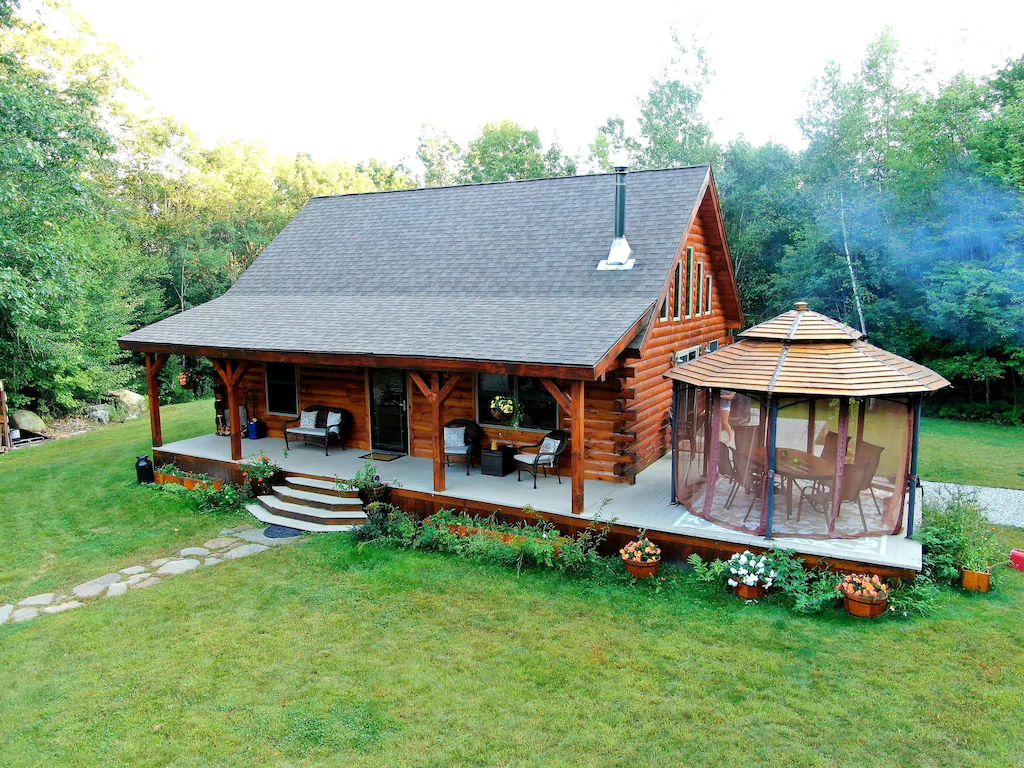 Cabins are one of the most popular places to stay in New England, and every state has its share of great options. This one in Marlow, NH is close to lots of outdoor activities and around 20-30 minutes from Keene, Sunapee, Claremont, golf courses, and ski resorts (Mt. Sunapee, Pat's Peak, Granite Gorge).
This New England VRBO is a classic cabin with a woodstove and plenty of wood paneling, and would be a perfect place to bring the family. This VRBO cabin in New Hampshire can suit 6 adults and 2 children (bunk beds).
Click Here to Check Prices & Book!
---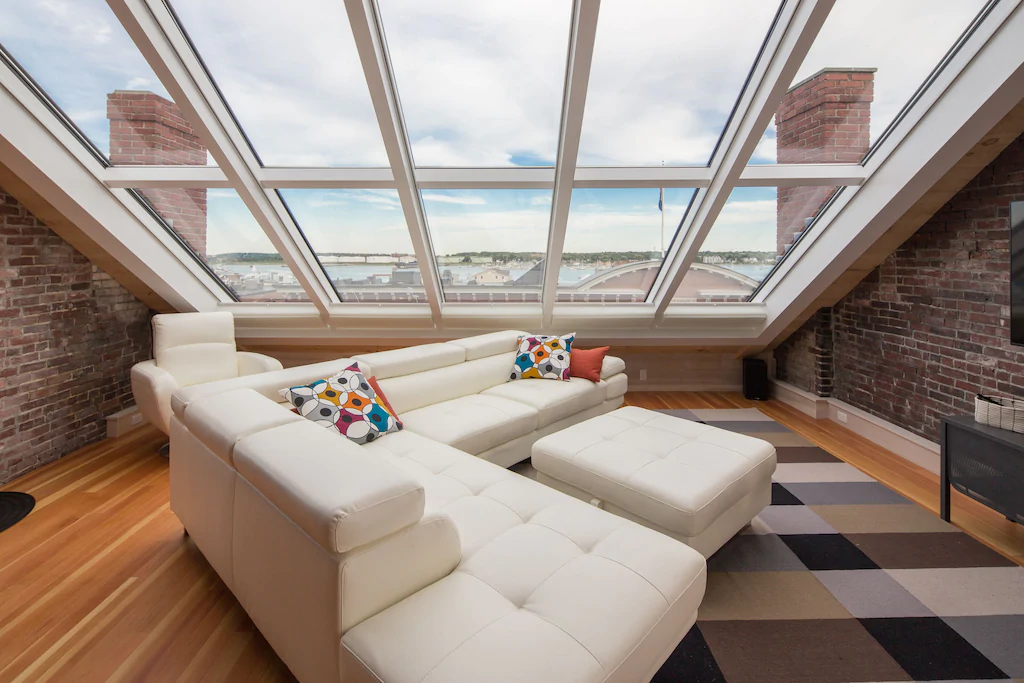 The city of Portland is a great travel destination and you'll have the best seat in the house in this penthouse apartment VRBO!
Situated on the top floor of a renovated 1850s warehouse, this space has awesome views of the Old Port and Casco Bay. Just walk downstairs and across the street for fresh seafood. Head the other way for tons of Portland's favorite shops and restaurants, including the famous Holy Donut.
4 guests can stay in this 2 bedroom/2 bath VRBO penthouse suite in Portland Maine.
Click Here to Check Prices & Book!
---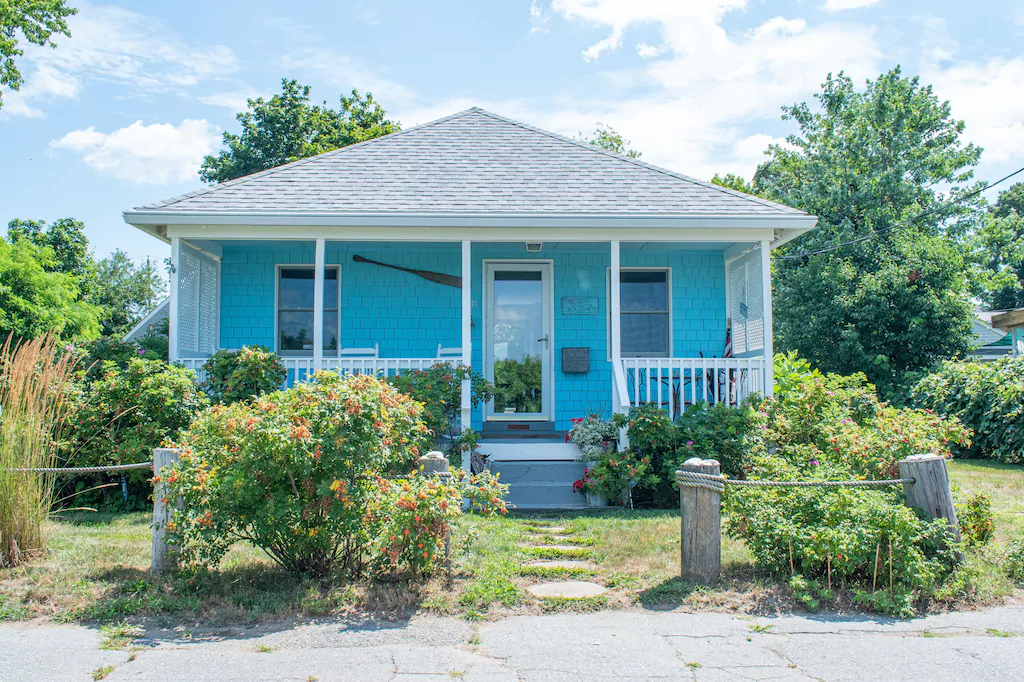 Is this not just the most charming rental property in Rhode Island? Get away from the crowds with this serene property "Rosie on the Bay." Watch magical sunsets from your front porch and then walk down just a few steps and find yourself on the water of Greenwich Bay. This VRBO beach bungalow in Rhode Island is suitable for 6 guests. Check the listing for more details!
Click Here to Check Prices & Book!
---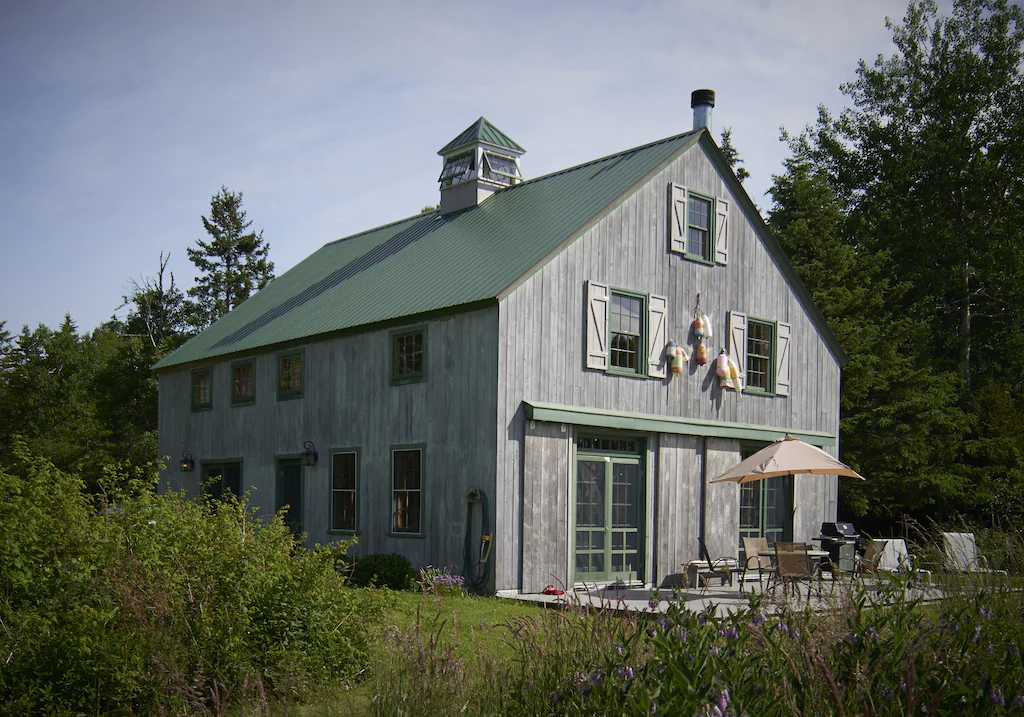 Maine's islands are some of the states ultimate vacation destinations, offering peace and tranquility in a spectacular setting.
Hop on the ferry to Isleboro to find this awesome barn-style vacation home. This New England VRBO is warm and welcoming, can accomodate 8 guests, and has a waterfront location. You also get the use of a float and dinghy.
Rainy day? Curl up next to the fire with a book from the well-stocked library.
A description of the island from the location: "Islesboro is ten miles long and a mile wide. It offers two grocery stores(w/liquor), a library, bookstore, gift/paper/lunch store and the snack shack at the ferry. You will also find a golf club, public tennis courts and also a kids sailing program. Biking is great – especially to the snack shack which is only 1/4 mile from the house and offering the best sunsets in Maine!"
Click Here to Check Prices & Book!
---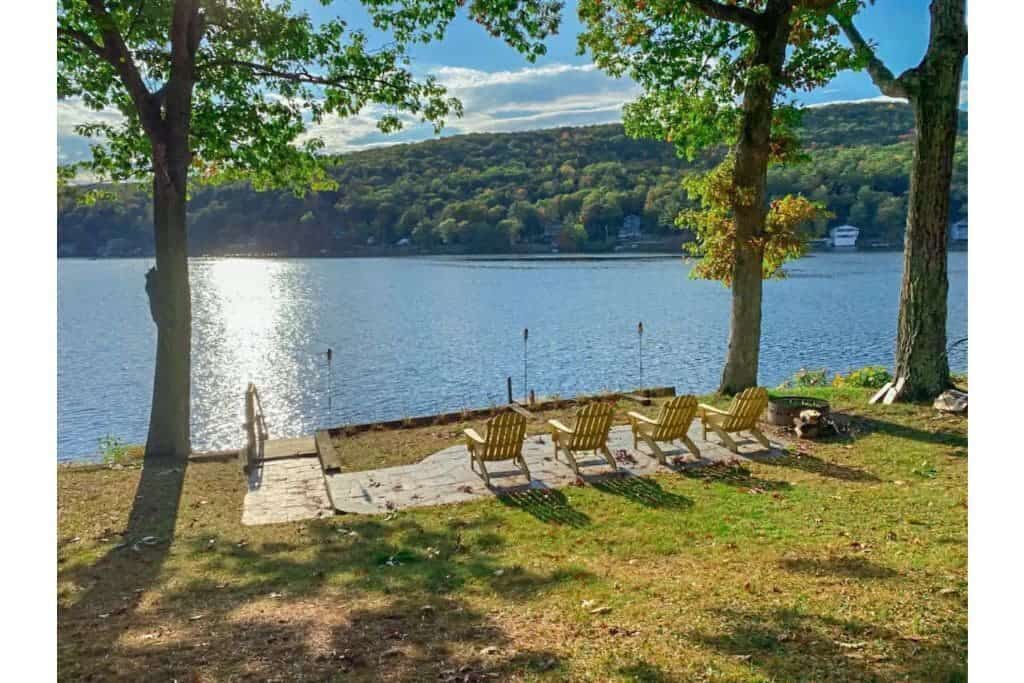 Here is a classic cabin on my personal favorite Vermont lake, Lake St. Catherine! This Vermont vacation rental offers everything you need for the perfect summer stay. 9 guests can stay in this updated and spacious home, which has lots of little great features (skylight over the bed, anyone?!)
You'll love the views and easy lake access from this spot. Be sure to check out the listing for all the details.
Click Here to Check Prices & Book!
---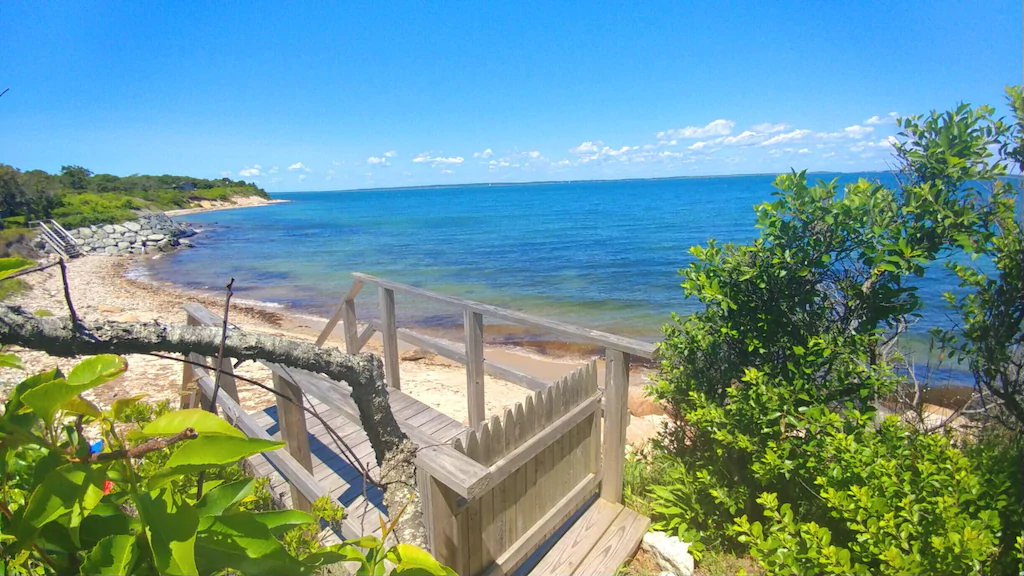 You can't find a more perfect New England summer vacation spot than this: your own private beach on the island of Martha's Vineyard.
While the views are the focal point of this Martha's Vineyard VRBO, this is an all-around lovely home that can accommodate 8 guests. Everywhere you look you'll find big windows offering dreamy ocean views, and there is plenty of space for relaxing and dining with friends and family.
Click Here to Check Prices & Book!
---
This New England vacation rental is giving off major treehouse vibes. Located in an excellent area of the Berkshires, Massachusetts, this New England VRBO is lakeside and great for all seasons.
You may especially love the 3rd floor master suite boasting a study and a piano.
The other two bedrooms are located on the ground floor of this gorgeous Berkshires VRBO, and in between you'll find the full kitchen, dining area, living room and TV/game room, and a wood-burning stove on the second floor.
Click Here to Check Prices & Book!
---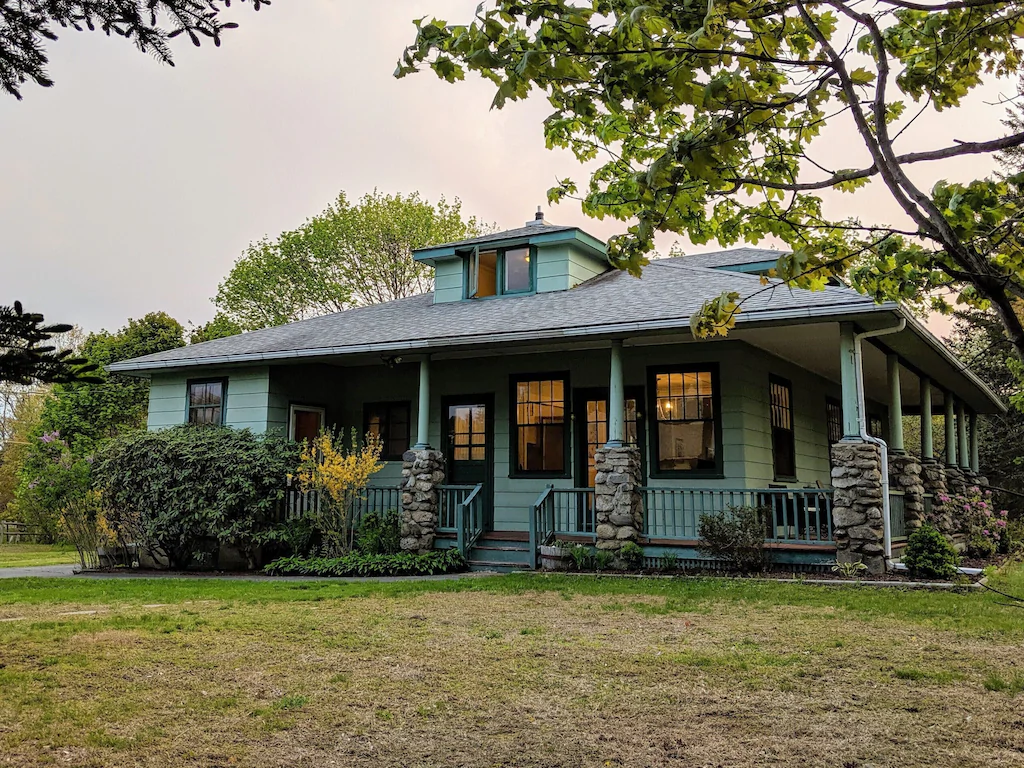 This renovated 1905 New England bungalow sleeps 8. It is a 4-bedroom home with a well -quipped kitchen, large dining/living space and private yard with picnic table and grill.
You'll have ocean views from this bungalow, and can walk right to Salsbury Cove. Drive 10 minutes to find yourself in downtown Bar Harbor, or you can ride the Island Explorer Shuttle from the end of the driveway.
Click Here to Check Prices & Book!
---
You need to look at the listing to truly appreciate this unique NH VRBO. It's a castle! And there's so much to see and appreciate in and around the 11,000 square foot castle in New England.
The estate is on 500 acres with miles of walking trails, groomed x-country ski trails, an outdoor hot tub, and a 5000-gallon swimming pool.
22 guests can stay within the castle walls, where you'll find amenities and features such as a marble and granite fireplace, a gorgeous grand piano, authentic tapestries and scrolled glass doors, a bar in the finished basement and a third floor playroom filled with toys. This rentable New England castle is definitely one of the coolest vacation rentals in the Northeast!
Click Here to Check Prices & Book!
---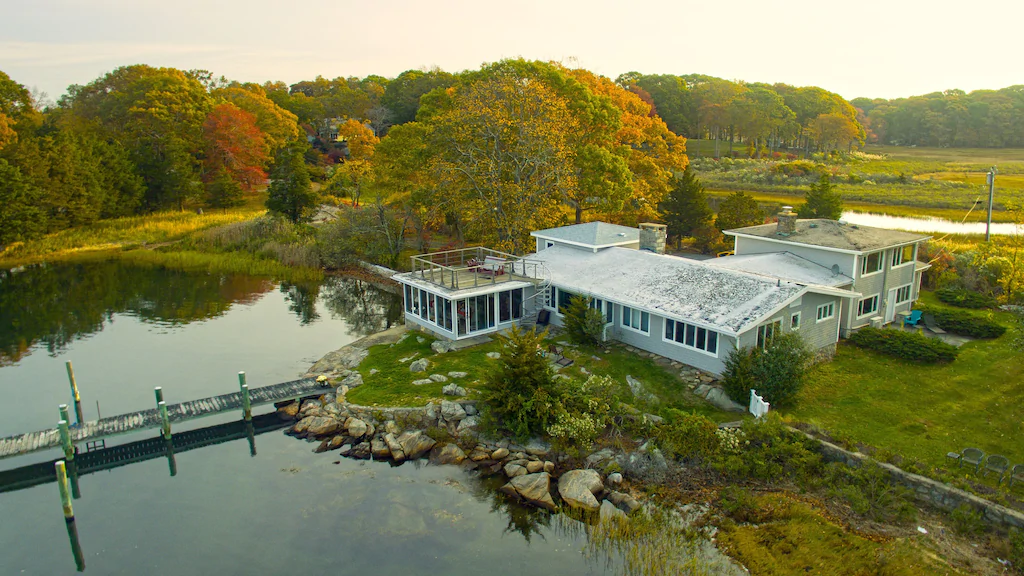 Not only does this 3,000-square foot waterfront New England vacation home have glorious views in all directions, but it has a professionally redesigned chef's kitchen you will be head over heels for.
Here's a great description of what you can expect at this Mystic VRBO: "The house is located in a protected wetlands area with many old growth trees on the property. The house was carefully designed to fit into the surrounding environment. Egrets, osprey, deer turkeys, red fox, swans, and ducks are frequent visitors. There are seal sightings in the winter months. The sun room is surrounded on three sides by water and is a phenomenal spot to relax, read a book, or dine and watch the constant parade of boats going to Mystic Seaport and the marinas."
Click Here to Check Prices & Book!
---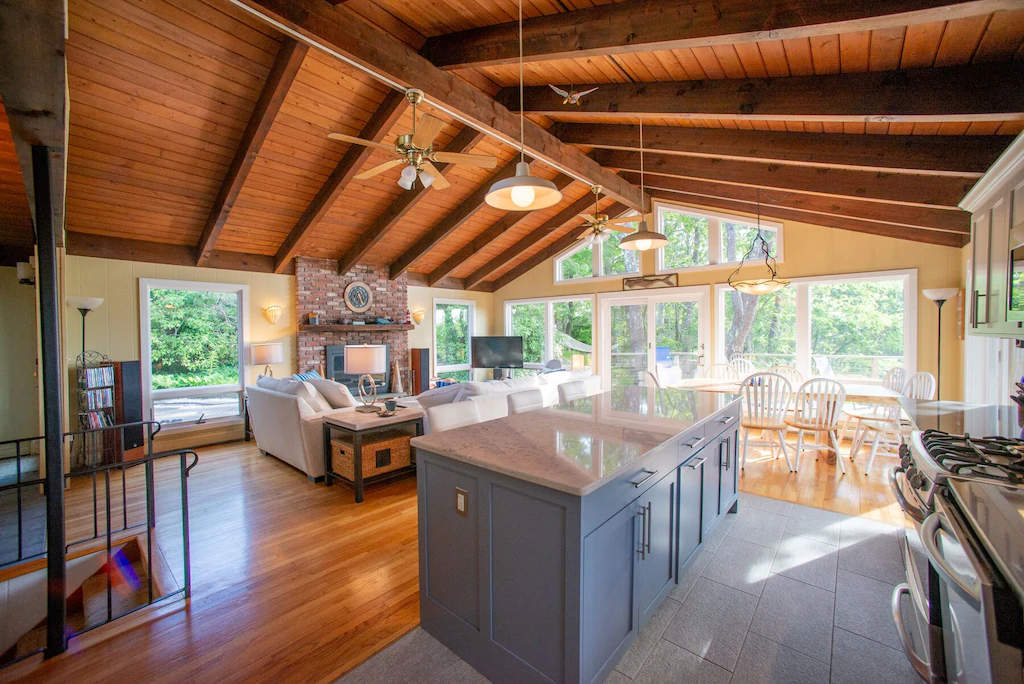 Nestled among the trees of Cape Cod, this Truro vacation rental feels like a treehouse. But it's not! No climbing is required for guests to enjoy this property! In fact, it's a 3 bedroom, 3 bath beautiful home that will feel like absolute luxury.
8 guests will find comfortable and well-decorated rooms, an open plan living space, and plenty of outdoor areas perfect for gathering together for a relaxing evening.
Click Here to Check Prices & Book!
---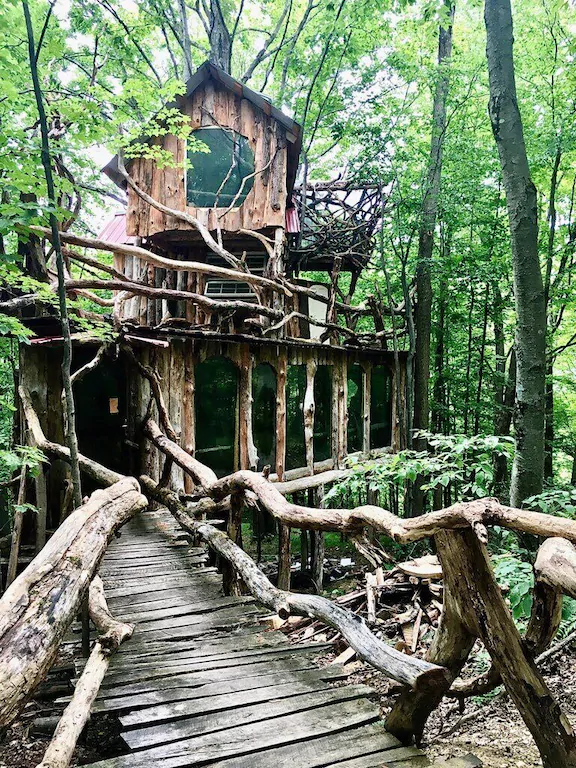 Step into a fairytale in this Vermont treehouse VRBO. Intertwined with the branches of the trees, this VRBO property almost blends into the woods themselves.
The listing describes it so well. "This two treehouse compound is organic in its feel and design, with living trees intermingling with the structure inside and out. Made from all local materials or reclaimed elements, it seems out of time as though you took a turn and found yourself in the pages of a story book. Don't be surprised if Gnomes or Elves drop by for tea."
You'll definitely want to check out the listing for all the great photos of this space, and to get the specifics on how many can stay, when this New England treehouse is available, and more.
Click Here to Check Prices and Book!
---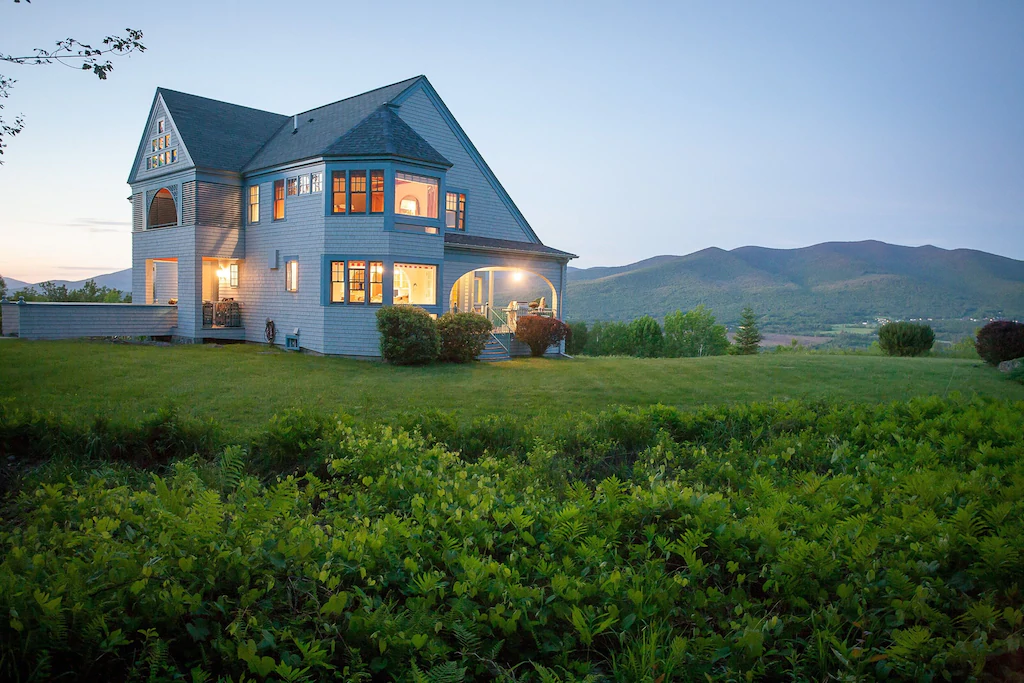 With it's sweeping, wrap-around balcony, this is just a beautiful New Hampshire vacation rental.
From the deck and windows of "Bray Hill House" you'll enjoy unparalleled mountain views. This could be the ideal spot to base yourself for a getaway in the White Mountains. Dozens of attractions are within easy reach, including the Mount Washington Cog Railway (30 minutes away), zip-lining and canopy tours (30 minutes), and Franconia Notch State Park with its aerial tramway (45 minutes).
The listing gives a great idea for parents seeking a family trip, too: "On a private road at 1,500 feet elevation, our contemporary home is ideal for a family getaway when you're looking for a comfortable base to return to after a day of adventuring with the kids. The Great Room with fireplace and the full kitchen and family dining area are on the main level, with bedrooms on the second level, so you can put the kids to bed and relax downstairs. A full-size washer and dryer make cleanup easy after a day of exploring." Sounds good to me!
Click Here to Check Prices & Book!
---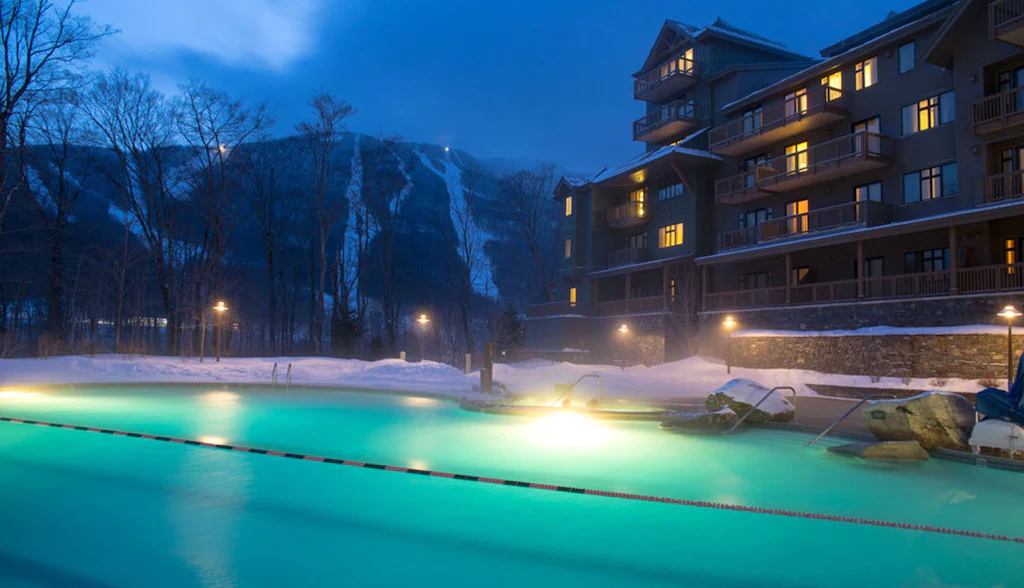 Planning an epic ski trip? You may wish to journey to Stowe, Vermont, one of the most classic New England destinations ever. If you're planning on plenty of skiing, this studio spot with views of Mount Mansfield is as a good as it gets.
4 guests can stay at this remodeled studio, located at The Lodge at Spruce Peak. According to the listing: "the unit is ski-in and ski-out with easy access to the lifts and ski valet. Check-in at the front desk, enjoy full use of the heated outdoor pool, hot tubs, and the award-winning spa. Take a trip to Stowe and enjoy Mountainside living for LESS."
Click Here to Check Prices & Book!
---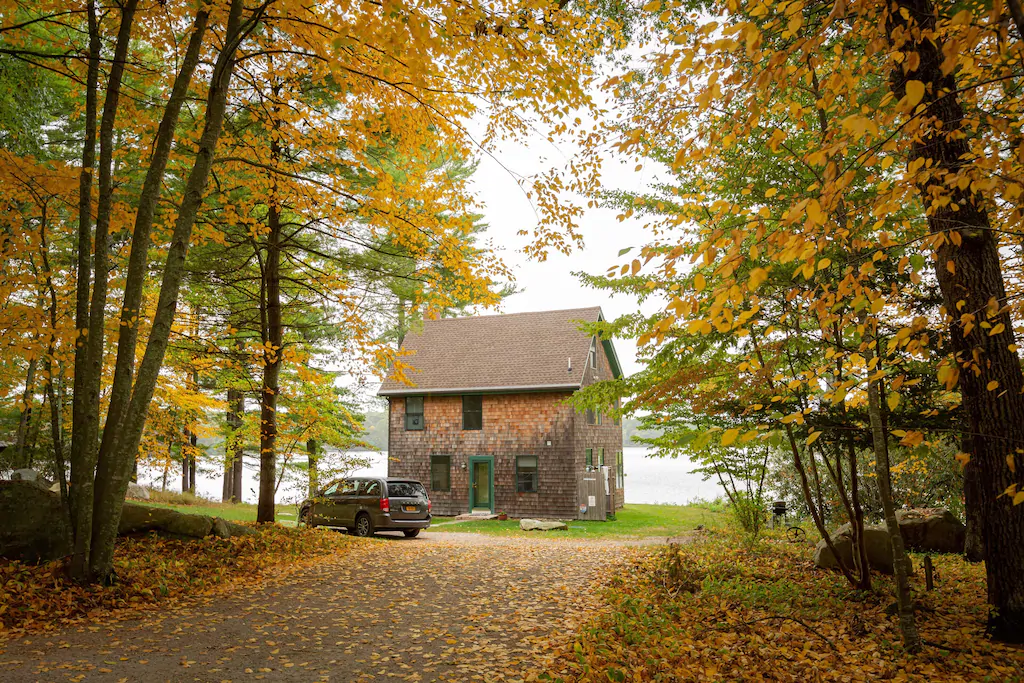 Here is a woodsy escape that is not too far from the coast, so you can have a trip that combines both! Although you're close to Mystic, Providence, and Newport, the owners say you won't want to leave this chill and pretty property.
Surrounded by thousands of acres of open space, this Rhode Island VRBO has a private beach on beautiful Wincheck Pond. In addition to swimming, you can go kayaking, canoeing and paddle boarding with the provided water craft.
This 3-bedroom vacation home in Rhode Island sleeps 6.
Click Here to Check Prices & Book!
---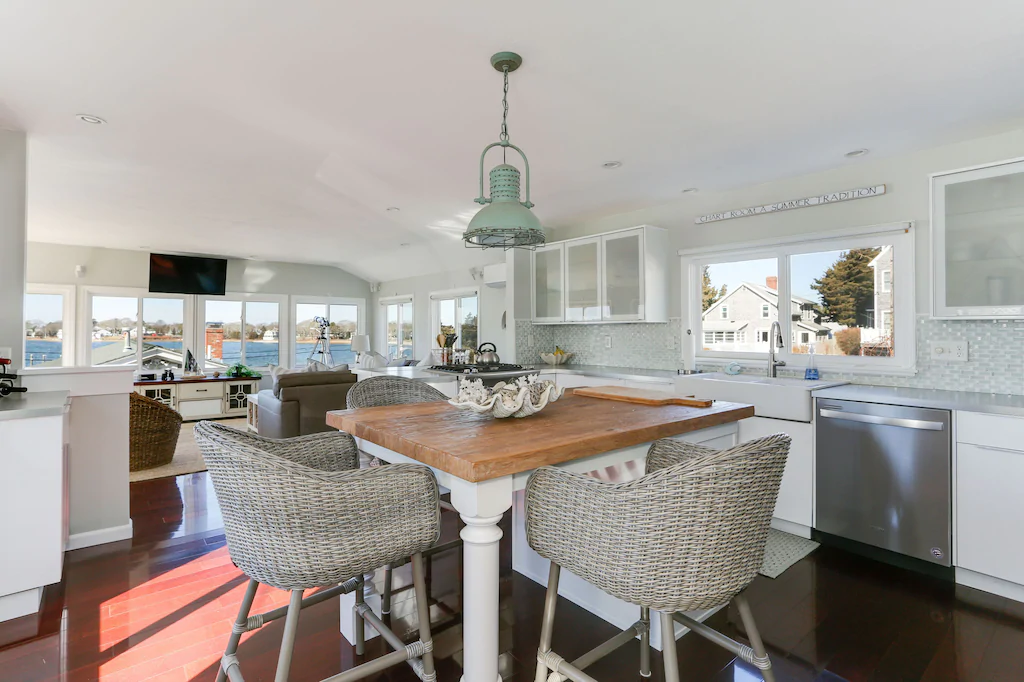 This Massachusetts beach house comes with panoramic views out its many windows. Why not enjoy a wonderful view as you relax with family and friends during your New England vacation?
Just a five-minute walk from Hen Cove Beach, this home was remodeled in 2019 and is cozy and clean for parties of 6-8. The listing recommends the home as suitable for 4-5 adults and 2-3 children. Come and see for yourself why this Cape Cod VRBO has 5/5 stars and is rated as "Exceptional."
Click Here to Check Prices & Book!
---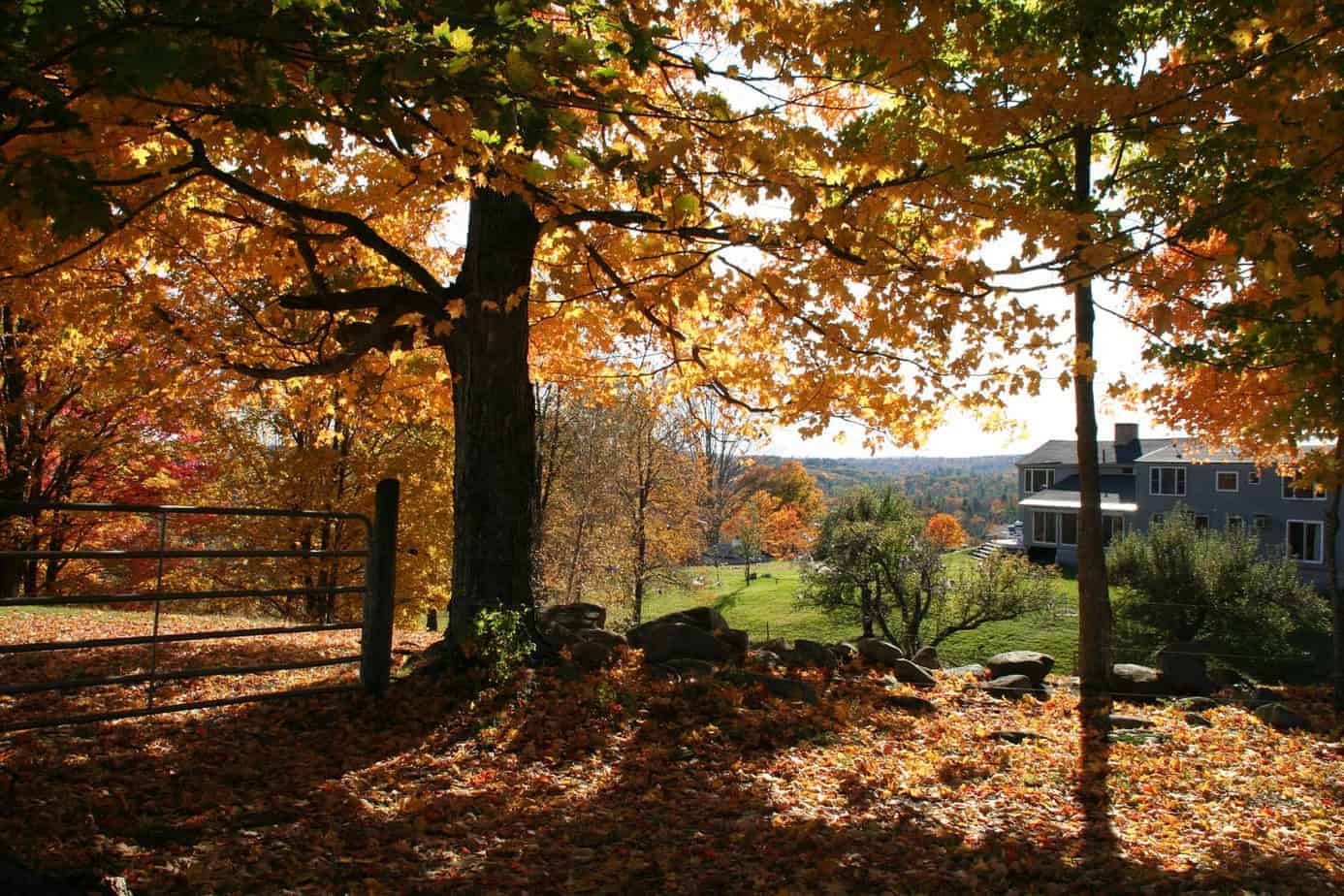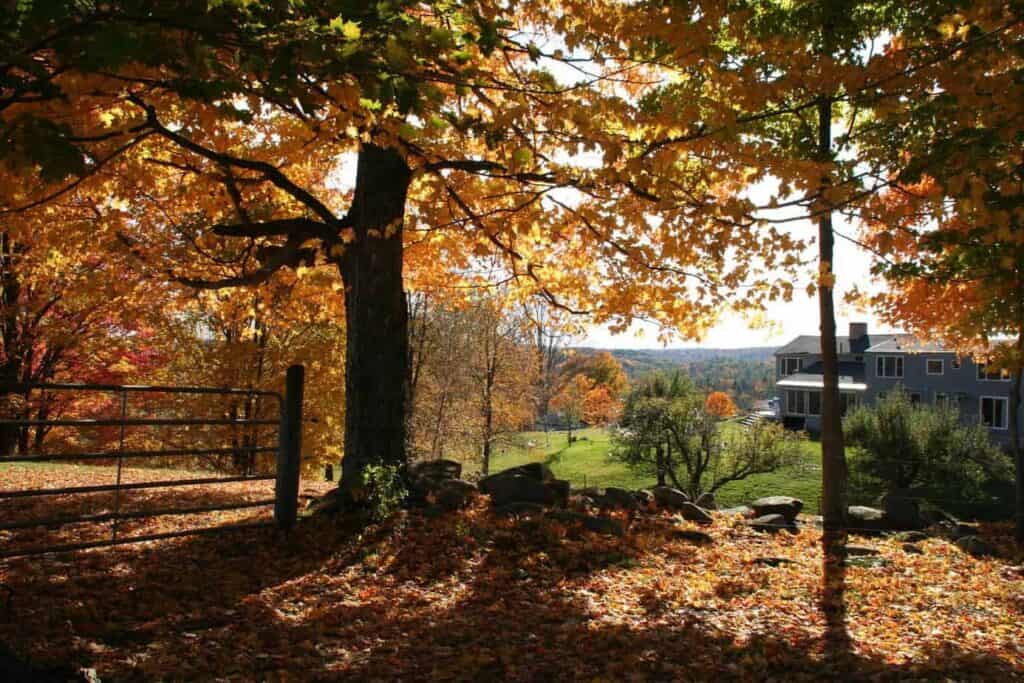 Have you ever wanted to stay at a working cattle farm? Now's your chance! This is one of the cutest New England Airbnbs we've seen.
Located in New Hampshire, the 36 acre Miles Smith Farm was founded in the 1830s and still functioning today.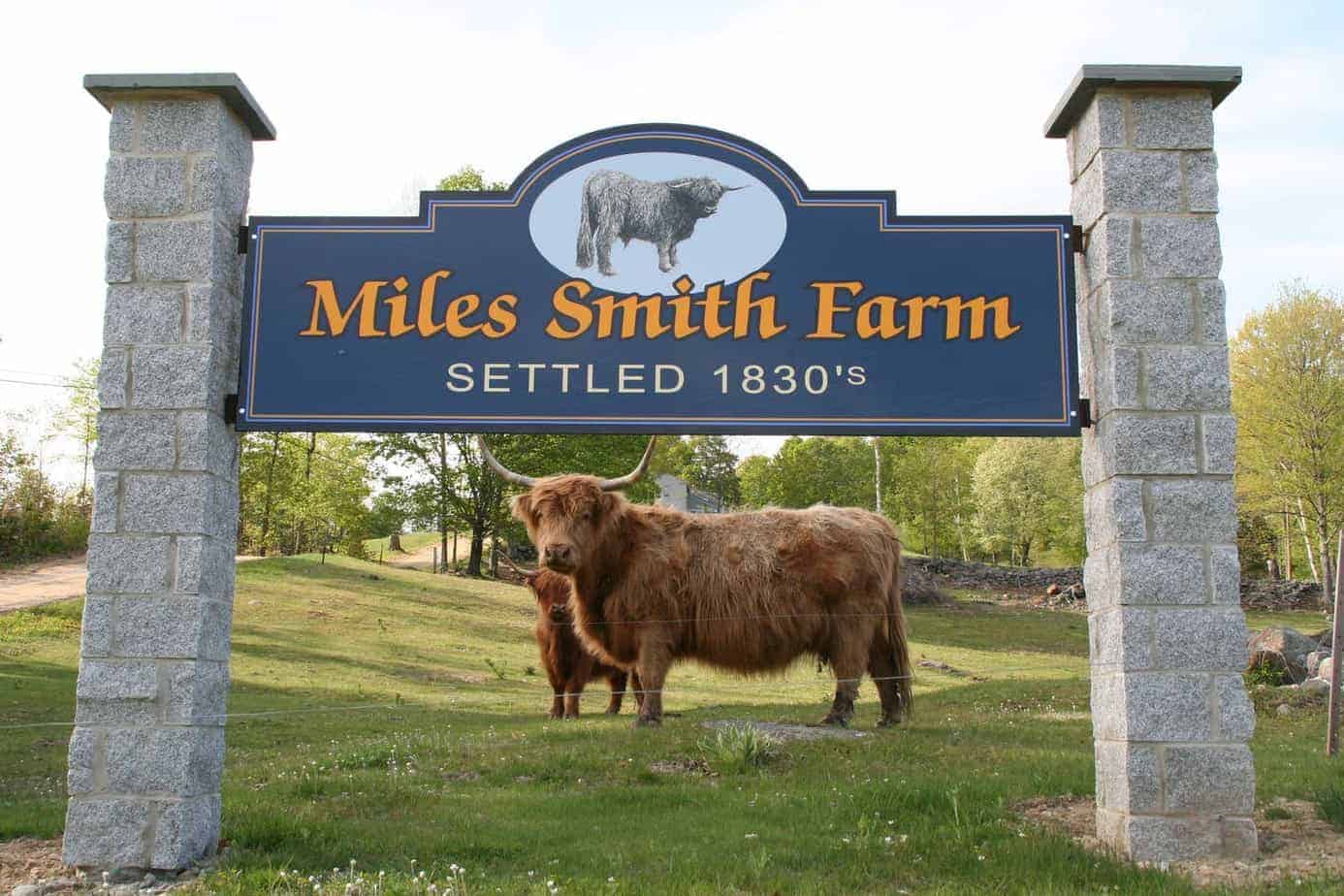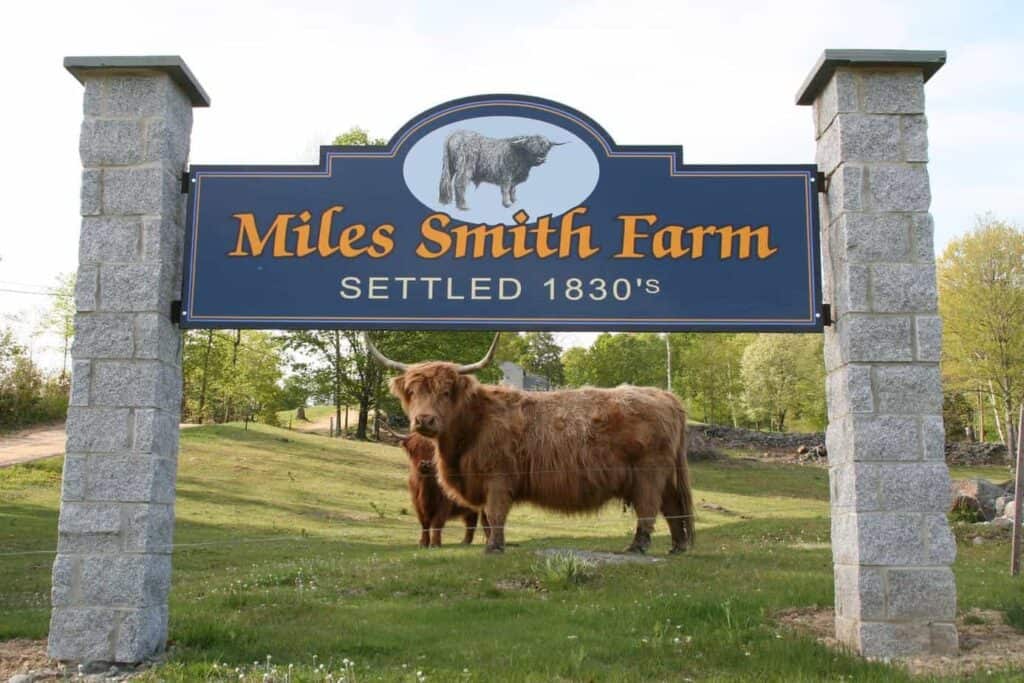 This special New England Airbnb has scenic views and a bevy of Scottish highland cattle. According to the site, "Our Scottish Highlander cattle are so tame we ride them. You can too!" Ok! Sign me up!
Click Here to Check Prices & Book!
Read these next:
10 Awesome Spots for the Best New Hampshire Airbnb Stay | 13 of the Coziest + Best Cabins in New Hampshire
---
We cannot get over how enchanting this Airbnb cottage is. Is this the most romantic Airbnb New England has to offer? Maybe! It's on thousands of wishlists and for good reason.
Like something out of a fairytale (or a Hobbit village), this place oozes romance and charm. And as an extremely popular property, this is a worthy contender for best Airbnb in New England.
This is a somewhat famous place—it used to be a sculptor's summer studio and is set in the artsy, nature-filled Berkshires of Western Massachusetts.
With a canopied bed and all the amenities you need, this would be ideal for a summer getaway or honeymoon stay. Plus, you can roam the lovely grounds and enjoy the lily pad pond, babbling brook, and more. Ah, what a dream!
Click Here to Check Prices & Book!
---
Read Next: 6 Charming New England Towns to Visit in the Fall
---
---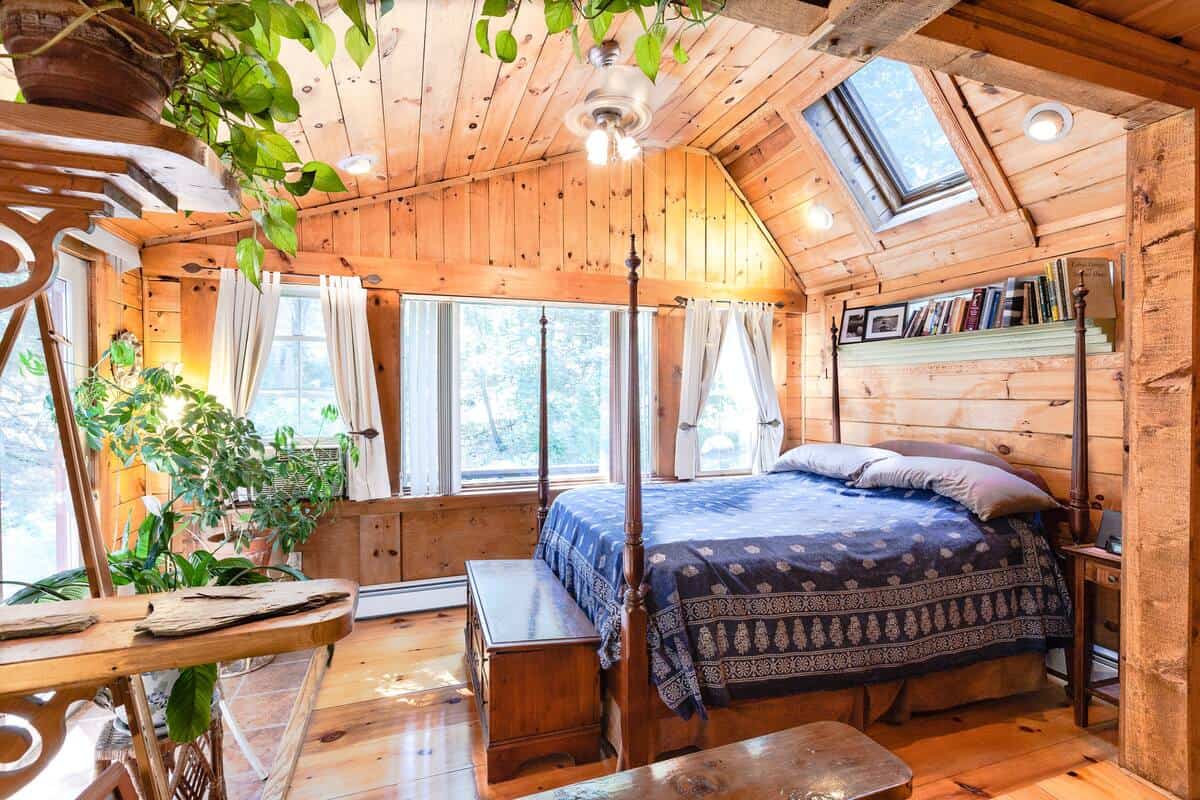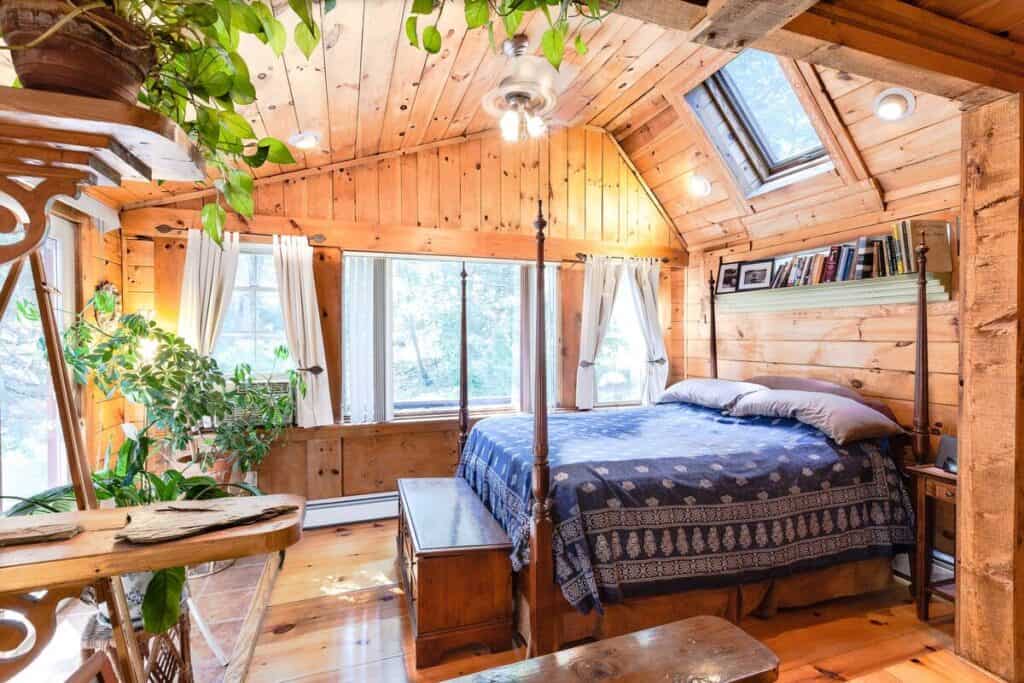 While many of the New England Airbnbs we've included on this list are good for two people, here's one that's great for a family or a group. This Airbnb cottage houses up to 6 happy guests. With beautiful wood craftsmanship and tons of natural light, this is a gorgeous New England vacation rental.
Lake Pearl is at the end of the road, with a boat launch and nearby beach access, so you can enjoy lakeside fun for sure, but if you want to make day trips to the cities, you're also conveniently located between Boston and Providence.
This would be an ideal property for a family looking for a stay in Massachusetts that isn't right in the middle of urban busy-ness. Planning to see a Patriots game? Gillette Stadium is just 10 minutes away.
Click Here to Check Prices & Book!
---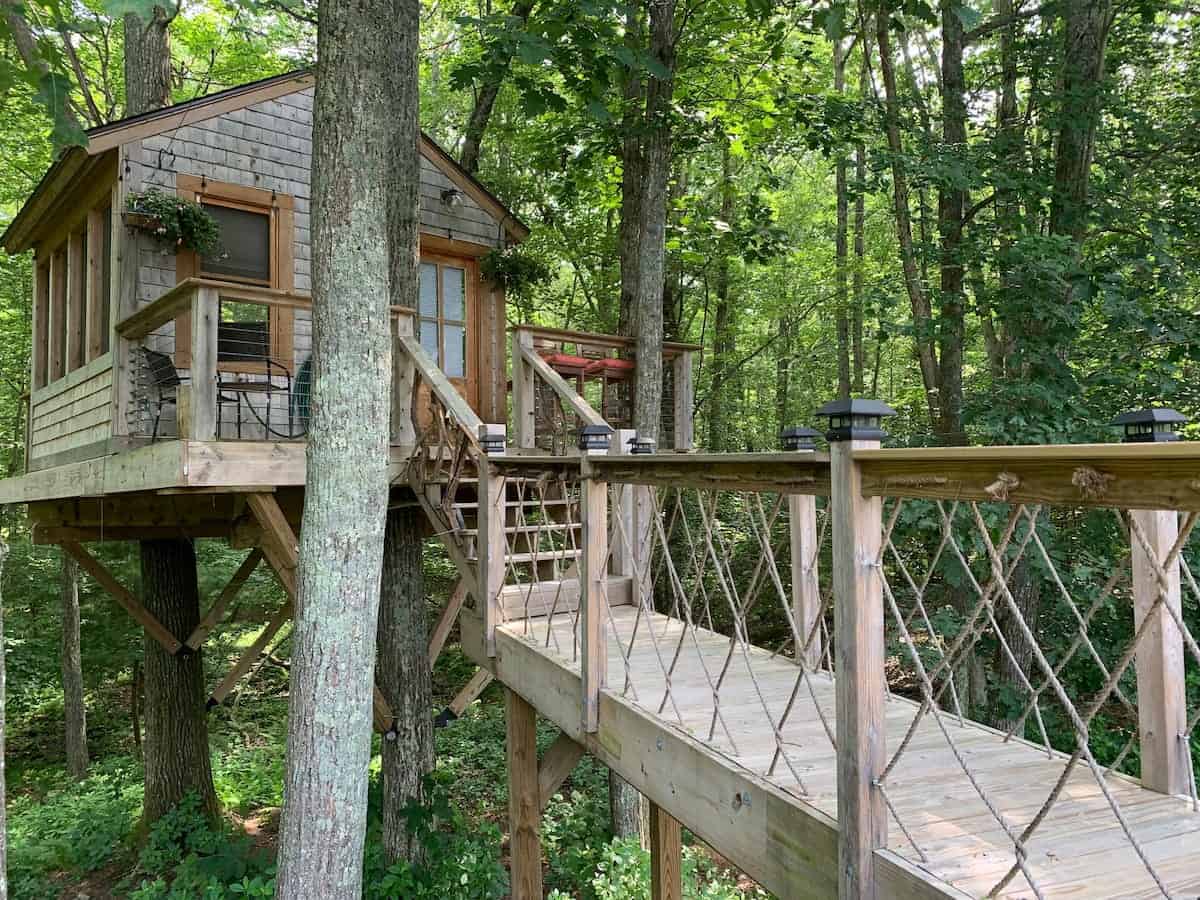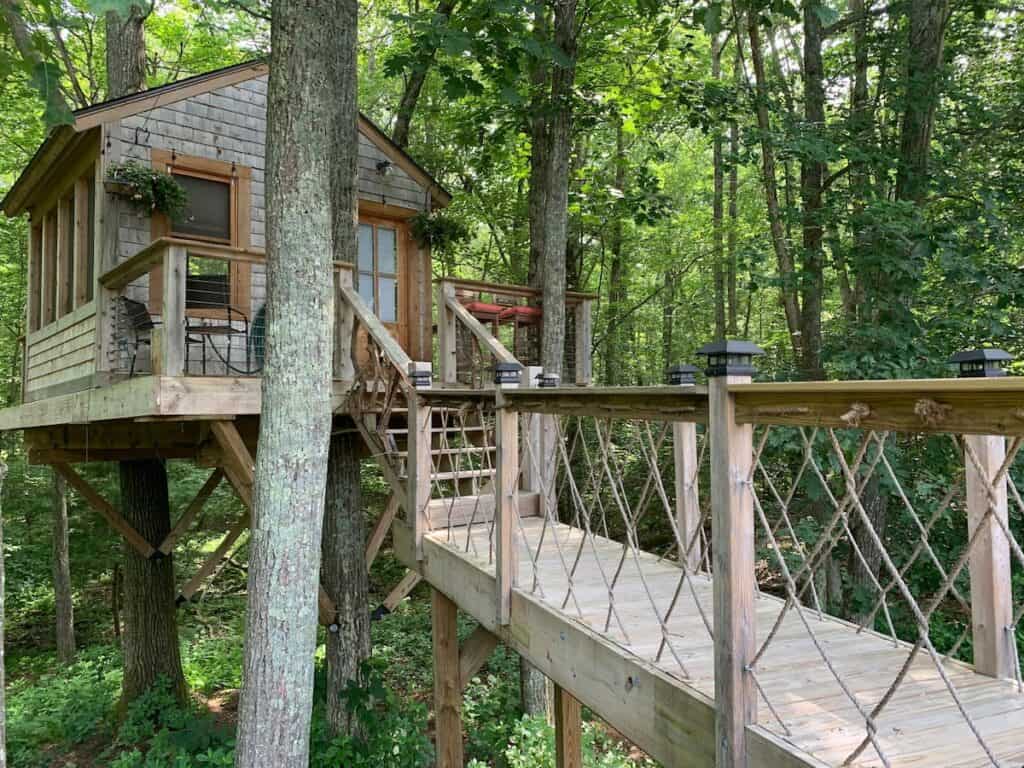 This New England treehouse with a pool is suited for three guests and is perfectly nestled in the woods in Richmond, Rhode Island. It features a beautiful wraparound deck with wi-fi.
While this Airbnb treehouse doesn't have its own kitchen or living area, all guests can access the host's pool, which is a short few-minute walk away. There's also an outdoor kitchen, bar, TV, and firepits, making this feel like a 5-star glamping retreat.
With a short drive, you can also get to some of the best places to explore in the area. Head to the nearby beaches, hiking trails, and even Newport!
Click Here to Check Prices & Book!
---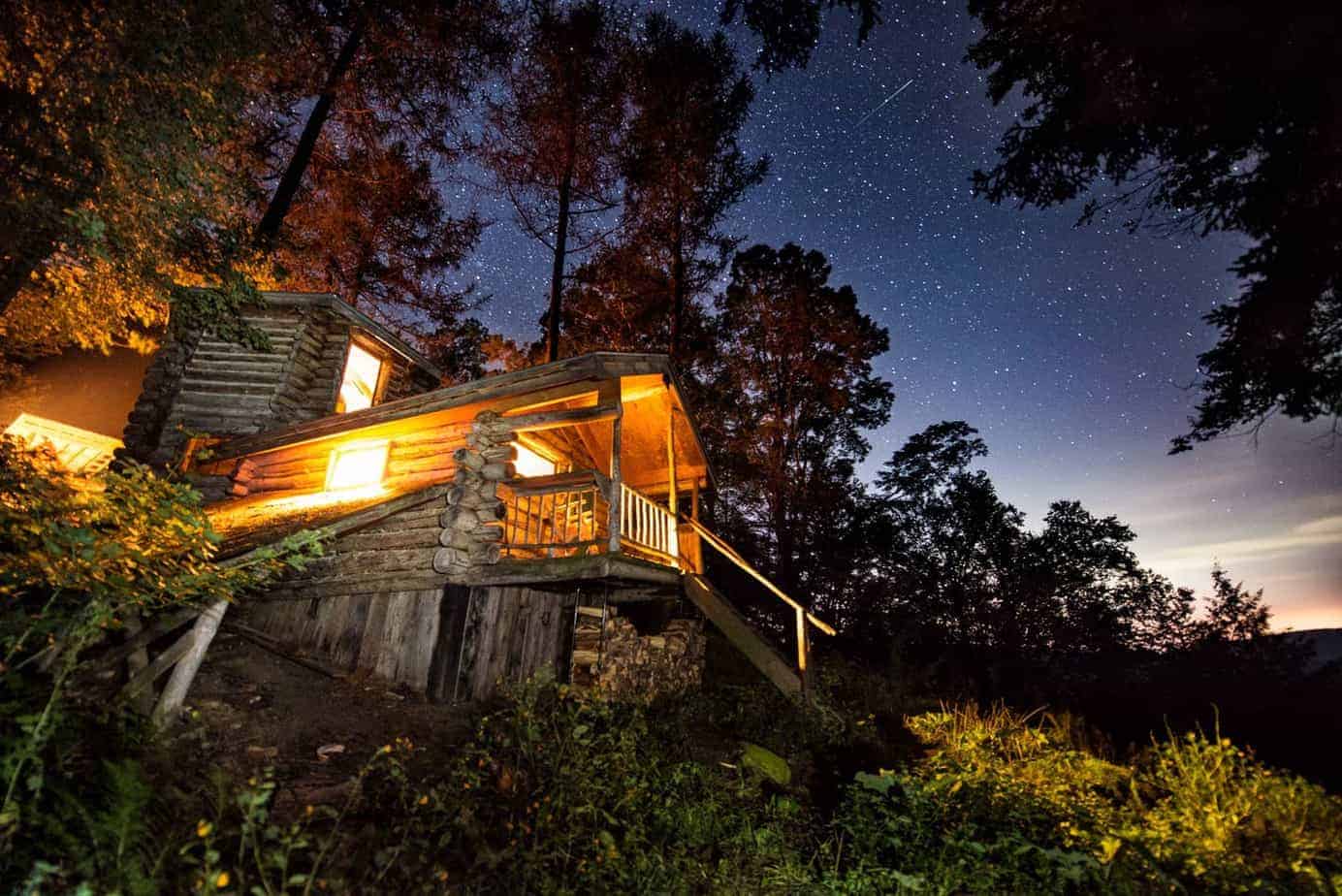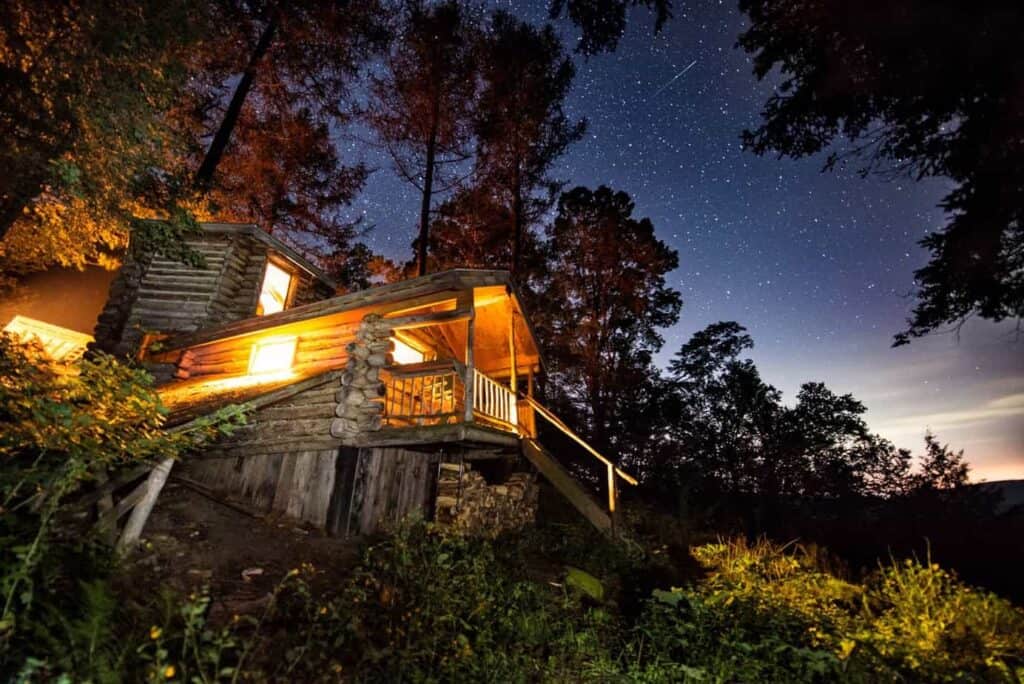 For some, a real getaway involves totally unplugging. This could mean leaving your cell phone and laptop at home, or it could mean heading to an off-the-grid cabin in Vermont's Green Mountains. If that sounds like bliss, this vacation property is precisely what you're looking for.
This Vermont Airbnb is nestled away in the woods on 20 acres. There's plenty to explore in the immediate region and a bit further afield. The cabin is just minutes away from hiking, swimming, skiing, golf, and more, including Vermont's Long Trail.
On Airbnb, cabins are really popular, but not everyone will be interested in the off-grid lifestyle. This place is suited to only the most adventurous and intrepid travelers who really want to have a getaway in nature.
A solar shower, propane cookstove, and a wood stove will take care of your basic needs. The cabin is rustic but beautiful, and honestly, we're pretty sure we want to book this off the grid Airbnb ASAP! Also check out our whole list of cozy cabins in Vermont.
Click Here to Check Prices & Book!
---
Read Next: 10 of the Best Day Trips from Boston
---
Have you ever wanted to spend the night in a historic church? This Brattleboro Airbnb is your chance! This lovely white church building is complete with steeple and stained glass, but has been converted into an oh-so-cozy place to stay.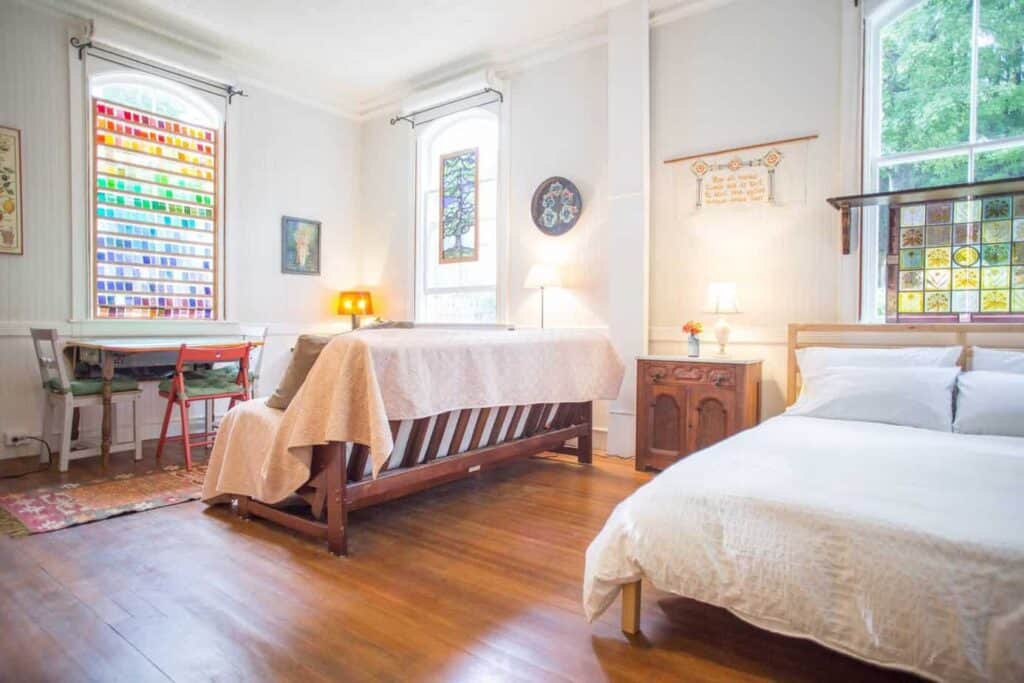 This building was once the Swedish Congregational Church, located in historic Swedeville, a secluded hilly Brattleboro neighborhood built by Swedish immigrants in the 1800's. The apartment can fit up to 4 guests and is just one mile from downtown Brattleboro.
This New England Airbnb is in a good location in southeast Vermont–close to lots of great options for Vermont weekend getaways and also convenient to nearby NH and MA. Plus, there are many great Brattleboro restaurants nearby.
Click Here to Check Prices & Book!
---
So maybe a vacation sans electricity is not for you. Perhaps urban escapes are more your thing. If so, Portland, Maine is a fantastic small city that will delight you in every way. This New England vacation rental is set in the West End, a safe and convenient spot that will give you access to everything.
With wifi and all the essential amenities, you'll have a nice stay in this modern, sunny flat. But with tons of great restaurants, shopping, and culture, Portland will have you out and about exploring most of your visit.
If this place were available for a long term rental, we might want to snatch it up.
Portland is an awesome city, and a place we've considered living. For young couples in their 20s and 30s, it's an ideal New England destination and this Portland AirBnb is truly hip.
Click Here to Check Prices & Book!
---
Read Next: 7 Fabulous Spa Getaways in New England
---
Of all the places to stay in Vermont, Burlington is one of the most exciting. This little city on a hill overlooks the sparkling Lake Champlain…and you know, it's where we once lived!
With a distinctive bohemian flair, Burlington attracts artsy, open-minded folk who fall in love with the Green Mountain State. Burlington is a lot of fun. If you're looking for a Burlington Vermont AirBnb for your stay, we recommend the Little Place Guest House.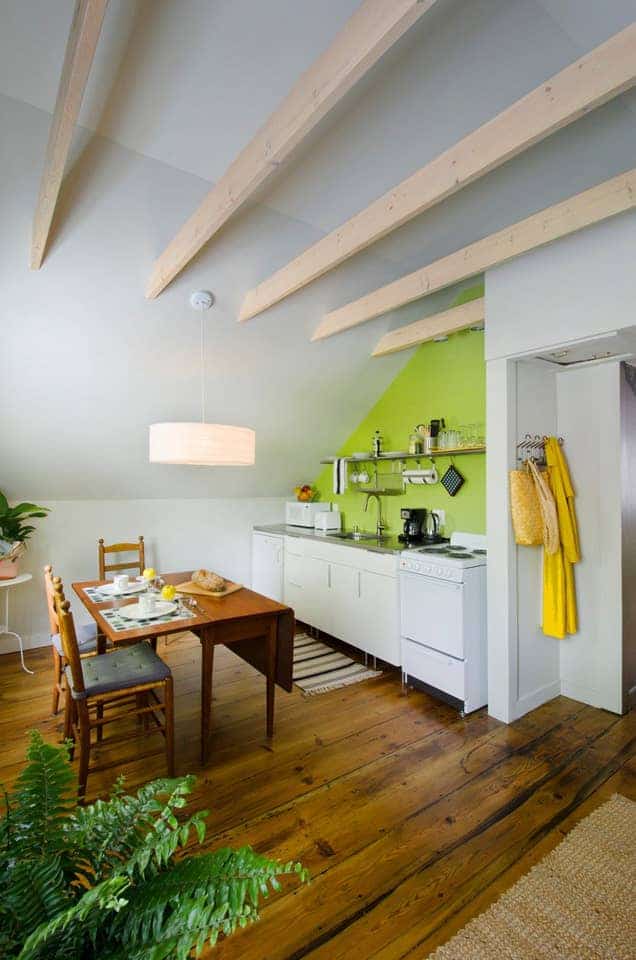 The property is light and open with a soothing feeling of simplicity. It's a perfect retreat for your Vermont getaway. Located in the Old North End, the property is right in the pulse of Burlington.
There's so many things to do in Burlington. You can walk to the busy downtown in just 10 minutes, where you can stroll Church Street and enjoy coffee shops, restaurants, shopping, breweries, and street performers. This sweet place is a great choice for 2 guests, and it's convenient to the waterfront, takeout, and other amenities.
Click Here to Check Prices & Book!
See more: 12 Fantastic Airbnbs in Burlington, Vermont
---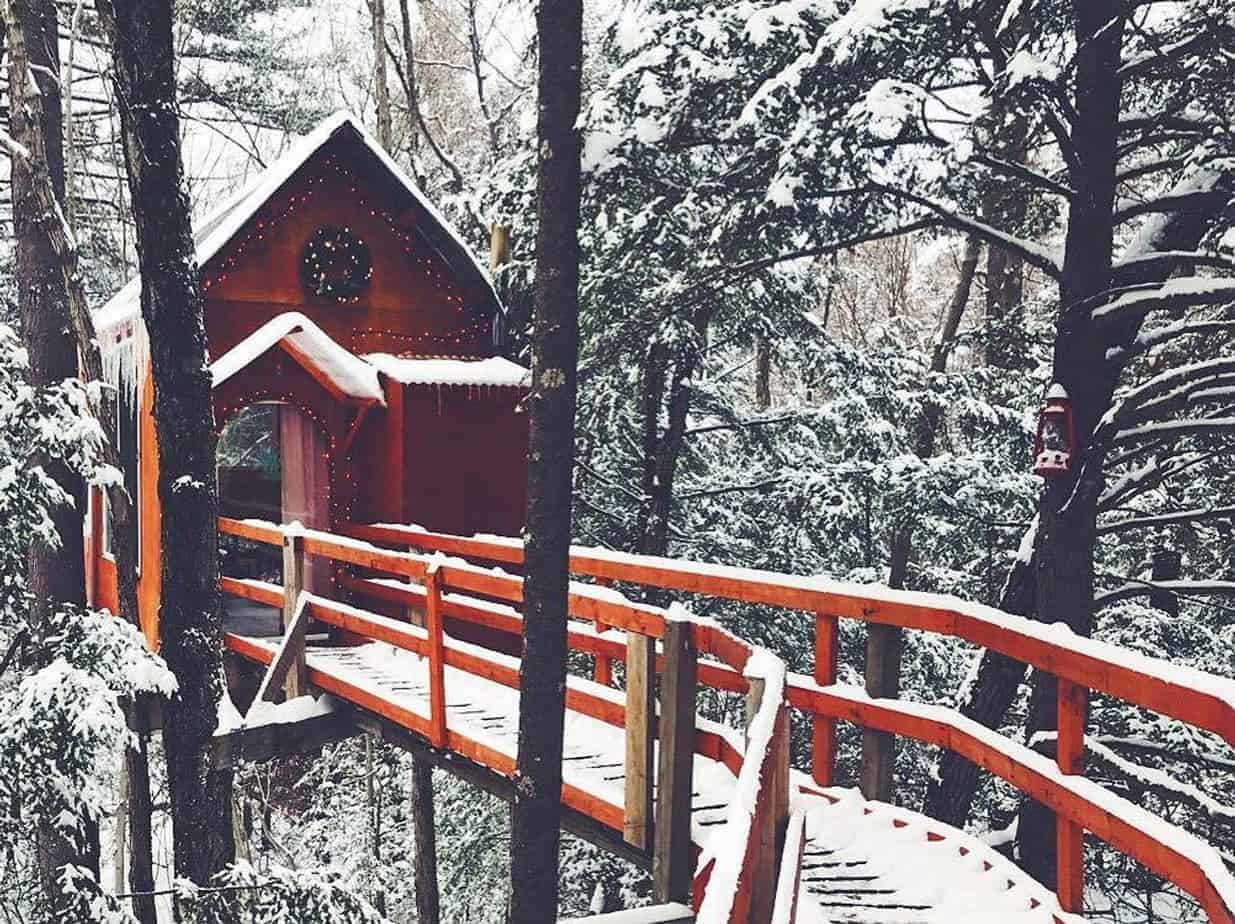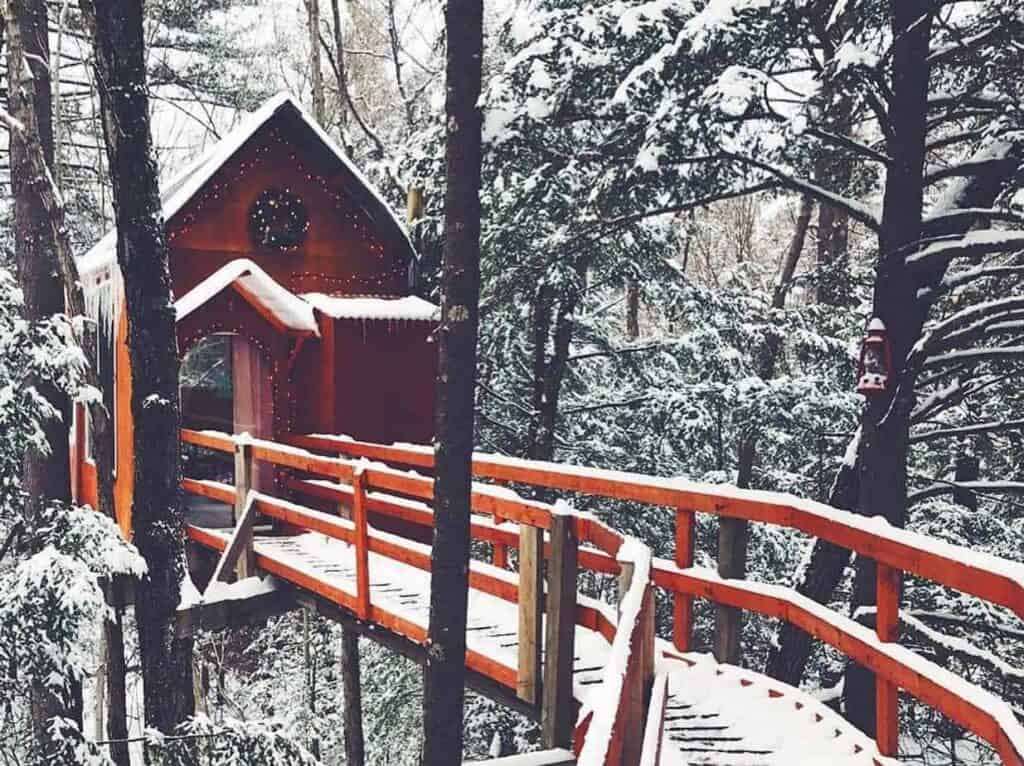 Let out your inner child with a stay in a grown-up-sized home nestled amongst the trees. Here in New Hampshire, you'll find a perfect choice with this absolutely adorable New England treehouse.
The hosts call their Treetop Sanctuary 'luxury in the trees' and it truly appears that way. The cabin, some 30 ft above the ground, is accessible through a network of boardwalks. You don't even have to climb to get in!
It looks like you'll find a bit of magic up in this vacation rental in the treetops. Clean, cozy, and inviting, it's a phenomenal place for two to cuddle up and have a romantic retreat.
And with a location in Southern New Hampshire, it's an easy drive from Boston and other points south. Check out more amazing treehouse hotels here!
Click Here to Check Prices & Book!
---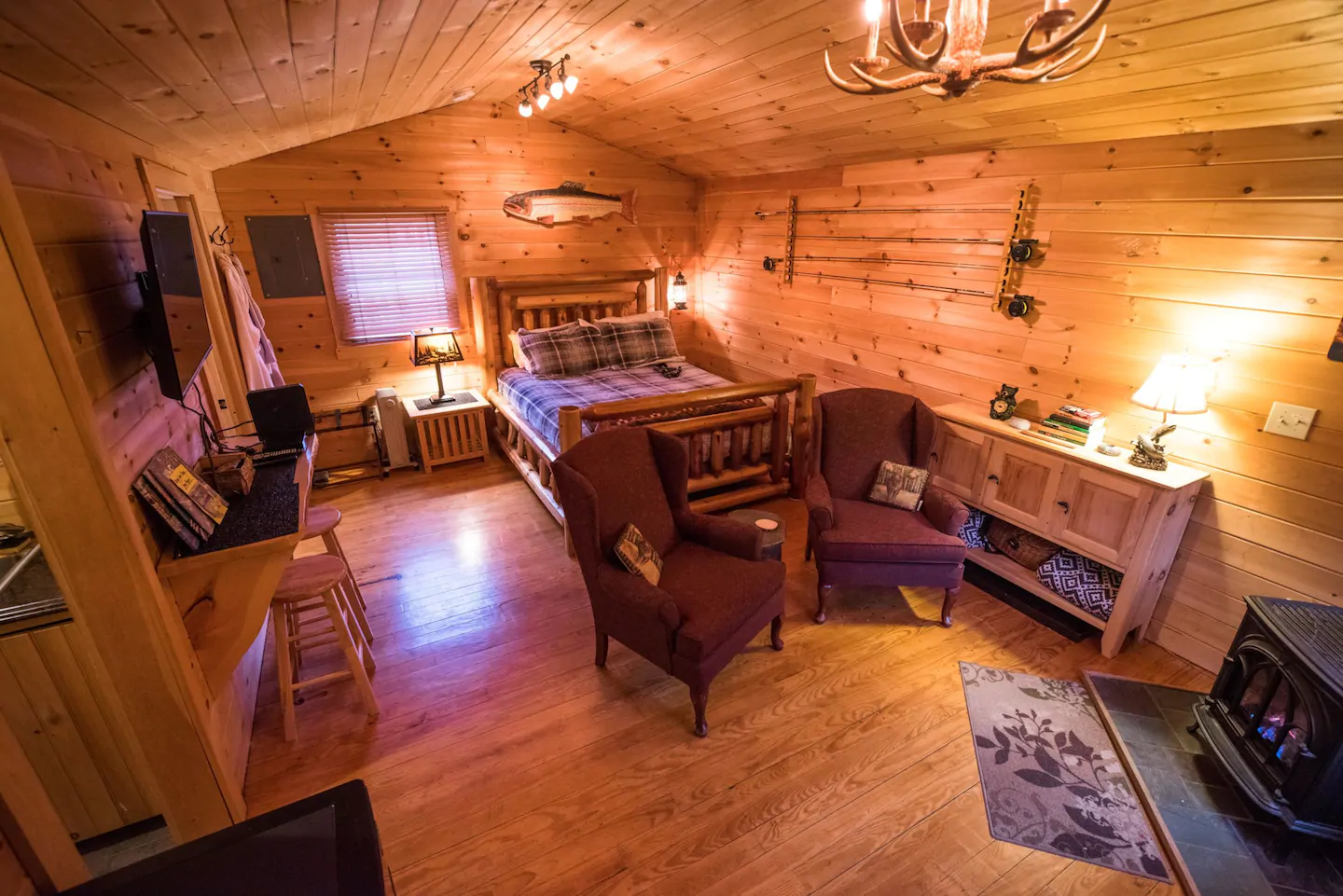 This is a perfect romantic Airbnb in New England for two. Jackson has a great White Mountains location, and this property is super charming. You've got a fireplace to keep you warm while you're tucked inside this cozy New England cabin, and when the stars come out at night, head out for a private dip in the hot tub.
With a nice secluded feel, this could be the perfect New Hampshire Airbnb for your next romantic getaway.
Click Here to Check Prices & Book!
Read Next: 15 Amazing Cabins in the White Mountains, NH
---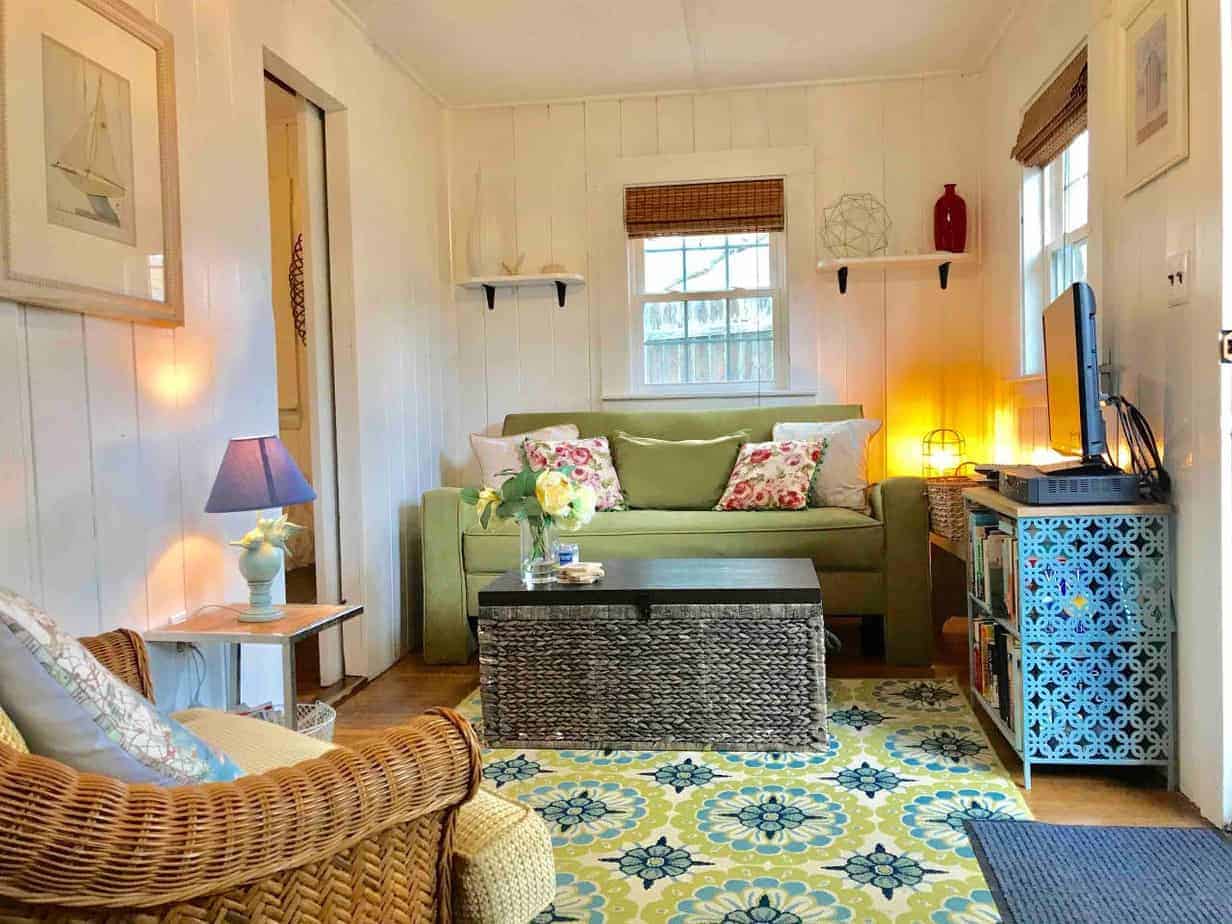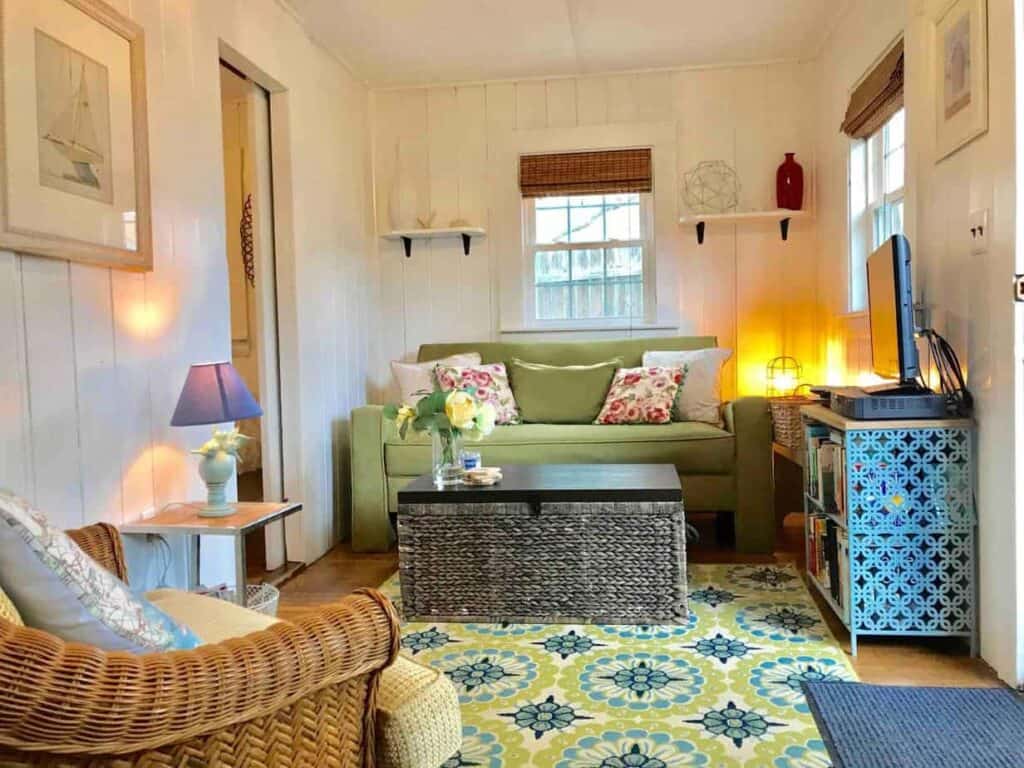 Planning a Cape Cod vacation this summer? This adorable cottage is waiting for you, and is certainly one of the cutest vacation rentals in Massachusetts.
The Sand Pebble Cottage, located within walking distance to the beach, is perfect for two people, and is even pet-friendly, so bring your dog along for the adventure.
This place may be tiny, but it's packed with charm, and its main selling point is its excellent location. You can walk everywhere, which, on a summer beach vacation, is truly what you want.
Walk to ice cream shops, restaurants, the beach, and more from this adorable Cape Cod cottage.
Click Here to Check Prices & Book!
---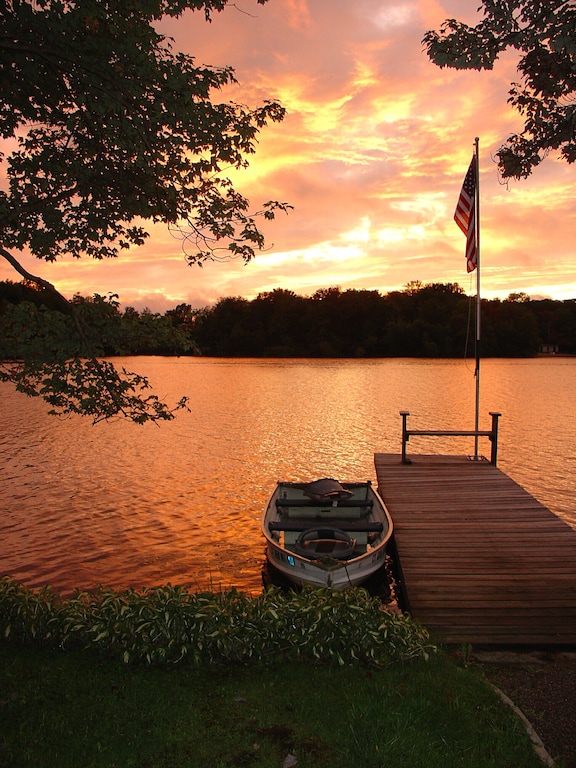 If you're looking for lakeside vacation rentals in Connecticut, look no further! This beautiful Bethlehem cottage VRBO is absolutely ideal for anyone looking for a peaceful lake getaway in New England.
While the footprint of this Connecticut cottage is quaint, it's amenities and things to do are large! With a beautiful patio with a grill for lakeside grilling out, foosball, air hockey, kayaks, paddleboards, a canoe and a rowboat, there will be plenty to do for the entire group at this lovely New England VRBO on the lake.
Oh, and it sleeps up to 6, so this is an excellent Connecticut family VRBO!
Click Here to Check Prices & Book!
Read Next: Best New England Vacation Spots
---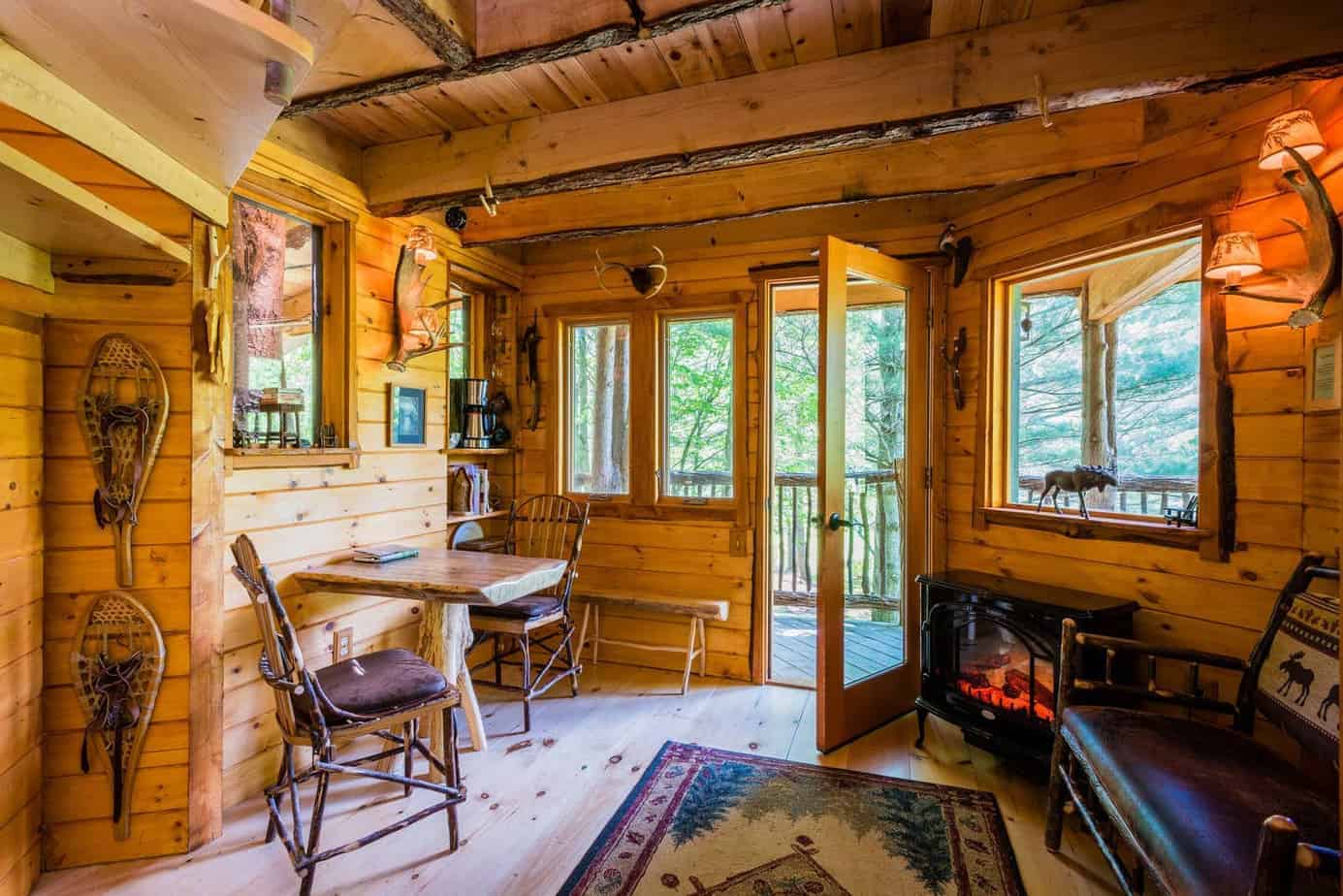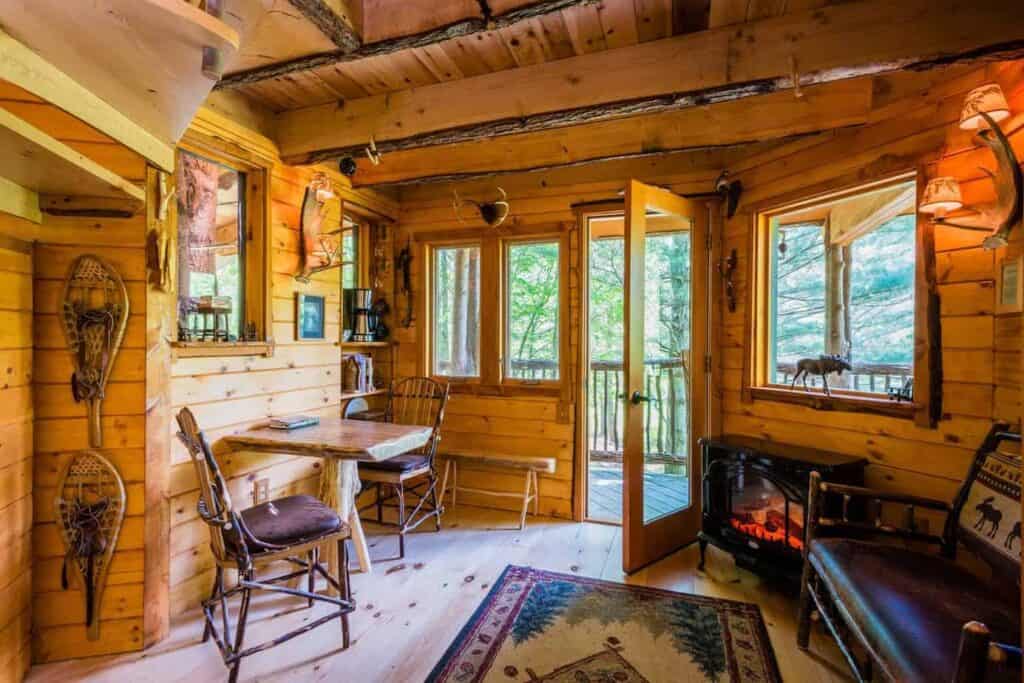 This stunning log treehouse in Vermont is New England glamping at its best. This New England vacation rental is pristine and serene in its design and it looks absolutely wonderful.
You'll get the opportunity to connect with nature while staying in a one-of-a-kind property. Two guests can cozy up in this New England Airbnb, so it's a pretty perfect spot for couples looking for some great one on one time together!
Click Here to Check Prices & Book!
Read Next: The Best Romantic Getaways in Vermont
---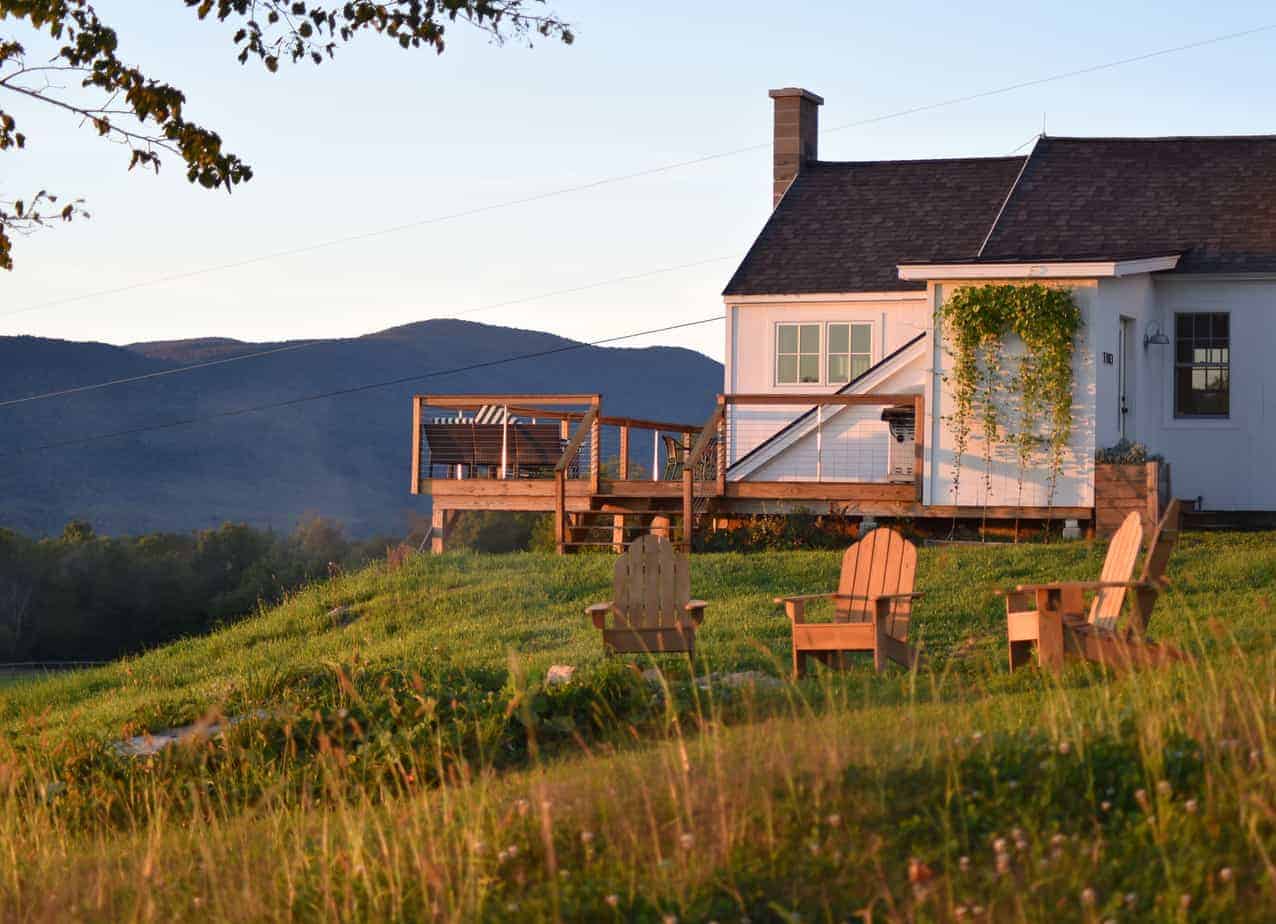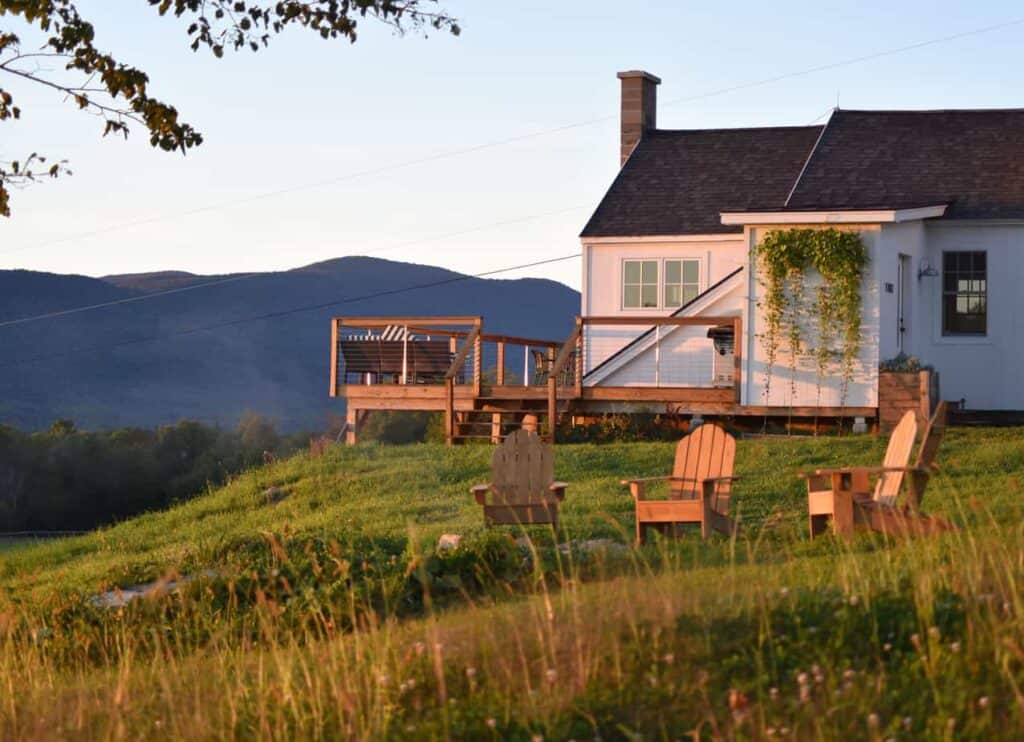 Want to do some glamping in New England?
Located in pretty Southern Vermont, you genuinely cannot go wrong with this magazine-worthy New England Airbnb. A newly-renovated, historic schoolhouse overlooks the host's sprawling organic farm (how quintessentially Vermont is that?) With lovely views, a hot tub, and a panoramic barrel sauna that gives off some serious Hobbit house vibes, this place looks incredible.
This awesome property is not far from the towns of Manchester and Bennington, both of which offer a lot to do and see in all seasons.
Click Here to Check Listings & Book!
---
What about Glamping in New England?
In recent years, a new style of travel has hit the scene—and it's really taken off. That travel style is called glamping, and it is a mix between glamour and camping; in other words, a way to be in nature without sacrificing the luxuries of a comfortable hotel stay.
As this trend has grown in popularity, countless places to go glamping in New England have emerged. This is the ideal region for this kind of travel experience. The six New England states are bursting with beautiful outdoor spaces that lend themselves perfectly to camping—and now, to glamping.
Glamping is, essentially, a step up from camping. Glamping can range from a super-luxurious tent experience that is decorated and outfitted to give you a real hotel or resort-type stay. Other glamping spots are more rustic, but they still go above and beyond a simple canvas tent and sleeping bads.
Whether you choose to go glamping or book one of these fantastic New England VRBOs or Airbnbs, have fun and enjoy your stay!
---
Have you stayed in an epic New England vacation rental or AirBnb? Let us know! We're always looking for the coolest Airbnbs in New England and the top spots in the region.
---
Already narrowed down where you're going? Be sure to check out our lists of top Airbnbs\VRBOs for each state:
---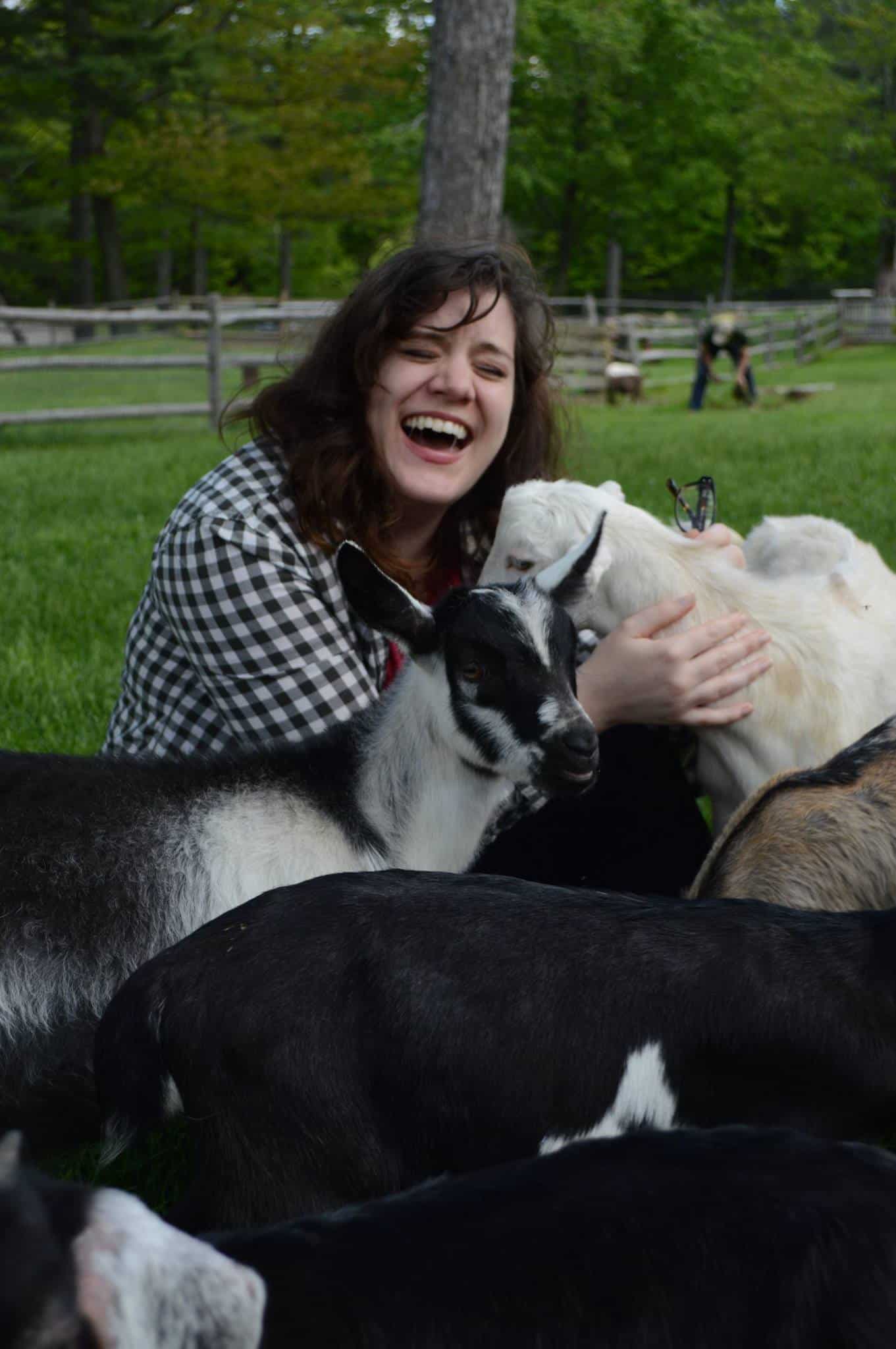 Amy Hartle is the founder and Editor-in-Chief of New England With Love, a comprehensive resource for travel in the New England region. Amy has been exploring New England since 2001. She lived in Vermont for many years and is a graduate of Plymouth State University in New Hampshire. On this site, Amy aims to share her love of New England and help you to have the best possible adventures!
Amy has been writing about travel for over a decade, and is a full time blogger, publishing both Two Drifters and Let's Adventure Baby. When not traveling the world or creating epic blog content, Amy can be found cuddling with her husband, son, and cats, & drinking a maple latte.