*This site uses affiliate links; if you make a purchase through these, I may receive a small commission at no cost to you.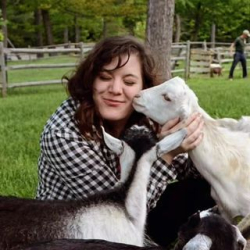 Latest posts by Amy Hartle
(see all)
Are you looking for the best Airbnbs in Maine?
Maine is a fabulous New England destination for so many reasons. Whether you're exploring the "big city" of Portland or adventuring along the rugged cliffs of Acadia National Park, you're bound to have a fantastic time. But where should you stay? Our Maine Airbnb guide is here to help you out, with 16 of the most unique and best Airbnbs in Maine.
Best Airbnbs in Maine
Historic Maine Canoe Shop Near lake, hiking & A.T.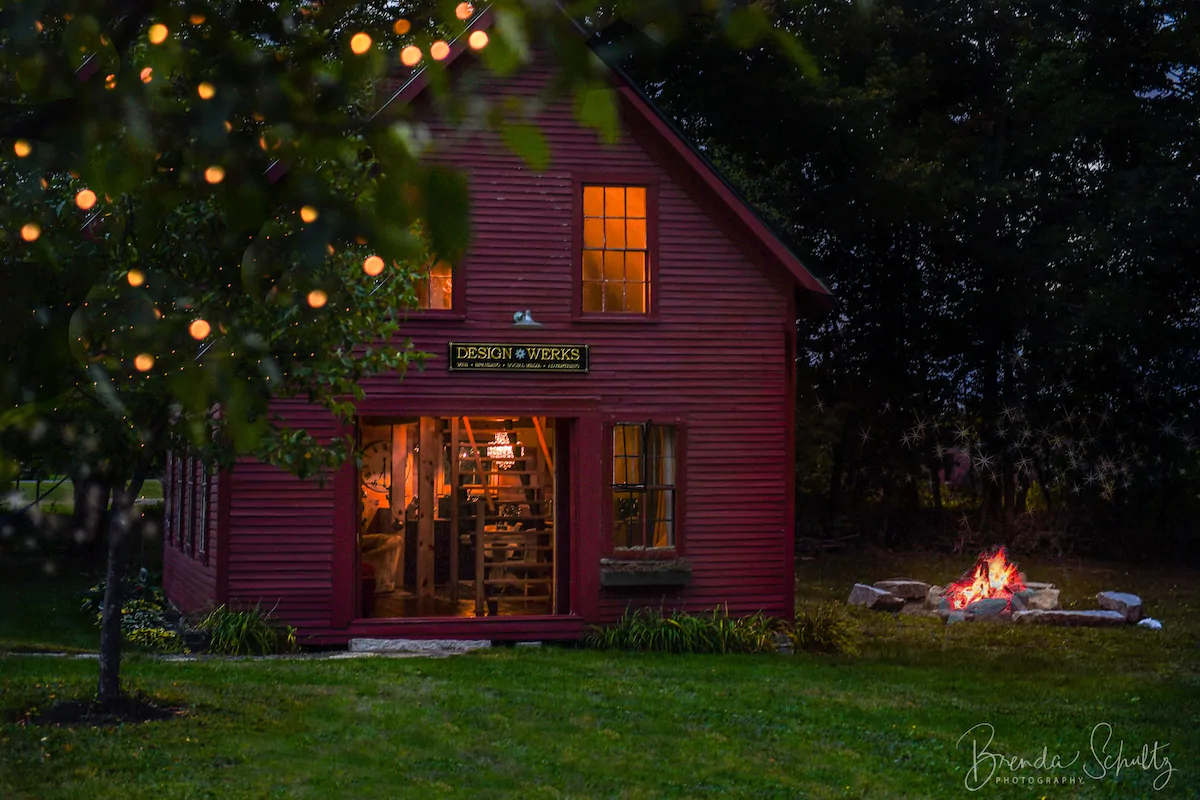 This Maine Airbnb is a renovated canoe shop converted into a luxurious cabin, and would be perfect for up to 4 guests (1 bedroom and 1 bathroom). There is a loft with a king sized bed, and a unique soaking tub which overlooks the yard from the 2nd floor. Downstairs there are 2 beds, a kitchenette with a large sink, Nespresso maker, toaster oven, microwave and induction burners. The floating staircase leads to the gorgeous grounds and a large fire pit with picnic area for lunches in the fresh air and for sitting out in the evenings looking at the stars.
Parking is free and amenities also include a tv with cable, wifi, heat and electricity, a/c and all linens. This is an extremely cozy and romantic Airbnb in Maine. Best suited for adults (or adults and kids if parents closely supervise them).
PS: Check out more of the best cabins in Maine.
---
Tentrr Signature Site – Moose Trail Mountain Farm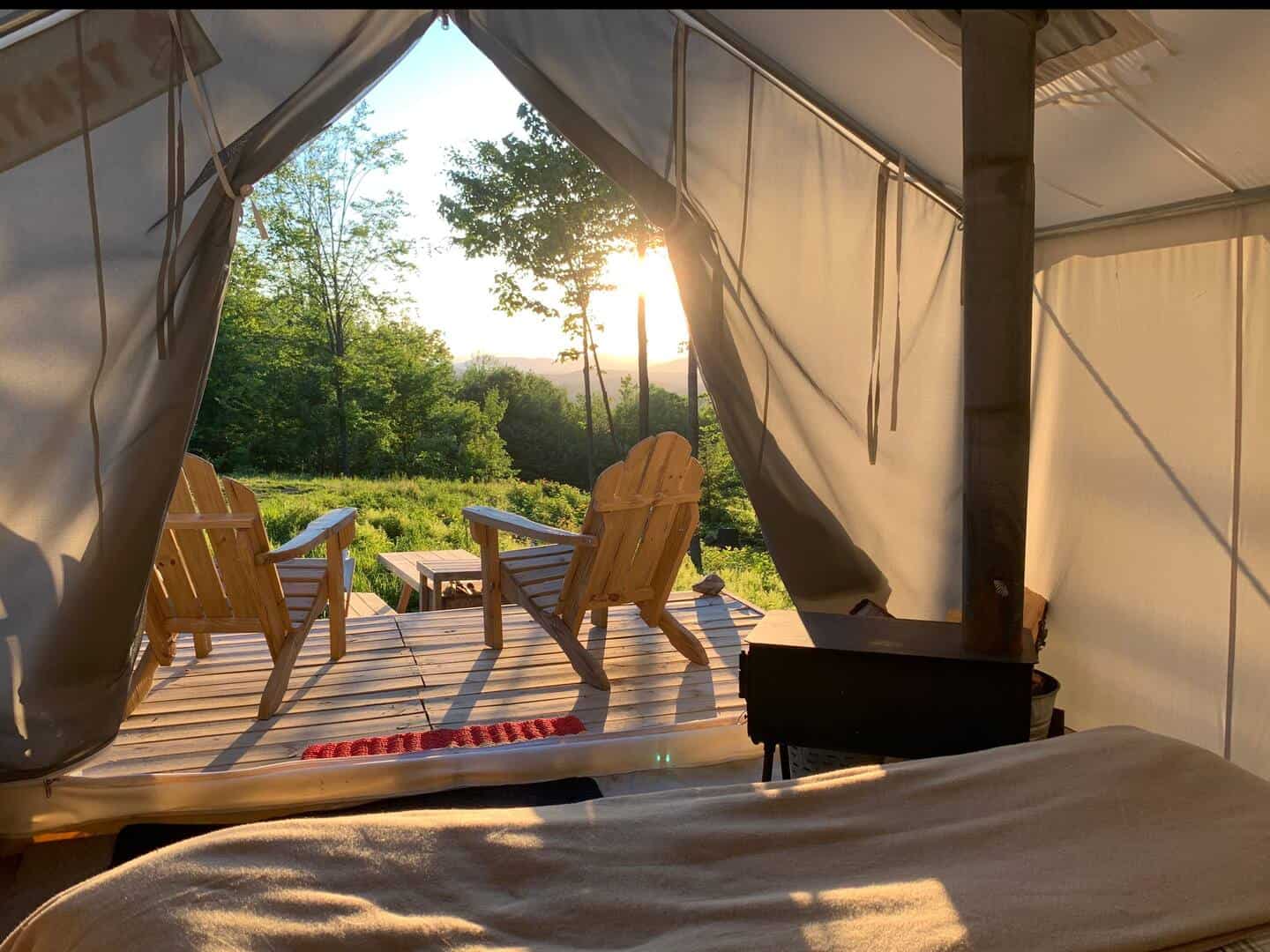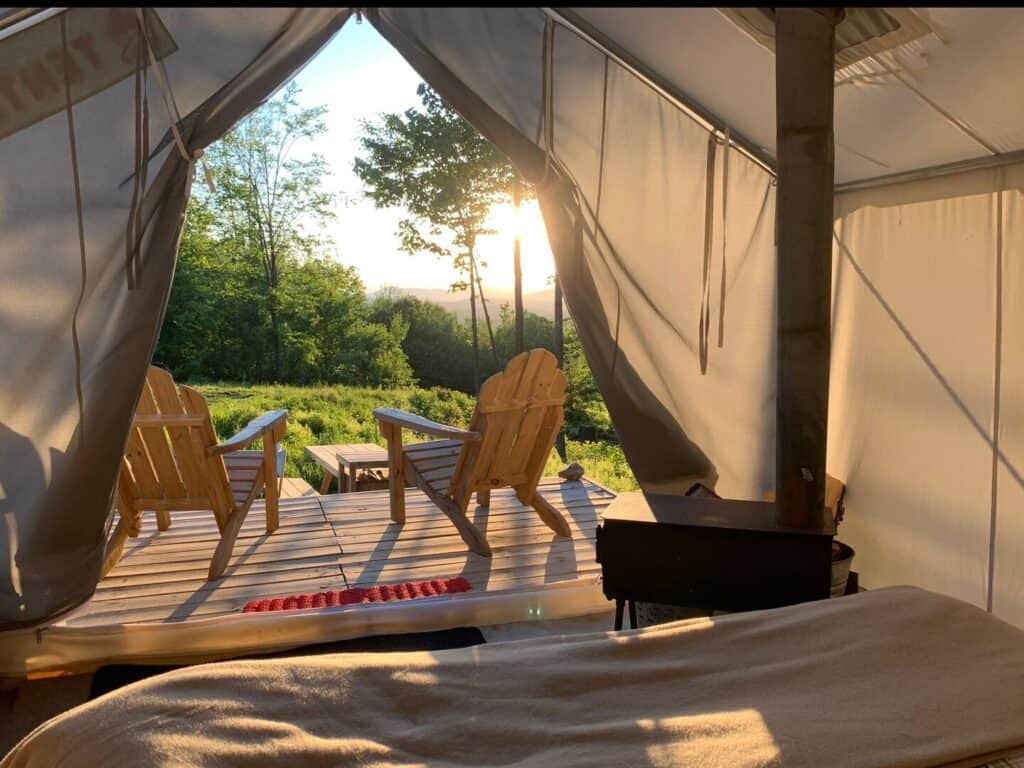 Moose Trail Mountain Farm will provide an entire tent experience for up to 6 guests. With 1 bedroom and 1 bath, you'll be cozy and "glamping" right next to a babbling brook on 300 acres. Heating and stove are included, as well as an outdoor BBQ grill for cookouts and s'mores. Cornish, Maine is just 5 minutes away, and there are lots of farm stands, restaurants and activities. All bedding is provided. With a private woods setting and gorgeous mountain views, this is one of those cool Airbnbs in Maine that offers a unique experience all around!

---
---
Westport Island Stilt House
Could this be the most classic Airbnb Maine has to offer? This gorgeous lakeside rental house was once the island's 1820s Trading Post! (The property is listed in the National Register of Historic Places) The house is right at the river's edge, partly on stilts over the water of the Sheepscot River. There is a private deck, rocky beach, trails and hammock. Modern amenities have been created in this rustic space, including a 4 burner stove with oven, microwave, refrigerator, and TV with HDMI.
The king size bed and bathroom in this Maine vacation rental are downstairs, while upstairs is an open loft with 2 twin beds. The house features a large back deck that is completely over the water. Enjoy grilling dinner and eating outside while watching the sunset! You'll also find a great swimming spot in the nearby cove.
This property is not suitable for young children.
---
---
Stunning West End Apartment – Portland, Maine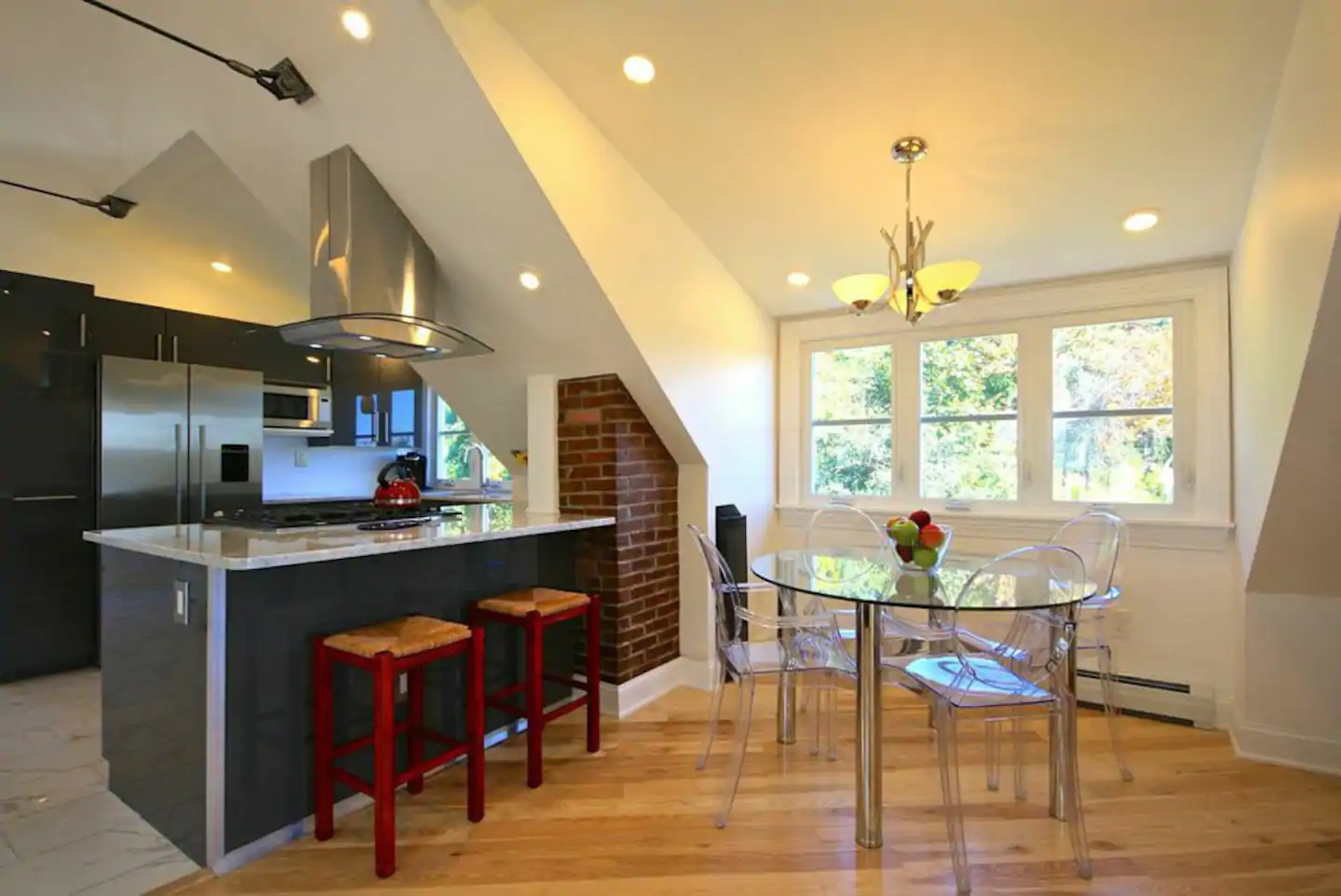 So maybe a vacation sans electricity is not for you. Perhaps urban escapes are more your thing. If so, Portland, Maine is a fantastic small city that will delight you in every way. This Portland Maine Airbnb is set in the West End, a safe and convenient spot that will give you access to everything.
With Wifi and all the essential amenities, you'll have a nice stay in this modern, sunny flat. But with tons of great restaurants, shopping, and culture, Portland will have you out and about exploring most of your visit.
If this place were available for a long term rental, we might want to snatch it up.
Portland is an awesome city, and a place we've considered living. For young couples in their 20s and 30s, it's an ideal New England destination and this Portland Airbnb is truly hip.
---
---
The South End of Our Restored Barn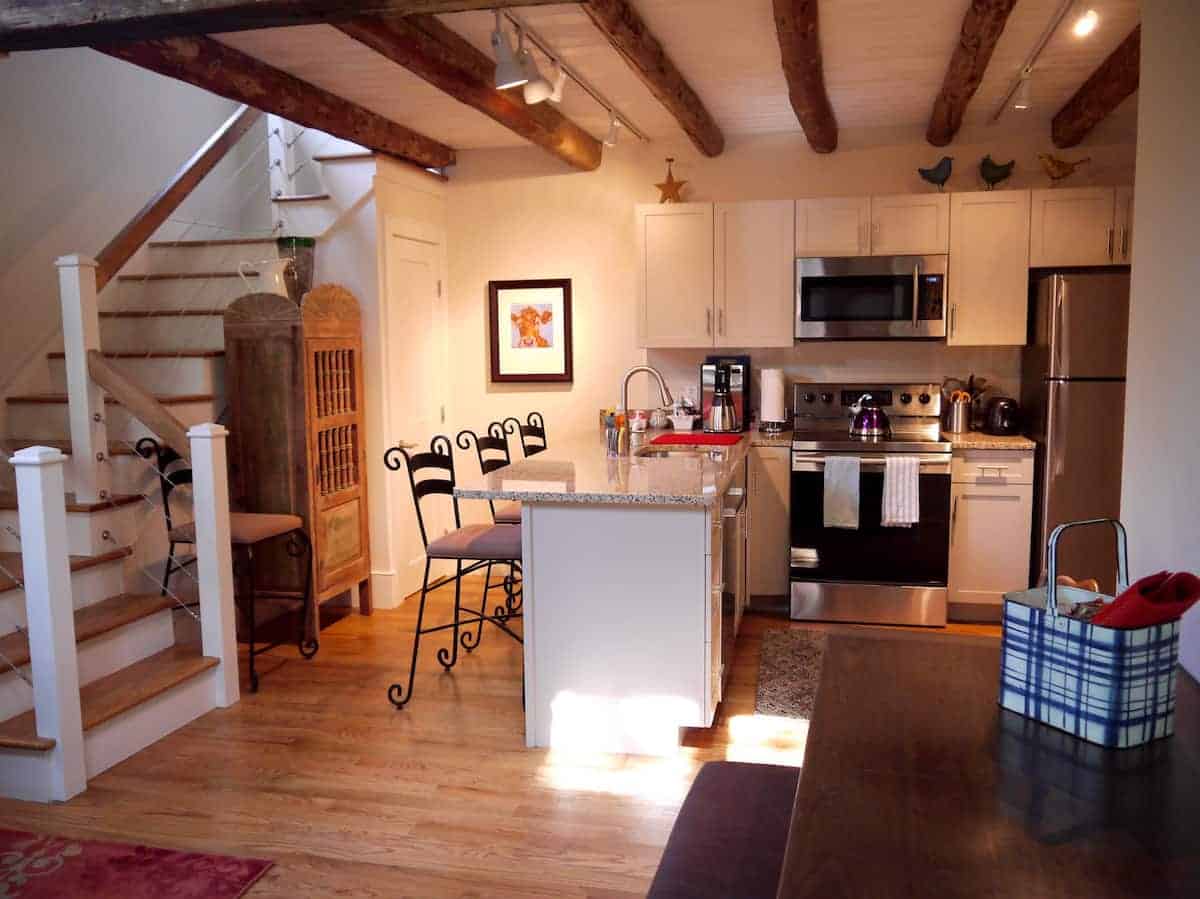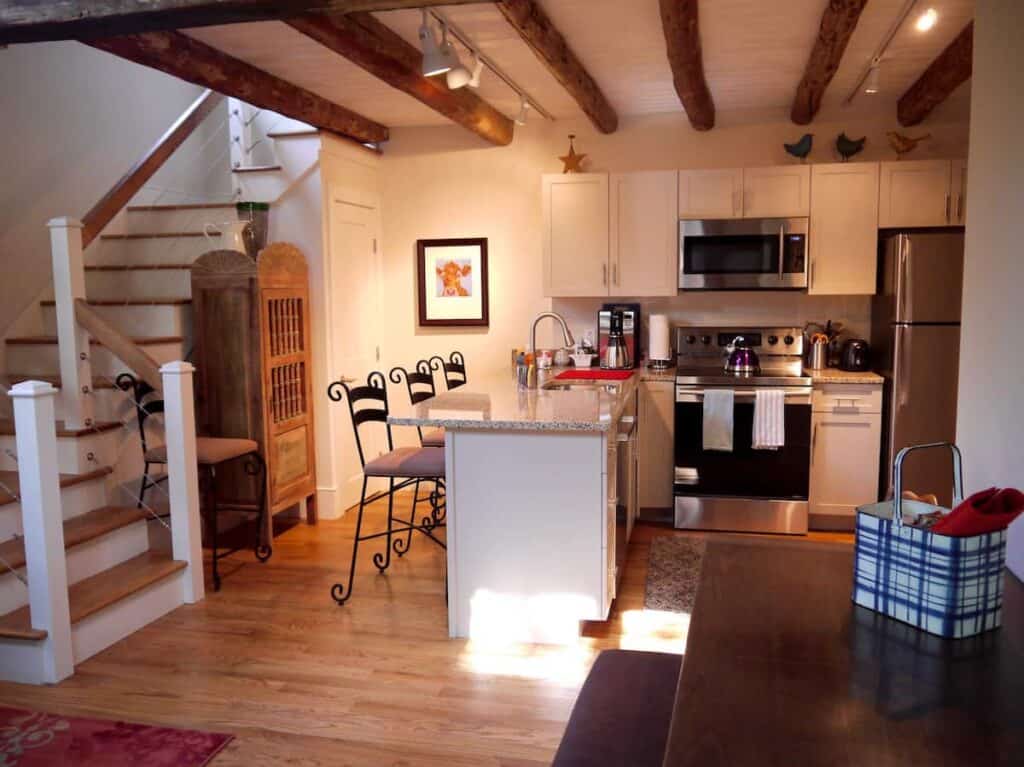 This charming 160 year old restored barn once served as the livery stable for Town Hill, a one-time farming community which is in the township of Bar Harbor. The stable has been converted into 2 beautiful apartments with high ceilings, new kitchen and baths, and loft for tv and reading. The original ceiling and beams are present, and combine for your comfort with the new flooring, heating, air, wif and other modern amenities.
This Maine Airbnb is approximately 15 minutes from the village of Bar Harbor, and only 10 minutes from Acadia National Park, down an old farm road quaintly called "The Crooked Road."
Guests are welcome to borrow bikes as well as helmets, and directions are provided to guide you in exploring the island. Enjoy the hikes, swimming spots, and restaurants. A free island bus service is also provided, and the bus stop is just across the road.
---
---
Private Cabin with Red Train Caboose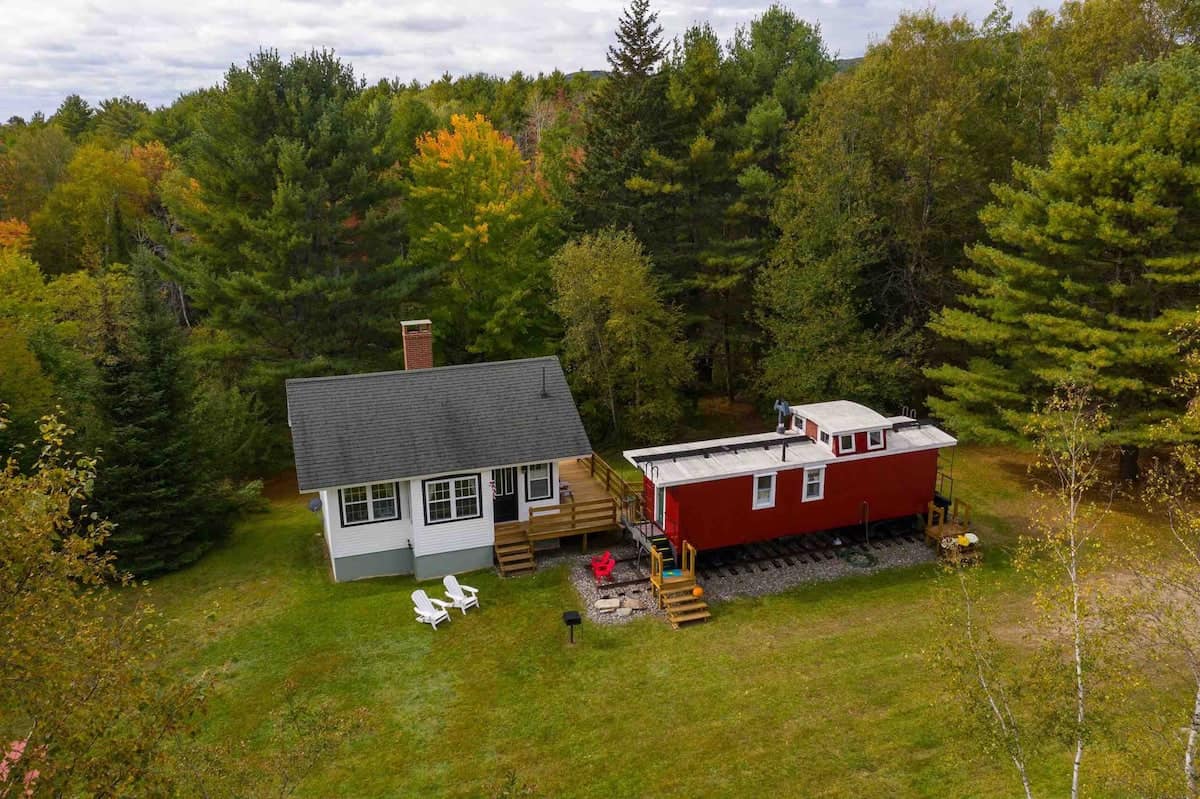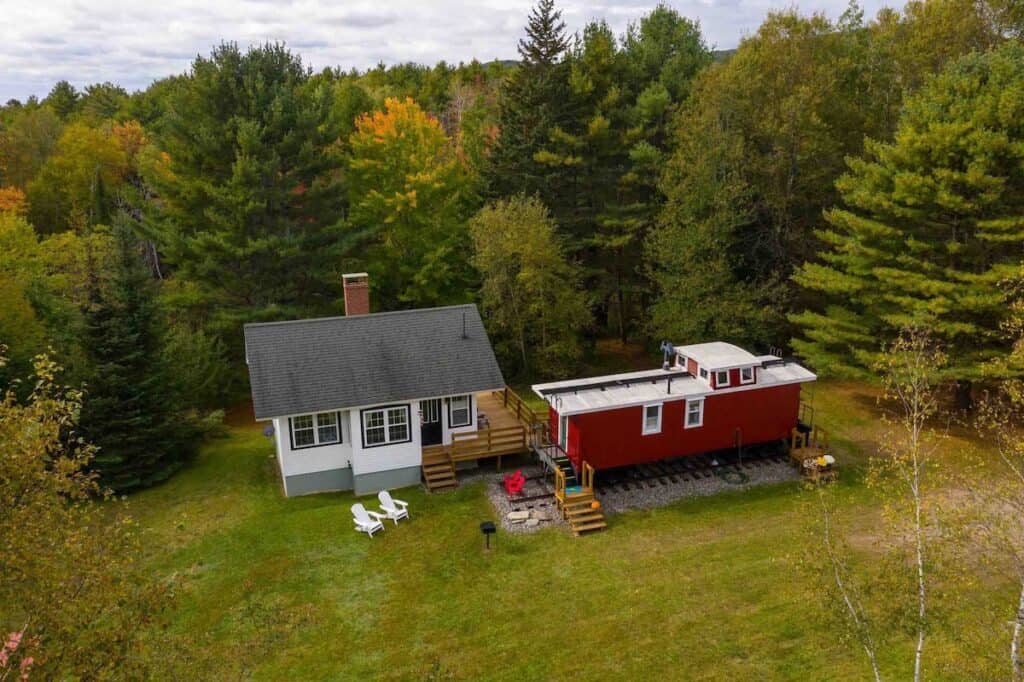 How many people get the chance to stay overnight in a real train caboose?! This unique Maine vacation rental features 2 separate units – the Cabin and the Caboose! Both are included in the rental price. The Cabin has a steep ladder leading up to a loft area with a queen bed, 2 twin beds and a bathroom. The Caboose has 4 twin beds, 2 of which are bunkbeds. The location is totally private with no wifi or even cell phone service, which is hit or miss.
There is a walking trail behind the Caboose, with a marked path through the woods. This Maine Airbnb is located just 10 miles from downtown Belfast. There is a Hannaford supermarket only 8 miles away, and a local gas station just 4 miles down the road. They have a lot of necessities, plus Whoopie Pies!
Amenities include air conditioning and heating.
---
Coyote's Den: A Tiny Home in Acadia – Tremont, ME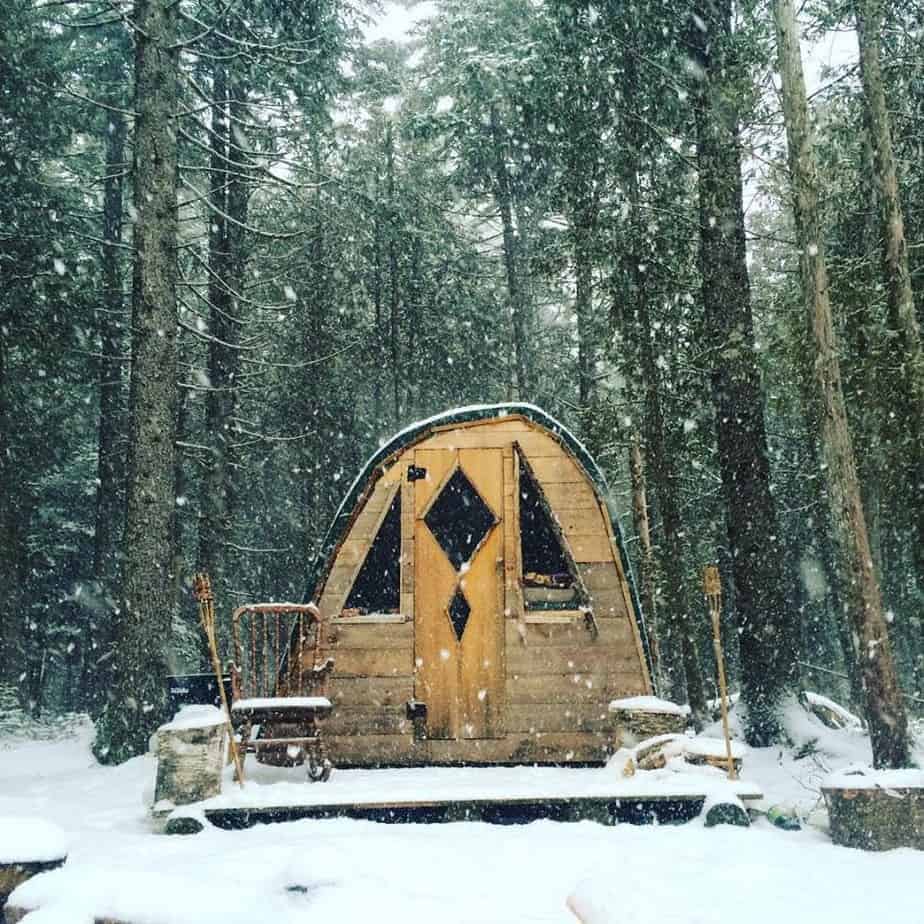 There are few places more beautiful in New England than Maine's Acadia National Park. We love visiting this region, and camping here is especially wonderful in the warm New England summertime… although who can beat the coziness of a spot like this during a crisp winter?
Instead of traditional campsite camping, however, why not try a rustic tiny home instead?
According to the listing, the hut is built "with bent maple poles in the style of an Iroquois Longhouse. There are large windows that let in the morning sun, space for storage, a wood stove perfect for winter stays and a cozy twin-sized bed."
The Coyote's Den can accommodate 2 guests. When you're not hanging out in the hut, you can explore the host's grounds. They've got a seven-acre forest with trails leading past various fairy houses and art installations. If you want to get farmy, you are able to pet the goats, mini horse, and other animals, and pick your own herbs and vegetables from the garden, definitely a unique Maine Airbnb!
---
---
Waterfront Lighthouse Home w/private dock
This Waterfront Lighthouse Home will enable you to visit historic Kittery, Maine (or nearby Portsmouth, NH) while enjoying a luxurious waterfront home. Have breakfast high above the property in the unique, charming gazebo or on the massive covered porch. This Maine vacation rental also features a private dock, picnic area, magnificent views, ornate staircase and huge, gorgeously decorated rooms. Enjoy the view with the telescope from a tower room with windows on 3 sides. The master bedroom opens to its own private deck with lounge chair.
After a scenic bike ride (with our 3 available bikes), a kayak ride (we also have 3 kayaks available for your pleasure), a day sightseeing or round of golf, sink into the oversized garden tub. This beautiful Maine Airbnb can accommodate up to 8 guests; 4 bedrooms, 5 beds, and 3.5 baths! In addition to all the luxuries you can dream of, amenities include an elevator, WiFi, and washing machine. Only 5 minutes to beaches, golf, shopping, museums, and theaters. Have an unforgettable getaway in the lap of luxury in a 5 star home in an idyllic setting.
This property is not recommended for young children.
---
---
Spectacular Seaside Farmhouse – Lubec, Maine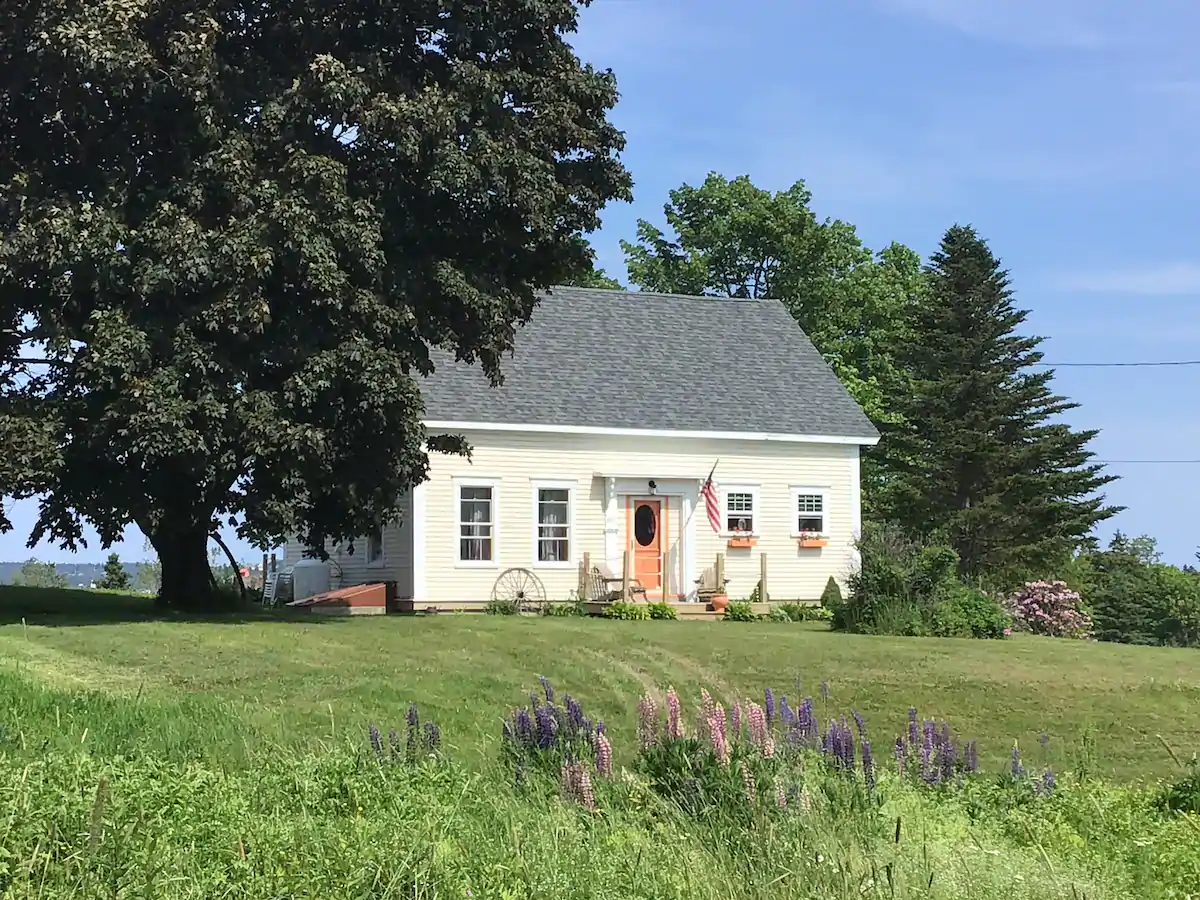 Enjoy the breathtaking views from this rustic, 1800's seaside farmhouse in Lubec, Maine! Watch the sun rise on your own private beach front, or watch the stars while the water laps gently at your feet. Situated on 3 ½ acres, the house has a garden (if you weed a row you can pick vegetables for your use!), and a lit-up path to the shore. Over 300 feet of oceanfront is yours to explore and soak up sun, sand and sights (look for the seals and otters that live nearby!).
The house overlooks the fishing harbor, Canada's Campobello Island, and the Moholland Lighthouse. This immaculate Maine Airbnb has 4 comfortable bedrooms and 2 full bathrooms. The master bedroom has a Smart TV and private bath. The living room also has a Smart TV and books and games for rainy days.
Amenities include linens, central heat, cable tv, water, wifi, washing machine, microwave, dishwasher, and BBQ grill.
---
---
Spectacular hideout in downtown Camden (#steeples)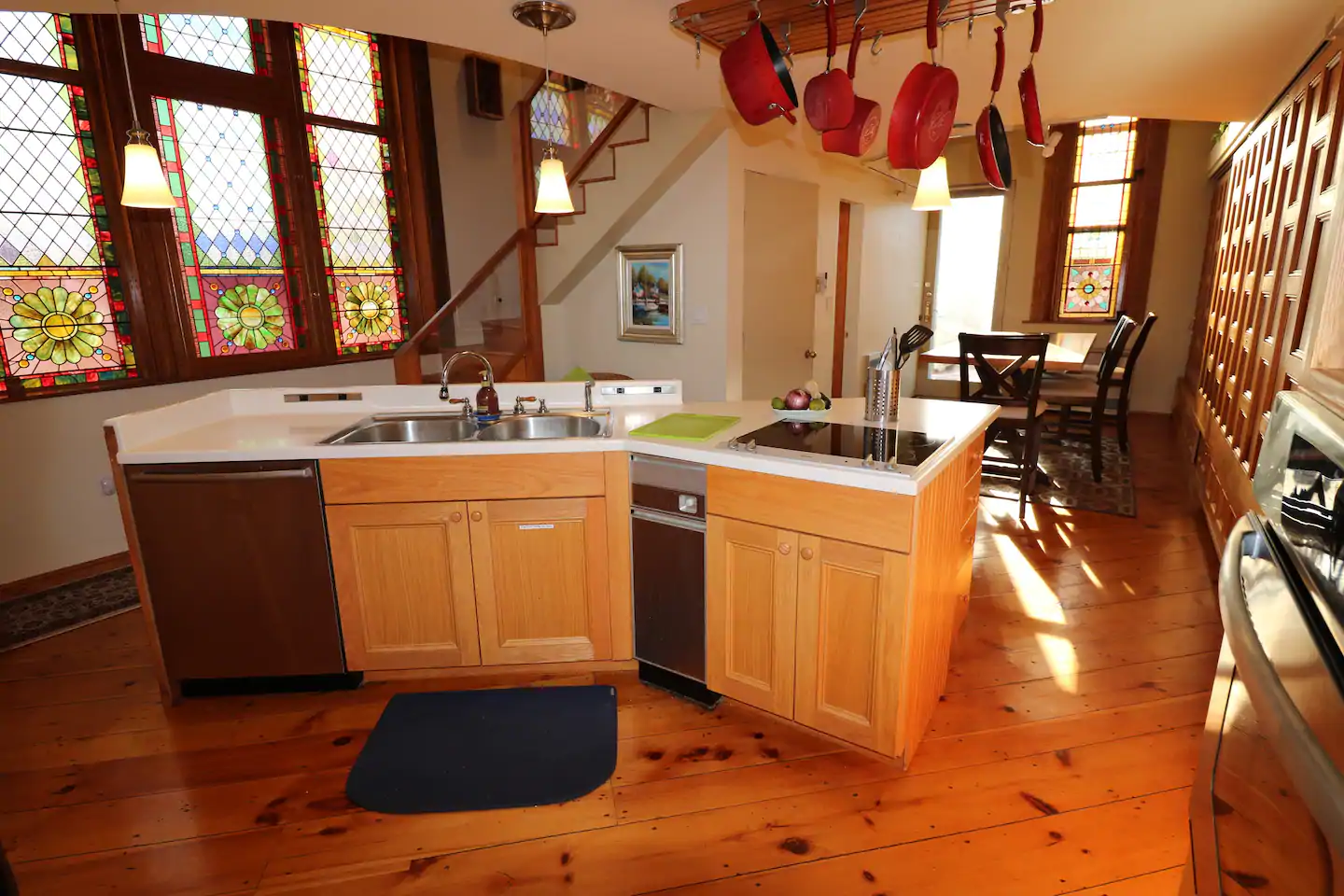 This 2000 square foot Airbnb in Maine is a converted church featuring unique living spaces on many different levels. Imagine ascending your gorgeous spiral staircase to the private steeple overlooking a picturesque town in Maine. The house features 3 bedrooms and 3 bathrooms, and includes a garage, private outdoor deck, balcony and fireplace. Two bedrooms have queen-size beds, and there are also two sofa beds, one in a private room with a twin size bed and the other in an open living area in front of the gas fireplace with a full size bed.
Downtown Camden is known as the "jewel of the Maine Coast." There is an opera house, a 5 star library (right across from the Steeple House) and a vibrant downtown to explore. Amenities include a tv, washer, cable, internet, linens, heat, fireplace, a/c, microwave, coffeemaker, cooking utensils, and an EV charger.
This property has a 30 day minimum stay.
---
---
Driftwood Studio Oceanfront Bed on the beach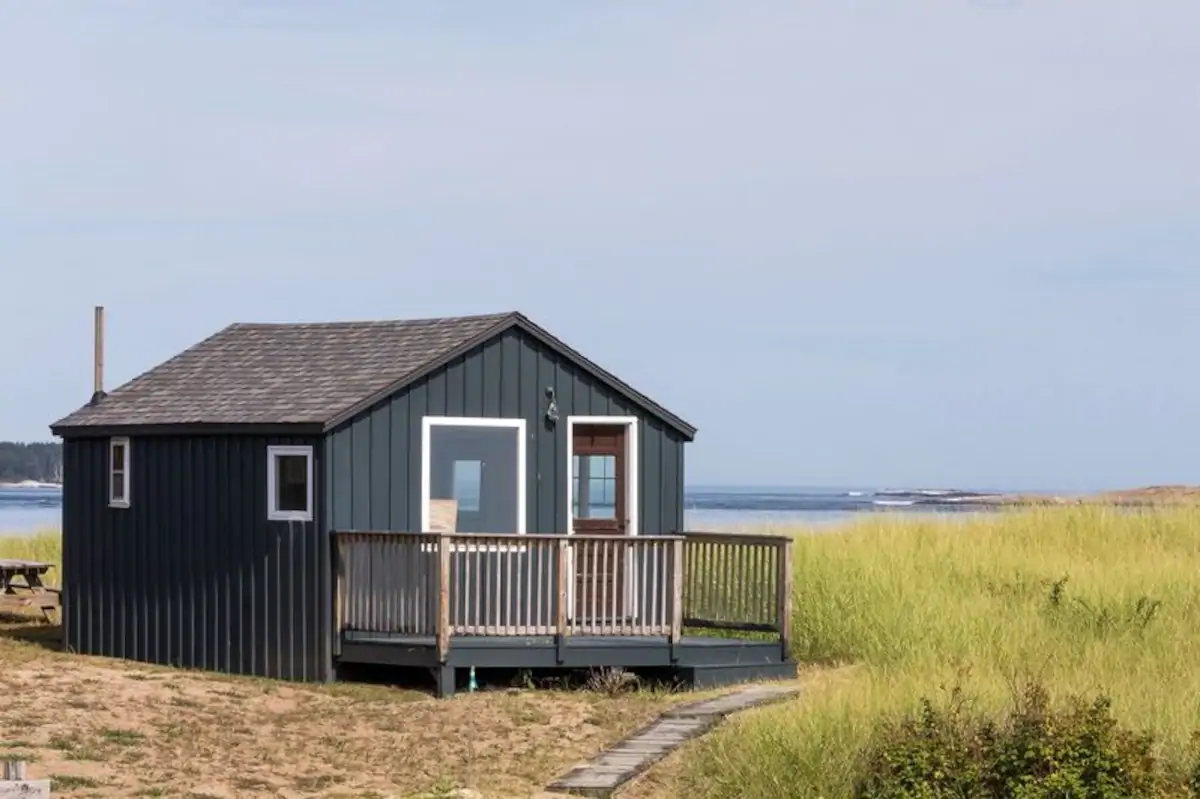 This great Maine Airbnb on the beach is perfect for 2, totally private and all yours! Imagine living on your own island paradise with gorgeous views. There is a queen size bed in the main living area, a bath with a shower, kitchenette, a two burner stove, refrigerator, microwave and toaster oven. Amenities also include tv, a/c. Only ½ miles from Popham Beach (one of the best beaches in Maine), and within 10-15 miles of tourist attractions such as the Maine Maritime Museum, Reid State Park, and the Coastal Maine Botanical Gardens.
---
The Canopy Treehouse, a Luxury Carbon Free Retreat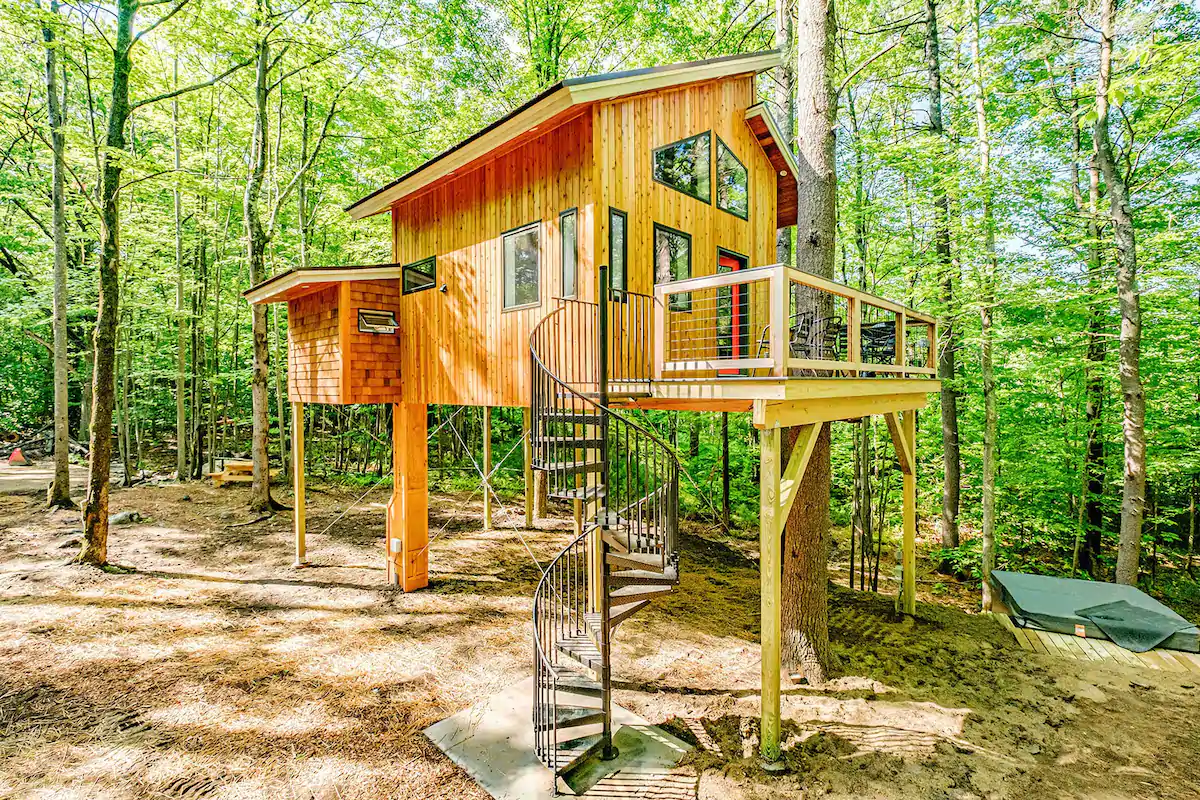 Here is a Maine treehouse that you can really live in! This rustic yet elegant treehouse Airbnb is only 350 square feet, but with everything you need for a unique vacation. There is a gorgeous spiral staircase leading up to the tiny house. This is a kind of tree house people only dream about, featuring a full kitchen, a loft, and an attached sleeping "pod" with 2 queen beds and your own private hot tub.
You'll feel free as a bird waking up in your own secluded Maine treehouse. After your morning coffee on the deck, enjoy the day kayaking or fishing from your private dock. Amenities include WiFi, an indoor fireplace, heat, linens, a hot tub and an EV charger.
---
ComfyDome Glamping Pond-Side Site!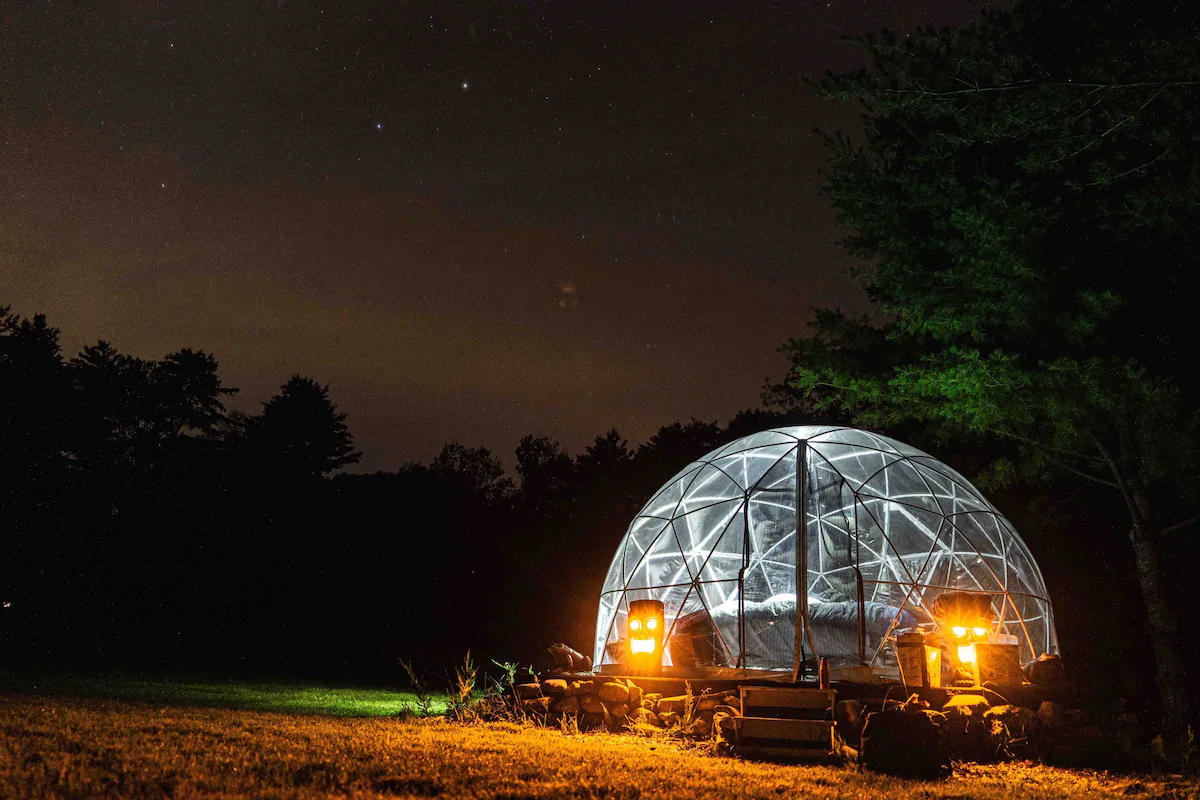 For a unique camping experience, try staying in a Maine Airbnb Dome! Nature surrounds you and you won't miss seeing a single thing! ComfyDomes hold up to six people. They are fully heated, and use of 13 acre grounds is included. Enjoy making smores on the fire pit with the bundle of firewood provided. Solar lights and solar power is also included.
Amenities at this Maine dome also include outdoor table and chairs, umbrella shade, a portable bathroom, a shared shower in the main house (about 500 feet away) a high powered telescope, and super affordable kayak rentals. Hiking trails are within walking distance. This is camping with a twist: staying in a unique see-through dome!
---
Crooked River Tiny House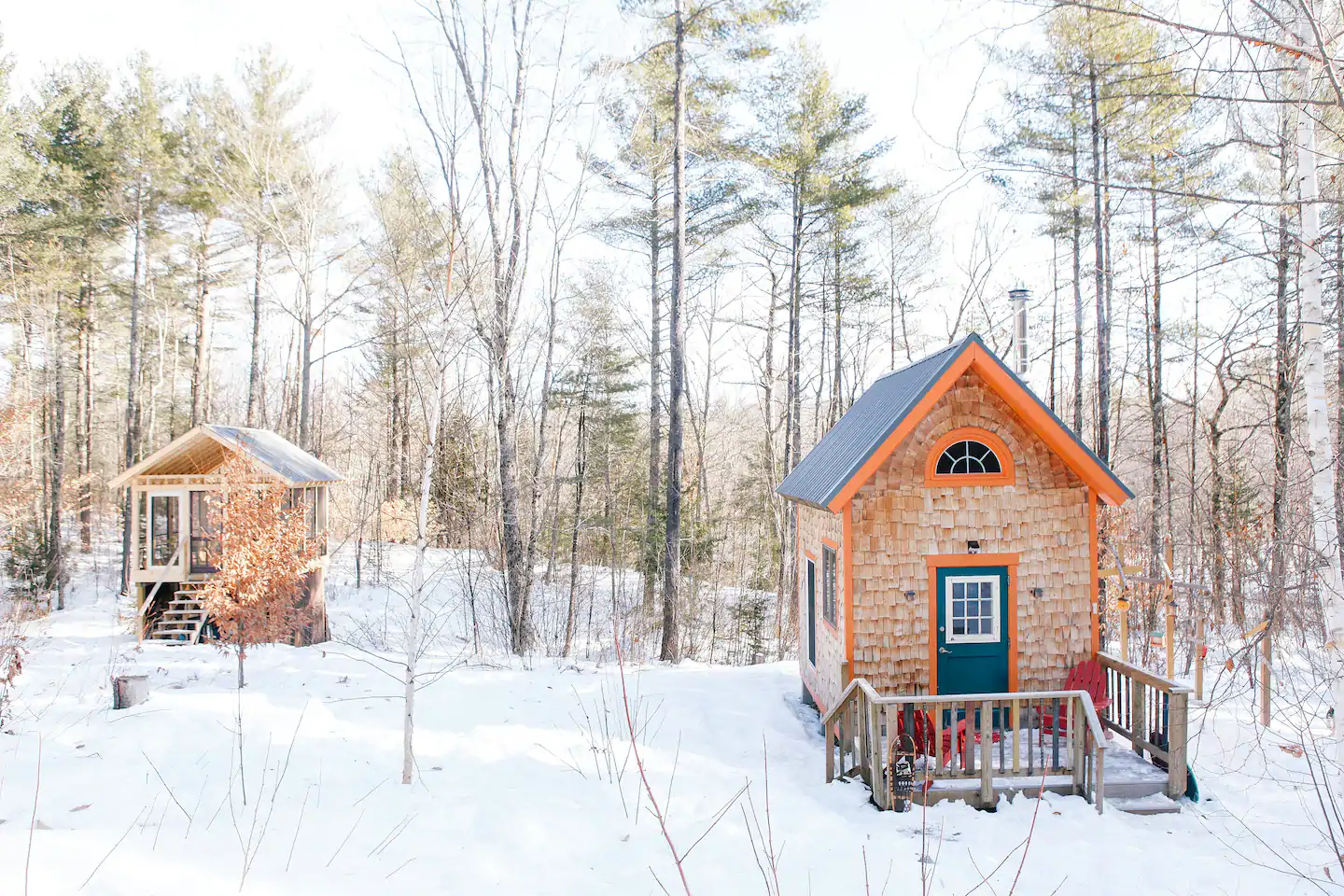 There is a highly secluded, rustic little vacation rental (200 square foot) down a winding road in Maine. Nestled on 3.5 acres of woods and adjacent to the Crooked River, this home offers solitude unlike any other. This cross between "camping and glamping" is only for the hardy and true nature lovers.
Like stepping back in time, there is no running water or electricity. You can either bring water or gather it from the river. Amenities include a queen size bed in the sleeping loft, linens, full size sofa bed, solar battery (for charging your devices and for the one electric light), lanterns, flashlights, headlamps, 3 burner cookstove, sink, cooler, woodstove (wood is provided!), outdoor shower, clean outhouse and a full size futon in the adjacent "guesthouse." You'll also find an elevated screened-in little house, a table and chairs, hammocks, river tubes, dishes, and plenty of peace and quiet!
---
Water's Edge – Oceanfront Home with Water and Acadia Mountain Views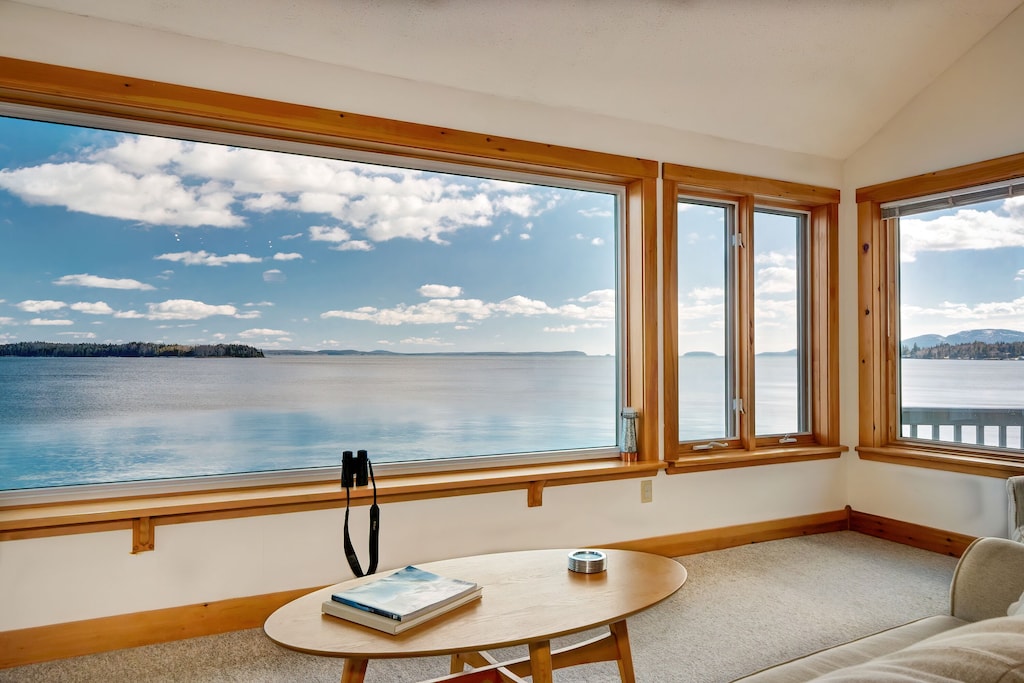 This amazing, luxurious Maine VRBO offers incredible panoramic water views. If you're visiting Acadia National Park, consider booking this gorgeous vacation rental with easy access to restaurants, shops, beaches and more.

---
Organic Farm Artistic Spacious Four-Bed Eco-Loft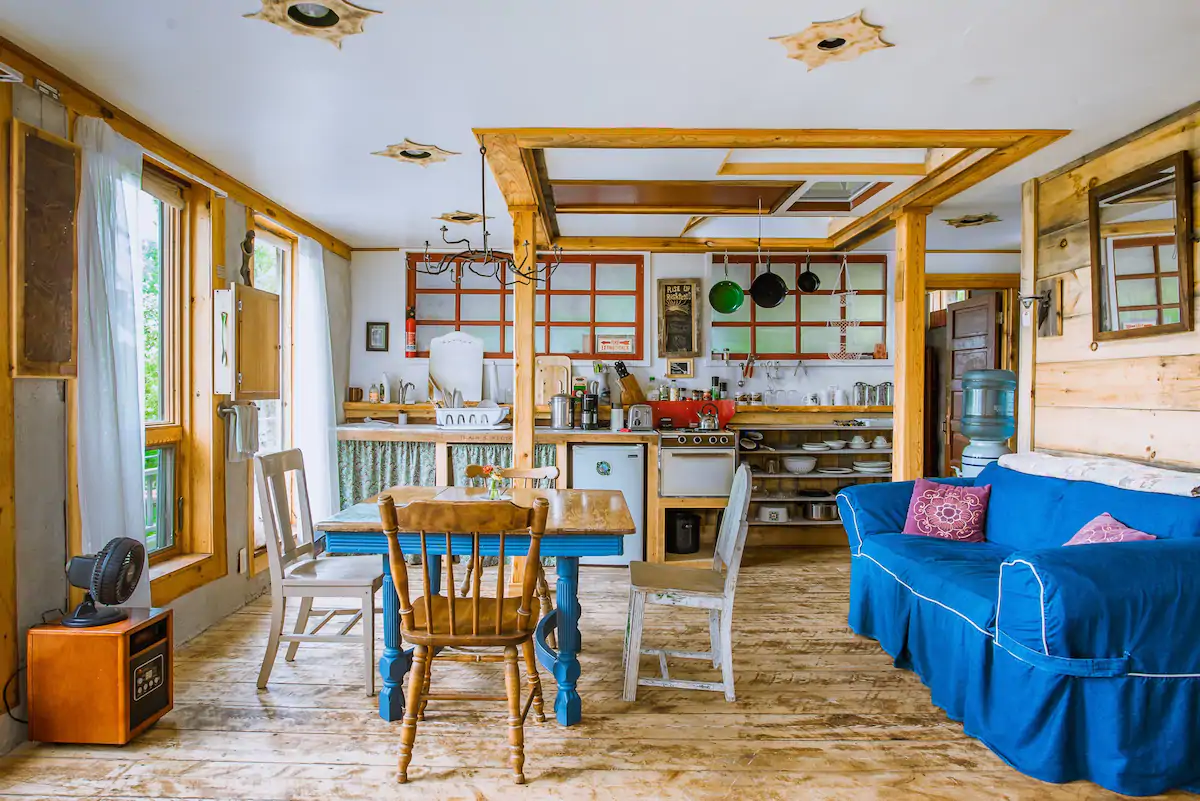 The Organic Farm Artistic Eco-Loft is a budget-conscious and unique farm stay with room enough for 6 guests (4 bedrooms and 1 bath). This rustic Maine vacation rental is on the upper level, and features awesome hiking trails and a huge back yard, full kitchen, heat, and a 40 foot deck overlooking Schoodic Mountain and Hollow. There is a Cupola set up for one of the guests to stay in.
Amenities include a huge back yard, full kitchen, gas grill, microwave, all cookware and dishes, an outhouse, 2 composting toilets, a shower and bath and laundry facilities. Mountain bikes and a canoe are available for rental on the pond. The internet is slow but reliable. There is a small fire pit but be sure to bring insect repellent!
---
---
You might also like:
---
Pin this post for future travel planning!