---
Traveling in 2021? Please check with each state/destination for its current COVID-19 guidelines, as these are constantly changing and the most accurate, up-to-date information may not be reflected here.

*Links in this article may be affiliate links, from which we may earn commission. See our Privacy Policy for full details.
---
Are you dreaming of an escape in Maine, New England? I can't deny, I certainly am. The Maine wilderness and the coast beckon me equally with their scenery, activities, and most of all, their serenity. If visiting Maine, the best way to take advantage of all of this is by booking a cabin getaway. Need some help finding the perfect spot? I've put in the legwork for you and found the ideal spots.Here are 12 of the coziest cabins in Maine you'll want to add to your bucket list ASAP.
Please note: As an Airbnb Associate, I earn when you book through these links.
GOOD FOR THE SOUL GETAWAY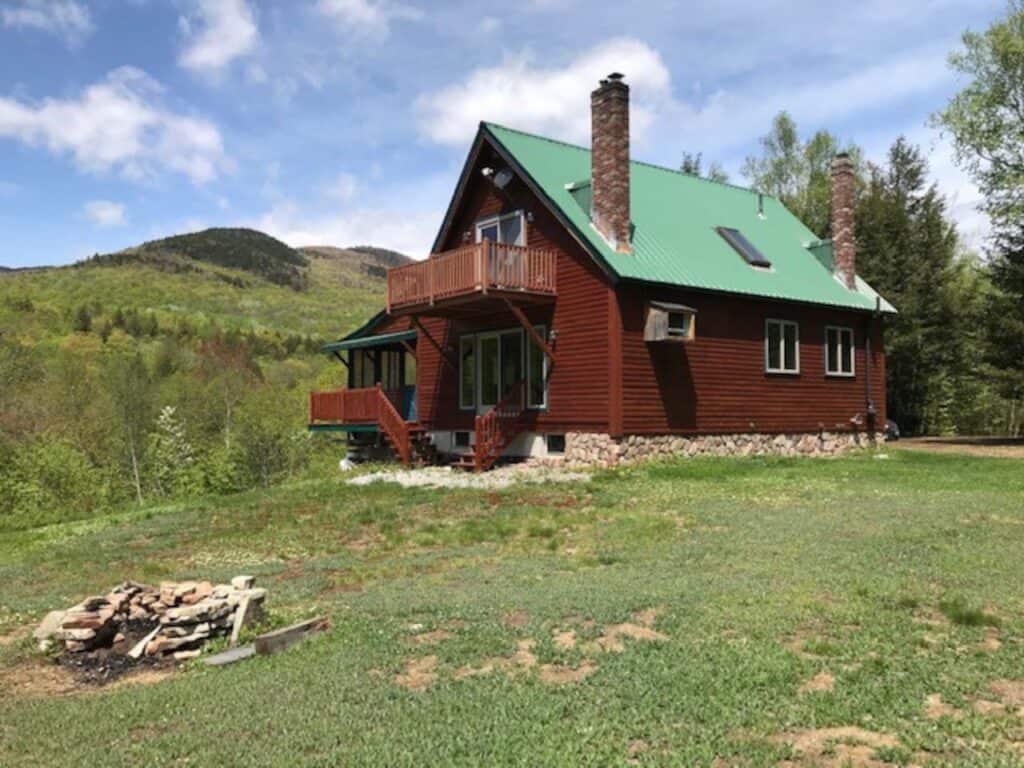 This cabin in Andover, Maine is a perfect escape in the midst of the Maine wilderness. Want to have adventure right outside your door? Hunting, fishing, snowmobiling, ATV, and more are right here. You're just 28 miles from Sunday River for skiing.
But why leave? You will be surrounded by nature in this 3 bedroom, 1 bath cabin that 6 guests can enjoy. There's a screened-in-porch for temperate nights, and a small porch off the main bedroom that affords 180-degree views of the mountains.
---
---
BUCKET LIST! 100+Yr.Old Bonnie Lass Cabin in Maine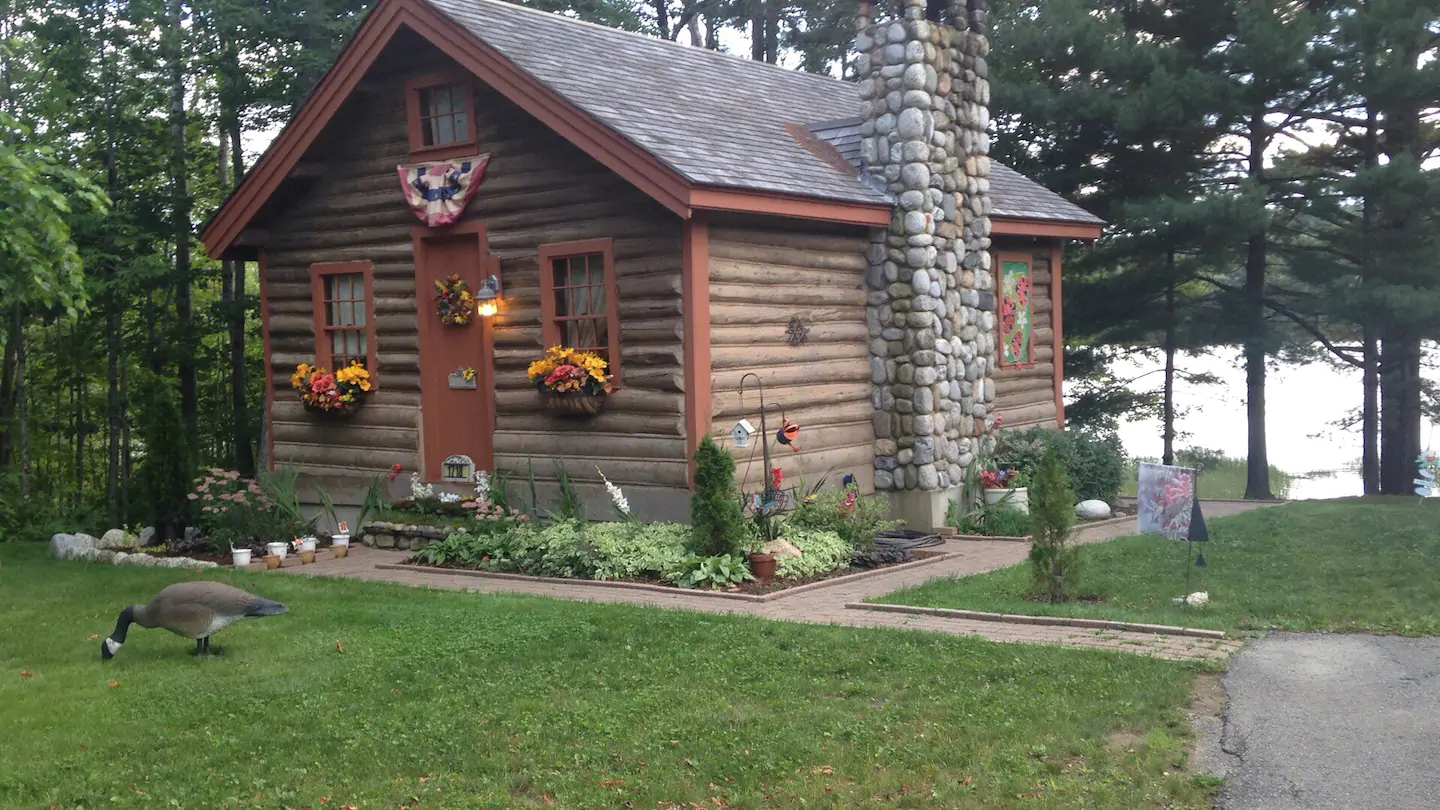 Great location with awesome lake views~! Enjoy the wonder of this historic 100 year old cabin with lake access right from your door! This tastefully decorated cabin has 1 bedroom and 1 bathroom with a bonus sitting room and an extra sleeping loft. The bedroom features a queen size 4 poster bed and a wood burning fireplace! The house is located on a privately owned 16 acre estate on Long Pond, approximately 50 feet from the main home (which is currently vacant). Along with views of Blood Mountain and Loon Island, you are likely to see some bald eagles nesting near the shore.
Amenities include all linens, a cyclonic fan, and a quartz tower heater. Also includes a "Smart TV", DVD player and assortment of DVDs. The kitchen is fully equipped and will accommodate up to 4 guests. Basic cooking items are provided, such as a microwave, coffee maker, refrigerator, toaster oven, salt & pepper, sugar, cooking oil and coffee. Pots and pans are also provided for your use on the 2 burner electric stove. There are complimentary bottles of water in the refrigerator.
Outside there is a Chiminea for burning firewood and making s'mores (firewood is available to purchase). Cook dinner on the grill, and then enjoy gazing at the stars from your own private 6 person hot tub. The hot tub boasts state-of-the-art lighting, adjustable jets and bubbler lounger. These amenities are available if you wish, for an additional cost.
Kayak and canoe rentals are available. This vacation rental is not suitable for children.
---
---
Historic Maine Canoe Shop Near lake, hiking & A.T.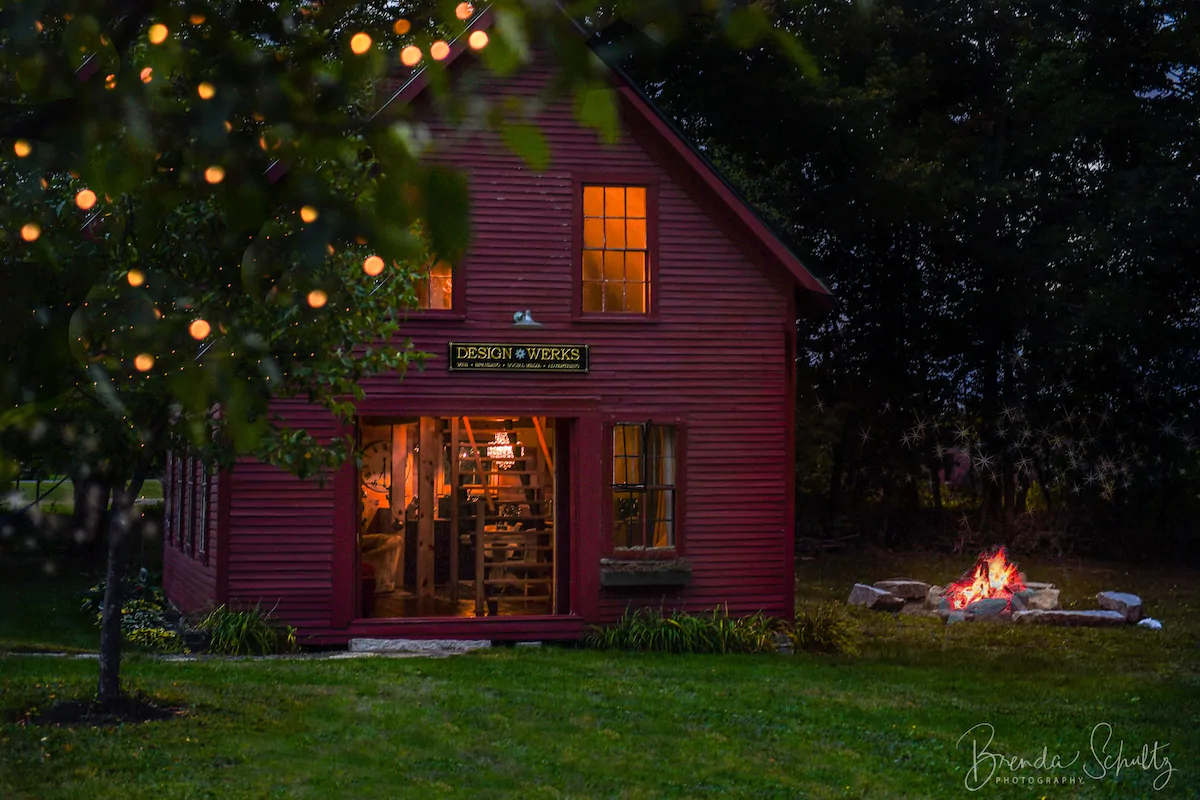 This Airbnb is a renovated canoe shop converted into a luxurious cabin, and would be perfect for up to 4 guests (1 bedroom and 1 bathroom). There is a loft with a king sized bed, and a unique soaking tub which overlooks the yard from the 2nd floor. Downstairs there are 2 beds, a kitchenette with a large sink, Nespresso maker, toaster oven, microwave and induction burners. The floating staircase leads to the gorgeous grounds and a large fire pit with picnic area for lunches in the fresh air and for sitting out in the evenings looking at the stars.
There is a YMCA with a pool, hot tub, and gym just 2 doors away, and a pass to use those amenities is just $10 a day. Parking is free and amenities also include a tv with cable, wifi, heat and electricity, a/c and all linens. This is an extremely cozy (and romantic!) getaway. Best suited for adults (or adults and kids if parents closely supervise them).
---
---
Mountainside Cedar cabin "Sasquatch Haven"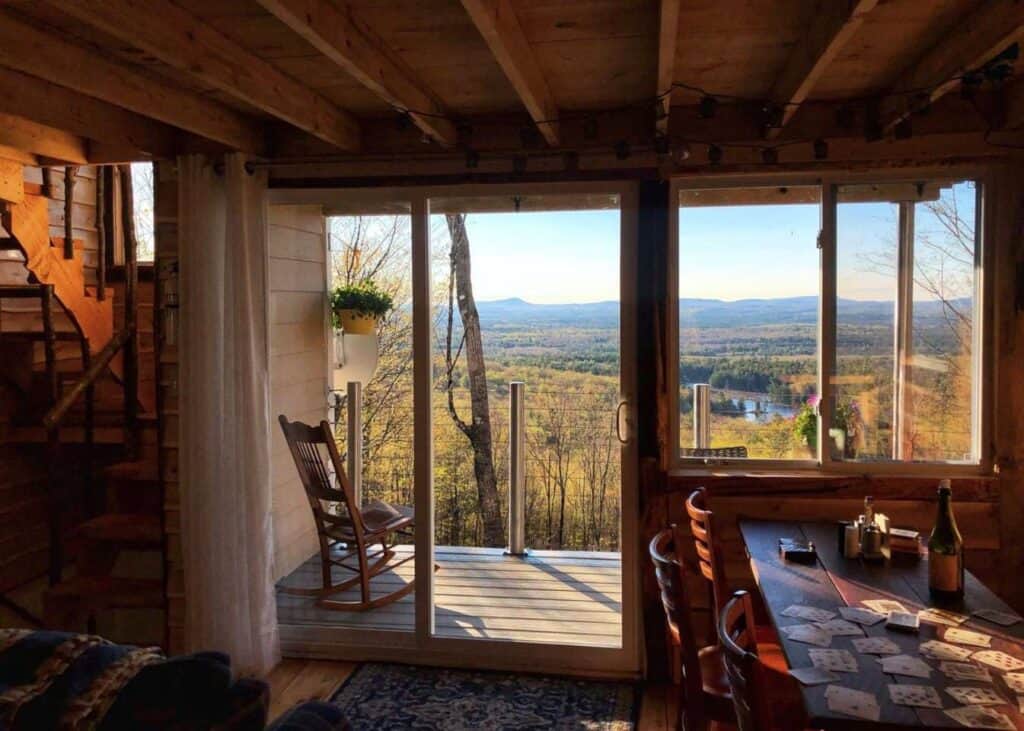 Everything about this photo looks inviting, don't you think? This Maine cabin is in the town of Liberty, situated about 40 minutes east of Waterville.
This cedar cabin is on 10 secluded acres; perfect for getting away from it all. 4 guests can sink into nature, with hiking trails right out the front door.
There's also a brewery onsite, so guests can pop over to visit the brewpup Thursdays-Sundays for drinks, food, and sometimes live music. Definitely check this Airbnb out.
---
---
Cozy Cabin close to Sugarloaf Mountain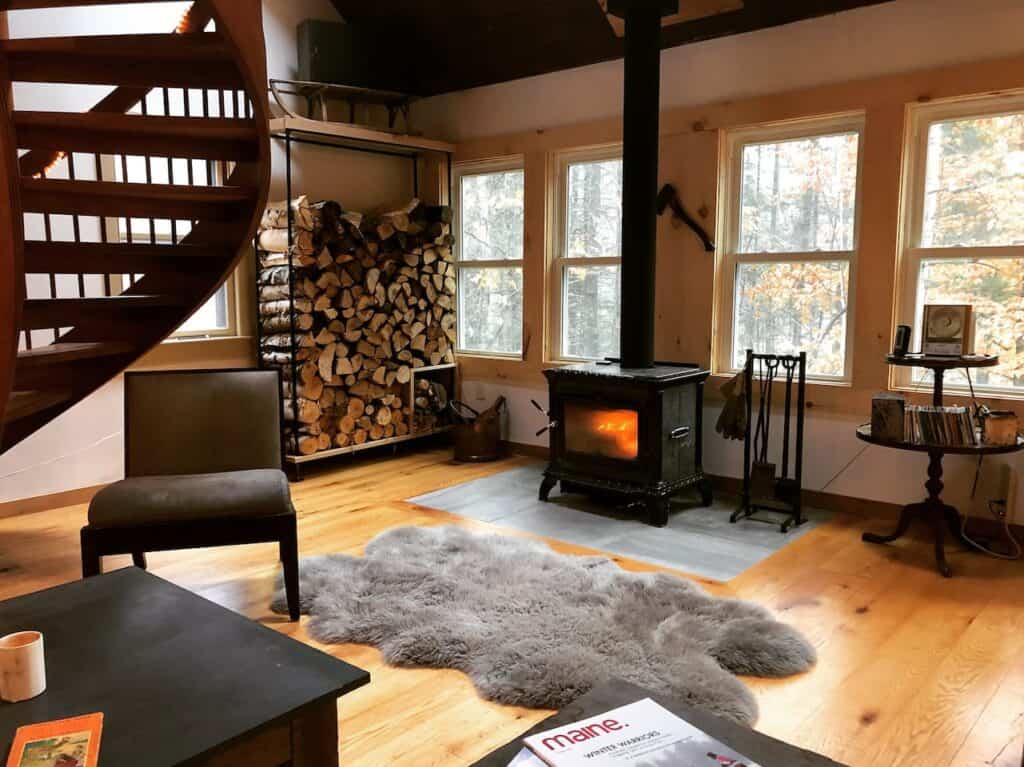 Who says cabins have to be decorated in moose and plaid? This cabin is extremely chic!
Just 8 miles north of Sugarloaf, this is a great place to base yourself for a winter ski trip. The 1100-square foot cabin is cozy for 4 guests, and though you'll feel miles from the busyness of the world, you can easily get to great restaurants and bars just 5 minutes away in the town of Stratton.
---
---
The Cabin – Skowhegan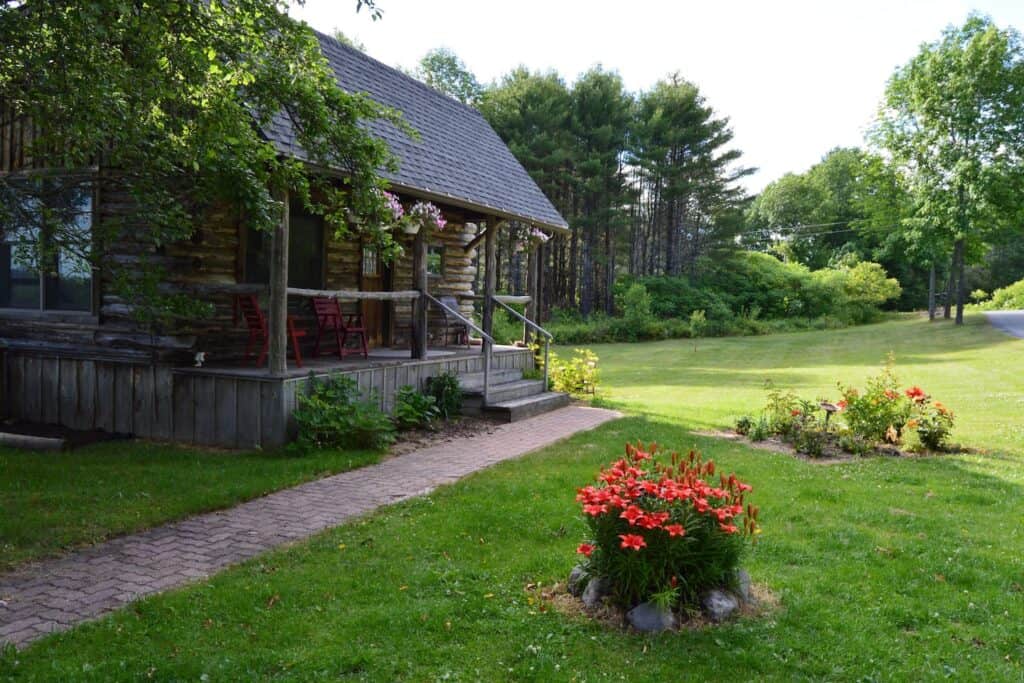 Perhaps you do want that super traditional cabin, with rustic wood beams and warm, inviting plush couches. This property will delight you!
Grab your whole family: 7 guests can be accommodated in this Skowhegan cabin. Don't miss the outdoor firepit with supplied firewood—a great spot from which to enjoy Maine sunsets.
Lakeside 3 BR Cabin in Boothbay Harbor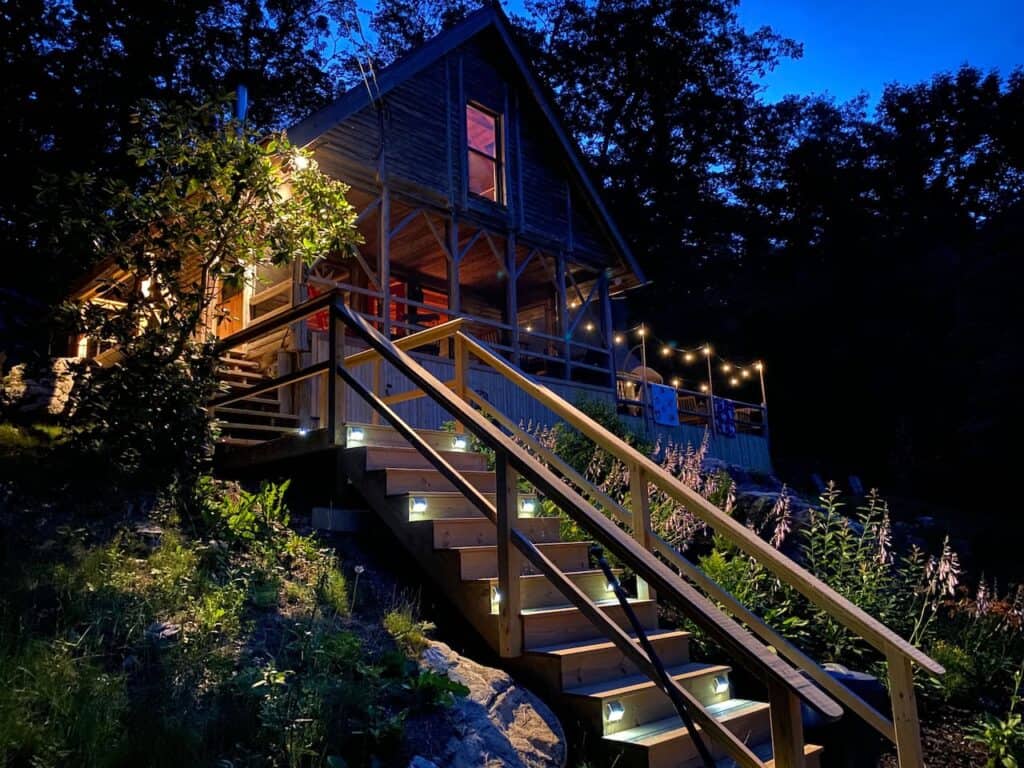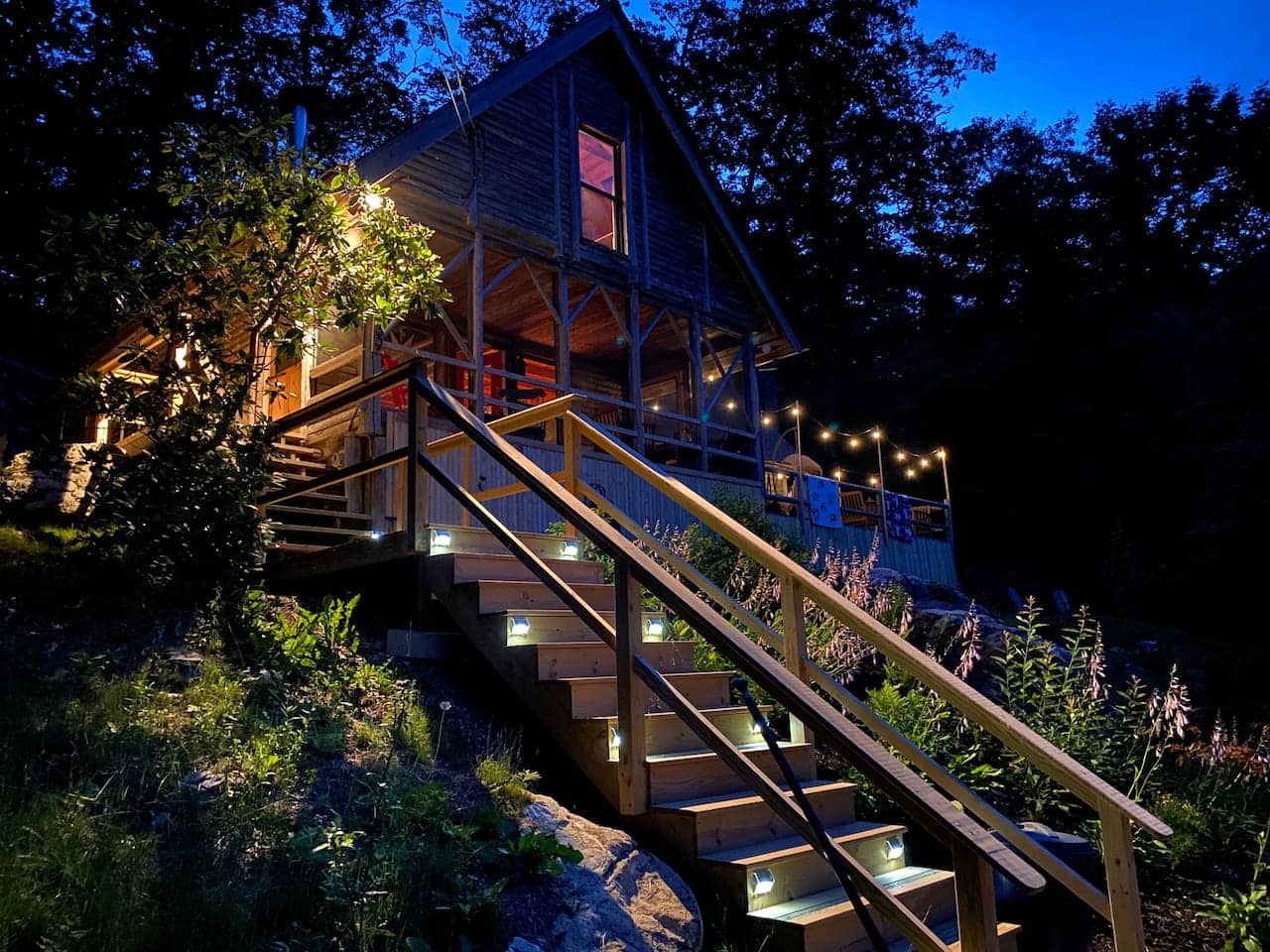 Is there anything better than a charming cabin? How about a cabin by a lake? That's the dream, in my opinion, and this 3-bedroom property offers exactly that. Plus, it's in Boothbay Harbor, a lovely town with plenty to offer along the Maine coast. What an ideal location for a Maine vacation!
You'll love this cabin, with its sweet decor and plenty of space for relaxation and recreation. Up to 8 guests are welcome here, and the cabin is dog-friendly, as well!
Family Getaway | Spectacular Mountain & Lake Views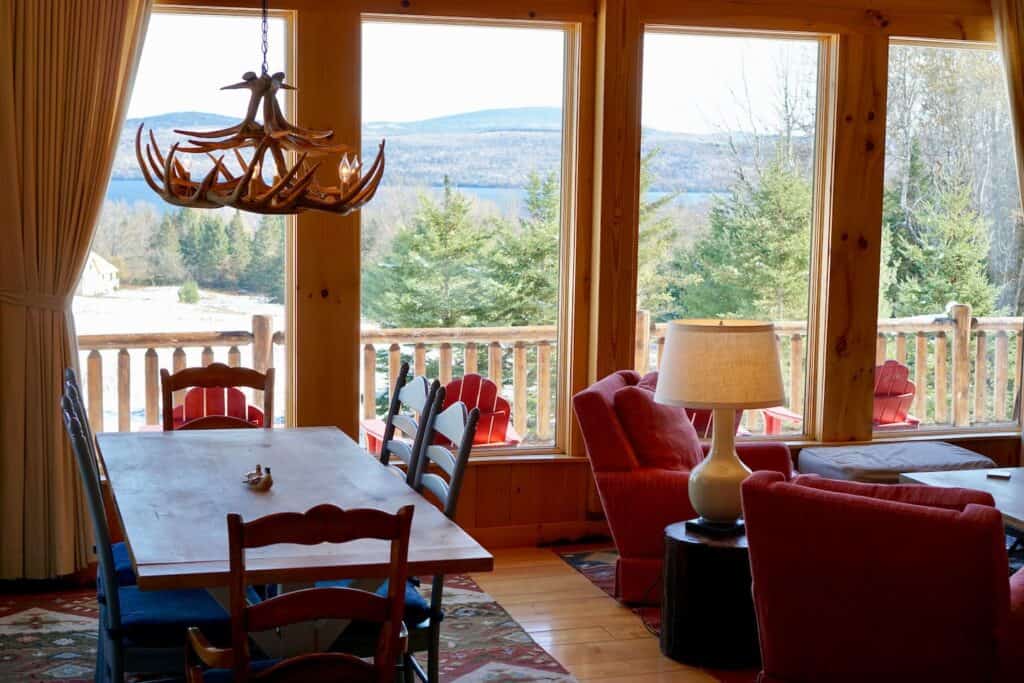 Would you like jaw-dropping views? Here we have them! the wrap-around porch provides for panoramic views, and the large windows allow for the same!
There's a lot to love about this cabin in Maine, starting with the antler chandelier. That's just one of many special touches at this property, a perfect gathering space for a family (up to 8 guests can be accommodated). PS: The cabin is pet-friendly. Located in Rangeley, Maine.
---
---
Peaceful, dog-friendly cabin w/ large yard, deck, & firepit – close to the lake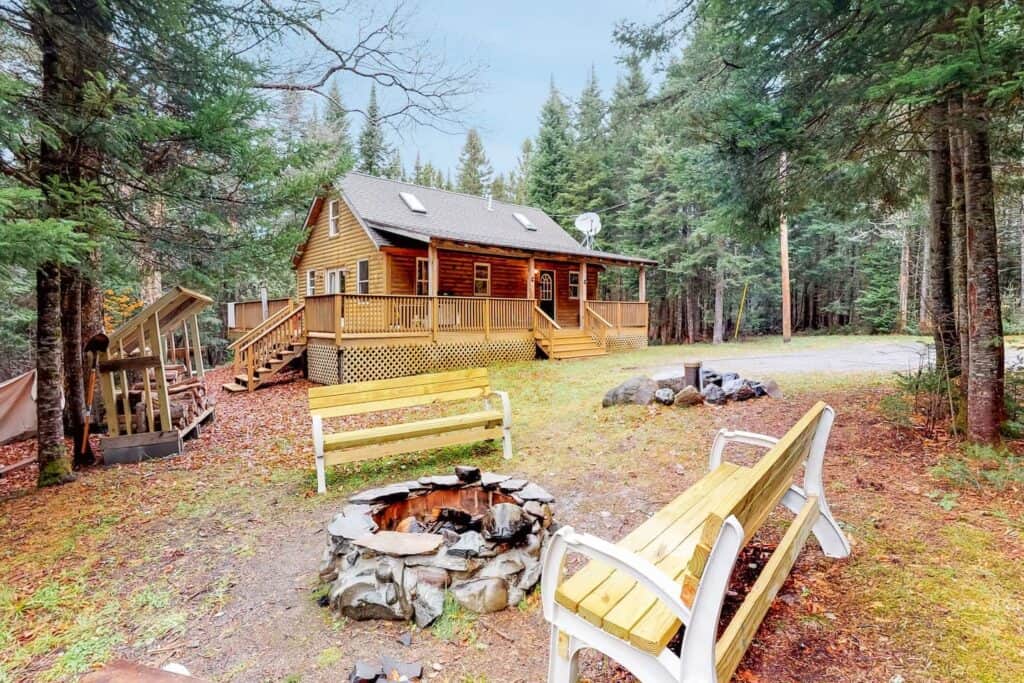 This secluded cabin sits on 10 acres and is near Greenville, ME. Everything you picture for an idyllic cabin stay is here: great location near Moosehead Lake, a covered porch, outdoor firepit, and a warm open living space you may never wish to leave. This cabin can accommodate up to 6 guests.
Rustic Oceanfront Log Cabin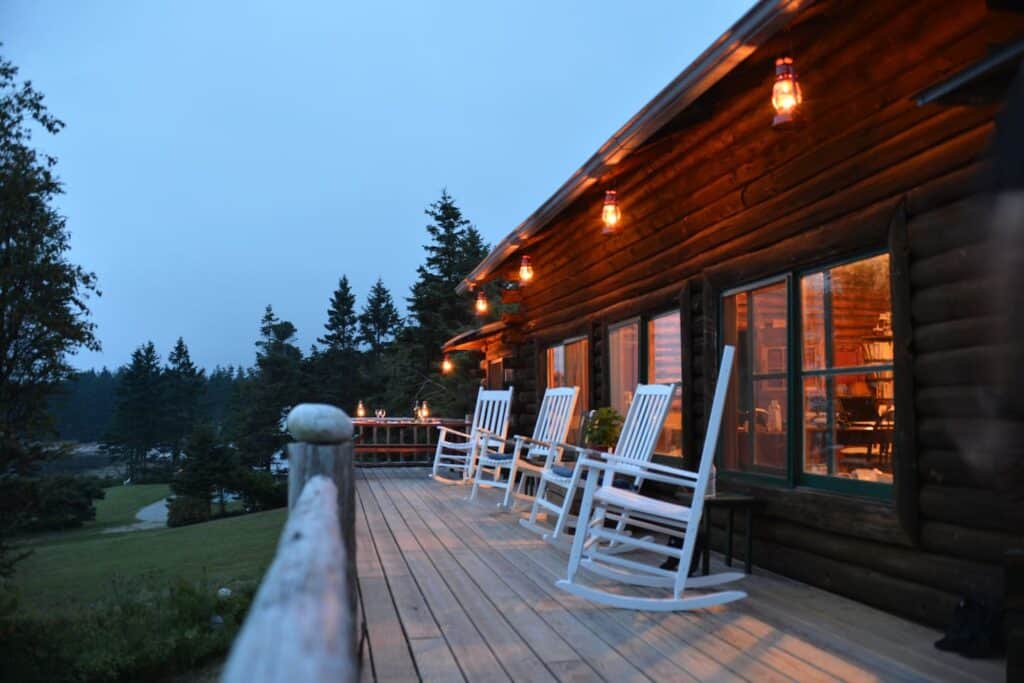 In Maine, the coast is not to be missed. Luckily for you, you can combine the best of both worlds here: a cabin on the ocean!
A 1920's log cabin, the space accommodates 4 guests comfortably for a wonderful stay on the Pemaquid Peninsula. You will adore the views.
---
---
Beautiful, secluded cabin w/ deck, grill, & incredible mountain views!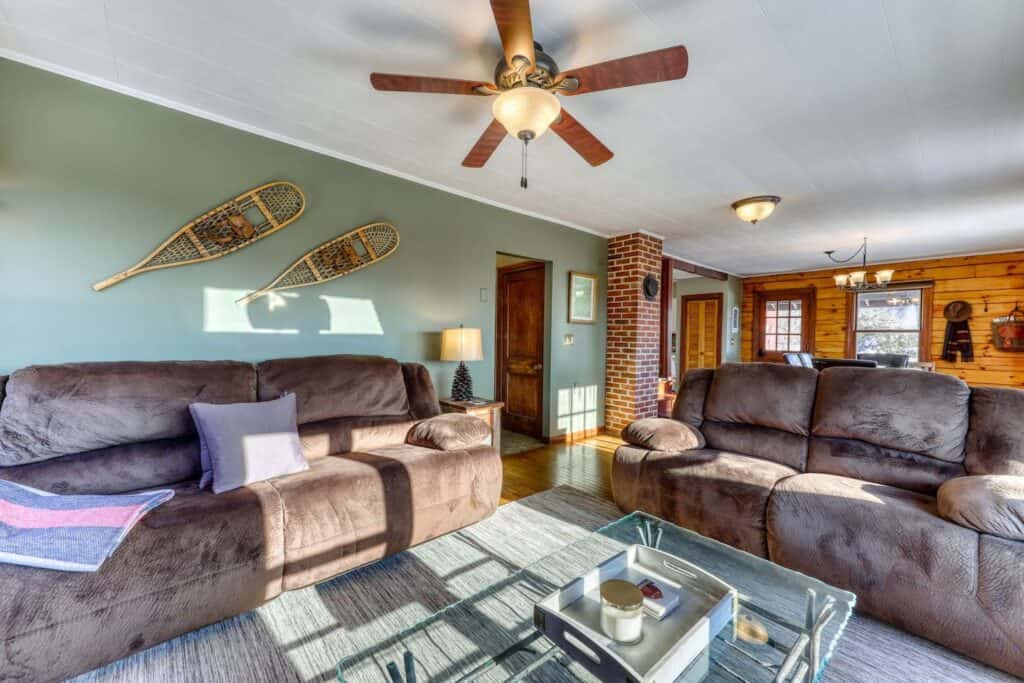 How about an escape to Mexico? Mexico, Maine that is. This stunning cabin promises a winter-wonderland type experience in the colder months. If you've always wanted to try living inside a snowglobe, this might be your chance.
The 3 bedroom/3 bath cabin accommodates as many as 6 guests. Snowmobiling, skiing, and snowshoeing are just a few of the activities you can engage in during your stay. Many guests report this cabin as being spotlessly clean, and there is plenty of raving about the terrific views. Why not go see for yourself?
Family-friendly home w/ lake & mountain views, free WiFi, & a wood fireplace
I've saved my favorite for last. I mean, just look at these photos! What a spectacular-looking cabin.
The enormous fireplace creates a beautiful centerpiece for the inviting living space. Shiny wood is everywhere you look, and large windows offer pristine views of the Maine wilderness outside.
3 floors of space means there is room for the whole family, and this cabin is family-friendly. Up to 6 guests can stay here.
This property is located in Beaver Cove, Maine, just a few minutes from Greenville where you'll find all your necessary conveniences. For recreation, Moosehead Lake is nearby and plenty of hiking and skiing options as well. Don't miss this one!
---
---
You might also like:
---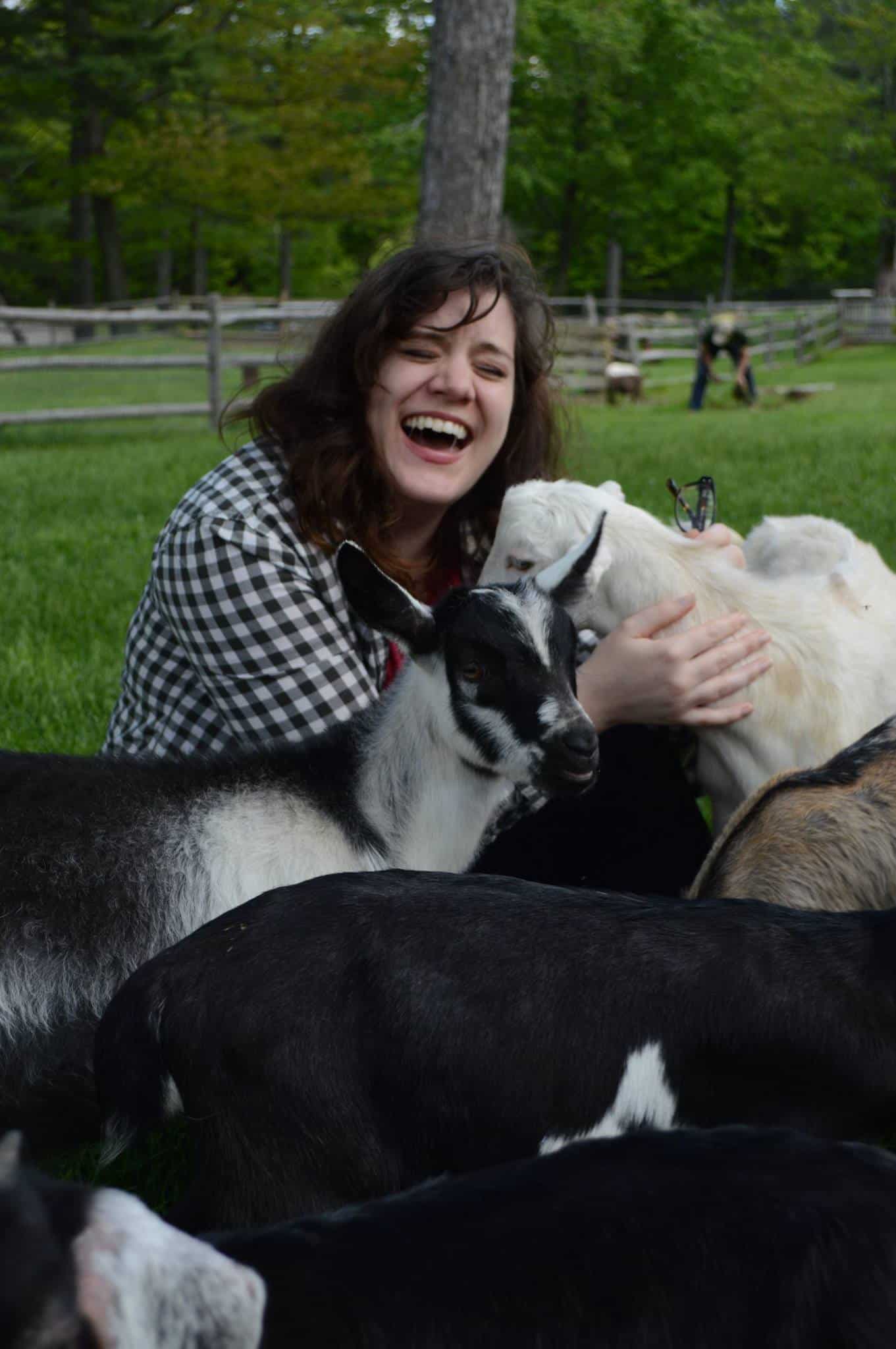 Amy is the founder of New England with love. A proud Vermonter, she hopes to share her love of New England and help you find the best adventures in the region. Amy is also blogger/founder at Two Drifters, where she writes alongside her husband about romantic and couples travel, relationships, honeymoons, and more. When not working on websites, Amy is probably reading, cuddling with her husband and cats, & drinking a maple latte.