*This site uses affiliate links; if you make a purchase through these, I may receive a small commission at no cost to you.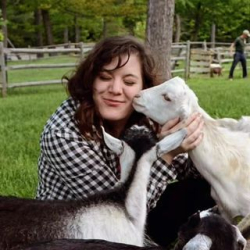 Latest posts by Amy Hartle
(see all)
Are you dreaming of an escape in Maine, New England? I can't deny, I certainly am! The Maine wilderness and the coast beckon me equally with their scenery, activities, and most of all, their serenity. If visiting Maine, the best way to take advantage of all of this is by booking one of the traditional Maine cabin rentals. Need some help finding the perfect Maine cabin? I've put in the legwork for you and found the ideal spots. Here are the top vacation rentals and coziest cabins in Maine you'll want to add to your bucket list ASAP.
Cabin Rentals in Maine
Peaceful Dog-Friendly Cabin with Large Yard, Deck, & Firepit – Close to the Lake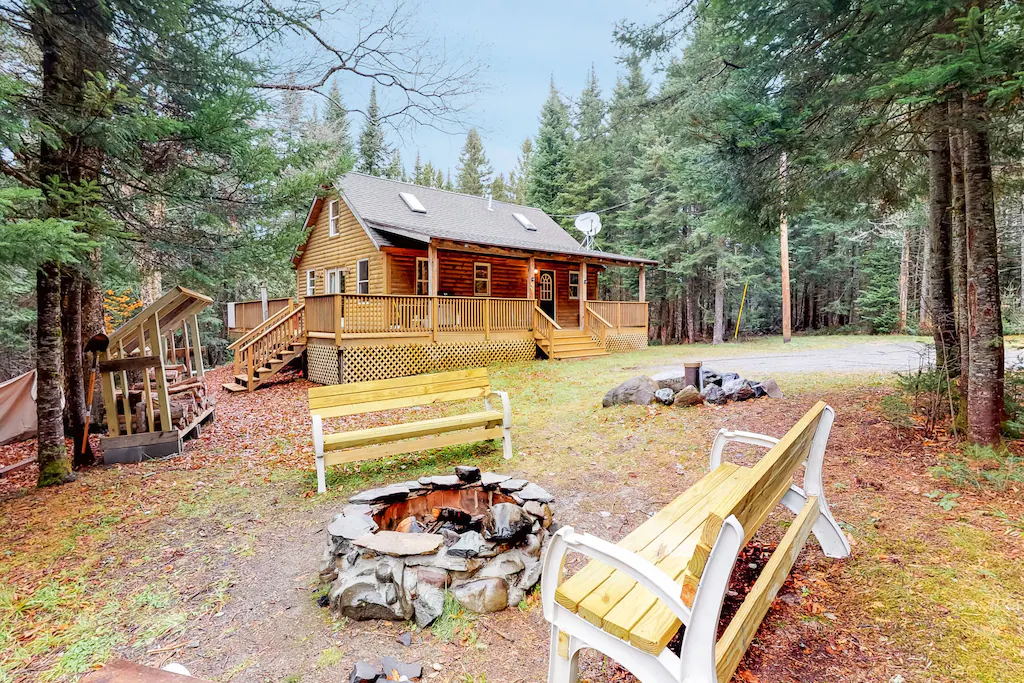 What better way to experience a natural setting than in a traditional-style log cabin in Maine? This accommodation is a great place to get away to enjoy an outdoor adventure.
This Maine cabin is built on a 10-acre property. Outside, you'll have a large yard for kids and pets to run around. There is a fire pit and plenty of seating. Inside, you'll enjoy the cozy space featuring traditional decorations. It has two bedrooms for sleeping up to six guests.
You're just a short distance to Moosehead Lake. It's a popular destination for hiking trails, watersports, and vintage steamboat tours.
---
Lakeside Lodge with Amazing Water Views, Screened Porch, Dock, & Firepit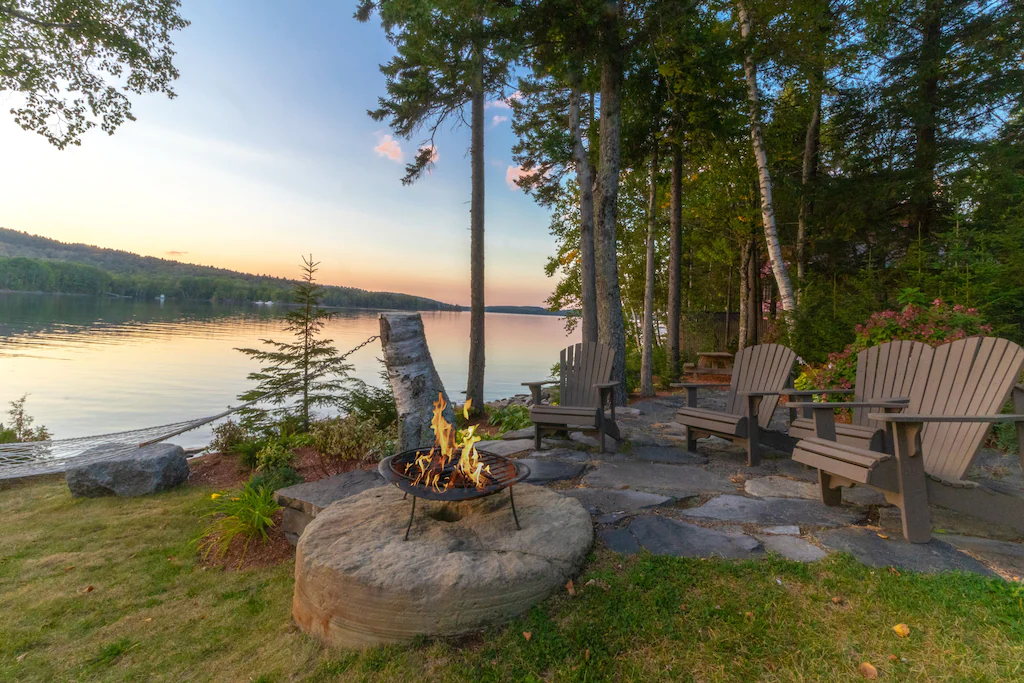 The entire family will have plenty of room to space out in this sizeable lakeside retreat in Maine. The lodge is situated on Moosehead Lake, just a short distance to Greenville, where you can enjoy the serene environment.
This Maine vacation rental fits up to eight guests – it has five bedrooms and three baths. It comes with a fully equipped kitchen and a finished basement. The floor-to-ceiling windows give you an incredible view of the lake.
Use the private dock for boating in the lake. The yard has a firepit and connects to a pebble beach.
---
---
Cottage on the Kennebec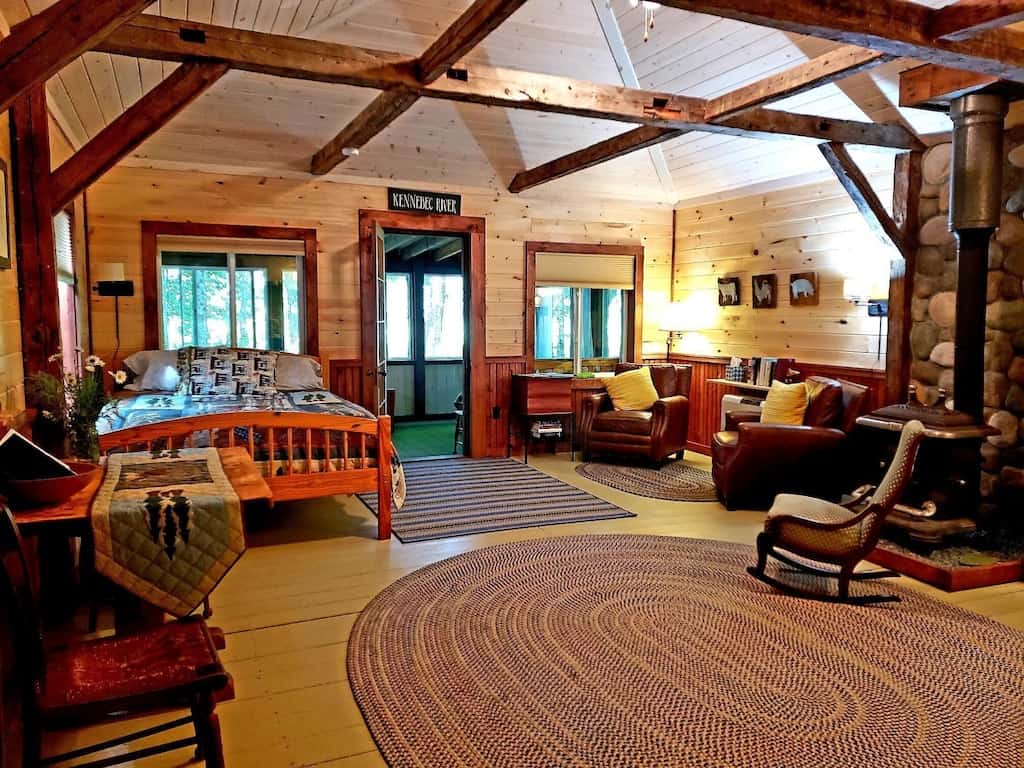 When it comes to Maine cabin rentals, this intimate cottage setting is the perfect place to spend a romantic getaway. The one-bedroom and enclosed porch area have beds to accommodate up to four guests. It also has a well-appointed bathroom.
It's an excellent place for relaxation. Guests can lounge on the hammock or spend time in the yard, which leads down to the beach.
During the day, explore the surrounding nature. Whitewater rafting is a popular activity on the Kennebec River or hike a section of the Appalachian Trail. The remote location is a tranquil vacation spot.
---
Elegant chalet with mountain views, private hot tub, grill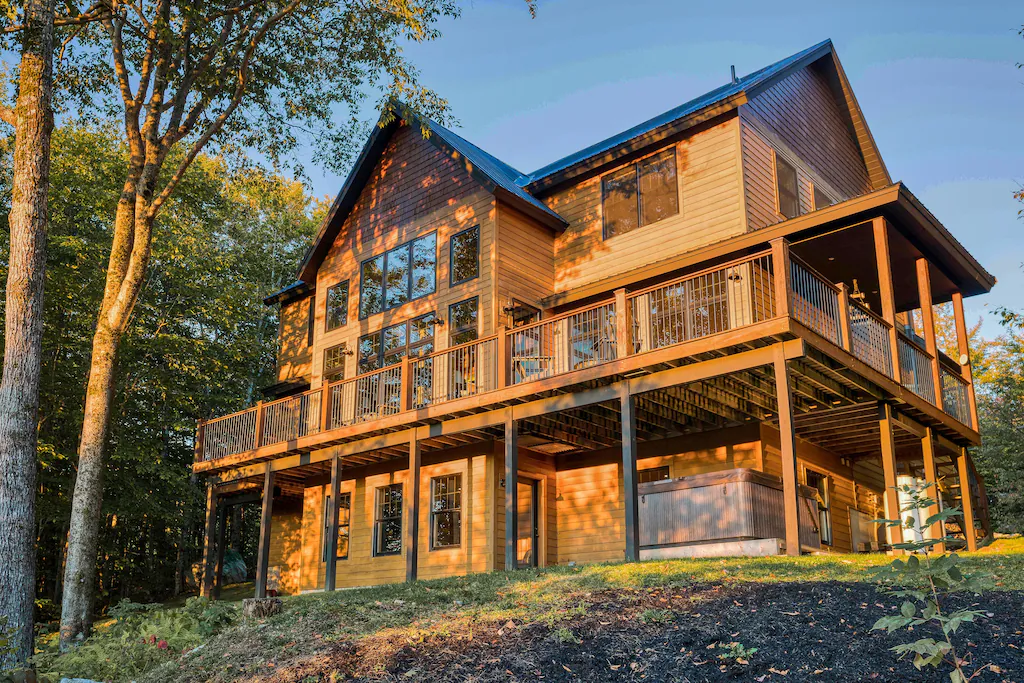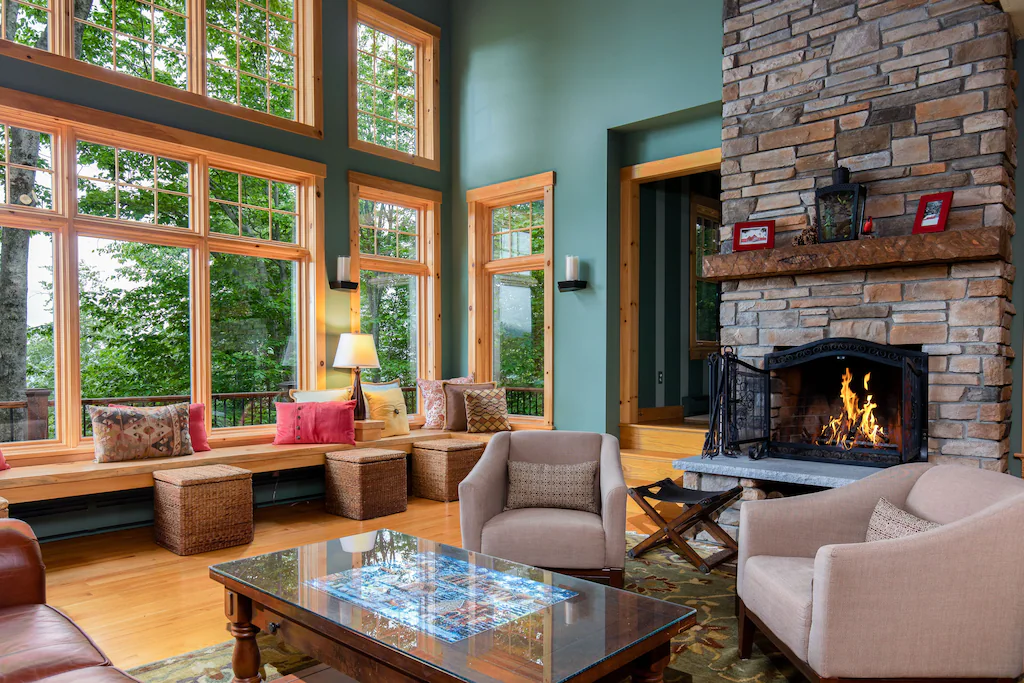 Stay at this elegant Maine chalet if you're planning a holiday vacation with a large group. It's tucked away in the mountains offering incredible views, exclusivity, and fun outdoor activities.
This three-story Maine vacation rental includes five bedrooms and four bathrooms. It's accommodating for up to 12 guests. Enjoy mountain views while preparing meals in the kitchen or relax in the media room for entertainment. Breath in the fresh air while standing on the outdoor deck.
This Maine chalet is nearby ski resorts and golf courses. It also has onsite parking available.
---
Morning sun, coffee in hand, a good book and so much more…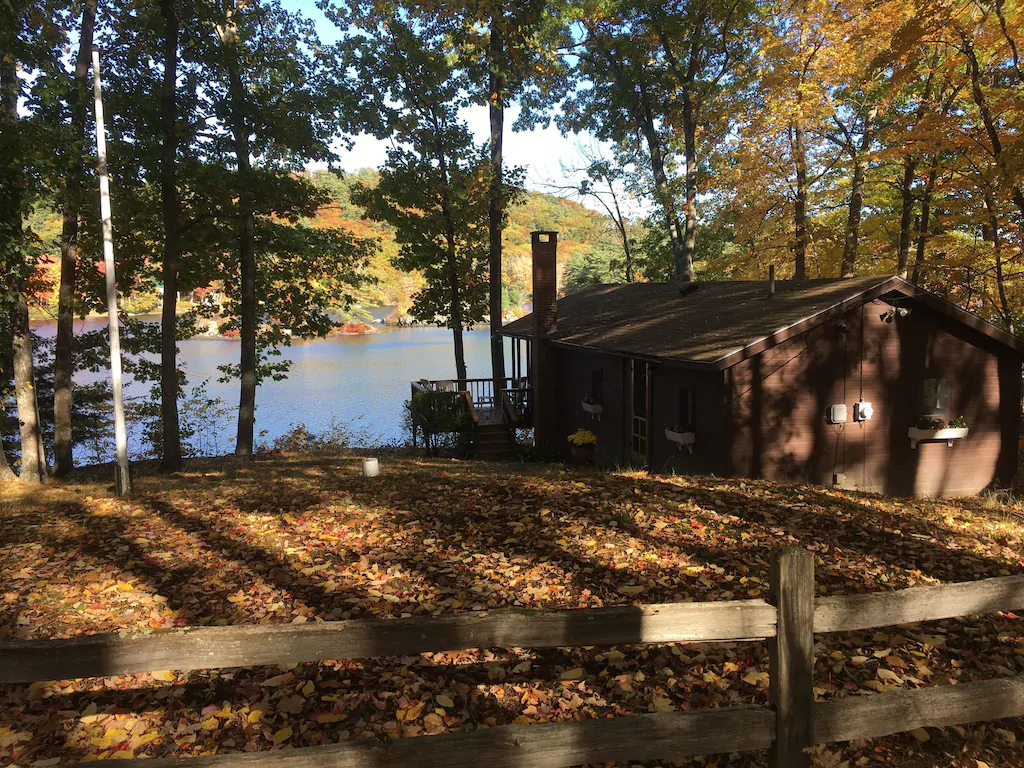 Just outside of Camden is this beautiful lakeside cottage. It's popular for vacation retreats for visitors looking to escape town. The stunning views and water activities will give you lots of calm days and nights during your stay at this Maine cottage.
The cottage features decorative wooden details in the entire interior. It sleeps four guests with two bedrooms. The outdoor grill and seating area are fun places to spend evenings. The covered porch is great for enjoying your morning coffee with views of the lake islands.
Go swimming or kayaking or venture into the town of Camden.
---
---
Schoodic Escape – Katahdin Region Lakeside Cabin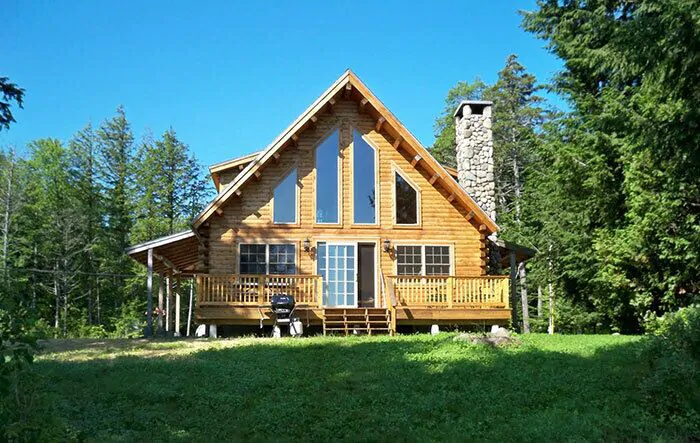 Go for a great escape on this lakeside cabin retreat in Maine. You'll have Schoodic Lake right at your doorsteps, where you can enjoy rest and relaxation.
This traditional Maine cabin showcases a rustic interior with interior beams. It has three bedrooms for sleeping up to six guests. There is also a family room and covered veranda. Cook a tasty meal on the outdoor deck grill while taking in the stunning views of the lake.
You'll have access to a private dock where you can enjoy the famous fishing region or go hiking around it.
---
The Artist's Cabin Retreat at Powder Ridge Overlooking Sunday River Resort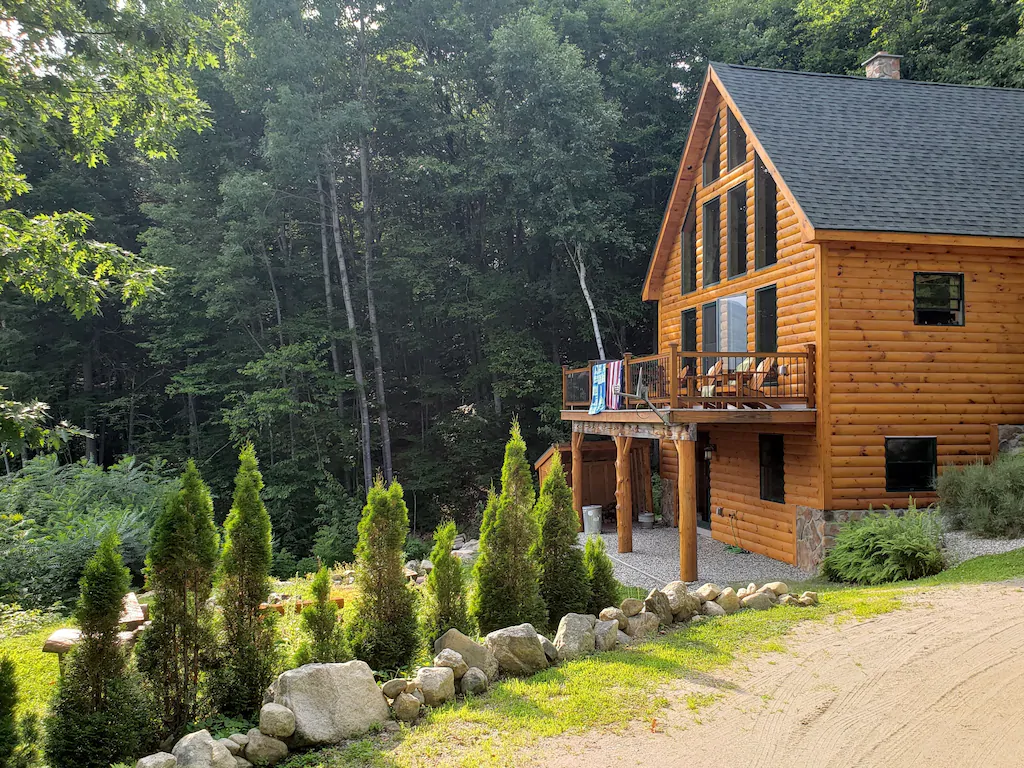 This modern log cabin in Maine features lots of updated amenities for guests. The beautiful landscape views will be the highlight of your stay in any season.
This large Maine log cabin has three bedrooms for up to eight guests. It has modern living spaces like a full kitchen and family room. The decorative wooden details give it an authentic feel for nature. Sit out on the 2nd-floor deck overlooking the Sunday River Resort or warm up at the fire pit in the backyard.
Outdoor activities include nearby hiking trails, swimming in the river, or explore the state parks.
---
Good for the Soul log cabin!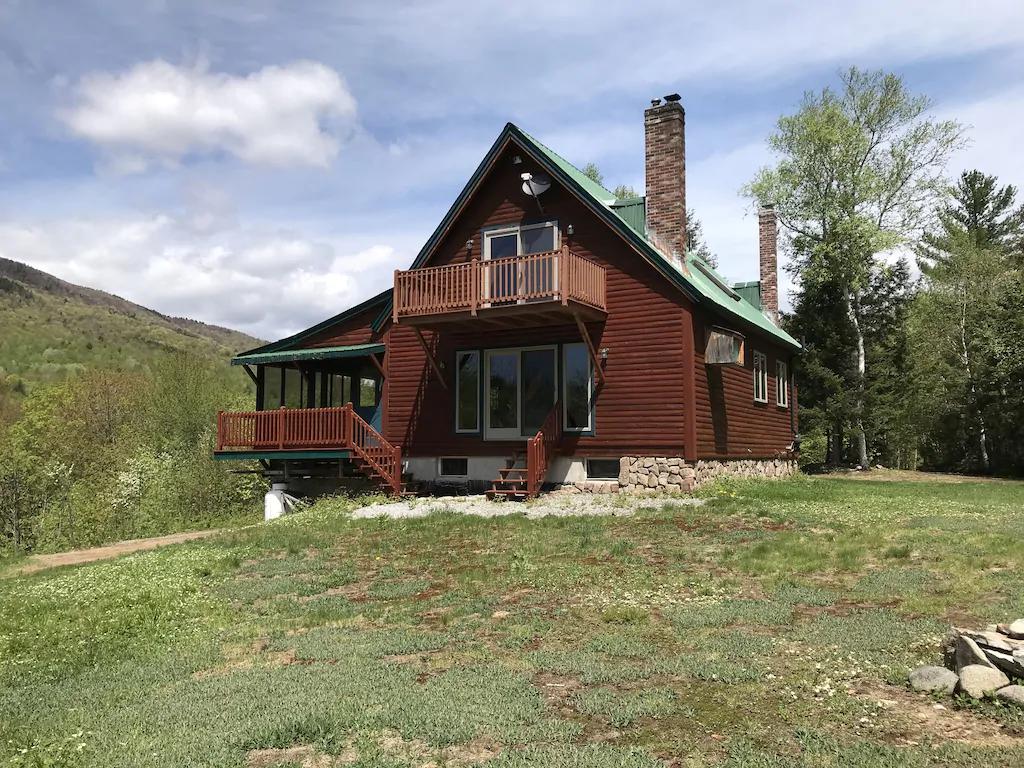 This cabin in Andover, Maine is a perfect escape in the midst of the Maine wilderness. Want to have adventure right outside your door? Hunting, fishing, snowmobiling, ATV, and more are right here. You're just 28 miles from Sunday River for skiing.
But why leave? You will be surrounded by nature in this 3 bedroom, 1 bath Maine cabin that 6 guests can enjoy. There's a screened-in-porch for temperate nights, and a small porch off the main bedroom that affords 180-degree views of the mountains.
---
---
Peaks Island Maine Seaside Cottage: hot tub/roof decks/4 season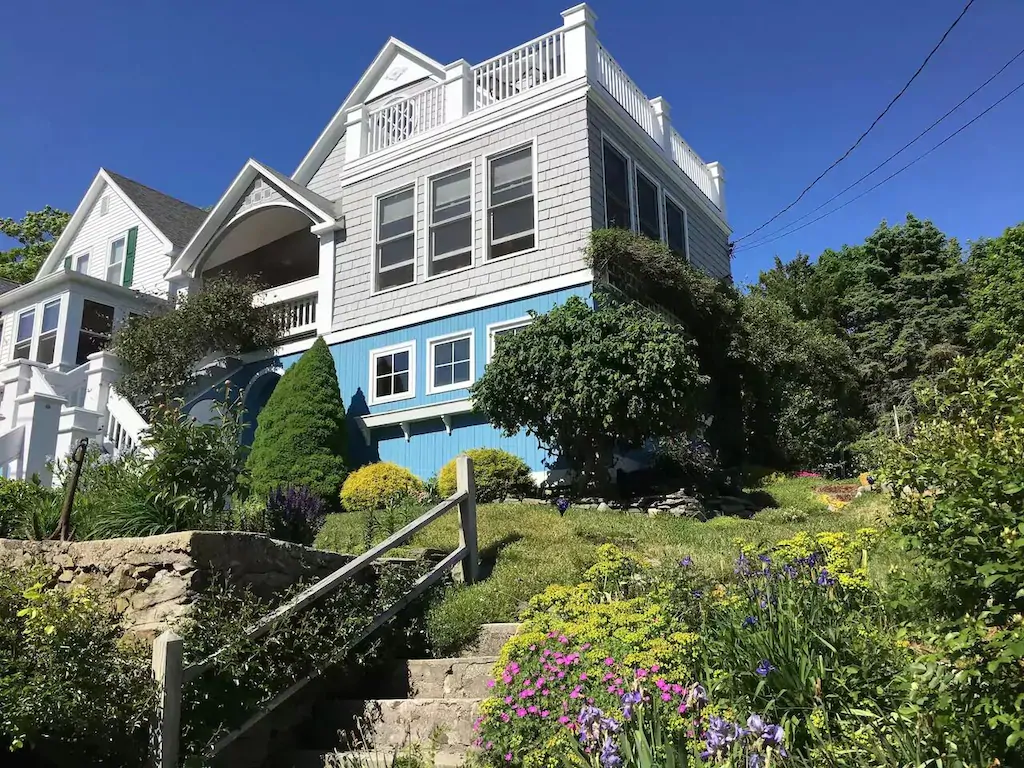 Cottages, cabins, all are good! Sometimes you just want somewhere cozy. Well this is it.
Hop on a ferry to Maine's Peaks Island for a getaway vacation to this seaside cottage in Maine. The large home can accommodate large groups of up to 12 people, and there's plenty of space for everyone. The ferry is within walking distance.
The cottage is excellent for a relaxing vacation to unplug. It has several decks and a rooftop to enjoy views of the ocean. The rooms have large windows with incredible views. Guests can relax in the outdoor hot tub or indoor jacuzzi. The proximity to the sea gives you the relaxing sounds of the ocean.
---
---
Introducing: "Beach Point Cottage" in the Heart of Bar Harbor! Walk Everywhere!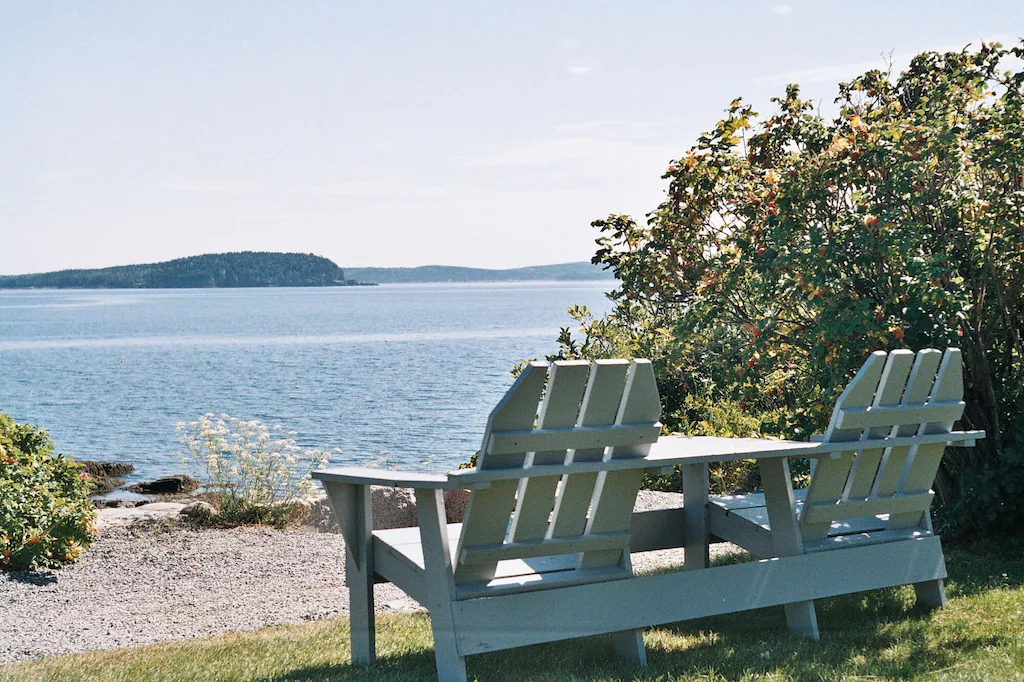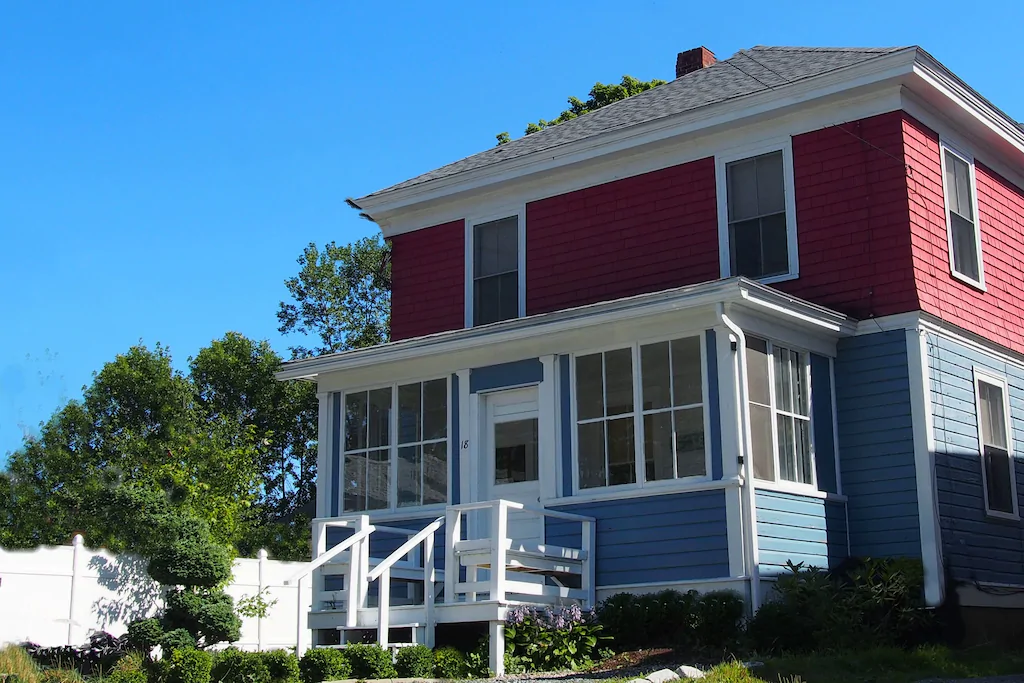 It's nearly impossible to find a place like this cottage rental in Bar Harbor. Stay in the heart of this popular travel destination at this newly remodeled vacation home.
This Maine vacation cottage is newly remodeled with upgraded flooring, kitchen, and bathroom for a modern appearance. The home has four bedrooms to sleep up to four guests. You'll have a comfortable night's sleep on the quality linens.
The cottage is the best way to experience Bar Harbor. It has onsite parking so that you can walk to the harbor, restaurants, and Acadia National Park.
---
---
Mountainside cabin "Sasquatch Haven"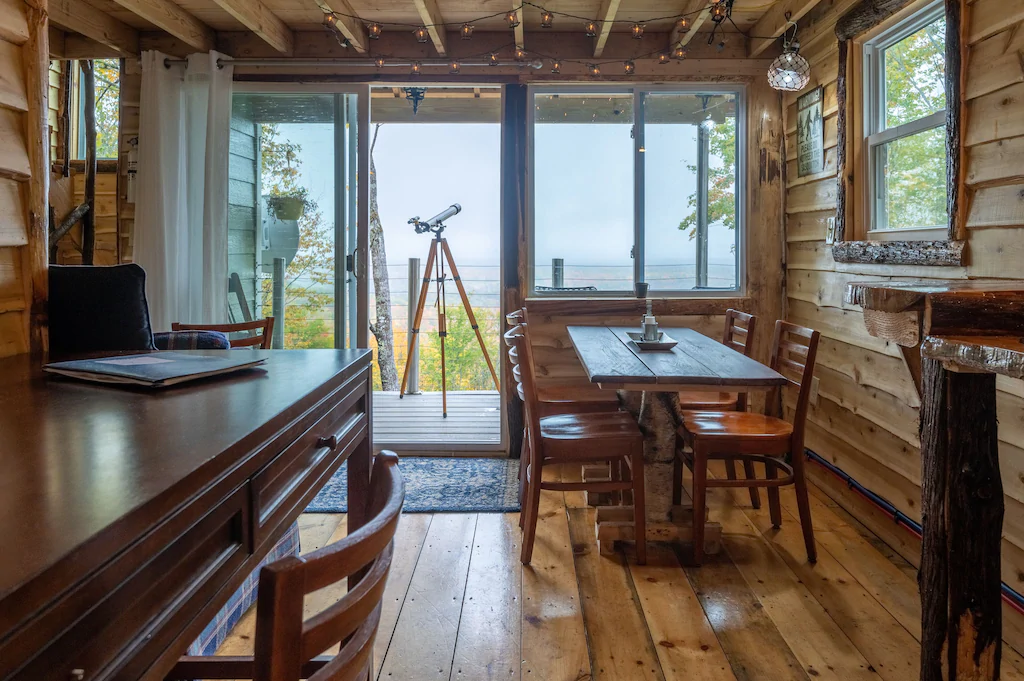 Everything about this photo looks inviting, don't you think? This Maine cabin is in the town of Liberty, situated about 40 minutes east of Waterville.
This cedar cabin is on 10 secluded acres; perfect for getting away from it all. 4 guests can sink into nature, with hiking trails right out the front door.
There's also a brewery onsite, so guests can pop over to visit the brewpub Thursdays-Sundays for drinks, food, and sometimes live music. Definitely check this Maine VRBO out.
---
---
Cozy Cabin on Blue Hill Farm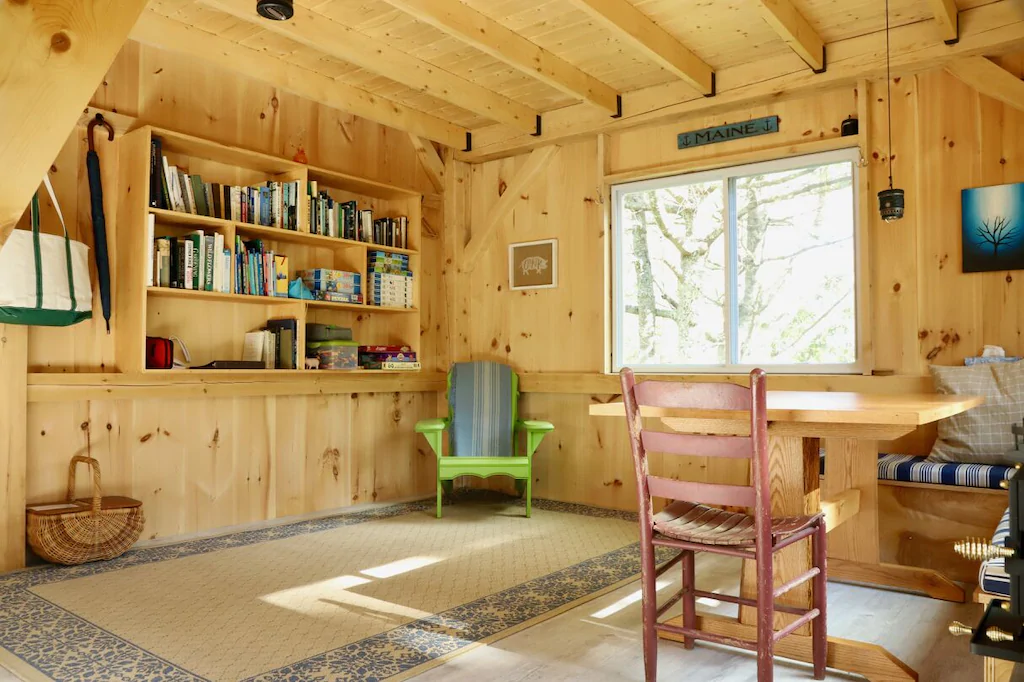 Live a simple lifestyle by staying at this log cabin home. It's built on a working farm to go off-grid… but with internet! Everything is self-contained for energy-efficient living and a way to escape the real world.
The log cabin offers a unique stay. The main cabin sleeps up to four guests. It has a contemporary design. The accommodation has an outdoor kitchen and shower. Hot water is provided, and it uses solar power for all electricity.
This Maine vacation rental is situated on a working farm with animals and crops.
---
---
Secluded Lakefront Log Home with Panoramic Lake and Mountain Views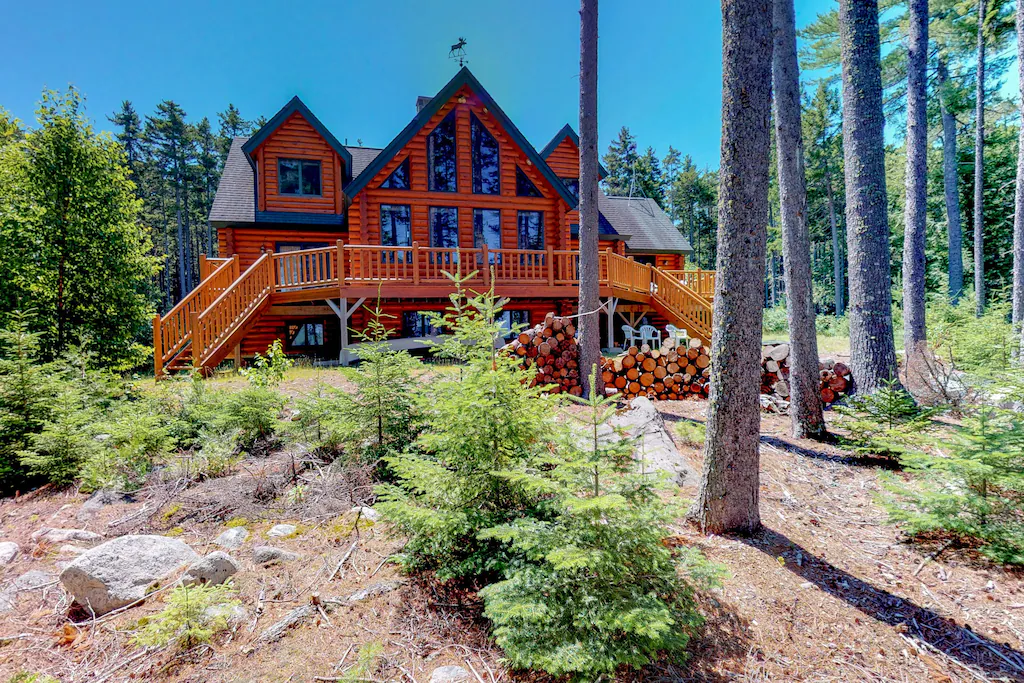 This massive log cabin retreat in Maine covers more than 3,000 square feet. It has a contemporary feel with polished wooden details and updated furniture. You can enjoy everything that the lake has to offer.
Up to eight guests can stay at this log cabin on Moosehead Lake. It has comfortable beds in each of the three bedrooms. Lounge in the living room and take in the views from the floor-to-ceiling windows. The cabin has a wrap-around deck offering panoramic views of Moosehead Lake and Burnt Jacket Mountain.
---
Stunning Views of Linekin Bay | Classic Sprucewold Cabin in the Pines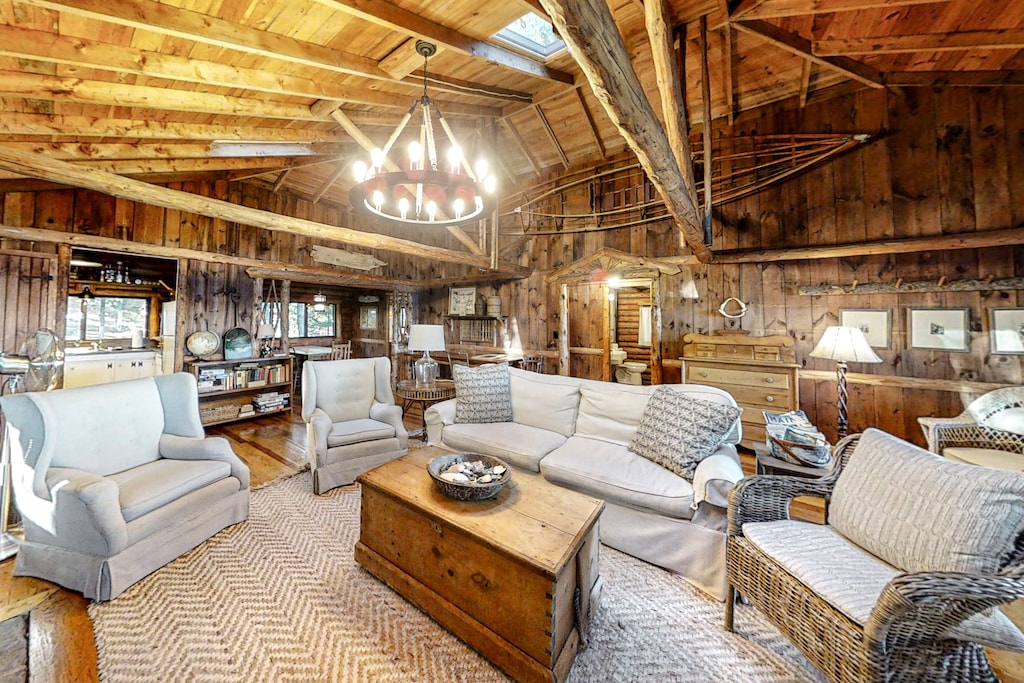 Is there anything better than those traditional log cabin vibes? That's the dream, in my opinion, and this gorgeous Maine vacation rental offers exactly that. Plus, it's in Boothbay Harbor, a lovely town with plenty to offer along the Maine coast. What an ideal location for a Maine vacation!
You'll love this cabin, with its sweet decor and plenty of space for relaxation and recreation. Up to 9 guests can stay comfortably in this luxurious log cabin!
---
---
Beautiful Northern Maine Log Cabins for Hunting and Snowmobile Enthusiasts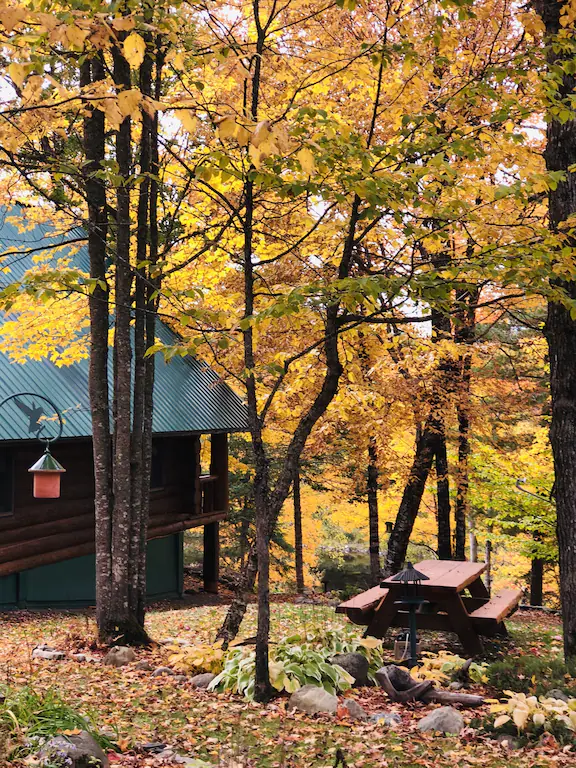 Whether visiting Northern Maine during the summer for hunting or winter for snowmobiling, you'll fall in love with the beautiful scenery. Stay in one of three log cabins on the property that offers lots of comfort between outdoor activities.
Plan an active or relaxing vacation to this log cabin. The spacious accommodation includes one bedroom, a kitchenette, one bathroom, and amenities. This Maine cabin sleeps six comfortably. You'll have welcoming hospitality from the owner.
Enjoy views of the Aroostook River from the porch or head out into the woods for hunting.
---
WATERFRONT SOLAR-POWERED COTTAGE ON CATHANCE LAKE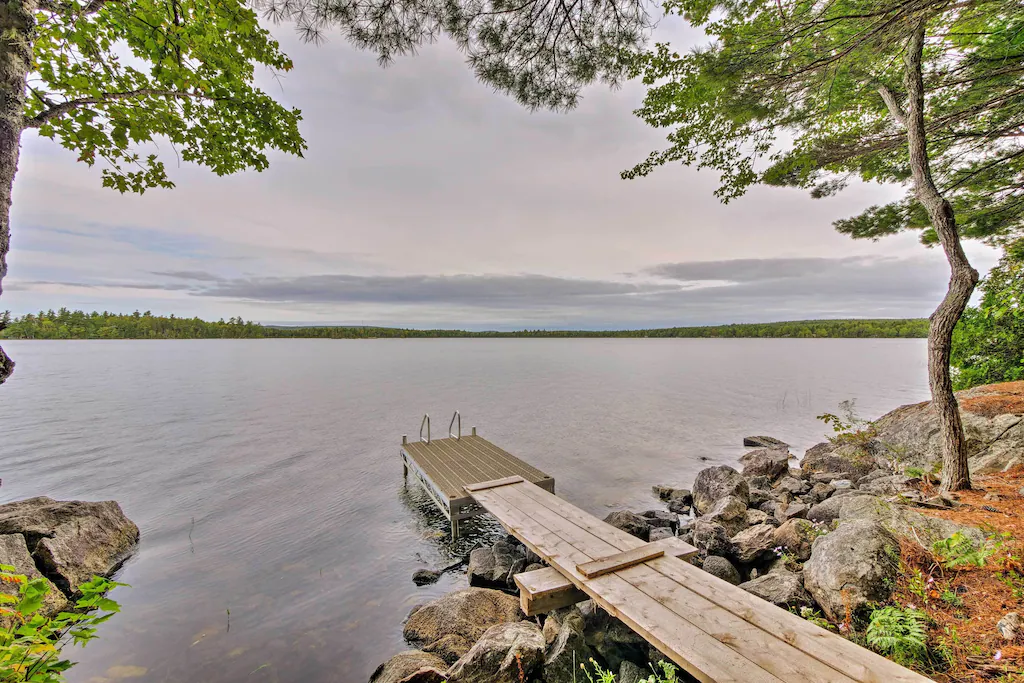 Plan the ultimate escape at this solar-powered cottage to go off the grid – it's the best way to relax and unplug. It's a charming cottage with direct access to the lake for water activities.
Up to four guests can sleep comfortably in the property's two bedrooms. It comes with a full kitchen and indoor living spaces to enjoy with friends and family. Don't worry about distractions – it's located in a gated community, so it has a lot of privacy.
Watch boats sailing by in the lake from the screened-in porch or catch an unbelievable sunset.
PS: Make sure to check out all the photos of this Maine cottage–it's super cute!
---
---
Cozy cabin with firepit just minutes from skiing & Fryeburg Village – Dogs ok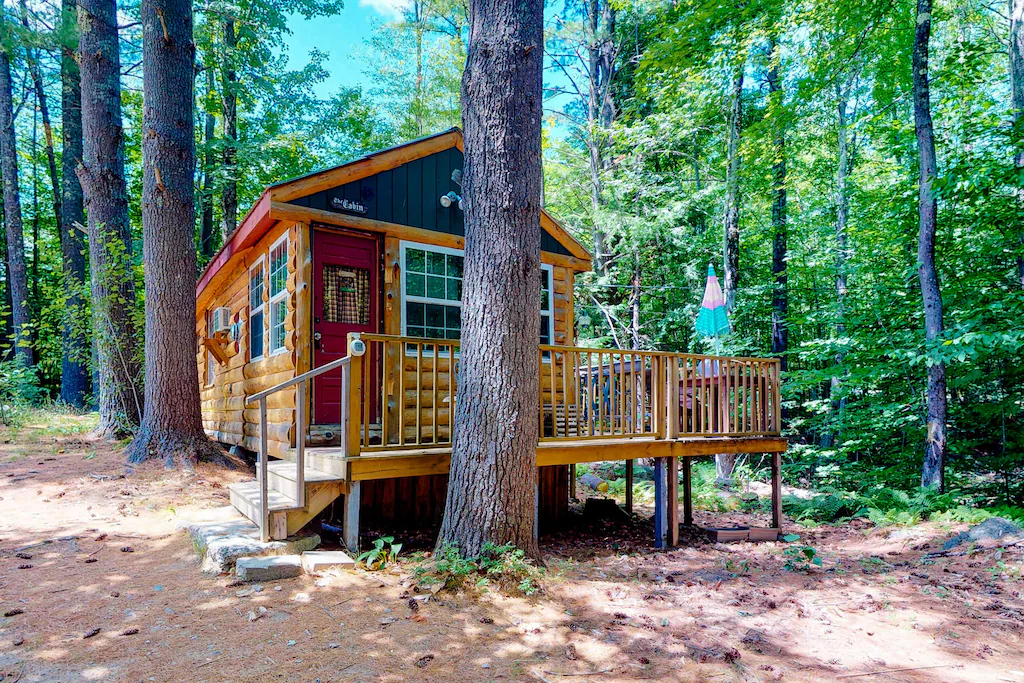 You'll be secluded in nature during your stay at this Maine log cabin. Tucked inside a forest, you'll enjoy a traditional cabin stay with up to four guests.
The cabin is very spacious, thanks to the open floor plan of the kitchen, dining room, and living room. You can enjoy company while you're cooking. It has one bedroom and one bathroom. The entire cabin has traditional décor for an authentic feel.
Take a hike through the forest or build a campfire in the firepit at night. Fall is a beautiful time to visit to see the colorful fall foliage.
---
Grand home in very private and serene estate setting. Direct prime lake access.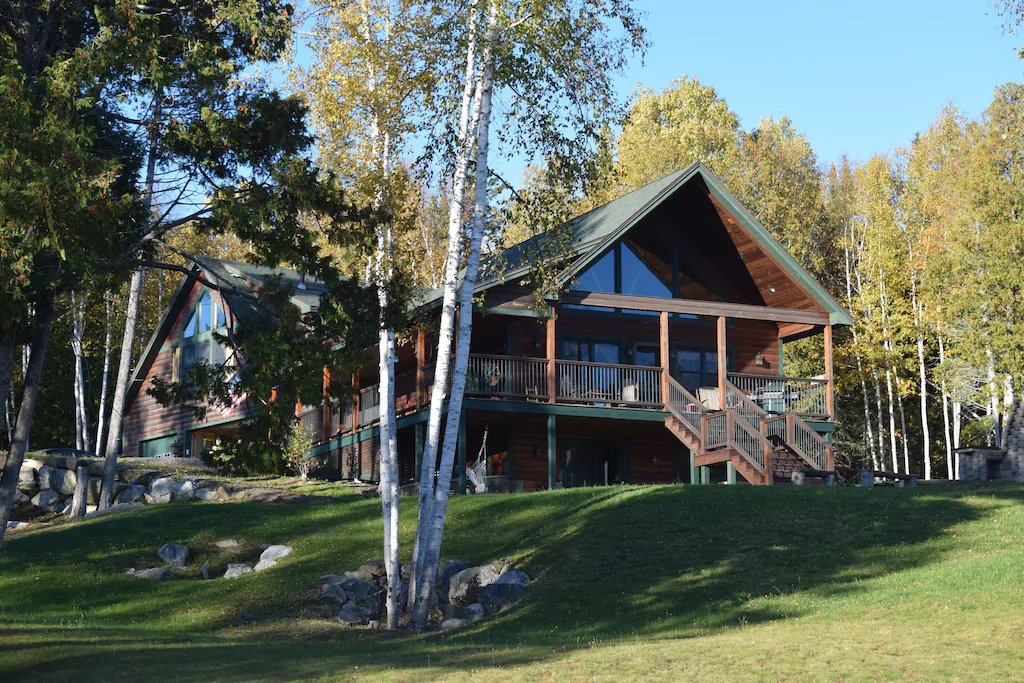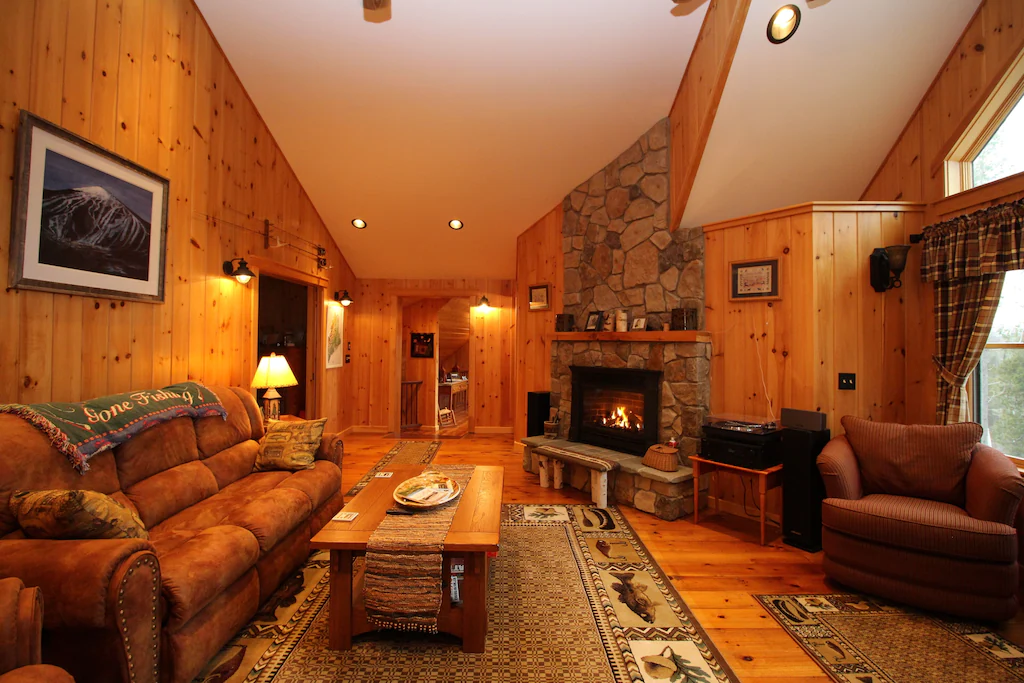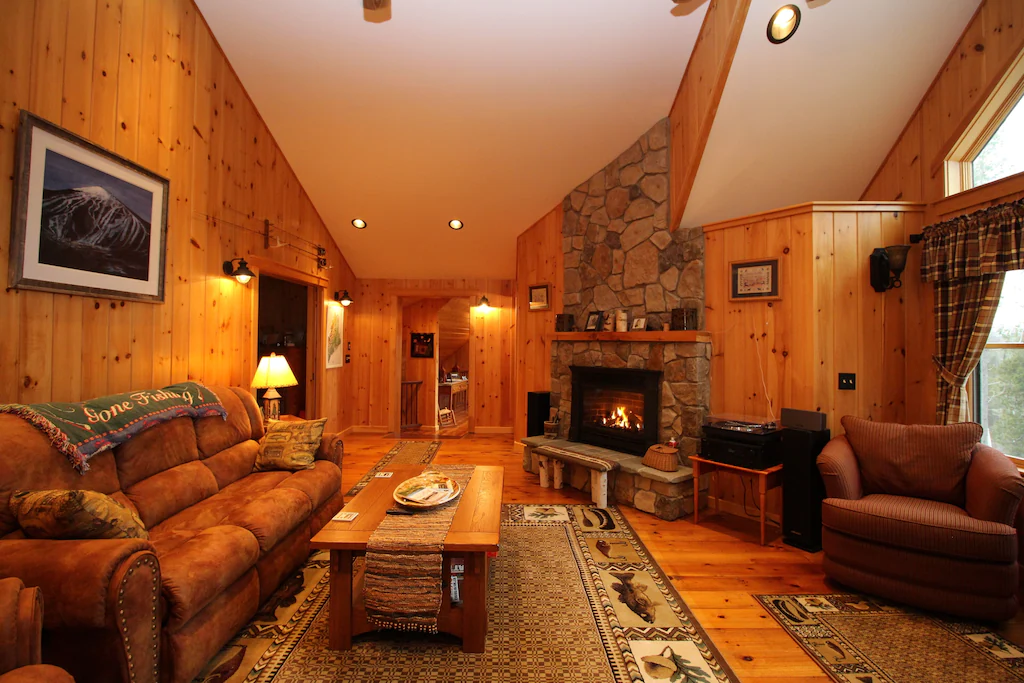 This homey chalet has a remote location surrounded by the wilderness of the Rangeley Wildlife Reserve. You'll love the secluded area for spending a fabulous vacation with family.
This Maine vacation rental includes a stylish interior. It has four bedrooms and three baths to accommodate up to seven guests. Pick a day to cook out on the upper deck grill and enjoy views of the surrounding landscape. It's also pet-friendly
You'll see lots of wildlife near the property. Walk to Rangeley Lake to enjoy kayaking – included with the rental. It's a short drive to the stores in Rangeley Village to pick up food or other supplies.
---
---
Lakefront Cabin w/ a Wood Stove, Free WiFi, & Beautiful Mountain Views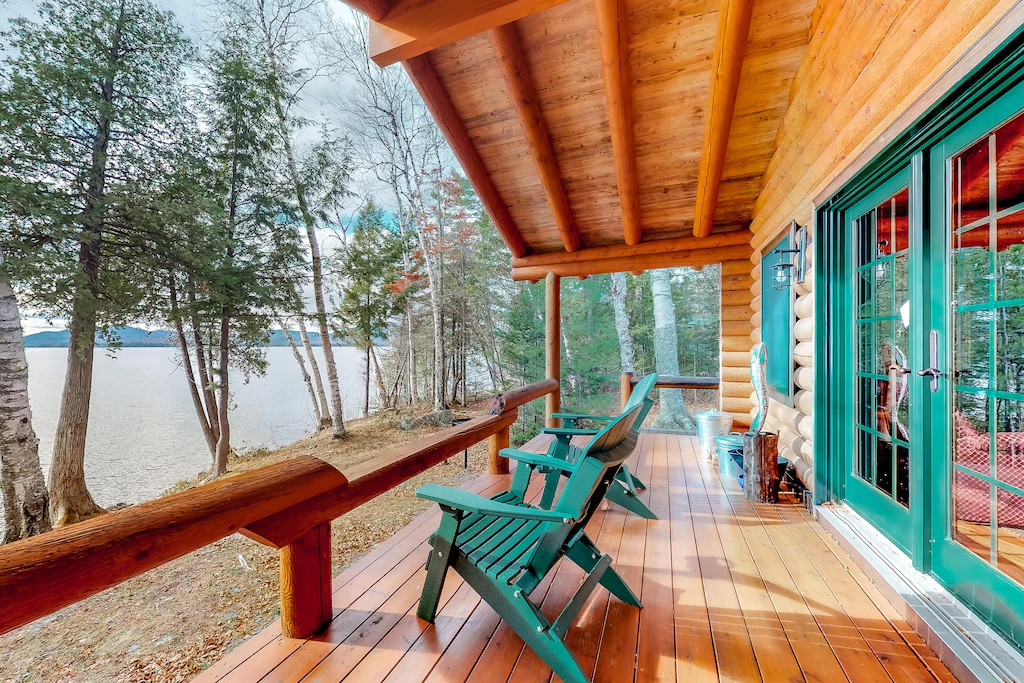 This log cabin home in Maine is the perfect place to host a romantic getaway. The intimate space offers lots of privacy and incredible views of the lake.
Stay right on Moosehead Lake, with the shore steps away from the property. It's accommodating for two and has a kitchenette and one bedroom. Sit on the back deck for views of the lake.
The property has a private dock for swimming during the summer or nearby ski resorts to enjoy during the winter season. It's also nearby the town of Greenville.
---
You might also like:
---