---
*Links in this article may be affiliate links, from which we may earn commission. See our
Privacy Policy
for full details.
---
Fall in Maine is one of the best spots in the US for autumn magic! Do you want to spend a cool autumn day hand-picking crisp, delicious apples in a picturesque apple orchard? Maine in the fall is the place for you.
Would you like to spend an afternoon—or perhaps a moonlit evening—exploring an award-winning corn maze that attracts thousands of visitors each season? Maine in the fall is the perfect spot for that, too.
How about taking a hay ride out to pick the perfect pumpkin for your front step, before sampling freshly-made apple cider and cider donuts? This is absolutely something you can do during fall in Maine!
Oh, you're looking for some spooky, Halloween fun? The home and inspiration of Stephen King, America's favorite horror writer, Maine is 100% the place for that!
How about a fall festival that celebrates all things fall? How about doing it all with a backdrop of stunning fall foliage? Then yes, fall in Maine is the perfect place for autumn magic for you!
PS if you're looking for things to do in Maine this weekend or what to do in Maine today, be sure to check out this events calendar to find the best Maine fall activities to do during your visit!
Fall in Maine
Best Apple Orchards for Fall Fun in Maine
If you're looking for things to do in September in Maine, apple picking is always wholesome fun! This is a great autumn activity whether you're looking for a fun family day or a cute date with your significant other.
Located in Livermore, ME, and the very picture of autumn in Maine, Boothby's Orchard and Winery is a great destination for apple-picking fall fun in Maine.
Not only can you pick-your-own apples and then sample Boothby's selection of handcrafted fruit wines, but you can also opt to stay a little longer by renting out one of the vintage farmhouses they offer for overnight lodging. Take advantage of this opportunity to slow down, unwind, and relax in the beauty of Maine in fall.
While there are several options for pick-your-own apple orchards in Maine, Lakeside Orchards is another of the best places to go in Maine in September. This 200-acre farm in Manchester has been in the apple business for over 40 years and has created a delightful market for handcrafted goods made from farm-fresh ingredients, including baked treats, comforting soups, stews, burritos, and all kinds of other goodies!
With live music on the weekends, Lakeside Orchards is the perfect place to go enjoy a fall weekend in Maine. Be sure to check their Facebook page for Lakeside Live Meadow Music updates to see who's playing.
Best Corn Mazes for Maine Fall Fun
What could possibly be a more quintessential New England fall activity than wandering around lost in a corn maze? There is no small number of corn mazes to choose from in this area of the country, but the longest continually running corn maze in Maine absolutely must be on the list of corn mazes to visit.
Treworgy Family Orchards in Levant is one of those family farms that really does it up for all who decide to take on the challenge of their four-acre maze. Riddle stations are set up within the maze in keeping with each year's theme, and anyone that can complete the puzzle is treated to free ice cream at the end! In addition to the corn maze and ice cream, this beautiful working farm also has a petting zoo and a café to explore while you're there.
McDougal Orchards is another fall in Maine favorite when it comes to autumn activities! Located in Springvale, Maine, this family farm has carefully curated a wholesome, laid-back vibe for all who make the trip out to visit. The corn maze is about an acre, so it is a nice accessible option for those who might not be up for hours upon hours spent wandering lost amongst the stalks of corn.
In addition to the corn maze, McDougal Orchards offers miles of trails to explore this beautiful pocket of Southern Maine, wagon rides, a farm store, picnic areas, a fairy village, and their own culinary crown jewel, Captain Jack's Donut Shack! The Donut Shack offers a unique selection of donuts and other tasty treats, like apple cider donuts, cider donut whoopie pies, and cider slushies.
Best Pumpkin Patches for Fall in Maine Fun
Looking for a pumpkin in Maine? Options abound, with most pumpkin patches offering much more beyond just fantastic pumpkin selections. Pumpkin Valley Farm in Dayton, ME is a prime example of the kind of pumpkin patch experience that make for great Maine in fall fun. Hayrides, a petting zoo, a giant jumping pillow, a corn pit, ball launchers, and a six-acre corn maze are just a few of the reasons to choose Pumpkin Valley Farm for your fall fun pumpkin picking.
If you are looking for a pumpkin patch experience that's a little more educational, Wolfe's Neck Center for Agriculture & the Environment in Freeport is a dynamic educational center that showcases and offers information about sustainable agricultural and environmental practices via fun demonstrations, workshops, and events.
Bicycling, kayaking, hiking, and shopping at the farm store are available all year round, but Wolfe's Neck Center really kicks it into overdrive with their Fall on the Farm lineup. Take a hayride out to the pumpkin patch and catch one of their many fall events, depending on when you choose to visit.
Where to Go for Spooky, Maine in the Fall Fun
If you'd like to get up close and personal to the area of the country that has grown and nurtured the mind of one of the most prolific horror writers in the US, then SK Tours in Bangor has to be included in things to do for spooky, Halloween fun in Maine! You can also follow this self-guided Stephen King's Maine tour.
Another tour group with a stellar reputation for delivering on spooky and stimulating Halloween fun is the American Ghost Walks group. These awesome walking tours can be found in Boothbay Harbor, Camden, and Bar Harbor.
In fact, some of the best ghost tours in New England are in Maine!
For those looking for a little more hands-on and immersive haunted Halloween fun, here is a list of Maine's haunted locations.
Best Maine Fall Festivals
Come autumn, there is one thing that you will be able to find plenty of in Maine: Fall festivals! In fact, there are so many fall festivals in Maine that your biggest concern may be deciding which one you will check out during your fall visit to Maine.
One of the most popular Maine fall festivals is the Damariscotta Pumpkinfest and Regatta, a 10-day celebration of all things pumpkin-related. Pumpkin-centered festivities include painted pumpkin contests, pumpkin dessert contests, pumpkin eating contests, a Giant Pumpkin Parade, and a 180 feet Pumpkin Drop, in which a massive pumpkin is hoisted 180 feet into the air and dropped over a large inflatable pool filled with beach balls… Who wouldn't want to see that???
And that isn't even the signature event of the week! The Pumpkinboat Regatta is the main event, with participants racing 400-700lb hollowed-out pumpkins fitted with motors across the Damariscotta Harbor. It's no wonder this quirky fall festival has been voted "Best Fall Festival in Maine" by Travel and Leisure.
Another great choice for Maine fall festivals is Acadia's Oktoberfest Beer, Food, Music, and Crafts Festival. There is a home-brewers competition, music and entertainment, local vendors showcasing their crafts, and fun events such as "Stein Hoisting" and "Keg Tossing." The fall festivities happen at Smuggler's Den Campground in beautiful Acadia National Park, so this Maine fall fest is perfectly situated for Acadia fun, too.
For a great Maine fall celebration, Freeport Fall Festival is the place to go! It's three days of live music, art showcases, and handcrafted goods that takes place at the L.L. Bean campus in picturesque Freeport. With quintessential Maine activities like the "Chowdah Challenge," Freeport Fall Festival offers a taste of small-town Maine fall festival fun.
Where to Go to See Maine Fall Foliage
September through late October, Maine experiences a magical makeover, courtesy of Mother Nature, as the landscape blazes with burnt oranges, golden yellows, and deep crimson reds. The Maine fall foliage colors begin at the northern tip of the state, typically around the third week of September, fall foliage in Maine transforming the landscape into a picturesque autumn scene.
Hiking in Maine is an excellent way to see Maine fall colors. Whether you're hiking to a waterfall or through Acadia National Park, you'll find that Maine fall foliage makes the scenery even more gorgeous. Camping is a great fall in Maine activity for leaf peepers, too!
Taking a scenic fall foliage drive is always a great way to appreciate fall colors in Maine, too! A particularly scenic fall foliage drive in Maine is Rangeley Lakes Scenic Byway, taking you 35 miles through central-western Maine along lakes, mountains, and a series of charming New England villages.
The Maine Office of Tourism offers this toll-free number to get real-time info on where fall color in Maine is found from mid-September to Columbus Day: 1 888 624 6345
See also: our collection of New England Fall Road Trip Ideas
There is much to see and do in Maine at all times of the year, but fall in Maine is an especially fun time to visit this gorgeous state. Not only will the scenery never disappoint when accompanied by Maine fall foliage, but Maine fall activities like apple picking, pumpkin patching, corn mazing, and ghost touring can't be beat!
---
Read these next:
---
---
Pin this post for future travel planning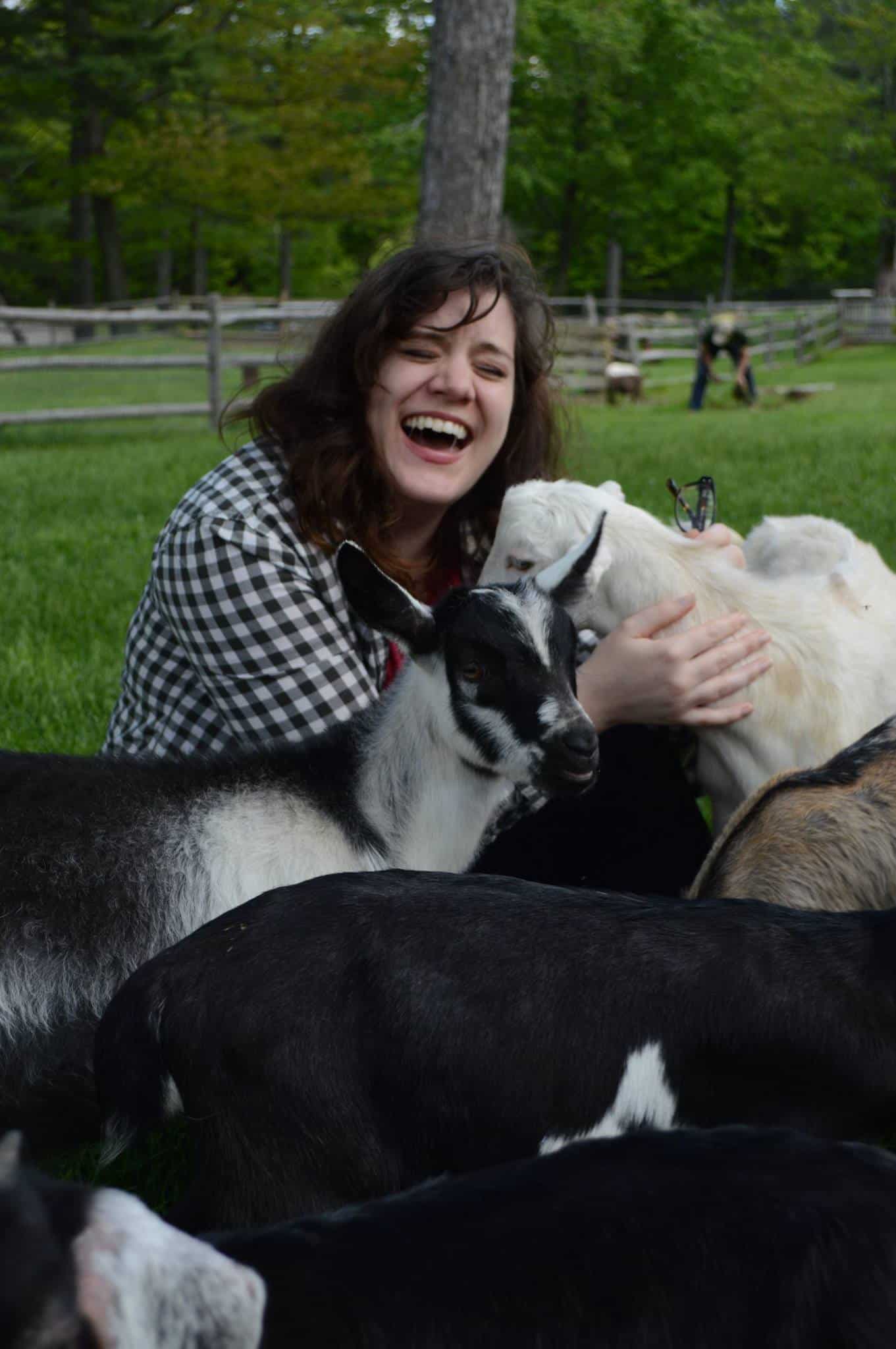 Amy Hartle is the owner and editor of New England With Love, a comprehensive resource for travel in the New England region. Amy lived in Vermont for 15 years, attended Plymouth State University in New Hampshire, and continues to travel regularly around the entire New England region. On this site, Amy aims to share her love of New England and help you to have the best possible adventures!
Amy has been a full time blogger since 2012, and is also the publisher of Two Drifters, where she writes about couples travel and relationships, as well as Let's Adventure Baby, a family travel site. When not traveling the world or creating epic blog content, Amy can be found cuddling with her husband, son, and cats, & drinking a maple latte.