What better way to spend a day in the fall than by going on one of the best ghost tours in New England? Whether you're interested in getting frightened at night by lantern or during the day in broad sunlight, there truly is a fun ghost tour for you.
Before you go ahead and book any of these ghost tours, keep in mind that a lot of them can get booked out pretty quickly. If you know that you for sure want to go on one, be sure to reserve ASAP or risk not being able to go.
Here are all of the best ghost tours in New England, in no particular order!
First up is New Haven's Ghost Walk, a fun ghost tour in Connecticut. This tour is approximately an hour and a half long, so it's just the right length for getting spooky while visiting Connecticut!
It's run by the longest-running ghost tour company in the state, too, so you can rest assured that it will be well worth your money. Throughout the tour, you'll be brought to some of the creepiest sites around the city, including the New Haven Public Library and the Grove Street Cemetery.
Along the way, you'll have a tour guide who will spill all the creepy details about the area's history, and they may even tell a story or two. Plus, despite being a ghost tour, this is a family-friendly tour that is great for all ages!
Will you be heading to Portsmouth, New Hampshire? Look no further than the Historic Portsmouth Legends Ghost Walk. This tour is also great for all ages, but there are different prices for adults and those under 16.
The Historic Portsmouth Legends and Ghost Walk tour, in particular, has been nationally recognized and has been mentioned on the Travel Channel! It's run by Roxie J. Zwicker, the author of a book called haunted Portsmouth. Roxie really knows their stuff!
Along the tour, you'll be able to learn tons about Portsmouth's history and also go back in time. Over the course of an hour, you'll learn everything there is to know about the local ghosts and spirits.
Believe it or not, but you can do a ghost tour while on a boat! This fun tour in Rhode Island is the perfect way to do it. Along the way, you'll learn all about ghosts in the area as well as some fun and fascinating folklore.
What makes it even better is that the tour takes place at night. You'll be able to set sail once the sun goes down for an entire hour with a whole bunch of other people who will be listening to Captain Peter tell his tales.
The boat is, of course, equipped with flickering lights to add to the whole experience. Plus, you'll be able to get great views of Providence in the dark!
Plymouth is one of the most well-known places to visit in Massachusetts, but turn it up a notch by going on a night tour! This tour covers everything from ghosts to ghouls and takes place in the evening, which only adds to the spookiness.
This is a bit of a longer tour at approximately two hours, so it's well worth the money you pay for a ticket. The tour is also very interactive because you can ask the tour guide questions at any time to learn even more.
Along the way, you'll be able to use some fun paranormal equipment that you've probably only seen on TV to see if you can get in contact with ghosts. This all comes provided with your tour!
By now, almost everyone has heard of Lizzie Borden. You can learn even more about what went down in the Lizzie Borden House on this tour in Fall River! It's only about an hour-long, and who knows, maybe you'll get in contact with Abbie Borden during it.
The Lizzie Borden House is where the unsolved murder took place in the 1890s. While it also is open as a museum and a bed and breakfast, the place is, of course, available for tours for those who want to be haunted.
Even if you stay at the Lizzie Borden House, you can't visit every room in the house. However, if you go on this tour, you're actually able to visit every room in the Lizzie Borden House!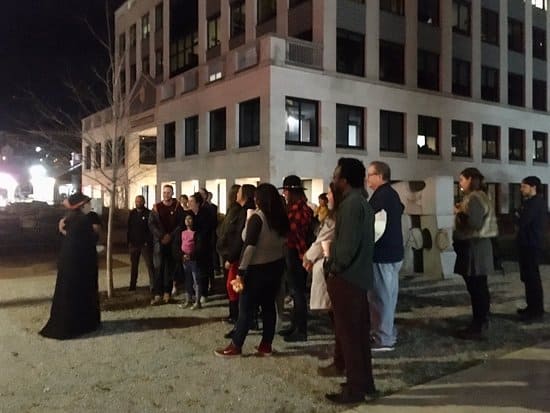 I bet you're surprised to see a ghost tour in Vermont on this list! Located in none other than Burlington, Queen City Ghost Walk is the perfect way to learn more about the ghostier parts of the city that you may not have known about.
There is a wide range of tours that this company runs, including the Darkness Falls Tour, which is one of its more popular options. This one is run by an author named Thea Lewis, who wrote a few books about the hauntedness of Burlington!
Other tours include Elmwood Cemetery Tour, Lakeview Cemetery Tour, and Fright By Flashlight. The last one is a very fun tour that's meant just for children and their parents. What more could you ask for?
Maine is wonderful in the fall, so check out the Bar Harbor Ghost Tours company! Their most popular tour is the one that's called Bar Harbor Ghost Tour. As you may have guessed, it occurs at night once the sun goes down, so it gets super spooky.
Adult tickets cost $18/ticket, while tickets for children age 6 to 15 cost $10/ticket. This walking tour lasts approximately one hour and a half, and there's a break about halfway through. Despite the long tour, it only covers about one mile!
Along the tour, you'll, of course, visit some of the spooky spots across the city. There's the Old Burial Ground, the 1932 Criterion Theatre, and more. You'll even be able to listen to a spirit! How cool!
Of course, Boston had to be included on this list of the greatest ghost tours in New England. Tickets are fairly affordable, at only $23 per person. It covers all of the greatest ghostly spots in Boston right after the sun goes down.
The tour is approximately one hour long and includes a professional tour guide. Some of the popular spots along the tour include the Boston Commons, Old South Meeting House, and the Omni Parker House.
The Boston: Historic After Dark Ghosts and Spirits Tour is one of the ghost tours in New England that perfectly melds creepiness and history.
Head right outside of the city of Boston to go on a haunted tour of Salem! This one-hour ghost tour will bring you back in time to the witch days of Salem, and who knows, you may even encounter a ghost or two.
This tour covers quite a bit within one hour. You'll be able to visit around ten different sites, and the spots progressively get spookier as you go along. Some of the top spots that you'll visit on the tour include the Salem Witch Trials Memorial, Ropes Mansion, and even the Old Burying Point Cemetery.
Salem is also a very historic city, dating back to the seventeenth century. If you want to learn more about ghosts, trust me, this is the top place to go!
Mystic is one of the best places to visit in Connecticut, so consider going and adding one of the best ghost tours in New England to your itinerary! Take a tour with Seaside Shadows Haunted Ghost Tours is one of the best companies to learn more about Mystic's history.
They offer four different tours, including one about Downtown Mystic and even one including Mystic Graveyards. The tours are usually about two hours in length, making them one of the longer tours on this list of the best ghost tours in New England.
Their website does indicate that all those who go on the tour should be at least thirteen years old due to the nature of the tour.
Last but not least is Wicked Walking Tours in Maine! With a name like that, how could you go wrong? These tours take place in Portland and cover less than half a mile. Their website even says that someone's 90-year-old Grandma has ton the tour before!
The tour is relatively affordable, so this is a great way to get out and learn more about Portland. The tour, of course, takes place in the evening, but you can easily keep up because the tour guide holds a lantern the whole time.
Make sure you dress warm, especially if you are visiting in the fall!
There are so many amazing ghost tours in New England, and honestly, no matter which one you choose to visit, you can't go wrong. As mentioned earlier, just make sure you make your reservation in advance and double-check the age requirements if you are visiting with children.
Which New England ghost tour would you most want to go on from this list?
---
You might also like:
---