Do you love all things spooky, ghostly, and macabre? What could be creepier than spending a night or two at one of the most haunted hotels in New England this Halloween season?
Now, we use the term "hotel" loosely in this article. "Hotel" has such a generic feel, doesn't it? Many of the places on our list are quaint bed and breakfasts (B&Bs) or more personable inns that offer up their own charm regardless of ghostly encounters.
From pirate wives awaiting their lover's return to unfortunate, fiery accidents to cold-blooded murders, New England's long (and sometimes sordid) history makes for many a ghost tale and haunted locale! Let's take a look at some of the spookiest New England haunted hotels you can dare to spend the night in the northeast!
Massachusetts
Lizzie Borden Bed & Breakfast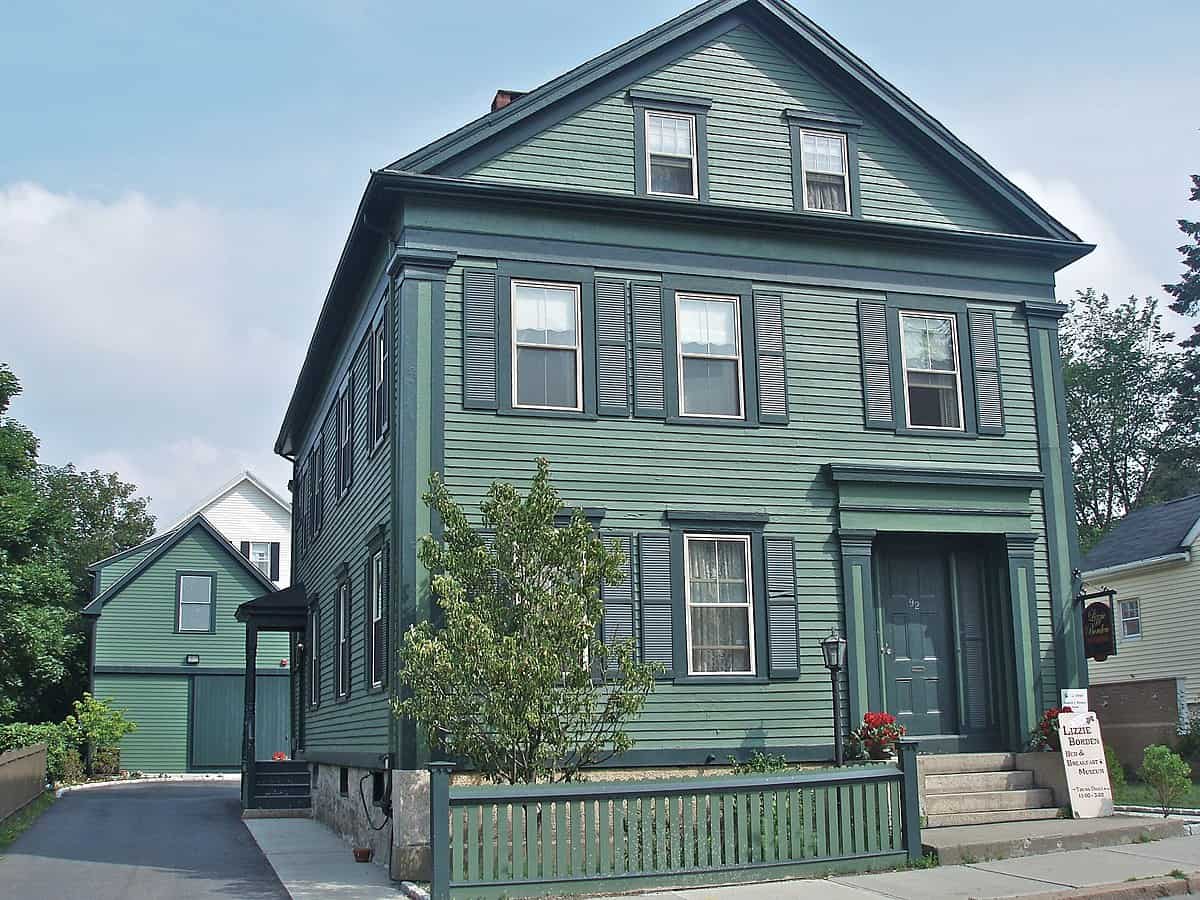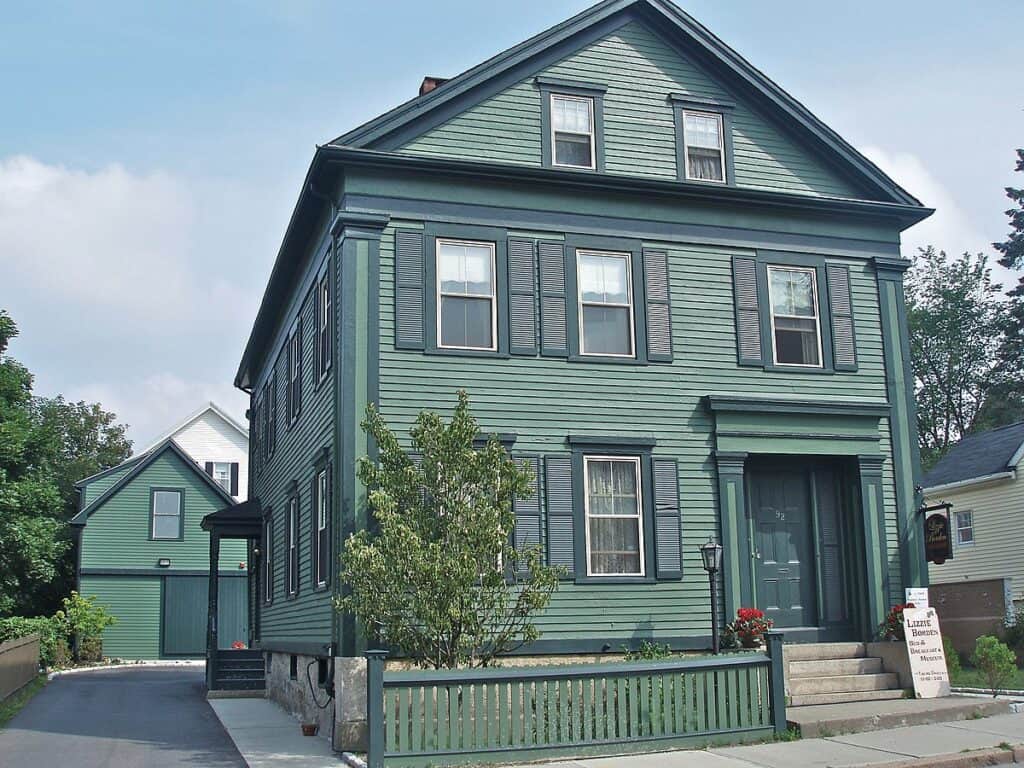 No tour of haunted places to stay in New England would be complete without a stop at the Lizzie Borden Bed & Breakfast. The tale of the grizzly ax murders is known both near and far and children even used to sing a morbid jump rope rhyme about it: Lizzie Borden took an ax, Gave her mother 40 whacks. When she saw what she had done, She gave her father 41! Though she was never found guilty of the crime, it was highly suspected that Lizzie Borden was the one to kill her father and stepmother in 1892.
Now, you can learn even more about this grisly tale by visiting the Lizzie Borden House. Not only will you get a full tour and background of the house during your stay, but it will feel like an even more immersive experience due to the house being preserved in its original 1892 state as much as possible! But beware, this is one of the most haunted hotels Massachusetts has and it's claimed the victims of the house and Lizzie herself never really left. Guests have reported apparitions, unusual noises, and some have even woken to unexplained scratches on their bodies!
Hawthorne Hotel
Named after the popular writer Nathaniel Hawthorne, this is just one of many spooky historical sites in the infamous Salem, MA. The Hawthorne Hotel provides luxurious rooms for your stay in the city, but stays true to its origins as far as décor, architecture, and ambiance goes.
Not surprisingly, the hotel is said to be visited by the late author amongst other previous guests, including the ship captains that would frequent the hotel decades ago. Two rooms in particular seem to be particular hotspots for paranormal activity. A woman has been reported outside of room 612 on top of guests that have stayed inside of the room experiencing an unshakeable feeling that they were not alone.
Room 325 is another good option if you're wanting a ghostly encounter. One particularly interesting anecdote involves a man complaining about having to share a bathroom after hearing noises inside, like the toilet flushing and the water running in the sink. Once the hotel staff showed him there was only one way into and out of his suite and no other access to his bathroom, the guest claimed he didn't mind sharing his room with a ghost!
People have also reported lights going on and off on their own accord and even feeling like they're being touched. The Hawthorne Hotel is definitely one of the most haunted hotels in Massachusetts, and you can check out even more haunted hotels in Salem here.
Concord's Colonial Inn
Established in 1716, the Colonial Inn in Concord is one of the oldest inns in the U.S. With such a long history, it should come as no surprise that there have been plenty of ghostly encounters here, its most famous first being sighted in 1966 by a honeymooning couple.
Concord's Colonial Inn is another haunted Massachusetts inn with a famous specter: Ralph Waldo Emerson; be sure to look for him wandering the upstairs hallway. Try booking room 424, the former operating room of a local doctor whose practice was based in the inn. The spirit of a Native American woman, amongst others, has been reported by paranormal experts in and near the room.
Although not specifically inn-related, no visit to Concord to explore the unexplainable would be complete without a stop at the nearby Sleepy Hollow cemetery. You'll especially love it if you're into early American literature or history as the resting sites of Emerson, Thoreau, Alcott, and more are located here. Who knows. Maybe you'll even run into one of their spirits!
New Hampshire
Mount Washington Resort
Originally built by Joseph Stickney almost 120 years ago, the Mount Washington Resort (now owned by the Omni hotel chain) has always been a ritzy place. Unfortunately, Mr. Stickney met an untimely death only a year later. However, it is said that his wife, Carolyn, still roams the halls of their beloved hotel. There have been sightings of her from the stairways to the balconies.
Room 314 seems to be another favorite spot of hers as it served as her private suite back in the day. Several guests have reported finding a ghostly woman sitting at the end of their bed, brushing her hair. Even TAPS, the team behind the Ghost Hunters TV show, has recorded EVP activity from a woman here and determined this haunted hotel in New Hampshire does have some detectable paranormal activity!

Tilton Inn
For a more low-key stay as far as accommodations go, head to the Tilton Inn in downtown Tilton, NH. Also known as "The 1875 Inn" (one guess as to why this nickname came about), this cozy inn has had a tragic past with three large fires since its inception. Some believe the unfortunate people who perished in them makes this one of the most haunted places in all of New Hampshire.
Speaking of fire victims, guests of the inn frequently come across the spirit of a 12-year-old girl named Laura, who sadly perished in one of the fires in the 1800s while her family was living in the building. She has been seen all over the place, from the dining room to hallways and even the guest rooms themselves. Paranormal investigations have recorded EVPs of what is believed to be the young girl and she has even appeared in photographs. If ever there was a real-life "Casper the friendly ghost" type, Laura may just be it with her playful nature and benign pranks, moving things out of place; if you're looking for haunted New Hampshire hotels with a friendly ghost, here ya go!

Read Next: 13 Most Haunted Places in New Hampshire: Paranormal Activity
The Inn at Jackson
This New Hampshire haunted inn was actually named one of the 2005 Great Places to Sleep With Ghosts by the website formerly known as BedandBreakfast.com (now it's VRBO!). The ghostly presence found at the Inn at Jackson is believed to be Jason, a teen boy who had been hired by the inn to clean.
The story goes that Jason fell in with a bad crowd and his troubles led to him hanging himself in his jail cell, but paranormal events around the inn including lights and water turning on and off by themselves, and one guest even woke up to a metal bucket suddenly appearing by his bed in the middle of the night, leading people to wonder if Jason hangs around the inn continuing to try and be of value in the last place he felt useful.
Vermont
Green Mountain Inn
Shopping and recreation aren't the only things you'll find in the popular vacation destination of Stowe, VT. The renowned Green Mountain Inn opened in 1833 and provides not only comfortable accommodations for guests, but a resident ghost as well!
Born in 1840 in the hotel to parents who were both employed there, Boots Berry has long been a legend here and the reason Green Mountain Inn is considered one of the most haunted hotels in Vermont. He had an affinity for tap dancing, hence his nickname. When he became an adult himself, he was responsible for two heroic acts, the first stopping a runaway coach and the second saving a young girl from the rooftop of the inn during a snowstorm. Unfortunately, Boots fell off the roof himself after the rescue and died. People say you can still hear singing or the tap-tap-tapping of his dancing on the rooftop or near room 302, where he was born and saved the girl from the roof.
This is considered to be one of the most haunted places in Vermont.
The Equinox Resort
The Equinox Resort (1769) in Manchester Village, VT has long been known as an elegant and luxurious getaway for everyday folks and important historical figures alike. It has hosted many a past president, including Teddy Roosevelt, Benjamin Harrison, and Ulysses Grant. It was even a favorite vacation spot of Abraham Lincoln and his family.
In fact, the former first lady, Mary Todd Lincoln, is still said to roam the resort! Guests have often caught glimpses of her, sometimes with one of her children, but she is said to disappear quickly once you notice her. Even if you don't get to meet this elusive lady at this haunted Vermont hotel, this area of Vermont is absolutely beautiful in the autumn!
The Old Stagecoach Inn
Built in 1826, the Old Stagecoach Inn has gone through a few different uses in its life, but most prominently served as an inn and tavern, then a private residence, then once again and finally, the inn it is today. Haunted happenings around the inn include furniture being moved about, beds being unmade when no guests are present, and other such benign paranormal activity, but the current innkeeper had an interesting situation play out one morning when three guests came downstairs at the inn that he did not recognize.
He asked them if they were guests at the inn and they told him they had arrived in the middle of the night and that the older woman with gray hair had let them in and shown them to their room… except there was no older woman with gray hair at the inn and the innkeeper himself was the only staff on site! It is speculated that it was a former private resident of the inn just doing her part to take care of guests to her home still.
Connecticut
Captain Grant's Inn
With over 300 years of history, you can be assured Captain Grant's Inn, located near the beautiful Mystic coast, has some interesting history…And possible spirits of guests and residents past!
One of the most haunted hotels in Connecticut, this inn has seen its fair share of a wide array of guests, from continental soldiers to runaway slaves. Not surprisingly, it is now on the National Register of Historic Places. Now a charming bed & breakfast, if you're looking for your best chance of seeing an apparition, book the Adelaide room. Though other spirits have been found throughout the inn, a woman in Colonial wear, sometimes along with her children, has been seen most frequently in this particular room.

The 1754 House
Formerly known as the Curtis House Inn and perhaps the oldest haunted hotel Connecticut has, The 1754 House has undergone a makeover fairly recently after it was featured on the tv show "Hotel Hell". Now an elegantly updated inn with both modern comforts and original charm, you can look forward to running into several different spirits in this establishment.
Two main male spirits are said to haunt the inn, one in early 18th-century clothing and the other a Confederate man said to enjoy the liquor room. (Perhaps you can enjoy a drink with him in the tavern?) Even Gordon Ramsey, the famous chef featured on many cooking shows and who was involved in the transformation on "Hotel Hell", had a run-in with a ghost known as Betty while staying at the inn. (She is rumored to haunt room 16, if you're interested.)
Other entities abound too, so keep your ears perked for disembodied footsteps and voices and even strange music! This is said to be one of the most haunted places in Connecticut.

Maine
Captain Fairfield Inn
Located in the charming town of Kennebunkport, Maine, Captain Fairfield Inn is another haunted New England BnB where the proprietor met an unfortunately early demise. Completed in 1815, Captain Fairfield died just 5 years later at the age of 38. His spirit is said to haunt the premises, reasoning that he wanted to spend more time enjoying the fruits of his labor than he was able to during his living days.
As far as ghosts go, Captain Fairfield is reported as being a pretty hands-off, benign spirit. Though guests and employees have spotted him in various locations around the inn, he seems to have a fondness for hanging out in the corner of the basement, simply appearing and checking things out, never playing pranks or intentionally scaring any patrons.

Read Next: 13 Creepy Haunted Places in Maine: Ghost Stories & Legends 👻
Herbert Grand Hotel
If you don't mind some mischief-making ghosts, this might be the haunted hotel in Maine for you! Check into a room at the Herbert Grand Hotel in Kingfield, ME. Originally constructed in the early-1800s by Herbert Wing, it was later a boarding house, which purportedly burnt down in the 1830s. Even later on, after it was re-built, it was a popular site during the Prohibition days due to the speakeasy located in the basement…With many of the former patrons, most of which were Maine politicians, believed to be haunting the establishment nowadays.
Other than early 1900s men looking for a break from the real world, a young girl asking to leave the hotel has also been reported by a guest as well as another guest seeing a man and a dog walking down a hallway…Only to vanish seconds later. If you don't mind unexplained knocks on your door, furniture seemingly moving on its own, and lights turning off on their own, you'll have a great stay at the Herbert Grand Hotel.
Rhode Island
The Graduate Providence
Formerly known as the Providence Biltmore, The Graduate Providence, one of the top places to stay in the state's capital, has all of the regal charm of a 1920s hotel…with the added bonus of some dark history to make things interesting.
According to legend, the construction of the Biltmore was financed by a man named Weisskopf, who was allegedly a Satanist and held rituals inside the hotel. As if that weren't disturbing enough, plenty of mobsters frequented here during the Prohibition Era, which happened to coincide with numerous unexplained murders. When the stock market crashed, eventually setting off the Great Depression, Weisskopf was rumored to have jumped out of the window of his room on the 14th floor.
Needless to say, plenty of weird happenings have been reported over the years, including the sounds of laughing and partying coming from vacant rooms, making this one of the most haunted places in Rhode Island.

The Hotel Viking
This haunted Rhode Island hotel is located in Newport, where there has historically been quite the party scene for those with loads and loads of money to spare, and The Hotel Viking is believed to be haunted by "residual hauntings," or the exuberant energies of those who would've attended the lavish gatherings hosted at The Viking Hotel during Newport's Gilded Age.
It's even been speculated that perhaps it was because these entities enjoyed their time at this Newport hotel so very much in life, that they might like to come back and visit in spirit form, too. Sounds of a party happening above one of the old ballrooms has even been reported by both staff and guests who have been awakened by the noisy gathering!
Other reports have included cold spots, foot steps, and flickering lights, but the only way to really know for yourself is to book yourself a stay at this haunted Rhode Island hotel, right?
It takes a certain kind of bravery to look for haunted houses you can stay in, but if you're that person, then hopefully you'll find a spooky place to stay on this list of the best haunted hotels in New England!
There are also plenty of other haunted places in New England to explore and ghost tours to take, so even if you aren't looking for haunted places to stay overnight, you can still see some spooky happenings! Check out Salem in October and visit some of the most haunted places in Salem MA, too!
---
Have you stayed at any of the hotels on our list or any other purportedly haunted places in New England? We'd love to hear about your experience in the comments below!
---
Pin this post to save for future travel planning!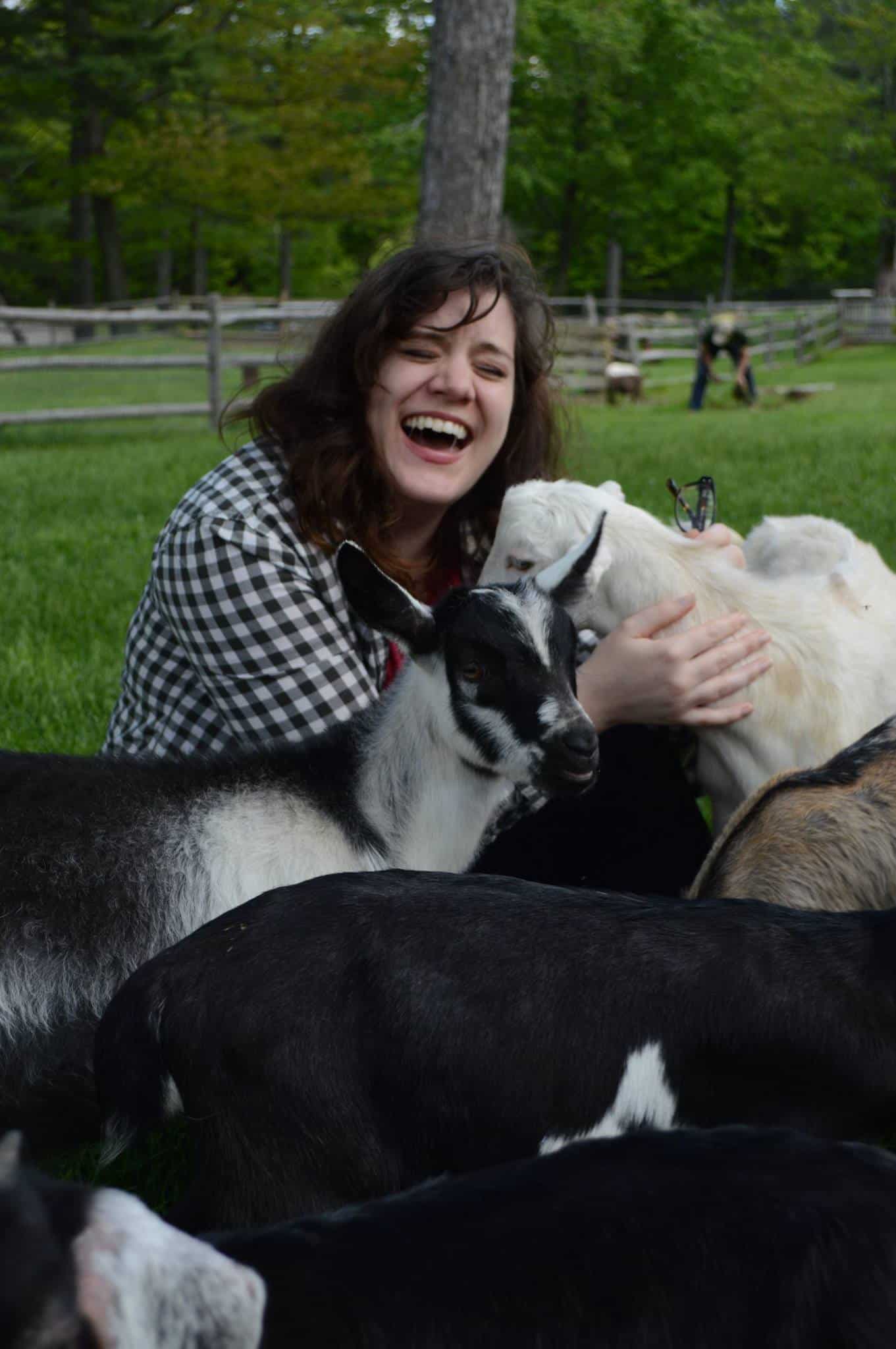 Amy Hartle is the founder and Editor-in-Chief of New England With Love, a comprehensive resource for travel in the New England region. Amy has been exploring New England since 2001. She lived in Vermont for many years and is a graduate of Plymouth State University in New Hampshire. Amy has been writing about travel for over a decade. On this site, Amy aims to share her love of New England and help you to have the best possible adventures!
Amy has been a full time blogger since 2012, and is also the publisher of Two Drifters, where she writes about couples travel and relationships, as well as Let's Adventure Baby, a family travel site. When not traveling the world or creating epic blog content, Amy can be found cuddling with her husband, son, and cats, & drinking a maple latte.