*This site uses affiliate links; if you make a purchase through these, I may receive a small commission at no cost to you.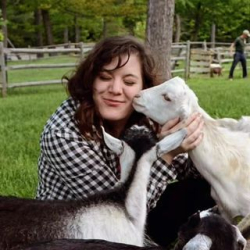 Latest posts by Amy Hartle
(see all)
There are so many amazing things to do in Vermont. I should know—I lived there for 15 years! From hikes and small towns to local foods and snowy peaks, this small state packs a lot into its 9,616 square miles.
Full of historic sites, cultural attractions, and an abundance of natural beauty, it's no surprise that around 13 million people visit Vermont every year. If you've never been (or if you're simply in need of another visit), you need to plan a trip to Vermont ASAP.
I truly love Vermont, and I know you will, too! I have created this ultimate Vermont travel guide to help you plan your trip to Vermont.
In this guide I share 70 of my favorite things to do in Vermont, including the best places to go, fun activities in all seasons, and essential Vermont attractions.
You can scroll further down to find information on frequently asked questions about visiting Vermont, including the best time to visit. I hope you have an amazing adventure exploring our magical Green Mountain state!
70 Best Things to Do in Vermont
In Vermont's top destinations and beyond, here is a deeper look into the best and most fun things to do in Vermont in fall, winter, spring, or summer!
1. Go shopping and people-watching at Church Street Marketplace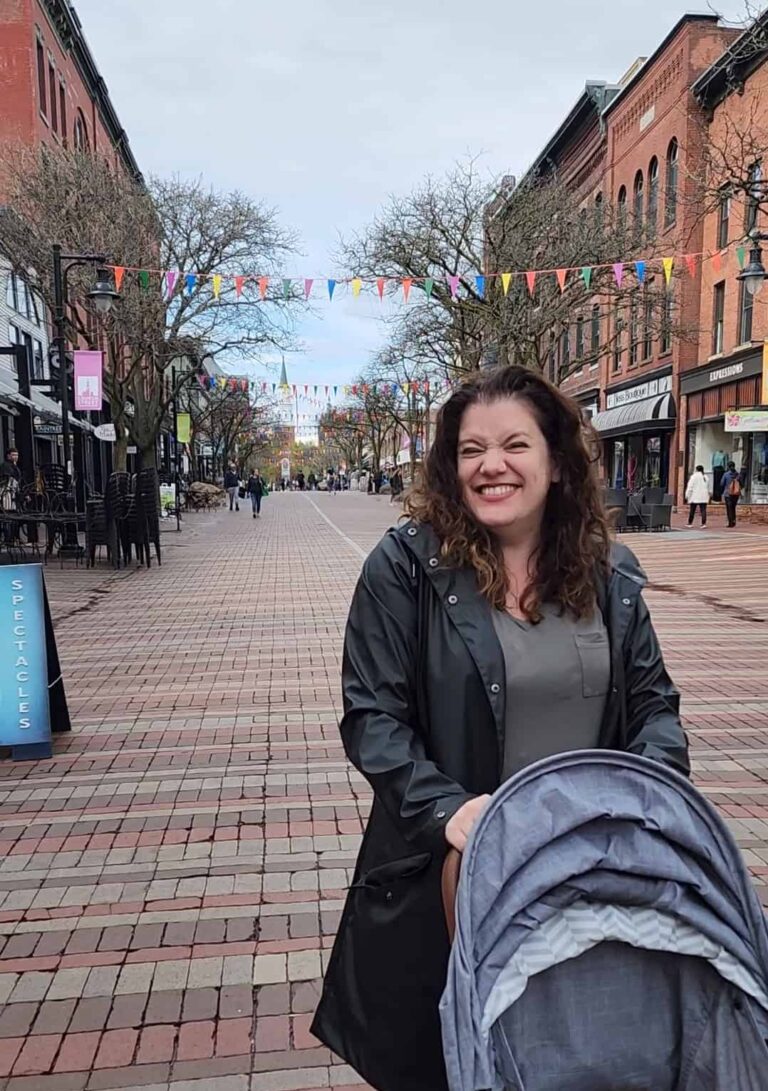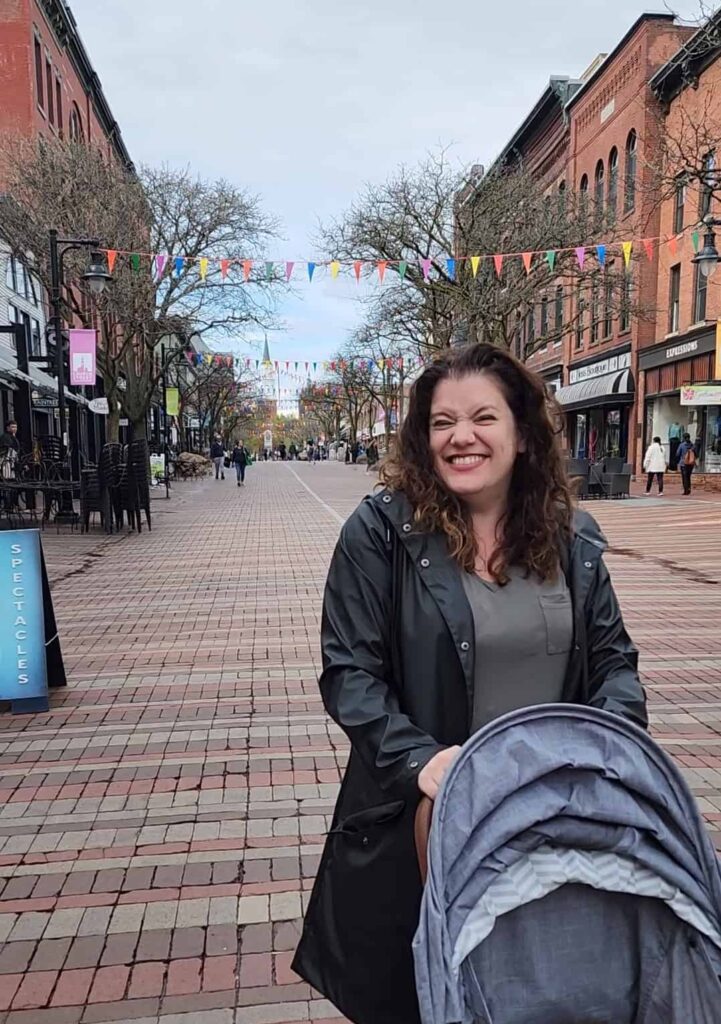 One of the most well-known places to go in Vermont is Burlington's Church Street Marketplace, a pedestrian-only thoroughfare that is bursting with restaurants, shops, and outdoor performers. This is an excellent spot for people-watching, but it's also the center of the downtown space so there's so much to do, and some of the best shopping in Vermont.
A few of the stores I recommend not to miss on Church Street include Lake Champlain Chocolates, Outdoor Gear Exchange, Homeport, Crow Bookshop, Ecco Clothes, and the Frog Hollow Craft Association and Gallery. Church Street alone could keep you busy all day, but there's definitely a lot more to check out in VT's largest city.
2. Road trip Vermont Route 100
A Vermont road trip is great at any time of year, but especially in the fall when the foliage is at its best; this would be a fun idea if you're looking for what to do in Vermont in October!
One excellent road trip route is along Route 100, which travels almost the entire length of the state, or consider a quicker journey on one of these scenic Vermont drives.
3. Sample Vermont craft beers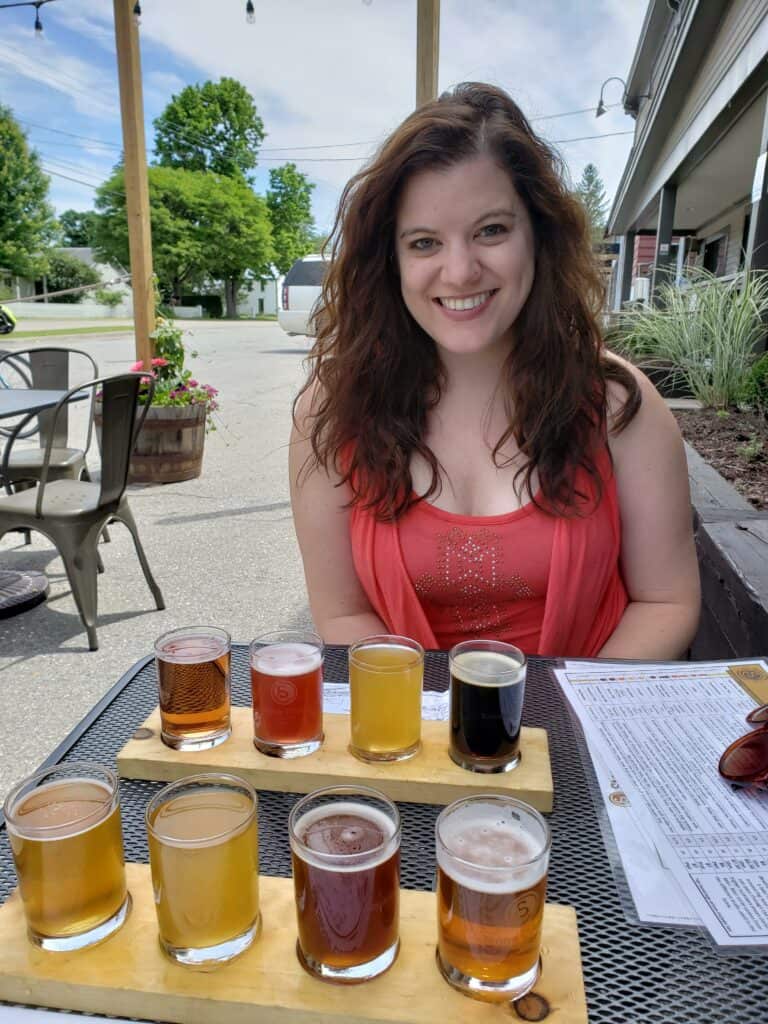 Beer should be a part of your essential Vermont activities without a doubt. We have so much amazing craft beer here in VT. Our biggest city, Burlington, is home to a great many of these breweries, but there are dozens more scattered throughout the state that are worth visiting!
4. Visit the Cold Hollow Cider Mill

One of the best places to visit in Vermont is the Cold Hollow Cider Mill, and certainly is on every bucket list for Vermont in the fall!
Located in Waterbury, Vermont, on the road heading towards Stowe, this is a cider mill, apple-focused country store, restaurant, hard cidery, and more. It is completely adorable, perfectly fall, and smells like cinnamon heaven. Cold Hollow Cider Mill has been an institution in VT since the late 1970s and continues to be one of Vermont's top tourist attractions. I guarantee you'll leave here feeling cozy and happy from this perfect Vermont spot. G
rab a few locally-made products, tuck into a cold glass of cider, and above all, make sure to try the apple cider donuts which are out of this world.
5. Head to Woodstock
Next up is Woodstock, which is my top recommendation for someone coming to Vermont for the first time, as it encapsulates all that you imagine about Vermont!
Woodstock has been lauded as being one of the most beautiful small towns in America, and it is probably one of the most picturesque towns in the country, for sure. In fact, come Christmastime, it is one of those towns that look like they are straight out of a Hallmark movie!
There are so many great things to do in Woodstock, like hiking, visiting the Marsh-Billings-Rockefeller National Historical Park, and walking the charming Woodstock streets. Be sure to visit F.H. Gillingham & Sons, the general store that has been in Woodstock since 1886 and offers one-of-a-kind specialty gifts for any occasion.
There are plenty of great places to stay in Woodstock, but if you're wanting to go all out, check out Woodstock Inn and Resort. Yes, it is a splurge, but with the tagline, "Vermont's Most Beautiful Address," it lives up to this reputation.
Woodstock is lovely any time of the year, but during the winter months many use Woodstock as a home base for their skiing adventures, and Woodstock's Wassail Weekend is a fabulous way to herald in the Christmas season. When looking for the perfect Vermont vacation destination, Woodstock has absolutely got to be at the top of the list!
6. Join one of Ben & Jerry's Ice Cream Factory Tours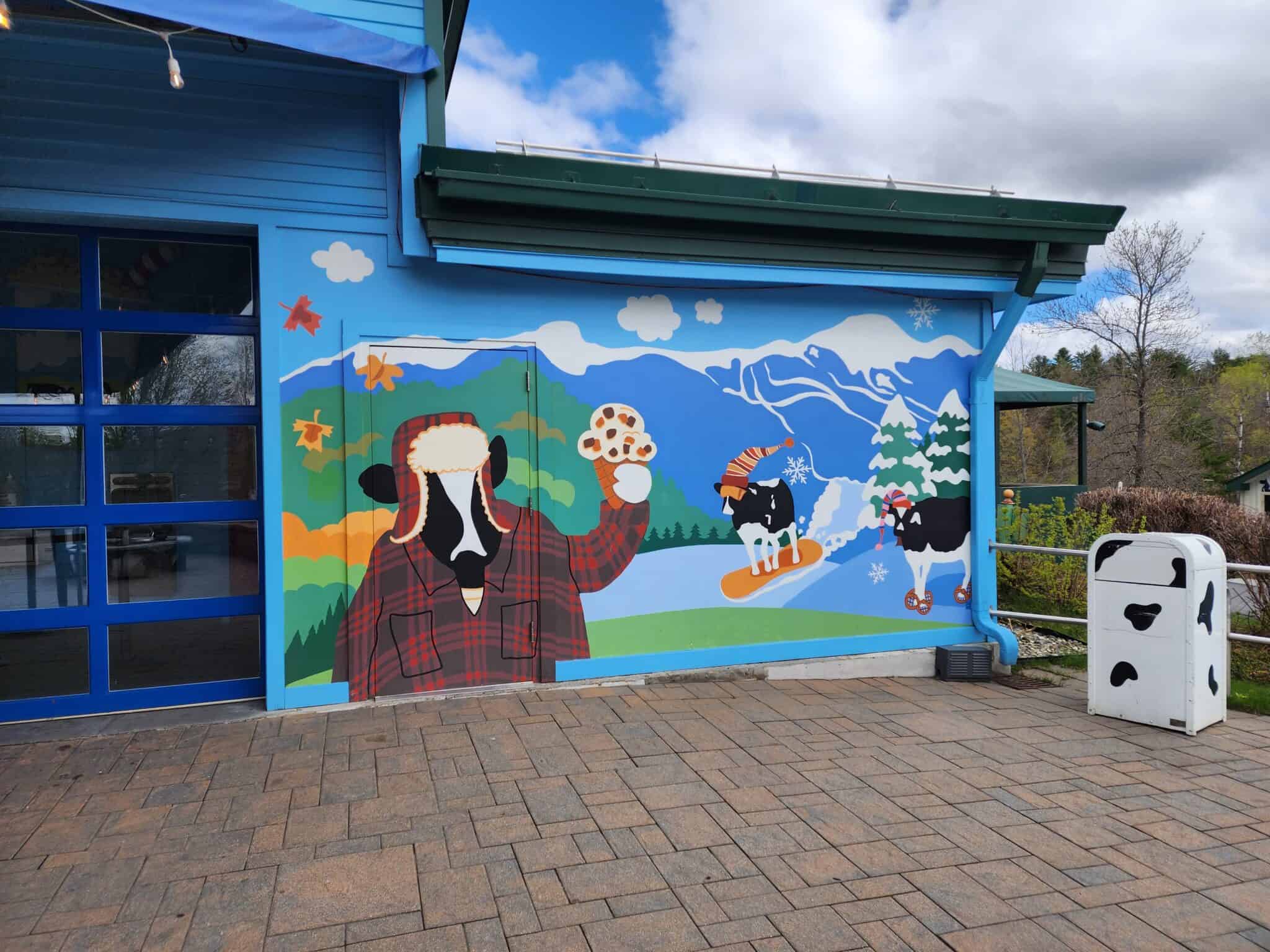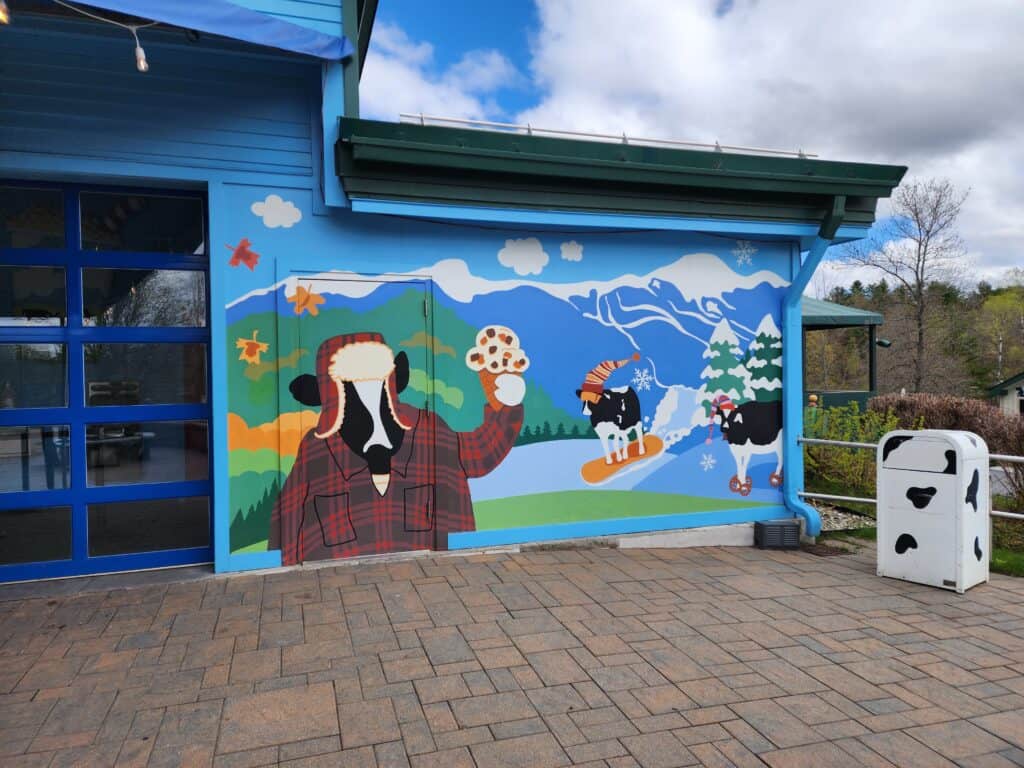 Want to visit one of the top Vermont attractions (and the yummiest)? I know where to send you! One of the best places to visit in Vermont is the original Ben & Jerry's Ice Cream Factory. The entire place is so cute and creative, and as soon as you walk in, you're enveloped in that oh-so-amazing ice cream and cookie smell. Ben & Jerry's is great for anyone looking for good family activities in Vermont, too.
Take the Factory Tour, grab a free sample, or visit the quirky Flavor Graveyard to pay homage to short-lived flavors of the past. RIP "Makin' Whoopie Pie." This is one of those fun places in Vermont that help to "keep Vermont cool!"
7. Hike to the summit of Camel's Hump
Great hikes aren't just reserved for our neighbor New Hampshire. Hiking is one of the most fun things to do in VT, with our many mountains and miles of trails. In addition to the Long Trail, the Vermont section of the Appalachian Trail, there are countless others worth exploring in the Green Mountain National Forest.
One of the best hikes in Vermont is to the top of Camel's Hump. This distinctive peak can be seen from a great distance and looks—as you might expect—something like the hump of a camel. Take this popular loop trail to achieve the summit of the state's 3rd highest peak–it's extra amazing at the height of fall foliage.
8. Check out the Trapp Family Lodge in Stowe
Did you know that the Von Trapp family, made famous by the film The Sound of Music, actually emigrated to Vermont? They settled in the Stowe area, purportedly because it reminded them of their beloved alps. Here the family opened a hotel, and it remains one of the top places to visit in VT.
If you don't want to book an overnight stay (though you certainly should consider it if visiting Stowe), you can tour the outside of the Bavarian-inspired inn, enjoy the phenomenal mountain views, and grab a drink and bite at their onsite brewery. It's especially beautiful in summer.
Shop the luxury outlets in Manchester
If you find yourself looking for things to do in southern Vermont, be sure to make a visit to Manchester, a destination bursting with small town charm. There is so much to do in Manchester and it's definitely one of my top recommended places to visit in Vermont.
One of the main attractions of Manchester is its huge array of outlet stores, including outlets for many luxury brands. Heaps of tourists visit in the summer and fall to find some of the best shopping in Vermont.
9. Relax at Emerald Lake State Park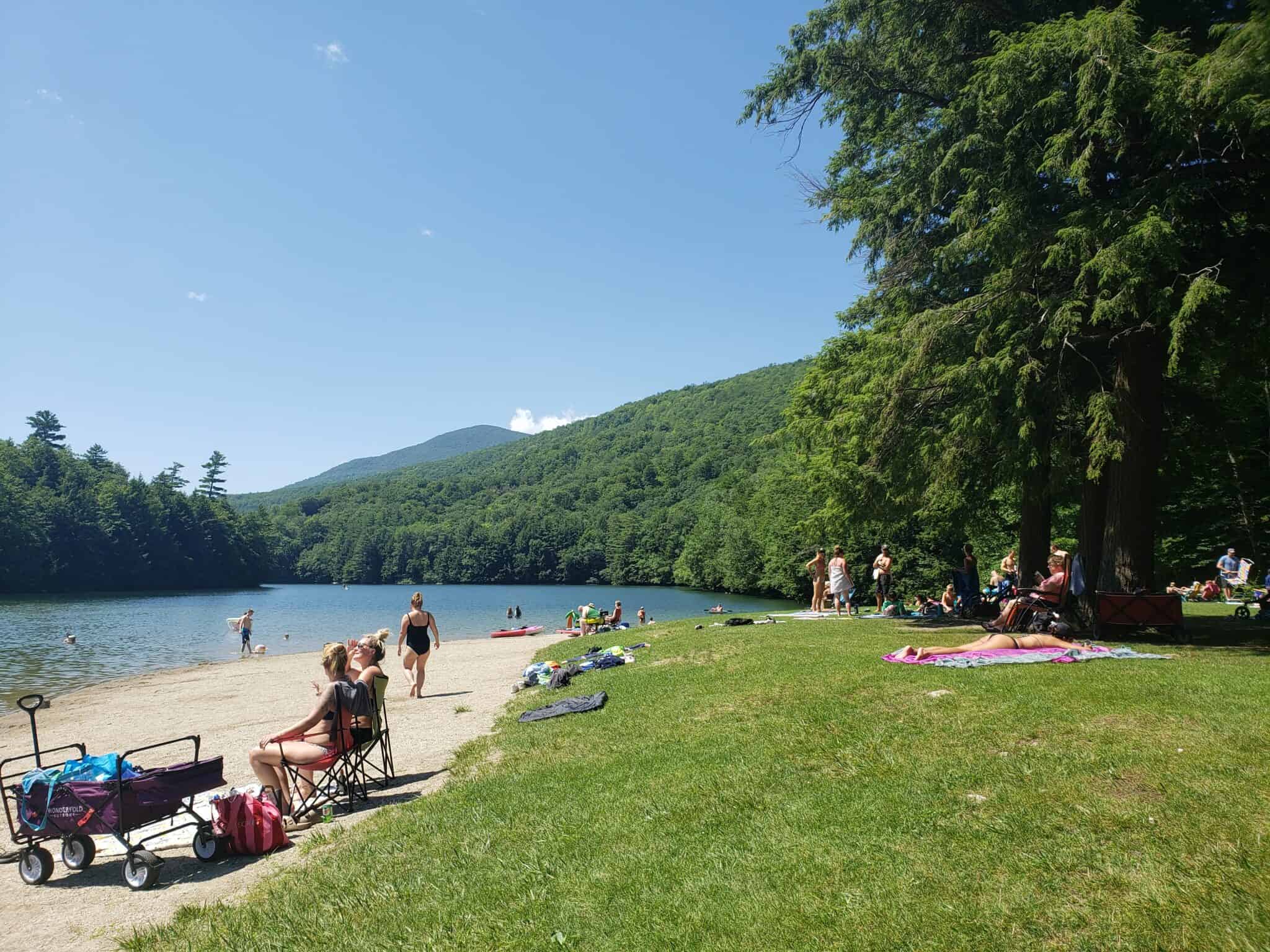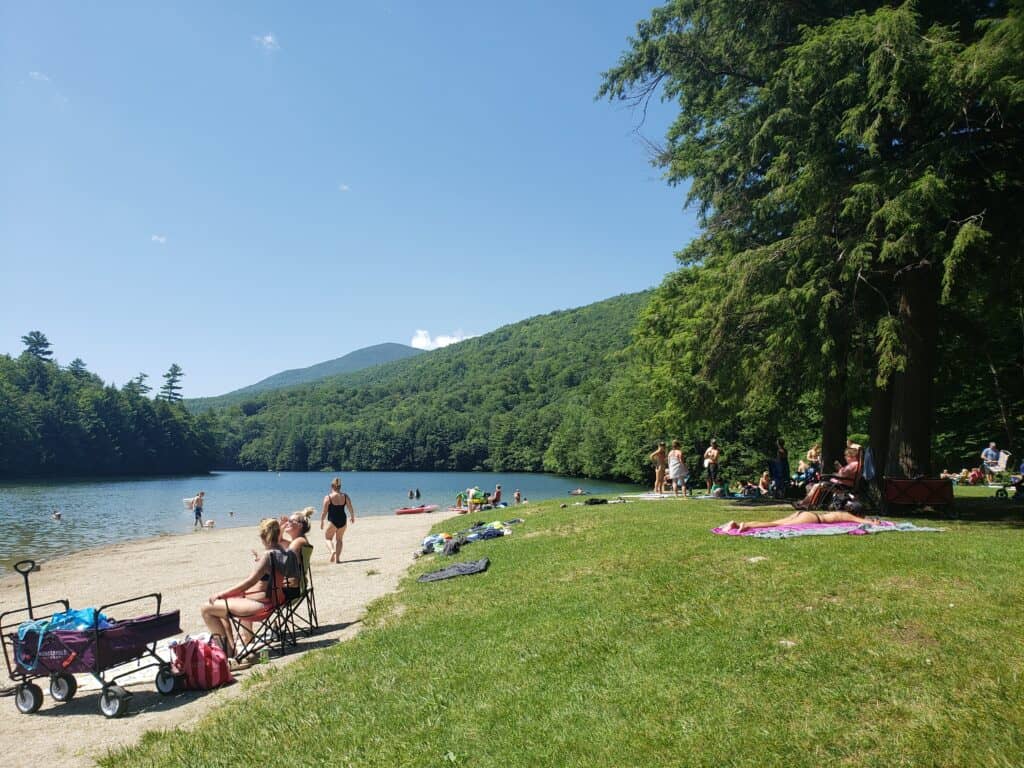 While you're in the Manchester area, check out one of my favorite of Vermont's state parks. Emerald Lake is a stunning little spot just north of Manchester, where you paddle around a pristine lake surrounded by hills. This spot is ideal for swimming, and is among the top things to do in Vermont with kids.
10. Keep your eyes out for the Lake Monster
Looking for unique things to do in Vermont? Get a look at the Lake Monster!
Did you know we have our very own Loch Ness monster? Legend has it that Lake Champlain has a frightful creature lurking beneath its waters: the Lake Monster, also known as Champ. It may not be the biggest lake in Vermont, but it might be the one with the biggest secret!
Keep close watch along the surface of the lake and you might just catch a glimpse of this elusive cryptid.
11. Explore the covered bridges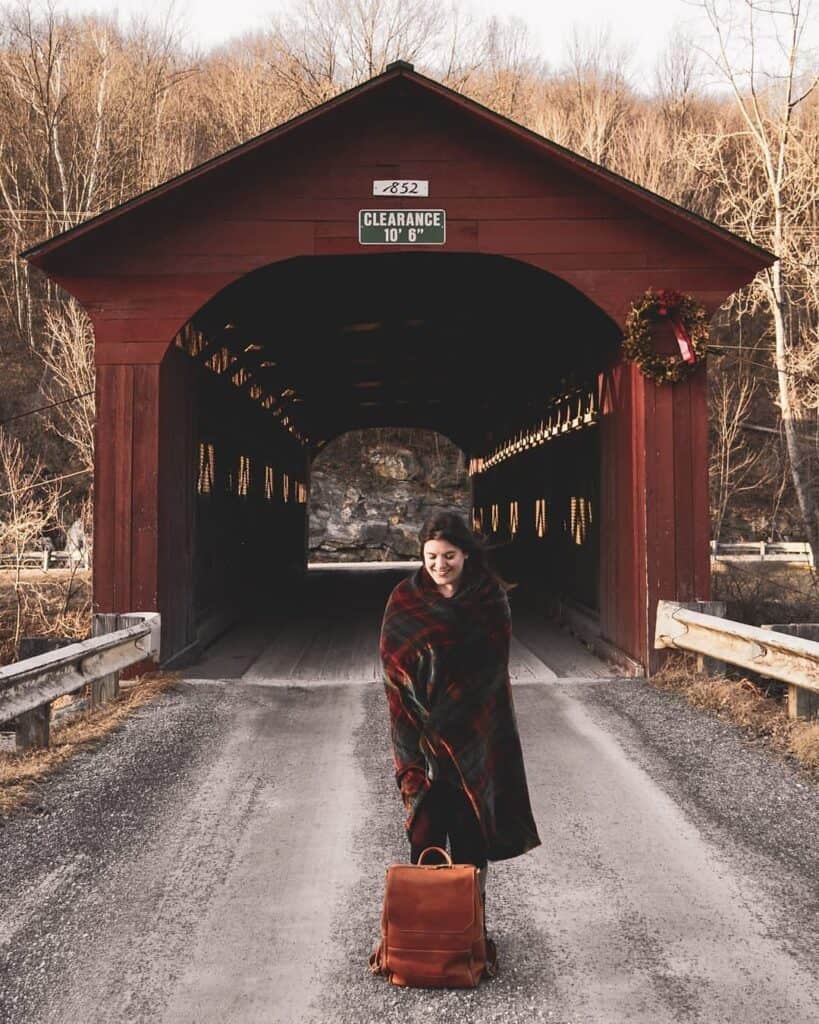 There are more than 100 covered bridges in Vermont! When it comes to what to see in Vermont, covered bridges are a must. These historic structures, most of which are still in use, are dotted throughout the state and are scenic points of interest in every season.
12. Eat as much Cabot cheese as you can stomach
Could there be a more quintessential Vermont option for Vermont things to do? Vermont once claimed that it had more cows than people living in the state, so it's no surprise that we make excellent dairy products. Cabot Cheese is one of the most famous, and with good reason.
It's fairly easy to find Cabot Cheese throughout the state, but you can sample loads of the stuff if you visit The Cabot Farmers' Store in Waterbury. If you are looking for the tastiest things to do in VT, you can try dozens of flavors of Cabot cheese there.
Read Next: Exploring the Vermont Cheese Trail
13. Walk, ride, or blade along the Burlington Bike Path
Stretching for miles throughout the city of Burlington and then further along the shores of Lake Champlain is the Burlington Bike Path. This route is beloved by avid cyclists, walkers, and visitors, as it offers some of the finest views of the magical lake and the Adirondacks in the distance.
14. Make your own teddy bear at the Vermont Teddy Bear Factory
A visit to the iconic Vermont Teddy Bear Factory is probably one of the best things to do in Vermont with kids. Vermont Teddy Bear is located in Shelburne, just south of Burlington. Kids will have a blast creating their own special bear: the ultimate Vermont souvenir!
15. Visit the baby animals at Billings Farm and Museum
Billings Farm and Museum is a must-see Woodstock, VT attraction. Boasting farm animals such as dairy cows, draft horses, sheep, as well as many hands-on activities, this is quintessential Vermont. Time your visit for the springtime and you may be in luck to be there for the annual Baby Farm Animal Celebration, which is just as cute as it sounds.
If you're looking for things to do in Woodstock, VT, Billings Farm and Museum deserves a spot on that list!
PS: Also don't miss the adjacent Marsh-Billings-Rockefeller National Historical Park. This is a beautiful spot with nature trails, a Victorian mansion, and more.
16. See where Robert Frost wrote some of his most famous poems
Robert Frost is one of the most well-known poets in American history. In fact, he was once the poet laureate of the Green Mountain State, so if you're sightseeing in Vermont and you're a poetry fan, this should be on your Vermont bucket list for sure! Currently, the VT Poet Laureate is Mary Ruefle, who resides in Bennington.
In Shaftsbury, VT, visit the Stone House Museum, historic buildings where the poet once lived and where he wrote several of his classic works, including "Stopping By Woods on a Snowy Evening."
17. Cuddle up in a cozy log cabin
What could be better than being nestled cozily amongst the verdant Green Mountains? A log cabin with a crackling fireplace is basically synonymous with a Vermont vacation. No matter the season, a Vermont cabin stay is worth your while.
Here are some of my favorite cabins throughout Vermont, many of which are especially suited for a romantic Vermont getaway.
18. Tour the Rock of Ages Quarry – the biggest granite quarry in the world
The 600-foot deep Rock of Ages Granite Quarry (also known as Smith Quarry) is "the largest operating deep-hole, dimension granite quarry in the world." And you can tour it! If you're looking for things to do in central Vermont, def consider adding a tour to this incredible quarry on your list.
Among things to do onsite is to bowl a game or two on their outdoor granite bowling lane; this is certainly one of the most unique places to visit in Vermont!
19. Stroll down a village street in the snow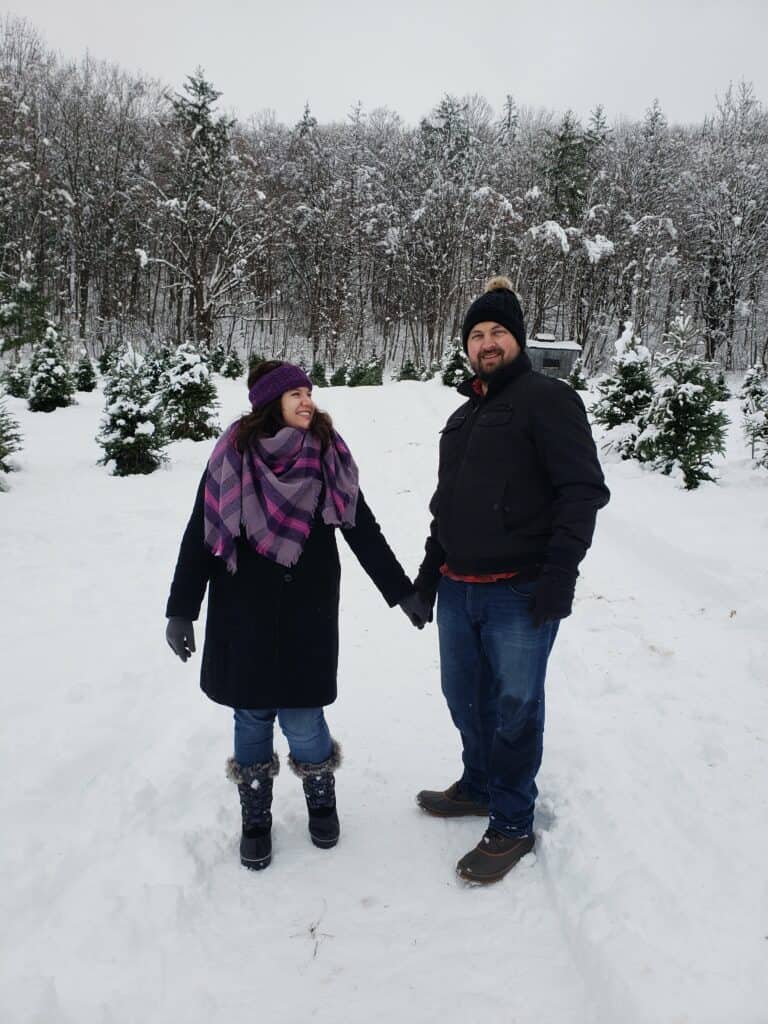 As you make your plans for what to do in Vermont, be sure and leave some open time in your itinerary. It will allow you time to relax, explore, and find hidden gems. There's nothing so great as a spontaneous stroll down Main Street in a classic Vermont village.
Not sure which one to explore? I've got a whole list of the most charming small towns in Vermont where you're sure to find an idyllic utopia.
20. Go skiing at Stowe Mountain Resort
Yes, there are things to do in Vermont besides skiing, but can you really go on a Vermont vacation and not go skiing or snowboarding? Skiing is one of the most fun things to do in Vermont in the winter, and should definitely be added to your VT bucket list!
While you could hit the fresh pow' at any of Vermont's best mountain resorts, Stowe Mountain Resort is a terrific choice. This is a perfect place for a Vermont ski vacation, and it's in a gorgeous area of the state. Not interested in cruising downhill? Cross country skiing might be more your speed, and there are lots of awesome spots to do so in Vermont.
21. Visit a local farmer's market
Farmer's markets are extremely popular in Vermont, a state that is proud of its local food movement. Most cities and towns have a farmer's market. In Burlington, the market is held Saturdays all summer long; farmer's markets are seriously some of the best shopping in Vermont!
If your visit doesn't coincide with a farmer's market, you may be able to find a roadside farmstand. They're everywhere in Vermont in the warmer months.
22. Taste pure maple syrup from where it's made best
Vermont is home of the world's best maple syrup (though we can't compete with Canada when it comes to quantity produced!) While you travel Vermont, be sure to sample some of this liquid gold.
A place like Morse Farm Maple Sugarworks, in Montpelier, is the perfect place to do so. You can sample maple syrup, find tons of maple-infused products, and learn how the syrup-making process works. If you're looking for things to do in Vermont in March or April, don't miss the chance to try sugar on snow, a local VT delicacy. There are also numerous other Vermont sugar houses you can check out; this is definitely on the list of fun things to do Vermont style!
23. Explore Stowe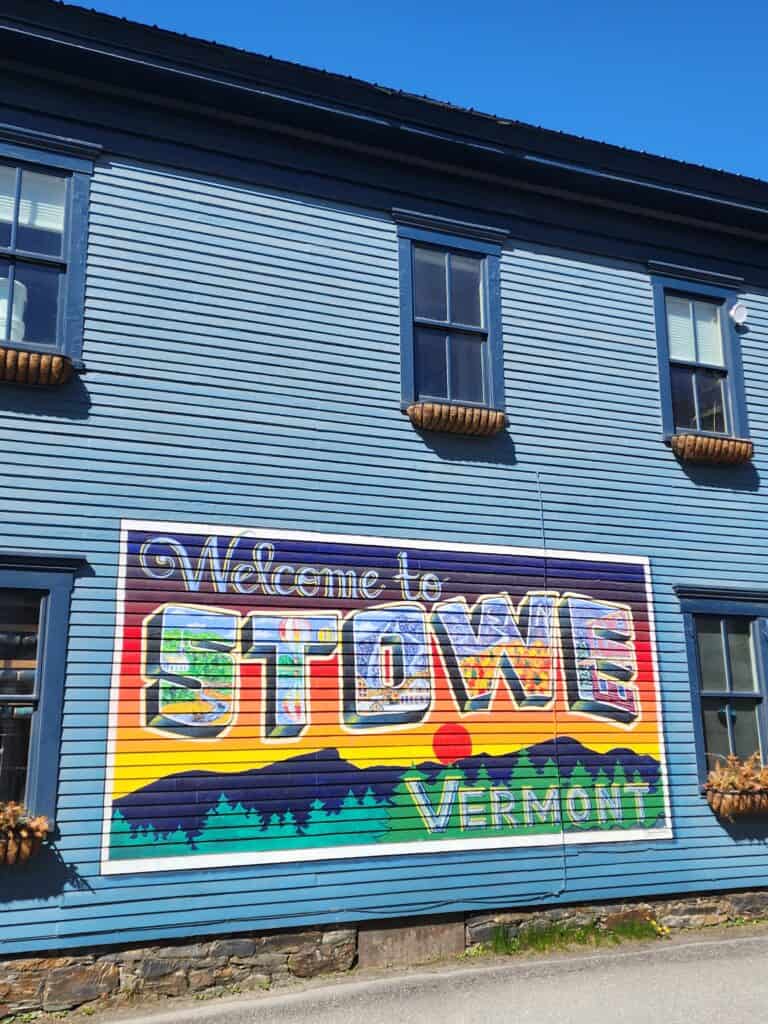 Ah, Stowe! One of Vermont's best towns to visit, Stowe is considered one of "America's Best Ski Towns," but this tiny town has more going on than just its big hills! There are gorgeous hiking trails to explore, like Moss Glen Falls and Mount Mansfield, and resorts like the Trapp Family Lodge (Yes, the inspiration of The Sound of Music!) and Stowe Mountain Resort offer four-season outdoor and indoor activities.
In fact, Stowe is home to some of the most fantastic resorts and spas in New England. Stoweflake offers lush accommodations and spectacular spa services and was even named one of the "Best in the World" by Conde Nast Traveler in 2009.
Then there's Topnotch Resort, the epitome of alpine elegance, luxury, and comfort, with lavish accommodations and a full-service spa. In addition to all the great places to stay in Stowe, there are tons of great options for food and drink, too; check out some of these great breakfast spots!
Stowe is a wonderful winter destination, sure, but any time of the year, Stowe will not disappoint!
24. Give fly fishing a try
Ever wanted to give fly fishing a try? Could be a cool Vermont vacation story! In Manchester, Orvis offers a fly-fishing school. Learn the basics on their beautiful pond, and when you've mastered your skills, you can try other spots including the Battenkill River.
25. Spend time on a working farm: The Fat Sheep Farm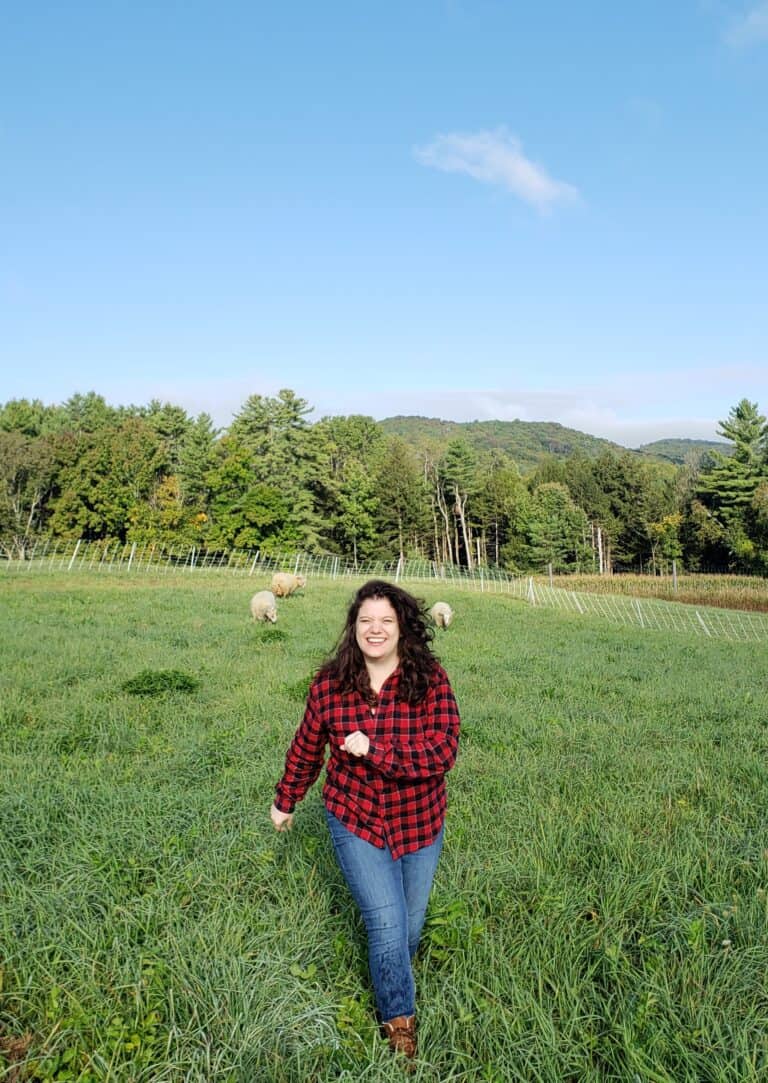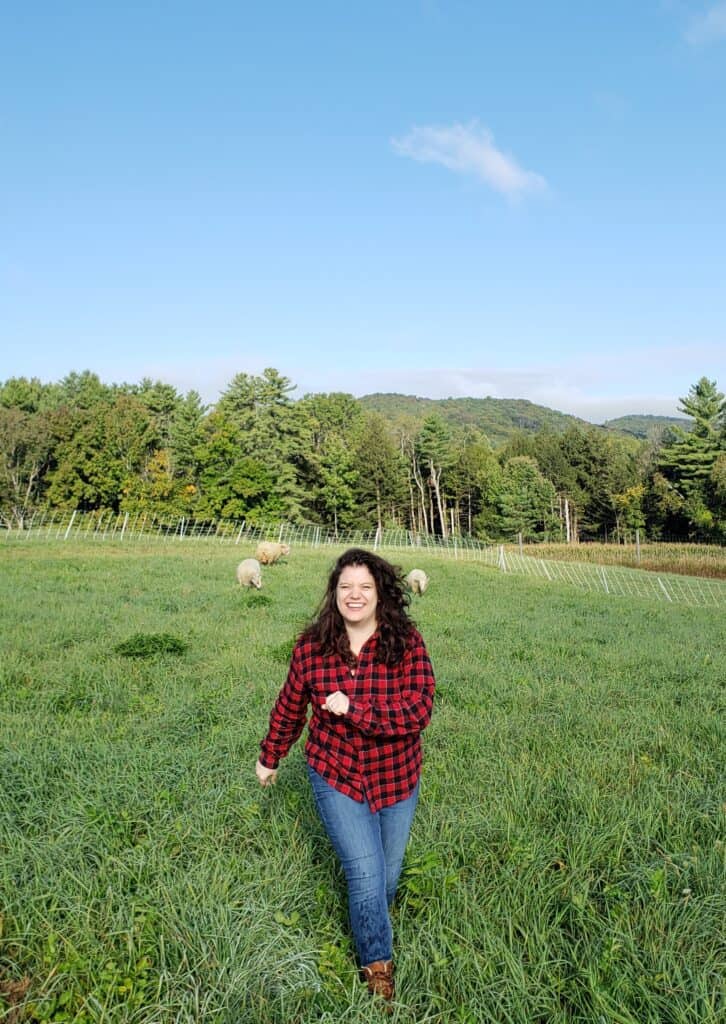 A Vermont farm stay is an amazing way to experience life on the farm, Vermont-style. There are a number of places you can do this by joining in for chores, learning about animals, crops, and more. My favorite is Fat Sheep Farm.
My husband and I loved our stay there and definitely recommend the experience if you're looking for more things to do near Woodstock!
26. Visit the top of the Bennington Battle Monument
Interested in historic sites? If you find yourself in Southern Vermont, you won't want to miss the Bennington Battle Monument. And in fact, it's hard TO miss, standing at 306ft and 4.5 inches tall! This iconic obelisk structure is visible for miles around. This also means that when you head to the top, you're in for some sensational views of the surrounding Green Mountains.
27. Catch some fantastic live theatre
Vermont is a very artistic state; a culturally-happening place. Personally, I'm a big fan of Vermont theatre. The best place to catch a Broadway-caliber performance is at the Weston Playhouse. Some of the finest shows I've ever seen in my life were ones I've seen there, and this is one of those activities in Vermont where you can get a little dressed up and go show off for a while!
28. Drive to the top of Mt. Equinox
No list of beautiful places to visit in Vermont would be complete without Mount Equinox, located over 3,800 feet above sea level. It is the highest peak in the Taconic Mountains and the second highest mountain in the state.
According to their website, Skyline Drive, the road that leads to the mountain's peak, is "the longest privately owned, paved toll road" and "one of the safest, best engineered, well constructed toll roads" in the United States.
But, while it is a scenic 5-mile drive to the top, the summit is the true showstopper. The summit of Mount Equinox is known for providing an astounding 360-degree view of the surrounding Green Mountains and Champlain Valley of Vermont, White Mountains of New Hampshire, Adirondack Mountains of New York, and Berkshire Mountains of Massachusetts.
29. Swim in a cool Vermont lake
If you're looking for things to do in Vermont in summer, this is it! Vermont lakes are absolutely gorgeous, and there are some fantastic lake house rentals in Vermont.
My favorite? Lake St. Catherine in Poultney, VT. See more of the best lakes in Vermont and swimming holes. If winter cold is keeping you from the lakes, consider heading to the Pump House Indoor Water Park in Jay, Vermont. This spot is great for the whole family and is one of the best indoor water parks in New England.
30. Check out the Old Round Church
Round buildings are really interesting, and Vermont is home to a few. The Old Round Church in Richmond is a historic site, and checking it out is one of my favorite cool things to do in Vermont.
Technically not "round," the Old Round Church is a sixteen-sided town meeting hall and place of worship built in 1812-1813. It's definitely worth a visit, simply because it is so unique and photogenic, but also essential for history buffs.
31. Hike Owl's Head Mountain
This is the second Vermont hike mentioned on the list, and equally a must-do. The fairy east 3-mile hike in Groton State Forest promises wonderful views at the top, overlooking Lake Groton and Kettle Pond.
32. Sail aboard a Lake Champlain day cruise
Lake Champlain is one of the top things to see in Vermont, and if you can get out on the water, all the better. If renting a boat or paddling a kayak isn't your style, I suggest jumping aboard a Lake Champlain ferry or on a day cruise. There are several options for scenic cruises and boat rentals on Lake Champlain, and the experience is relaxing and fun; def one of the top Lake Champlain activities!
33. Explore Wilson Castle, a 19th-century castle
Did you know Vermont has some castles? One very interesting, and yet lesser-known Central Vermont points of interest is Wilson Castle. While this "technically" is not a castle, it's a pretty awesome mansion located in Proctor, Vermont, close to the city of Rutland, and definitely on the list of things to do in central Vermont. This unique and unexpected architectural gem is well worth a visit. Guided tours are offered.
34. Go apple picking
Ah, apple picking. The most Vermont-y of Vermont fall activities. If you're looking for things to do in Vermont in September or early October, find a local apple orchard where you can pick your own fruity harvest.
There are so many fantastic spots to pick your own apples, and while you're at it, visit the farm stores, enjoy sweet treats, wander through corn mazes, and have a bushel load of fall fun!
35. Visit Bingham Falls
One of the prettiest places in Vermont Stowe's Bingham Falls in the Mount Mansfield State Forest. Bingham Falls is a popular tourist destination, owing to its stunning 40-foot cascading waterfall and deep gorges.
There are two commonly used trails to reach the falls. The shorter .5-mile long Bingham Falls Trail is steeper, emerging at the base of the falls. The longer but easier 1.3-mile Mill Trail has several offshoots leading to picturesque views of the falls from various angles. It's location in Smuggler's Notch State Park makes this is a can't miss gorgeous Vermont location!
Read More: Amazing Waterfalls in Vermont
36. Get spooked at Emily's Bridge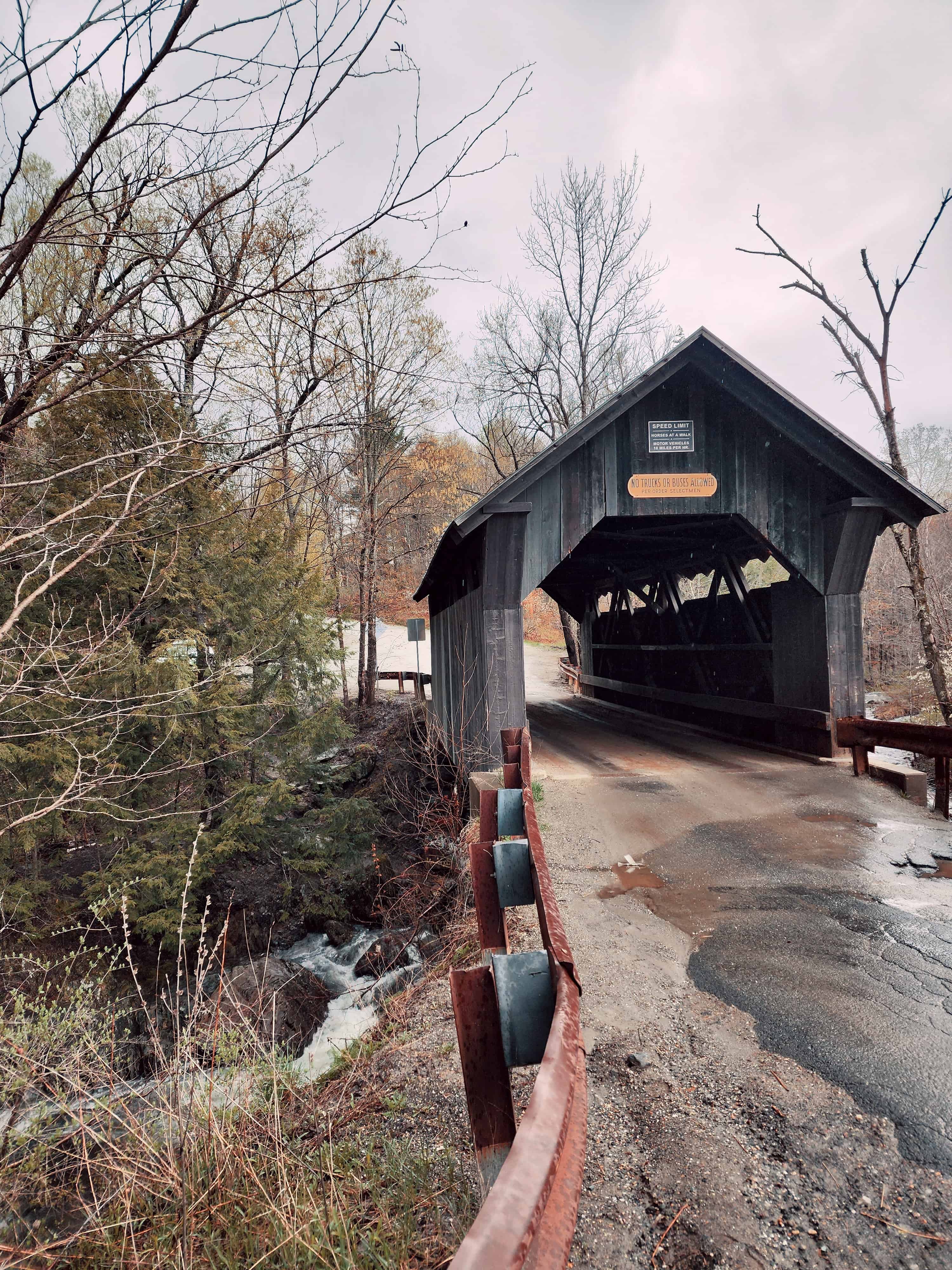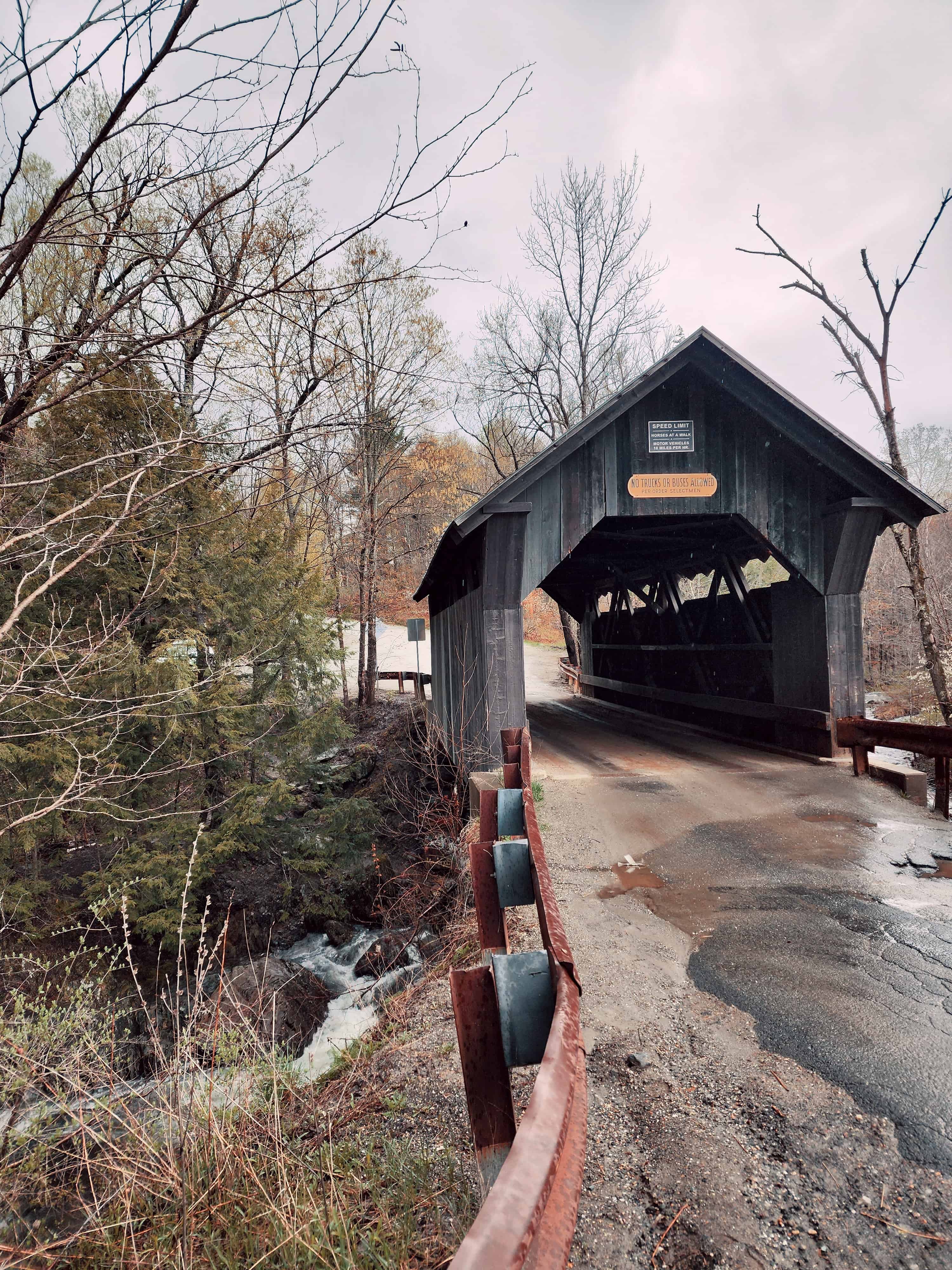 Vermont covered bridges are fascinating and historical, and some of them may also be haunted!
Such is the case for the infamous Emily's Bridge located in Stowe.
Legend has it that Emily died at the bridge, hanging herself after being jilted by her lover. Tales from visitors report things like scratches appearing on their car, banging sounds on the car when stopping on the bridge, and even bloody scratches found on the skin of pedestrians crossing the bridge.
I didn't get any scratches when walking over it, but I did get a creepy feeling! This is considered to be one of the most haunted places in VT.
37. Go biking on the Kingdom Trails
Mountain bikers will love the vast network of Kingdom Trails in East Burke, VT. These are some of the best mountain biking trails in the US, and they are set among the spectacular scenery of Vermont's Northeast Kingdom. If you're looking for places to go in VT to get away from it all, this might be what you're looking for!
38. Visit the Vermont State House
Go to Vermont's capital city Montpelier and keep heading toward the golden-domed state house. Self-guided tours are available year-round so you can get a firsthand look at big activity in this small state!
Fun fact: for many years, Montpelier had the distinction of being the only state capital in the United States without a McDonald's!
39. Check out the Calvin Coolidge State Historic Site
If you're a presidential history buff and looking for where to visit in Vermont, check out the home of American president, Calvin Coolidge. In Plymouth, VT, visitors will find his childhood home, where he took his presidential oath of office.
In addition to being an important historic site, the whole center comprises "over 600 bucolic acres" of a timeless Vermont village filled with original artifacts. This includes a one-room schoolhouse, barns, a cheese factory, and the hillside cemetery where President Coolidge is buried. The Calvin Coolidge State Historic Site is open this year beginning May 26th, 2023 through October 22, 2023.
40. Photograph the fall foliage
Who can resist those iconic Vermont fall colors?! Of course, VT boasts scenic splendor year round, but fall in Vermont fall is truly the most magical time, with its vibrant foliage framing colonial villages, white-steepled churches, and covered bridges.
Grab your camera and make plans to visit Vermont in the fall. There's a scenic shot waiting around every corner.
41. Dine at a farm-to-table restaurant
We take farm-to-table seriously in Vermont. There's a strong culture of eating local and supporting farmers, and restaurants do this in all parts of the state. While there are countless farm-to-table options in Vermont, you must visit Cloudland Farm which is a culinary experience unto itself.
42. Find serenity in nature at Lake Willoughby
Venture into the Northeast Kingdom during your Vermont visit and you will find the majestic Lake Willoughby. Bordered by high, steep cliffs, the lake looks almost like a Nordic fjord. This is a perfect spot to get away from it all and really enjoy Vermont's nature at its best.
43. Admire Quechee Gorge from above
Speaking of Vermont scenery, one of the most interesting natural sites in the state is Quechee Gorge. You might wonder, "what's so special about a gorge?" But it really is worth stopping to see. Park in the visitor center lot and walk carefully out onto the sidewalk on the bridge overlooking the gorge. Amazing Vermont views are to be seen on both sides.
44. Visit the Morgan Horse Farm
Did you know that Vermont's State Animal is the Morgan Horse? See where they've been bred and trained since 1878 (the oldest continuous breeding herd) at the Morgan Horse Farm in Middlebury. The Morgan Horse Farm is open each summer from May until October.
45. Bring your canine pal to Dog Mountain
One of the quirkier Vermont tourist attractions out there is Dog Mountain. If you haven't yet been to this canine mecca, add it to your Vermont itinerary.
Dog Mountain is a private mountaintop spot in St. Johnsbury that belonged to artist Stephen Huneck. Today, it houses a gallery and a dog chapel, hosting several events throughout the year. Dogs are always welcome on the property to run free and enjoy the sights alongside their human companions; this is one of those fun tourist spots in Vermont where you can bring your furry friends, too!
46. Visit the cows at the impressive Shelburne Farms
South of Burlington is the sprawling Shelburne Farms, a sustainable working farm that offers lots to do for travelers. Stroll the walking trails, visit the Children's Farm, and check out cheesemaking in the Farm Barn.
This is an incredibly productive farm generating, among other things, Farmstead cheddar cheese, pasture-raised lamb, beef, veal, and pork, and maple syrup. If you're looking for kid friendly things to do in Vermont, a visit to Shelburne Farms will work!
You can also take educational guided tours of various parts of the property, though you may just wish to wander around this beautiful place.
47. Visit East Corinth & see where Beetlejuice was filmed
Tim Burton fans may want to stop by the town of East Corinth, where the 1988 film Beetlejuice was filmed. Though much of the set was only a facade briefly built for the movie, there are still lots of film spots you might recognize in the village.
48. Ride the gondola to the top of Mount Mansfield
Mount Mansfield is the tallest mountain in Vermont. While it's home to many exciting ski trails come winter, in the summertime, visitors can head to the top in the iconic red Gondola SkyRide. This is such an easy and fun way to get to the top of Mt. Mansfield, and you'll be rewarded with fantastic views.
I highly recommend riding the Stowe gondola in the fall for the most breathtaking foliage views!
49. See the Lincoln family home, Hildene in Manchester
If you're a fan of presidential history or pretty old houses with lovely gardens, you are sure to love Hildene, in the fun town of Manchester, VT. This property belonged to Abraham Lincoln's son Robert Todd Lincoln.
While the 16th President never resided here, you can view his iconic stovepipe top hat during your visit! Not only does the site boast a magnificent home that you can tour, there are also verdant gardens, breathtaking mountain views, and a working goat farm. Hildene also has a fantastic gift shop for grabbing your Vermont souvenirs.
50. Drink a maple latte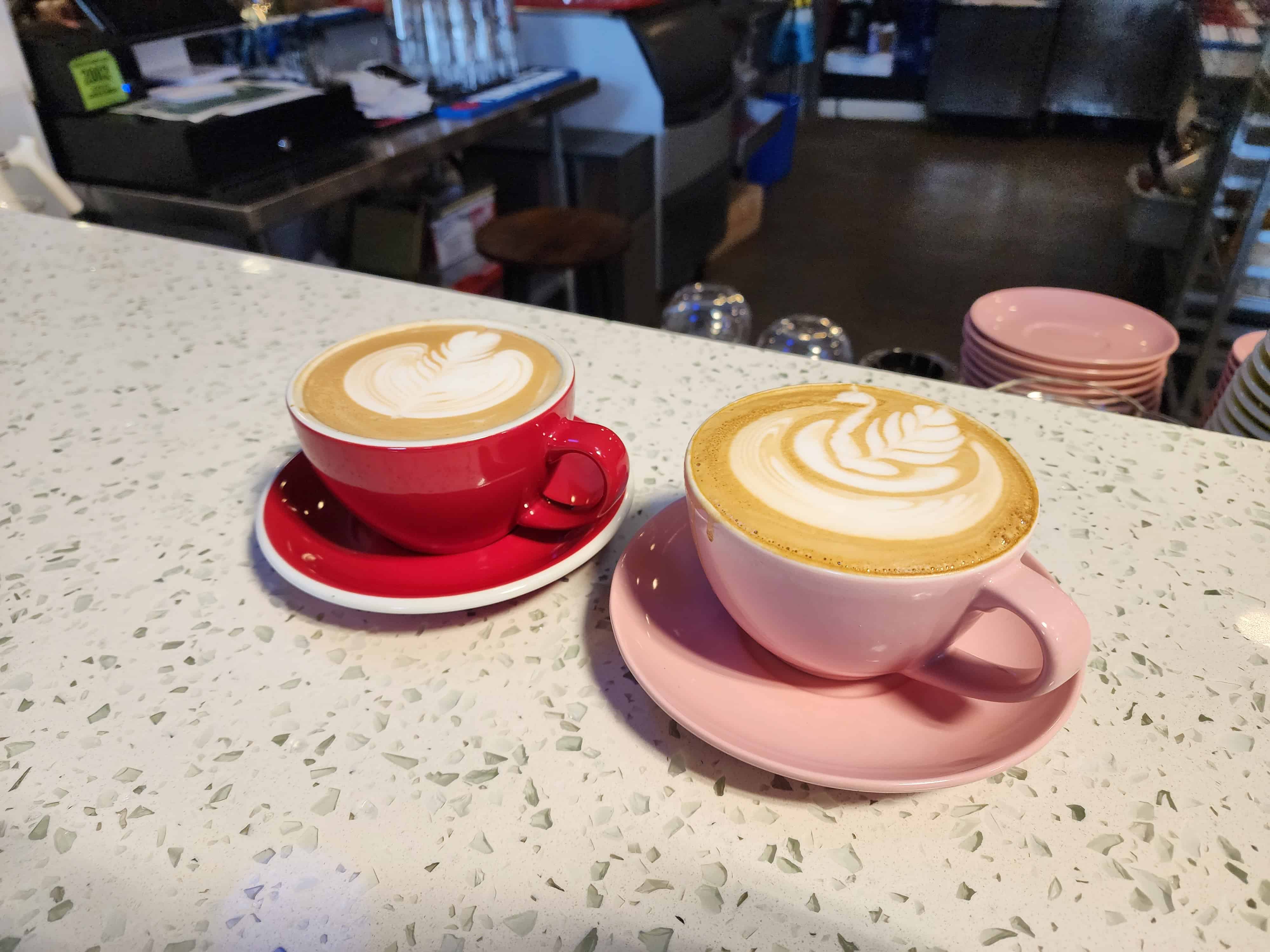 This might not be on other lists of VT things to do, but it is certainly an essential item on mine! I'm a huge coffee drinker and there's nothing quite so good as a hot, steaming latte.
In Vermont, flavors like vanilla and hazelnut are passé. Instead, have your latte with a shot of pure Vermont maple syrup. I promise you it's as wonderful as it sounds, and you can find this delicious beverage all over the state. As of 2023, the best maple latte I've had in Vermont was from Brio Coffeeworks in Burlington!
51. Visit Vermont's oldest general store
The state has many picturesque general stores that should be on your list of Vermont places to visit. While you likely will want to visit the well-known Vermont Country Store, nothing compares to an old-fashioned, historic general store.
Many of these claim to be the oldest in Vermont. I am partial to believe the oldest is FH Gillingham and Sons in Woodstock. No matter its age, it is incredibly charming—and they also have a great wine selection.
52. Take a horse-drawn sleigh ride in the winter
Can you picture it? The tinkling of sleigh bells in a Currier-and-Ives landscape? That's what you'll experience when you take a snowy sleigh ride in Vermont; some of the best places to visit in Vermont in the winter offer these oh, so cozy winter rides! The Trapp Family Lodge in Stowe is an excellent place to take one of these classic rides through the snow.
53. Have a massive, delicious breakfast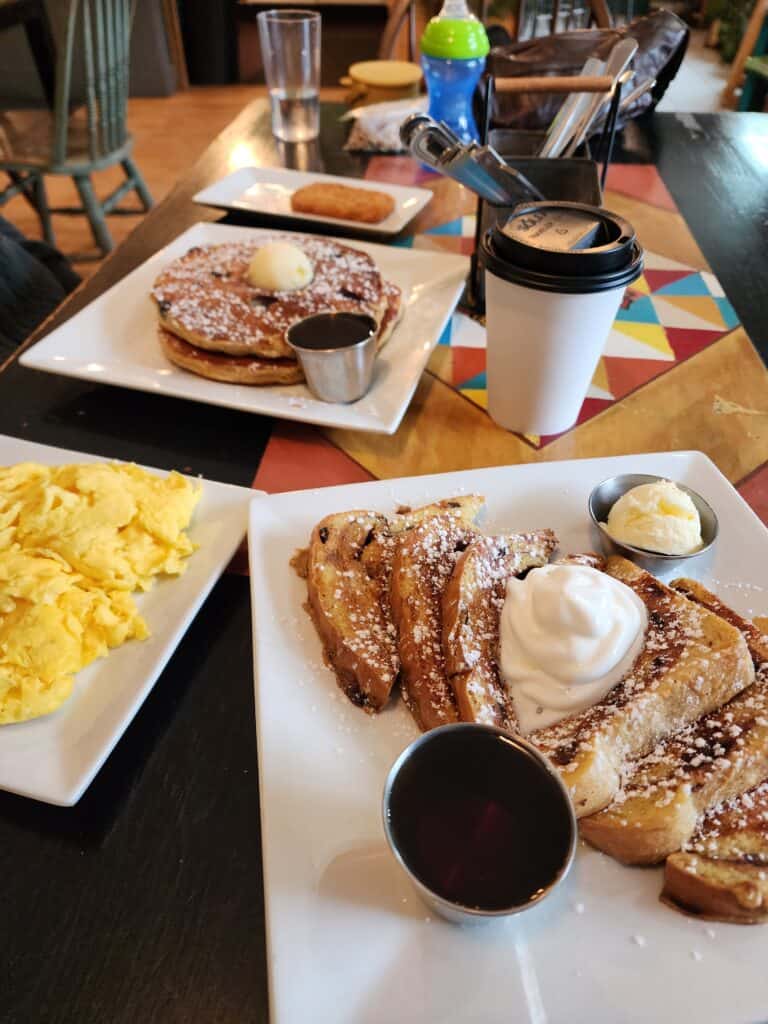 This is a to-do that is not exclusive to Vermont, by any means. But I have never found a better breakfast than the ones I've had in Vermont. Truly, a homestyle, country, hearty breakfast with Vermont maple syrup, local blueberries, Cabot butter, and delicious coffee; there's something so Vermont about this. Take time to dive into a good brunch during your Vermont visit. I've got local recommendations all over the site for some of my favorite cities.
54. Take a ride on the Green Mountain Railroad
That's right, you can take a scenic train ride on the Green Mountain Railroad! If you're looking for what to see and do in Vermont that will give you a little taste of the area, consider doing a 3-hour round trip Champlain Valley Dinner Train ride. Not only will you get to enjoy the gorgeous Vermont scenery, but the 3 course gourmet dinner isn't so bad, either!
55. Eat a creemee
Our last item on the list is another food-related one! Well, why not? Vermont produces incredible food items in abundance.
The Vermont creemee is Vermont's version of soft-serve ice cream. The best flavor is—-you guessed it—-maple. You can find amazing creemees all over the state in the summertime. Now that I've shared with you the best things to do in Vermont, let's talk about its top destinations. After all, if you're planning a trip to Vermont, you will need to decide WHERE to go! Here are the spots I'd definitely recommend checking out:
56. Visit Manchester
With a population of less than 5,000, Manchester, Vermont has the Classic small-town vibe! You'll experience the quintessential New England aesthetic with its prominently situated white-steepled church and carefully tended historic Main Street, phenomenal local restaurants, charming hotels, inns, and B&Bs (check out The Reluctant Panther, the perfect spot for a romantic getaway in Vermont!)
There are plenty of fun things to do and sights to see in Manchester, like Hildene, the Lincoln Family Home, mentioned earlier in this article, and outdoor activities like waterfall hikes.
If you're looking for indoor activities, the Manchester Designer Outlets were named "One of the Top Shopping Getaways in New England" by Yankee Magazine. Manchester is a great Vermont town to visit any time of year, with fantastic restaurants and breakfast spots, too!
57. Visit Bennington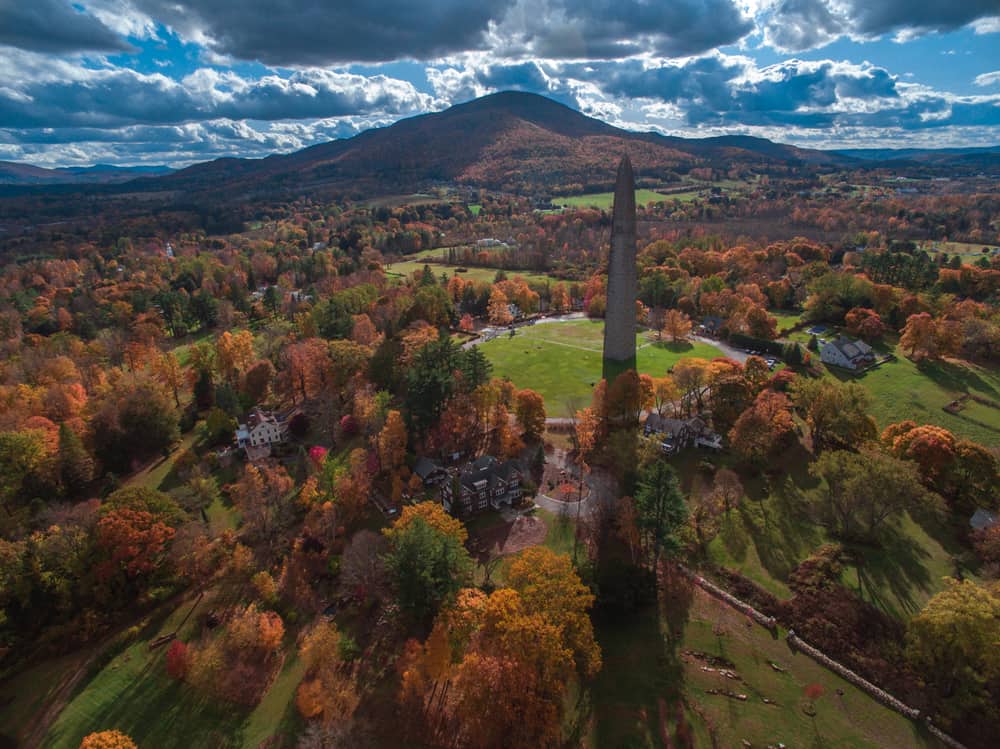 One of the cutest small towns in Vermont, Bennington has plenty of fun outdoor things to do, like hiking Bald Mountain. You'll get all those quintessential Vermont views like streams, wildflowers, and once you reach the top, incredible scenic vistas.
If you'd rather get out on the water, go kayaking at nearby Lake Paran. If you'd rather explore town, there's plenty there for you too!
Visit the Bennington Museum, then the Bennington Battle Monument, the 300+ feet high monument that draws in tourists from all around. There's nothing quite like the view from the top!
There are lots of great restaurants in Bennington, too, but be sure to swing by The Apple Barn during your visit to this VT town to sample some of their apple cider and cider donuts… if you're wanting an authentic taste of Vermont, this is the perfect way to get it!
58. Explore Brattleboro
Not only has Brattleboro been named one of the top 10 small art towns in the US, but this cute VT town has some fairly unique claims to fame.
The Strolling of the Heifers is a non-profit organization that facilitates local farm to table connections, and their annual event includes a literal parade of actual heifers adorned with flower garlands that stroll along the route, promoting a local connection between farmers and community.
Brattleboro is also home to the New England Center for Circus Arts (so basically, the circus is ALWAYS in town) and hosts several festivals throughout the year.
Brattleboro has a little bit of everything to make a Vermont visit sing: unique, independent (and delicious!) restaurants and breweries, indie bookstores like Everyone's Books, with the slogan "raising hell since 1984," farmer's markets, museums, art galleries, and a lovely covered bridge that is basically begging to be photographed. There's always something to see and do in Brattleboro, so be sure to add it to the list of must visit places in Vermont!
59. Discover Montpelier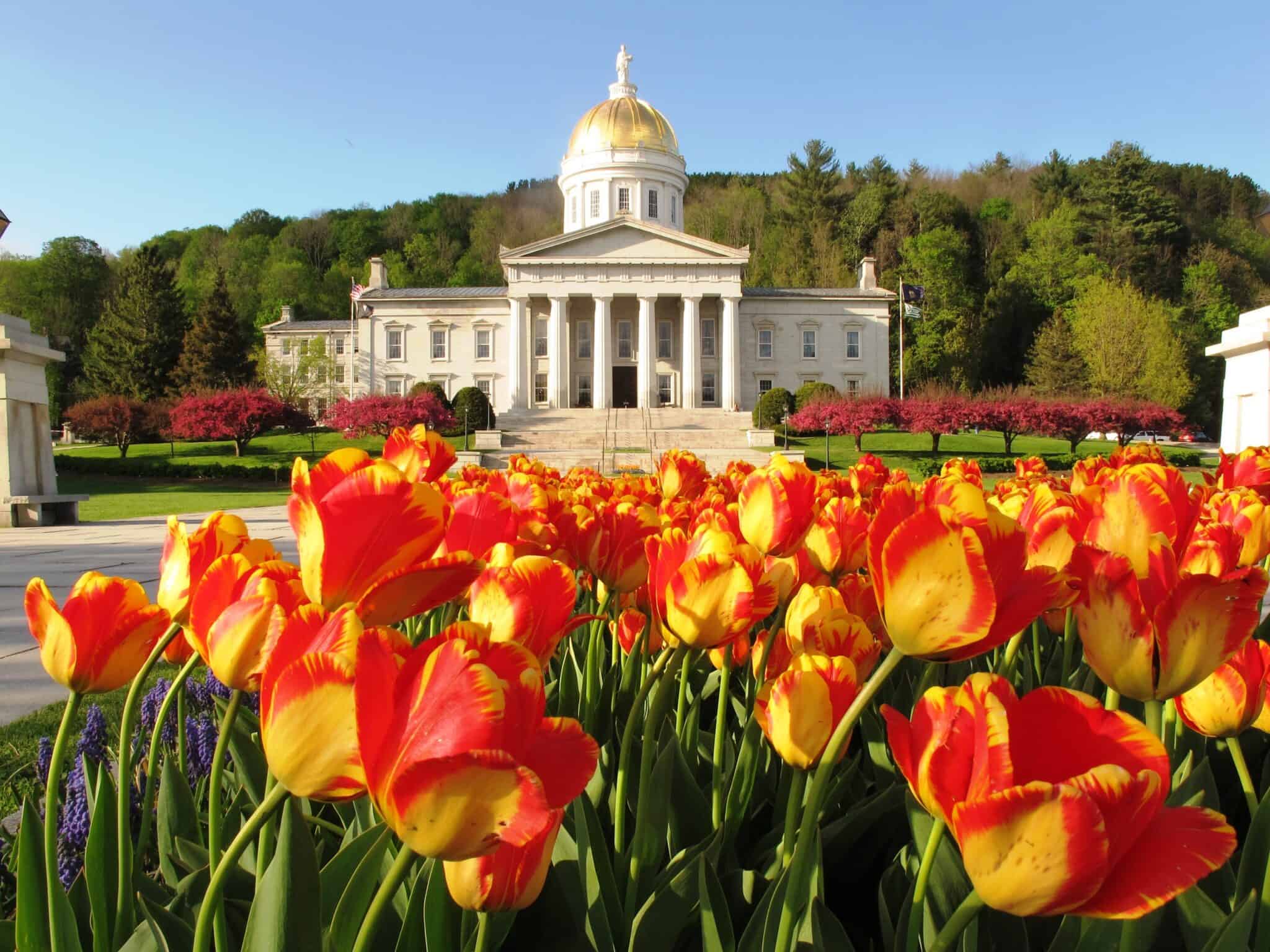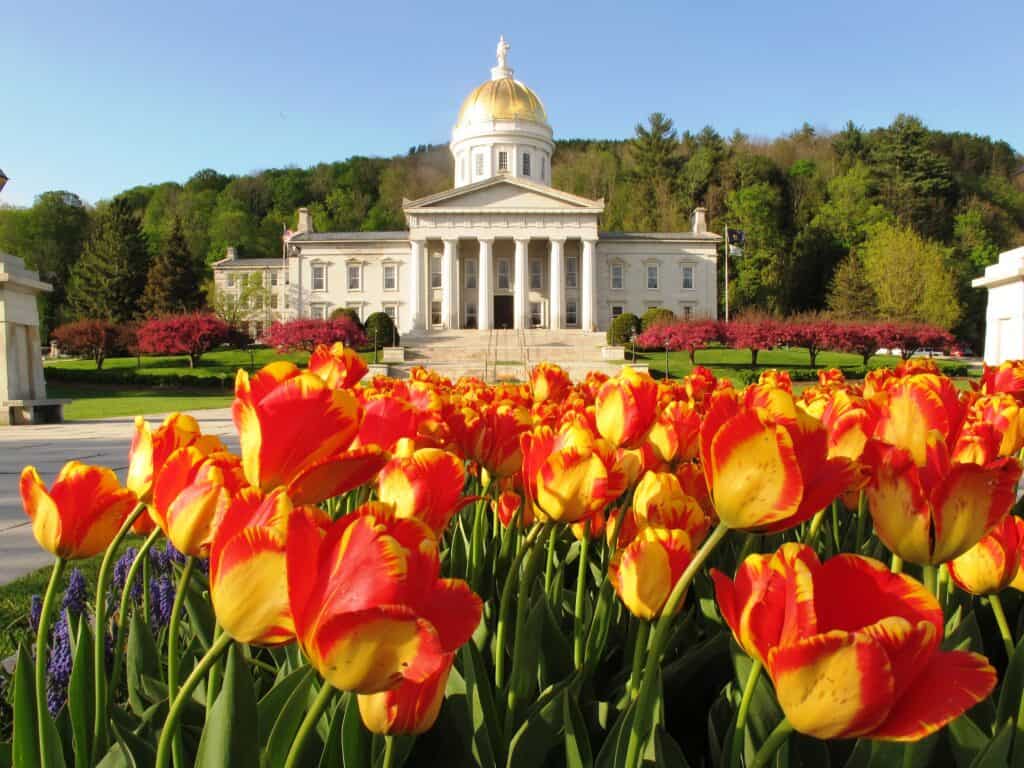 Of course, the state capital is going to end up on a list of the best places to visit in VT! There are plenty of interesting things to see and do in Montpelier, including museums like the Vermont Historical Society Museum and the Vermont Granite Museum.
There are also architectural gems like the Vermont State House, open to the public Monday through Friday, with interesting features like the statue of Ceres, the goddess of agriculture, that sits atop the golden dome roof.
There's art and culture, excellent restaurants and places to stay, one of the cutest covered bridges in the state, hiking, and–in true Vermont fashion–a couple of sugar houses where you can tour and see for yourself how maple syrup is produced in Vermont! Montpelier is definitely one of the top must visit places in Vermont.
PS it's also one of the best places to live in Vermont, too!
60. Chill in Killington
While Killington is most popularly known for its namesake, Mount Killington, this Vermont town has more going on than just fun on the mountain!
Killington Resort is probably the most popular place to go because the 2000 skiable acres are what pulls most visitors out to Killington, but there are other ways to have fun on The Beast of the East! During the warmer weather months you can take scenic gondola rides, play a round at the Killington Resort golf course, and take a ride on the Beast Mountain Coaster.
Gifford Woods State Park and Thundering Brook Falls are both popular places in Killington to get out and enjoy the scenery, and if you're looking for something to do indoors, get your relax on at Spa at the Woods before grabbing a table at Liquid Art Coffeehouse & Eatery, where you get to sample local art and music along with the delicious food and drink offerings.
For a cool Killington place to stay, book a room at Killington Grand Resort Hotel to access their year-round 75 foot heated outdoor pool, hot tubs, a firepit, and onsite restaurants right in the heart of Killington Resort!
61. Don't miss Burlington
Beautiful Burlington is Vermont's largest city (although it doesn't take much to earn that title in a state known for its quaint little towns!) and is progressive, hip, and vibrant. There is just So. Much. To. Do in Burlington!
Visit Church Street, get a scoop of Ben & Jerry's just right up the street from the original Ben & Jerry's, travel on the famed Burlington Bike Path, head off on a hike, and enjoy the views of lovely Lake Champlain from one of the bench swings.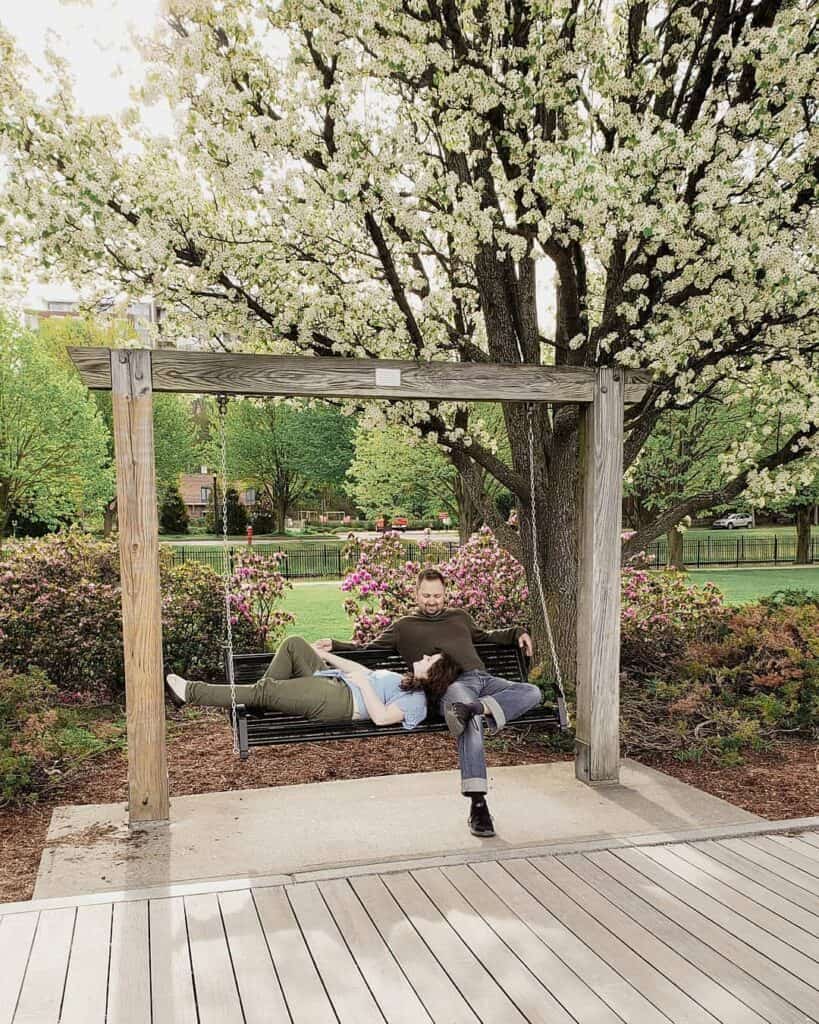 Another fun thing about Burlington? Come HUNGRY! Yes, farm-to-table is pretty much a given across most of VT, and Burlington takes that and runs with it. Whether you're looking for the perfect coffee shop, breakfast place, brewery or restaurant, there's always something sure to satisfy in Burlington.
Burlington is also home to awesome hotels and inns, and cool Airbnb options. Regardless of where you choose to stay, your visit to Burlington will show you what makes Burlington, Vermont so… well, so Vermont, with all the independent shops and eateries, the incredible arts scene, and the cohesive sense of community.
62. Go to Grand Isle (South Hero Island)
The biggest island in the Vermont Champlain Islands, Grand Isle is also often referred to as South Hero island, for the popular town of South Hero.
There are plenty of fun things to do on this Vermont island, including hiking in Grand Isle State Park, or horseback riding at Breakaway Farm. One of the most popular things to do on Grand Isle is to visit Snow Farm Vineyard, one of the most popular wineries in all of New England. Snow Farm Vineyard hosts a variety of events throughout the year, including concerts, culinary events, festivals, and more. South Hero Island is definitely one of the top places to visit in Vermont.
63. Lemon Fair Sculpture Park
You may not know Vermont is home to several sculpture parks and gardens. One of the best art spots in the state, Lemon Fair Sculpture Park, is home to 50+ sculptures.
Lemon Fair Sculpture Park is located in a field along Route 74 in western Vermont, where a mile-long walking path will lead you to a variety of sculptures from across the country. This self-guided exhibition is free to the public and has a donation box near the parking area for park maintenance.
64. Attend the Quechee Balloon Festival
Hot air balloons are striking and impressive in any destination, but they seem particularly suited to the Green Mountains of Vermont. There are a few great balloon festivals to choose from, but the best is the Quechee Balloon Festival which takes place every June in Woodstock, VT.
Here you can catch a bevvy of balloons taking flight over the Vermont countryside. It's ideal for any balloon enthusiast or anyone who appreciates the beautiful magic of a hot air balloon gliding through the air.
65. Stay at the Blind Tiger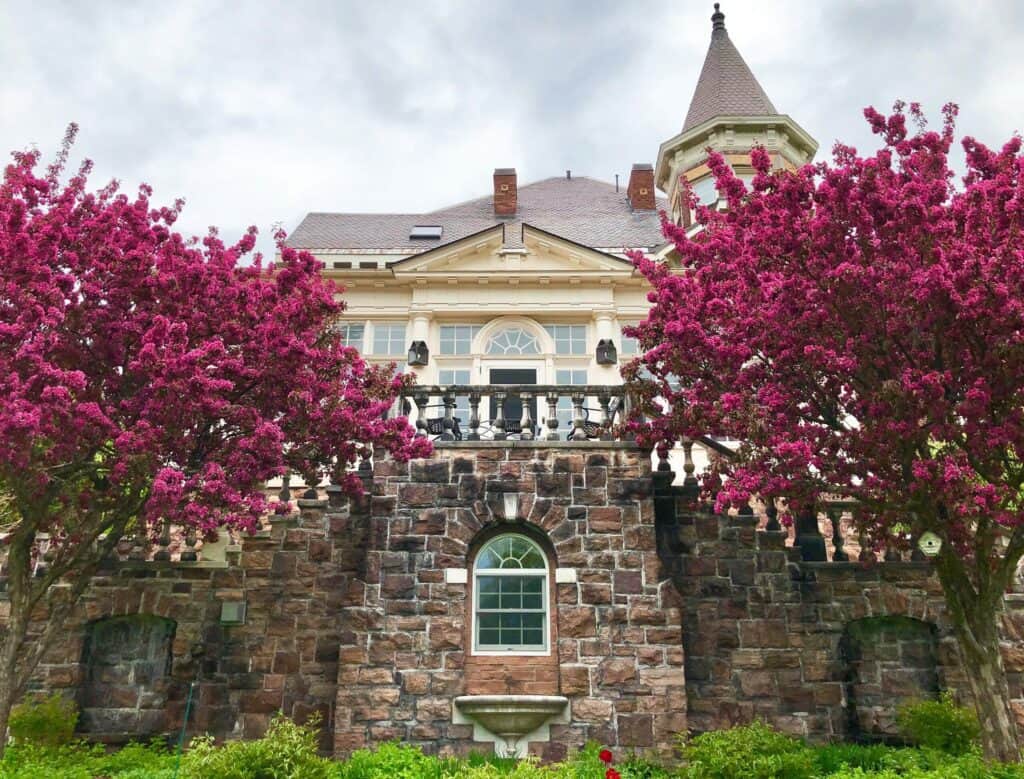 Formerly called the Willard Street Inn, the Burlington Blind Tiger is a bed and breakfast within a mansion built in 1881. There are 14 different guest rooms available to choose from, each with its own unique layout, set of furnishings, and elegant charm.
This gorgeous inn's classic architectural style and beautiful gardens, as well as the incredible views of Lake Champlain and New York's Adirondack Mountain range, will make you want to never return home.
Click Here to Check Prices & Book!
66. Island Line Rail Trail
The Island Line Trail along Lake Champlain is a total of 14 miles long and suitable for walking or cycling. Much of the trail is over pavement, making for a smooth, scenic ride, perfect for riders of all levels of experience. Waterfront parks and beaches are situated along the trail, making for a great place to stop for a rest or take some pictures of the landscape.
The best part of the Island Line Trail is the Colchester Causeway, stretching 3 miles into the middle of Lake Champlain and giving the impression of riding across the surface of the water.
This portion of the trail is known for its unbeatable views of the lake and the surrounding Adirondack Mountains. Bike rental company Local Motion runs a seasonal bike ferry to help visitors across "the Cut," a 200-foot gap in the trail.
67. The Town of Peacham
One of the quaintest towns in Vermont, Peacham is one of those villages that feels like it fell right out of a storybook! It is tiny, and home to only about 700 people, but its rural charm is generous as can be.
Scenic and rich in pastoral beauty, you'll love the country feel and the gorgeous views, especially of its oft photographed white steeple church that sits beside the rustic red barn. Even if you didn't know you were looking at Peacham, it's quite likely you've seen this gorgeous scene, especially during autumn with fall foliage blazing in the background.
68. Elmore State Park
This beautiful state park is home to trails, campgrounds, and an absolutely stunning 219 acre lake that is a popular summertime spot for those looking for freshwater bliss.
In fact, Elmore State Park is located in the town of Lake Elmore, which calls itself "The Beauty Spot of Vermont." How cute is that?
69. Little Otter Creek Marsh
The next item on our list is another National Natural Landmark in the state of Vermont, known as Little Otter Creek Marsh.
You may be asking yourself what's so great about a marsh, but Little Otter Creek Marsh is considered the "best large expanse of marsh land in Vermont" at over 1,000 acres.
This is also a wildlife management area, so you're likely to see a wide variety of mammals, amphibians, reptiles, birds, and fish during your visit.
70. Northshire Bookstore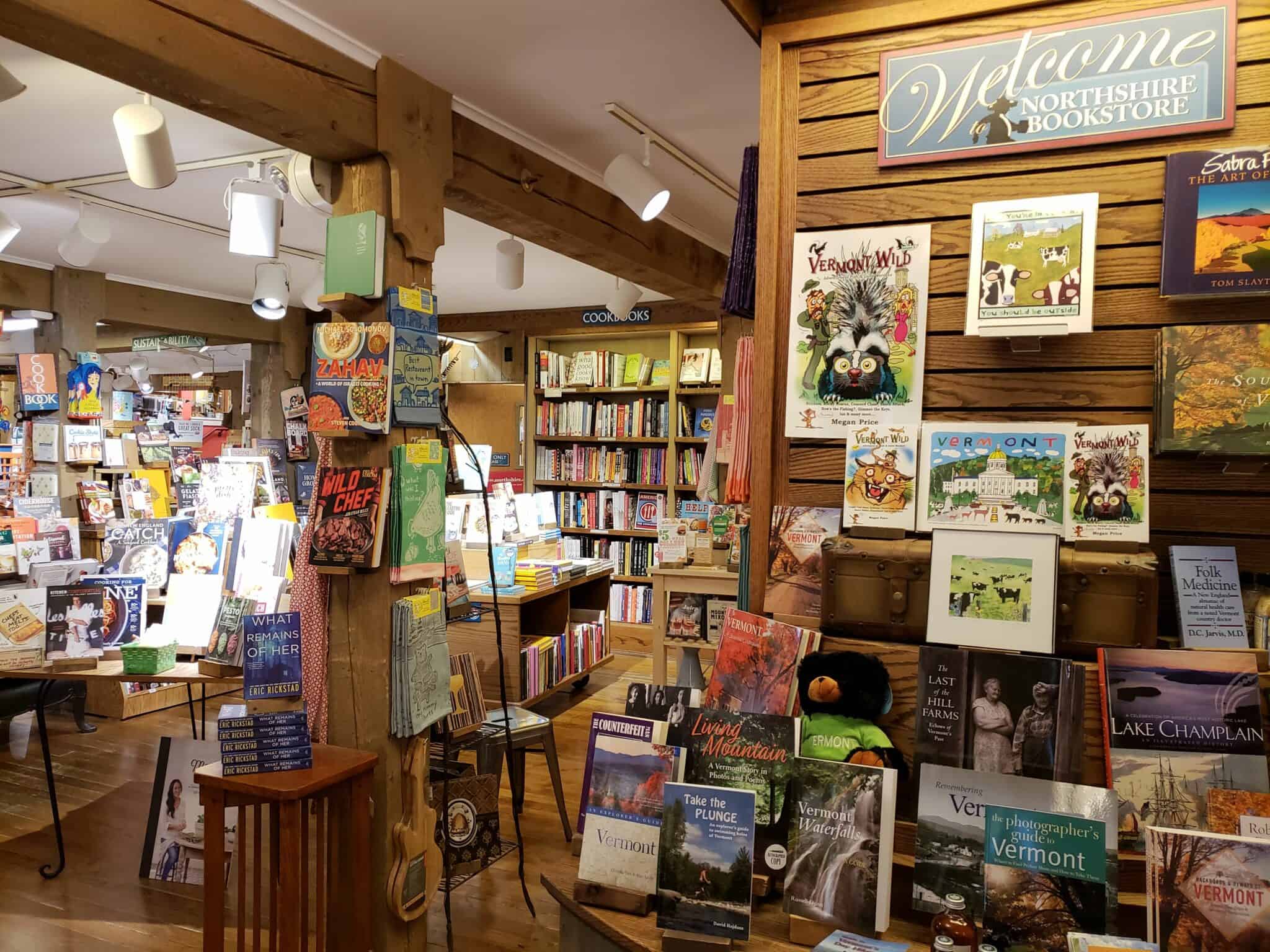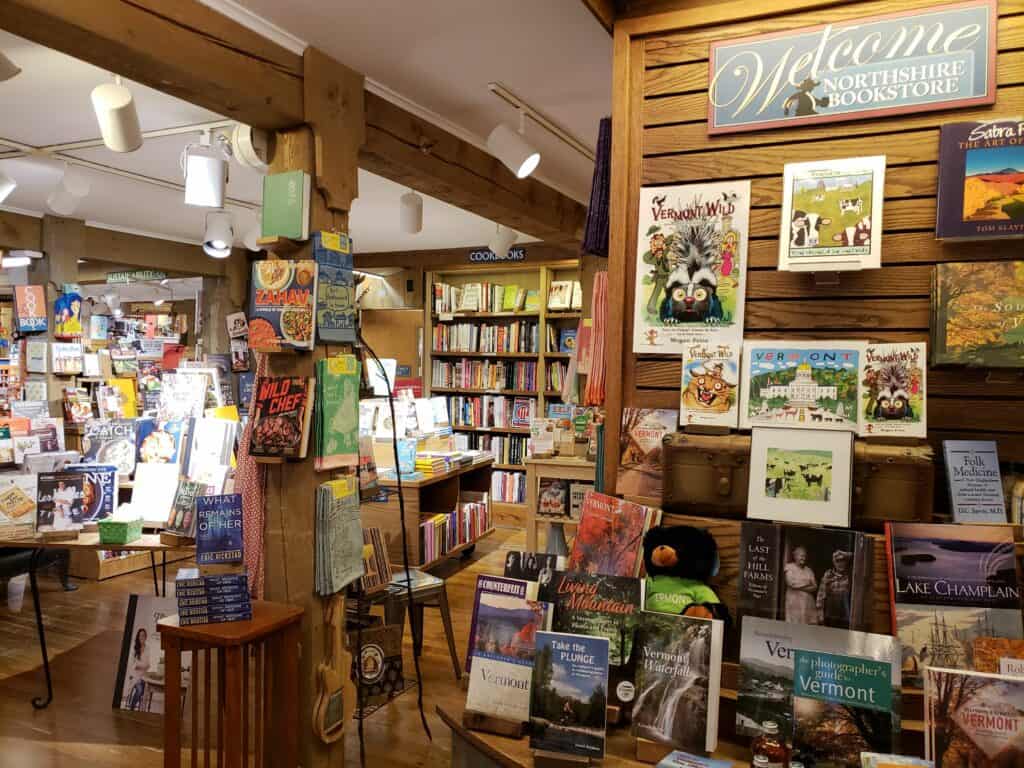 One of my favorite places to visit in Vermont is in Manchester. Northshire Bookstore is a massive, adorable independent bookstore that is an incredible place to get lost for a few hours. If you love books, it's heaven. If you love cool Vermont souvenirs, it's also amazing! One of the standouts of this shop is there incredible 2nd floor, devoted entirely to a Children's Section. It's absolutely worth visiting this spot when in Vermont and be sure to support them by buying local!
FAQ About Vermont
What's the best time of year to visit Vermont?
While Vermont is lovely throughout the year, most visitors find late May through October to be best for comfortable weather. For maximum fall foliage sightings, you'll want to plan your Vermont trip for mid-September through early October.
What is the prettiest town in Vermont?
There are so many beautiful destinations in Vermont, I would be hard-pressed to pick the most beautiful! But some of the prettiest towns worth visiting include Stowe, Woodstock, and Manchester.
What's the best way to get to Vermont?
While you can certainly drive to Vermont from many locations in the US, most travelers opt to fly. The best place to fly into Vermont is the Burlington International Airport (BTV). This is the major airport in Vermont and is convenient to many of Vermont's top destinations.
What is the weather like in Vermont?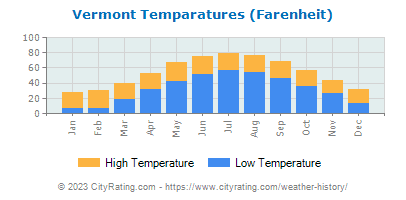 Vermont has a wet continental climate that features cold winters, warm summers and precipitation all year round.
---
More places to explore in Vermont:
Need more for planning your Vermont vacation? Read these next!