*This site uses affiliate links; if you make a purchase through these, I may receive a small commission at no cost to you.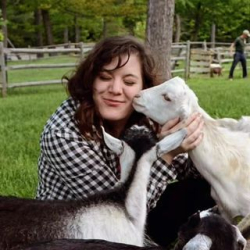 Latest posts by Amy Hartle
(see all)
The Vermont Cheese Trail is one of the most underrated fun things to do in Vermont! It's essentially a loop just shy of 300 miles that goes all throughout Vermont. There are tons of different cheese shops and factories worth stopping at along the trail.
In fact, there are around forty to fifty cheese stops, so it can be hard choosing which ones are worth visiting. That's why we wrote this post! You'll see stops that you absolutely must make on the Vermont Cheese Trail, perfect if you're in a rush or don't feel the need to pull over at every cheese factory.
Keep reading to learn more! Don't forget your pen and paper; you'll want to write these down.
Parish Hill Creamery, Putney
The Parish Hill Creamery in Putney is an absolute must-visit along the Vermont Cheese Trail! This family-run cheese factory is incredible, and they focus on advocating and educating through the methods they use to create their cheese.
The best thing is that they also make all of their cheese by hand! Their milk comes from a farm just down the road from their creamery and allows their cheese to be extraordinarily fresh and drool-worthy.
Over the years, Parish Hill Creamery has won many awards, including the Resistance Award for Slow Cheese, the Slow Food Vermont Snail of Approval, and more! Try some of their tasty cheese while you're there, including their smoked kashar and their west west blue, which is often sold out!
If you're unsure of what to try, be sure to ask! Sometimes Parish Hill Creamery has ones that are in limited stock too, and you'll want to try those while you can.
Grafton Village Cheese, Brattleboro, and Grafton
Located in Brattleboro, Grafton Village Cheese is a spot that you won't want to miss! It's definitely one of the more popular spots to stop at along the Vermont Cheese Trail, which is why it deserves a spot on this list.
Grafton Village Cheese dates back to the 1890s, so it's a genuinely historic cheese spot! They have an extremely large store with tons of sample selections, which is why people love it so much. You can also see them make cheese by looking through the windows!
In addition, if you're visiting with children or you're just an animal lover, be sure to ask to see the animals. You do have to pay a small fee to do so, but it's worth it. Similar to Parish Hill Creamery, Grafton Village Cheese has won a few awards, including second place at the US Championship Cheese Contest and first for shepsog at the American Cheese Society!
Taylor Farm, Londonderry
While Taylor Farm has a small store, it's still worth stopping by in Londonderry! They are open daily, and you can often even find some animals roaming around during your visit, including chickens.
Of course, though their store is small, there are quite a few samples that you can have inside before purchasing a cheese to take with you on the rest of your road trip. No matter what one you choose, you're in for a treat!
Taylor Farm is genuinely historic, dating back more than 180 years. It's been owned by the same family for the last 30 years, and they have lots of fun throughout the year. In fact, if you visit in winter, you may even get to go on a fun box-style sleigh ride!
Vermont Butter and Cheese Creamery, Websterville
Next on the list of must-visit stops along the Vermont Cheese Trail is none other than Vermont Butter and Cheese Creamery! It's located in Websterville and does have a small visitor center worth stopping at.
Unlike other places on this list, you do have to ask for specific samples here. Don't be shy, though; the workers are incredibly kind and love sharing their love of cheese! Plus, their cheese is so tasty that you'll want to try it.
Vermont Butter and Cheese Creamery really focuses on putting taste above everything. In fact, it's right on their website; they say "taste above all." That's because they use high-quality ingredients and truly put a lot of love and care into every batch.
Plymouth Artisan Cheese, Plymouth
Plymouth Artisan Cheese in Plymouth, VT, offers some of the best cheese you'll find in the entire state! In fact, their cheese has even been sold at Wiliams-Sonoma in the past as special collections, so you know you're in for a treat by stopping there.
They've been making cheese since 1890, so their recipes are genuinely perfected by now. Plus, they have a lot of more unique flavors in addition to traditional ones, like hot pepper and garlic peppercorn. If you love their cheese so much, you can even sign up to be a part of their monthly cheese club!
When you're there, be sure to check out their variety because that's what they are known for. It's also located right near one of the most historic spots in Vermont, the Calvin Coolidge Birthplace and Historic Site!
Consider Bardwell Farm, West Pawlet
Next on the list of can't miss Vermont Cheese Trail stops is none other than Consider Bardwell Farm in West Pawlet! They have a self-serve farm store and also a farm that visitors are allowed to go to on the weekends (it's close on weekdays).
They have a small store, but it's so worth visiting! There are samples, and visitors are allowed to go and pet goats on the premises. Sometimes you can even see some of the workers making cheese while you're there so that you can ask some questions about the cheese-making process.
Consider Bardwell Farm makes artisan cheese, meaning they tend to make smaller batches. They use all local milk from the Champlain Valley area and have been a farm since the 1860s. Their popular cheeses include the Rupert Reserve, Pawlet, and the Dorset Mini.
Bridport Creamery, Bridport
Bridport Creamery is an incredible spot on the Vermont Cheese Trail near Lake Champlain! They also make artisanal cheese, and their cheeses can be found at many different local shops in this area of Vermont.
The current owner, Nicole, was born and raised on the farm, and they now have 1200 acres of farm! She and her family specialize in making unique cheeses, including "Swisserella" and other cheeses that are well-aged.
One of the absolute can't-miss cheeses is their curds! They're so incredible and are great if you want to make some poutine along your road trip at one of the places you're staying at. These are the best poutine cheese curds!
Other great flavors they have include garlic, dill chive, colby, and even habanero. Be sure to try their cheese curd packs if you want to try a few different flavors and save a little money.
Fat Toad Farm, Brookfield
With a name like Fat Toad Farm, how could you not stop at this Brookfield Vermont Cheese Trail stop? Their primary focus is something incredibly unique but traditional: goat's milk caramel. Yes, you read that right!
They've been working on perfecting this ever since 2007, when they first opened. They get a lot of their goat's milk from nearby farm Ayers Brook Goat Dairy, and have won a few awards for their goat's milk caramel, so it's worth trying or at least learning more about it.
They have some unique caramel flavors, too! Their flavors include spicy dark chocolate, Irish whiskey cream, cold brew coffee, salted bourbon, cinnamon, Vermont maple, vanilla bean, and of course, original!
You're probably wondering why is this a stop on the Vermont Cheese Trail? Well, it's because it's actually the perfect pairing for cheese and is one of the more unique spots along the trail!
Billings Farm & Museum, Woodstock
Billings Farm & Museum in Woodstock is one of the most popular spots along the Vermont Cheese Trail, and for good reason. They are a working farm that also create high-quality cheeses, and a visit there allows you to learn way more than just about cheese.
They serve three different cheeses for the most part, including Smoked Cheddar, which they've won quite a few awards for. Their cheeses technically come from the Grafton Village Cheese Company, so if you're unable to stop directly at their Grafton or Brattleboro farm, then it's worth stopping here.
In addition to stopping by the dairy farm, be sure to check out some of their exhibits or even catch a show of some sort at their theater, where you can at least watch a film that places almost daily.
Hopefully, this post has helped you find what stops you absolutely can't miss along the Vermont Cheese Trail. Have fun on your road trip and eat lots of cheese!
---
You might also like:
47 Fun Facts About Vermont That Will Amaze You
9 Best Vermont State Parks You Can't Miss