---
*Links in this article may be affiliate links, from which we may earn commission. See our
Privacy Policy
for full details.
---
Anytime is a great time to travel to Vermont, especially when visiting one of its best small towns! All four seasons provide endless possibilities to explore. Whether you're envisioning a horse-drawn sleigh through a picturesque village on a snowy winter evening or a cozy breakfast steeped in fresh maple syrup on an autumn morning, Vermont does not disappoint.
Woodstock, Vermont has been named one of the best places to visit at Christmas and one of the most beautiful towns in America. Our list of the top things to do in Woodstock VT will help you plan a classic New England getaway.
Travel Essentials for Woodstock, Vermont
Of course, there are few travel basics that should be considered when planning a trip, like transportation and timing. Below are some essential aspects to think about before traveling to Woodstock.
When is the Best Time of Year to Visit Woodstock?
Woodstock is one of those places that is lovely to visit year-round and has so many things to do no matter what the season. However, I think autumn is a wonderful time to go because of the bright, colorful leaves. There are many online foliage maps that you can reference to align your travel with the autumn colors.
Where is Woodstock, VT?
Woodstock is in the east-central area of Vermont, roughly 15 miles from the border of New Hampshire.
How To Get to Woodstock
This area is most accessible by car. The cities of Boston, MA, Albany, NY and Portland, ME are all within a drive of two to three hours. The cities of Burlington, VT and Manchester, NH are about 90 minutes away by car. All of these cities also have airports, with Boston, Albany and Portland having the most flight options.
With these travel basics, you can start planning the perfect Woodstock trip. Here are some of the top things to do in this beloved New England town.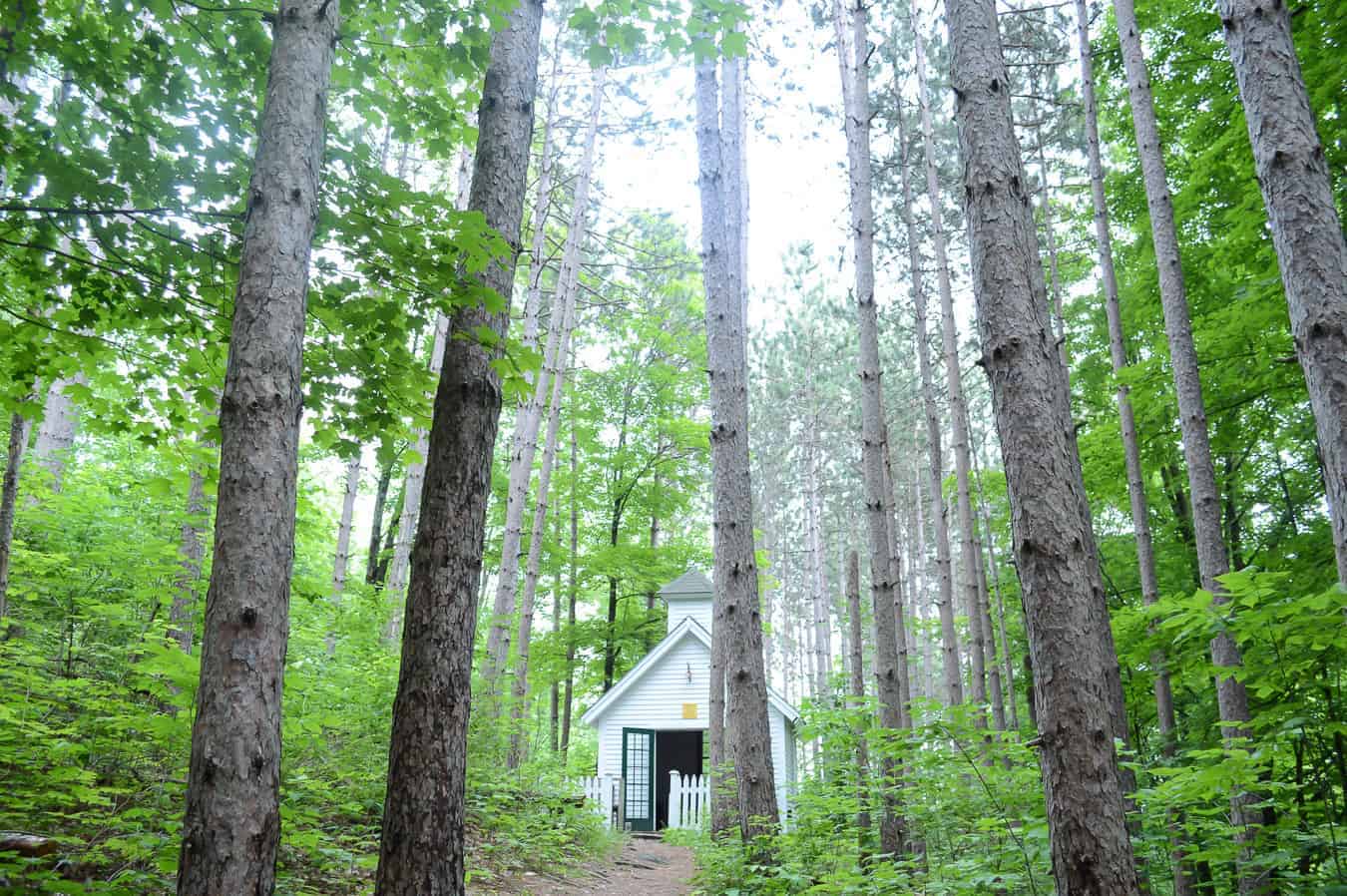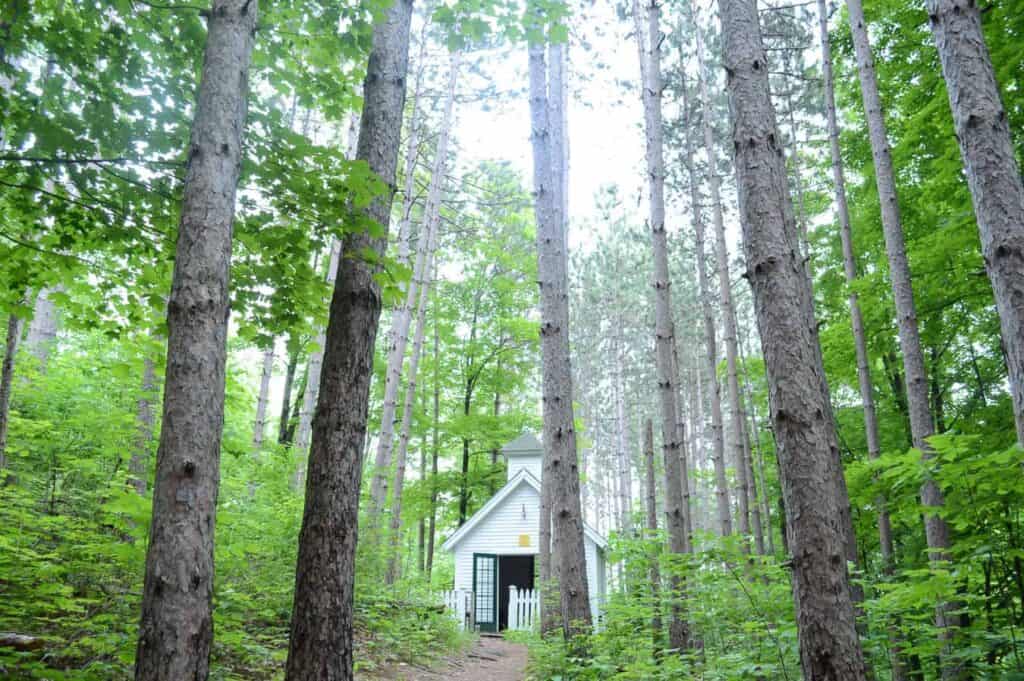 The Best Things to do in Woodstock, VT
From sampling Vermont's famous cheeses to hiking to strolling the historic downtown, Woodstock offers a plethora of activities to keep you and your loved one busy on your vacation. It's just a matter of choosing from the menu of fun and deliciousness!
Sample Cheese, Cheese, and More Cheese
No Vermont vacation is complete without cheese.
In the past, it was said that Vermont had a larger population of cows than people! Not hard to imagine, with farmland stretching for miles across the state. Either way, those cows are producing some great dairy, and Vermont's cheesemakers are turning it into the finest cheese.
Cabot is the state's most famous cheese purveyor, available in stores throughout the US. You can't go wrong with a nice block of Cabot sharp cheddar. But when in Vermont, you want to try ALL THE CHEESES.
You can have a wonderful cheese feast at Quechee Gorge Village. As you walk through the village's cute shops, you'll find a huge spread of cheese samples, along with crackers and jams.
Give all the varieties a taste and buy a block to take home. With the abundance of cheese to sample, you may find it hard not to get greedy!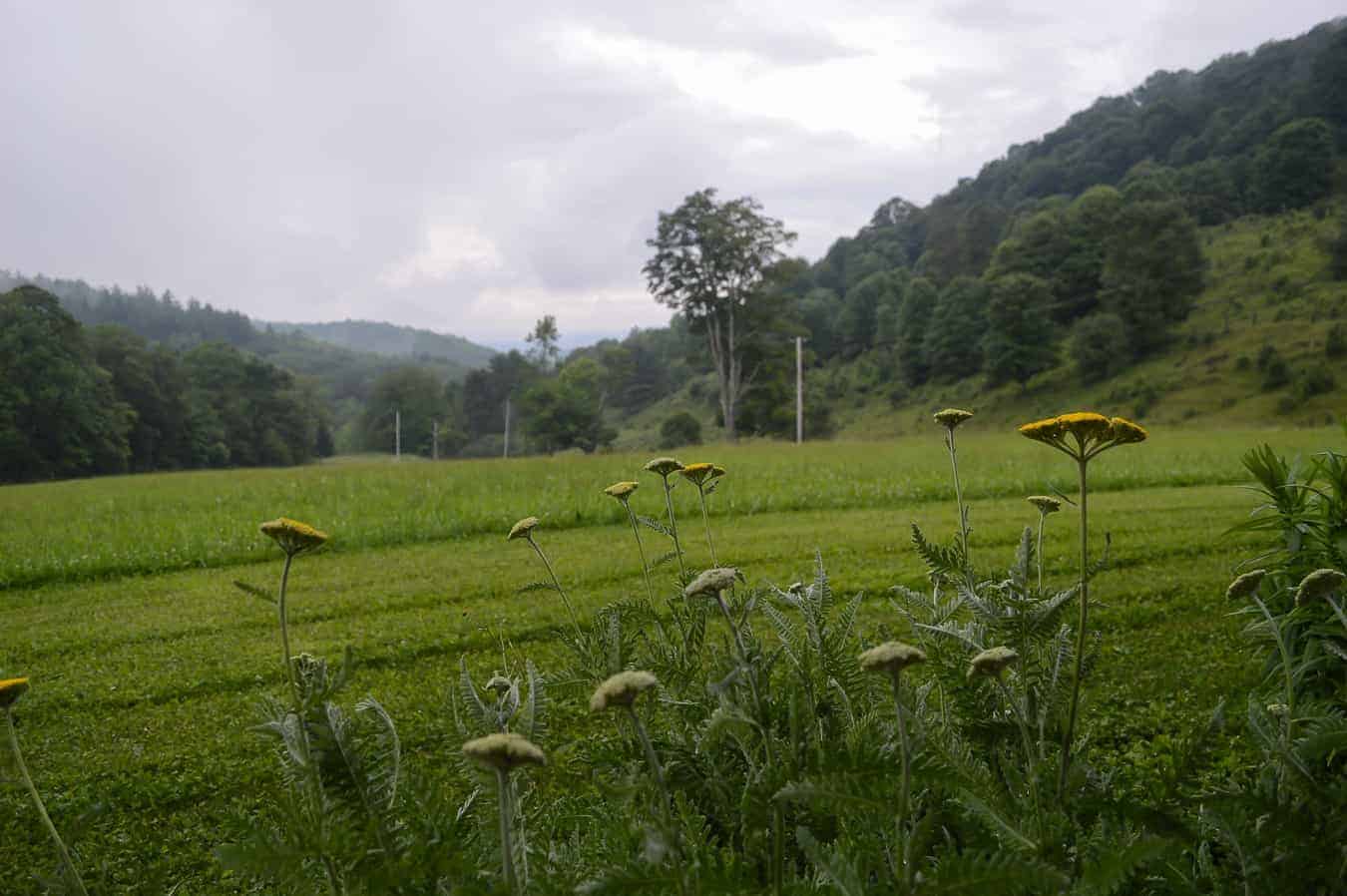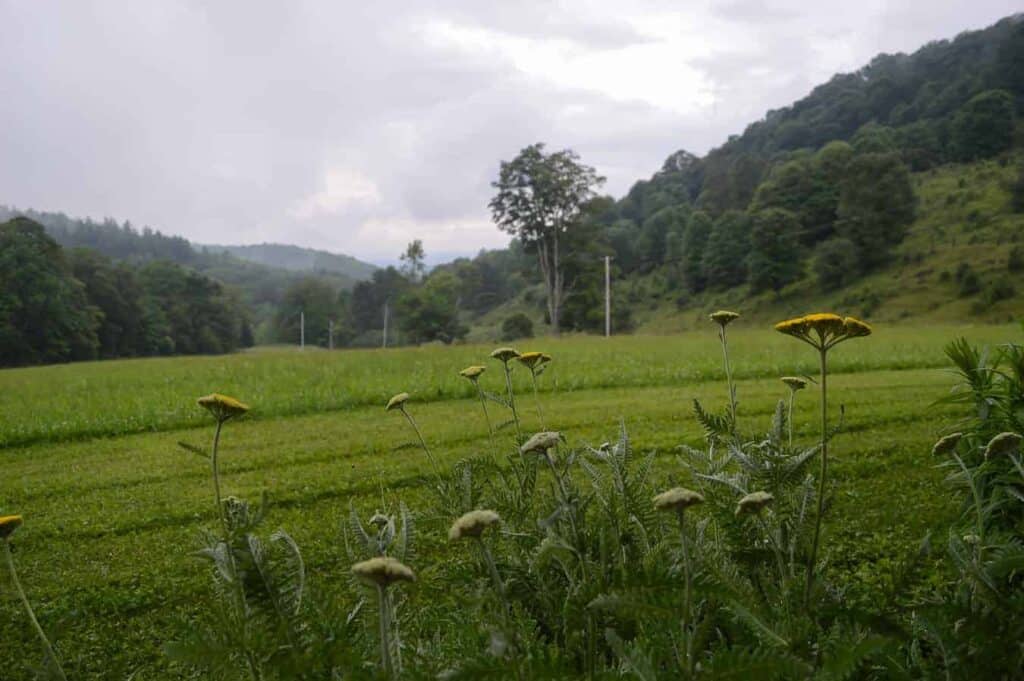 Cabot is not the only cheese in Vermont, not by a mile. A visit to Woodstock, VT demands a visit to a local Woodstock farm.
Head up to Sugarbush Farm, a Vermont sugar house, tucked away in the hills, for more cheese sampling as well as maple syrup tasting. While you're there, you can also walk around the farm and learn about how maple syrup is made.
This place is a family farm dating back generations.
Stroll America's Sweetest Downtown
Downtown Woodstock, VT is a fabulous place for shopping, dining, and simply walking. This cute area can get crowded on weekends or during busy events, and it's no wonder–there's lots to see and do.
There are bookstores, toy shops, clothing stores, and plenty of options for gifts, arts, and crafts.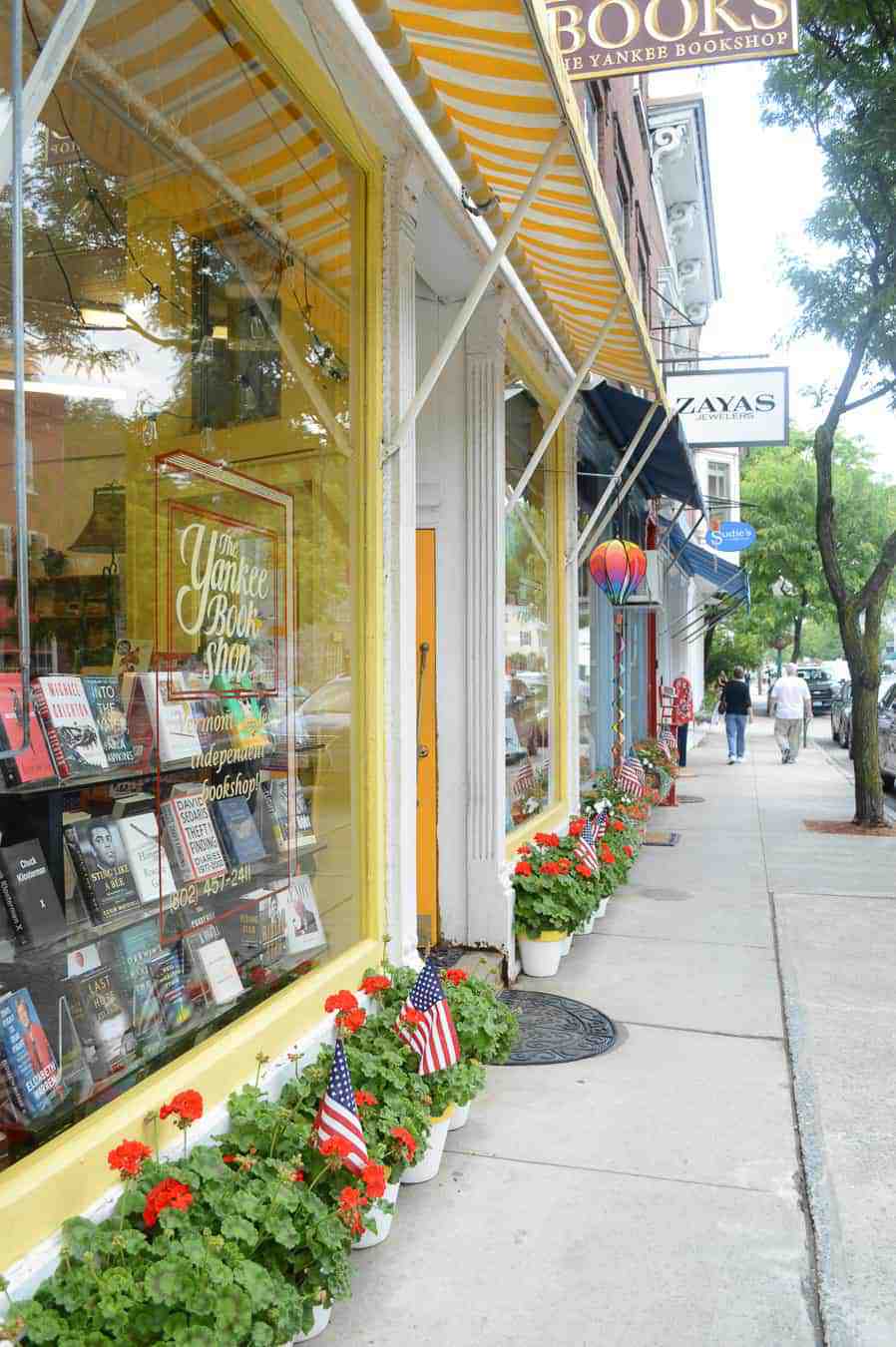 Don't miss FH Gillingham & Sons, a classic Vermont general store in the heart of downtown.
This 1886 shop is a Woodstock staple, and is renowned as one of VT's oldest family-run general stores. Stop here for all kinds of Vermont-made items, souvenirs, and a nice selection of wine.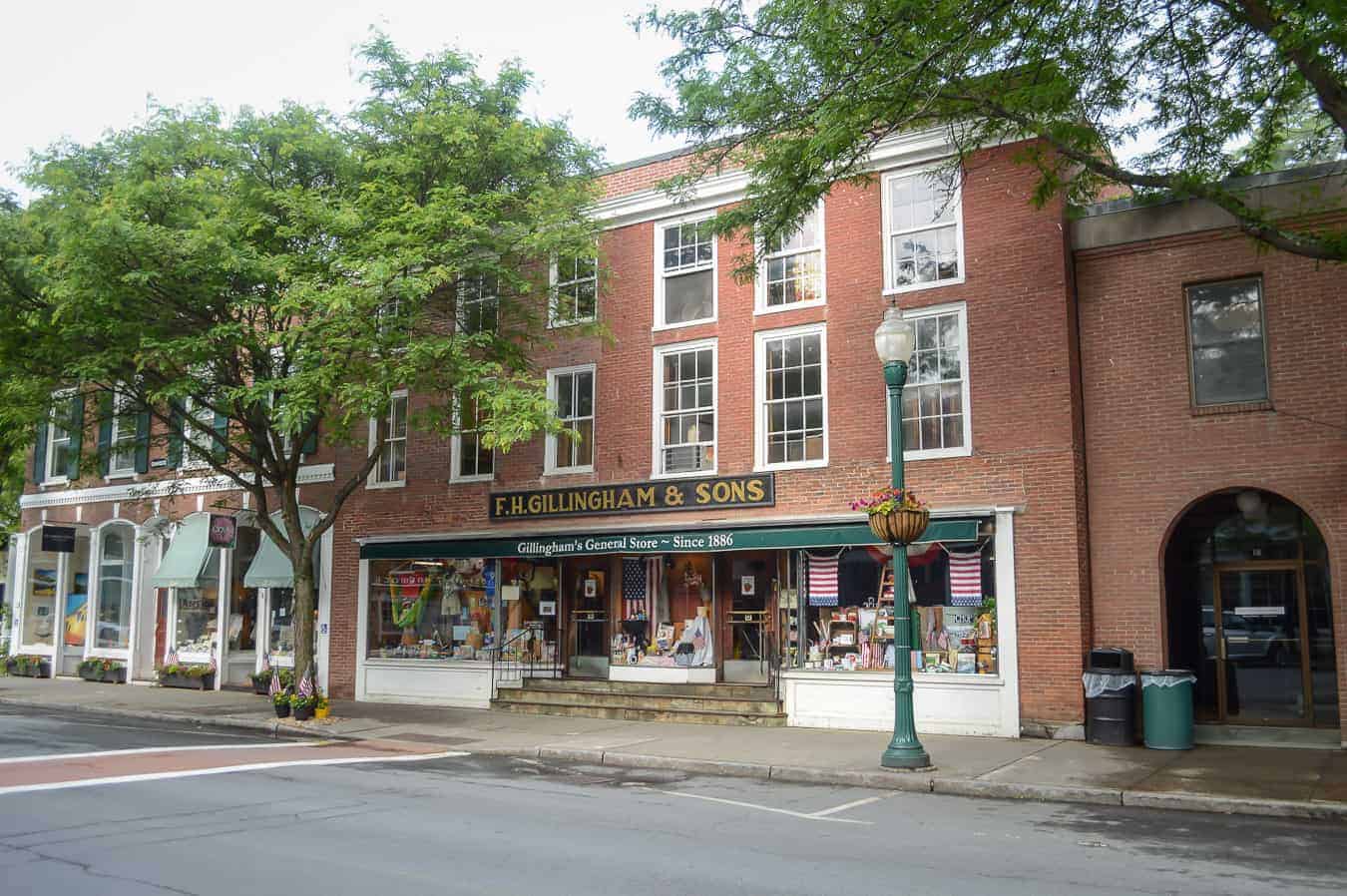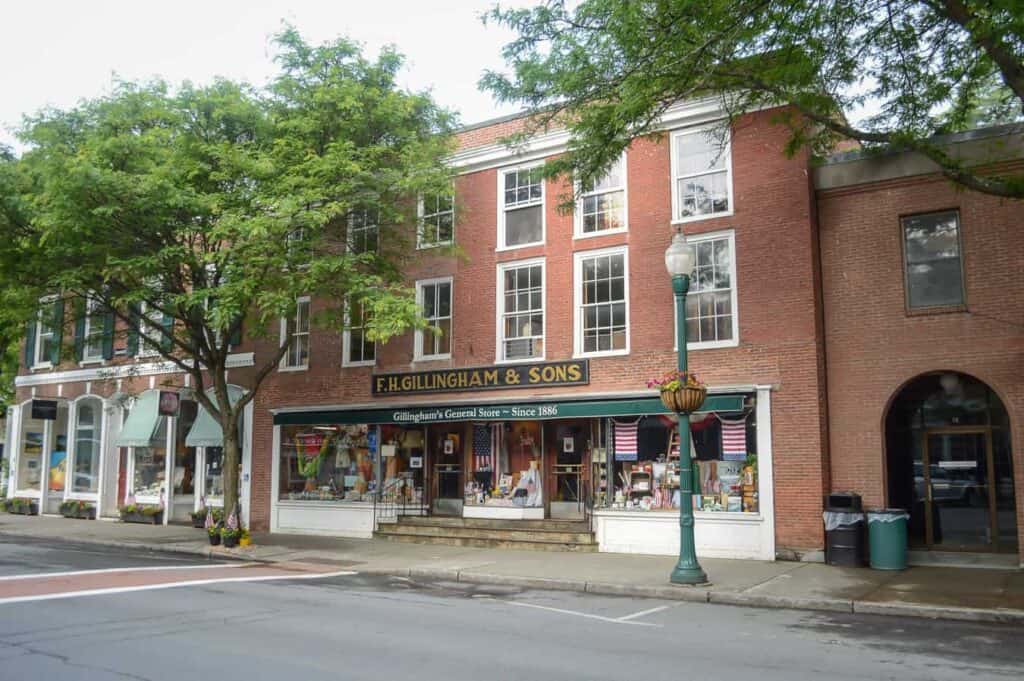 Other shops in Woodstock, VT to keep an eye out for:
Unicorn – unique gifts and novelties
Vermont Flannel Company – stay cozy!
Who is Silvia? – vintage clothing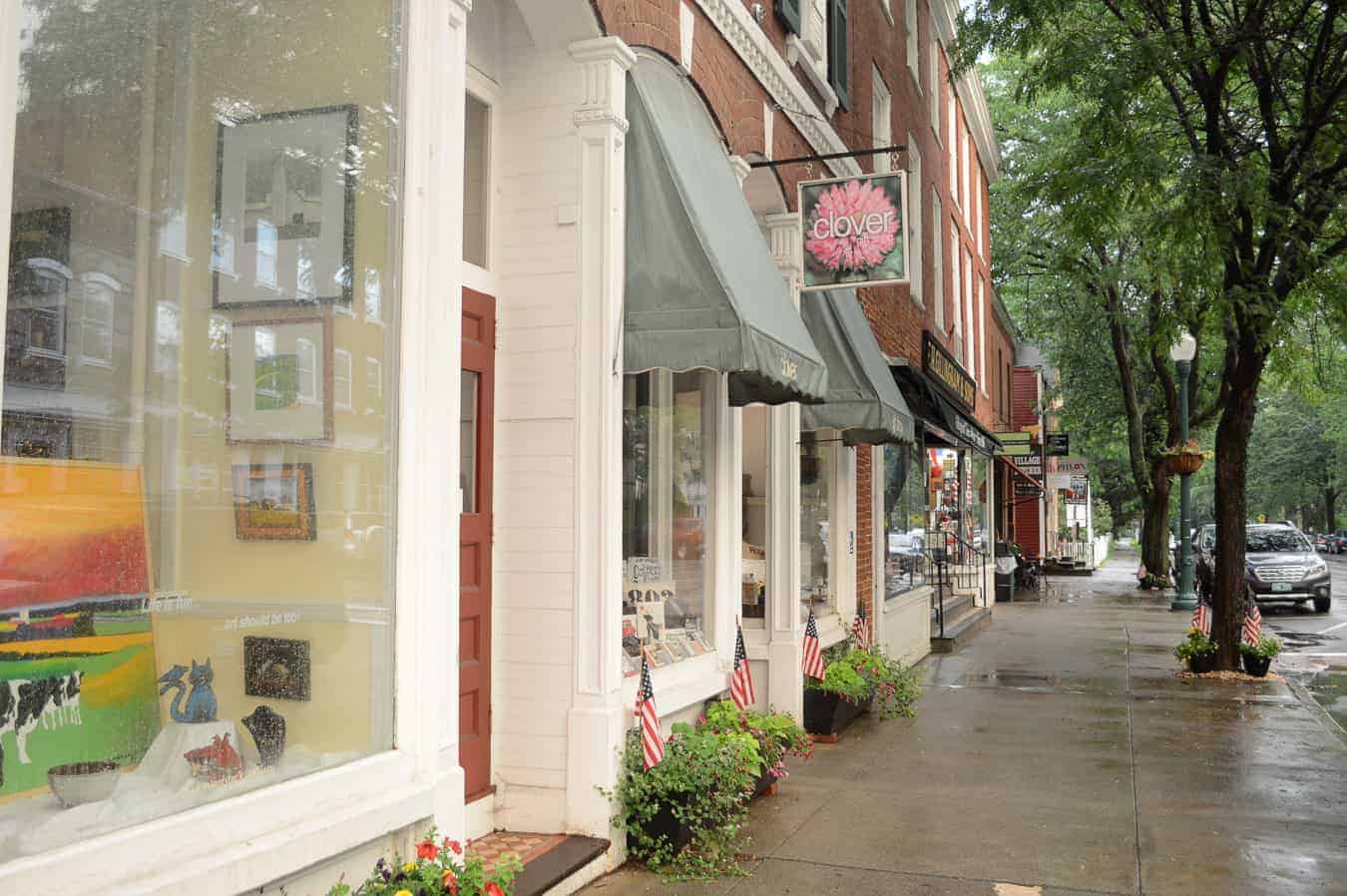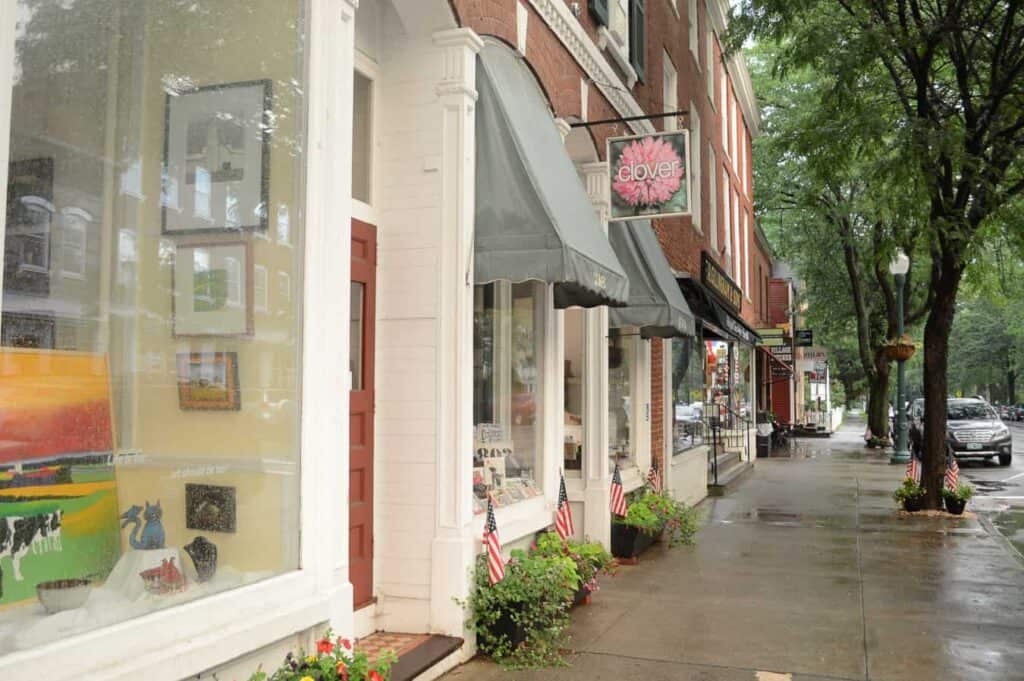 Even if you're not shopping, downtown Woodstock is a lovely place to walk around. You can explore the covered bridge, admire the iconic Woodstock Inn, or simply sit with coffee and people watch.
You never know who you might meet. On our last trip to Woodstock, we got to meet this tiny polar bear named Oso.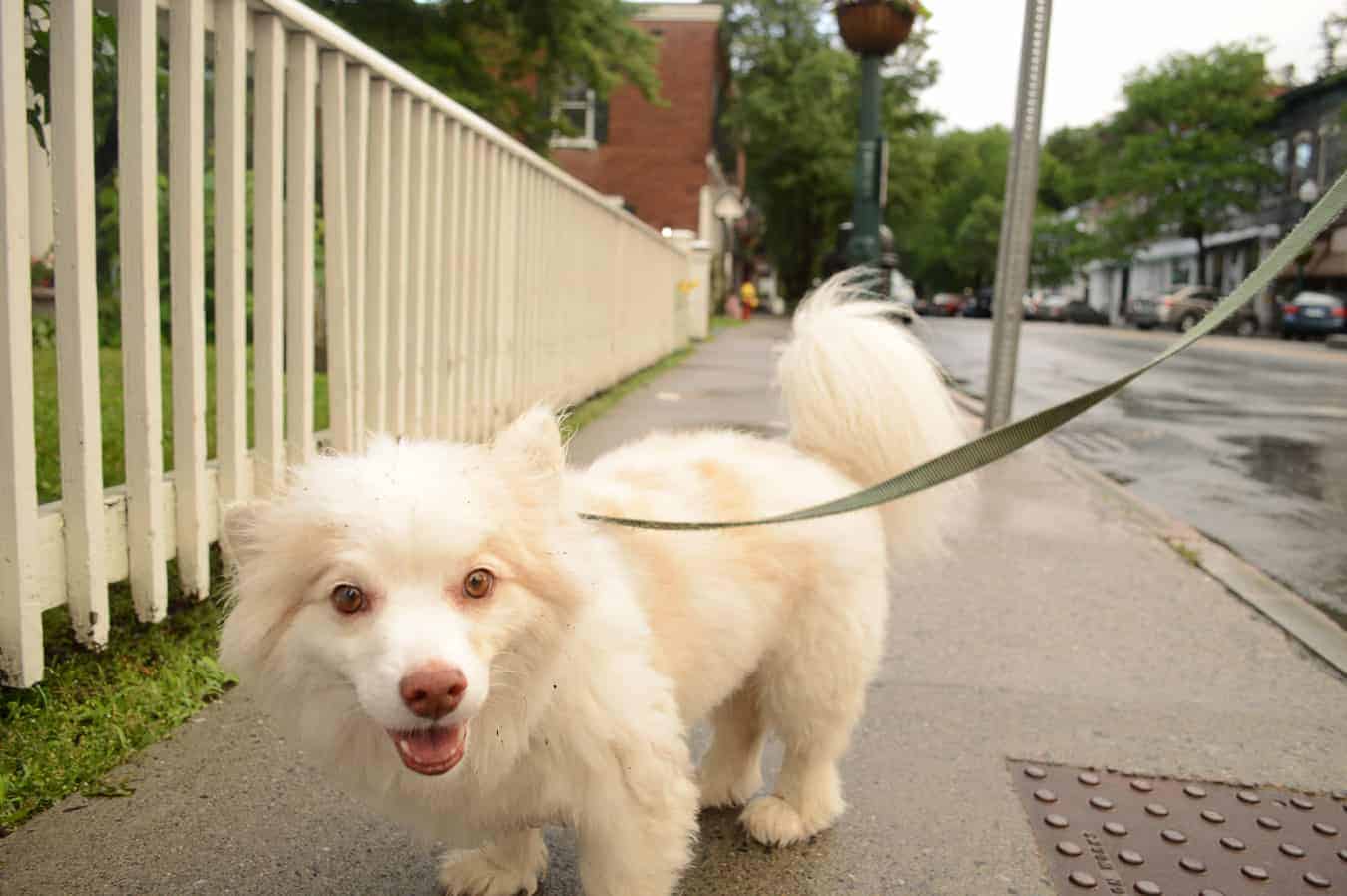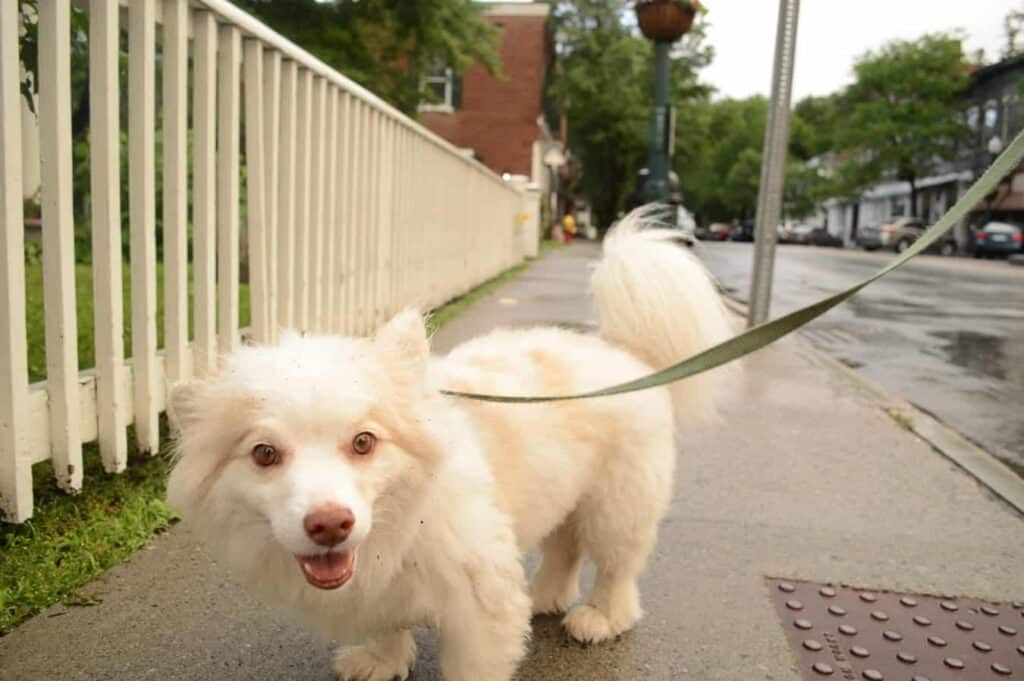 Visit the Long Trail Brewery
Sampling Vermont beer is a must-do when traveling in Vermont.
When in Woodstock, make the quick 15-minute drive west to the Long Trail Brewery to try some of Vermont's most well-known (and well-loved) beers.
Take a brewery tour, then enjoy beer flights or snacks at their Bavarian-inspired pub. There are nice views and delicious brews–what more do you need?
Visit a Working Dairy Farm
If you are visiting Woodstock with kids, don't miss Billings Farm. This is a working dairy farm that is all about demonstrations and education.
Spending an afternoon here can show you a great deal about the inner workings of a Vermont farm, and you can see the animals up close and personal. Billings Farm is a beautiful property and is definitely one of the top Woodstock, Vermont things to do.

Sift Through Endless Antiques
New England is a great place to go antiquing. We're always surprised at the number of antique shops to be found all over Vermont and New Hampshire.
Well, if you love searching for treasures of the past, we found the trove. In Quechee Gorge Village (the same place where you can sample Cabot cheese) is an enormous antiques mall. Several floors are filled with antique items of all kinds.
It's a fascinating place to walk around in. On our recent trip to Woodstock, we ran into some bad weather–exploring this antiques mall was a perfect rainy-day activity!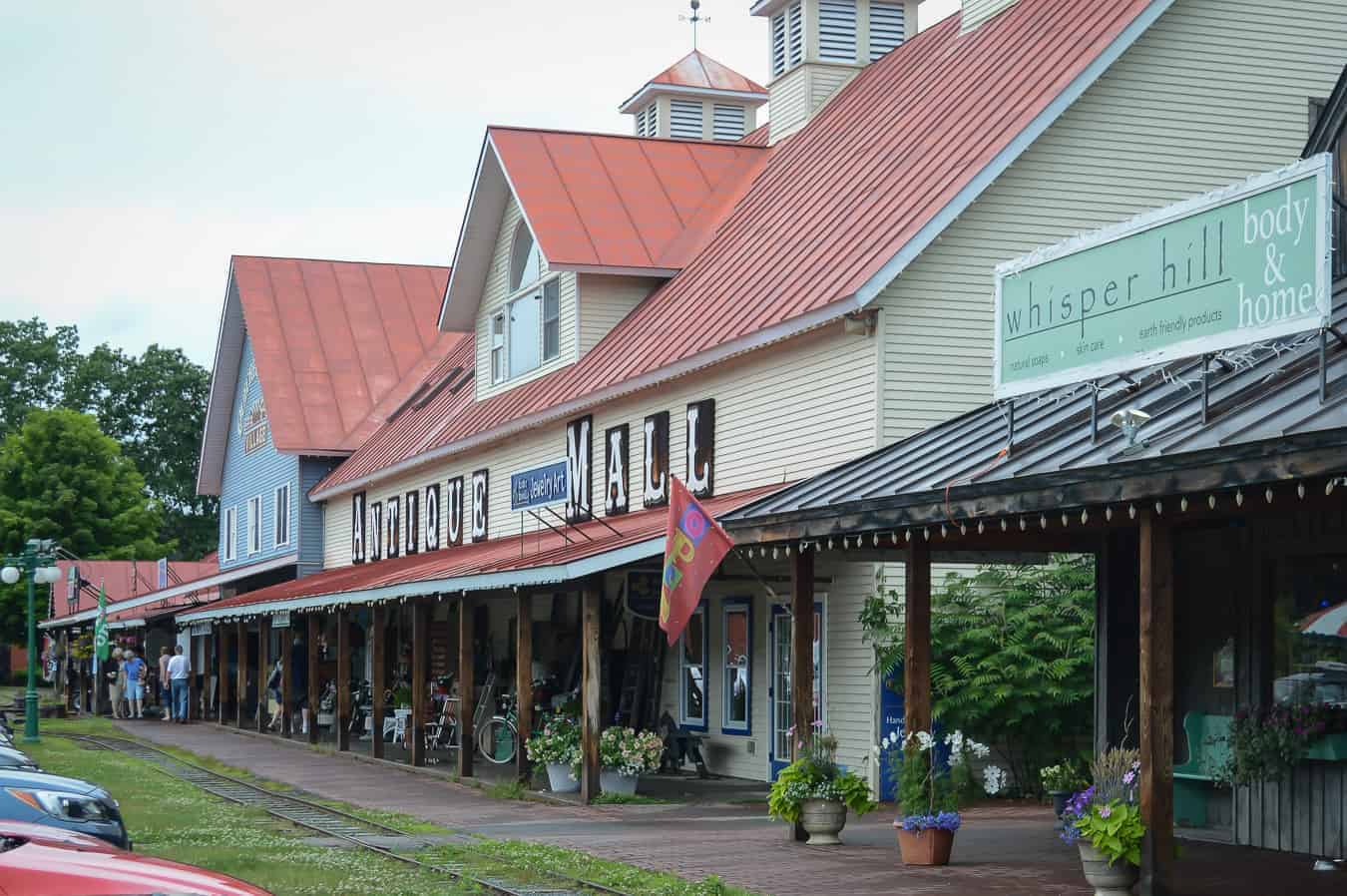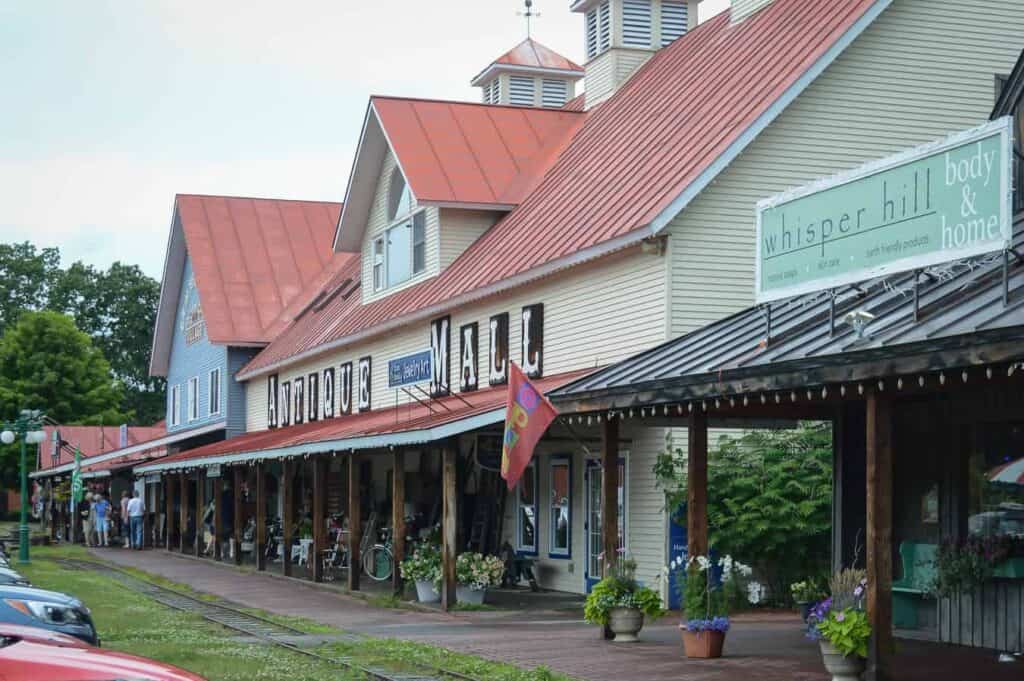 Sample Local Spirits
After you've explored the antiques for a while, head down to the end of the shopping center and visit Vermont Spirits. There you can sample Vermont-made whisky, gin, bourbon, and more.
A free tasting lets you try four different spirits. Get ready to feel the burn a bit, but they are delicious. We liked the 1791 Cocktail, which had a fruity touch.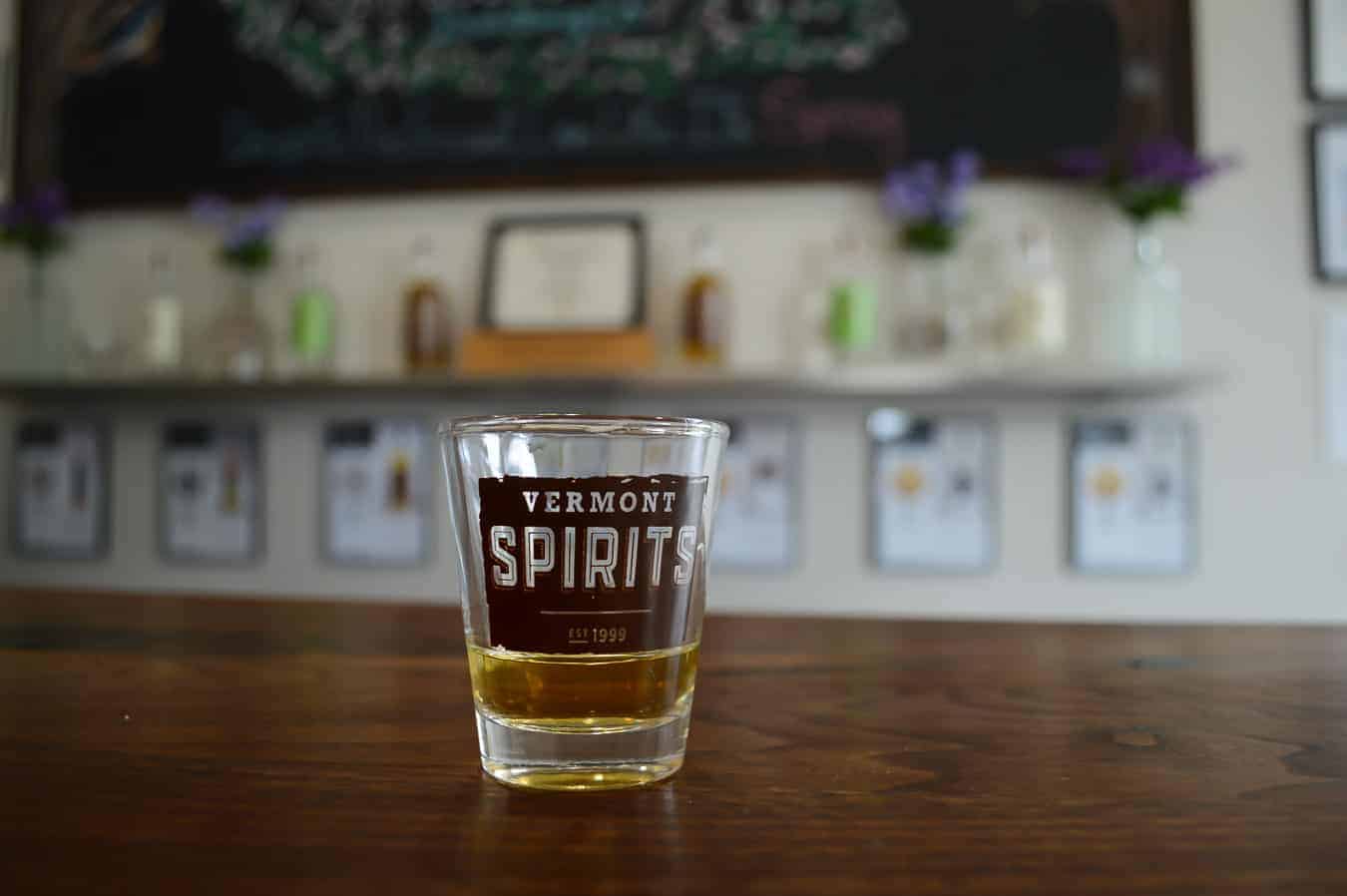 Admire Quechee Gorge
Woodstock and Quechee are neighboring towns in west-central Vermont, and a trip to one can't really be complete without a trip to the other.
When you're searching for things to do near Woodstock, VT, also look for things to do in Quechee, VT. There are so many!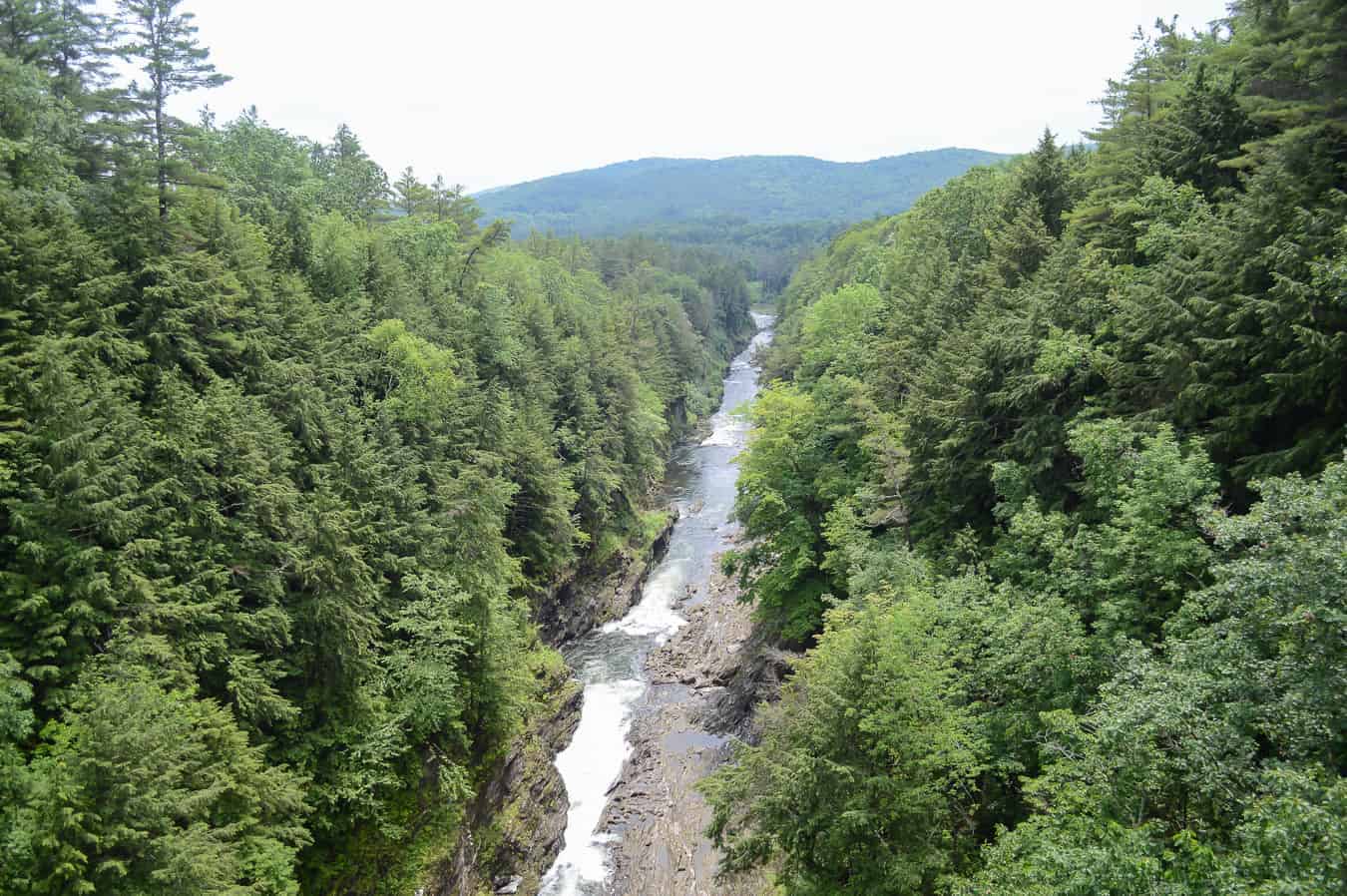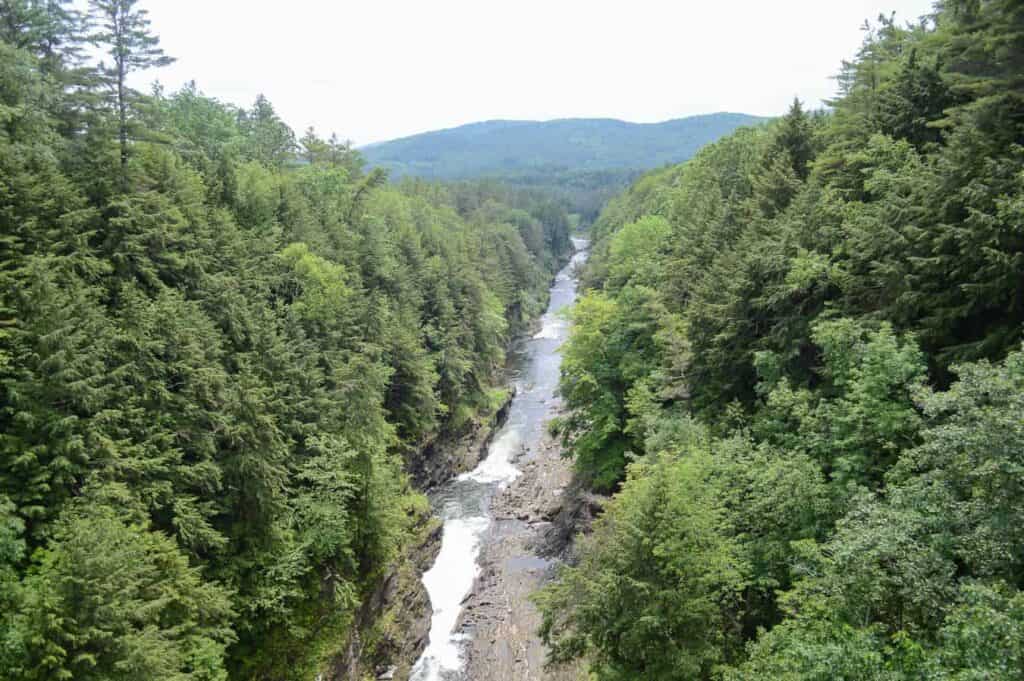 One of our very favorite sites in the region is Quechee Gorge. This awe-inspiring natural formation is best seen from the bridge on Route 4. There is a parking area just beyond the bridge, and the bridge has a sidewalk with rails, so you can safely walk out and peer into the gorge.
The gorge is especially magical in the autumn, when the trees on either side burst into remarkable hues of orange and red.
If you're feeling adventurous, you can take a fairly short hike down alongside the gorge. The trail leaves from the parking area and takes you to some short waterfalls.
Learn About Glassblowing
Glassblowing is a popular art in New England. There are many workshops that offer demonstrations, tours, and even lessons.
A really nice place to see glass blowing in action is Simon Pearce. This place features an elegant glassware shop, a glass-blowing studio, and a bar and restaurant.
Head downstairs first to see the glass blowing in action. Several artisans were at work during our Saturday afternoon visit. Though the room is hot and bright, these blowers seemed perfectly relaxed and happy, creating beautiful glass works with ease.
Watching them is hypnotic, but don't be afraid to ask questions. The artisans are glad to chat with you and educate you on glass blowing.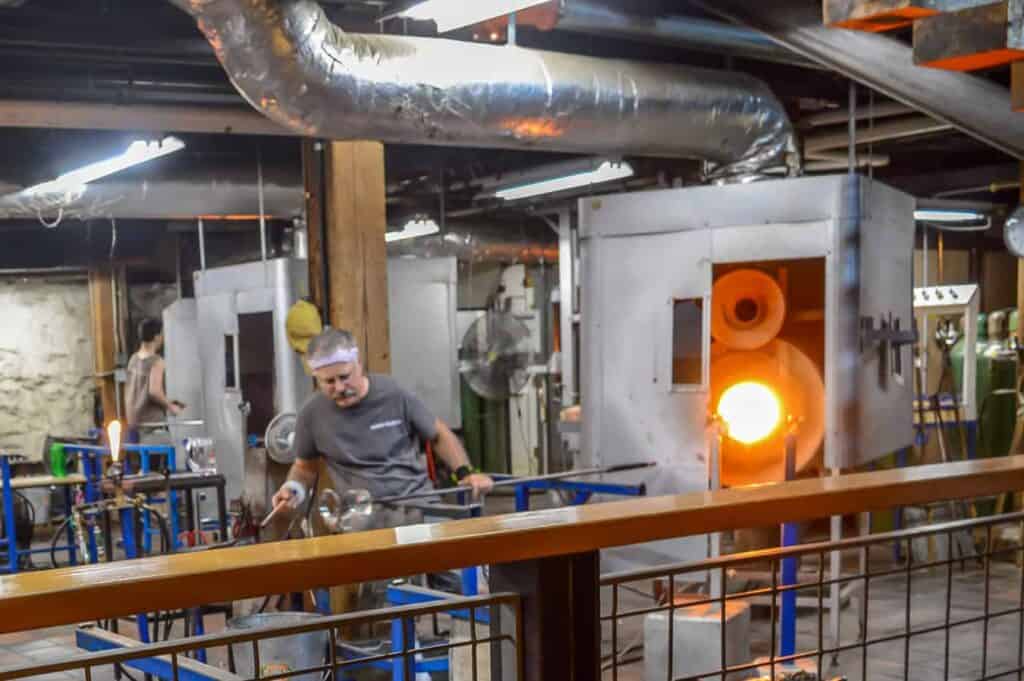 You can step through onto the balcony to enjoy the refreshing breeze and a view of the nearby covered bridge and tumbling waterfall.
Should you choose to dine in the restaurant, try to get a table overlooking the falls!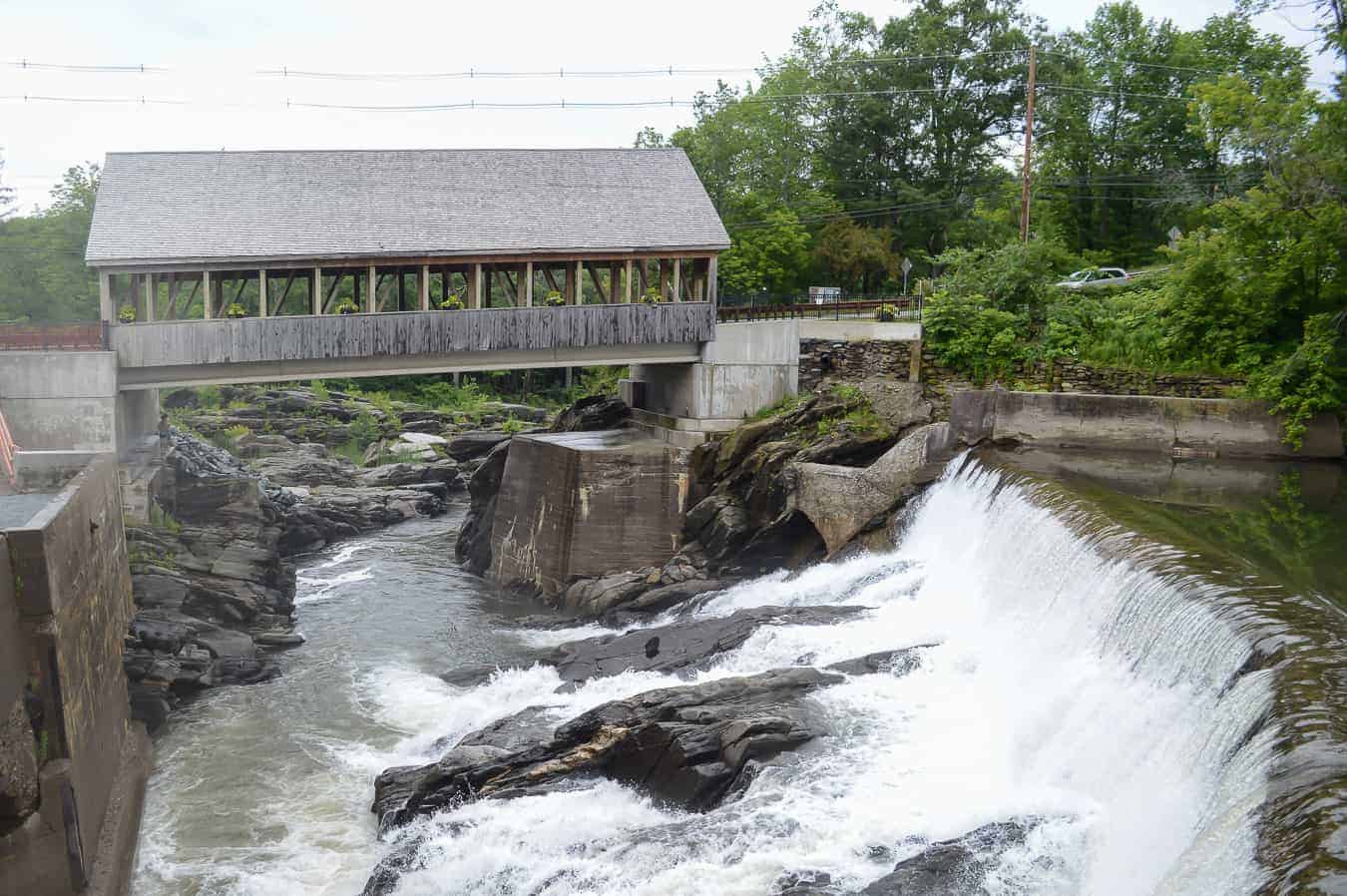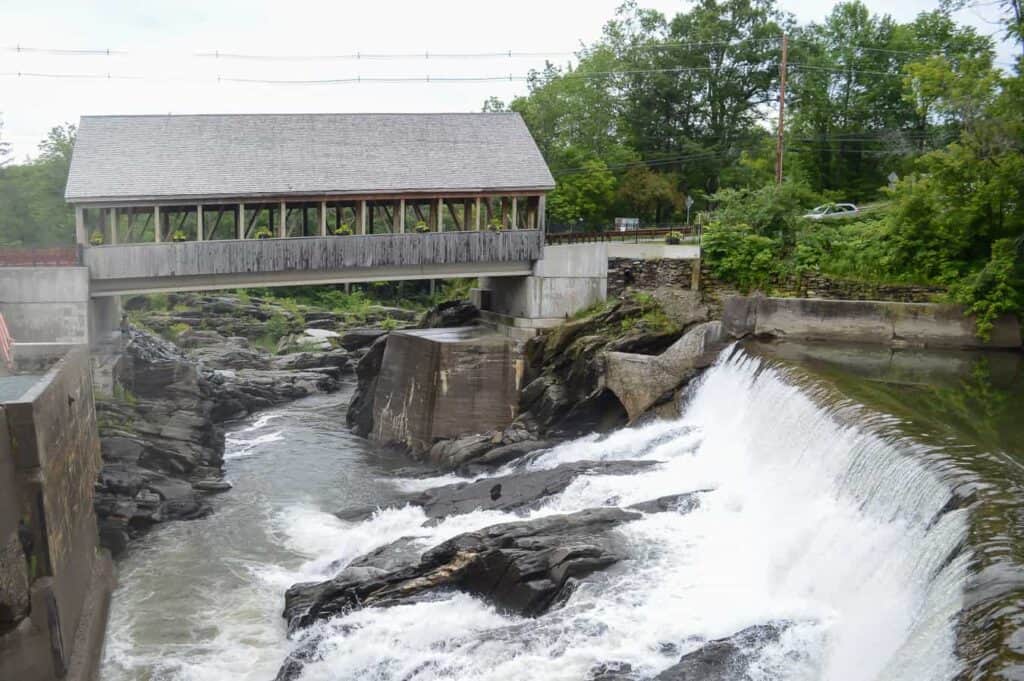 Explore a Quaint Bookshop
In Woodstock, we saw a sign for used books and had to stop. This eclectic bookstore had lots of volumes old and new and was a fun place to browse. They also had a nice view over the river from behind the shop. When searching for what to do in Woodstock, VT, don't discount those hidden gems that you just might stumble across.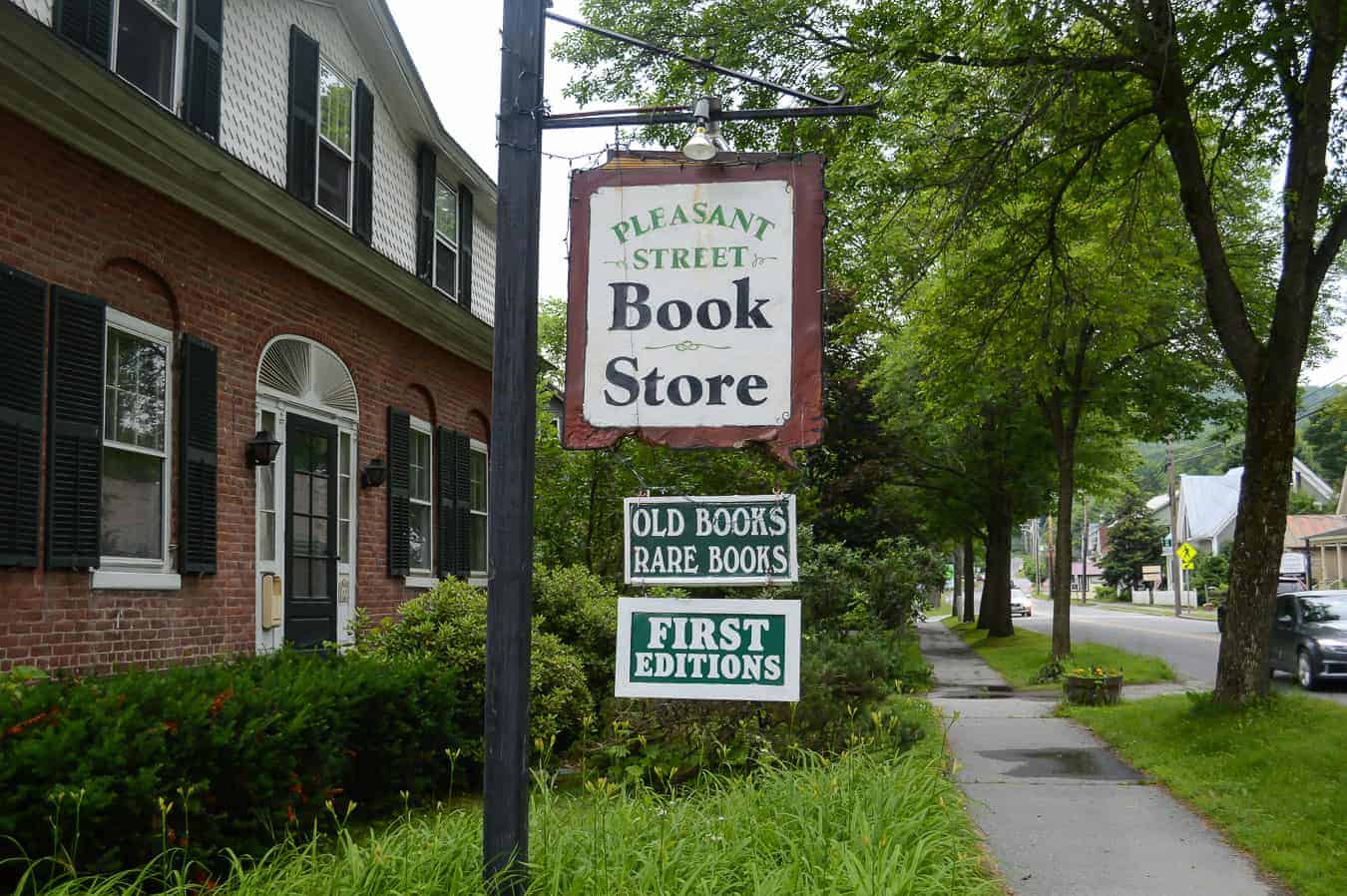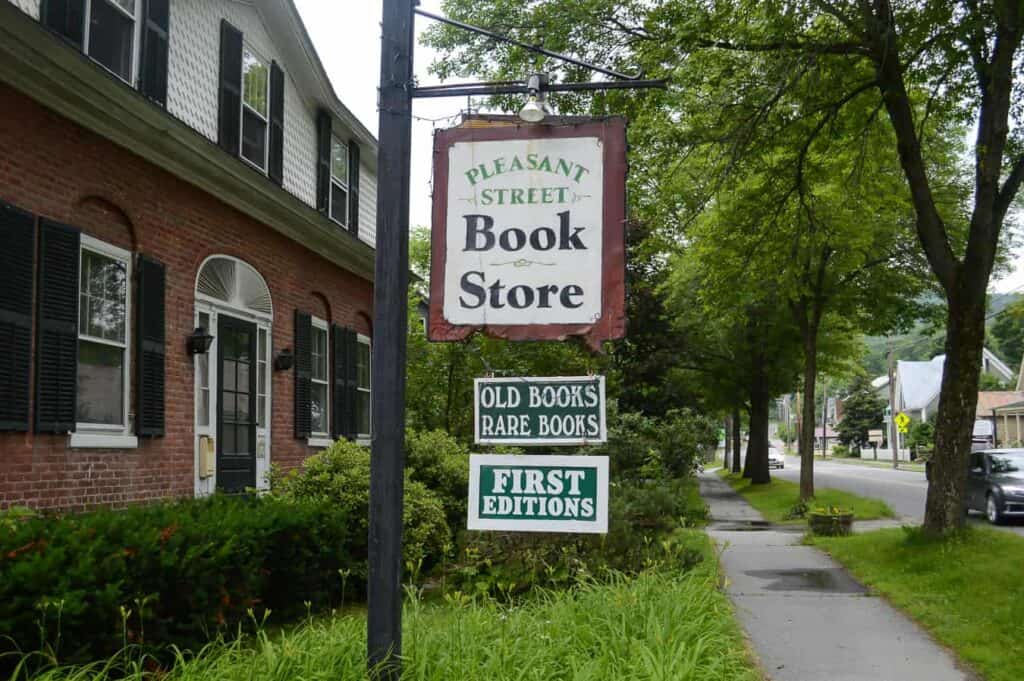 Take a Hike
We were a bit disappointed during our visit to the Woodstock region because we caught a few very rainy days. Had the weather been better, we would definitely have taken in some of the nice options for hiking near Woodstock VT.
Mount Tom seems to be the #1 choice for a short yet very scenic hike. This peak will reward you with views over the town of Woodstock.
Want to get out and about for some hiking in the area? This resource for local hiking trails will tell you all you need to know. You can also check out our article on the best Vermont hiking trails.
Catch Some Classic New England Architecture
Covered bridges? Check! Stately Vermont homes? Check! White, steepled churches? Check check check!
There's no shortage of classic New England architecture in Woodstock.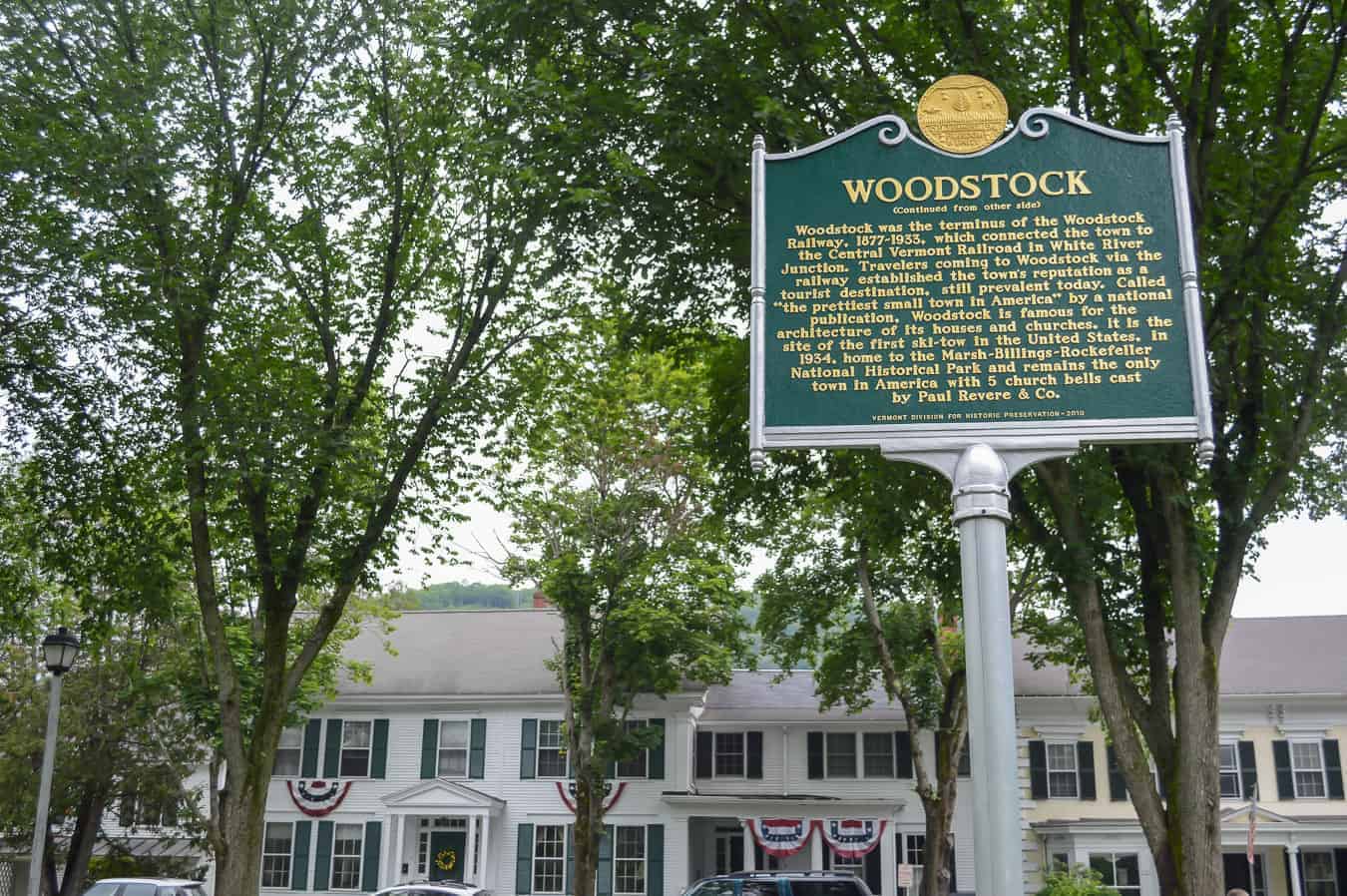 A walk around downtown Woodstock will introduce you to much of this quintessential architecture, but don't just stick to the main road.
Venture off into the nearby residential areas. The stately homes are beautiful, and during our visit in July, they were draped with red, white, and blue banners and flying many American flags. Classic New England at its finest!
Of course, Vermont is famous for its covered bridges. There are 100 spread out over the state and quite a few to be found from Rutland to Woodstock and the surrounding area.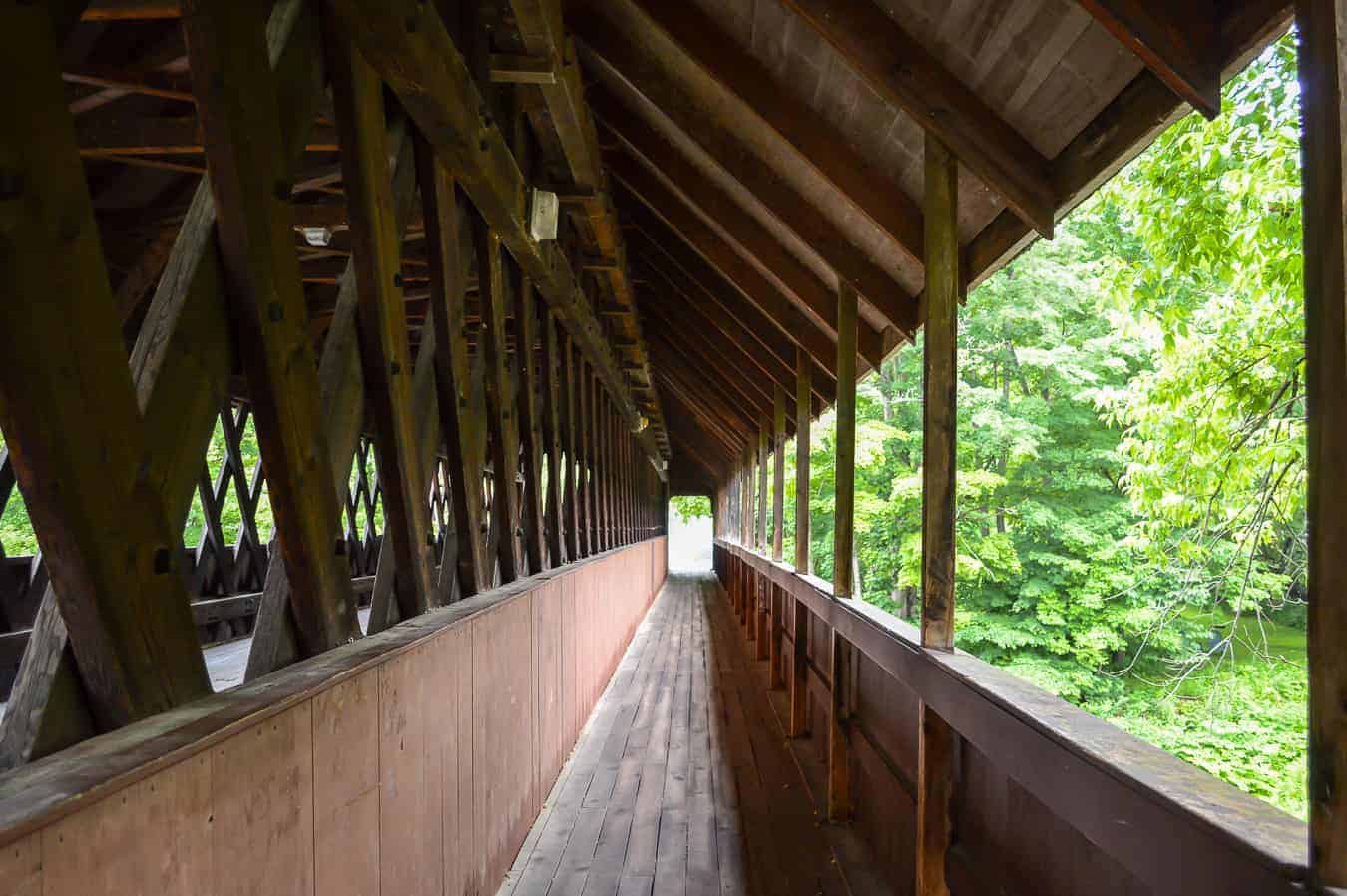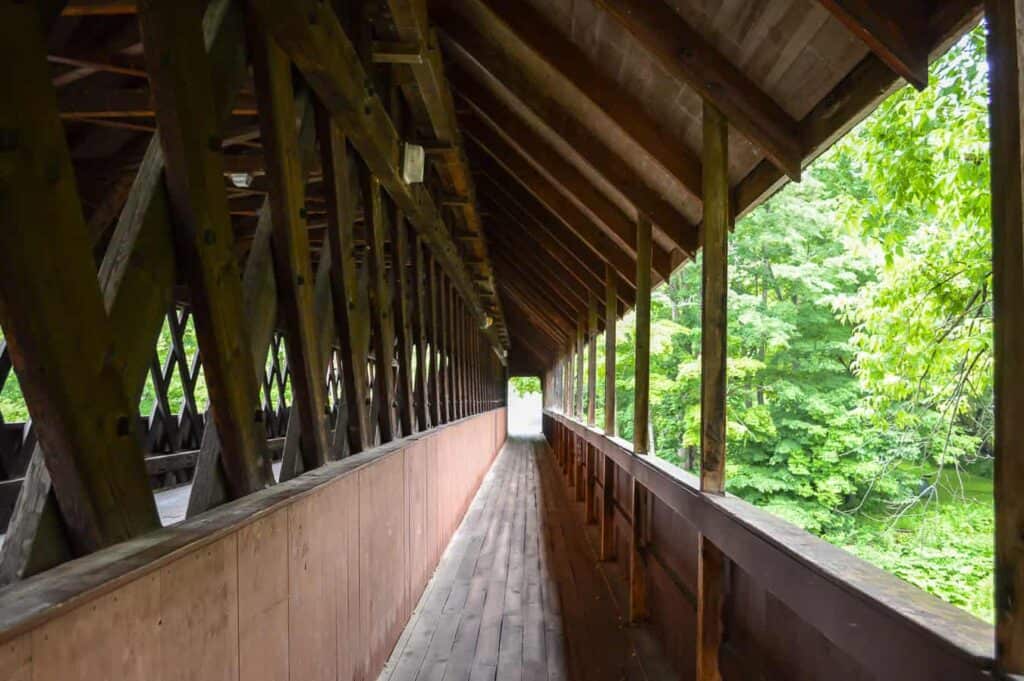 Places to Stay in Woodstock, VT
After a day spent adventuring around Woodstock, what could be better than a wonderful spot to rest your head? There are plenty of hotels in Woodstock, Vermont to choose from. We have a couple of recommendations, depending on what you're looking for.
The Woodstock Inn
Taking your honeymoon in Woodstock? Or, celebrating a super-special occasion? You might want to stay in the Woodstock Inn, an exquisite property that hosts beautiful weddings.
A stay here is definitely more of a splurge, but it is a good option for a romantic getaway in Woodstock, VT. Click here to check the latest prices and availability.

The Jackson House Inn
Another Woodstock accommodation you might choose is the Jackson House Inn. For those seeking a classic Vermont bed and breakfast experience, this is a terrific choice.
The inn is located a few miles from downtown Woodstock, providing a more country feel. Click here to check prices and availability.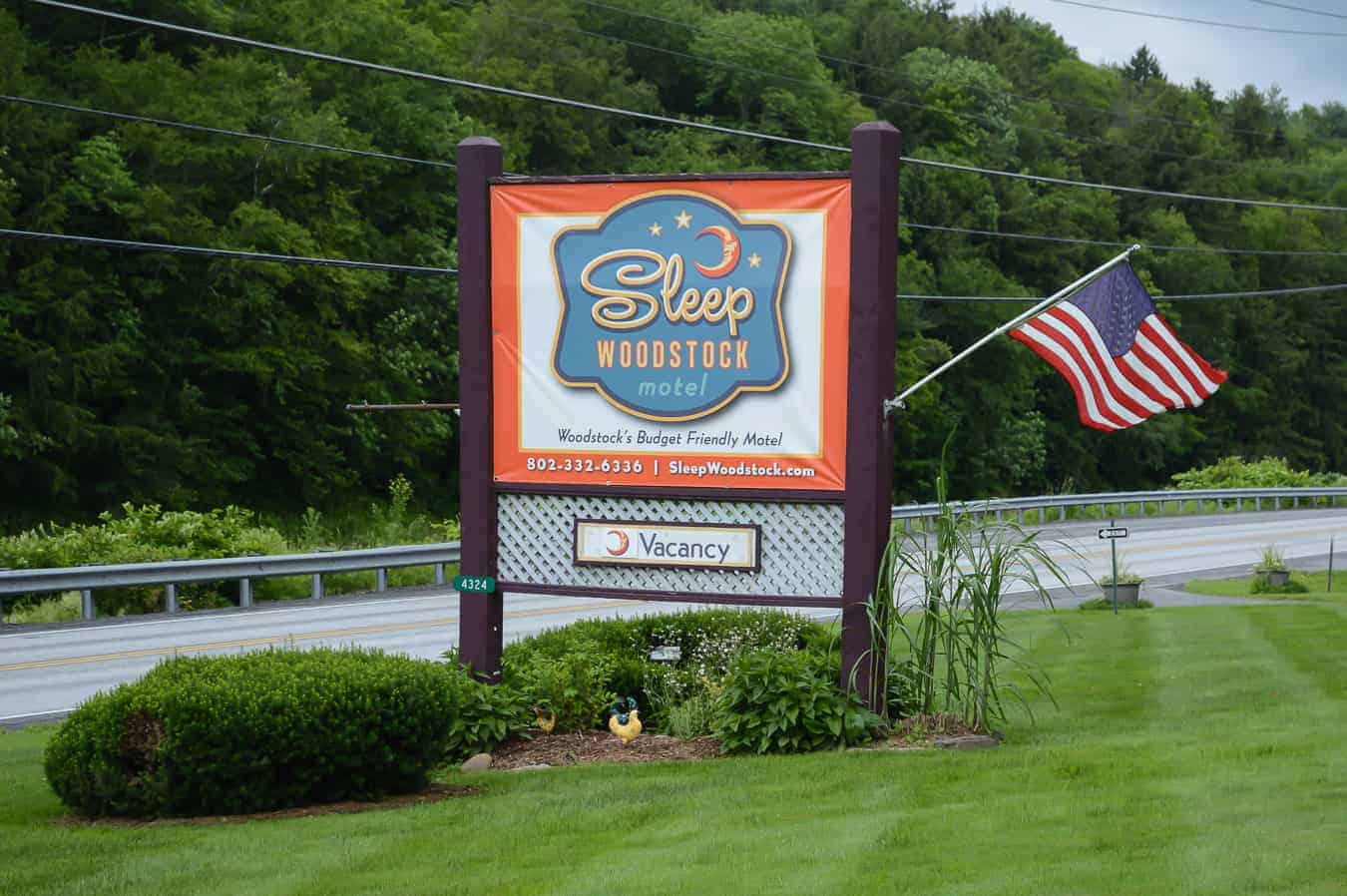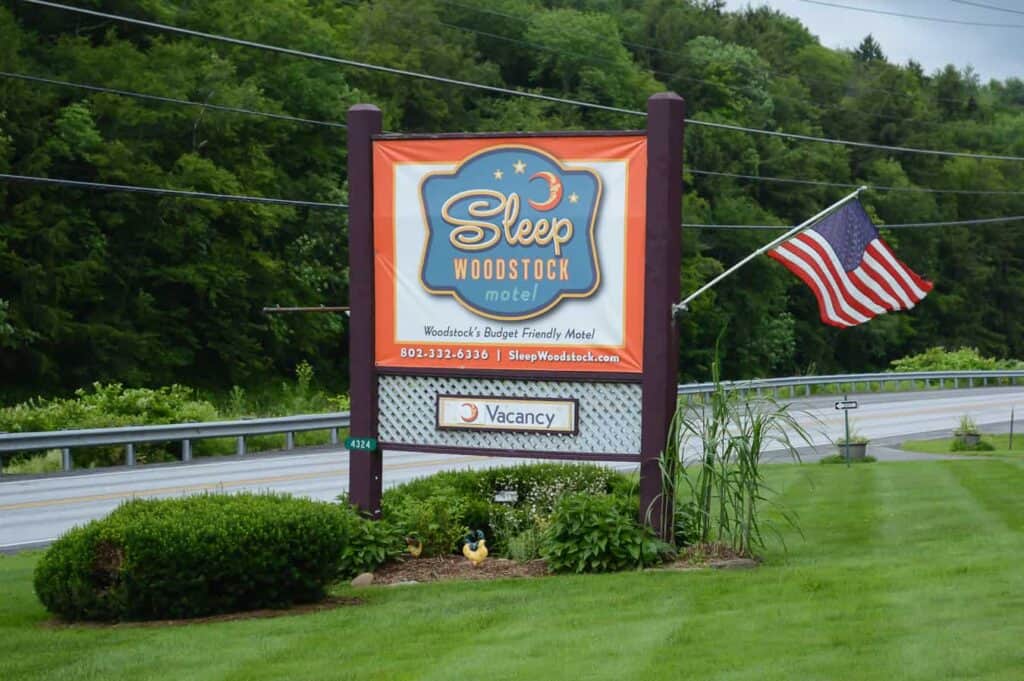 The Sleep Woodstock Motel
Yet for the budget conscious, there can be no better choice than the Sleep Woodstock Motel. In fact, this is an all-around excellent option for Woodstock, VT lodging. The prices are reasonable, especially since the motel feels a bit upscale.
Sleep Woodstock is a newer addition to the Woodstock area, and it is a good one as this region doesn't have too many budget-friendly accommodation choices. Clean, cute, and homey, the Sleep Woodstock has the vibe of a 1950s motor lodge combined with the touches of a modern hotel.
We were hosted here during our recent Woodstock stay, and we really, really loved it. The room was spacious, every feature was brand new, and the bed provided one of the most comfortable nights of sleep ever!
Our room had a fridge and microwave, too: very convenient for chilling our wine.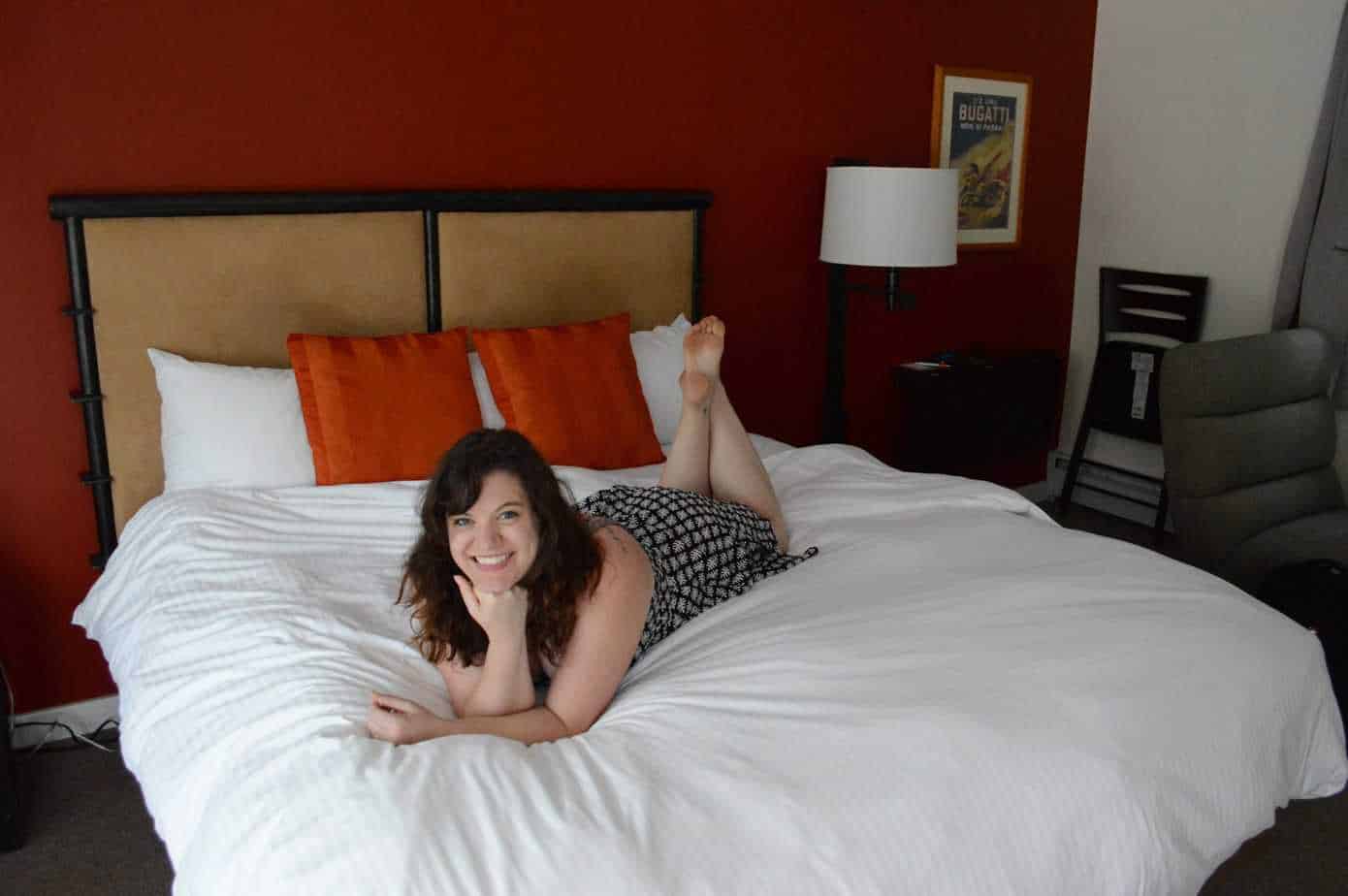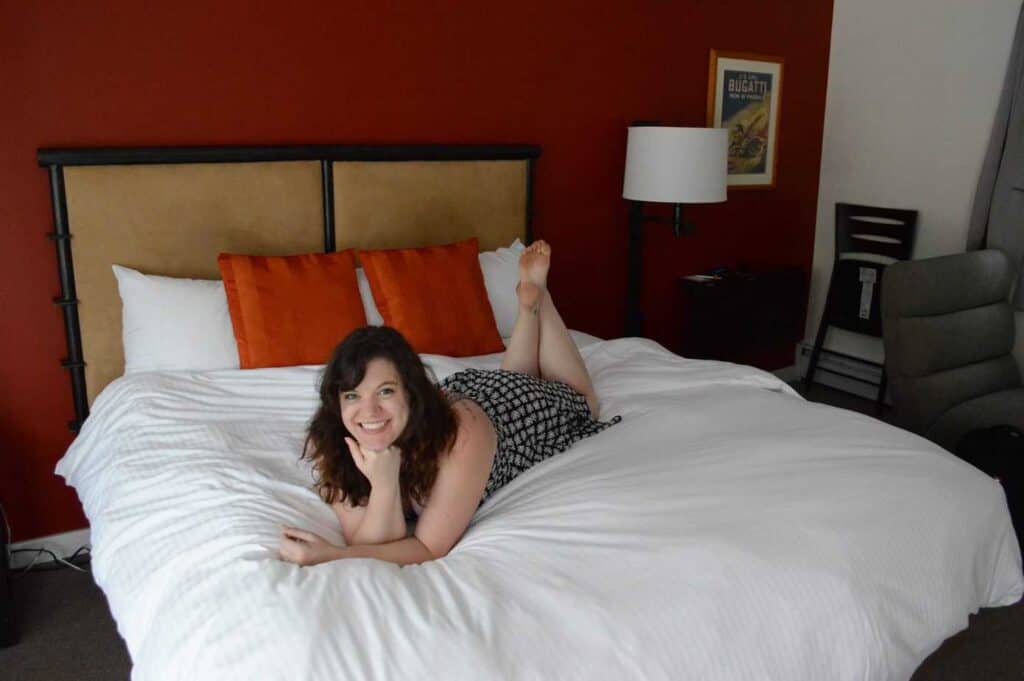 To top it off, the motel's owner, Patrick, is super friendly and ready to give you tons of suggestions for things to do around Woodstock, VT, especially where to grab the best food.
We absolutely recommend Sleep Woodstock for couples, families, and other travelers. It's an affordable motel in Woodstock, VT in a great location. Click here to check prices and availability.
Where to Eat in Woodstock
There are a huge number of restaurants in Woodstock, VT that beckon you to try them. Unfortunately, you'll never get to them all in a single visit, but you can get a good sample!
When time is limited, we recommend the following options:
Eat Farm-to-Table Goodness – Cloudland Farm
You can't miss out on farm-to-table dining in VT. The state's immense farmland has inspired countless restaurants that use crops, meat, and more straight from the source.
One Woodstock, Vermont restaurant that should be on the top of your list is Cloudland Farm. This farm-to-table operation is absolutely divine.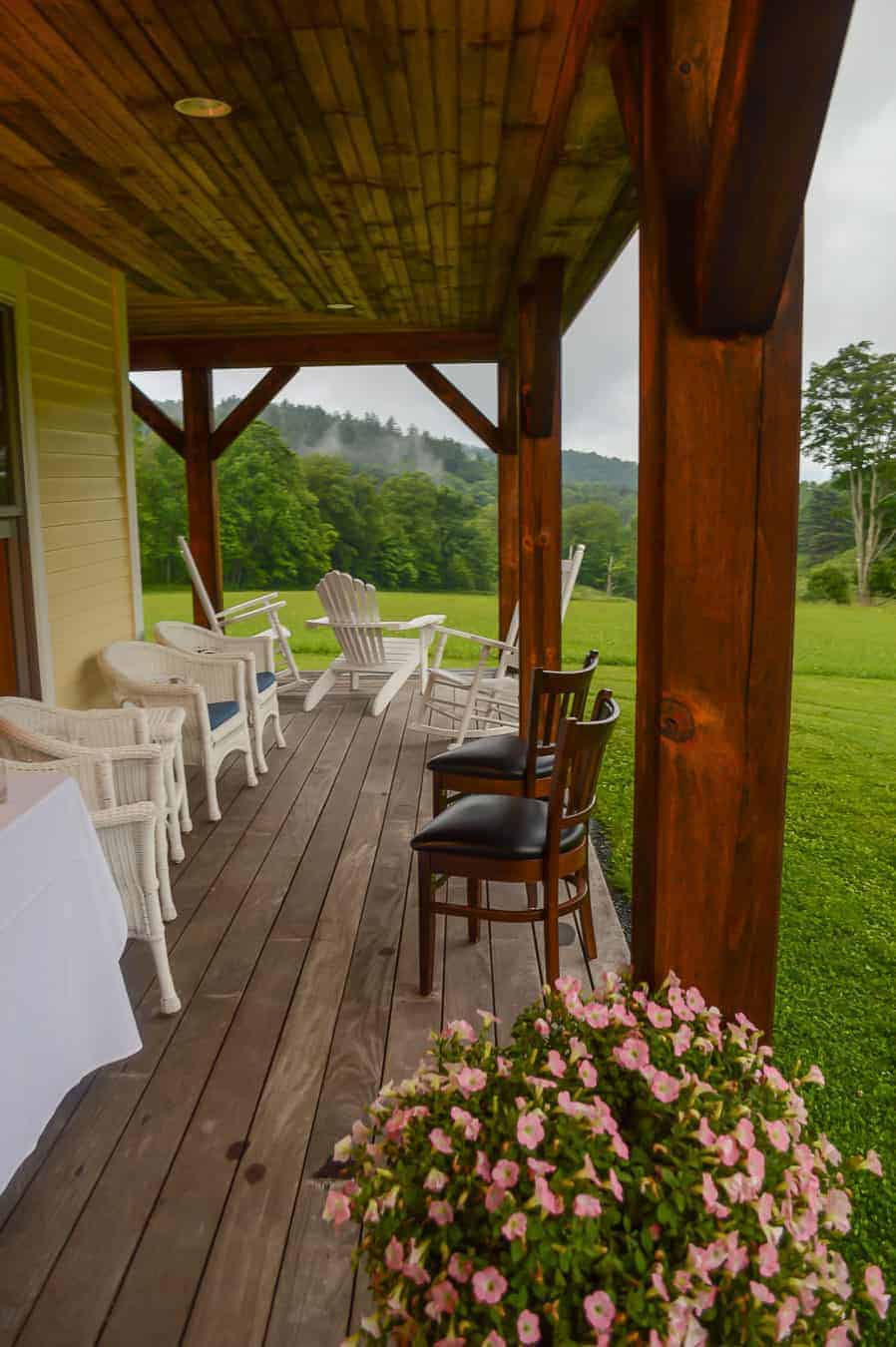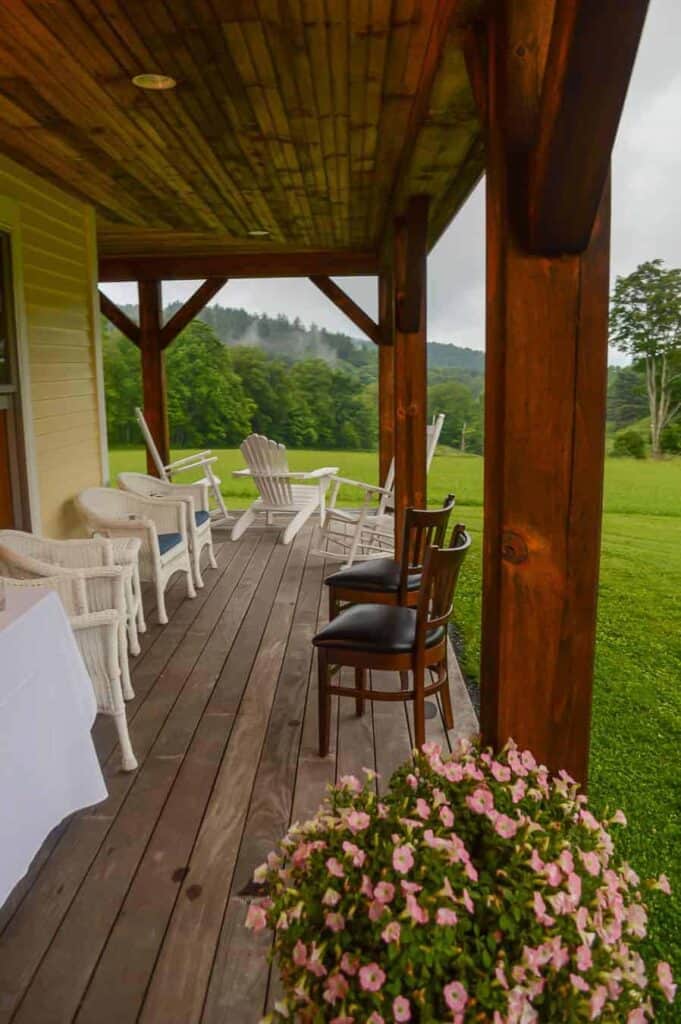 Cloudland Farm is found up a winding set of beautiful VT roads. The route is so woodsy that you might feel as if you've taken a wrong turn, but you're on the right track. Around a final bend, you'll see the sprawling property overlooking a stunning mountain vista.
Before your meal begins, you can sit on the veranda and simply take in the view with a glass of wine. It's so relaxing and romantic. (Cloudland is BYOB, so plan ahead and bring along your favorite bottle of wine or a selection of beers.)
Then, it's time for your dinner.
Get ready for an incredible meal. Each night's menu is different, with chef-selected daily fare crafted entirely from local ingredients.
A list on your table tells you where each item has been sourced. Cloudland partners with an impressive number of farms in Vermont, New Hampshire, and even Massachusetts.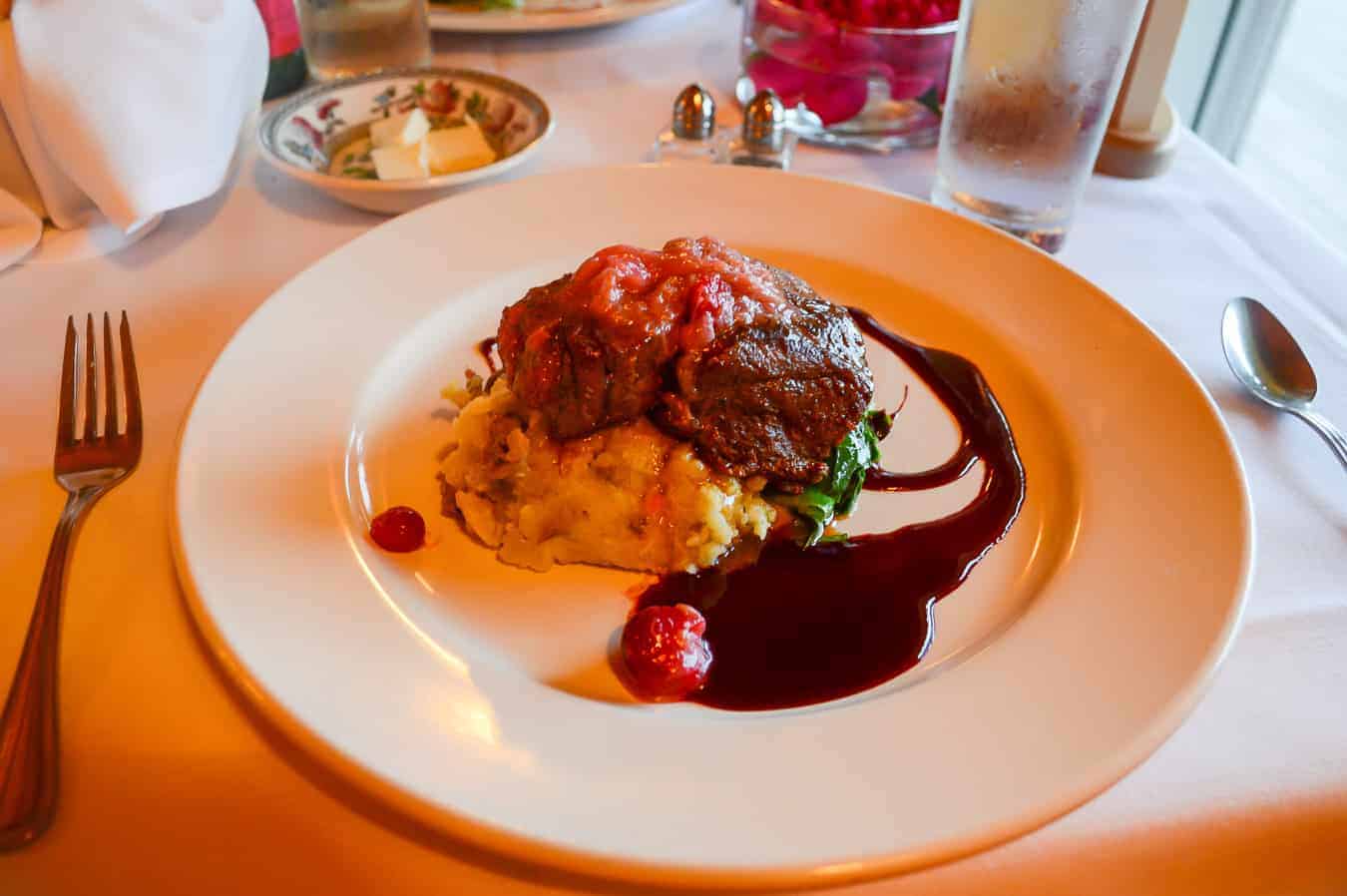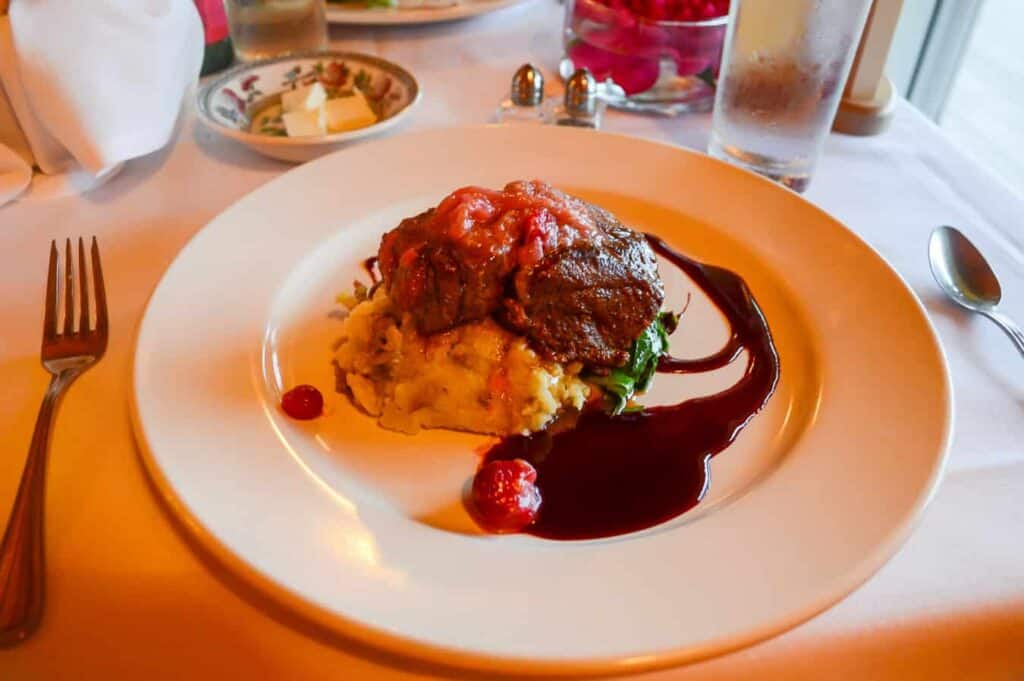 The entree at Cloudland was braised pork (raised right at Cloudland itself), herb mashed potatoes, with a rhubarb compote and a berry glaze. Amy had a vegetarian option: risotto cakes, also with fresh rhubarb and a local egg.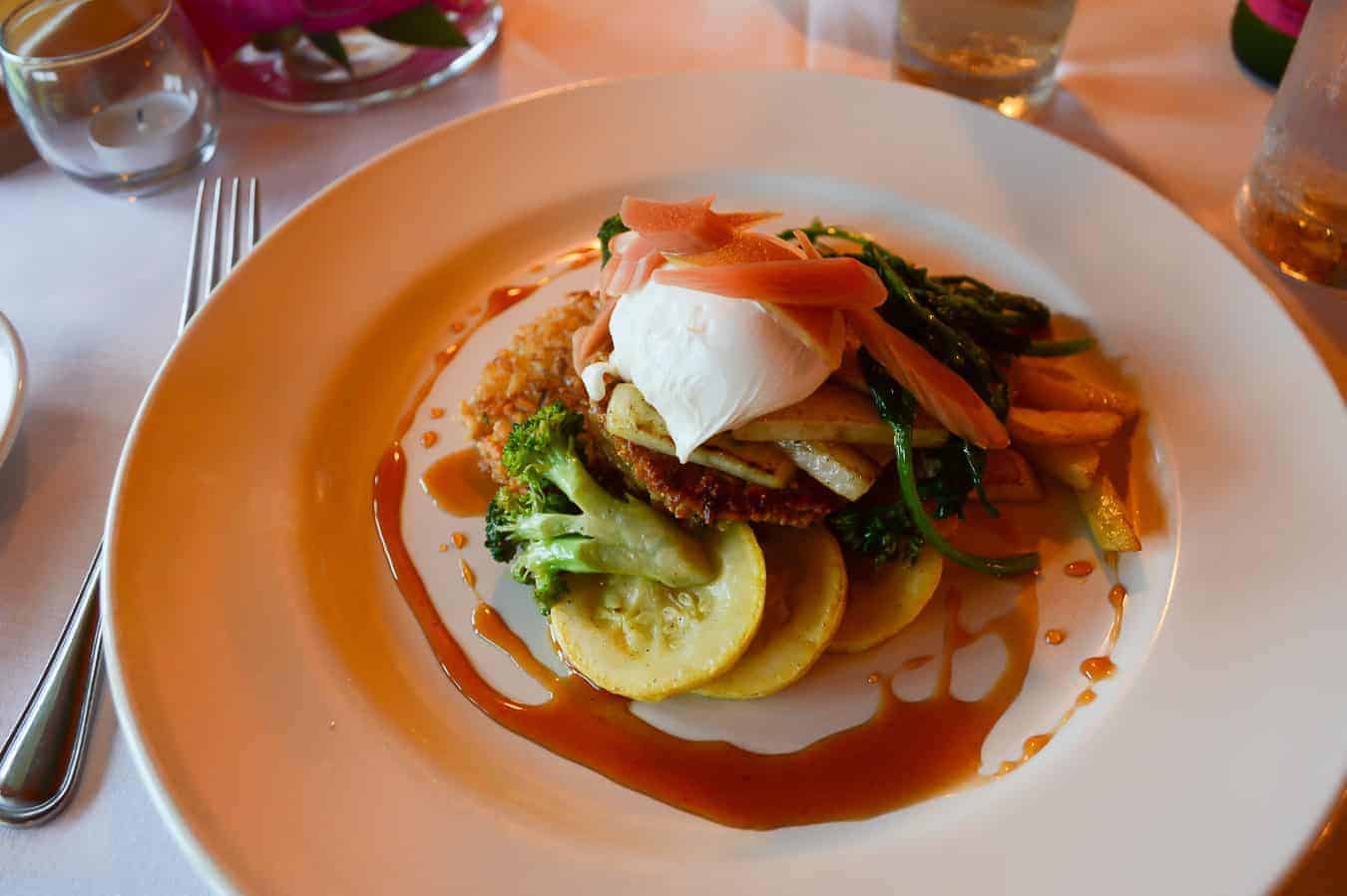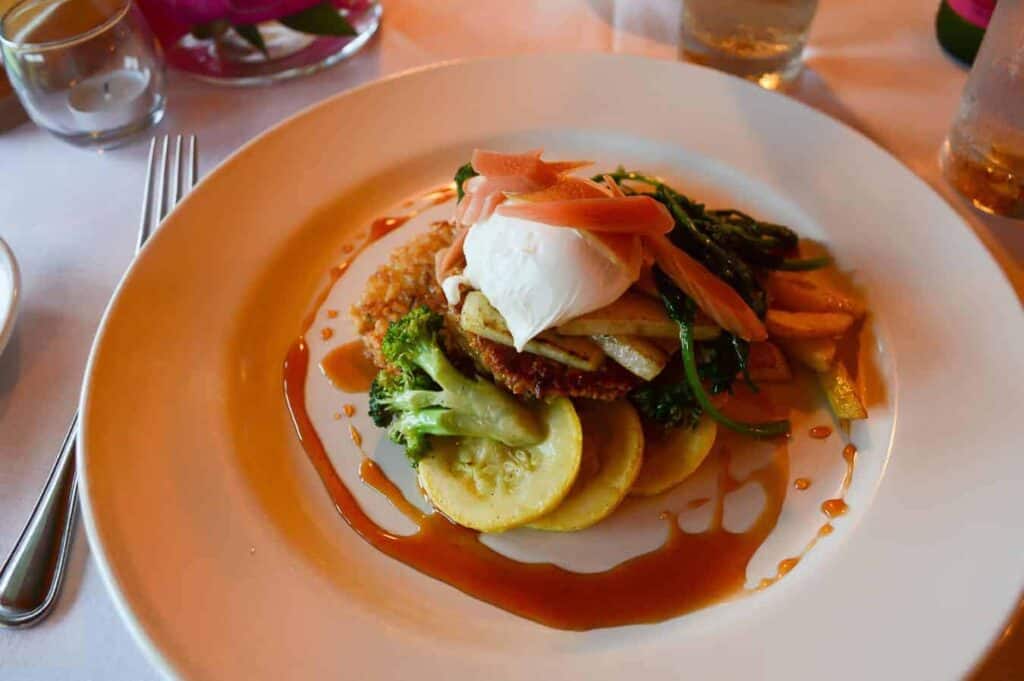 Both dishes were phenomenal, served with a fresh green salad to start and finished off with strawberry crepes and basil ice cream. The entire experience was lovely, and the food flavors were brilliantly paired.
The waitstaff is great, and your dinner feels personalized and special. We highly recommend Cloudland for fine dining in Woodstock, VT.
Coffee and Breakfast in Woodstock, VT – Mon Vert Cafe
As you may know, we really love coffee! Mon Vert has excellent coffee options in a hip downtown cafe. But it's their breakfast that keeps guests coming again and again. Wow!
We dined on fruit-topped french toast and classic biscuits and gravy. We were stuffed to the gills after our meal, but we were so, so content.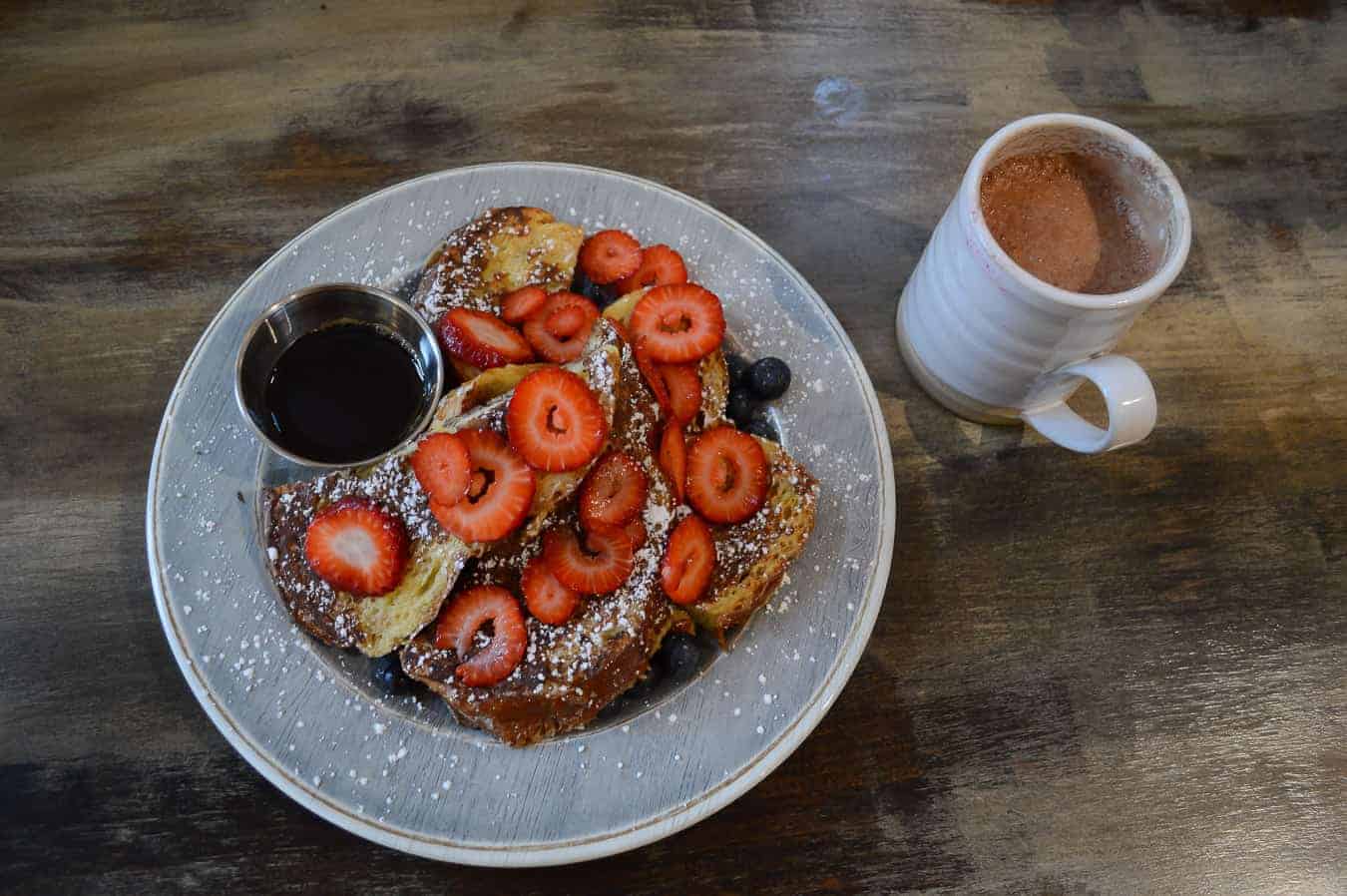 The staff here is amazingly friendly and down-to-earth, something that can really take a coffee shop or restaurant to the next level. 10/10 highly recommend! 🙂
Like Cloudland, Mon Vert Cafe also relies heavily on local farms and suppliers. No doubt, this is one of the reasons the food is so awesome.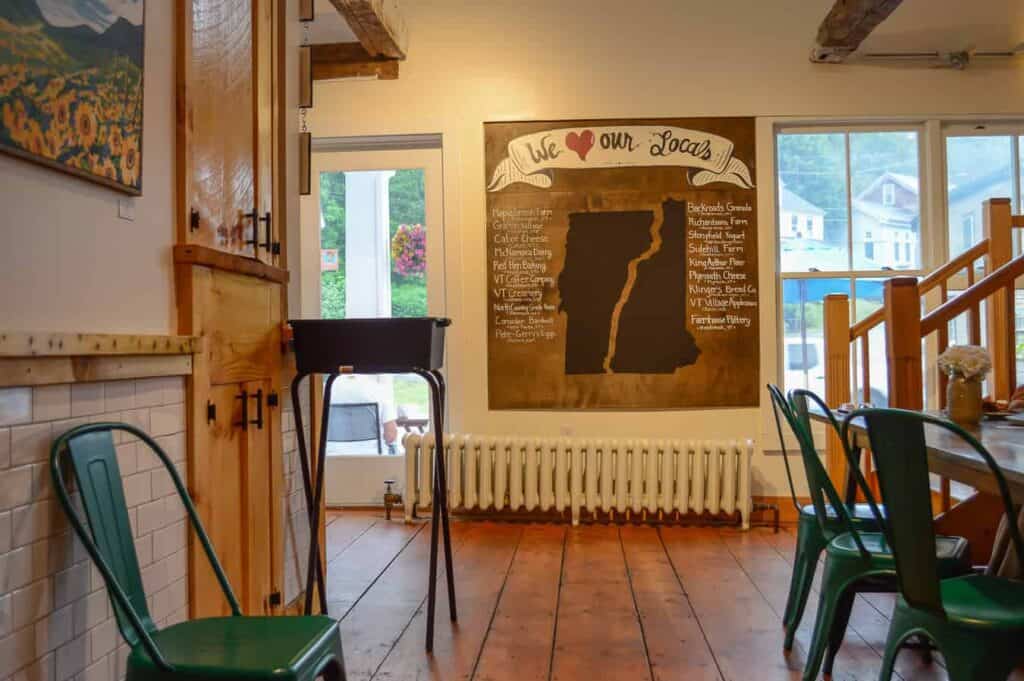 Though Mon Vert would be our pick for best coffee in Woodstock, Soulfully Good also boasts some nice options, including a tasty maple latte.
They also have great sandwiches which make for a perfect quick lunch.
Given the restaurant's location in downtown Woodstock, eating at Soulfully Good lets you grab a bite and then get right back to shopping. Nathan enjoyed the ham and cheese panini.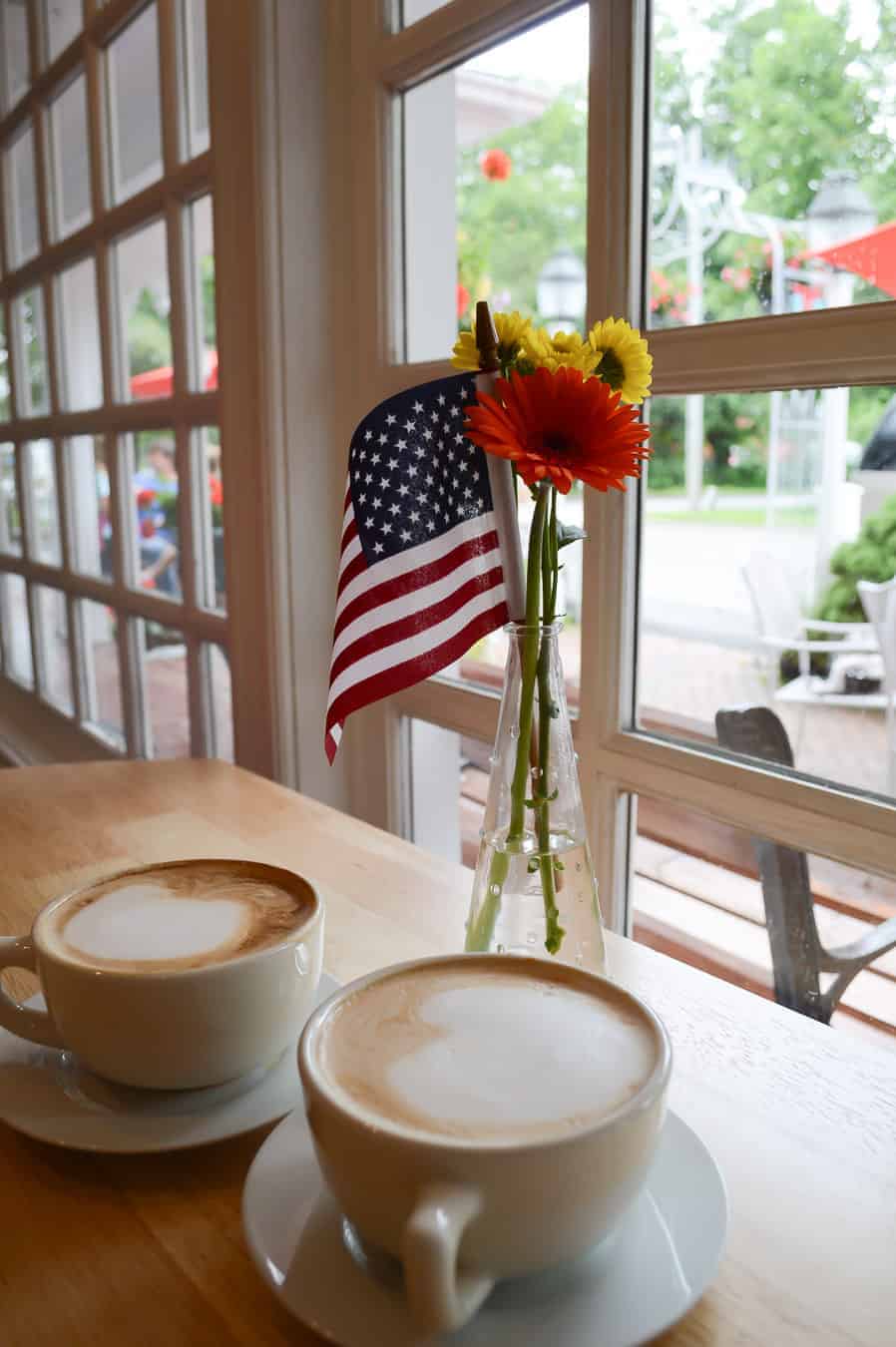 Another of the best restaurants Woodstock, VT offers is found a bit east of downtown.
In an unassuming brown building, you'll find the delicious Worthy Kitchen, a super casual eatery that is often really crowded–and with good reason. This place is deeeelish.
We ate a Saturday night meal here and had a tough time choosing what to order. Eventually, Nathan opted for a brisket sandwich, and I went classic–a cheeseburger. Both were excellent and served with good fries.
Don't miss the nice local beer menu, either.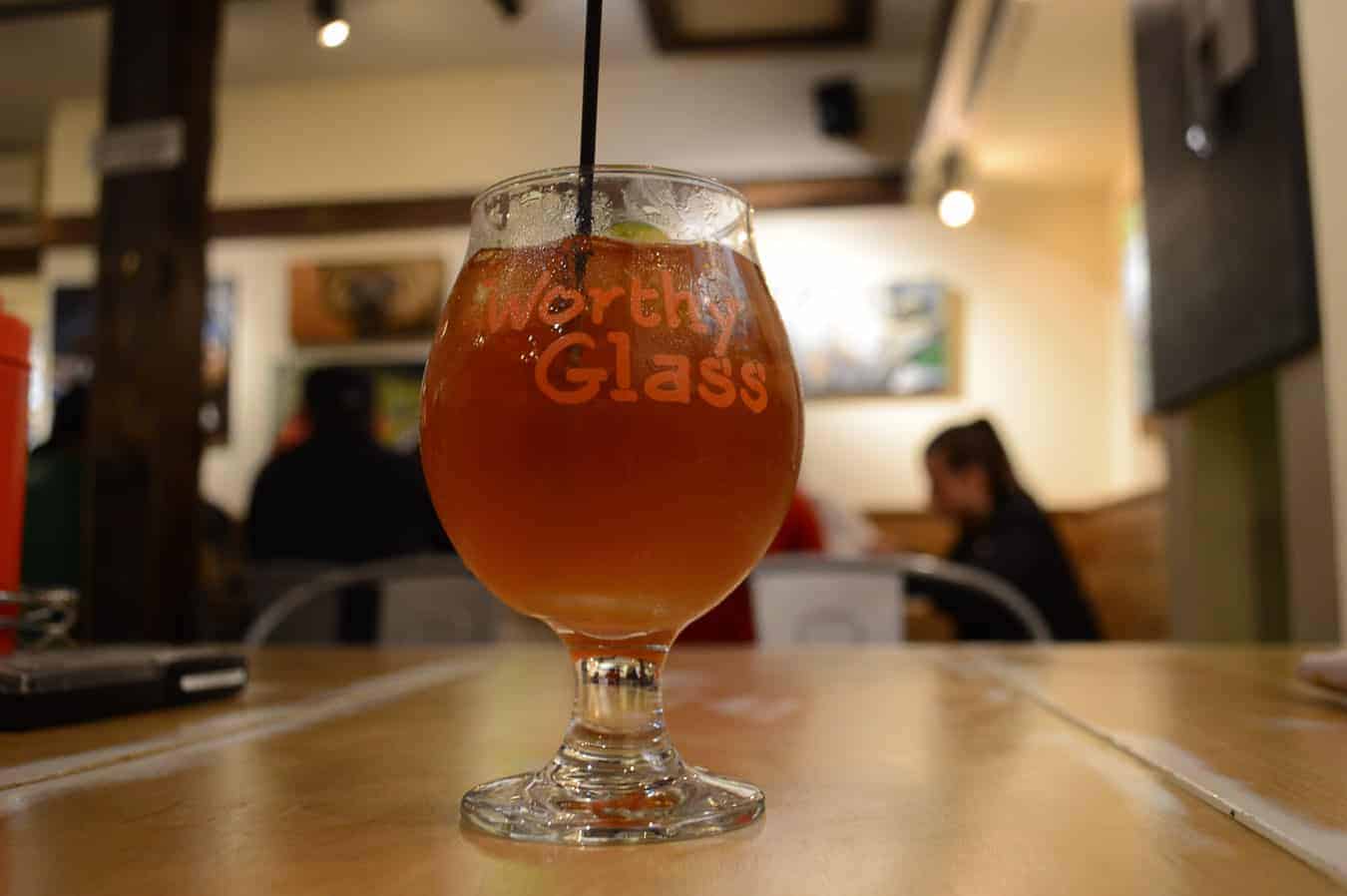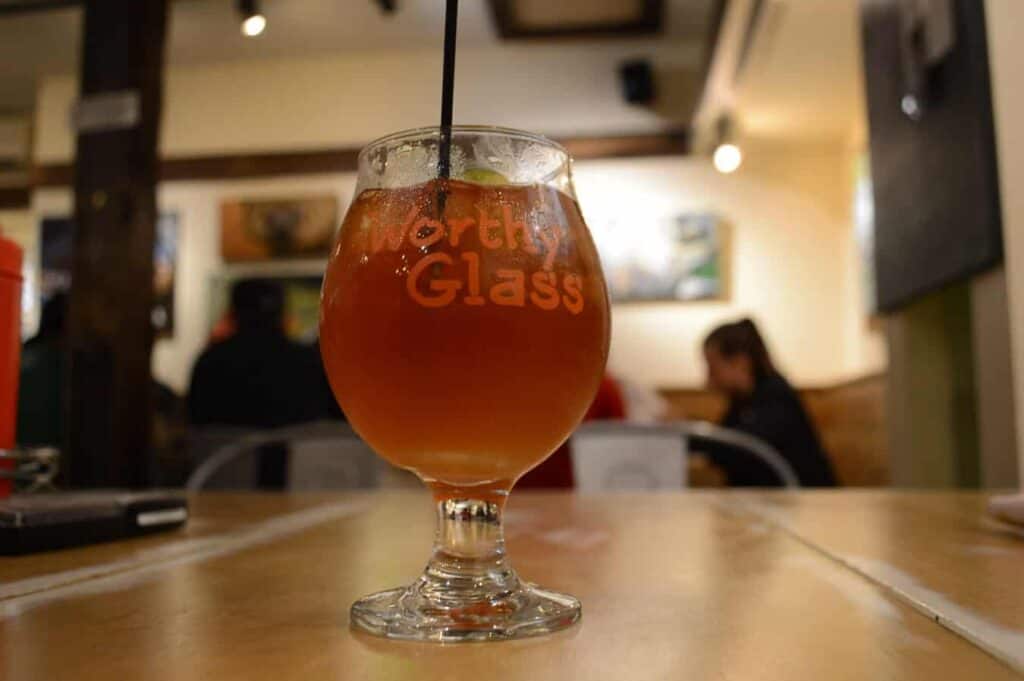 ---
Questions about things to do, where to stay, or places to eat in Woodstock VT? We're happy to help!
Our visit to Woodstock was hosted courtesy of Woodstock, VT (GoWoodstockVT). As always, opinions are our own and reflect our true experience.
---
You might also like:
---
Pin this post to save for later!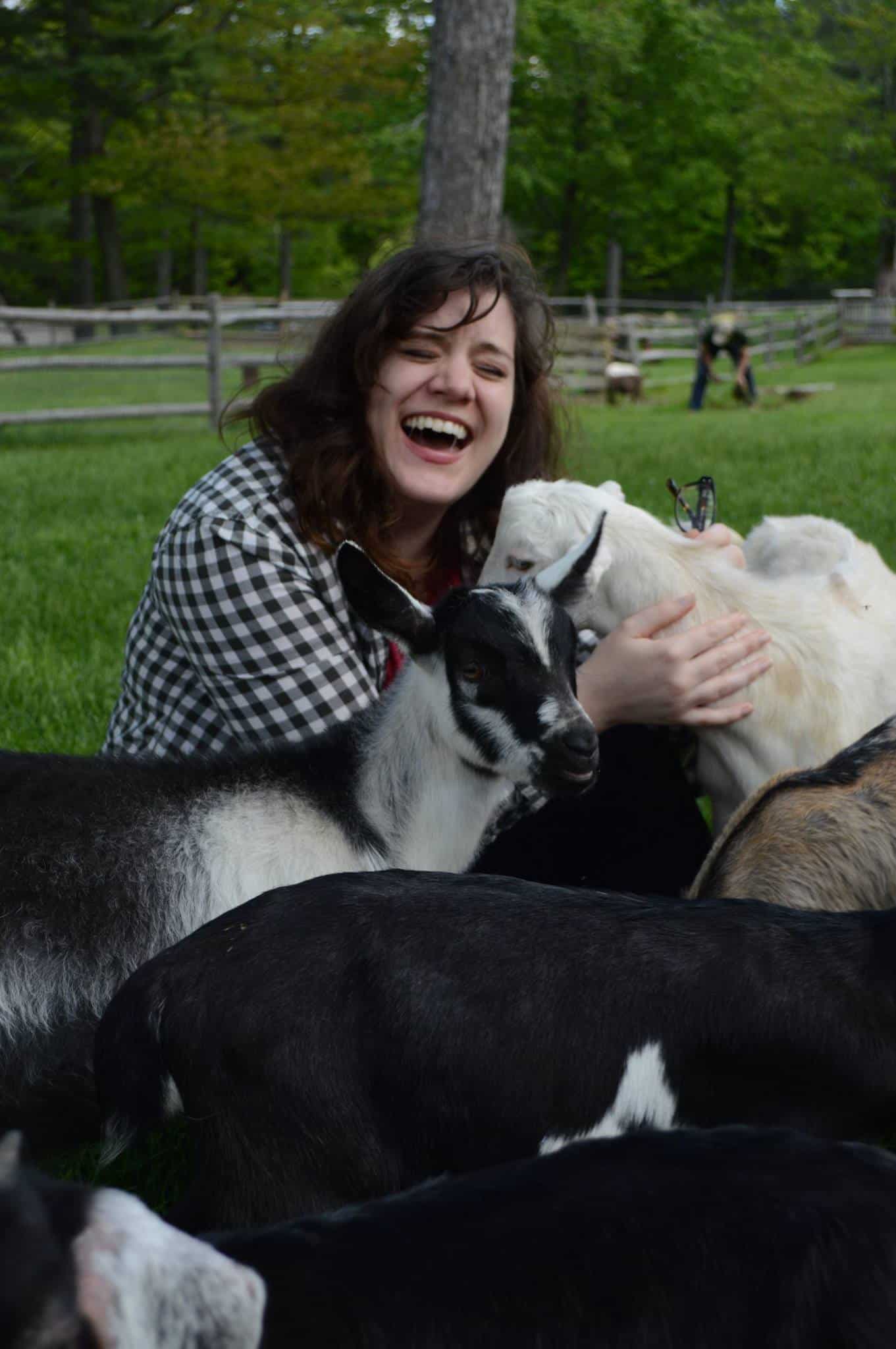 Amy is the founder of New England with love. A proud Vermonter, she hopes to share her love of New England and help you find the best adventures in the region. Amy is also blogger/founder at Two Drifters, where she writes alongside her husband about romantic and couples travel, relationships, honeymoons, and more. When not working on websites, Amy is probably reading, cuddling with her husband and cats, & drinking a maple latte.