*Links in this article may be affiliate links, from which we may earn commission. See our Privacy Policy for full details.
---
Anytime is a great time to travel to Vermont! All four seasons provide endless possibilities to explore. Whether you're envisioning a horse-drawn sleigh through a picturesque village on a snowy winter evening or a cozy breakfast steeped in fresh maple syrup on an autumn morning, Vermont does not disappoint.
The same is true for the town Woodstock, Vermont. It's been named one of the best places to visit at Christmas and one of the most beautiful towns in America. Our list of the top things to do in Woodstock VT will help you plan a classic New England getaway.
Psst! Don't forget to check out these other posts:
Travel Essentials for Woodstock, Vermont
Of course, there are few travel basics that should be considered when planning a trip, like transportation and timing. Below are some essential aspects to think about before traveling to Woodstock.
When is the Best Time of Year to Visit Woodstock?
Woodstock is one of those places that is lovely to visit year-round and has so many things to do no matter what the season. However, I think autumn is a wonderful time to go because of the bright, colorful leaves. There are many online foliage maps that you can reference to align your travel with the autumn colors.
Where is Woodstock?
Woodstock is in the east-central area of Vermont, roughly 15 miles from the border of New Hampshire.
How Should I Get to Woodstock?
This area is most accessible by car. The cities of Boston, MA, Albany, NY and Portland, ME are all within a drive of two to three hours. The cities of Burlington, VT and Manchester, NH are about 90 minutes away by car. All of these cities also have airports, with Boston, Albany and Portland having the most flight options.
With these travel basics, you can start planning the perfect Woodstock trip. Here are some of the top things to do in this beloved New England town.
The Best Things to Do in Woodstock VT
There really is something for everyone in Woodstock. Whether it's sampling Vermont's famous cheeses for the foodies or hiking the scenic trails for the outdoorsy types, you and your loved ones will have plenty of options to keep you busy.
Shop in Idyllic Downtown Woodstock
Woodstock is the perfect town to explore on foot. It's a shopper's paradise with small, independent shops lining the charming streets. Artisan gifts, apparel, books and more can be found here, many with a unique Vermont touch.
Don't miss the classic general store F.H. Gillingham & Sons on Elm Street downtown. They've been around since 1886 selling Vermont-made treasures and a nice collection of local beers and wines.
Other shops in Woodstock you'll want to visit include Unicorn for interesting gifts and knickknacks, and Vermont Flannel Company for cozy shirts, pajamas and blankets.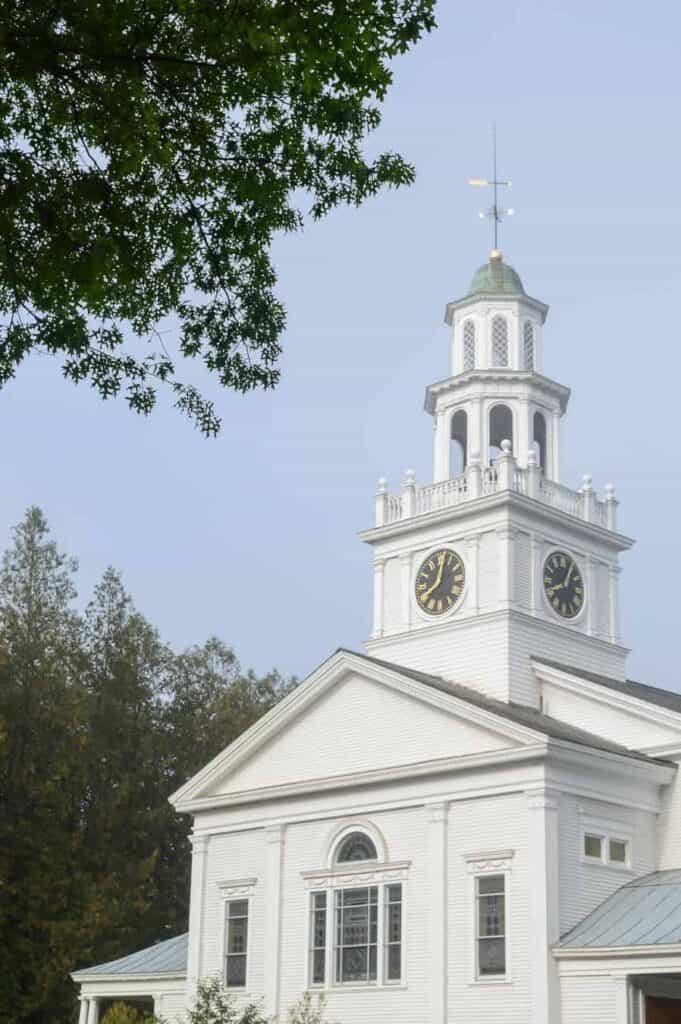 Admire Classic New England Architecture
If shopping isn't your thing, don't skip exploring the cute downtown area. There is no shortage of quintessential New England architecture in downtown Woodstock but also off the beaten path.
The residential areas have so many classic, stately homes that are especially beautiful around July when they are beaming with American pride in their red, white and blue banners and flags.
White, steepled churches and covered bridges are also exciting to stumble upon when out-and-about in Woodstock and the Rutland area.
The Woodstock Inn is another elegant example of New England craftsmanship and deserves a visit, whether to admire the grounds or to stop for a meal or spa treatment.
Swing Over to Quechee Gorge
Woodstock and Quechee are neighboring towns in Vermont and, while you're visiting Woodstock, it is well worth the short trip over to Quechee to explore the area and see what is referred to as "Vermont's Little Grand Canyon".
The Quechee Gorge is definitely one of our favorite sites in this area of Vermont. In autumn, the gorge is especially stunning with the bright pops of orange and red from the trees.
To get the best awe-inspiring view, check out this natural formation from the bridge on Route 4. Park in the area just beyond the bridge and then utilize the bridge's sidewalk with rails so you can walk out safely to enjoy the gorge.
There is also a short hiking trail that begins in the parking area. Adventure-seekers can walk down along the gorge and past some waterfalls from here.
Drink Local Vermont Beer
Sampling the well-loved beer of Long Trail Brewery can't be missed. This local favorite is a short 15-minute drive west of Woodstock in Bridgewater Corners. Take in a brewery tour, try a flight of beers and enjoy some snacks in the riverside pub inspired by the Hofbrau House in Munich, Germany.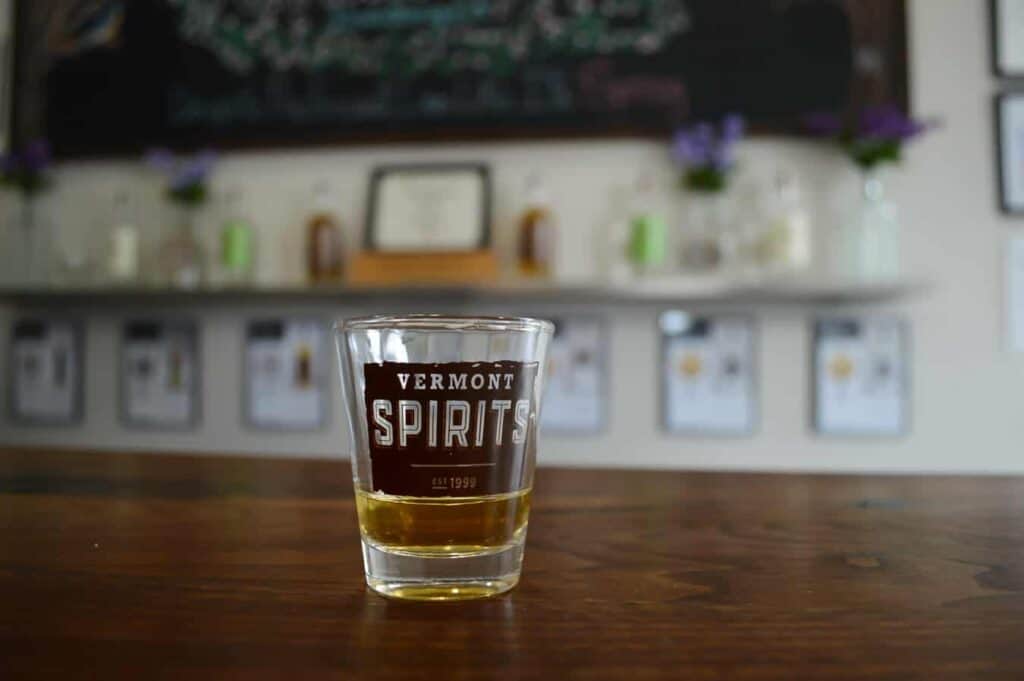 Sample Local Spirits
Why stop at sampling Vermont beer? Give local spirits a try too! Head to Vermont Spirits in Quechee – their tasting room is open seven days a week and you can sample Vermont-made vodkas, gins, bourbons and more.
Our free tasting let us try four different spirits, which burned a little but were delicious. We also enjoyed the fruity 1791 Cocktail.
Go Antiquing
New England is the perfect place to sift through endless antiques. It's surprising how many antique shops are found in Vermont!
Nearby to Quechee Gorge is the enormous antiques mall in Quechee Gorge Village. If searching for treasures is your thing, there is quite a trove here! Antiques of all varieties fill several floors.
It was fascinating to walk through and explore. Antiquing makes a perfect rainy-day activity, which we discovered on a recent trip to Woodstock where we encountered some less-than-ideal weather.
Learn about Glassblowing
The art form of glassblowing is alive and well in New England. Many workshops in the Vermont area offer demonstrations, tours, lessons and glass art for purchase. In Quechee, one particularly nice place to watch glassblowing in action is Simon Pearce.
During a visit on a Saturday afternoon, we were excited to catch some artisans at work downstairs. The blowers were relaxed and happy creating their beautiful glass pieces even though the room was hot and bright. Watching was truly hypnotic! They were happy to answer our questions and we learned a lot about the art of glassblowing.
This studio also has an elegant store to pick out a lovely piece of glassware, along with a romantic restaurant and bar. If you dine here, make sure to get a table overlooking the waterfall!
Visit an Eclectic Bookshop
The Pleasant Street Book Store is a quaint used book shop that was quite a find! They had a wonderful collection of old and new books. We had so much fun browsing and were happy to stumble across this hidden gem. Definitely recommend you to pay the shop a visit and browse the bursting shelves!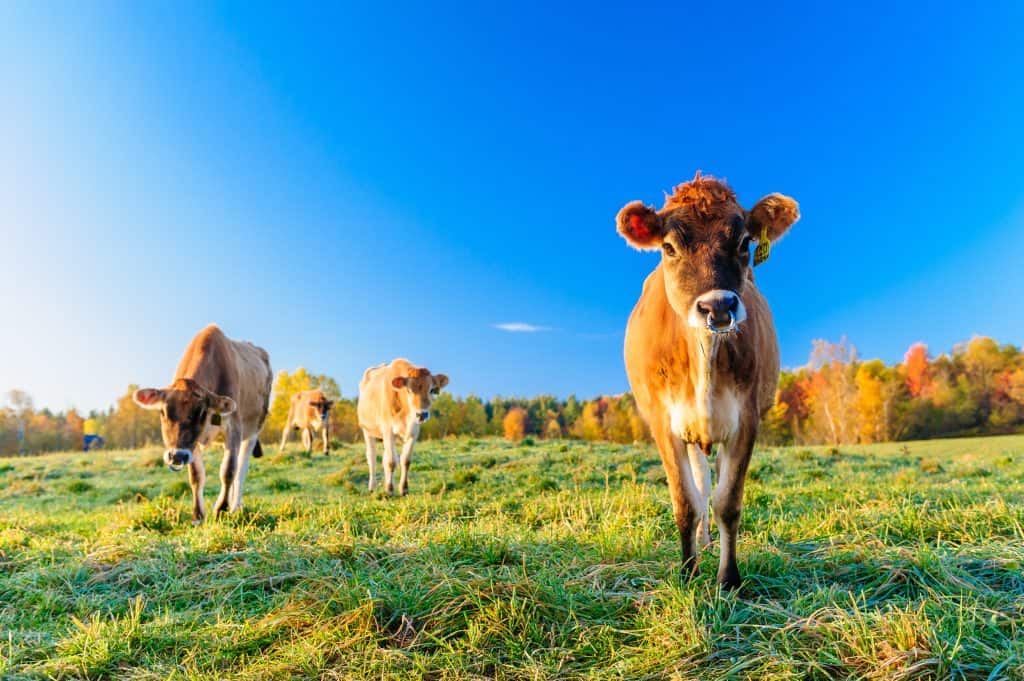 Explore a Working Dairy Farm
The Billings Farm is definitely one of the top things to do when visiting Woodstock. It's an operational dairy farm and outdoor history museum that focuses on demonstrations, exhibits and educational programs.
You can see the animals up close and get a peek into the inner workings of a real Vermont farm. This beautiful property is a huge hit with kiddos and adults alike.
Eat Lots and Lots of Cheese
Sampling your fair share of cheese is a must for any trip to Vermont, and it's one of our must-do things in New England. Cheesemakers here are creating over 150 varieties of delicious cheeses.
Cabot Cheese, the state's most famous cheese producer, has four retail stores in New England and is commonly found in other stores throughout the region. It makes a great souvenir, and nibbling on a block of Cabot sharp cheddar with a glass of wine will bring memories of your Vermont trip flooding back!
But while in Vermont, feast on as many types of local cheeses as you can. Head to Quechee Gorge Village (the same place you can hunt for antiques) to stroll the shops and sample award-winning cheese after award-winning cheese. Sliced, shredded, flavored, spreadable – there's a ton to sample, along with jams and crackers.
Another stop on any cheese tour includes Sugarbush Farm. For three generations, this family farm located just outside of Woodstock has been producing cheese as well as mouth-watering maple syrup. A self-guided tour to see how they make the syrup is offered and the farm is open to the public year-round.
Questions about what to do in Woodstock VT? Let us help!
You might also like:
15 Terrific Things to Do in Manchester VT (and Nearby!)
50 Fun Things to Do in Vermont (In All 4 Seasons)
---
Pin this post to save for later!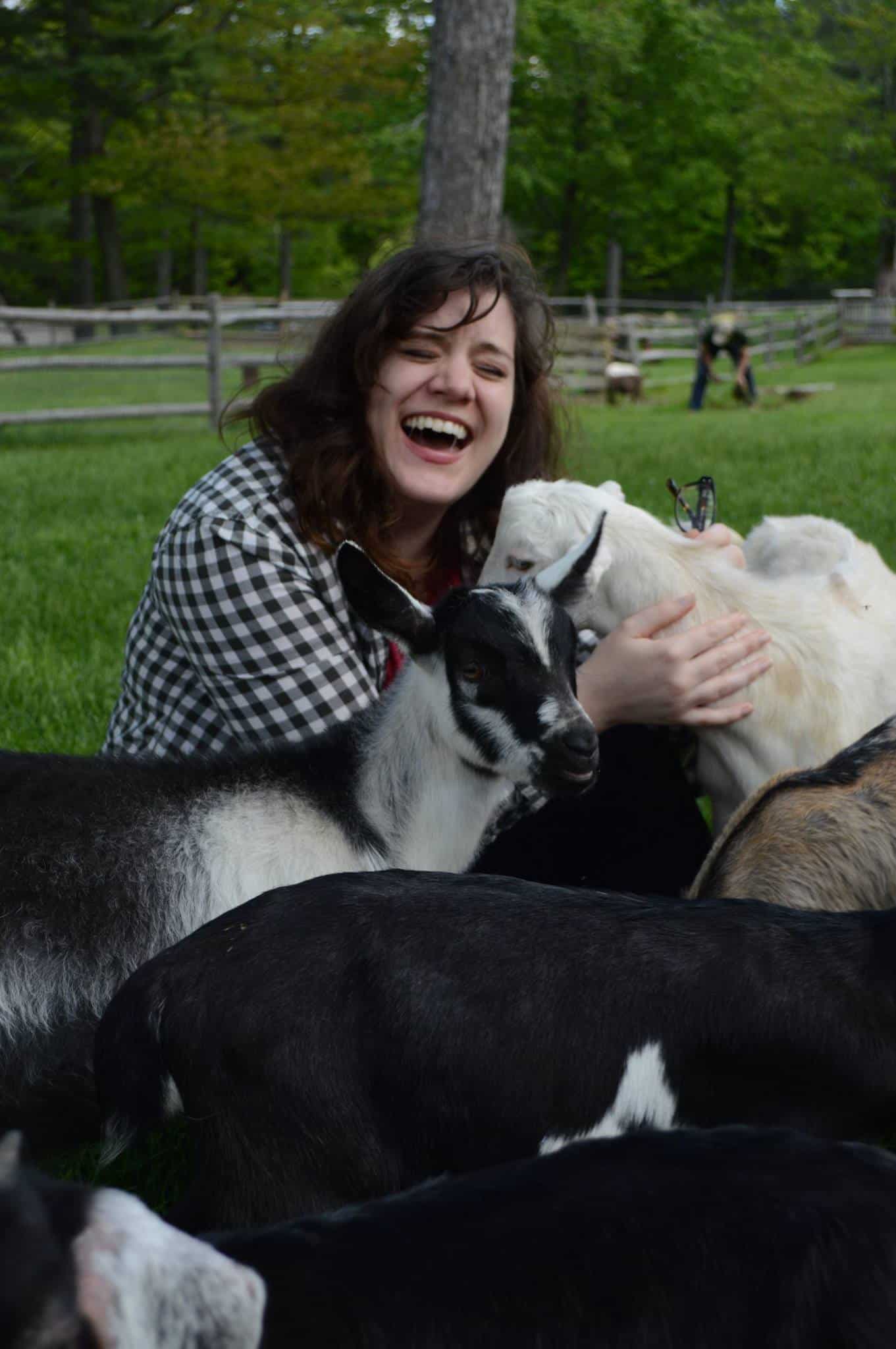 Amy is the founder of New England with love. A proud Vermonter, she hopes to share her love of New England and help you find the best adventures in the region. Amy is also blogger/founder at Two Drifters, where she blogs alongside her husband about romantic and couples travel, relationships, honeymoons, and more. When not working on websites, Amy is probably reading, cuddling with her husband and cat, & drinking a maple latte.