---
*Links in this article may be affiliate links, from which we may earn commission. See our
Privacy Policy
for full details.
---
From outdoor activities to great restaurants, from fishing and kayaking to literature and art, there are countless great things to do in Manchester VT.
I've been spending time in and around Manchester, Vermont for nearly 17 years. In 2004, my family moved to the area and though most of us have spread further around Vermont, we return to Manchester frequently. It's a sweet Vermont village that combines rural charm with a bit of luxury.
While there is so much to do in Manchester, there are also nearby towns and areas that offer their own worthwhile attractions. These include Londonderry, Dorset, Bennington, Weston, Chester, and Arlington.
17 Awesome Things to Do in Manchester VT and Surrounding Areas
Climb Mount Equinox (or drive up)
As soon as you enter Manchester's cute downtown, you can't help but notice the tall, rolling mountain in the background. This is Mt. Equinox and it seems to hug the town protectively.
It has given its name to many nearby things, including a hotel, country club, and an alternative radio station (WEQX). Sitting at an elevation of 3840 feet, it is not the tallest mountain in Vermont, but it is the highest in the Taconic Range.
You can get to the top of this impressive hill either on foot or by car. If you decide to tackle Mt. Equinox sans vehicle, you can take the trail that departs from just behind the high school (Burr & Burton Academy).
This Mount Equinox trail is a 6.8 mile round-trip hike that is steep and challenging. It is recommended most for intermediate to advanced hikers, or those in good shape who relish a challenge. The views from the summit are worth the climb.
Not feeling the hiking vibe? You can drive to the top of Mt. Equinox, too. Drive a few minutes south of Manchester on Route 7A and you'll find the entrance to Skyline Drive. This route will take you to the summit of Mt. Equinox.
The price, like the drive, is also a bit steep (pun intended!) The toll road will cost you $20 for the vehicle and driver and an additional $5 per passenger.
Play Pinball!
Did you grow up playing in arcades? You can jump into the past at Pastime Pinball in Manchester. There are more than 60 classic games available in this space, and they're all set to free play! You just may a flat entry fee at the door. You and the whole family can have a great time playing together. This is an especially great thing to do in Manchester on a rainy day.
Browse one of New England's best independent bookstores
Manchester is home to one of our favorite bookstores in New England, the Northshire Bookstore. This is an independent bookstore that has been in business for 42 years. Before opening as the Northshire in 1976, the building housed an inn.
Today, the bookstore is a cozy, inviting shop that makes you want to browse for HOURS. There are thousands of great books lining the shelves, including discounted used books. The bookstore is arranged in sections, and you'll find special sections for bookseller recommendations, local Vermont books, and more.
Quirky gifts, Vermont-themed souvenirs, and eco-friendly clothing round out the offerings. The entire 2nd floor is dedicated to an adorable Children's Section.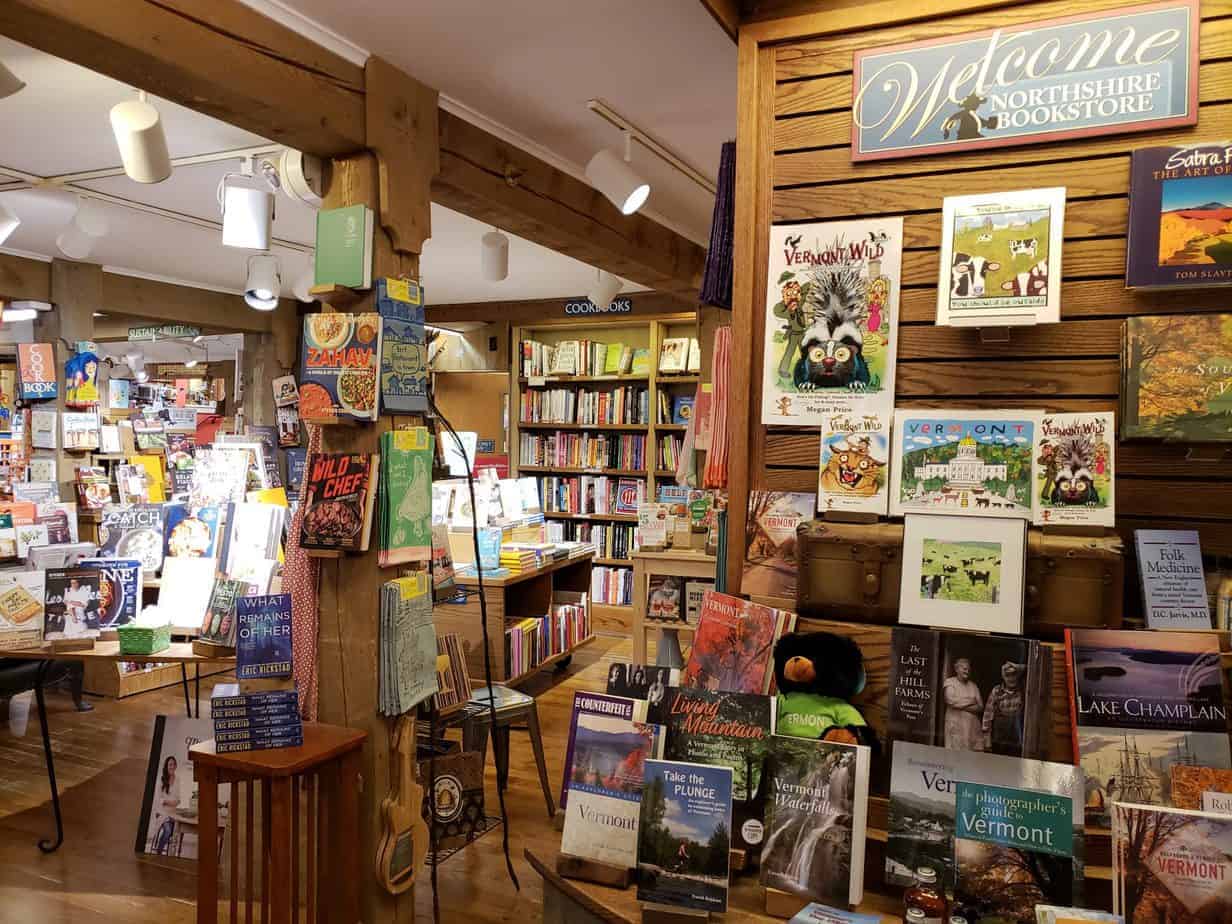 The bookstore regularly hosts events with well-known authors, so it's worth checking out their calendar when you're traveling in Manchester VT.
Visit Hildene, the Lincoln family home
If you like historic homes—or a bit of presidential history—you may want to visit Hildene. This stately 1905 mansion was once the home of Robert Lincoln, the only surviving son of President Abraham Lincoln and his wife Mary Todd.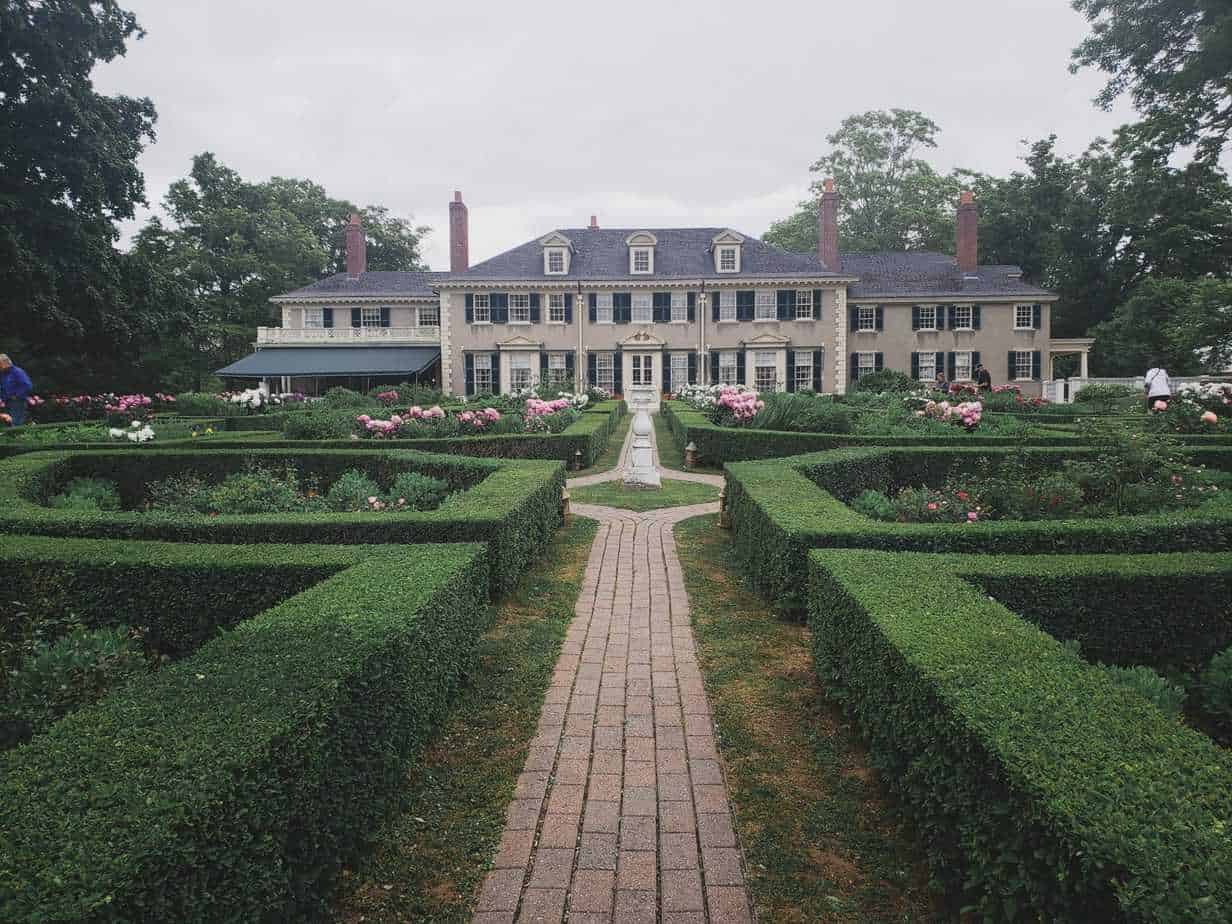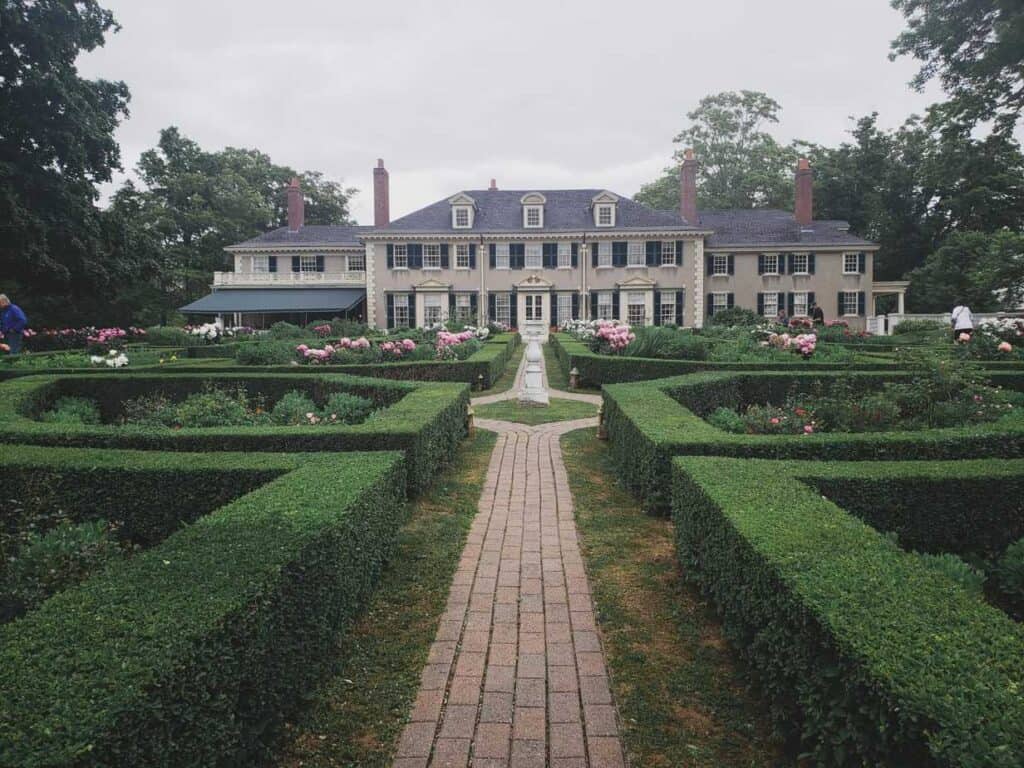 Hildene offers a glimpse into life at the turn of the century. The rooms are filled with history and there are sections devoted to Lincoln himself. Though the 16th president never set foot in Hildene, his legacy is certainly present.
Hildene is about more than the mansion, too. The adjoining European style gardens are magnificent, and make for a sweet spot to walk around.
There are also impressive views out over the valley from behind the home. The 412-acre estate is also home to a working farm, extensive walking trails, and a 1903 Pullman train car exhibit, among other attractions.
Enjoy flowers and farm fun at Equinox Valley Nursery
Head south on Route 7A out of Manchester's shopping district, and it won't be long before you find yourself in farm country. A few miles down the road you'll find the Equinox Valley Nursery, which is a must-see part of the Vermont countryside.
This is the perfect seasonal destination when visiting Manchester, as the products and wares reflect the current season. Fall is prime time to stop by Equinox Valley, as this is when a sprawling pumpkin patch takes over. The nursery is filled with autumnal mums and tiny gourds waiting to turn your home into a fall wonderland.
After wandering through the flowers and pumpkins, get lost in their tall, winding corn maze, and bite into some piping hot apple cider donuts, sweet and fresh from the fryer.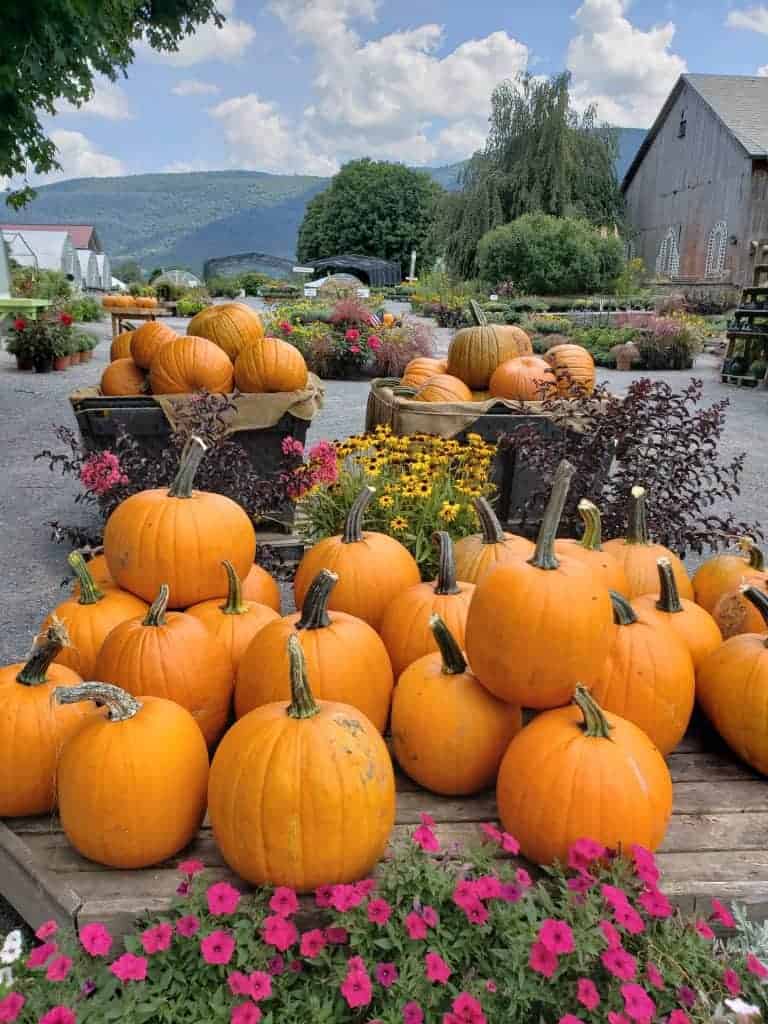 See the former home of New England's top poet, Robert Frost
Are you a literary lover? One of the best things to do near Manchester VT is visit the old home of Robert Frost, New England's most well-known poet. This is located in Shaftsbury, Vermont, and it is called The Robert Frost Stone House Museum.
Robert Frost is inextricably connected with New England, having written a great many poems focused on the nature and culture of the region. I
n the Stone House Museum, you can see where he lived and wrote a few of his most well-known works, including "Stopping By Woods on a Snowy Evening." So much of what he wrote was evocative of New England's seasons, from snow-laden paths to stone walls and apple-picking.
You can also visit the resting place of Robert Frost. He is buried in Old Bennington Cemetery in Bennington, VT.

Tube or paddle the Batten Kill River
One of our favorite things to do in Manchester VT is to enjoy the nearby length of river. The Batten Kill River snakes its way through Manchester, Arlington, and into New York state. The stretch along Route 313 is ideal for a short paddling or tubing trip. The river is typically gentle and not very deep, and makes for a peaceful, fun excursion on a hot Vermont summer day.
If you have your own tube, you can enter the river from the first bridge crossing over the river, just after where Route 313 intersects with Route 7A. Tube a couple hours downriver and exit at the covered bridge.
Don't have a tube? No worries. There are several spots renting tubes throughout the height of summer. One of these is Battenkill Valley Outdoors which is located just over the border in New York state.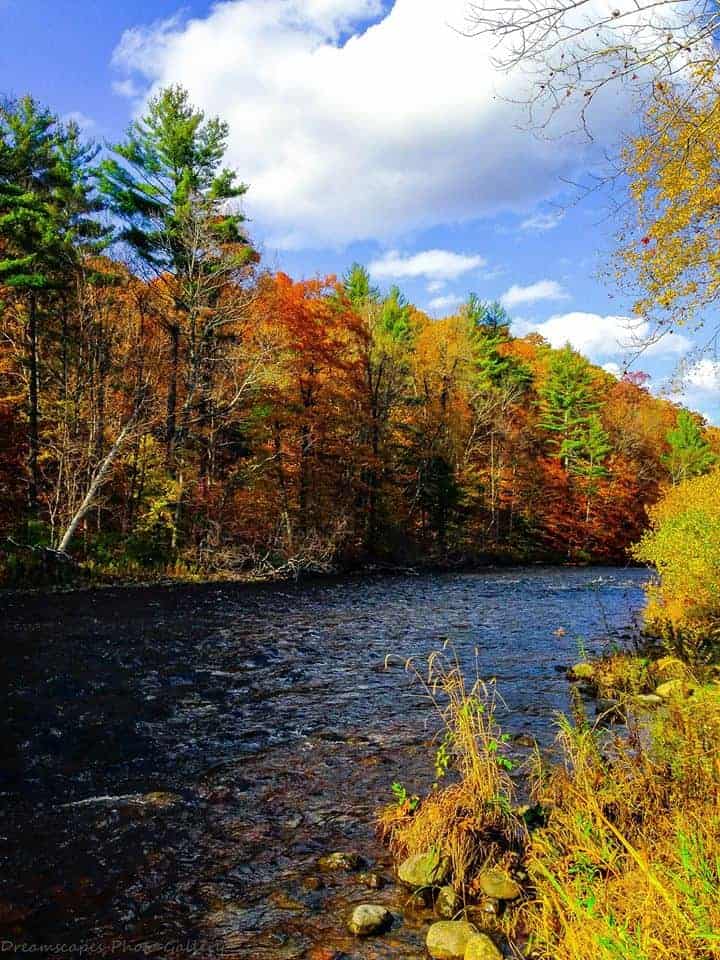 If it's fall when you visit New England, you can still go paddling downriver (though tubing would be far too chilly), or simply admire the gorgeous foliage fringing the Battenkill.
Learn how to drive off-road with the Land Rover Experience
Have you ever wanted to drive off-road like a rugged badass? The Land Rover Experience can make this happen for you. Options range from a 25-minute adventure ride to a full day incredible experience. Learn to drive the versatile Land Rover and encounter all kinds of terrain in all seasons and weather.
You'll learn how to tackle obstacles and generally have an awesome time driving in the woods of Manchester, Vermont. Our friends at Nothing But New England wrote about their own take on the Land Rover experience here.
Hike to Lye Brook Falls
Hiking is a must-do activity in Vermont and Manchester is no exception. There are a range of popular hikes you could experience, but Lye Brook Falls is a easy to moderate day hike that comes with a great reward. This 4.7 mile out and back trail takes about 3 hours to complete from start to finish.
Your destination is the picturesque Lye Brook Falls, towering in the woods and tumbling 125 feet down a rocky ledge. Many people recommend Lye Brook Falls as a great family hike, and a late spring visit, such as in early May, may be when the falls are at their fullest. Though beware a wet and muddy trail if heading out in spring.

Enjoy a trail ride or sleigh ride on horseback
When searching for Manchester VT's top things to do, why not consider a horse-drawn adventure? In the winter months, you can take a traditional sleigh ride through the snow.
For a horse-drawn sleigh ride, check out Taylor Farm, just up the road in Londonderry, VT. They offer traditional box-style sleigh rides pulled by impressive Belgian draft horses. Blankets are provided on every ride.
The sleigh rides last for approximately 45 minutes including a fireside stop in the woods with beautiful views.
In any season, head over to Mountain View Ranch in Danby, VT for a guided trail ride. These rides are perfect for travelers of all ages and abilities and you'll enjoy beautiful views as you ride your trusty steed through Vermont's woods.
Relax at Emerald Lake
Just north of Manchester is a beautiful lake, fringed with green. The aptly named Emerald Lake State Park is a paradise in the summertime; the perfect place to swim, sunbathe, or go for a paddle.
While this lake is fairly small, there are trails around it so you can go exploring a bit. If you want to adventure by boat, rent one of the available kayaks, canoes, or paddleboards for an hour or so.
Whatever you choose to do at Emerald Lake, you'll be enjoying beautiful views in all shades of green.
Grab a latte at Charlie's Coffee House.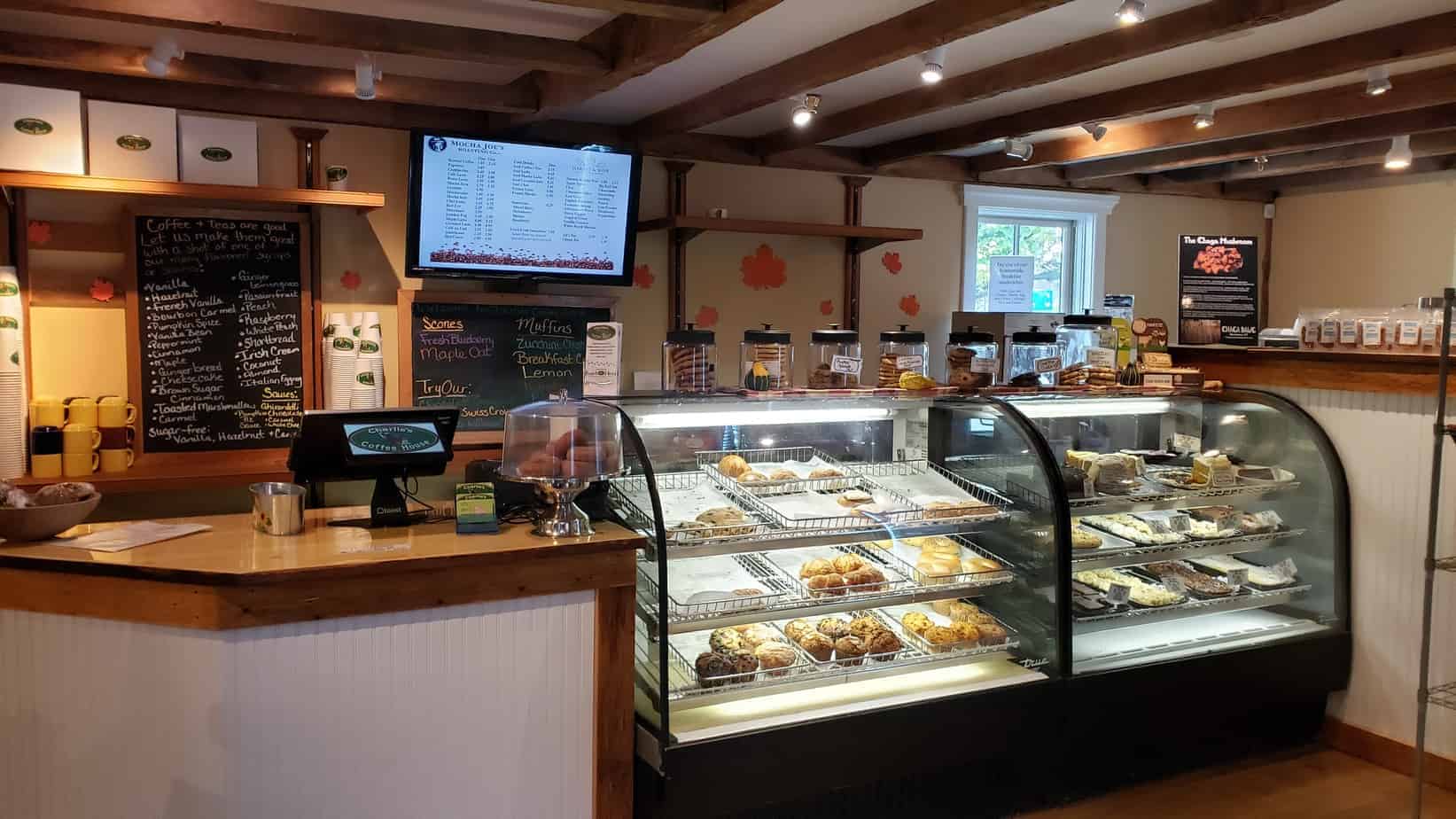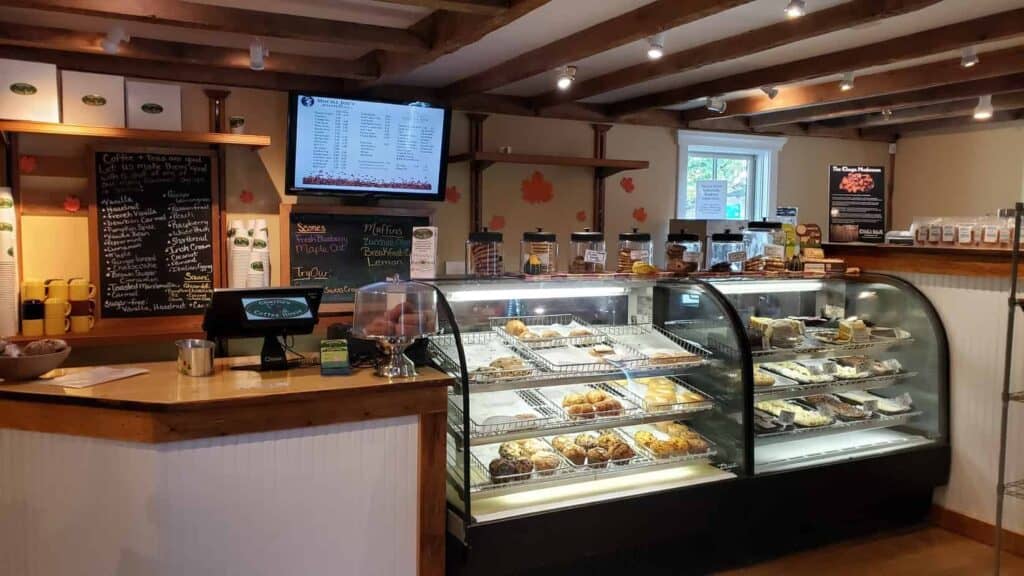 I don't travel anywhere in Vermont without seeking out the best maple latte. Well, I found it here at Charlie's Coffee House in Manchester. This is a cute shop with coffee, pastries, sandwiches, and more, and if you're lucky, you might see the shop's namesake dog Charlie padding around looking for pats!
Pick up some fresh produce at the Dutton Farm Stand.
On the hunt for farm-grown fruits, vegetables, and other products? Dutton Farm Stand is the perfect stop for these things while you're in Manchester. It's just up Route 11 toward Londonderry and you'll find the bright, sunny farm stand surrounded by flowering plants and even the occasional goat or two.
Here you can find maple syrup, fudge, jams, apple cider, and a variety of fruits and veggies. In the summer months, stop by for some Pick-Your-Own opportunities.
Attend some fantastic theatre performances.
There are several wonderful theatres in the area that can provide you with unparalleled entertainment. For the most part, summer through early fall is when you can enjoy professional productions in nearby Dorset and Weston, VT. The Dorset Playhouse offers the Dorset Theatre Festival, a summer season of plays including several new works by renowned playwrights.
In Weston, roughly 30 minutes from Manchester, you'll find the Weston Playhouse. This is a phenomenal summer theatre that presents a variety of shows including award-winning musicals. This is Broadway-calibre theatre and I can attest that I've seen some amazing productions here at Weston, including Hairspray, Rent, and Les Miserables.
Swim in the Dorset Quarry.
The Dorset Quarry is one of the region's most popular swimming spots. This 60-foot deep granite quarry offers cool, inviting waters for a summer swim, and plenty of high ledges for brave souls to jump from into the water!
The Quarry is also historic. It was the country's oldest commercial marble quarry, first mined in 1785. Stone from the quarry was used in such buildings as the New York Public Library's main branch as well as the Montreal Museum of Fine Arts.
Find an adventure in Stratton.
Many visitors use Manchester as a base for visiting Stratton Mountain Resort. Home to a well-loved ski resort and so much more, there's something going on at Stratton in every season.
In the winter, ski Stratton Mountain, the highest peak in Southern Vermont. It now boasts 99 trails across 670+ skiable acres of terrain. And it's known as the birthplace of snowboarding.
Summer is just as busy and fun with opportunities for mountain biking, golf, concerts, kayaking, hiking, and more.
The alpine-esque Stratton Village is where you can gather with family and friends, dining at great restaurants and exploring fine shops.
Discover all things quaint and charming at the Vermont Country Store
About half an hour from Manchester in the town of Weston you'll find the famous Vermont Country Store.
This is not just one of the top things to do in Manchester, Vermont, but, in so many ways, this is an essential attraction to visit during any Vermont trip. (There's a second location in Rockingham, VT, but Weston's store is the original). The Vermont Country Store is filled with wares of all kinds that you'll be poring over for hours. It's a classic general store, but so much more.
In addition to plenty of shopping (think housewares, clothing, old-fashioned candy, Christmas decor, cozy blankets, and even beauty products) you can grab an ice cream or a meal on-site at Mildred's Grill and Dairy Bar. Be sure to spend some time relaxing on the pretty grounds of the store as well.
---
Places to Stay in Manchester VT
If you're ready to plan your visit to Southern Vermont, we've got several great recommendations for booking the best accommodation.
There are a few nice hotels in Manchester Vermont that you could choose from, but we really recommend the Kimpton Taconic Hotel. This is a beautiful and modern boutique hotel in a great location in the center of Manchester.
It's within walking distance to the popular outlet shops of downtown Manchester as well as within easy reach of delicious restaurants and major attractions/activities.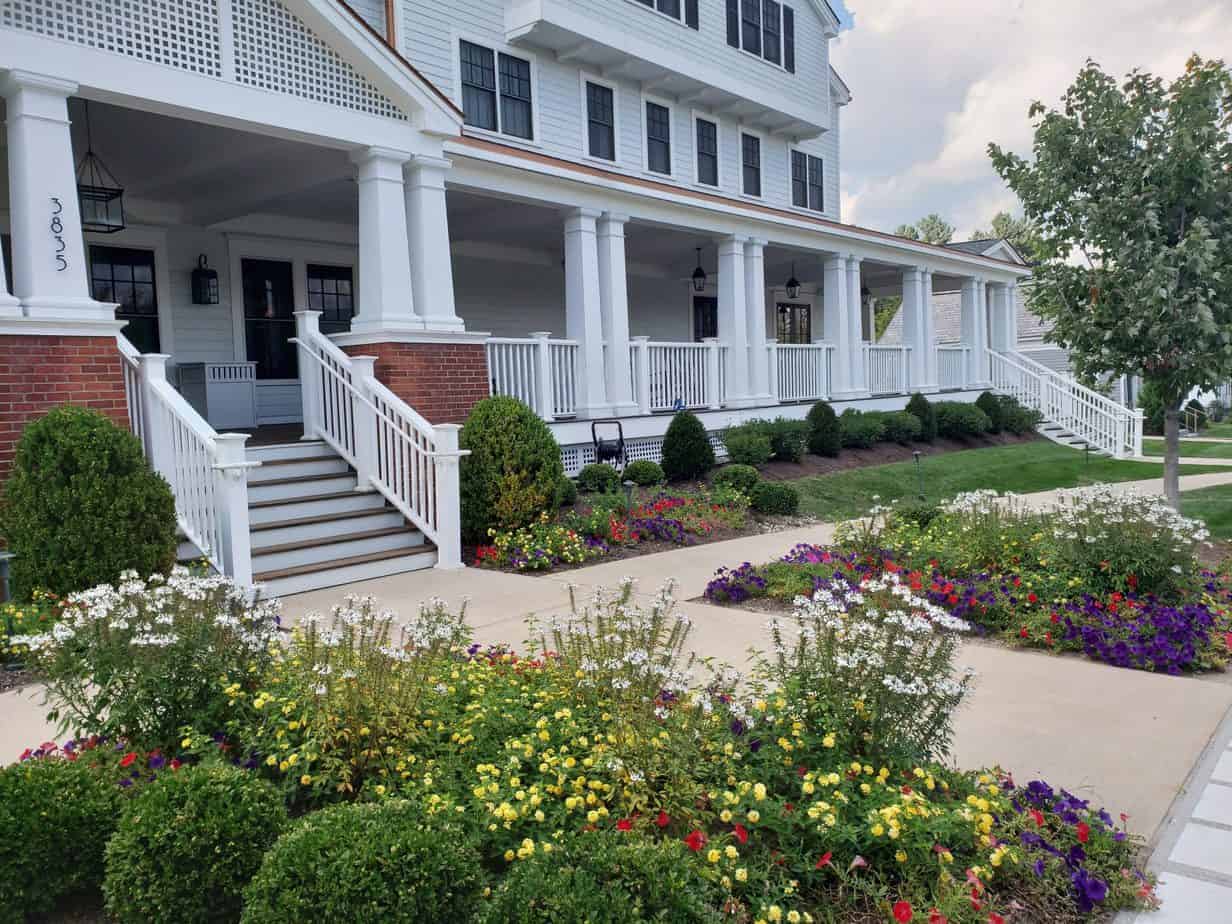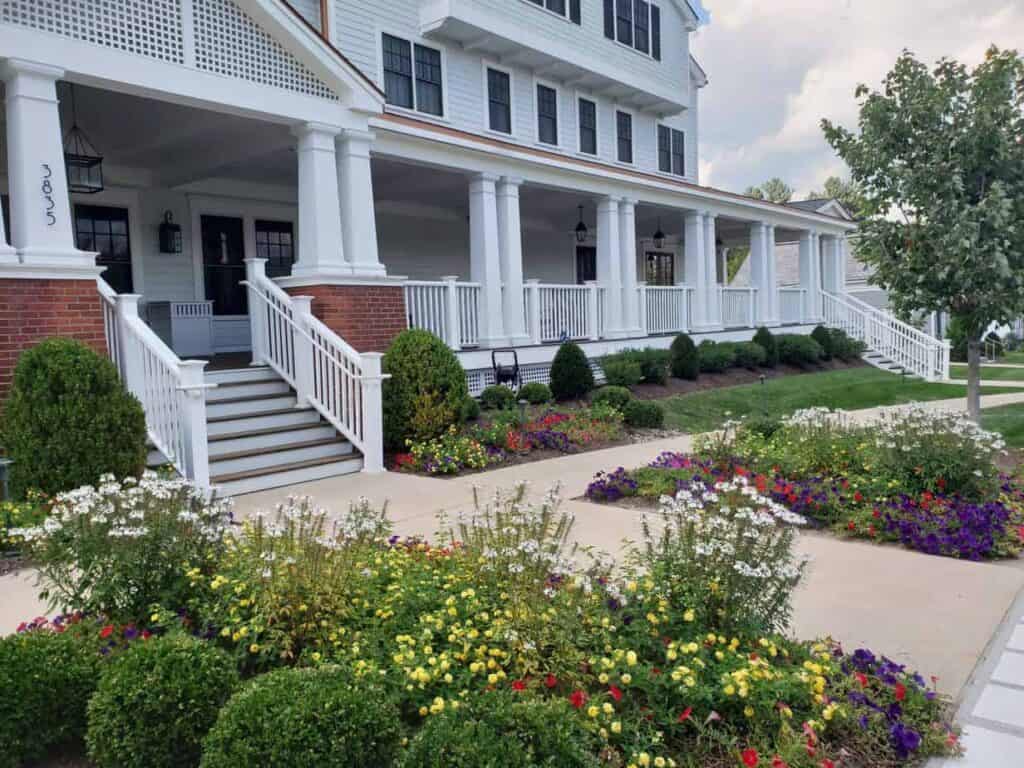 The Taconic has an elegant-meets-rustic style, so it is quite cozy and homey; a place where you'll want to relax by the roaring fireplace as you watch the falling leaves outside. Many of the rooms have their own fireplaces, which is extra perfect for a romantic getaway.
Don't forget to check out the on-site restaurant The Copper Grouse which has incredible local flavors and awesome cocktails.
In the evenings, the Taconic provides guests with a complimentary glass of wine. This is a lovely time, the "social hour," and we enjoyed sitting in rocking chairs on the wide porch or chatting together near the fire pit.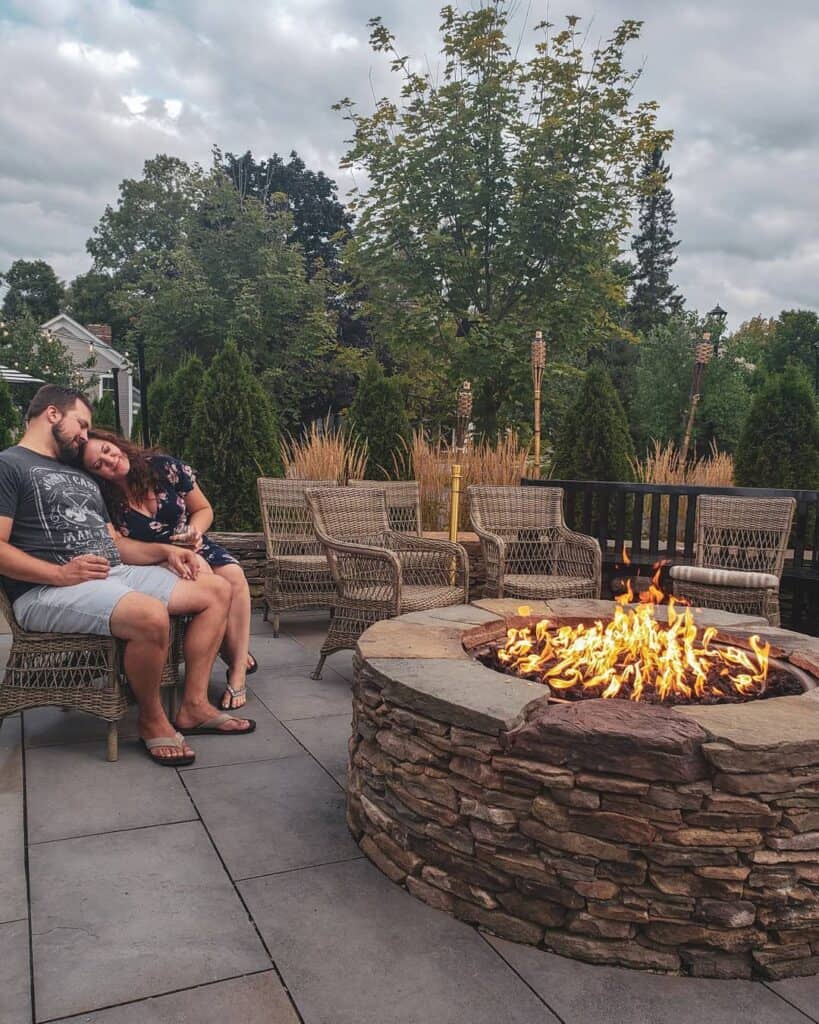 Places to Eat in Manchester VT
After you try the Copper Grouse, you *might* still be hungry. After all, in between all the fun things you'll be doing when visiting Manchester, Vermont, you're sure to work up an appetite.
The town, despite being modest in size, has a lot of restaurants to choose from. Here are some solid options on where to eat in Manchester: Best Restaurants in Manchester VT.
---
Read these next: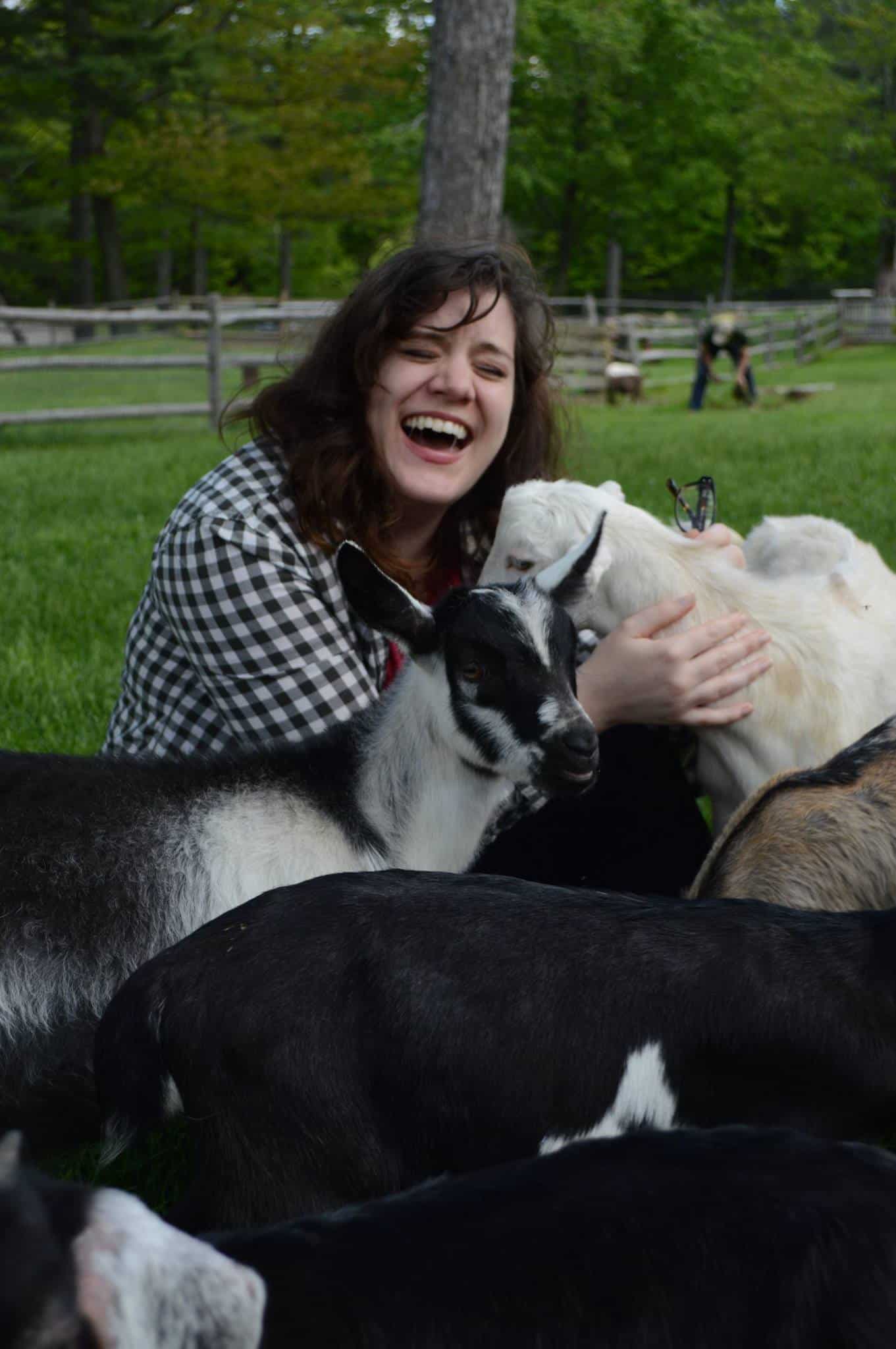 Amy is the founder of New England with love. A proud Vermonter, she hopes to share her love of New England and help you find the best adventures in the region. Amy is also blogger/founder at Two Drifters, where she writes alongside her husband about romantic and couples travel, relationships, honeymoons, and more. When not working on websites, Amy is probably reading, cuddling with her husband and cats, & drinking a maple latte.