Because of its beautiful nature, Vermont is the perfect place to go if you want to have a glamping getaway! In fact, there are many spots for glamping in Vermont, no matter what budget you have. That's why we took it upon ourselves to make a list of some of our top recommendations!
Throughout this post, you'll learn all about some great glamping spots, including secluded cabins, yurts, and even a few treehouses. They all serve as the perfect getaway off the grid and tend to be surrounded by the lushest, serene views.
Without further ado, here are the best spots for glamping in Vermont!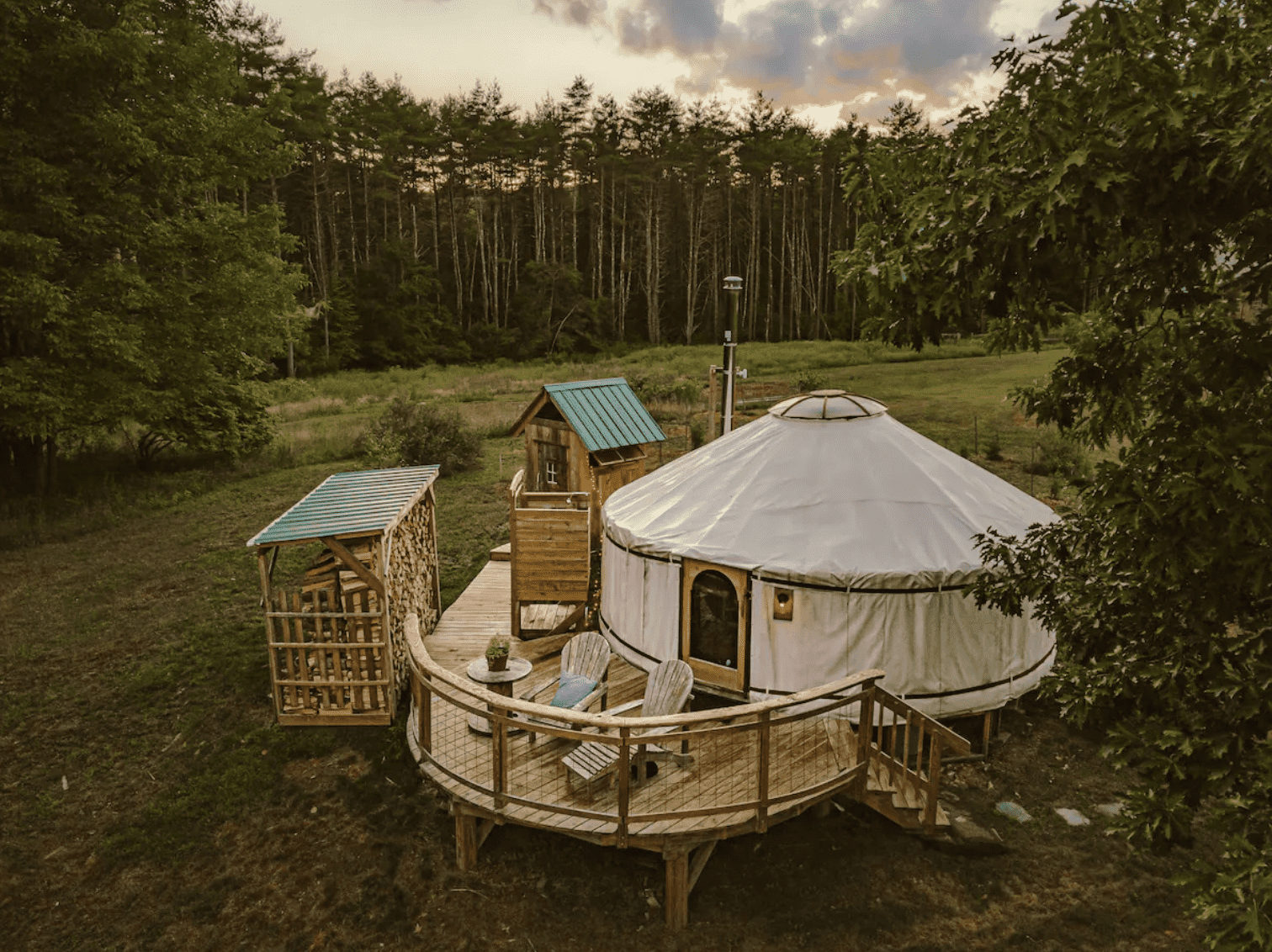 This Vermont yurt is one of the best spots to go glamping if you're looking for a getaway within a forest! With almost a perfect 5 star rating and more than 200 reviews and counting, this accommodation has quickly become a favorite among guests.
It's located in Putney and can host up to three guests at a time. It features one bedroom and a bathroom, but there's also an outdoor shower and a beautiful deck with furniture so you can relax and breathe in the fresh, natural air during your stay.
The location is iconic, only a short 45-minute drive from many different Vermont ski resorts. There are also many hiking trails and lakes in the nearby area. Plus, everyone who stays at the yurt receives access to a guide made by a local so you can best explore the area and check out some of the hidden gems!
Click here to learn more and book!
If a resort is more what you're after, then consider staying at Sterling Ridge Resort. Located in Jeffersonville, this resort has some of the best classic Vermont cabins that you could ask for with incredible amenities. These aren't your average cabins, though; they feature kitchens that come with everything you need, and a few of them even have jacuzzis.
Plus, once again, this is a spot for glamping in Vermont that is in a great location because there are tons of outdoor activities available in the area. You can go kayaking, hiking, biking, and even mountain climbing if you want. Then, after your long day of exploring the outdoors, you can rest easy in your comfortable cabin!
There are a few different cabin types, ranging from studios to luxury cabins, that can host up to eight people per night. Each cabin has its own amenities and uniqueness, so be sure to do some research to find the one that will be perfect for your trip.
Click here to learn more and book!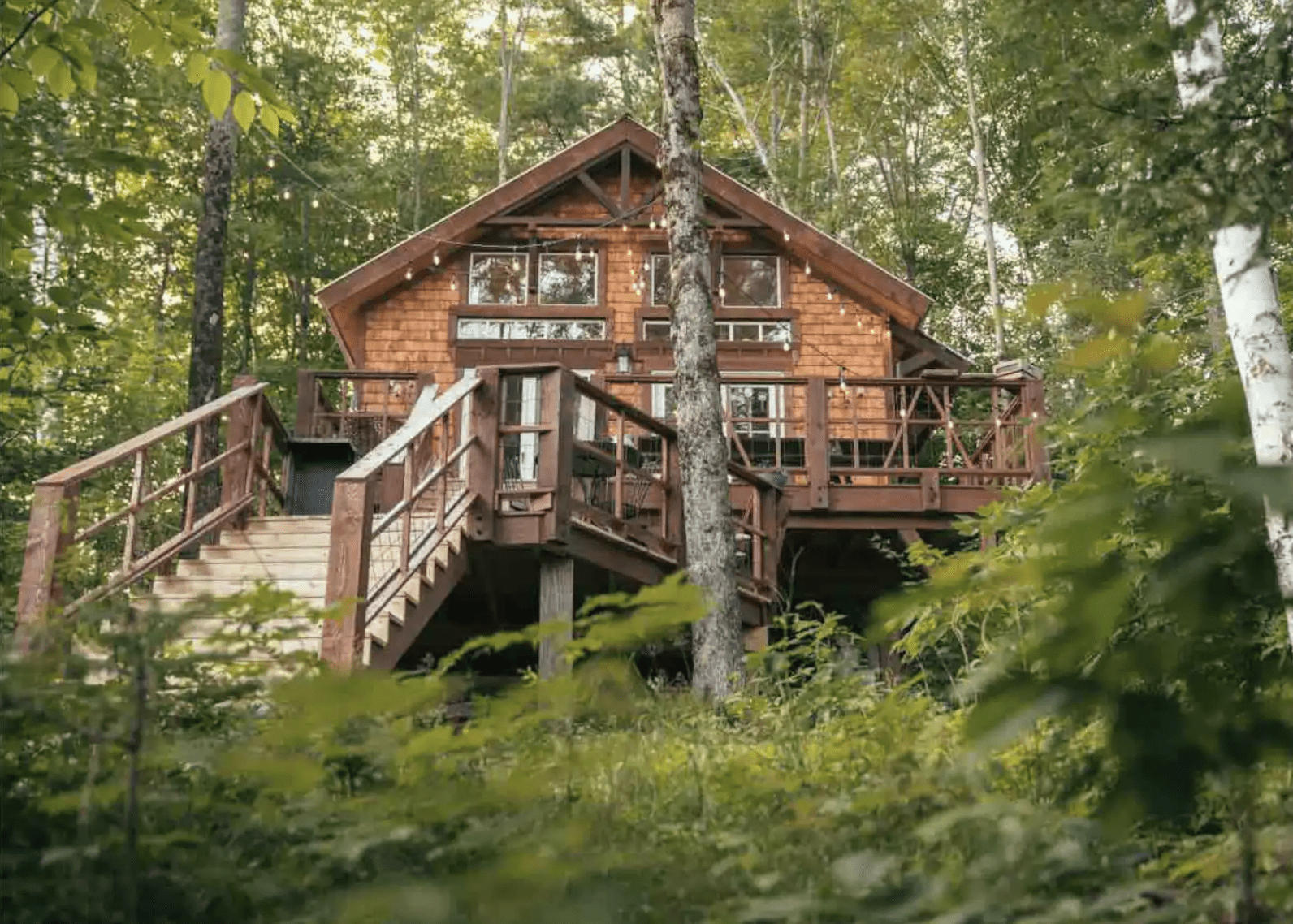 Next is none other than this luxury treehouse in Saint Johnsbury near Dog Mountain! With sprawling steps that lead up to it and fun fairy lights surrounding it, this luxury treehouse is one that you won't want to miss out on.
The treehouse can host up to six guests at a time and features two bedrooms, three beds, and a bathroom. There's also a beautiful patio/deck area where you can sit outside and take in the beautiful forest view surrounding the treehouse.
This accommodation is truly remarkable because it's an unplugged treehouse, meaning that there isn't any wifi or television. There's not even air conditioning! So if you'll be visiting in summer, consider packing your own fan or just be sure to make sure the temperatures will be dropping a bit during your visit once the sun goes down.
Even though it's unplugged, the treehouse has many amenities, including heating, an indoor fireplace, a dedicated workspace, and a kitchen with all the utensils and cooking basics you could possibly need.
Click here to learn more and book!
Located near Jay Peak Resort, Crofter's Green is one glamping location worth considering for your stay! It's the perfect place and location if you want to explore the outdoors, an absolute must in Vermont.
Luckily, Crofter's Green has a few different cottage options to choose from. Each one is entirely different! They have fun names, too, like the sugar shack or the tea house. Every cottage has its own theme, and they sleep between two to four people. Plus, a few of them are pet friendly!
The best amenity that comes with staying at this accommodation is the incredible outdoors. There are twenty-five acres of land here that guests can explore. There are tons of trains, a hot tub, and even a grill if you want to cook some great food during your stay. The sunsets here are also absolutely impeccable; you won't want to miss them!
Click here to learn more and book!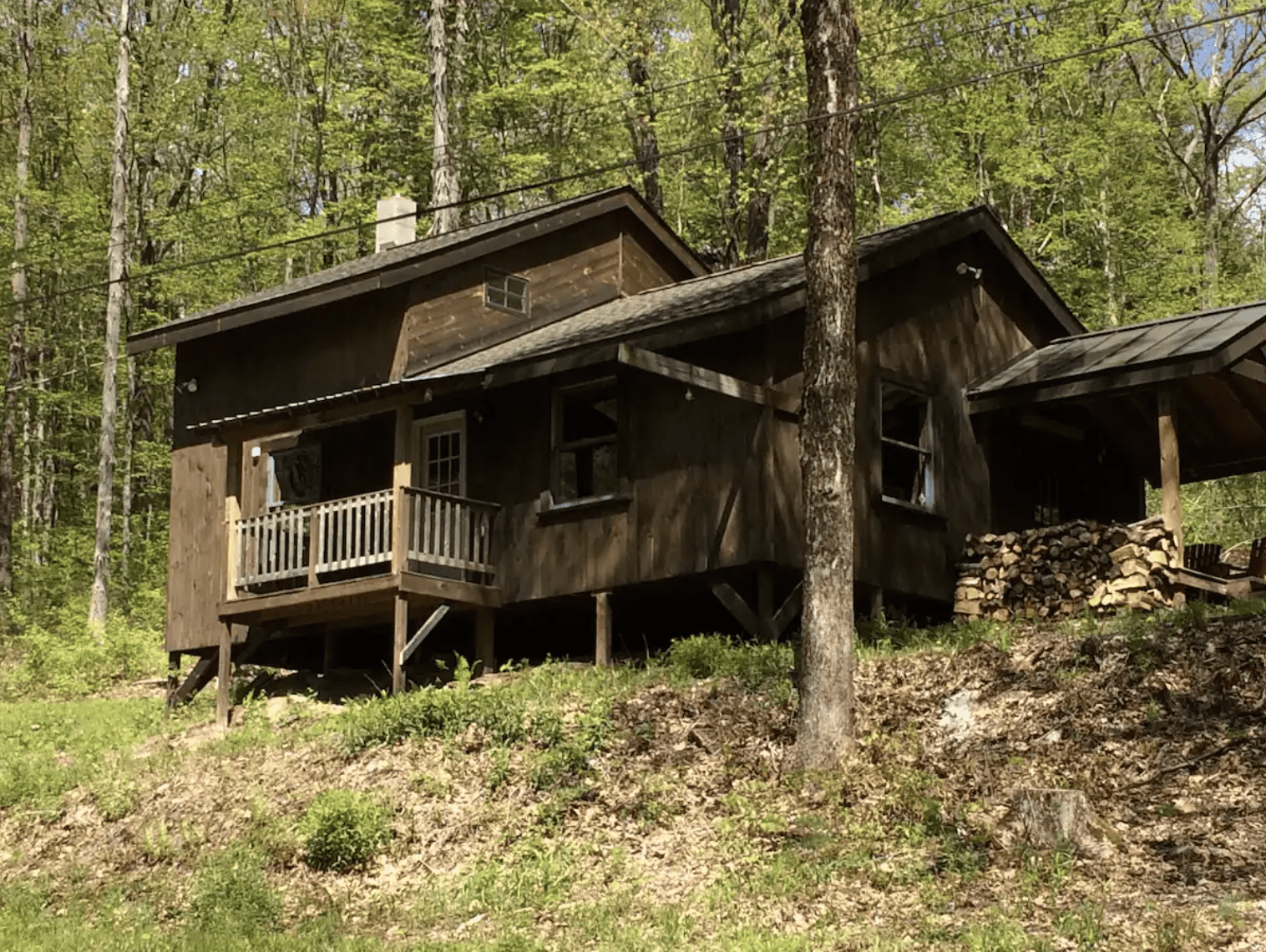 With a very short walk to both Glen Lake and Lake Bomoseen, this glamping retreat is perfect for larger groups of guests looking for a true getaway. That's right; this Glen Lake Woods glamping retreat can host six guests with four beds plus a sofa bed and couch!
The retreat is truly rustic and teaches guests to focus more on the simple parts of life because it's a completely dry cabin. This means that there isn't any indoor plumbing, so it's almost like you're actually camping but inside! There is a portable restroom and outdoor shower, though, and guests are given water that they can use to drink or cook with.
This accommodation is genuinely gorgeous and features a genuinely authentic Vermont cabin feel with high cathedral ceilings. There's ample space inside to hang out, including a living room, dining room with a giant table, and of course, the kitchen, which comes with a crockpot and Keurig coffee maker for your daily cup of Joe!
Click here to learn more and book!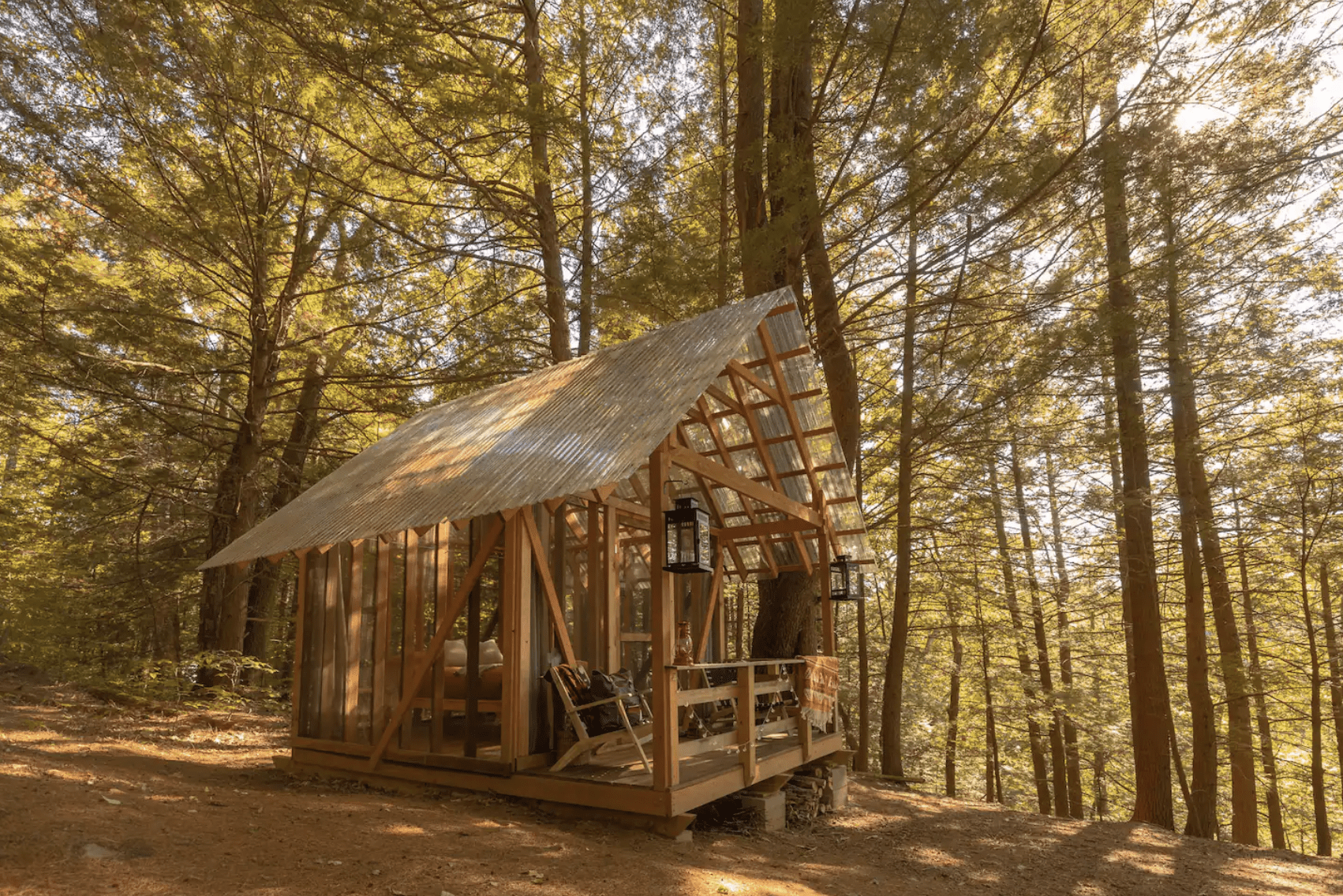 One of the most unique and beautiful spots for glamping in Vermont is none other than this tiny cabin in Brookline! It's located right near two different Vermont state parks: Townshend State Park and Jamaica State Park.
It's actually built right on the Tanglebloom Flower Farm and has screened walls so you can feel a nice breeze the entire night while also feeling like you're in nature without getting bit by mosquitoes all night. Plus, the roof is transparent so that at night, you can watch the stars directly from your bed.
This glamping cabin is perfect for two guests, and there is an outdoor kitchen and shower. Water is usually only available between May and September because it gets cold in Vermont!
There are many great spots to explore in the nearby area of this cabin, including Putney Mountain, Brattleboro, and more. It's an ideal spot to stay if you want to get a little more off the beaten path.
Click here to learn more and book!
Another beautiful spot to stay in a yurt in Vermont is at Craftsbury Farmhouse! They have yurt tents that guests can stay in to feel one with nature. Plus, the yurts have a great outdoor area too and are rather spacious on the inside.
The yurts come with a queen-sized bed, and there is also a shared bathroom area with other guests. If you visit in winter, heating isn't included with your stay, but they do have propane heaters available to guests for an extra small fee.
Forget to pack your favorite snacks for your stay? Don't worry! There arae tons of excellent goodie boxes that you can buy to keep in your yurt with you, including ones featuring sweets, essentials, savory treats, and more.
Amenities at this accommodation arae incredible, with the Blackbird Bistro and Whetstone Wellness spa right there. Guests rave about the fantastic food at the bistro, and the spa is perfect for some yoga sessions or pampering!
Click here to learn more and book!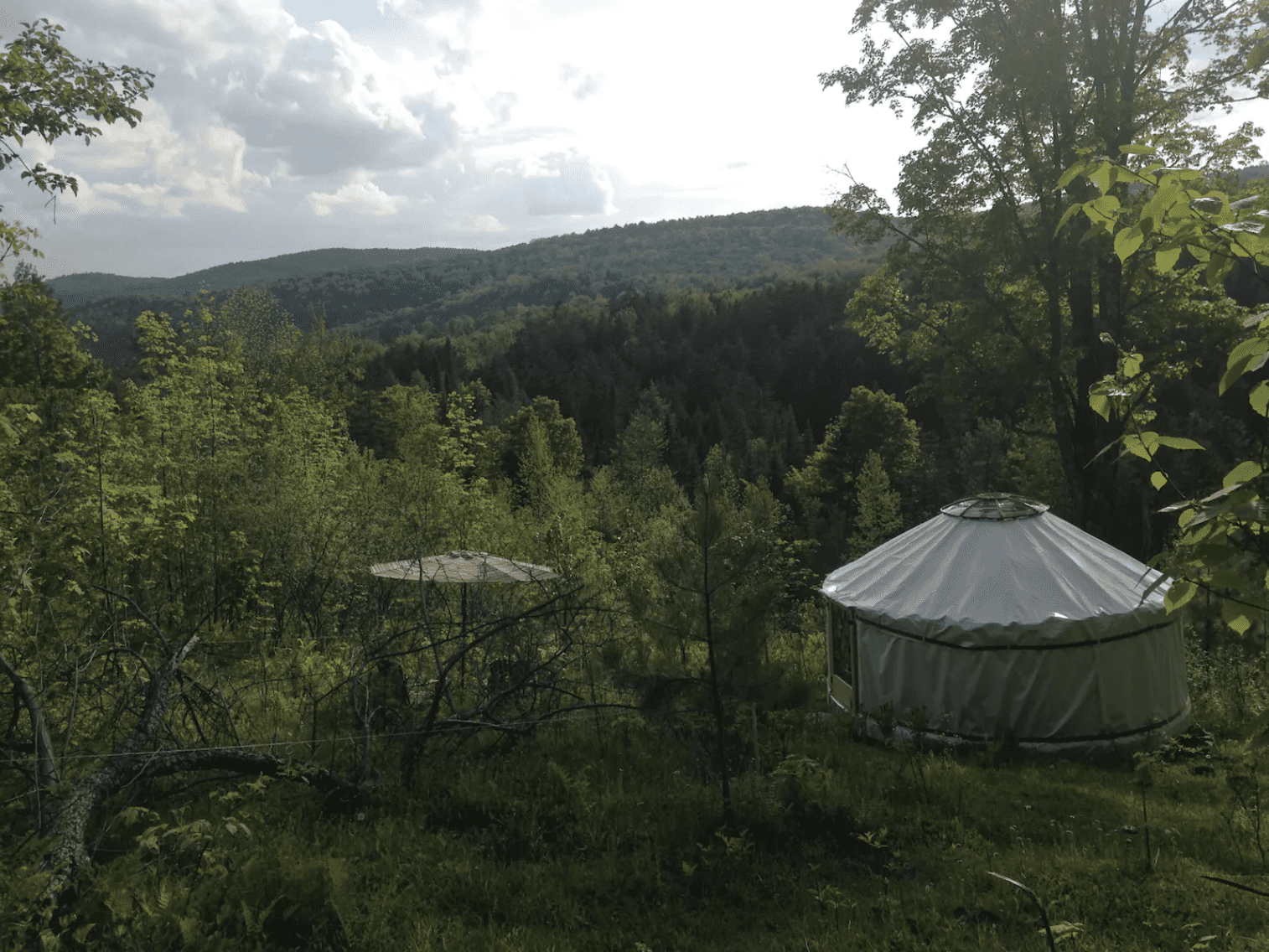 Of course, this list of fantastic glamping in Vermont spots wouldn't be complete without at least one more yurt! Located in Randolph, this quaint yurt for two is secluded and tranquil, with quite a bit of outdoor space, including a fire pit where you can cook food in the evenings.
The yurt is about fourteen feet and features a sleeper sofa that's queen-sized as well as a bathhouse that's shared among guests. If you get cold, don't worry; there's a propane fireplace! Plus, there's also Wi-Fi if you need to do any Netflix watching during your trip.
The yurt's interior is immaculate and minimal, with exposed wooden beams throughout, which is extremely picturesque. There's also a see-through screened roof, so you can look directly out at the stars at night while you're sleeping.
Click here to learn more and book!
A more unique form of glamping in Vermont is to stay at Button Bay State Park! They have four different cabins available for rent and thirteen lean-tos if you'd rather stay a bit more in the wilderness without any luxury.
These cabins are perfect for two people who will be visiting the area! Plus, by staying right at the state park, you'd be able to easily enjoy all of the fun park activities, like swimming, biking, fishing, hiking, and even boating.
The cabins arae relatively affordable and have great amenities. There are bathrooms within walking distance, bunk beds, linens, and electricity. Plus, guests will have their own covered porch that they can sit on to enjoy their dinner in the park.
Click here to learn more and book!
This post was all about the best spots to go glamping in Vermont. Hopefully, you've found your next accommodation when you visit the state. Enjoy your trip, and don't forget to share this post with other travelers!
---
You might also like: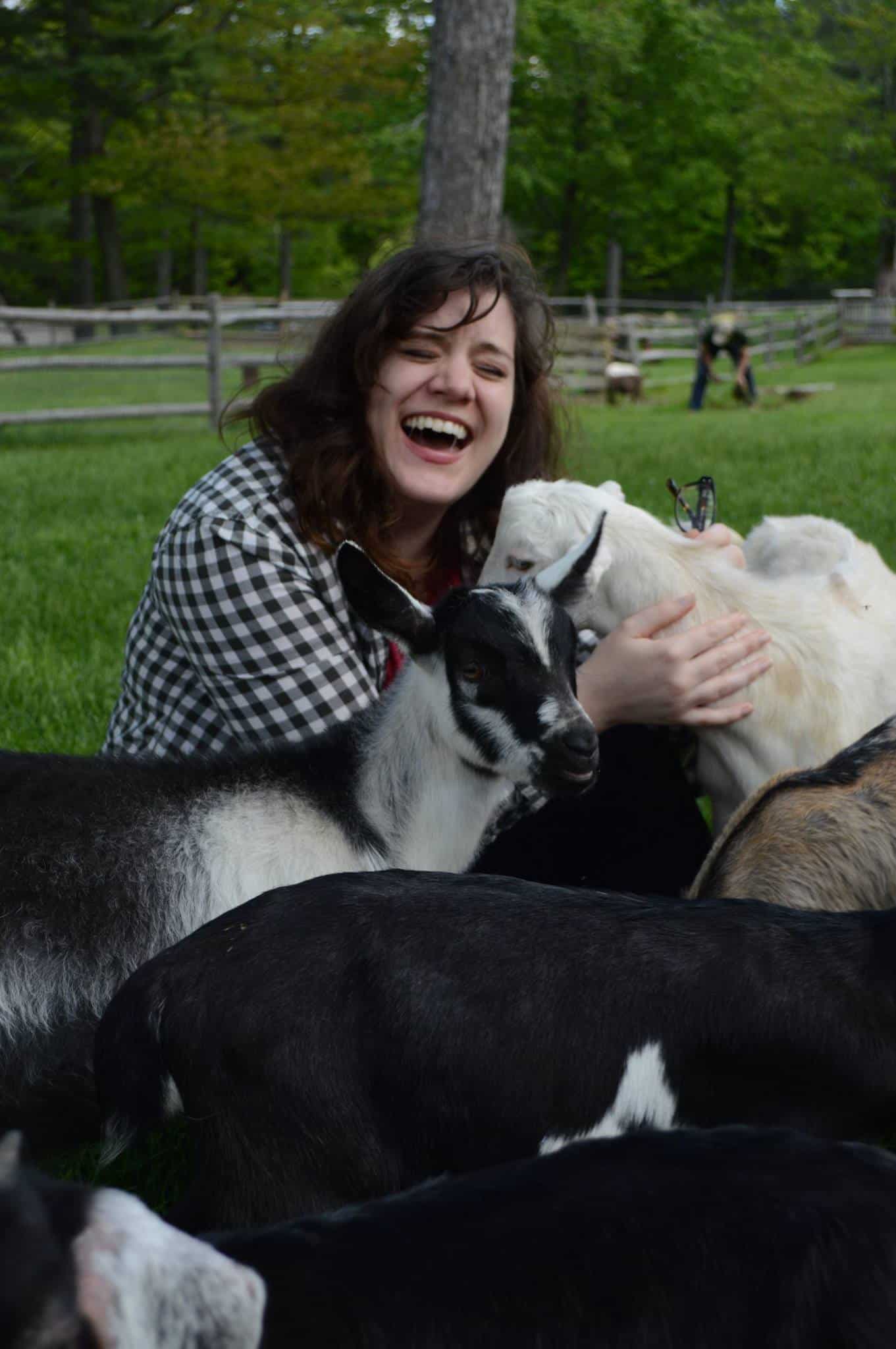 Amy Hartle is the founder and Editor-in-Chief of New England With Love, a comprehensive resource for travel in the New England region. Amy has been exploring New England since 2001. She lived in Vermont for many years and is a graduate of Plymouth State University in New Hampshire. On this site, Amy aims to share her love of New England and help you to have the best possible adventures!
Amy has been writing about travel for over a decade, and is a full time blogger, publishing both Two Drifters and Let's Adventure Baby. When not traveling the world or creating epic blog content, Amy can be found cuddling with her husband, son, and cats, & drinking a maple latte.