Are you planning a camping trip to New England? You're in luck! Throughout this article, you'll find all the best camping in New England sites spread across all of the lovely states in the area.
No matter what type of camping adventure you're looking for, there's a campsite for you in New England. Some of these campsites are located along lakes, some are in the woods, and some are even part of national parks!
Whether you're looking for primitive New England camping, campsites that are borderline glamping, or something in between, these are the best camping in New England spots!
Where to Find the Best Camping in New England
Normandy Farms Campground, MA
First on this list is Normandy Farms Campground in Foxborough, Massachusetts. It's located between Boston and Cape Cod, which is why it's a popular destination from the city! At Normandy Farms Campground, you can either stay in a tent or bring your RV and pay for water, electricity, cable, or sewer hookup.
This campground isn't your average campground. In fact, it is filled with tons of fun things to do! There's a bike park, creative arts center (where movies are played!), business center, fitness center, soccer field, volleyball court, fishing pond, and more.
Brighton State Park, VT
Brighton State Park in Island Pond, Vermont, is a traditional campground that shouldn't be overlooked. Vermont is known for its beauty, and staying at a campsite like the ones in Brighton State Park is the perfect way to explore it!
The campsites at this park are located right along Spectacle Pond. There are traditional campsites where you can pitch a tent, but there are also spots for RVs. In addition, you could rent a lean-to or a cabin if you'd rather. Around the park, you can also go picnicking, hiking, or swimming.
Rocky Neck State Park, CT
For the best best campgrounds in New England within Connecticut, consider staying at Rocky Neck State Park. This is the perfect place to have an outdoor retreat. Here, you can stay in either a tent or park your RV/trailer.
While staying at the park, you can also take the time to explore it! There are hiking and biking trails, picnic spots, and a pond for swimming. There is also a food concession stand by the pond in case you get hungry while swimming and relaxing.
White Lake State Park, NH
If you want to go camping in New Hampshire, why not head to White Mountain National Forest? One of the best spots for camping here is in White Lake State Park. While the park is most well known for being one of the best spots for swimming in the region, it's also one of the best camping in New England spots!
The campgrounds are located right next to White Lake, a breathtaking lake made from glacial ice. There are walking trails around the lake, as well as a few other paths. This is the perfect place to stay for camping in the summer.
Whispering Pines Campground, RI
Whispering Pines Campground in Rhode Island spans 50 acres! This is the perfect place to go for traditional camping in the woods. There are cabins, RV and trailer sites, and spots for you to pitch your own tent and camp the old-fashioned way.
Throughout the campground, there are also tons of activities. Whispering Pines hosts a lot of events that are open for all campers staying at the campground! Be sure to check their online schedule to see what activities are coming up.
Boston Harbor Islands, MA
Did you know that you can go camping on the Boston Harbor Islands? It's true! However, the caveat is that you can only camp here between June to September. There are 30+ campsites, and you can camp on Peddock Island, Bumpkin Island, Grape Island, or Lovell Island.
The only way to get to these campsites is by taking a ferry, which only adds to the fun of this camping trip! The best spot to catch the ferry is in Hingham. Each tent site features picnic tables. For a fun time, consider getting a yurt for the weekend!
Smugglers' Notch State Park Campground, VT
One of the more well-known campsites in Vermont is the Smuggler's Notch State Park Campground. This is located in Stowe, Vermont, one of the most beautiful parts of the state to explore!
There are many campsites here, and a lot of them are spread out, so you'll truly feel like you're camping alone. While camping here, you also can explore the rest of the park. You can go biking, rock climbing, hiking, and swimming! This is the perfect place to go camping during the summer.
Odetah Camping Resort, CT
Odetah Camping Resort is located in Bozrah, Connecticut, right in the woods. It's most well known for its fantastic location, which is why so many people go camping here! There are many different options for staying here, including pitching a tent, hooking up an RV, or staying in a cabin or yurt.
At Odetah Camping Resort, there's lots to do. You can go kayaking, swimming, boating, or fishing at the lake. Other fun attractions include dining at the restaurant, having fun at the pool, or catching a movie night! For a relaxing time, head to the Wellness in the Woods Spa!
Bar Harbor Campground, ME
Bar Harbor Campground is one of the best New England camping sites that should not be overlooked. It's arguably one of the best places to stay when you want to explore Acadia National Park because Bar Harbor is a top getaway to the area.
Campsites here are mainly just for those with campers or trailers. You can rent a spot with no hookups or ones with electricity or water. Whatever you need, there's a campground for it! Plus, there's a shuttle that will take you around the area while you're staying at the campground.
Charlestown Breachway, RI
Located in Charleston, Rhode Island, Charleston Breachway is a great seaside spot to stay and go camping! It's located right on Block Island Sound, so the views are incredible, especially on a bright summer day.
The majority of the sites here are just for RVs, but there are 75 sites available. You can book your spot online ahead of time to ensure that you can stay here during your visit to Rhode Island. Because it's located right on the water, you can also go fishing, boating, and swimming during your stay.
Lafayette Place Campground, NH
Lafayette Place Campground is located inside of Franconia Notch State Park in Franconia, New Hampshire. This campground is the perfect place to stay if you're looking for the best camping in New England.
This campground has a wide variety of sites available for campers. You can rent a platform, a tent-only spot, or a pop-up location. The park is also filled with tons of fun activities, from hiking to fishing! Plus, this is the perfect place to stay while exploring the White Mountains.
Worden Pond Family Campground, RI
This is one of the most beautiful campgrounds in New England, but heads up, tent camping isn't allowed for most of the year. However, if you're looking for where to go with your RV, you're going to want to check Worden Pond Family Campground out!
Amenity rich with playgrounds, basketball courts, volleyball courts, water hookup, and 50 amp service, this is a great campsite for those who like modern conveniences in their camping experience!
Waterbury Center State Park, VT
If you're a fan of Ben & Jerry's ice cream, this is the place for you to stay! This campground is not that far from the main factory in Waterbury, which offers free tours to ice cream lovers. The park covers 90 acres and is a great spot to go camping.
Camping here is on a first-come, first-serve basis, and all of the campsites are located right along the water of the Waterbury Reservoir. Some of them are even campsites that you have to boat to! Amenities at this state park are abundant, including hiking trails, picnic tables, picnic sites, and more.
Wolfe's Neck Oceanfront Campground, ME
Next is Wolfe's Neck Oceanfront Campground in Freeport, Maine. Freeport is one of the best places to visit in Maine and is known for its great downtown area and shopping! When you stay here, there are both campsites and cabins, so you have your pick.
There are tons of great activities at this campground, which is why so many people opt to stay here for their camping trip. The campground puts on many of its own events, but you can also go camping, hiking, boating, fishing, swimming, and more. What more could you possibly want when you go camping?
Waters Edge Family Campground, CT
Waters Edge Family Campground in Lebanon, Connecticut, is a traditional place to go camping within the state. There are spots to park an RV or trailer, but you can also rent a cabin if you stay here.
Throughout the park, you'll also find a beach, swimming pool, dog park, laundry facility, and lots of outdoor sporting areas like basketball courts and horseshoe pits. This campground is located near some of the best places to visit in the area, including Gillette Castle (a great castle to visit in New England!), Mystic Seaport and Rocky Neck State Park.
When planning a summer trip outdoors, it can be hard to find the best camping in New England sites! Hopefully, this post has helped you to narrow down the places that are genuinely worth staying at.
Keep in mind that camping spots can be hard to come by during peak season, especially at the locations near the water. Book ahead and save yourself the heartache! What campgrounds in New England have you been to?
---
You might also like:
---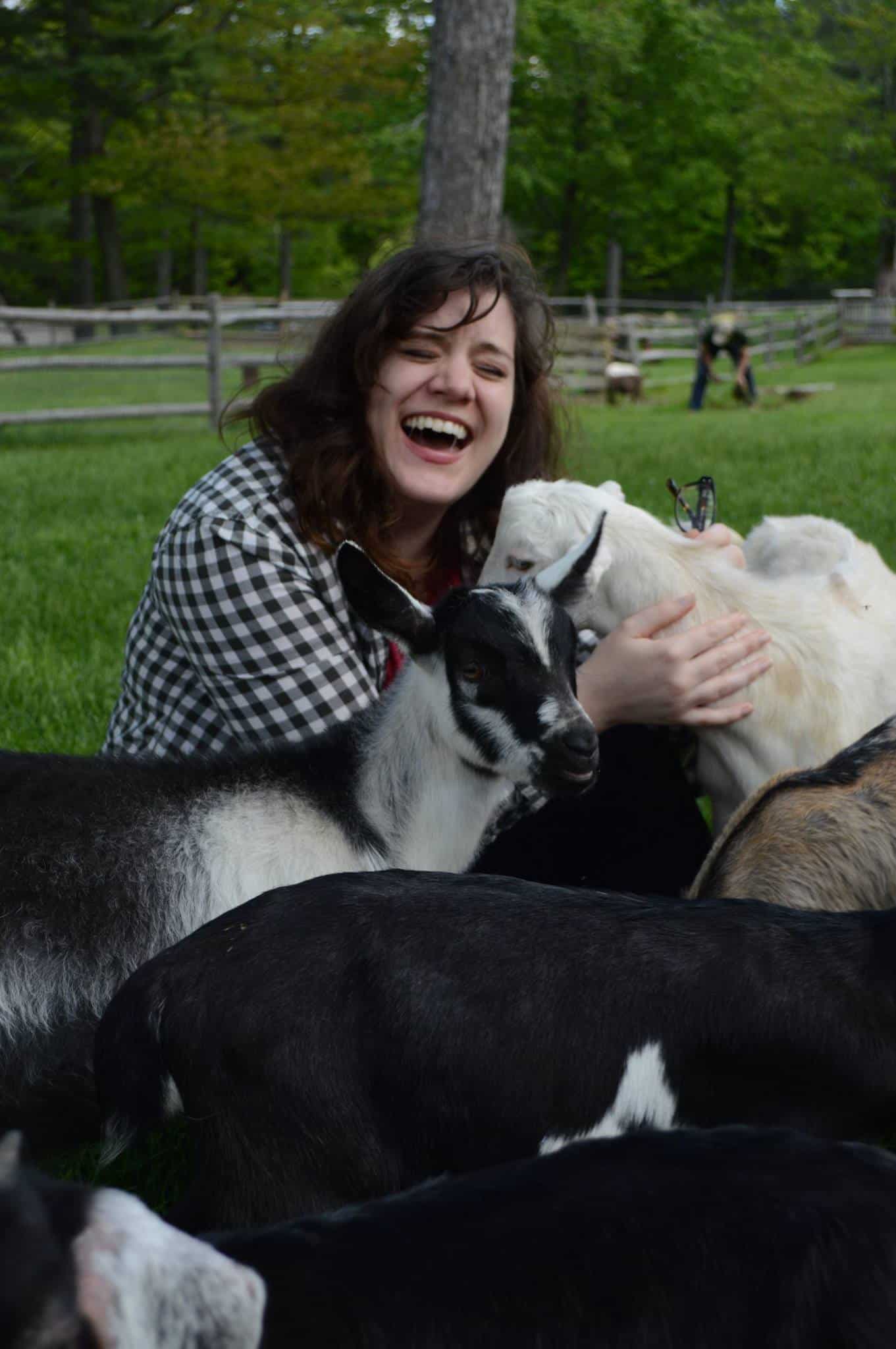 Amy Hartle is the founder and Editor-in-Chief of New England With Love, a comprehensive resource for travel in the New England region. Amy has been exploring New England since 2001. She lived in Vermont for many years and is a graduate of Plymouth State University in New Hampshire. On this site, Amy aims to share her love of New England and help you to have the best possible adventures!
Amy has been writing about travel for over a decade, and is a full time blogger, publishing both Two Drifters and Let's Adventure Baby. When not traveling the world or creating epic blog content, Amy can be found cuddling with her husband, son, and cats, & drinking a maple latte.