---
*Links in this article may be affiliate links, from which we may earn commission. See our
Privacy Policy
for full details.
---
New England in the summer is unlike any other season. From the warm weather to the summer cookouts, there's no better way to experience this area of the United States than by glamping in New England.
Luckily, there are many different glamping locations here, so no matter what state you plan on visiting this summer, you'll be able to have a glamping experience. Just keep in mind that for most of these places, you'll want to book well in advance. Camping is popular here in the summer!

Below, find some of the best spots for New England glamping.
One of the best places for glamping in New England is Sandy Pines Campground! Located in Kennebunkport, Maine, this campground can provide you with a much-needed weekend away. All of the tents have a rustic charm to them, yet also feel very luxurious and elegant at the same time.
They have a wide variety of different glamping tents, so you have your pick! There are retro trailers (like Airstreams or VW buses), transparent domes, wagons, and even fun triangle-shaped buildings that they call "hideaway huts."
Depending on the glamping tent you book, potential amenities include AC, heat, refrigerators, and even a private fire pit.
Parker Hill Farm is located in Springfield, Vermont, and is an ideal retreat location to go glamping! This area in Vermont is incredibly scenic, especially in the summer when they are open and taking reservations.
Amenities are abundant at Parker Hill Farm, making it one of the best spots for glamping in New England. There's a camp store, telescopes for stargazing, mini-kitchens with microwaves and coffee makers, complimentary continental breakfast, and even movie nights held at the barn for all guests occasionally.
With five glamping options to choose from, you'll be able to find one that suits all of your needs.
In Voluntown, Connecticut, you can find Tamarack Lodge. This beautiful glamping location is situated on 28 acres of land. The site is most well known for hosting many different events throughout the area, including weddings!
The lodge has roots in the 1700s, so this is a historic destination to go glamping. There are a wide variety of options when it comes to your glamping. You can choose between RVs, tents, vintage cabins, and even guesthouses if you want.
For an extra fee, you can join in on lawn games, canoeing, kayaking, or even cooking s'mores at the fire pit.
Huttopia is located in Albany, New Hampshire, and provides a classic glamping experience that will have you wanting to come back every weekend. There are both tents and chalets, and each option comes with its own amenities.
This glamping location is also great if you are traveling as a family, as there's a playground and lots of fun outdoor activities. You can go fishing, hiking, and even canoeing because there's a lake!
Huttopia is most popular among those looking for a weekend getaway from Boston, Massachusetts since it's only a 2.5-hour drive away from the city.
Head to Waldoboro, Maine, for a fun, off-grid glamping experience. This gorgeous glamping location is surrounded by nature, making it the perfect retreat from anywhere else in New England. Tops'l Farm also hosts many different events throughout the year for those in the local area.
There are a few places to stay here, including the Farmhouse, the Cottage, the Cider House, and the Campground. To get the most out of your glamping, you'll want to stay at the campground.
Be sure to book in advance, because the Campground often has a waitlist for the summer months!
Normandy Farms in Foxboro, Massachusetts, is the perfect spot for glamping in New England. It opened in the 1970s and has been a popular getaway location for those in the Boston area ever since.
While you can stay here in an RV or a cabin, you'll want to stay in a yurt to have a great glamping experience! The yurts are luxurious and elegant, everything you'd want while glamping.
There are a wide variety of amenities at Normandy Farms. There's a business center, dog park, disc golf course, bike park, and two playgrounds! You truly won't be bored by staying at Normandy Farms.
Melville Ponds Campground in Portsmouth, Rhode Island, is an excellent choice for glamping! Similar to other places on this list, there are many different options when it comes to picking your overnight stay.
The majority of glamping options are in 1970s Airstreams, which are truly luxurious. These Airstreams come fully equipped with everything you need for a perfect vacation away from home in the summer.
Amenities are abundant, with free wifi, access to hiking trails, proximity to Sandy Point Beach, free hot showers, and fire rings at every campsite. Rates vary throughout the summer, depending on the specific time of the month.
Lake Champlain in Vermont is easily one of the most beautiful places in New England, and now you can go glamping there! This glamping accommodation is a decked-out RV in a truly fantastic location with tons of outdoor activities.
Guests will have access to the fire pit, sandy beach, terrace, cabana, double kayak, and paddleboard. There's also a whole bunch of DVDs to choose from if you want to have a fun movie night while glamping.
This accommodation sleeps eight people with two bedrooms, one bathroom, and a minimum stay of two nights. It's a high-rated accommodation near Lake Champlain and should definitely be considered for your next glamping trip!
In Fairlee, Vermont, you can go glamping at a farm! This genuinely unique accommodation allows you to learn more about the culture in Vermont while also escaping and having a peaceful retreat away from work and stress.
The accommodation is an RV that comes with everything you'd need, including a convertible couch, electricity, kitchen, and small dining area. Two people can stay there each night, making it the perfect accommodation for a romantic getaway!
Proceeds from staying overnight here go towards the family's mission that owns the accommodation, which is to help rescue abandoned animals. A close walk from your accommodation, you'll even be able to see some of the family's animals, including their cute donkeys!
Acadia, Maine, is one of the most breathtaking areas in New England, and you can go glamping there by staying at the Terramor Outdoor Resort! Located in Bar Harbor, Terramor is filled with outdoor activities and beautiful sights.
There are five different wood frame tent styles to choose from, but each one is as beautiful as the others and has excellent views of the outdoors. For a true glamping adventure in nature, this is where you'll want to stay.
Tents can hold between 2 and 5 people depending on which one you book. There are private fire rings, Pendleton blankets, pour-over coffee, complimentary fire starters, screened porches, and in-tent bathrooms.
Make your way to Woodstock, New Hampshire, for a great glamping adventure! There are multiple glamping options here, with accommodations hosting up to 5 guests at a time, depending on which one you book.
Accommodations include wagons (with baths and showers!), glamping tents, cabins, and even treehouses. They only have a small amount of availability for each type of accommodation, so you'll genuinely want to book well in advance.
Depending on the accommodation you book, you'll also have some great amenities. These can include a kitchen, bathroom, cable, and more. They also allow extended stays here if you want to have a longer getaway.
Last but certainly not least on this list of the best spots for glamping in New England is this modern treehouse! Located in Truro, Massachusetts, this accommodation can sleep up to 8 people at a time, making it a great place to stay for a larger group.
Inside, there are three bedrooms and three bathrooms spread over nearly 2,000 square feet. This is one of the larger accommodations on this list of New England glamping locations!
There's a kitchen, gas grill, outdoor dining area, outdoor shower, and more. Plus, the interior was newly refurbished, and the owner says that the sunsets here are impeccable. What more could you possibly want?
—
As you can see, there are so many great places to go glamping in New England. Whether you want to glamp in Maine, Vermont, or anywhere in between, there's a glamping campsite (or glampsite) for you.
Plus, no matter the size of the group that you're traveling with, you'll be able to find an accommodation that suits your needs.
As mentioned earlier, be sure to make your reservations in advance, especially if you are visiting during peak season. This is one of the more popular things to do in this region, especially over the summer, and you don't want to wait to reserve!
What place on this list would you most want to stay at? Leave a comment below!
---
You might also like:
---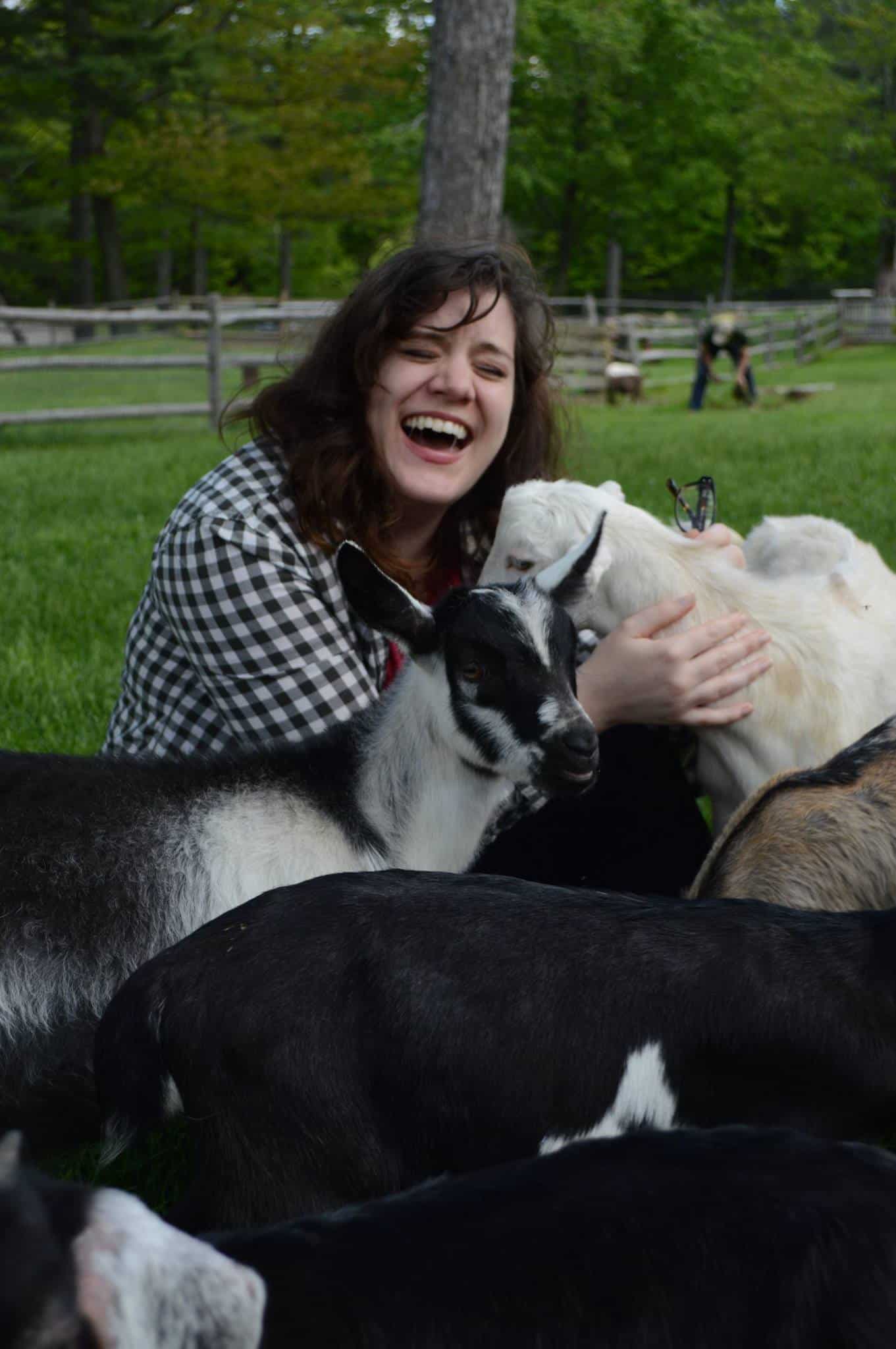 Amy is the founder of New England with love. A proud Vermonter, she hopes to share her love of New England and help you find the best adventures in the region. Amy is also blogger/founder at Two Drifters, where she writes alongside her husband about romantic and couples travel, relationships, honeymoons, and more. When not working on websites, Amy is probably reading, cuddling with her husband, son, and cats, & drinking a maple latte.