*This site uses affiliate links; if you make a purchase through these, I may receive a small commission at no cost to you.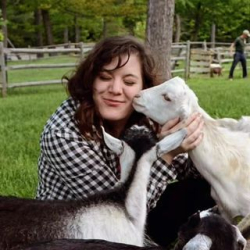 Latest posts by Amy Hartle
(see all)
What better way to enjoy the outdoors than to go glamping in Massachusetts? Glamping is quickly taking the world by storm because it allows travelers to enjoy the fun of camping with a little bit more luxury than they normally would experience.
This post is all about the best glamping spots in Massachusetts including more traditional luxury yurts all the way to unique farm stays. Plus there are a few fun cabins thrown in there as well if you're looking for more of a traditional nature accommodation.
Keep reading to learn all about the best Massachusetts glamping destinations!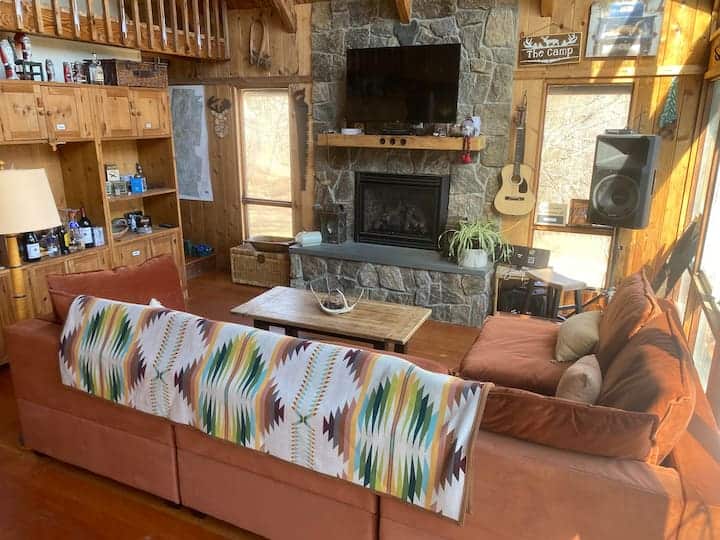 First up is a gorgeous cabin located in Lanesboro, Massachusetts that can host up to seven people at a time! There are three bedrooms featuring seven beds and two bathrooms making this one of the bigger places to go glamping in the state.
It's located a short drive from Williamstown, so it's near some amazing places to visit like the Clark Art Institute and Mass MoCA. Plus it's right near Mount Greylock which is one of the best spots to go hiking in Massachusetts, making it a perfect place to stay if you love the great outdoors!
This home has great amenities including a mountain view, kitchen, and even an area to work in case you need to get any work done during your glamping trip. Note that some of the beds are singles situated like bunk beds so this is a super fun place to bring children as well!
Click here to learn more and book!
Stay at the cabins at Bonnie Brae Campground for an incredible glamping experience in Massachusetts! No matter which one you book, you're in for an incredible time. These rustic cabins are extremely comfortable and cozy, providing the perfect getaway in nature without having to sleep directly in a tent.
Each of the cabins comes equipped with amazing amenities including comfortable beds, a refrigerator, and even a smart TV. Plus depending on which one you book, there may even be an extra sofa where you can relax during your stay.
The cabins are extremely minimalistic but are just what you'll need for a more luxurious camping stay. Plus they all include a small outdoor deck, most of which are near a picnic table so you can eat your meals outdoors. Although the cabins have no water, there are restrooms and showers nearby that all those who stay in cabins are allowed to use whenever they want to.
Click here to learn more and book!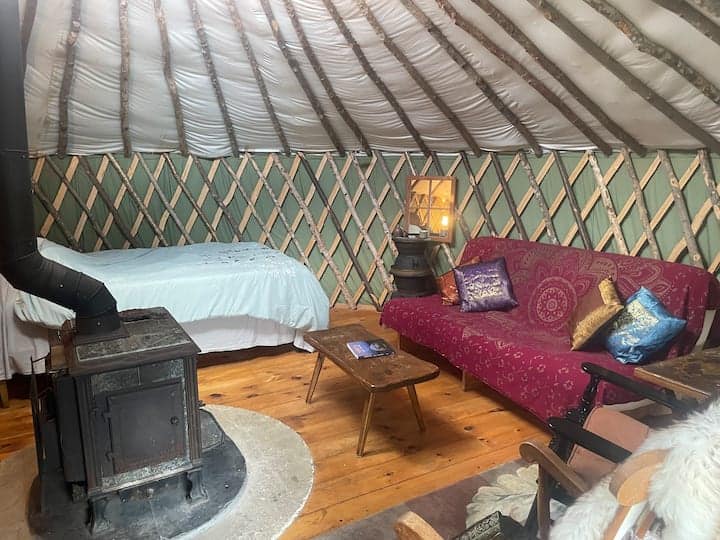 Obviously this list of best places to go glamping in MA would not be complete without including at least one yurt! This yurt in particular can host up to four guests at a time and is incredibly spacious on the inside. It's located in Hawley, Massachusetts and actually consists of two accommodations when booked. In addition to the yurt, the stay also includes a hybrid camper with two queen beds.
Amenities at this accommodation include free parking, a backyard, and of course the kitchen in case you need to get any cooking done. There's also hot water, air conditioning, an indoor fireplace, and even Wi-Fi so you can use the internet or take any Zoom calls if needed.
The inside of the yurt is extremely minimalistic with green accents. The fireplace is located in the middle of the yurt, with the furniture surrounding it. There is a table that you can sit at, there are a few rocking chairs, a lovely couch, and of course a bed.
Click here to learn more and book!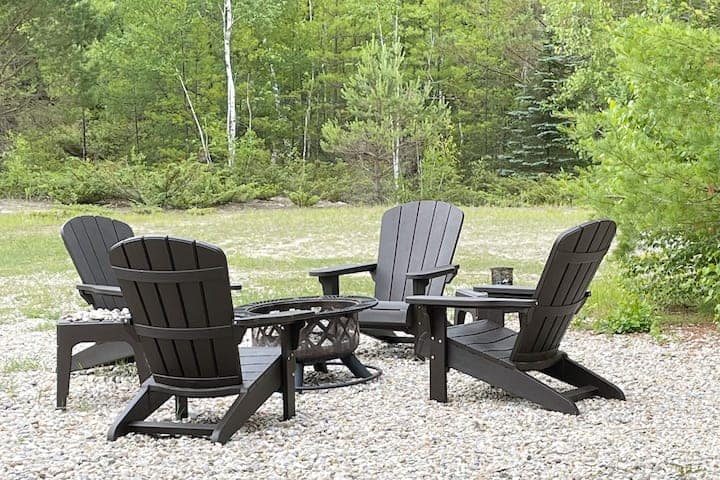 This glamping spot in the Berkshires may not be what you traditionally think of when you want to go glamping, but it's still worth including on this list. Located in Lee, the Berkshire Glamping accommodation can host up to six guests at a time between two bedrooms with five beds.
There are tons of amenities at this location, including a mountain valley view, a bathroom, television, air conditioning and heating, and even fun board games in case you need something fun to do to pass the time during your glamping trip.
The location of this accommodation is incredible as it's only a short drive to Great Barrington, the Lee Premium Outlets, and even Tanglewood. If you happen to be visiting in the summer, one of the best things to do in summer in Massachusetts is to head to Tanglewood and see the Boston Symphony Orchestra!
Click here to learn more and book!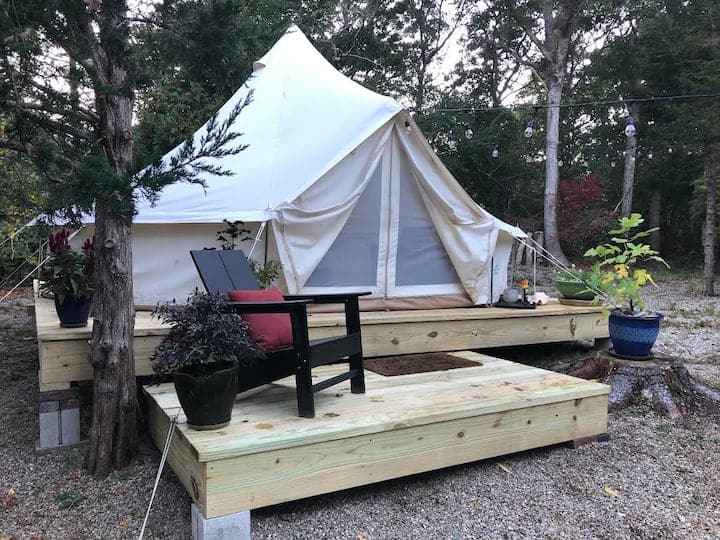 This Cape Cod Hideaway is easily one of the best spots to go glamping in MA! It is a perfect spot to go for a romantic weekend away and it can host up to two guests at a time. It's not necessarily a yurt but it's somewhat of a high-end tent.
Located in Sandwich, this hideaway is perfect for those who want to visit Cape Cod, which is also filled with fun things to do. There are great amenities including a beautiful garden view, a gaming console, books to keep you busy, and even a piano! There's also Wi-Fi that is free to use.
The inside of the tent has just the essentials with a fluffy bed and two chairs in a little sitting area. There's also a small deck so guests can enjoy the beautiful outdoors during their stay!
Click here to learn more and book!
Next up is the beautiful accommodations at the Wigwam Western Summit Cabins in Massachusetts. The Mohican Cabin is one of the most popular and it overlooks the Berkshires. The cabin offers one of the most impeccable views that you can get in the area. It really feels like a cabin in the woods but you get to experience some a luxurious amenities.
In the case that the Mohican Cabin happens to be booked, don't worry. There are quite a few other cabins here in North Adams at The Wigwam Western Summit Cabins. Other ones to book include the Mohawk Cabin which features a king bed, Pocumtuck Cabin which features one of the highest views of the area, or the Wampanoags Cabin which is just like the Pocumtuck Cabin but opposite.
Truthfully, no matter where you stay at The Wigwam Western Summit you're in for an incredible time. North Adams is filled with beautiful attractions and of course it's right by the Berkshires so there's plenty to explore, especially for those who love the great outdoors.
Click here to learn more and book!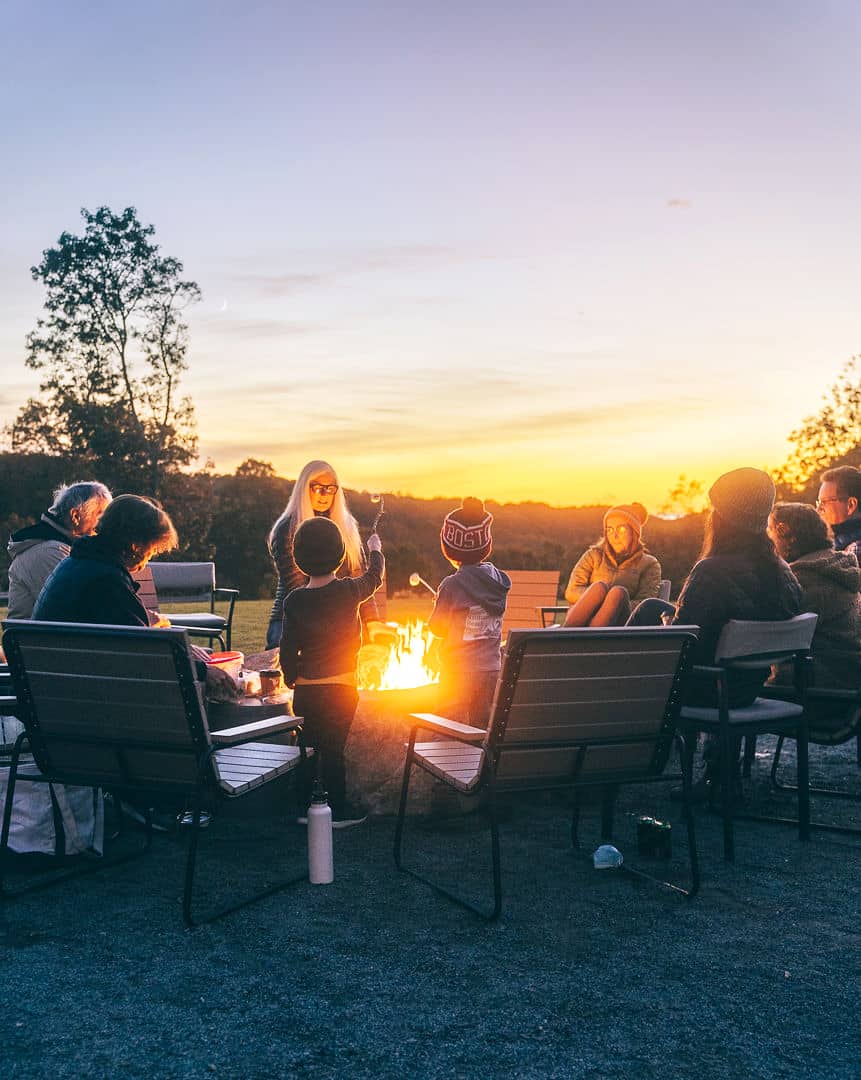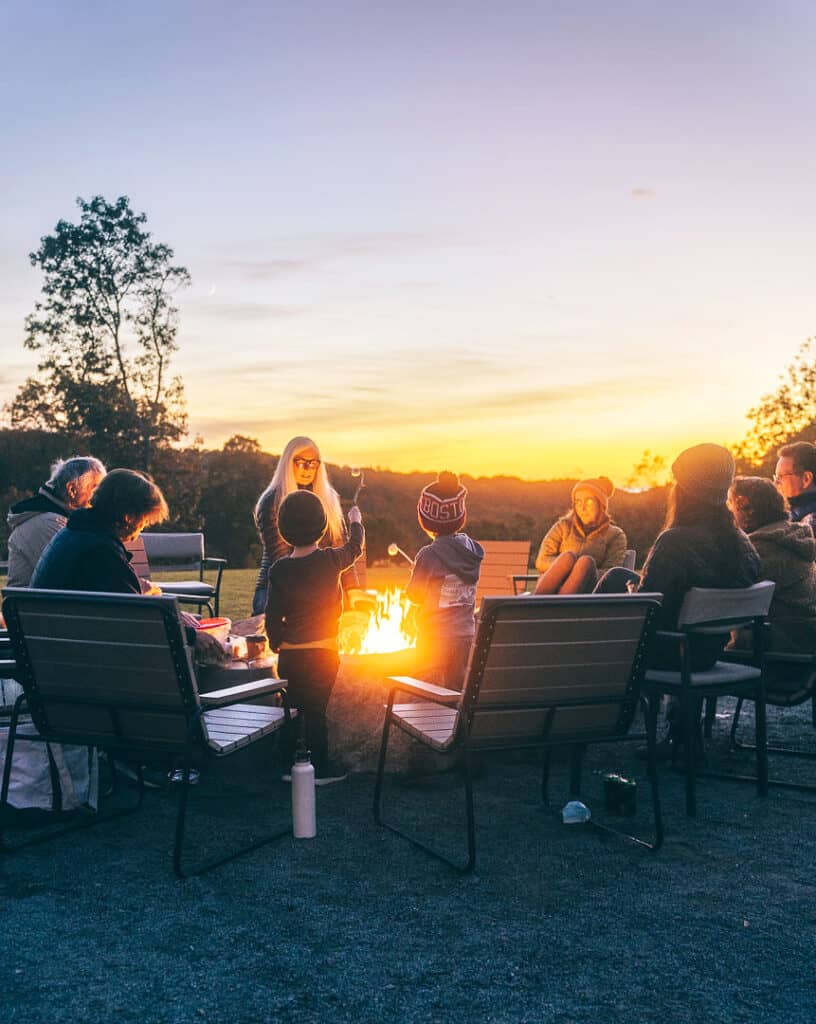 Have you ever wanted to stay in an Airstream? You can do just that at AutoCamp Cape Cod! Enjoy the modern luxuries of staying in an Airstream while still being able to enjoy nature. Each 31 ft Airstream includes everything that you'd ever want and it sleeps up to three adults at a time.
Choose between classic airstreams, premium airstreams, or even more intense Vista Airstream Suites if needed! The main difference is that the Vista Airstream Suites are a little bit more secluded and nestled in nature compared to the other options that you can book.
If you truly want to experience the outdoors be sure to instead book one of their luxury tents or their premium basecamp mini suite. These are available seasonally because they are more outdoors but allow you to enjoy nature in a luxury comfort.
Right now in winter 2023, AutoCamp Cape Cod is offering a special winter package available until March 31st. You can enhance your stay with a special winter package that includes:
– Our signature s'mores kit
– A bundle of firewood
– 2 Miir x AutoCamp wine tumblers
Click here to learn more and book!
Last but certainly not least is Pine Acres Family Camping Resort. Here you can stay in rustic cabins or even a premium cabin if you want a more luxurious glamping experience during your trip. The main difference between the two cabins at the premium ones have more amenities like air conditioning and even a flat screen TV with cable access.
The rustic cabins are more your traditional cabins that you'd expect to stay in. They have electricity and also have a nice little outdoor area where you can sit and cook on the grill. They usually come with two rooms featuring bunk beds and a double bed as well as a refrigerator and table and chairs. These cabins come with access to a public shower in bathroom, which is something to consider.
If you want more of a secluded stay considered booking one of the premium cabins which are pretty much everything you'd want including a private bathroom. There are few different floor plan options for these, but make a note that they must be rented by the week during specific months of the year due to popularity.
This post was all about the best spots to go glamping in MA. Hopefully, you found the perfect spot to book for your next trip. Know that if you plan on going glamping during the summer you may want to book your spot farther in advance because it's such a popular thing to do!
Click here to learn more and book!
Don't forget to save this post and share it for later!
---
You might also like:
7 Weekend Getaways in Massachusetts for Bay State Fun!
When is the best time to visit Massachusetts?
7 Best Campgrounds for Camping in New Hampshire
8 Best Maine Campgrounds for Camping in Maine
10 Best Campgrounds for Camping in Connecticut