Camping is so last year, so why not go glamping in CT instead? Glamping is the newest way of escaping reality for a little bit. Experience the beauty of nature while in a beautiful yet luxurious accommodation.
Throughout this post, you'll learn all about the best places to go glamping in Connecticut in no particular order. Some of these are Airbnb's in Connecticut, while others are locally owned campgrounds or even farms. Each one has been carefully selected as one of the best spots to go glamping in the state.
Continue reading to learn all about the best spot to go glamping in CT!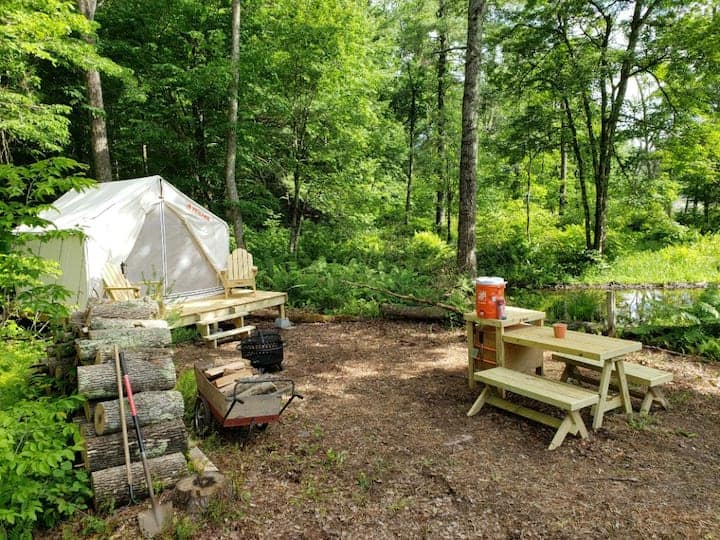 First up is this Beaver Pond Campsite at Farm Winery in Somers, Connecticut. It can host up to four guests at a time and features one bedroom with a bathroom. It's incredibly affordable, but prices can range depending on the time of year.
It's located on a giant piece of private land and is right in the forest. What more could you possibly want? Because it is located on a farm, you can also go over to the Winery tasting room and grab yourself a bottle of wine to enjoy on your glamping trip.
Amenities at this campsite include a fire pit, free parking, and of course, pets are also allowed. What's so great about this glamping site is that you can actually stay there long-term if you need a break from everyday life.
Click here to learn more and book!
Located in Bristol, Bear Creek Campground is one of the best spots for glamping in CT. It may not be what you traditionally think of when you think of glamping, but it is still absolutely a place that deserves a spot on this list.
These aren't necessarily tents, but there are beautiful cabins that you can book during your stay at Bear Creek Campground. These are more traditional one or two-bedroom cabins that can fit up to eight people depending on which room you book, so it's perfect if you're visiting the area with a larger group.
One of the more unique accommodations to book here is the Cub Hut, which features two full-size beds along with air conditioning and heating. This hut almost looks like something you'd expect to see in The Hobbit from the outside.
If you're feeling up to it, you could also consider booking the Deluxe Teepee, which is like the ultimate glamping in CT experience. It can host up to six people per night.
Click here to learn more and book!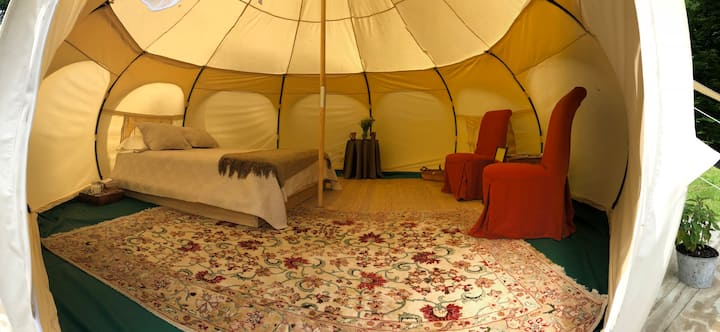 If staying in a yurt is on your glamping bucket list, you must stay at Finnegan's Farm. Located in New Milford, this gorgeous yurt can host up to two guests at a time, and it's located in such a beautiful area.
The yurt has many amenities, including bed linens, Wi-Fi, a barbecue grill, and more. Just what you need for a fantastic glamping experience. Plus pets are allowed, and there is free parking on the premises, so you don't have to worry about that!
The best thing about this yurt is that it really focuses on minimalism. It has just the right amount of luxury while still feeling like you're camping. This is one of the best spots to go stargazing, so don't forget your camera! It's the perfect place to go for a romantic weekend away.
Click here to learn more and book!
Club Getaway is definitely not the type of place you expected to find on this glamping in CT article, but it's definitely one worth mentioning! As the name kind of alludes to, Club Getaway is a summer camp for adults!
They host different events throughout the summer, and you can pick which weekend you'd prefer to go. For example, sometimes they have weekends for certain generations or for specific holidays like 4th of July. They also have General Camp Getaway Adventure weekends as well, which aren't necessarily themed.
During your stay, you get to the camp in a rustic cabin, participate in fun activities, and also attend tons of events and parties. Plus, meals are all-inclusive! You'll really feel like you're at your favorite camp in summer as a kid all over again.
Click here to learn more and book!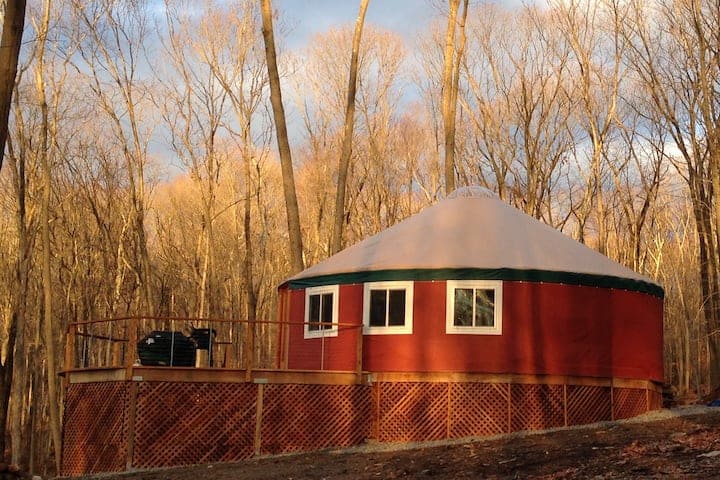 Obviously, this list of best spots for glamping in CT would not be complete without mentioning at least another yurt! This yurt is located in Guilford, Connecticut. It can host up to four guests and is a beautiful maroon color from the outside.
Inside, the yurt is exceptionally spacious, with ample spots for sitting, relaxing, and even dining. Plus, there's giant sunlight right in the middle of the yurt, where you could even stargaze in the middle of the night if you really wanted to. You could also go out and enjoy the stars from the attached deck.
Because this is glamping, there are fabulous amenities like a kitchen, air conditioning, and more. You're allowed to bring your furry friend if you really want to!
Click here to learn more and book!
Winvian Farms is bringing glamping to a whole new meaning in Connecticut with the accommodations that it has! Seriously, you can book a night's stay in a treehouse, a minimalistic luxury home, a traditional log cabin, or even a helicopter!
Because each of the accommodations is so unique, there are also only a few of each one. Because of that, you'll definitely want to make sure you make your reservation well in advance so that you can enjoy one of these unique accommodations.
The amenities at these cottages are absolutely incredible. Depending on the room you booked, you may have access to a rainfall steam shower, a fireplace, a Nespresso coffee machine, and more. Plus, everyone who books a stay at one of these cottages also has an incredible breakfast included which is a $70 value.
Click here to learn more and book!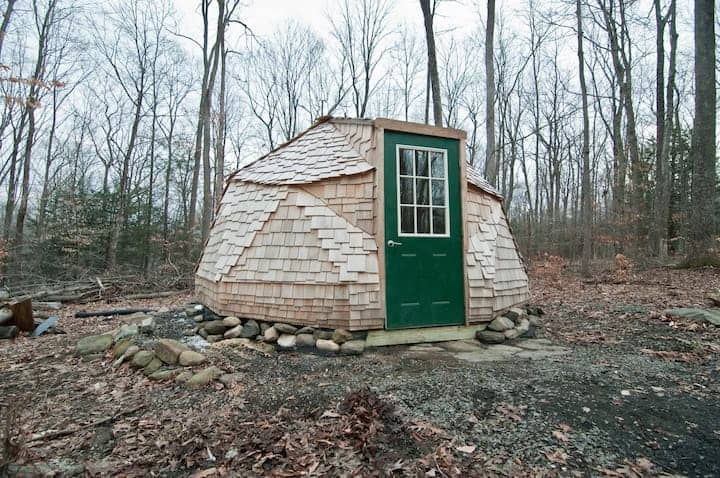 Next up is this Geodesic Dome in Bethlehem, Connecticut! From the outside, it looks incredibly tiny, but it's very welcoming with its wooden features and bright green door! Surrounded by the woods, this is the perfect escape from everyday life.
This home can host up to two guests at a time, making it perfect for a friend getaway or even a romantic one. The inside of the accommodation is exceptionally minimal, featuring precisely what you would need. There's a tiny table with chairs and, of course, a rustic bed with plush bedding. While the cabin does not have bathrooms attached, a full bathroom is located just a hundred feet away.
This home is unique because it was built from the forest surrounding it. Despite this being a glamping accommodation, there is no power inside the dome, so it does have that aspect of regular camping. This makes your stay at the Geodesic Dome incredibly peaceful, and you still have way more amenities than you would if you were actually camping.
Click here to learn more and book!
Believe it or not but the Mystic KOA is an excellent spot for glamping in Connecticut. It's another one of those places that aren't traditional glamping, but it doesn't mean it doesn't deserve a spot on this list! They have various cabins, including deluxe ones that feature bathrooms with showers and other amenities!
The cabins allow you to enjoy nature while still being near one of the best places to visit in Connecticut: Mystic! These cabins include cable TV, beds that can fit up to six people depending on which one you book, and more. But some of them also include a full kitchen so that you can cook during your say!
You didn't think it ended there, did you? Many other amenities are also available to those who stay at the KOA. There's a pavilion, mini-golf, a pool that's open during the summer into early fall, and spots to go fishing. Plus, bikes are available to rent for those who wish to enjoy the outdoors!
Click here to learn more and book!
Last but not least is an incredible treehouse with a gorgeous wraparound deck in Willington, Connecticut. This cabin can host up to four people at a time with two beds, a full bathroom, a kitchen, and of course, an outdoor space. It is also located on a 40 Acre Farm Sanctuary.
There is lots to do in the area that the cabin is located in as well so you'll never be bored! Fun things to visit nearby include diners, a drive-in movie theater, and even a vineyard. Plus, there are ample hiking trails for outdoor enthusiasts! In addition, it's only a short drive from Hartford, New York City, and of course, Boston.
Amenities at this cabin include complimentary coffee and tea, board games to keep you busy, a fire pit so you can cook outside, and you can even visit with the farm animals! What more could you possibly want? Plus, the home itself is highly Instagram-worthy, especially at night when the treehouse is completely lit up in the dark.
Click here to learn more and book!
This post was all about the best spot to go glamping in CT! We hope you have found the perfect place to book for your glamping trip. Don't forget to save this post and share it for later if others are also looking to go glamping here! Enjoy your vacation.
---
You might also like: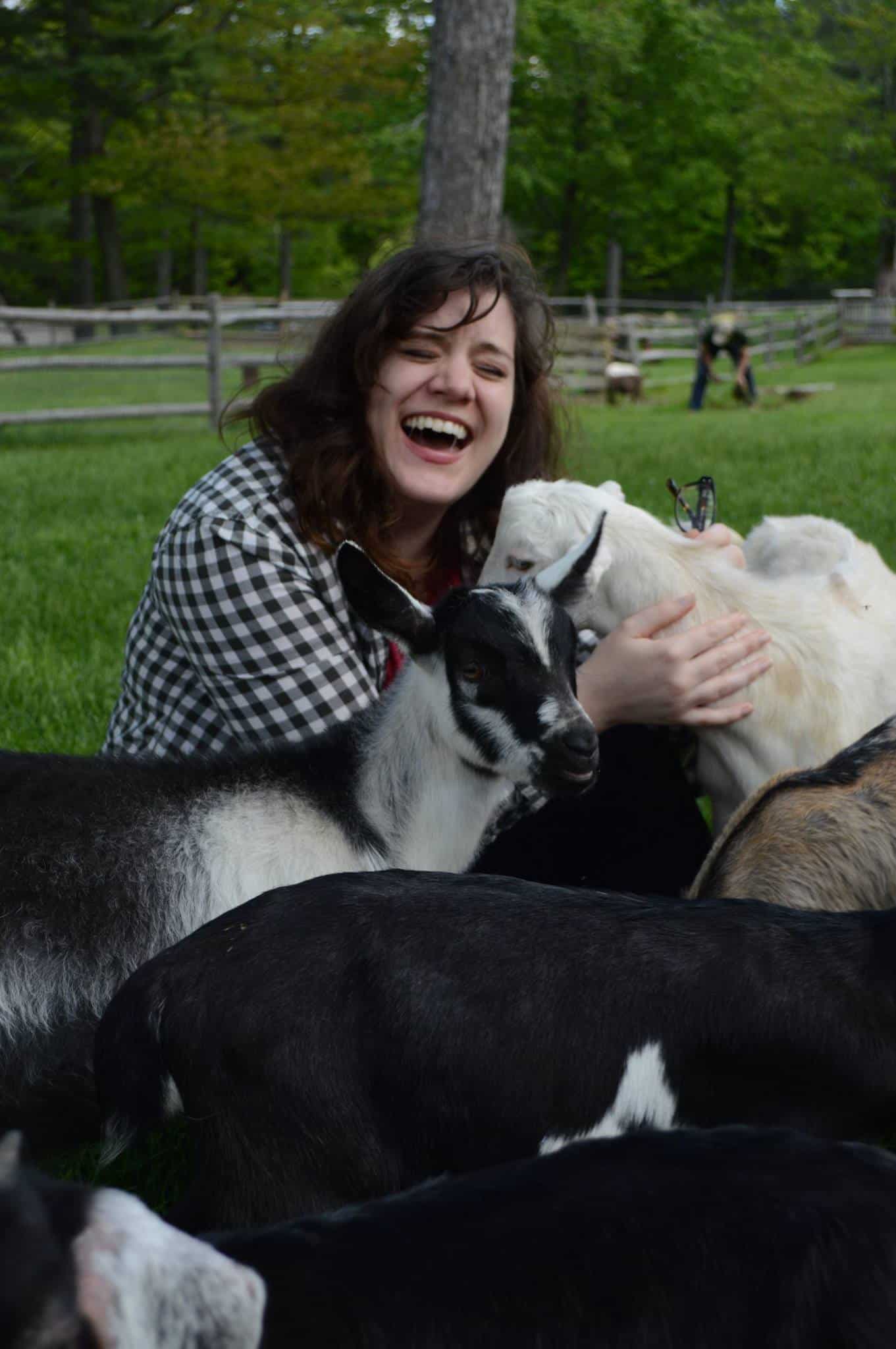 Amy Hartle is the founder and Editor-in-Chief of New England With Love, a comprehensive resource for travel in the New England region. Amy has been exploring New England since 2001. She lived in Vermont for many years and is a graduate of Plymouth State University in New Hampshire. Amy has been writing about travel for over a decade. On this site, Amy aims to share her love of New England and help you to have the best possible adventures!
Amy has been a full time blogger since 2012, and is also the publisher of Two Drifters, where she writes about couples travel and relationships, as well as Let's Adventure Baby, a family travel site. When not traveling the world or creating epic blog content, Amy can be found cuddling with her husband, son, and cats, & drinking a maple latte.