Are you looking for a unique way to experience the beauty of New England? Glamping in Maine is the perfect answer!
This type of luxury camping offers all the comforts and amenities of home while still allowing you to enjoy nature's wonders. Whether it's spending time by a lake or hiking to the top of a mountain, glamping in Maine provides an unforgettable outdoor experience.
From cozy cabins to rustic glamping yurts in Maine, there are plenty of options for every style and budget. So what are you waiting for? Let's explore some fantastic glamping sites in Maine that will make your next trip to Maine one you won't soon forget!
Best Glamping in Maine
Sandy Pines Campground in Kennebunkport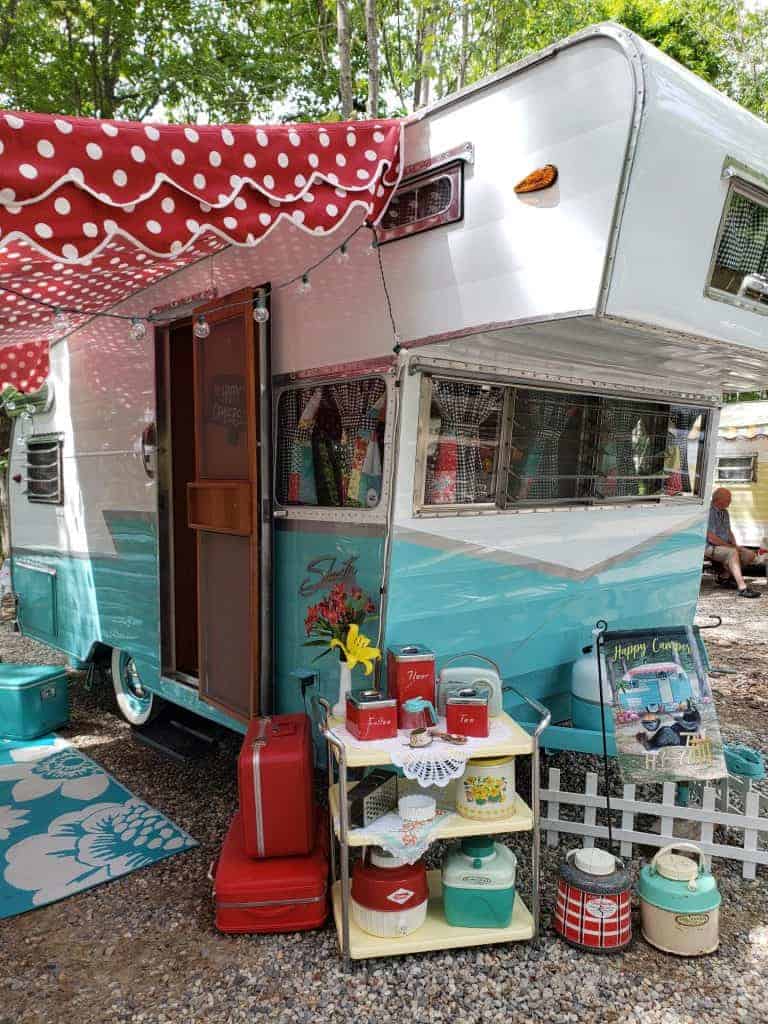 First up is Sandy Pines Campground in Kennebunkport. They have a variety of different options for camping/glamping available, ranging from glamorous to rustic if you'd rather just set up a tent.
One of the best options at Sandy Pines Campground is to stay in one of their adorable airstreams or glamping tents. We share all about it in our post here about glamping in Sandy Pines.
Amenities at Sandy Pines are top-notch; every campsite has its own fire pit and picnic table. Plus, guests have access to a general store, showers, restrooms, and a heated pool. Sandy Pines is also pet-friendly, and with a location right in Kennebunkport, you're truly in for a treat.
In The Trees in Stoneham
In The Trees in Stoneham is perfect for those looking for luxury treehouses in Maine to stay in! They have three treehouses available: The Grand Oak (for eight people), the Spruce Suite (for four people), and The Birdie (for four people).
Note that The Birdie is only available seasonally while The Grand Oak and The Spruce Suite are available to be booked all year round.
The Grand Oak is truly the one to book for the most luxurious experience; the inside feels like an entire mansion at 1200 square feet and two stories. Inside, there's a jacuzzi, two baths, a full kitchen, and tons of rustic touches like exposed wood on the walls that adds a unique textured twist.
Acadia Yurts in Southwest Harbor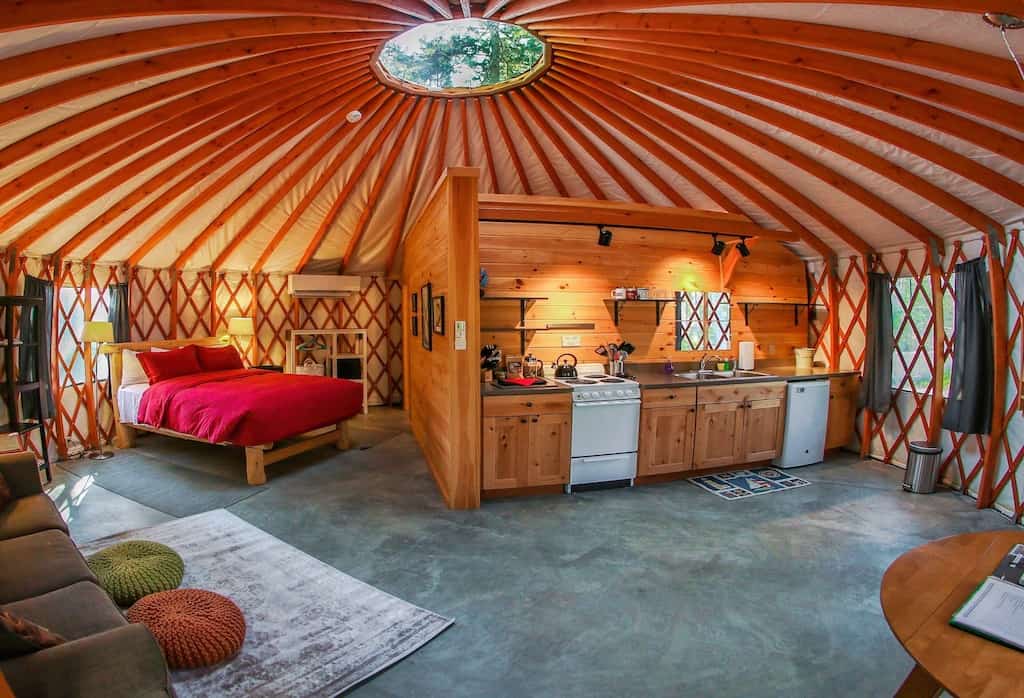 Acadia Yurts is a seasonal glamping resort in Southwest Harbor, Maine, that provides more of a traditional glamping experience to its visitors. Right on Mount Desert Island, these luxury yurts will help you become one with nature.
They have a few different types of yurts available, including their 30-foot yurt for six people, the 24-foot yurt for four people, and their on-site tiny houses if you're only visiting with two people. Each has its own amenities, ranging from kitchenettes to AC and coffee machines.
Truly, the most luxurious experience can be had in the immaculate 30-foot yurt, which has a lofted bedroom, a whole living room area, and a full bathroom with a stand-up shower. It truly feels like a hideaway; there's nothing more that you could possibly want.
Maine Forest Yurts in Durham
Another great option for luxury yurts is Maine Forest Yurts in Durham, Maine. The yurts are situated on 100 acres of land right by a pond, making for the perfect getaway for those who want to get outdoors.
One of the things that makes these yurts so unique is that it was started by the winner of 2008's Survivor: Gabon, Bob Crowley, and his family. He created these yurts to share his love of the outdoors with others.
There are quite a few yurts available to rent here. There's Zen Den Yurt, Hideaway Yurt, Hemlock Ridge Yurt, and Fisher Ridge Yurt. No matter what one you choose, you're in for a great Maine glamping experience.
Tops'l Farm in Waldoboro
Another great Maine glamping location is Tops'l Farm in Waldoboro. It's perfect for an off-grid experience since it's completely surrounded by nature. Tops'l truly serves as the perfect getaway, and they host many fun events throughout the year, too.
They have a few different places that you can stay, including the Cider House, the Farmhouse, and the Cottage, along with the Campground. We recommend staying at the Campground if glamping is what you'll truly want.
Keep in mind that Tops'l Farm does book up quickly in the summer months, so you'll want to reserve your stay as early as possible to ensure that you can stay there when you'd like to.
Glamping Downeast in Mariaville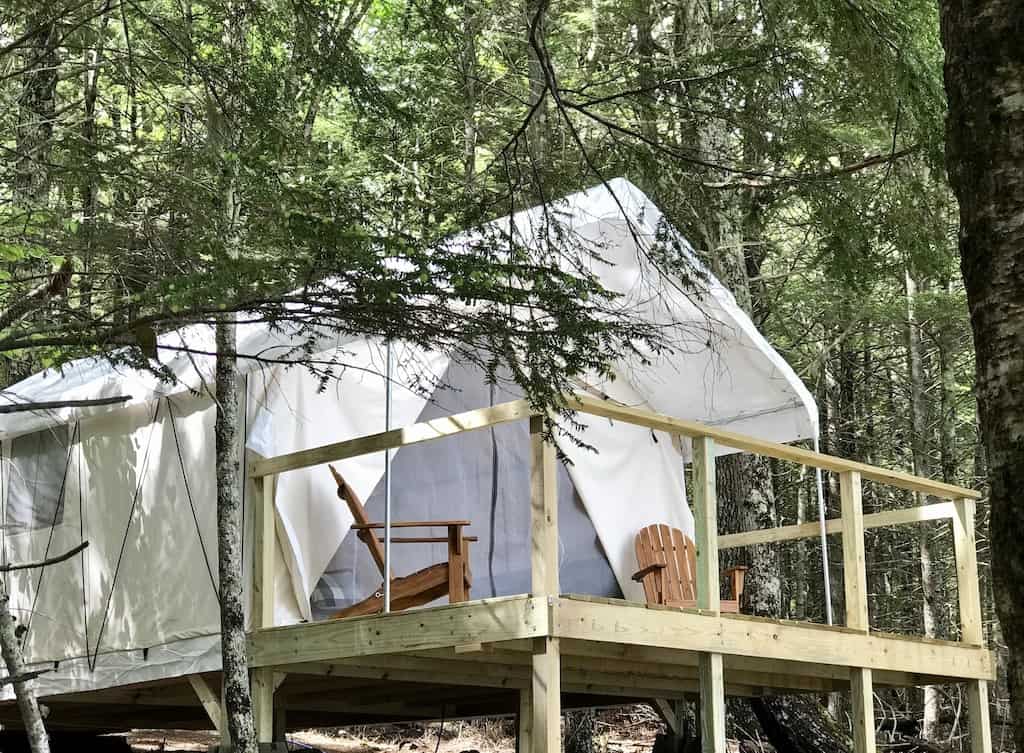 Glamping Downeast in Mariaville is an excellent glamping spot that can sleep four people per night. With an outdoor deck area offering impeccable views and an ensuite bathroom, you can't go wrong with staying here.
What makes Glamping Downeast so incredible is that it's a great combination of everything you'd want in a glamping location. It's environmentally conscious (there's a focus on the natural here), it's near Bar Harbor and Acadia, and the views are breathtaking. Plus, there's a Keurig so you can enjoy your coffee with a view.
Seguin Tree Dwellings in Georgetown
For a more rustic experience of Maine glamping, consider visiting and staying at the Seguin Tree Dwellings in Georgetown, Maine. It's situated on 21 acres of land and has beautiful views of both the river and nearby greenery.
There are a few different tree dwellings to choose from, which are essentially treehouses. They are very modern, featuring a rustic exterior and large windows that allow for lots of natural lighting.
Inside of the treehouses, there's a very minimal design with exposed wooden beams and calm, natural colors. Some amenities you can find (depending on which one you book) include wood-fired cedar hot tubs, bathrooms with hot water, fully equipped kitchens with a dining area, and even a private deck with a screened porch.
Under Canvas Acadia in Surry
Under Canvas has great glamping across the United States, often near national parks. Luckily, they have a glamping location right outside of Acadia National Park in Surry at Under Canvas Acadia.
The season is between May and October and it's easily one of the best places to stay in the entire northeast. It's situated on 100 acres of water and is 30 minutes away from Acadia National Park.
There are multiple tent types available to book, ranging from suites for 4 people (great for families) to Cadillac Mountain Suite for 7 people (great for a friend getaway). Because this is such a great place to glamp, be sure to book well in advance.
Terramor Outdoor Resort in Bar Harbor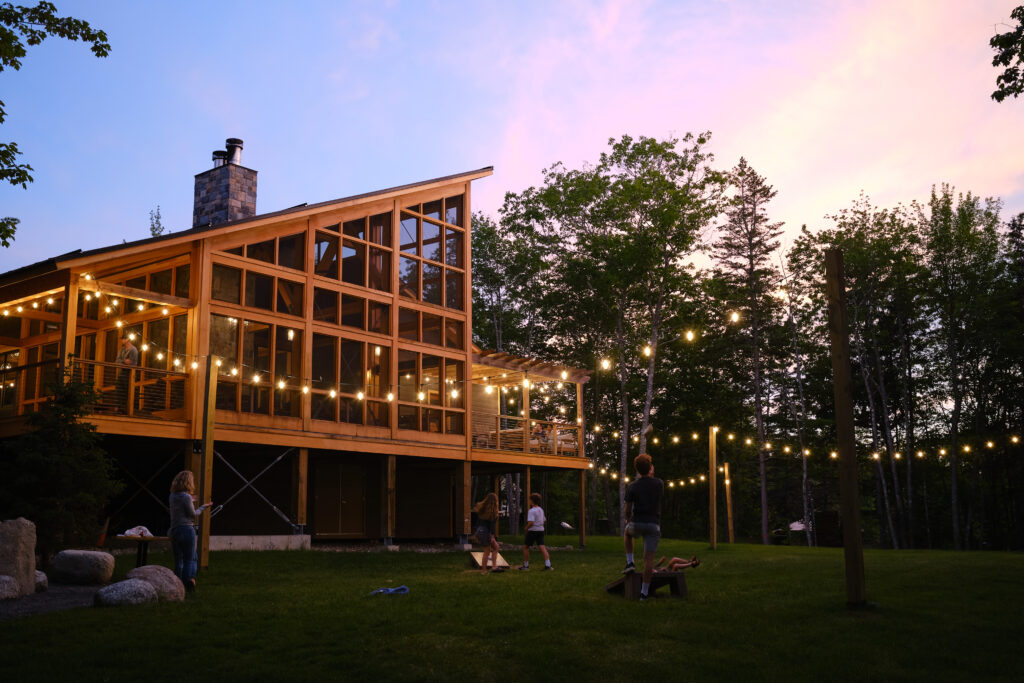 Head to Bar Harbor and enjoy glamping at the Terramor Outdoor Resort for an incredible experience. It's right near Acadia, one of the absolute must-visit places in Maine, because of its true beauty.
At Terramor, there are five wood-frame tent styles to choose from. Each one is as beautiful as the next, and they all offer incredible outdoor views that will take your breath away.
Each of the tents at Terramor can hold anywhere between 2 and 5 people, but it, of course, depends on which one you book. Some amenities at Terramor include fire rings, pour-over coffee, screened porches, Pendleton blankets (for ultimate warmth and comfort), complimentary fire starters, and in-tent bathrooms.
Huttopia Southern Maine in Sanford
Head to southern Maine near Wells and Kennebunkport for a glamping experience in Sanford's Huttopia Southern Maine. This season is in the warmer months between May and October, and is near some of the top coastal towns that Maine has to offer.
At Huttopia, there are various tiny houses and canvas tents that you can choose between to stay in. What makes Huttopia so incredible is that it's situated in an incredible area offering peace, quiet, and numerous amenities.
There's a cafe, a bistro, breakfast (depending on the time of year), a heated pool, an on-site camp store, and more. Plus, there are activities and entertainment throughout the season so that you can stay busy.
Wild Acres Yurt on 36 acres bordering 800 acres of perserve with a 300 acre pond in Dresden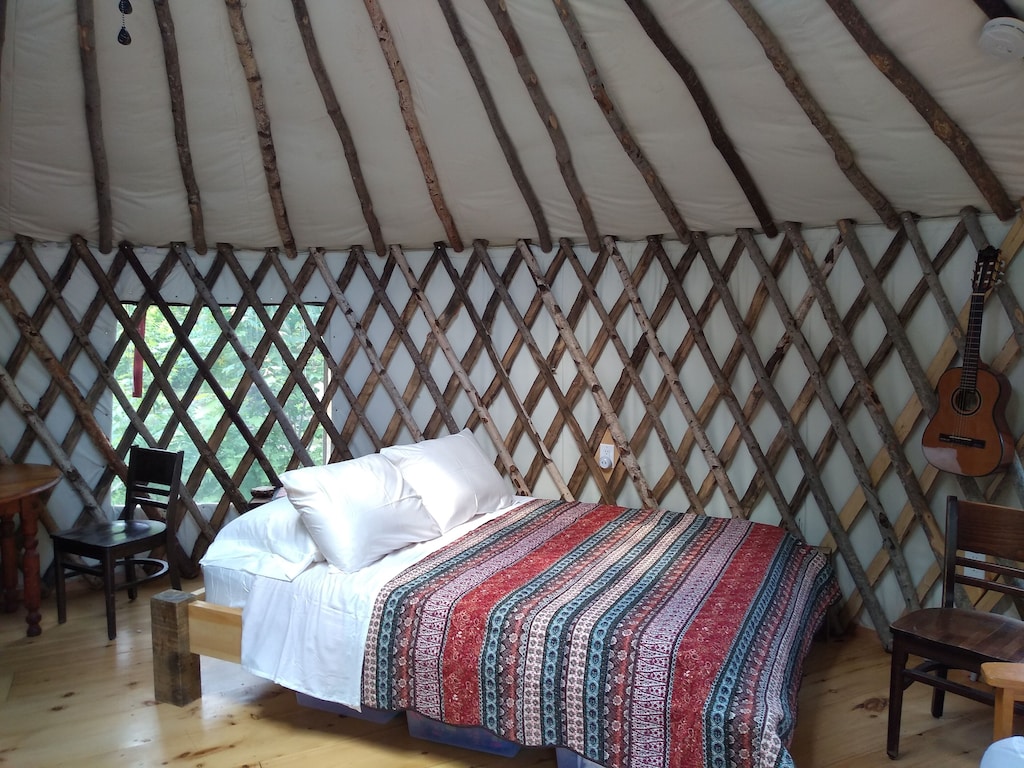 Oh, my! This gorgeous Maine yurt for rent is located on a beautiful 36 acres of property, and the yurt has its own private space and driveway. Not only will you adore the scenery around the yurt, but the interior is fantastic, too.
You'll find the interior to be rustic and chic, with a queen sized bed and full futon, sleeping up to 5. There is power and plumbing in this glamping yurt, as well as a few of the finer necessities of life, ie a coffee maker!
There is an outdoor shower and port a potty for use, and the outdoor fire pit and deck is the perfect place to kick back and watch the sunset. This would be a fantastic place to book for anyone looking for yurt glamping in Maine!
Tentrr Signature Site – Sunnyside at Butter Hill Hideaway
Located in North Lovell, this is one of those glamping sites in Maine that are absolutely perfect for those looking to feel like they've gone off grid yet maintained some comfort! This elevated campsite is located up on the mountain and requires four wheel drive to be accessed by vehicle, so it's a fantastic option for those who want to feel like they're just a little tucked away.
While this glamping tent is fairly primitive in the sense that there is no plumbing or electricity, the comfy mattress and portable heating unit are perched on a platform and the outdoor living space is absolutely darling with adirondack chairs, community outdoor cooking supplies, and fire pit that is perfectly set up for some much needed communing with mother nature… all within ten or so miles of restaurants and stores. It's basically one of those sites that beautifully toes the line between camping and glamping and we are here for it!
Turner Farm in North Haven
Make your way to North Haven, Maine for an incredible experience glamping while looking out at an island. Turner Farm has dome tents that are perfect for two to five people at a time, and it comes with breathtaking views.
The accommodation at Turner Farm is very much secluded from the outside world which allows you to feel like you are having a real escape. It's only a short trip from Rockland, so there are still some places to explore nearby.
Because the accommodation is fairly remote, you will want to pack up everything that you can for your trip and do your grocery shopping in advance. The best way to get to your campsite here is to take the ferry.
Maine is an ideal destination for those looking to experience the beauty of nature without sacrificing modern amenities. Glamping in Maine allows visitors to explore some of America's most pristine wilderness while staying at luxurious campsites and lodges that provide all the comforts.
Pack your bags and head out into the wild! With so many options available, there's no better way to get away from it all than staying at one of these places we've shared with you. Happy glamping!
---
Read these next: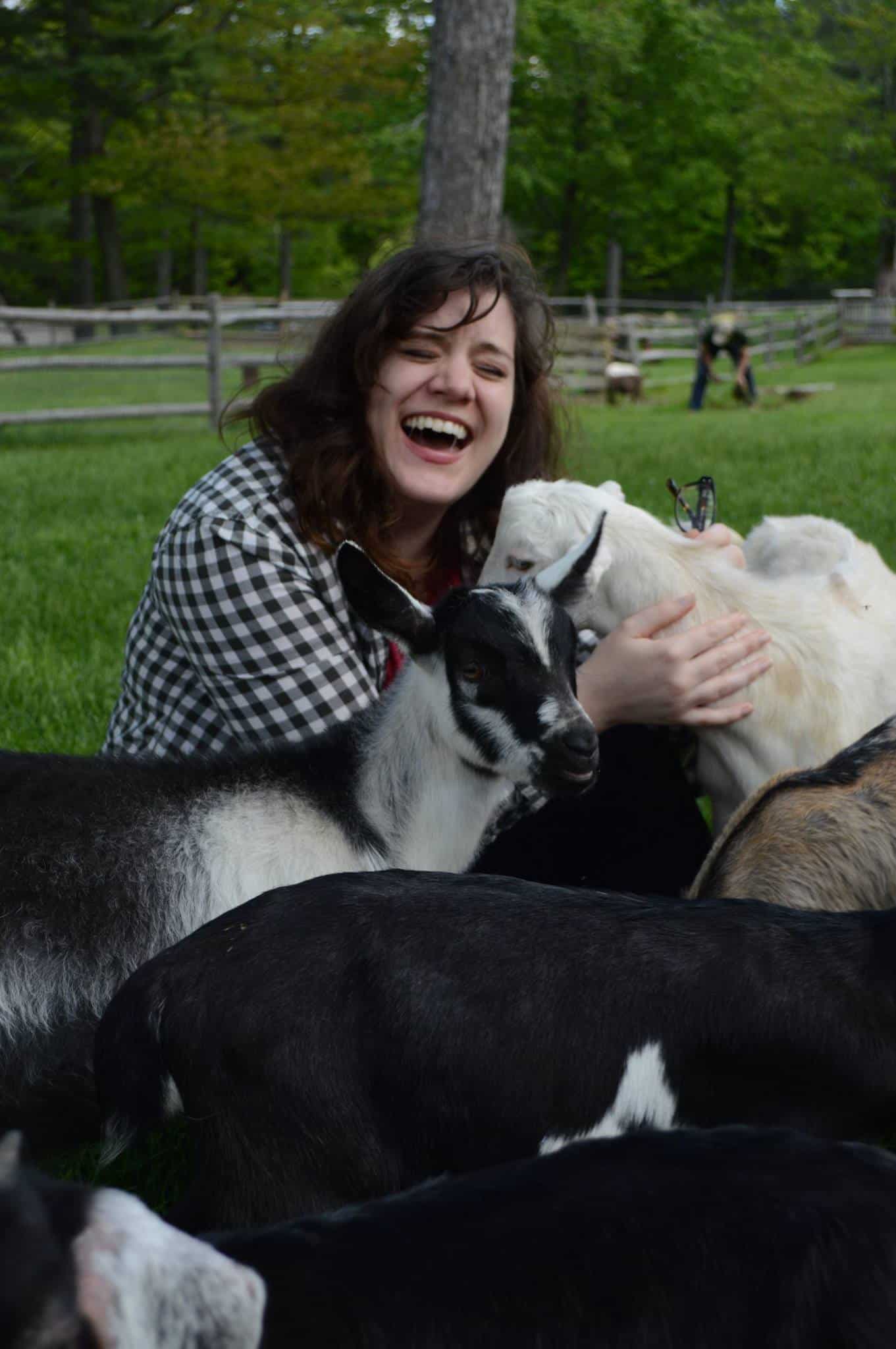 Amy Hartle is the founder and Editor-in-Chief of New England With Love, a comprehensive resource for travel in the New England region. Amy has been exploring New England since 2001. She lived in Vermont for many years and is a graduate of Plymouth State University in New Hampshire. On this site, Amy aims to share her love of New England and help you to have the best possible adventures!
Amy has been writing about travel for over a decade, and is a full time blogger, publishing both Two Drifters and Let's Adventure Baby. When not traveling the world or creating epic blog content, Amy can be found cuddling with her husband, son, and cats, & drinking a maple latte.