Maine is known as "Vacationland" for good reason. There may be no better place in New England to have a fantastic getaway! If you're looking for the best things to do in Rockland, Maine, we've got you covered.
From adventures to culture to dining, here's what we recommend for your Mid-Coast Maine vacation.
We've loved visits to York, Acadia National Park, and most recently, the Rockland area. Rockland, and nearby Rockport and Camden, are lovely destinations about 2 hours north of Portland.
Here's how to make the most of your Rockland, Maine vacation!
Fantastic Things to Do in Rockland Maine
Sail on a traditional schooner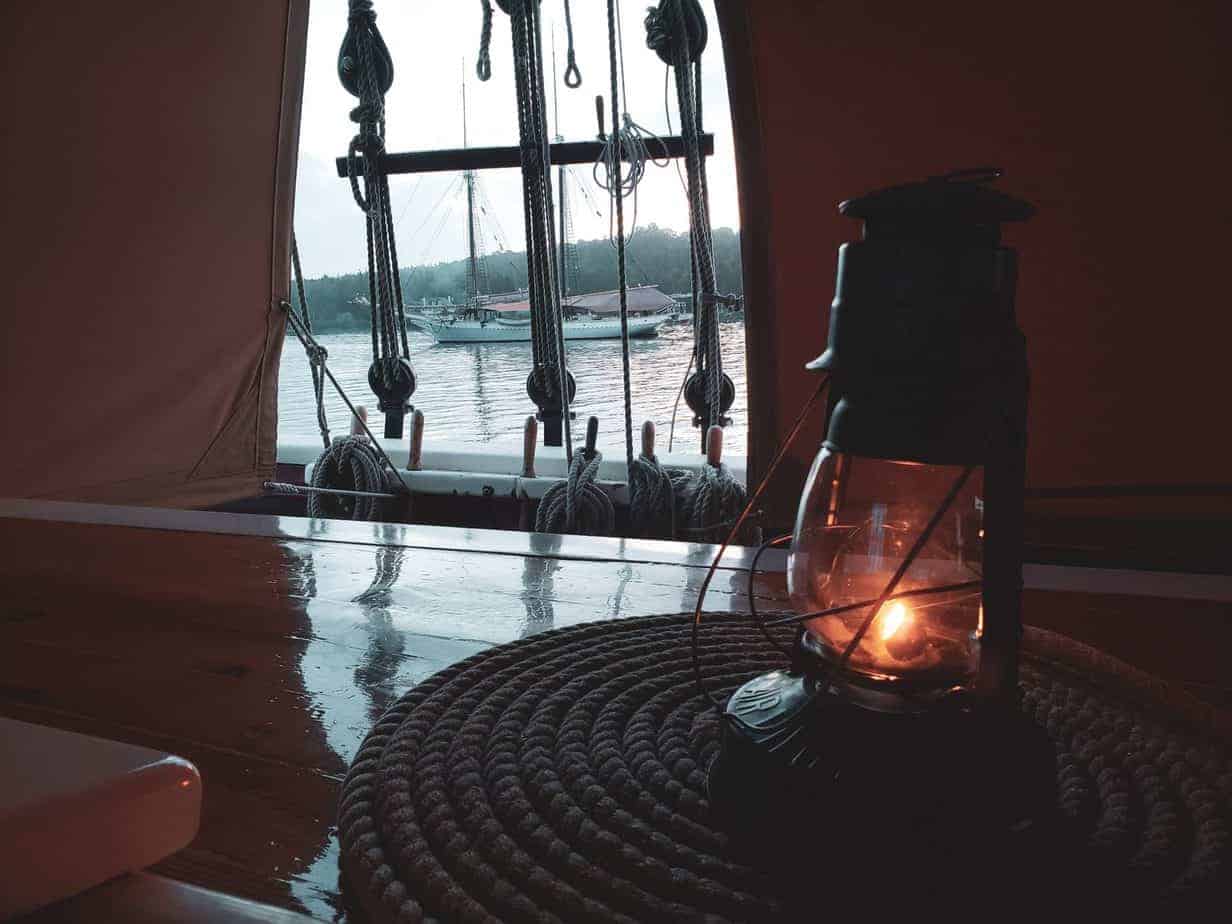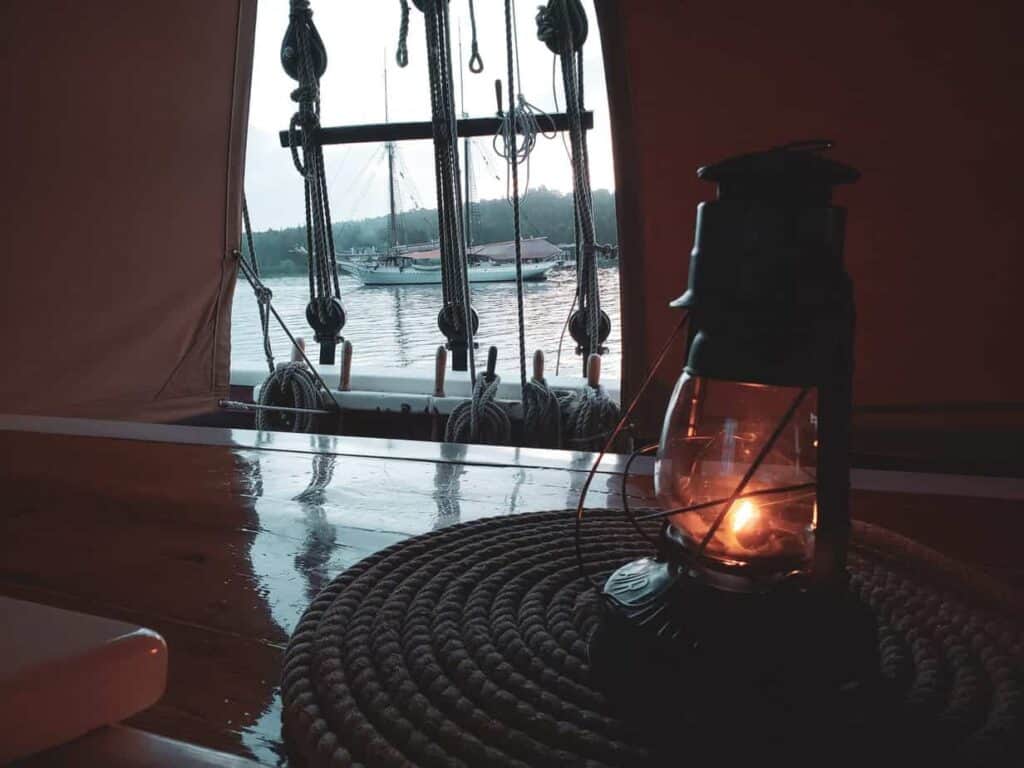 One of the most amazing things you can do in Maine actually takes place offshore. Have you ever dreamed of sailing the high seas? The best way to do it is on an old-fashioned schooner.
The Maine Windjammer Association operates a few of these incredible vessels, but the J&E Riggin is a special one. Captain Jon and his wife Annie create a true adventure for your stay, while feeding you top-tier cuisine.
If you want to help out with setting the sails or hauling up the anchor, the crew will welcome you with open arms. Or, you can always relax on deck with a cocktail and your favorite book.
Read all about my Maine windjammer cruise here. Not into an overnight sail? No problem! You can opt for a sunset or day sail on a schooner as well. This is the perfect opportunity to get out on the water.
See Olson House
Just about 14 miles up the road from Rockland is the subject of one of the most famous paintings to come out of midcoast Maine: Olson House. You'll recognize it as the home behind the woman on the grass in "Christina's World," and you can tour it for yourself!
Grab a coffee at Rock City Coffee
We have a sliiiight obsession with coffee. Wherever we travel, we make sure to check out the local coffee shops, always on the hunt for the best.
In Rockland, Maine, you can't go wrong with Rock City Coffee. The baristas will whip you up a latte or cappuccino of excellence, and those who like something sweet may enjoy their frozen blended mocha or vanilla (amazing on a hot summer day).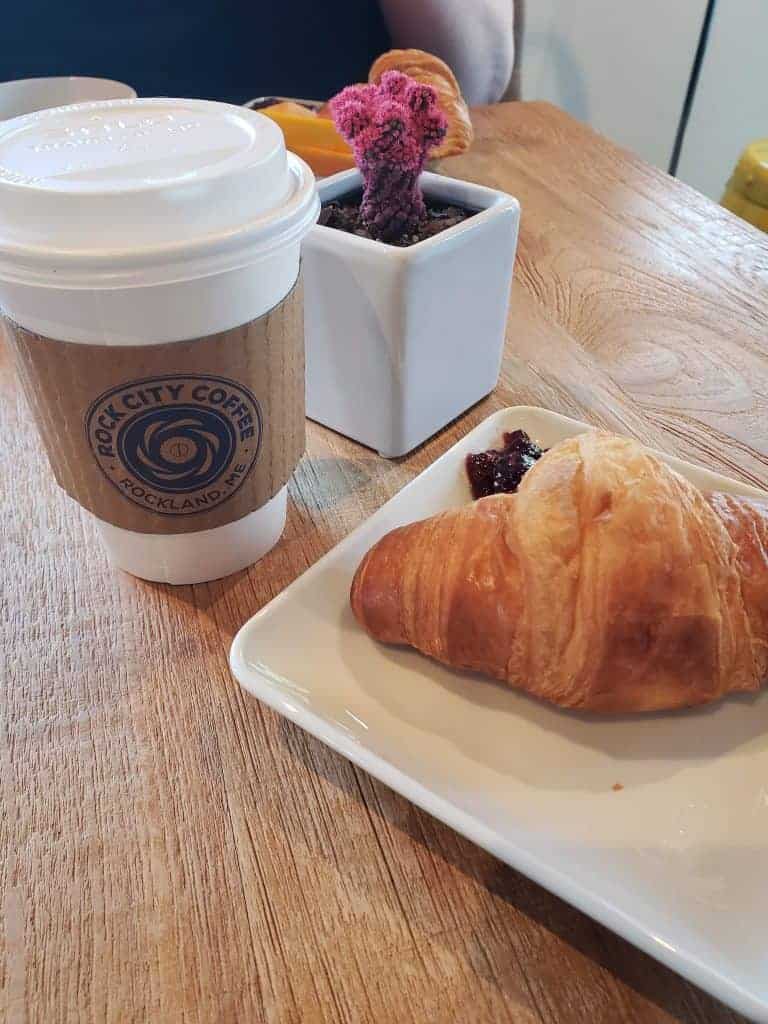 The Farnsworth Art Museum
In Rockland, Maine, things to do are plentiful, especially if you love art.
The Farnsworth Art Museum boasts an impressive selection of over 15000 works of art, in a variety of mediums. It is an absolute must visit for any art lover visiting Rockland!
Attend the Maine Lobster Festival
One of the most popular annual events in midcoast Maine, the Maine Lobster Festival is held the first weekend in August for 5 full days. There is a wide range of activities, contests, entertainment, and of course, lobster, so if any of those appeal to you, you're going to want to add this Rockland event to your calendar!
Head to the water
While Rockland is not known for swimming beaches, there are many lovely places to get close and enjoy the waterfront views. You can check out some places in and near Rockland to enjoy the seashore here.
Check out cool street art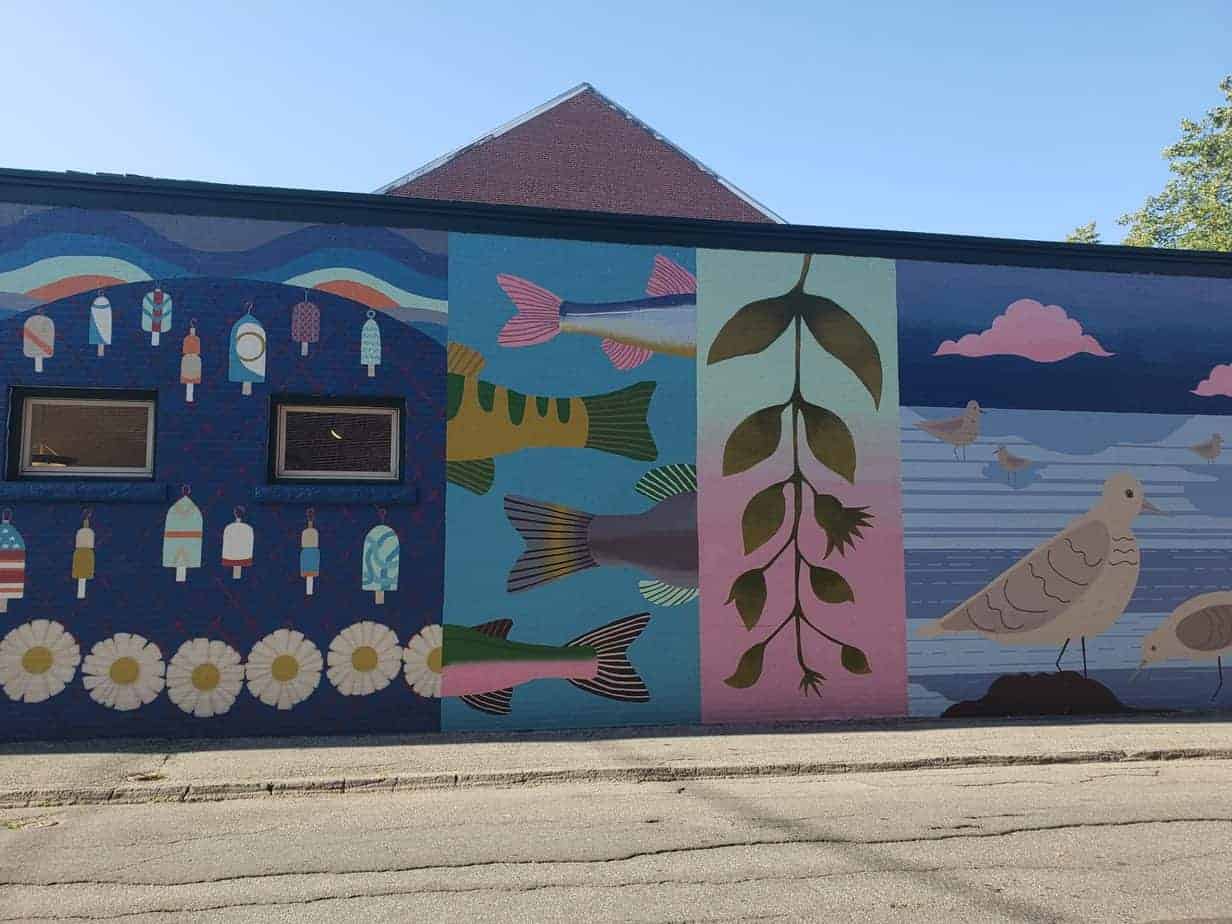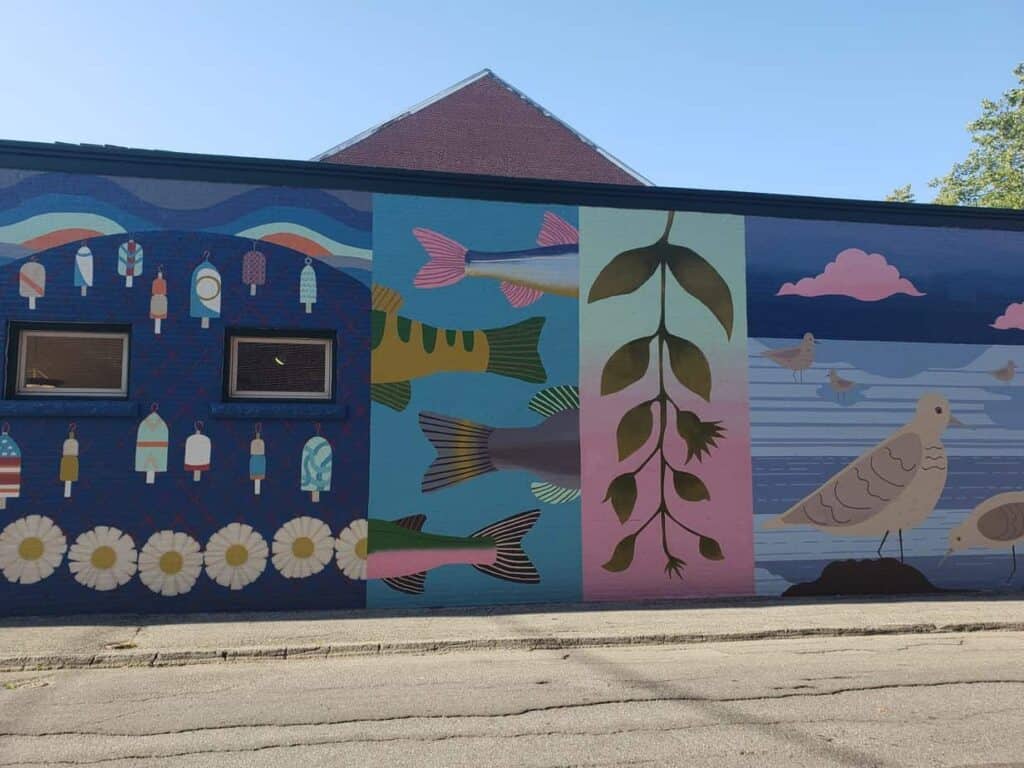 Enjoy amazing cocktails (and dinner) at Archer's on the Pier
There are a lot of great restaurants in Rockland, but for a great meal with delicious cocktails, head to Archer's on the Pier.
This popular seafood restaurant is right on the water, so alongside the delicious food, you'll be able to take in some spectacular views as you enjoy casual coastal waterfront dining in Rockland, Maine.
Stroll out on the breakwater
You can walk out along the rocky breakwater and visit a lighthouse while in Rockland.
Built with more than 700,000 tons of granite over a span of nearly twenty years, the breakwater plays a massive role in Rockland's history. In 1902, the Rockland Breakwater Lighthouse was added at the end of the pier and it is still in use today.
The walk along the breakwater to the lighthouse is a little less than a mile but it is quite scenic. Note, it's best to walk in good weather as poor weather can result in waves breaking over the rocks: a wet stroll, indeed.
Meander along the Rockland Harbor Trail
The Rockland Harbor Trail is the perfect place for a scenic walk, and it conveniently connects downtown Rockland with the working waterfront, so it's a great way to get a good feel for this seaside community.
Maine Lighthouse Museum
Located in downtown Rockland, the Maine Lighthouse Museum is an intriguing way to learn about both lighthouses and early American maritime history. Among some of the interesting artifacts on hand at this Rockland museum is the largest collection of Fresnel lighthouse lenses!
Owl's Head Transportation Museum
The Owls Head Transportation Museum is technically located in nearby Owl's Head, but this is one of the neatest little museums, especially if you have any kind of interest in antique cars!
Filled with antique automobiles and other modes of transport, this is a museum that is a must-visit if you or your crew enjoy learning about and seeing antique vehicles.
Project Puffin Visitor Center
If you're a wildlife lover, like me, you must stop into the Project Puffin Visitor Center, right in downtown Rockland. You can learn all about these amazing birds, and maybe plan a puffin tour of your own!
Eat this blueberry dessert
One night, we had dinner at Cafe Miranda. It was FANTASTIC. I've never seen such a big, varied menu. There were almost too many choices. While dinner and drinks were excellent, what I'll always remember is this insane blueberry cobbler.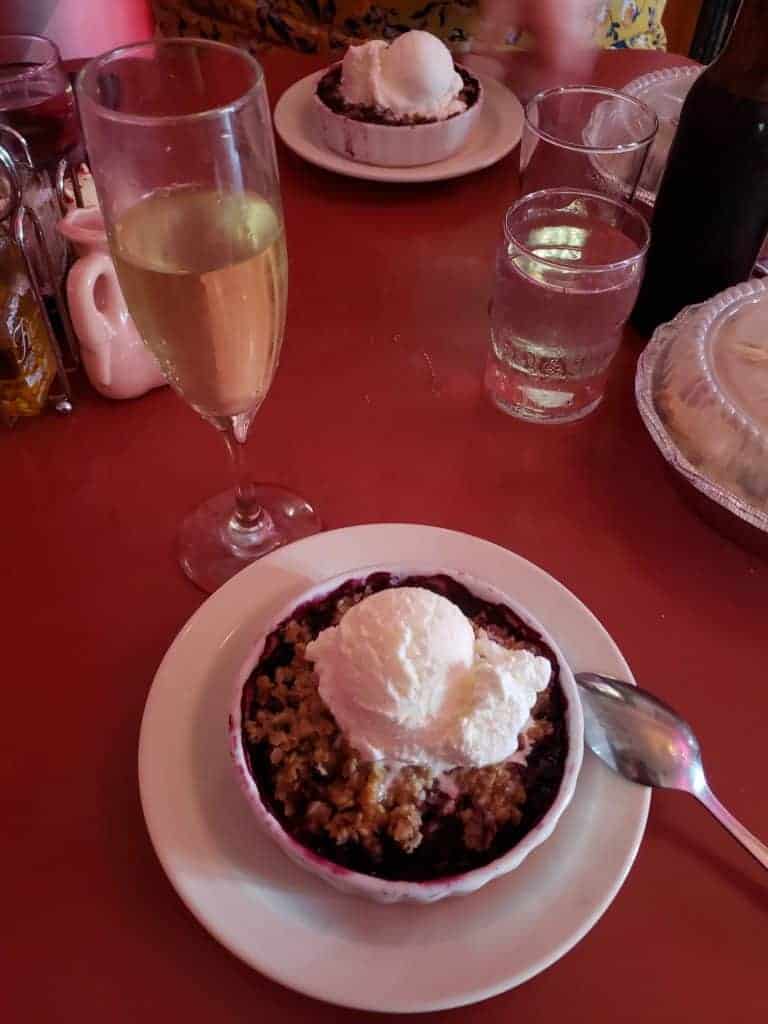 Nothing fancy. Nothing "gourmet." But oh my god, if that wasn't the best blueberry dish I've ever eaten in my life!!! And when in Maine, blueberries are essential.
PS we've just learned the fate of Cafe Miranda is uncertain, but we won't remove it from this list just yet because we still have hope that it will be reborn under new ownership!
Explore the town of Camden, Maine
If you're looking for things to do around Rockland, you should absolutely spend some time exploring nearby Camden. There are lots of things do in Camden, Maine, including hiking, golfing, shopping, and checking out their restaurant scene. Don't miss a visit to the Camden Opera House, a historic theatre where a full roster of events is on the schedule.
Where to Stay in Rockland Maine
There are several neat places to stay in Rockland ME, but the Rockland Harbor Hotel is beautifully situated on the water within easy walking distance to so many of the fantastic things to do in Rockland we've put on this list. Ask for a room with a water view from the balcony… it makes for the perfect spot to watch the classic Maine sunrise.
Address: 520 Main St, Rockland, ME 04841
Click Here to Check Prices & Book!
A Rockland, Maine vacation has something to offer just about everyone, whether you prefer strolling through art galleries or you'd rather watch the lobster traps being pulled in as you meander along the waterfront. Enjoy your trip to Rockland ME!
---
You might also like:
---
Pin this post to save for later!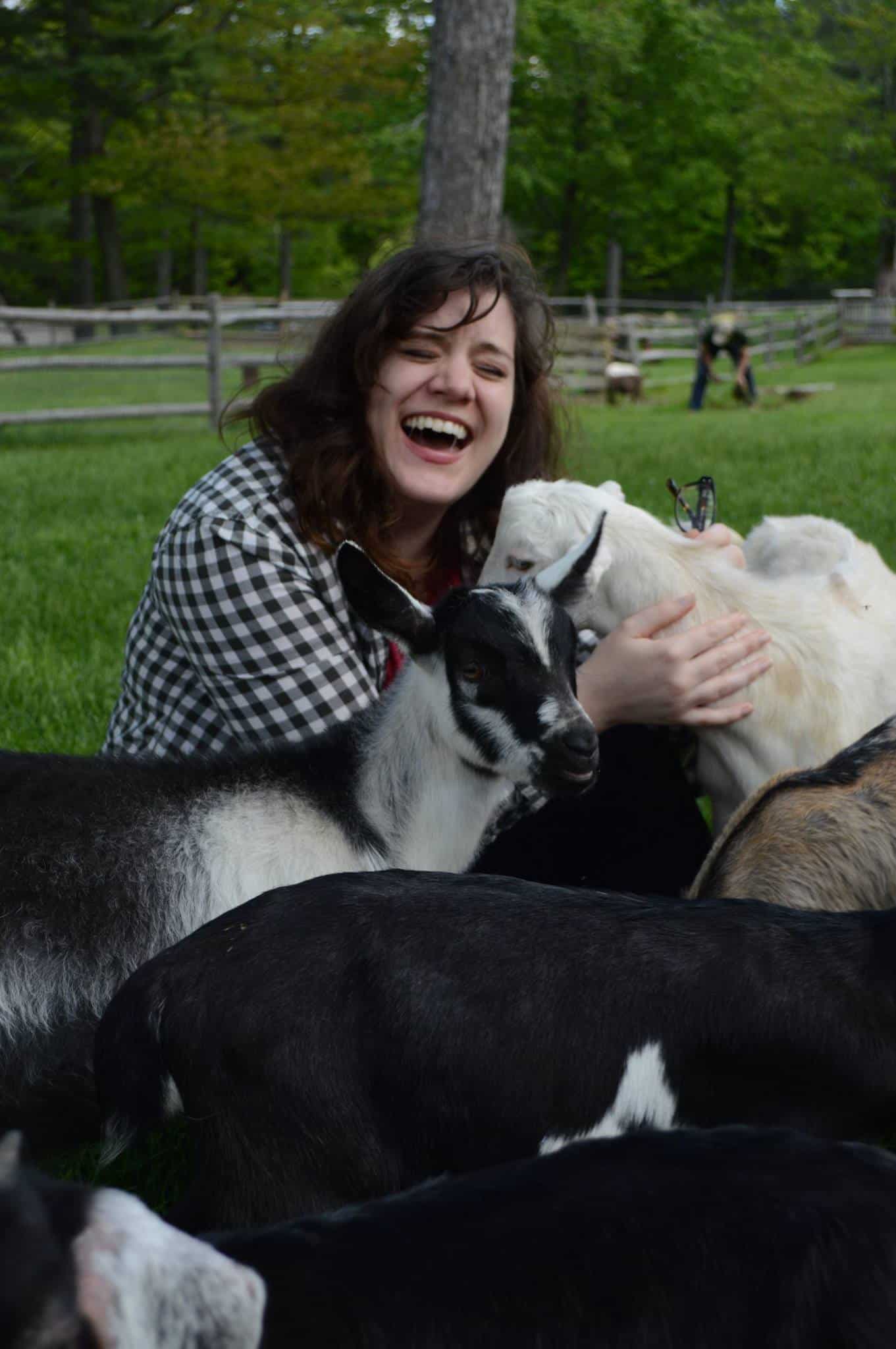 Amy Hartle is the founder and Editor-in-Chief of New England With Love, a comprehensive resource for travel in the New England region. Amy has been exploring New England since 2001. She lived in Vermont for many years and is a graduate of Plymouth State University in New Hampshire. On this site, Amy aims to share her love of New England and help you to have the best possible adventures!
Amy has been writing about travel for over a decade, and is a full time blogger, publishing both Two Drifters and Let's Adventure Baby. When not traveling the world or creating epic blog content, Amy can be found cuddling with her husband, son, and cats, & drinking a maple latte.