At the eastern extremity of the continental United States, Maine's more than 3000 miles of coastal frontage lends itself to an endless array of beautiful destinations to watch the day's early light race across the horizon. The sun's rays hit Maine's coast first before anywhere else in the country, so a sunrise in Maine is a sight to behold.
The region's relationship with the sunrise has long been captured in the collective name used by its original inhabitants and caretakers: people of the dawn. Dawnland, indeed.
In every season it's a worthy undertaking, though in the depths of winter when color is a rarity we endeavor to find, the bright hues of a vibrant sunrise feel like reward for chilly exploration. Here are some of the best spots to watch the sunrise in Maine.

Where to See the Sunrise in Maine
York County's Sand Beaches
Once you leave the tamer coastline of Southern Maine, sand beaches are hard to find. While finding a sand beach for a sunrise might seem kind of obvious anywhere else on the east coast, it's not something to take for granted in Maine.
Rocky outcroppings, broken granite cliffs, and a collection of pine-dotted islands and peninsulas take over as the dominant shoreline landscape. While most of Maine's oceanfront calls out for exploration and hikes, York County's sand beaches beckon you to pull up a beach chair and finish that book you've started and stopped countless times.
The rare few sand beaches throughout the rest of the state tend to have caveats that make them tougher to get to or less enjoyable overall. Seawall Beach is a good example: a favorite spot for locals at the end of a trail near Morse Mountain in Phippsburg requires access through a managed lot that doesn't open until daylight and only allows 30 cars at once. Unless you're lucky enough to own a coveted home along nearby Small Point Beach, that managed lot is the only legal way in.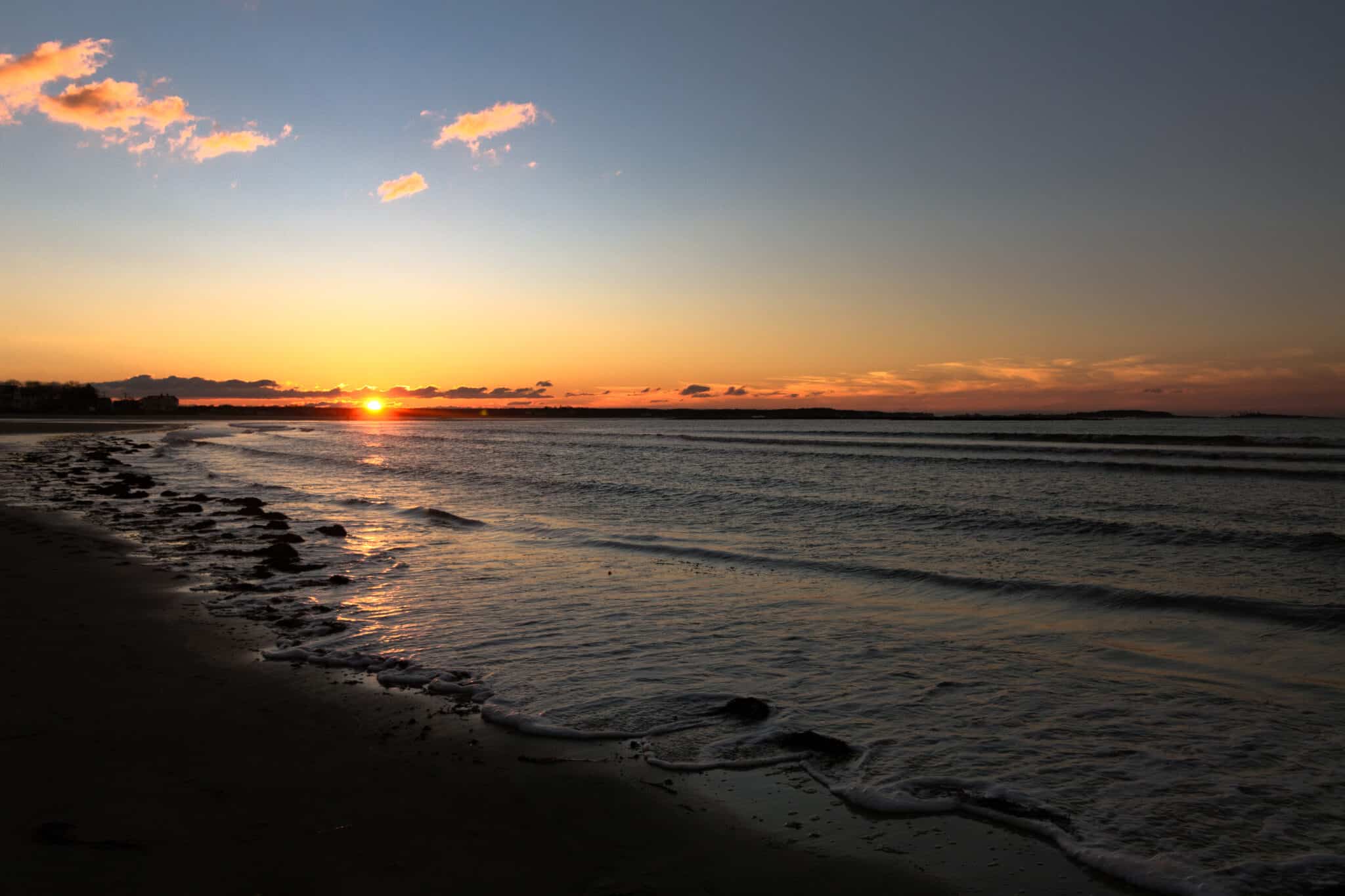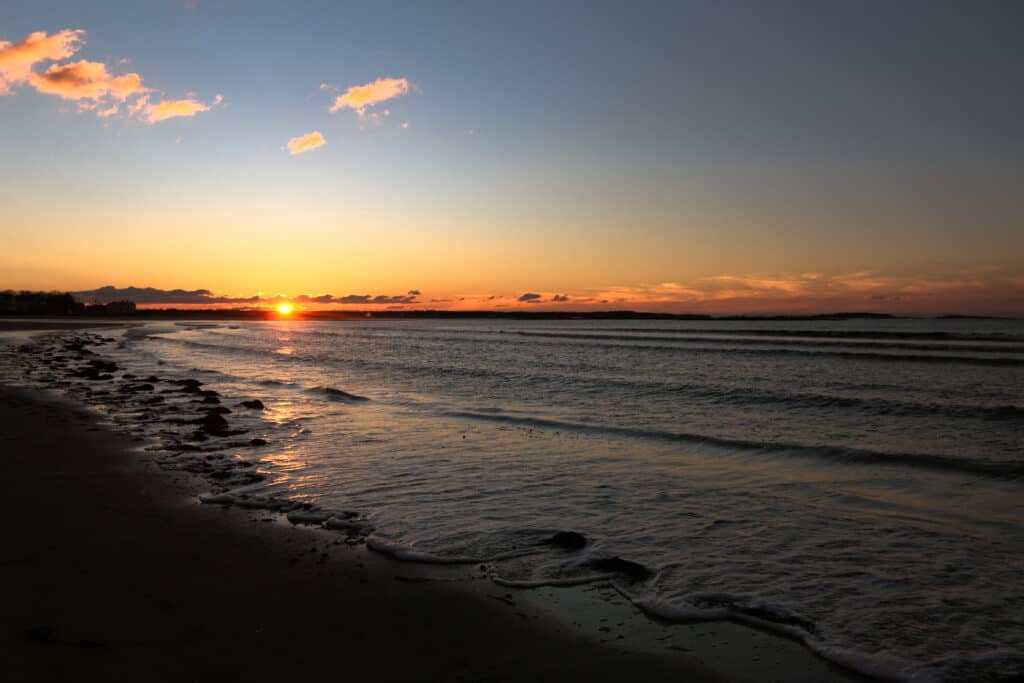 Sand Beach in Acadia
Sand Beach in Acadia is another example: the small, yet pristine stretch of sandy beach along Park Loop Road was formed by millions of years' worth of minutely ground shells and small particles accumulating in a cove protected from waves by a rock formation called Old Soaker at the entrance of the cove.
Tourists have certainly noted the beach's unique features; in the summer months the adjacent lot is often full by sunrise as hikers hitting the trails early use the same lot as photographers looking to capture that morning perfection while it crests over the horizon.
Pine Point Beach in Scarborough
Some of Southern Maine's sand beaches have fascinating estuaries, as well, where rivers break through the beach and meet the ocean. The resulting marshy areas create open spaces with few trees and allow for a different kind of oddity along Maine's coast: a decent sunset along a beach!
Pine Point Fisherman's Coop in Scarborough is a well-known example—the Nonesuch River winds through Maine's largest saltwater marsh and empties into the ocean along Pine Point Beach. The western facing river and marshland have an unobstructed view of the setting sun with stunning views of the brackish water lit up by long light and moody shadows. You'll be hard-pressed to find a beautiful evening with less than a few photographers stationed at Pine Point waiting for the light show.
Maine's Coastal Islands
Maine's coastline has more islands than you think it does. No, seriously. Take a second and imagine how many you think it could be. Now double it. You're probably still wrong. The correct number is 4,600. So when we say that exploring Maine's islands is a serious undertaking, we mean it. Some are small enough that they only really matter to a few sea birds and seals, yet many are entire communities and towns.
Though some are truly far-flung destinations and take ferries or kayaks to get to, plenty are easily drivable for a pre-dawn outing with gorgeous, unobstructed views of the sunrise. Mount Desert Island, Southport Island, Deer Isle, Stonington, Georgetown Island, Orr's Island, Bailey Island, and Spruce Head all come to mind.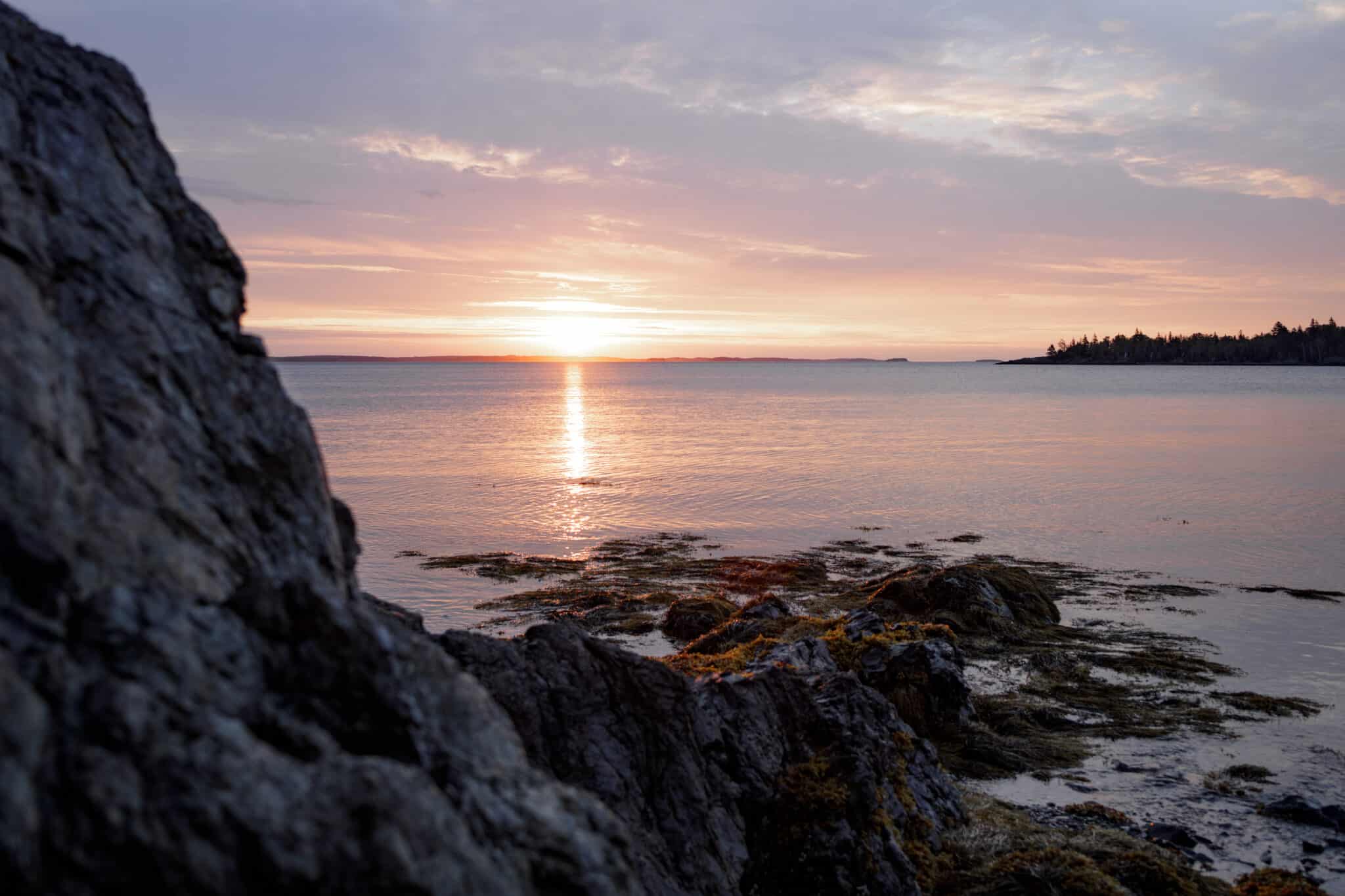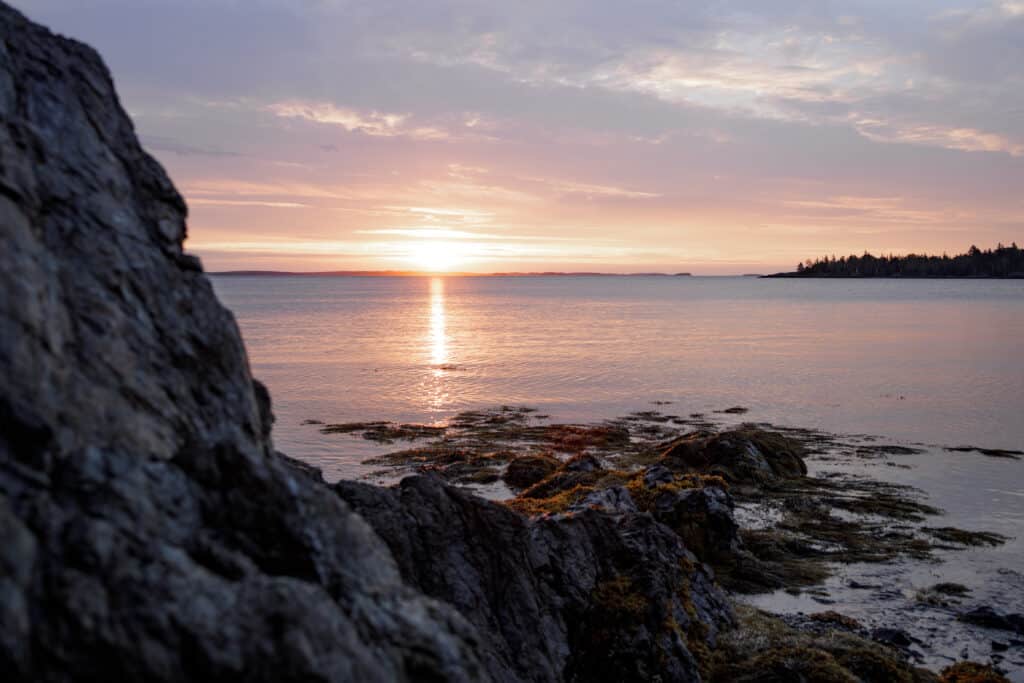 But if you're up for a true adventure and a ferry ride: there's absolutely nothing else like a Maine island sunrise. For so many reasons it's worth experiencing: fewer people than anywhere else on the coast, untouched shorelines, unobstructed views, and bucket list photography.
Some favorite islands for sunrises with the best views include Frenchboro (sometimes confusingly called Long Island despite a bunch of other islands also sometimes called Long Island), Cliff Island, Seguin Island, Monhegan, Matinicus Island, Isle Au Haut, North Haven, Vinalhaven, and the Cranberry Islands. Yeah, it's a lot of work—but you'll make some lifelong memories and come away from the Maine sunrise trip having seen some parts of Maine many others will never venture to find.
Maine's Peninsulas
Contenders with properly east-facing orientations include Prout's Neck, Ocean Point near Boothbay, Christmas Cove beyond South Bristol, Naskeag Point in Brooklin, Ripley Neck in Harrington, and West Quoddy Head in Lubec. These are all solid options for where to see the sunrise in Maine.
From Lighthouses
Who wouldn't want to combine one of Maine's most beautiful natural happenings with one of Maine's most lovely landmarks? Notable lighthouses to see Maine sunrises from are Marshall Point Lighthouse and Cape Elizabeth.
Old Orchard Beach
The long pier at Old Orchard Beach provides the perfect foreground for sunrise photography in Maine, so if you're looking to get some interesting visuals, consider heading to OOB before first light!
On the Water
Up and down the vacationland coast during the summer months, there's no shortage of harbor cruises and boat tours for taking in some scenic views from the water. Tours run all day—dinner cruises, booze cruises, mail boats, sailing tours with wine and cheese (sign us up), whale watching tours, Audubon puffin cruises, etc.
All of these are a gorgeous way to explore the coast from the water and build a picture-perfect day in Maine, but Casco Bay Lines out of Portland has a specialty cruise that's near and dear to our hearts: a sunrise run. Bring a thermos of something warm (you'll probably need it!), your camera, and be prepared for some breathtaking views as the sun rises over Casco Bay.
You'll see more sea birds and lobsterman at work—and the potential for one fighting the other, too?—than any other time of the day, and maybe even a seal while you're at it. You can likely charter a private fishing boat for a sunrise cruise, too, but it's going to be way more expensive than a Casco Bay Lines ticket, that's for sure. Bonus points: they also occasionally offer a Moonlight Run.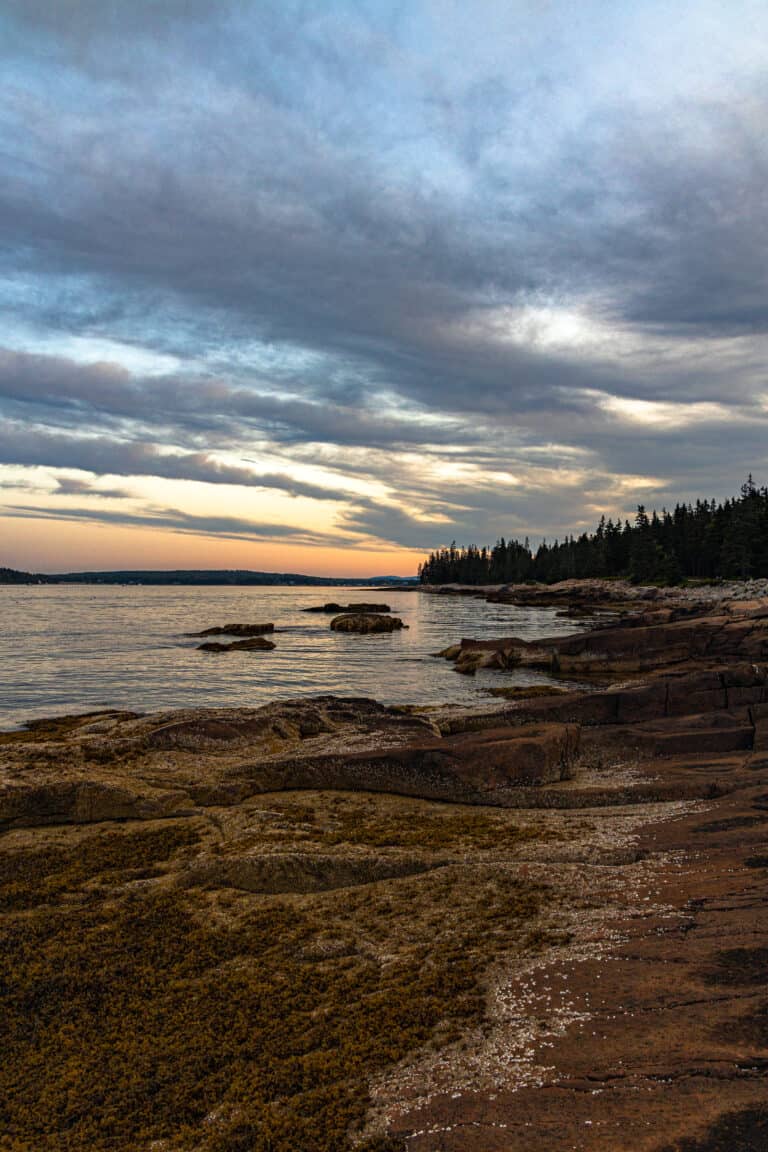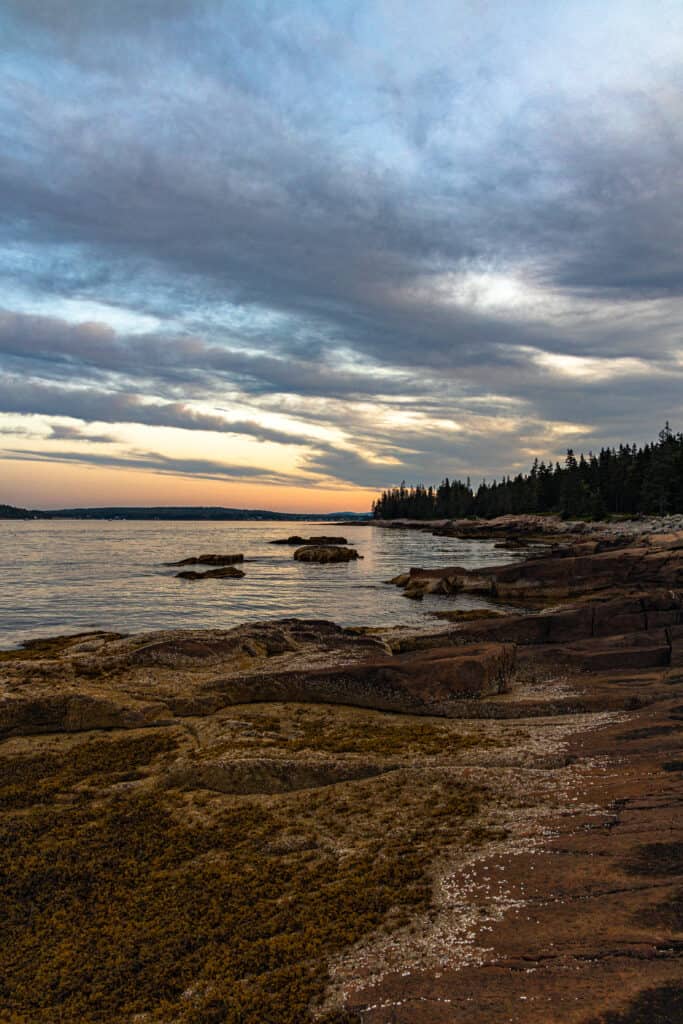 Cadillac Mountain
Acadia National Park shines bright as a unique slice of summit to sea exploration on the east coast. Given the right conditions—fog, some light rain, a bit of a chill—tourists consistently compare the geographically distinct island and surrounding region as strikingly reminiscent of the Pacific Northwest. The Mainer response is usually a bit of a brush off (so? our oysters are better!) but the comparison is useful insomuch as how truly different it is than anything else the east coast has the offer.
With coastal mountains and peaks that dwarf just about everything else (see below), Acadia is truly the adventurous center of Maine's Dawnland coast. There are some truly challenging climbs and trails in Acadia—the Beehive Trail, the infamous Precipice Trail with dozens of warning signs about the sheer cliffs and iron-rung ladders—but the absolute best sunrise view is about as easy as it comes. Drive Park Look Road to the top, just before sunrise. Park your car, find a patch of rock, put down a blanket… and wait.
Due to Cadillac Mountain's elevation and orientation on the shoreline, the summit gets the absolute first rays of the sun to hit the country. Sure, the rest of the Maine coastline is a few seconds or maybe a minute behind, but it's nice to know that in that very moment, you're greeting the day at the earliest possible second.
You can hike to the summit via headlamp in the pre-dawn, too, if you're feeling particularly expeditious. It's a slog in the dark—about 8 miles round trip, but it's well-marked, well-maintained, heavily-trafficked so quite safe, and surprisingly moderate in terms of challenge. If there's one time in your life when you'll hike in the dark (on vacation no doubt!), make it this. You'll be glad you did.
This is very popular, of course, so you will need to get Acadia National Park Sunrise Tickets for entry to Cadillac Summit Road.
You can find the Acadia sunrise time here.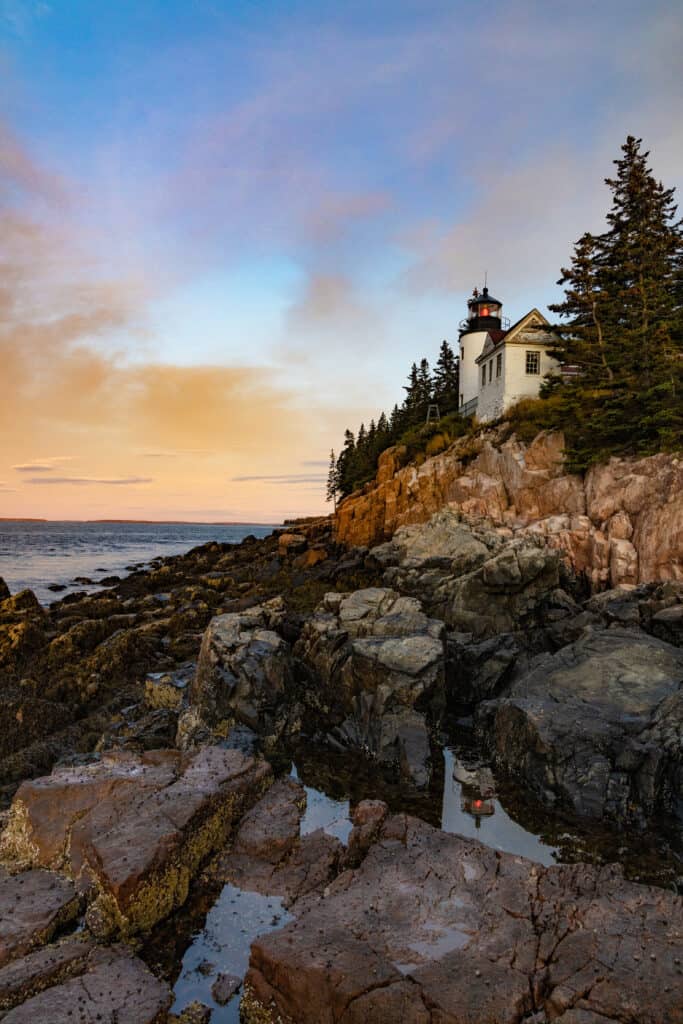 Trails and Tents
Baxter State Park, the Bigelow Range, and Maine's section of the White Mountains take the cake for world-class hiking in the Pine Tree State, but we're here with a simple reminder: don't forget about all those coastal hikes!
Maine's coastal trails and campgrounds might not have the heights and peaks (except: Acadia, clearly… the black sheep per usual) of western and northern Maine, but the spruce-studded granite cliffs tumbling into the briny sea while you trudge along from point A to point B is an experience you won't soon forget. Add a misty shoreline into the mix and you've got a Maine sunrise dreamscape in the making.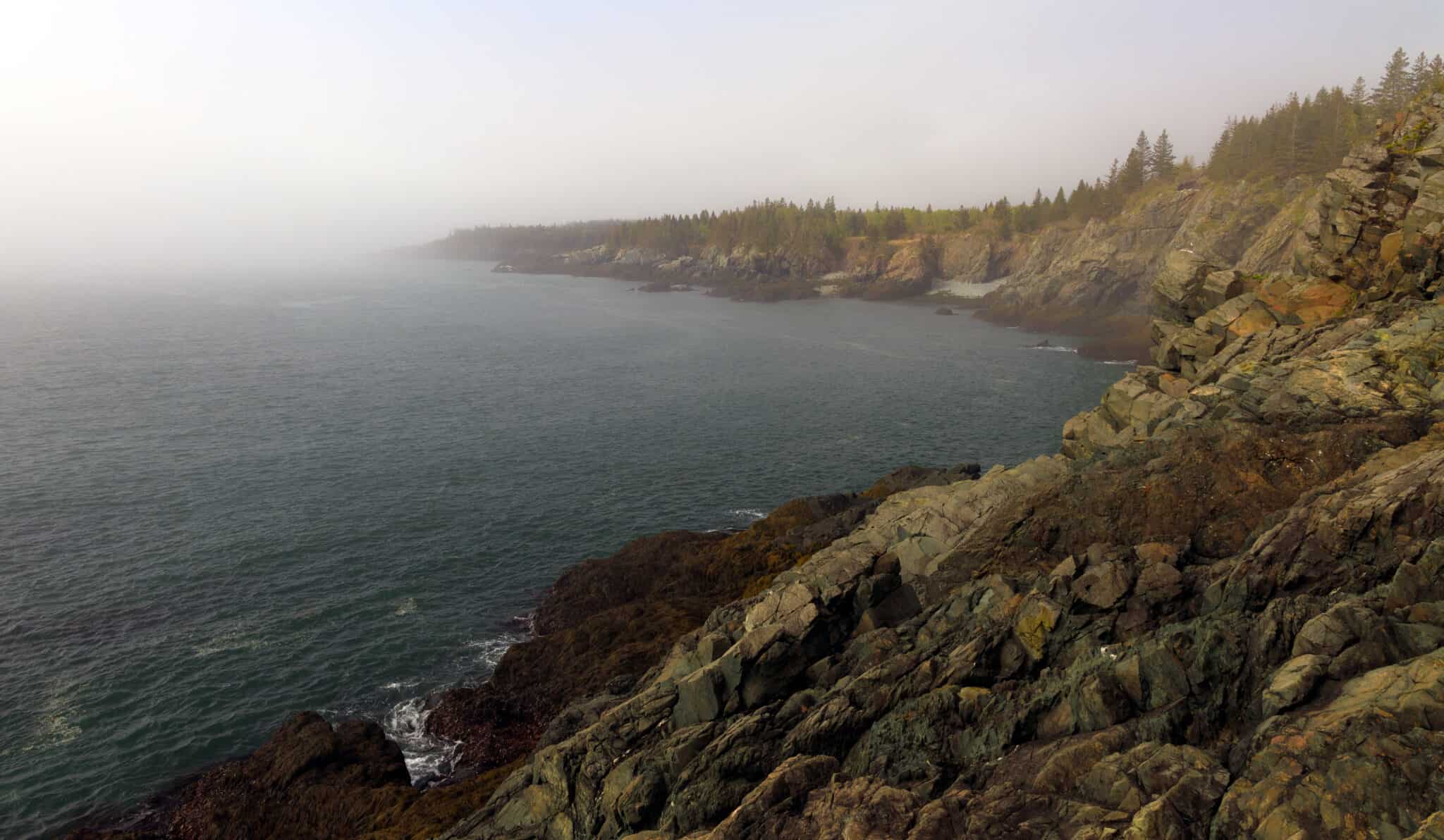 Some of our favorite coastal hikes are easy, quick, and accessible: Timber Point (Biddeford), Littlejohn Island Preserve (Yarmouth), Cliff Trail (Harpswell), Porter Preserve (Trevett), La Verna Preserve (Round Pond), and Barred Island (Deer Isle). Some offer surprising heights for the coast: Camden Hills, Mount Desert Island. And some offer raw, untamed Bold Coast terrain: Cutler Coast, Great Wass Island Preserve, Boot Head Preserve, and Quoddy Head State Park.
Be sure to check the rules for each trail, but a surprising number of Maine's coastal hikes allow overnight camping. Cutler Coast is famous for its hike-in sites, and there's even shelter at the top of Mount Battie in Camden Hills State Park for watching the sun rise over the sea as your campfire embers glow. And if the trail you're looking to hit doesn't allow camping, the Midcoast and Downeast regions have an amazing array of campgrounds tucked right into the shoreline.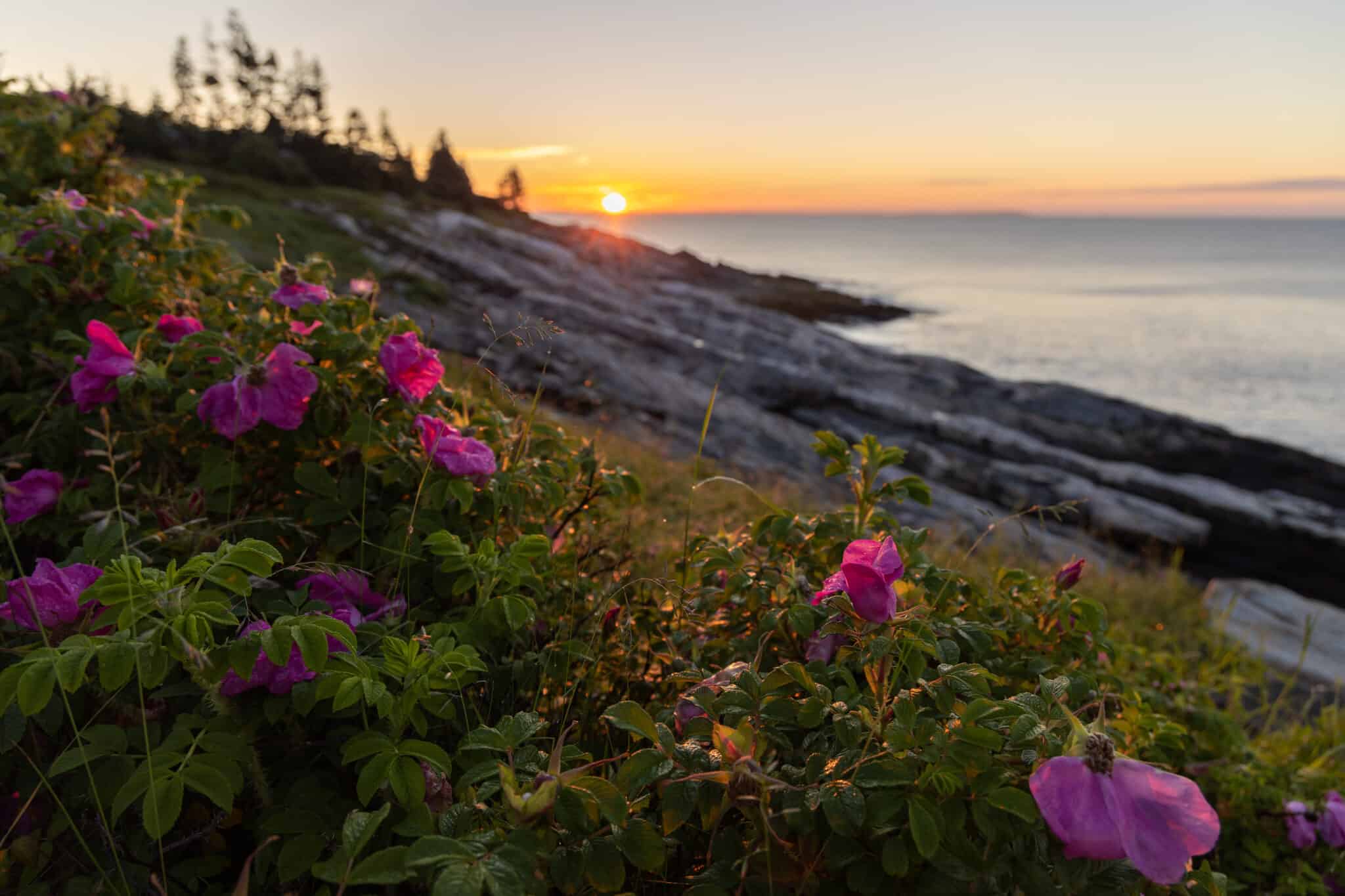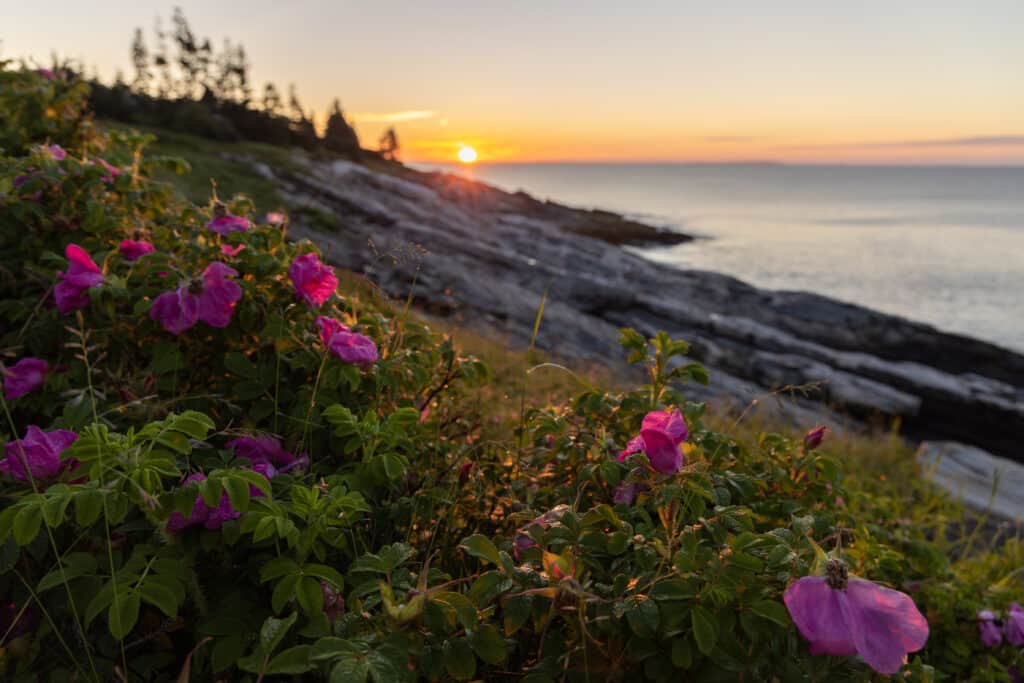 Some favorite campgrounds for unzipping your tent to a vibrant sky of morning fire and salty sea breeze: Wolfe's Neck Woods, Hermit Island, Sagadahoc Bay, Reach Knolls, Merritt Island, Schoodic Woods, Seawall, Blackwoods, and Cobscook Bay State Park. Insider tip: always check reviews on hiking sites! More places allow camping than you'd imagine, and a local that loves the spot will most likely have the inside scoop.
Ultimately, if you want to know where to go for a Maine sunrise, you don't have to head out to Cadillac Mountain in Acadia National Park. Head to the coast, face east, and wait for the magic of a sunrise in Maine.
---
You might also like:
---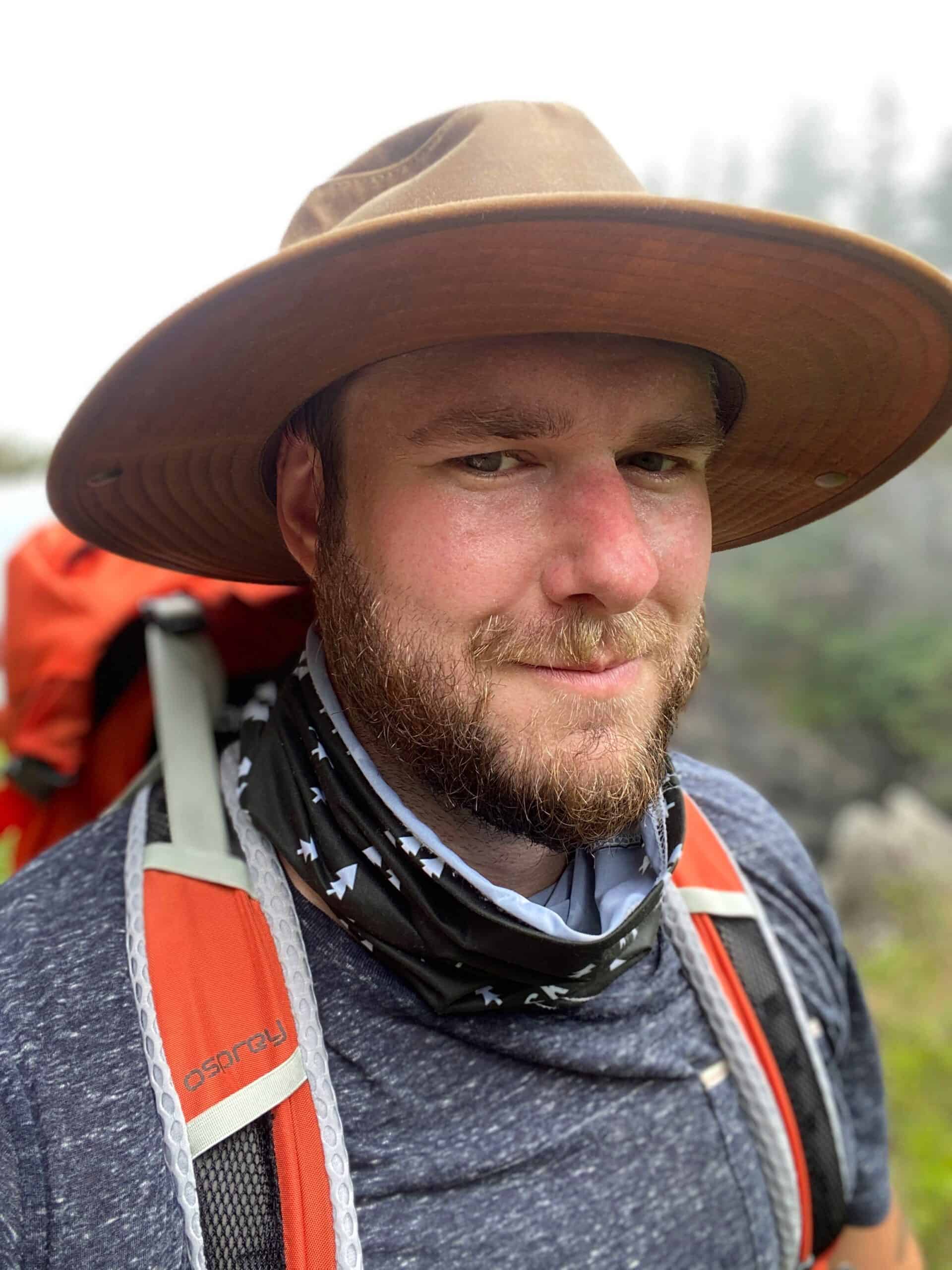 Justin is a writer and photographer based in coastal Maine.  He grew up in New Hampshire, went to college at GWU in Washington, DC, and trained as a chef at Le Cordon Bleu in Cambridge, Massachusetts. Justin has years of experience in professional kitchens, gourmet food sales, and as a wine buyer. He also co-founded Rosehips & Charcoal, a boutique social media consultancy that helps northeast getaway rentals tell their unique stories and grow their online presence.  When he's not working, hiking, or snapping pictures, you can most likely find him drinking wine in the woods in questionable footwear. You can follow along on his Maine adventures and wilderness gourmet shenanigans at @tidetopine on Instagram.