In the beautiful seaside village of Boothbay Harbor, Maine, you'll find there is no shortage of interesting things to see and do.
This vibrant community and its protected harbor hosts several annual events and festivals that draw people in from near and far. You're sure to find plenty to keep you entertained any time of year.
Whether you're considering a full vacation getaway or just a short visit as you swing through, check out this list of the top things to do in Boothbay Harbor, Maine!
Things to Do in Boothbay Harbor
Visit Coastal Maine Botanical Gardens
One of Maine's most treasured and popular visitor attractions, Coastal Maine Botanical Gardens is almost 300 acres of carefully cultivated gardens and art installations that showcase the incredible natural beauty of Maine.
There are walking trails to be explored, classes to take, events to attend, and one of the most popular is Gardens Aglow, the annual holiday light extravaganza that is one of the reasons why Christmas in Maine is such a phenomenal experience! Coastal Maine Botanical Gardens is typically open to the public May-October, with Gardens Aglow kicking off just in time for the holiday season in November.
Check out Boothbay Railway Village
Affectionately dubbed "Vintage Vacationland," Boothbay Railway Village is an outdoor history museum that shows what Maine was like in the late 19th-mid 20th century. Exhibits include Town Hall, originally built in 1847 and carefully maintained over the years, a hardware store, general store, blacksmith shop, carriage display, and so much more!
Take a ride on their authentic steam locomotive and tour this Maine gem to see for yourself what a 19th century Maine village looked like. On special occasions, rides in a Ford Model T are offered. You might even catch a vintage ball game or an antique car show while you're visiting!
Downeast Ice Cream Factory
Looking for a sweet treat in Boothbay Harbor? Look no further than Downeast Ice Cream Factory! With old-fashioned, extra creamy ice cream being made onsite, this is the place to go for a summer snack.
You'll find flavors like blueberry and whoopie pie that offer up the perfect way to sample the flavors of Maine. Yum!
Go to the Cabbage Island Clambake
Sail aboard the Bennie Alice to partake in one of Boothbay Harbor's most illustrious summer traditions: Cabbage Island Clambakes hosted by the Moore family. Seven days a week from the very end of June to the weekend after Labor Day, the Cabbage Island Clambakes continues a tradition that has been passed down over several decades and through two families to continue today.
Guests arrive on the private island to be welcomed by the Moore family, and the clambake offerings are quintessential Maine delights like lobster, chowder, corn on the cob, blueberry cake, and of course, clams! Adult beverages and lawn games are also available, but the main events will always be the spectacular scenery of the island and the fantastic feast!
Visit The Opera House at Boothbay Harbor
Built in 1894, The Opera House at Boothbay Harbor hosts live music, theatric productions, comedy shows, and so much more. This historic building is located in downtown Boothbay Harbor and is a sight to see, whether you're there to enjoy one of the over 100 performances the Opera House hosts annually or not!
There is a bar on the main floor as well, but during most performances, the upstairs bar and lounge is open, with its ornate crown moldings and antique ceiling lights showcasing the intricacies of the 1894 building; this area was originally the Boothbay Harbor Pythian lodge. Be sure to check out the calendar to see what's going on at the Opera House during your visit!
Take a Spooky Tour with American Ghost Walks

American Ghost Walks is a popular walking tour company, and their Boothbay Harbor tours
explore the town's haunted history and legends. From pirate stories to poltergeists to haunted inns, you'll learn and see it all on this haunted Boothbay Harbor tour!
Catch a Movie at the Harbor Theater
Known as the "best little movie house in Maine," the Harbor Theater is a great place to go on a rainy day in Boothbay Harbor. Hey, they happen! Always good to have some rainy day options while on vacation.
Swing by the Smiling Cow
Looking for souvenirs of your Boothbay Harbor trip? You're going to love Smiling Cow! This fun gift shop has all kinds of interesting odds and ends and t shirts. And if you can't find what you're looking for there, just head next door to Gimbel & Sons Country Store!
Attend the Boothbay Harbor Windjammer Days Festival
If you'd like to get a taste of what coastal Maine life is like, the Boothbay Harbor Windjammer Days festival is a great start; every summer, the Boothbay region kicks off the season with this week-long festival that honors Boothbay's maritime history and the continued impact it has on all who live here.
Festivities include an antique boat parade, golf tournament, fireworks over the harbor, live musical entertainment, and so much more; participate in a codfish relay and then tell me you don't feel like you are getting a solid feel of what being a coastal Mainer is really like!
Side note: If you've never taken a windjammer cruise, add it to your Bucket List asap; it's an incredible experience!
Enjoy a Meal at the Boathouse Bistro
One of the best places to eat in Boothbay Harbor, Boathouse Bistro checks a lot of boxes! Scenic, open air, waterfront dining? Check. Fresh caught seafood? Check. A place that draws tourists AND locals? Check. It's a definite must visit during your Boothbay Harbor trip!
Take a Boothbay Harbor Lighthouses & Islands Harbor Cruise
Visiting Boothbay Harbor puts you in a fantastic position to experience coastal Maine from the water! Cruises like this Boothbay Lighthouses & Islands Harbor Cruise offer the perfect way to kick back and relax and take in the stunning scenery and historic sites.
See Burnt Island Light House
Burnt Island Light House is one of Maine's many stunning lighthouses, and the lovely 5-acre island it is housed on can only be reached by boat.

The beautiful island has plenty to appreciate, with nature trails that allow you to explore the craggy shoreline, excellent fishing opportunities, and even a tire swing to relax in and enjoy the crisp, clean coastal air! Be sure to follow the Keepers of Burnt Island Light for updates on this Boothbay Harbor region lighthouse.
Swim at Knickerbocker Lake
Just a few miles north of Boothbay Harbor is Knickerbocker Lake, a local favorite swimming hole. If you're looking to take a freshwater dip in the summer, this is the spot!
Take a Puffin Cruise
Maine is the only state in the US where wild puffins nest, so if you'd like to see these adorable fuzzy birds for yourself, Cap'n Fish's Cruises is your chance! Of course, you might also see some other Maine marine wildlife during your scenic sea cruise, such as seals, whales, and blue heron, to name a few.
Cap'n Fish's offers other cruises as well, including a whale-watching cruise, a whale and puffin combo cruise, and several other scenic specialty cruises. Whatever it is you'd like to see on Maine's coast, Cap'n Fish's can probably help you find it!
Check out this one that covers lighthouses, lobster hauls, and seals!
Enjoy Boothbay Region Land Trust
The efforts of the Boothbay Region Land Trust to preserve and protect the charm and beauty of the Boothbay region can be enjoyed by anyone with a little time to explore and appreciate the 26 public preserves that include over 35 miles of trails and two working waterfront wharfs. In addition to their preservation efforts, free educational events are offered throughout the year as well.
32-acre Oak Point Farm is a popular destination, hosting the visitor center for the land trust and a place to learn more about the organization's efforts, and even support them with a purchase of a souvenir before you leave. Oak Point Farm also offers a 2-acre freshwater pond and lovely walking trails to enjoy in the warmer weather or to snowshoe through in the snow. Supporting the land trust's efforts to preserve some of the Boothbay region's wildlife, lands, and waterways is a great way to enjoy the beauty of Maine.
Go on a Foodie Walking Tour
Boothbay Harbor is home to so many fantastic places to eat! If you'd like to sample several spots during your vacation, join this three-hour foodie walking tour that will guide you to the best of the best.
Watch a Show at Carousel Music Theater
If you're a theater fan, you're going to want to check out the Carousel Music Theater! This music theater in Boothbay Harbor is serving up three course meals with a hearty helping of dinner theater. Come hungry!
Attend the Fall Foliage Festival
Will you be visiting Boothbay Harbor in October? If you are, you're not only going to be treated to those fantastic fall foliage colors, but there's also the annual Fall Foliage Festival. This community centered festival is a Midcoast Maine favorite!
Walk Ocean Point Preserve
With 15 preserved acres, Ocean Point Preserve is the largest wetland area on Linekin Neck. You'll find simple walking trails and some fantastic bird watching in this protected space.
Learn at the Maine State Aquarium
As of this writing in 2023, the Maine State Aquarium is undergoing renovations and only opens for special occasion events. However, this is such a cool Boothbay Harbor attraction that we wanted to include it so it could be on your radar. Follow their website for updates and event info, you won't want to miss out!
Get out on the Water with Tidal Transit
Looking to go kayaking in Boothbay Harbor? Check out the offers at Tidal Transit Kayak Company. They also offer stand up paddleboards, or SUP boards for rent, too!
Sample the goods at Boothbay Lobster Wharf
In coastal Maine, you know the lobster will be fresh, but how about dining-on-a-working-lobster-wharf-fresh? That's what you get at Boothbay Lobster Wharf, where you can watch as the fishermen sail in and unload their daily lobster catch. You choose which lobster you want to eat, and the folks at Boothbay Lobster Wharf will cook it up for you!
Their menu includes plenty of other quintessential Maine eats, like lobster chowder, jumbo lobster roll, and lobster mac & cheese, so come hungry! They also have a full bar, so it's easy to kick back on the wharf and enjoy the eats and the scenery as you witness a piece of the lobster fishing action.
Indulge at

The Harborage Inn
One of the most luxurious hotels in Boothbay Harbor, The Harborage Inn is the perfect place to indulge in coastal comfort! With the amenities of a resort and the charm of an inn, it's hard to beat oceanfront suites.
Click Here to Check Prices & Book!
Enjoy Penny Lake Preserve
Penny Lake Preserve is the perfect Boothbay Harbor place to go if you're looking for a peaceful spot to enjoy the great outdoors. You'll find wetlands, woodland, and a lovely network of walking trails.
A visit to Maine is always sure to please, with fantastic hiking, beautiful beaches, and striking waterfalls all around the state. If you find yourself in the Midcoast region of Maine, be sure to add Boothbay Harbor to your list of places to visit!
---
Read these next:
---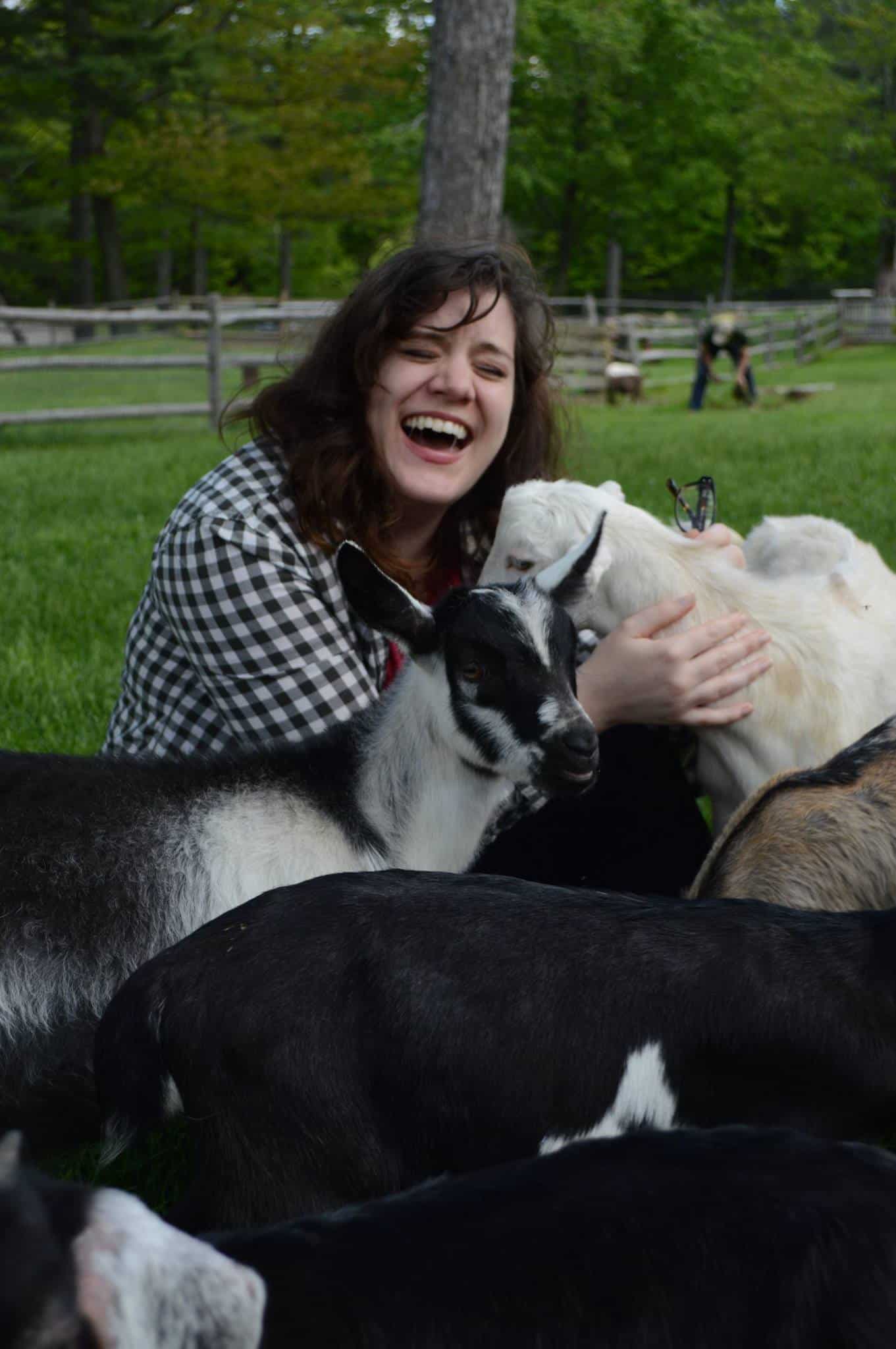 Amy Hartle is the founder and Editor-in-Chief of New England With Love, a comprehensive resource for travel in the New England region. Amy has been exploring New England since 2001. She lived in Vermont for many years and is a graduate of Plymouth State University in New Hampshire. Amy has been writing about travel for over a decade. On this site, Amy aims to share her love of New England and help you to have the best possible adventures!
Amy has been a full time blogger since 2012, and is also the publisher of Two Drifters, where she writes about couples travel and relationships, as well as Let's Adventure Baby, a family travel site. When not traveling the world or creating epic blog content, Amy can be found cuddling with her husband, son, and cats, & drinking a maple latte.