*This site uses affiliate links; if you make a purchase through these, I may receive a small commission at no cost to you.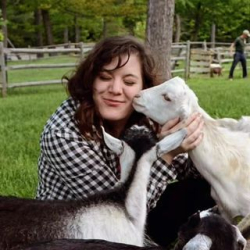 Latest posts by Amy Hartle
(see all)
Maine may not be the first state in the US that comes to mind when you think "beach vacation," but being at the northeasternmost tip of the country puts Maine beaches in a category all their own!
You'll find beaches packed with amenities and amusements and little hideaway coves that are the perfect place for getting lost in the beauty of the gorgeous Maine coastline.
Whether it's a bracing dip in the height of summer or an early fall stroll along the water's edge, Maine's coast offers the best of both worlds: soft sandy beaches to plod along barefoot on in the summer and a ruggedly dramatic aesthetic to enjoy any time of the year as you take in the views of the Atlantic.
Whatever you're looking for, this list of the best beaches in Maine can be your guide.
Best Beaches in Maine
York Beach in York, ME
This village is home to two absolute must-visit beaches: Long Sands Beach and Short Sands Beach. Both offer soft sand just begging to be walked barefoot on and burrowed into, restaurants, restrooms, plenty of paid parking, and a perfect spot to catch the sunrise.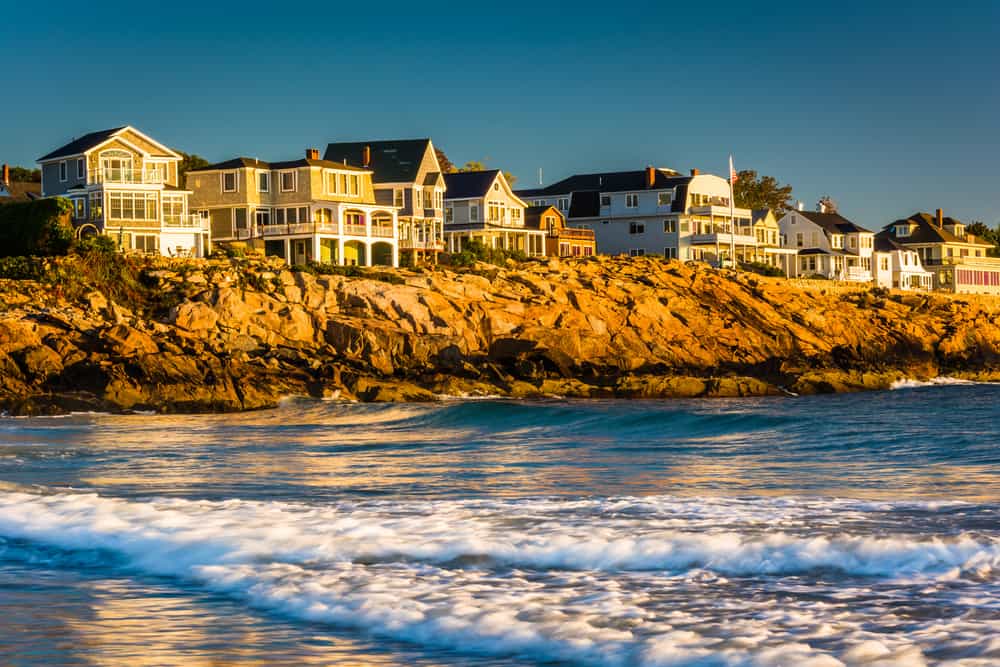 Long Sands Beach is a little more spacious, with plenty of space for swimming, surfing, volleyball, and laying out catching the rays, but Short Sands Beach is closer to fun shops and other attractions and has a much better view of the Nubble Lighthouse, a stunning Maine lighthouse that cannot be missed.
Both of these beaches get pretty packed in the summer, so arrive early and be aware that high tide means HIGH tide and the beaches get a little cozy when that happens!
Scarborough Beach State Park in Scarborough, ME
For those in search of warm waters to swim in (warm by Maine's standards, anyway!) Scarborough Beach State Park has water temps that stay in the high 60s throughout July and August, and the short country-vibe walk that gets you from parking to this soft sand beach isn't half bad either!
Paid parking is available but limited, so it is suggested to arrive early.
Amenities include restrooms, changing rooms, and food options, but the real appeal of this Maine beach is its beautiful deep blue water. Stake out your spot on the sand and enjoy the view or dive in for a swim, but it is suggested to swim in the designated lifeguard areas as rip currents are plentiful here.
Sand Beach in Acadia National Park
Located on Mount Desert Island and rightfully included in this "Perfect 3 Day Itinerary" of Acadia National Park, Sand Beach offers a beautiful landing spot for anyone in search of spectacular Maine scenery, a place to take a quick dip, and stellar ocean views.
There are lifeguards, restrooms, changing rooms, and parking available, and Sand Beach is also a gateway to the always popular Great Head Trail.
Tucked in between the heavily forested mountains, Sand Beach is a sandy refuge amongst the dramatic rocky coast, and it can get very busy in the summer months.
Some say autumn is the best time to visit Acadia, and you might find a little more solitude at Sand Beach if you plan a trip for later in the season; you'll find there is no shortage of great options for what to do or where to stay in Acadia National Park, either!
Goose Rocks Beach in Kennebunkport, ME
Kennebunkport is one of the best places to visit in Maine, and Goose Rocks Beach is one of the reasons why! This lovely white sand beach is protected by the offshore barrier reef, meaning waves are gentle and perfect for a relaxing, summer swim.
Goose Rocks Beach is the largest beach in Kennebunkport and very popular in the height of summer, so head out early to get a paid parking pass from Goose Rocks General Store, or the hotel you are staying at-there are only so many to be given out each day!
Restrooms are available at the beach, but if you're looking for snack options, you'll have to walk a bit so be sure to come prepared.
Popham Beach State Park in Phippsburg, ME
Pretty Popham Beach is the busiest state park beach in Maine and is open all year with amenities like restrooms, rinse-off showers, and charcoal grills. This Maine beach can be enjoyed whether you're willing to take the plunge into the chilly waters during the warmest summer months or just looking for a nice place to stretch your legs a bit and enjoy the sound of the waves as they lap at the shore.
As it is a state park, you do have to pay to enter and parking can fill up pretty fast, but if you arrive early you should have no problems finding parking.
If you do decide to swim, use caution and stick near the lifeguards as this beach has a reputation for its strong undertow and rip tides. When the tide is low, you can walk along the sandbar to Fox Island, but be sure to get back across before the tide comes back in or you'll be stuck!
Old Orchard Beach in Old Orchard Beach, ME
If you're looking for bang for your buck when it comes to your beach vacation, Old Orchard Beach may be just what you're looking for.
Affectionately referred to as OOB, this 7-mile sandy Maine beach is perfect for swimming, but it's also home to Palace Playland, New England's only seasonal beachfront amusement park, and the Old Orchard Beach Pier is 500 feet of restaurants, bars, and live entertainment, all with incredible ocean views!
There's plenty of paid parking available and amenities like restrooms, food options, and lifeguards mean you can spend the entire day at OOB if you're up for it. And really, who isn't up for spending a day at a beach/amusement park???
Colony Beach in Kennebunkport, ME
This sand and pebble beach in ME has plenty that come to swim in it, but if you like searching for seashells and taking sunset walks along the shore, Colony Beach might be the perfect spot for you.
Also known as Arundel Beach, this beach tends to be less crowded than some of Kennebunkport's other beaches because there are no restrooms and there is limited parking, but this can be a major advantage to anyone looking for a peaceful spot to enjoy the incredible ocean view.
There are so many things to see and do while visiting Kennebunkport (glamping, anyone?), after a long day of play it can be nice to unwind with a peaceful sunset stroll along a beach known for its spectacular sunset views.
Ogunquit Beach in Ogunquit, ME
Ogunquit Beach is always right at the top of every Best Beaches in Maine list, and it has earned its spot there fair and square!
This gorgeous 3.5-mile stretch is known for its soft sand texture and is one of the most gorgeous beaches in the region, with amenities like public restrooms, restaurants, lifeguards, gift shops, and ample paid parking making this stunning stretch of sandy shore even more appealing to beachgoers.
Attached to Ogunquit Beach is Footbridge Beach, located on the northern side of the peninsula and so named because you have to pass over a quaint footbridge to get to it, with concessions and public restrooms at this end of the beach as well.
Whether you stay on Ogunquit Beach proper or pass over the bridge to Footbridge Beach, the soft sandy shore and the stellar ocean views will be a hit every single time!
Higgins Beach in Scarborough, ME
This white sand beach is sometimes referred to as Maine's surfer paradise, but Higgins Beach is also great for stand up paddleboarding, swimming, fishing, or just walking along the soft sand. Its easy proximity to Portland means you can spend your day playing in the water before heading up the road to tour some of the best breweries Portland has to offer.
A visit to Higgins Beach does come with a caveat, however: watch where you park! Parking is limited and STRICTLY enforced, so follow all parking signs to the letter. This Maine beach also has public restrooms and showers, but no lifeguards, so enter the water at your own risk. At low tide, you can explore the exposed remains of The Shipwreck of 1897, too!
Birch Point Beach State Park in Owls Head, ME
If you're looking for a beach that feels tucked away and unspoiled, you've got to check out Birch Point Beach. This secluded crescent-shaped beach has the bare minimum of amenities- just outhouses and picnic tables- but once you pay to enter there is plenty of free parking available.
This beach is known for its gentle surf and breathtaking view of Penobscot Bay, and its location isn't bad either; beautiful Rockland is just a short drive away, as is the hidden coastal gem of South Thomaston, where you'll find McLoon's, one of the best lobster shacks in the state!
Reid State Park in Georgetown, ME
There are two beaches at Reid State Park that draw beachgoers in: Mile Beach and Half Mile Beach, both featuring sandy beaches that are both long and wide and absolutely perfect for strolling along through the surf.
You have to pay to enter the park, but once in you will find that there is plenty of parking, and access to this gorgeous Maine park is well worth it!
There may not be shops and restaurants available at Mile and Half Mile Beach, but you'll find public restrooms, changing rooms, and a lovely picnic area with an incredible view of the water.
Lifeguards are often present during the summer season, but there are occasionally lifeguard shortages, so heads up and stay safe in the water.
Pine Point Beach in Scarborough, ME
Pine Point Beach is another Scarborough gem, and it is blissfully low-key compared to some of the other extra popular beaches nearby- we're looking at you here, OOB! Public restrooms with showers are available and there is a seasonal food stand and plenty of paid parking, but there are no lifeguards on duty.
At low tide, you can head out on the sand bar and search for sand dollars and other beach treasures. There is plenty of space on the beach for frisbee tossing, strolling, or just lounging around with a good book, and in the off-season, pups are welcome to come enjoy this sandy slice of happiness, too!
Drakes Island Beach in Wells, ME
Located at the entrance to Wells Harbor, Drakes Island Beach lets you feel like you're a little tucked away from the hustle and bustle of the other Wells' beaches, while still being near plenty of amenities.
There are public restrooms and plenty of paid parking, but this ME beach has much less foot traffic than others nearby and because of this, you'll find yourself feeling you've stumbled upon a hidden gem!
Lifeguards are on duty during the summer months if you'd like to play in the bracing waters here, but there's also lots of fun to be had in the sand here, too, as many like to explore the tide pools in search of interesting marine wildlife and to walk the beach in search of shells and beautiful sea glass.
Crescent Beach State Park in Cape Elizabeth, ME
If you're looking for a quintessential New England beach experience, Crescent Beach State Park is it! With grassy dunes, expansive ocean views, and a sandy beach backed up by gorgeous woods, Crescent Beach is a spectacular spot to go to enjoy the refreshing Atlantic and that sweet sea air!
Crescent Beach State Park also has great amenities, like public restrooms, lifeguards, showers, picnic tables, a snack stand, plenty of paid parking, and even a little playground for the kiddos.
As is often the case in Maine, the shore can be pretty rocky in areas, so you might consider bringing water shoes with you if you intend to wade in, otherwise this gorgeous beach is calling you to come and enjoy its spectacular scenery!
Kennebunk Beach in Kennebunkport, ME
There are three distinct sections of Kennebunk Beach, with Gooch's Beach being the largest of the three and popular for its soft sandy shore, but come high tide there is very little of the actual beach remaining!
Mother's Beach has a more dramatic look, with rocky outcroppings and many rocks on the shore, and it has a playground, making it especially attractive for moms with littles in tow.
Middle Beach is the beach in the middle, and it is the rockiest of the three and mostly used as a scenic lookout point as opposed to a place to get in the water.
All three of these Kennebunk Beach areas have a little different flavor to them, but they'll all let you get up close and personal with the raw beauty of the Atlantic.
Porta-potties and lifeguards are available at Mother's and Gooch's during the summer season and parking is limited and requires a parking permit that has to be purchased in advance at one of the kiosks along Beach Avenue.
—
Maine's expansive coast makes for some stunning scenery, with dramatically rocky beach inlets, white sands, and the deep blue Atlantic.
If you're feeling especially adventurous, you might consider heading out on a Maine Windjammer Cruise, but if you'd rather stick closer to shore, you've certainly got options because there are plenty of beautiful Maine beaches to choose from!
Hopefully, this list of the 15 best beaches in Maine can help you narrow down the perfect landing spot for your next Maine beach getaway.
---
Read these next!
---
Pin me for future travel planning!