A touch of the winter blues isn't exactly unreasonable as we head into January with frigid temperatures and less snow throughout Maine than usual. Though we're all eagerly awaiting fresh powder and frozen lakes for outdoor winter fun and gorgeous winter landscapes frosted in white, thoughts of sunny summer days are an understandable sliver of escapism.
And nothing says summer in Maine quite like lobster pounds and fry shacks dotting the coast and filling the salty air with the smell of fresh seafood, sunblock, and ice cold beer. So here's our list of the best lobster pounds in Maine (and best Maine fry shacks) as a momentary escape from the winter doldrums.
What is a Lobster Pound?
What exactly is a lobster pound, you might be asking? The term has taken some serious left turns to get to its modern usage along the Maine coast, so that's a reasonable question! Long ago a pound was an enclosure where live animals were kept in a town center. Properly storing live lobsters is a huge part of the lobster industry as their shelf life after being cooked is incredibly short. Fresh, circulated seawater is the best storage method—so long before modern refrigeration techniques and quick shipping, large pounds along the shoreline for live lobsters became the norm. Most large lobstering outfits have enormous indoor storage tanks built up on wharves right along the sea where they ship, process, cook, and freeze lobsters and lobster meat.
Though tourists and locals alike still buy and ship from smaller lobster pounds, these rustic spots became more and more a place for eating lobster that was freshly steamed as well as other locally caught seafood. Giant open-air kettles with ocean water for steaming, wooden sheds where you pay, picnic tables, paper plates, chalk board menus scribbled by an owner's niece home for the summer from college. In fact, the rustic, casual, family-owned vibe is a defining trait of Maine's best lobster pounds.
Have you ever tried to crack open a cooked lobster and dunk it in butter elegantly? Not going to happen. The lobster pound is an invitation to be messy and care-free and to wholeheartedly enjoy every second of it. You'll very rarely find a full kitchen or a traditional dining room (if one at all) and the al-fresco lawn furniture on or beside a wharf says hello summer at every step along the way. Also: coleslaw. Lots, and lots of coleslaw.
Maine Lobster Pounds vs Fry Shacks
Why make a distinction between lobster pounds and fry shacks? A fair number of the best places for lobster in Maine are gloriously low-tech: they don't even have fryers. A bag of chips, drawn butter, local corn, a pickle, and a dinner roll are often all you'll find other than lobster rolls and freshly steamed lobsters; truthfully, it's often all you really need and it lets the fresh, perfectly cooked lobster stand for itself.
But every once in a while, taking all the delicious wonders we catch straight from Maine's cold waters and frying them up with an enormous heap of French Fries and a side of tartar sauce is exactly what you want after a long summer day—so the difference sure is worth noting. With all those tasty details out of the way, these are some of the best lobster pounds and lobster shacks in Maine. Most are seasonal, so mind the hours.

6 Great Lobster Shacks and Lobster Pounds in Maine
McLoon's Lobster Shack (South Thomaston)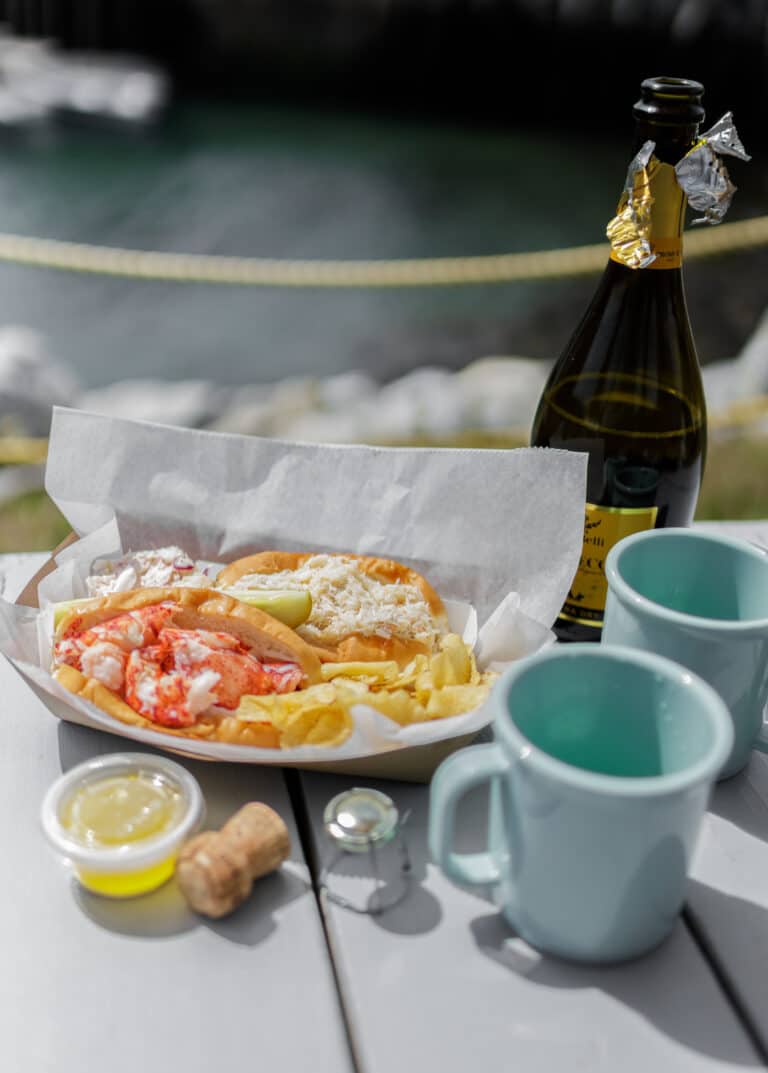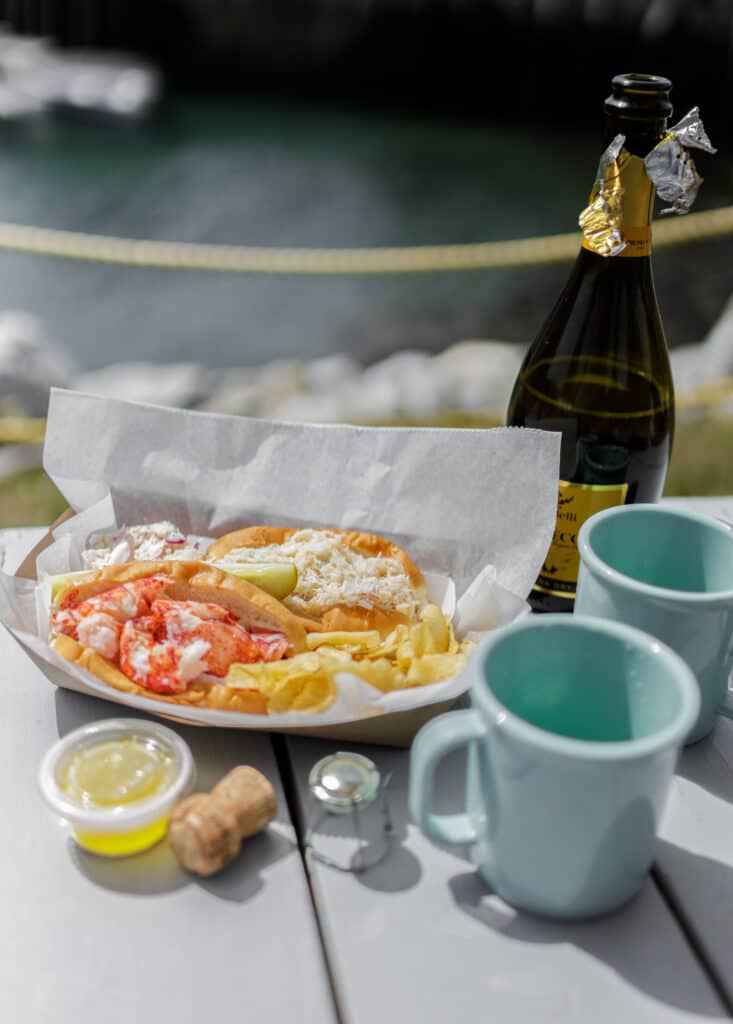 Located at the tip of Spruce Head Island beyond a puzzle-piece expanse of the peninsula, you most likely won't find McLoon's unless you know it's there; locals on a mid-coast day trip and vacationers lucky enough to be in the know certainly like it that way, too. We're not going to beat around the bush on this: McLoon's has hands-down the best lobster roll and crab roll in the state. Fresh, perfectly cooked, tender, and a bun griddled in butter so expertly we find ourselves curious if there's some sort of buttered roll PhD program no one has told us about.
The seafood is local (you're looking out over the fleet of boats that haul your dinner), the location is quiet and serene with a backdrop of Maine's rugged and tree-lined coastline, and they're extremely pro-BYOB. You won't find any fried options at McLoon's—but with roasted littleneck clams, lobster stew, and savory crab crakes on the menu, we're pretty sure you'll be just fine. Bonus points: you can order your lobster roll with mayo, warm butter, or half-and-half (because calories don't count in the summer. Hopefully.)
Bagaduce Lunch (Penobscot)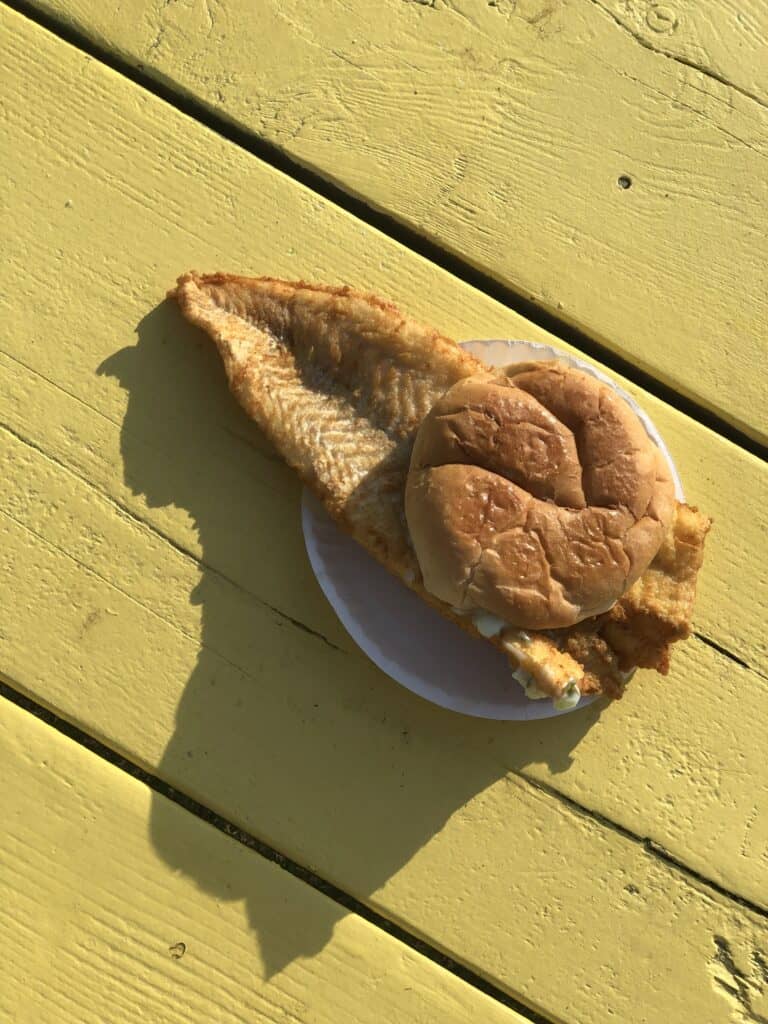 North of Belfast and south of Ellsworth, the Blue Hill region of Maine's coastline is often overlooked by tourists Downeast-bound for Acadia. Some of the state's most gorgeous views and quaint downtowns are tucked into a region that most out-of-state visitors don't know exists: Castine, Deer Isle, Stonington, and Blue Hill Falls. Yet in the tiny town of Penobscot, right along the Bagaduce River is the region's best kept secret: Bagaduce Lunch. The menu reads like a summer vacation for your taste buds: fried seafood baskets, foot-long hot dogs, cheeseburgers, lobster rolls, shrimp rolls, whole-belly fried clams, lobster rolls, and fish sandwiches.
What could ever make a fried fish sandwich worth writing about? One that's an entire fillet of haddock on a bun. Hilariously large and seriously delicious, it's not a sandwich to miss. And neither is anything about Bagaduce Lunch, really—the seafood is excellent, the menu is huge, and it's family-friendly with plenty of non-seafood, kid-ready options.
Best of all: showing up in this quirky little fry shack's dirt parking lot means you just drove through a gorgeous stretch of vacationland. Getting there is half the fun and the far-flung destinations for Maine's local catch are usually the best.
Red's Eats (Wiscasset)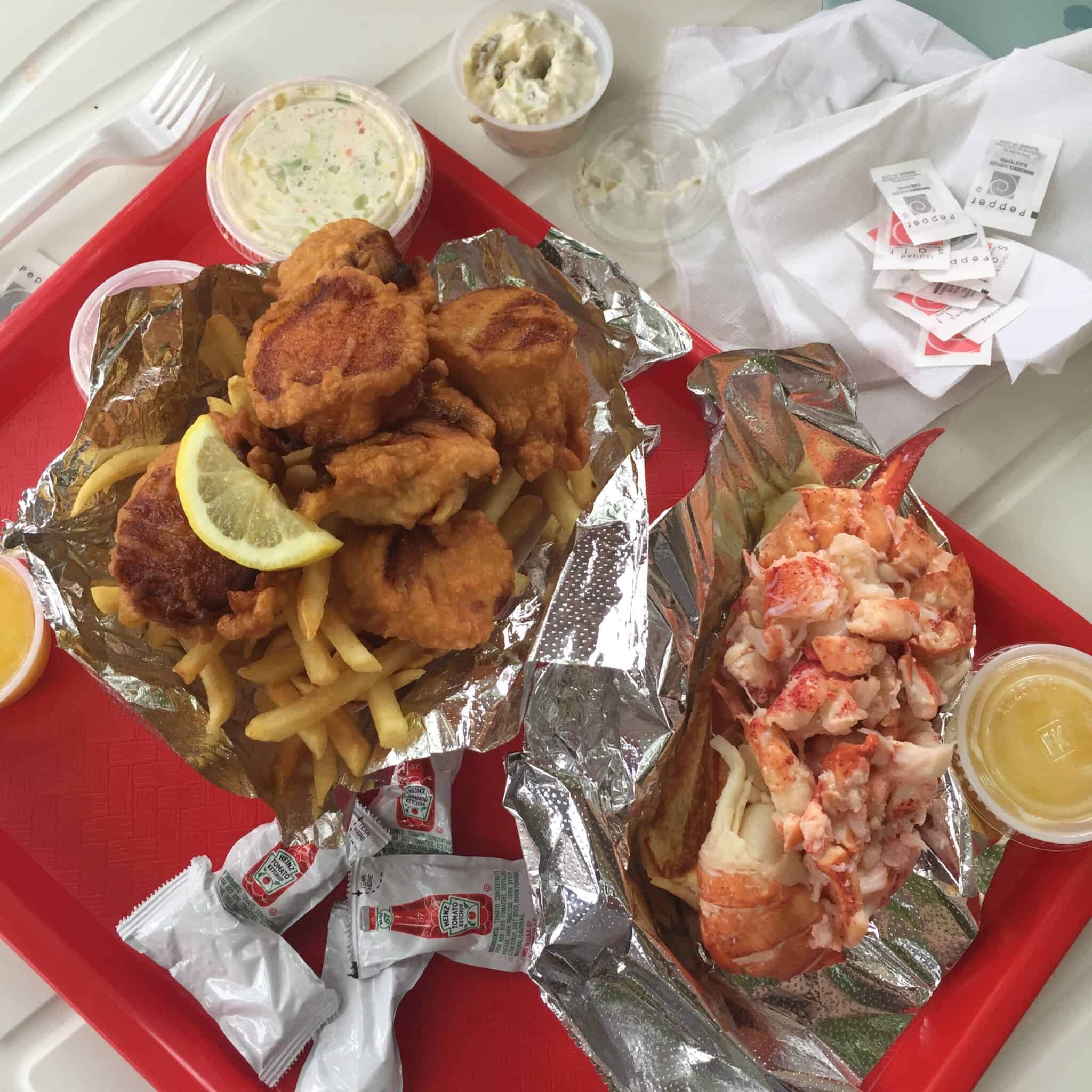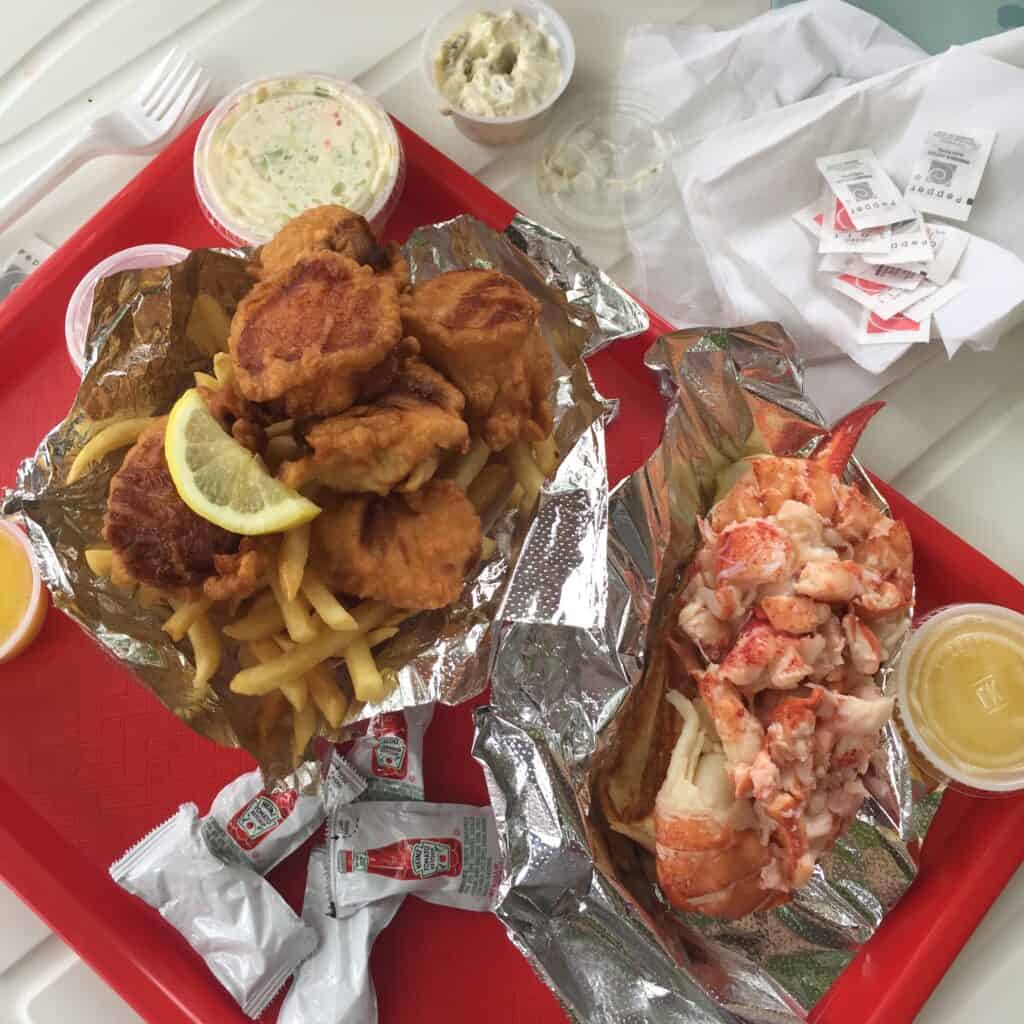 If you want to get a local going on a genuinely salty rant, just mention Red's Eats and you'll get an earful about parking in downtown Wiscasset and traffic over the bridge that spans the Sheepscot River. Red's is a tiny little red shack right at the water's edge in a tiny little town and boy it is popular.
Situated right on Route 1—bringing tourists and Mainers alike up and down the coast—Wiscasset has truly struggled to keep up with the traffic and parking demands this little seafood destination brings. The line to order often wraps down the street, around the block, and can stretch to over an hour-long wait. The staff will often bring little cups of ice cream to guests waiting in line.
Despite all this it is an iconic Maine lobster institution for a reason: the lobster roll is massive. Like more than an entire lobster per order massive. It's served cold on a toasted roll with a side of warm, local butter poured from a brightly-colored kettle as if they're making you tea. Red's might be pricey, and it may cause some issues with traffic, but the quality is outstanding for the staggering amount of seafood they serve from a cramped shed in coastal Maine: 14 tons of lobster meat and 2.5 tons of local butter per season, two hundred pounds of onions for onion rings and 4-6 gallons of freshly shucked clams per week!
Red's menu has so much more if you're not in the mood for lobster, both seafood and non-seafood (here's looking at you, bacon kraut hot dog). Lost in all the noise of Red's Eats lobster roll fame is the unsung hero of their menu: the fried scallops are otherworldly. They're huge, fried to golden perfection, tender, sea-salt fresh, and beautifully sweet. Go once (once a season, maybe?), brave the long line, grab some seafood, and experience a famous little slice of Maine's touristic culinary history.
Erica's Seafood (Harpswell)
Just beyond Freeport and Brunswick you'll find the town of Harpswell. With only two roads leading in and out and a vast collection of rocky, jagged islands and fingers of land stretching into the ocean, Harpswell remains a quiet getaway for swimming, boating, hiking, and summer cottage rentals despite its proximity to two of Maine's more urbane city centers. If you'll willing to trek all the way out to the end of Harpswell, there's a treat waiting for you: Erica's Seafood.
Erica's is right at the tip of Basin Point by a surprisingly large marina and a fair amount of their customers are tying up with boats instead of parking cars. Chowders, fry baskets, scallops, shrimp, and Maine clams as well as live and steamed lobsters to go. One of the best items on the menu: native shrimp. Maine's shrimp haul used to be huge—too huge, in fact. The population collapsed and a moratorium on commercial shrimping was imposed. A few boats can obtain special permits to haul shrimp for research purposes and can sell the excess shrimp as an incentive; when you can get your hands on true, local Maine shrimp it's absolutely worth ordering.
Much of Harpswell's economy is configured around multi-generation lobstering families and Erica's Seafood is truly outspoken about how important it is to buy local lobster from small purveyors and local lobster pounds—and the result is a delicious lunch or dinner. Take a drive (or sail) to the outer limits of Harpswell and enjoy some fresh-as-it-gets seafood on a sunny picnic table—and don't forget to try the blueberry crumb cake.
Shaw's Fish & Lobster Wharf (New Harbor)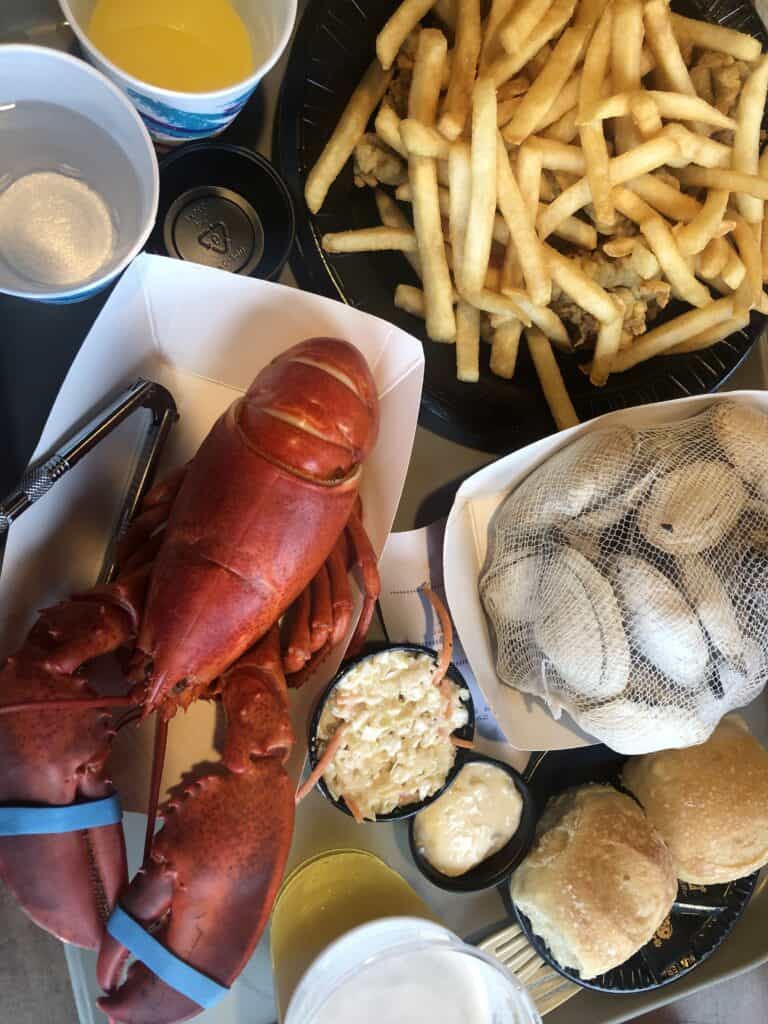 If you're one of the 84 billion people that visit Pemaquid Point Lighthouse in Bristol every summer (that number might be a slight exaggeration?), you're just miles away from one of Maine's best kept secrets: New Harbor. Despite this scenic little coastal village being less than a mile from Pemaquid Point, the drive back to Damariscotta will most likely take you on a route that doesn't make this gorgeous and quick detour particularly obvious. Rental cottages, sunset cruises, ferries to coastal islands, dozens of lobster boats lined up in the harbor, and most importantly Shaw's Fish & Lobster Wharf.
Shaw's is everything right about fresh seafood and vacation meals all together under one roof—steamed lobster, lobster rolls, dozens of fried options, chowders, seafood stews, squid, mussels, and clams. If you're visiting from out of state, especially from an area without lots of fresh seafood, the options and prices for clams might see a little overwhelming. It's all just clam strips, right? Thankfully—no! The frozen clam strips you're likely accustomed to are worlds away from the quality and flavor of fresh, whole-belly fried clams.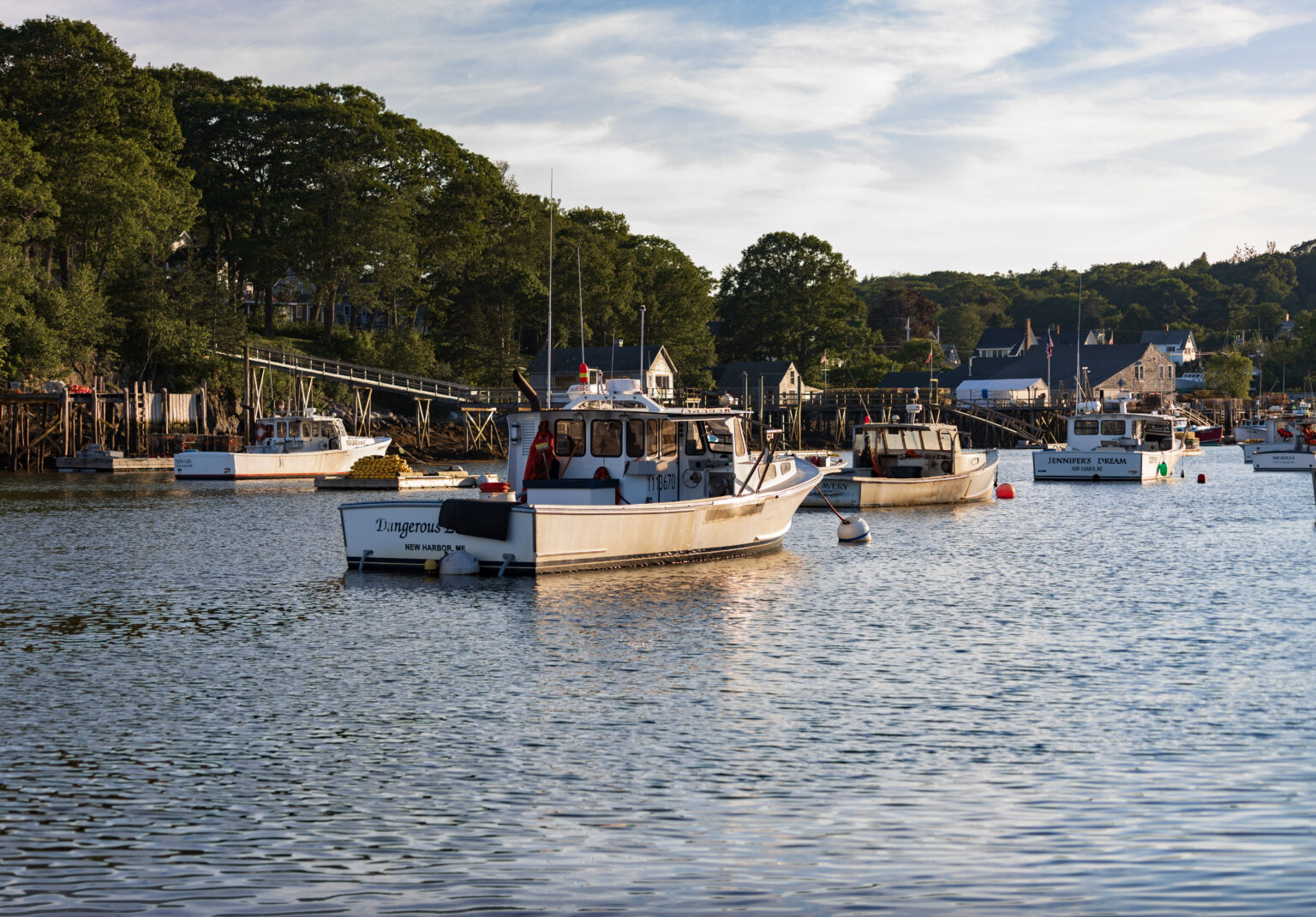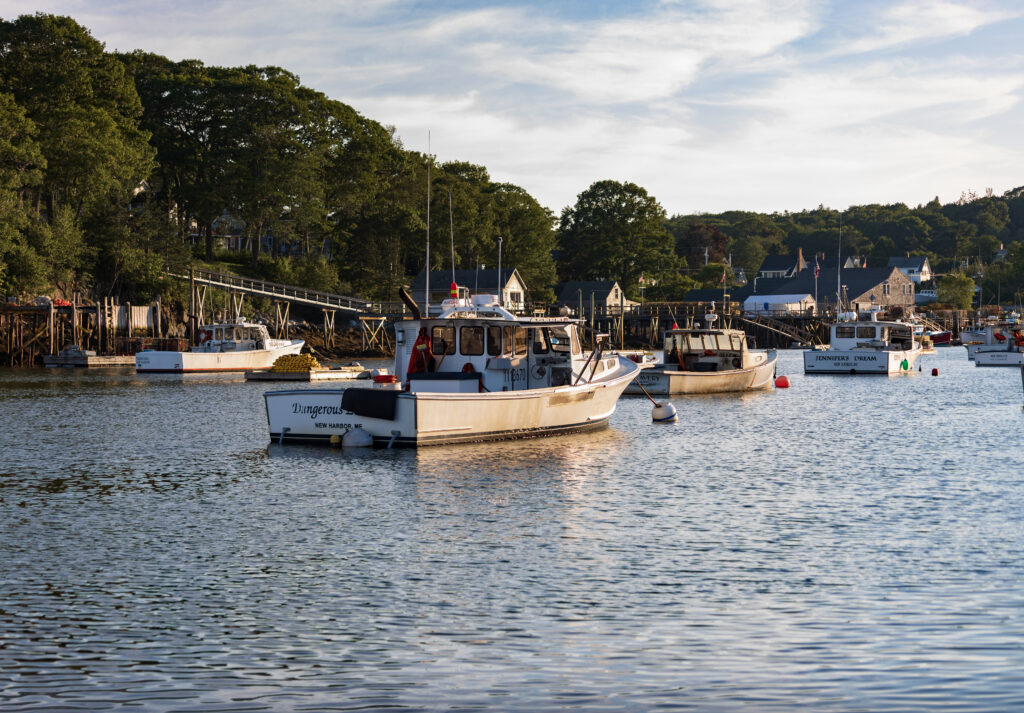 And of course, steamers: fresh, live soft-shell clams steamed to order and served in their opened shells with broth and butter. Steamers are somehow even messier than eating a lobster and just as much fun, too. They may, however, be a bit of an acquired taste; the broth is to get sandy grit out of the steamed clams before you dunk them in butter. They burrow deep into coastal sand and mud flats and are dug out by locals with a variety of techniques (different families will have different methods they've been using for generations and claim are the only right way to do it).
If you've never had steamers before, Shaw's is the perfect place to, no pun intended, dig in. Grab a ton of napkins, an ice cold beer from their selection of local craft brews, enjoy the loud music, eat some steamers, and enjoy the striking coastal view while you carefully avoid melted butter on your swim trunks!
Thurston's (Bernard)
Downeast Maine and Acadia has no shortage of lobster pounds. The coastal region between Stonington and the Canadian border has some delicious and well-known options for lobster and seafood: Charlotte's in Southwest Harbor and LDI Lobster on Deer Isle are absolutely worth seeking out.
Thurston's in Bernard not only serves up some of the best fresh caught lobster in Maine, but the views from the dock that sit high above the harbor are quintessential coastal Maine, and the perfect place to enjoy their signature lobster stew!

There are plenty of fantastic places in Maine for lobster, but these are some of the best lobster pounds and fry shacks to be found and any one of them would be the perfect place to experience some of that Maine lobster goodness for yourself!
---
You might also like:
---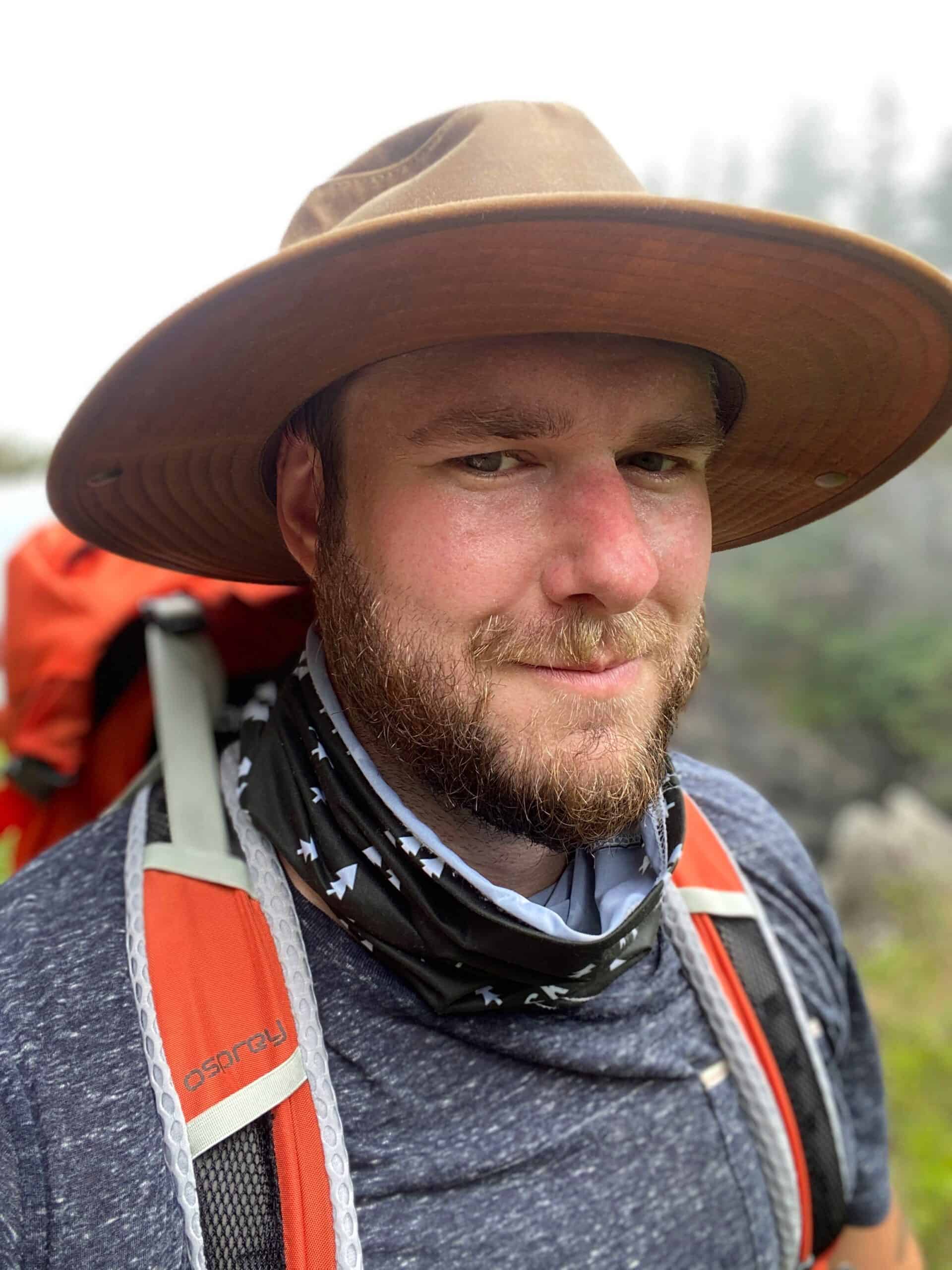 Justin is a writer and photographer based in coastal Maine.  He grew up in New Hampshire, went to college at GWU in Washington, DC, and trained as a chef at Le Cordon Bleu in Cambridge, Massachusetts. Justin has years of experience in professional kitchens, gourmet food sales, and as a wine buyer. He also co-founded Rosehips & Charcoal, a boutique social media consultancy that helps northeast getaway rentals tell their unique stories and grow their online presence.  When he's not working, hiking, or snapping pictures, you can most likely find him drinking wine in the woods in questionable footwear. You can follow along on his Maine adventures and wilderness gourmet shenanigans at @tidetopine on Instagram.