Yes, it's true, New England foods have their own distinctive flavor, but each state in the region has its own claim to fame when it comes to interesting foods, and there are some Maine foods you absolutely should try if you get the chance!
Some of these popular Maine foods are commonly known, like lobstah and blueberries, but others may not be if you're not a Mainer! These are some of the most famous and interesting Maine foods you need to try during your next visit to the Pine Tree State!
Maine Foods You Need to Try
Whoopie Pies
If you're not familiar with whoopie pies, here's the scoop: a generous dollop of creamy filling is laid between two soft cake-style cookies to create a scrumptiously sweet treat! Maine's Labadie's Bakery is the first commercial bakery to have produced these fantastic desserts all the way back in 1925, but there is some dispute over where the first whoopie pie was actually invented.
No matter, because it's Maine's official state treat, and you can find these sweet delicacies all around the Pine Tree State! Traditionally flavored with chocolate cake with a sweet vanilla cream frosting, you can find all kinds of variations today. If you'd like to really get into this sweet Maine treat, head to the annual Maine Whoopie Pie Festival in Dover-Foxcroft for music, family activities, and of course, whoopie pies!
Read Next: Where to Find the Best Whoopie Pies in Maine
Blueberries
Did you know that Maine is the country's largest producer of blueberries? These delightful berries can be found growing wild all around the state, and if you'd like to find a Maine blueberry farm to Pick Your Own blueberries, you can certainly find plenty of those too!
The blueberry is Maine's state fruit, and you'll find some of the most delicious blueberry pies you've ever tasted in your life in Maine, hands down. One of the most popular blueberry festivals in Maine is the Annual Machias Wild Blueberry Festival in Downeast Maine, where you can enjoy family activities, music, foods, and an old-fashioned blueberry pie eating contest!
Oysters
Did you know that you can find oysters in Maine all year round? It's true, and oysters have been enjoyed in this part of the country for thousands of years, and you can even visit an ancient Whaleback Shell Midden in Damariscotta to see the evidence in the massive heaps of oyster shells that remain!
Oysters remain a popular seafood delicacy in Maine and all around the Northeast, and you'll have no problems finding oysters on the menu at many popular restaurants in Portland ME, Boston MA, and beyond. There are several oyster festivals that happen each year in coastal Maine, but the Damariscotta Oyster Festival and the Freeport Oyster Festival are two of the most popular oyster events in Maine!
Lobster Rolls
Ahh, the lobster roll! Maine is the largest lobster-producing state in the US, so you will lobster on the menu just about everywhere you go in the Pine Tree State, but the Maine-style lobster roll has its own cult-like following who staunchly defends this cold and creamy lobster meat sandwich against its opponents who serve it warm!
Lobster pounds in Maine are the best place to sample this fine Maine food for yourself, and one of the most popular in the region is Red's Eats in Wiscasset. It's one of those Maine lobster pounds where you will most certainly be waiting in a line to place your order, but it is well worth it to sample one of the most famous and popular lobster rolls in Maine and beyond!
You should also check out the Maine Lobster Festival in Rockland to learn more about this major Maine industry and taste the many different iterations of lobstah in Maine!
Ployes
If you're not a Mainer, it's not very likely that you'll be familiar with this somewhat obscure Maine food. Ployes are sometimes compared to a crepe, but with buckwheat flour as their main ingredient, they are more of a flatbread style food that can be eaten with sweet or savory toppings and fillings or by themselves with a bit of butter.
Ployes are a traditional food of Northern Maine and are the perfect way to sop up that last bit of gravy from a hearty stew! You can find them at restaurants along the international border, and if you'd like to order your own ploye mix, Bouchard Family Farms is the most popular.
Clambake
The good, old fashioned Maine clambake! A traditional means of preparing fresh caught seafood that dates back thousands of years and was adopted by the early Pilgrims and passed on through the years.
If you'd like to experience a traditional Maine clambake, check out Cabbage Island Clambakes. Available mid June through Labor Day, you sail from Boothbay Harbor to lovely Cabbage Island, where the entire traditional Downeast Maine clambake experience awaits with lobster, clams, fish chowder, corn on the cob, blueberry cake, and more! This is such a unique Maine thing to do.
Red Snapper Hot Dogs
No, these don't have anything to do with the fish! Red Snapper hot dogs are a Maine grilling mainstay and if you've never seen one for yourself, the bright red casing might take you by surprise!
The name Red Snapper comes from both the colorful red casing and the delightful snapping sound that it makes when you bite through it. The traditional way to eat one of these Maine staples is in one of New England's top split hot dog buns.
Moxie
While in most areas of the US, having moxie means you've got a determined spirit, but in the Pine Tree State, having Moxie means you've got some of the official soft drink of Maine! One of the oldest soda brands in the country, Moxie is beloved for its sweet and slightly bitter flavor, and is still found in grocery stores, restaurants, and refrigerators all around the state.
The annual Moxie Festival in Lisbon, Maine takes place every July, and you can enjoy food and craft vendors, live entertainment, fireworks, and of course Moxie. There's also a Moxie Museum in the Matthews Museum of Maine Heritage in Union, Maine!
Allen's Coffee Brandy
Maine's #1 selling spirit, Allen's Coffee Brandy has a long tradition of being Mainer's favorite drink, from early fishermen who enjoyed a warming splash in their coffee before heading out to icy seas, to Mainer's who today refer to this warming beverage as the Champagne of Maine!
One of the most popular ways to drink this coffee flavored spirit is to add it to milk, commonly called a Sombrero. Try one next time you find yourself in one of Maine's bars!
Needhams
Have you ever heard of a Needham? Many who were not born and raised in the region have not! Needhams are a classic Maine candy that were created in the 1880s out of one of Maine's mainstay crops: the potato. Yes, a candy made from potatoes!
Needhams are a sweet treat made of potatoes, shredded coconut, and chocolate, and the combination is a bit like a heartier, earthier Mounds bar. This is one of those classic Maine foods that's both hearty and comforting, and a perfect addition to any get together, so if you're looking for something to bring to the next potluck, maybe try your luck at making a batch of Needhams yourself!
Brown Bread
Bread… in a can? Yup, brown bread is a classic Maine food that is as unique as it is practical! Most people don't think of bread as coming from cans, but if you've steamed the bread, a can is quite practical, and that's precisely how brown bread came about.
One of the most popular brands of brown bread is made from B&M in Portland, Maine, a company that goes all the way back to the 1860s. Brown bread is served either room temperature or warmed up, with a little butter or jam, or as an accompaniment to a meal; a traditional brown bread meal is brown bread served warm and topped with baked beans.
Chowder
There's clam chowder, there's seafood chowder, there's fish chowder, there's lobster chowder, but Maine chowder is hearty, creamy, and stock full of fresh caught Maine seafood, and found on menus all around the state.
Chowder is one of those meals that can take a little and stretch a looooong way, so chowder has been on Mainer's menus for a long, long time, and in those long, cold Maine winters, it's like warming up with a hug from the inside. A delicious hug!
Stonewall Kitchen
Okay, this may not be a food, but this iconic Maine brand is a must vention on any list of Maine foods you must try because it has been offering up classic Maine foods like jams and syrups made with locally sourced fruit since the 90s, and you can buy them online or visit one of the many Stonewall Kitchen stores around New England to see for yourself!
This is just a little taste of Maine's most popular foods (hehe!) but if you're traveling around Maine, you'll find that different areas of the state have their own unique ways of preparing and serving these iconic Maine foods.
You might consider taking a Maine food tour like this Portland Old Port Seafood Lovers Tour or this Kennebunkport Lunchtime Culinary Walking Tour. Wherever your quest to sample Maine's most popular foods takes you, enjoy!
You might also like: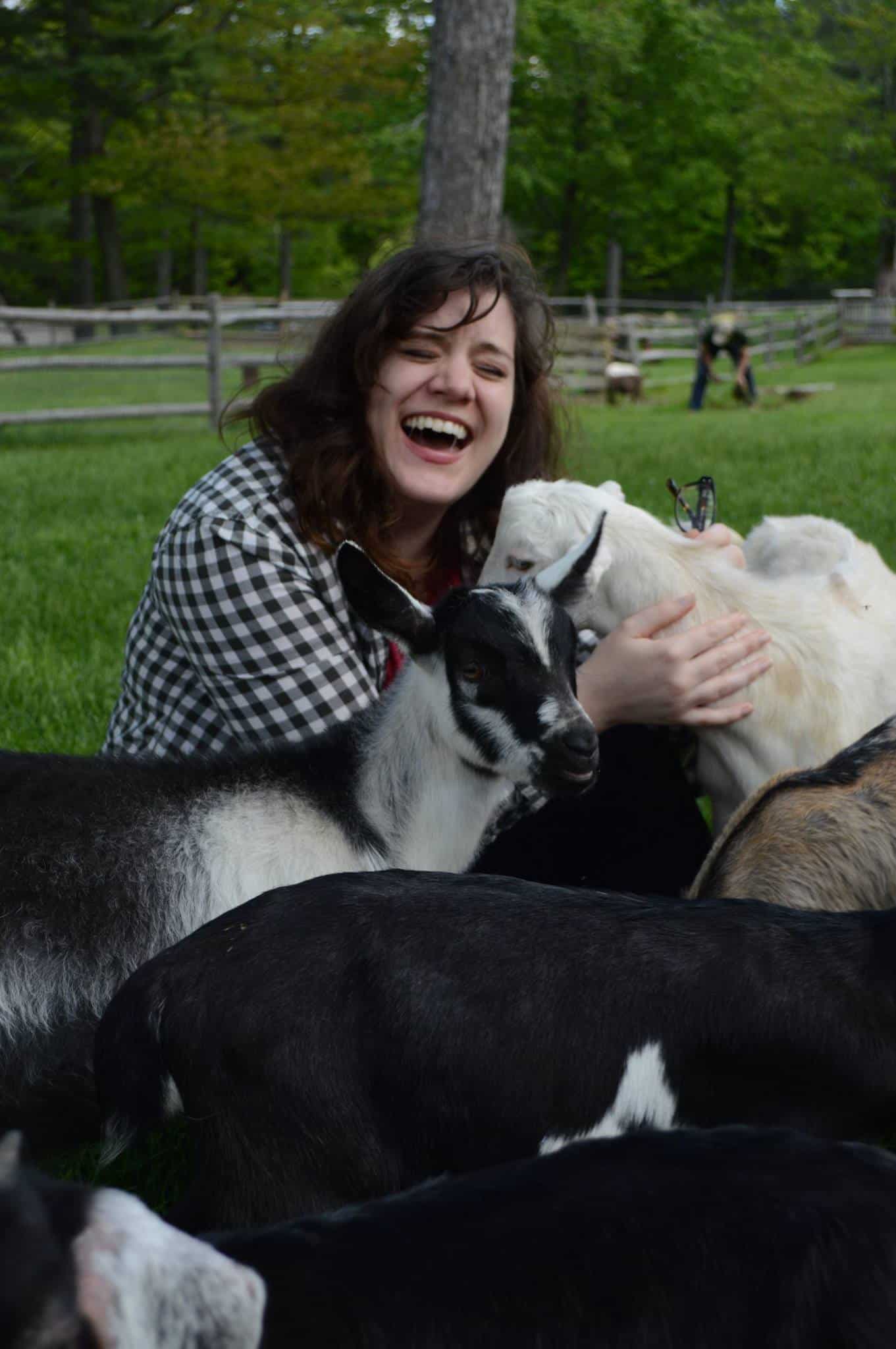 Amy Hartle is the founder and Editor-in-Chief of New England With Love, a comprehensive resource for travel in the New England region. Amy has been exploring New England since 2001. She lived in Vermont for many years and is a graduate of Plymouth State University in New Hampshire. Amy has been writing about travel for over a decade. On this site, Amy aims to share her love of New England and help you to have the best possible adventures!
Amy has been a full time blogger since 2012, and is also the publisher of Two Drifters, where she writes about couples travel and relationships, as well as Let's Adventure Baby, a family travel site. When not traveling the world or creating epic blog content, Amy can be found cuddling with her husband, son, and cats, & drinking a maple latte.