If you're looking for a fun and rewarding summer activity, consider blueberry picking in Maine!
Not only is it a great way to get outdoors and enjoy some fresh air and sunshine, but it's also an excellent opportunity to bring home some tasty treats for the whole family. Plus, there's something special about picking your own food that can't be replicated with anything else.
So why not give it a try? With an abundance of blueberry farms to choose from throughout Maine, you're sure to find one near you. So don't wait – grab your bucket and keep reading before heading out on your adventure!
When is blueberry picking season?
As you might expect, the best time to go blueberry picking in New England is in the summer months. It depends on the farm exactly, but blueberry picking season tends to begin in July and ends in August.
In addition to blueberries, many of the farms listed on this list also have raspberries, apples, pears, blackberries, and other fruits that are available to be picked. Some of the picking season for those fruits overlaps with the season for blueberries, so you might even luck out and be able to try more than one fruit during your trip.
We recommend picking blueberries earlier in the day if possible to be able to avoid the heat that comes later in the day in Maine. Plus, by picking earlier in the day, you can also avoid any crowds that the later hours may bring.
Most of the blueberry farms have picnic spots on-site or even farm stores, so you can make a whole day out of it if you really want, or at least stay until lunch and then go about the rest of your day after picking berries.
Blueberry Picking in Maine
Smith Ridge Maine
First up on this list is none other than Smith Ridge Maine. Located in Strong, this blueberry farm has some of the best fresh wild blueberries you can get in Maine. The blueberry picking season here normally starts in July, and you can stay up to date on their website to see when it officially starts.
One great thing about Smith Ridge Maine is that they don't treat their field at all so you can rest assured that you'll be picking blueberries that have only had love, rain, and sunshine. What's better than that?
Bradbury Mountain Berry Farm
Located in Pownal, Bradbury Mountain Berry Farm has pick your own blueberries so that you can get your own fresh fruits. This family-owned business used to be known as Knight Farm and first began back in 1999.
In addition to blueberries, this berry farm has other berries as well. You can purchase raspberries and strawberries, among others, by the pound. If you want to pick your own berries to make a tasty pie, this is the place to go.
Crabtree's Blueberries
Next is Sebago's own Crabtree's Blueberries. They have pick-your-own highbush blueberries, and they often stay open all the way through October. At the end of the season, they even leave buckets out in case any more blueberries are found so that they can all be used up and eaten.
One of hte things that makes Crabtree's so unique is that they have a variety of different blueberries. They range from little giant to blue crop and everything in between. The first berries are usually ready in mid-July.
Rupert Berry Farm
Rubert Berry Farm in Turner, Maine, is a great place to go blueberry picking in Maine. They have blueberry picking available starting at around $2.50 per pound, and picking here is a great place to support a local business.
Their hours are normally towards the end of the week, but they tend to be open on the weekends as well. Often, they have some pretty good size blueberries here. What better way to spend a day than by picking blueberries here with your family? Kids will love it, too!
Blueberry Court Farms
Located in Pittsfield, Blueberry Court Farms is a lovely locally-owned farm that sells produce and, of course… blueberries! They have U-pick blueberries and are usually open daily for a few hours.
Even though blueberry is in the name of their business, they also have other great treats like maple syrup, tomatoes, peppers, and more. Plus, there are seedlings you can purchase here to take home and plant starting at $4.50 per 6-pack.
Libby & Son U Picks
One of the more well-known blueberry farms in Maine is Libby & Son U Picks. It's located in Limerick, and they have pick-your-own blueberries, apples, peaches, and raspberries. The blueberry and raspberry season normally starts in July, while plums, peaches, and apples are available, usually starting in mid to late August.
One of the cool things about this blueberry farm is that they have a picnic area. They recommend packing your own lunch from home so you can spend the day picking fresh fruit and enjoying a nice lunch outdoors. What more could you want?
Beddington Ridge Farm
Located in Beddington, Maine, Beddington Ridge Farm is a great place to go blueberry picking. The season is normally from late July through August, and guests always have a wonderful experience.
Kids, in particular, absolutely love it here. For a real treat, buy some blueberries and make your own blueberry jam at home. It'll be unlike anything you've ever tasted before. In addition to picking blueberries, you can also pick flowers here!
R&L Berry Farm
R&L Berry Farm in Readfield is the ideal location to go and pick your own blueberries. Raspberry season at the farm normally starts first in early July, and then blueberries come in a few weekes later. If you time it right, you may be able to go and pick both!
The pricing here is per quart, and there's a flat rate you pay per quart once you're done picking. In addition to raspberries and blueberries, this farm sells raw honey. They also hope to start selling blackberries in the future.
Winslow Farm
If you find yourself near Falmouth and you want to do some berry picking, head to Winslow Farm. Be sure to visit between July and August to be able to do some picking here. There are hundreds of blueberry plants at Winslow Farm, and if you purchase by the pint, you'll be able to get a good price.
If you want some blueberries in a crunch, there's no need to worry. Winslow Farm also has pints and quarts of blueberries available to purchase on the go.
Orchard Ridge Farm
Orchard Ridge Farm in Gorham is a lovely spot for some great blueberry picking. This family-owned orchard is on 38 acres of land, and the U-pick season normally starts in early July for blueberries. They have apples starting in September as well as pears in October.
While there, be sure to check out what's available in the farm store. You can shop farm fresh eggs, maple syrup, local meats and dairy, pastries, treats, donuts, and even bagels. Plus, there's usually always some fresh coffee, too!
Fairwinds Farm
Fairwinds Farm in Bowdoinham has pick-your-own raspberries, strawberries, and blueberries! The season is during the summer, normally starting in mid-June for strawberries and July for blueberries.
There are over 100 acres of fruit here, ranging from vegetables to strawberries and everything in between. If you live in the area, you may also see Fairwinds Farms at some of the farmers markets throughout the area between May and October.
Joan & Brad's Berry Farm
Next is Joan & Brad's Berry Farm, where you can pick starting at $4 per pound! They are located in Hollis, Maine, and have quite the history in the area. In fact, the Bradburys have been in the area since the '70s, and people love stopping by to have some tasty fruits.
While you can pick blueberries here, you can also stop by one of the campsites and book a fun glamping experience. And yes, the camping spots are right next to the blueberry farm. How fun is that?
Ives Berry Farm
Last but certainly not least is Ives Berry Farm in Saco, Maine. They're open between July and August for pick-your-own berries. They have seven varieties of blueberries and they don't spray their plants here either.
In addition to picking your own, you can purchase pre-picked quarts here if you'd rather. The bushes here are often packed with tons of berries, and many consider Ives Berry Farm to be a bit of a hidden gem in Maine.
Maine has plenty of options for finding the perfect spot for blueberry picking. Whether you're looking for a large-scale farm or a family-run U-pick, there's something to please everyone. Visit one of these farms and create some unforgettable memories!
---
You might also like: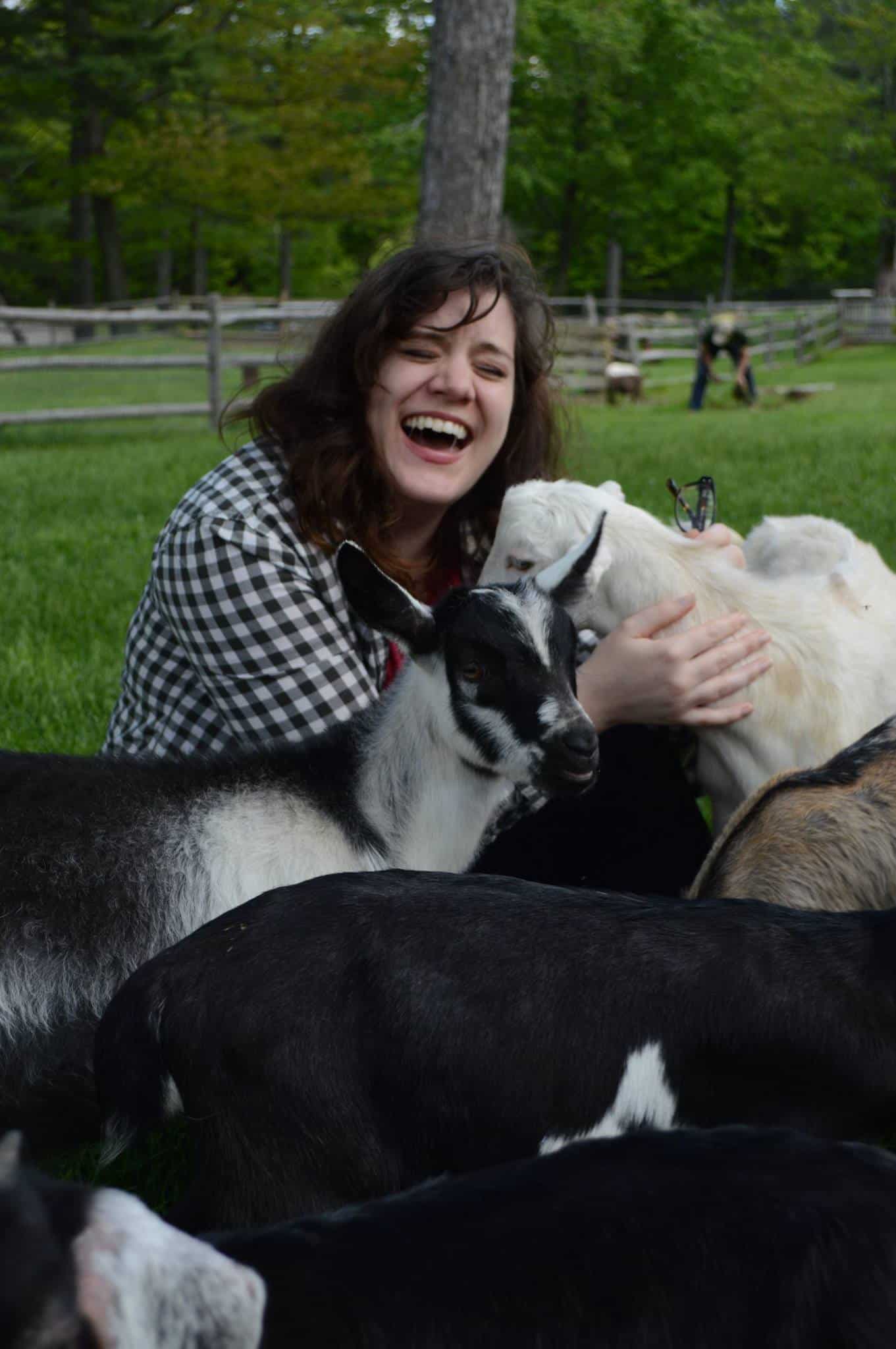 Amy Hartle is the founder and Editor-in-Chief of New England With Love, a comprehensive resource for travel in the New England region. Amy has been exploring New England since 2001. She lived in Vermont for many years and is a graduate of Plymouth State University in New Hampshire. On this site, Amy aims to share her love of New England and help you to have the best possible adventures!
Amy has been writing about travel for over a decade, and is a full time blogger, publishing both Two Drifters and Let's Adventure Baby. When not traveling the world or creating epic blog content, Amy can be found cuddling with her husband, son, and cats, & drinking a maple latte.