Looking for the best whoopie pies in Maine? So were we!
While the exact origin of the whoopie pie remains hotly contested in the Northeast, Maine has a solid reputation for producing the best of the best of these delicious New England treats.
We can trace the origins of whoopie pies in Maine back to the early 1900s when it's said that farmers' wives made them using leftover batter as a portable tasty treat for the farmers to eat on the go. Their popularity quickly grew, because who doesn't love a cake you can eat on the go?
Designated Maine's official state treat in 2011, this chocolate cake treat is now synonymous with sweet treats in the Pine Tree State. It is actually not the official state dessert, as some think, because that honor belongs to the classic Maine blueberry pie!
Whether the invention of the whoopie pie happened in Maine or elsewhere, delicious whoopie pies can be found throughout the state.
So what can you expect from a traditional whoopie pie in Maine? Well, you're always going to have the two cake-like rounds with a creamy filling, but today, the possibilities are endless!
This New England phenomenon now sees many varieties of whoopie pies including seasonal flavors like pumpkin spice for fall and variations on both the cake and the filling found on menus of even the most traditional whoopie pie bakeries.
Basically, if you're heading out on a Maine whoopie pie tasting tour, you will have some fantastic options!
Let's get right into it… this is where to go to find the best whoopie pies in Maine!
Best Whoopie Pies in Maine
Reilly's Bakery, Biddeford ME

We could describe Reilly's Bakery in Biddeford with just one word: traditional. However, we will use many more!
Reilly's is a local favorite for its traditionally baked goods, most notably their doughnuts and specialty cakes. It's long been one of the top spots in Biddeford for specialty birthday cakes, but their whoopie pie game is just as strong!
Classic chocolate and vanilla whoopie pies are on the menu at Reilly's Bakery, and they are beautifully prepared with the cake being perfectly moist and the filling isn't that saccharin sweet style filling that you occasionally run into.
"They had the best "whoopie pies" and chocolate eclairs!!" -TripAdvisor Review
Moody's Diner, Waldoboro ME

Not only is Moody's Diner basically a Maine institution just as a must visit place to eat, but it is also one of the best whoopie pie places in the state. These homemade cake rounds are perfectly moist and the cream fillings are just the perfect amount of sweet.
These aren't sample size whoopie pies, either! Generous cake rounds sandwich the cream filling in the perfect ratio of cake to cream. Oh, and they'll even ship whoopie pies via their online store, too!
"The donuts were great but the Pumpkin Whoopie pie with sweet cream cheese filling is to die for!" -TripAdvisor Review
Two Fat Cats Bakery, Portland ME

One of the best places in Portland and beyond for whoopie pies, Two Fat Cats Bakery offers a variety of baked goods including lemon bars, cookies, and boutique cupcakes.
But we aren't here today to talk about cookies and cupcakes, we're here to talk about whoopie pies! So how are the whoopie pies at Two Fat Cats Bakery? Well, the cake is super moist, the vanilla buttercream filling is sweet, but not too sweet, and it's basically all the thumbs you've got, way up!
"I've yet to find a Whoopie pie that's as good as the ones that Two Fat Cats Bakery makes." -TripAdvisor Review
Auntie's House Bake House, Kennebunk ME

Located right outside Kennebunkport's Dock Square, Auntie's House is one of the best bakeries in Maine. They make their classic whoopie pies with Dutch dark cocoa, adding a richness to the flavor of the cake. Their whoopie pies are delish, but there's another standout at Auntie's House that shouldn't be missed by whoopie pie enthusiasts: chocolate dipped whoopie balls!
One of their biggest bestsellers, Auntie's House whoopie balls come in a variety of flavors, including espresso, oreo cream, dark salted caramel, even blueberry! You can't go wrong with the classic whoopie pie, but I'm itching to try these whoopie balls during my next visit.
Oh, and they've recently opened up a Portland location, too!
"My husband and I agree that the whoopie pies were the best we've had." -TripAdvisor Review
Read Next: 15 Best Things to Do in Kennebunkport, Maine | 12 Best Restaurants in Kennebunkport Maine
The Baker's Bench, Westbrook ME

This hometown style bakery in Westbrook is known for several things, much more than just their classic Maine whoopie pies! The Baker's Bench has been in business for a very long time, and fan favorites include their cream horns, croissants, and cinnamon rolls.
This is one of those Maine bakeries where if you don't get there early enough, you can expect to find a mostly empty display case… it's just that good! The whoopie pies at The Baker's Bench are classically prepared, with soft yet sturdy cake rounds and a delicious cream filling.
Typically they have chocolate and vanilla flavored whoopie pies, but if you visit during the fall, you can usually find a pumpkin pie flavored whoopie pie in the case, too!
"They have the most excellent whoopie pies…" -TripAdvisor Review
Becky's Diner, Portland ME

A veritable institution in Portland, Maine, Becky's Diner is synonymous with good eats in the area. You'll find that the offerings on the menu at Becky's are all just good, old fashioned comfort foods, expertly prepared with timeless recipes and fresh ingredients.
This includes those magnificent whoopie pies, too! Becky's Diner is the kind of place where you're likely to fill up on the generous portions of delicious diner food, but try and save some room for the whoopie pie.
You can find classic chocolate whoopie pies with vanilla cream filling, pumpkin spice whoopies, oatmeal cookie whoopies, and other great flavors, but one of the most notable aspects of these are the size. They are GIANT!
"The whoopie pies were delicious – the best I've ever had." -TripAdvisor Review
Read Next: 11 Irresistible Bakeries in Portland Maine
Cape Whoopies, Portland ME

If you like options when it comes to whoopie pie flavors, Cape Whoopies is the place for you. The texture of their whoopie pies is a little different than a traditional recipe as they use butter instead of shortening, but wait until you hear these flavor options.
You've got birthday suit whoopie pies with sprinkles, strawberry shortcake whoopie pies with a scrumptious strawberry filling, and one of the most interesting: Boston Strong, featuring vanilla cakes with vanilla cream and a layer of fudge!
Oh, and they ship, too! That's always a nice touch for those of us who may be craving a whoopie pie but just can't get to one of these spots at the moment.
"The gourmet whoopie pies from Cape Whoopies are sooooo delicious" -TripAdvisor Review
Read Next: 7 of the Best Restaurants in Portland Maine (+Bonus Options!)
The Cookie Jar, Cape Elizabeth ME
The Cookie Jar is the place to go if you're looking to satisfy a sweet tooth in Cape Elizabeth!
This small town bakery has a glass display case that's going to make it really hard for you to choose just one thing, so we say don't. Just go ahead and pick up all the Cookie Jar faves like cream horns, donuts, and of course, the Cookie Jar whoopie pie!
The whoopie pies at the Cookie Jar are absolutely scrumptious, with the perfect ratio of creamy filling to sweet cake round. We know there are a ton of choices for Portland whoopie pies, but if you can venture out a little further to Cape Elizabeth, you're going to be glad you did!
"We took the whoopie pie home for dessert. Everything was DELICIOUS!" -TripAdvisor Review
Pink Pastry Shop, Bar Harbor ME
One of the best bakeries in the state of Maine, the Pink Pastry Shop in Bar Harbor is a definite must visit whoopie pie destination. This bakery is just cute as can be, and their baked goods game is absolutely on point.
You'll find cheesecakes, muffins, cannoli, smoothies, and more, but the number one must order item at Pink Pastry Shop (in my opinion, anyway!) is the whoopie pie. You'll find a great variety of flavors, including one that always makes the grade for a fresh summer treat: blueberry lemon. The blueberry cakes and the crisp, lemon filling are the perfect summer combo.
If you're making an Acadia visit anytime soon, be sure to add Pink Pastry Shop whoopies to your list of things you must try.
Pro tip: It's cash only as of this writing, so heads up!
"I opted for the blueberry whoopie pie with the lemon filling (per TA recommendations). It was killer!" -TripAdvisor Review
Read Next: 9 Best Restaurants in Bar Harbor Maine
Wicked Whoopies, Freeport ME

So you're visiting Maine and want to show someone just how many different varieties of whoopie pies there can be, where do you go? Well, Wicked Whoopies, of course!
What began as a labor of love in a kitchen 25+ years ago has now grown into one of the best places to buy whoopie pies in the United States, with shipping available throughout the country.
You'll find a very thorough selection of whoopie pies, with diverse flavors like banana cream, gingerbread, mint, mocha, maple, and so much more. They also offer their jumbo whoopie pies that can be used as a very Maine style birthday cake.
"These whoopie pies were delicious!" -TripAdvisor Review
Read Next: 12 Fun Things to Do in Freeport, Maine
Labadie's Bakery, Lewiston ME

Okay, so Labadie's Bakery isn't just the spot in Lewiston for whoopie pies, it's also the spot where the original Maine whoopie was sold. Just a little fun whoopie history for ya!
Labadie's Bakery claims their secret to success is using the same recipe that's been producing their delicious whoopie pies since 1925! Today, they not only operate out of their retail storefront in Lewiston, they will ship these Maine goodies all around the country.
There are a variety of whoopie pies available, including classic chocolate and vanilla whoopie pies and other variations including chocolate peanut butter, raspberry, and even a 12 inch whoopie pie cake!
"Grab a dozen different flavors Maine Whoopie Pies to go and pop them in your freezer to enjoy whenever you want. You won't be disappointed!" -TripAdvisor Review
Congdon's Doughnuts, Wells ME

Congdon's Doughnuts isn't just one of the best whoopy pie bakeries, it's also one of the best bakeries in Maine.
There are doughnuts, scones, muffins, honey buns, oh my! Truly, the menu at Congdon's Doughnuts is a pastry lover's dream.
But of course, the baked good we are here to talk about is the whoopy pie, and Congdon's absolutely knows how to deliver!
The cake rounds are perfectly baked, the creamy filling beautifully placed, and they offer a mini whoopy, regular whoopy, and a Big Whoopy, available with an order placed at least 24 hours in advance. It's a big cake!
"A huge moist chocolate pillow stuffed with loads of delicious vanilla icing…. the Congdon's Whoopie Pie. Absolutely delicious. Soft. Moist. Sweet….but not too sweet….one of the best we have ever had." -TripAdvisor Review
With treats that have become so entertwined with a region and/or a culture, the subject of where to find the very best can be a little difficult to suss out, but we think it's hard to go wrong when we're talking moist cake with sweet, creamy filling.
Don't miss the Maine Whoopie Pie Festival in Dover-Foxtrot for the "sweetest day in Maine." There are rides, games, contests, a race, live music, and of course, whoopie pies!
When it comes to satisfying that sweet tooth, you've got to do more than just read about it, so get out there and sample some of these Maine treats for yourself!
Read Next: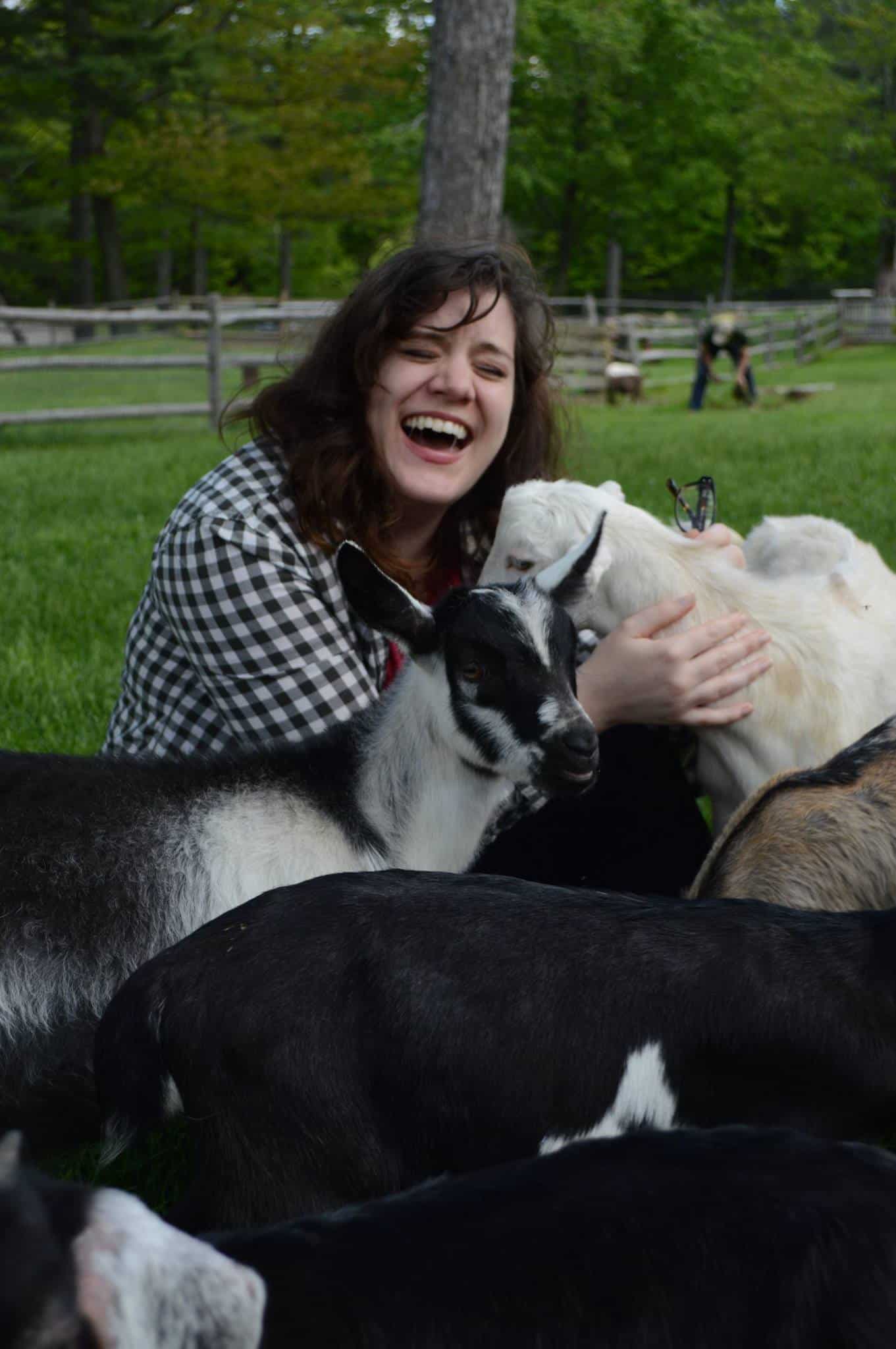 Amy Hartle is the founder and Editor-in-Chief of New England With Love, a comprehensive resource for travel in the New England region. Amy has been exploring New England since 2001. She lived in Vermont for many years and is a graduate of Plymouth State University in New Hampshire. Amy has been writing about travel for over a decade. On this site, Amy aims to share her love of New England and help you to have the best possible adventures!
Amy has been a full time blogger since 2012, and is also the publisher of Two Drifters, where she writes about couples travel and relationships, as well as Let's Adventure Baby, a family travel site. When not traveling the world or creating epic blog content, Amy can be found cuddling with her husband, son, and cats, & drinking a maple latte.