While Portland is known for its incredible seafood, it's actually home to incredible places to savor your sweet tooth, too! In fact, there are many irresistible bakeries in Portland Maine worth checking out.
From bakeries that specialize solely in cupcakes or sweets to those that are more well-known for their bread, Portland's bakery scene truly does have it all. The best part? A lot of the Portland bakeries offer dishes that change throughout the year, so they may have different items on the menu each time you go.
Are you ready to learn more about the top bakeries in Portland Maine? Keep reading!
Katie Made Bakery
First on the list of incredible Portland bakeries is Katie Made Bakery. This bakery is super sweet and even features a lovely patio where you can enjoy your treats after buying them. This is perfect because the Portland weather is lovely in the spring and summer!
The bakery was opened back in 2000 by two sisters, so it's a family-operated business, making it a great place to go to support the locals. What's so great is this bakery does everything from specialty cakes to regular pastries.
When it comes to specialty and single-layer cakes, Katie Made Bakery offers everything from unique lemon berry trifle cakes to classic apple cakes. Of course, they also have cookie platters, seasonal pies, cheesecakes, and more.
Norimoto Bakery
One of the more unique bakeries in Portland Maine is Norimoto Bakery, which offers a unique twist on Japanese and European treats. They change what's on their menu every week depending on what ingredients are freshest.
They have a location on Stevens Avenue and accept walk-ins; they don't currently accept online ordering. In the past, they've had treats on their menu including double chocolate sake cake, Maine blueberry and rhubarb danishes, and even gooey butter cinnamon rolls.
They normally have at least a few savory offerings on their menu too, like jalapeno sausage rolls or onigiri rice balls. For a real treat, try to order the cinnamon roll ice cream sandwich if it's available the week you go!
Tandem Coffee & Bakery
Next up is Tandem Coffee & Bakery, a spot that's very well known for its coffee but has incredible sweet treats on its menu, too. The shop was opened in 2012, and the founders later added a second location in the West End in 2014.
At this bakery, 1% of their sales are annually donated to non-profits focusing on protecting the future and the environment. So, with every coffee or sweet treat you buy, you're helping to make a difference.
Tandem Coffee & Bakery has quite a few sweet treats on its menu, like scones, loaded biscuits, danishes, sticky buns, and cookies. They also have savory items on their menu like quiche, breakfast sandwiches, and granola with yogurt.
Botto's Bakery
Botto's Bakery is one of the more historic bakeries in Portland Maine. In fact, they've been baking their incredible bread since 1949 and have been run by the same family since the 1980s.
At Botto's Bakery, they have a storefront with retail baked goods as well as wholesale baked goods. Normally, you can find every type of bread that you could think of available. They make Italian bread, sandwich rolls like kaiser rolls and hoagie rolls, and of course sandwich bread including sourdough and pumpernickel.
Because their bread is so well known, they also have their bread at many local diners and delis in Portland. Seriously; try stopping by places like Gilbert's Chowder House or DiMillo's On The Water, and you can try their bread without even heading to their shop.
Onggi
Another unique Portland bakery is Onggi, which is a fermentation shop, but that also serves tons of baked goods right over the counter. The location itself is super laidback and modern, with lots of warm woods and plants everywhere.
The shop officially opened in spring 2021 by a group of friends who love everything fermentation. Their goal was to make fermentation more accessible through their shop, and they've quickly become one of the coolest places to visit in Portland!
At their shop, you can find one-of-a-kind items like sourdough chocolate chip cookies and bread loaves. They also offer a variety of different lunch options too including classic Korean dishes that you'll want to try.
Love Kupcakes
If you're in the mood for sweet cupcakes, then you will want to check out Love Kupcakes in Portland. They're so popular that they also now ship their sweet treats nationwide; that's how good they are!
They are unlike other bakeries in the city because they have recently switched to being completely online, but if you find yourself in Portland, then you can still get their sweet treats curbside.
Some of their cupcake menu flavors include vanilla, chocolate, carrot cake, blueberry, maple blueberry, and more. Many of their flavors are also completely vegan. If you want something besides a cupcake, try their unique whoopie pies, a must-try New England classic food.
Tin Pan Bakery
Tin Pan Bakery in Portland is one of the greatest bakeries to visit. They're pretty well-known for their incredible cakes that are truly some of the best you can get in the area. If you're having a celebration and want a custom cake, this is a great place to go.
On their menu, you can order custom cakes, cupcakes, and everything in between. They also sell boxes of whoopie pies, which, if you're visiting New England for the first time, is definitely worth trying.
In addition, they also have classic cookies, decorated cookies, pies, and more. For those who want more savory baked goods, you can check out their cheddar biscuits and potato knish. They're just as tasty as their sweet treats.
Rosemont Market & Bakery
Rosemont Market & Bakery is a perfect place to go for those who want to visit a shop that has more than just a bakery. They sell a variety of different fresh produce and goods sourced from farmers in the area.
This market and bakery opened back in 2005 and were just five people, only to later grow into around 100! So, they've grown quickly and even have markets in other neighborhoods around the area, like in Yarmouth and Cape Elizabeth.
At their bakery location, you can find every type of fresh bread that you can imagine. There's whole wheat sourdough, sourdough boule, baguettes, and even their original Rosemont sandwich bread.
Belleville
For a classic bakery in Portland Maine, be sure to head over to Belleville! They opened in 2019 and primarily serve pizza and pastries. Talk about a tasty combo! What's great, too, is that the founders moved to Paris where they learned to bake before moving to Maine to open their bakery.
Their menu covers so many baked goods, like tarts, bread, croissants, donuts, and everything in between. They also have great coffees that are beautifully styled with latte art. Truly, it's very Instagram-worthy at Belleville!
As mentioned, they also have amazing pizzas on their menu too, so if you want a place where you can get savory and sweet at a bakery, be sure to head to Belleville.
Standard Baking Co
Standard Baking Co is another of the great bakeries in Portland Maine that opened a while ago, and they've been open since 1995. They specialize in making artisanal goods with the finest ingredients available, and everything is handcrafted.
On the menu, there's everything from tasty rolls and bread to sweet treats like cookies and croissants. They also have a wide variety of coffees and teas available that you can buy and pair with your tasty food.
Note that there's not much seating available at Standard Baking Co, but they have seasonal seating outside depending on the time of year. If you happen to be staying near the Hilton Garden Hotel, then you'll be right next to their location in Old Port!
Gross Bakery
Gross Bakery is run by Gross Confection Bar; it's sort of their "bakery offshoot." It's run by a pastry chef named Brant Daadaleares who is a Maine local. The restaurant was opened back in 2019 and has quickly become a favorite place to visit in Portland.
Their bakery has all types of sweet treats like scones and danishes as well as more unique dishes like biscuit sandwiches. No matter what you order from their bakery, you'll surely be wanting to order something else right after because of how tasty it is.
If you're a real foodie, you may also want to try out their dessert bar. It's open only in the evenings and seating is first-come first-serve, but the food is decadent. The menu includes espresso chai latte mousse, Maine blueberry pound cake, dark chocolate and caramel torte, and even entire tasting boards of multiple items on their menu.
In addition, they have a wide list of drinks that you can have when enjoying your food, like classic cocktails and even dessert wines. Not into drinks with alcohol? There's also coffee, tea, and affogato available.
Hopefully, this post has helped you to find all of the best bakeries in Portland Maine. Whether you're looking for whoopie pies, donuts, or something else altogether, you can't go wrong. Enjoy your sweet treats!
---
You might also like: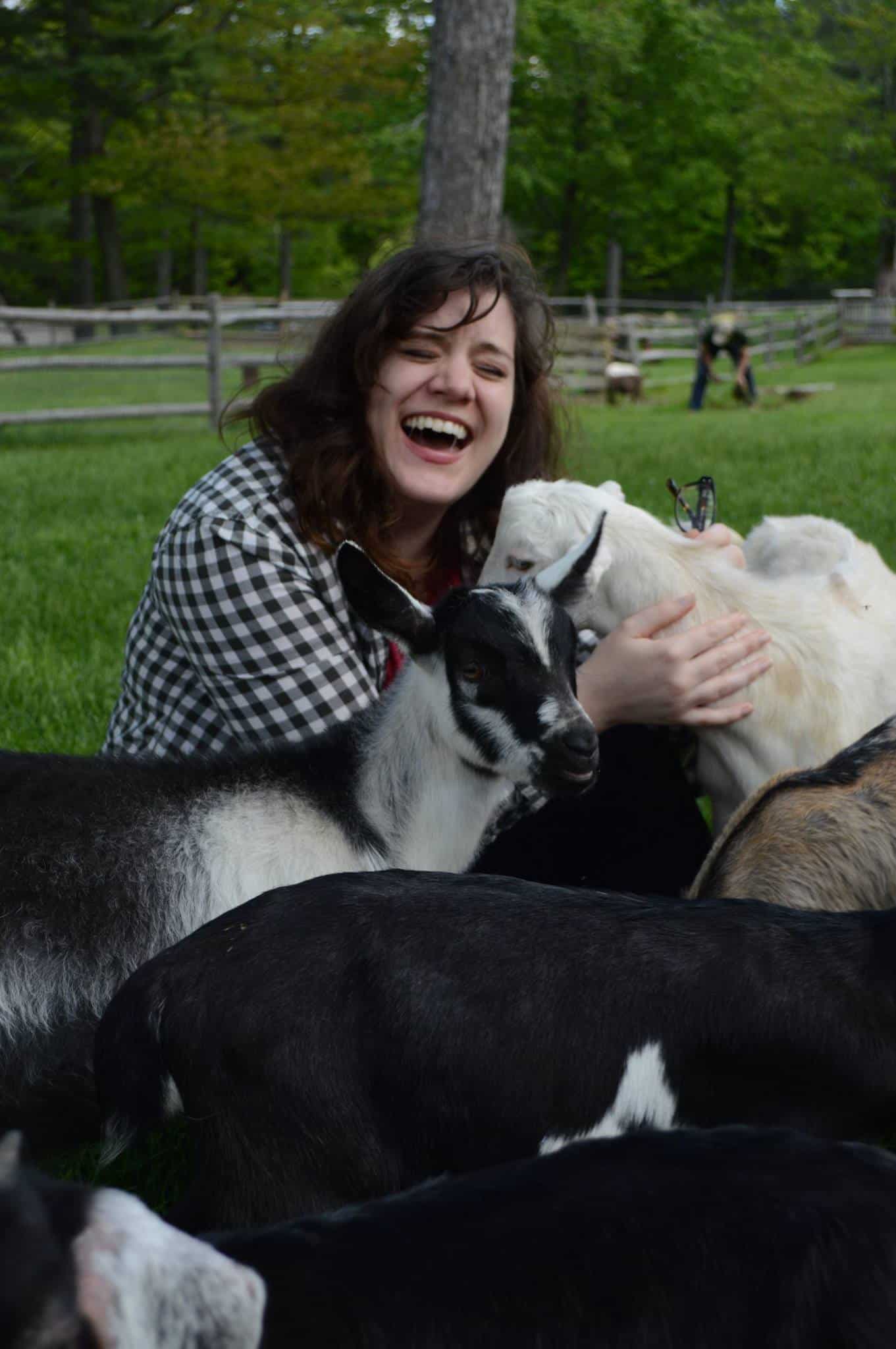 Amy Hartle is the founder and Editor-in-Chief of New England With Love, a comprehensive resource for travel in the New England region. Amy has been exploring New England since 2001. She lived in Vermont for many years and is a graduate of Plymouth State University in New Hampshire. Amy has been writing about travel for over a decade. On this site, Amy aims to share her love of New England and help you to have the best possible adventures!
Amy has been a full time blogger since 2012, and is also the publisher of Two Drifters, where she writes about couples travel and relationships, as well as Let's Adventure Baby, a family travel site. When not traveling the world or creating epic blog content, Amy can be found cuddling with her husband, son, and cats, & drinking a maple latte.