---
*Links in this article may be affiliate links, from which we may earn commission. See our
Privacy Policy
for full details.
---
Maine is consistently ranked as one of the top states in numbers of breweries per capita, and Mainers take their beer very seriously. With a population of approximately 66,000, Portland is Maine's largest city, but by no means a large city. Yet, you would never know it from the abundance of food and drink options!
With close to 30 breweries in the greater Portland area alone, Southern Maine is a craft beer lovers' paradise. Noteworthy for showcasing local ingredients and creative flavors, it can be hard to know where to start. In today's post, I am going to break it down for you and highly the absolute best that Portland has to offer.
Many Portland Maine breweries are within walking distance, making it easy to plan a brewery crawl if that's what you're into (just remember to eat! Luckily, many are also within walking distance of some great food options!) The Maine Beer Trail makes it easy to keep track of the breweries that you've been to. Or grab some friends and hop on the brew bus for a more in depth look at the goings on behind the scenes of Maine's breweries.
No matter how you choose to experience Maine's beer scene, if you love beer, you really can't go wrong here. Read on for my list of the absolute best breweries in Portland Maine, 9 exceptional spots the area has to offer.
Allagash
Allagash is one of Maine's most widely distributed beers, and beer fans are probably familiar with their signature brew, Allagash White. Stop by their tasting room on Industrial Way to try some of their lesser known varieties and sign up for the tour. For just $5, you can spend about an hour touring the facility, learning about the history, and seeing all that goes into creating your favorite brew. Generous samples are included! I can say that hands down, this is the best brewery tour that I have ever been on (I've actually done it three times, and it's always interesting!)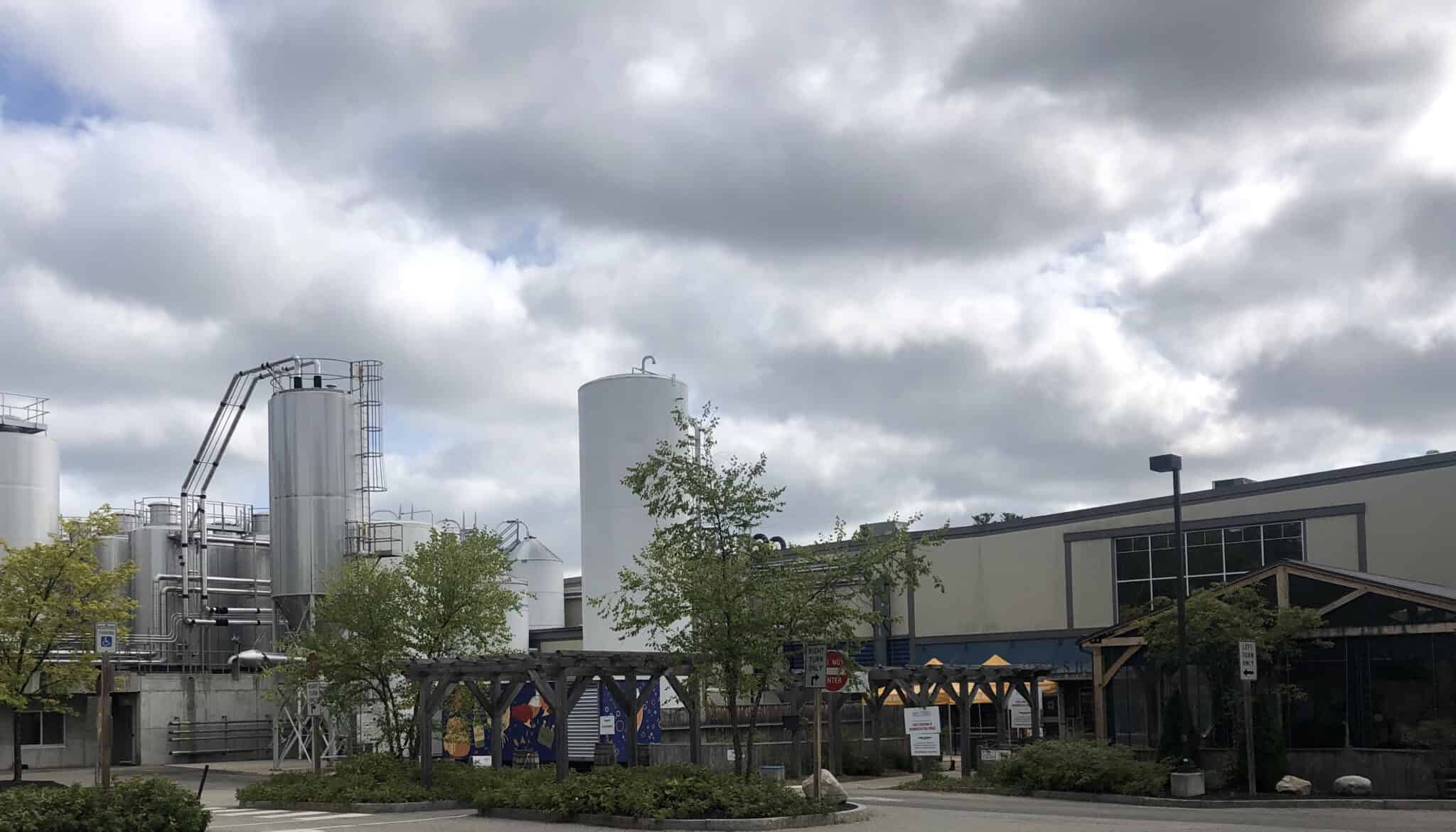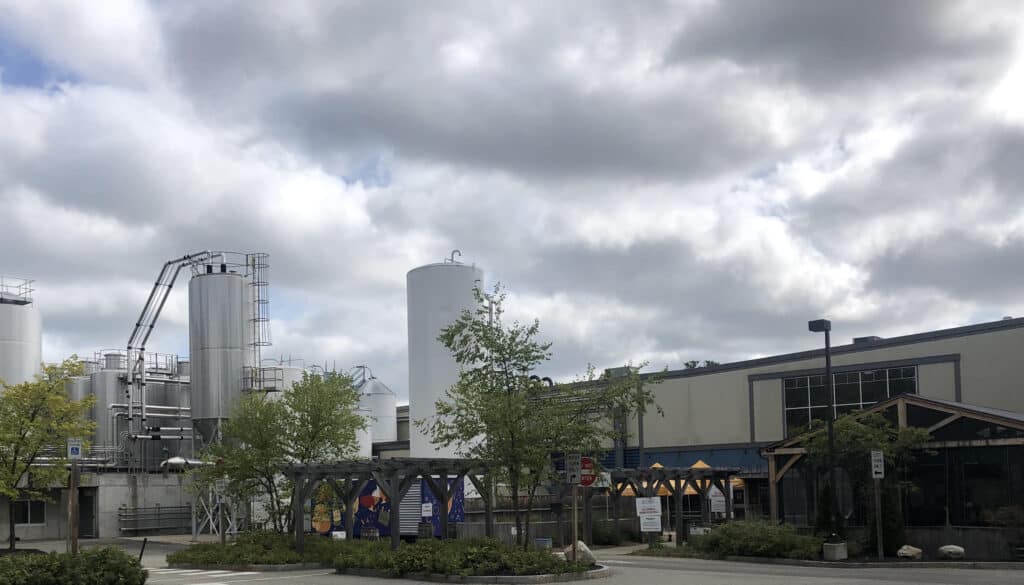 In addition to the fact that their beers are delicious, Allagash is the type of business that you can feel good about supporting. A certified B Corp, Allagash is consistently ranked among Maine's best places to work and prioritizes using local ingredients and minimizing their environmental footprint.
Still thirsty? There just so happens to be four other breweries and a distillery directly across the street. And there is nearly always a food truck or two around so you can stick around for a while!
Austin Street Brewing
Just across the street from Allagash is Austin Street Brewing, a spot so popular that they recently opened up a second location closer to downtown. Interestingly, neither of the current locations are on Austin Street; the brewery is named for the street where founders Jake Austin and Will Fisher got their start as home brew masters before taking the leap into commercial brewing. From these humble beginnings, the brewery has grown to 160 barrels of fermentation space in both tasting rooms combined.
Known for their hoppy brews, Austin Street beers are refreshing and easy to drink, and they offer something for every season. Their new location on Fox Street is right next to another Portland staple, Rising Tide, and within a few blocks of several food and coffee shops (and yes, even more breweries!)
Definitive Brewing
Opening its doors in 2018, Definitive is one of Portland's newer breweries and is also located on Industrial Way. As a lover of dark beer made with dessert ingredients, I absolutely had to include them on the list. My motto when it comes to beer is the darker the better, and definitive does not disappoint with their creative combinations – some noteworthy brews include Stuffed, a double milk stout with chocolate sandwich cookies, and Black is Beautiful, an imperial stout with maple, granola, and cacao nibs (brewed in partnership with Texas-based Weathered Souls Brewing and in solidarity with the Black community.)
But even if you're not a dark beer fanatic like me, Definitive has a wide selection of sours, IPAs, and lighter beers to sip. Creative combinations can be found among the lighter beers as well, like 35, a session ale brewed with blueberry and mango puree, and Magical Realism, a sour ale brewed with raspberry, strawberry, graham crackers, and marshmallows.
Definitive distributes their brews throughout the state, so you may find them in some of Portland's restaurants, but some of the more unique combinations are only available in the tap room making it definitely worth a stop. They do have a location in Kittery so if your Portland itinerary is jam-packed, you can still make a stop on your way out of Maine.
Mast Landing
Not far from Industrial Way is Mast Landing in Westbrook. Gunner's Daughter, a milk stout with notes of peanut butter, coffee, and dark chocolate is a beer that is after my heart, but they also offer a variety of sours and IPAs. Check the website to see what is currently on tap; they also offer wine and hard seltzer for the non-beer drinkers among your crowd.
Mast Landing has a food truck on weekends, and is also within walking distance of several other food options. Located about 20 minutes from downtown Portland, Westbrook is quieter than bustling Portland but has its own sort of industrial charm. Stop for drinks, grab a snack downtown at Quill Books and Beverage, and take a walk along the river for a chill afternoon.
Urban Farm Fermentory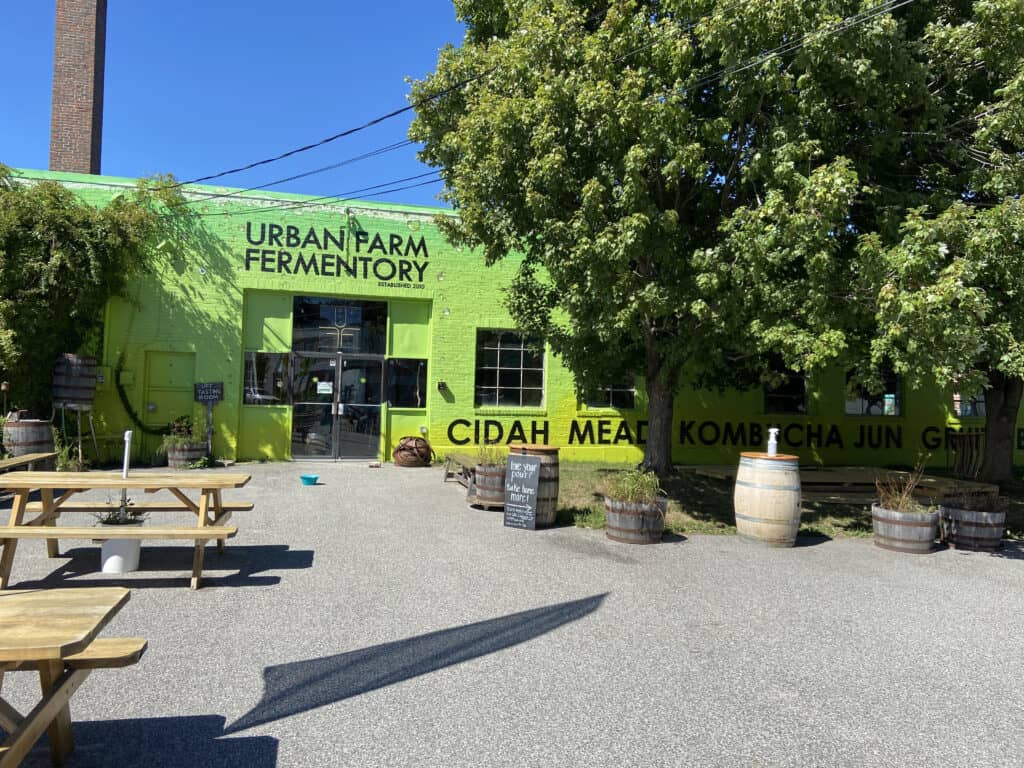 One of Portland's most unique spots, Urban Farm Fermentory is one of my favorite places on the list. In a funky tap room decorated with dried herbs and unique furnishings, Urban Farm Fermentory brews not just beer but cider, gruit (an old style of beer brewed using botanicals other than hops), mead, kombucha, and jun (a fermented green tea drink brewed with honey.) Whew!
Prioritizing seasonal and local ingredients, the selection here is constantly changing and has something to suit every taste. Seaweed? Ghost peppers? Chaga? All on tap here at Urban Farm Fermentory. Stick with beer, or mix and match some of their more unique offerings with a flight. With plenty of seating, games, and a fun and welcoming atmosphere, this is a great place to spend an afternoon.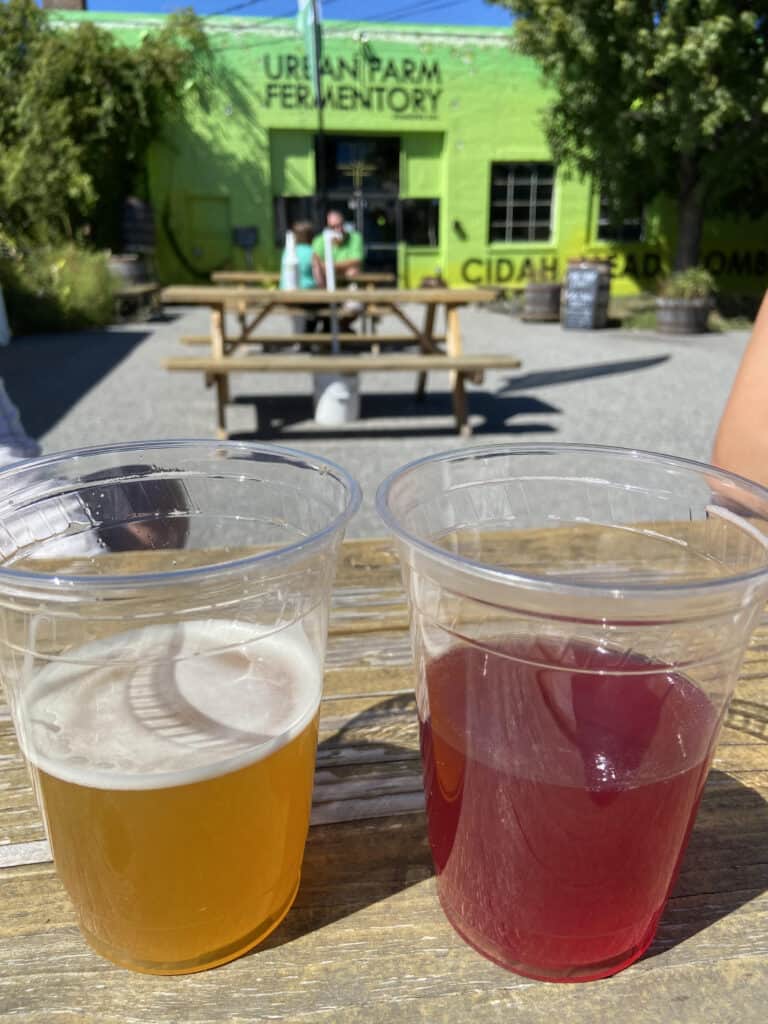 Maine Beer Company
Just about 20 minutes north of Portland in Freeport is Maine Beer Company. Most famous for their Lunch, a classic IPA, Maine beer company actually offers a rotating selection of eight brews on tap. Currently (and periodically) this includes their highly coveted and less frequently released Dinner, an original Double IPA with "notes of intense mango, passion fruit, and pineapple, undertones of garlic, onion, and pine, and sweet aromatics of malt and caramel."
Sound interesting? It does to people who drive from around New England to acquire this specially released beer, and has called America's Best Double IPA. In a blind taste test conducted by Craft Beer and Brewing Magazine, Dinner scored a perfect 100/100 based on criteria including aroma, appearance, flavor, and mouthfeel.
While Dinner isn't always on tap, you can be sure that whatever you choose will be both refreshing and satisfying. Maine Beer Company also offers wood fired pizza, and frequently hosts community events like Oyster Nights and documentary screenings. They are just a few minutes away from the LLBean Flagship store in Freeport and the Freeport Outlets, which have a wide assortment of food options for those looking for something other than pizza (and shopping to your heart's content.)
Oxbow Blending and Bottling
Oxbow offers a large tasting room in a friendly atmosphere. Their signature Farmhouse Pale Ale is a spicy barrel-aged beer that will have you coming back for more, and their fun selection of rotating seasonal beers keep things interesting! Located close to the Old Port, make this a stop among many on your tour of downtown. Or stick around for a while; one of Portland's highly acclaimed restaurants Duckfat has a frite shop right outside of Oxbow, and there is a mead tasting room and distillery right next door.
Oxbow's original location, a cheerful open restaurant with a variety of mouthwatering options is located in Newcastle, and is absolutely worth a stop if you venture out of Portland. Newcastle is on the way to Sunday River, a popular ski spot for locals and non-locals alike. I know that I will be making another trip out there this winter!
Foulmouthed Brewing
Operating out of a converted garage just over the Casco Bay bridge, Foulmouthed is notorious for their assortment of creative beers and their upscale pub food that prioritizes ingredients from local farms. Beers on tap are constantly rotating; the tap room is decorated with posters of the most current offerings, but you can count on a range of brews ranging in color from light amber to dark brown. Some creative offerings have included saisons brewed with local blueberries, wild ales brewed with guava and passionfruit, and wheat and honey saison brewed with green tea (but don't worry if you prefer a more traditional IPA, pilsner, or stout- they offer plenty of those too!)
With beer labels and posters designed by local artists, Foulmouthed has a fun aesthetic and offers creative food specials; they even serve up beer cocktails! And with names like Apocalypse Meow, Gruity Pebbles, The Way Pale Should Be, and Meow and Forever, their branding is on point (I love a good pun and/or cat joke.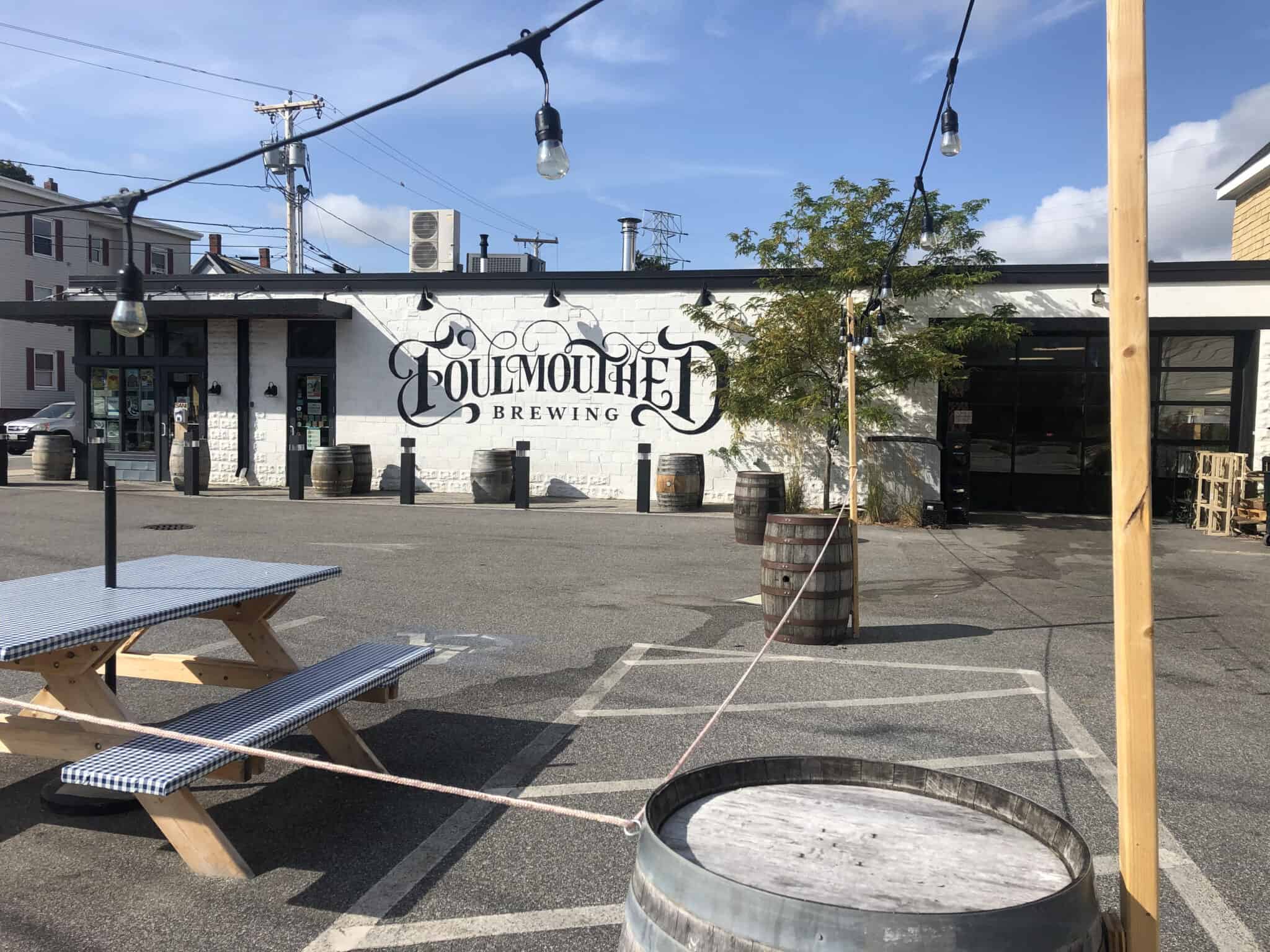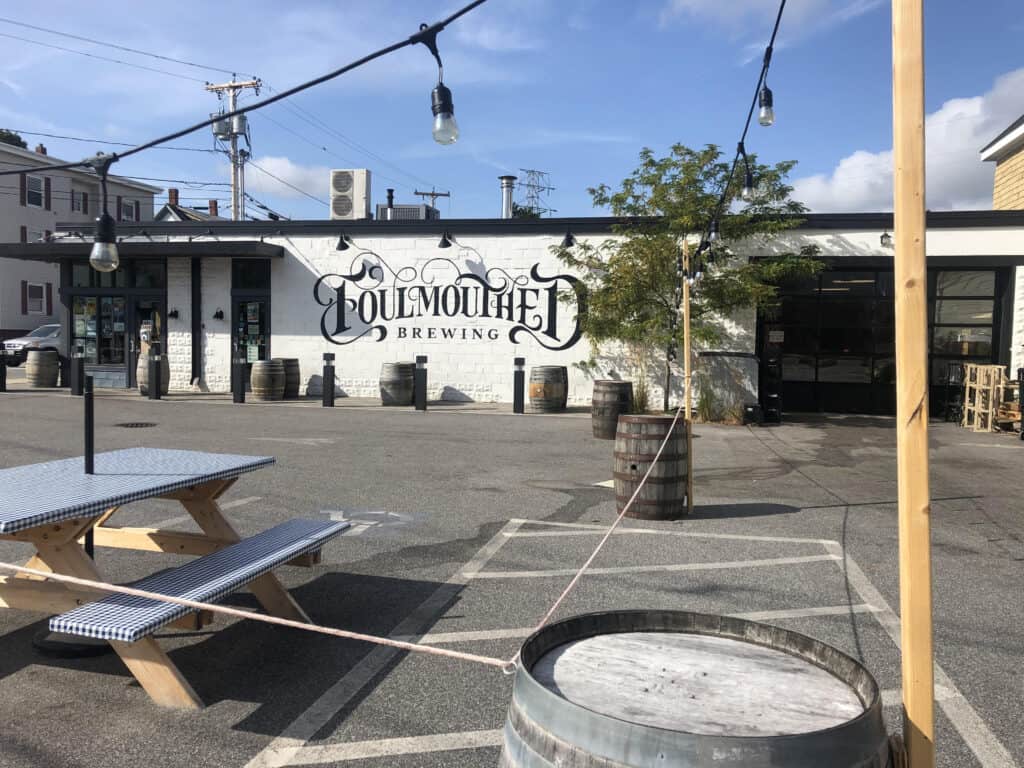 Foulmouthed serves brunch on weekends and also periodically hosts seasonal festivals with special offerings; their Octoberfest offers an assortment of German beers and foods that are only available for Octoberfest. One of my favorite beers that is frequently on the menu is Knightvillian (named for the neighborhood, Knightville,) an "American Black ale in the German Schwarzbier style."
Liquid Riot
Located right on the water in the Heart of Old Port, Liquid Riot is a fun spot that serves up delicious and creative local fare, in addition to having a brewery, distillery, and creative cocktails on offer. All with a great view!
With a more bar-like atmosphere than the other breweries on this list, Liquid Riot is open late, often hosts fun events and live music, and has an assortment of arcade games making it a fun place to spend a night out.
But Liquid Riot is a lot more than just the party atmosphere. With high quality fresh and local ingredients, creative dishes, and delectable desserts (and dessert cocktails!) the passion of the chefs and bartenders for food and drink is clear. Whether you are starting or ending the night here, or just stopping in for the afternoon, Liquid Riot is a must experience when in Portland.
—
While these breweries represent my favorites, this is just a small sampling of all that Portland has to offer. No matter your brew of choice, Portland is sure to have something that will satisfy all taste buds. Just remember to stay well hydrated and fed – not hard in a city with as many food options as Portland!
---
Read these next:
---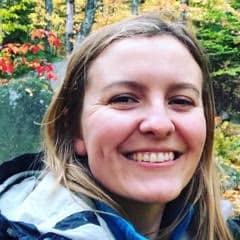 Meagan is a proud New Englander who currently resides in Portland, Maine. In her spare time, she enjoys hiking, climbing, traveling, and generally exploring everything that northern New England has to offer.