Portland's food scene is having kind of a moment right now. Actually, at this point, it's fair to call it a hot streak more than anything else. While some of the best restaurants Portland Maine has are well-established restaurants and bars that helped put Portland on the map and are always worth writing about—Fore Street, Local 188, Duckfat, Eventide, Mikaye, and Central Provisions all come to mind—wave after wave of new shops and re-imagined concepts keep opening up.
There really aren't any bad places to eat in Portland, these days. As much as we wish that it wasn't true, you can only fit so many meals into a quick Portland Maine getaway—both practically and in terms of inseam. So here's our list for the best restaurants in Portland Maine that you absolutely shouldn't miss out on. In a city of across-the-board spectacular food, these stand out as the most memorable Portland Maine eats.

Best Restaurants in Portland Maine
Scales
Dana Street's wood-fired altar of farm-to-table dining, Fore Street, has been plating up rustic, locally sourced dinners for more than 20 years. The same team has recently added a new restaurant to their portfolio—Scales. A paean to the long-gone, boisterous, and sawdust-filled oyster bars and fish houses of New York and New England, Scales crams an impressive commitment to quality and attention to detail into a busy and fast-paced dining room.
Intimate and quiet—Scales is not. Exposed wood, high ceilings, and enormous farmhouse-style windows give plenty of light and a classic, yet sexy vibe. But just when things could get romantic, the sounds and sites of other diners combined with the open kitchen and fish-display ice tub gives off pure energy, instead.
That's the best word for dining at Scales—energetic. This Portland ME restaurant's bar has a well for serving oysters, and quickly becomes a centerpiece for talking about food with the line cook shucking your raw bar items. Scales menu is quite large, and at first glance might remind you of fry shacks or lobster pounds. Yet you'll notice elevated flourishes and execution that most other places leave behind—simple items like coleslaw, dinner rolls, fries, and pickles are done right. The batter on the fish and chips is flawlessly crispy and seasoned, the grilled octopus is tender beyond belief, and even the tartar sauce is delicious. Plus—where else can you get pan seared duck, roasted lobster, pot roast, broiled cod, and a whole fried fish at the same time?
Highroller Lobster Co.
Looking for the best lobster dinner Portland Maine can provide? There are more places to get a lobster roll in Portland ME than anywhere else on earth. Actually, we can't prove that—but it sure feels that way. So how do you stand out in such a crowded market? Highroller Lobster does it with one of the city's most fun dining experiences. When we stop and consider the options for best lobster roll, deep down we always hope it's some tiny, roadside shack run by a salty old fishing family. Why? Nostalgia, that's why. It's hard to imagine a bunch of tattooed, bearded hipsters getting it most right—but at Highroller they nail it.
Everything on the menu at this Portland ME restaurant is well-executed, well-sourced, delicious, consistent, and surprisingly thoughtful. A classic lobster roll prep with a skillfully griddled bun can be jazzed up with a dozen different sauces: might we suggest the jalapeno aioli? And while we're at it: the burger, the lobster grilled cheese, lobster crab rangoons, the BLT… basically the whole menu. And while you're chowing down on great eats, it's hard to not crack a smile at the disco balls, great music, brightly-decorated interiors, and hip bar. The cocktails are inventive and playful, and the patio is a blast. Highroller's philosophy is simple and effective—if you're not having fun, why are you dining out?
Honey Paw
Right next to the trendiest (and busiest!) restaurant in town—Eventide—the same folks offer up a completely different vision of Portland with Honey Paw. Asian street food meets small plates meets Maine seafood meets noodle bar. If you're having a hard time imagining what that looks like, it's understandable, but this is definitely one of the top restaurants in Portland ME.

Here's the lay of the land at the Honey Paw Portland Maine: Khao Soi egg noodles with smoked local lamb and coconut curry; lobster and scallop toast with fresno peppers; pork belly banh mi with chicken liver mousse and fish sauce caramel; and our all-time favorite fried bread with miso chili butter. If the Honey Paw menu sounds all over the place, you're not wrong! So many flavors, at times seemingly discordant, are artfully and nimbly packed into every dish. It's likely best to just chat with your server or bartender and have them talk you through the menu.
It all sounds very hip and unapproachable, but the end result is delicious, inventive, and surprisingly grounded. An obvious appreciation for Maine ingredients, farms, traditions, and seafood is somehow magically woven into every dish, as well, despite the modern and urbane vibe. Brightly-lit contemporary interior design makes for a fun and relaxed environment alongside great jams. This is a great spot for a quick lunch in Portland, Maine while shopping or an evening destination for a long, luxurious meal. Bonus points: they have a soft serve machine with rotating flavors.
The Shop
Why are we including an oyster bar founded by the Duxbury, Mass-based Island Creek Oyster Co. in a list of Portland's best spots? Well, to start—it's delicious, chic, fun, beautiful, and has some of the best oysters Portland Maine serves up. But more importantly, it's an interesting example of an important shift in Portland, Maine: the city is slowly but surely becoming swept up into the arts, culture, and food scene of greater Boston. In fact, locals will sometimes jokingly refer to Portland as a Boston suburb. Though in a lot of ways, it's not a joke. For better or worse, you can see it in real estate prices, the buildup of York County, hip upstarts in Biddeford and Saco, and most certainly in the food. Restaurants and Hospitality groups based in Portland and Boston are both crossing state lines to get in on the action and forge ahead with some new, yet to be fully-realized vision of hospitality. We're not sure where it's going, but hopefully it's a tasty process to watch unfold.
Island Creek Oyster has a number of locations by different names throughout Massachusetts, but The Shop is their first brick and mortar location in Maine. On a trendy and quickly growing stretch of Washington Street just below Munjoy Hill, The Shop is part oyster bar and part retail. Come to this Portland ME restaurant for carefully sourced oysters from throughout New England and an excellent selection of tinned fish, raw bar, and caviar. Stay, however, for the perfectly curated by-the-glass wine list to go with said items. The Shop has clean lines, lots of light, and modern stylings in a town that's quickly navigating a dining scene that isn't just lobster rolls and tourists. Grab a glass of New Zealand Sauv Blanc, some littleneck clams, and a tin of smoked sardines to spread on toast before venturing out and exploring the rest of Washington Street. If you're looking for trendy restaurants Portland Maine style, check out The Shop.

Leeward
Leeward Portland ME is pasta and Italian cuisine done right. It's that simple. Elegant yet down to earth, trendy but not obnoxiously so. There's spaghetti and red sauce Italian—tried and true—and then there's Leeward: rye garganelli with braised rabbit ragu or the beef cheek agnolotti with mushrooms and horseradish. Leeward paints a picture of Italian cuisine as diverse, adventurous, and artisanal; a truism lost in the noise of takeout lasagna and garlic bread.
The owners' love affair with Italy and Italian culture sings from every dish and reminds diners that good food and memorable dining begins, above all, with both a mastery and love for the ingredients and dishes. While flashy concepts and showmanship are slowly reemerging in hospitality (hand cut ice cubes, dishes served in a veil of smoke, aprons that look like barbershop props!), Leeward stands tall with a simple, effective story: form over function doesn't make very good dining.
The intimate space has a chic bar and modern, minimal décor that's thoughtful enough to welcome, but lets the food take center stage. Leeward is that the type of restaurant that makes transplants from larger cities feel right at home—world-class cuisine right on the corner with no frills and friendly staff. If you're looking for a Portland Maine Italian restaurant, you truly cannot go wrong with Leeward.

Woodford F&B
A while back, we're not entirely sure when, the neighborhood bistro just kind of disappeared. Gastropubs and New American raged red hot, crashed and burned, and hipster sushi joints with record players took their spot. Somewhere in that timeline the bistro up and left. Woodford F&B makes the convincing and memorable case that Portland (and every city and town) needs one. An approachable menu with just the right amount of elevation to feel like a night out, a superb cocktail list, and an easy walk or drive from the nearby suburbs. Portland is friendly, lively, and welcoming—and that's the vibe Woodford F&B puts off, as well. Neighborhood restaurants aren't just about food, they're about community and connection. Even if you're just in town for a night or two, Woodford makes you feel like a part of Portland.
The menu is classic bistro fare: crab cakes, roasted half chicken, deviled eggs, crudite, and a citrus and beet salad set the tone. The brews are local, and so is the produce. The dining room would just about pass for a redone, retro-style diner but some modern touches make it purposeful and not for show. The wine list is varied, with an appreciable bend towards natural wines and playfully updated-French standards. In fact, that might be a good description of Woodford F&B overall: playfully updated. The bistro has a place in every city and town, and Woodford reminds us all that Portland is a close-knit community despite the constant ebb and flow of tourists. Also: try the fried brussels sprouts. You're welcome.
Hot Suppa
Hot Suppa sure isn't new to Portland; they've been serving breakfast, lunch, dinner, and brunch in a West End brick Victorian since 2006. But at every step of the way, Hot Suppa has been ahead of the trends. They've been partnering with local farms before it was cool. They were serving up Maine oysters way before Portland was on the map and when everyone and their mother put Nashville hot chicken on menus, Hot Suppa had had it on theirs for years. New and shiny might make headlines, but Hot Suppa always delivers and does it with zero pretension.
Hot Suppa's Double Double cheeseburger is arguably the best in town—juicy, cooked perfectly, with a masterful mix of salt, fat, and acid. The menu, overall, is a breath of fresh air in a city crammed with copycat seafood staples cramming in as many visitors as possible. Highlights include a fried green tomato BLT; shrimp, corn, and andouille chowder; geechie boy grits; fried catfish; and a showstopping, hold-the-phone delicious fried chicken and buttermilk waffle entrée. A secret from us to you, dear reader: Hot Suppa has the chillest patio in Portland that no one knows about. Out back, hidden from street view, they've got a number of tables in a fenced-off backyard. Oysters, beer, and a burger on a quiet, downtown patio: Hot Suppa is the kind of restaurant telling you to move to Portland, not just visit.
Best Restaurants in Portland Maine for Breakfast
If it's breakfast food in Portland ME you're looking for, we've got a whole post about the breakfast spots in Portland here: 7 Spots for the Best Breakfast in Portland Maine, and you'll notice Hot Suppa made it onto the best place to eat in Portland ME for breakfast, too!
Otherwise, you've got great quick and convenient options like Hifi Donuts and Dutch's to choose from, or if it's more a brunch vibe, consider Bayside American Cafe; word on the street is that their Maine Lobster Eggs Benedict are where it's at!
Best Places to Eat in Portland ME on a Budget
If you're looking for cheap eats Portland Maine style, you've got some great choices! Becky's Diner is a classic Portland staple, with breakfast, lunch, and dinner offerings on the waterfront. And of course, you can't go wrong with pizza just about everywhere, and that goes for pizza in Portland Maine, too! Check out Leonardo's if you're looking to pick up a pie; this pizza place actually started back in Burlington VT before opening up their Portland store.
Best Vegetarian Restaurants in Portland Maine
If you're vegetarian, you'll be glad to know that it's pretty easy to find vegetarian options on just about every menu you come across, but when it comes to dedicated vegetarian restaurants, you've got two standouts: Green Elephant is the first, and this Asian-inspired bistro serves up some of the very best vegetarian cuisine in New England.
The second is the Totally Awesome Vegan Food Truck, and as the name suggests, they are a totally awesome vegan food truck, offering inventive and delicious vegan options for classic eats like their Jackfruit Pastrami Reuben… you've just got to try it to believe it!
These are just a few of the top Portland ME restaurants, but don't forget you'll find cute little coffee shops and solid breweries where you can grab a brew and a burger in Portland, too. Pretty much whatever you're craving, you'll find something to satisfy at one of the best places to eat in Portland Maine.
---
You might also like:
---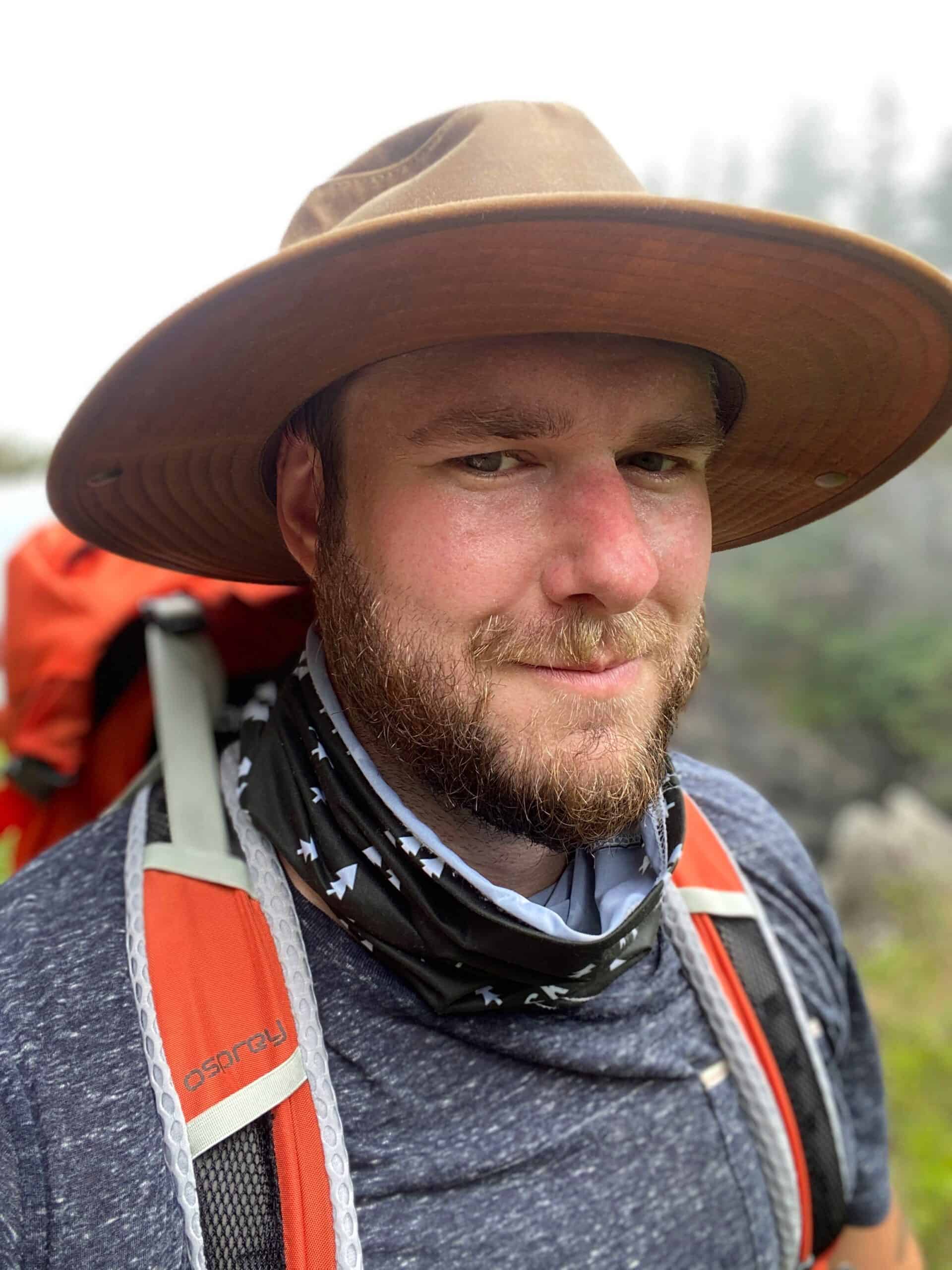 Justin is a writer and photographer based in coastal Maine.  He grew up in New Hampshire, went to college at GWU in Washington, DC, and trained as a chef at Le Cordon Bleu in Cambridge, Massachusetts. Justin has years of experience in professional kitchens, gourmet food sales, and as a wine buyer. He also co-founded Rosehips & Charcoal, a boutique social media consultancy that helps northeast getaway rentals tell their unique stories and grow their online presence.  When he's not working, hiking, or snapping pictures, you can most likely find him drinking wine in the woods in questionable footwear. You can follow along on his Maine adventures and wilderness gourmet shenanigans at @tidetopine on Instagram.