*This site uses affiliate links; if you make a purchase through these, I may receive a small commission at no cost to you.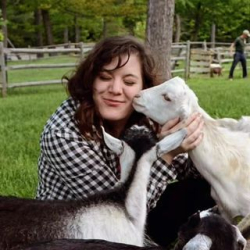 Latest posts by Amy Hartle
(see all)
If you're planning a Maine vacation, you'll want to know where to find the best restaurants in Maine, and we can help you there!
There are restaurants in Maine that are perfect for quick grab-and-go style lunches, lovely sit-down seafood restaurants on the water, classic diners serving up Maine comfort food, and everything in between on this list of Maine restaurants.
Best Maine Restaurants
Eventide Oyster Co, Portland ME
One of those restaurants in Maine that is so popular you typically find a bit of a wait to get in, Eventide Oyster Co is one of the top places to eat in Portland ME. This popular seafood restaurant also has a location in Boston MA, and its Maine location is comfortably casual.
The raw oyster bar at Eventide Oyster Co is one of the most popular options on the menu, but they are also known for their scrumptious Brown Butter Lobster Roll. One of the top seafood restaurants in Maine, Eventide Oyster Co is an excellent choice if you're looking for where to eat in Portland.
The Lobster Shack at Two Lights, Cape Elizabeth ME
If you're looking for an excellent seafood restaurant with a fantastic view, The Lobster Shack at Two Lights has you covered! One of the best restaurants in Maine, this casual spot is located on scenic Cape Elizabeth, and you'll love the spectacular coastal views of this casual seafood restaurant on the shore.
On the menu are all kinds of fresh caught seafood like scallops, haddock, clam, and more, but the real draw here are the lobster dishes, of course! The Lobster Shack at Two Lights serves up some of the best lobster rolls in Maine, so add that to your must-try list.
Sea Salt Lobster, Saco ME
Sea Salt Lobster is a phenomenal seafood restaurant in Saco Maine that emphasizes sustainably harvested seafood practices. The interior is bright and casual, the perfect spot for a lunch or dinner date with friends and family.
On the menu you'll find all the seafood staples you expect at one of Maine's best restaurants, including their signature lobster roll, clam roll, and crab roll. If you're looking for a great place to eat in Saco Maine, Sea Salt Lobster is open for lunch through dinner seven days a week.
Billy's Chowder House, Wells ME
Located in the scenic Rachel Carson Wildlife Preserve, the scenic tidal views are just one part of the reason why Billy's Chowder House is one of the best places to eat in Maine. With a casual, relaxed dining room, a lunch or dinner at this Maine restaurant is the perfect way to complement a day of fun in nearby Ogunquit.
You'll find all kinds of delicious Maine seafood on the menu at Billy's Chowder House, including steamed mussels, steamed clams, lobster rolls, and more, but a must-order item here is – big surprise – the chowder! Don't leave without sampling one of the signature chowders: lobster, haddock, clam, and seafood.
Jordan's Restaurant, Bar Harbor ME
One of the top places to eat near Acadia, Jordan's Restaurant in Bar Harbor is a fantastic example of unassuming yet spectacular Maine places to eat! A favorite local breakfast and lunch spot since the 1970s, Jordan's Restaurant is a great spot to start your day in Bar Harbor.
Specializing in breakfast, Jordan's Restaurant utilizes Wild Maine blueberries in their pancakes, waffles, and muffins, so if you're a fan, this should be on your must try list! Jordan's is closed for the winter, but during the warmer weather months they are open throughout the week from early morning to afternoon.
Red's Eats, Wiscasset ME
With a long list of features for being the best lobster roll in Maine from places like Readers Digest, Forbes, and more, Red's Eats in Wiscasset is one of the most popular places to get a lobster roll in Maine! With its distinctive red and white awning, Red's Eats might not be much to look at, but the long line that's always present at this iconic Maine lobster shack will clue you in that something special is happening here.
The menu at Red's Eats is surprisingly varied with burgers, chicken, hot dogs, and more, but the true draw of Red's remains its buttery delicious lobster roll, which brings people in from all over the region. Red's Eats is an absolute must-visit while anywhere near Rt 1 in Maine.
Muddy Rudder, Yarmouth ME
Yarmouth's Muddy Rudder offers a wide variety of meal options in a relaxed, casual atmosphere with tidal river views. Muddy Rudder is open lunch through dinner, and makes an excellent spot to grab a bite to eat with friends or family.
On the menu at Muddy Rudder is plenty of fresh-caught Maine seafood in addition to other entree options like pork tenderloin, ribeye steak, and chicken parmigiana, so there's something for those looking for entrees from land and sea. Muddy Rudder is closed Tuesday and Wednesday, but is a delicious, dependable place to eat lunch through dinner the rest of the week.
Moody's Diner, Waldoboro ME
If you're searching for the best diners in Maine, Moody's Diner is going to pop up on that list every time! This classic, unfussy Maine diner has been one of the most popular diners in the state for almost 100 years!
Offering all the diner staples like eggs, pancakes, sandwiches and more, Moody's Diner is especially known for their delicious pies, especially their whoopie pie! If you're already stuffed from somewhere else, it will be well worth your while to make the trip to Moody's for a coffee and a pie, and they're open 6am-8pm 7 days a week!
Joseph's By the Sea, Old Orchard Beach, ME
Joseph's By the Sea is one of Maine's best restaurants for coastal dining with a view. Sit out on the patio or on the rooftop to listen to the sounds of the sea as you eat and enjoy the views of the water. Joseph's By the Sea is a great spot for a laid-back dinner date in OOB.
Open Thursday through Saturday for dinner (closed Monday through Wednesday), one of their most popular offerings is Sunday brunch, with tasty offerings like omelets and a caramelized stuffed french toast – yum!
Nunan's Lobster Hut, Kennebunkport ME
It's a given that you're going to find some fantastic seafood restaurants in Kennebunkport, but Nunan's Lobster Hut is always at the top of that list, serving up delicious seafood in a casual sit-down restaurant since the 1950s.
Open May through mid-October, Nunan's Lobster Hut specializes in all things lobster, so whether you're in the mood for Lobster Rolls, Lobster Stew, Lobster Salad, or a lobster plate, you'll find some of the best lobster in Maine at this Cape Porpoise restaurant.
When Pigs Fly Pizzeria, Kittery ME
Everyone's favorite Kittery pizza spot, When Pigs Fly Pizzeria is one of the best pizza places in Maine! The mood at this Kittery restaurant is comfortable and contemporary, and not only is there a restaurant, there's an incredible store next door where you can buy all the delicious artisan When Pigs Fly breads to take home.
While known for their incredible wood-fired pizzas, the menu at When Pigs Fly Pizzeria is surprisingly diverse, with mussels, a Korean chicken bowl, and a corned beef reuben being a few of the other items available. When Pigs Fly is a fun place for lunch or dinner any day of the week, and would make a very cute date night spot.
Becky's Diner, Portland ME
One of the most popular diners in Maine, Becky's Diner in Portland is always a hit! You'll find a classic diner atmosphere in this Portland restaurant, and there is very often a wait to be sat.
Becky's Diner has all the classic diner fare one would expect, with eggs, pancakes, and french toast dishes for breakfast and sandwiches, burgers, and platters on the lunch and dinner menus. Becky's Diner is a no-nonsense, solid Maine diner for when you're looking for a quality meal without the fuss.
The Steakhouse, Wells ME
One of the best steakhouses in Maine, The Steakhouse in Wells is the place to go for hand-cut steaks cooked to perfection. The ambiance is classic steakhouse, with a comfortable yet nice feel.
There are several standouts on the menu at The Steakhouse, but the star of the show remains the incredible steak selection. If you're not in the mood for one of the steak cuts, consider ordering the Steakhouse Pot Pie, made with filet mignon. This is Maine comfort food at its finest, but it closes December through February, so plan your trip accordingly!
Royal River Grill House, Yarmouth ME
Royal River Grill House is a gorgeous upscale restaurant in Yarmouth, perfect for a romantic dinner date in Maine. The ambiance is classy but never fussy, so you can dress up or down as much as you'd like and will still feel comfortable.
There are so many fantastic offerings on the menu at Royal River Grill House including wood grilled swordfish, bacon wrapped scallops, and oysters from the raw bar for dinner, and separate brunch and lunch menus, too; the brunch lobster omelette sounds fantastic! Royal River Grill House is a great choice for a brunch date with friends and family or a romantic dinner date with the person you love most.
Lil's Cafe, Kittery ME
If you're looking for cute coffee shops in Maine that serve up a quick yet delicious breakfast, Lil's Cafe in Kittery fits the bill beautifully! Lil's isn't just a coffee shop, either, they also are home to a Vinyl Vault where you can look for that record your collection might be missing. There's not a ton of seating at Lil's Cafe, but it's the perfect place to pick up breakfast on the go in Maine.
You'll find incredible pastries that are baked on-site like their ultimate crowd favorite, the cruller. There are also sandwiches and wraps available, as well as a great coffee and tea selection, of course. Lil's Cafe is a great spot for a casual bite to eat in Kittery from 7am-3pm throughout the week.
There are Maine restaurants that are popular for their views in addition to their delicious menu offerings, cute Maine coffee shops and diners, and Maine steakhouses and pizzerias for those times that you're looking for something other than seafood in Maine. You can pretty much find it all at these popular Maine restaurants. Wherever you go, bon appetit!
You might also like:
12 Restaurants for the Best Lobster Rolls in Portland Maine